THE BULLETIN BOARD
kanwehelp.com, The Lassen County Original Bulletin Board
page one
"An investment in knowledge always pays the best interest",
Benjamin Franklin
NEW...."Caught with your pants down" page or his twin brother "Knotagin"
ARCHIVES:
Diebold Voting Machine Program Cards Easily Changes Votes
LASSEN COUNTY JUNE 3, 2014 ELECTION
Lassen County November 4, 2014 Election
BUSTAMANTE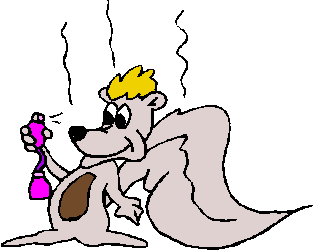 The third certainty in life, besides death and taxes,
corruption in Lassen County
What a tangled web we weave when first
we practice to deceive
Bob Burns as District Attorney
and now as County Counsel
Enables Supervisors to Break the Law
1. Allowed Supervisor Hammond "to get in bed" with HSP Resources to secure Amedee Airfield Parcels.
SUPERVISOR HAMMOND.....SORRY BUT YOU NEED TO STEP DOWN
2. Allows the Supervisors to hold Closed Sessions under phony reasons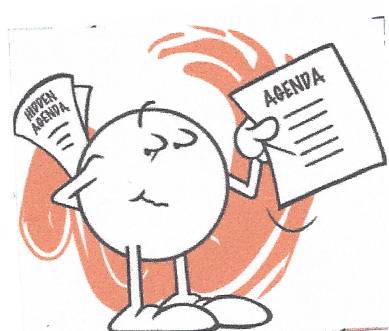 3. Allows Supervisors to exclude existing county employees from Conflict of Interest Code
4. Allowed Supervisors to approve a loan "of public money" to a bankrupt company
THIS PUBLIC OFFICIAL
DOES NOT SERVE THE PUBLIC
Caught with your pants down II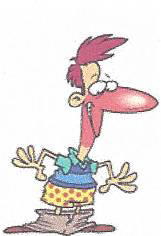 Mr. Knotagin
MEDICI LOANS
On February 15, 2010, Plumas Bank Joe Egan, (brother to Lassen County CAO Richard Egan), ordered an appraisal for the liquidation of the Medici equipment. Coincidentally, this four year old appraisal was used for the approval of the March 24, 2014 Lassen County $350,000 CDBG loanand the December 8, 2014 Bankruptcy Court.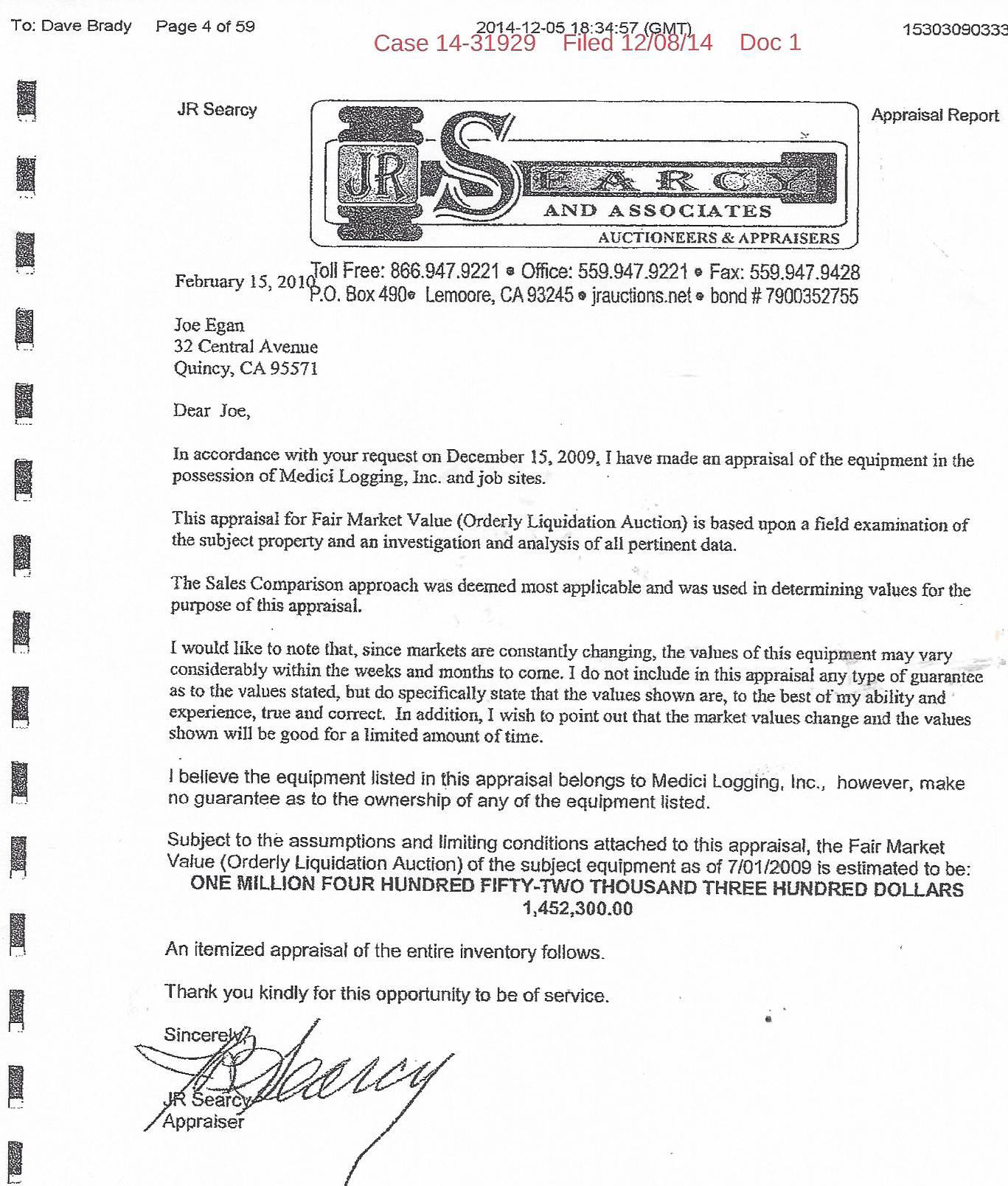 On May 28, 2010, Plumas Bank recorded a $125,000 loan to Medici Logging for the 69 Delwood, Westwood property
(APN: 125-010-2911)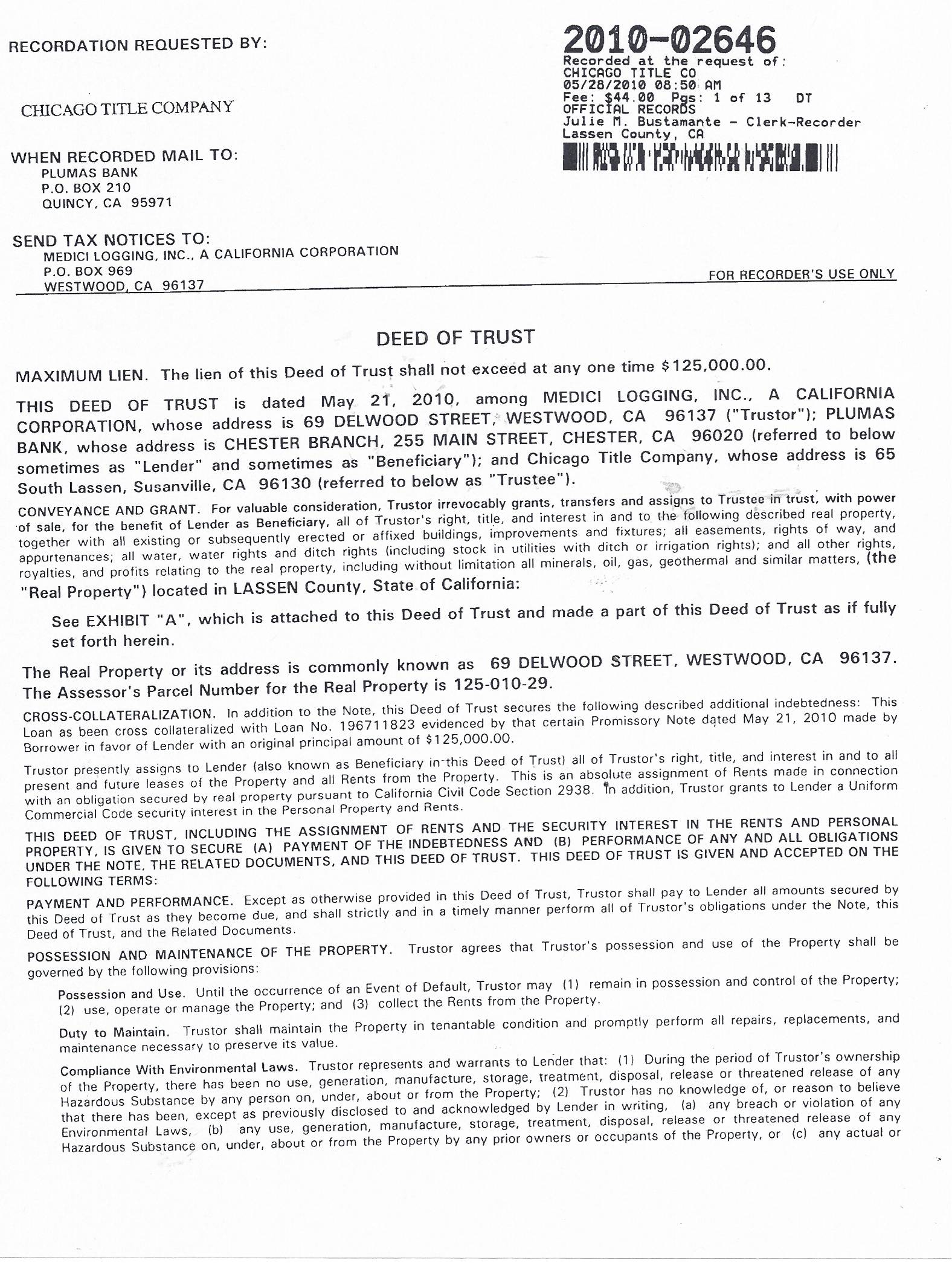 On May 16, 2012, the Redding Bank of Commerce approved a $1,000,000 loan for Medici Logging based on the Plumas Bank (Joe Egan) appraisal of $1,452,300.00 for the Medici equipment.
NOTE: The balance of this defaulted loan is less $134,233
Is the difference for a Plumas Bank payoff, $125,000 + interest ?
On April 7, 2014, Lassen County recorded a "Short Form Deed of Trust" against Medici's property as collateral for the March 24, 2014 $350,000 CDBG loan.
Watch Supervisor Pyle on March 24, 2014
APN: 125-010-2911
69 Delwood, Westwood
More Lassen County Secrets
Why does Steve Pezzullo's name keep popping up?
Pezzullo supported this loan and was Medici's Accountant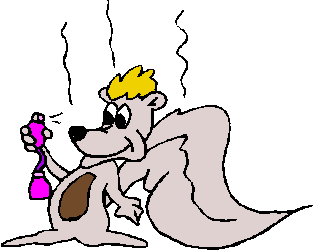 PUBLIC DOCUMENTS:
MEDICI LOGGING FILES FOR BANKRUPTCY
12/8/14
DEFAULTS ON LASSEN COUNTY $350,000 LOAN
A loan that should never have been approved
Click on the photo below
On March 24, 2014, the Board of Supervisors unanimously approved a $350,000 CDBG loan for Medici Logging when they knew that this company's debt, on March 24, 2014, was greater than their assets. In other words, there was a ZERO chance of this loan being paid back
WATCH PYLE'S REACTION at the end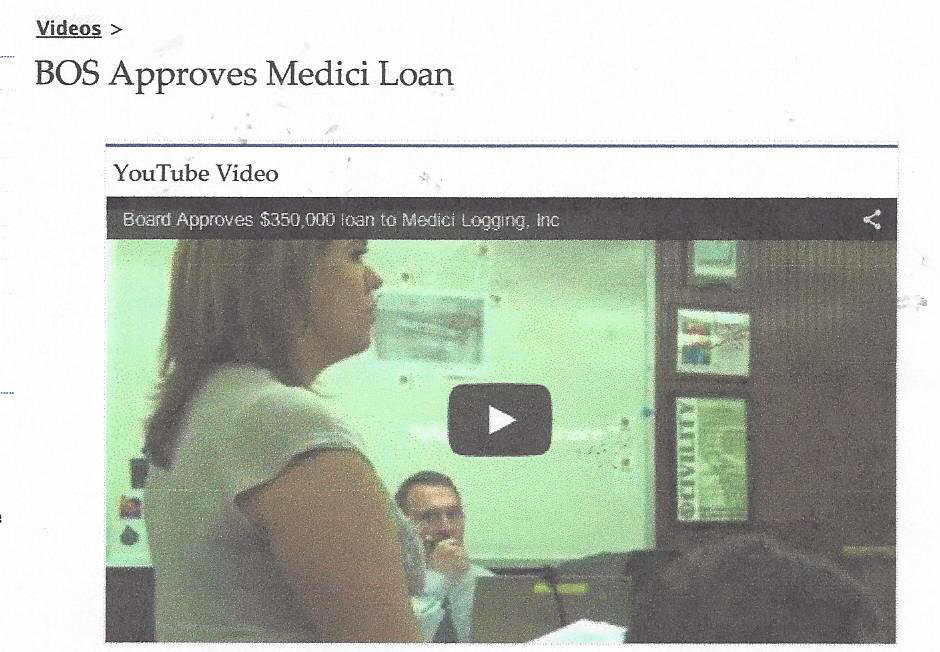 Medici Logging had an existing loan for $1,000,000 with the Redding Bank of Commerce at the time Lassen County approved the $350,000 CDBG loan.
The Bank of Commerce loan was issued on May 16, 2012. The Bankruptcy documents also show that the collateral Lassen County used to protect its' loan was already used by the Bank of Commerce.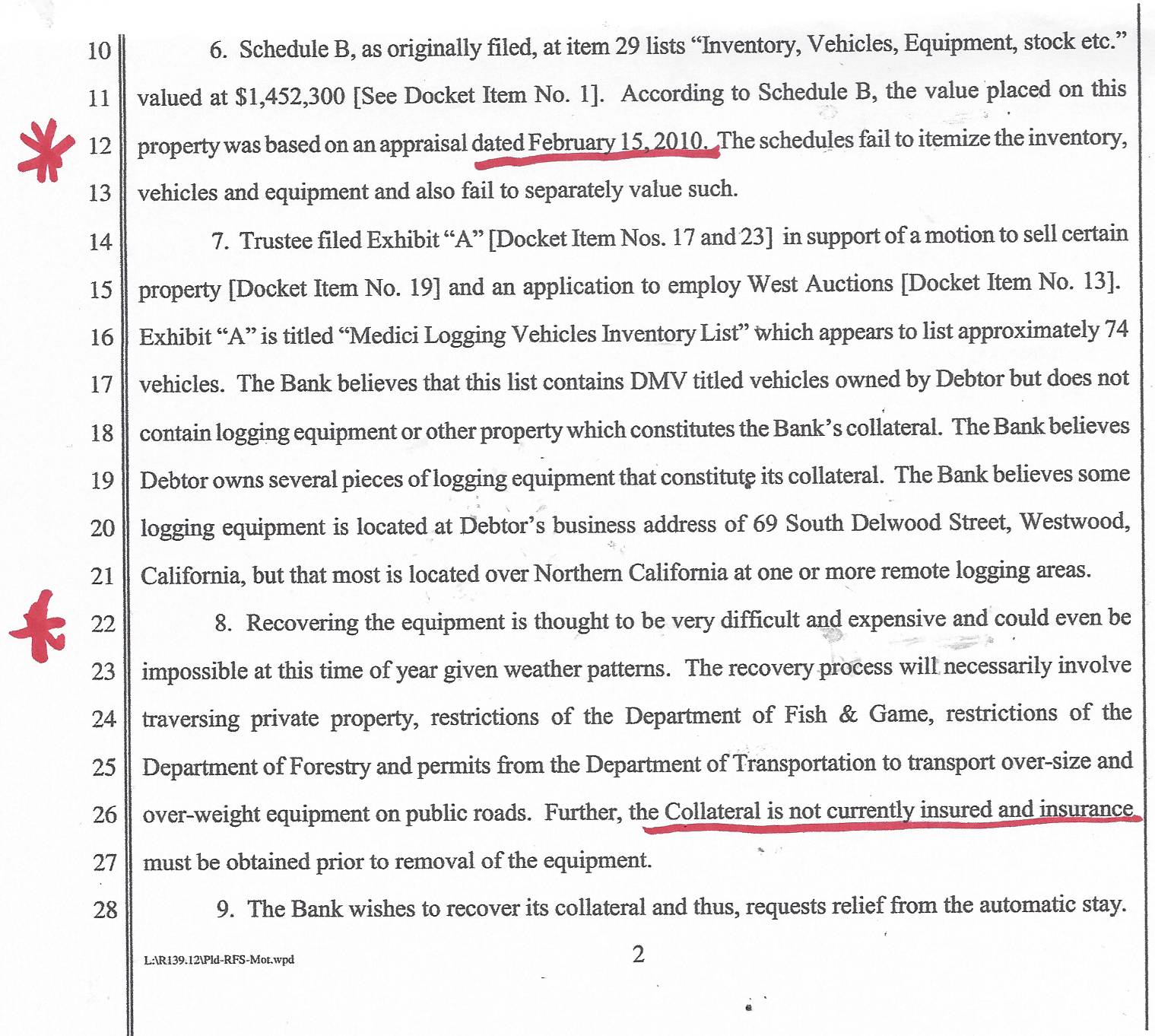 The Lassen County Auditor was told to disperse the loan funds on April 7, 2014 to Medici's trade accounts.

Steve Pezzullo has been Medici's Accountant since 1980.
Pezzullo knew about the $1,000,000 loan.
Pezzullo spoke in favor of approving this loan
NOT PAID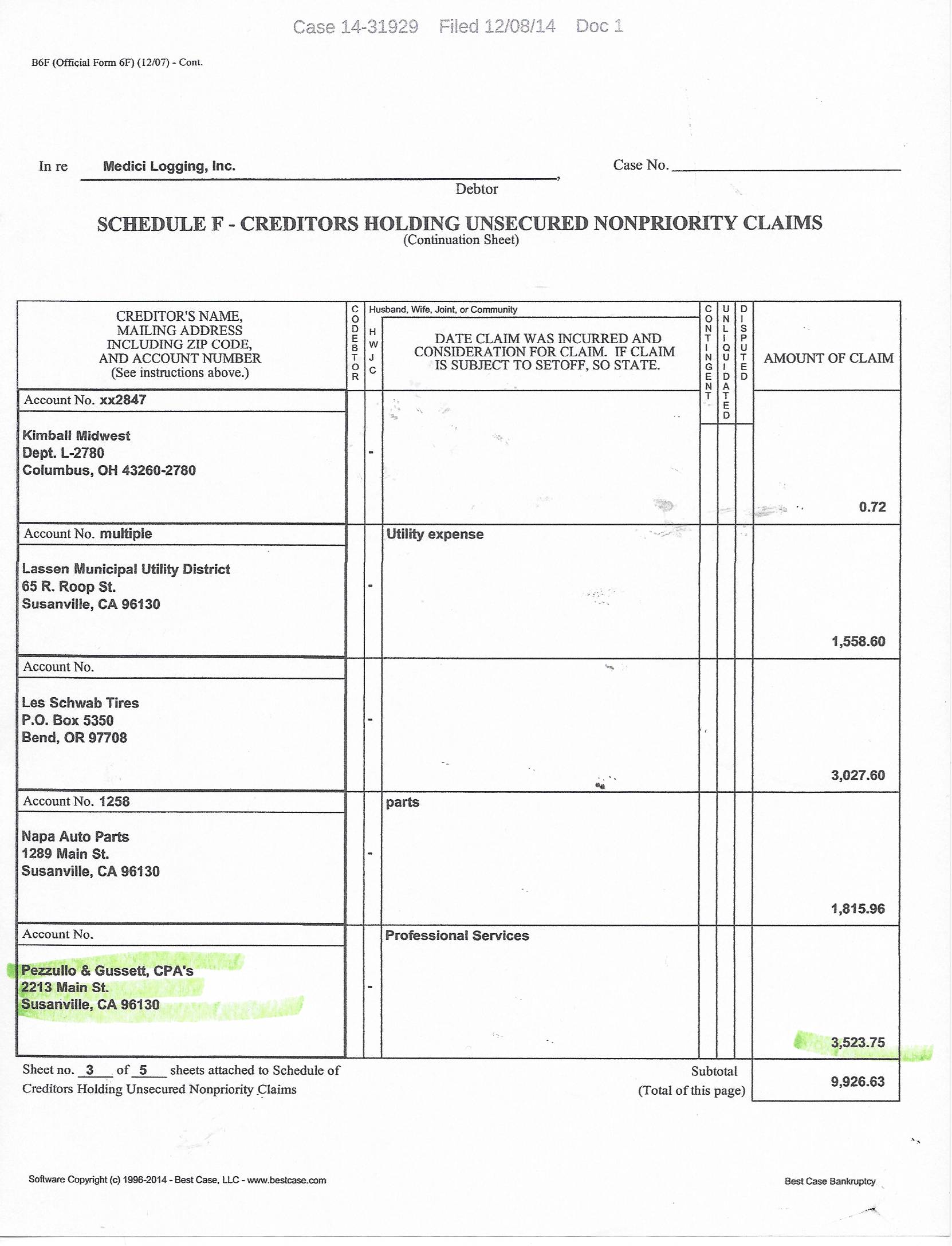 .....UNFORTUNATELY THERE IS MORE
Egan, Pezzullo, Pyle.........
Bustamante is the Clerk of the Board
by Government Code 25100
She is responsible for the Supervisors
Agendas and Minutes by law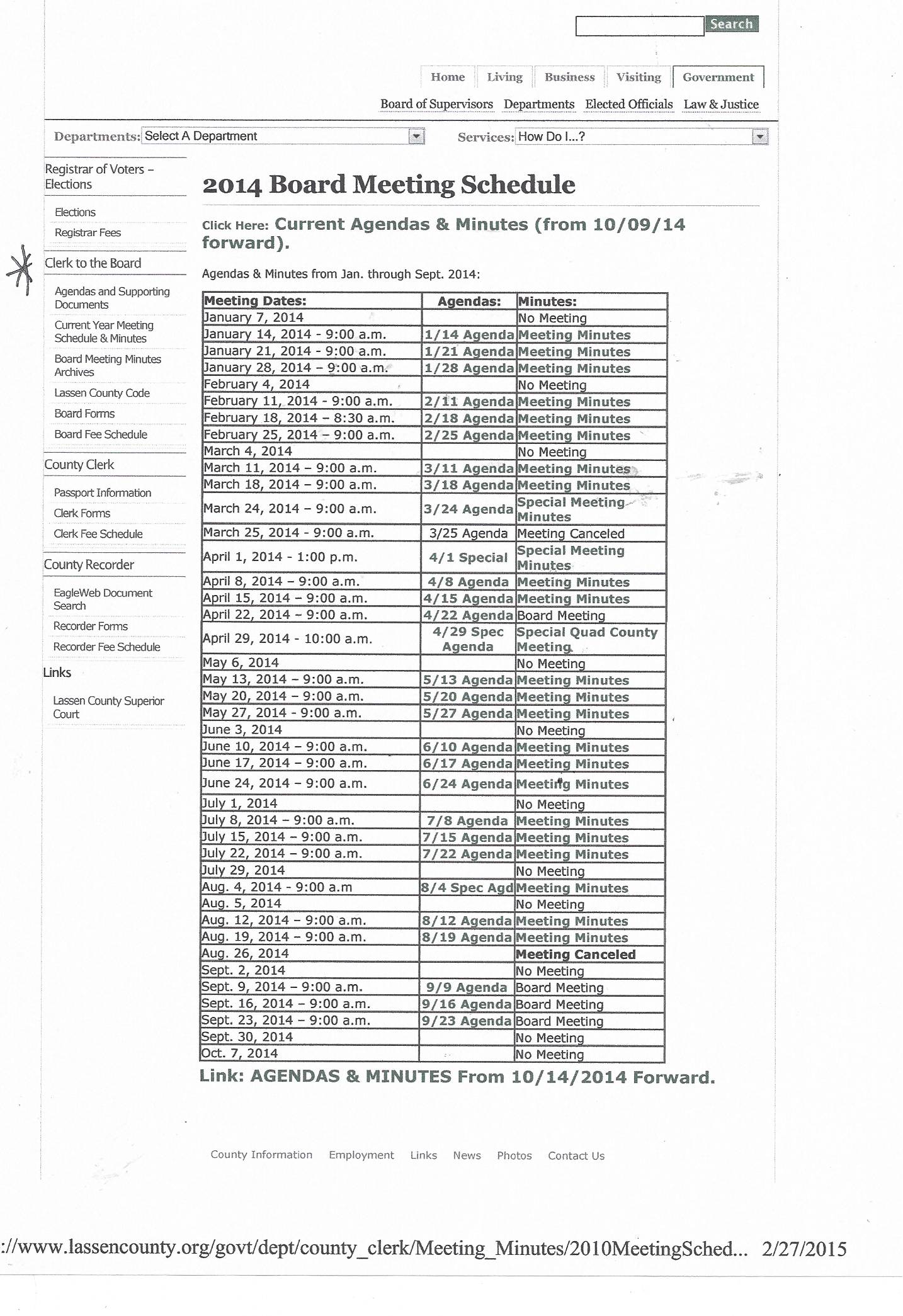 Bustamante posted this on her
$43,000 Granicus webpage
*Clearly she has posted a 2/26/15 meeting*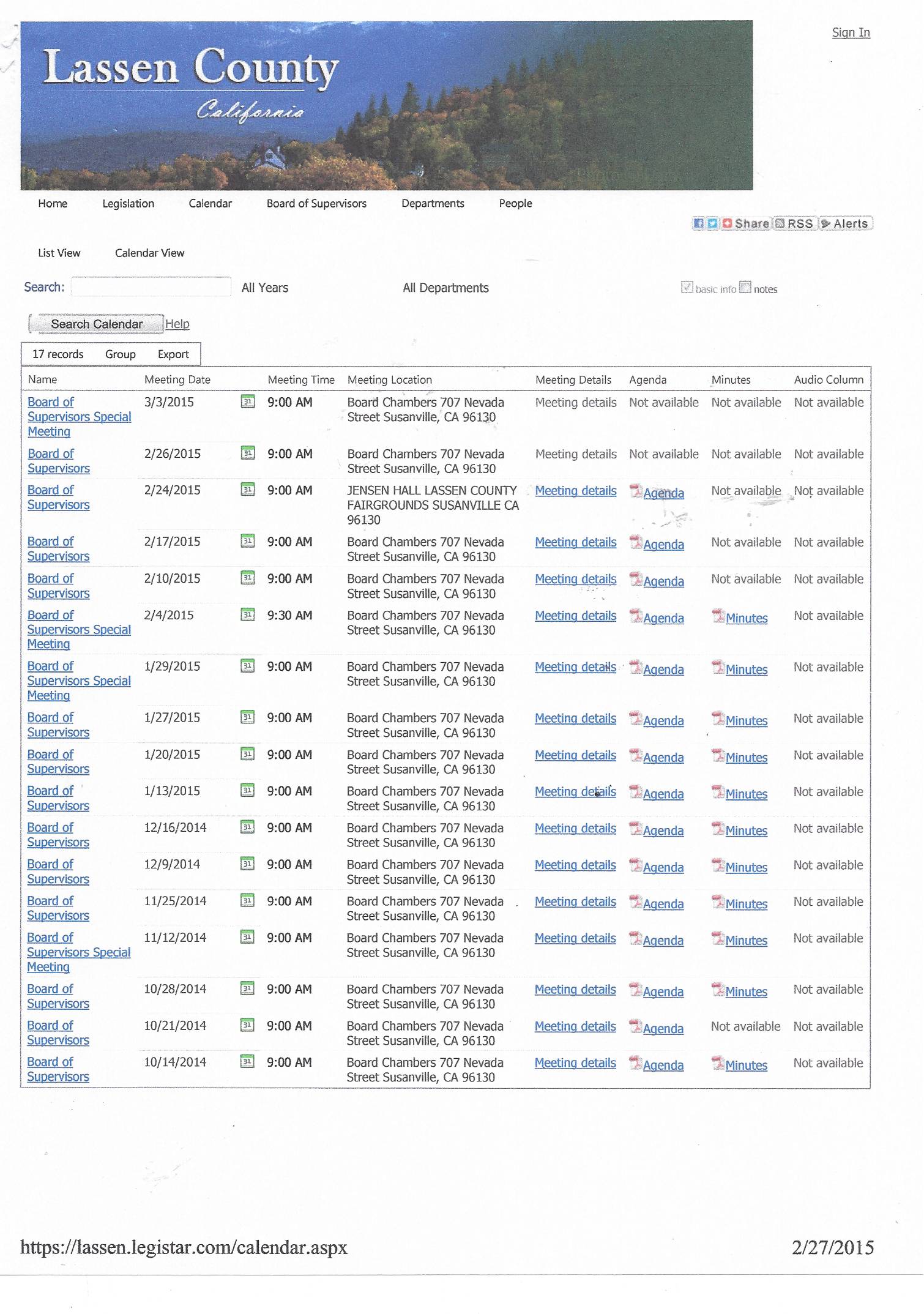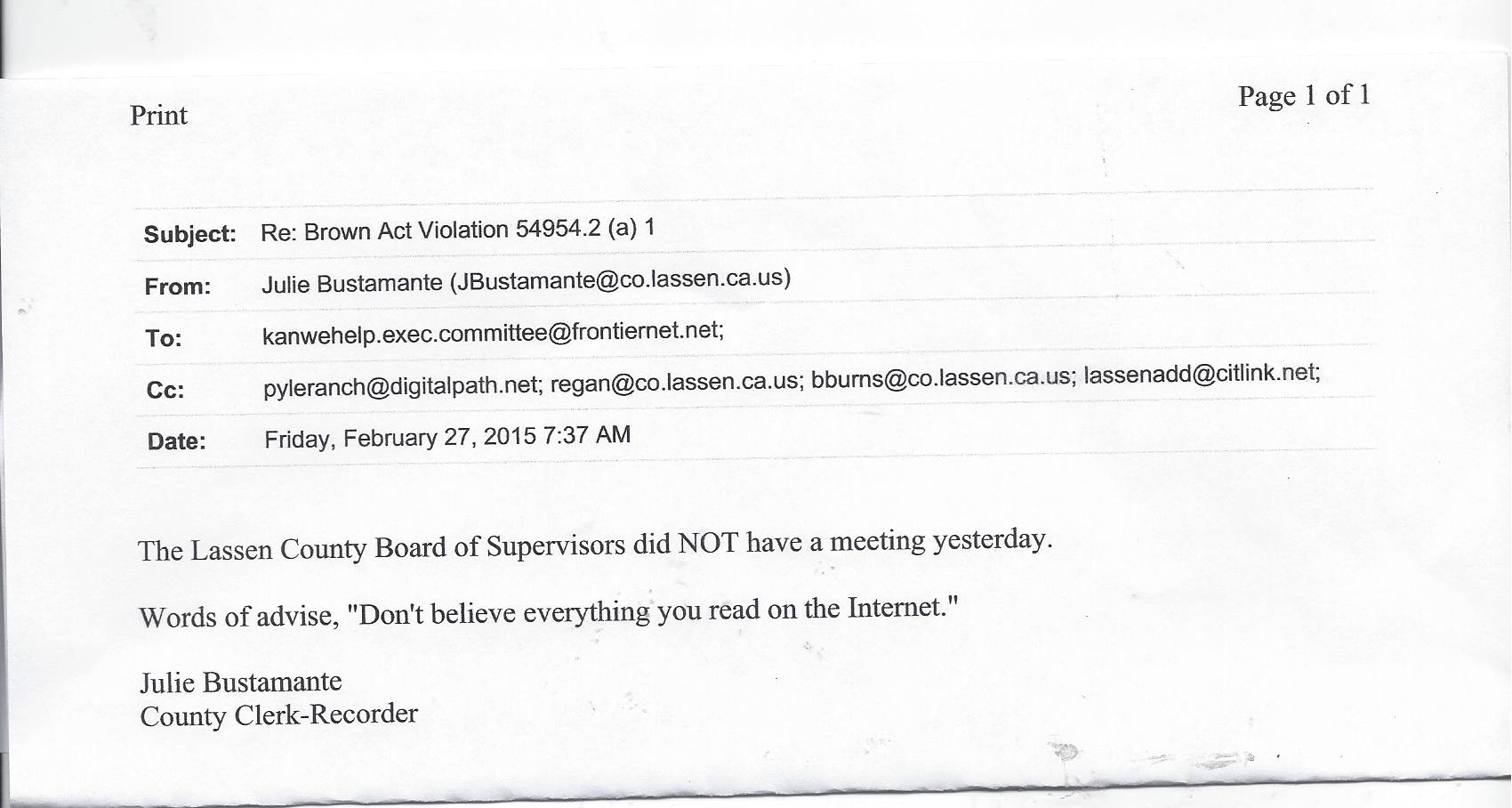 Lassen County Supervisors
held secret meeting on 2/26/15 (?)
and
have scheduled a Special Meeting for March 3, 2015
NO AGENDAS FOR EITHER MEETING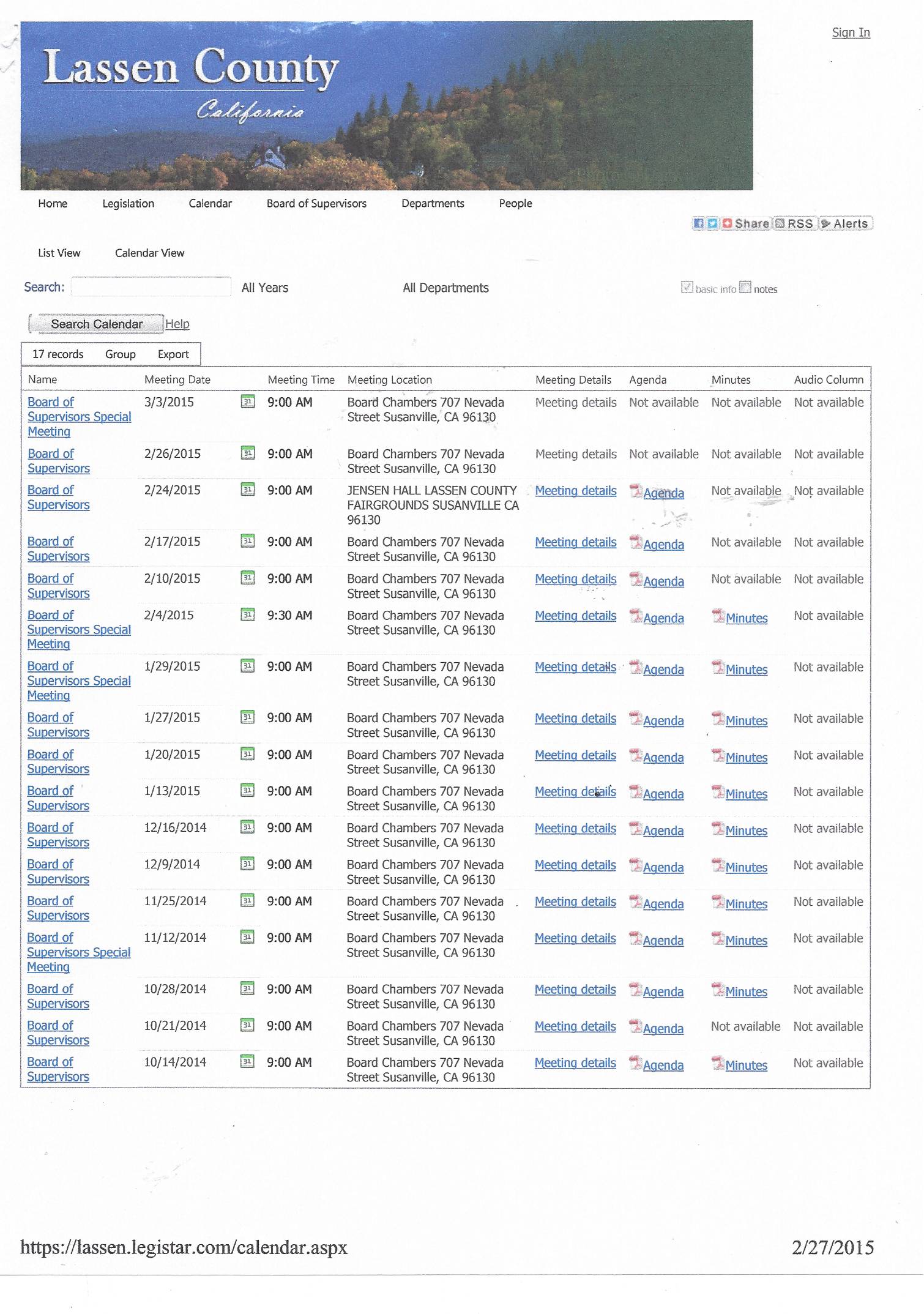 Supervisor Pyle Warns Jefferson Group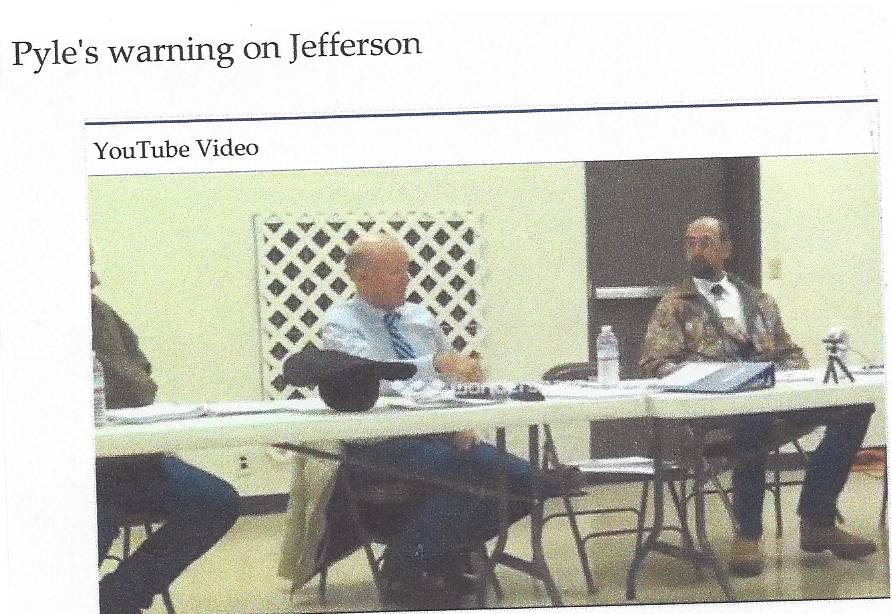 ....but votes yes on the Declaration that was
not written by the County
and now involves Lassen County in the Jefferson lawsuit.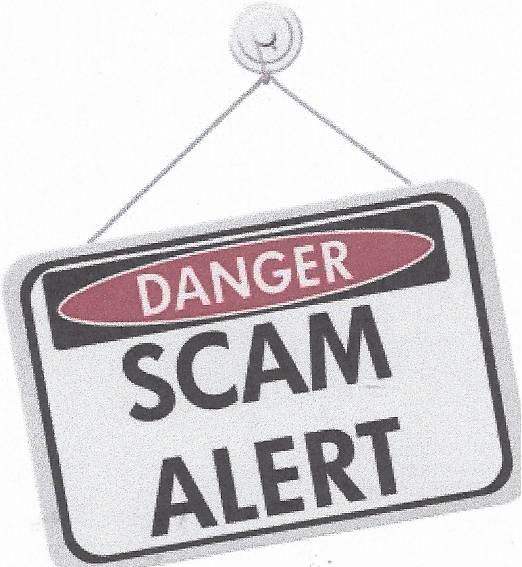 Pyle is not going to run in 2016.
Will he retire in Florida or Arizona?
KAN WE HELP WAS WRONG
SUPERVISORS
HEMPHILL (rancher & receiver of state handouts),
PYLE (rancher & receiver of state handouts)
AND ALBAUGH (rancher)
ARE NOT SMARTER THAN THE AVERAGE DONKEY
Jefferson Declaration passes by three votes.
Supervisor Chapman votes NO, Hammond was a NO SHOW
The Jefferson tribe has perfected their scam, over a 50 year period, to be effective on low-information people.
The three Lassen County Supervisors voted against themselves. The Jefferson groupies claim that the Supervisors are not representing their interest. How then do these same individuals represent them in a new cult state?
THE SUPERVISORS WON'T SIGN THE JEFFERSON DECLARATION ?
WHY?

1.LASSEN COUNTY WOULD BE
BANKRUPT
IF IT LEFT CALIFORNIA
2. Our Supervisors are smarter than a donkey

LASSEN COUNTY HAS BEEN AND WILL ALWAYS BE A "WELFARE" COUNTY
and part of the State of California
County intentionally gives ONE STOP building to Pezzullo
and
Pezzullo dumps ONE STOP building back to County
$$$$$$$$
$ No one wants to bring this building up to ADA Codes $
$$$$$$$$$$
Amedee Parcels sale to Pezzullo
Supervisor Chapman
Sets Up
Supervisor Hammond
Lassen County Supervisor Jim Chapman found out about the lies that were being told
and set Supervisor Hammond up for the fall
At the February 17, 2015 Lassen County Board of Supervisors meeting Supervisor Chapman asks CAo Egan if he could confirm that the Commander of Sierra Army Depot never spoke with anyone from HSP Resources about the Amedee Airfield parcels that the County was selling.
Egan very reluctantly & with a confused look on his face
confirmed that the Commander stated that he was not in contact with HSP Resources
What happened next was unique to say the least:
Supervisor Hammond stated firmly that he had been meeting with the Commander of the Sierra Army Base that included a contract for HSP Resources .
*watch a very nervous bob burns*
In fact, Supervisor Hammond stated that he and the "other people" had met three times.
Hal Hays did publicly state on February 10, 2015 that he had a meeting on February 11, 2015 with the Army Base ?
SUPERVISOR HAMMOND.....
YOU JUST VIOLATED SO MANY LAWS
LT. COLONEL SLOSSON KNEW THAT AN ELECTED COUNTY OFFICIAL
CANNOT BE INVOLVED WITH USING HIS POSITION TO HELP A "BIDDER" (HSP RESOURCES).
Supervisor Albaugh made a motion to throw out all the bids and do it right. This motion was seconded by Supervisor Chapman.
Supervisor Hammond voted no on scraping the Amedee Parcels RFP
and
Hammond was the deciding vote again to give the Amedee Parcels to Steve Pezzullo
Lassen County Supervisors
& CAO
Place the amedee parcels
on 2/17/15 agenda
.....but refuse to ratify the Minutes
of September 23, 2014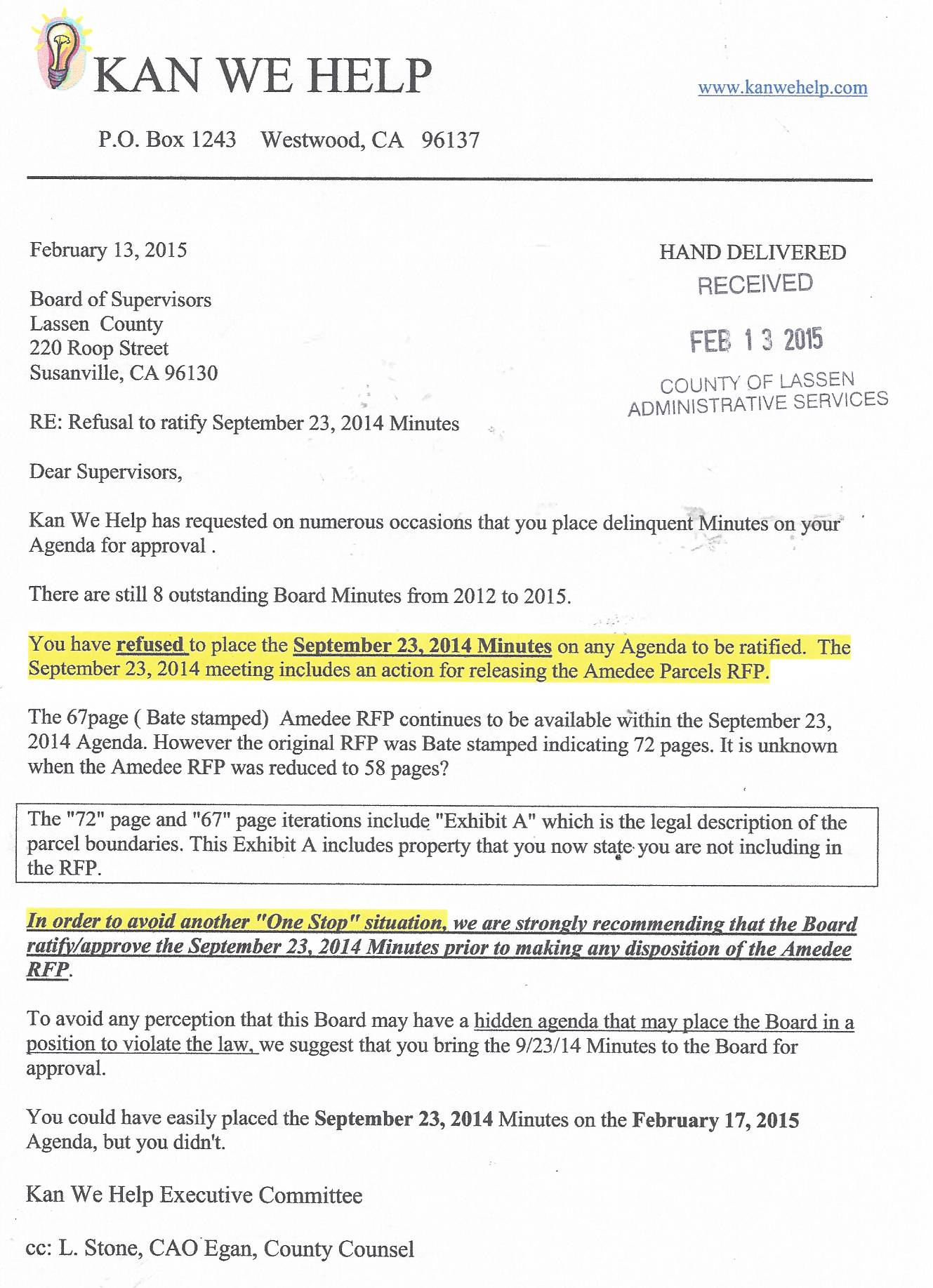 Hal Hays stated, on February 10, 2015, that he could bring in UPS, FEDEX and other carriers to share the Army's Airfield. The airspace above Amedee Airfield is Federal airspace. As long as Sierra Army Depot is open that airfield will not be shared with any private entity.
The Supervisors refused to order the Airport Land Use Plan ($40,000) which is mandatory before giving this property away for $35,000.
Who would buy any land when the "use" of the land is undetermined.
Sharp Army Depot had the same problem as Sierra Army Depot.....contaminated land
Sharp Army Depot put up LUC (Land Under Control) signs around the contaminated land and continue to do clean up on water contamination.
Sierra Army Depot got rid of their contaminated land ( by transferring it to Lassen County) but left $4,000,000 worth of clean up (unexploded ordinances, chemical contaminations).
Kan We Help files FPPC complaint
Supervisors Allow Bustamante
to Make Up Fake Titles
The February 10, 2014 Board of Supervisors Agenda Item H-4 lists an item under County Clerk/Recorder
The State of California's Government Code 25100 creates a statutory position to exclusively place the County Board of Supervisors Minutes with the "Clerk of the Board"
The Supervisors are being advised by County Counsel to ignore Government Codes
STATE OF TRIBALISM
The "State of Jefferson " Flim Flam Group is back again after decades of trying to form a new State
Their leader gave a hour long pandering diatribe that was
51% Factless
10% Feckless
39% Fear Mongering
Since 1941 this group has signed up three counties to break away from California.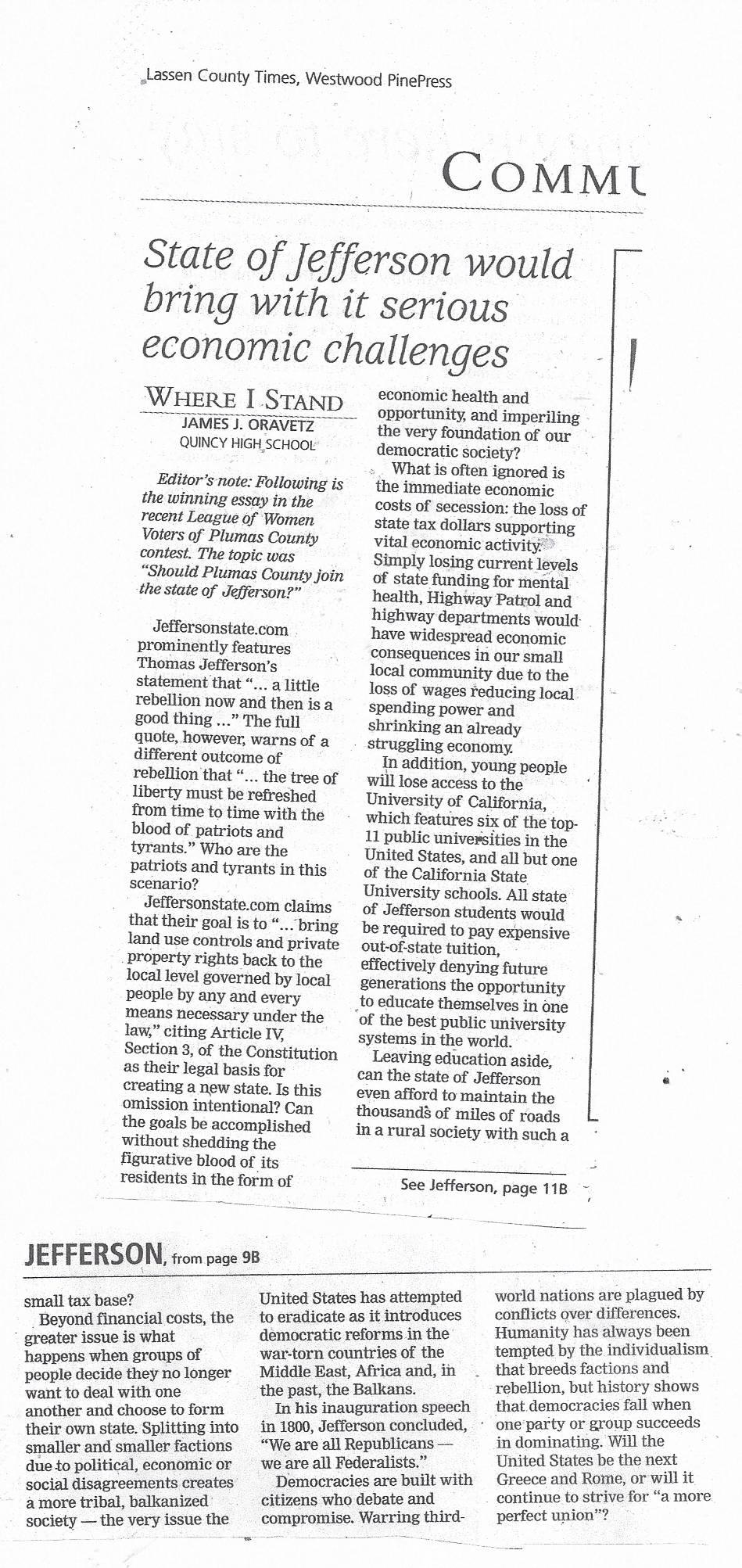 Lassen County's main revenue stream comes from a percentage from the taxes collected from the entire state of California. Lassen County's welfare (health and human services) revenue supports Lassen County jobs.
The second source of income and employment are the two California prisons and the Federal prison within Lassen County boundaries The Jefferson group claims that the State of California would just hand over the prisons, state parks, court house, CHP, welfare dollars. B u l l S h i t and a pile of cow pies.
After the social welfare dollars and prison dollars are gone, the only source to tax
would be the ranchers.
THIS IS A $124,021,851 INDUSTRY
[The State of Jefferson says they would only tax them 3%, $13.8 million]
State of Jefferson
.....They're b a c k......
A Ponzi Scheme, decades old
This scheme is decades old and now they are
in Lassen County asking for $$$$$
This was a bad idea 40 years ago, and it is a bad idea today.
Lassen County depends on California's
welfare and prison dollars
just to stay afloat.
THERE IS A BETTER WAY TO PISS OFF YOUR MONEY
BUY A SIX PACK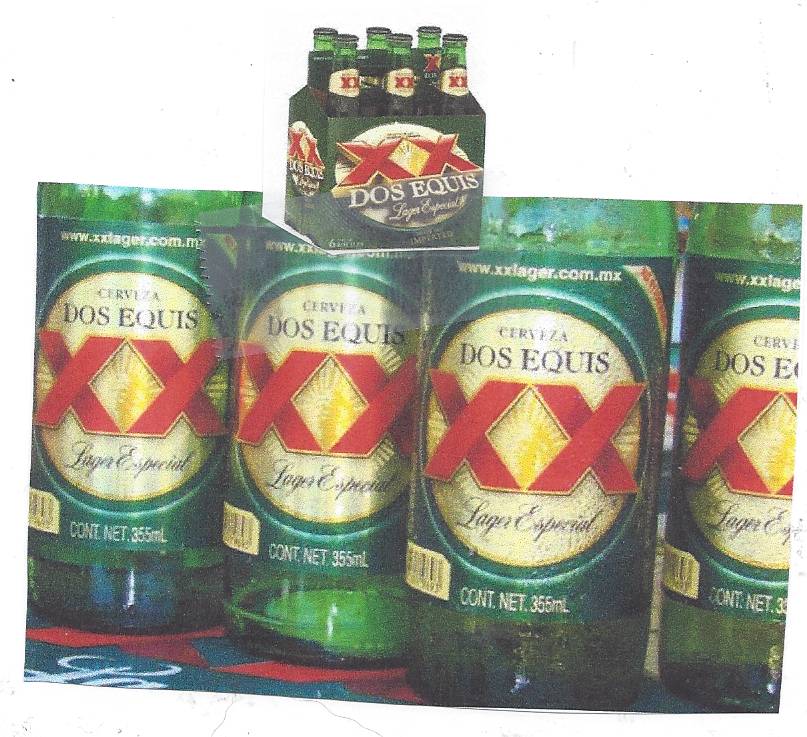 Settlemire Did It
Kettleson Did It
Crabtree Did it
Vander Plug Did It
All Lassen County Counsel's Have done it.
FAKED CLOSED SESSION AGENDAS
The last two "Special Board of Supervisors Meetings"
have not been about labor negotiations.
You really have to wonder why Burns, like his predecessors, feels the need
NOT TO BE HONEST ABOUT CLOSED SESSION ISSUES.
It couldn't be because the Brown Act requires public entities to place the truth on their Agendas, because that has n e v e r stopped them from lying.
Mr. Burns & the Lassen County Board of Supervisors very recently signed a contract with Margaret Long and her brand spanking newly formed law firm. The public was told that this was a "Child Protective Services" contract.
The last two "Special Meetings" (January 29, 2015 & February 4, 2015)just happened to coincidentally follow the court filings of Federal case 14 cv 01473. The same case that Margaret Long is defending for Lassen County.
Oh, and by the way this is not a child protective services case.
Mystery Man, Tony Shaw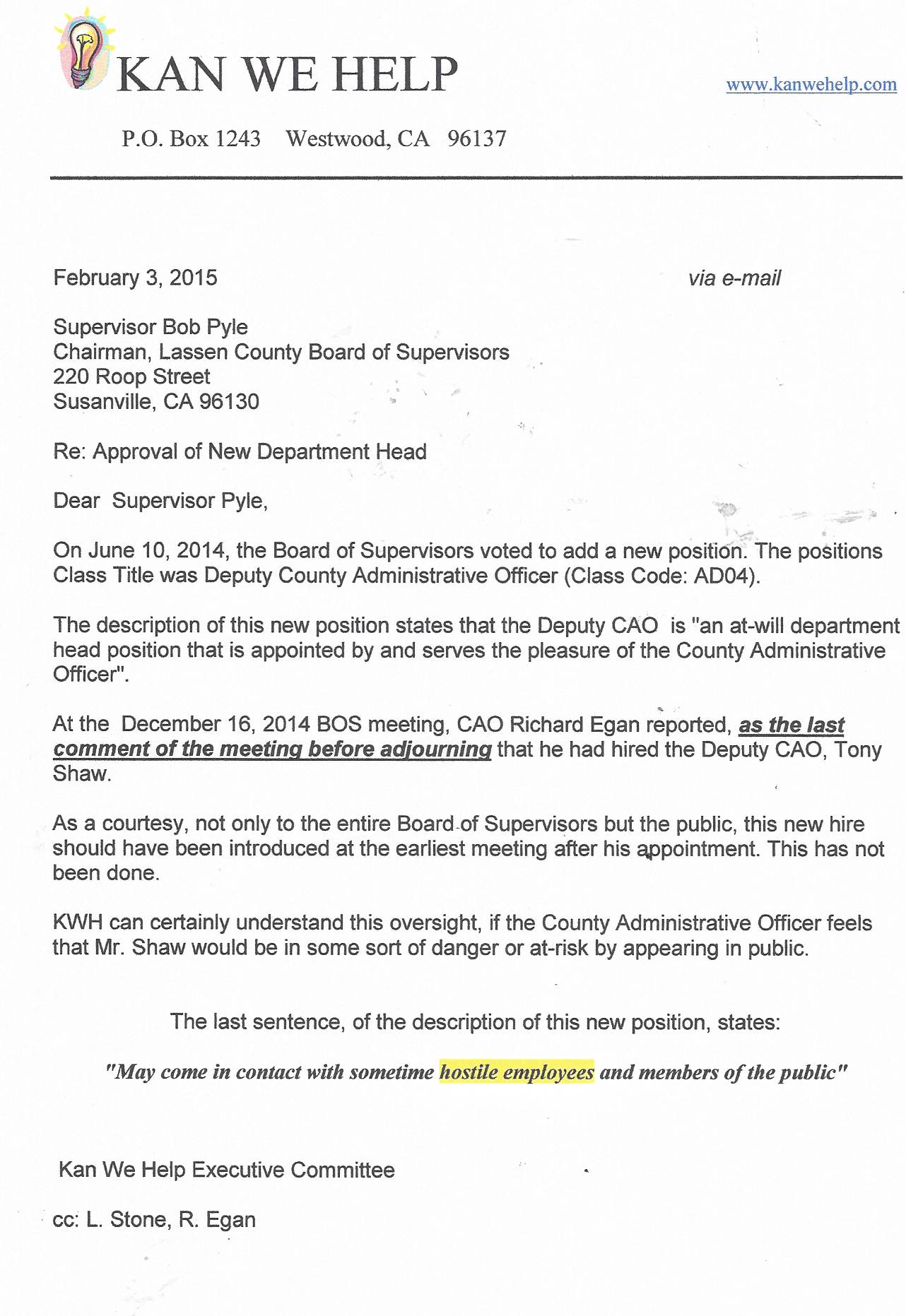 .....last page of Tony Shaw's job description ?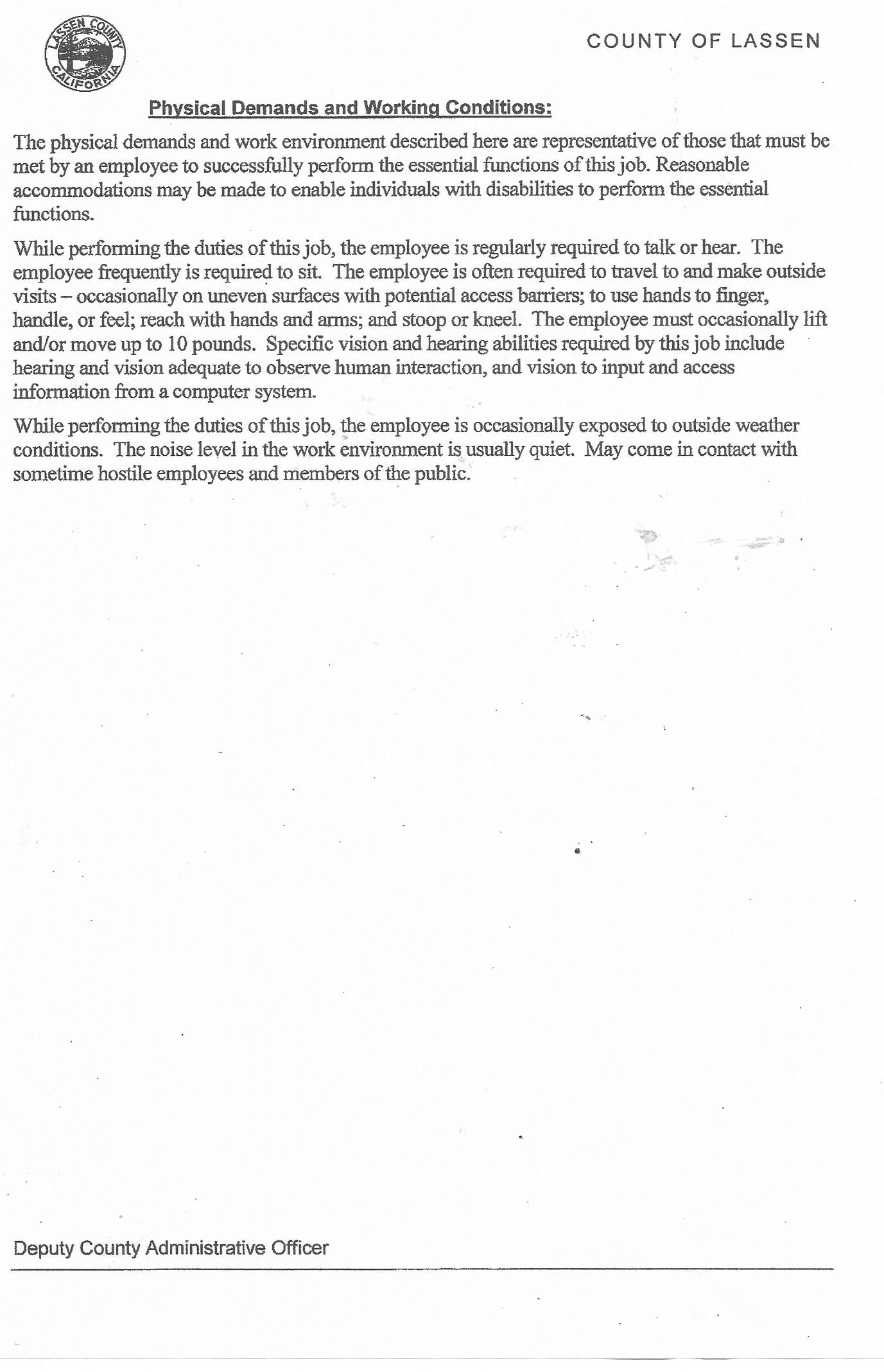 making up titles has to stop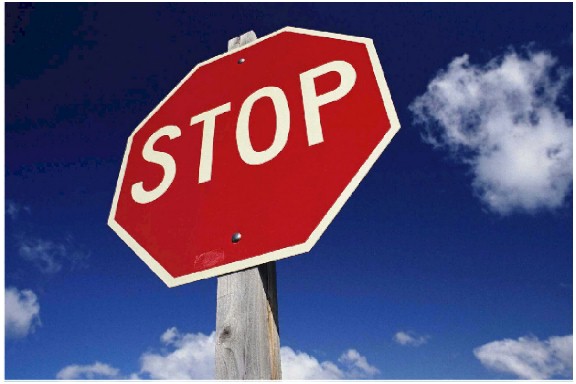 County Counsel Bob Burns Does Not Know
yet that He Can Not Make up Employee Positions
or
County Departments
....and no one has ever expected
the Supervisors to know anything!
On January 27, 2015, the Supervisors took only minutes to approve their "deficient" 2015 Conflict of Interest Codes
and told KWH to mind their own business
and an hour complaining about the LMUD Conflict of Interest Code because it didn't include a "Gift Limit"
Lassen County Clerk
has never been any good at her position
Click on the photo
(click on the bottom right to skip ad)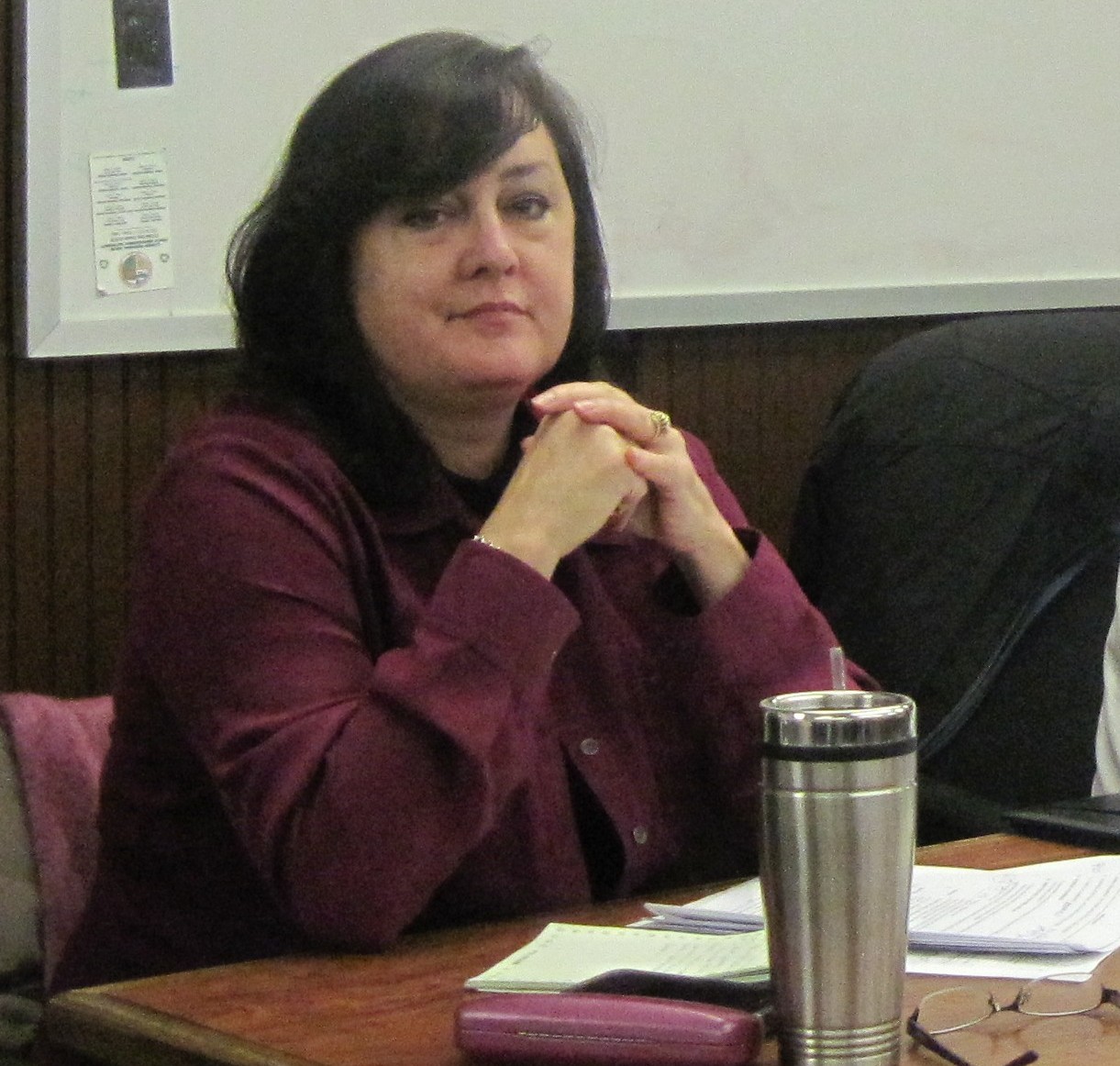 Now, she has hit rock bottom
California Government Codes 25100 and 26801 clearly state the County Clerk shall act as the Clerk of the Board. However Government Code 25100.5 states that the Board of Supervisors can appoint the Clerk of the Board by enacting an Ordinance. By enacting an Ordinance, the Supervisors brought this statutory position under the supervision of the Supervisors but when the former County Clerk did not run for re-election they repealed this.
For seven years 15% of Julie Bustamante's check is paid from the "Clerk of the Board" annual budget. She gets paid 15% as County Clerk, 55% as Election officer (1 maybe 2 elections a year) and 15% for County Recorder.
Susan Osgood, is acting as the Clerk of the Board.
Budget for this statutory position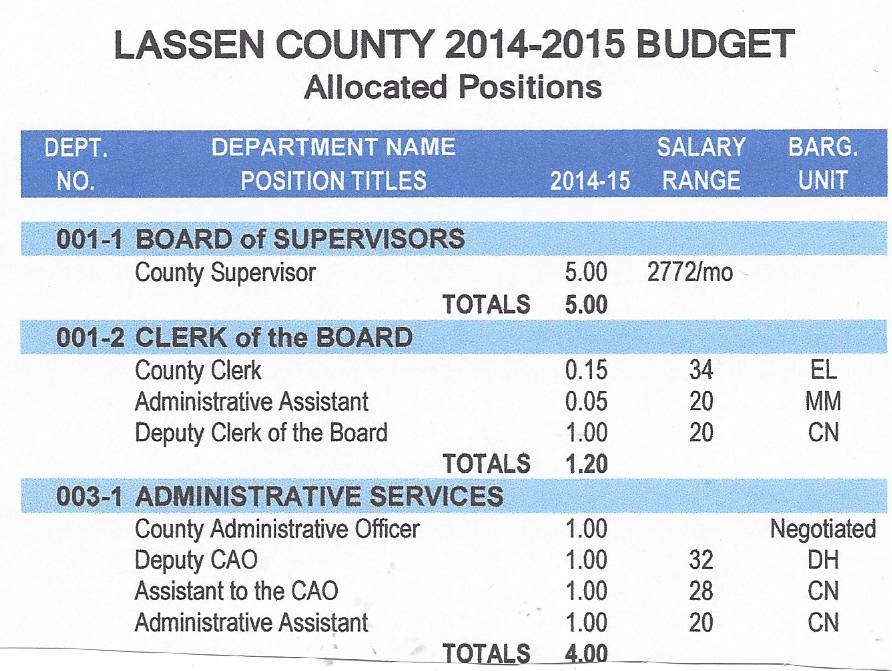 This Statutory position, Clerk of the Board, has defined duties which include attending all regular and special meetings (Gov't Code 25101 (a)), keeping the Minutes in all formats (Gov't Code 25101 (b)), deliver to the Auditor all demands for money (Gov't Code 25101 (c)), file and preserve all documents submitted at the meetings (Gov't Code 25101 (d)) , authenticate signatures, placing the "Seal of the Board" on documents.
From 2007 to September 23, 2014, the County Clerk has placed the Minutes of Supervisors on the Agendas.
12 times, in 2014, the County Clerk did not place any Minutes on Agendas and fell incredibly behind. The Minutes that were submitted for approval were chronologically all over the board.
On January 27, 2015, Supervisor Chapman told KWH that it was none of our business.
On the October 14, 2014 Agenda, Julie Bustamante began placing the Minutes
under "County Clerk/Recorder".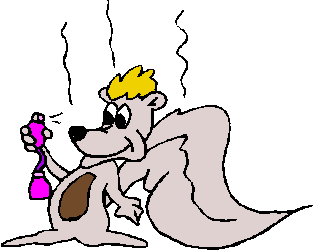 Yesterday, Kan We Help notified Bustamante that the January 13, 2015 Minutes posted had not been approved by the Board of Supervisors.
Bustamante, without checking, quickly answered back that we were "WRONG AGAIN". Kan We Help asked for a date where the 1/13/15 Minutes had been approved. Bustamante did not apologize but did take the Minutes off the website.
BUSTAMANTE HAS NO IDEA HOW TO BE A COUNTY CLERK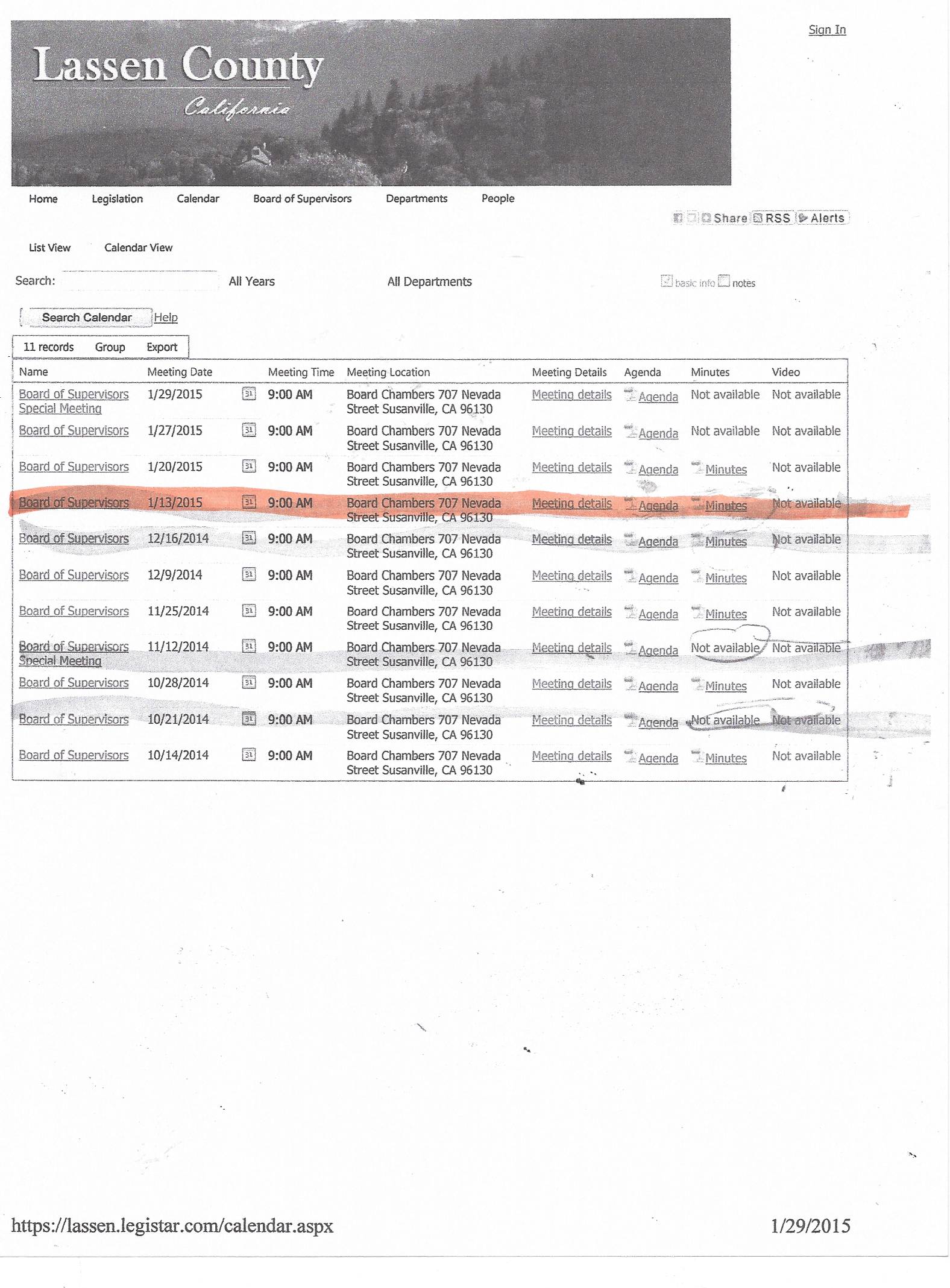 Now, Bustamante presented the January 20, 2015 Minutes for approval at the January 27, 2015 meeting. How long were the January 13, 2015 Minutes sitting around.
There are still delinquent Minutes from 2012 & 2014 ?
KAN WE HELP TELLS SUPERVISORS
THEIR CONFLICT OF INTEREST CODES
ARE DEFICIENT
Supervisors have no interest in the mistakes County Counsel made. WATCH
1. The Clerk of the Board is a statutory position and was deliberately omitted by County Counsel. The County Clerk has failed to be competent in this position. Kan We Help suggested moving the "Clerk of the Board" position back directly under the Supervisors authority and supervised by the CAO. Government Code 25100 allows for this change. This position has been budgeted so there would be a negative impact on the budget.
2. There is no "County Clerk/Recorder" position. The positions that are budgeted are Clerk of the Board, County Clerk, County Recorder and County Elections.
3. There is no Public Works Department. County Counsel simply copied the last COI without reviewing if this position even existed. The Transportation Department has a budget.
4. Both County Counsel (Title 2, Section 2.08.30, m208.040) and District Attorney (Title 2, Section 209.010) are named as "Public Administrator" in Lassen County Codes.
5. The Board of Supervisors voted to add a budget for a new Department Head on June 10, 2014 (Deputy CAO). The CAO hired a Deputy CAO on January 5, 2015 but this position never came before the Board for approval.The CAo has kept him hidden ???????
Just a sample of what County Counsel missed and The Supervisors were not the least bit interested in
Lassen County Supervisor Chapman
Complains that the LMUD Conflict of Interest Code submitted
is DEFICIENT
WATCH: The only thing the Supervisors thought was was deficient was Chapman's "Mind"
The Supervisors voted to approve their Conflict of Interest Codes
that were 50 times more Deficient
Watch: the idiocy if you have the stomach
Kan We Help Asks Supervisors to
Follow Their Own Rules
The Board of Supervisors established a set of rules with Resolution 12-039 that they must follow.
Kan We Help Handout: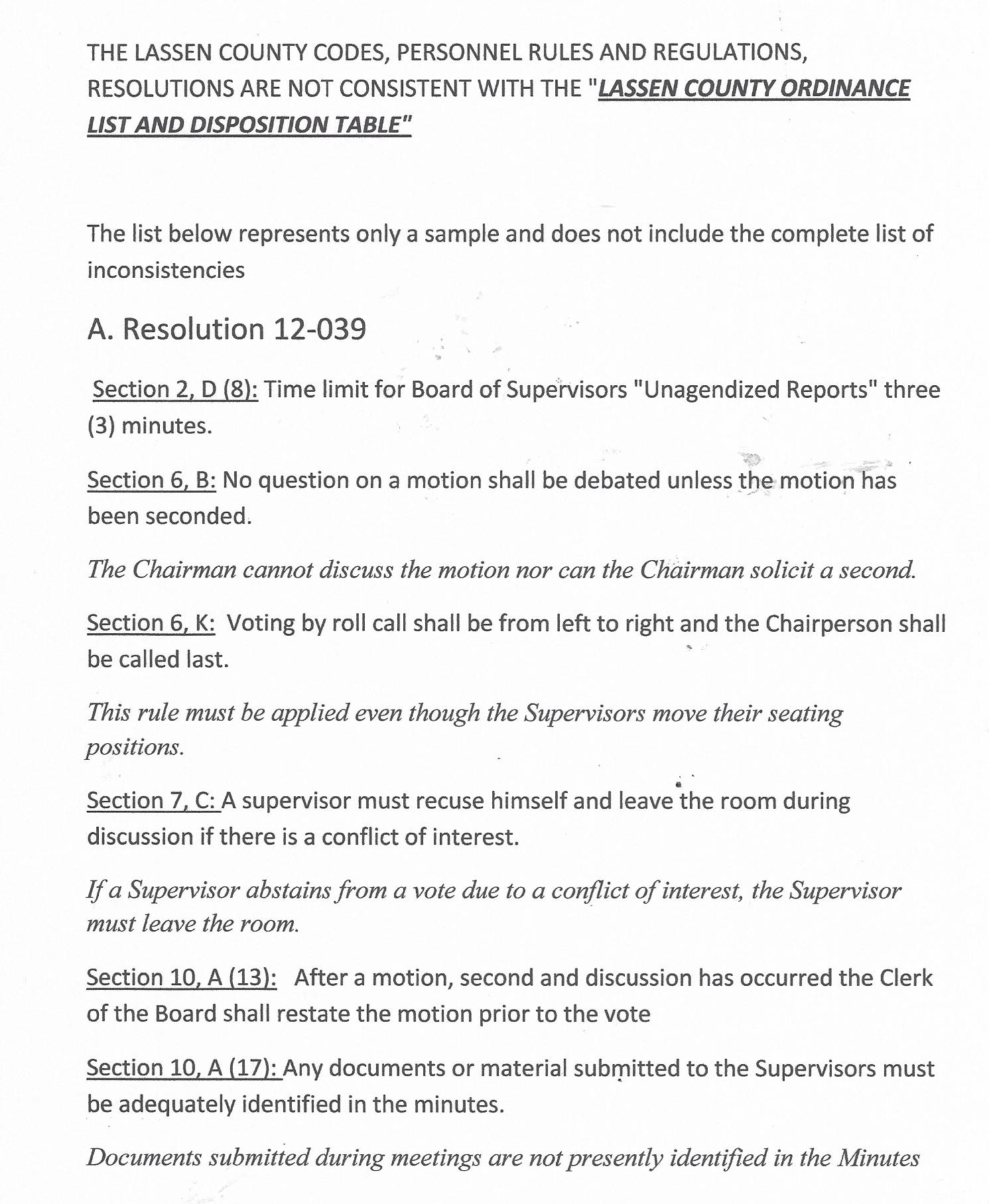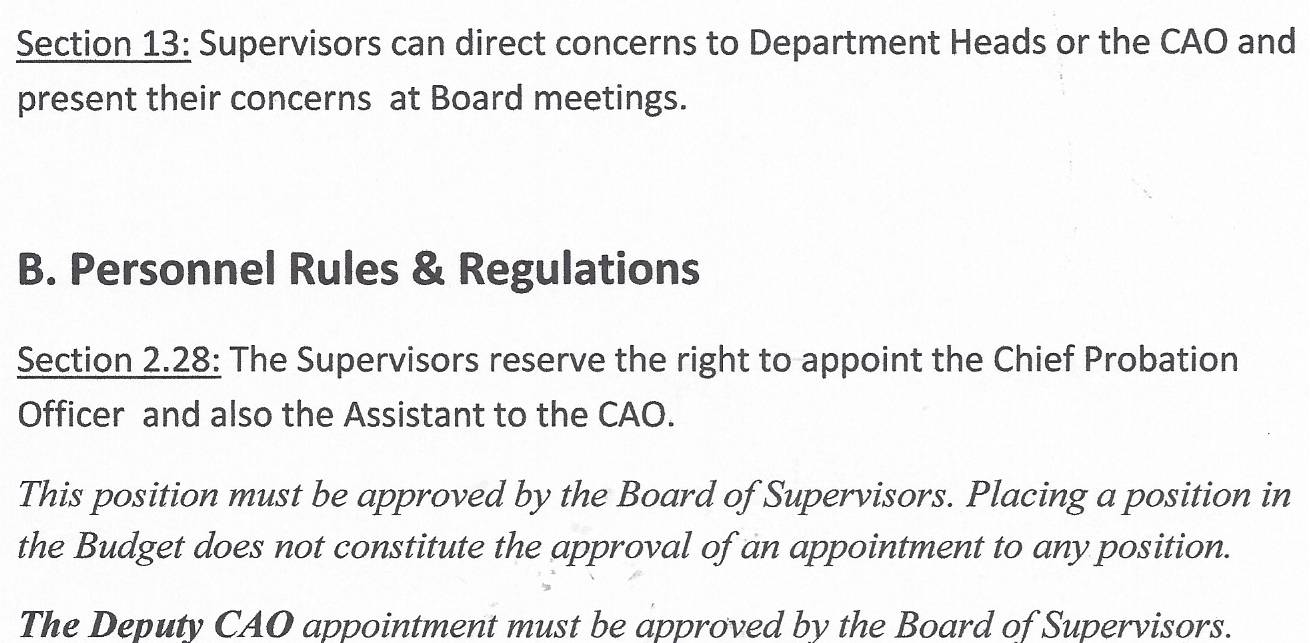 BUT THEY DON'T FOLLOW THEIR RULES !
AND DIDN'T LIKE BEING REMINDED THAT THEY ARE NOT
FOLLOWING THEIR OWN RULES
WARNING:
Mr. Burns, the old days are over
Effective January 1, 2015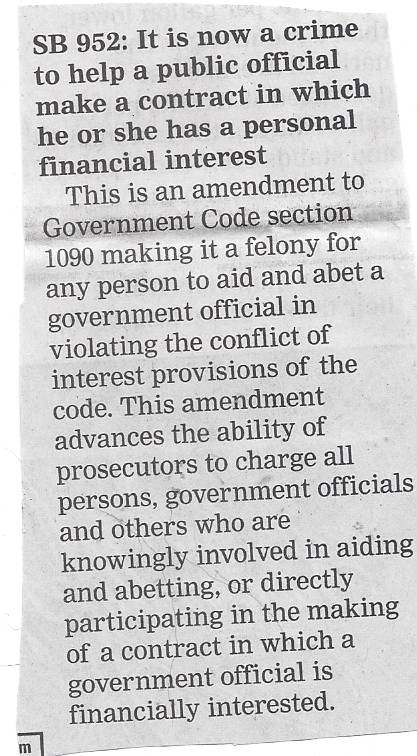 Upcoming: Amedee Parcels RFP
Lassen County Counsel
Bob Burns
Finances New Law Firm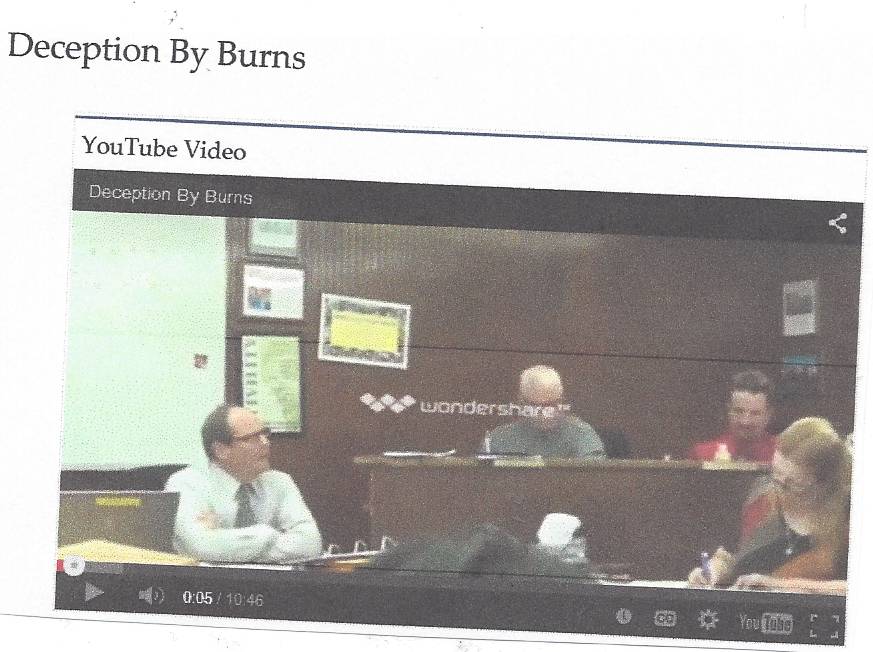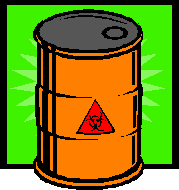 Former District Attorney Bob Burns
brought his bag of tricks with him
when the Lassen County Supervisors hired him as County Counsel.
Burns placed a new legal contract on the January 20, 2015 Board of Supervisors Agenda (H-2).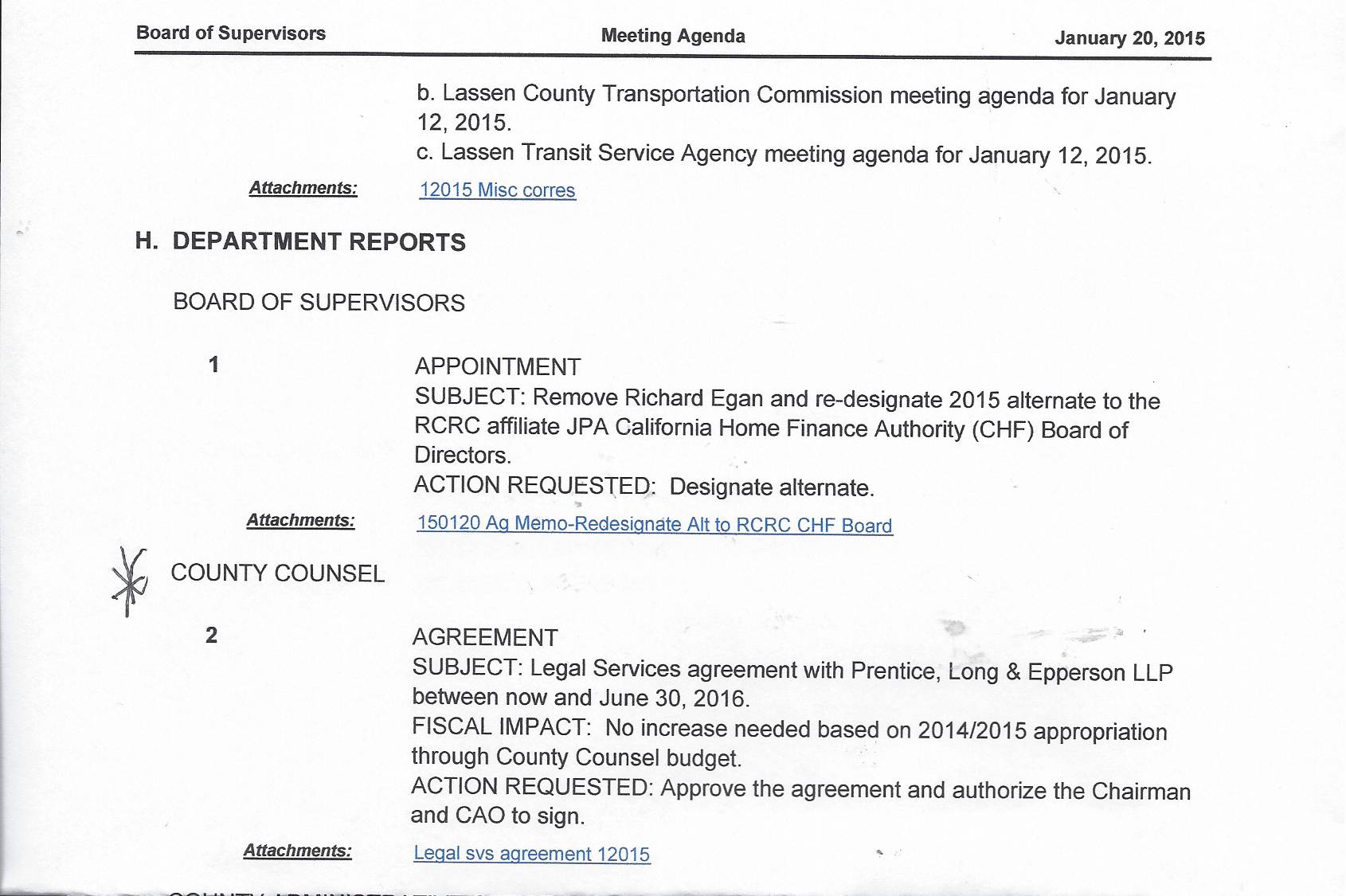 Burns told the Supervisors that he wanted to cancel the Cota Cole contract immediately and hire a new law firm called Prentice Long and Epperson LLP. This law firm was recently formed in December of 2014. County Counsel Burns did admit that Margaret Long was a friend of Rhetta Vander Ploegg (former Lassen County Counsel).
Margaret Long suddenly left the Cota Cole law firm to form this new law firm with Jason Epperson and David Prentice.
We don't know if she was fired or left before she was fired.
During the H-2 Agenda discussions, Kan We Help told the Supervisors that this contract appears to be for "child protective services" consultation but had a very "ODD" clause on Exhibit A ( page 10 of this newly formed law firm's contract).
THE FIVE SUPERVISORS WERE CLUELESS, DIDN'T CARE
OR WERE APART OF THIS FRAUD
KWH Secretary told the Board that this clause will be abused and it turns out it already has. Burns is using this new law firm to defend County employee Kevin Jones, Brandon Vinson and newly elected District Attorney Stacey Montgomery.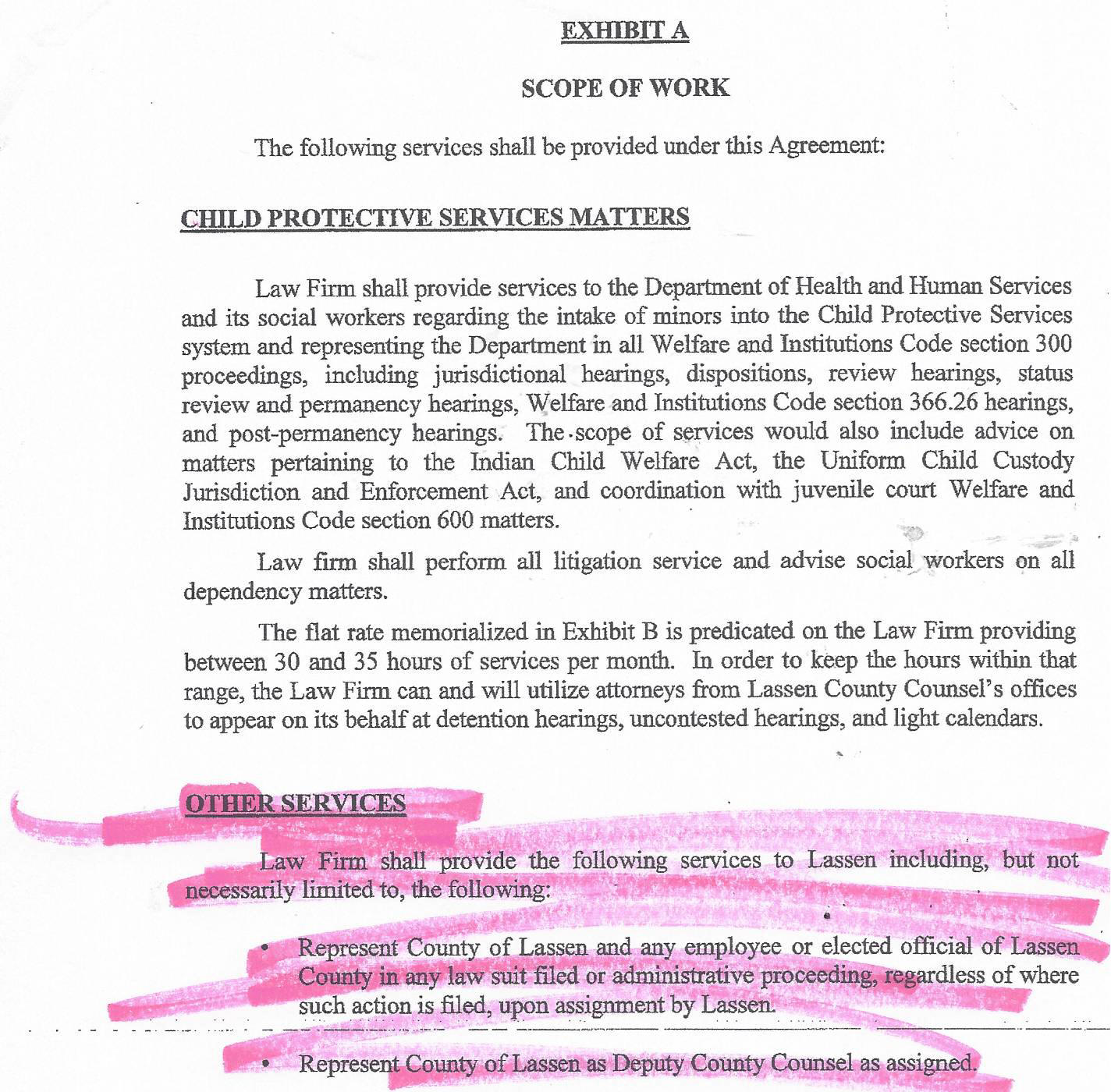 Burns Original Pitch to Extend Cota Coles Contract
in July of 2014
for
"child welfare cases"
aka Case 14 cv 01473
WHAT BURNS DID NOT DISCLOSE, IN PUBLIC, WAS
ON NOVEMBER 7, 2014
MARGARET LONG FILED
A
MOTION IN FEDERAL COURT
TO CORRECT HER MISTAKE
and Judge Claire granted the Plaintiff 30 days to amend her complaint. The Amended complaint was filed on January 16, 2015.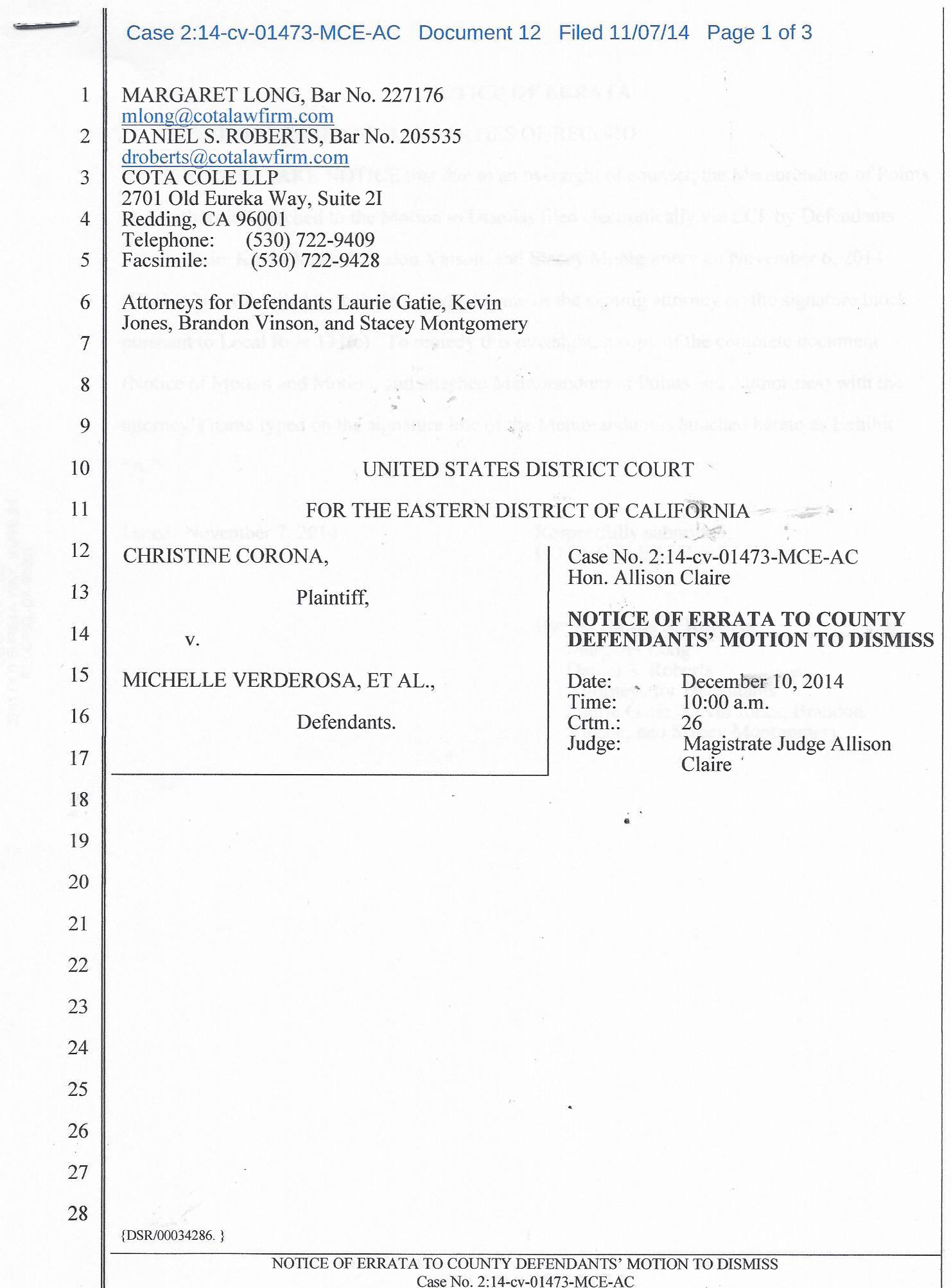 Lassen County Scoop video link: WATCH
AN
IMPOTENT BOARD
IMPOTENT CAO
INCOMPETENT COUNTY CLERK
Kan We Help has asked,
the
CAo
and
County Clerk many times to keep the
Minutes updated and posted
to the County website
They don't think this is important ?
[Supervisors didn't meet for a month and the County Clerk still could not get the Minutes done]
AS OF JANUARY 13, 2015: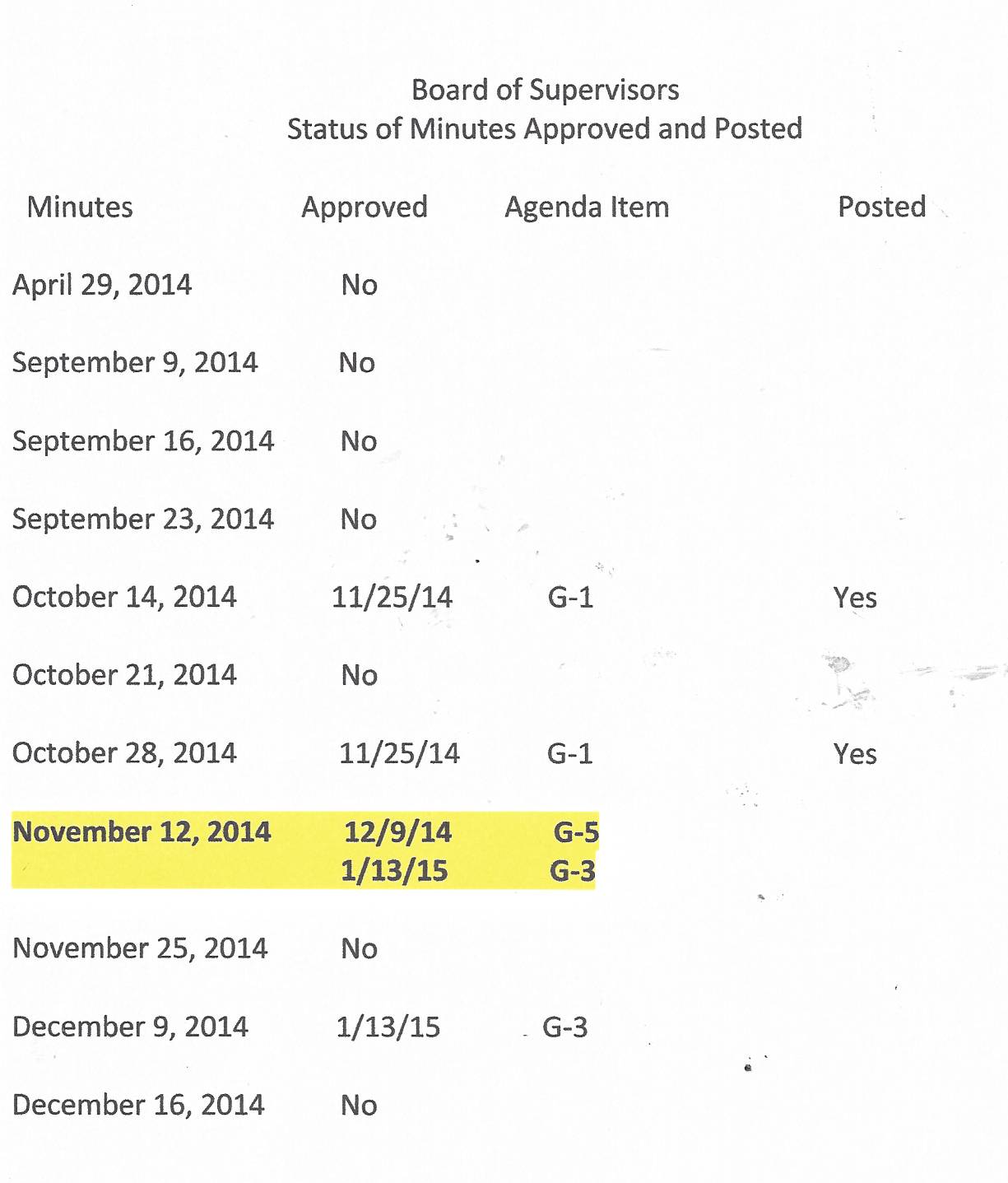 Click "Skip Ad" to watch
Supervisor Bob Pyle
2015 Chairperson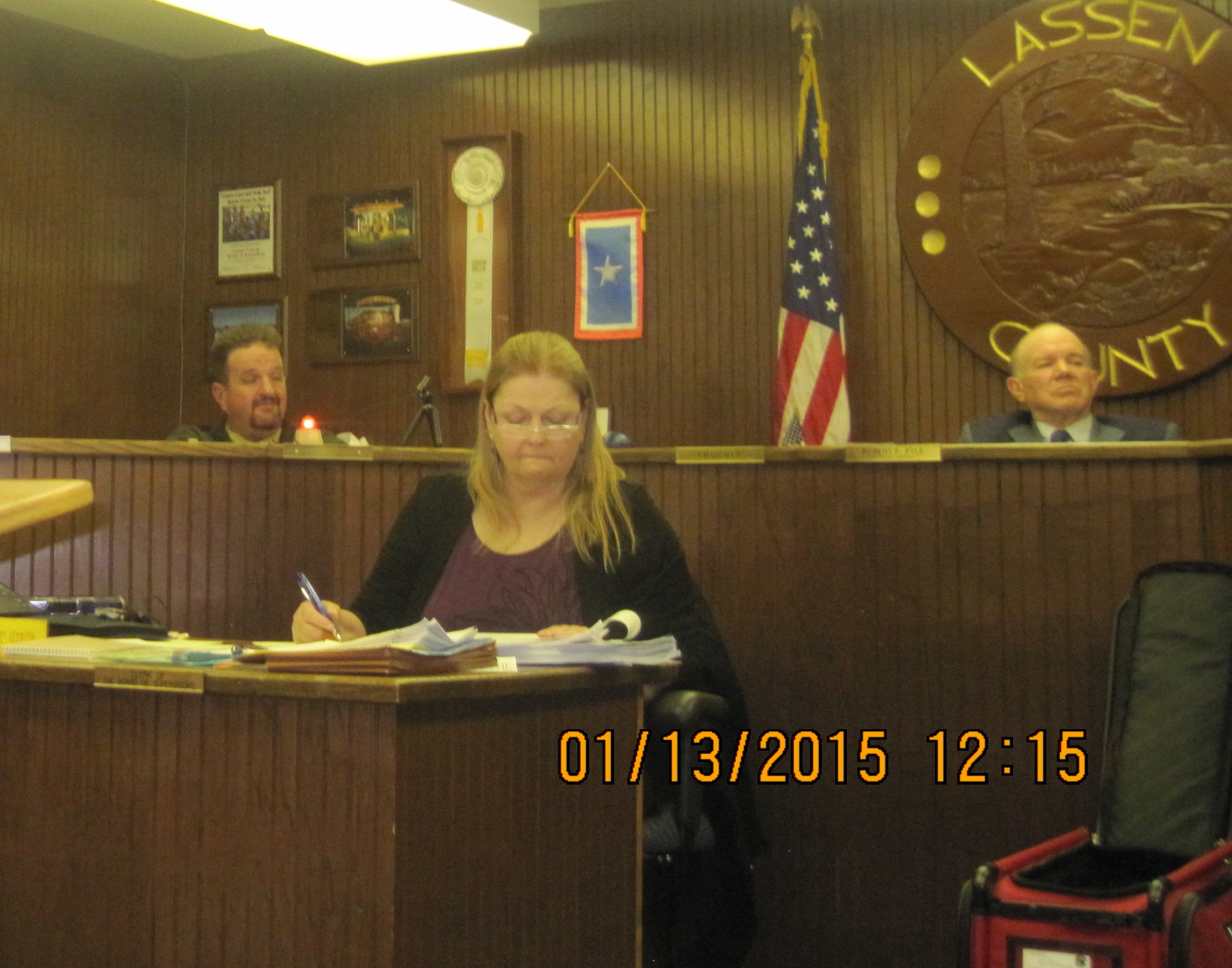 Left: New District 3 Supervisor Jeff Hemphill seems right at home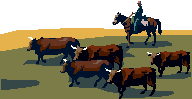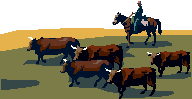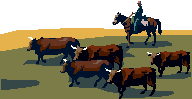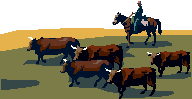 Shhhhh...Rancher Richard Egan hired a Deputy CAOO
Lassen County CAO Richard Egan mentioned that he had hired Tony Shaw as his "Assistant -to-the- CAO as the.... last comment before the December 16, 2014 Board of Supervisors meeting was adjourned. Julie Morgan was the "Assistant-to-the-CAO"? So what is up?
Well, it turns out that CAO Richard Egan hoped no one would notice his "slight-of-hand". Tony Shaw was actually hired as Deputy CAO and started January 5th.
Richard Egan did not have the courtesy (to the public or the Board) of placing this new County employee on the December 16, 2014 Agenda as an introduction/approval of his new "relief" CAO. Egan didn't even place this new County Employee on the January 13, 2014 Agenda. This was not an oversight but a deliberate attempt to hide the fact that he had hired Tony Shaw?????
THIS IS NOT A GOOD SIGN
FOR BEGINNING A NEW YEAR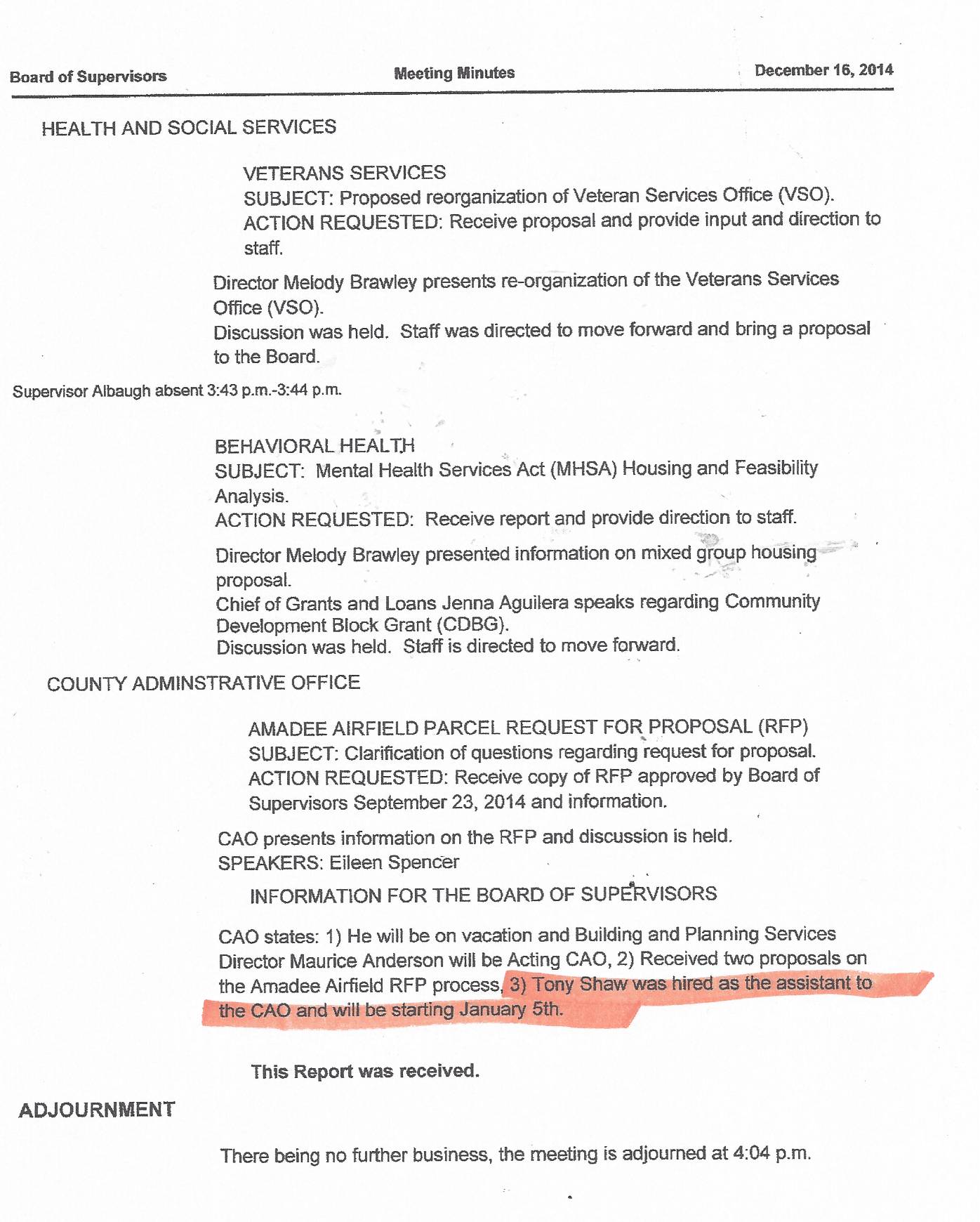 THE TAXPAYERS NOW PAY RICHARD EGAN $175,000 A YEAR TO RANCH
New
Lassen County Supervisor
Chairperson
will be elected at
the January 13, 2015 meeting
County Counsel Burns claims the County has been exposed to 5 potential lawsuits.........?
WHAT ?
Is this job security for Burns or just screw-ups he made in 2014
Sierra Army Depot Commander
Denies
Knowing Anyone from HSP Resources, Inc
The Commander of Sierra Army Depot, today, not only denies knowing anyone from HSP Resources, but states that he is not negotiating with any private entity party for leasing Army property.
SAID Chief of Staff Aric Manner also stated that the Army has no plans to lease the Amedee Army Airfield to any private party now or in the future.
Lassen County Quagmire
Will the Supervisors reject all bids
and
start over and do it right this time?
Will the Supervisors order the $40,000 mandatory "Airport Use Plan" before they re-issue any more RFP's to sell the Amedee parcels ?
BACK CHANNEL DEALINGS
How far did the Supervisors go?
The Draft RFP for the Amedee Airfield was "prepared to be issued" on February 1, 2014
HSP (Pezzuullo/Smith) then purchased land and mineral rights above the Army's Airfield
from February 23, 2014 to April of 2014, for $450,000. [Jack & Margaret Humphry purchased this land in 1950, at a tax sale, for $32.15]
SUPERVISORS:
The Amedee Airfield property is over 3,000 acres and is worth more than $450,000
Steve Pezzullo's HSP submits their RFP ($25,000) and states that they will trade the "One Stop" building in Herlong for the Airfield property and also states that they are negotiating with the Army for the Airfield itself.
Where does "US Mine" come in?
This is a "shell" corporation created in California, on April 23, 2014, to acquire the land around the airfield.
They put together 30 names to form this "dummy" corporation. They have no capital assets?
[........aka US Mine offers $35,000]
Guess where A. Scott Dockter claims his corporate residence is?
3090 Boeing Road, Cameron Park, CA
Dockter recently joined US Mine in October of 2014
We need to ask what Tom Hammond is getting, because none of this helps Herlong
WHERE IS COLONEL SLOSSON IN THIS SCHEME?
Supervisor Hammond asked the Commander of SAID to the December 9, 2014 Board Meeting[Video:Part 8] two days before the Amedee RFP is due.
He made a lot of unusual promises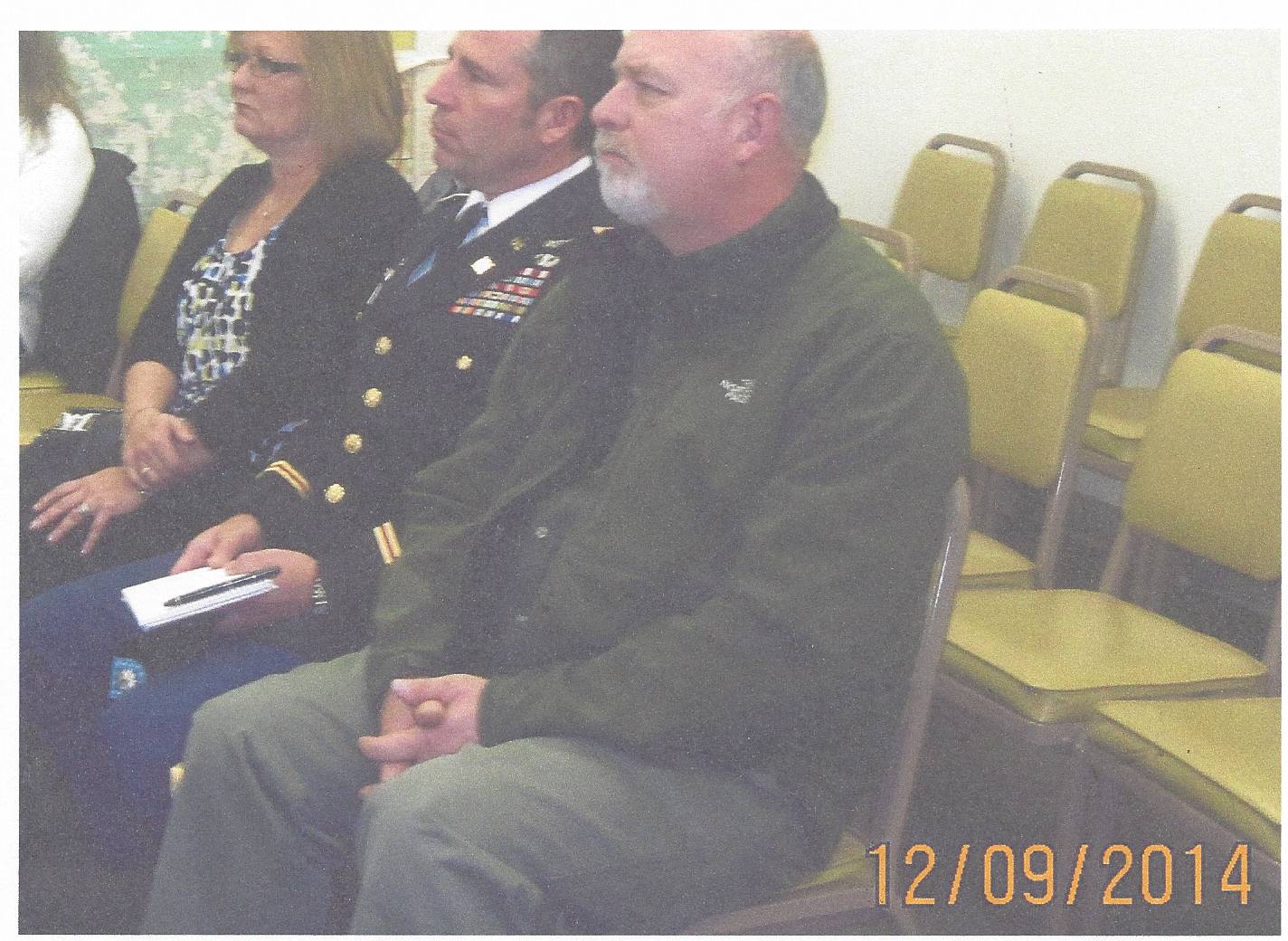 We have asked the US Army FOIA Officer in Warren, Michigan if Col. Slossen can enter into a lease/sale with anyone other than Lassen County. No response has been received.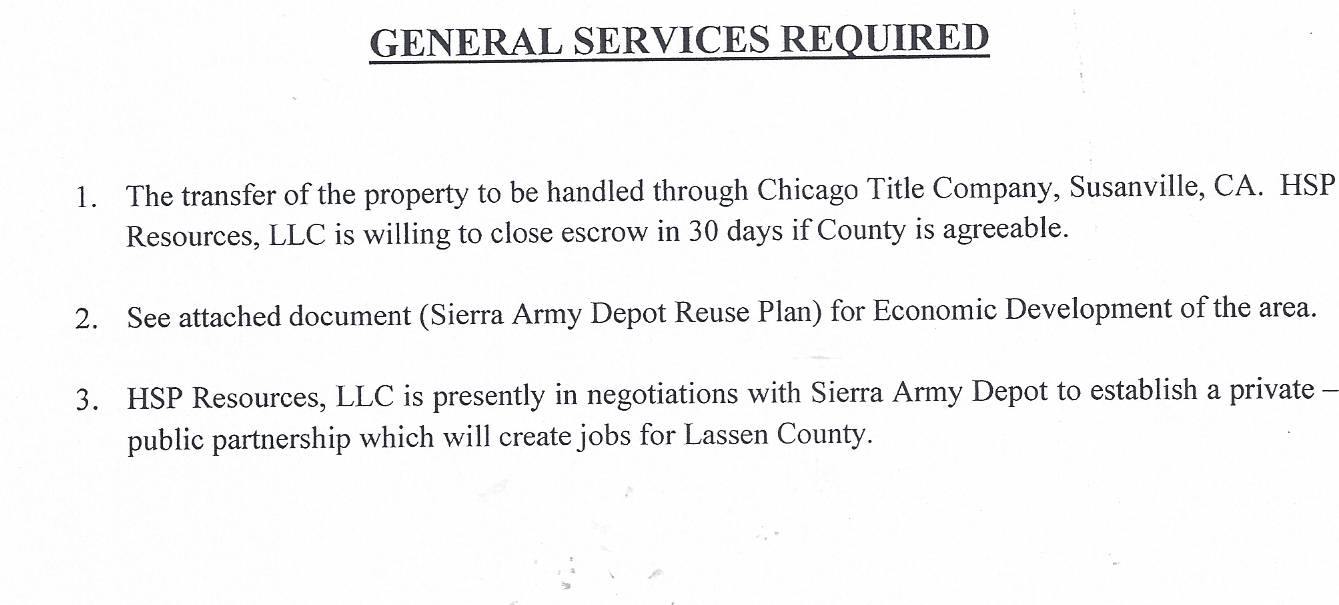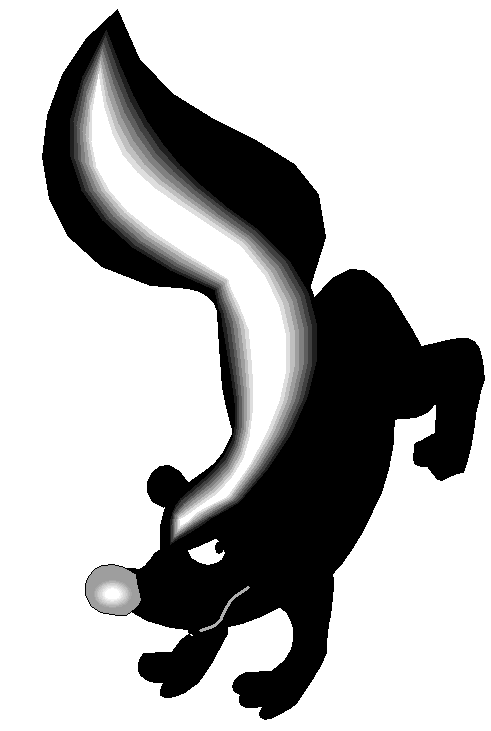 Did the Lassen County Supervisors
Vote
to
take an Easement across the pool parking lot to the Small Sheriff's Boat House
at their November 25, 2014 meeting
NOW, LOOK AT THE PARCEL WITHIN THE BLUE LINE

Their discussion was to approve an easement perpendicular to the Boat Storage building (this building actually sits at the bottom of the photo on a separate lot). Chapman made a fuzzy motion (?) but the CAO failed to EVEN show the Supervisors or the public where this easement will be.
SO WHAT DID THEY APPROVE? WE DOUBT EVEN THE SUPERVISORS KNOW WHAT THEY VOTED ON.
[The BOS will need to give the HLVRA the Roosevelt school (Parcel B) in order to issue any type of Certificate of Participation securities]
Watch what they do, not what they say !
LASSEN COUNTY SUPERVISORS GIVE
CAO DIRECTION TO LOOK INTO
$4,000,000
"CERTIFICATE OF PARTICIPATION"
The Lassen County CAO wants to use the COP as a financing tool for Capital Improvement Projects,
which presently do not exist
Courthouse Renovation- $1,400,000
Community Pool- $1,100,000
BLM Bldg. Purchase- $1,500,000
Certificates of Participation are a lease financing agreement in the form of tax exempt securities. They can be marketable to private investors and are not considered DEBT.
This action only requires a vote from the Board to proceed but the Board must first identify and add these Capital Improvement Projects to their budget before proceeding. Something the Board has been reluctant to acknowledge. This would expose the Supervisors to a level of scrutiny by the public.
Certificate of Participation Procedure
1. The City/County identifies the leaseable asset
2. The City/County leases/transfers the leaseable asset to HLVRA
3. The HLVRA leases the asset back to the City/County
4. The HLVRA names a Trustee to execute the Certificates of Participation to the public
The City of Susanville transferred "A" below and the County is attempting to transfer "B" to the HLVRA.
THE COUNTY'S PART IS A PARKING LOT.
TO INVESTORS, THIS IS A PARKING LOT
Attending a Lassen County Supervisors meeting is like
sitting down at a poker game that you know is crooked.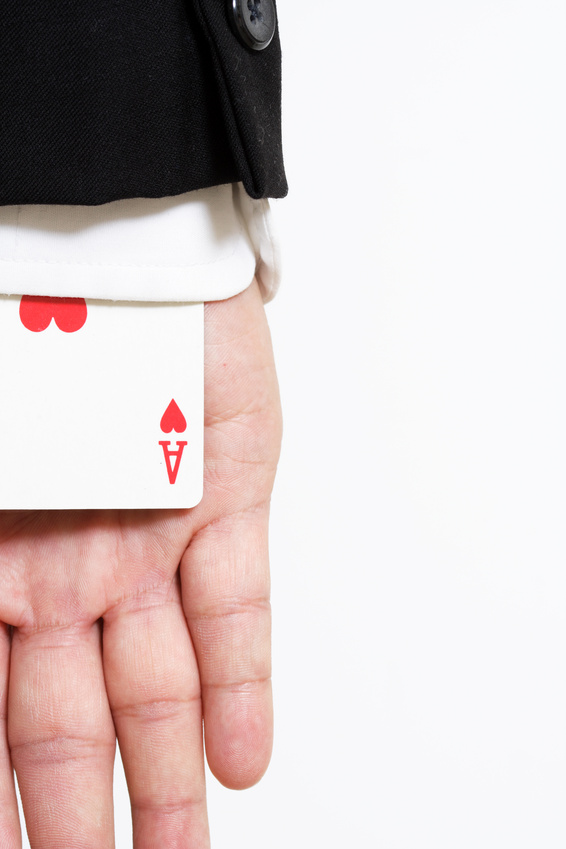 Larry Wosick hands his secret ballot to the Clerk and asks the remaining Supervisors to do the same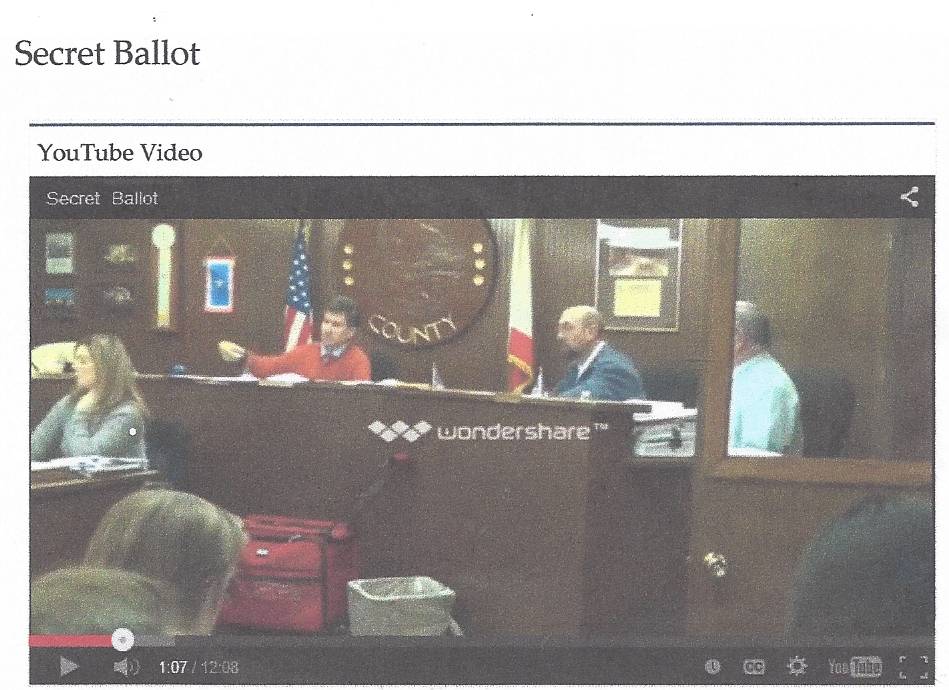 Kan We Help has received a ton of e-mails, mostly outside the County, wanting to know if anyone has confirmed that Bob Burns still has a license to practice law.
Lassen County Counsel Bob Burns can be seen helping the illegal "SECRET BALLOT". Bob Burns, has a license to practice but it is clear that he chooses not to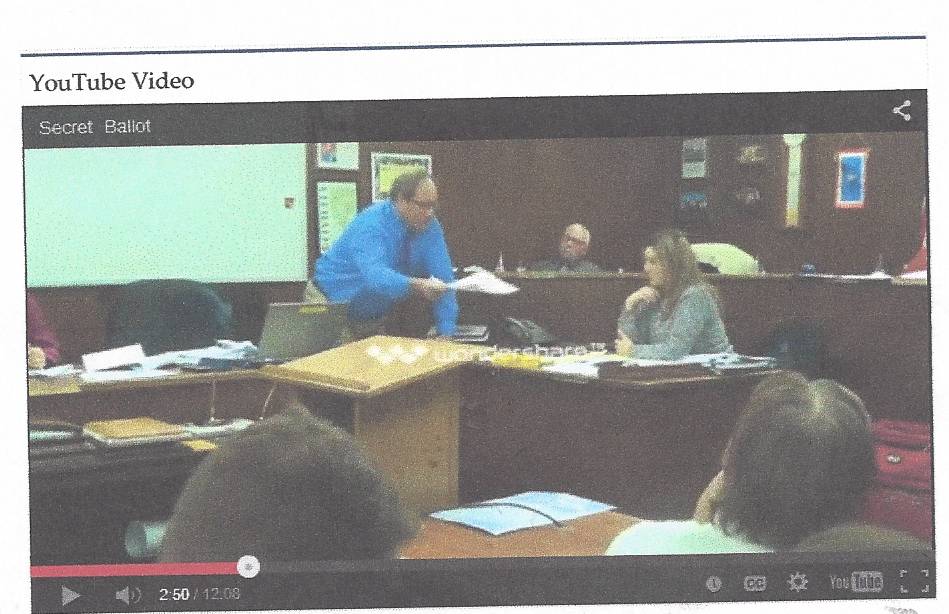 The Flim Flam Man is Gone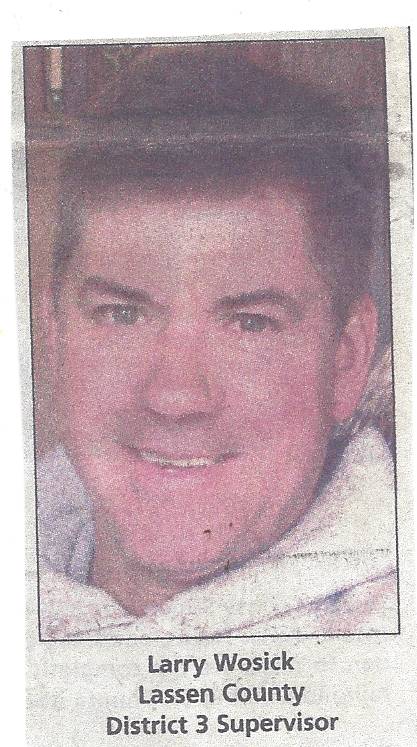 Good bye and Don't let the door hit you in the As_.
......more about the meeting
While Wosick was going up the stairs before the Supervisors meeting, he was overheard saying that he was going to put Wayne Langston's name down on a piece of paper and pass it around to the other Supervisors.
Wosick's last rotten act
Wosick did in fact try and appoint Wayne Langston to the RCD Board (Honey Lake Valley Resources Conservation District) via little pieces of paper.
OF COURSE, THIS WAS ILLEGAL AS HELL.
The over 40 RCD customers that attended (standing in the hall) stressed to the Board that they need to appoint someone who will bring peace to the Board.
Wosick Puts a Thug on the RCD Board
Wayne Langston was a tyrant and a thug when he sat illegally on the LMUD Board. He actually had Agenda's that prohibited any public comment and the audience had to endure story after story of how he "beat" his child.
Burns turned the other way then when Brown Act complaints were filed and still disregards and disrespects the Brown Act today.
Langston was arrested by the CHP for a DUI. District Attorney Bob Burns got him and Frank Cady off.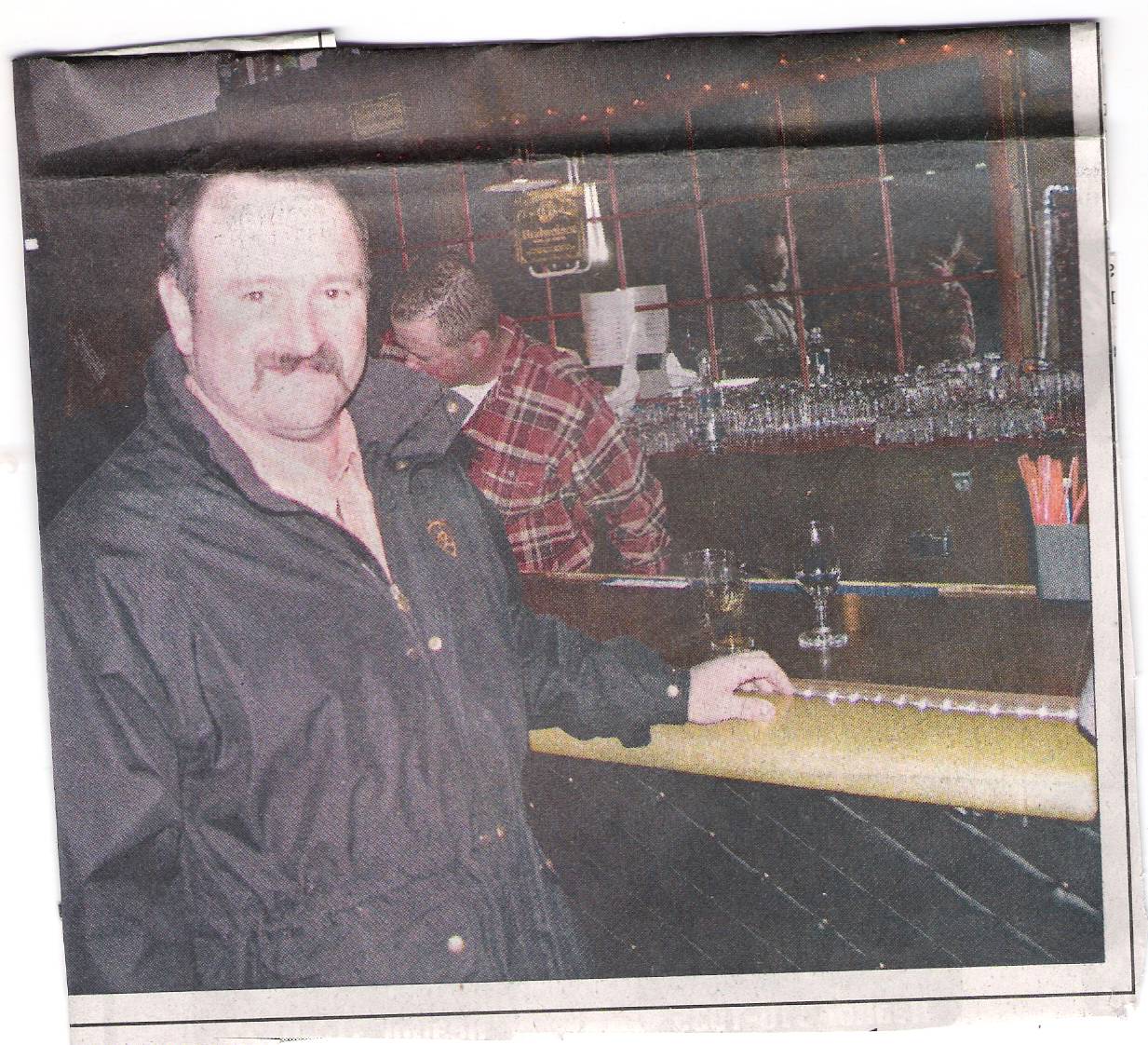 Water issues in Lassen County are escalating. Egan, Hemphill, Pyle.......all familiar names, all are accused of water usage abuse
CAO Richard Egan Tampers With
Amedee Request for Proposal ?
Kan We Help printed & saved the Amedee RFP when the County published it on 9/18/23.
The Original Resolution stated the RFP would be released "without modification" and yet when Kan We Help printed this same RFP from Lassen County's website, on 12/8/14, it had been altered. (4 pages had been deleted)
Exhibit "A",
which defines the boundaries of the Parcels for sale,
was on page 69-71
These pages, of the legal boundaries, conflict with the
graphics included with the Amedee RFP
It gets worse.....CAO Egan sends Kan We Help a version, on 12/9/14, that has 14 pages deleted.Mr. Egan's copy was not bate stamped.
The "County approved Amedee RFP" was bate stamped (each page numbered)
Several companies want to know why this was done and what exactly Lassen County is selling .
AMEDEE AIRFIELD PARCELS
BIDS
December 11, 2014
The public Request For Proposal to sell the 3576.49 acre contaminated surplus property
given to Lassen County in 2003 by the Sierra Army Depot
FIRST BID -$35,000
US MINE CORPORATION

Recently formed: 4/23/14 California corporate ID: C3669150
Recently formed: 9/12/12 Nevada corporate ID: E0473932012-0
Scott Dockter moves around alot and seems to be a "FOR HIRE" CEO. His last job was at a web company called Port of Call. He left Port of Call on October 27, 2014 and is now with the newly formed US MINE.
According to Nevada public records, the Company itself isn't worth anything
SECOND BID -$25,000
HSP RESOURCES, INC.
Recently formed: 9/25/13 California corporate ID: 201327010167

HSP bid is $25,000 but wants to swap the "One Stop" for the Amedee Airfield parcels.
HSP, coincidently, purchased the mineral rights to the land north of the Amedee Airfield in April of 2014.
Pezzullo, coincidently made this same offer weeks after he purchased the township of Herlong.
Who wasn't invited to the Party ?
Two companies withhold bids until RFP flaws are fixed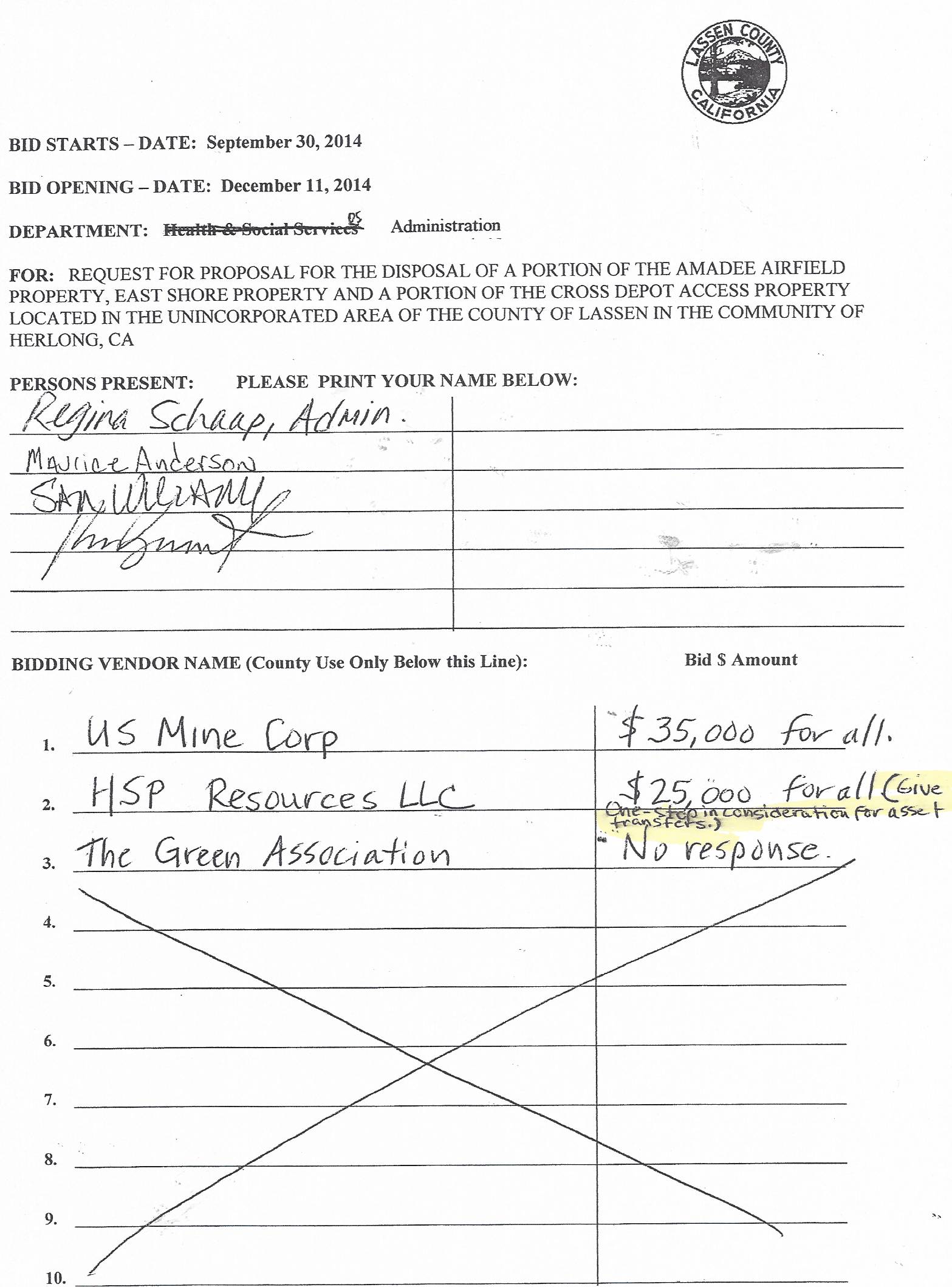 PUBLIC MISLED ON RFP

......everyone except HSP Resources LLC
Public record shows that Steve Pezzullo's HSP Resources LLC purchased the parcels above the airfield immediately after the RFP was issued in January/2014. This land would give them direct access to the electrical substation (which would save them hundreds of thousands of dollars to construct)
District 5 Supervisor Hammond and outgoing Supervisor Wosick show no reaction when Kan We Help exposes a parcel included in the RFP (electrical substation) that the Board voted to exclude. Video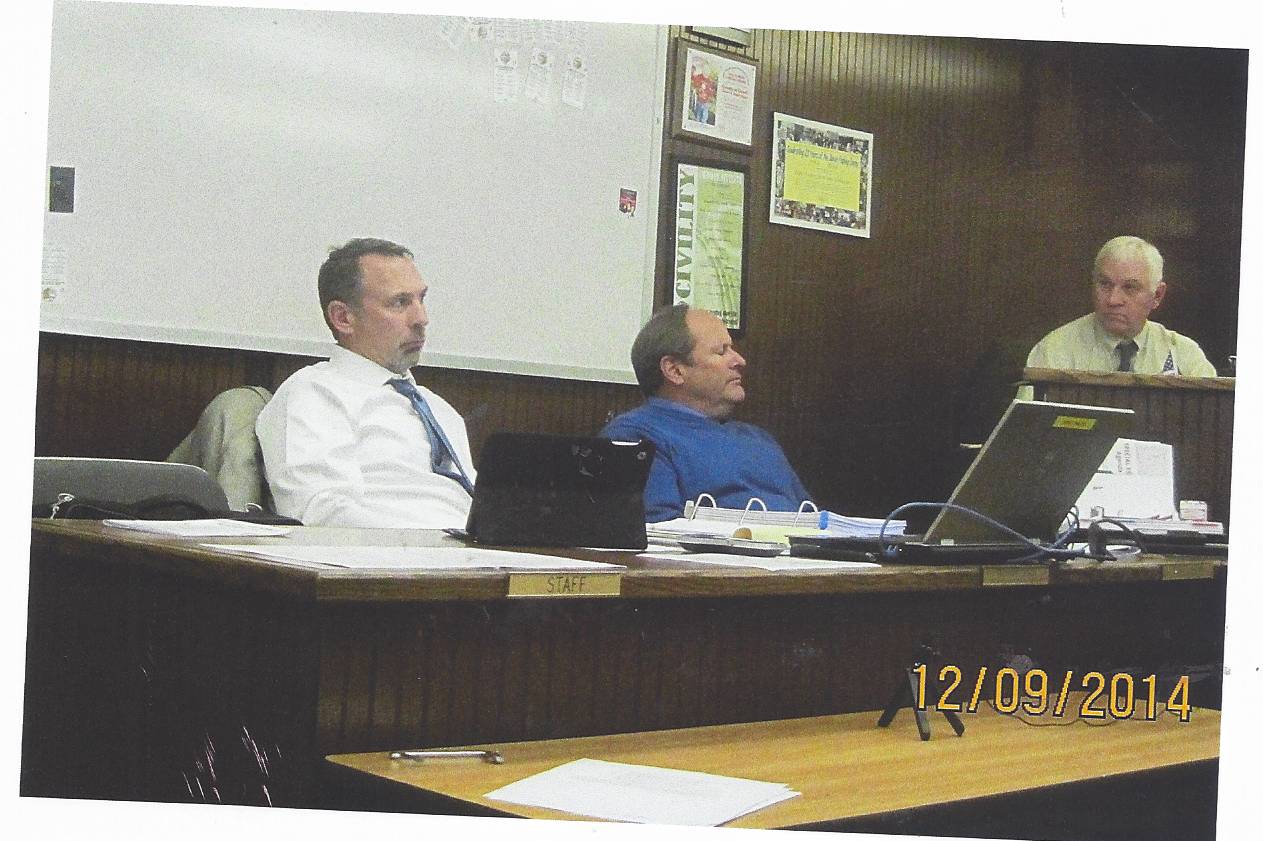 The Lassen County Supervisors tasked CAO Richard Egan to develop a Request For Proposal for the Amedee Airfield Parcels.
On September 23, 2014, the Board voted to approve Egan's RFP as it was submitted.
[the Minutes of this meeting have been deliberately withheld by the County Clerk's office]
A Resolution was also passed, on 9/23/14, stating the RFP will be issued "without modification".
This is an important fact because Richard Egan sent Kan We Help a "modified" version of the RFP that deleted 14 pages of the original RFP
Lassen County Board of Supervisors
Must Reject
All Amedee Airfield Bids
on
December 11, 2014
CAO Egan and the Board got away with the Herlong One Stop sale, but they got caught with the Amedee Airfield RFP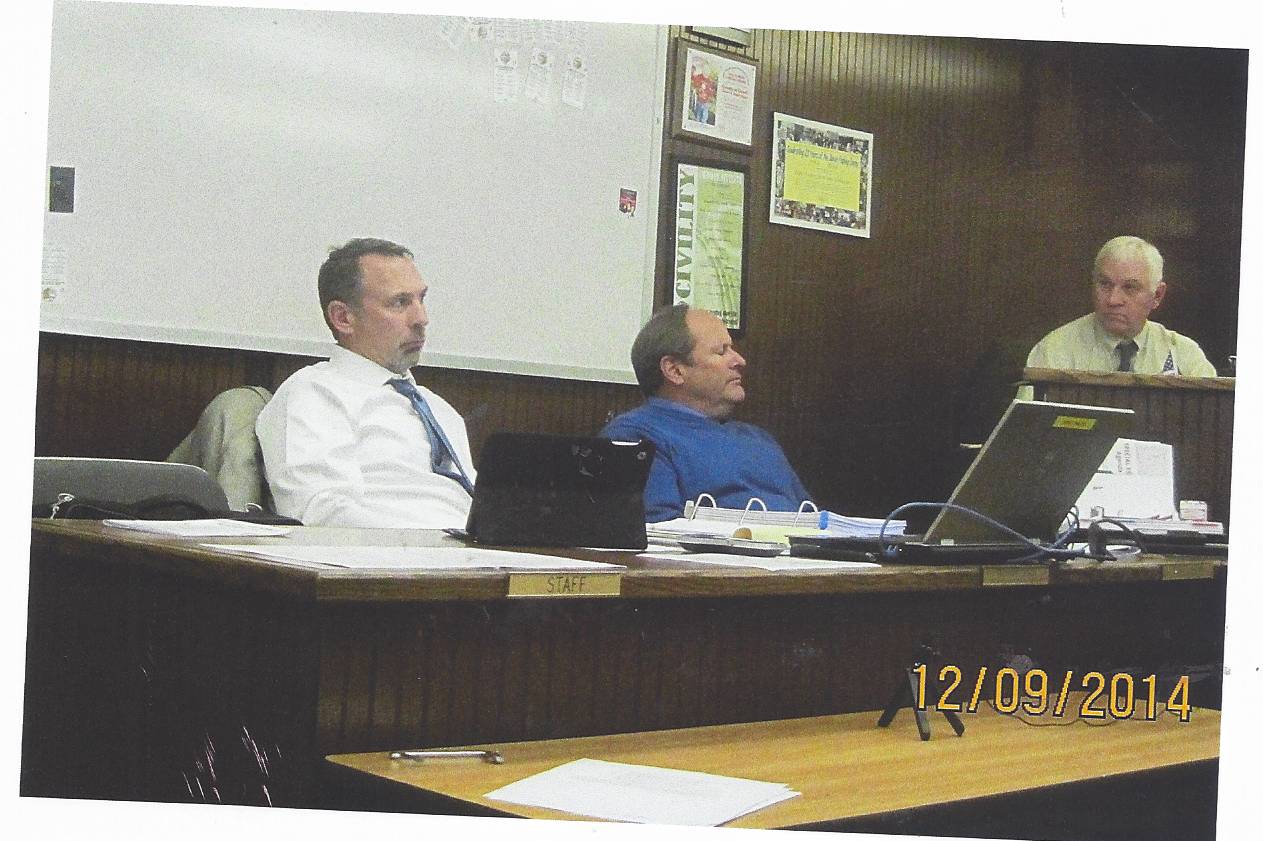 Left to Right: CAO Richard Egan, County Counsel Bob Burns, District 5 Supervisor Tom Hammond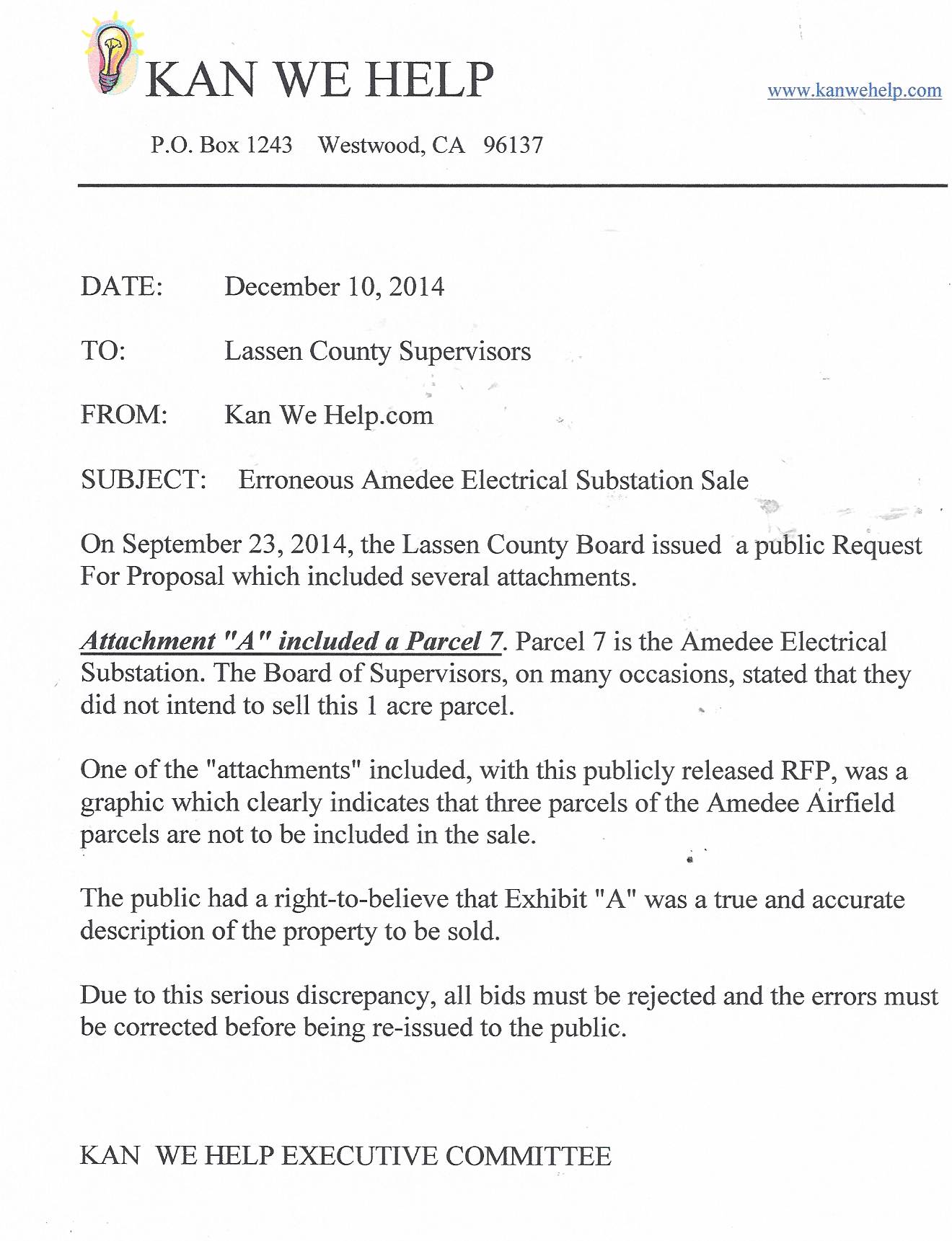 CAO Egan and Lassen County Supervisors
intend to pull another
"Ooops, we didn't intend to sell that"
At public meetings, CAO Richard Egan claims that the Amedee Electrical Substation is not included in the RFP.
But it is clearly included.
Amedee Airfield Parcels RFP
Rigged From Day One
The Lassen County Supervisors placed the first RFP to sell the Amedee Airfield & surrounding parcels (most are contaminated with ordinances and explosives) on their January 28, 2014 Agenda.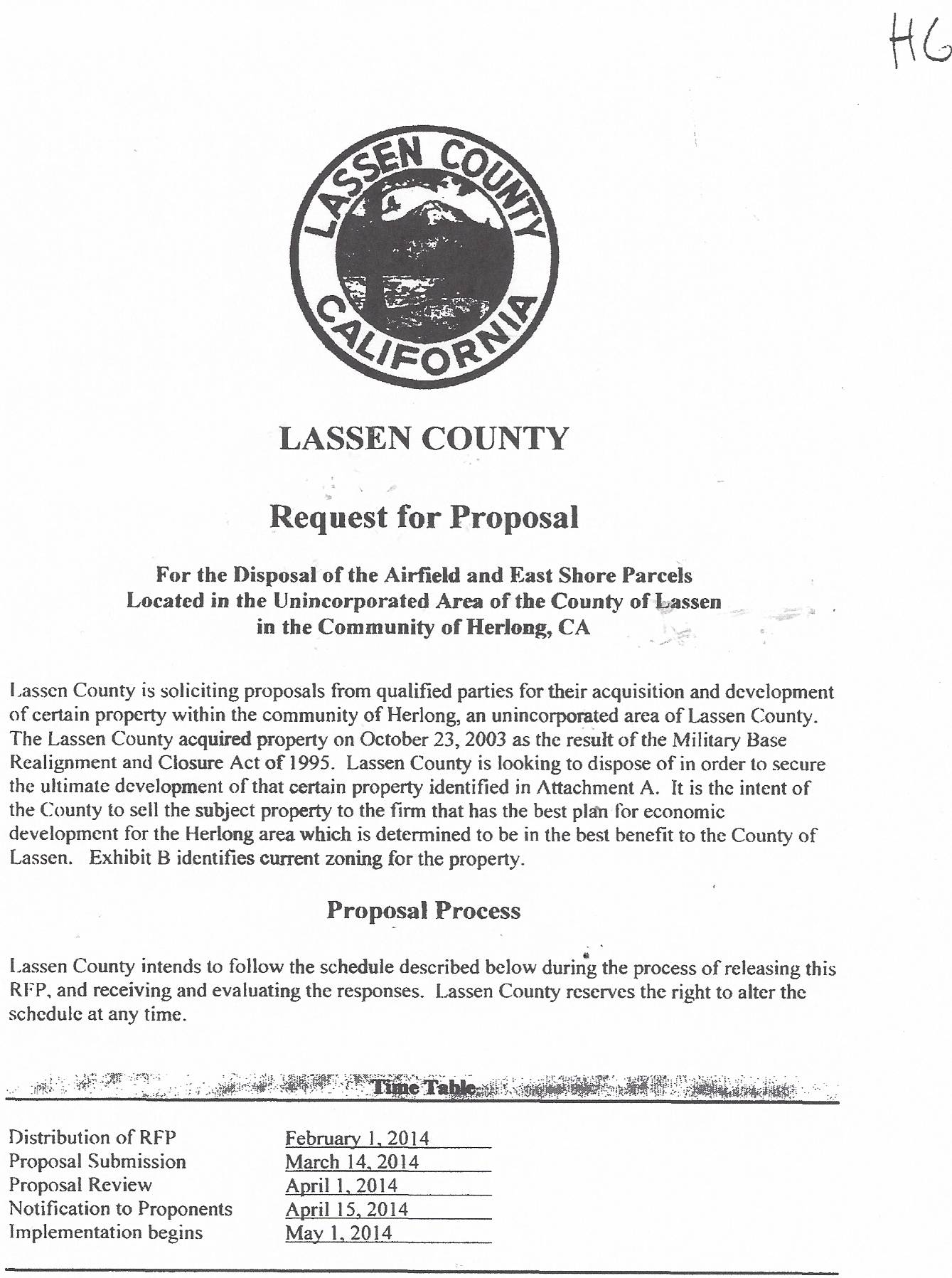 ....and then proposed to quickly issue the RFP on February 1, 2014 with a bidder submission date of March 1, 2014.
This gave Steve Pezzullo, and his partners (HSP Resources LLC) just enough time to buy the property above the Airfield, on February 22, 2014.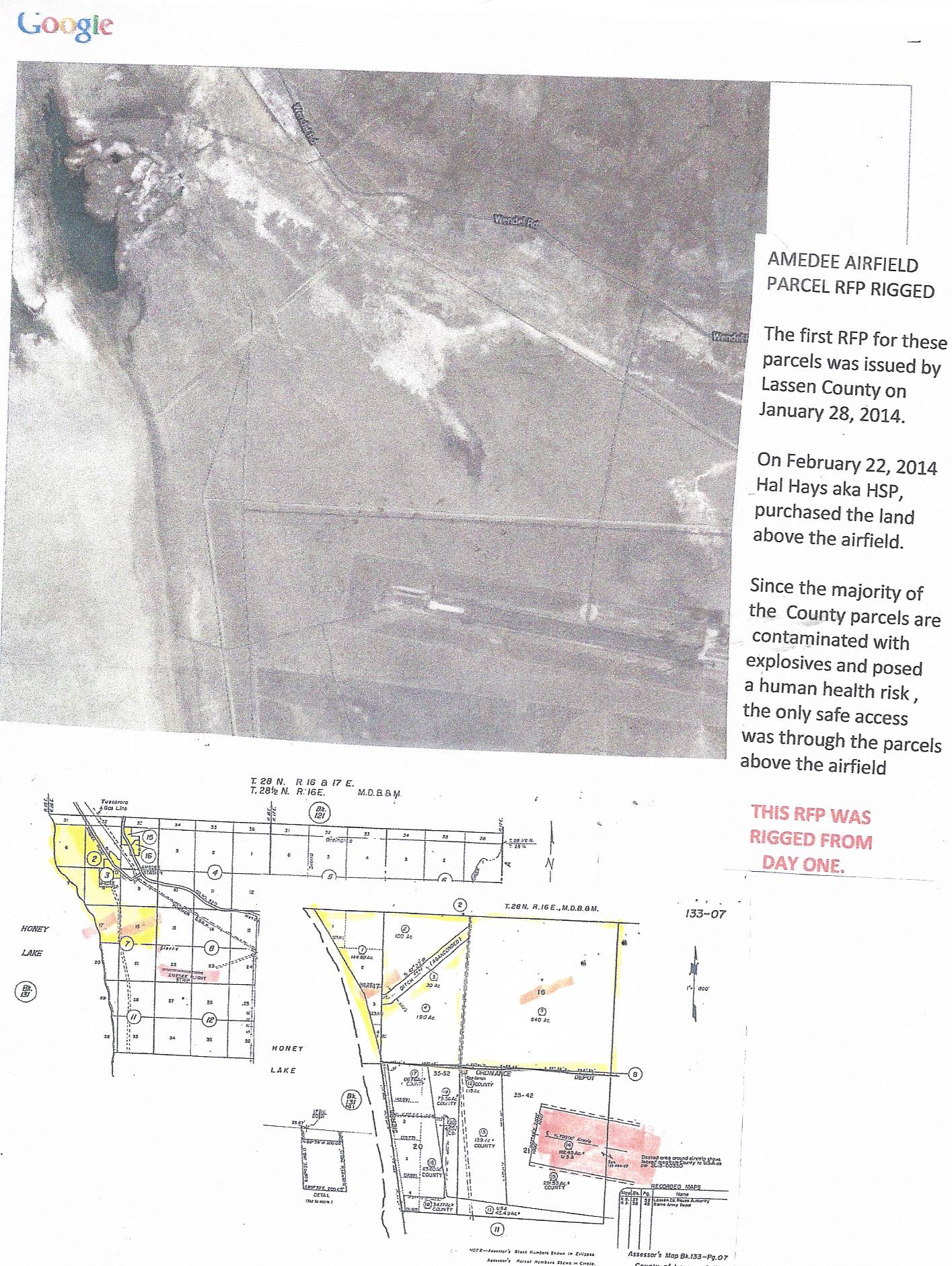 Steve Pezzullo, Larry Smith and Hal Hays paid over $450,000 for the parcels contiguous to the Amedee Airfield Parcels on February 22, 2014, 25 days after the first RFP appeared on the Agenda.
The deal had been made
HOW MANY SUPERVISORS SOLD THEIR VOTES ?
At least three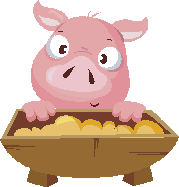 Larry Smith or Steve Pezzullo or Hal Hays
GUARANTEED
THE AMEDEE AIRFIELD PARCELS
on December 11, 2014 ?
WHY YOU ASK......?
1. On September 17, 2013, Jack Hanson & Larry Wosick and the County awarded Steve Pezzullo the Herlong township for $31,900 and immediately transferred the property to the newly formed (9/25/13) HSP Rescources LLC.
On November 25, 2014, Larry Smith
of HSP Resources LLC (Hays, Smith, Pezzullo) came before the Lassen County Board of Supervisors and complained that he had wrongly been assessed at $528,000 for the township of Herlong, which he now has to pay $11,717.96 in property taxes.
HSP Resources has done little-to-nothing with this property that they promised to develop for the benefit of the Herlong residents.
Larry Smith claims that the $30,000 he has spent on Herlong was not worth it.
2. On February 22, 2014, five months after the Herlong purchase, Hal Hays (Hays Ranches LLC) purchased the land above the Amedee Airfield parcels and transferred it to HSP Resources. The parcels ,in yellow, were purchased in 2014 and transferred to HSP also. As you can see, #16 and #17 are contiguous to the Amedee Airfield Parcels (Bids due on 12/11/14 @ 4:00 PM at the County Administration Building on Lassen Street in Susanville)
The property marked in yellow has been purchased by HSP Resources LLC, between February 2014 and April of 2014.
The glaring fact here is that,the majority of the Amedee Airfield 3576.49 acres is contaminated with explosives

and the only safe access to this airfield property would be through the parcels recently purchased by Steve Pezzullo and his partners (?)
The airfield itself can never be owned by a private party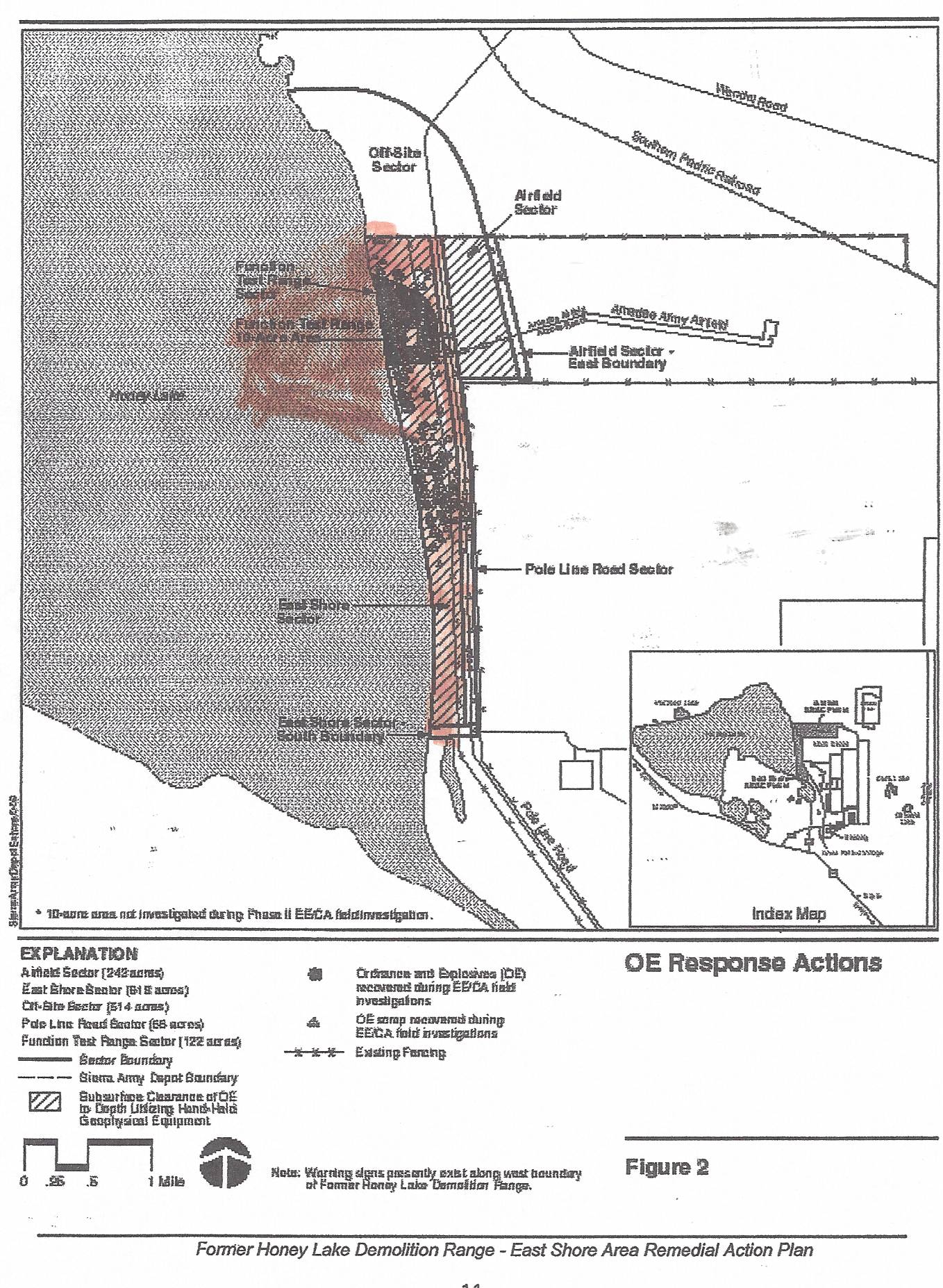 3. Now we come to the charade put on by the Lassen County Supervisors on November 25, 2014, especially Supervisor Hammond. Tom Hammond seconded a motion by Bob Pyle to order an "Airport Land Use Compatibility Plan" at an approximate cost of $18,000. The motion failed from a lack of a quorum. Wosick, Hammond and Pyle do not want to restrict or delay any of HSP's plans by waiting for a "building plan" around the airport. This is a mandatory plan that was never done. Supervisor Pyle has been on the Airport Commission for 20 years
WHAT NAME WILL PEZZULLO USE TO BID ON THE AMEDEE AIRFIELD PARCELS RFP?
HAYS RANCHES, LLC
HSP RESOURCES LLC
CEG INVESTMENTS
HUMPTY DUMPTY LLC
EGAN LAND LLC
SUNSHINE FARMS INC
HLVRA Executive Officer
Ignores Public Records Requests
to
Release Supporting Documents
for Payments to Staff
Jared Hancock, HLVRA Executive Officer has refused or cannot comply, after several requests to release documents that support reimbursements to Susanville "staff". Lump sum invoices are submitted and quickly paid.
There are currently no employees at the year-old Joint Powers Authority created to handle millions of taxpayers dollars to build and manage a community pool in Susanville, California.
Accountability + Transparency= Trust
After several requests by Kan We Help, the HLVRA has agreed to submit at least monthly financial statements.
Honey Lake Valley Recreation Authority
meets today at 3:00 PM at the Susanville City Hall
New pool designs, New Costs
Lassen County Amedee Airfield Parcel RFP
Disingenuous Deceitful and "pre-determined" outcome
This will be Wosick's last scam. He leaves office on December 31.
Like Jack Hanson, he will help his friends/family as his last "Act"
Bids will be publicly opened at
4:00 PM on December 11, 2014 at:
Lassen County Administration Building
221 S. Roop Street, Suite 4
Susanville, CA 96130
HISTORY OF SCAMS: The Lassen County Supervisors did not announce that Larry Wosick, a sitting Supervisor, bid on the Herlong RFP. Eventually, all bids were rejected and the RFP was re-issued on June 4,2013. The Herlong bids were due on July 25, 2013 and then opened and the township of Herlong was given to Steve Pezzullo. All of the Herlong parcels were transferred to the newly registered corporation, HSP Resources.
Supervisor Wosick's friend was then awarded the property for $31,900.
HSP Resources has painted a few buildings and done a few repairs in the past year.
Wosick's previous bid was$25,000 which included the parcel "V-2".
May 14, 2013: Board Meeting
Present: Larry Wosick, Bob Pyle, Jim Chapman, Aaron Albaugh, Jack Hanson
The Board does not announce the winning bid for the December 18, 2012 Herlong RFP.
They placed the Herlong RFP on the Closed Session Agenda and announced that they had NO REPORTABLE ACTION. There was no mention that Supervisor Wosick had bid $25,000 for all of the Herlong property.
Willis Dow had bid on one parcel (Parcel 4, along the railroad) and appeared at the meeting to complain about the way the bidding process was handled. Evidently he had been told, by the County, that his bid had been rejected.
PUBLIC OUTRAGE GREW
The Public was outraged with the apparent collusion.
Supervisor Albaugh tried to invoke the "Referee" clause to re-visit the sale. It was voted down.
On November 26, 2013, Steve Pezzullo offered to trade his recent purchase of the township of Herlong for the Amedee Airfield Parcels
The Supervisors turned this offer down
THERE IS LESS THAN 0%
THE RFP FOR AMEDEE AIRFIELD PARCELS
WILL BE ON THE UP-AND-UP
0%
....and
Wosick delayed voting on spending $18,000 for the Mandatory "Airport Land Use Plan" that will determine
WHAT CAN BE BUILT
on the parcels surrounding the Federal Airport.
(these restrictions would apply to any land within a 2 mile radius of the Sierra Army Depot airfield)
The airport itself can never be owned privately!
NO PROPERTY TAXES
FOR LARRY SMITH AND STEVE PEZZULLO'S
HSP Resources LLC
VIDEO:
The Supervisors, Hanson, Wosick, Albaugh & Pyle voted to approve Pezzullo's Herlong township purchase on September 17, 2013. Jack Hanson, Herlong's Supervisor, was recalled on September 10, 2013, but the Board delayed the Recall Election results so that Jack Hanson could vote on the sale to Pezzullo.
After the four Board of Supervisors approved Steve Pezzullo's $31,900 bid for the township of Herlong, he immediately (September 25, 2013 ???) registered HSP Resources LLC (Hayes, Smith, Pezzullo). All of the Herlong property was then transferred to this partnership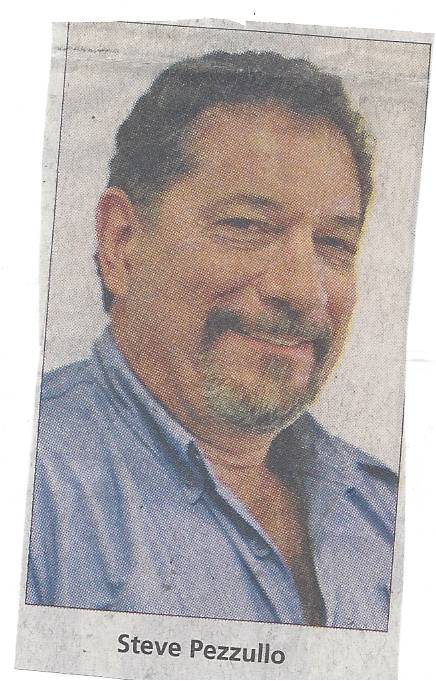 (Unfortunately all of the partners are unknown).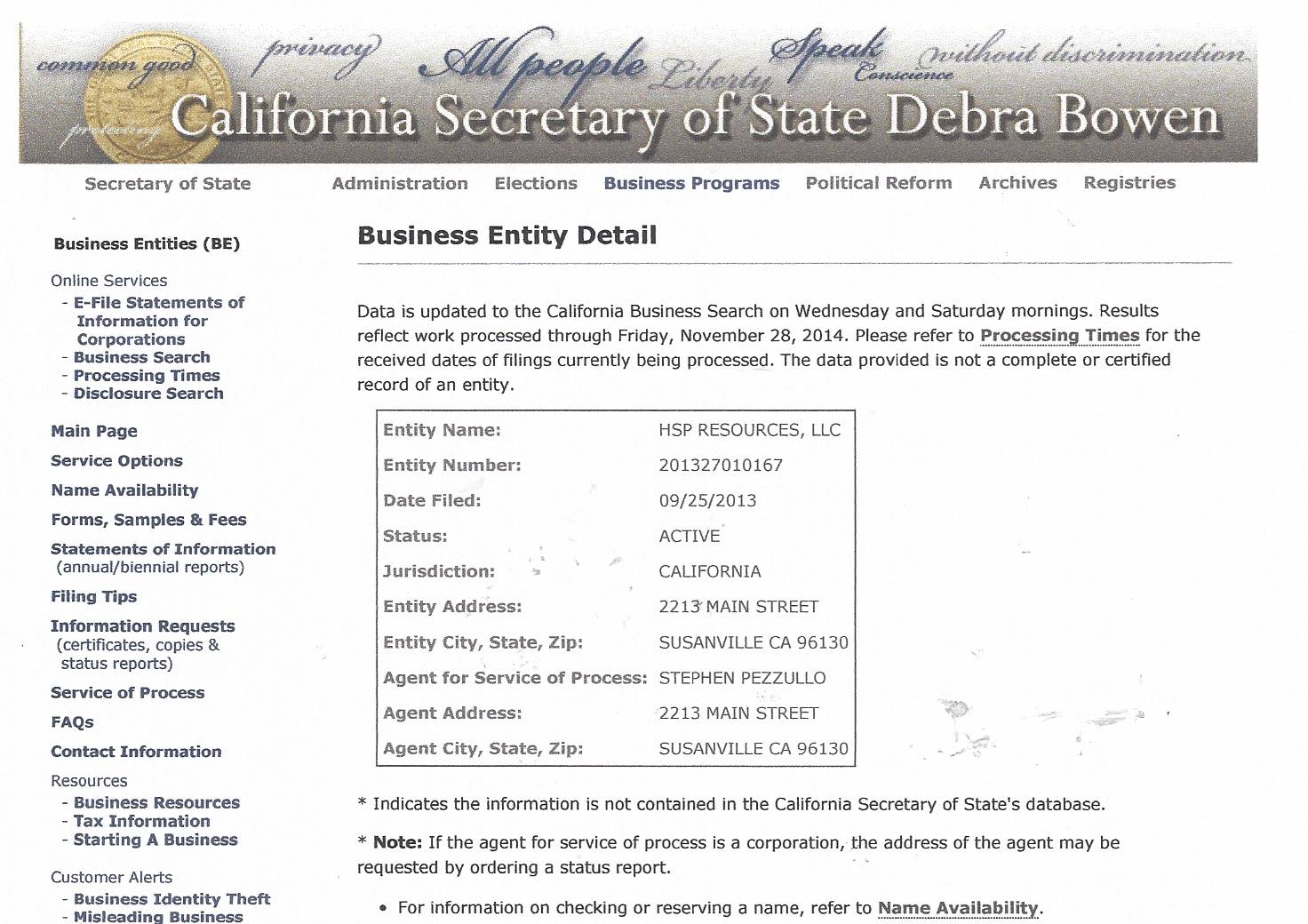 HSP Resources is paying $1,383.12 property taxes on the $1,000,000 Family Resource building in Herlong (parcel V-2- APN 139-160-9811).
HSP can sell this property, and probably will.......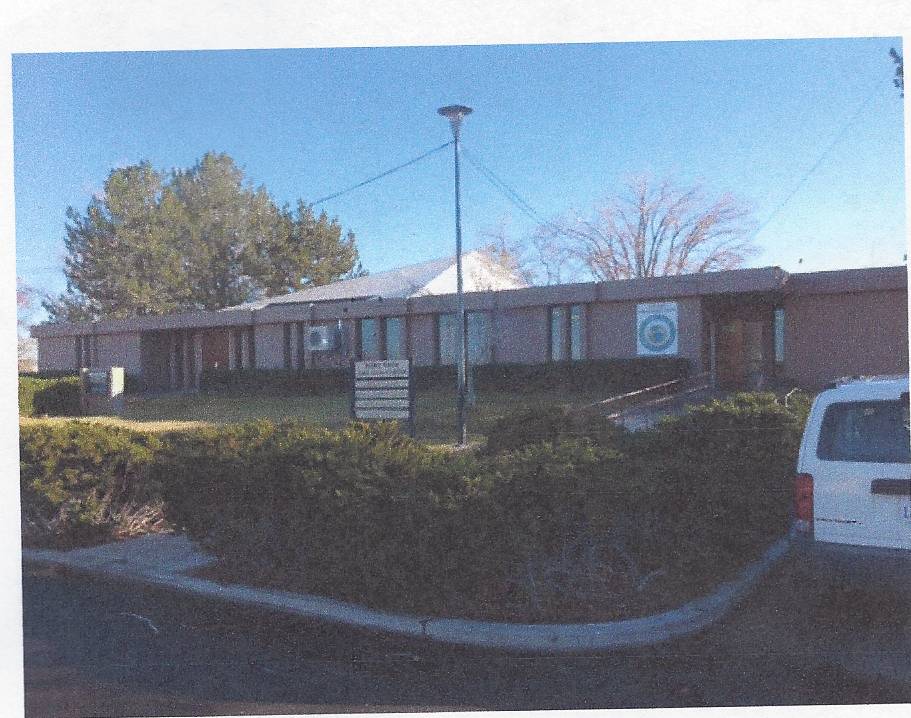 This building was valued by the previous Assessor at $125,000 :(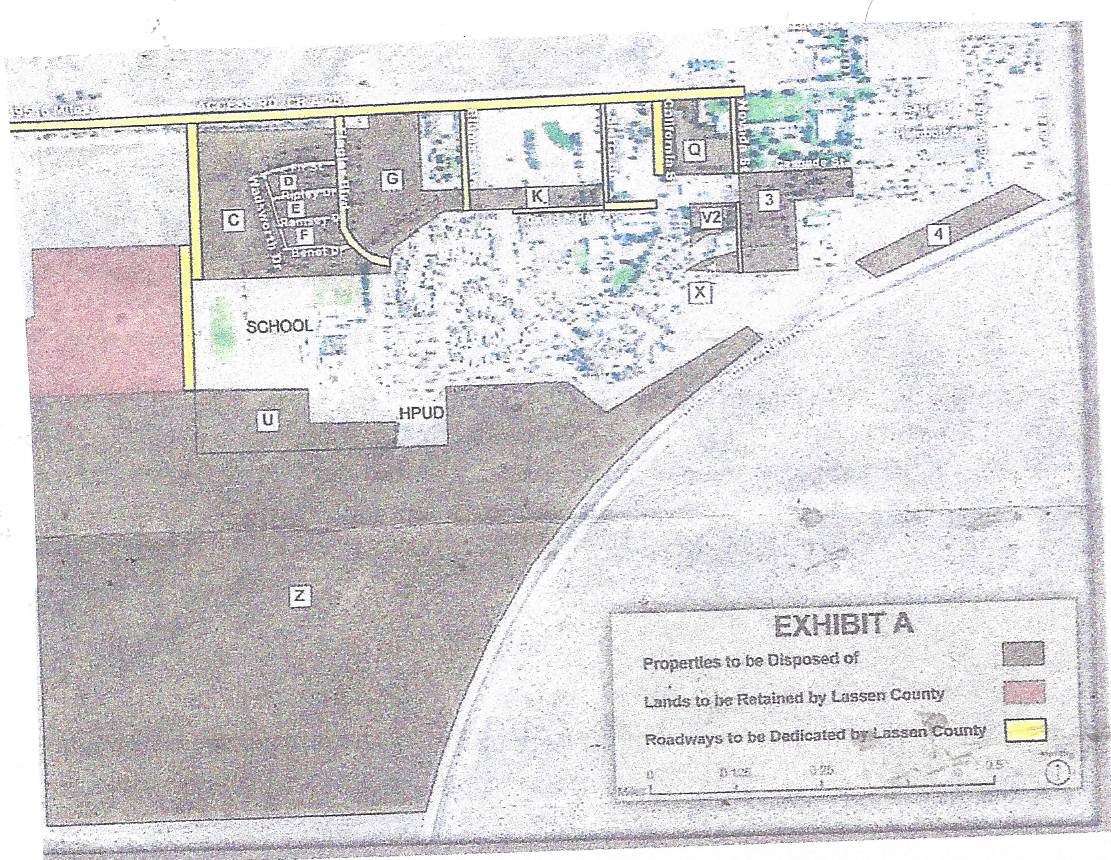 Since October of 2013, HSP Resources has purchased
71 additional parcels.
According to public records, Larry Smith & Steve Pezzullo are paying $5,565 property taxes on only 11 of the 71 parcels . The remaining parcels property taxes were waived by the previous Assessor.
When Supervisors Wosick and Hammond vehemently supported the very odd Re-zoning of Ag property in Herlong to a much more profitable "Town Center" zoning, HSP owned three adjacent parcels. Just a hunch, but will HSP purchase the "Town Center" property now.
....KWH WILL MONITOR THAT PROPERTY....
A similar re-zoning gift was made before Jack Hanson was re-called. Hanson
managed to re-zone his brother-in-laws (and partners) property to "Town Center" before he left office

.
LASSEN COUNTY SUPERVISORS
VOTES ARE FOR SALE

Watch Wosick & Chapman:Trading Votes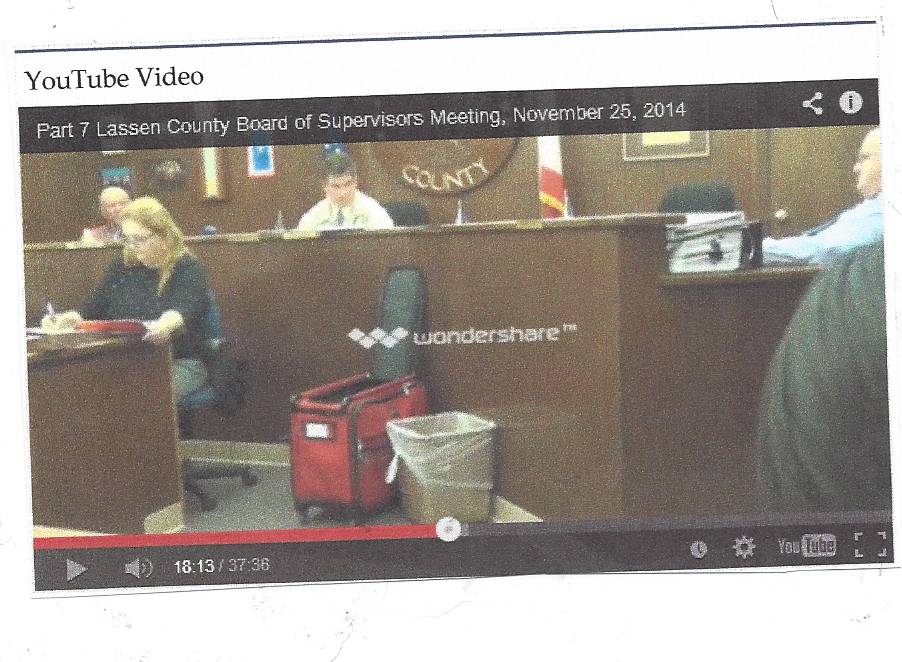 Larry Wosick, Lassen County Supervisor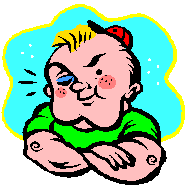 Julie Bustamante, County Clerk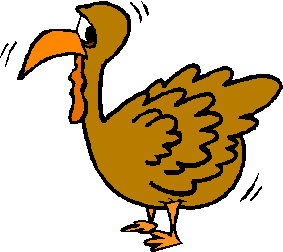 Turkey Day at the Board of Supervisors

What is the "going price" to buy these votes? free dinners, free vacations, re-zones, cheap county land, lower taxes..........
Turkeys For Sale: Cost TBD or fair market value
Supervisor Hammond Supervisor Pyle Supervisor Wosick Supervisor Chapman
The November 25, 2014 Lassen County Board of Supervisors meeting was full of surprises.
1. DONATION
The Board of Supervisors rejected a gift from Kan We Help and did it with much animus but accepted a bouquet of flowers from Violet Stout (?). Kan We Help was given a HP 4500 wireless copier to be donated to the Board of Supervisors meetings. In the past, the Supervisors have refused to make copies of documents, for the public at meetings, that were distributed to the Board. The last time this happened the Board approved a Resolution to place an item on the ballot and would not make copies for the public.
VIDEO: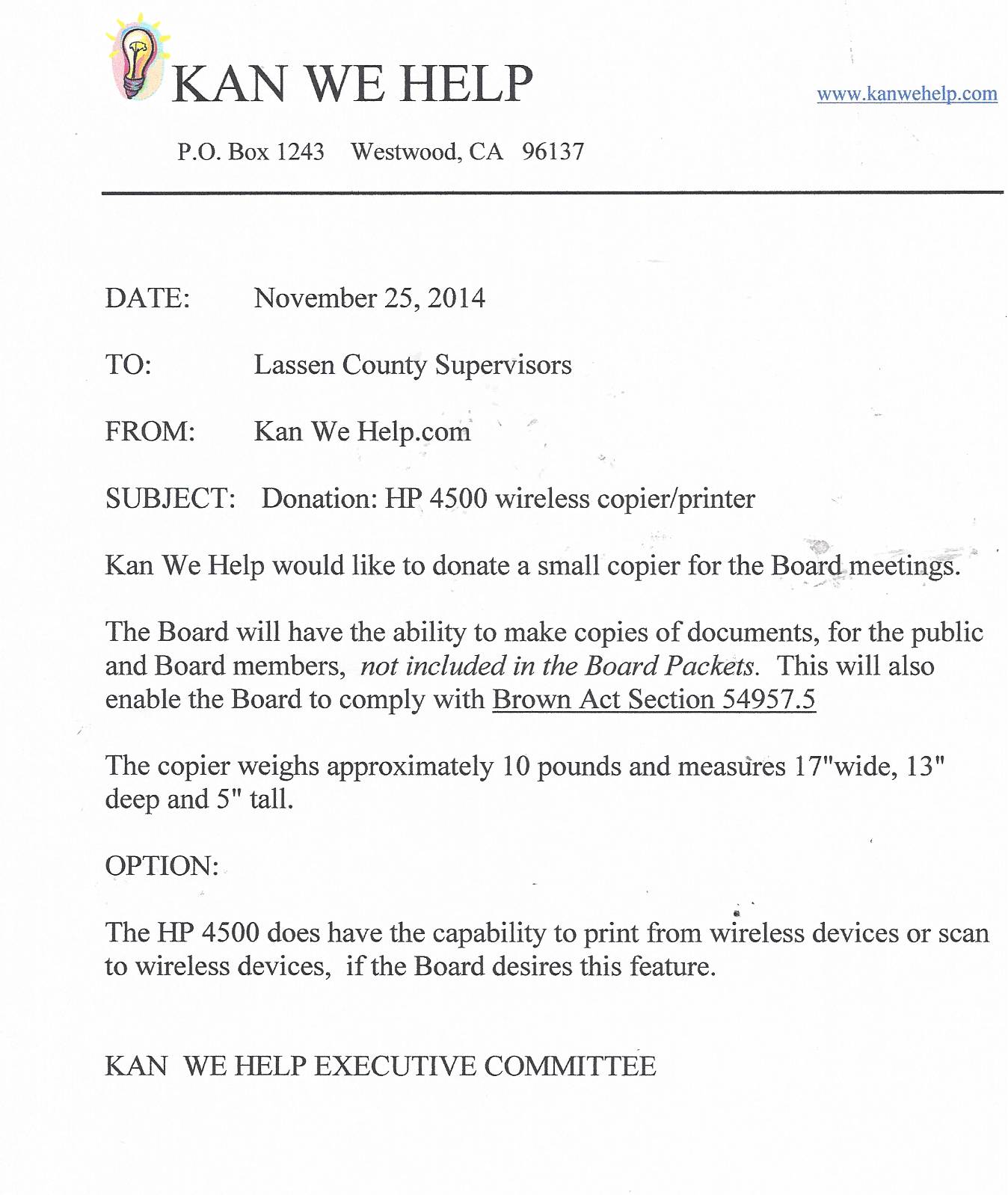 The person who donated the copier came to the meeting.......
2. ASSESSMENT APPEALS BOARD
The Board of Supervisors agendized the "Assessment Appeals Board" to listen to public complaints about the property tax appeal process.
Larry Smith of HSP (In 2013, purchased the 435 acre township of Herlong for $31,500) came to the Board meeting to complain about the recent assessment on all of his parcels.
The Assessor "valued" 20 parcels of Mr. Pezzullo and Mr. Smiths property in Herlong, at $528,000.
[the range varied with the highest parcel assessed @ $1,633.12 and the lowest parcel assessed was $19.18]
What Larry Smith failed to mention is that the Assessor discharged (waived any property taxes) on 13 parcels because the assessed value was under $463.
This is a tax revenue for Lassen County
and will bring a total of
$11,717.96 in taxes to the people.

Property taxes for 13 of their parcels were discharged (waived) because the assessed value was less than $463
Mr. Smith and Mr. Pezzullo have been collecting rent on the properties since November of 2013 and have never paid any property taxes. They raised the Post Office rent from $500 to $2,000 a month........
POOR MR. PEZZULLO AND MR. SMITH ?
Also, the Supervisors intentionally included a building worth over $1,000,000 in the sale (One Stop) which the County had previously used restricted funds to pay for a new roof and air conditioning.
Lassen County Supervisors sold this County building to Pezzullo & Smith (Parcel V-2) for $173,
and Bob Burns made sure they would not go to jail..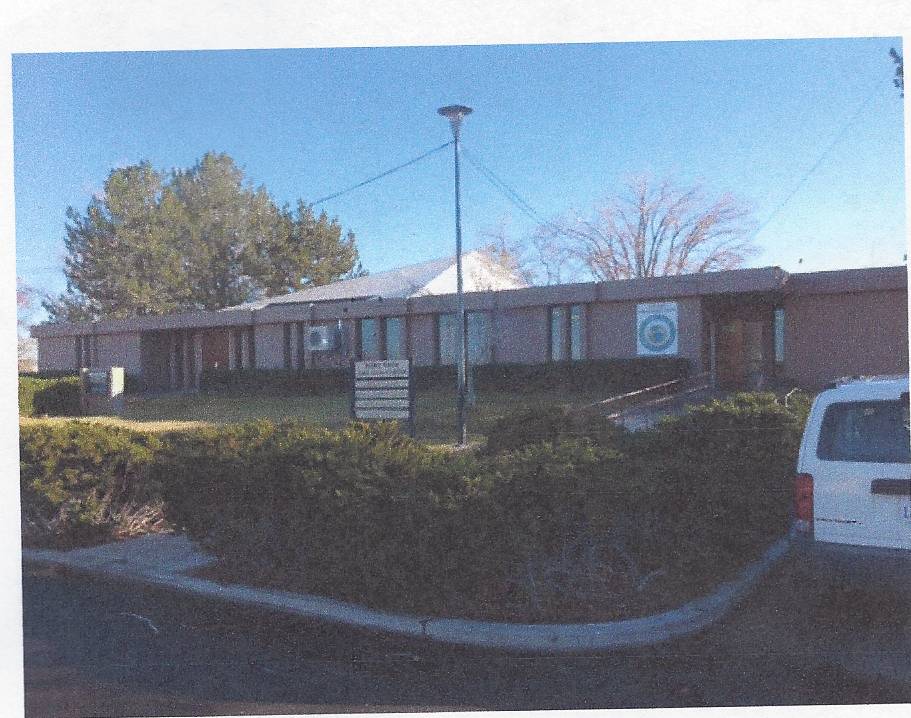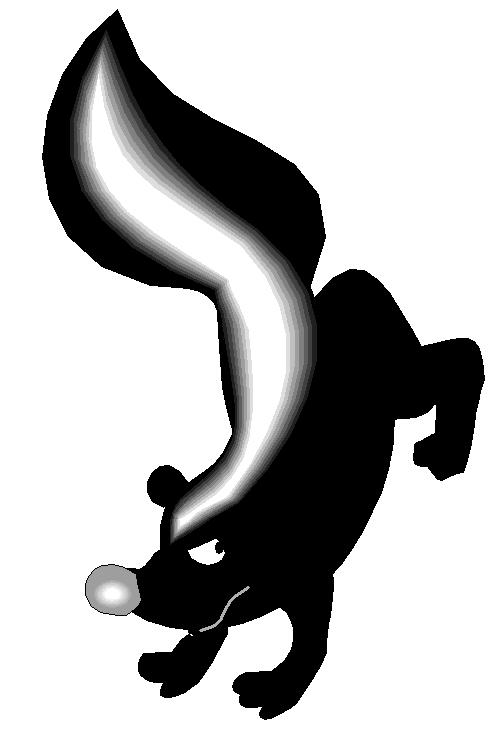 VIDEO:

NEWS FLASH
When you take out a building permit
it goes to the assessors office
for a re-assessment of your property taxes
Does Mr. Smith or Mr. Pezzullo intend to
take building permits out
to improve his property
......still waiting Mr. Smith ?
3. Another Booddoggle Scam
Are Supervisor Hammond and Supervisor Wosick in too much of a hurry to sell the Amedee Airport Parcels. What % of a Finders Fee are they going to collect?
SNAG #1
The property being sold has the Sierra Army Depots airfield in the middle. The Army has a 50 year lease on the airport. It cannot be sold to a private party.
However there must be an "Airport Land Use Compatibility Plan". This "Plan" was never done. The Supervisors have been in discussion about paying for the "plan" for almost a year. Wosick voted against the motion to have the "Plan" done because he traded votes with Chapman for something else
Watch this "unethical" discussion between Wosick and Chapman
ANY POTENTIAL BIDDER
OF THIS PROPERTY
[RFP's due on December 11, 2014]
MAY NOT BE ABLE TO BUILD ANYTHING.
SNAG #2
The Lassen County Supervisors do not want to spend the $18,000 to have this "Airport Land Use Compatibility Plan" done and hope that the NEW OWNERS won't care if they can't build anything on the property. The Supervisors are selling all of the Airfield parcels in one lump sale.
Kan We Help was able to force the Supervisors to disclose the fact that the property is "hazardous to human safety". New reports, recently acquired from the Department of the Army in Warren, Michigan states that the condition of the parcels are much worse than earlier believed.
THIS LAND IS DANGEROUS.
MORE HOUSEKEEPING NEEDED
MORE INTEREST NEEDED BY HLVRA
In October, Kan We Help submitted a request for the HLVRA to bring their website up to date with Minutes and Agendas.
Now that all Agendas have been posted it appears that the February 18, 2014 Minutes were never approved.
Also, the June 17, 2014, July 1, 2014 and the August 5, 2014 Minutes were approved without a quorum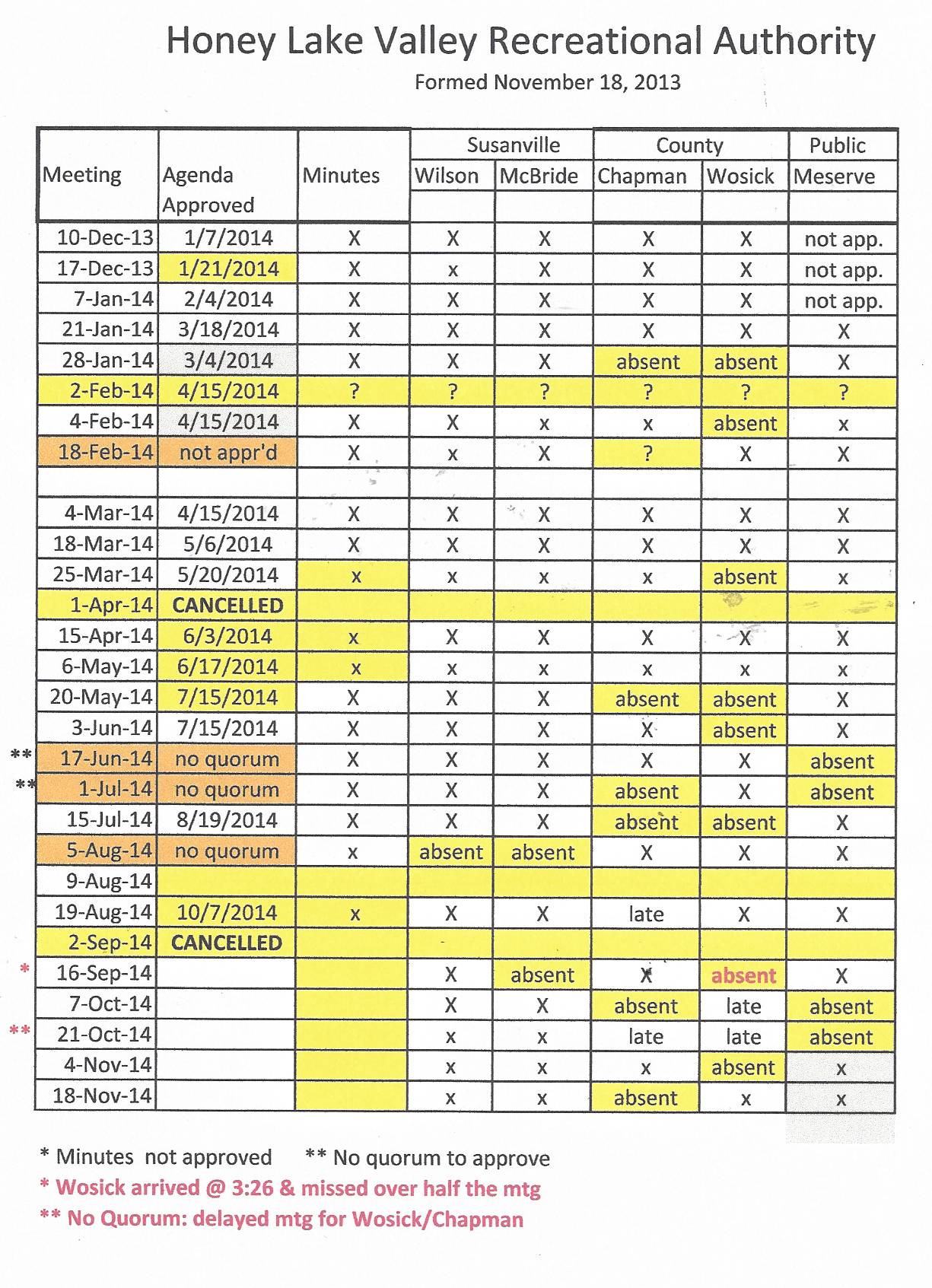 Community Pool
Lacks Funding
to
Proceed
The City of Susanville and the County
will not advance the
$3,500,000
for the pool construction

Left to Right: David Meserve, Larry Wosick, Brian Wilson, Nick McBride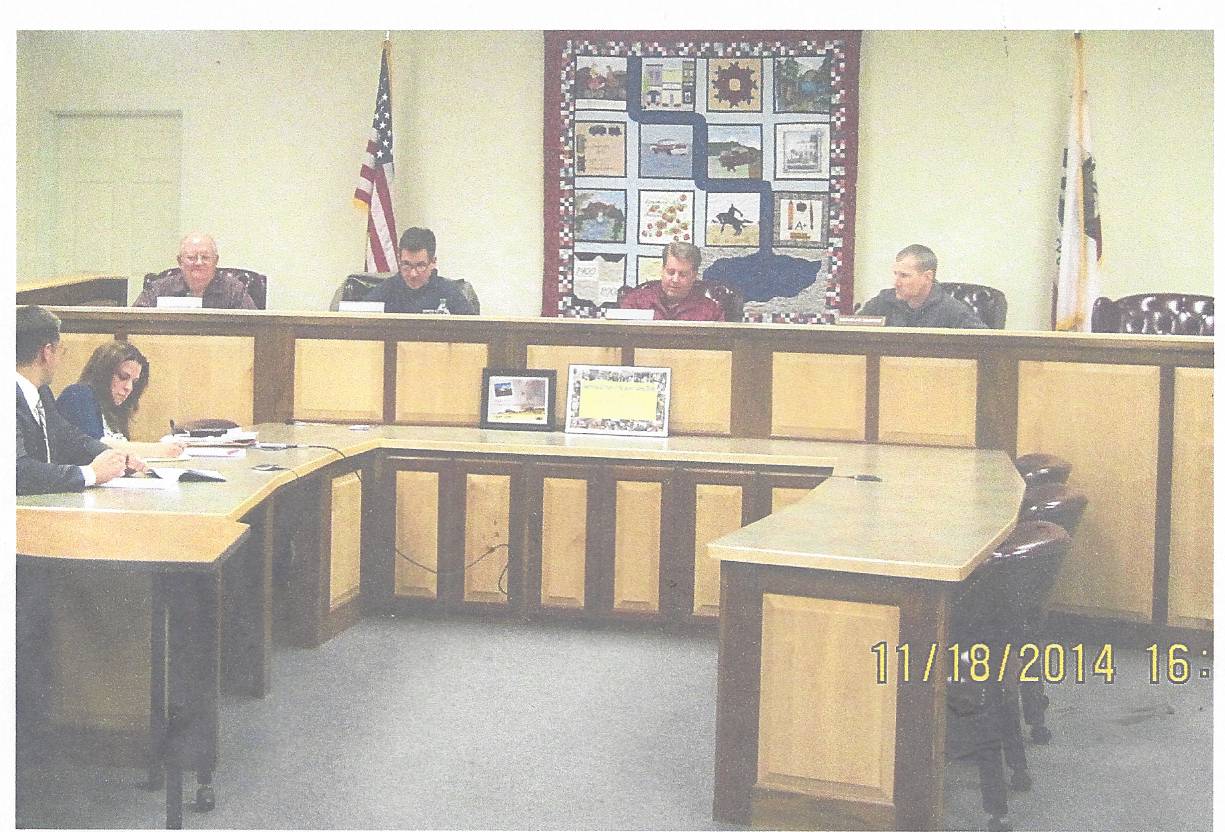 Honey Valley Lake Recreation Authority meets AND DOES NOTHING, AGAIN. Supervisor Chapman absent again.
"Million Penny" Donator pleads for the JPA
to do the right thing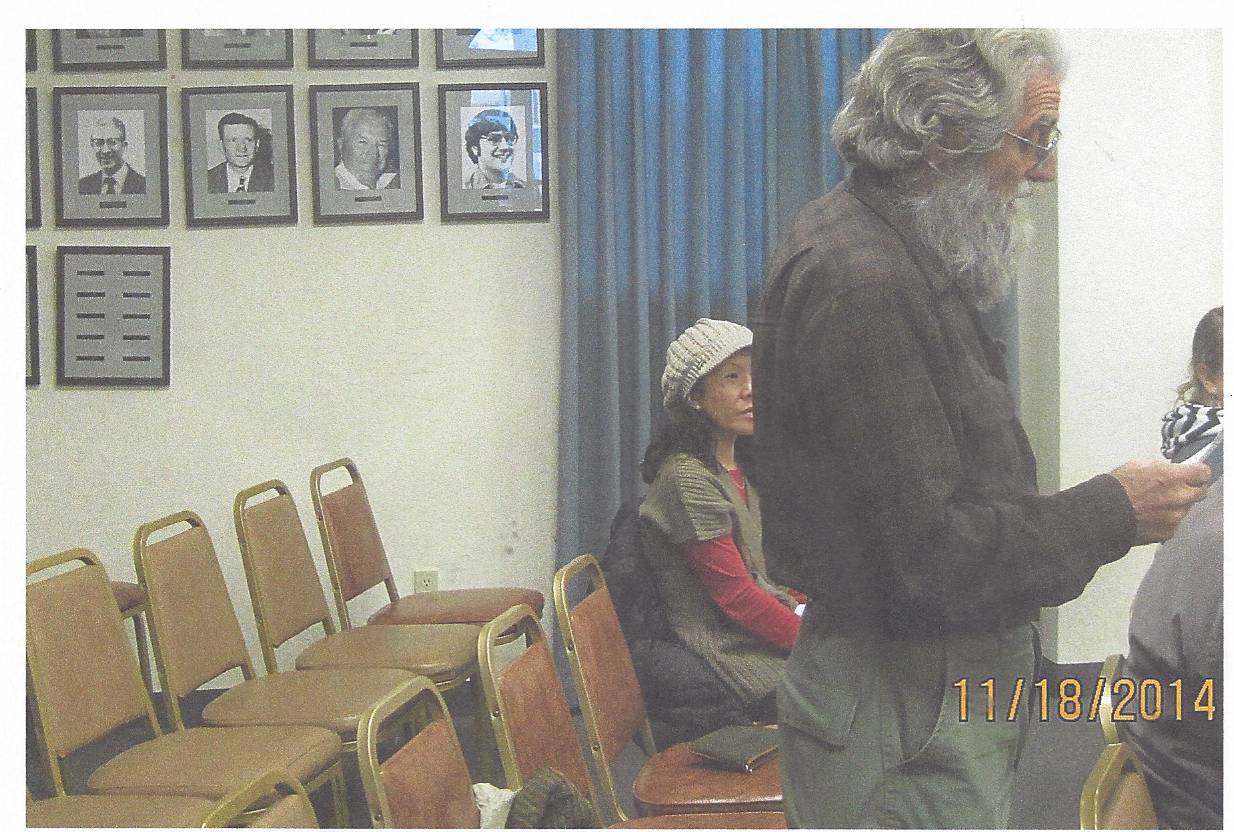 Pool JPA Meets
on
Tuesday,
November 18, 2014
3:00 PM, Susanville City Hall
?NO ACCOUNTABILITY
FOR THE POOL MONEY ?
Susanville Dentist, Dr. Jim Hodges, asks the Lassen County Board of Supervisors why the Community Pool has not been put on the Capital Improvement Plan.
Maybe.......What the public doesn't know won't hurt them.........?
The Supervisors have hidden six pages of the County's Capital Improvement Projects from the public. These projects still exist but the Supervisors don't want the public pressure to complete them.
Maybe.......What the public doesn't know won't hurt them.........?
The Supervisors voted to donate $200,000 (of taxpayers money) a year to build a community pool at the old Roosevelt Pool site which closed in 2004.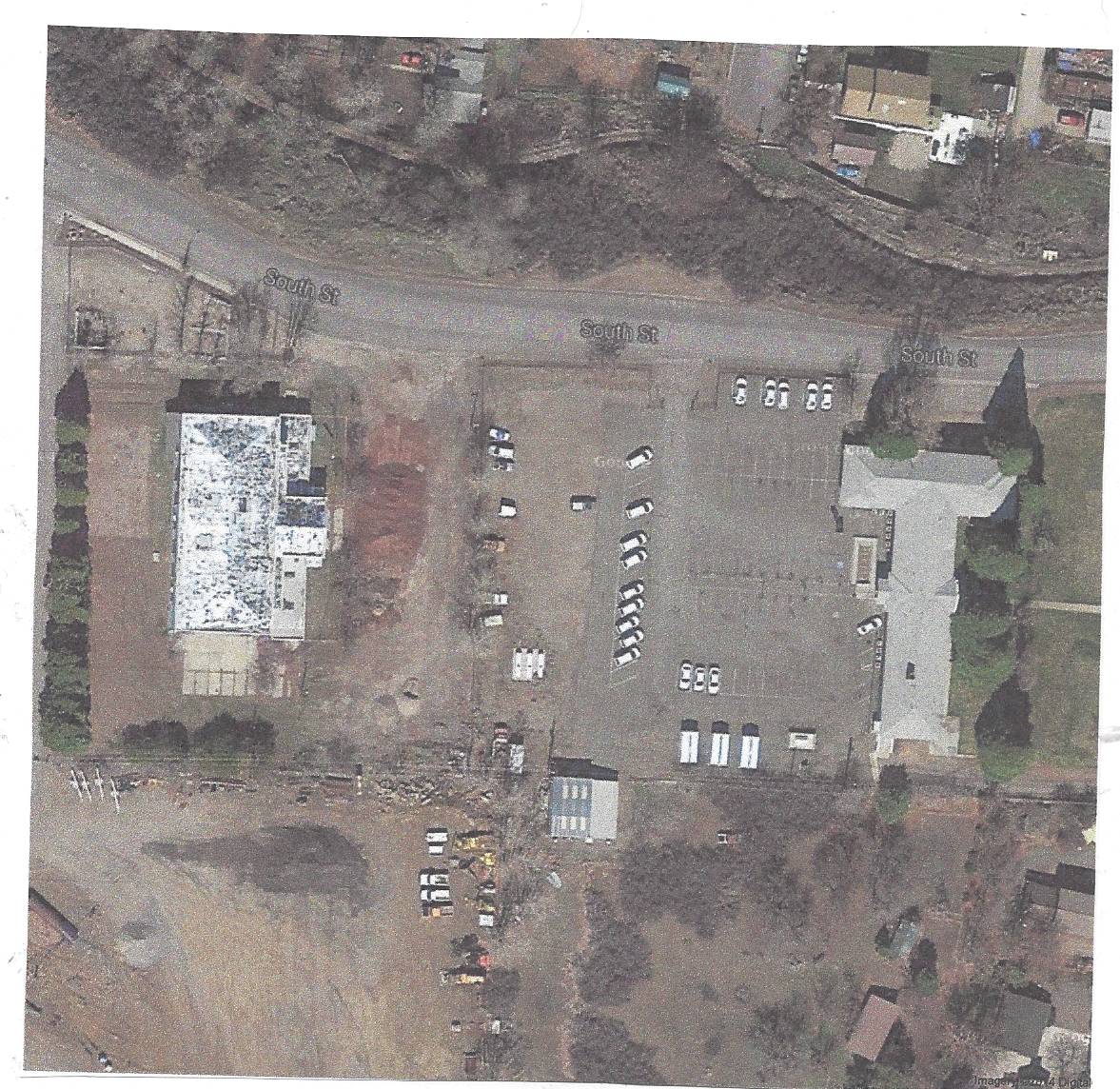 After one year, the JPA (Honey Lake Valley Recreation Authority) has been reluctant to release current financial statements.
The City of Susanville has donated $400,000 since the JPA was formed on November 18, 2013. The County has matched that amount and now is attempting to match the $1,750,000 needed for construction costs.
ACCOUNTABILITY IS NOT TOO MUCH TO ASK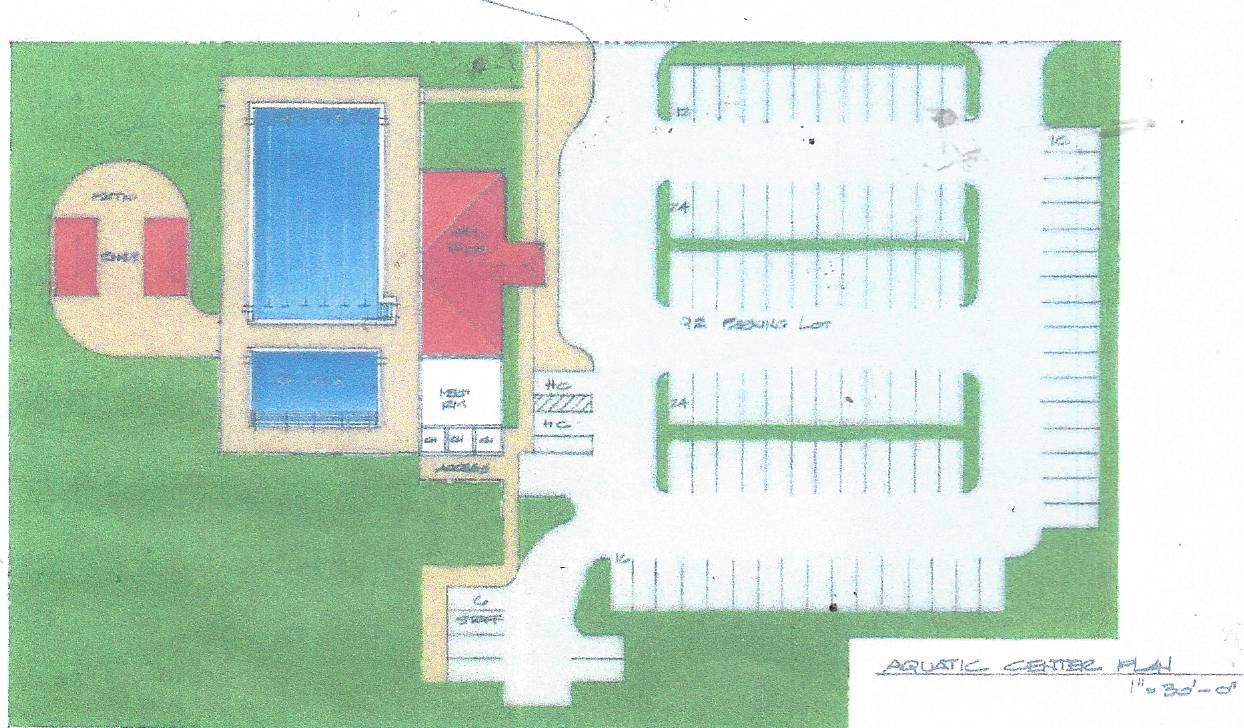 Supervisors show contempt for Grand Jury Again....
LASSEN COUNTY SUPERVISORS TOLD TO
"PROPERLY" HIRE
On November 12, 2014, after attempting to appear to comply with the Grand Jury recommendations, the Supervisors hired the same person (Jennifer Branning) they had appointed as Acting CPO.
[Hammond, Pyle and Wosick voted Yes, Albaugh abstained and Chapman voted No]
The Grand Jury stated that the "acting" Chief Probation Officer, Jennifer Branning, had received a 52% pay increase which is in violation of Lassen County's "Personnel Rules and Regulations".

Jennifer Branning was earning $23.67 per hour.
The Supervisors hired her today
at $39.17 per hour.
On April 16, 2014, Lassen County CAO Richard Egan "created" a letterthat was meant to appear as though Presiding Judge Michelle Verderosa had penned it. Judge Verderosa reacted by stating that she would no longer appoint the Chief Probation Officer in Lassen County. The County then was forced to create a new "Chief Probation Officer" position.
LASSEN COUNTY SUPERVISORS
HAVE NOT
LOCATED A FUNDING SOURCE FOR
THE HVLRA COMMUNITY POOL
Another week goes by and the Supervisors have yet to place any item, on their agenda, for the $1.75 million dollar's needed for the County's portion of the construction costs for the pool
Design Options
for Community Pool
Offered to HVLRA
Site: Old Roosevelt Pool
ONE YEAR LATER:
Lassen County Supervisors have yet to find their share of the money ($1.75 million) for construction of the pool.
The HVLRA meets again on November 18, 2014 @ 3:00 PM, the Susanville City Hall
Option 1 cost: $3,867,482
Enclosed Pool for year-round use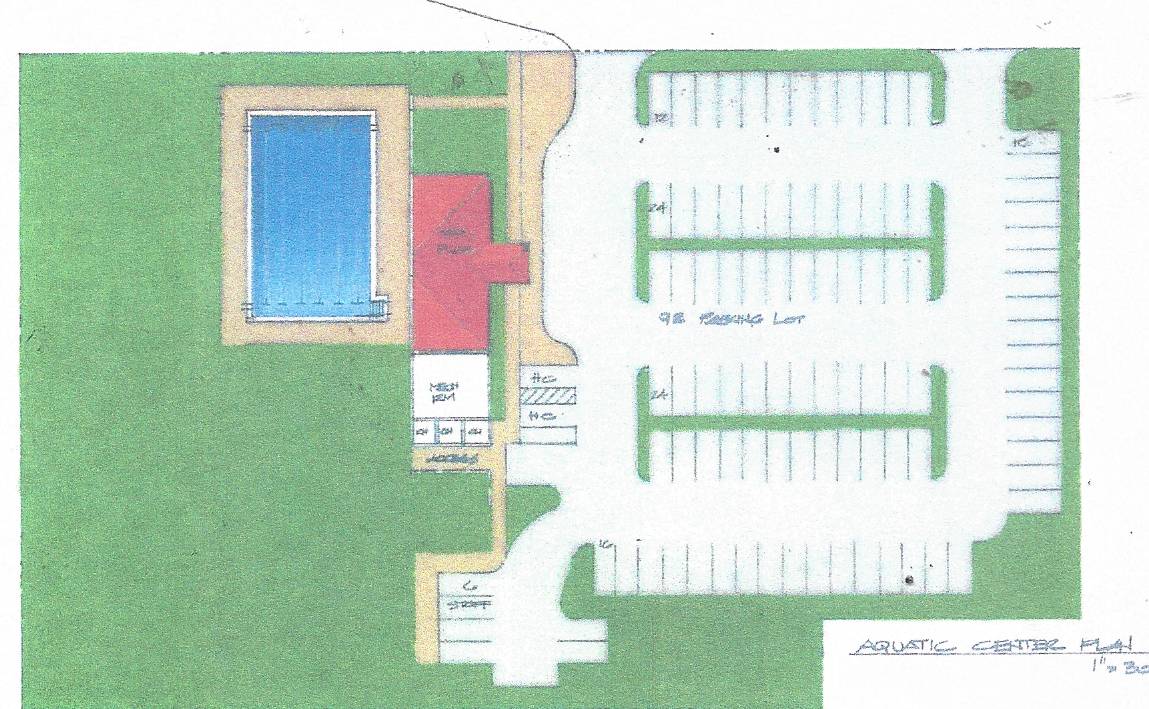 Option 2 cost: $ 2,924,193
Not enclosed, for seasonal use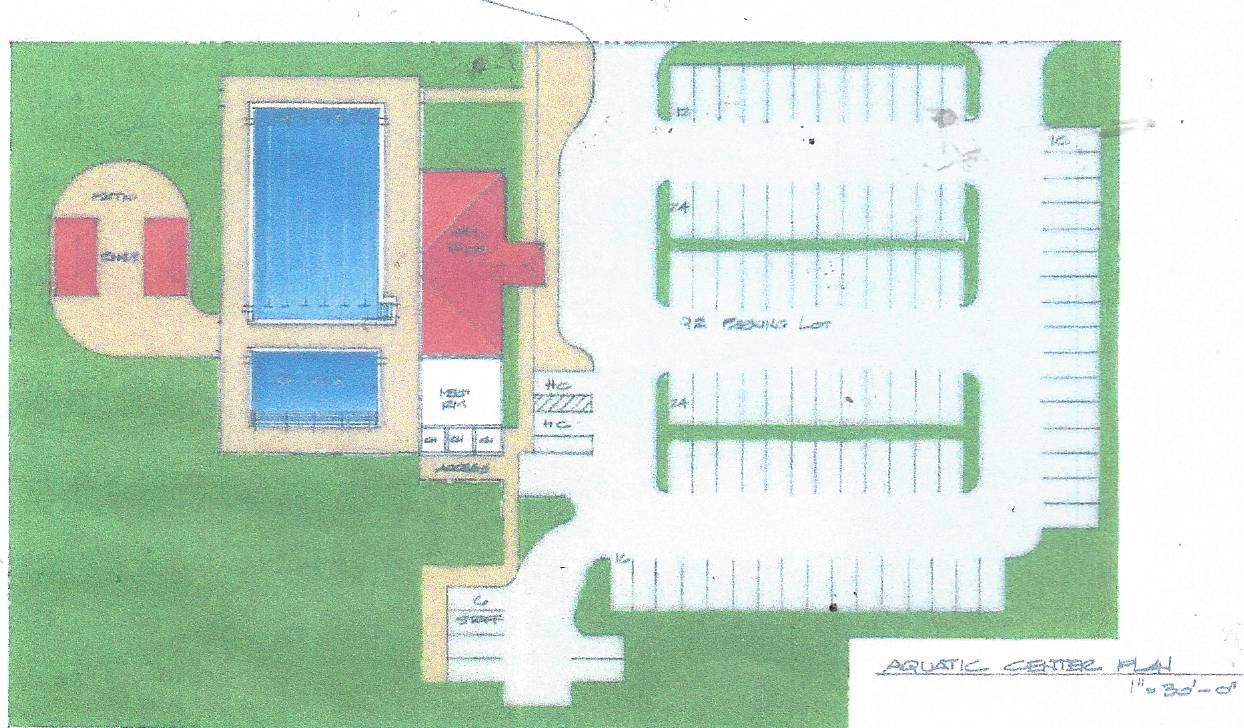 Lassen County's Former District Attorney and now County Counsel, Bob Burns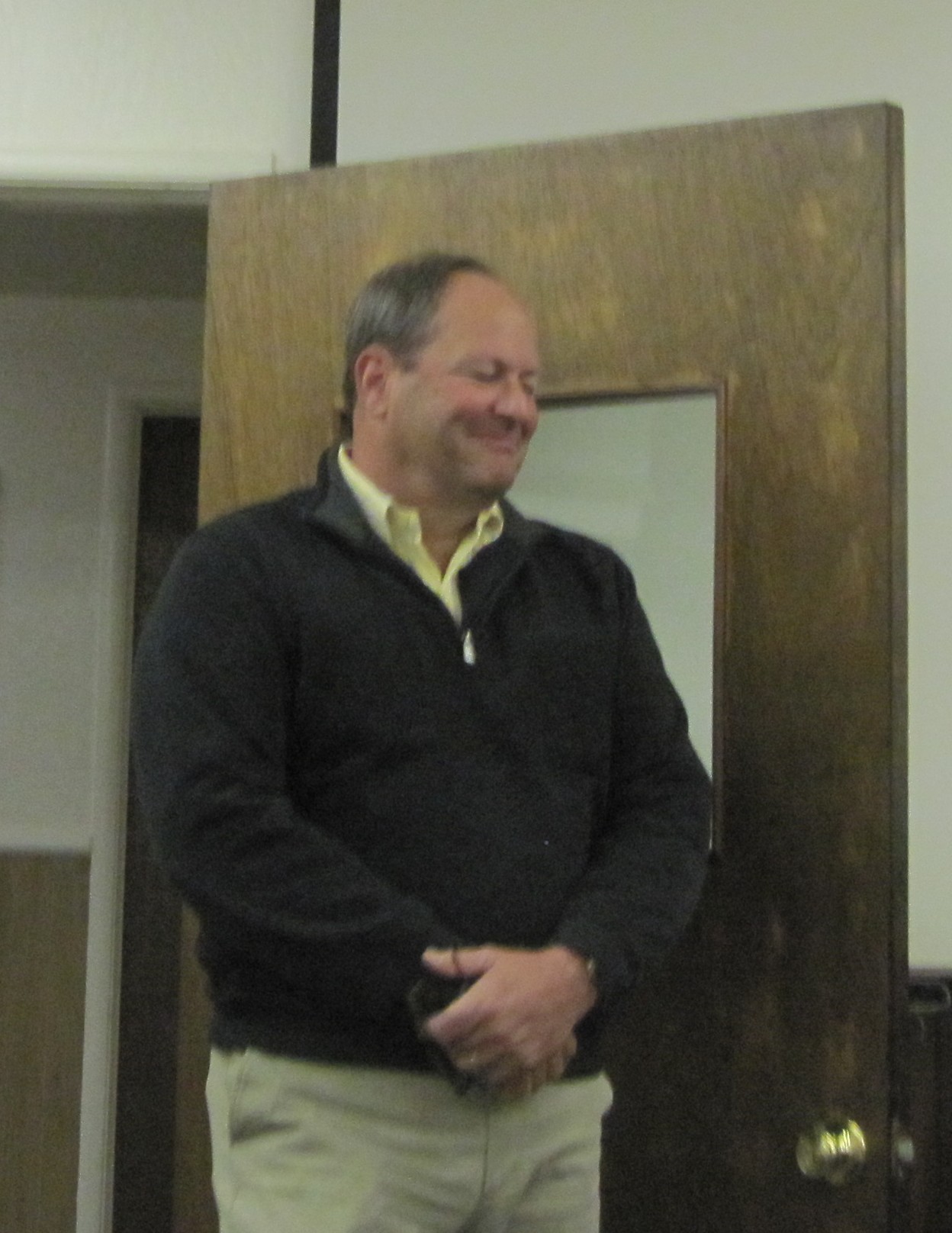 finally forced to tell the truth under oath.
Lassen County Disgrace
*THEY DID NOT DO THE RIGHT THING*
Lassen County withheld evidence, to the Grace Foundation, that proved the 36 Whispering Pines horses were removed from the Bennett property and given to the Grace Foundation for care. The County has refused to reimburse the Grace Foundation for over three years, claiming that they had no obligation to pay for the horses care.
Warning: THIS VIDEO IS GRAPHIC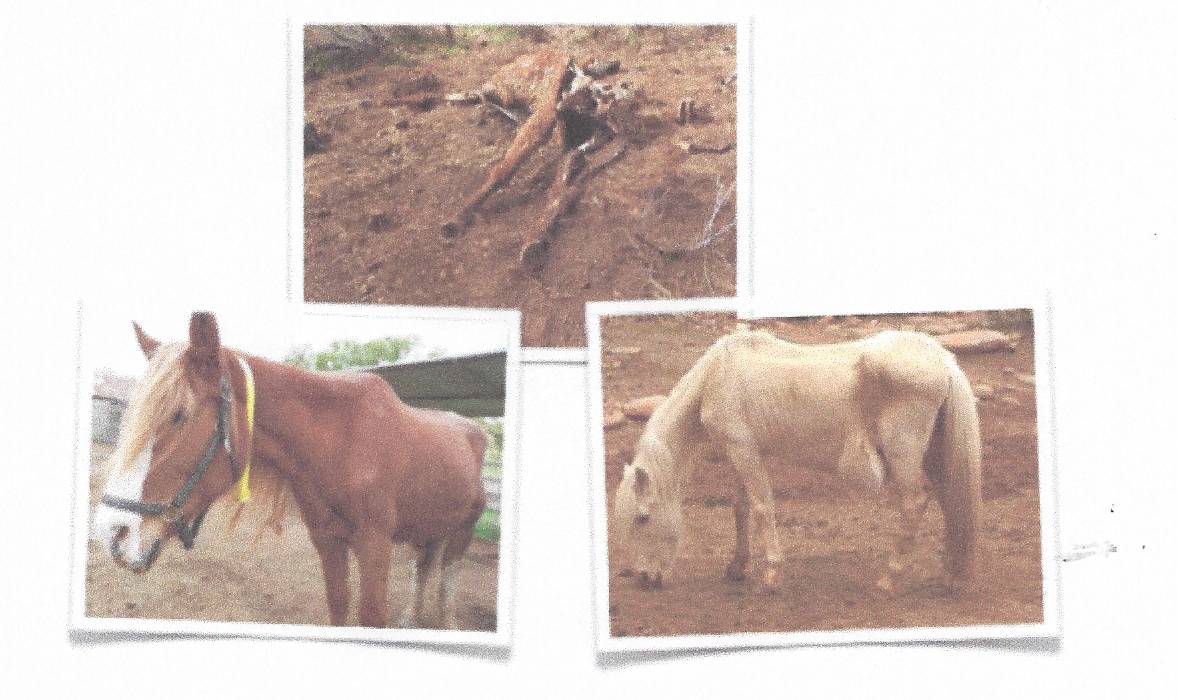 The Grace Foundation made a plea for help at the January 28, 2014 meeting Video link: Part 1@ 4:39 mark . The plea for help fell on deaf ears and the County Supervisors did nothing. The Supervisors met in closed session many times and knew that they were obligated to care for these animals (reimbursements to the Grace Foundation) until the disposition of the Bennett case.
The letter below was withheld from the Grace Foundation
Honey Valley Lake Recreation Authority
Met on November 4 and
Presented Options for the Susanville community Pool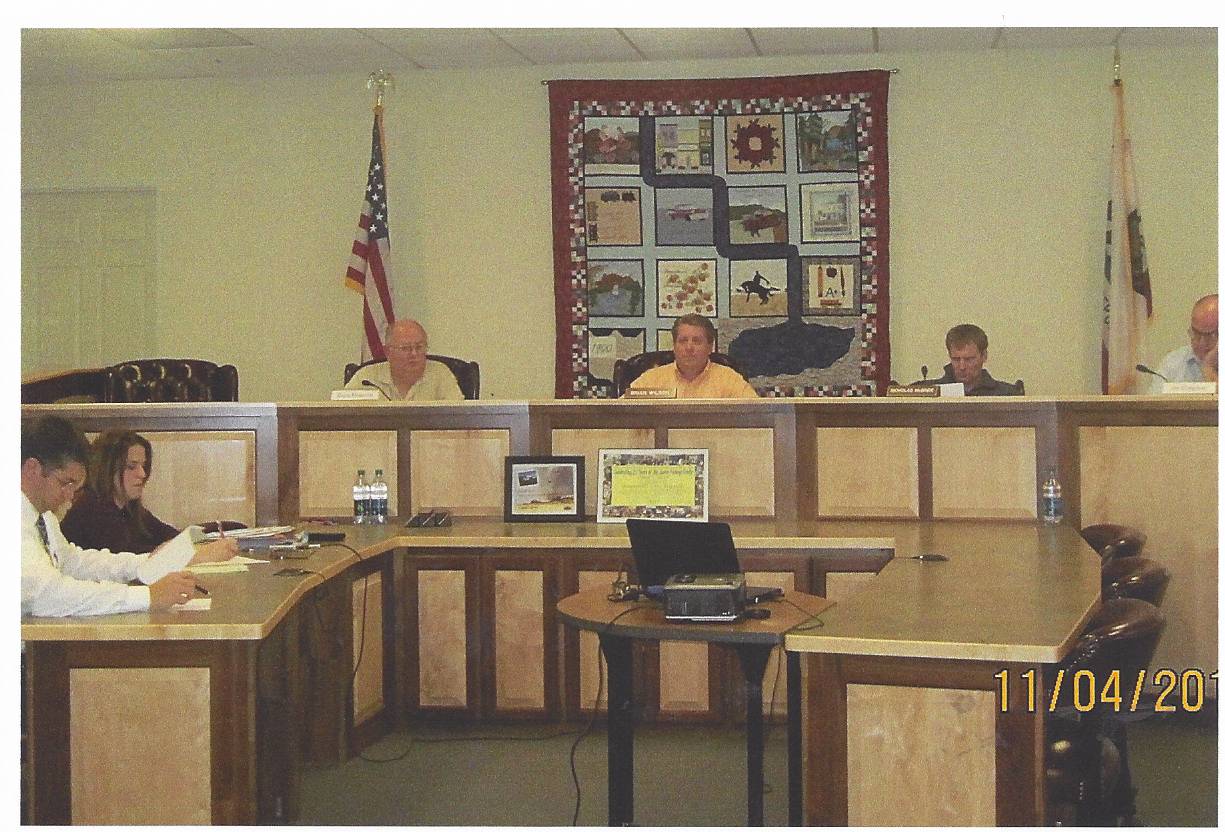 ABSENT: Supervisor Wosick. He has resided outside his District since January. He resides in Reno.
The two public entities that make up this Joint Powers Authority (City of Susanville and Lassen County) have yet to secure any money to construct this community pool. The costs now exceed $3 million.
The JPA was asked to begin being accountable for the $800,000 now in its' treasury. Jared Hancock showed resistance to this type of accountability. President Brian Wilson asked Mr. Hancock to present a financial report at their next meeting on November 18, 2014 at 3:00 PM at the Susanville City Hall.
JPA's are notorious for pissing away money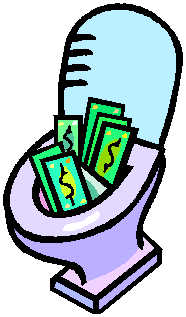 JPA's don't think they have to be accountable for the people's money
On November 5, 2014, the City of Susanville Agenda Item 12 failed to inform the public that $1.75 million dollars will be needed to donate to the construction of the community pool.
The Lassen County Supervisors did not place this issue on their November 12, 2014 Agenda.
County Clerk, Julie Bustamante
Leaves her daughter Nicole as an Election Officer
Replaces Bridgett Bustamante with her sister Cindy
This violates the Lassen County
Nepotism code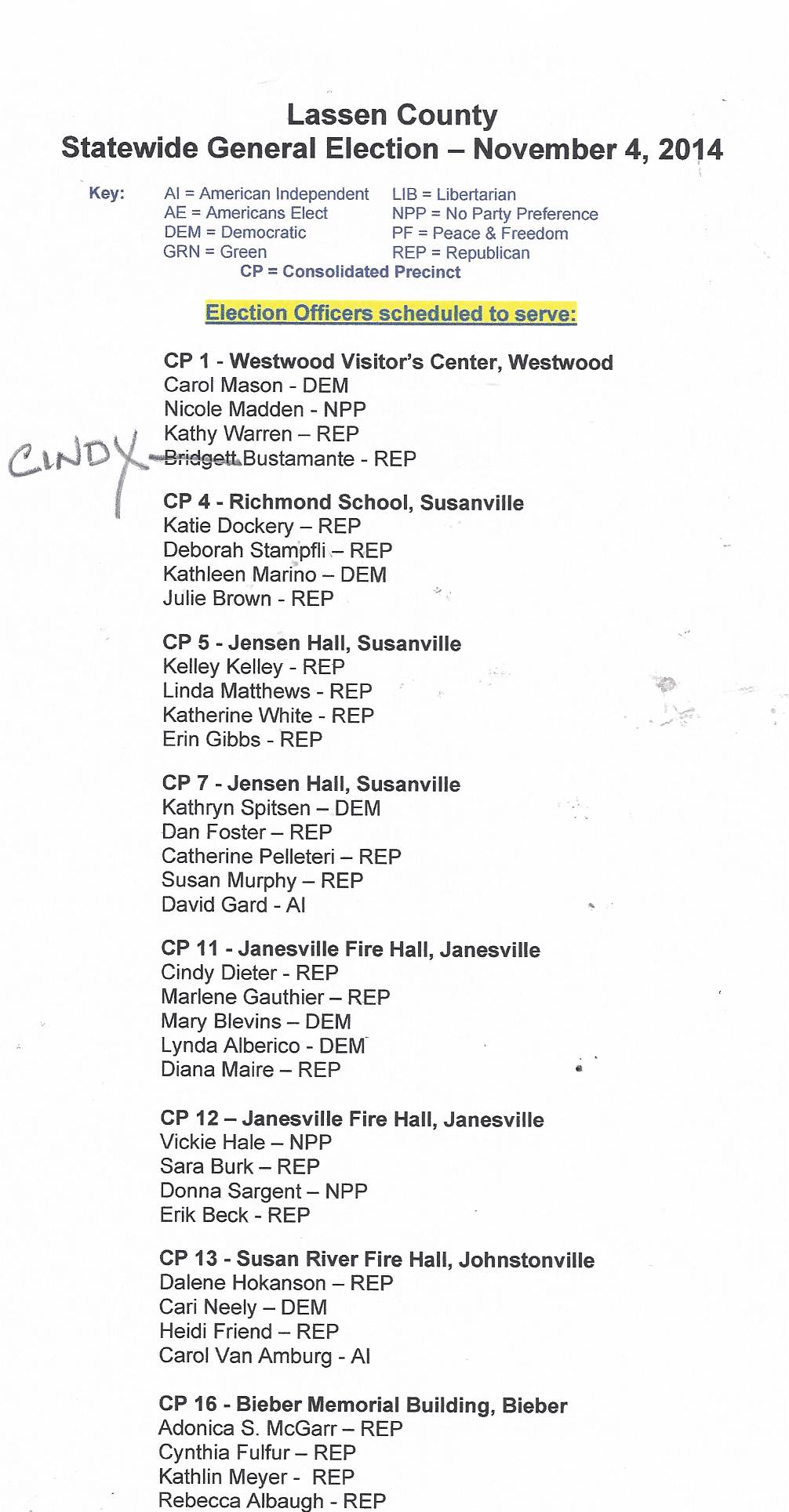 the only constant is change
VOTE
Lassen County Measure Z
A Yes Vote will limit County Supervisors to 3 four year terms.
This would limit terms regardless of whether the terms were consecutive
Trick THE PUBLIC or Treat?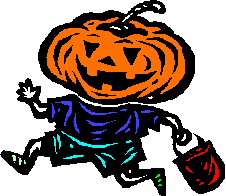 Bustamante has never felt compelled to follow the rules
Change her daughter's name (no one will ever notice)
BUSTAMANTE, MADDEN, MURRAY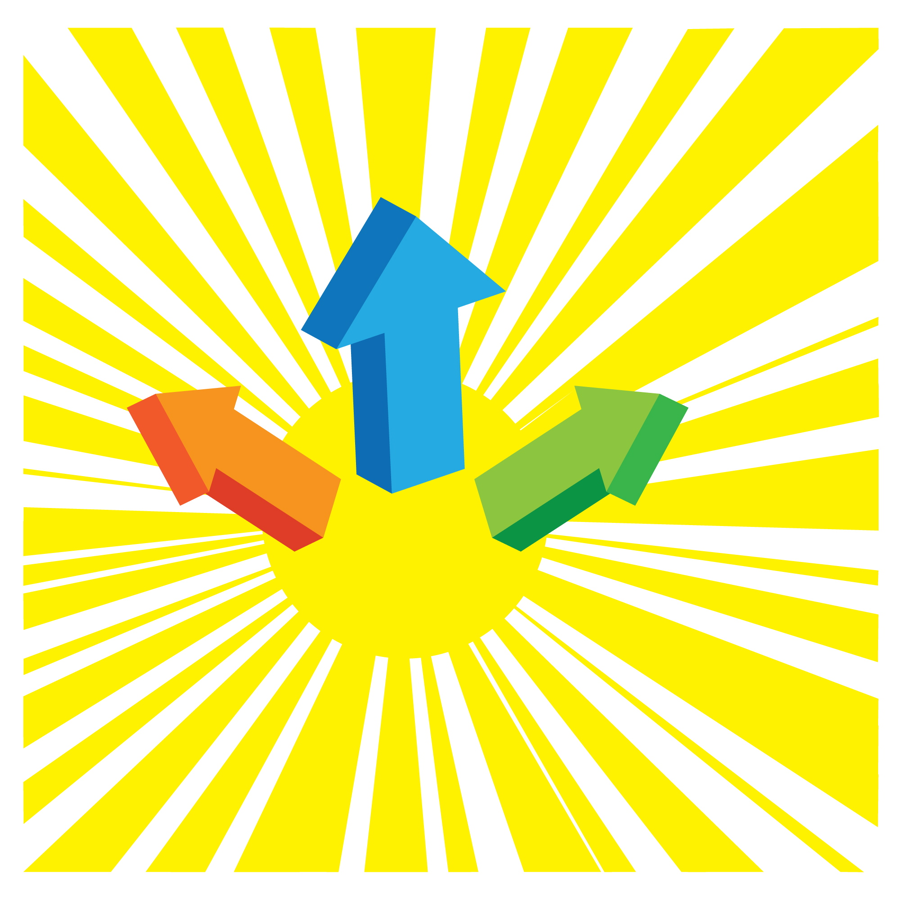 and add another relative, Bridgette Bustamante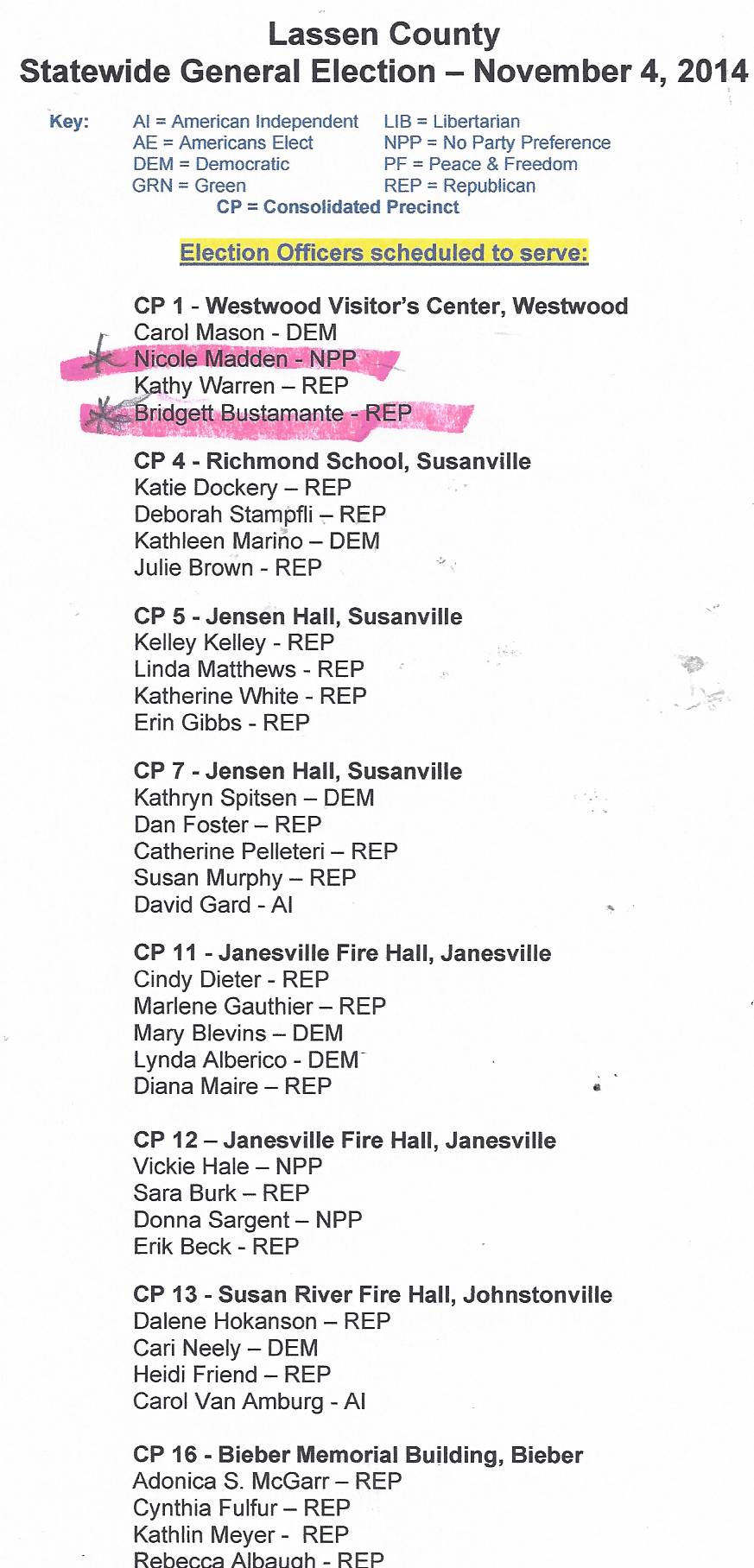 Lassen County Election Officer,
Bustamante Hires Daughter Again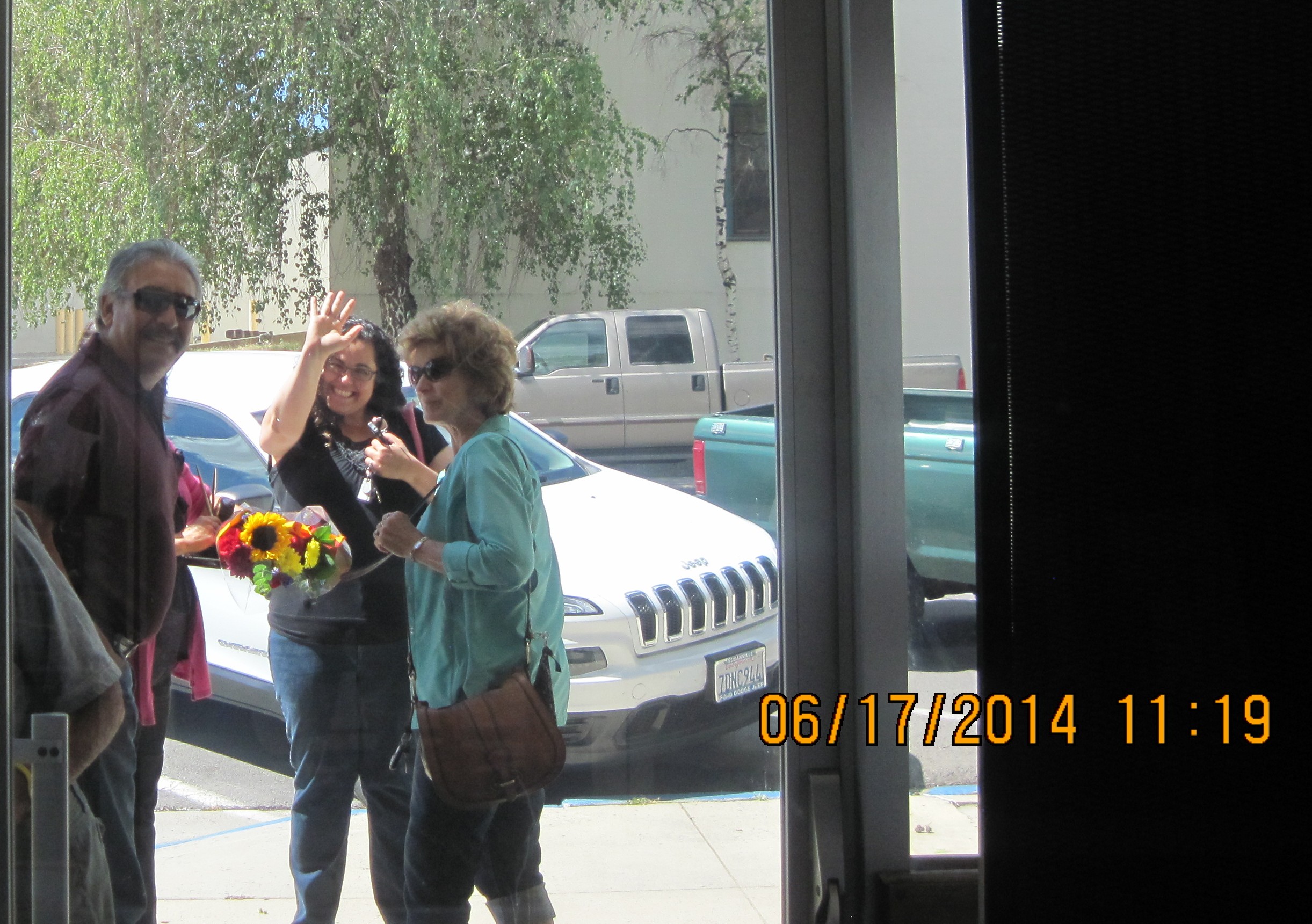 Nicole Bustamante Madden Murray was at the Westwood Precinct when the voting machine seal was broken and replaced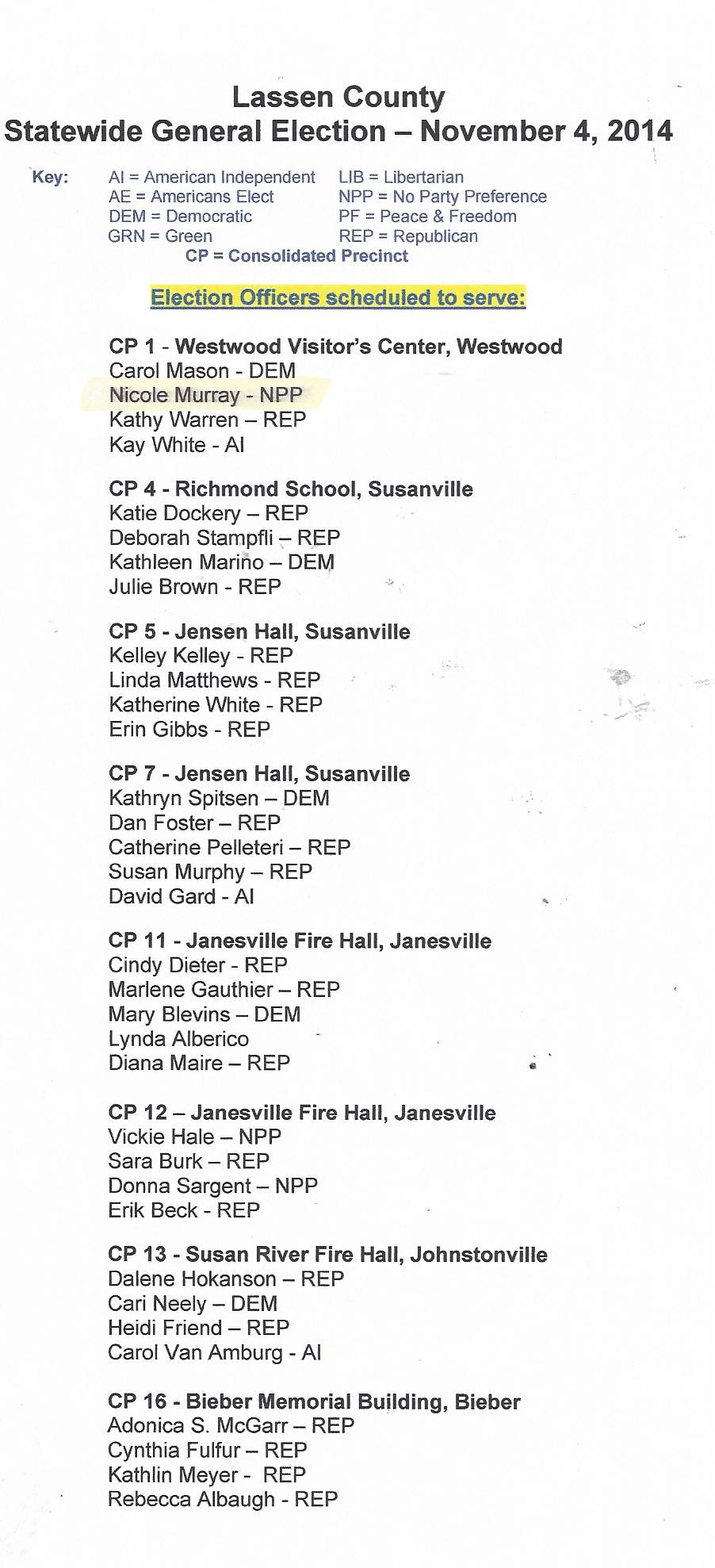 The County Clerk Claims Her Daughter Will Not Get Paid As An Election Officer
.....Bustamante has been there long enough NOT TO MAKE THAT STATEMENT
.....Has Bustamante been there too long?
Kan We Help Files Complaint Again
CAO Egan Resolves
Wolf Rescue Issue
On October 27, 2014, Lassen County CAO Richard Egan visited the High Desert Wolf Rescue in Ravendale and agreed to end the County's harassment and owner Debbie Valenta agreed to reduce the dog population in half by September of 2015.
The 20 year old Rescue, owned by 69 year old Debbie Valenta, has been under siege from the County for over a year.
[The County refused re-zoning requests]
Threats to kill the dogs, jail and seizures have been hanging over Ms. Valenta's head.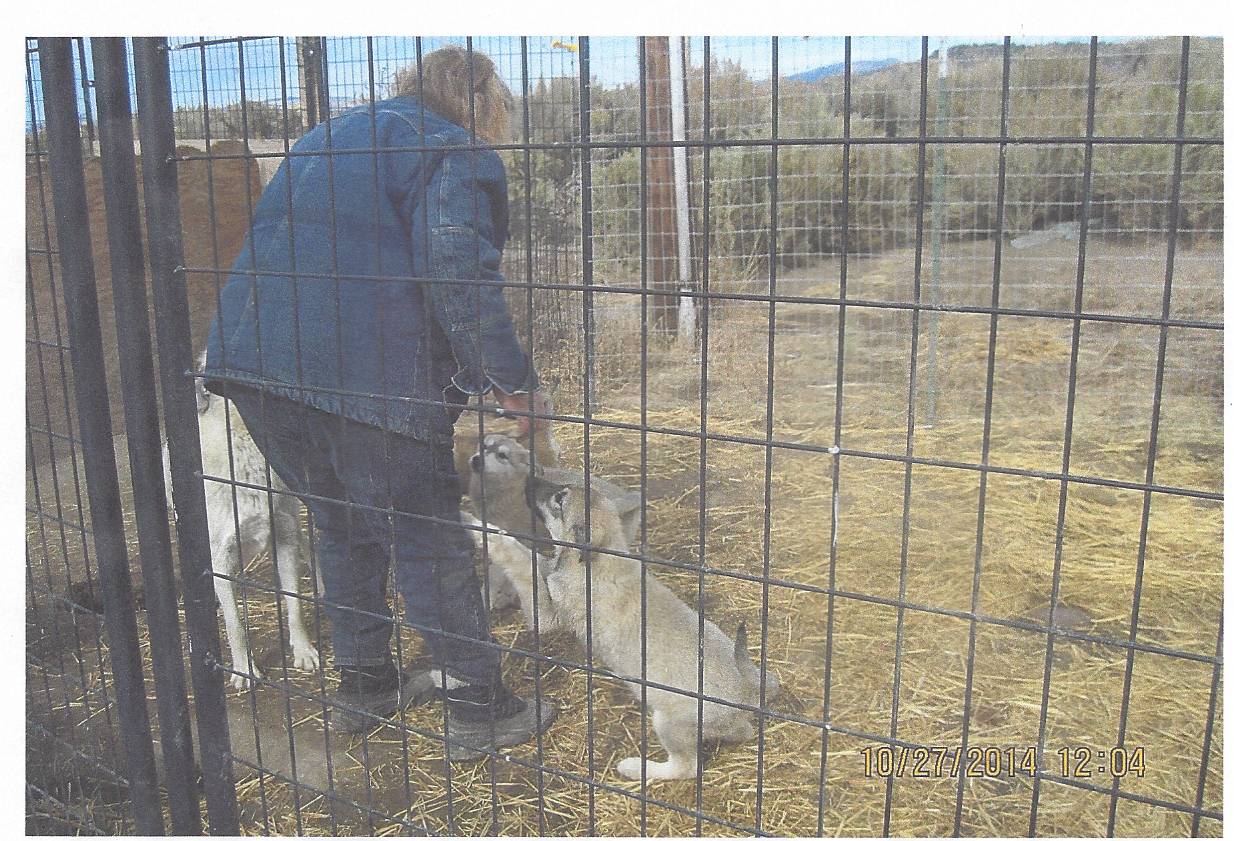 The High Desert Wolf Rescue is the largest west coast wolf-dog rescue in the United States.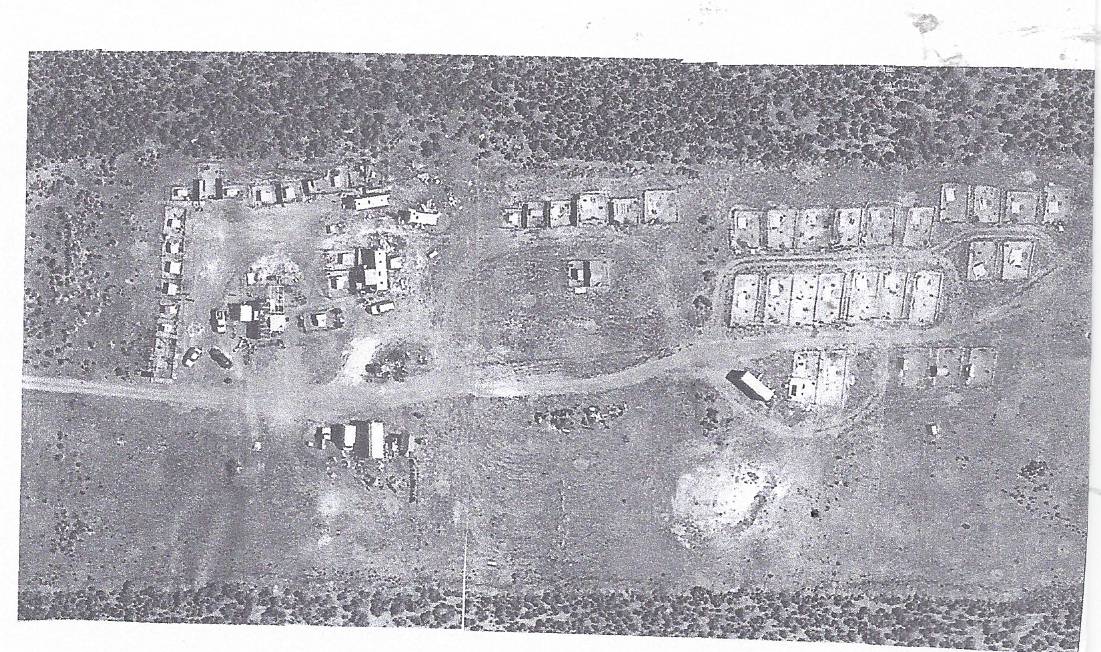 The Rescue is located in a remote area of Lassen County.
25 miles from Highway 395 in Ravendale, CA
NOT A SINGLE PUBLIC COMPLAINT !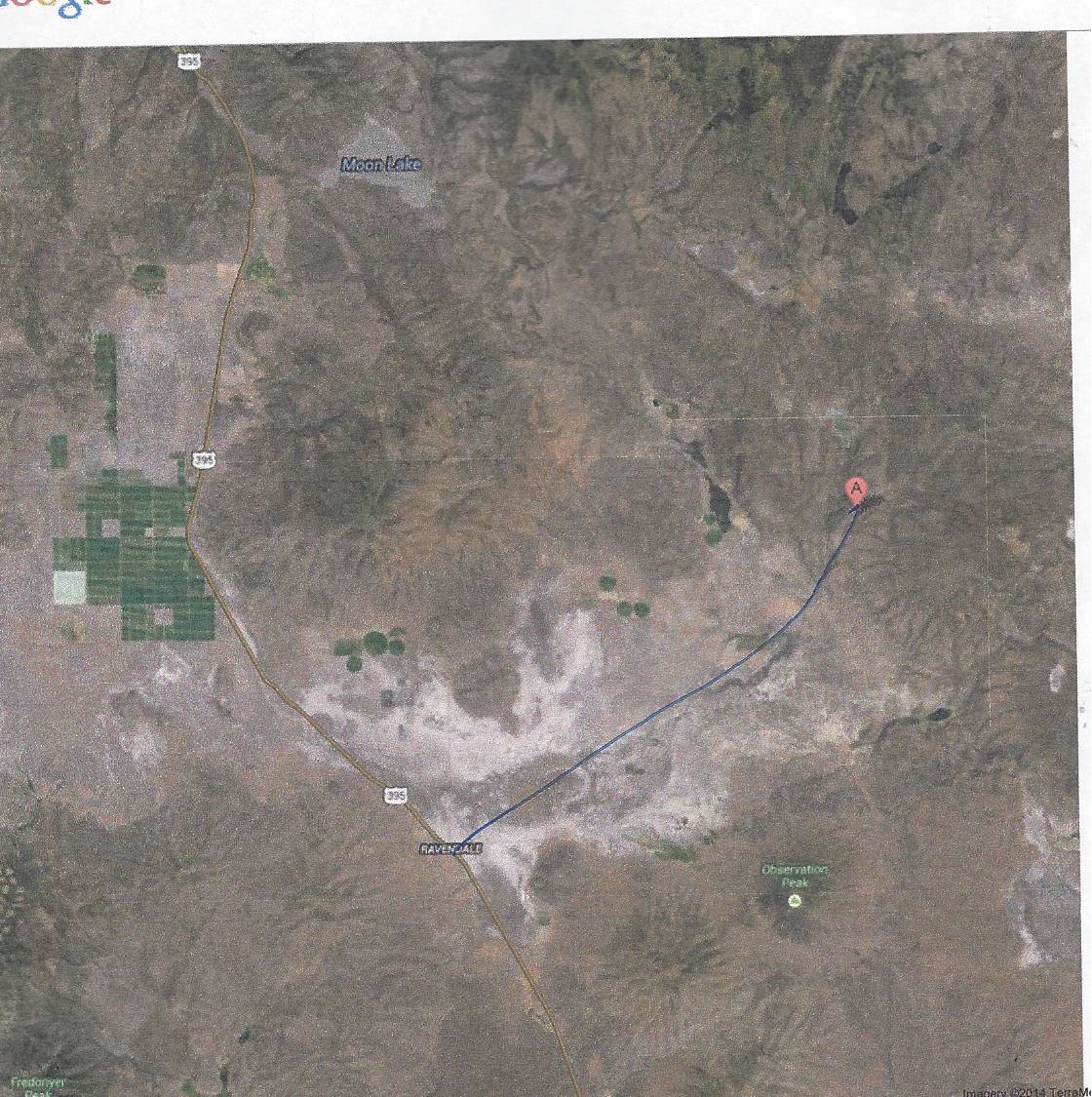 Rezoning Gift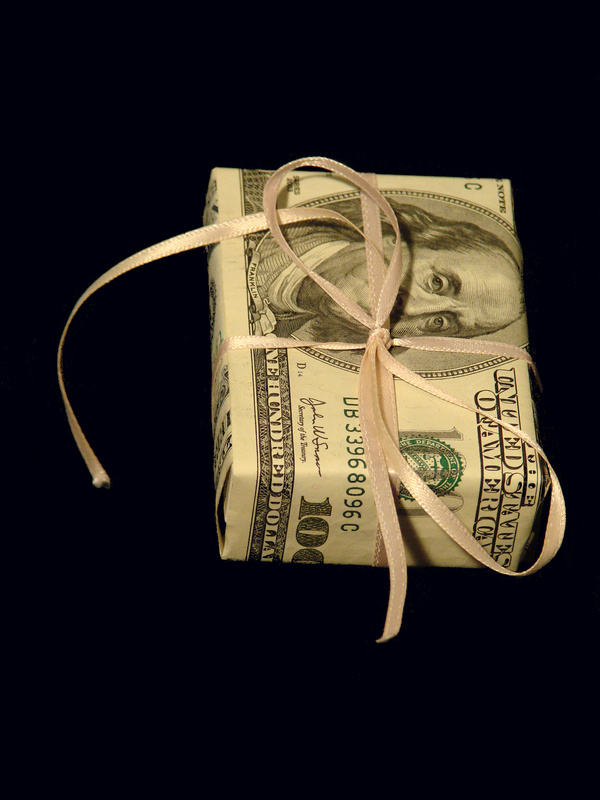 Gets Well Deserved
On October 21, 2014, Hammond, Pyle and Wosick vote to re-zone a single parcel in Herlong a "Town Center" (in the middle of an agricultural zone).
What is unique about this political move by Supervisor Hammond, is that it made no sense at all. The owner of this property could have requested a simple re-zone from Agricultural to Commercial.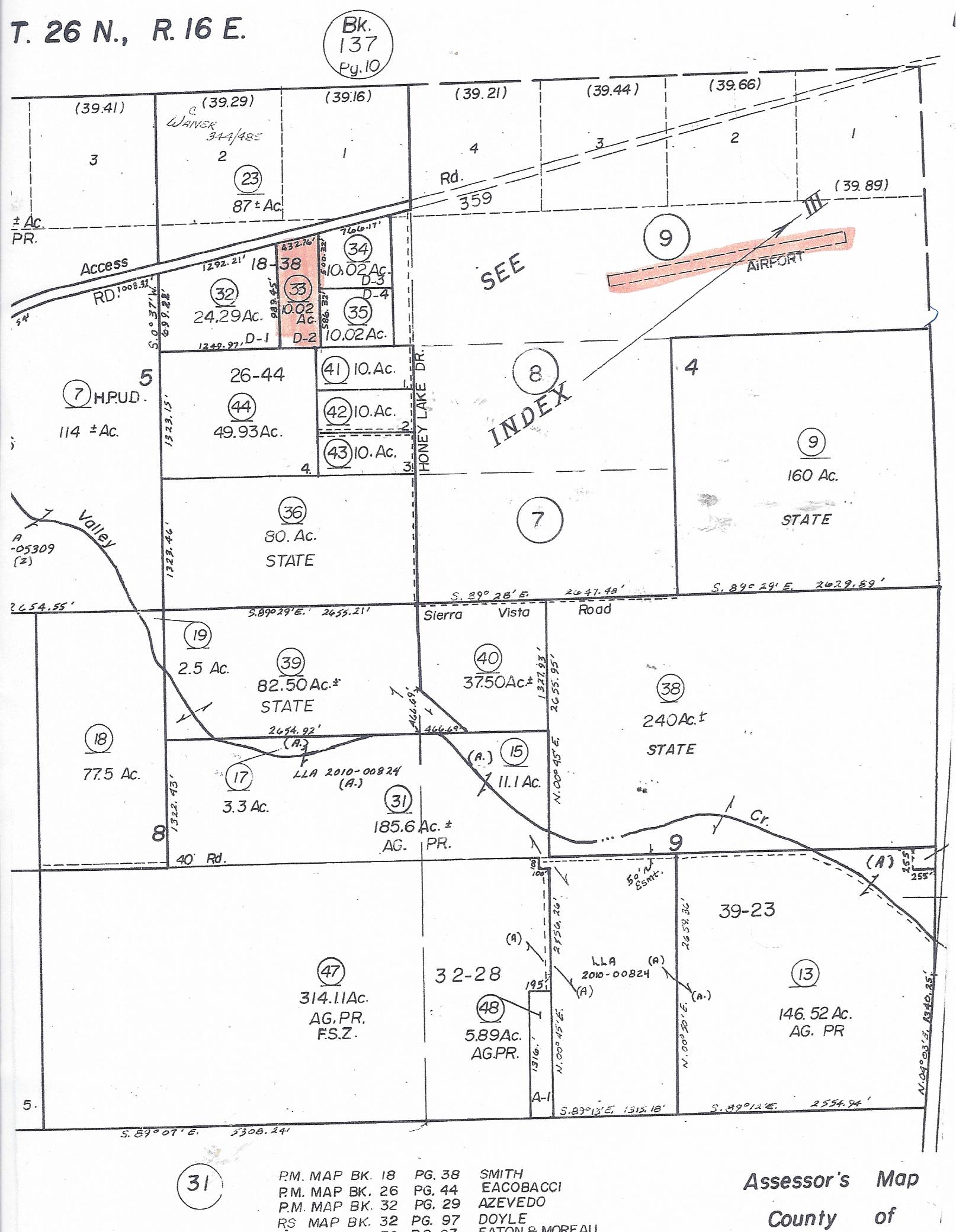 The owner Lawrence Marion wants to build a mini-storage ?
This 10 acre desert parcel ( APN 139-060-33) sits 2100 ft from the Herlong airport. This mini-storage would accommodate commodities flown in and out of the Herlong airport with little or no monitoring. The Owner claims he will build in phases (?). He also plans to build a residence on the property.
This 10 acre desert parcel will be subject to the Herlong Airport Land Use Plan which limits the type of construction. This parcel sits in the "Designated Safety Areas".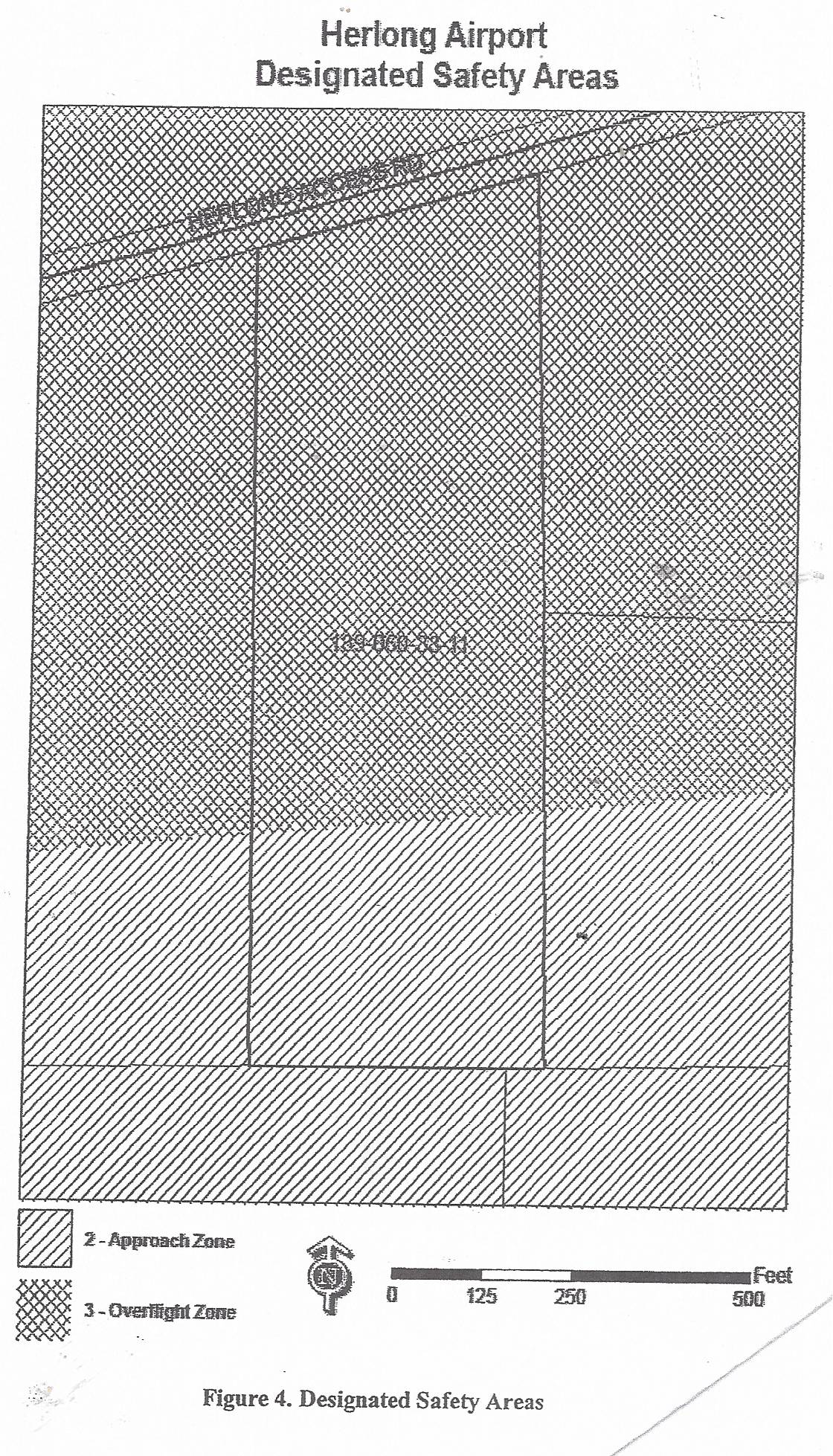 So why the "Town Center" Supervisor Hammond ?
Simple: It adds value to this parcel.
The CAO claims that surrounding property owners were sent notices
Mr. Marion purchased this property from Joseph and Lorayne White on May 23, 2005. The property was listed as "commercial" with manufacturing as a "use". Mr. Marion paid $45,000 for this desert parcel with only a septic tank as an improvement.
The value increases when you re-zone to "Town Center"
The Lassen County Planning Director Anderson and CAO Egan were in favor of expanding the new "Town Center" zone.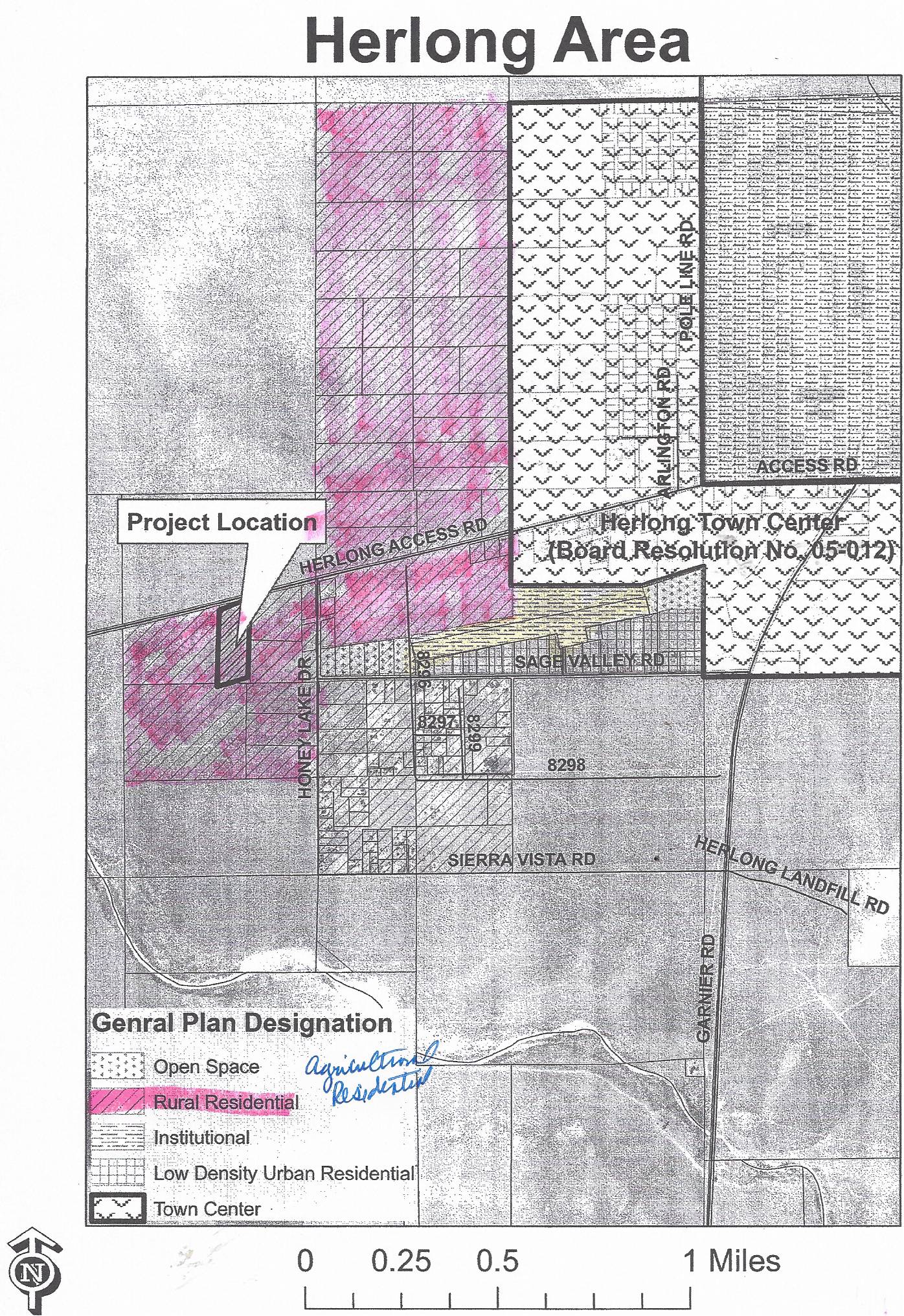 The Wheels, they keep on spinnin'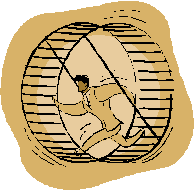 The Lassen County Supervisors decide to go on a Scavenger Hunt
The Supervisors decided to table the approval of $1.75 million dollars, for the pool construction costs, until they could locate the cash. It was decided that CAO Egan, Supervisor Chapman, Supervisor Hammond and Auditor Karen Fouch would meet early next week and find the money. The annual $200,000 donation to the HVLRA comes out of the "Tobacco Settlement" Fund now, but would be up to the discretion of future Boards to continue this donation.
Supervisor Chapman stated that February was unrealistic to begin construction. Susanville City Manager, Jared Hancock is determined to keep the project moving forward.
In the mean time, the HVLRA met at 3:11 PM (the meeting was held up due to a lack of a quorum), across the street at the Susanville City Hall, and decided that a short mini-meeting was all they needed. A quick sweep through a very short agenda and they went home.
The HLVRA pool board meets again on November 4, 2014 at the Susanville City Hall @3:00 PM to review pool designs.
Honey Lake Valley Recreation Authority
[Pool Joint Powers Authority]
Plans to pay cash for Pool
$1,750,000 from the City of Susanville
and
$1,750,000 from Lassen County
Shhhh.....even though the Agenda title is a bit mis-leading...
Supervisors still place it as the last item on the Agenda, hoping no one will notice?
Agenda item H-6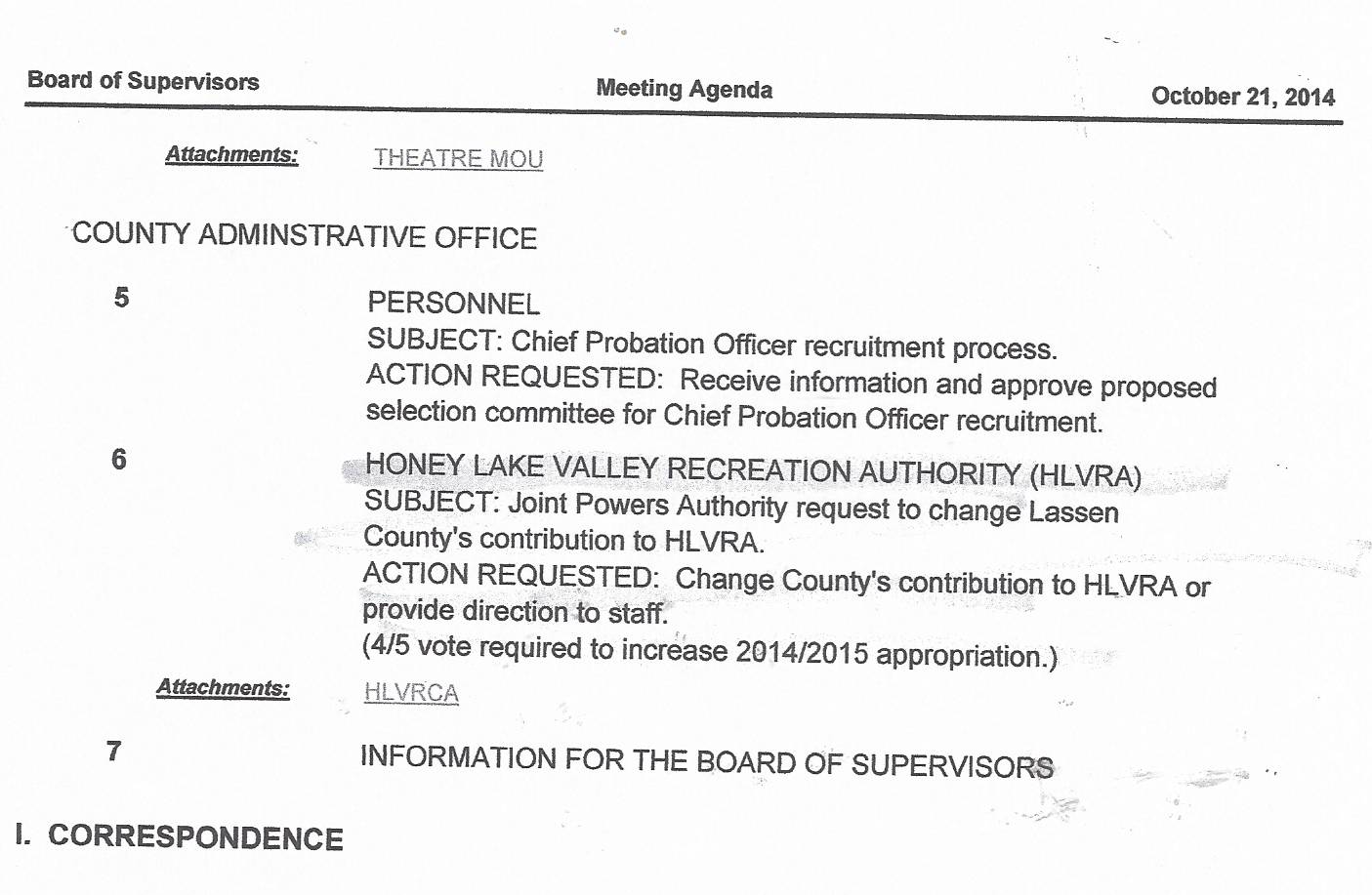 HLVRA Executive Officer, Jared G. Hancock sends both public agencies a request to consider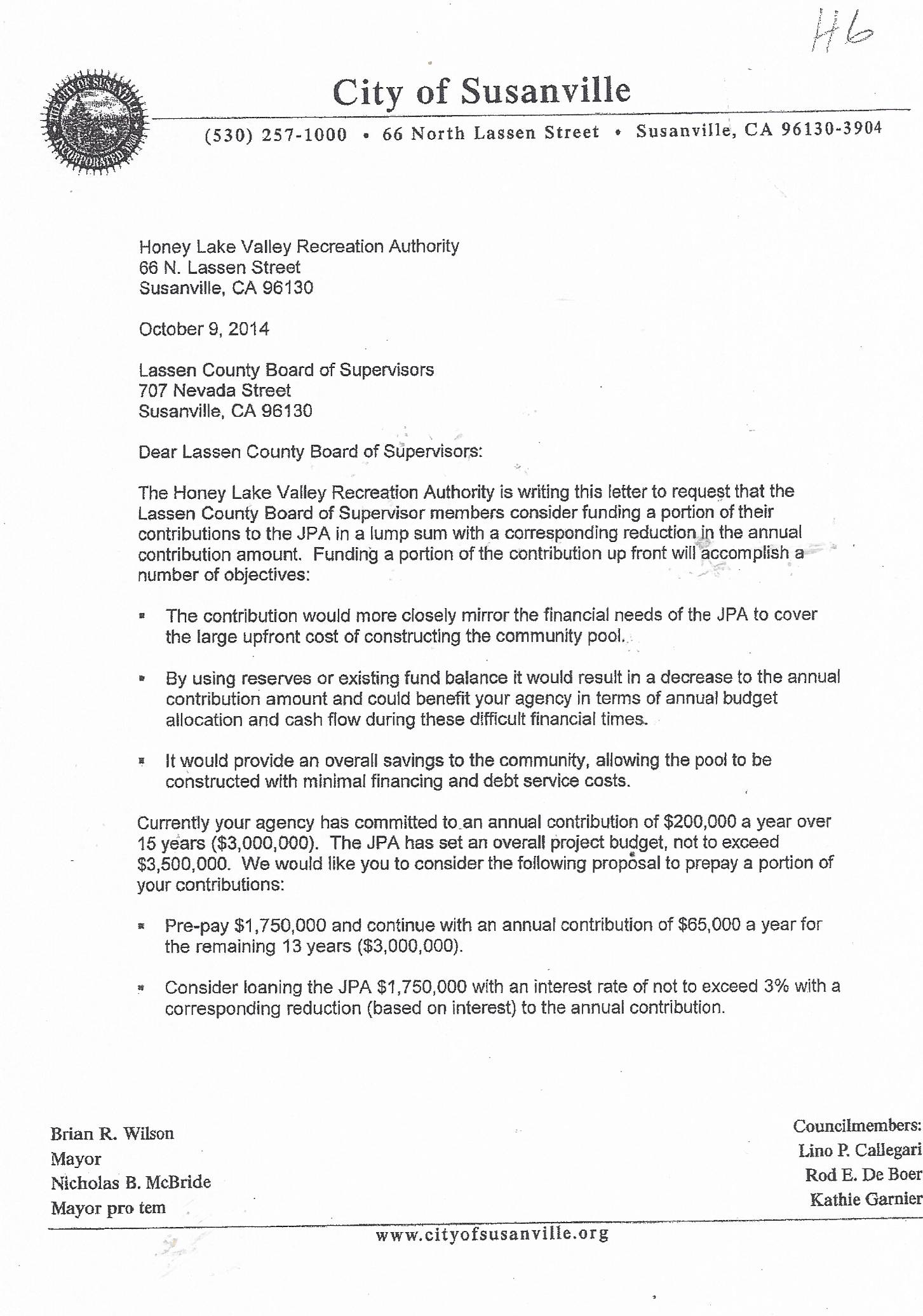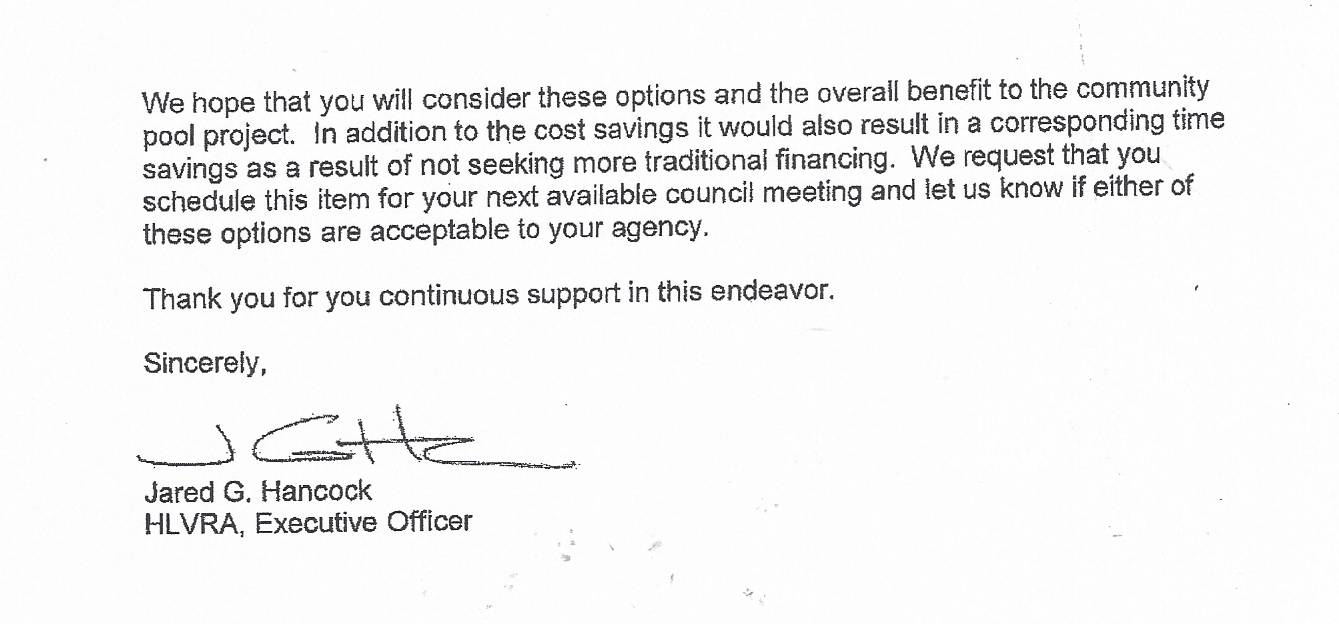 BROWN ACT SEMINAR
AB 1234 Ethics Training Well Attended
Sponsored by: LAFCO for Lassen County & Modoc County
General Principals for training
Trustworthiness
Responsibility
Respect
Loyalty
Compassion
Fairness
[Lassen County Counsel left before the Brown Act portion of the training]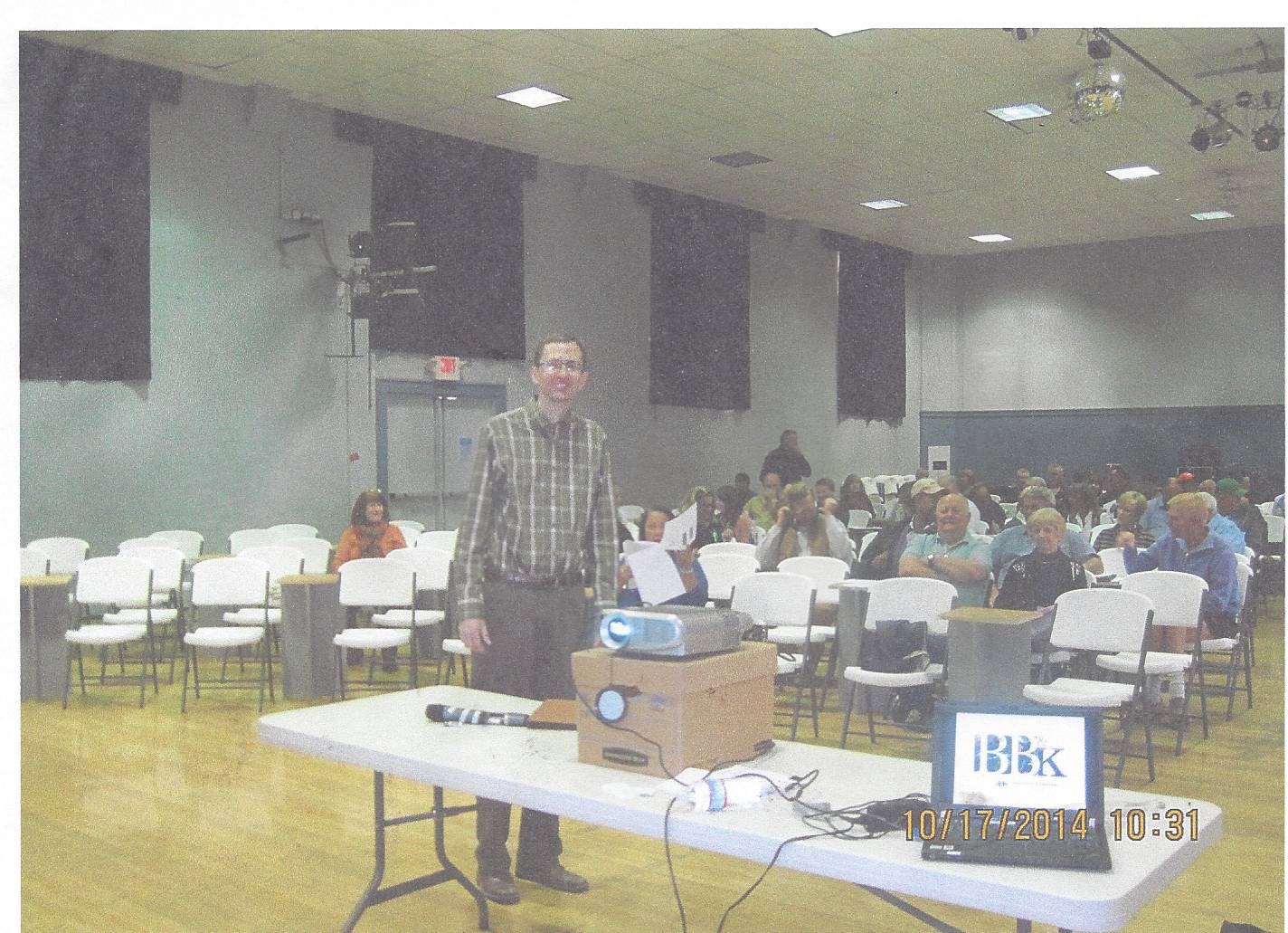 Josh Nelson, Best, Best & Kreiger law firm, phone, 916-325-4000, email: joshua.nelson@bbklaw.com
BROWN ACT SEMINAR
October 17, 2014
Veterans Hall, Susanville
10:00-12:00
Hosted by LAFCO
All public boards and Special Districts in Lassen County are encouraged to attend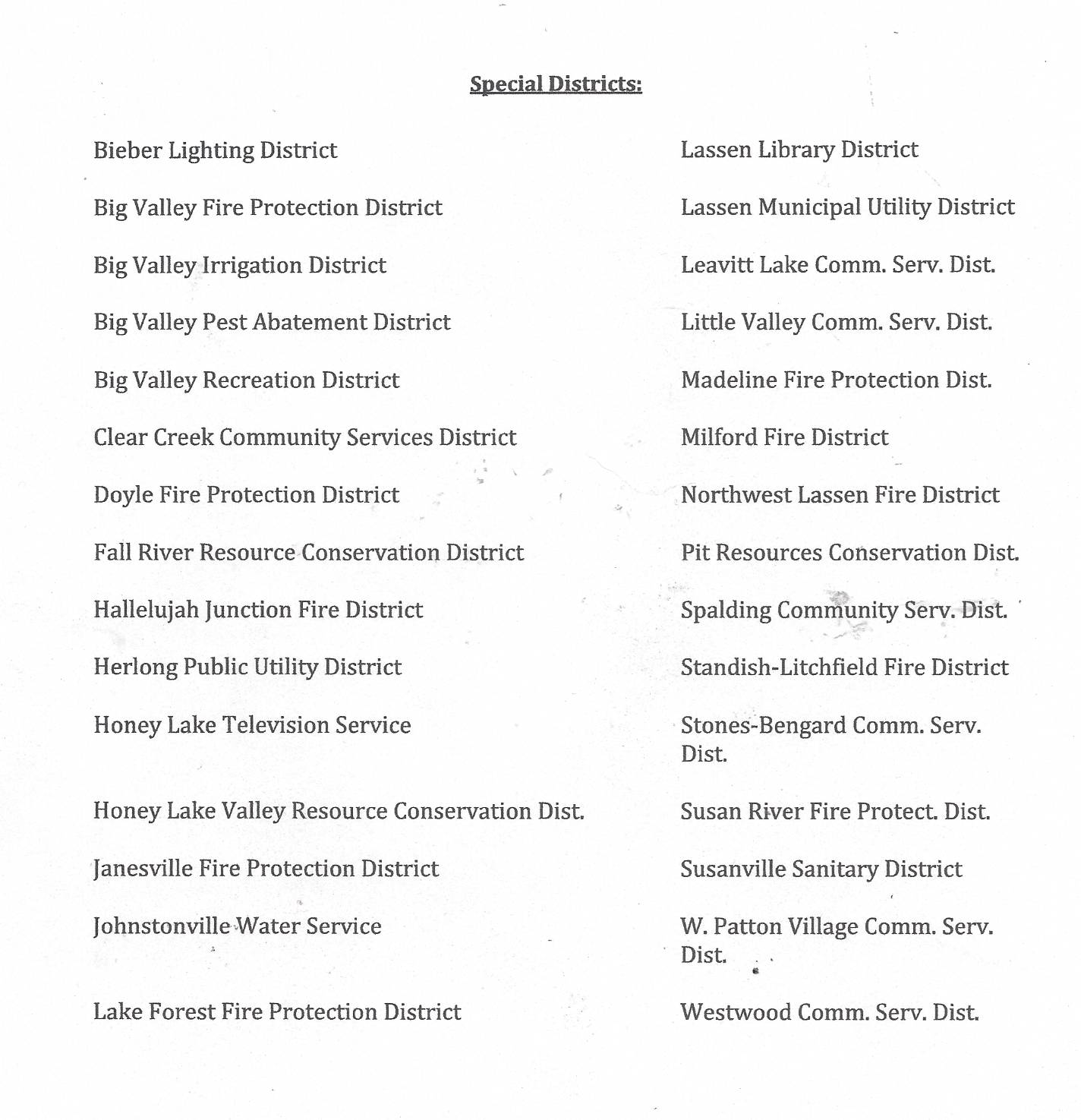 HLVRA
NEEDS A HOUSEKEEPER
Missing Agendas, Missing Minutes

A whole lot of cleaning up needs to be done on the Honey Lake Valley Recreation Authority. Board. This JPA was formed in 2013 to build a community pool in Lassen County.
THREE BROWN ACT VIOLATIONS
A Quorum to approve the Minutes:
three members that attended the meeting and can attest to the accuracy and correctness of the minutes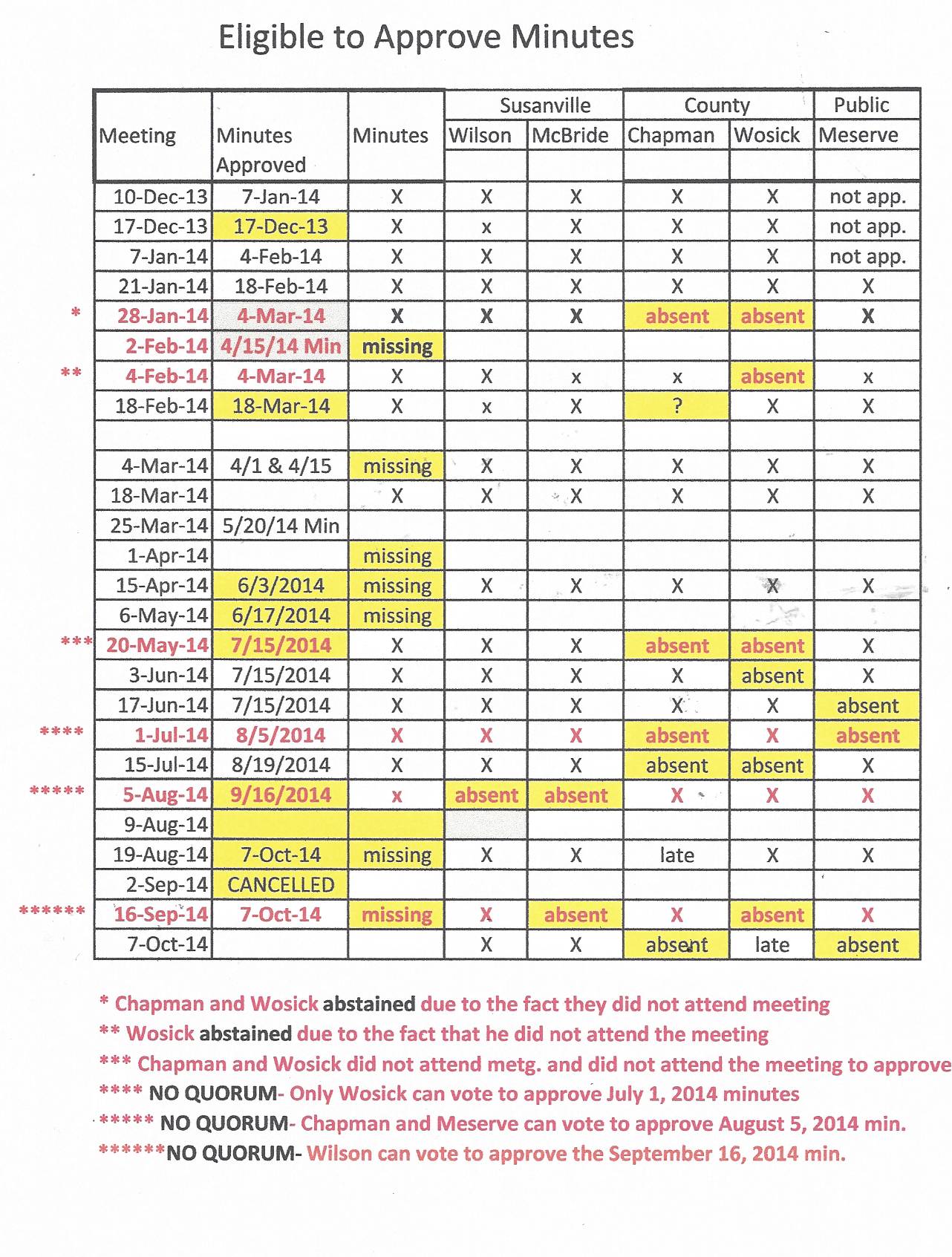 After a year, the Authority has not secured funds for the proposed $2.5 million project
NO POOL (HLVRA)
MEETING TODAY
The Lassen County Times erroneously reported that there was a pool meeting today. No Agenda has been posted for an October 14, 2014 meeting.
The next pool meeting will be on October 21, 2014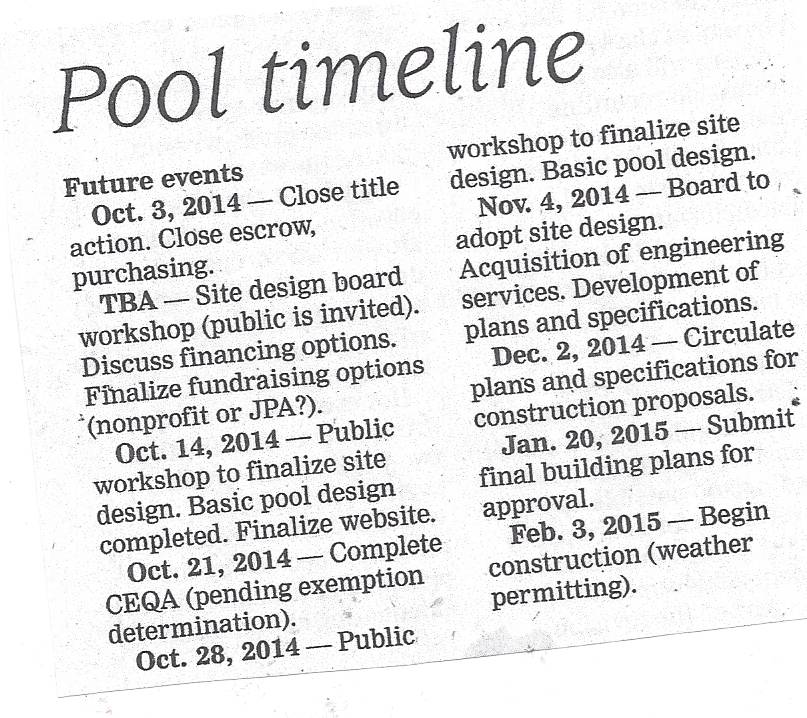 LASSEN COUNTY
"CULTURE OF CORRUPTION"
The term "Good Ole Boy" system has been used to describe the male dominated government in Lassen County. However, a more appropriate term would be Lassen County's CULTURE OF CORRUPTION.
Old family names are predominant on ballots in Lassen County. Why not, they have lived in this county for years and have invested heavily in the political make up of Lassen County. Should they dictate the culture of corruption, absolutely. Are they responsible then for the level of corruption in Lassen County, absolutely
Abuse of the Opening Meeting laws and the fact that these violations are tolerated by local law enforcement is not all of the problem

. Local newspapers that suppress wrong doing are equally at fault. People that look the other way and ignore the greed that runs this County are to blame the most.
Democracy is not a spectator sport
On October 2, 2014, California lost a Champion for Honest and Open Government.
......a concept that never reached Lassen County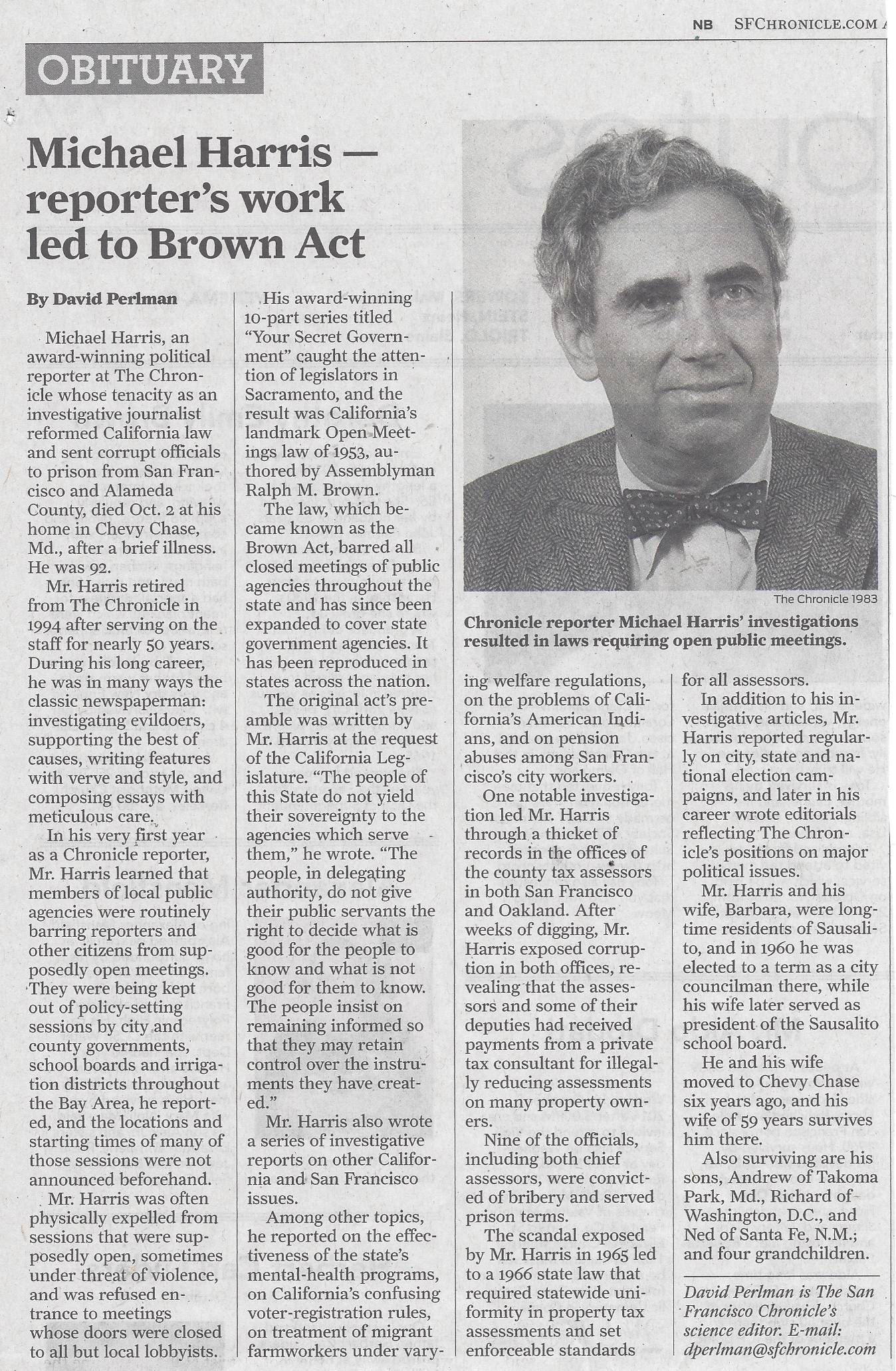 LMUD
LAMBERT LANE SUBSTATION
NOT ON LINE

....a little history
*LMUD Purchases $354,000 Transformers in 2009 for Lambert Lane that doesn't exist
These transformers disappeared
* Lambert Lane did not exist in 2009
LMUD purchases another $96,000 transformer, in 2013, for Lambert Lane Substation and hopes no one will notice
LMUD reported, on August 27, 2013, that the foundation work had begun.
On July 9, 2013 the foundation, fencing and underground work was complete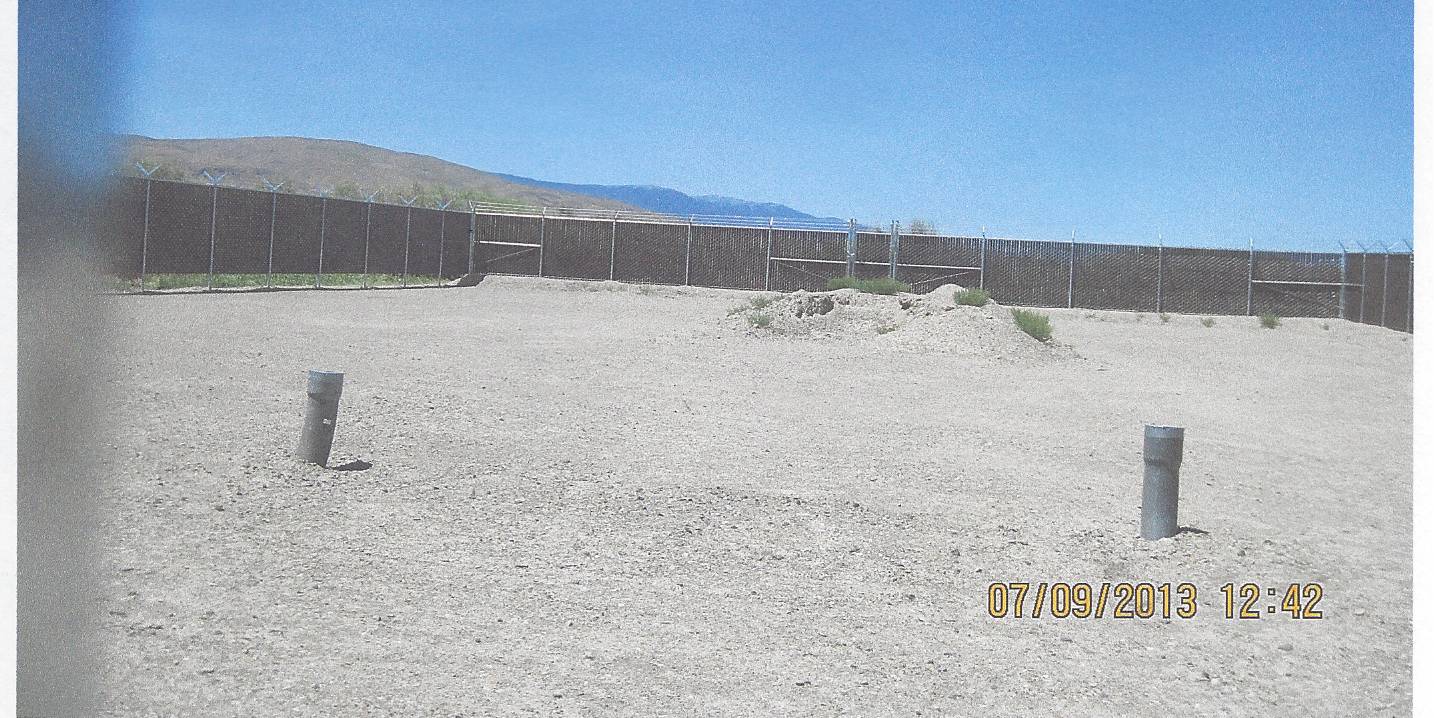 On July 9, 2013, LMUD calls for a planned outage at the Standish Substation and then the General Manager/Bookkeeper wants a "spare" transformer for the Standish substation
Spare part for Standish, no .......transformer for Lambert Lane
LMUD reported on August 27, 2013 that the foundation work had begun but the photo taken on August 23, 2013 shows that the foundation was complete, the "New" (spare) transformer had been delivered to Lambert Lane Substation, fencing complete
So why lie ?
October 7, 2014: Lambert Lane Substation
......with the Standish "spare" transformer
The Lambert Lane Substation is not online
LASSEN COUNTY HAS
HALF
THE REPRESENTATION
AT POOL JPA

Supervisor Wosick goes to one meeting and
Supervisor Chapman goes to the next.
The HLVRA ran into a problem at their October 7, 2014 meeting today. They had two meeting minutes to approve but NO CHAPMAN AND NO WOSICK. This meeting had only two regular members present that had attended these two meetings.
Wosick showed up at 3:15 but could not vote to approve the Meeting Minutes for the September 16, 2014 because he attend only half of that meeting. That left only two members that attended the 9/16/14 to vote, three members were needed to take action to approve the 9/16/14 meeting minutes These minutes were tabled.
Wosick, Wilson and McBride attended the 9/19/14 meeting and could vote to approve the accuracy and correctness of the minutes. The alternate abstained from voting because he had not attended the 9/16/14 or the 9/19/14 meeting.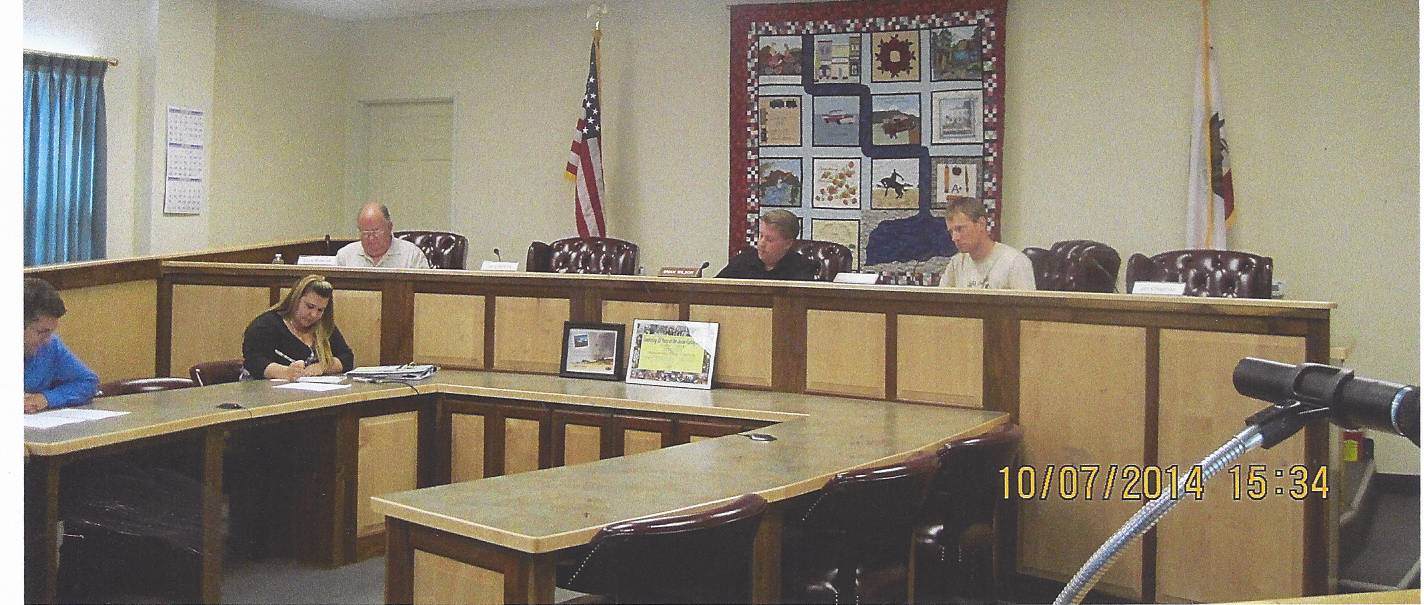 10/7/14 Meeting: The alternate to the JPA sits on the far left, Brian Wilson, Nick McBride, absent were Supervisor Chapman and Supervisor Wosick.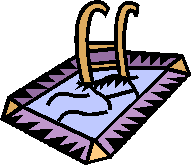 The design company has been asked to design a pool for $2.5 million.
The JPA does not have $2.5 million.
No decision was made on financing the new community pool. Both Susanville members and County members will take the financing options back to their respective Boards to agendize the options to finance the pool. The JPA leaned toward asking each public entity (City of Susanville and Lassen County) to pre fund the money needed to build the pool.
They anticipate, weather permitting, to start the 6-7 months construction, in February 2015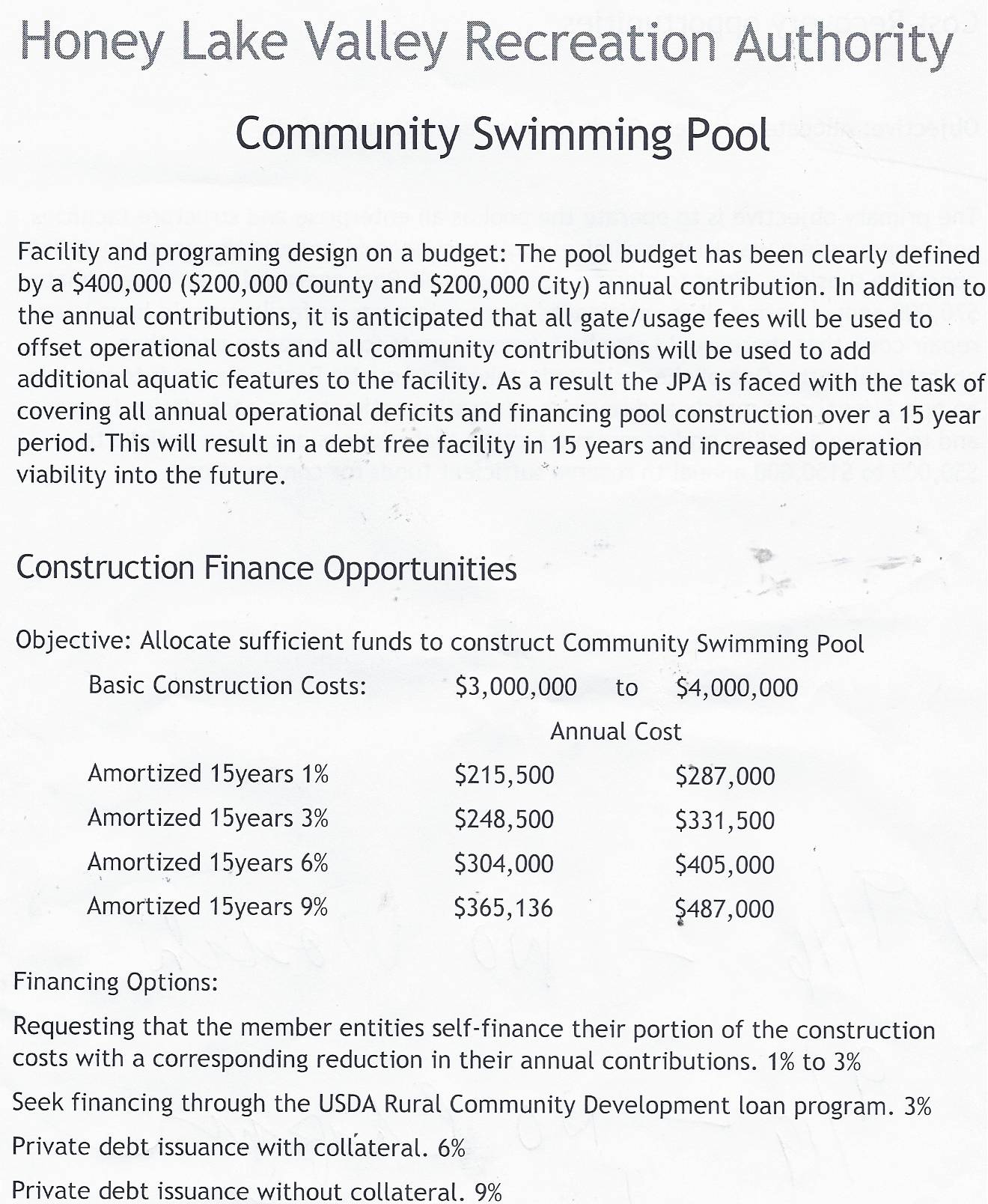 UNEXPECTED AGENDA ITEM
The JPA's Agenda included a Closed Session item"
"Significant Exposure to Litigation"
Kan We Help Secretary Eileen Spencer asked Executive Officer Jared Hancock who their "legal counsel" was. He replied they did not have one. Mr. Hancock stated that Mr. Burns will sit in on the Closed session. The JPA has no agreement with Mr. Burns or any other attorney, other than a land acquisition attorney handling the property transfers.
Mr. Burns was allowed to sit in the Closed Session. Mr. Burns was a civilian and does not represent the HLVRA in any way shape or form ?
Kan We Help
files complaint with LMUD :
LMUD FAILS TO COMPLY WITH
THE MANDATORY REQUIREMENT
OF PROPER PUBLIC HEARING
ON JUNE 24, 2014

Lassen County Community
Reminded:
that you will get the pool you can pay for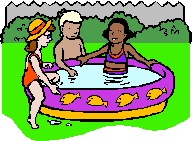 DESIGN MEETING
PUBLIC MEETING:
September 30, 2014 , 6:00 PM , Susanville City Hall

Attorney Chittock ignored LMUD Brown Act Complaints
But when it concerns his daughter, well, it is different
Lassen Union High School Board calls it a
"MIS-STEP........(?).
Lassen County Clerk Bustamante

Lied to the
Lassen County Supervisors and CAO
She spent $40,000 (not $27,800)
and purchased the software
in July of 2014 not July of 2013
County Clerk Julie Bustamante asked the Supervisors, on July 23, 2013, [for a "one-time" cost of $27,000] to purchase a new agenda/minutes software program. Her request was approved.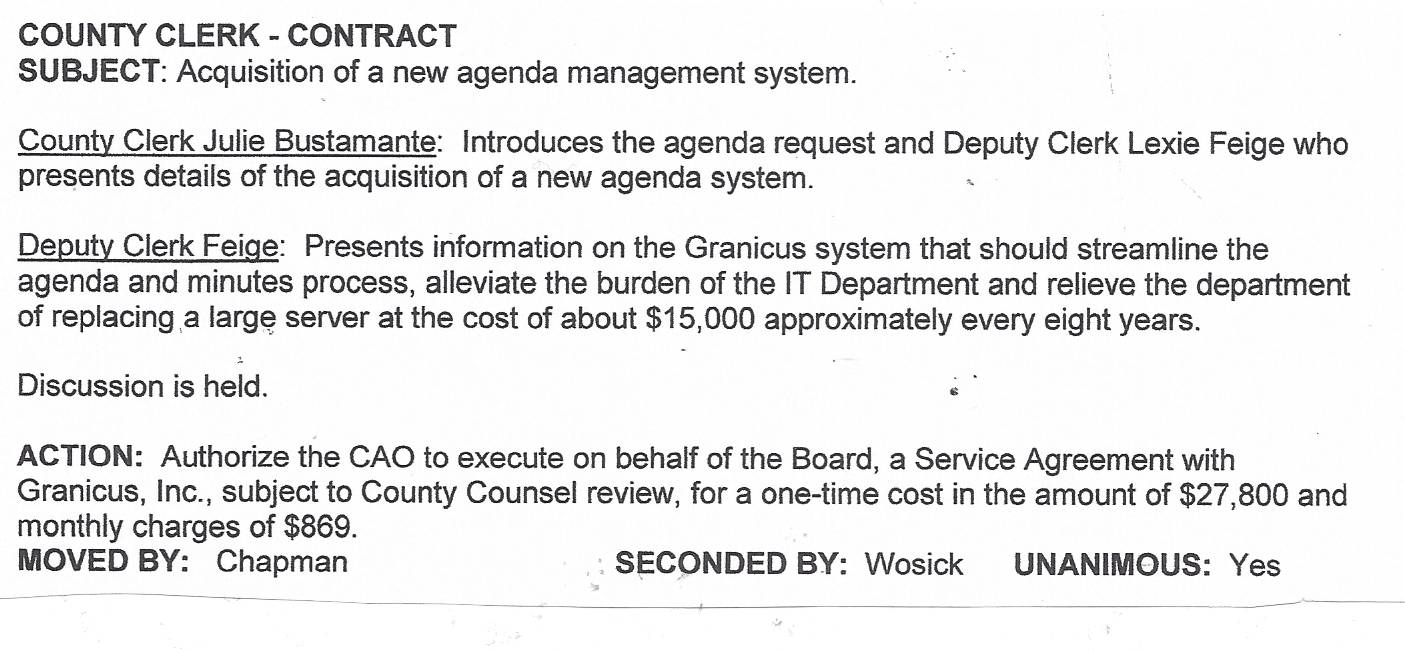 Bustamante had fallen way behind in getting Minutes to the Supervisors to approve.
In 2013, Kan We Help gave the Supervisors a list of 14 Minutes that had not been approved over the last year and a half. The Supervisors eventually placed these on the Agenda, one at a time, to be approved but did not have a quorum to approve two due to changes on the Board.
DID BUSTAMANTE LIE TO THE CAO ?
Kan We Help has been inquiring about this software for over a year and most recently at the Supervisors meetings. The CAO stated publicly (early in 2014) that the IT people were training the County Clerks staff on this new software.
THIS WAS A LIE
Kan We Help requested a copy of the Purchase Order from the CAO
Kan We Help requested a copy of the payment to Granicus from the Audior
"No records existed"
Both offices said to ask the County Clerk

So......Kan We Help requested a copy of the purchase of the Granicus software from the County Clerk
Bustamante ordered the $40,000 Granicus software on
July 9, 2014
What makes it even worse is that Bustamante has again fallen behind in taking care of the Board of Supervisors Minutes.
She has not posted:
4/22/14 Minutes
4/29/14
7/22/14
8/4/14
8/12/14
She has not presented Minutes to be approved:
8/19/14
9/9/14
9/16/14
9/23/14
Who is managing the County?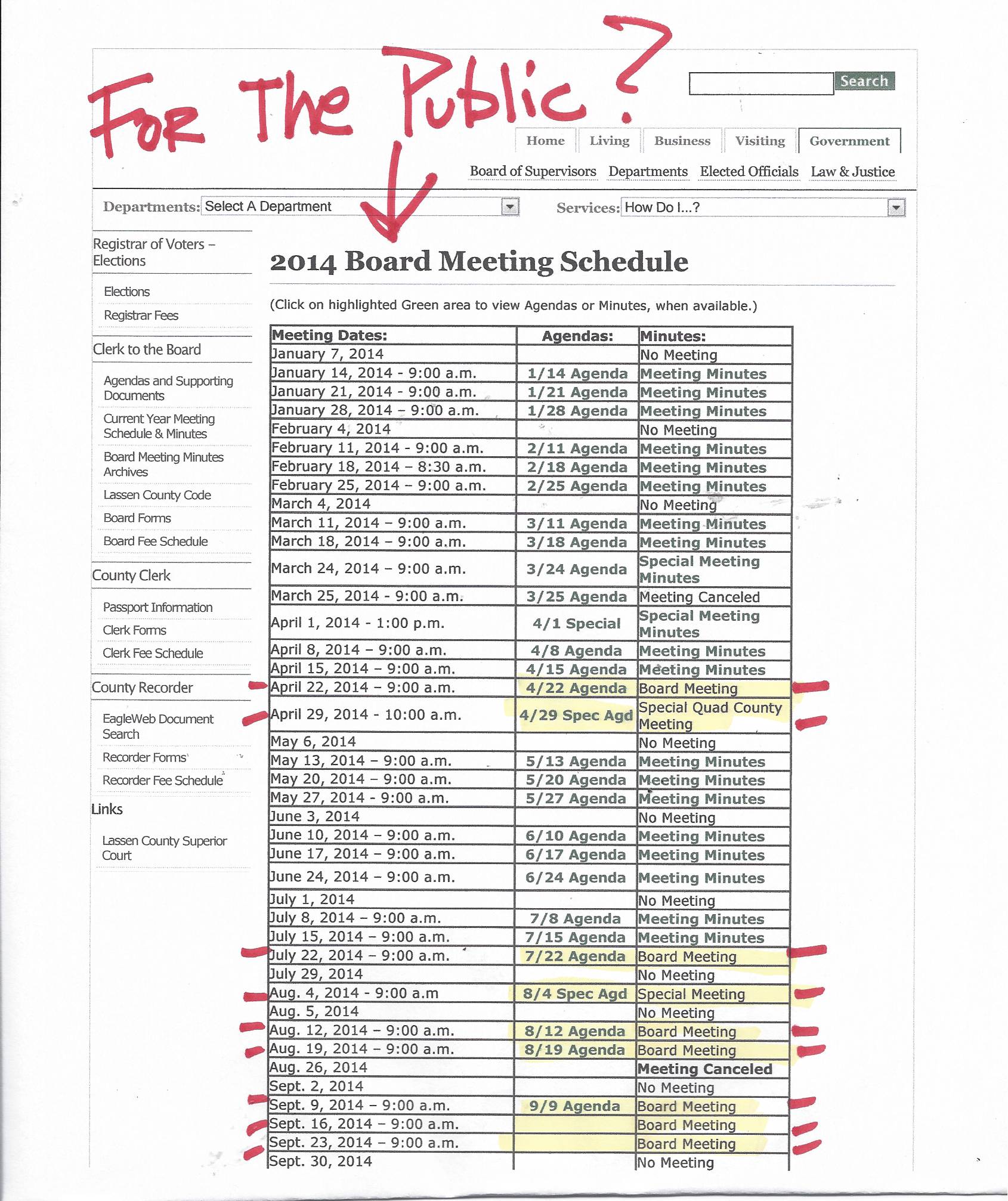 OUR VETERANS
A precious resource
Melody Brawley, Lassen County Director of Health and Social Services, agendized a report on Veterans affairs in Lassen County for the Board of Supervisors September 23, 2014 meeting. The Veterans Service Office is under Health and Social Services.
Click on photo below to see and hear the presentation
Above, L: Melody Brawley. At podium: VA Director Todd Conner
The presentation was made by Veteran Services Officer Todd Conner. Mr. Conner operates the Veterans Service Office at 1205 Main Street, Susanville, Ca 96130. The office telephone number is 530-251-8192. This office serves over 3500 Veterans living in Lassen County and is open Monday through Friday.
The Lassen County Supervisors pay Veteran Todd Conner approximately $35,000 a year
The Supervisors were asked to "DO BETTER"
This issue is supposed to be on the next BOS agenda
A little history on the Susanville, Veterans Affair Medical Clinic
Lassen County
May Actually Get A Community Pool
The City of Susanville, under the great leadership of Jared Hancock, could keep this project afloat. County Supervisors, however, could easily upset the progress by their incessant bloviating. The Supervisors do not take notes during their meetings and literally start from square one when the pool issue, or any ongoing issue, comes up. The only Supervisor that retains "any" information is Supervisor Chapman.
September 23, 2014 BOS meeting: Part 8 @ 19:30
The Supervisors did state that they are considering transferring only 140 ft from the existing property line between the closed Roosevelt Pool and the old Roosevelt School. They are still a couple of months away from the transfer.
Kan We Help will continue to monitor this process.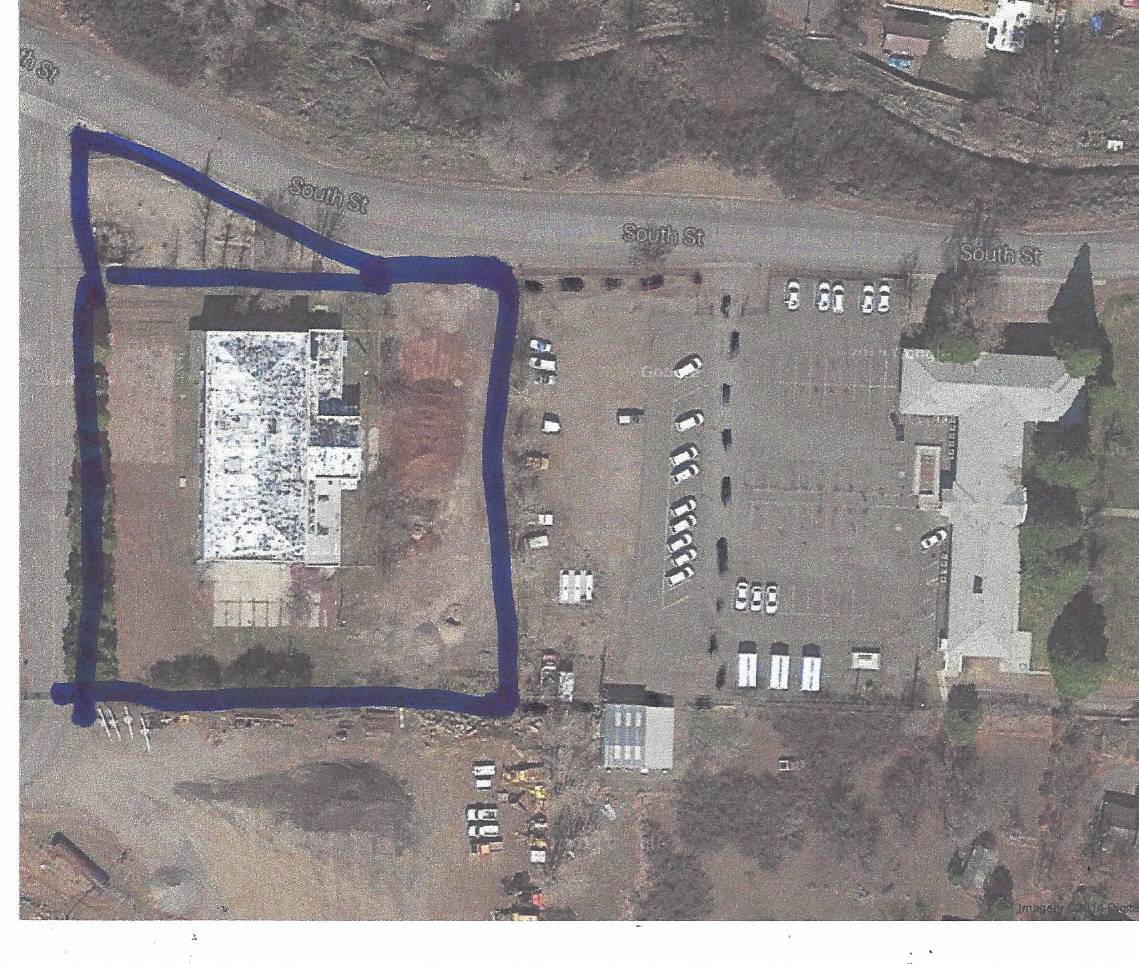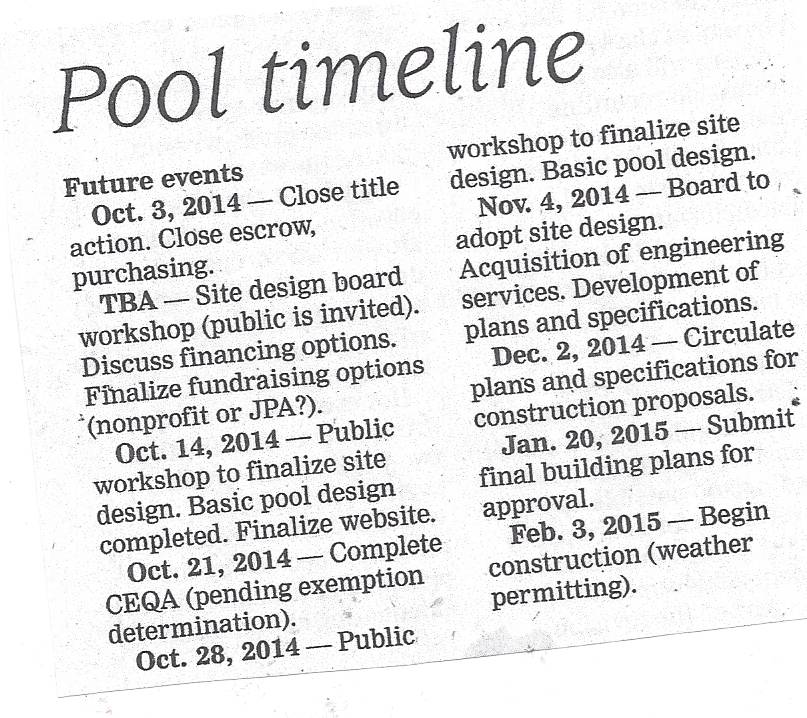 Supervisor Chapman Makes a Motion
to give the HVLRA, a Board that he and Wosick sit on,
a 14,000 square foot building
Pool discussion very misleading
CAO Richard Egan indicates that only a portion of the Roosevelt School property would be given to the Pool JPA. The Susanville school district has leased the pool (Parcel A) to the JPA for $1.
ONE PROJECT.
YOU WOULD THINK
ONE PROJECT COULD BE DONE, IN THIS COUNTY, WITHOUT SOMEONE TRYING TO MAKE A BUCK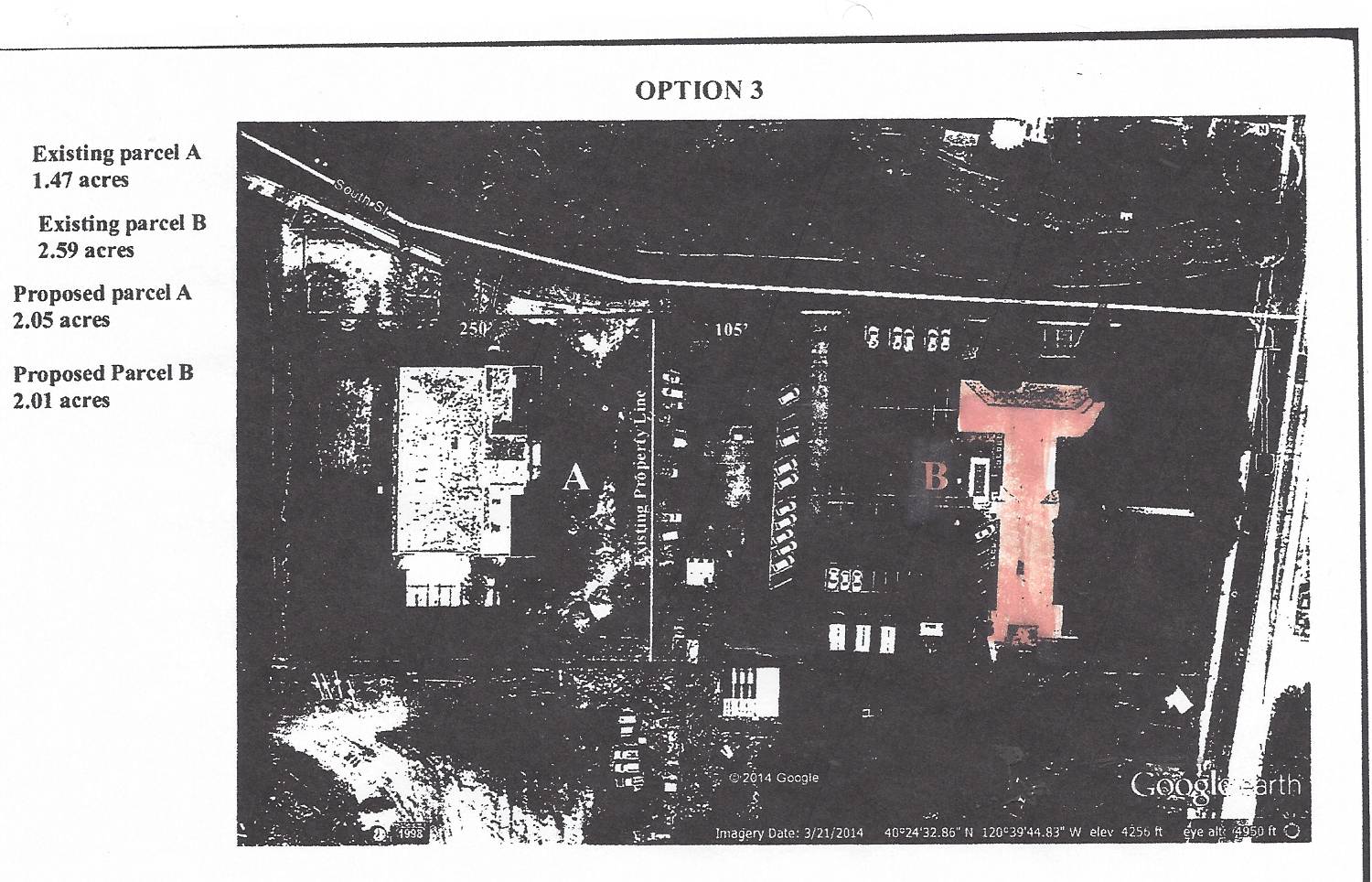 Roosevelt Pool building sits on Parcel A, and is owned by a Susanville School District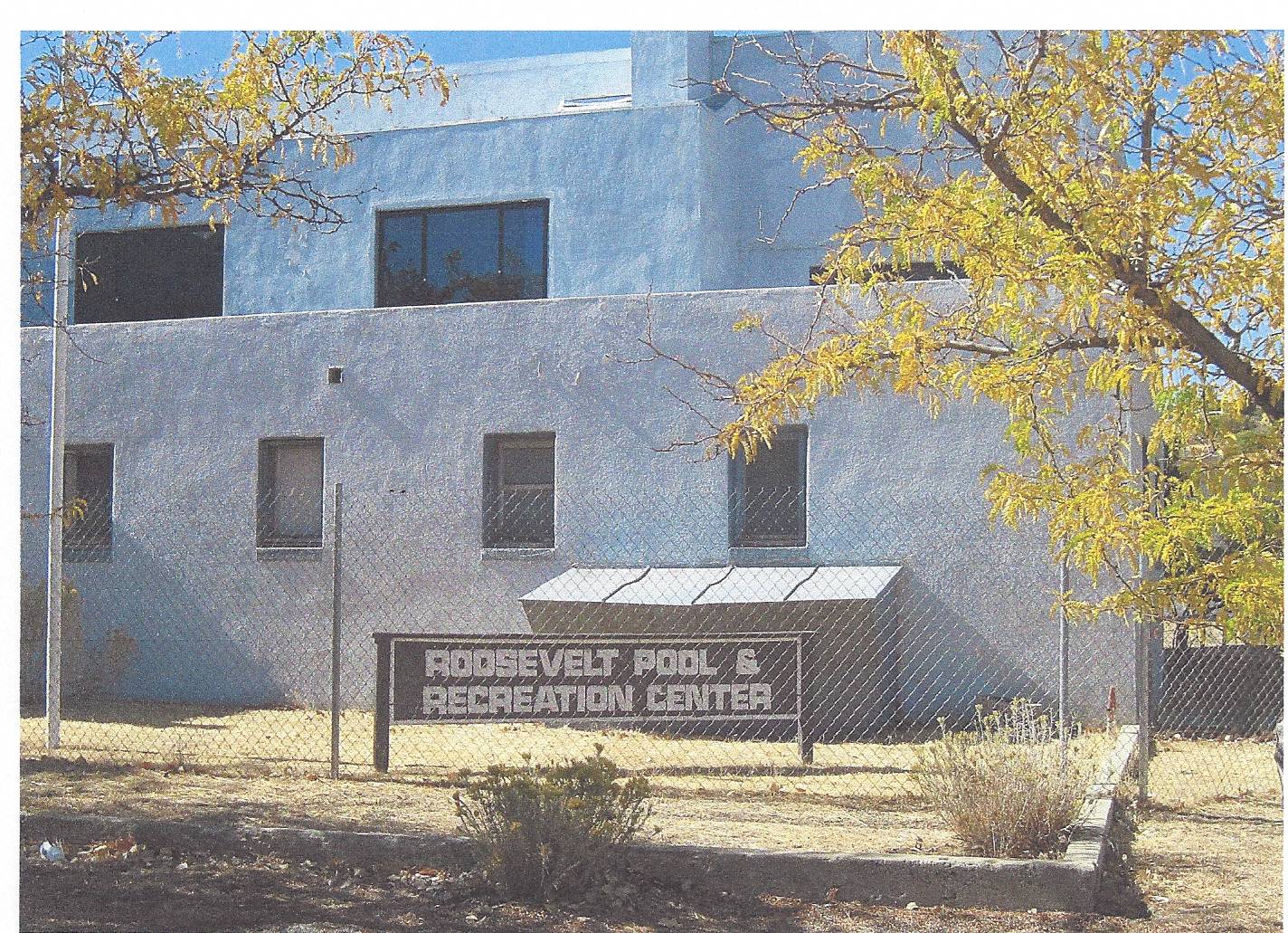 Roosevelt School sits on Parcel B and is being used by Health and Social Services and the Sheriffs Office
WATCH THE CORRUPTION

WATCH THE LASSEN COUNTY
LAND DEALS
Public Officials Schemes are
well planned and well executed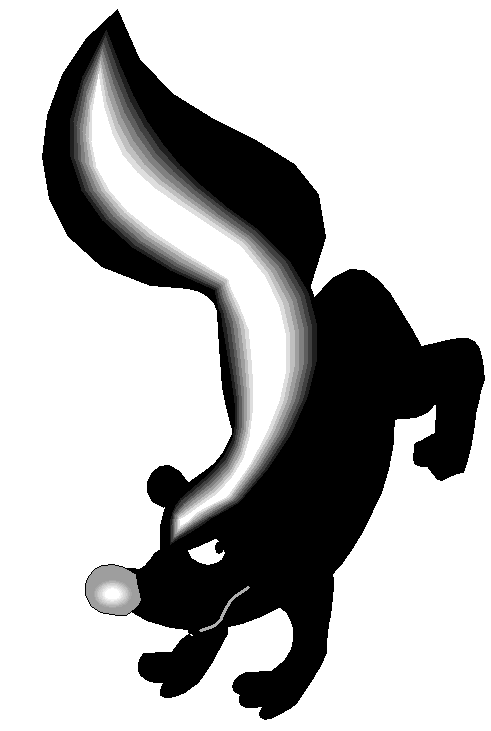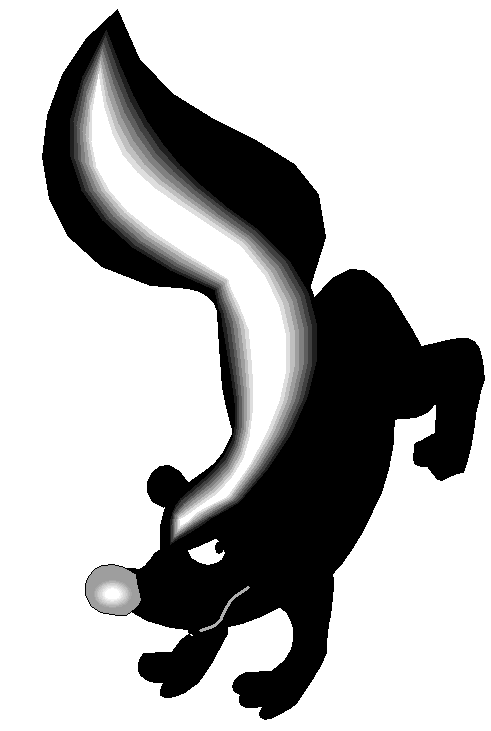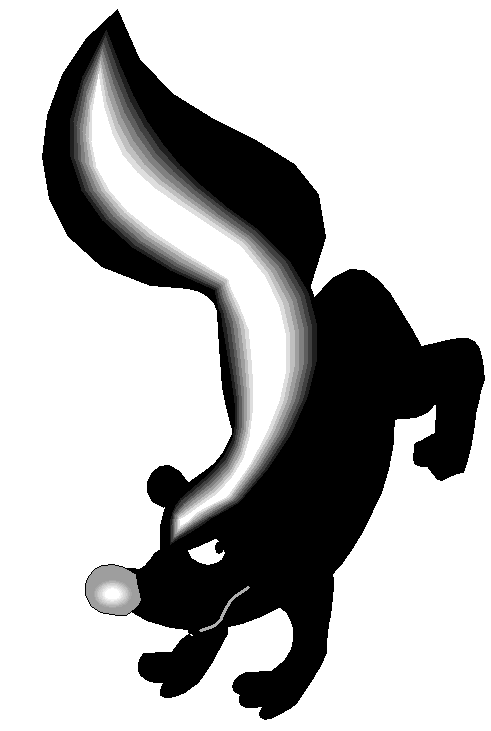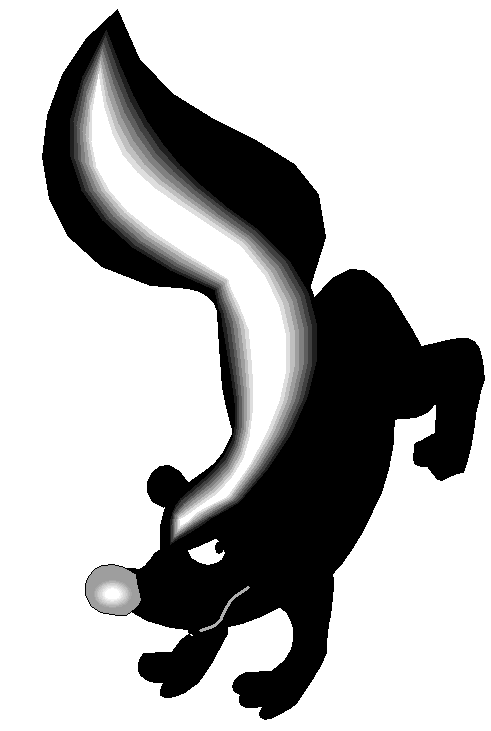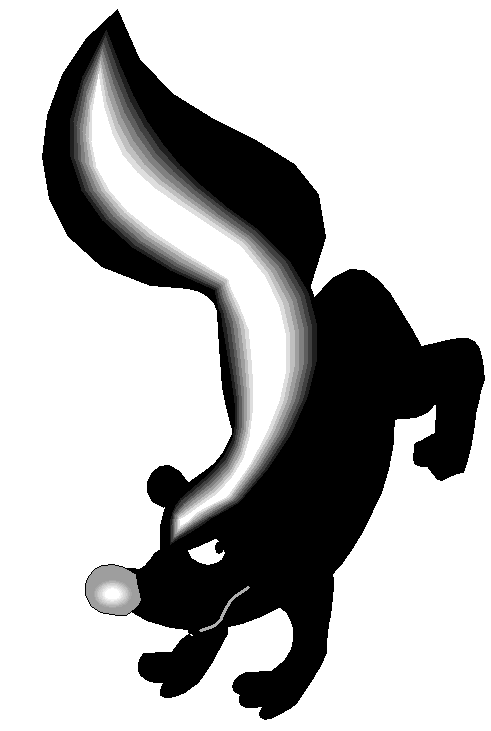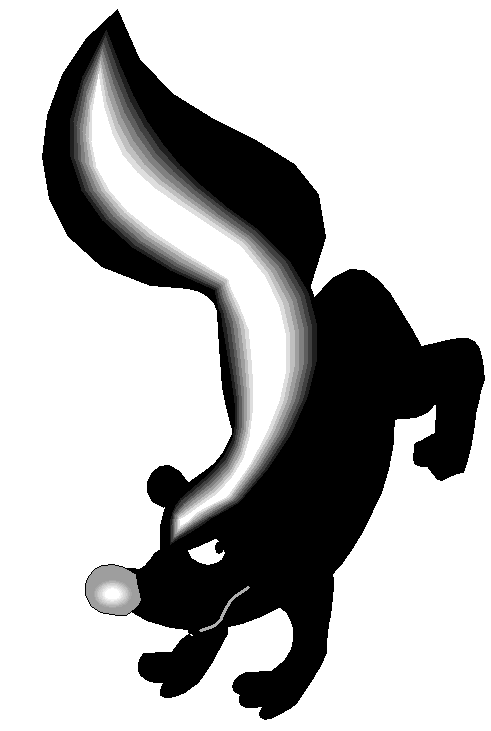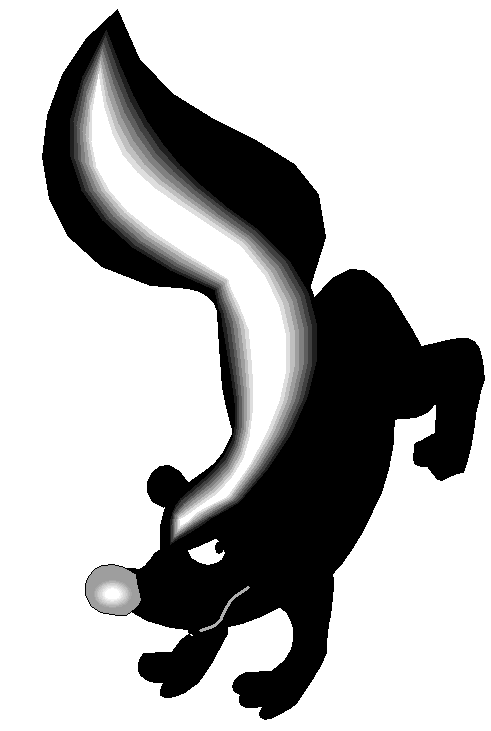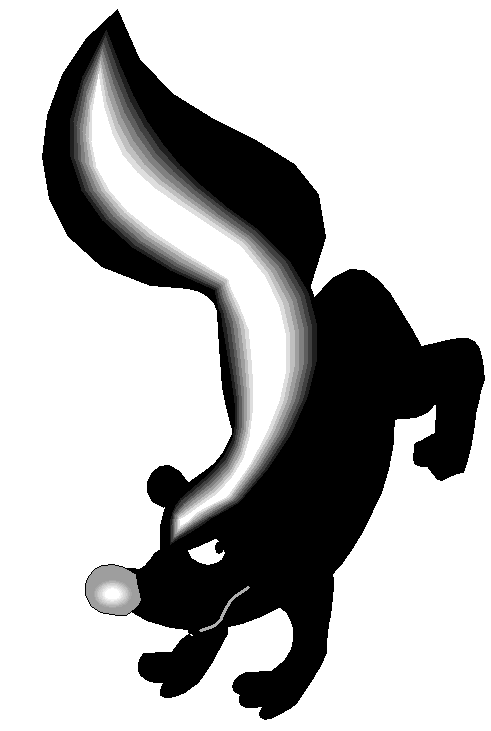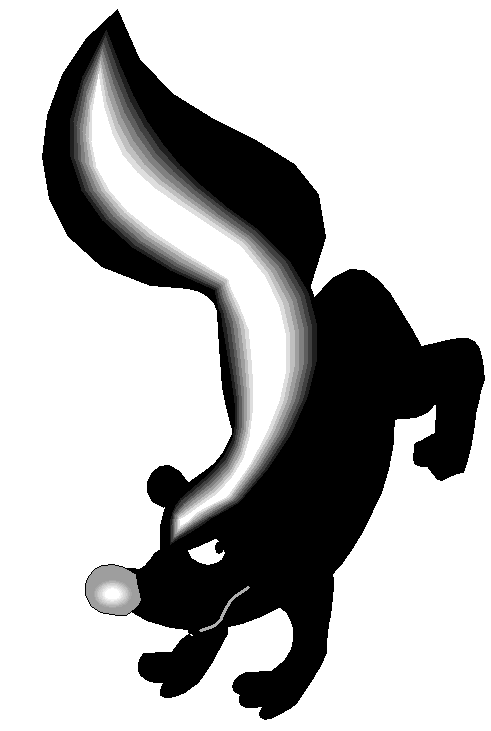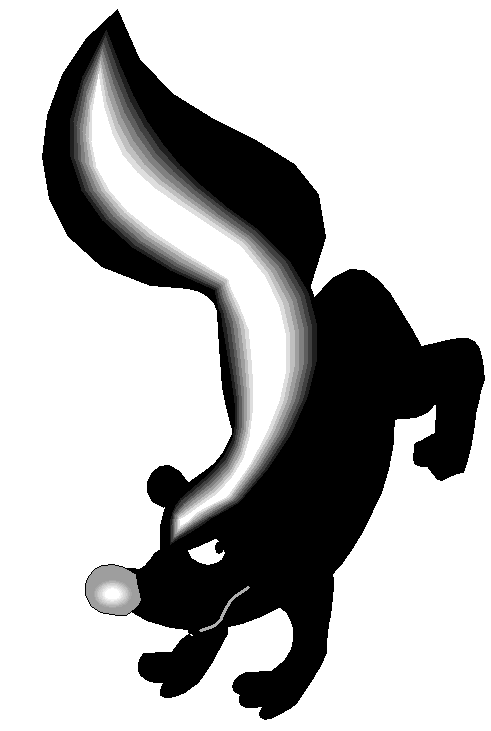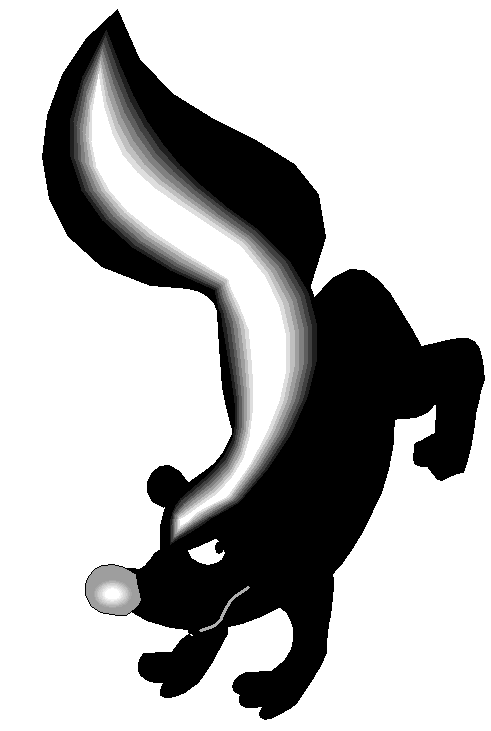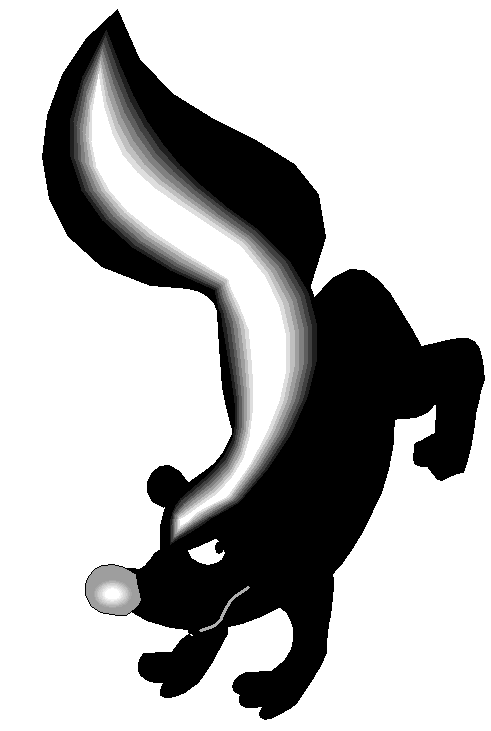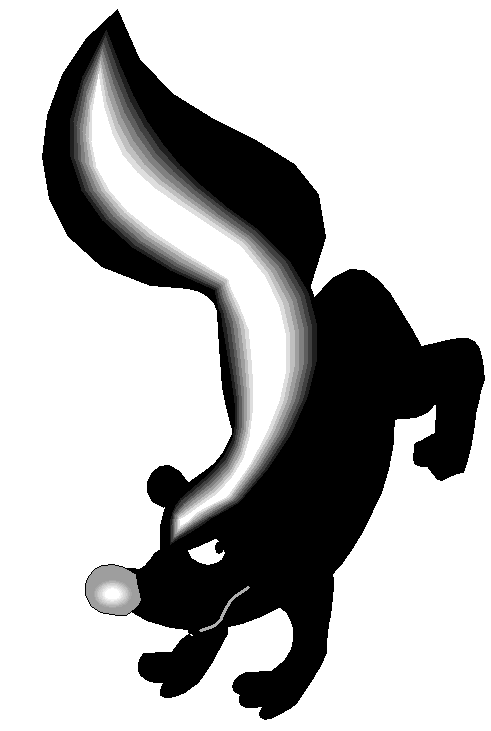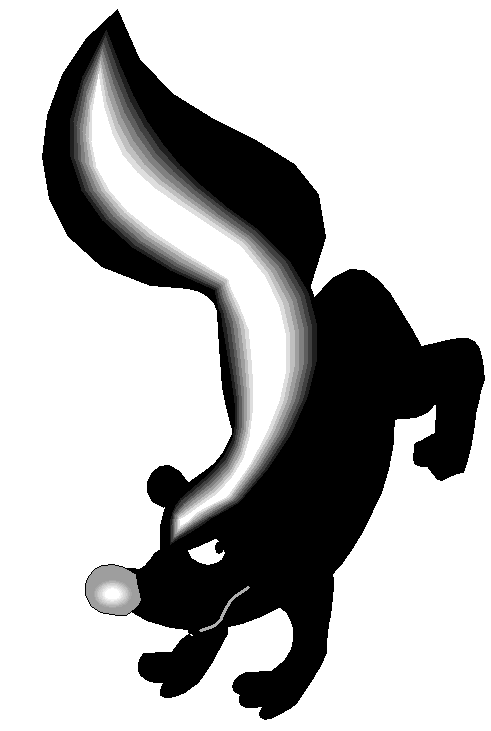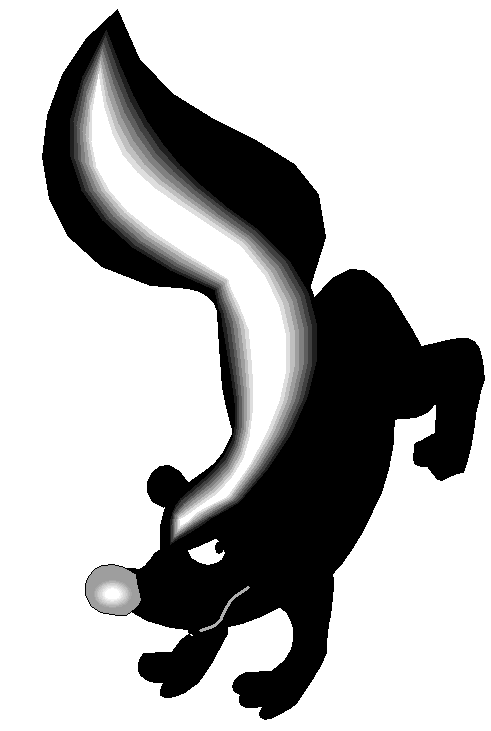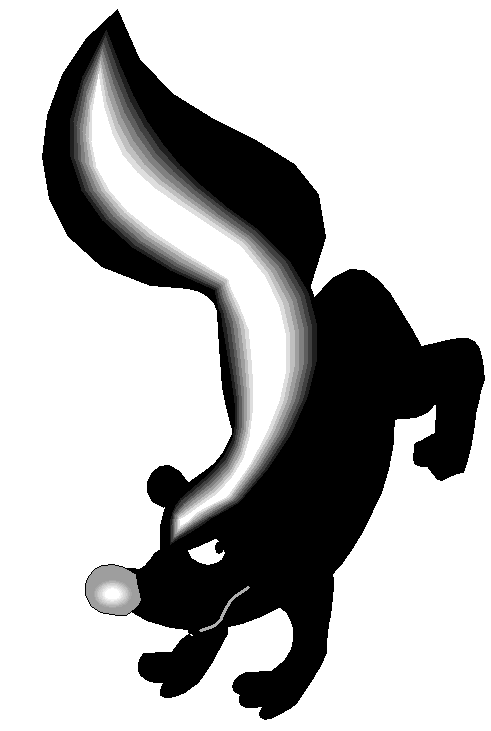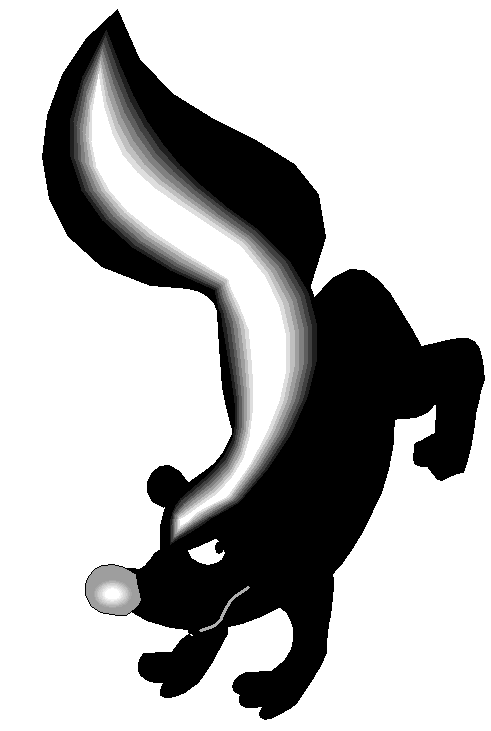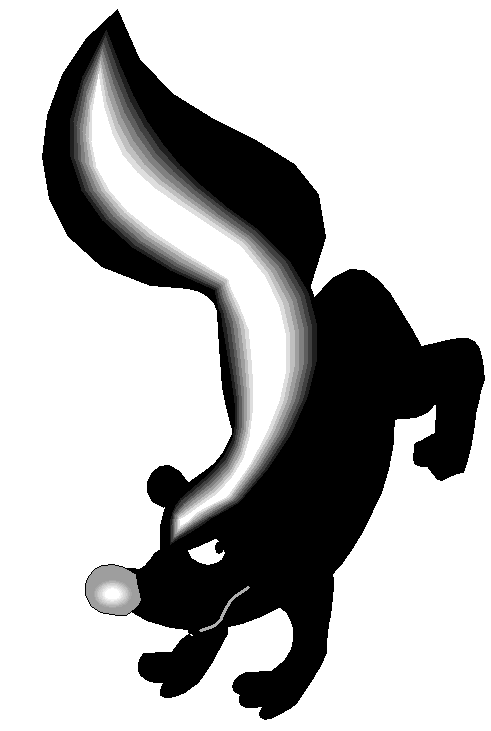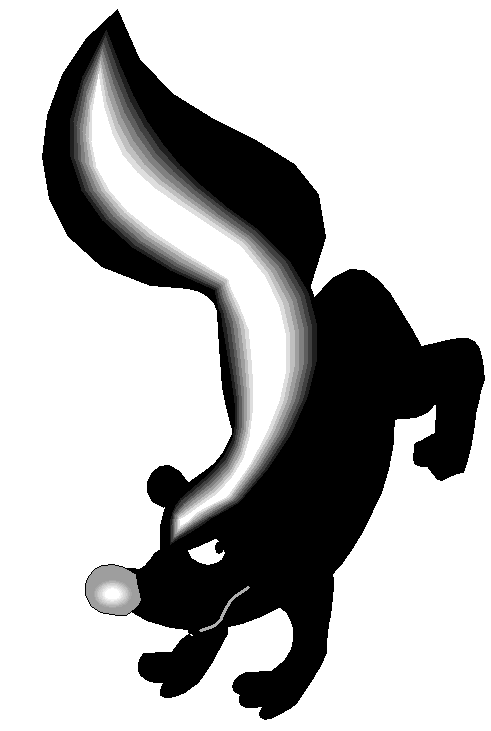 KAN WE HELP REPEATEDLY ASKS
COUNTY SUPERVISORS
FOR FULL DISCLOSURE
ON THE
AMEDEE AIRFIELD PARCELS
Kan We Help has repeatedly asked the Lassen County Board to disclose the fact that the East Shore parcel of the Amedee Airfield parcels are highly contaminated with ordinances, explosives and toxic waste.
Kan We Help informed the Board of Supervisors Kan We Help would file an action with the court to stop the sale unless the condition of the East Shore parcels (2004 CEPA/REMEDIAL ACTION PLAN)is included with any and all RFP's.
Kan We Help was confronted with
strong resistance to full disclosure
Supervisor Wosick told Kan We Help Secretary Eileen Spencer, on September 9, 2014 to stay home on Tuesdays and play bridge
The Supervisors have now agreed to include a full copy of the 2004 CEPA/REMEDIAL ACTION PLAN
Page 59 states the costs to clean up this hazardous area
The clean up will be the responsibility of the Sierra Army Depot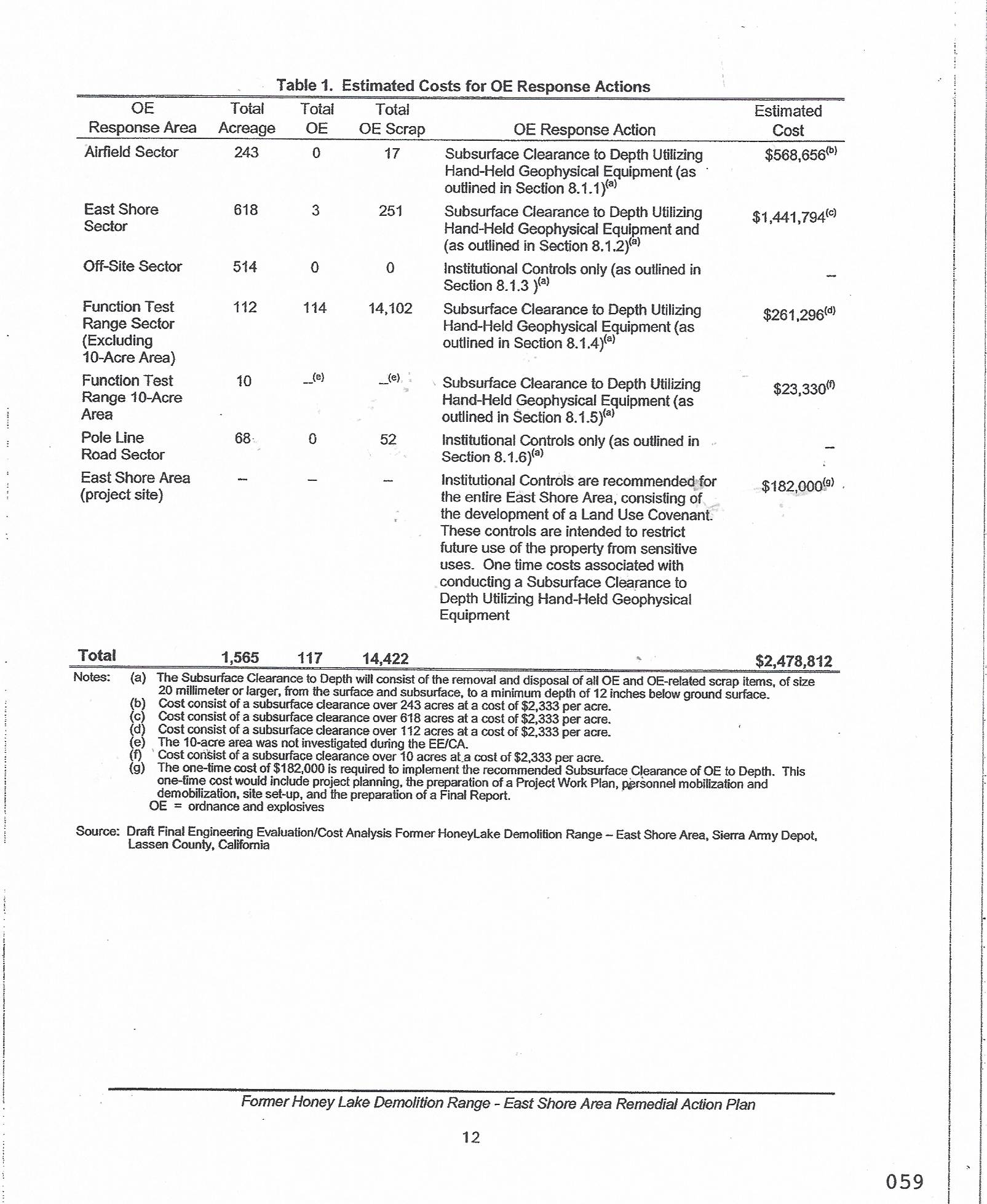 Lassen County Supervisors voted to include all of the Amedee Airfield parcels including the land leased to the Army
Kan We Help Objected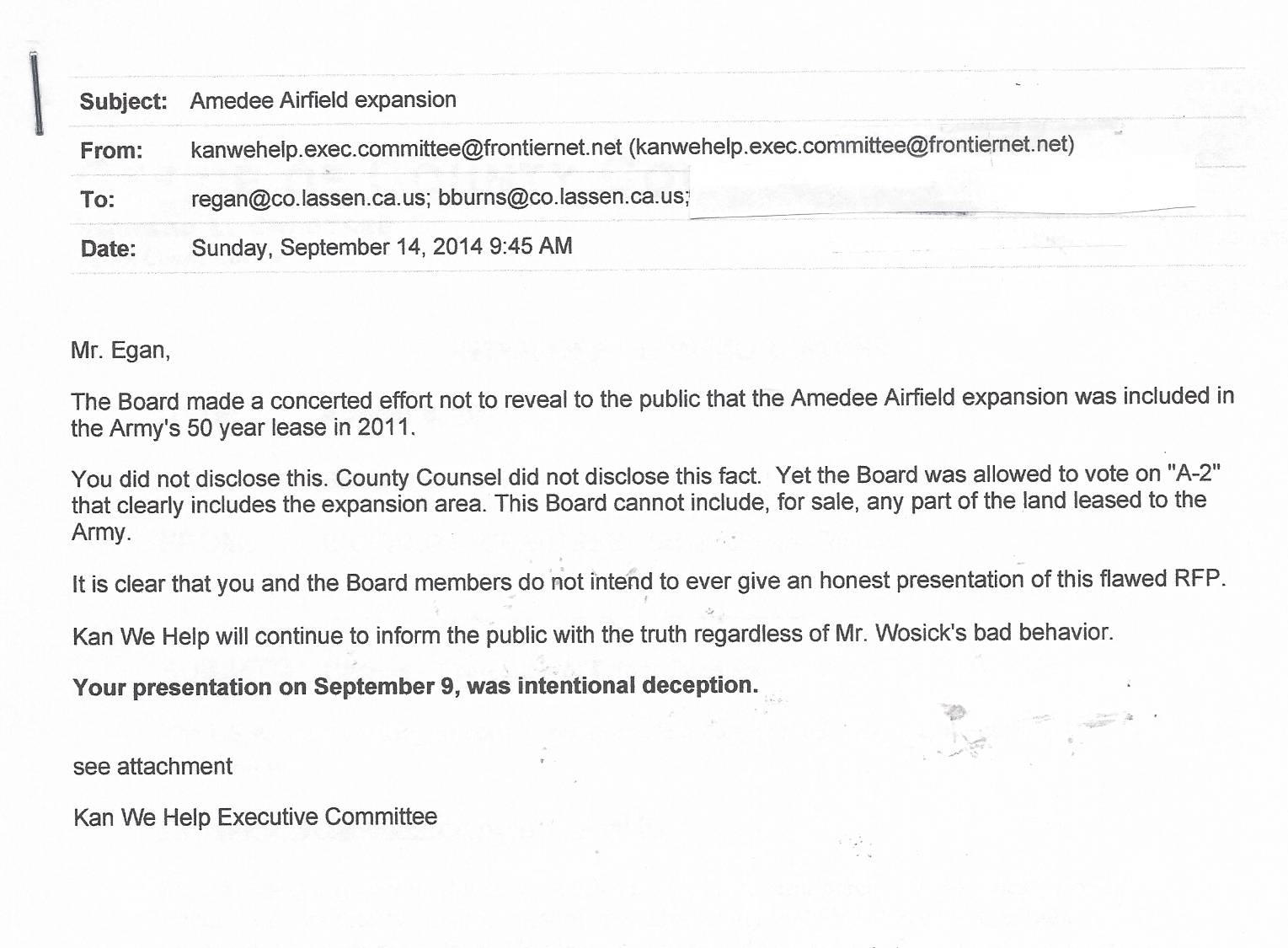 Lassen County Decided to
Exclude
the Leased Property in next Draft
Lassen County Supervisor Chapman tells Dr. James Hodge:
If the public wants to know what capital improvements the County has, they can look in the County budget
[Capital Improvements are spread throughout the budget. good-luck]
September 16, 2014: Rude & Evasive
Another Draft of the Capital Improvement Plan (CIP) was presented at the September 16, 2014 Board of Supervisors meeting. CAO Richard Egan was instructed to eliminate 80% of the actual Capital improvement projects from the spreadsheet. The eight page spreadsheet suddenly became two pages. It wasn't like the need for the improvements disappeared. The Supervisors only wanted the public to see a small amount of work.
WHY THE DECEPTION?
Kan We Help Secretary Eileen Spencer was cut off by Larry Wosick when she asked why the Roosevelt Annex remodel made the cut. This is a building that the Supervisors are planning to give away
The Supervisors plan to dump $675,000 into this old school and then give it to (HLVRA) Wosick and Chapman to sell to a private buyer.
Eight pages presented in 2014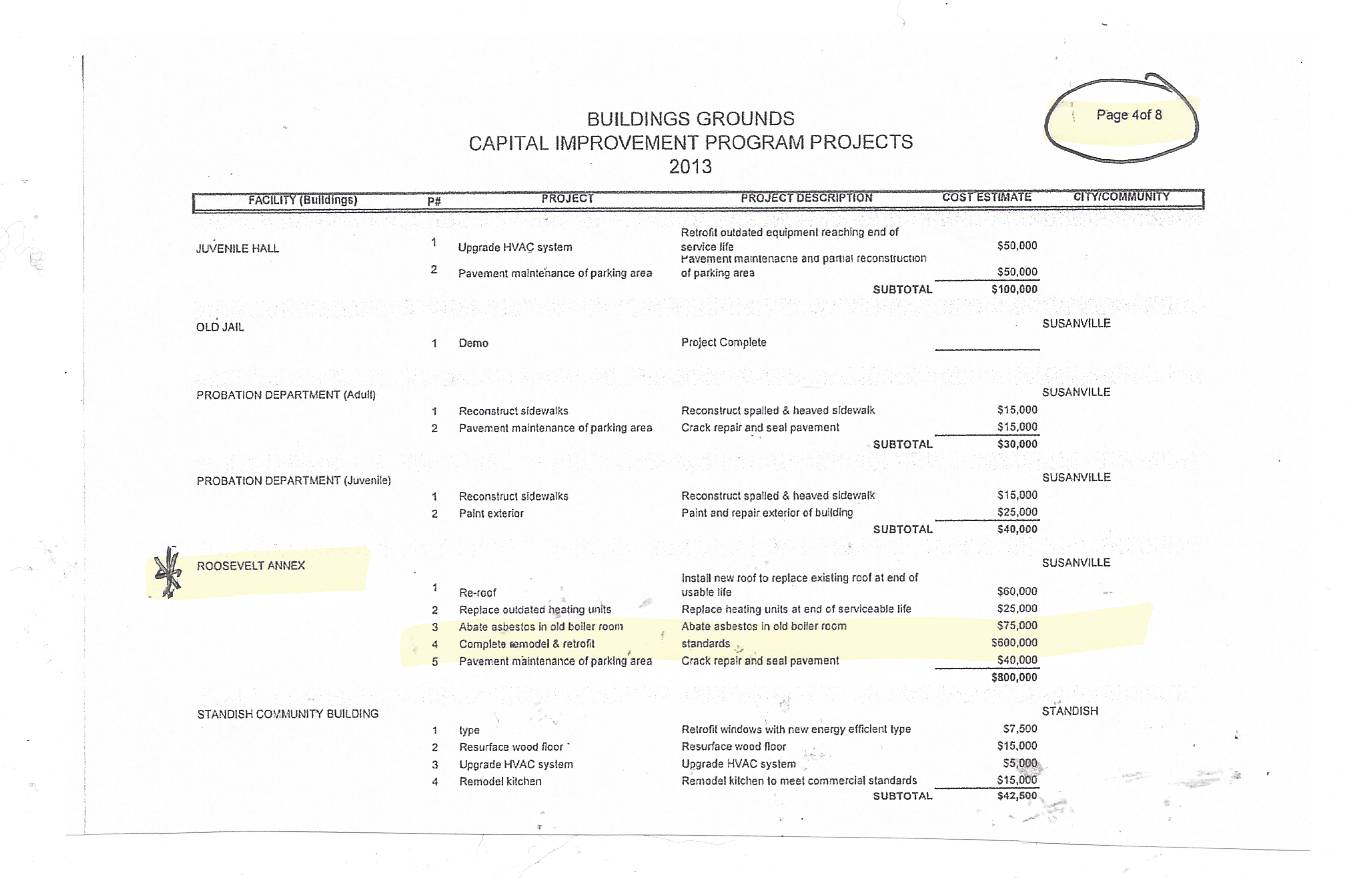 CIP Spreadsheet reduced to two pages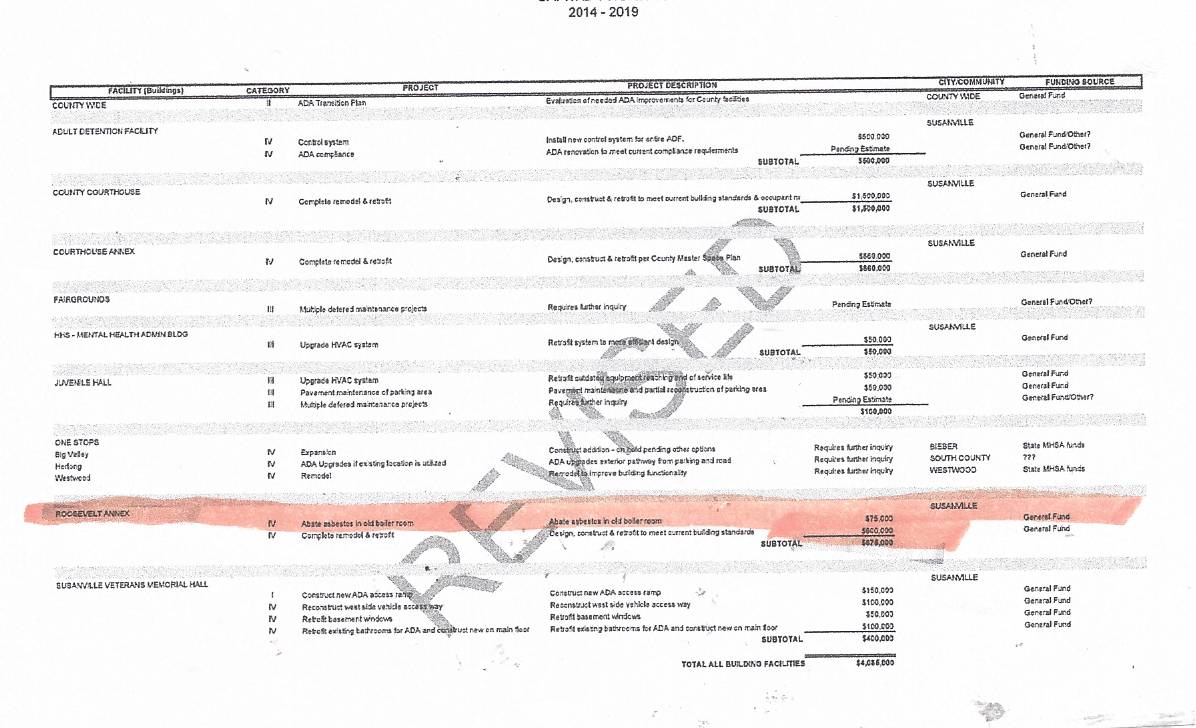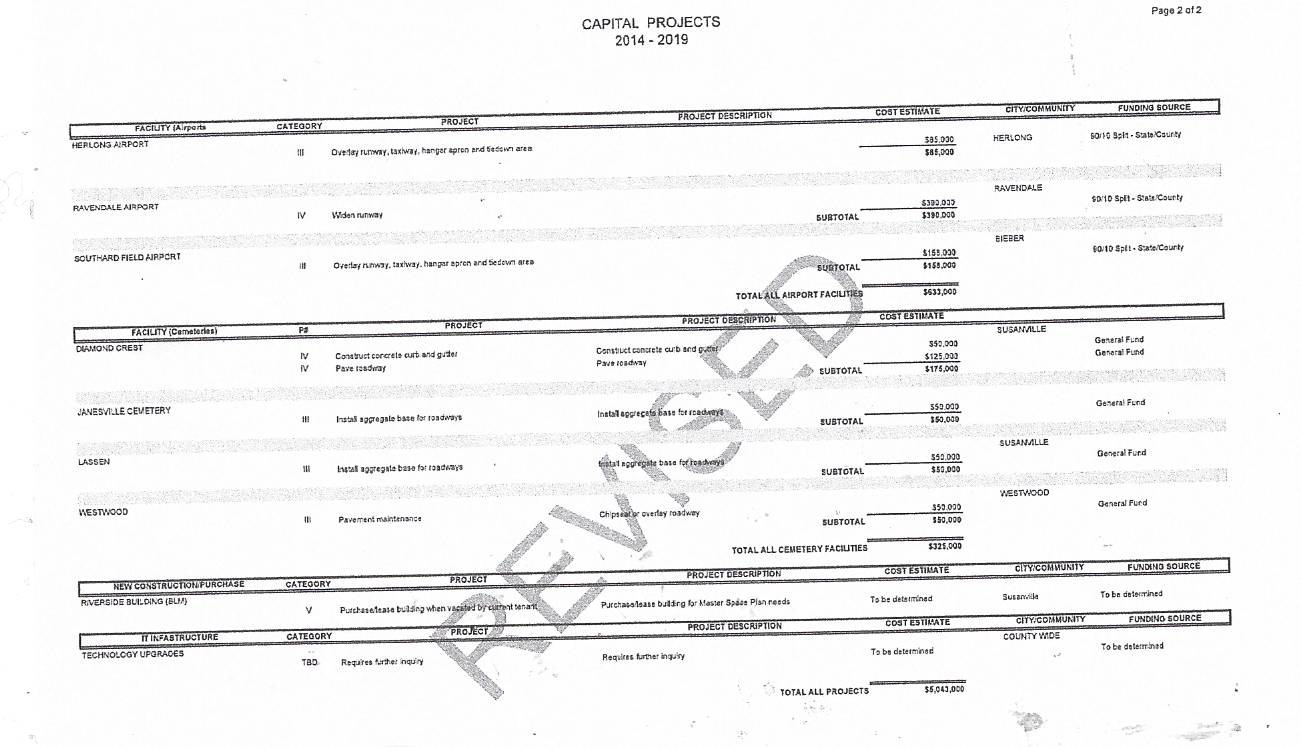 This is going to be another "Herlong One Stop"
Lassen County Supervisors
should not worry about their critics
but
now should fear an
informed public
The arrogance of the Lassen County Supervisors Grand Jury response

clearly indicates there is no higher priority than their own interests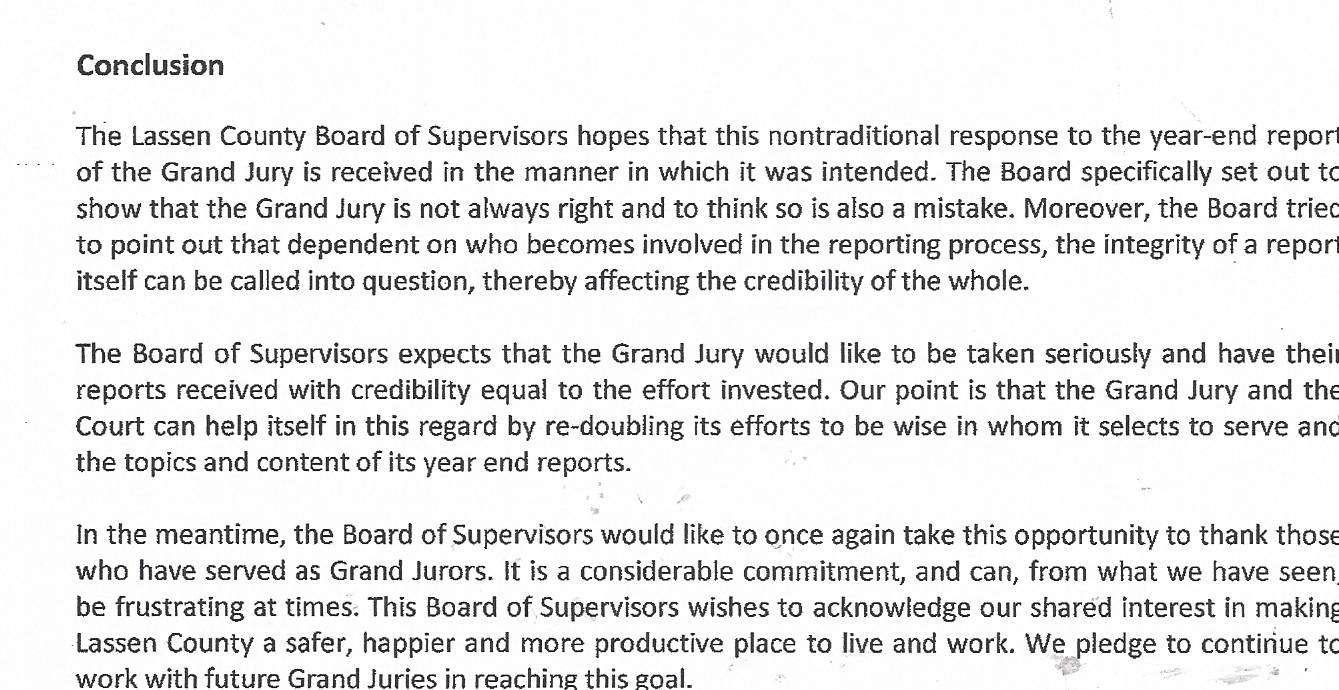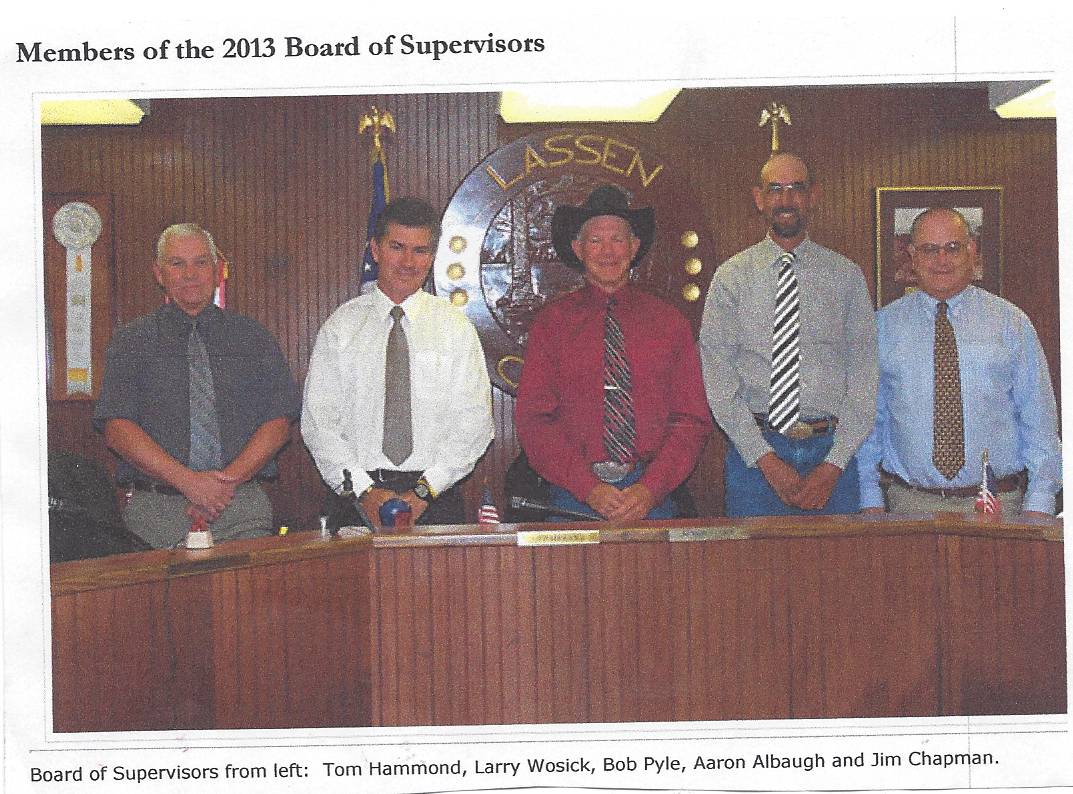 Lassen County Board of Supervisors Deceptions
are more than lies
Kan We Help asks for the truth and nothing but the truth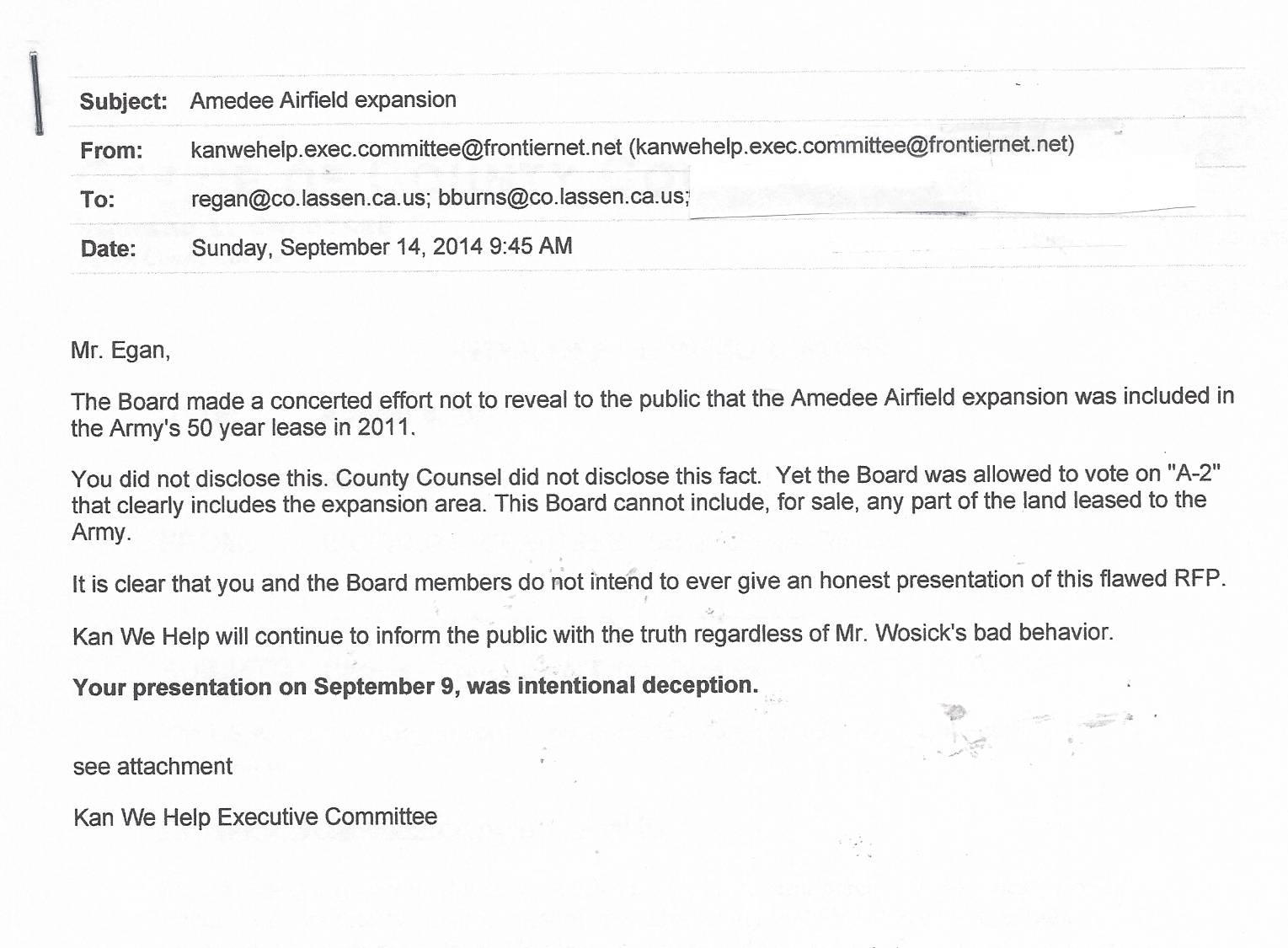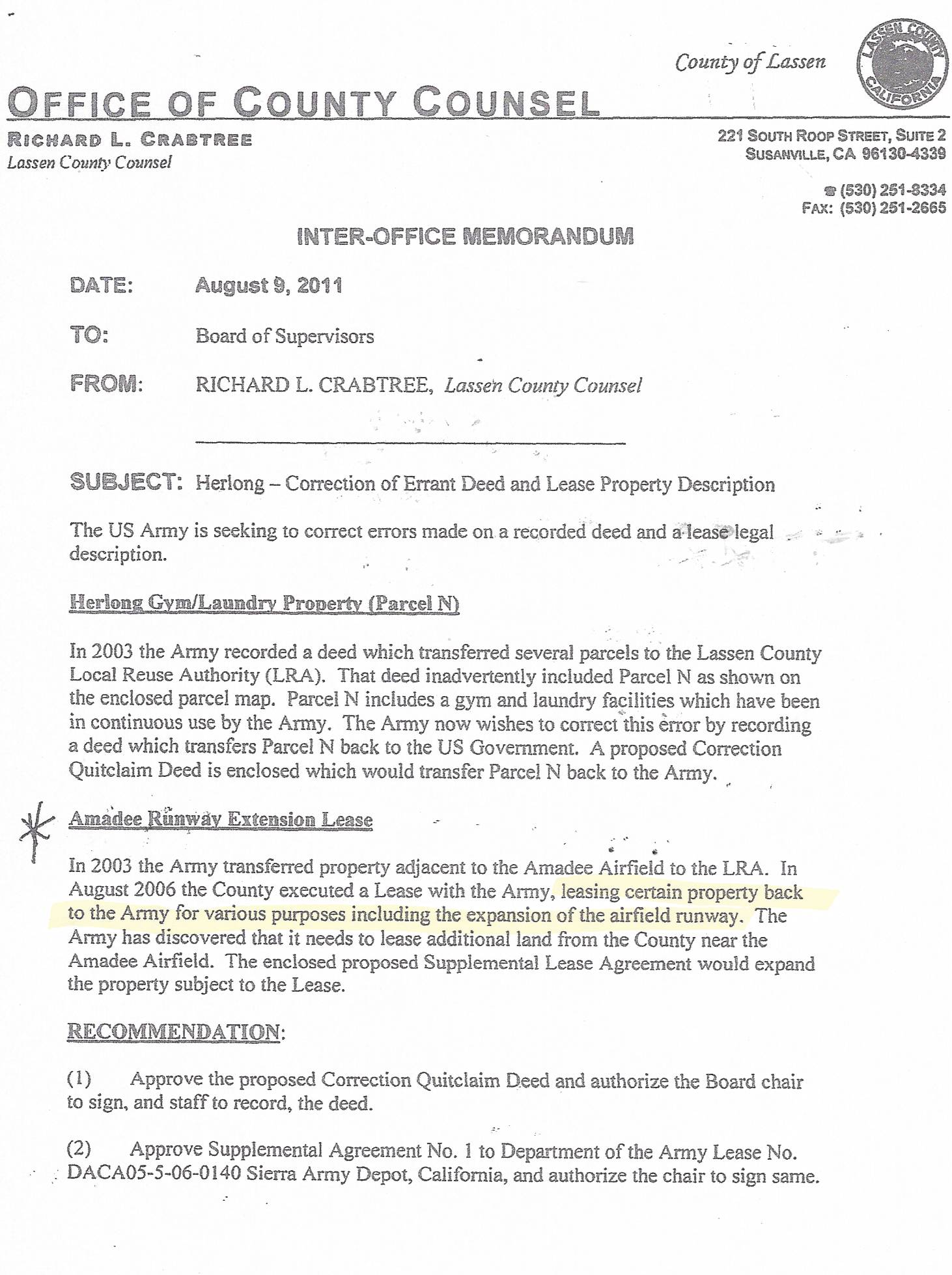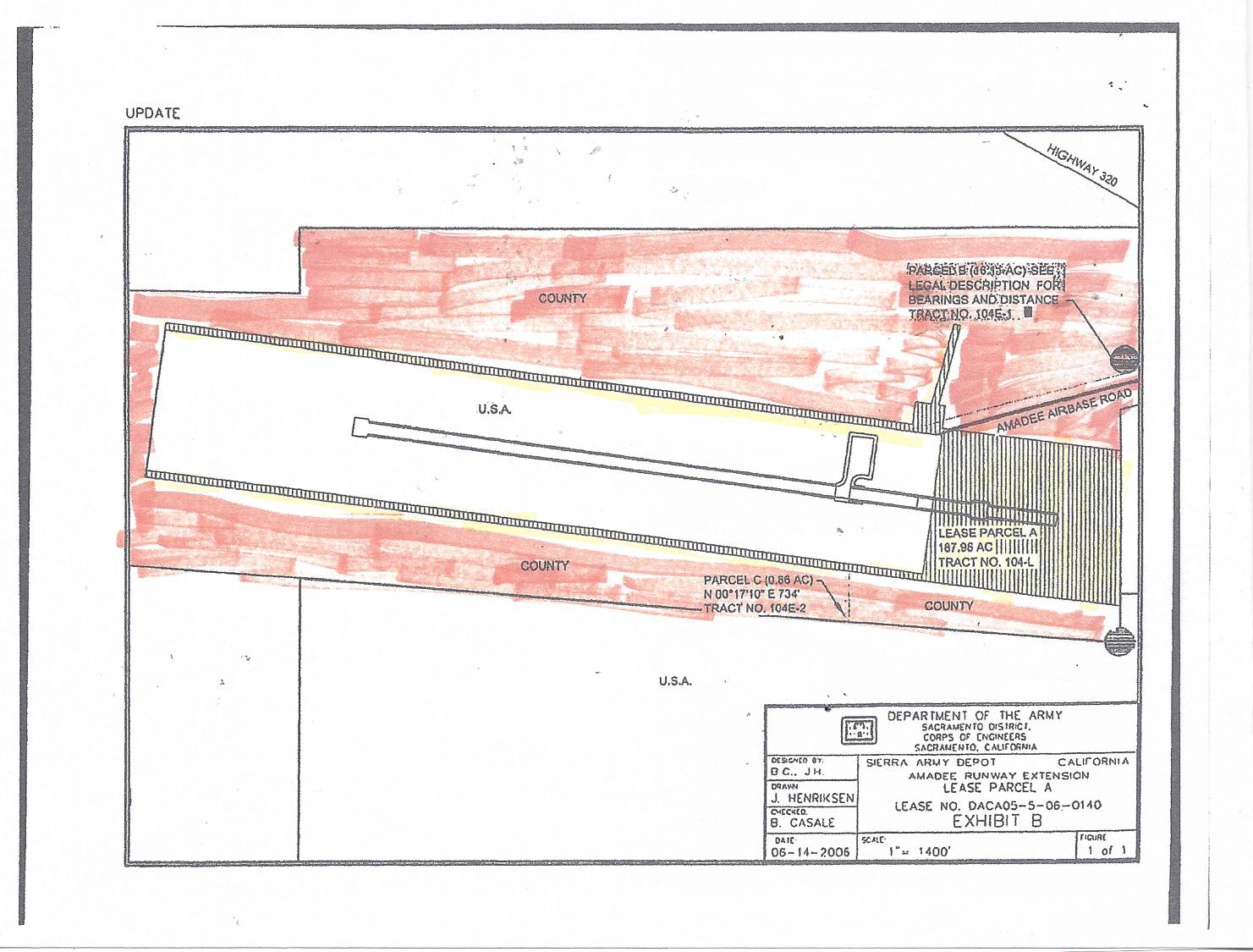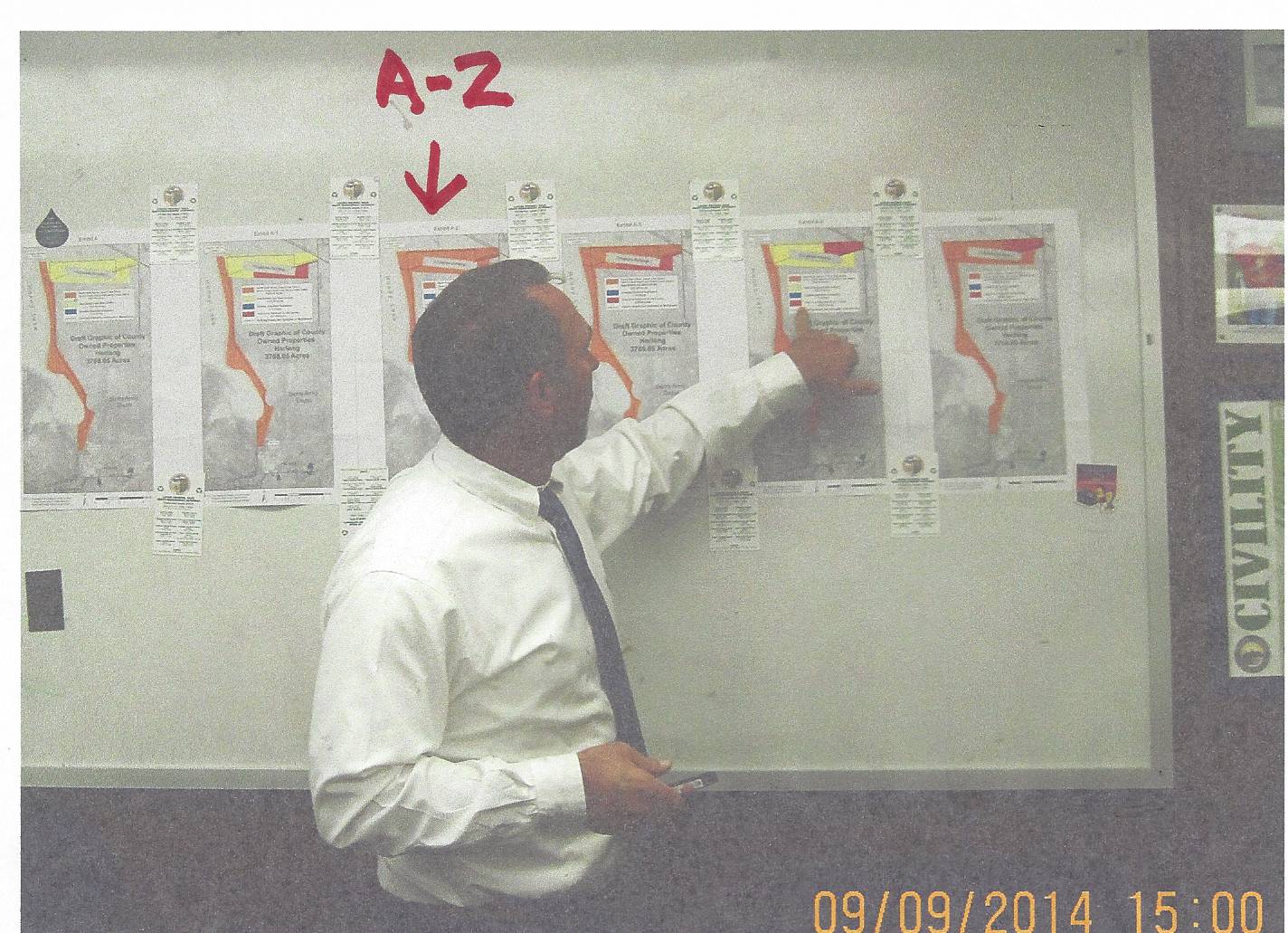 The public can view the entire 9/9/14 meeting at the Lassen County Scoop
"Reality"
.....continues to ruin Supervisor Larry Wosick's
life on the Board
1. Larry Wosick stays on the Board because some flunky attorney tells him he doesn't have to live in his District. He admitted moving out of his District on January 29, 2014.
2. Larry Wosick never disclosed the property he owned in Milford for 4 years. Wosick sold this property on January 29, 2014. This was his "alleged" residence to qualify to sit on the Board. This "asset" was never disclosed on his 700 Form, never.
3. Larry Wosick represents one of his partners for the purchase of the Amedee property. They want it cheap like before and will do anything, anything to make this happen
4. Larry Wosick knew about the new Interstate in 2012 when he purchased his Standish property in December/2012 after the "Surface Transportation Act" passed in June of 2012 and started pushing for the Herlong's sales.
He is just another dirty profiteering politician that can buy and sell anyone
......or can he?
Lassen County Supervisors
Reject Grand Jury Reports
....and chastise the Grand Jury ?
....Willful intent to defraud the public....
The Lassen County Board of Supervisors are
ABOVE THE LAW

Insults Women Only
He un-invites women to his Tuesday meetings
BOS MEETINGS FOR MEN ONLY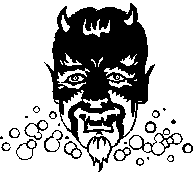 The only thing that didn't happen,
Wosick's head didn't
spin around
Take a look, Click here: September 9, 2014 BOS Meeting
The Supervisors had done nothing with the Sierra Army Depot Surplus property in Herlong until Larry Wosick was seated on the Board.
Since then Wosick attempted to secretly purchase the township of Herlong for $25,000. That failed and he and Jack Hanson set up Mr. Pezzullo to buy the 423 acre town for $31,900 and rezoned their own property. The Grand Jury acknowledged that there were conflicts-of-interest and a whole lot of quid pro quo's (favor for a favor)
Supervisor Wosick is obviously representing an outside interest for the Amedee property. The last thing this scoundrel wants is for the public to know what he is doing. Even though Wosick doesn't live in his district he will desperately try to stay of the Board until all votes are in for his personal interests.
Mr. Wosick has demonstrated his contempt for women with his rude and insulting comments. Facts were presented that the Amedee property is contaminated........and the insults flew out of this little man's mouth.
WOSICK RULE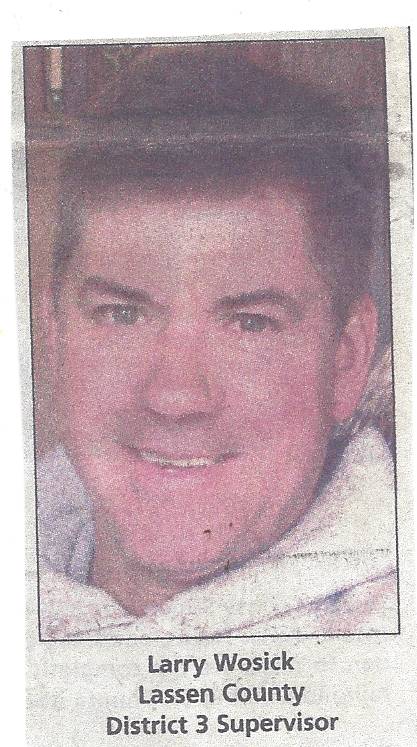 Wosick served only one term. Time enough to profit
STAY HOME, ON TUESDAYS, LADIES OR COME AND SHUT UP
Kan We Help Prepared to File Court Action
to
Stop the County from selling property,
to the public,
without disclosing that the East Shore Parcel has explosives and ordinances
The Lassen County Supervisors have presented "six" Drafts of the "Request for Proposal" to sell the surplus property given to them in 2003 by the Sierra Army Depot.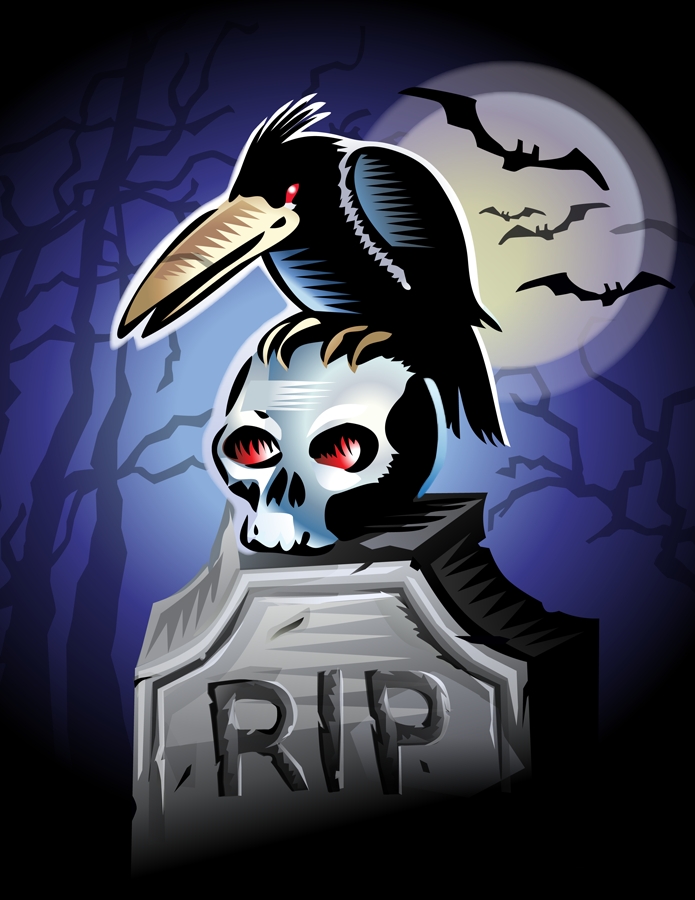 Not one Draft included the disclosure of the Ordinance/Explosives that need to be cleaned up on the East Shore Parcel.
In the 2004 CEPA Report, the cost of the clean up was estimated at $2.4 million dollars.
The Lassen County Supervisors could have demanded and could still demand that the East Shore Demolition parcels be cleaned up by SAID.
The Lassen County supervisors have never approached SAID to clean up the explosives and make this property safe.
ONE DEATH COULD
BANKRUPT LASSEN COUNTY
Supervisor Chapman asked that the pages Kan We Help submitted, at the August 19 meeting, be attached to the next Draft of the RFP.
The CAO prepared six options for the Supervisors. The Supervisors chose to sell all of the property (A-2), including the East Shore Parcel.
Short Memories?
The Supervisors had selective memories or convenient lapses when they discussed including the Amedee Airfield parcels.
The Supervisors discussed the six options presented by CAO Egan and voted to include the extension of the Amedee Airfield that is part of the 50 year lease with the Army?
NOW WHY WOULD THEY WANT TO DECEIVE THE PUBLIC?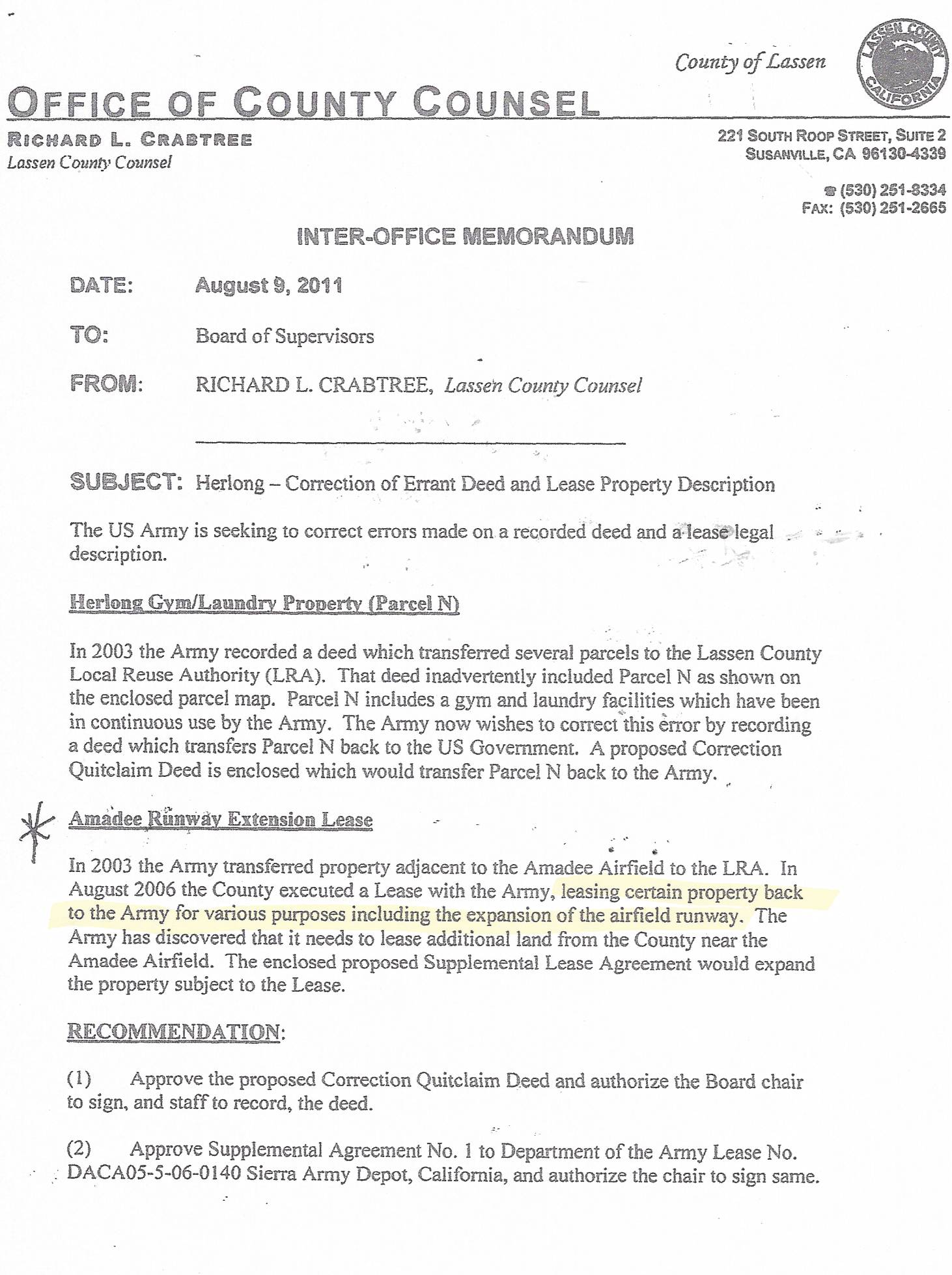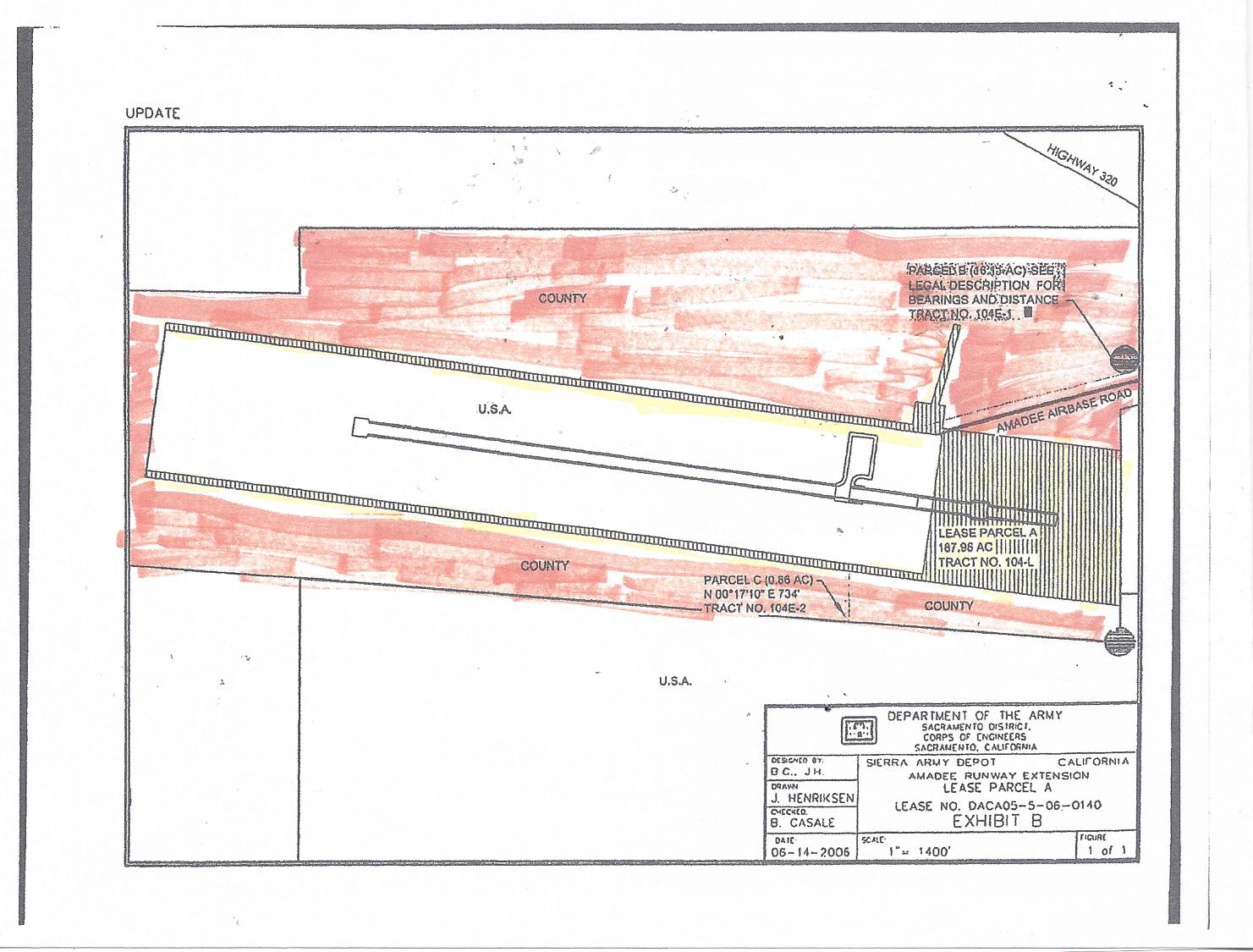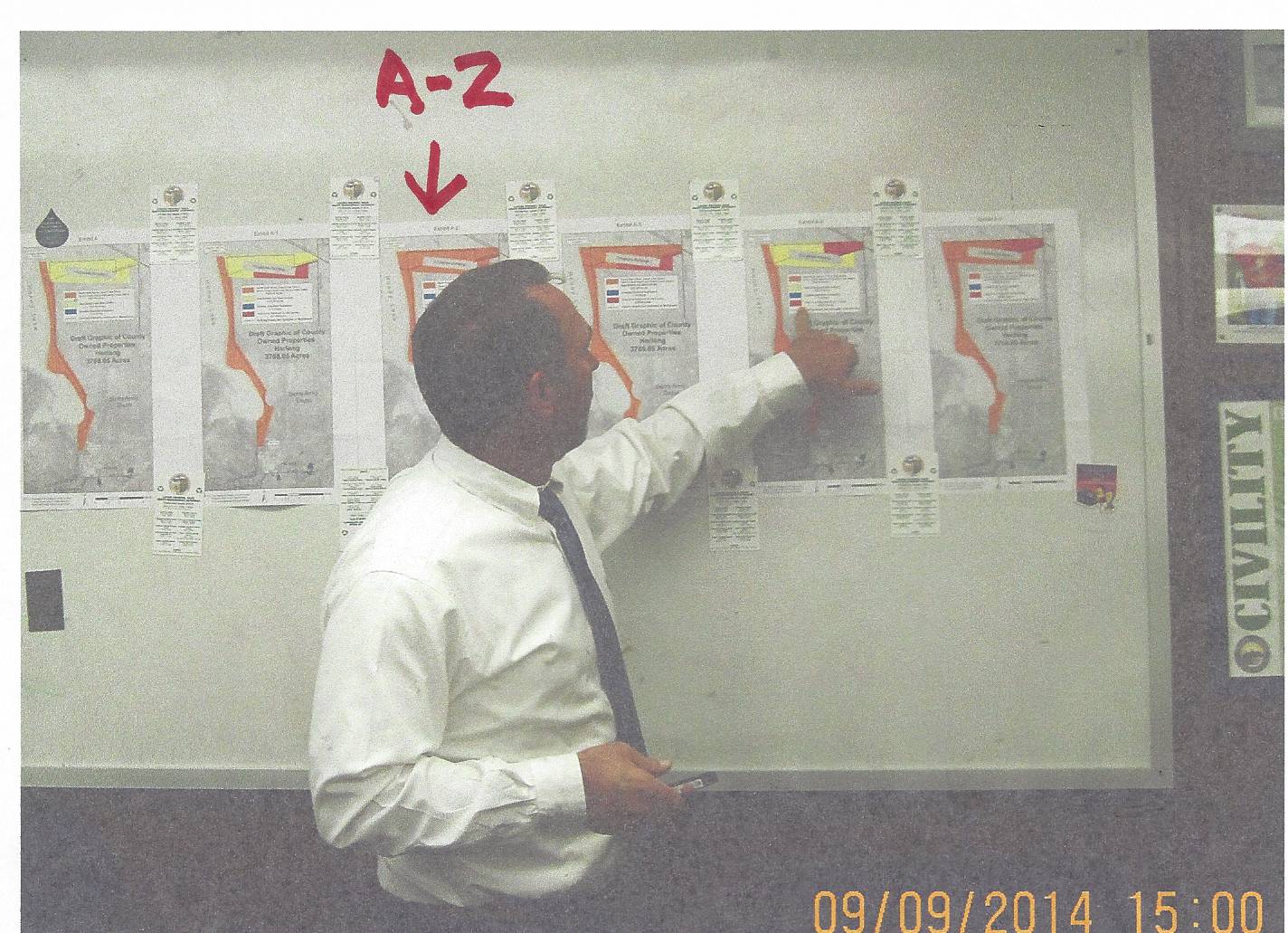 The contaminated and hazardous area was divided into 9 Assessor parcels and
could have easily been excluded from the sale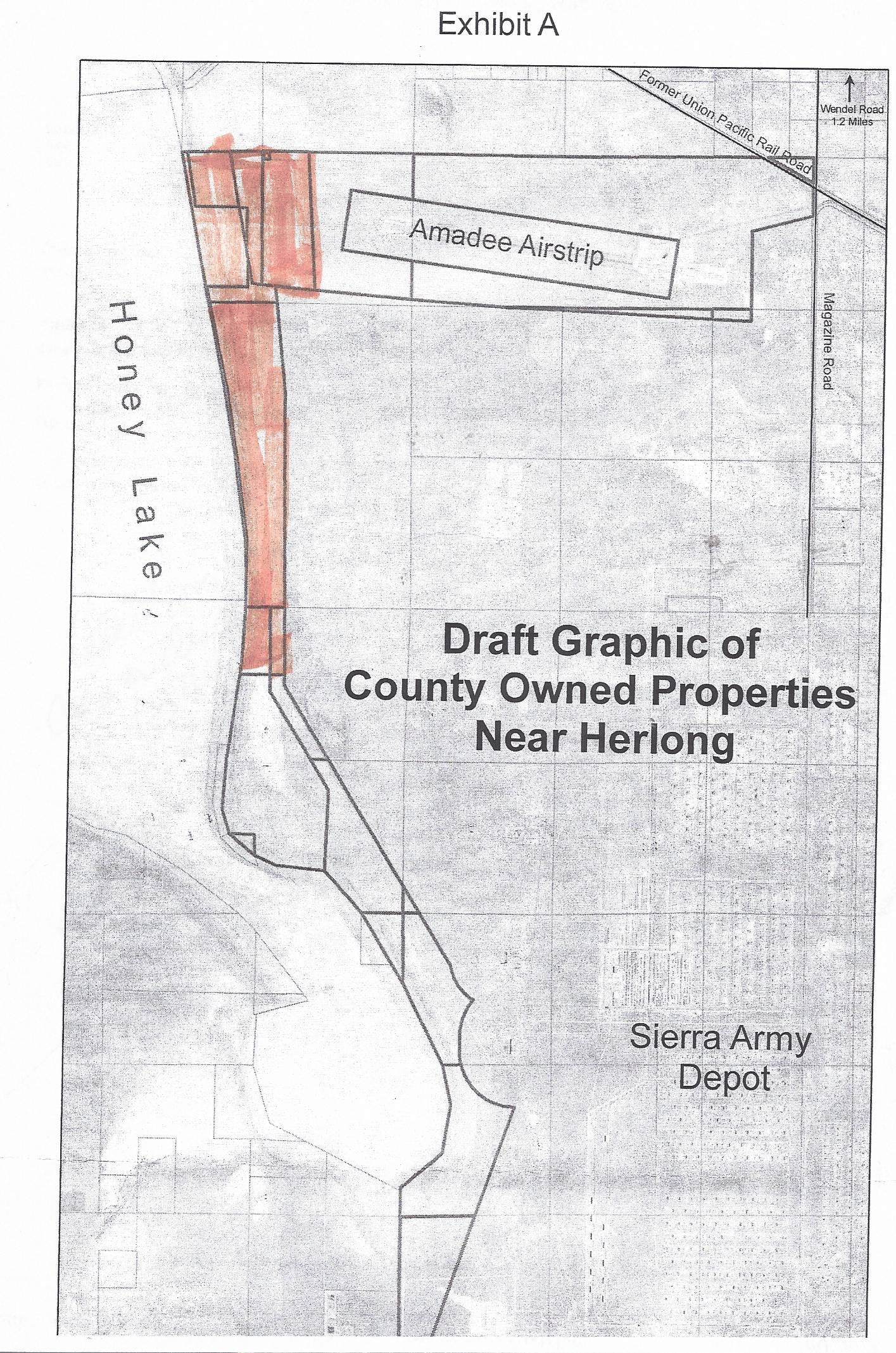 NEW LASSEN COUNTY DISTRICT ATTORNEY
LACKS MONEY
TO PROSECUTE ?
......blame all of the Lassen County Supervisors
.......they control her budget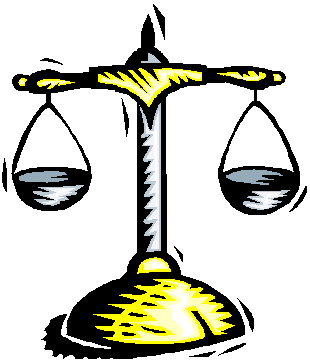 White Collar Crime that involves mis-use of Federal or State funds can be referred to proper authorities
Tesla Battery $1.2 billion Megaplant
to be built in Reno
not Herlong
6,000 jobs for Nevada
Long List of Public Officials
Keeping Interstate 11 a Secret?

....while they purchase land along the proposed corridor and change zoning
Wosick attempted to buy Herlong for $25,000
Pezzullo and friend's Herlong bid was accepted for $31,900
Jack Hanson/Bertotti zone change for their property along corridor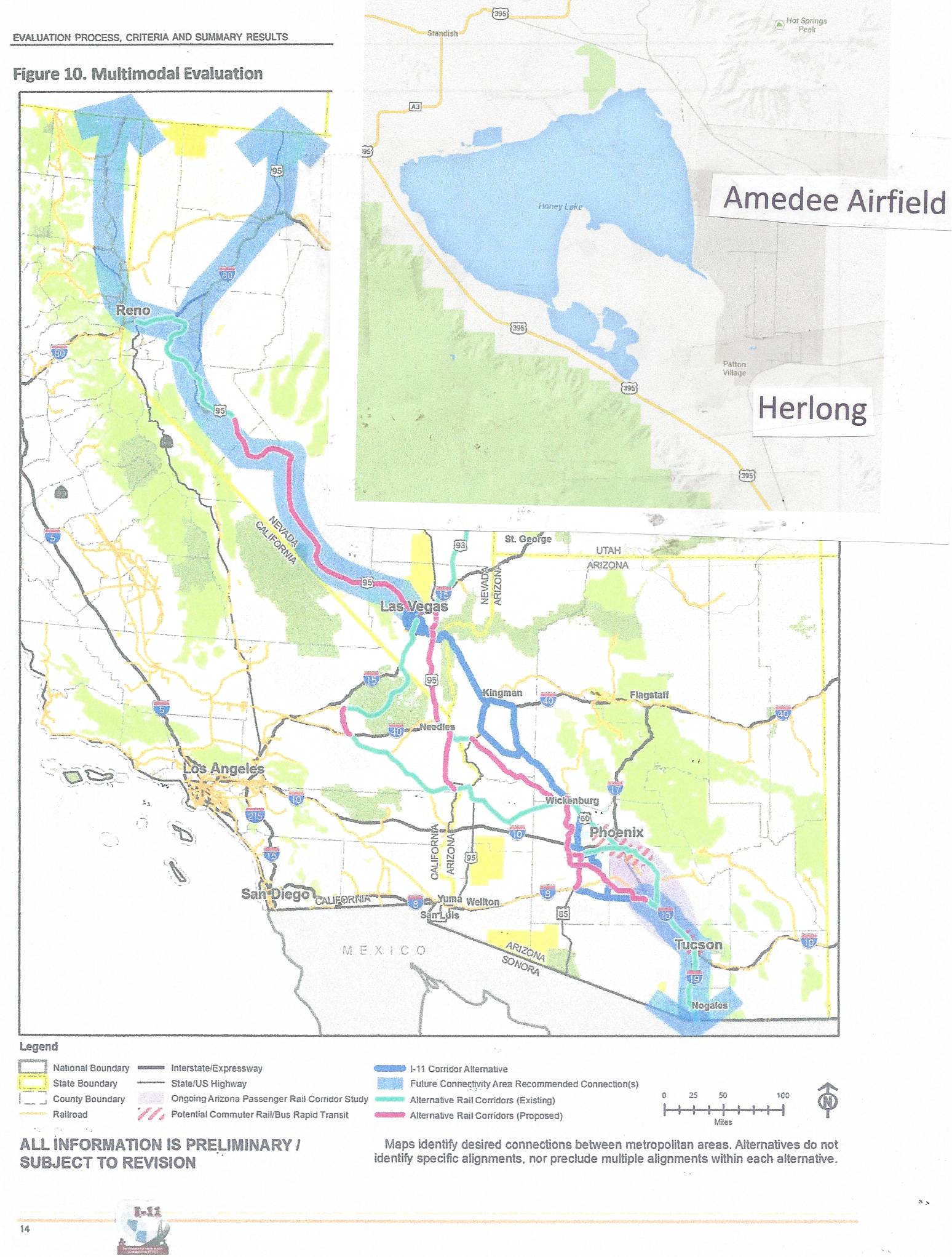 PAY ATTENTION
LASSEN COUNTY
This is a Quid Pro Quo County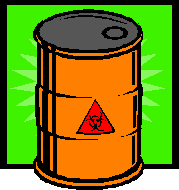 Brian Dahle pushed for the approval of a $350,000 Grant for the Hawkins, Del Logging Company, and then received a $15,000 campaign contribution from the Hawkins
Interstate 11 was approved by Obama in June of 2012 and Larry Wosick purchased land along that corridor in Standish in December of 2012 and then voted on a zone change.
Steve Pezzullo was in bed with one of the Supervisors when he purchased the township of Herlong for $31,900. One building alone is worth $1,000,000. The value of this property could be effected by the new Interstate 11 that may run through or near Herlong.
Jack Hanson voted on zone changes that effect this area....for a close relatives benefit?
The Supervisors are pushing hard to sell the contaminated (ordinances & explosives) property around the Amedee Airfield
Not one word, of the new Interstate 11,
is mentioned in any of the
Lassen County Board Minutes.

Politics for Profit