THE BULLETIN BOARD
kanwehelp.com, The Lassen County Original Bulletin Board
page one
"An investment in knowledge always pays the best interest",
Benjamin Franklin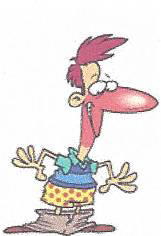 NEW...."Caught with your pants down" page
ARCHIVES:
Diebold Voting Machine Program Cards Easily Changes Votes
LASSEN COUNTY JUNE 3, 2014 ELECTION
BUSTAMANTE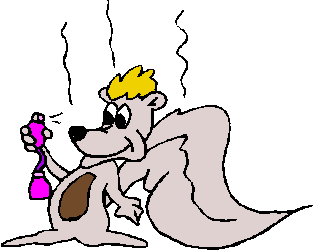 The third certainty in life, besides death and taxes,
corruption in Lassen County
Lassen County Election Officer,
Bustamante Hires Daughter Again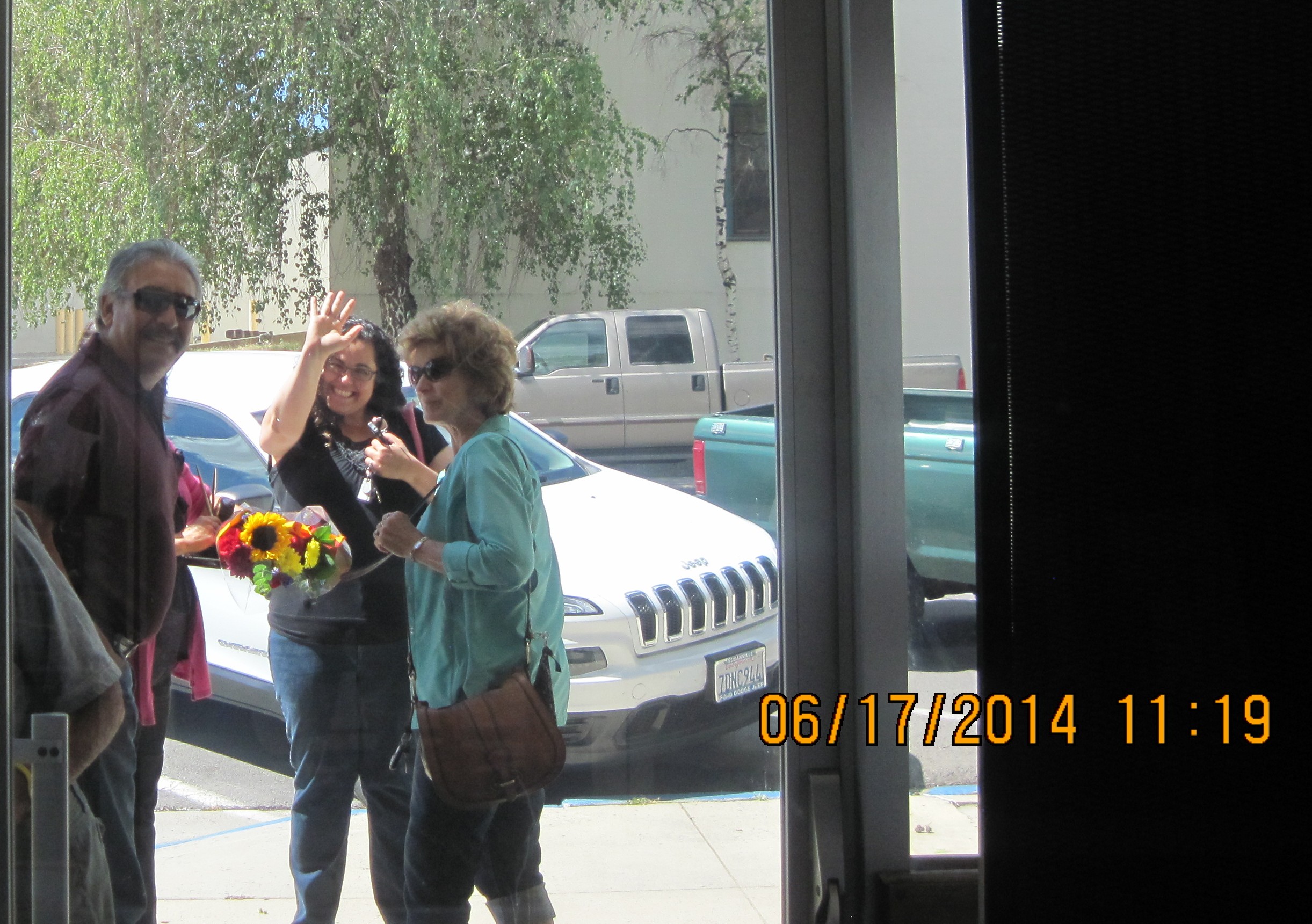 Nicole Bustamante Madden Murray was at the Westwood Precinct when the voting machine seal was broken and replaced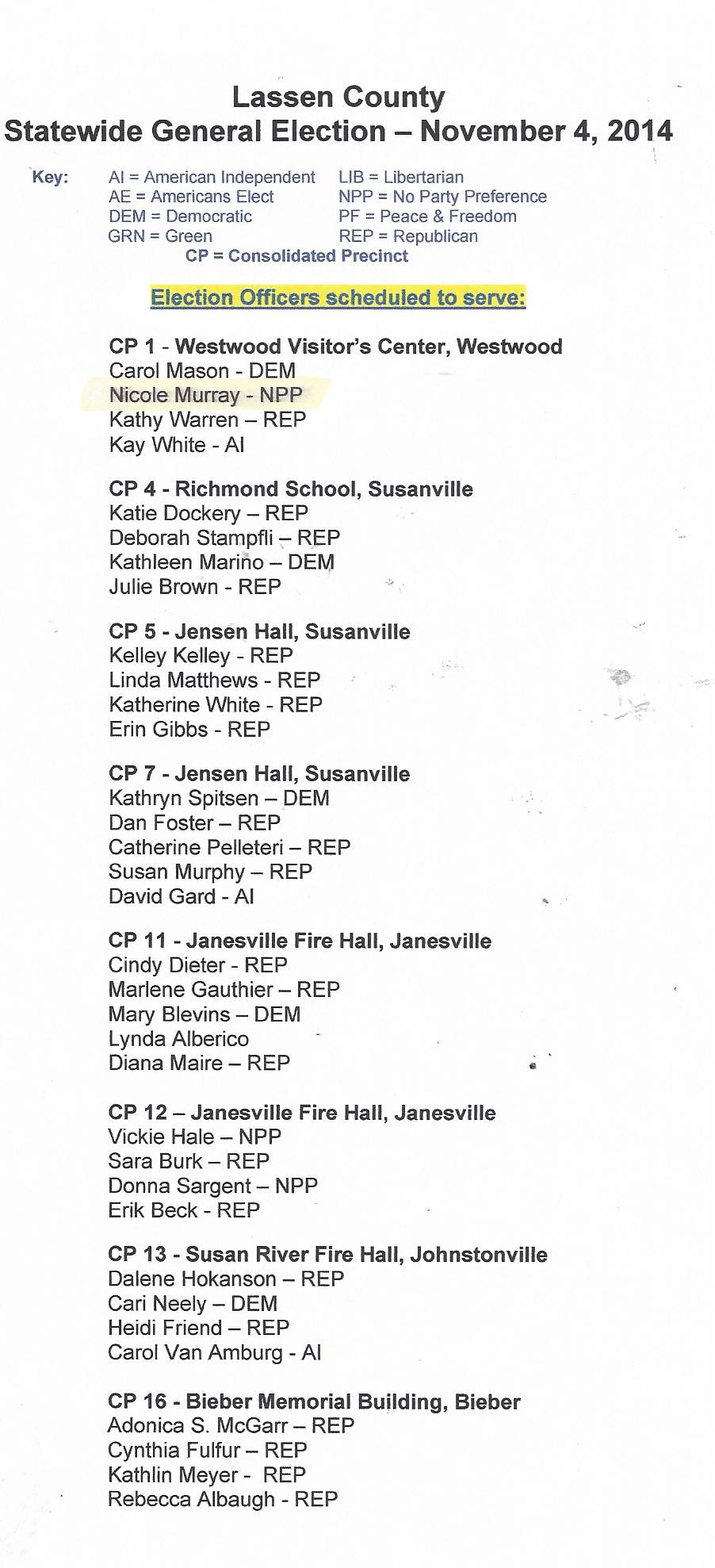 The County Clerk Claims Her Daughter Will Not Get Paid As An Election Officer
.....Bustamante has been there long enough NOT TO MAKE THAT STATEMENT
.....Has Bustamante been there too long?
Kan We Help Files Complaint Again
CAO Egan Resolves
Wolf Rescue Issue
On October 27, 2014, Lassen County CAO Richard Egan visited the High Desert Wolf Rescue in Ravendale and agreed to end the County's harassment and owner Debbie Valenta agreed to reduce the dog population in half by September of 2015.
The 20 year old Rescue, owned by 69 year old Debbie Valenta, has been under siege from the County for over a year.
[The County refused re-zoning requests]
Threats to kill the dogs, jail and seizures have been hanging over Ms. Valenta's head.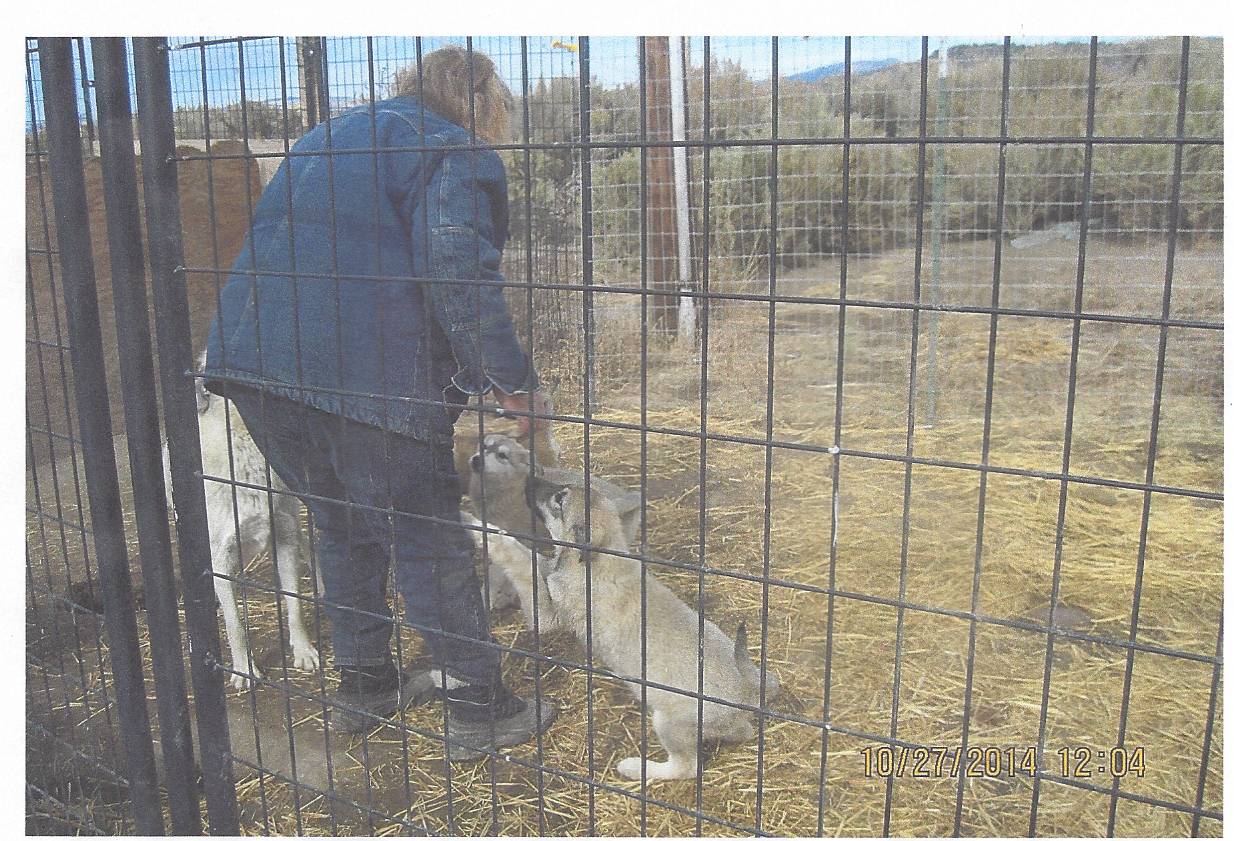 The High Desert Wolf Rescue is the largest west coast wolf-dog rescue in the United States.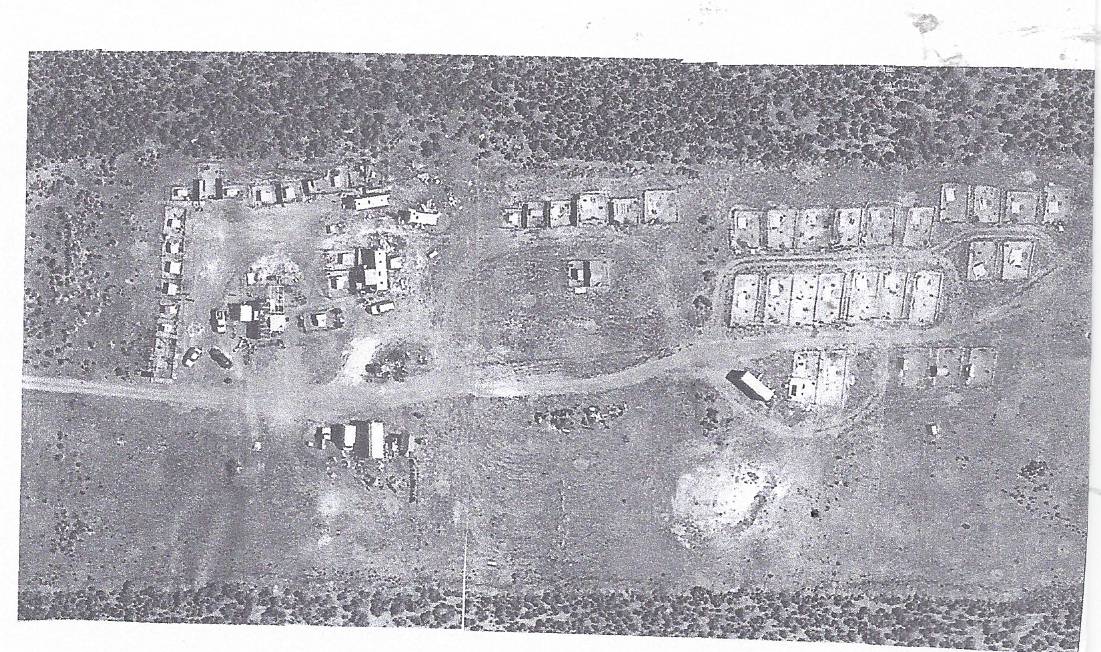 The Rescue is located in a remote area of Lassen County.
25 miles from Highway 395 in Ravendale, CA
NOT A SINGLE PUBLIC COMPLAINT !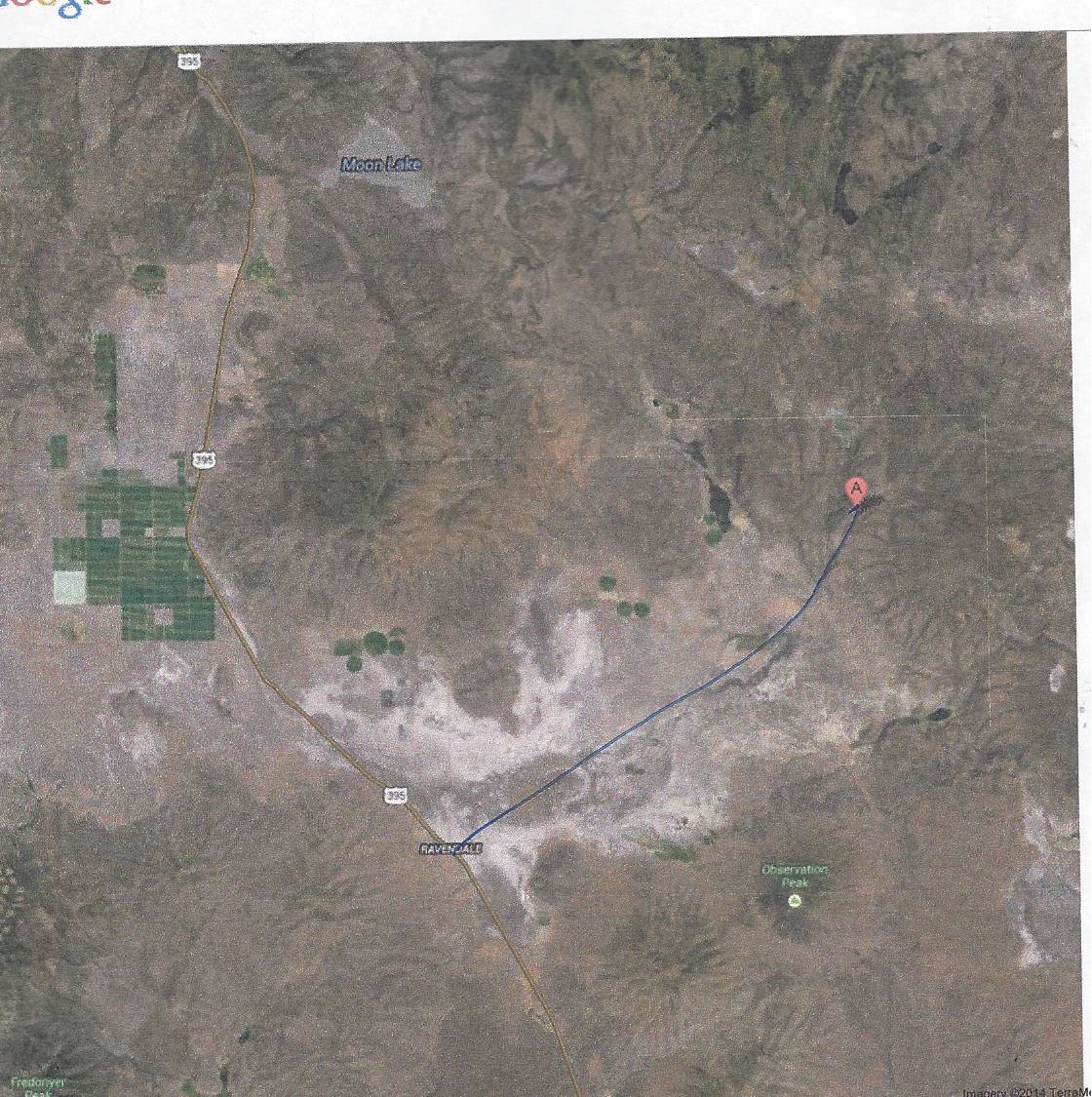 Rezoning Gift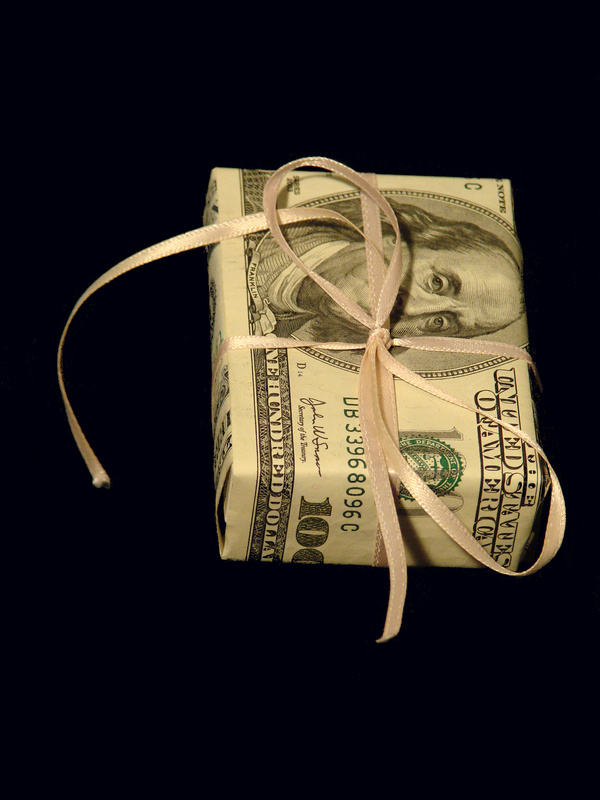 Gets Well Deserved
On October 21, 2014, Hammond, Pyle and Wosick vote to re-zone a single parcel in Herlong a "Town Center" (in the middle of an agricultural zone).
What is unique about this political move by Supervisor Hammond, is that it made no sense at all. The owner of this property could have requested a simple re-zone from Agricultural to Commercial.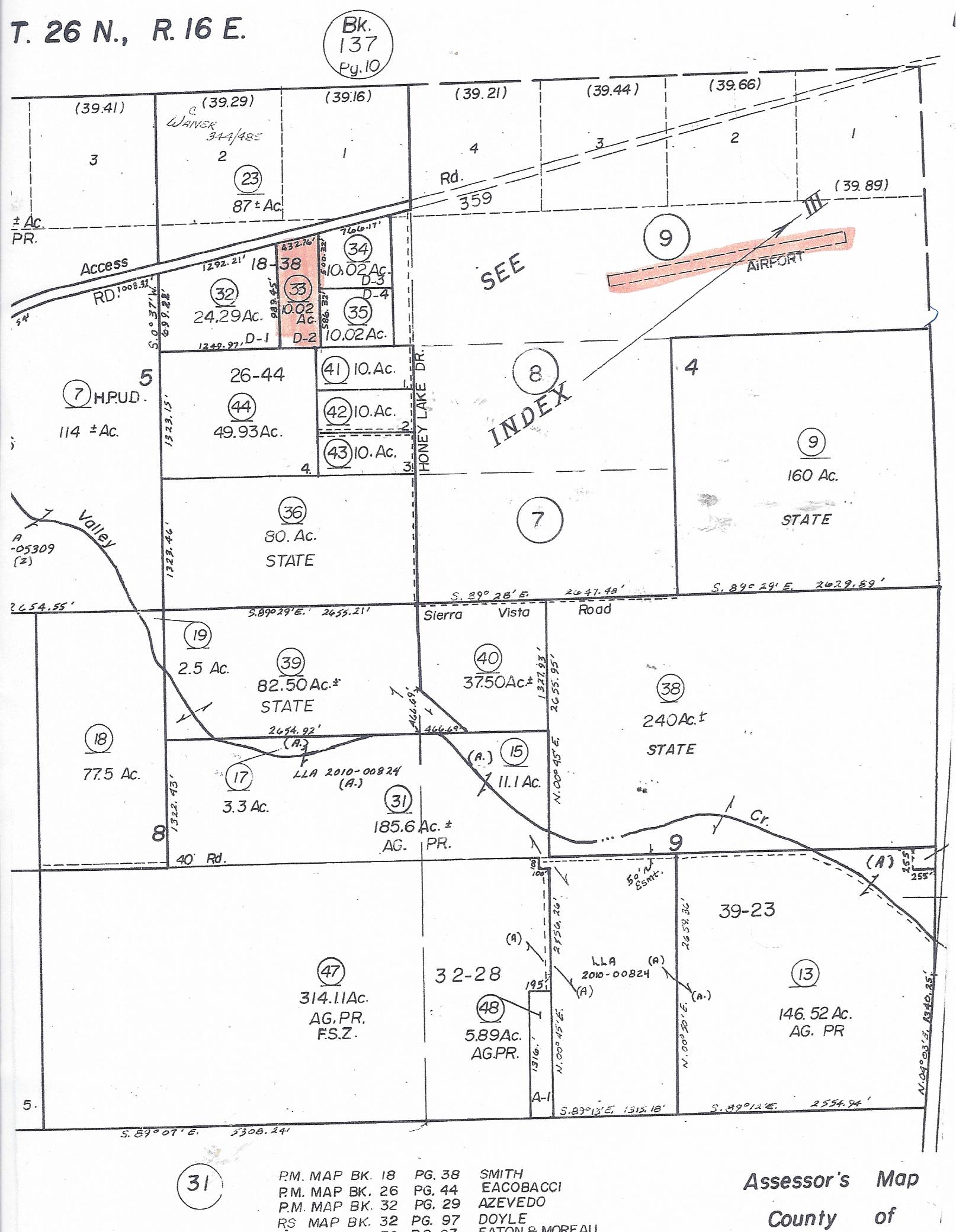 The owner Lawrence Marion wants to build a mini-storage ?
This 10 acre desert parcel ( APN 139-060-33) sits 2100 ft from the Herlong airport. This mini-storage would accommodate commodities flown in and out of the Herlong airport with little or no monitoring. The Owner claims he will build in phases (?). He also plans to build a residence on the property.
This 10 acre desert parcel will be subject to the Herlong Airport Land Use Plan which limits the type of construction. This parcel sits in the "Designated Safety Areas".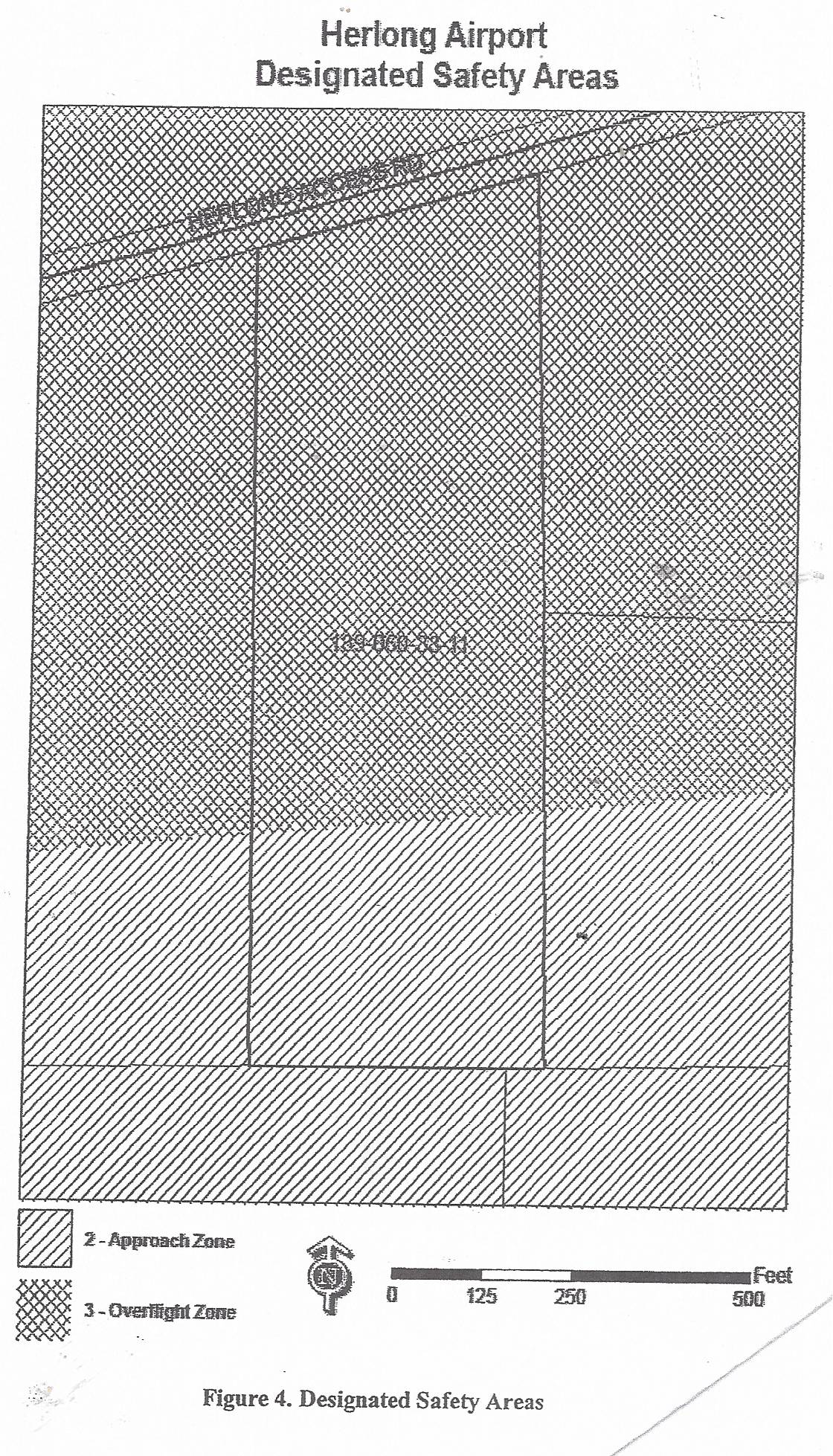 So why the "Town Center" Supervisor Hammond ?
Simple: It adds value to this parcel.
The CAO claims that surrounding property owners were sent notices
Mr. Marion purchased this property from Joseph and Lorayne White on May 23, 2005. The property was listed as "commercial" with manufacturing as a "use". Mr. Marion paid $45,000 for this desert parcel with only a septic tank as an improvement.
The value increases when you re-zone to "Town Center"
The Lassen County Planning Director Anderson and CAO Egan were in favor of expanding the new "Town Center" zone.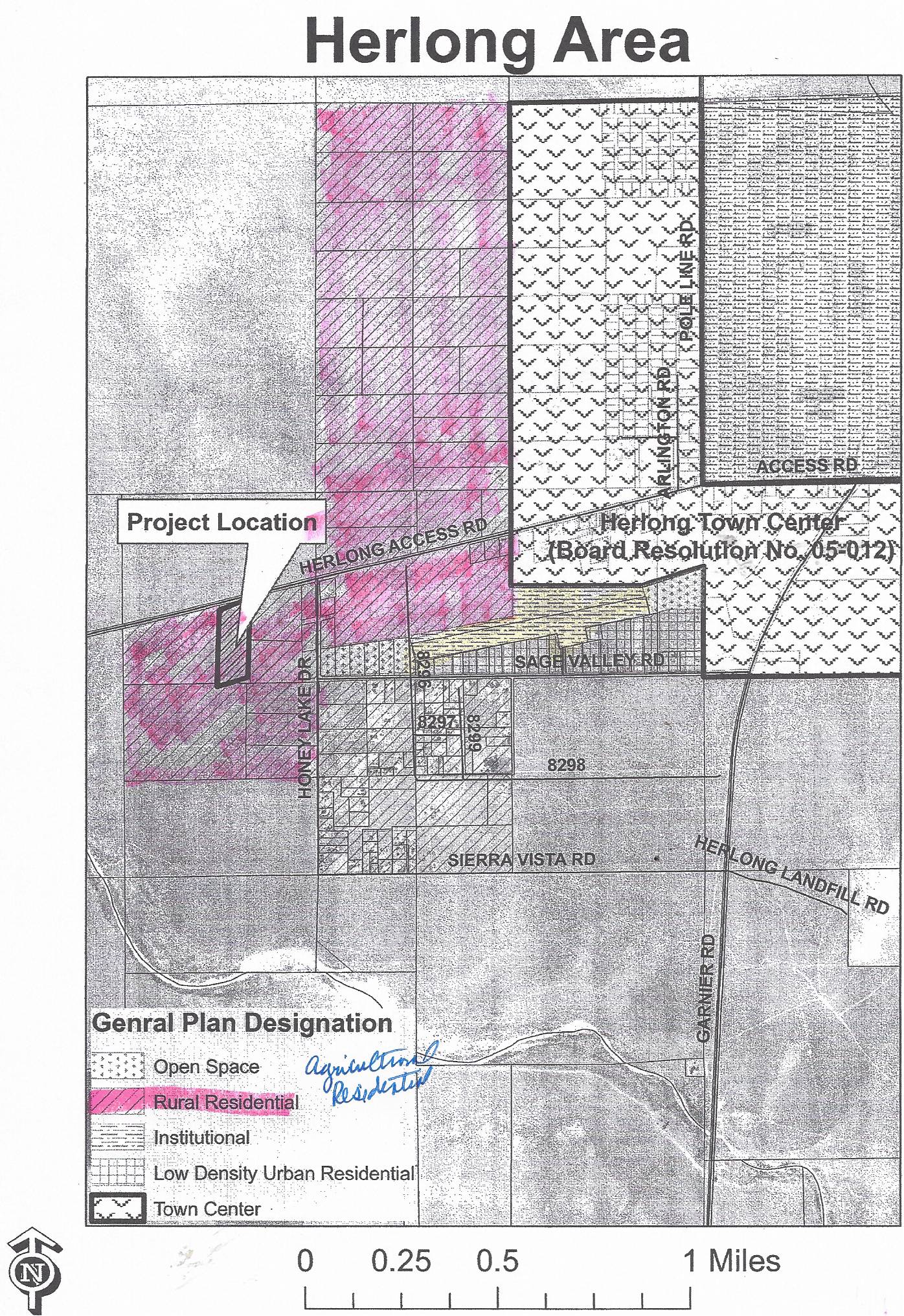 The Wheels, they keep on spinnin'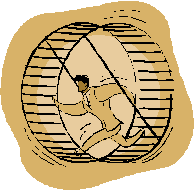 The Lassen County Supervisors decide to go on a Scavenger Hunt
The Supervisors decided to table the approval of $1.75 million dollars, for the pool construction costs, until they could locate the cash. It was decided that CAO Egan, Supervisor Chapman, Supervisor Hammond and Auditor Karen Fouch would meet early next week and find the money. The annual $200,000 donation to the HVLRA comes out of the "Tobacco Settlement" Fund now, but would be up to the discretion of future Boards to continue this donation.
Supervisor Chapman stated that February was unrealistic to begin construction. Susanville City Manager, Jared Hancock is determined to keep the project moving forward.
In the mean time, the HVLRA met at 3:11 PM (the meeting was held up due to a lack of a quorum), across the street at the Susanville City Hall, and decided that a short mini-meeting was all they needed. A quick sweep through a very short agenda and they went home.
The HLVRA pool board meets again on November 4, 2014 at the Susanville City Hall @3:00 PM to review pool designs.
Honey Lake Valley Recreation Authority
[Pool Joint Powers Authority]
Plans to pay cash for Pool
$1,750,000 from the City of Susanville
and
$1,750,000 from Lassen County
Shhhh.....even though the Agenda title is a bit mis-leading...
Supervisors still place it as the last item on the Agenda, hoping no one will notice?
Agenda item H-6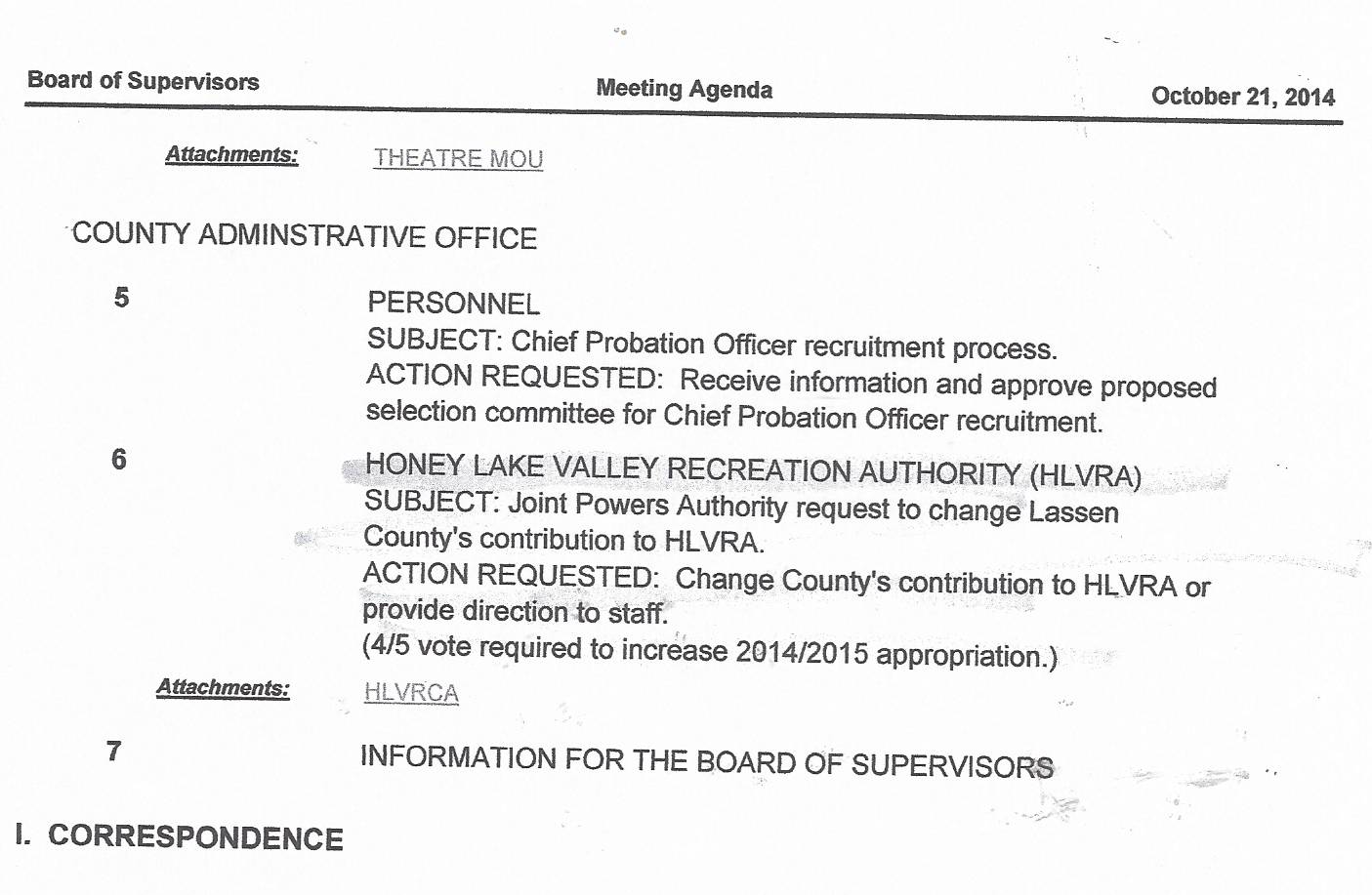 HLVRA Executive Officer, Jared G. Hancock sends both public agencies a request to consider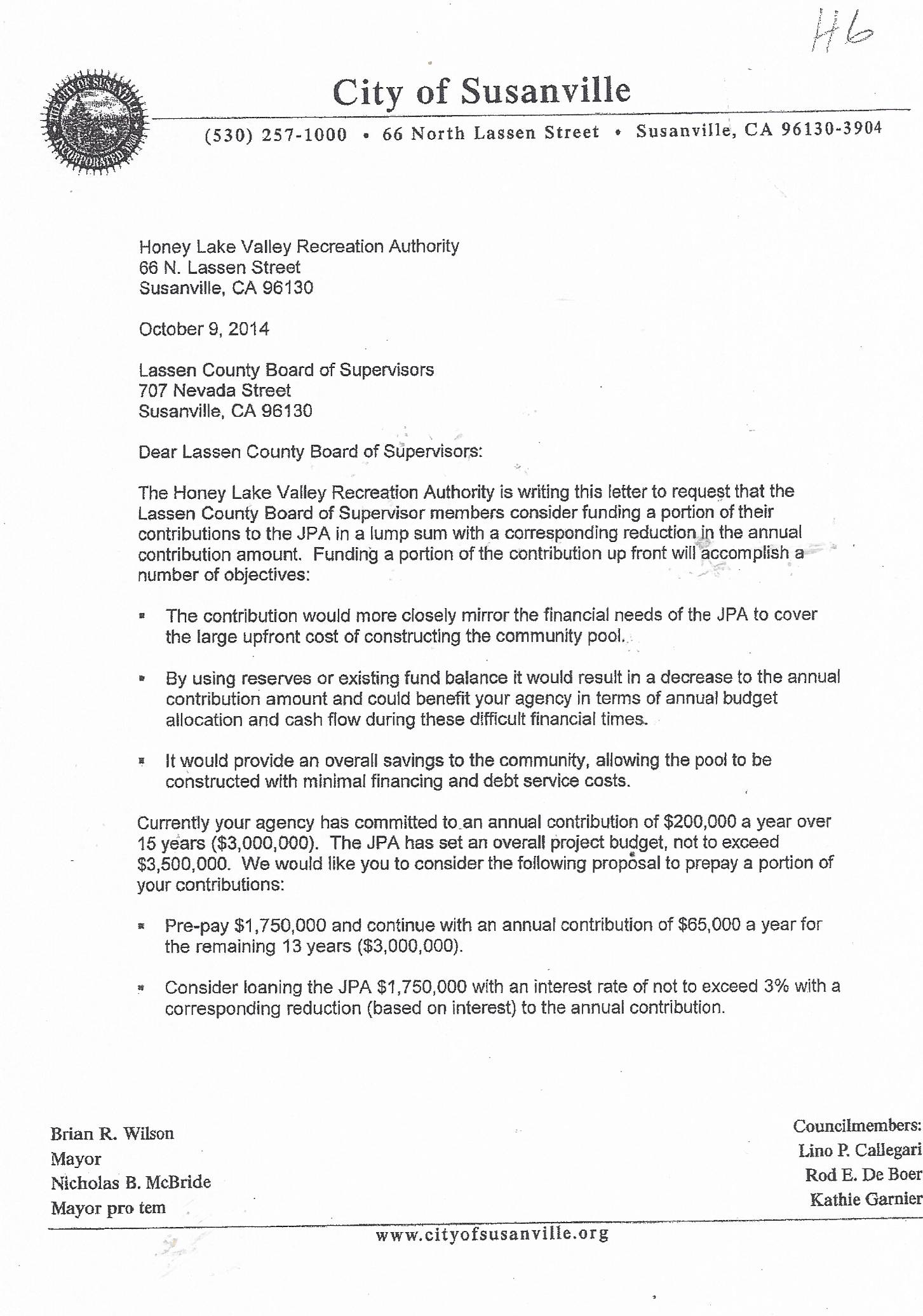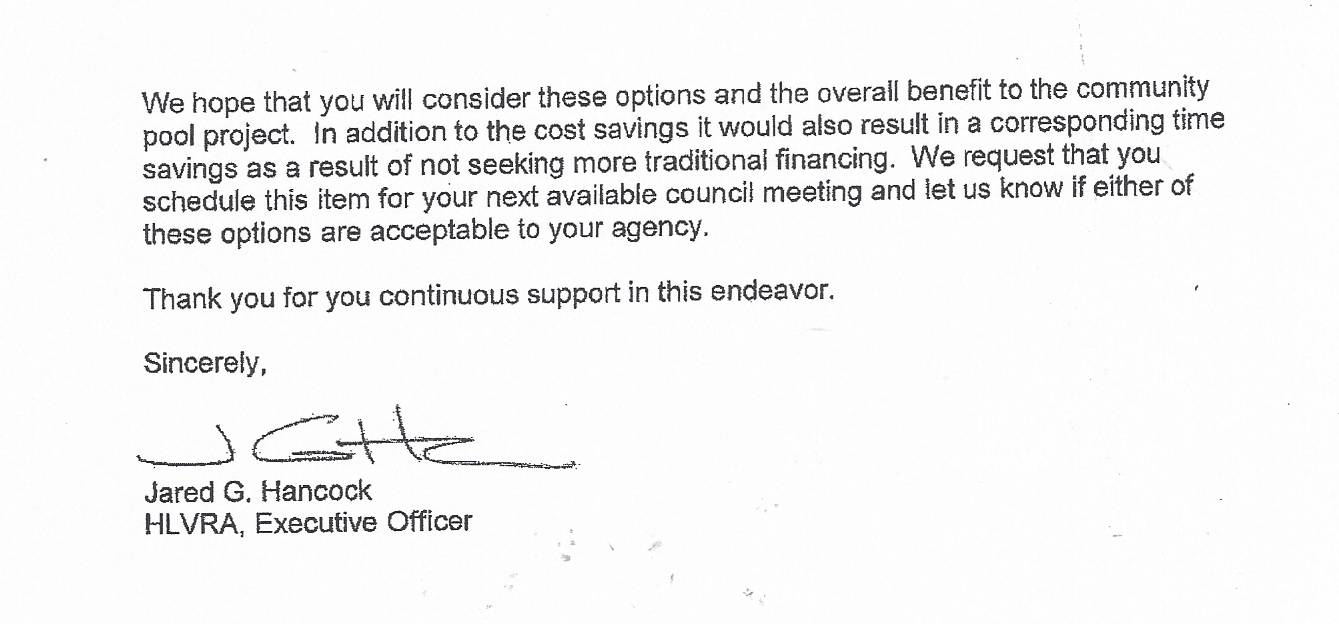 BROWN ACT SEMINAR
AB 1234 Ethics Training Well Attended
Sponsored by: LAFCO for Lassen County & Modoc County
General Principals for training
Trustworthiness
Responsibility
Respect
Loyalty
Compassion
Fairness
[Lassen County Counsel left before the Brown Act portion of the training]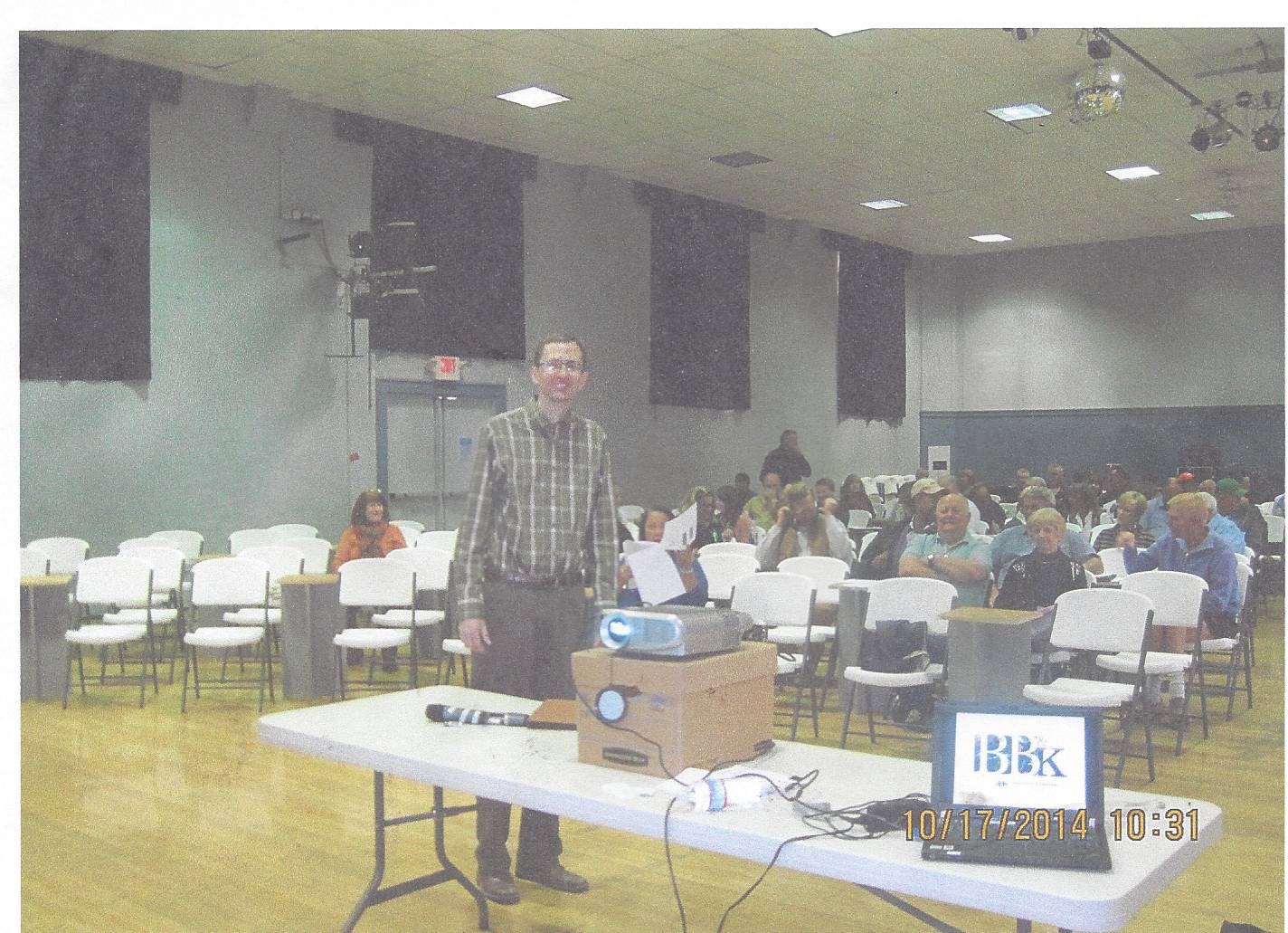 Josh Nelson, Best, Best & Kreiger law firm, phone, 916-325-4000, email: joshua.nelson@bbklaw.com
BROWN ACT SEMINAR
October 17, 2014
Veterans Hall, Susanville
10:00-12:00
Hosted by LAFCO
All public boards and Special Districts in Lassen County are encouraged to attend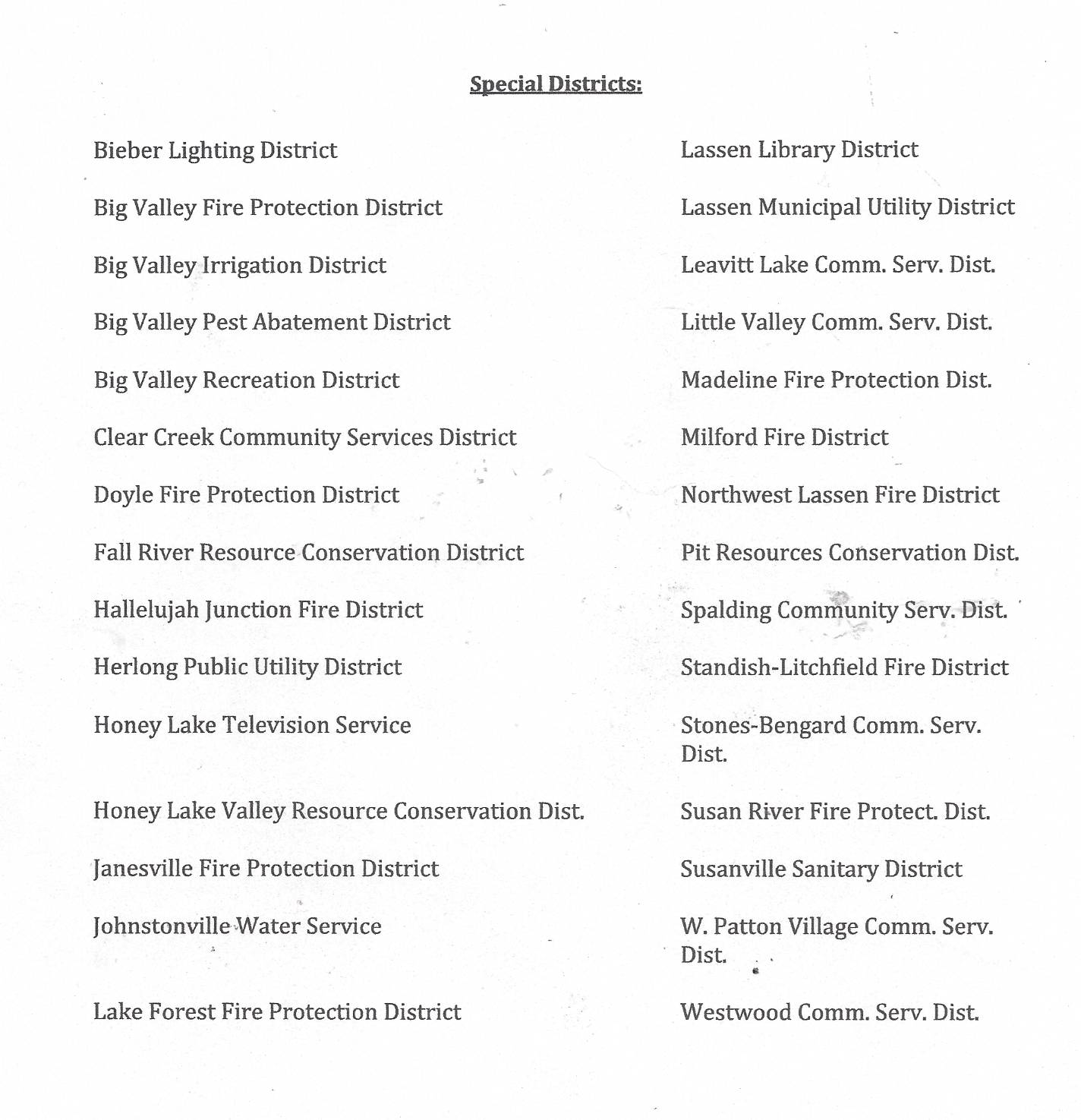 HLVRA
NEEDS A HOUSEKEEPER
Missing Agendas, Missing Minutes

A whole lot of cleaning up needs to be done on the Honey Lake Valley Recreation Authority. Board. This JPA was formed in 2013 to build a community pool in Lassen County.
THREE BROWN ACT VIOLATIONS
A Quorum to approve the Minutes:
three members that attended the meeting and can attest to the accuracy and correctness of the minutes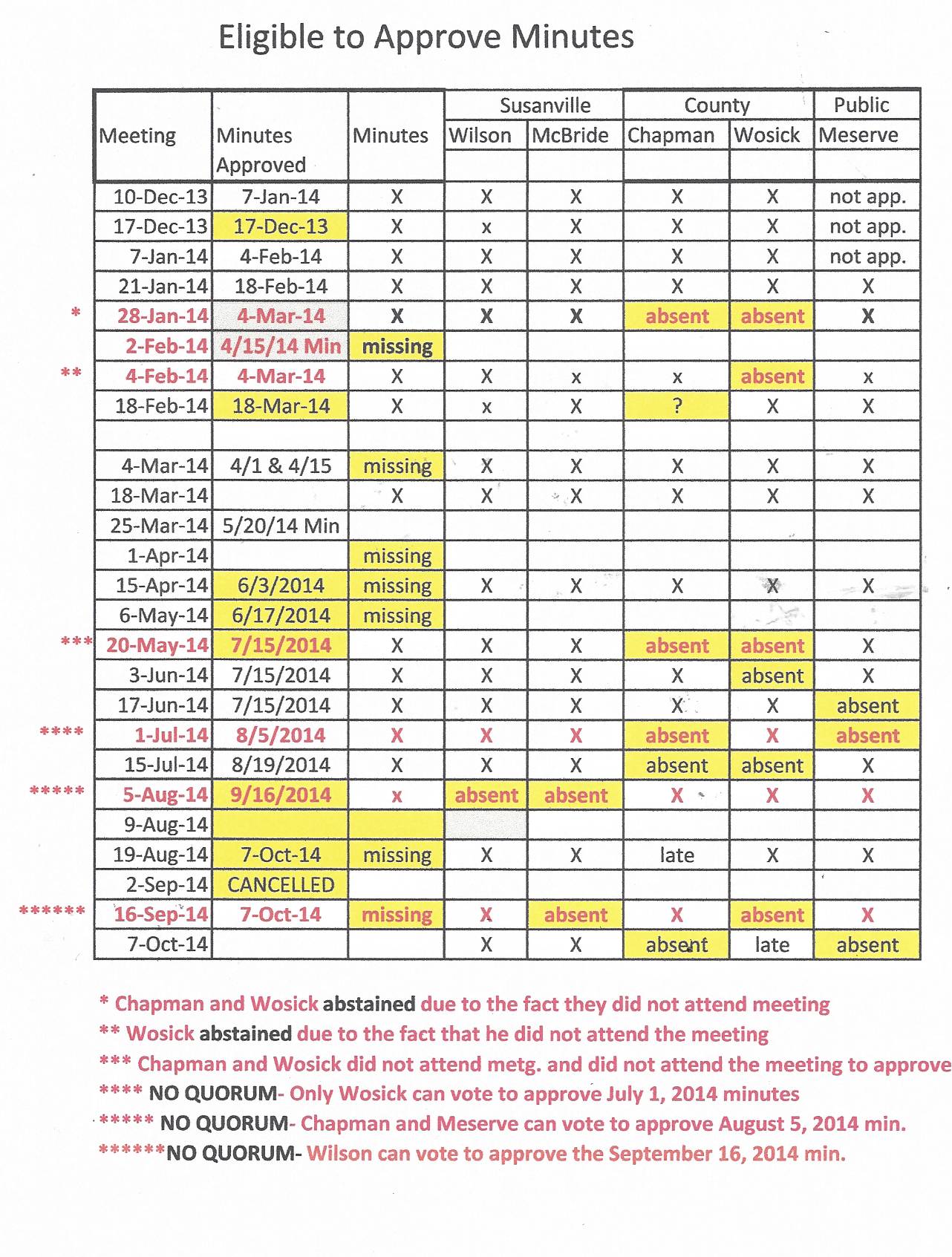 After a year, the Authority has not secured funds for the proposed $2.5 million project
NO POOL (HLVRA)
MEETING TODAY
The Lassen County Times erroneously reported that there was a pool meeting today. No Agenda has been posted for an October 14, 2014 meeting.
The next pool meeting will be on October 21, 2014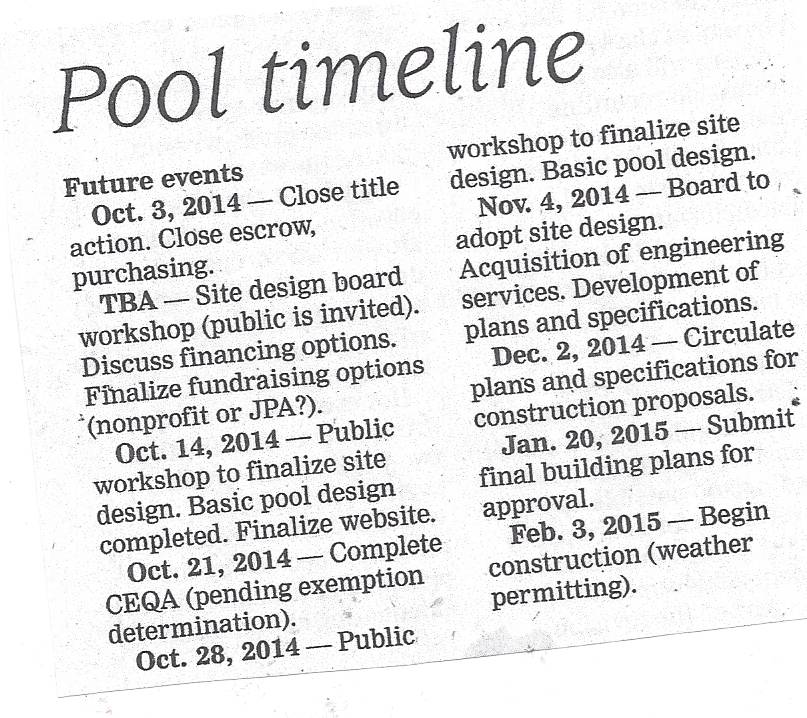 LASSEN COUNTY
"CULTURE OF CORRUPTION"
The term "Good Ole Boy" system has been used to describe the male dominated government in Lassen County. However, a more appropriate term would be Lassen County's CULTURE OF CORRUPTION.
Old family names are predominant on ballots in Lassen County. Why not, they have lived in this county for years and have invested heavily in the political make up of Lassen County. Should they dictate the culture of corruption, absolutely. Are they responsible then for the level of corruption in Lassen County, absolutely
Abuse of the Opening Meeting laws and the fact that these violations are tolerated by local law enforcement is not all of the problem

. Local newspapers that suppress wrong doing are equally at fault. People that look the other way and ignore the greed that runs this County are to blame the most.
Democracy is not a spectator sport
On October 2, 2014, California lost a Champion for Honest and Open Government.
......a concept that never reached Lassen County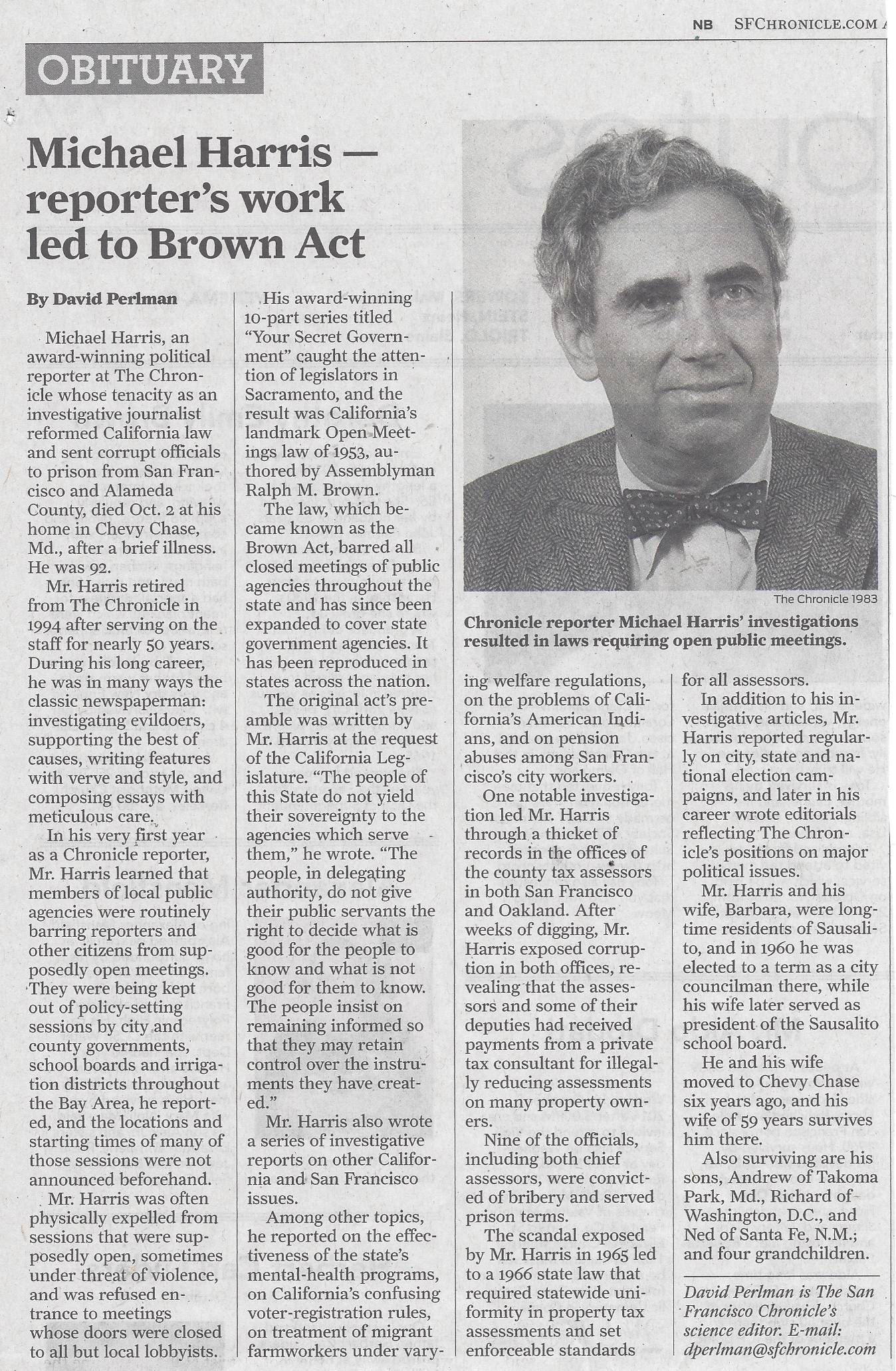 LMUD
LAMBERT LANE SUBSTATION
NOT ON LINE

....a little history
*LMUD Purchases $354,000 Transformers in 2009 for Lambert Lane that doesn't exist
These transformers disappeared
* Lambert Lane did not exist in 2009
LMUD purchases another $96,000 transformer, in 2013, for Lambert Lane Substation and hopes no one will notice
LMUD reported, on August 27, 2013, that the foundation work had begun.
On July 9, 2013 the foundation, fencing and underground work was complete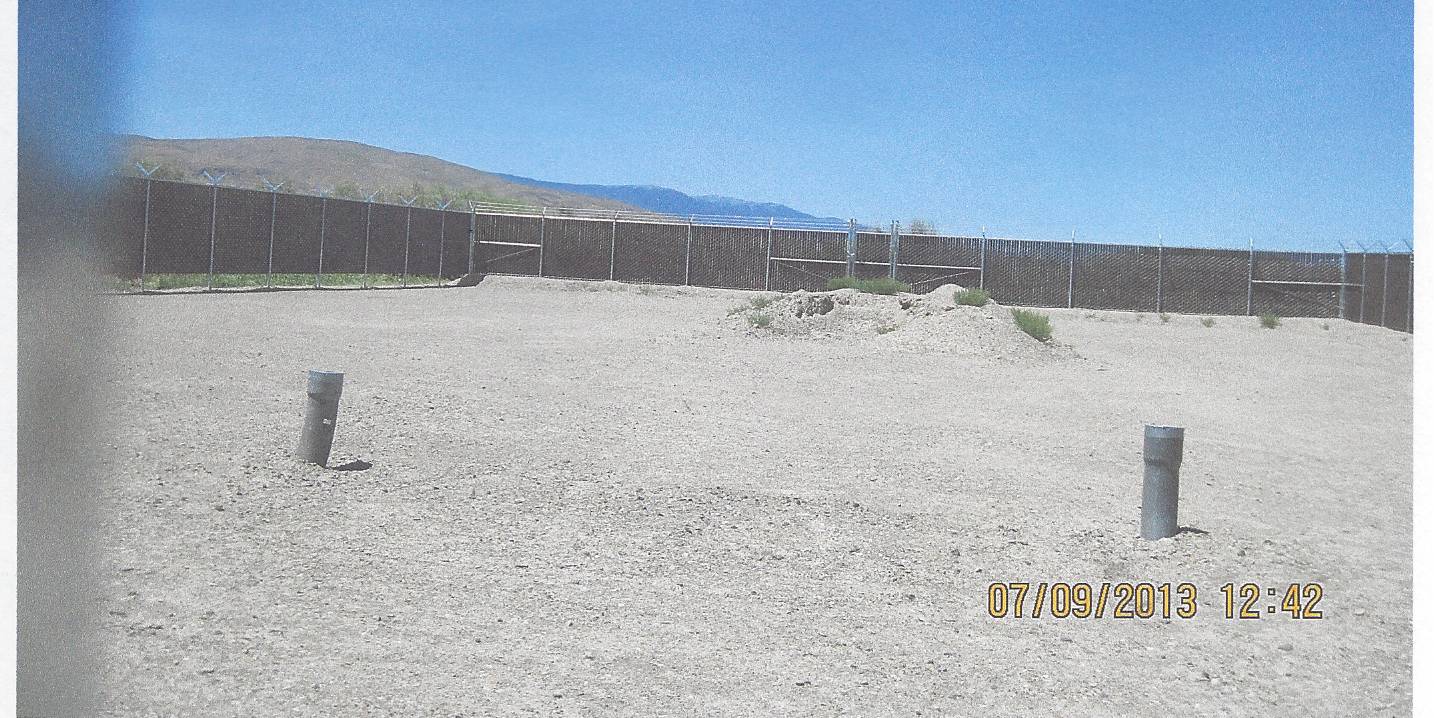 On July 9, 2013, LMUD calls for a planned outage at the Standish Substation and then the General Manager/Bookkeeper wants a "spare" transformer for the Standish substation
Spare part for Standish, no .......transformer for Lambert Lane
LMUD reported on August 27, 2013 that the foundation work had begun but the photo taken on August 23, 2013 shows that the foundation was complete, the "New" (spare) transformer had been delivered to Lambert Lane Substation, fencing complete
So why lie ?
October 7, 2014: Lambert Lane Substation
......with the Standish "spare" transformer
The Lambert Lane Substation is not online
LASSEN COUNTY HAS
HALF
THE REPRESENTATION
AT POOL JPA

Supervisor Wosick goes to one meeting and
Supervisor Chapman goes to the next.
The HLVRA ran into a problem at their October 7, 2014 meeting today. They had two meeting minutes to approve but NO CHAPMAN AND NO WOSICK. This meeting had only two regular members present that had attended these two meetings.
Wosick showed up at 3:15 but could not vote to approve the Meeting Minutes for the September 16, 2014 because he attend only half of that meeting. That left only two members that attended the 9/16/14 to vote, three members were needed to take action to approve the 9/16/14 meeting minutes These minutes were tabled.
Wosick, Wilson and McBride attended the 9/19/14 meeting and could vote to approve the accuracy and correctness of the minutes. The alternate abstained from voting because he had not attended the 9/16/14 or the 9/19/14 meeting.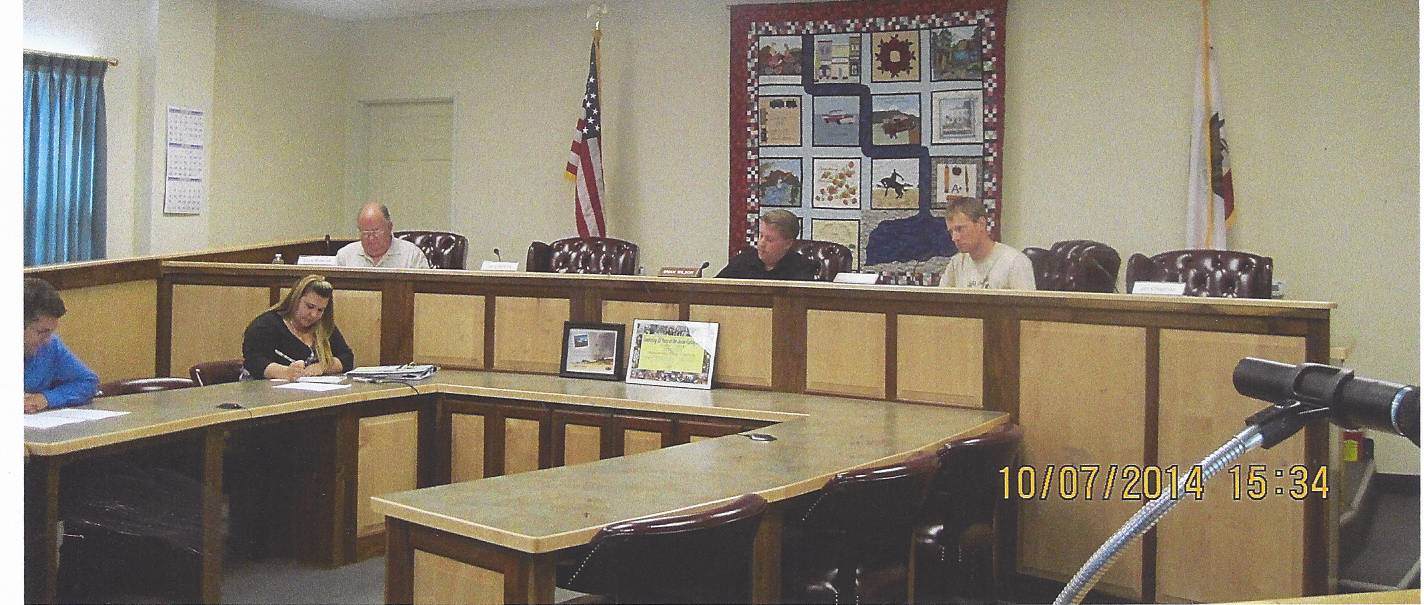 10/7/14 Meeting: The alternate to the JPA sits on the far left, Brian Wilson, Nick McBride, absent were Supervisor Chapman and Supervisor Wosick.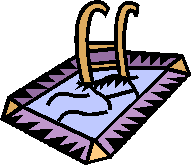 The design company has been asked to design a pool for $2.5 million.
The JPA does not have $2.5 million.
No decision was made on financing the new community pool. Both Susanville members and County members will take the financing options back to their respective Boards to agendize the options to finance the pool. The JPA leaned toward asking each public entity (City of Susanville and Lassen County) to pre fund the money needed to build the pool.
They anticipate, weather permitting, to start the 6-7 months construction, in February 2015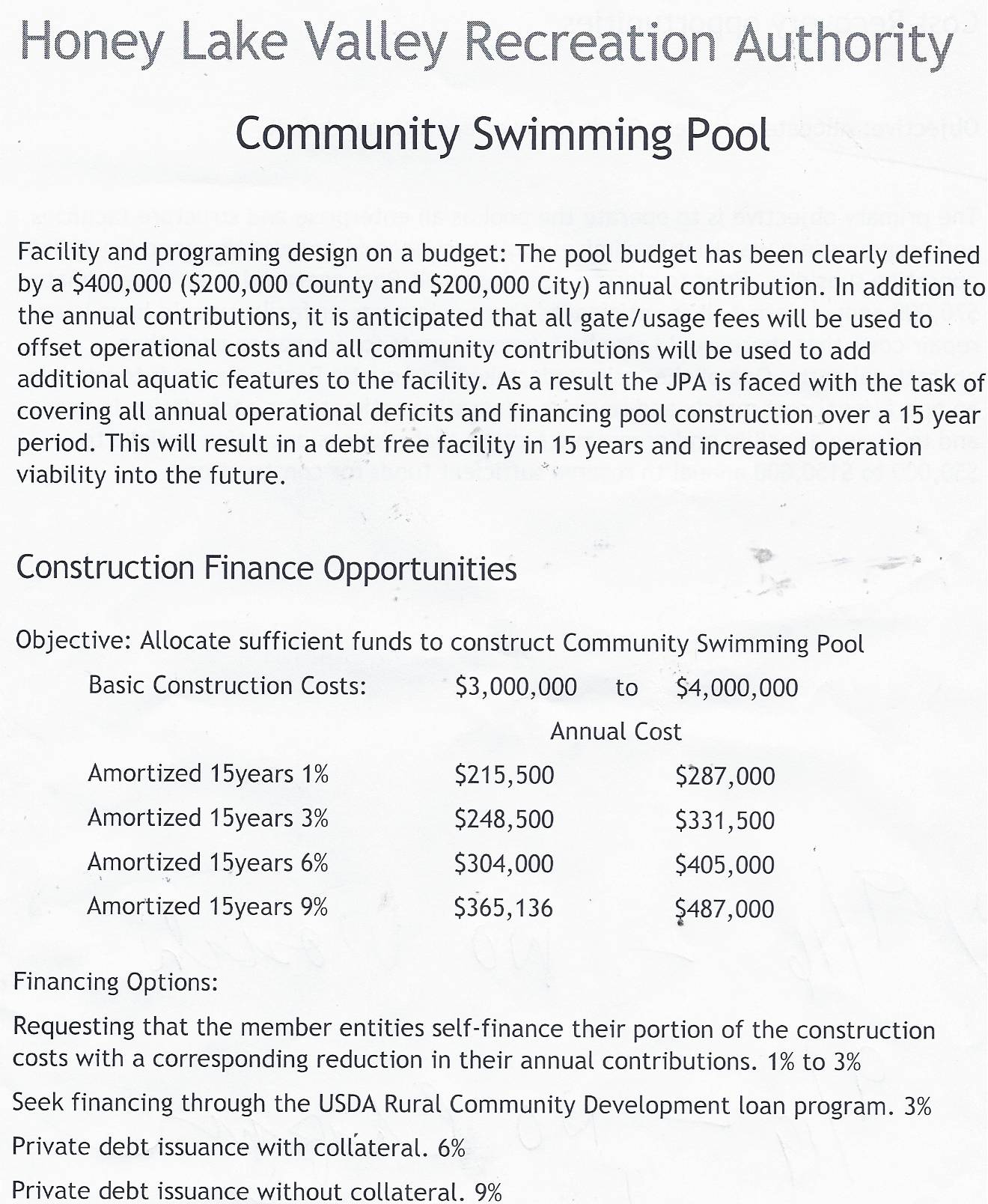 UNEXPECTED AGENDA ITEM
The JPA's Agenda included a Closed Session item"
"Significant Exposure to Litigation"
Kan We Help Secretary Eileen Spencer asked Executive Officer Jared Hancock who their "legal counsel" was. He replied they did not have one. Mr. Hancock stated that Mr. Burns will sit in on the Closed session. The JPA has no agreement with Mr. Burns or any other attorney, other than a land acquisition attorney handling the property transfers.
Mr. Burns was allowed to sit in the Closed Session. Mr. Burns was a civilian and does not represent the HLVRA in any way shape or form ?
Kan We Help
files complaint with LMUD :
LMUD FAILS TO COMPLY WITH
THE MANDATORY REQUIREMENT
OF PROPER PUBLIC HEARING
ON JUNE 24, 2014

Lassen County Community
Reminded:
that you will get the pool you can pay for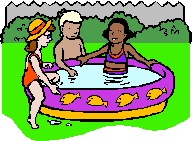 DESIGN MEETING
PUBLIC MEETING:
September 30, 2014 , 6:00 PM , Susanville City Hall

Attorney Chittock ignored LMUD Brown Act Complaints
But when it concerns his daughter, well, it is different
Lassen Union High School Board calls it a
"MIS-STEP........(?).
Lassen County Clerk Bustamante

Lied to the
Lassen County Supervisors and CAO
She spent $40,000 (not $27,800)
and purchased the software
in July of 2014 not July of 2013
County Clerk Julie Bustamante asked the Supervisors, on July 23, 2013, [for a "one-time" cost of $27,000] to purchase a new agenda/minutes software program. Her request was approved.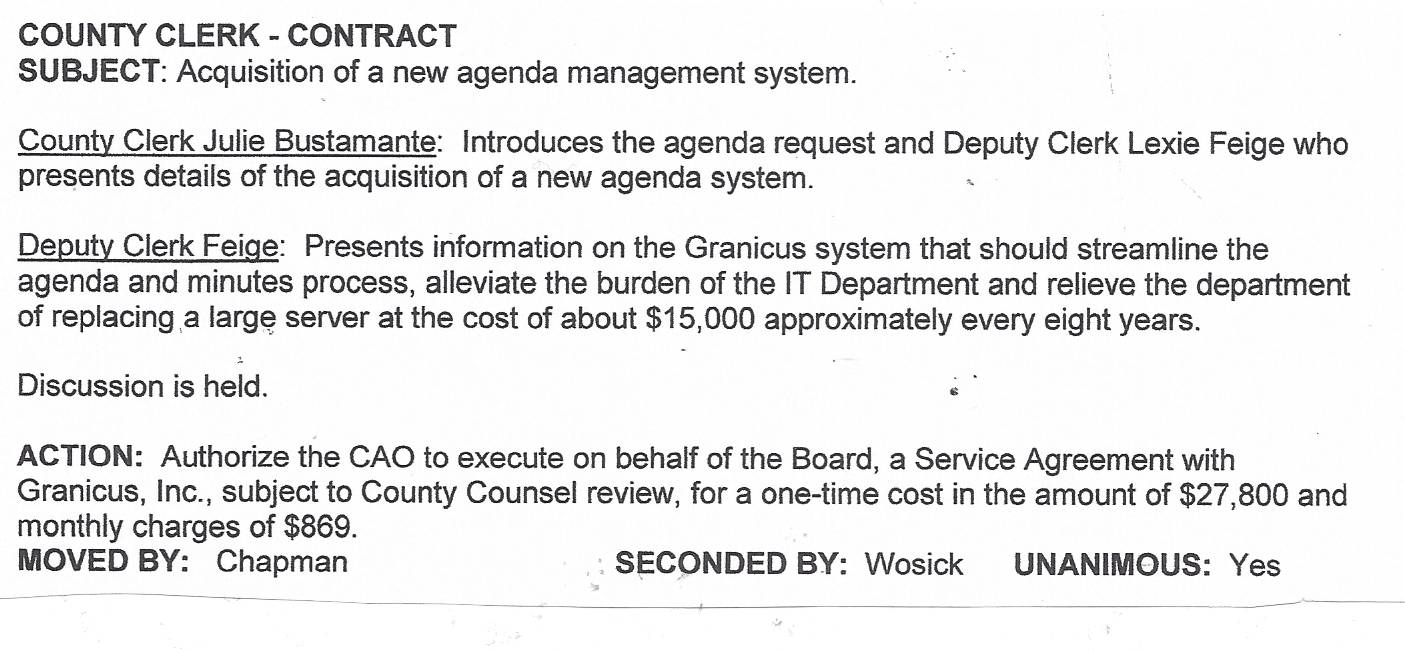 Bustamante had fallen way behind in getting Minutes to the Supervisors to approve.
In 2013, Kan We Help gave the Supervisors a list of 14 Minutes that had not been approved over the last year and a half. The Supervisors eventually placed these on the Agenda, one at a time, to be approved but did not have a quorum to approve two due to changes on the Board.
DID BUSTAMANTE LIE TO THE CAO ?
Kan We Help has been inquiring about this software for over a year and most recently at the Supervisors meetings. The CAO stated publicly (early in 2014) that the IT people were training the County Clerks staff on this new software.
THIS WAS A LIE
Kan We Help requested a copy of the Purchase Order from the CAO
Kan We Help requested a copy of the payment to Granicus from the Audior
"No records existed"
Both offices said to ask the County Clerk

So......Kan We Help requested a copy of the purchase of the Granicus software from the County Clerk
Bustamante ordered the $40,000 Granicus software on
July 9, 2014
What makes it even worse is that Bustamante has again fallen behind in taking care of the Board of Supervisors Minutes.
She has not posted:
4/22/14 Minutes
4/29/14
7/22/14
8/4/14
8/12/14
She has not presented Minutes to be approved:
8/19/14
9/9/14
9/16/14
9/23/14
Who is managing the County?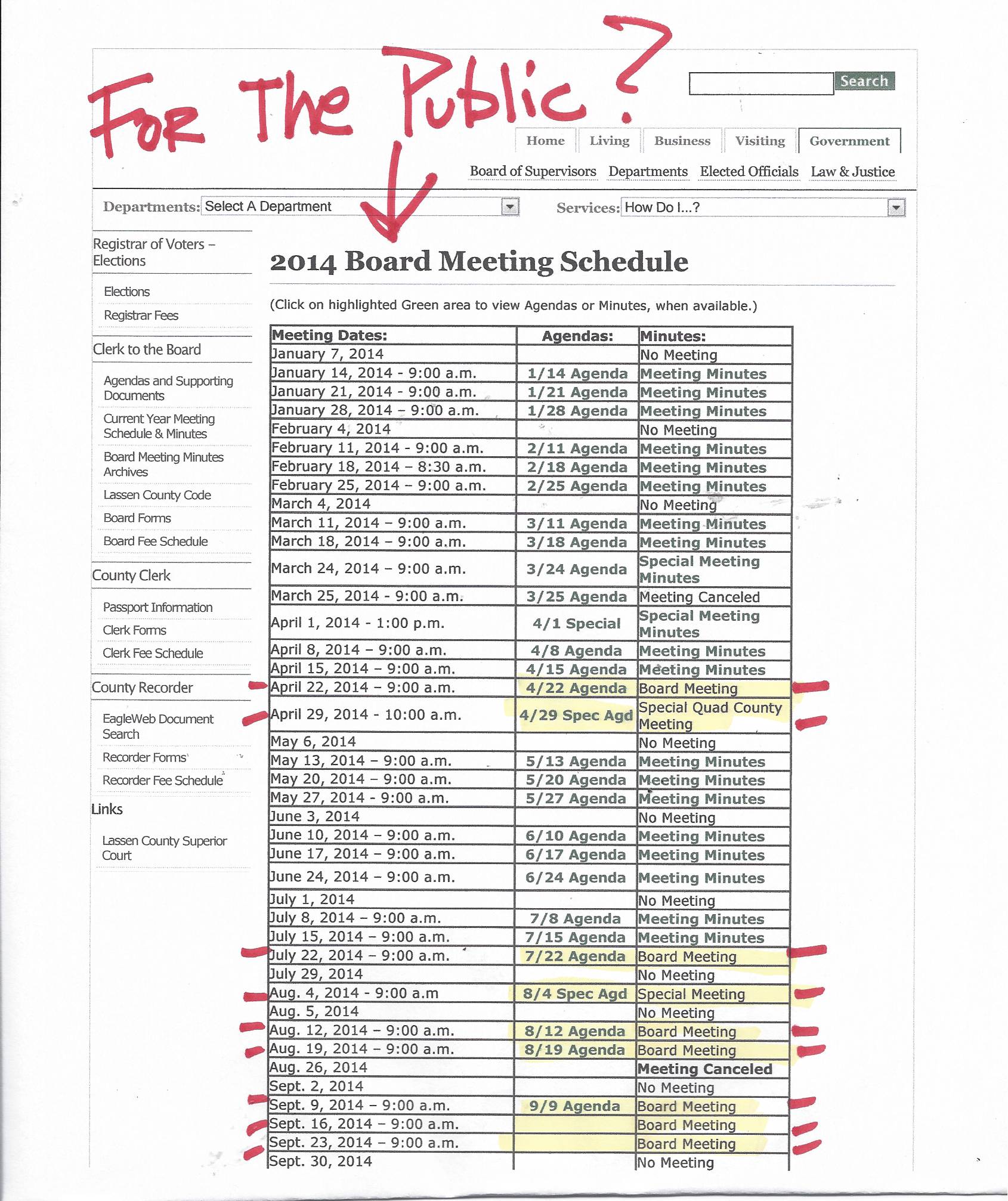 OUR VETERANS
A precious resource
Melody Brawley, Lassen County Director of Health and Social Services, agendized a report on Veterans affairs in Lassen County for the Board of Supervisors September 23, 2014 meeting. The Veterans Service Office is under Health and Social Services.
Click on photo below to see and hear the presentation
Above, L: Melody Brawley. At podium: VA Director Todd Conner
The presentation was made by Veteran Services Officer Todd Conner. Mr. Conner operates the Veterans Service Office at 1205 Main Street, Susanville, Ca 96130. The office telephone number is 530-251-8192. This office serves over 3500 Veterans living in Lassen County and is open Monday through Friday.
The Lassen County Supervisors pay Veteran Todd Conner approximately $35,000 a year
The Supervisors were asked to "DO BETTER"
This issue is supposed to be on the next BOS agenda
A little history on the Susanville, Veterans Affair Medical Clinic
Lassen County
May Actually Get A Community Pool
The City of Susanville, under the great leadership of Jared Hancock, could keep this project afloat. County Supervisors, however, could easily upset the progress by their incessant bloviating. The Supervisors do not take notes during their meetings and literally start from square one when the pool issue, or any ongoing issue, comes up. The only Supervisor that retains "any" information is Supervisor Chapman.
September 23, 2014 BOS meeting: Part 8 @ 19:30
The Supervisors did state that they are considering transferring only 140 ft from the existing property line between the closed Roosevelt Pool and the old Roosevelt School. They are still a couple of months away from the transfer.
Kan We Help will continue to monitor this process.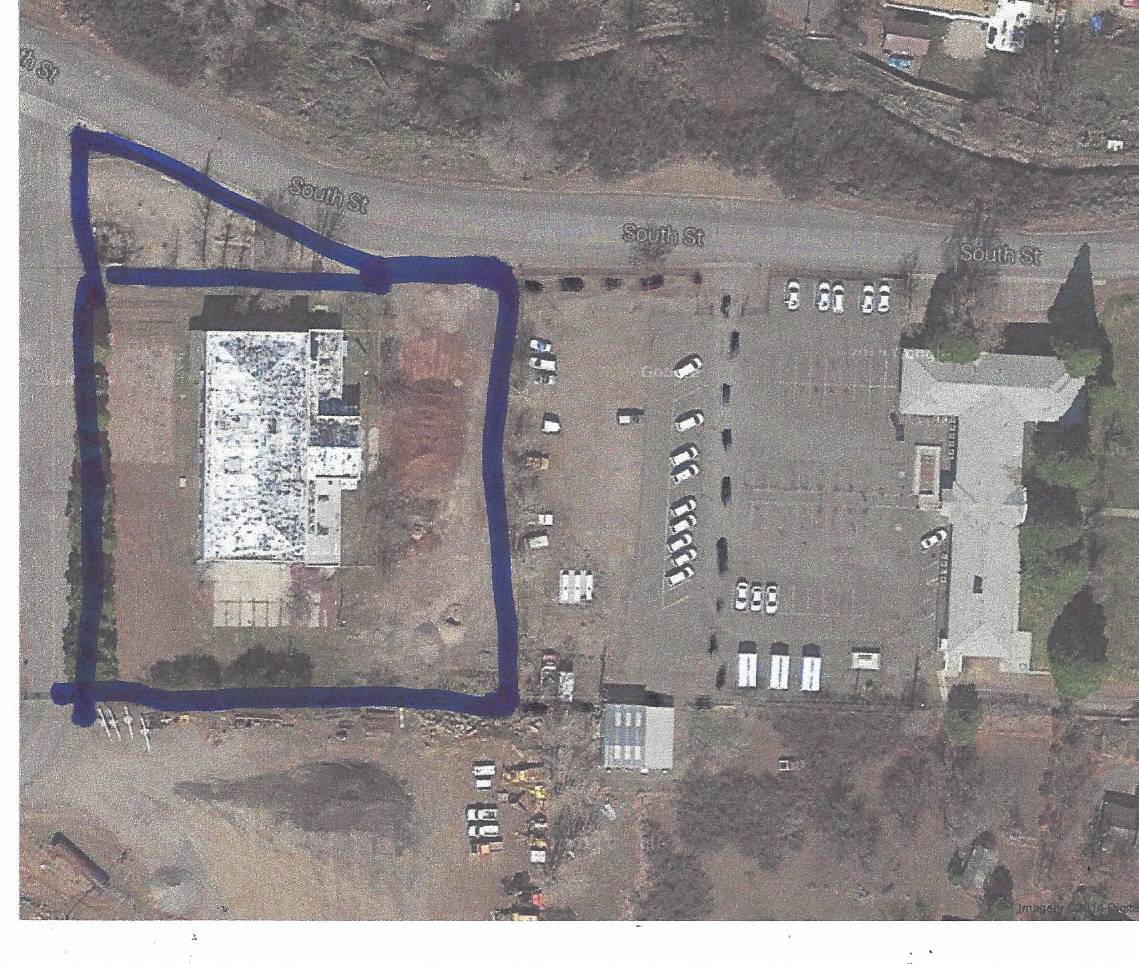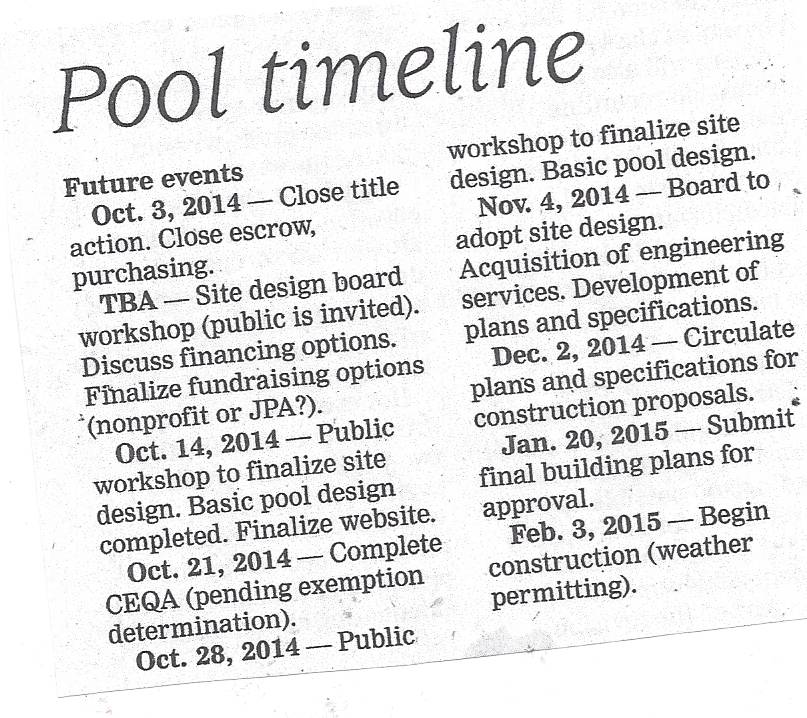 Supervisor Chapman Makes a Motion
to give the HVLRA, a Board that he and Wosick sit on,
a 14,000 square foot building
Pool discussion very misleading
CAO Richard Egan indicates that only a portion of the Roosevelt School property would be given to the Pool JPA. The Susanville school district has leased the pool (Parcel A) to the JPA for $1.
ONE PROJECT.
YOU WOULD THINK
ONE PROJECT COULD BE DONE, IN THIS COUNTY, WITHOUT SOMEONE TRYING TO MAKE A BUCK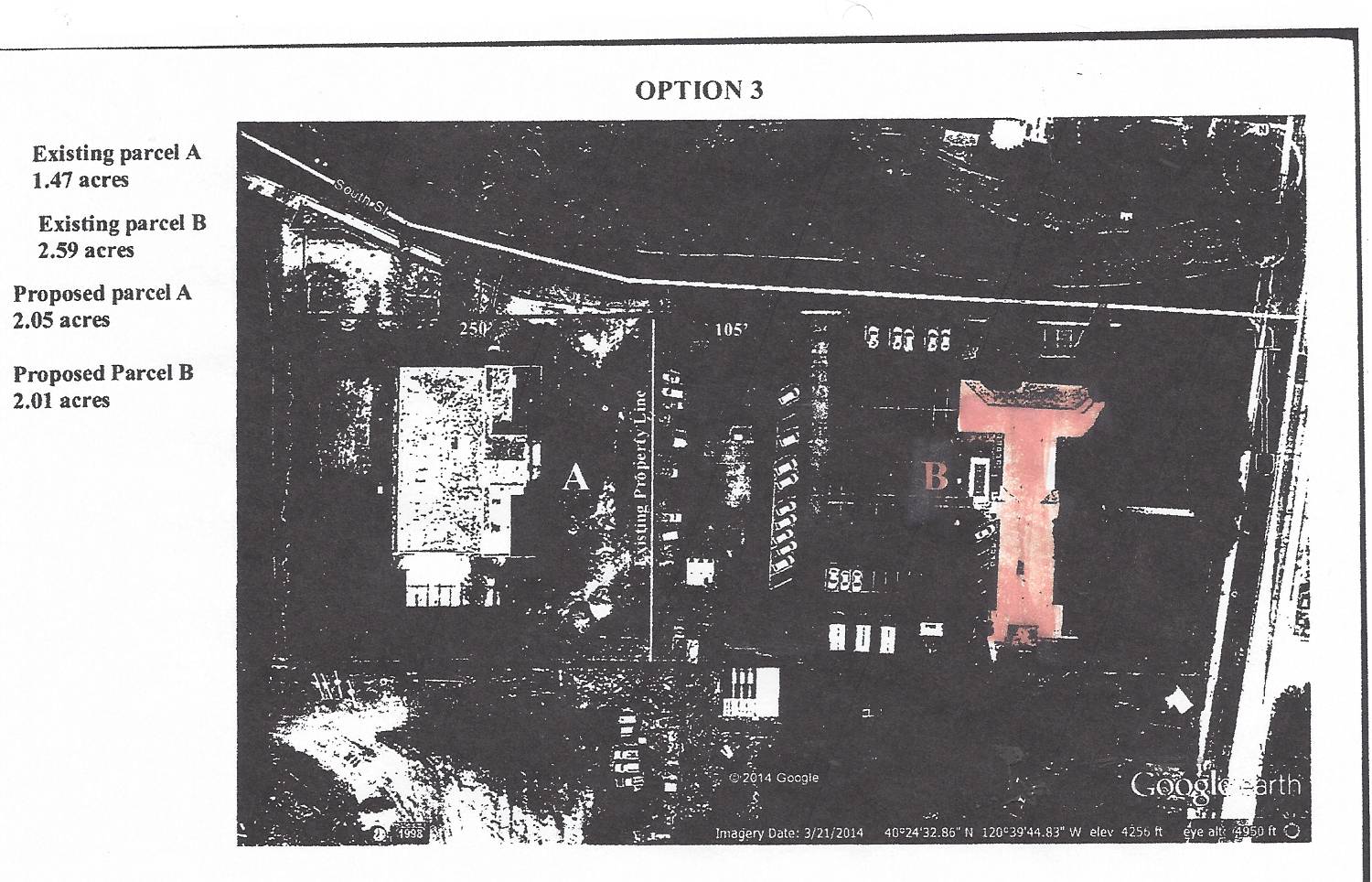 Roosevelt Pool building sits on Parcel A, and is owned by a Susanville School District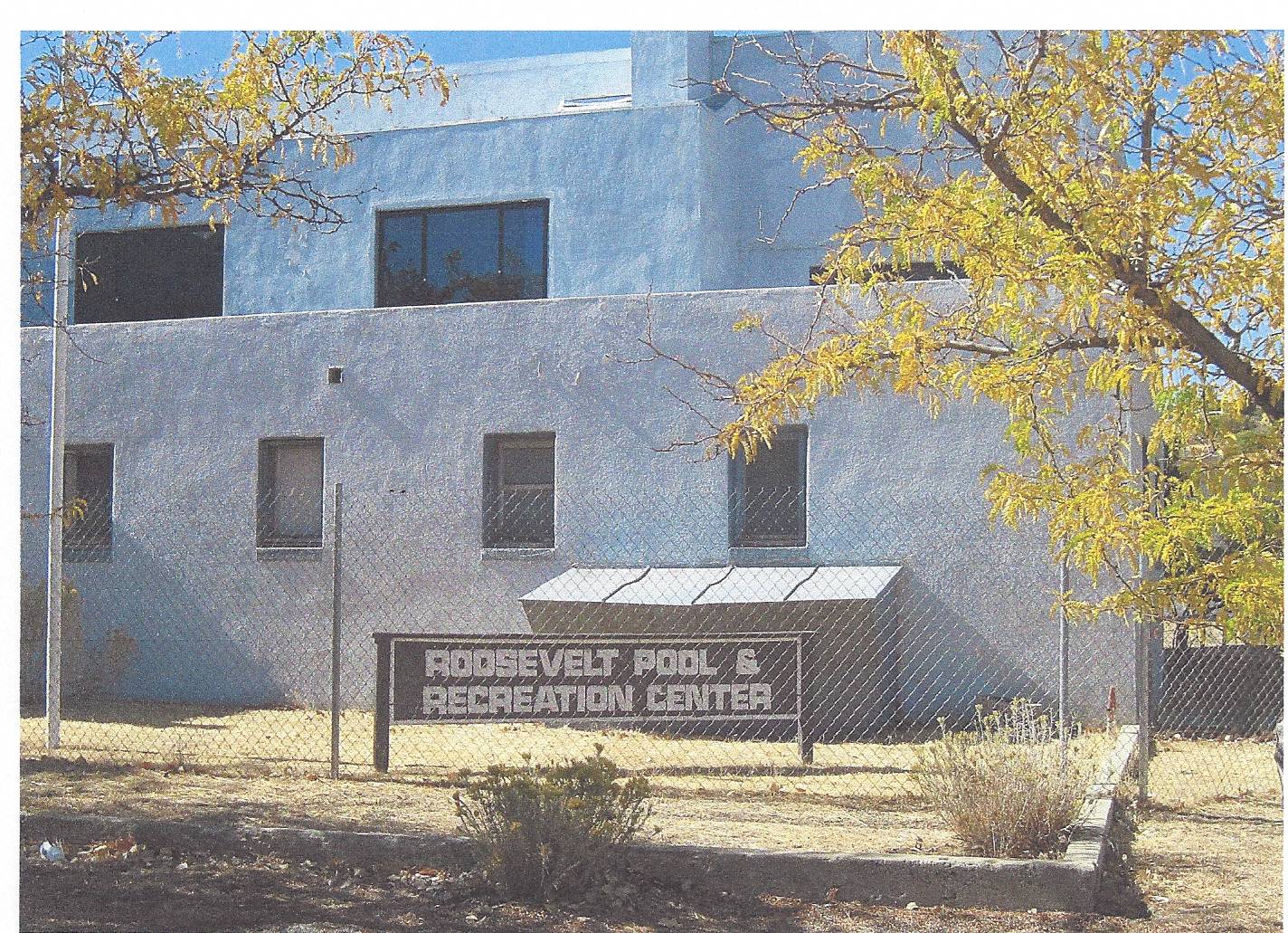 Roosevelt School sits on Parcel B and is being used by Health and Social Services and the Sheriffs Office
WATCH THE CORRUPTION

WATCH THE LASSEN COUNTY
LAND DEALS
Public Officials Schemes are
well planned and well executed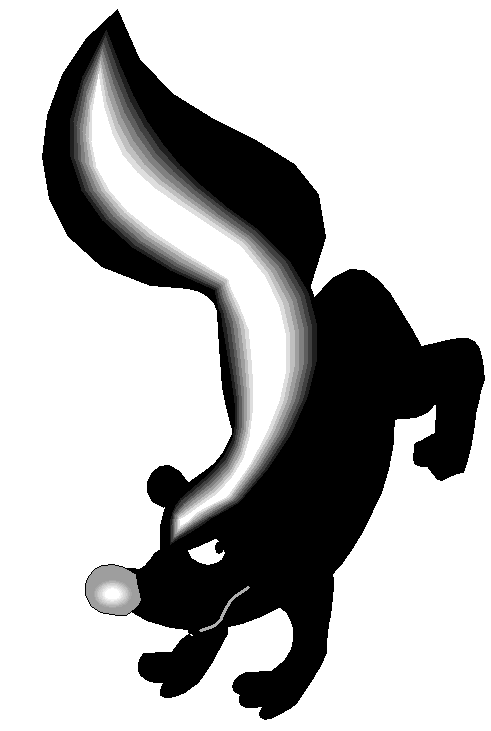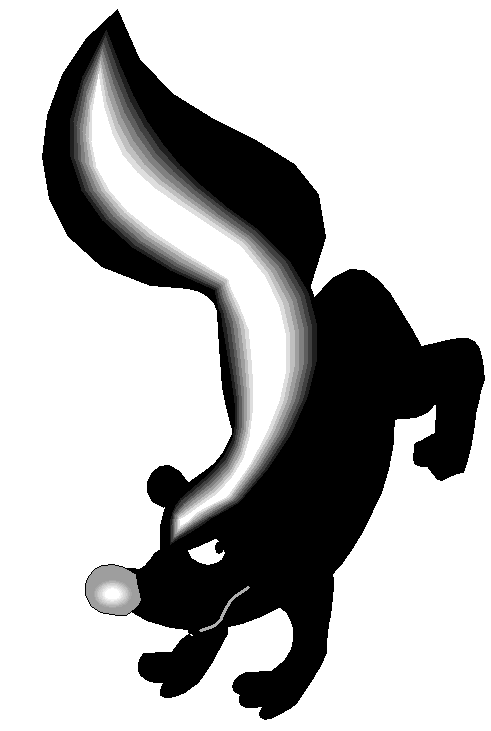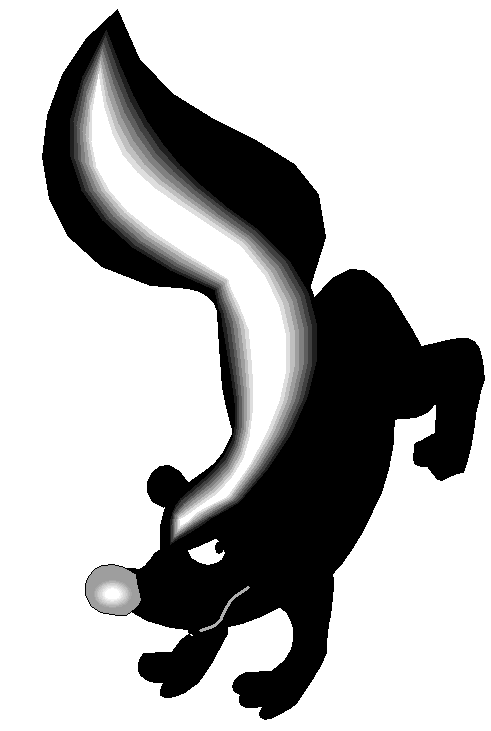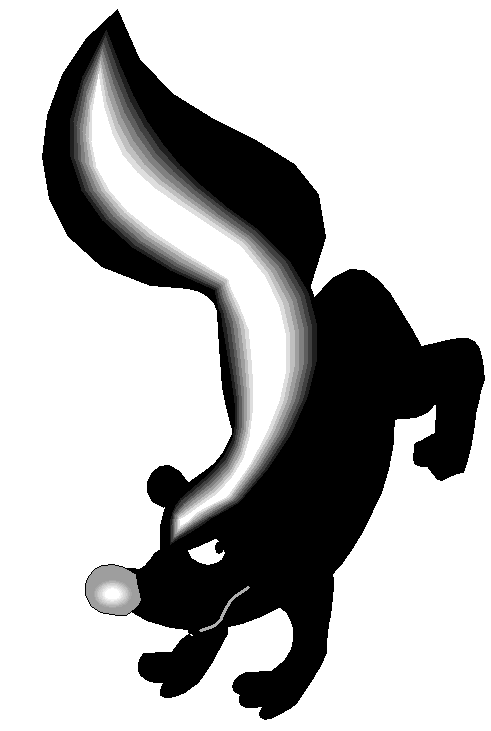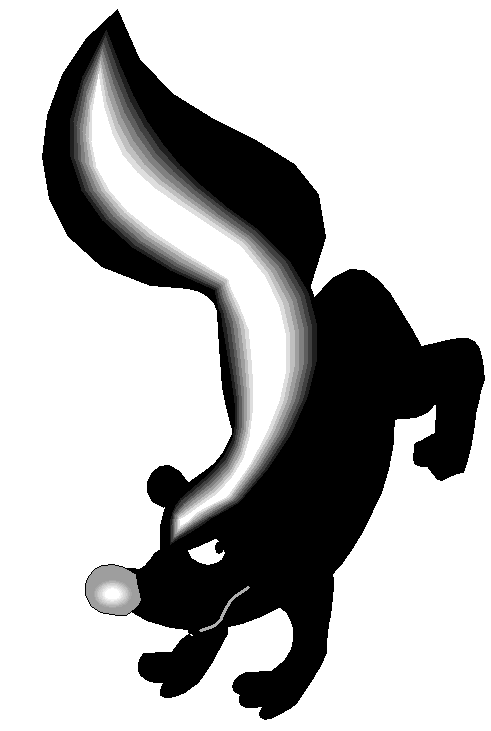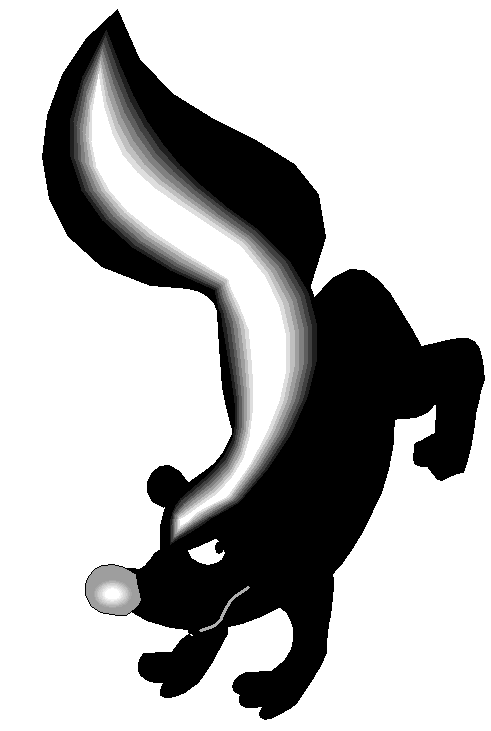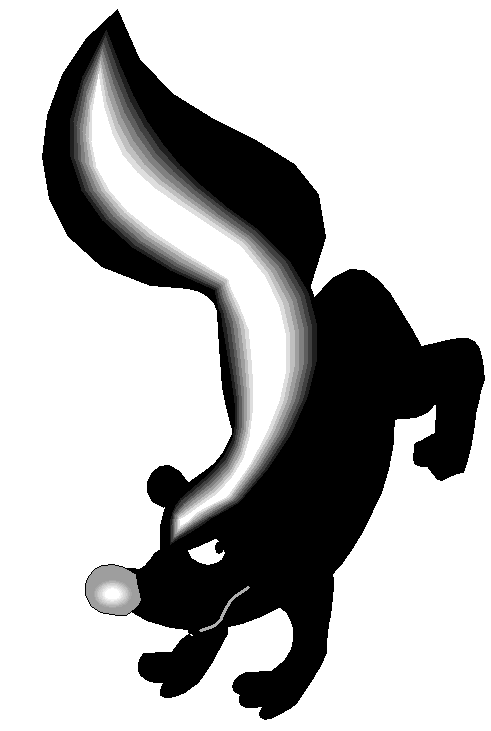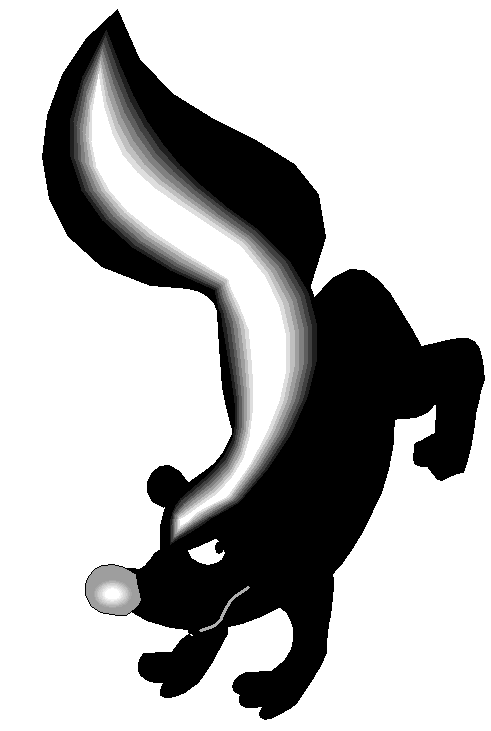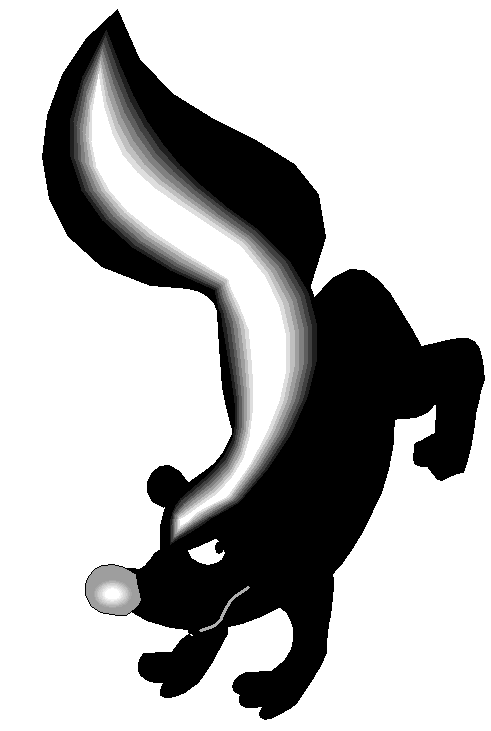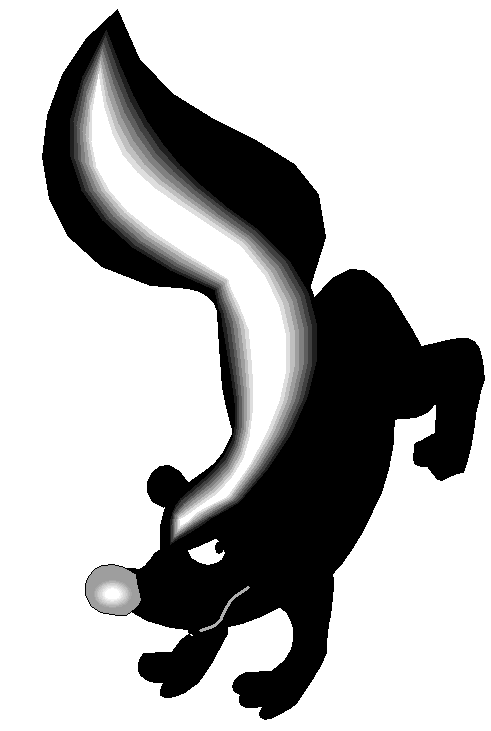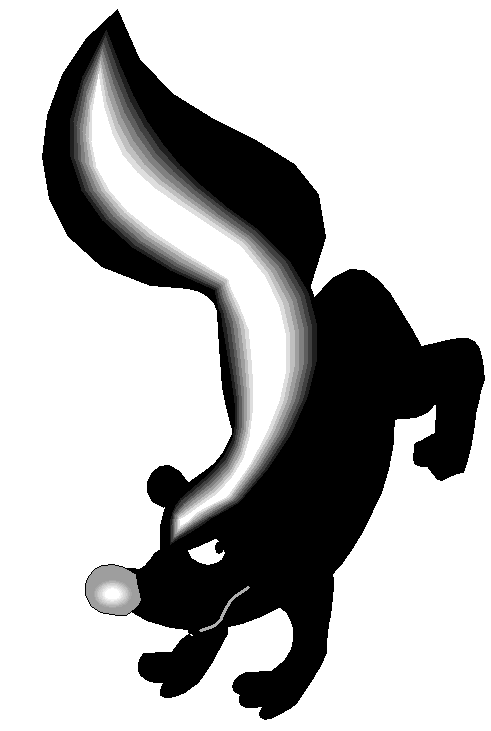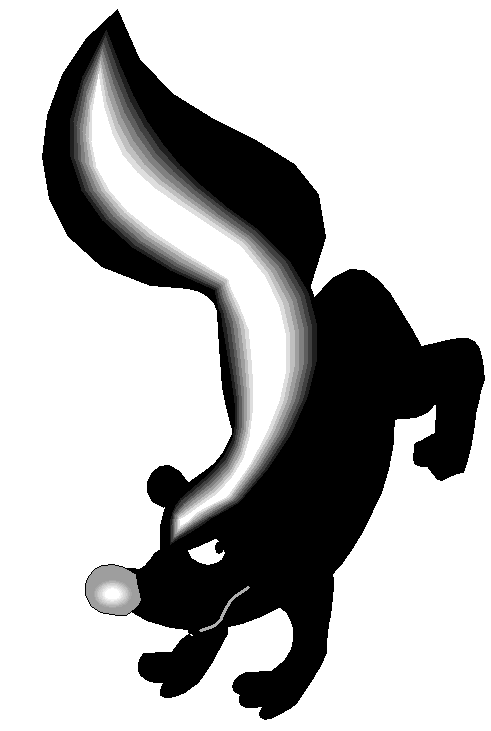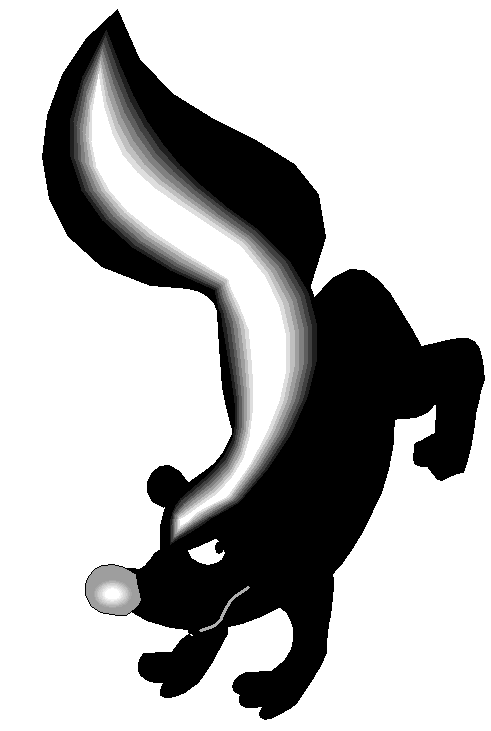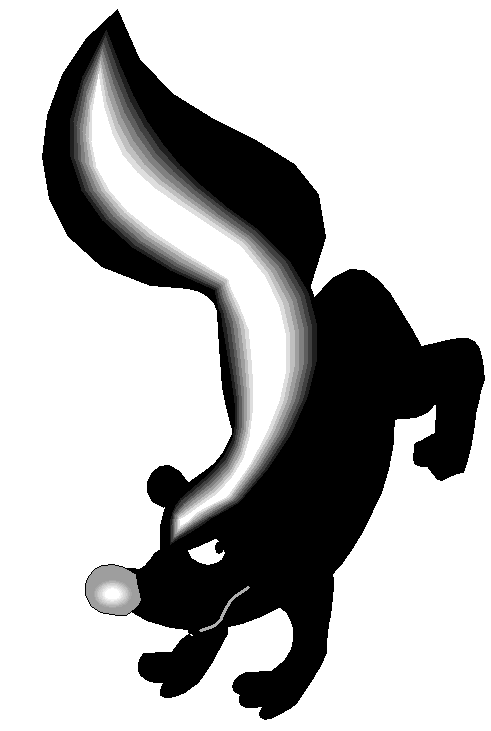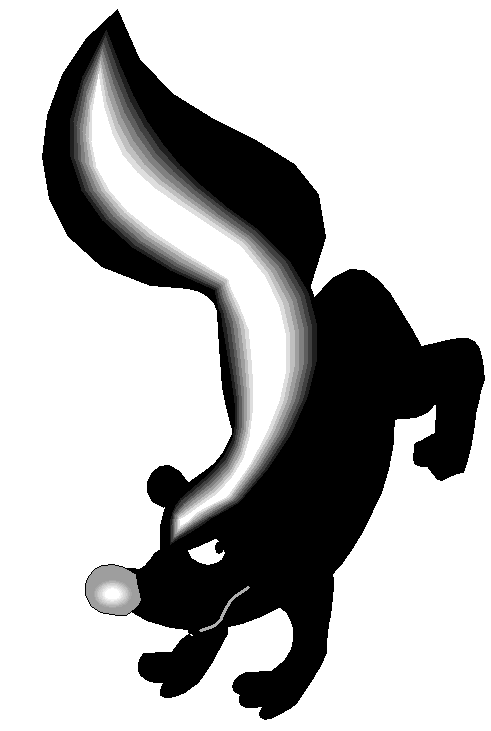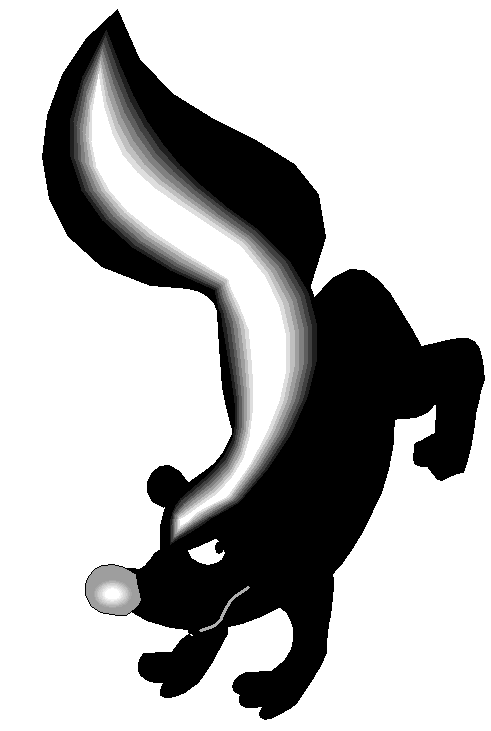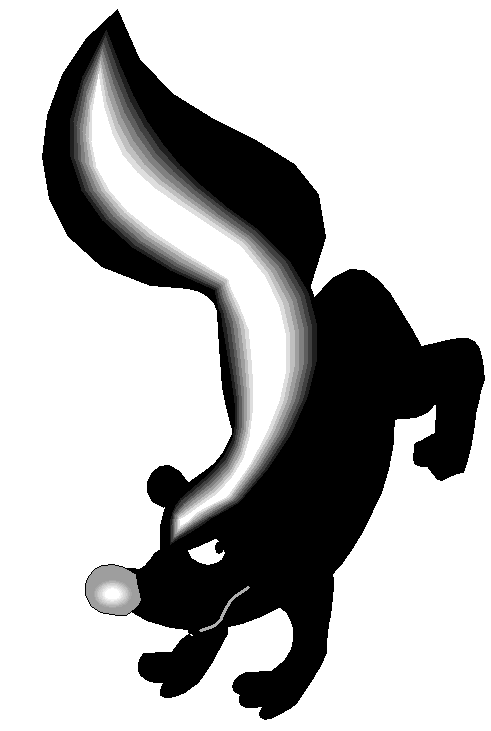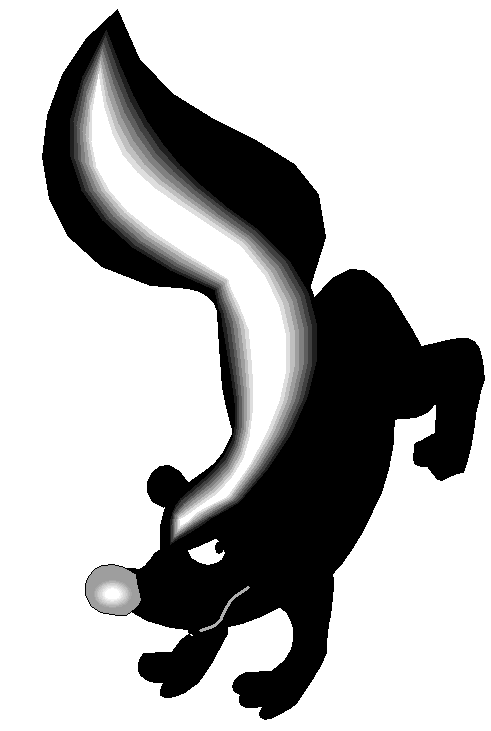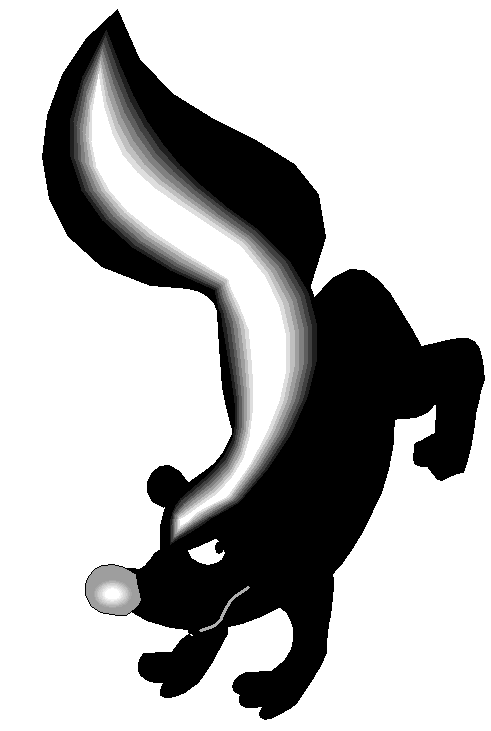 KAN WE HELP REPEATEDLY ASKS
COUNTY SUPERVISORS
FOR FULL DISCLOSURE
ON THE
AMEDEE AIRFIELD PARCELS
Kan We Help has repeatedly asked the Lassen County Board to disclose the fact that the East Shore parcel of the Amedee Airfield parcels are highly contaminated with ordinances, explosives and toxic waste.
Kan We Help informed the Board of Supervisors Kan We Help would file an action with the court to stop the sale unless the condition of the East Shore parcels (2004 CEPA/REMEDIAL ACTION PLAN)is included with any and all RFP's.
Kan We Help was confronted with
strong resistance to full disclosure
Supervisor Wosick told Kan We Help Secretary Eileen Spencer, on September 9, 2014 to stay home on Tuesdays and play bridge
The Supervisors have now agreed to include a full copy of the 2004 CEPA/REMEDIAL ACTION PLAN
Page 59 states the costs to clean up this hazardous area
The clean up will be the responsibility of the Sierra Army Depot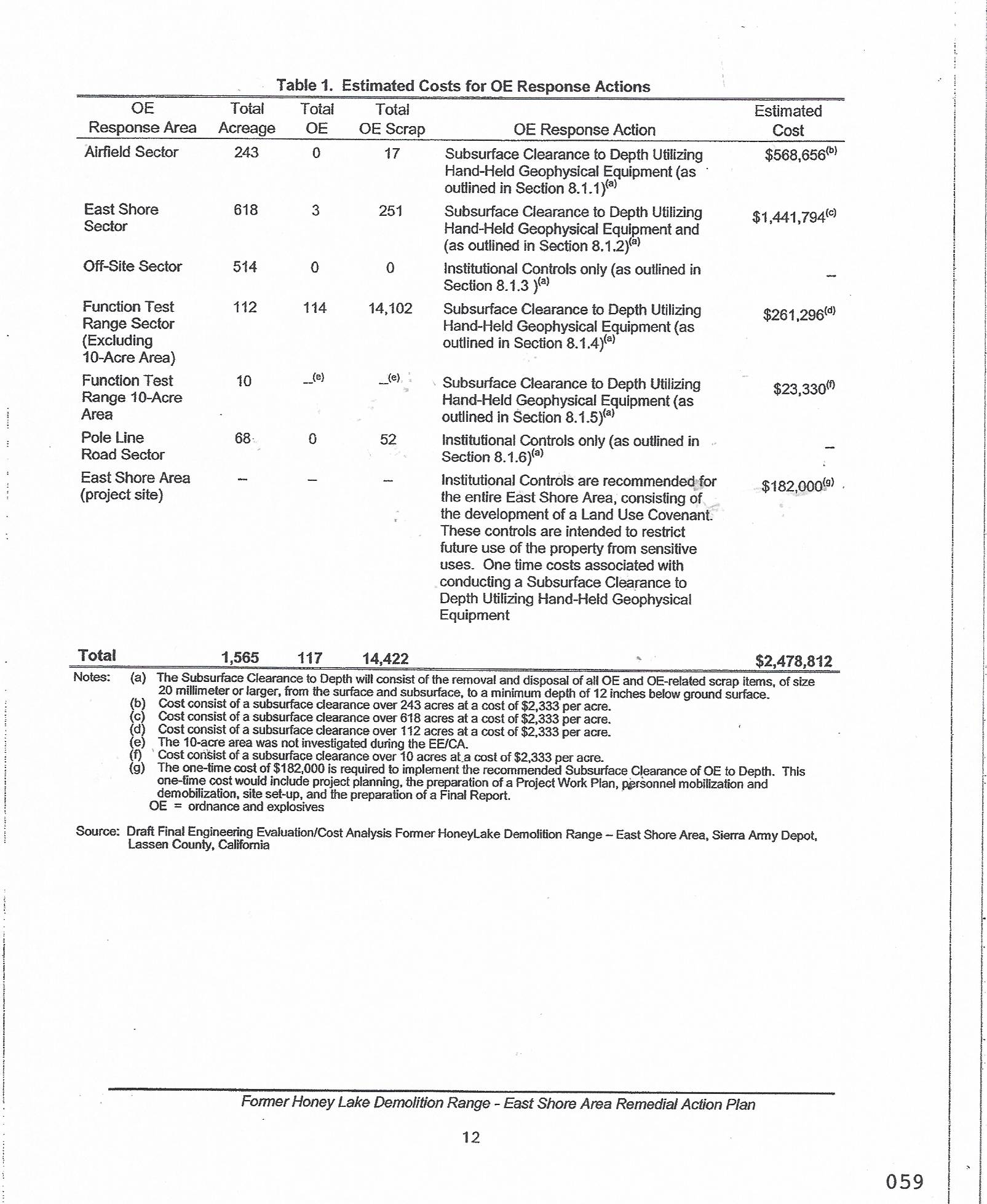 Lassen County Supervisors voted to include all of the Amedee Airfield parcels including the land leased to the Army
Kan We Help Objected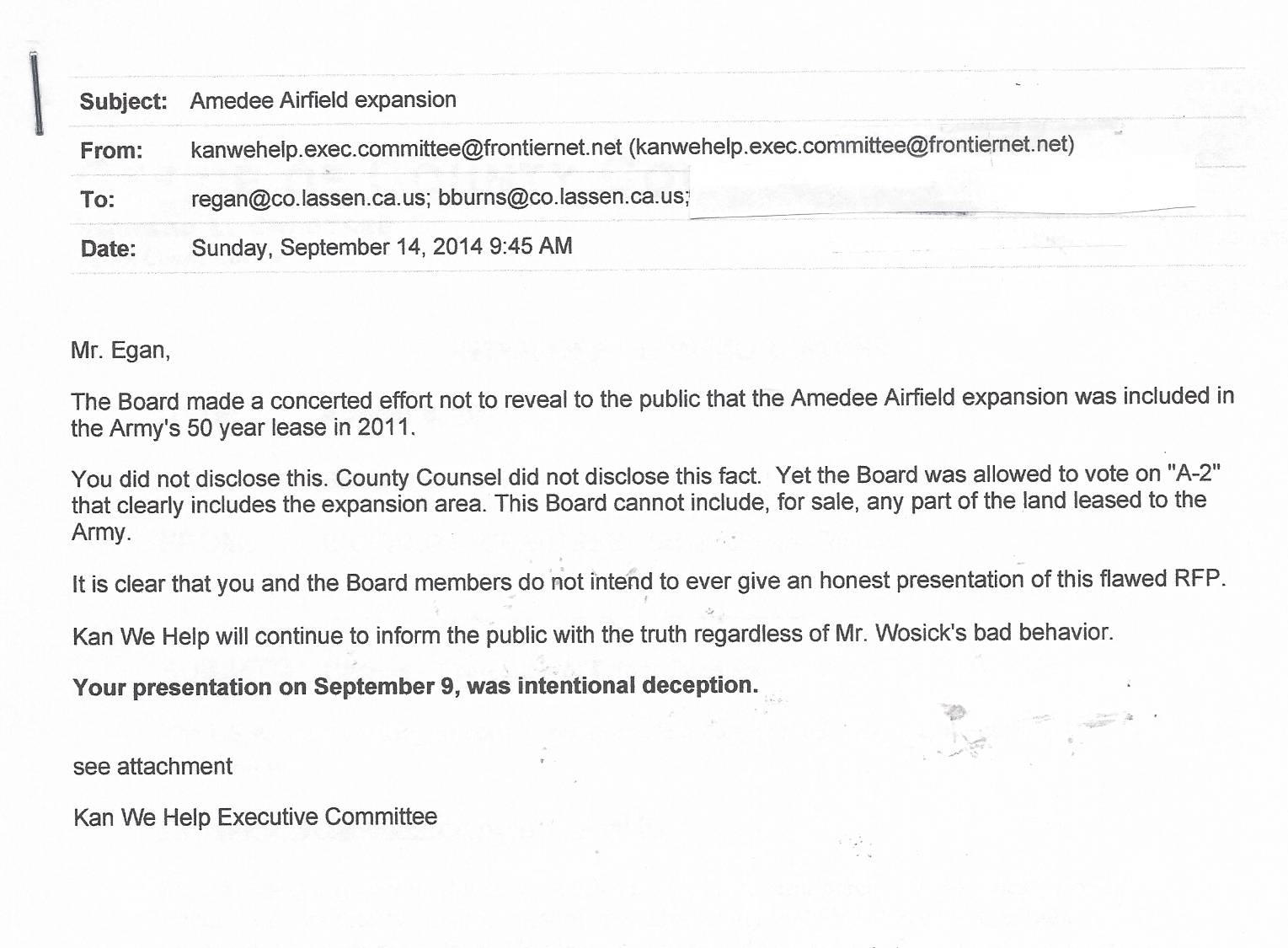 Lassen County Decided to
Exclude
the Leased Property in next Draft
Lassen County Supervisor Chapman tells Dr. James Hodge:
If the public wants to know what capital improvements the County has, they can look in the County budget
[Capital Improvements are spread throughout the budget. good-luck]
September 16, 2014: Rude & Evasive
Another Draft of the Capital Improvement Plan (CIP) was presented at the September 16, 2014 Board of Supervisors meeting. CAO Richard Egan was instructed to eliminate 80% of the actual Capital improvement projects from the spreadsheet. The eight page spreadsheet suddenly became two pages. It wasn't like the need for the improvements disappeared. The Supervisors only wanted the public to see a small amount of work.
WHY THE DECEPTION?
Kan We Help Secretary Eileen Spencer was cut off by Larry Wosick when she asked why the Roosevelt Annex remodel made the cut. This is a building that the Supervisors are planning to give away
The Supervisors plan to dump $675,000 into this old school and then give it to (HLVRA) Wosick and Chapman to sell to a private buyer.
Eight pages presented in 2014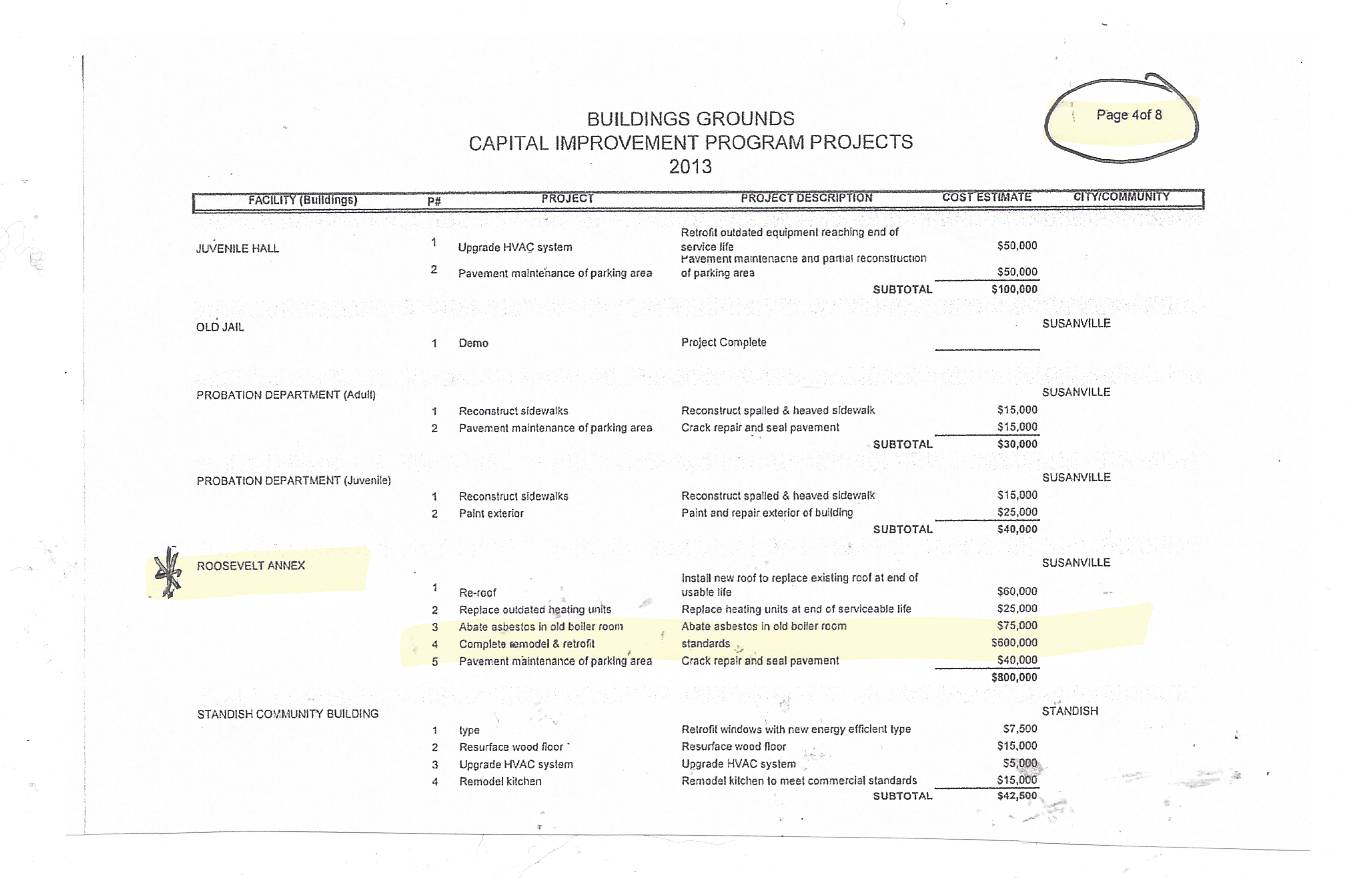 CIP Spreadsheet reduced to two pages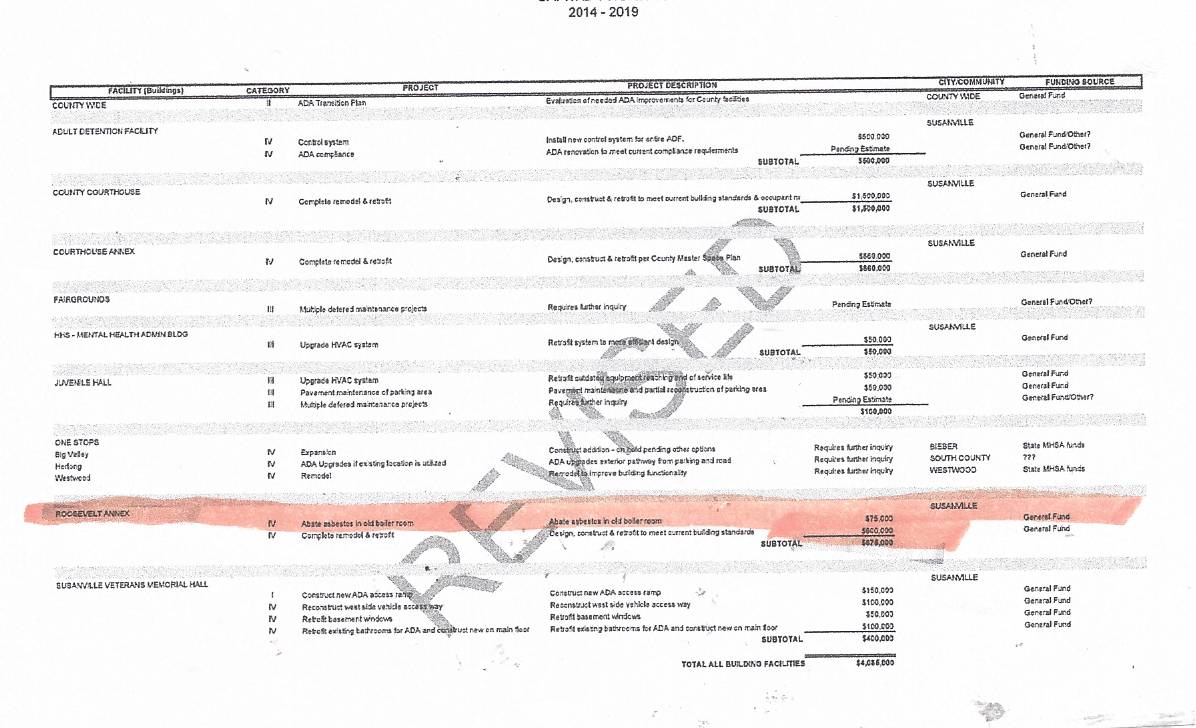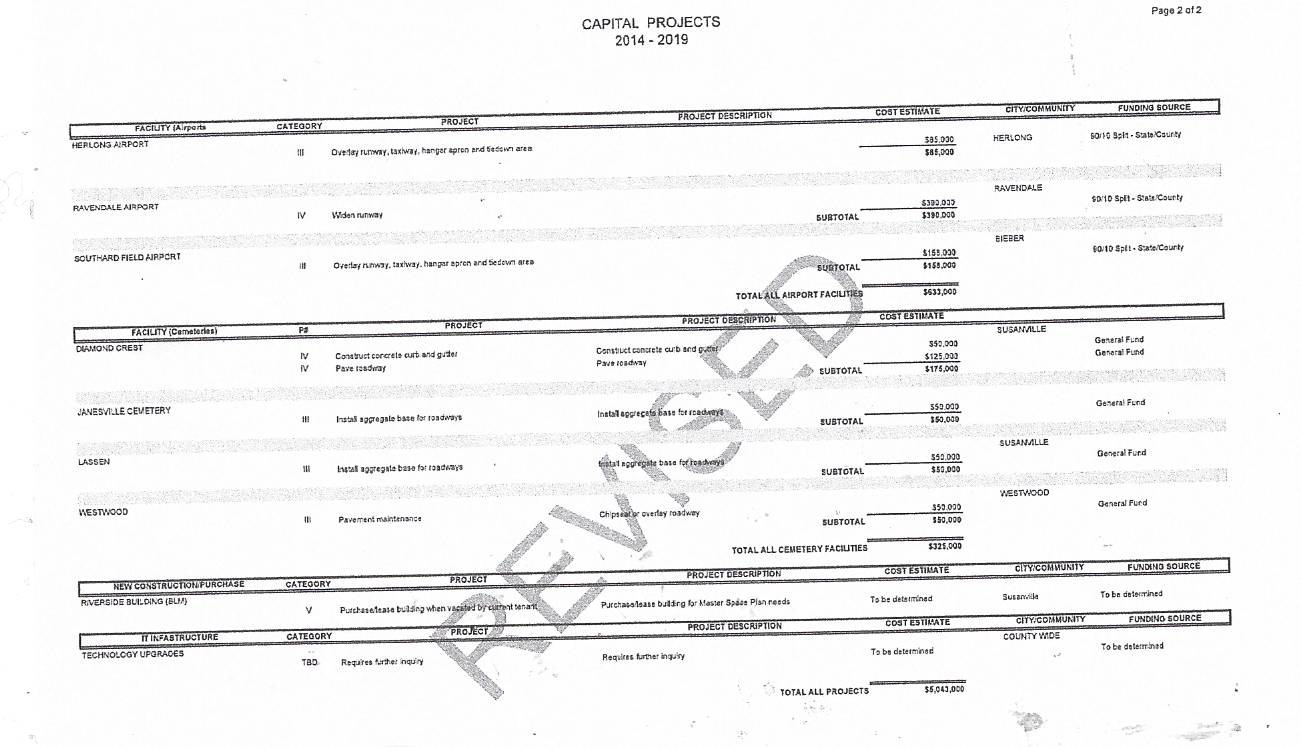 This is going to be another "Herlong One Stop"
Lassen County Supervisors
should not worry about their critics
but
now should fear an
informed public
The arrogance of the Lassen County Supervisors Grand Jury response

clearly indicates there is no higher priority than their own interests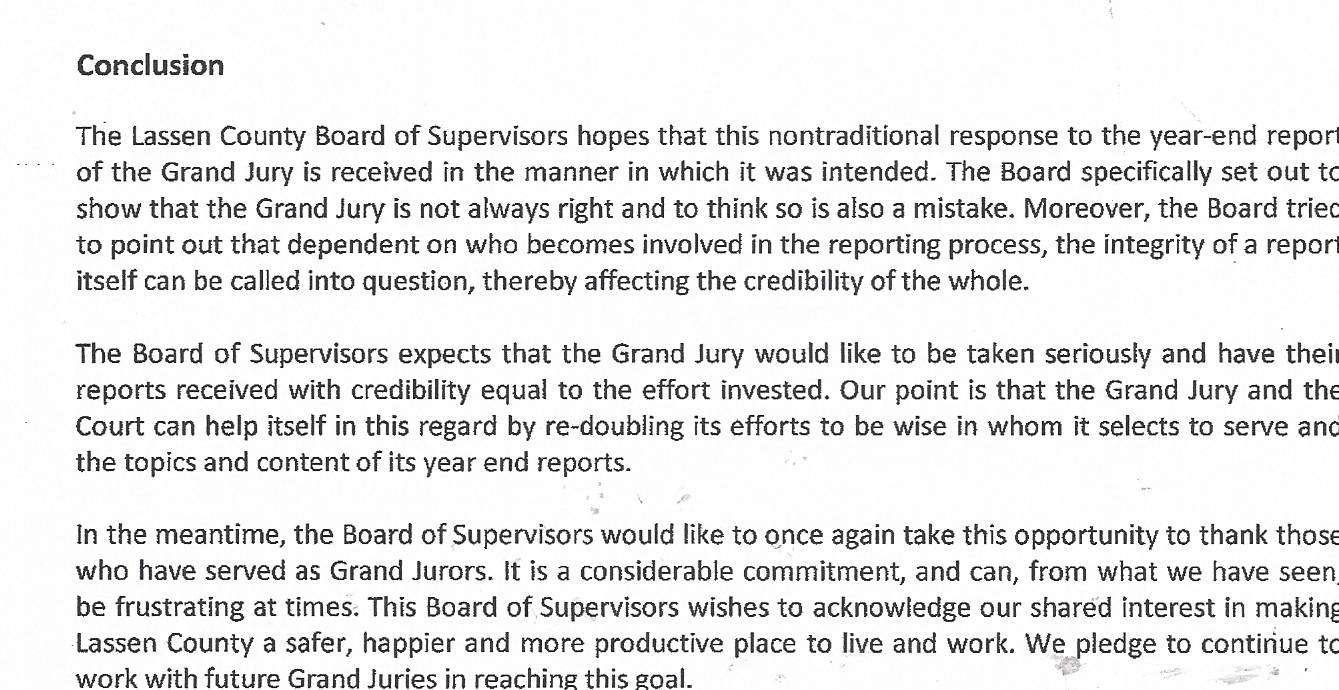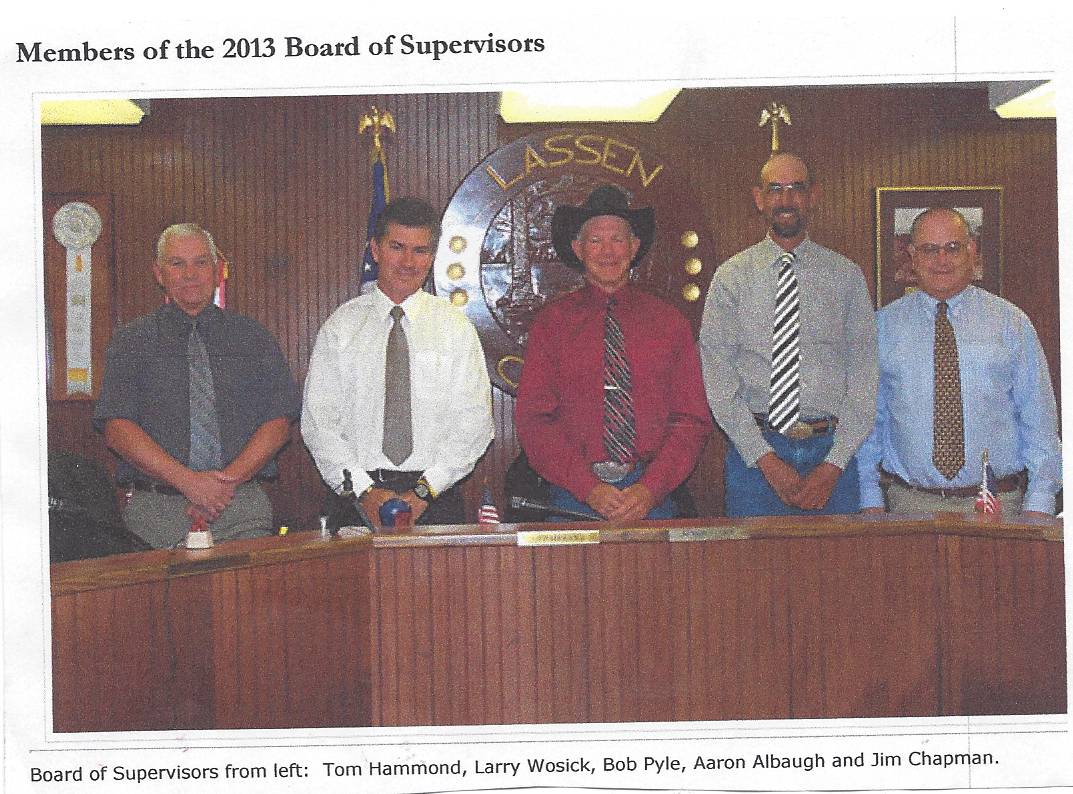 Lassen County Board of Supervisors Deceptions
are more than lies
Kan We Help asks for the truth and nothing but the truth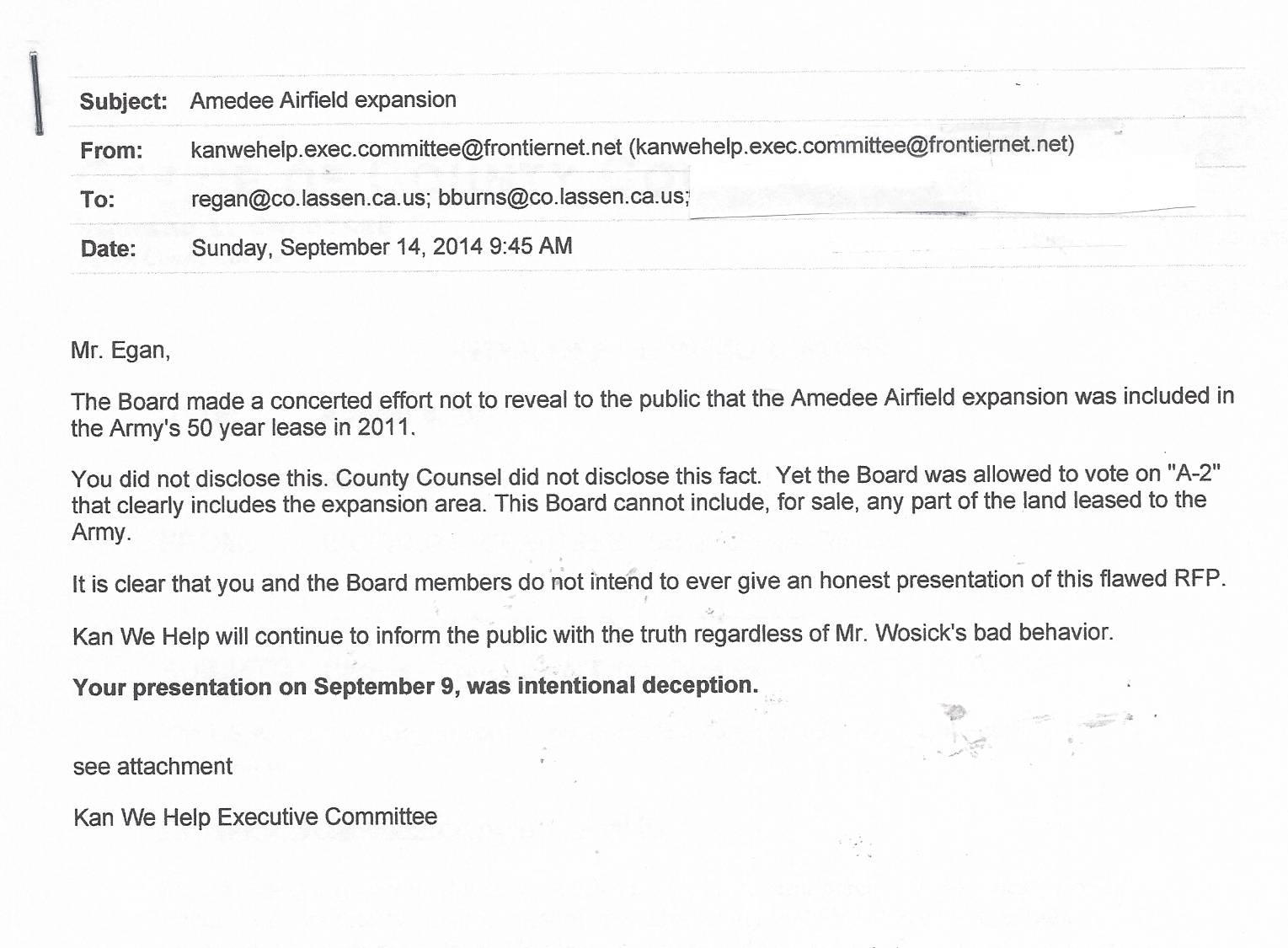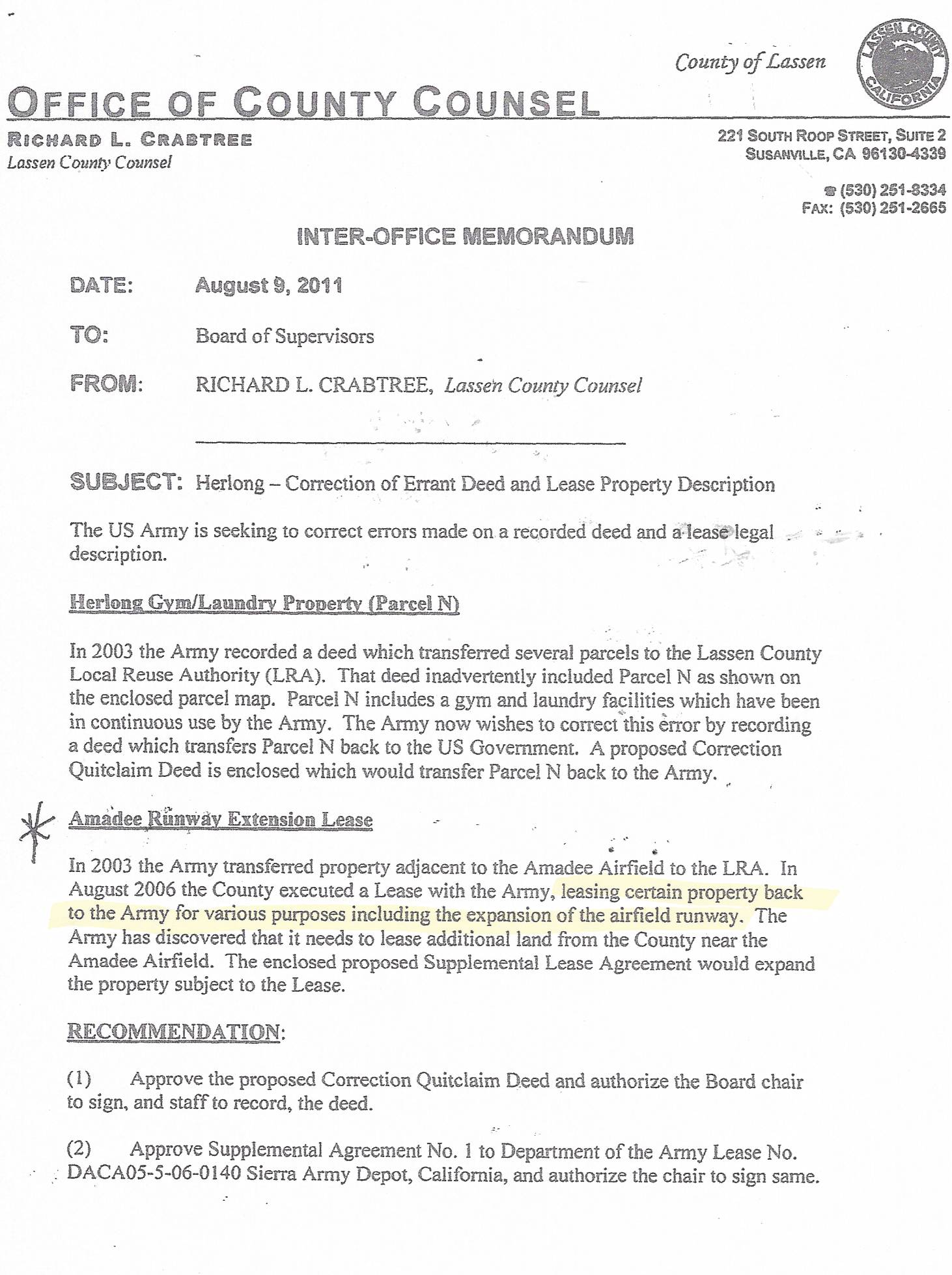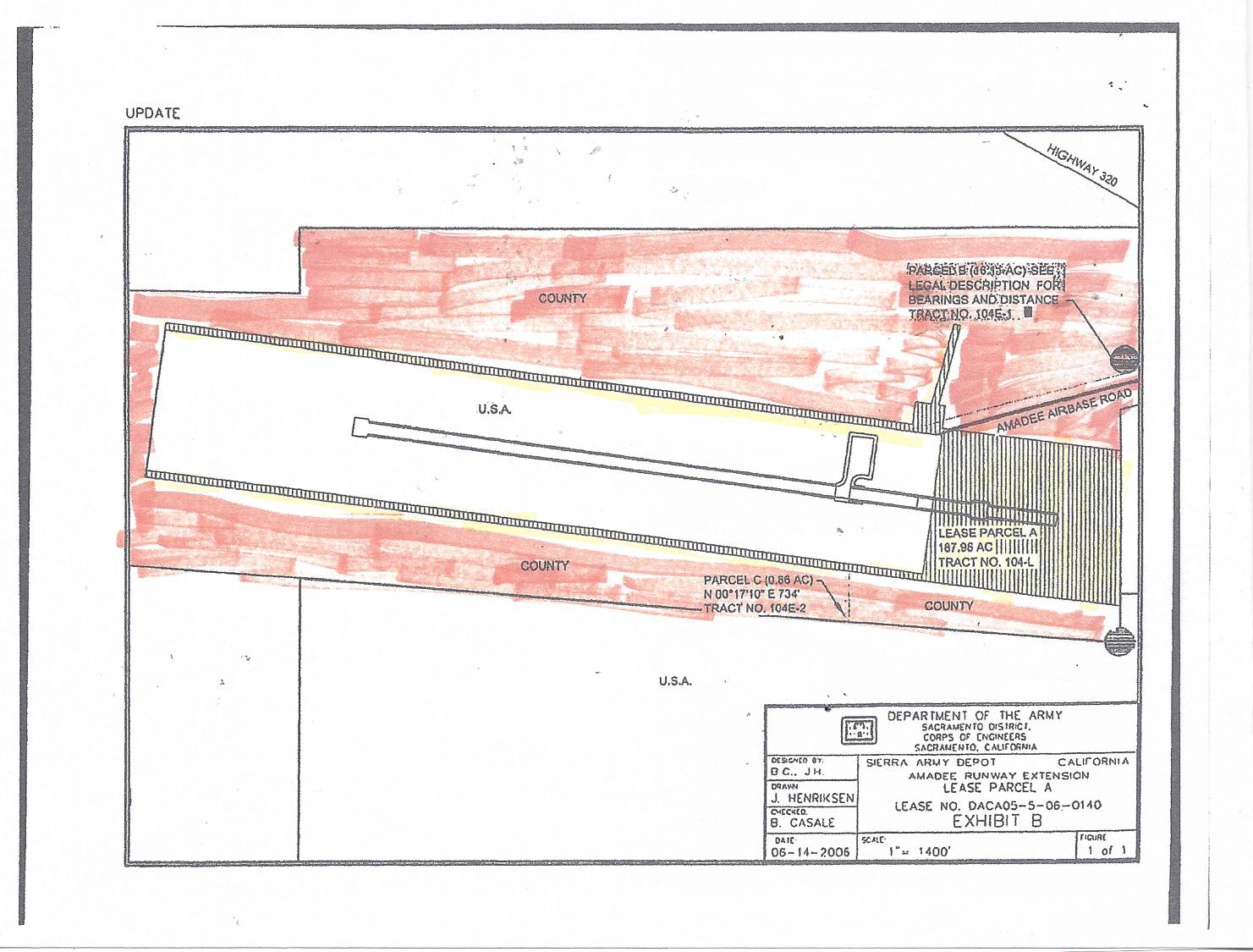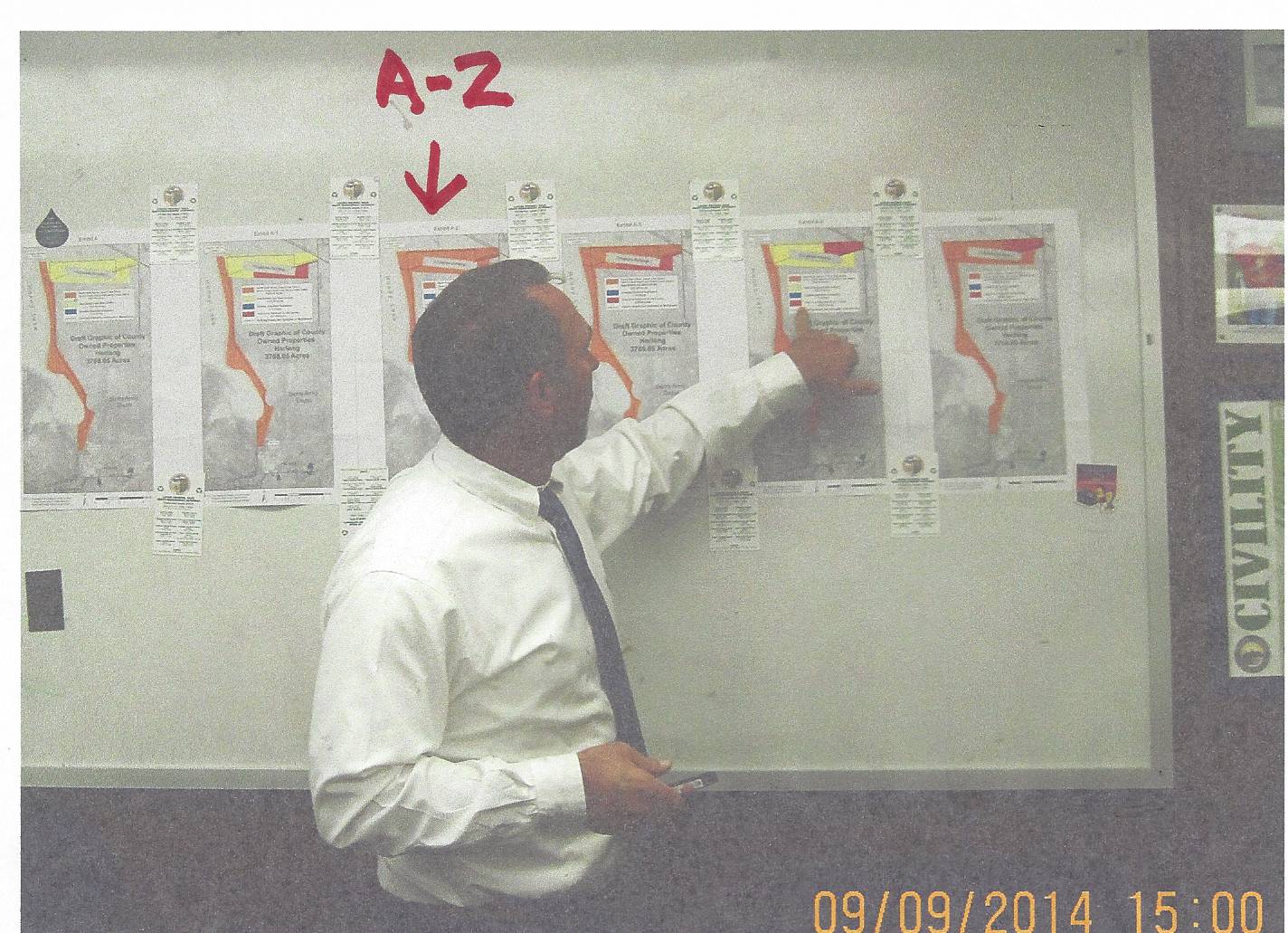 The public can view the entire 9/9/14 meeting at the Lassen County Scoop
"Reality"
.....continues to ruin Supervisor Larry Wosick's
life on the Board
1. Larry Wosick stays on the Board because some flunky attorney tells him he doesn't have to live in his District. He admitted moving out of his District on January 29, 2014.
2. Larry Wosick never disclosed the property he owned in Milford for 4 years. Wosick sold this property on January 29, 2014. This was his "alleged" residence to qualify to sit on the Board. This "asset" was never disclosed on his 700 Form, never.
3. Larry Wosick represents one of his partners for the purchase of the Amedee property. They want it cheap like before and will do anything, anything to make this happen
4. Larry Wosick knew about the new Interstate in 2012 when he purchased his Standish property in December/2012 after the "Surface Transportation Act" passed in June of 2012 and started pushing for the Herlong's sales.
He is just another dirty profiteering politician that can buy and sell anyone
......or can he?
Lassen County Supervisors
Reject Grand Jury Reports
....and chastise the Grand Jury ?
....Willful intent to defraud the public....
The Lassen County Board of Supervisors are
ABOVE THE LAW

Insults Women Only
He un-invites women to his Tuesday meetings
BOS MEETINGS FOR MEN ONLY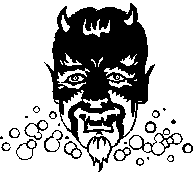 The only thing that didn't happen,
Wosick's head didn't
spin around
Take a look, Click here: September 9, 2014 BOS Meeting
The Supervisors had done nothing with the Sierra Army Depot Surplus property in Herlong until Larry Wosick was seated on the Board.
Since then Wosick attempted to secretly purchase the township of Herlong for $25,000. That failed and he and Jack Hanson set up Mr. Pezzullo to buy the 423 acre town for $31,900 and rezoned their own property. The Grand Jury acknowledged that there were conflicts-of-interest and a whole lot of quid pro quo's (favor for a favor)
Supervisor Wosick is obviously representing an outside interest for the Amedee property. The last thing this scoundrel wants is for the public to know what he is doing. Even though Wosick doesn't live in his district he will desperately try to stay of the Board until all votes are in for his personal interests.
Mr. Wosick has demonstrated his contempt for women with his rude and insulting comments. Facts were presented that the Amedee property is contaminated........and the insults flew out of this little man's mouth.
WOSICK RULE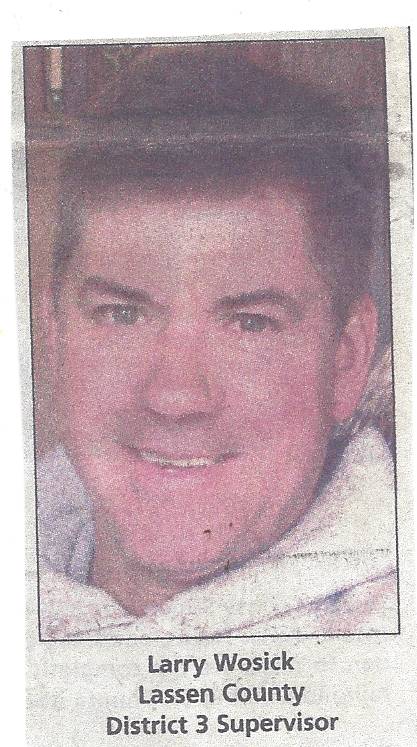 Wosick served only one term. Time enough to profit
STAY HOME, ON TUESDAYS, LADIES OR COME AND SHUT UP
Kan We Help Prepared to File Court Action
to
Stop the County from selling property,
to the public,
without disclosing that the East Shore Parcel has explosives and ordinances
The Lassen County Supervisors have presented "six" Drafts of the "Request for Proposal" to sell the surplus property given to them in 2003 by the Sierra Army Depot.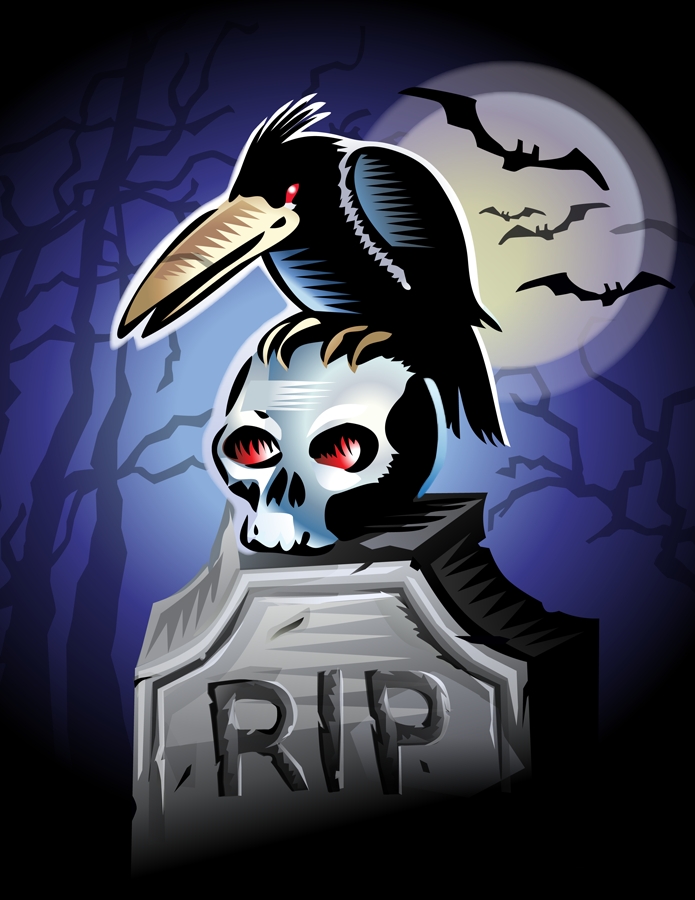 Not one Draft included the disclosure of the Ordinance/Explosives that need to be cleaned up on the East Shore Parcel.
In the 2004 CEPA Report, the cost of the clean up was estimated at $2.4 million dollars.
The Lassen County Supervisors could have demanded and could still demand that the East Shore Demolition parcels be cleaned up by SAID.
The Lassen County supervisors have never approached SAID to clean up the explosives and make this property safe.
ONE DEATH COULD
BANKRUPT LASSEN COUNTY
Supervisor Chapman asked that the pages Kan We Help submitted, at the August 19 meeting, be attached to the next Draft of the RFP.
The CAO prepared six options for the Supervisors. The Supervisors chose to sell all of the property (A-2), including the East Shore Parcel.
Short Memories?
The Supervisors had selective memories or convenient lapses when they discussed including the Amedee Airfield parcels.
The Supervisors discussed the six options presented by CAO Egan and voted to include the extension of the Amedee Airfield that is part of the 50 year lease with the Army?
NOW WHY WOULD THEY WANT TO DECEIVE THE PUBLIC?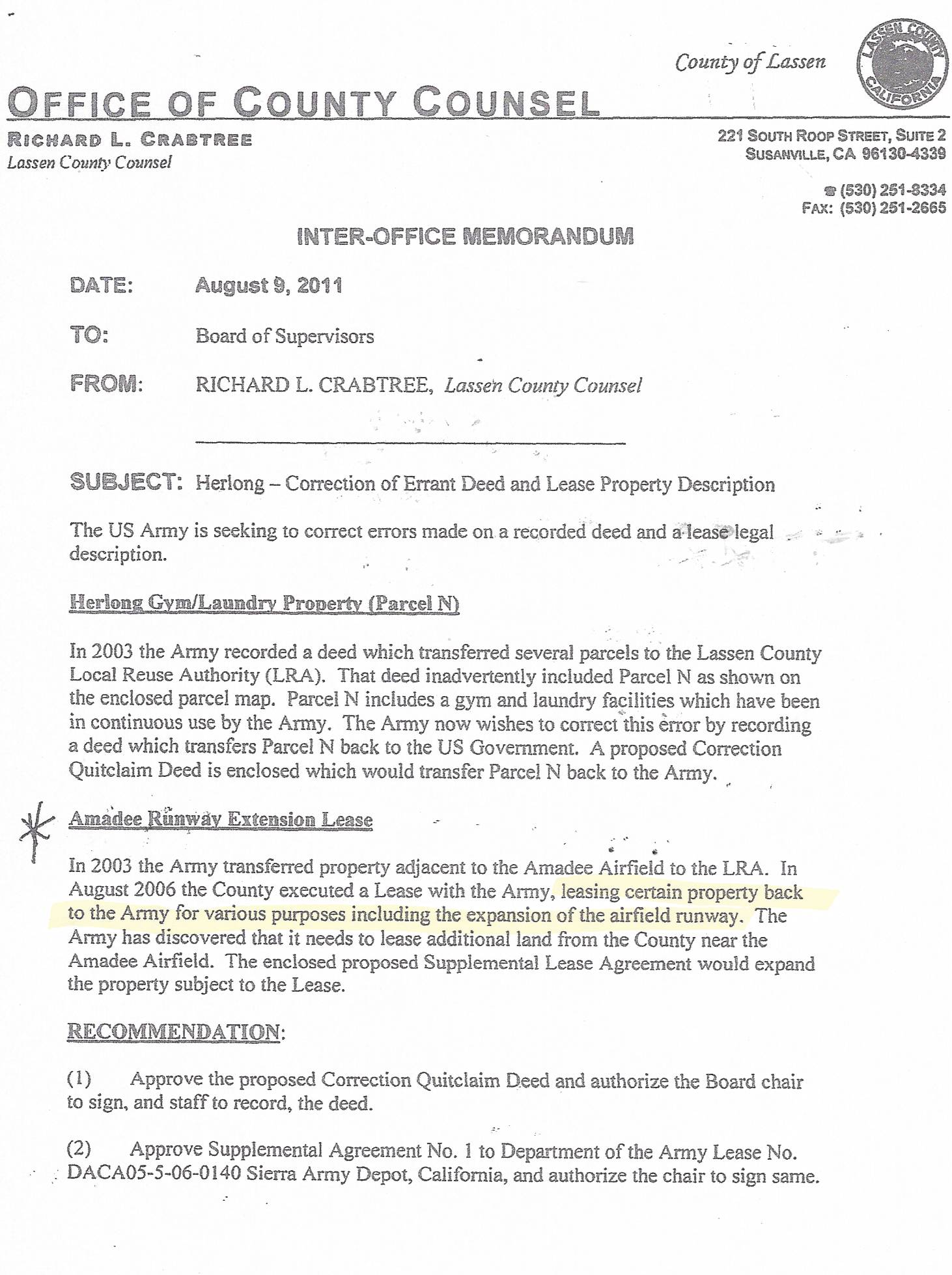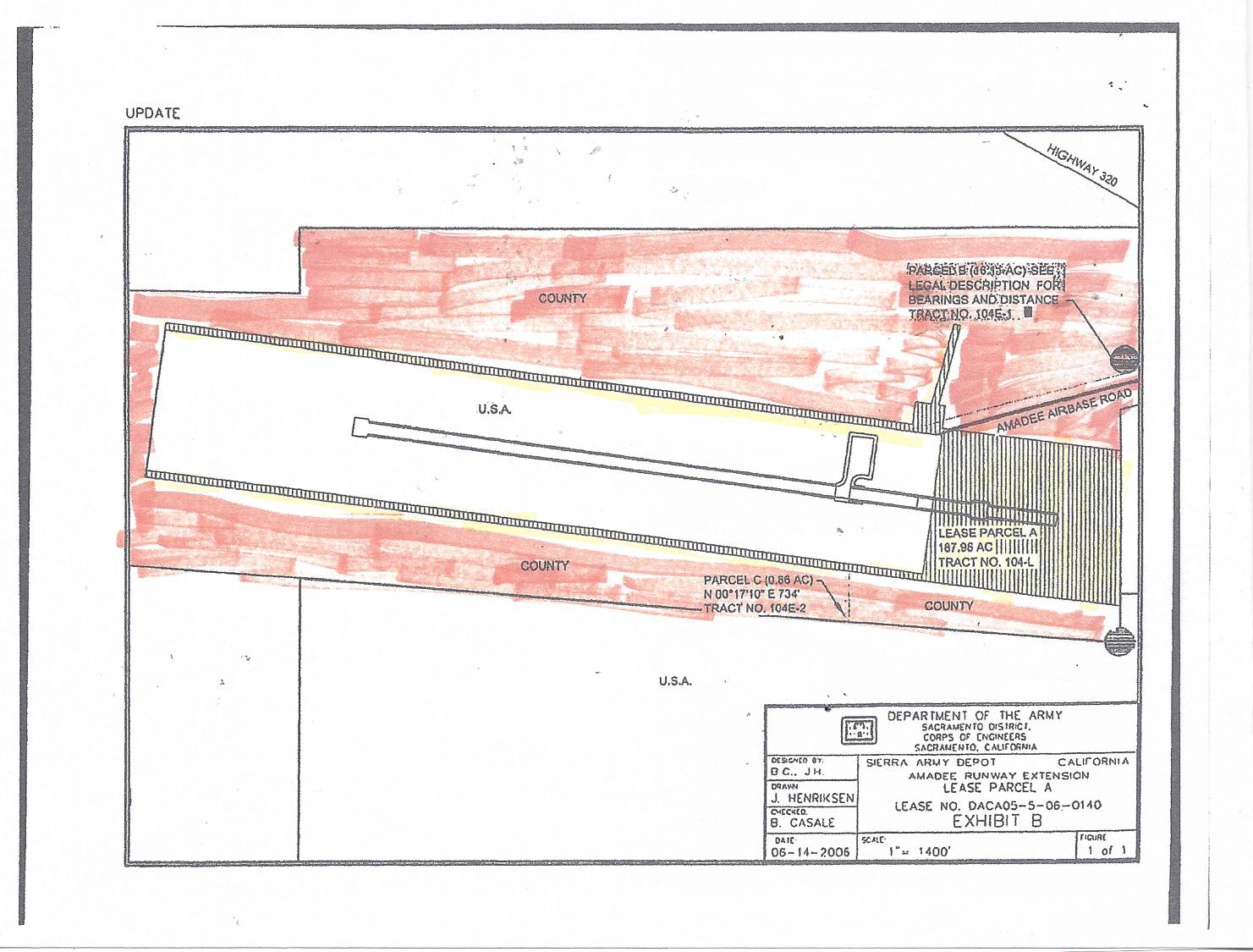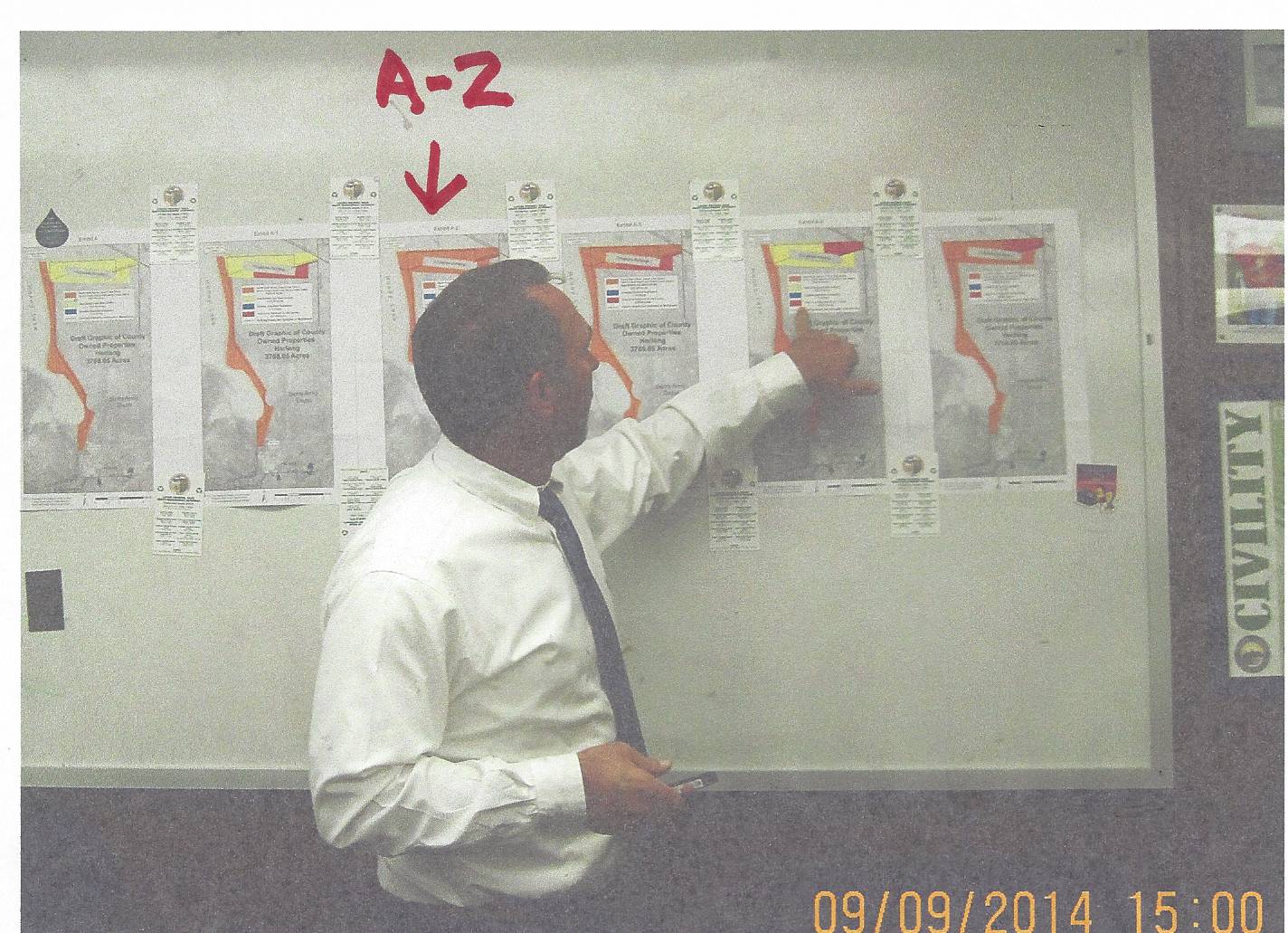 The contaminated and hazardous area was divided into 9 Assessor parcels and
could have easily been excluded from the sale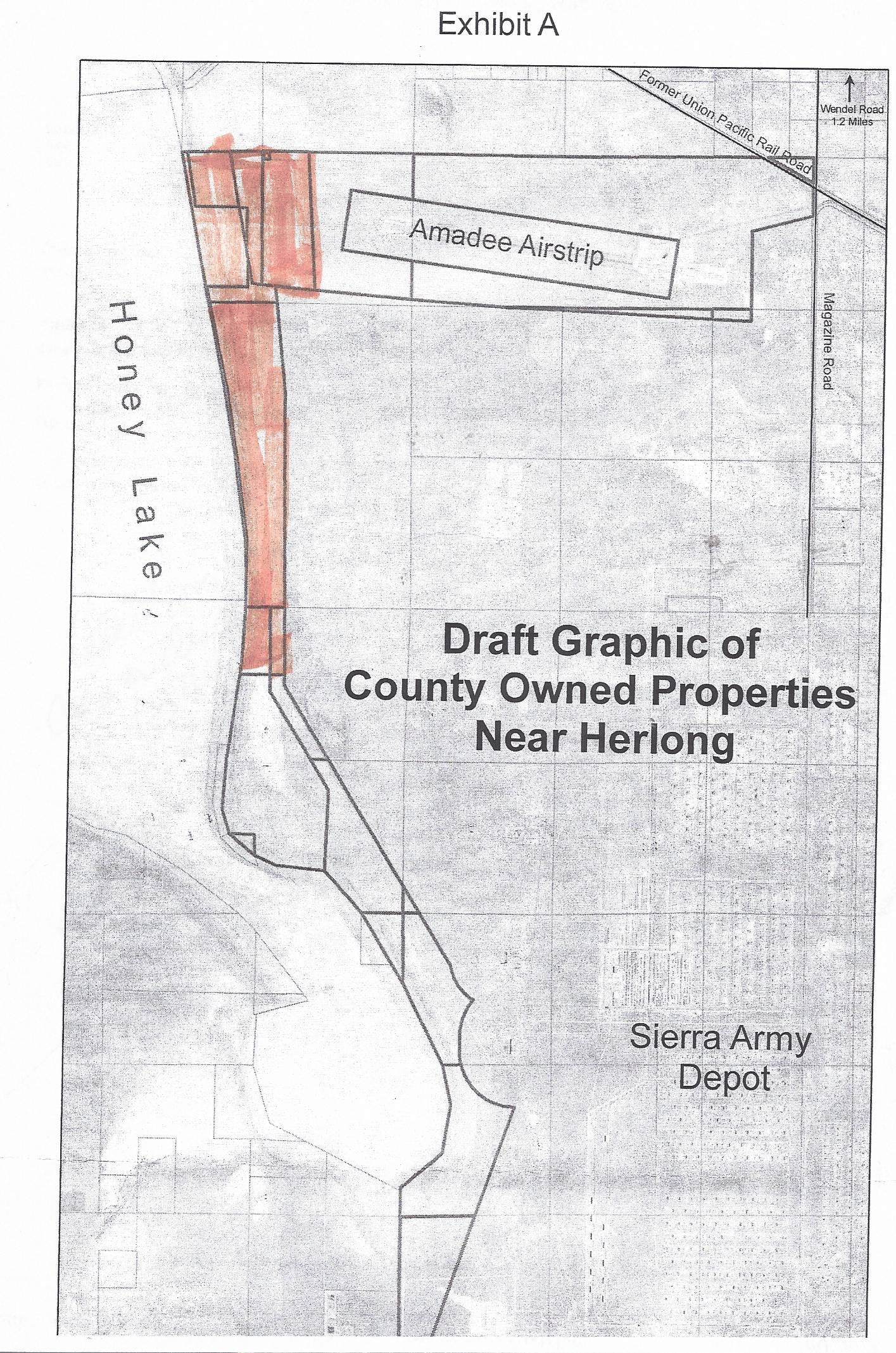 NEW LASSEN COUNTY DISTRICT ATTORNEY
LACKS MONEY
TO PROSECUTE ?
......blame all of the Lassen County Supervisors
.......they control her budget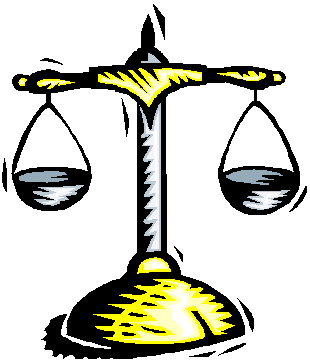 White Collar Crime that involves mis-use of Federal or State funds can be referred to proper authorities
Tesla Battery $1.2 billion Megaplant
to be built in Reno
not Herlong
6,000 jobs for Nevada
Long List of Public Officials
Keeping Interstate 11 a Secret?

....while they purchase land along the proposed corridor and change zoning
Wosick attempted to buy Herlong for $25,000
Pezzullo and friend's Herlong bid was accepted for $31,900
Jack Hanson/Bertotti zone change for their property along corridor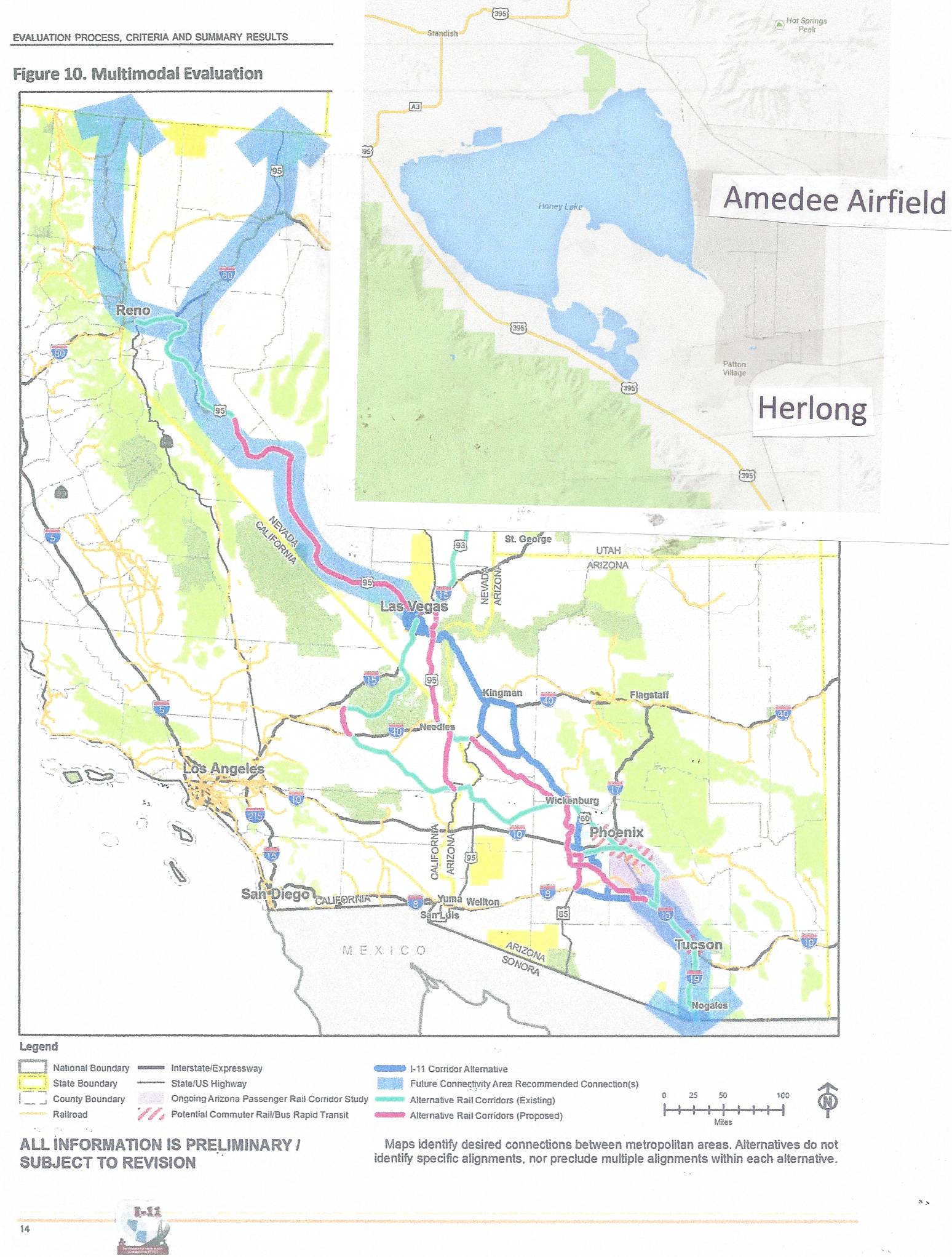 PAY ATTENTION
LASSEN COUNTY
This is a Quid Pro Quo County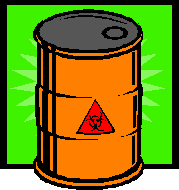 Brian Dahle pushed for the approval of a $350,000 Grant for the Hawkins, Del Logging Company, and then received a $15,000 campaign contribution from the Hawkins
Interstate 11 was approved by Obama in June of 2012 and Larry Wosick purchased land along that corridor in Standish in December of 2012 and then voted on a zone change.
Steve Pezzullo was in bed with one of the Supervisors when he purchased the township of Herlong for $31,900. One building alone is worth $1,000,000. The value of this property could be effected by the new Interstate 11 that may run through or near Herlong.
Jack Hanson voted on zone changes that effect this area....for a close relatives benefit?
The Supervisors are pushing hard to sell the contaminated (ordinances & explosives) property around the Amedee Airfield
Not one word, of the new Interstate 11,
is mentioned in any of the
Lassen County Board Minutes.

Politics for Profit
Who are the real Pick-Pockets
of Lassen County
Supervisor Chapman's calls Auditor "Pick-Pocket"
but
are the Supervisors the real Pick Pockets
Millions stolen from Herlong Federal and State Grants?
Grand Jury Findings sent to District Attorney?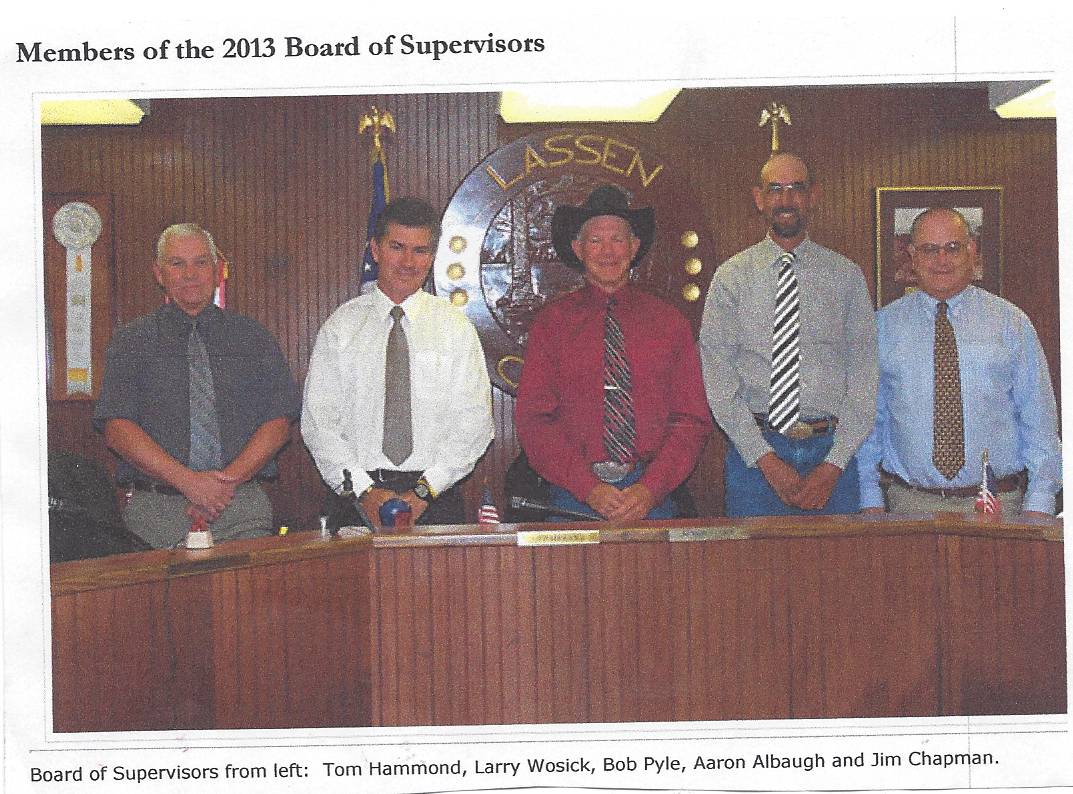 AFTER TWO WEEKS.......
Lassen County Times
Continues
to
Suppress Supervisors Wrong Doing
LCT reporter turns a blind eye to the deception by Lassen County Supervisors
Supervisors decide not to disclose that the
Sierra Army surplus property (they are trying to sell)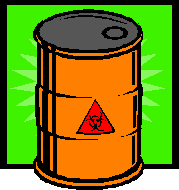 is a toxic dump with ordinance and munitions

ALL FIVE SUPERVISORS KNEW
THAT THIS PROPERTY
IS A $2.4 MILLION DOLLAR CLEAN-UP
Lassen County Times
Big Part
of the Corruption Problem
Instead this corrupt paper
reports, on the front page, the Grand Jury's comments
on "road" conditions
and
deliberately suppresses
the
fact that the Supervisors repeatedly violated
the Brown Act
and
conflict -of- interest laws
with the Herlong Sale and much more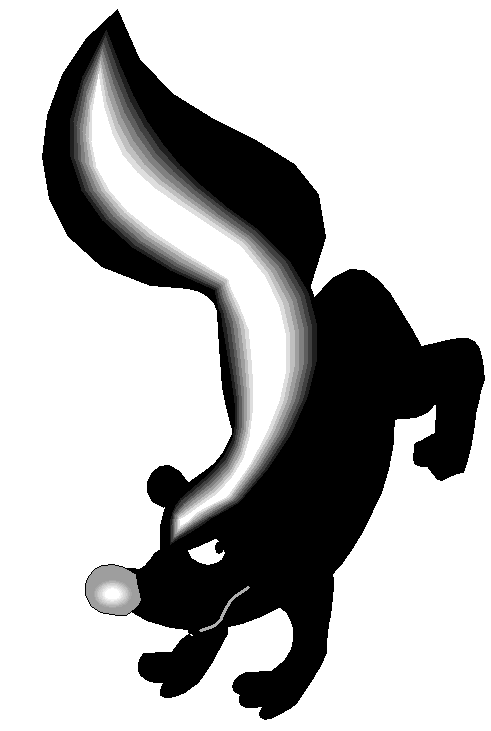 Kan We Help Files Brown Act Complaint
against the contemptuous
Lassen County Board of Supervisors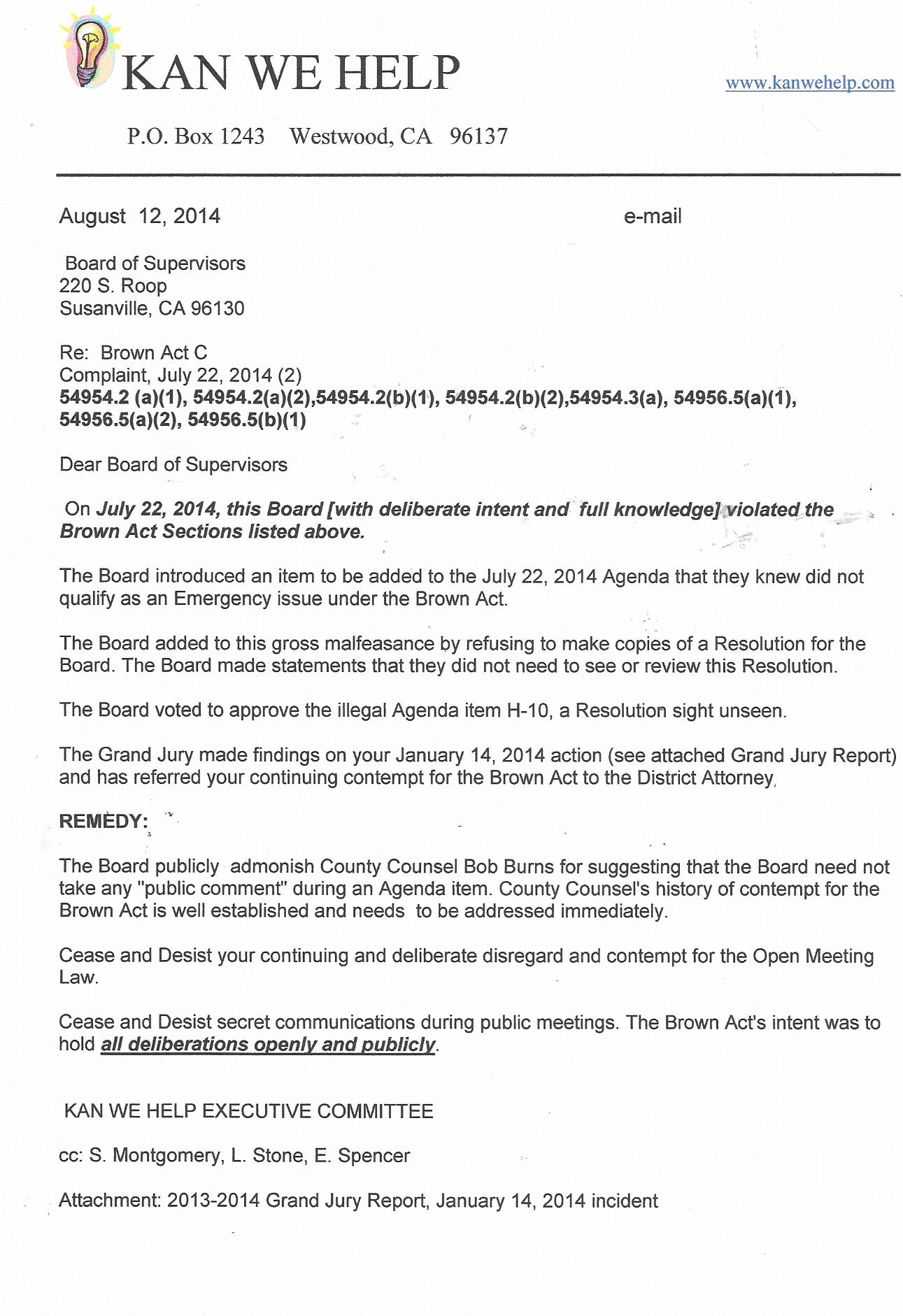 QUESTIONNAIRE
1. Who makes the phone call to suppress
posting the June 30, 2014 Grand Jury Report?
2. Who makes the phone call to suppress FPPC violations?
WHO HAS THAT AUTHORITY?
Who has the authority to indict crooked politicians?
Who makes that phone call?
Grand Jury
finds that
Lassen County Supervisors
guilty of
"Abuse of spending public funds"
This Board may be is the sleaziest Board
in Lassen County's 150 years
[The Lassen County Times enables these politicians by suppression of the truth]
Definition of Grifters: Lassen County Supervisors
If you did not endure the lies and deception at the Board meetings, KWH will provide the audio of any meeting, Free. [Disclaimer: The Recordings may have been edited to protect the Supervisors and staff]
If you can endure watching these corrupt politicians you can watch these "unedited" meetings at the Lassen County Scoop.
If you have attended these meetings,
we salute you.
Vomit bags should be a mandatory hand out before each meeting.
The fake "Verderosa" letter CAO Egan wrote
caused Judge Verderosa to take herself out of this rotten equation.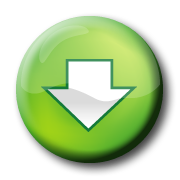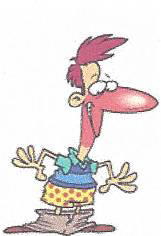 Click on Mr. Panzdown for more......
LASSEN COUNTY SUPERVISORS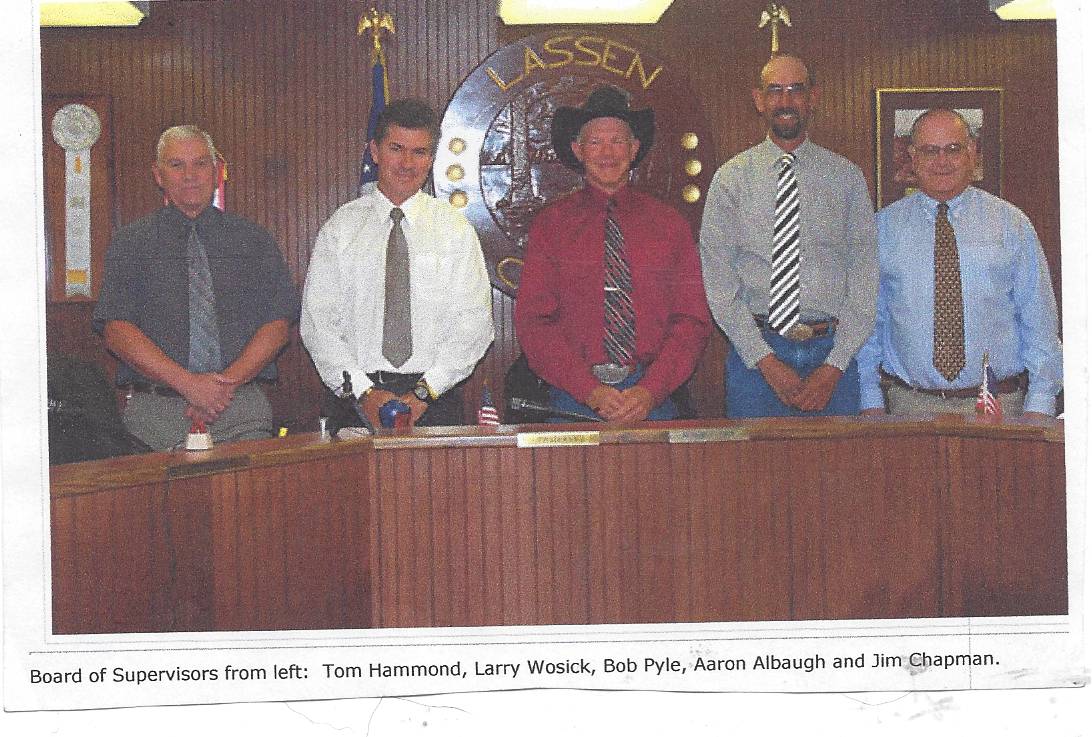 THROW
MIDDLE FINGERS
UP
TO GRAND JURY REPORT
[the Grand Jury has referred their finding to the new District Attorney]
Kan We Help filed Brown Act Complaints against the Boards action on January 14, 2014.
County Counsel Rhetta Vander Ploeg advised the Board that they were not in violation of any Brown Act codes and the KWH complaint was ignored by then District Attorney Bob Burns.
The 2013-2014 Lassen County Grand Jury Report found the Lassen County Supervisors in
violation of at least 8 Brown Act violations on January 14, 2014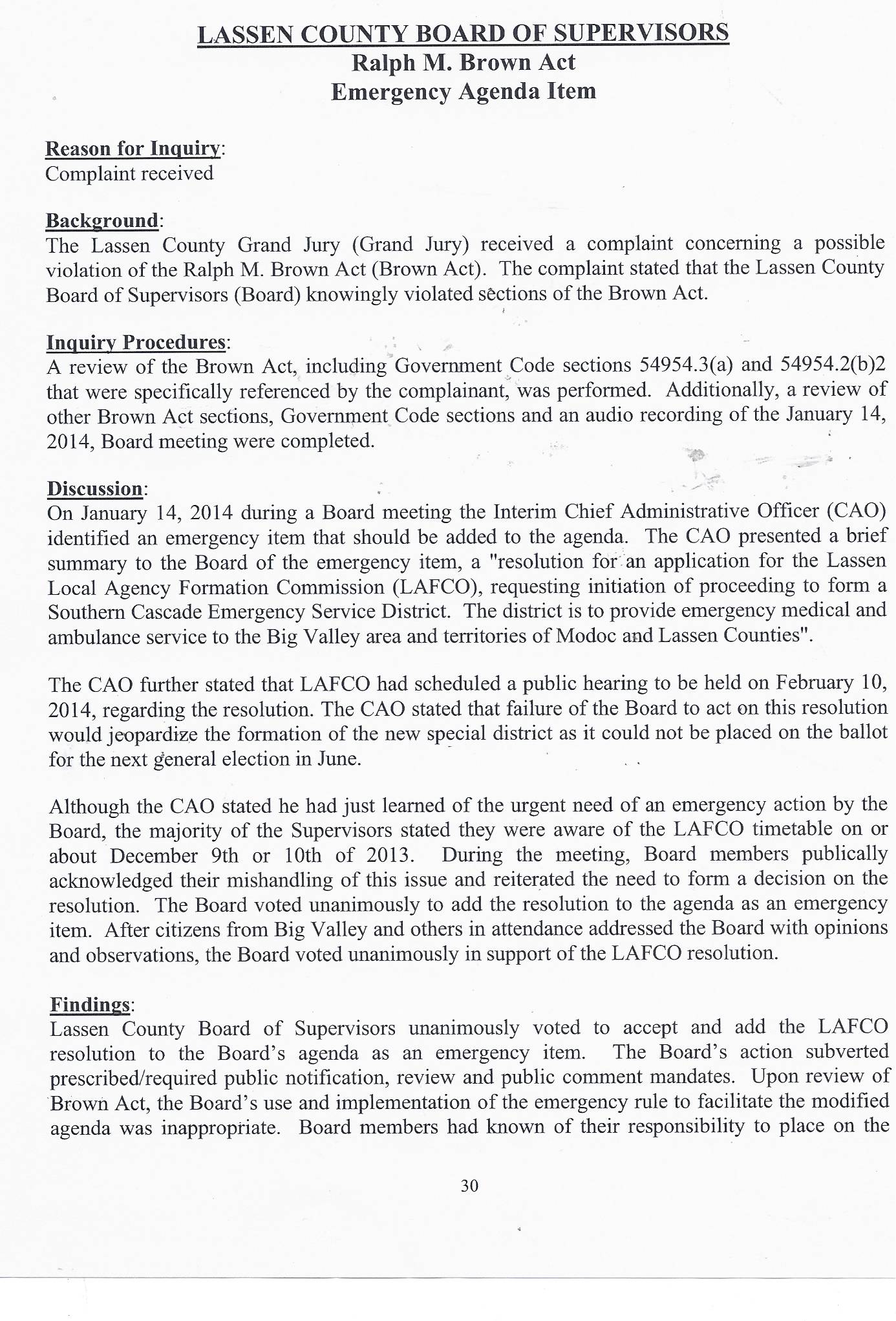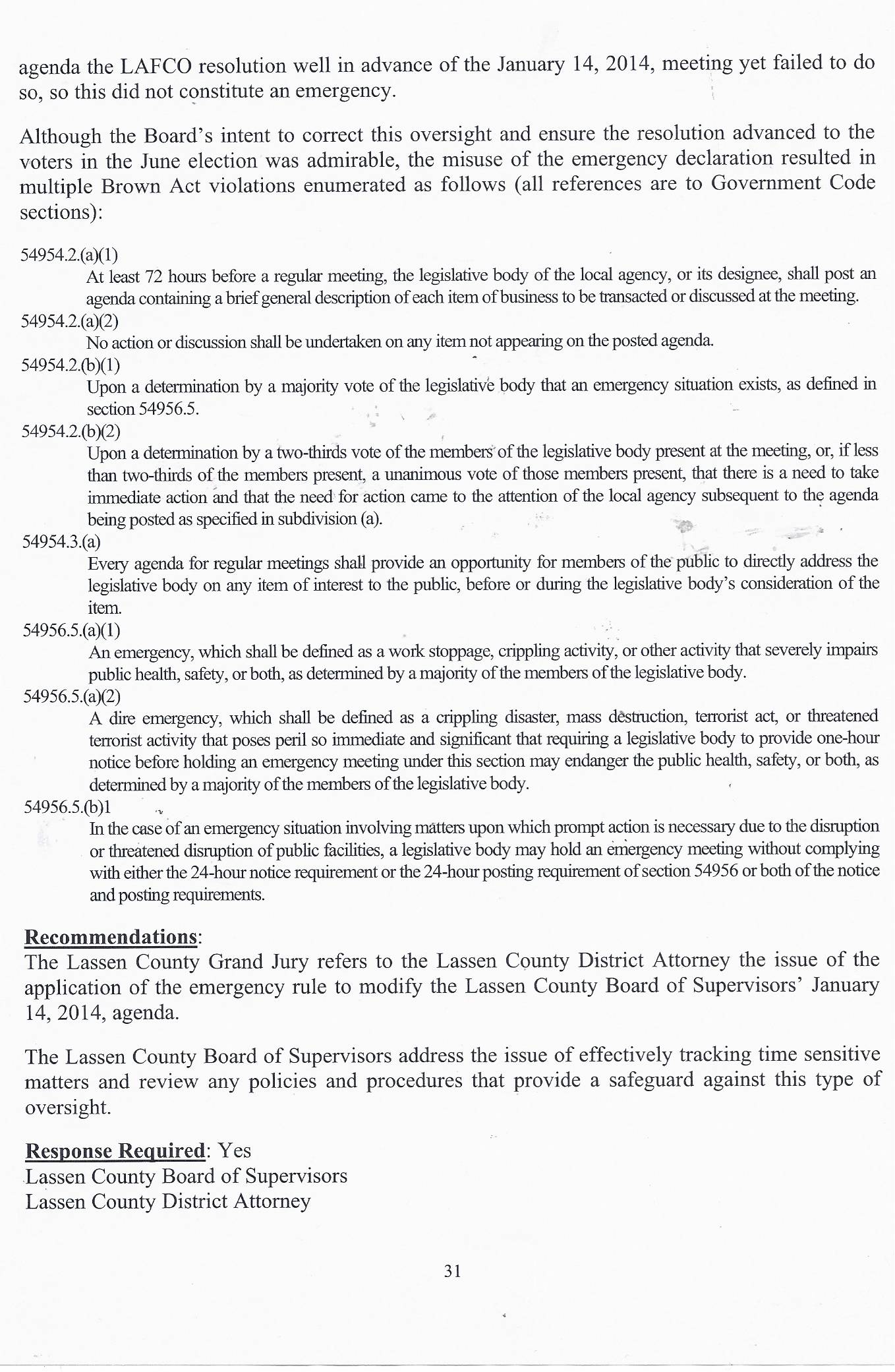 On July 22, 2014, the Lassen County Supervisors
Ignored Grand Jury Ruling
and
Repeated the same Brown Act Violations
They actually voted on a Resolution
"Sight Unseen"
"Southern Cascades Service District Initiative"
District 4 Supervisor Albaugh asked that an item be added to the meeting, at the July 22, 2014 BOS meeting, as an "Emergency item". [Takes 4/5 vote to add an agenda item].
The Board was not given any copies of this Resolution, the public was not given any copy of the Resolution. Kan We Help repeatedly asked for the Board to recess and make copies of this Resolution prior to any vote.
The Board and Burns tried every trick in the book to keep the public out of the conversation.
Albaugh claimed that he just received a Resolution for the Southern Cascade Services District initiative on Friday, July 18, 2014.
Supervisors have been discussing this issue for weeks about the "deadlines" for this issue to be placed on the November ballot.
It was District 4 Supervisor Albaugh's responsibility to get this on the July 22, 2014 Board of Supervisors Agenda. If Albaugh failed to get the ballot resolution, to the Supervisors, by July 18, it could have been placed on the August 4, 2014 Agenda ( The County Clerk confirmed that the deadline is 88 days before the election, August 8).
THE Board CREATED A fake EMERGENCY AGAIN
AND
WE NEED TO ASK WHY THEY HAVE
SUCH CONTEMPT FOR THE BROWN ACT and THE GRAND JURY?
Albaugh had plenty of time to make copies, from Friday to Tuesday, but brought only one copy of the Resolution to the 7/22/14 meeting? Everyone , including Albaugh, knows that seven (7) copies were needed. The Supervisors went into closed session to discuss this issue and could have made copies then.
This is exactly what Albaugh, Wosick and Chapman did with the first Resolution to get this initiative on the June ballot. The Grand Jury concurred.
and yet, this was all choreographed again.
THIS IS NOT GOING TO GET ANY BETTER
BOB BURNS HAS SHOWN TOTAL
CONTEMPT
FOR
THE BROWN ACT.
The Lassen County Supervisors
They lie and never tell the truth
Grand Jury Report on the Herlong Sale
Grand Jury Findings referred
to the District Attorney
The public outrage & criticism
was validated
Richard Egan was used to manipulate this sale and was rewarded with a $176,000 job
The Grand Jury released the 2013-2014 Report, after the Board of Supervisors responded to the complaints.
On Monday, August 4, 2014, the Lassen County Supervisors held Special meeting. They posted a phony Closed Session item on the Agenda so that they could cover up how they were going to handle the Grand Jury Report that was released to the public on 8/4/14.
Can the Lassen County District Attorney call for a Criminal Grand Jury to Convene?
YES
Stay Awake Mr. Egan.....
That coffee (?) is not going to help.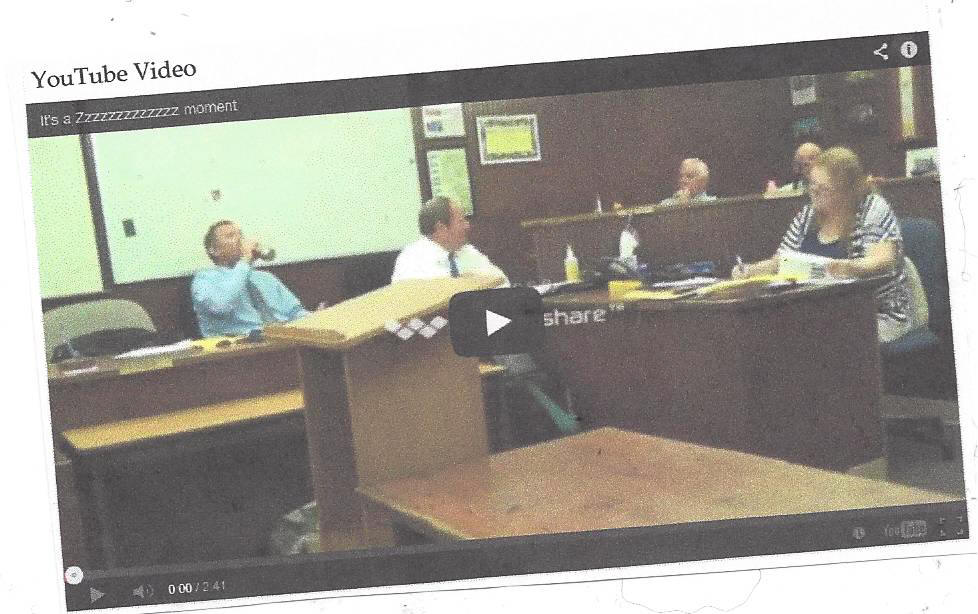 You have two idiots now
that love to hear themselves talk
Kan We Help
Files Two Brown Act Complaints
with KWH New Report Cards
This public Board acts in total contempt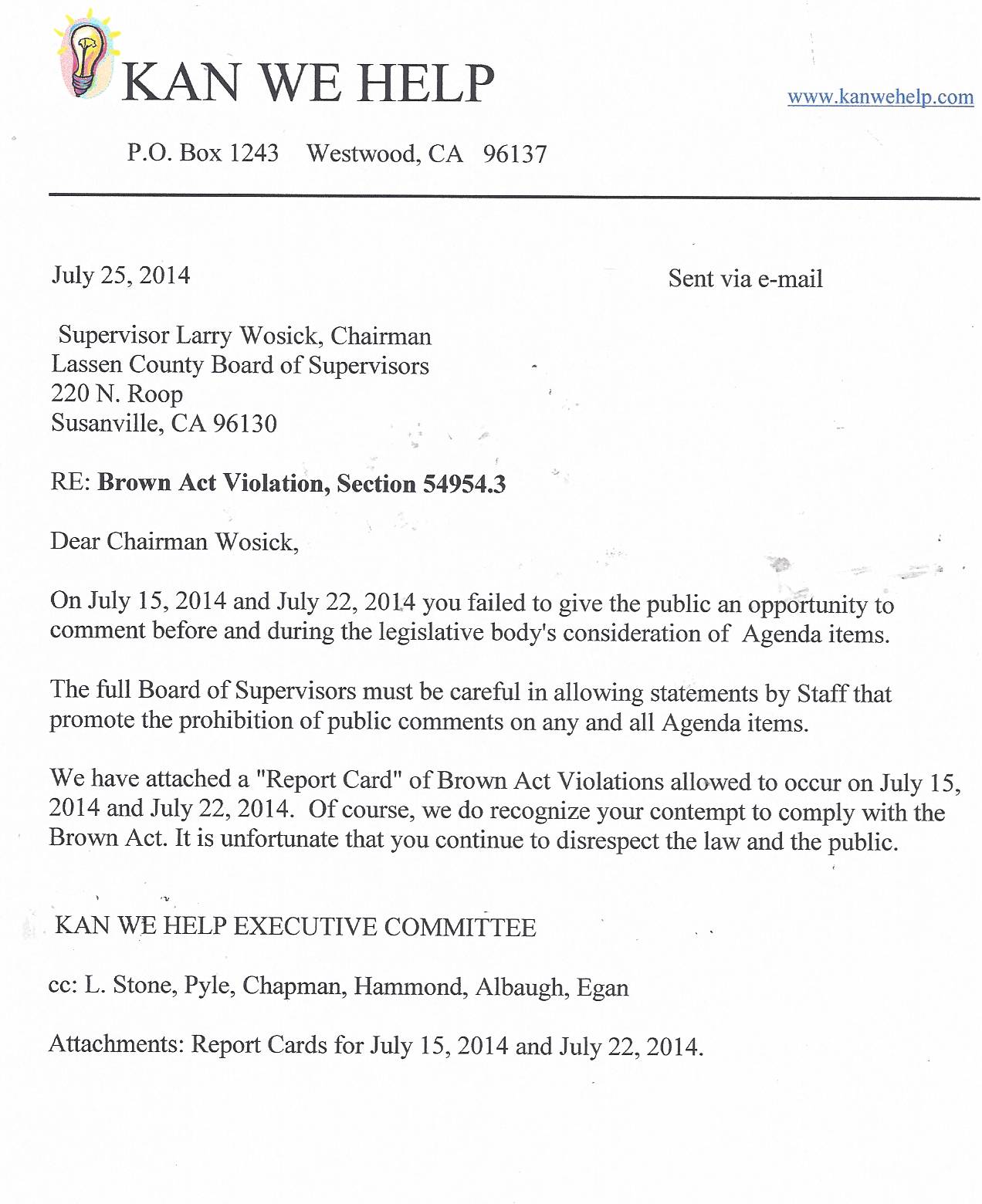 Contracts, Contracts and more Jibberty-Goo
Mr. Burns contract: $126,000 a year ?
Mr. Burns confused the Board [on Agenda item H-4]
and the Public (the people that pay his salary)
It started with Supervisor Albaugh asking Mr. Burns about Agenda item H-4 and the meaning of the numbers (no $$$ signs) in his request. Burns made it appear that he was asking for $32,500 for two invoices that were not to exceed $5,500 each.
Now watch how Burns responded to the Board and to the public.
Lassen County Supervisors
Vote on Resolution
"Sight Unseen"
"Southern Cascades Service District Initiative"
District 4 Supervisor Albaugh asked that an item be added to the meeting, at the July 22, 2014 BOS meeting, as an "Emergency item". [Takes 4/5 vote to add an agenda item].
The Board and Burns tried every trick in the book to keep the public out of the conversation.
Watch Burns attempting to impress the Board with pure bullshit
Surprisingly Wosick ignored Burns dumb advice ?
The Brown Act allows public comment on every agenda item......"bar none" Mr. Burns
Albaugh claimed that he just received a Resolution for the Southern Cascade Services District initiative on Friday, July 18, 2014. Supervisors have been discussing this issue for weeks about the "deadlines" for this issue to be placed on the November ballot. It was Supervisor Albaugh's responsibility to get this on the July 22, 2014 Board of Supervisors Agenda. If LAFCO failed to get the ballot resolution, to the Supervisors, by July 18, it could have been placed on the August 4, 2014 Agenda (88 days before the election is August 8).
THEY CREATED AN EMERGENCY
AND
WE NEED TO ASK WHY?
Albaugh had plenty of time to make copies, from Friday to Tuesday, but brought only one copy of the Resolution to the 7/22/14 meeting? Everyone , including Albaugh, knows that seven (7) copies were needed. This is exactly what Albaugh, Wosick and Chapman did with the first Resolution to get this initiative on the June ballot.
This was all choreographed again.
The Supervisors went into closed session to discuss this issue and could have made copies then. There was a recess before this was discussed. They could have made copies then. What were they hiding?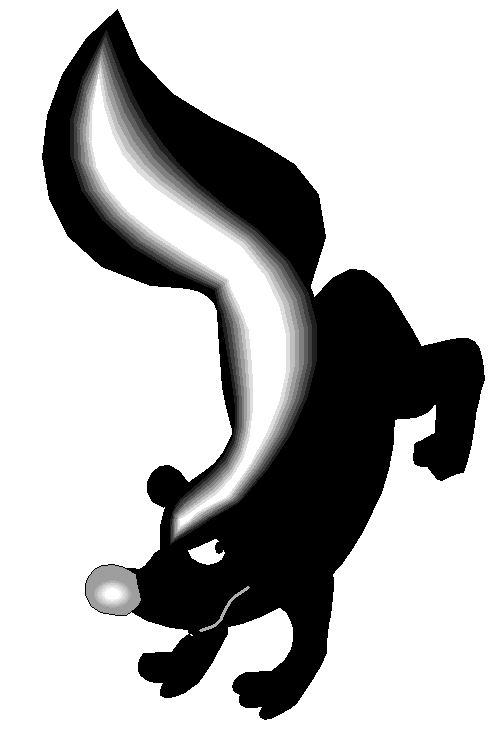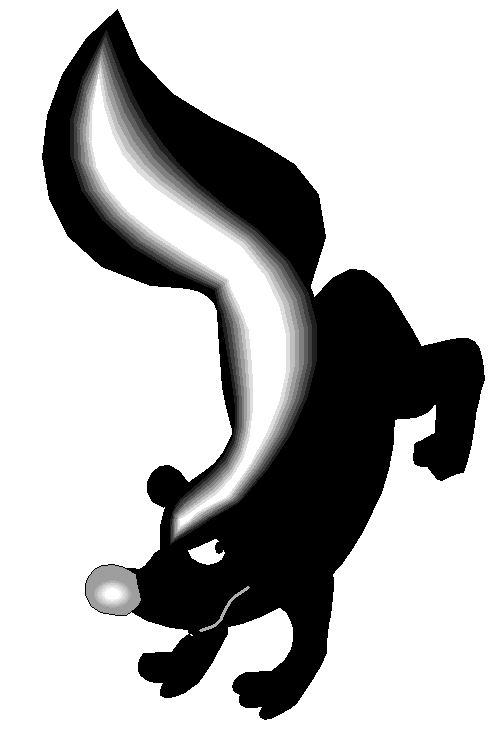 this gets the double stinky award
Kan We Help Secretary Eileen Spencer respectfully asked twice that the Supervisors be given a copy of this Resolution before a vote was taken. County Counsel Burns chirped that it was not necessary for the Supervisors to have a copy. Our illustrious Supervisors voted to approve Albaugh's Resolution
Lassen County Supervisors
couldn't have
found a dumber candidate
for
County Counsel
A NEW LEVEL OF DUMB HAS BEEN BORN
Lassen County Superior Court
Presiding Judge Verderosa
Has Sit-down
with
Burns looked silly making up lies
and CAO Richard Egan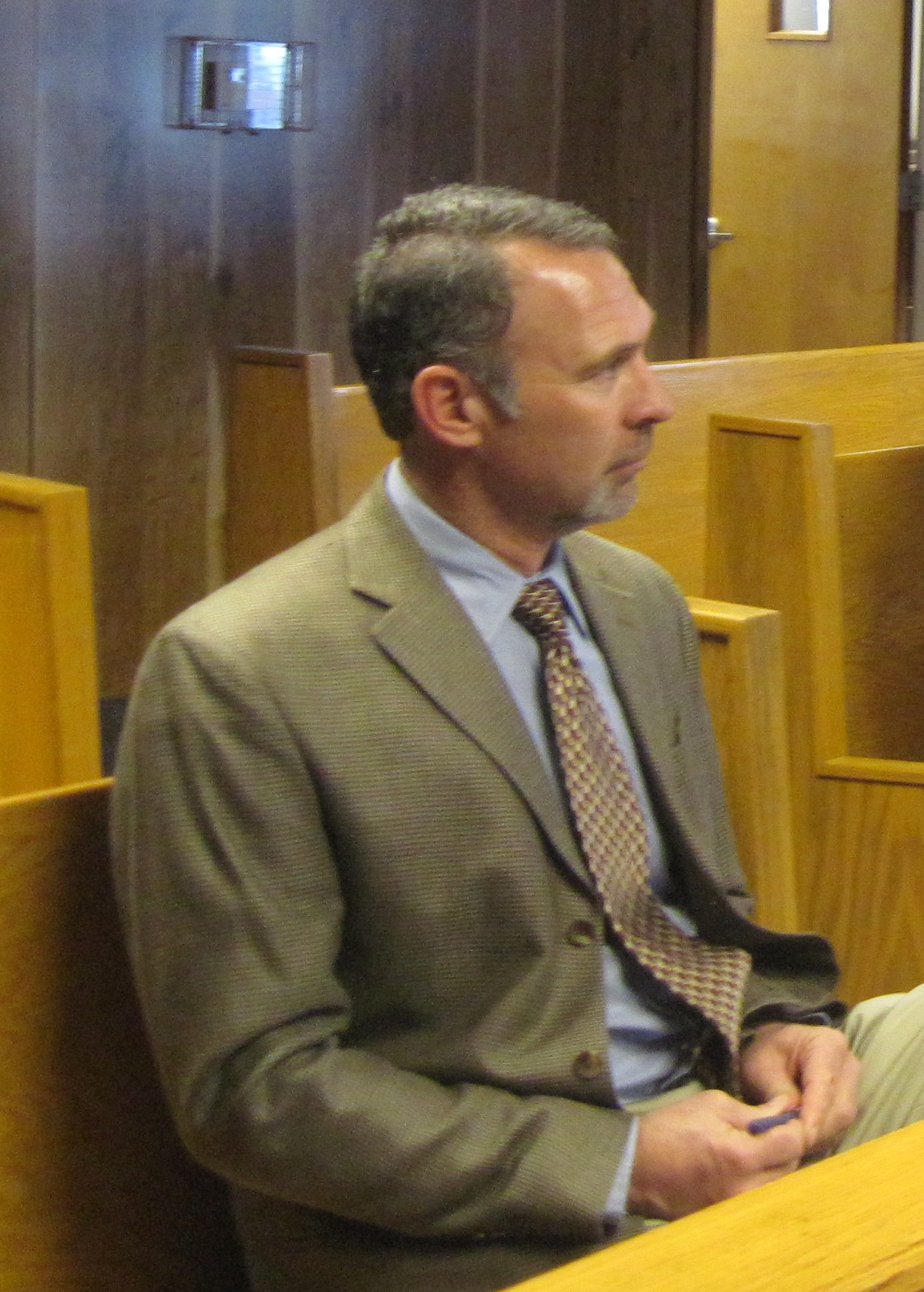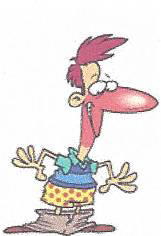 click on Mr. Kot Withyur Panzdown for entire story
On April 16, 2014, Lassen County CAO Richard Egan made the decision to write a letter that was made to appear as though Judge Verderosa had authored it.
She didn't author it and Kan We Help caught him in a lie. Judge Verderosa's signature has never been authenticated.
Egan placed this letter on the Board of Supervisors May 13, 2014 Agenda but had no intention of having any discussion on it. (Audio and video recordings confirmed that this Agenda item was never discussed or voted on)
Watch video: May 13, 2014 BOS meetng
Chairperson Wosick just adjourned the meeting intentionally on May 13,2014, ignoring the last item on the Agenda. NOW WE KNOW WHY HE DID THAT !
As a result of this debacle, Judge Verderosa decided that she will no longer appoint the Chief Probation Officer.
Lassen County Counsel Burns was forced to write a "soliloquy" on July 6th to create a new Ordinance for this position to be a County appointed position not a judicial appointment.
Enjoy watching Burns trying to justify the Fake Judges Letter
Burns response, to this screw up, ended up similar to Vander Ploegs peddling a fake response to Kan We Help's objection to the County Administrative Officer being called various names other than his official position/title County Administrative Officer. [CAO Egan was signing different fake titles to official county documents]. You have to give both Burns and Vander Ploeg points for creativity.
Private Non-Profit
Asks for
Public Money
for Fake
Christmas Tree for Susanville
It gives a whole new meaning to "Save a Tree"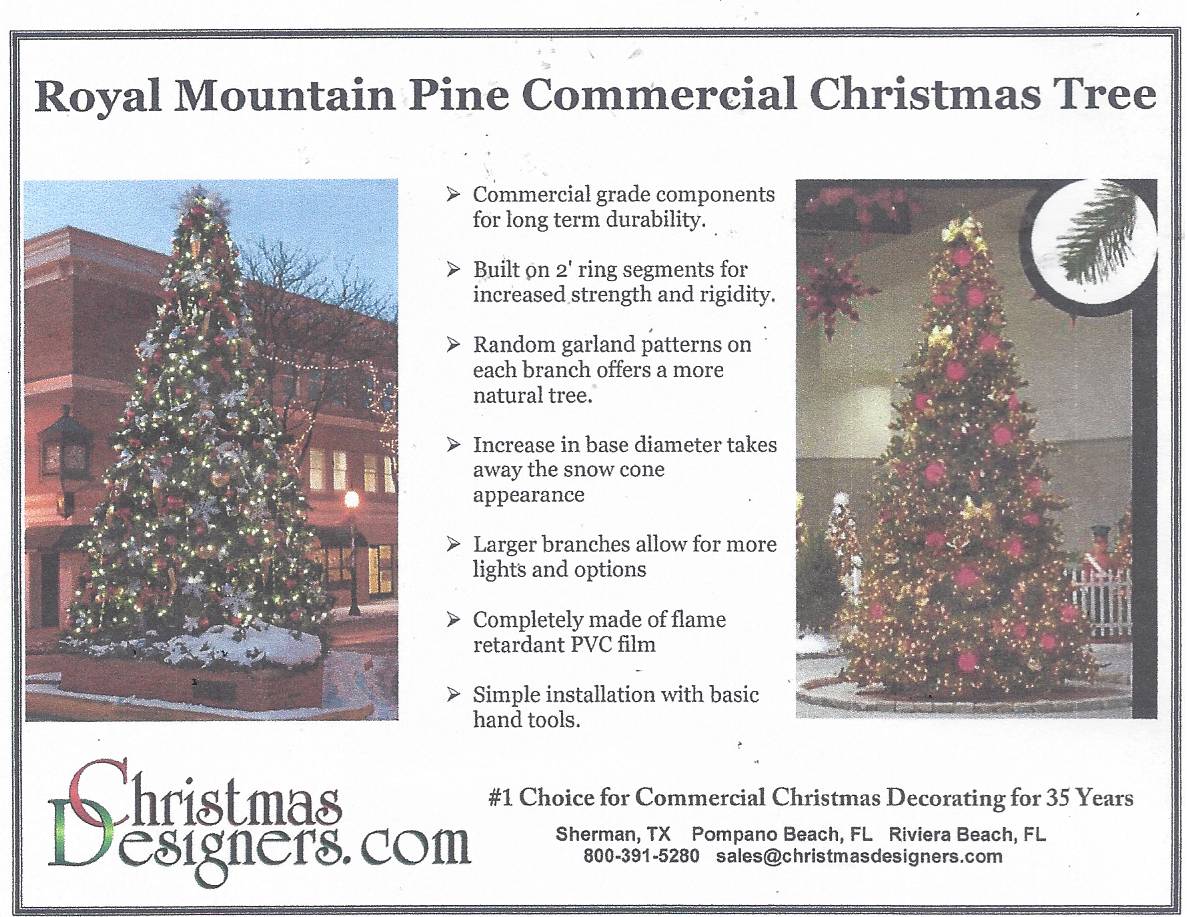 The Susanville Chamber of Commerce no longer wants to decorate "real" trees in downtown Susanville. Supervisor Chapman placed Agenda item H-2 on the July 8, 2014 meeting.
Chapman suggested that this annual $2,000 donation be paid for through the Supervisors Discretionary Fund. Each Supervisor is given $4,000 to give to the public as a gift.
Supervisor Hammond and Albaugh objected to this coming out of their "pot". CAO Egan suggested that they raise the $20,000 Discretionary Fund to $25,000 to cover this donation. Hammond and Albaugh reluctantly voted to approve this gift.
The fake tree will cost $15,000 a year to build. The tree will be purchased in parts each year until it reaches it's desired height.
The private non-profit Susanville Chamber of Commerce also received a $5,000 donation from the Board of Supervisors for the 150th Lassen County Anniversary event they are planning on 9/5/14. IT WAS NOT DISCLOSED HOW THE SUPERVISORS WERE GOING TO PAY FOR THIS SINCE THIS IS NOT A BUDGETED ITEM.
The Westwood Chamber of Commerce planted a "real" tree to decorate each year as a community event.
District Attorney/County Counsel
County Counsel/District Attorney
On May 16, 2014, the Lassen County Supervisors hired the current District Attorney, Robert Burns as County Counsel. Rhetta Vander Ploeg's contract was not renewed and her last day was May 16, 2014.
Robert Burns was not the County Counsel on May 7, 2014
His County Counsel pay started before he was hired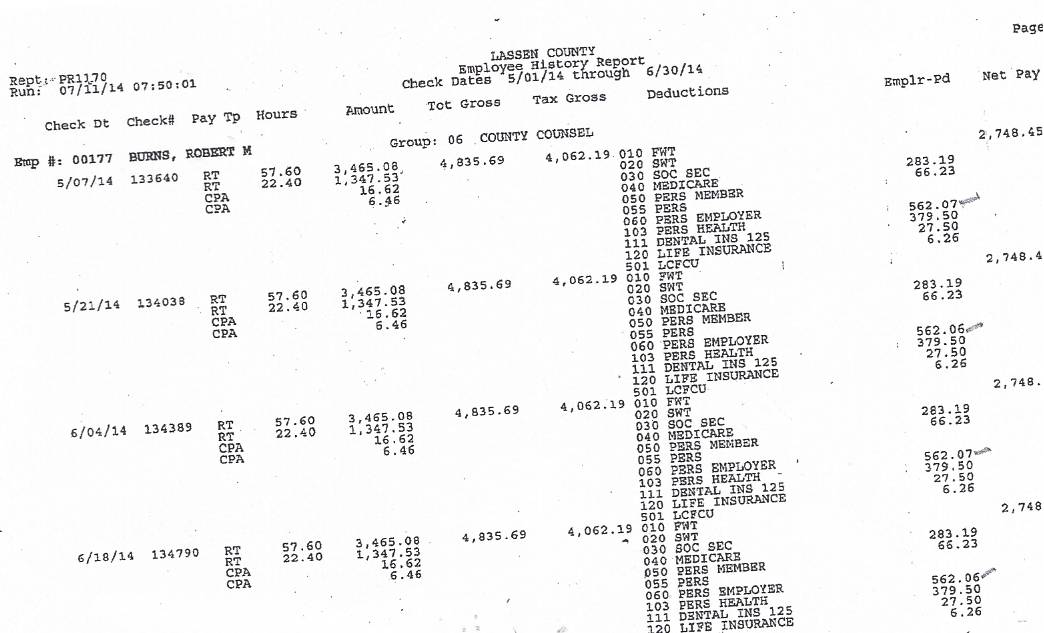 Robert Burns County Counsel Contract on page one states:
Bob Burns resigned as District Attorney on June 9, 2014
????????????????????????????????????????
Bob Burns Resigned, Quit, Stepped down
Bob Burns is a "New Hire"
????????????????????????????????????????
The County "promoted/transferred" Burns after he resigned?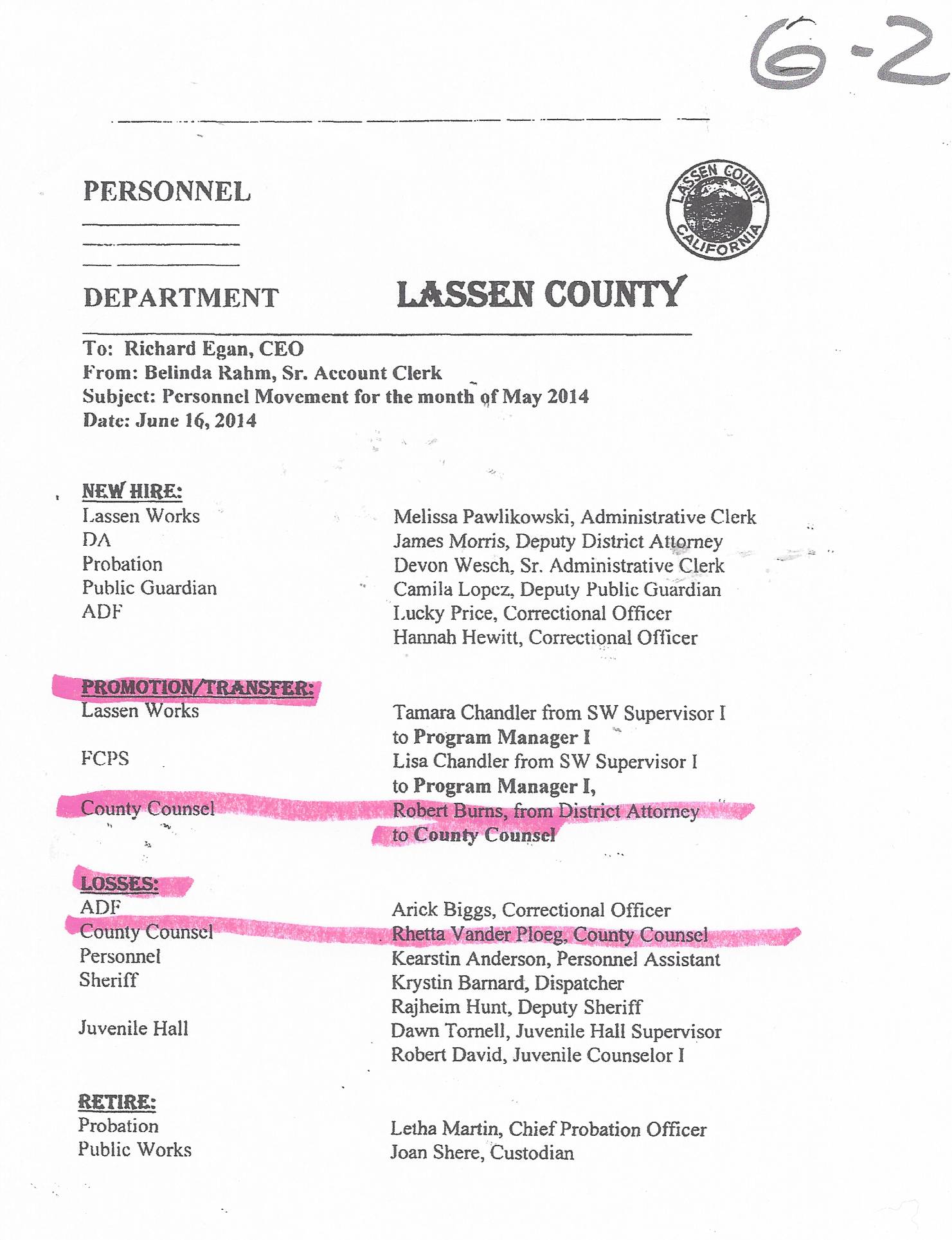 PUBLIC UTILITY SOCKS AWAY
MILLIONS AND
INSULTS RATEPAYERS
WITH RATE INCREASE
LMUD
OVER SPENDS
ON INFRASTRUCTURE
FOR
NV ENERGY
and
Raises Rates on customers
didn't see that coming...............?
The PDCA was the phony formula Frank Cady developed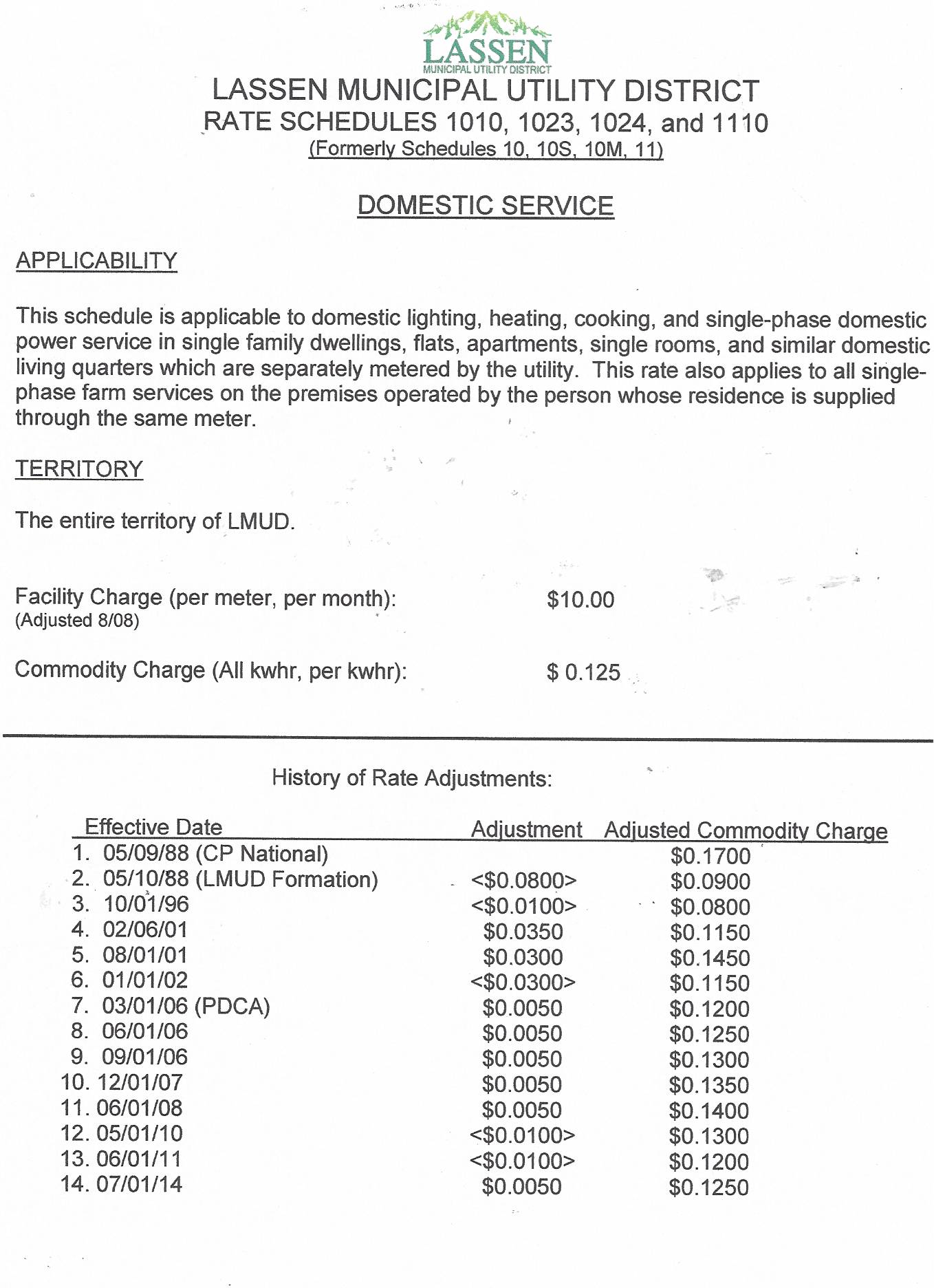 LASSEN COUNTY SUPERVISORS
STALLING ON
CAPITAL IMPROVEMENT PLAN
* The Lassen County Supervisors, according to Lassen County Codes, must demand that the CAO prepare and maintain a "mandatory" Capital Improvement Plan.
*According to the County's Audit, the Supervisors never released the fact there was $4,000,000 of discretionary money in the Budget. Each year the Supervisors claim there is a $3,000,000 deficit. Is this apparently a lie they intend to use again?
The County's infrastructure is crumbling and the
s u p e r v i s o r s
do not know how to fix that ?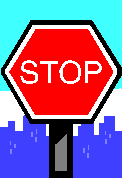 YOU HAVE NO CAPITAL IMPROVEMENT PLAN
CAO RICHARD EGAN
ATTEMPTED TO
PASS AN INTERNET C.I.P. "TEMPLATE"
OFF AS A
DRAFT CAPITAL IMPROVEMENT PLAN
FOOL US ONCE, SHAME ON YOU
FOOL US TWICE, SHAME ON US
CAO Richard Egan had Public Works present a copy of an internet sample of a capital improvement plan, at the July 8, 2014 Board of Supervisors meeting, as the real deal. Richard Egan does not have a clue how to prepare a capital improvement plan or at least he is giving a great performance of not knowing how to do it.
The Lassen County Supervisors do not want the spending structure a Capital Improvement Plan would confine them to. This is why Supervisor Chapman thought he could authorize, on his own, the remodeling project for a new Supervisors Board room
Supervisor Pyle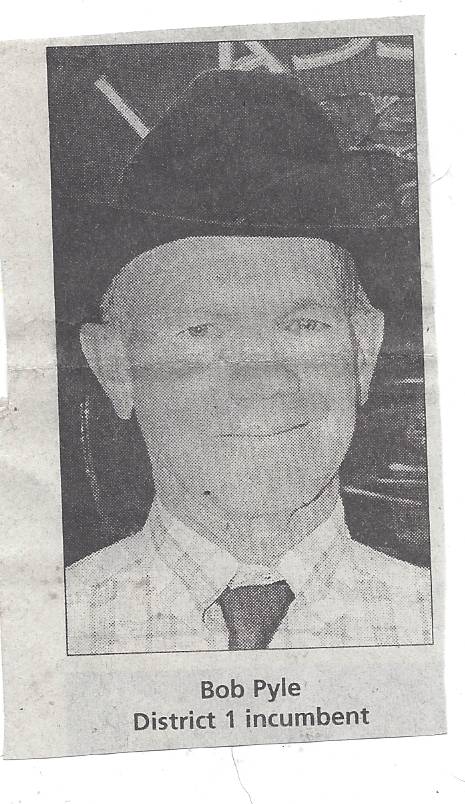 Thumbs Nose
at
Grand Jury Report
Pyle's response to acting on Grand Jury Report
On page 38, the 2012-2013 Lassen County Grand Jury Report responded to the urgency of replacing the Lassen County Jails "Central Control System".
Supervisor Pyle thinks the Board
does not have to act on this?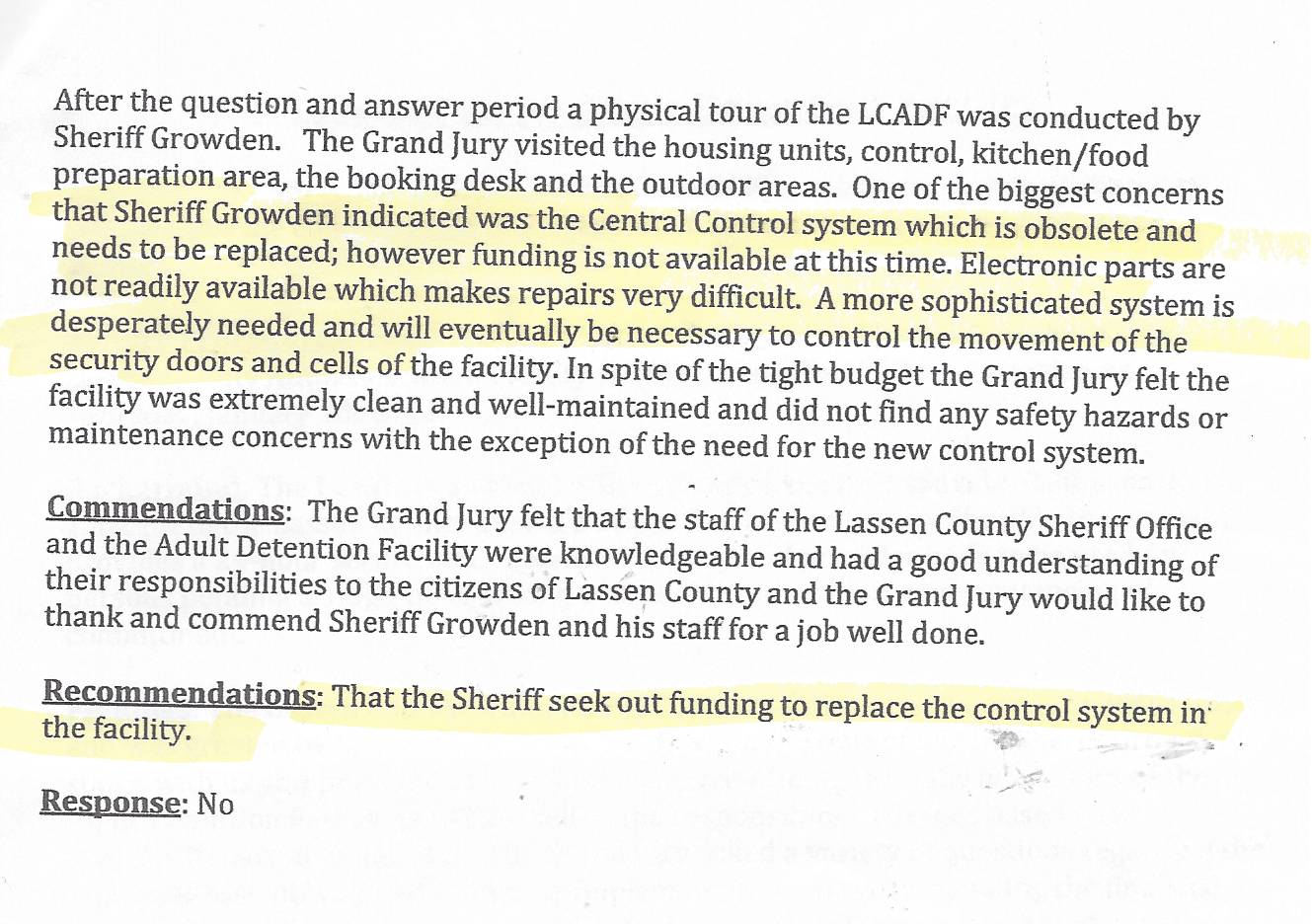 THE "DO NOTHING" BOARD
Last year, the Sheriff's Department presented the Board with a comprehensive presentation of the urgency of this capital improvement need LAST YEAR and has yet to approve the funding to be spent.
NO CAPITAL IMPROVEMENT PLAN
This elected Board, each year, bloats their budget with funding for expenses that they never intend to approve. This accomplishes two goals. It gives the "appearance" that the County is broke and it keeps the staff thinking something is going to get done.......THIS YEAR.
The facts are that this Board is a "do nothing" board. Lassen County's buildings are crumbling. Employees are forced to work in small and bad environments, public access to county services are spread all over Susanville.
Lassen County Supervisors opened their July 8 meeting at 9:30 AM and closed the meeting at 10:30 AM.. The public still had to come back three hours later for the Capital Improvement Plan discussion that lasted one hour because Pyle didn't want to hear any more.
If the Lassen County Chairman of the Board doesn't want to hear FACTS or CRITICISM, he tells the speakers
"THAT'S ENOUGH"
or makes up new rules. It is very evident, according to the videos of their meetings, the 3 minute rule is extremely selective depending if they like what you are saying or not.
INPUT FROM THE PUBLIC
IS CONSIDERED RUDE
CHAPMAN DOES NOT PARTICIPATE
IN
DISCUSSION
[Chapman did not attend the 1:30 CIP meeting today. Reason: fake CIP]

OF THE
NEW SUPERVISORS BOARD ROOM
AT THE
ICONIC
HISTORIC COURT HOUSE SQUARE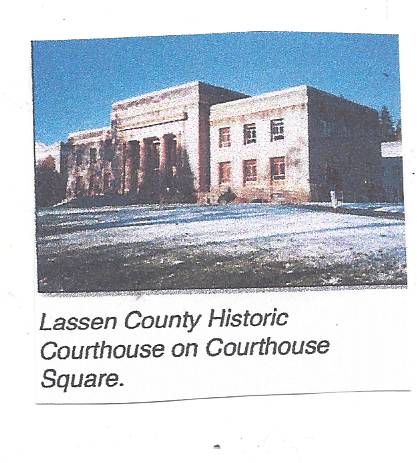 For months, Supervisor Chapman led the charge for a half million dollar new Supervisors Board Room. There was no money for this project, but on January 21, 2014 Supervisor Chapman, ordered Jeff Morrish, from NST (without public discussion or Board approval) to draw up plans for "The Annex" below [Judge Sokol's Department 1 court room] to be transformed into his new Board room.
On January 21, 2014, Chapman ordered the work to begin immediately and to be completed by June 10, 2014. KEEP IN MIND, THERE IS NO MONEY. NST spent $20,000 on plans that were never going to be used. WHY?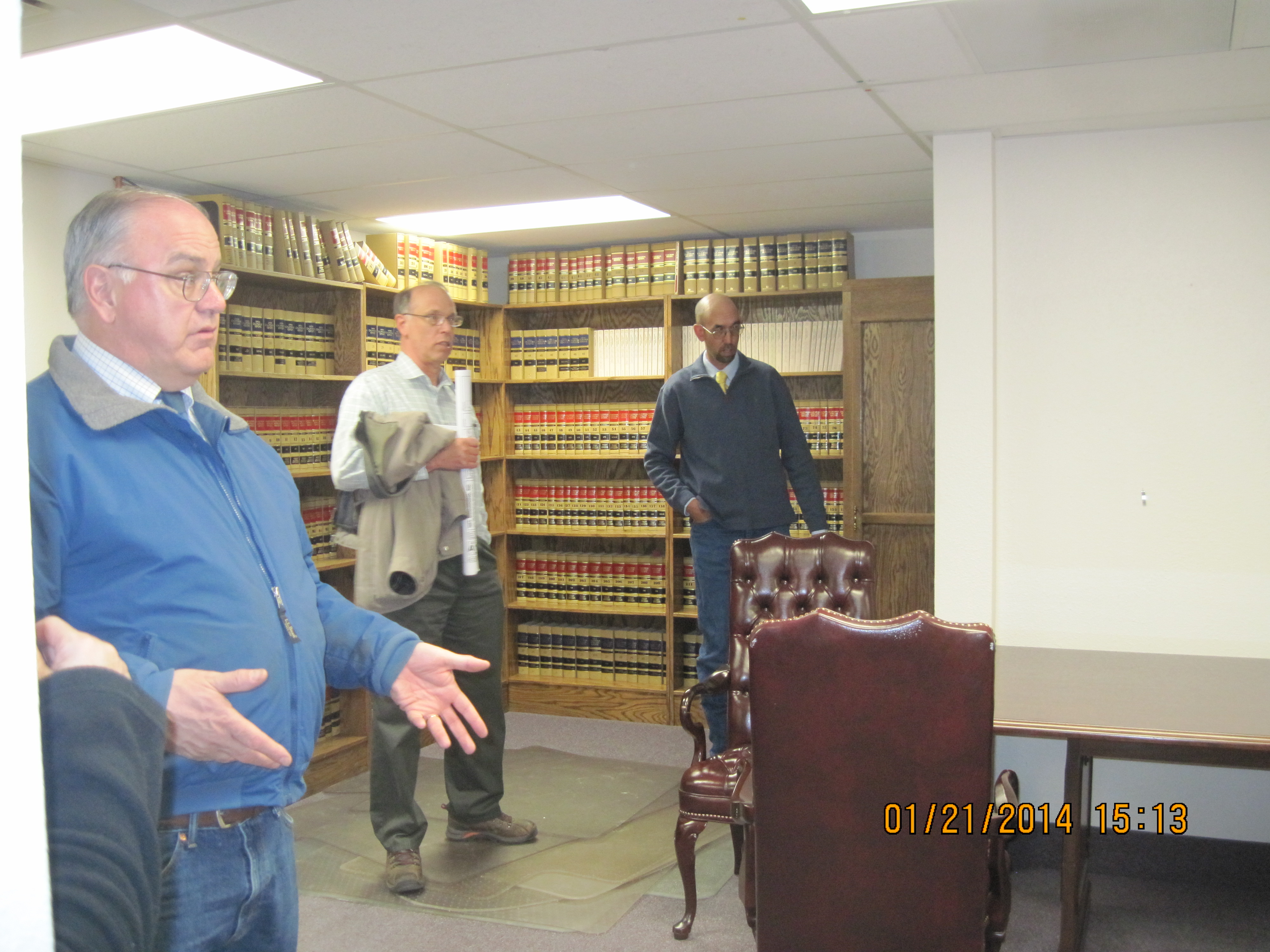 LEFT TO RIGHT: Supervisor Chapman, NST Jeff Morrish, Supervisor Albaugh
Keep in mind, there is no money to do this...................
IT WAS ALL A RUSE, LIE, UNTRUTH
The Lassen County Board flew $$$ TRG's Harry Munyon $$$ from Palm Desert, CA to present an "alleged" "NEEDS ASSESSMENT" study. This Study was commissioned two years ago at a cost of $8,000. Two years ago "someone" decided that the new Board room will be in the Old Court House on Lassen Street.
CHAPMAN'S OBSESSION WITH COURT ROOMS

The CAO was asked if the decision to remodel the historic upstairs courtroom (into a Supervisors Board room) came from Supervisor Chapman's "COURTHOUSE SQUARE REVITALIZATION TASK FORCE". The CAO attempted to "not know" about this committee but finally was forced to reveal that Chapman's task force has never had even one meeting.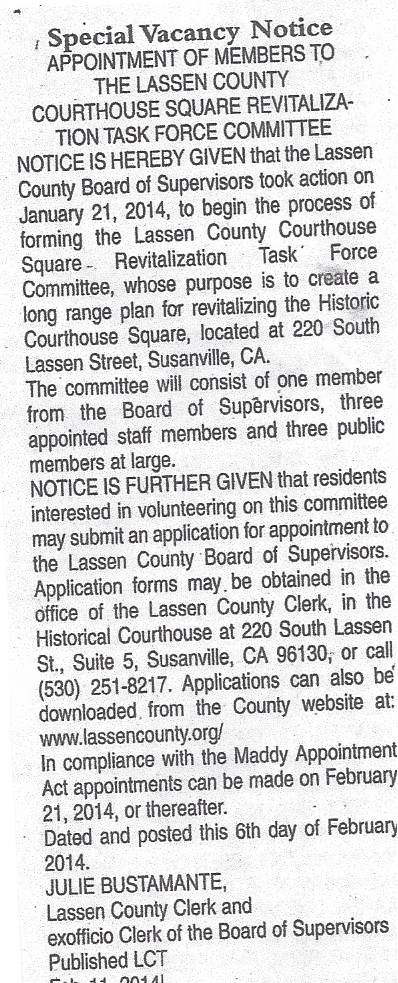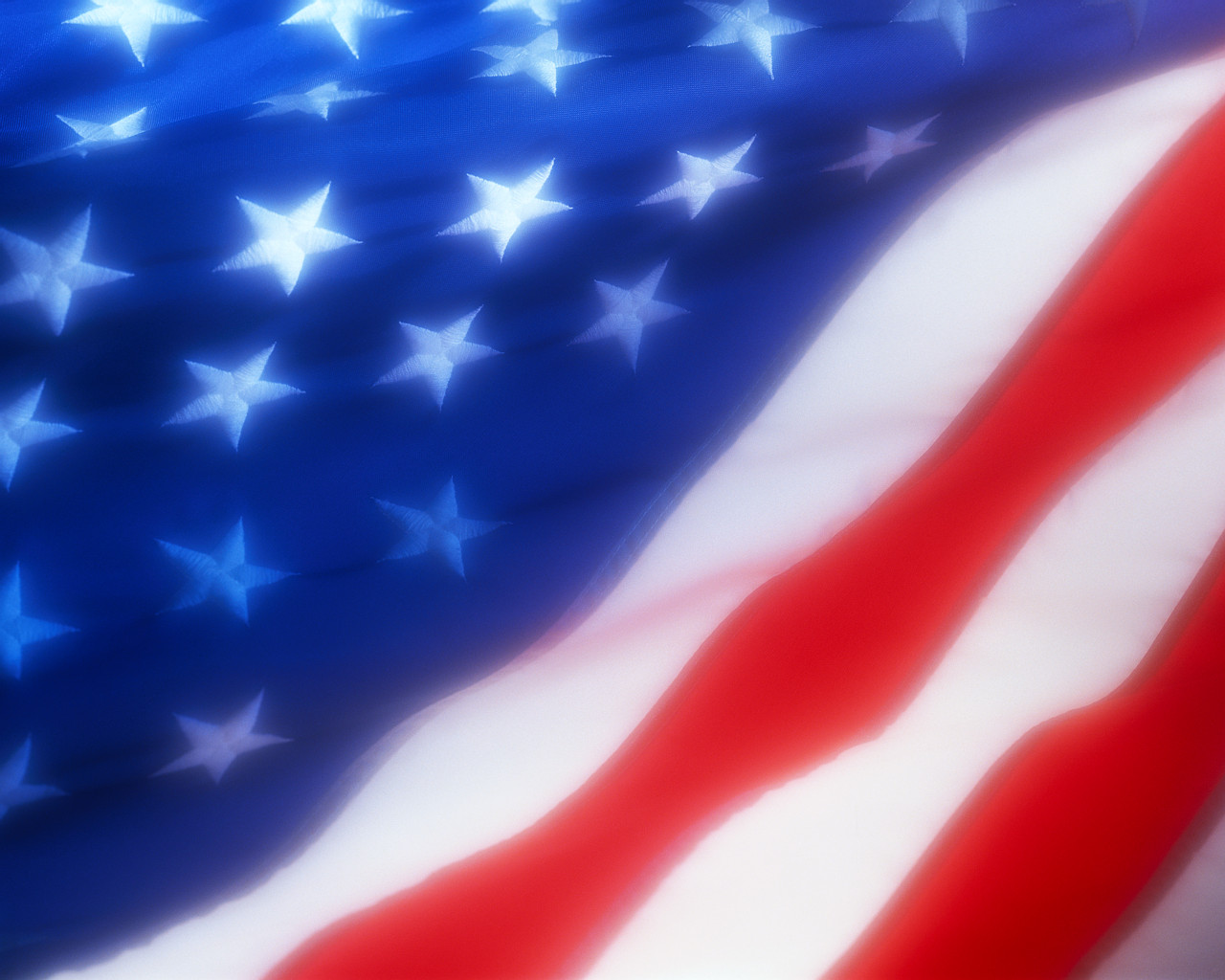 Striving to make a more perfect union
E Pluribus Unum
Voters Think Lassen County Supervisors
Just a Ceremonial Position
Kan We Help received, in the past two weeks, hundreds of comments by voters that the representation (by Lassen County Supervisors) is purely ceremonial. The five supervisorial districts represent about 4500 voters each.
Recently the Supervisors were asked, "Name one thing you have done for your District". Not a single response.
The Lassen County Supervisors hold three public meetings a month in which the public seems to perceive them as"Private Club" meetings that are inconveniently interrupted by voters.
Kan We Help
Attempted to
Verify Judges April 16, 2014 Letter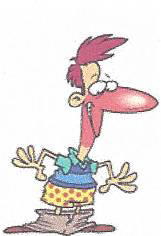 Click on Mr. Kot Withyor Panzdown
Judge Verderosa did not respond to request to authenticate the 4/16/14 letter
Bustamante Refuses to Certify
Egan's April 16, 2014 letter
Julie Bustamante is the Clerk for the Board of Supervisors. She certifies all copies originating from the Board as being authentic. She refused to certify a letter that she knew the CAO wrote. The "Received" date has been altered on the letter?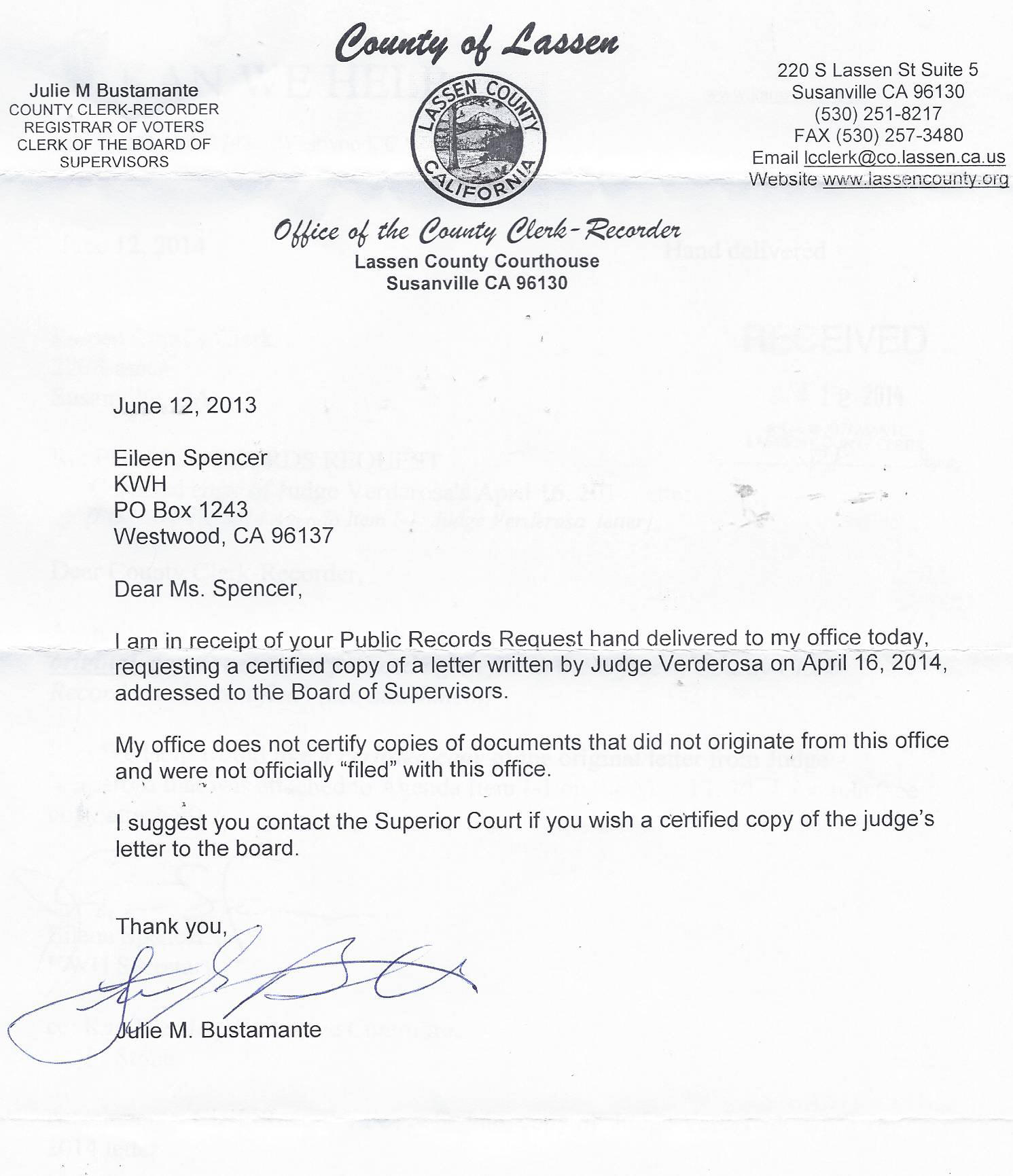 CAO Egan admits, on 6/24/14, that he wrote judges letter
WHO ARE THESE PEOPLE THAT THINK THAT THEY CAN DO THIS?
IS THE TRUST GONE?
NEW PAGE LAUNCHED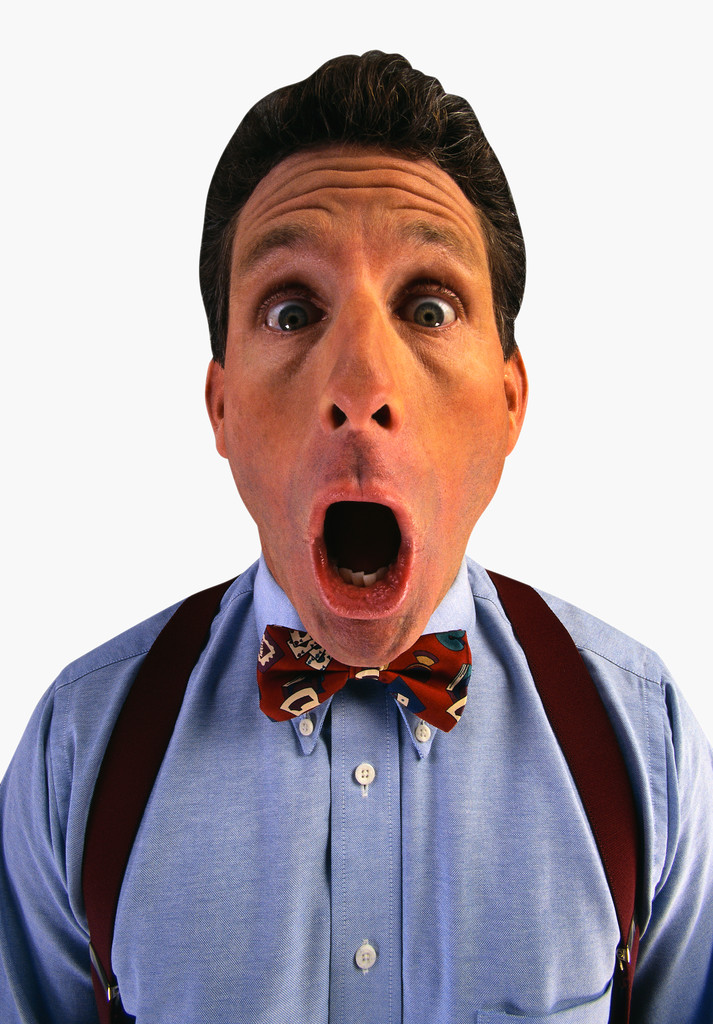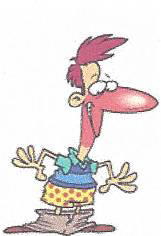 Julie Bustamante's Last Term
? Cheaters Reunion ?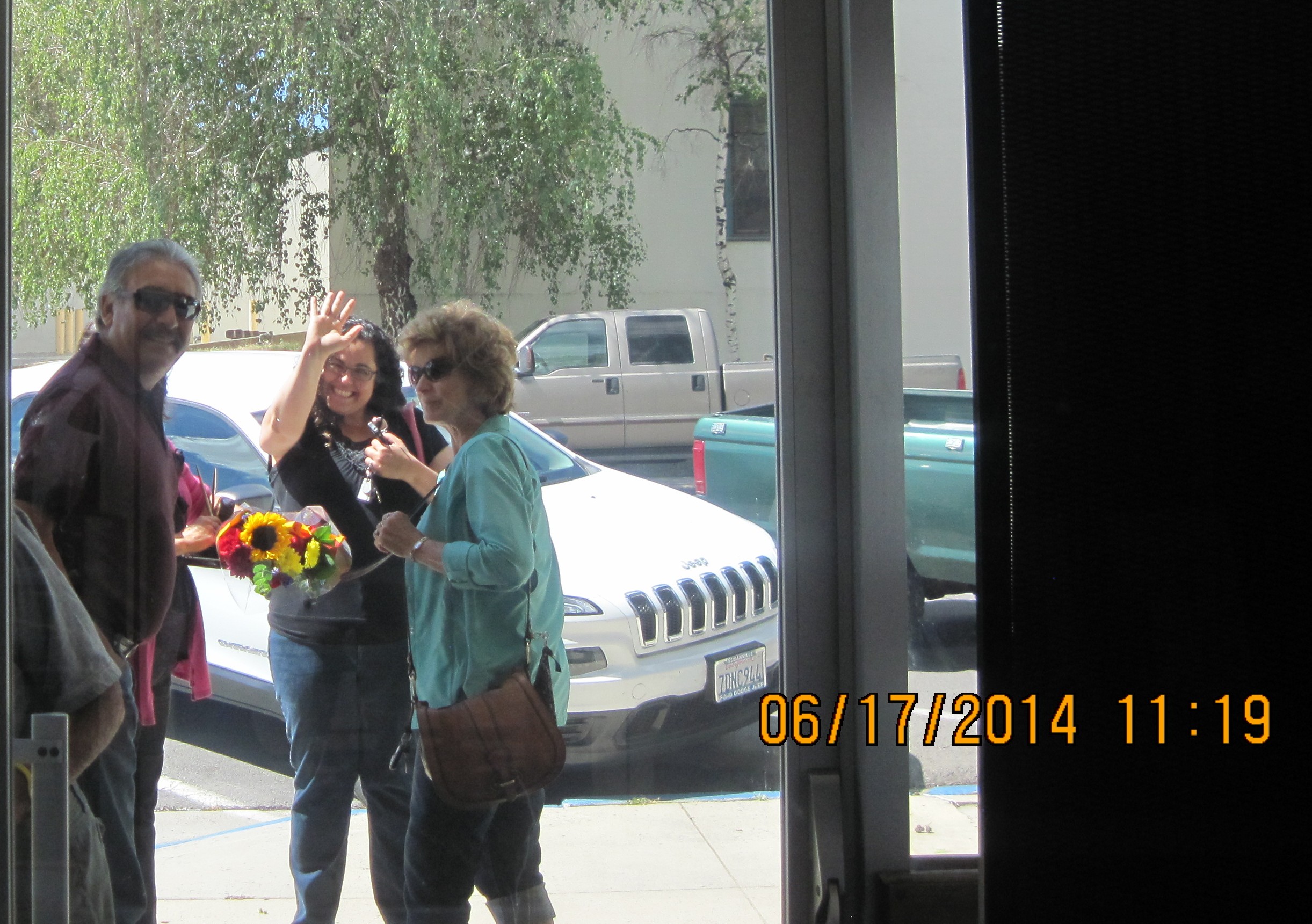 Julie Bustamante's daughter Nicole changed her waive from a single finger to all five fingers when she saw the camera. Bustamante's husband, daughter and Theresa Nagel attended the awards ceremony at the Board of Supervisors meeting for Bustamante's 25 year award.
Theresa Nagel, former County Clerk, never looked better as she chirped out,
"Bitch"
as her photo was being taken.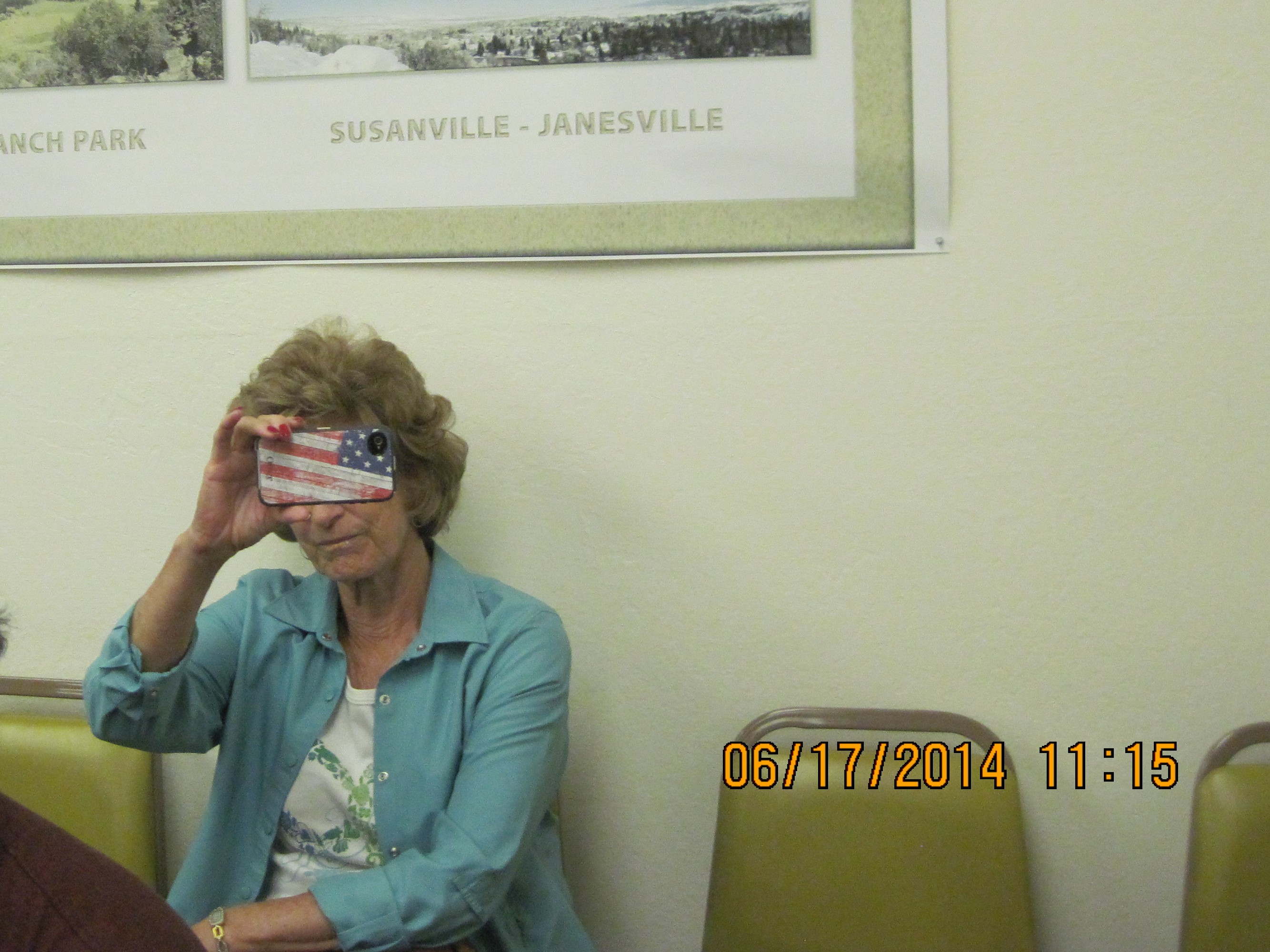 June 3, 2014 Election Monitored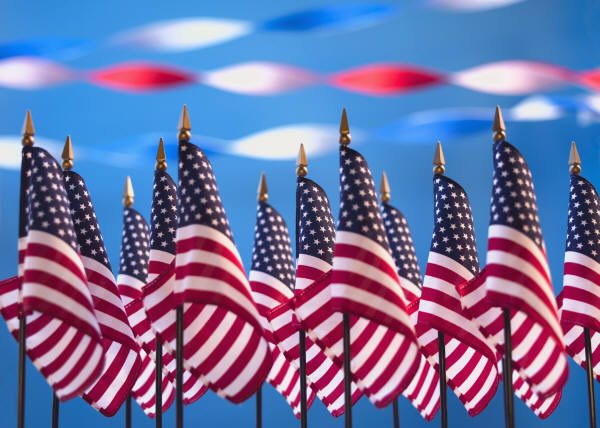 Kan We Help had Poll Watchers at Lassen County Precincts
and
the Secretary of State sent a State Poll Watcher
Surprises with the Results?
No
There was little opportunity for election tampering, this time
Bob Burns
Just
A
Misfit
He can't be a judge, he can't be District Attorney and is just
a misfit as Lassen County Counsel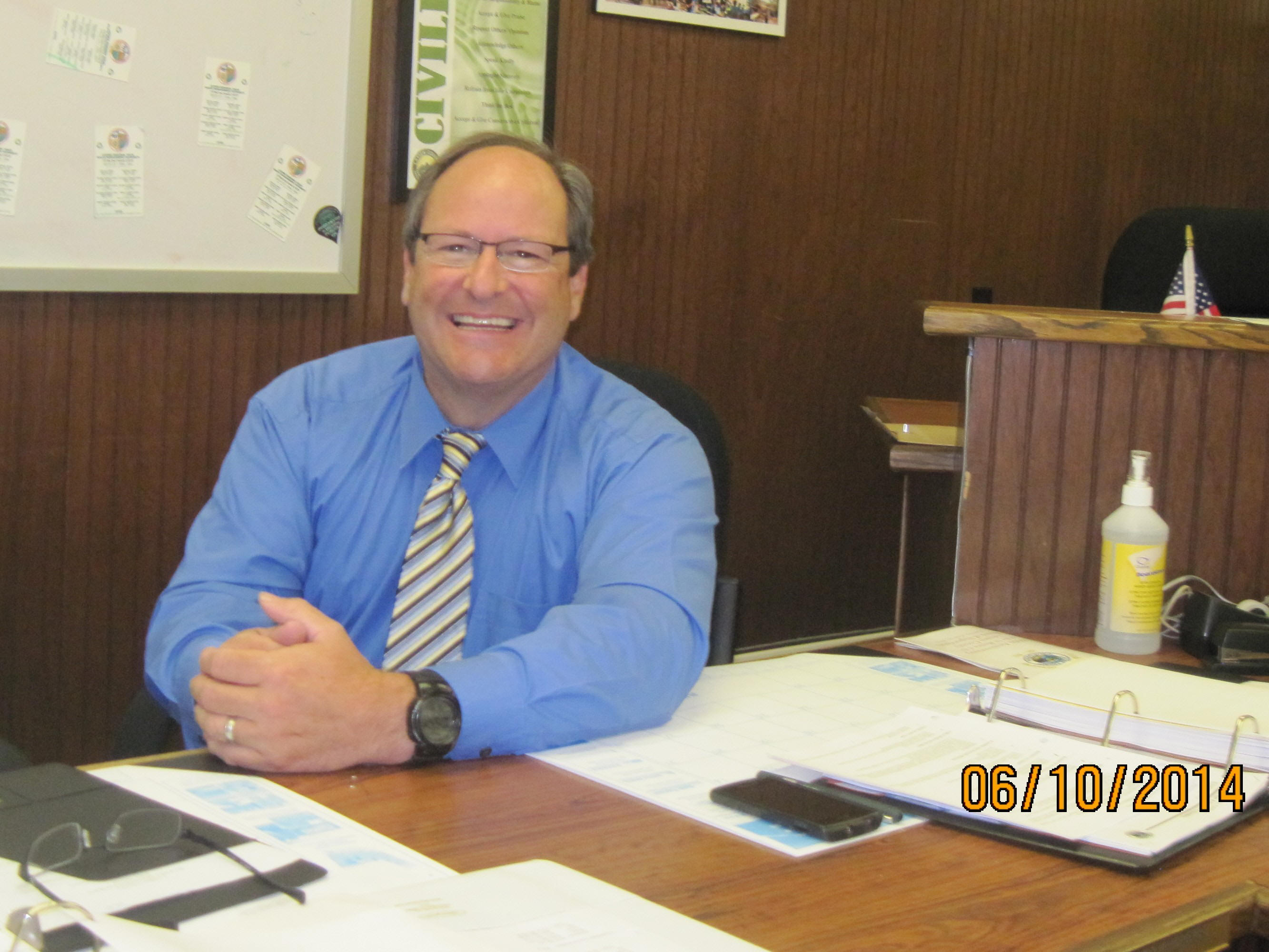 On June 17, 2014, Kan We Help asked Mr. Burns to identify the "Court" for the Grace Foundation lawsuit against the County and if he could remember to add that information to the Closed Session Agendas in the future.
Kan We Help was able to stop the practice of giving vague information on lawsuits against Lassen County on their Closed Session Agendas.
The Brown Act requires full disclosure of lawsuits discussed in Closed Session. Lassen County had a bad habit of not only placing fake cases in Closed Session in order to go into a Closed Session, but stating only the Plaintiff and Defendants name.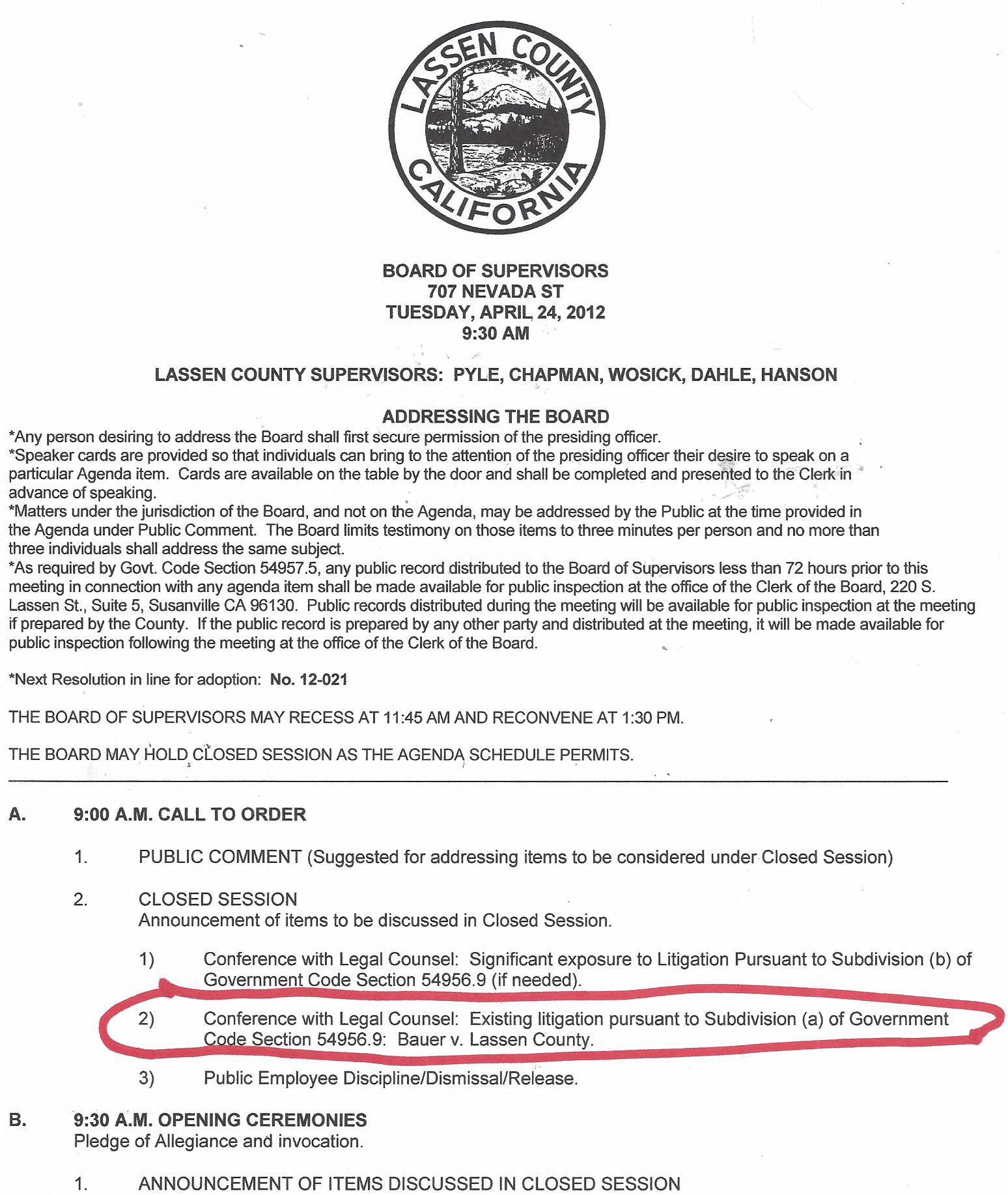 The Lassen County Counsel actually
resisted full disclosure until numerous Brown Act Complaints were filed.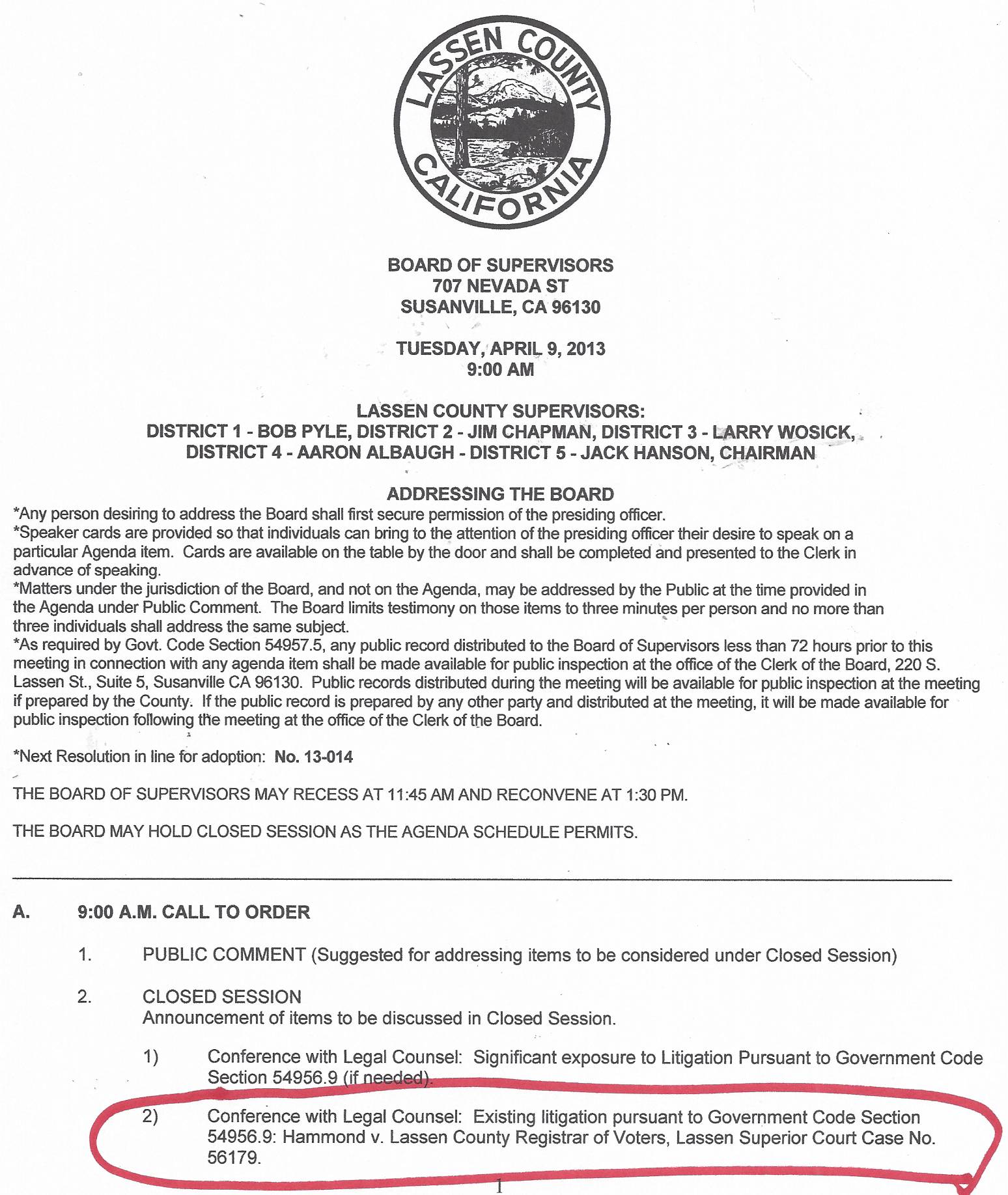 Now we have Bob Burns
He has refused to disclose
the name of the Court to the public
on the BOS Agenda
The June 24, 2014 Agenda
does not include the California Court that this lawsuit was filed in. With 58 County Superior Courts, Mr. Burns does not want anyone to have access to the Grace Foundation lawsuit against Lassen County.
Starved to death in Susanville, CA
WARNING: this video is graphicWhispering Pines
JUSTICE FOR ANGEL
RAPE AND MURDER OF LASSEN COUNTY
WOMEN AND YOUNG GIRLS
NOT REPORTED IN LASSEN COUNTY TIMES
Rape is an entitlement to males in Lassen County
Angel's Mother and Grandmother ,
desperate for justice,
presented her story at the Lassen County Board of Supervisors Meeting yesterday.
Click on photo below:
Everyone is listening except the CAO, Moving papers was more important ?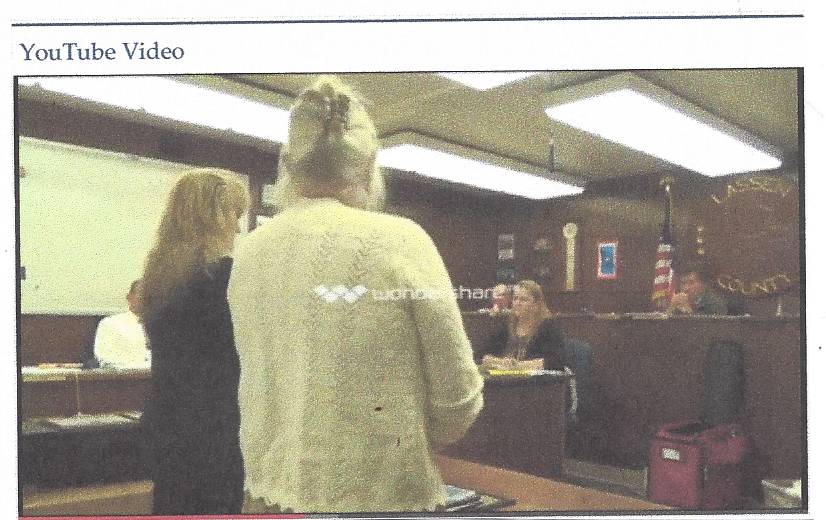 Burns is forced to listen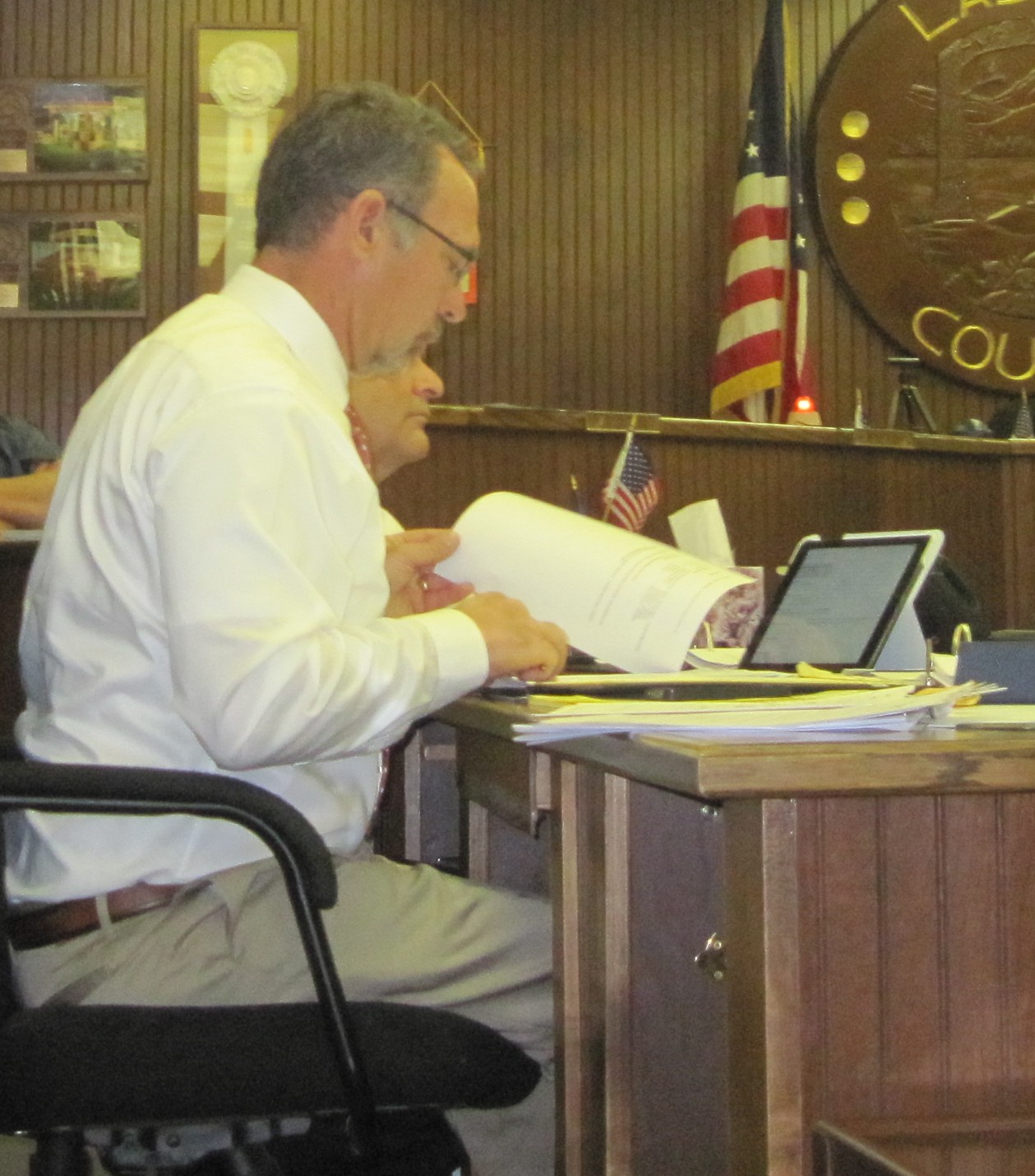 THE REASON FOR TERM LIMITS:
SUPERVISOR CHAPMAN
Just because you have gone unchallenged, Mr. Chapman, it doesn't make you right. Times are changing, get used to it.
Click on photo: Watch the arrogance of a 35 year "old veteran Politician"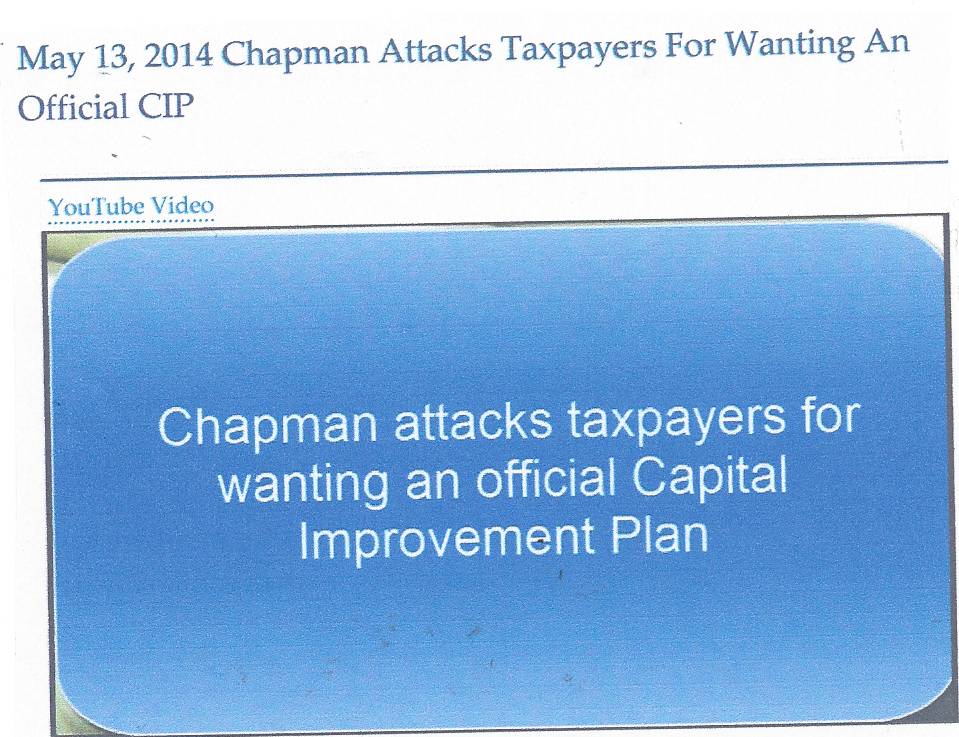 Chapman attacks taxpayers for wanting a Capital Improvement Plan
Chapman tried to slip a Capital Outlay expenditure for a "back up" generator into an inappropriate account [Agenda 5/13/2014, Item G-7]He claimed that it had been there for years. Research found that was not true.
Chapman claimed that this generator had been in the budget for years. It has never appeared until the 2013-2014 budget. Why lie about something that can be so easily checked?
2012/2013 Criminal Justice Fund
Lassen County Auditor confirmed that the generator should have been paid for from the Capital Outlay fund and not the Criminal Justice Fund.
HE GOT CAUGHT AND WAS VERY INDIGNANT.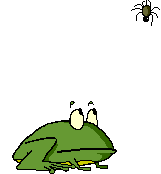 Chapman was reminded that the Board approves the annual budget. When Chapman gets caught telling lies he ALWAYS blames it on staff.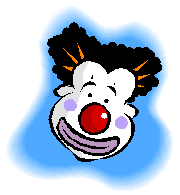 Supervisor Chapman, now almost a comical character on the Board, fails to take responsibility for his intentionallies and actions.
Lassen County
Lacking in Basic Humanity
One would think that because of the $80 million farming and ranching industry, in Lassen County, there would be a modicum interest in the treatment of horses
NOT TRUE
Pete Heimbigner, Supervisor of Lassen County Animal Control, is in Court defending his actions for the horses that were starved to death under his watch [Case 30-2012-00612863-CU-RC-CJC]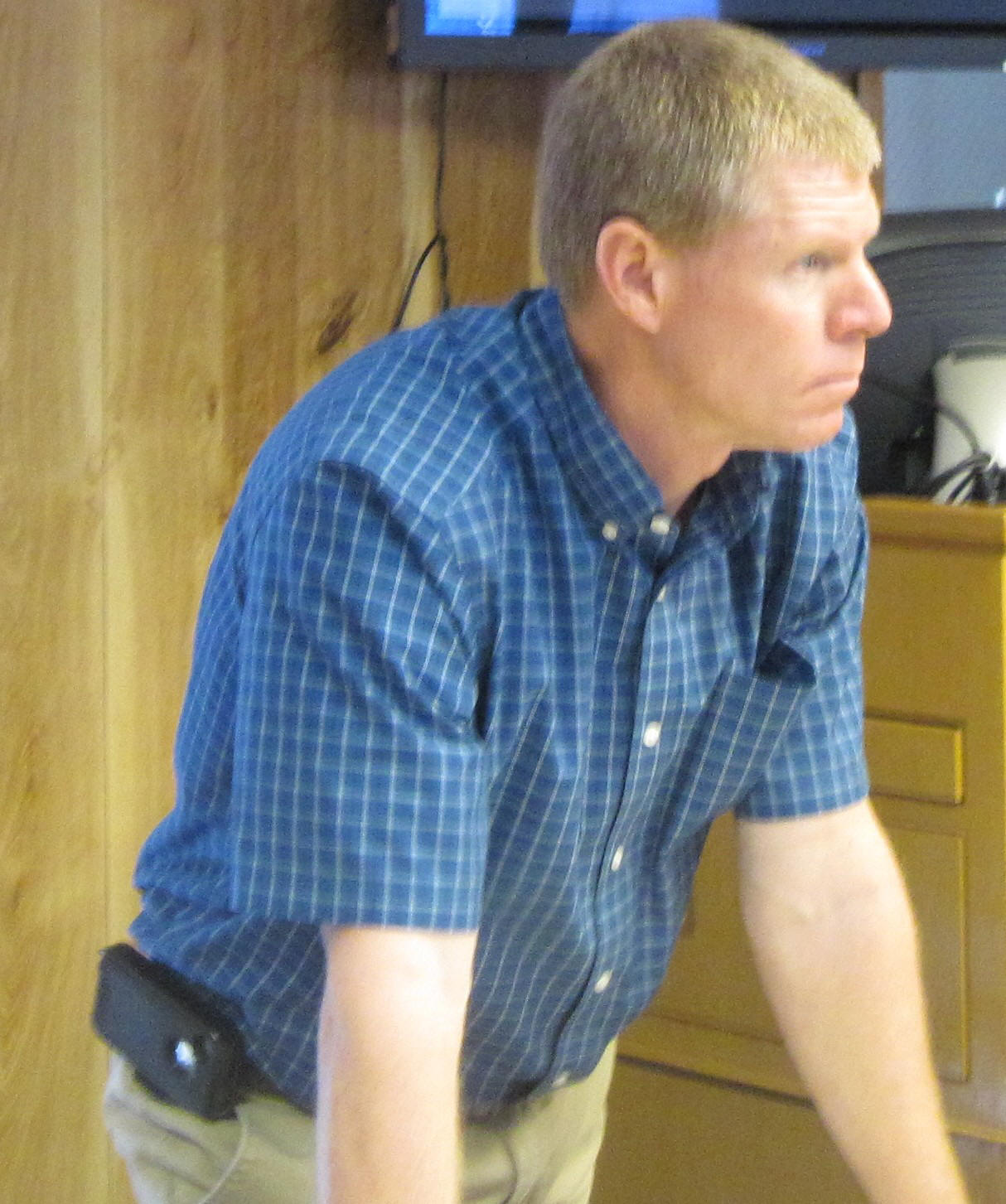 Starved to death in Susanville, CA
WARNING: this video is graphicWhispering Pines
And.....Pete Heimbigner, Lassen County Animal Control Supervisor, continues to ignore the horrible conditions at the Lassen County Animal Shelter in Susanville
Even though the work has been budgeted to reseal the kennel floors and walls and remodel safety issues at the shelter, Heimbigner has refused to do it.
The remodeling budget just sits year after year, untouched and ignored
Presently the kennels cannot be properly sanitized and put the staff and animals at risk
Animal Control Staff are at risk because the old kennel doors allow dogs to escape.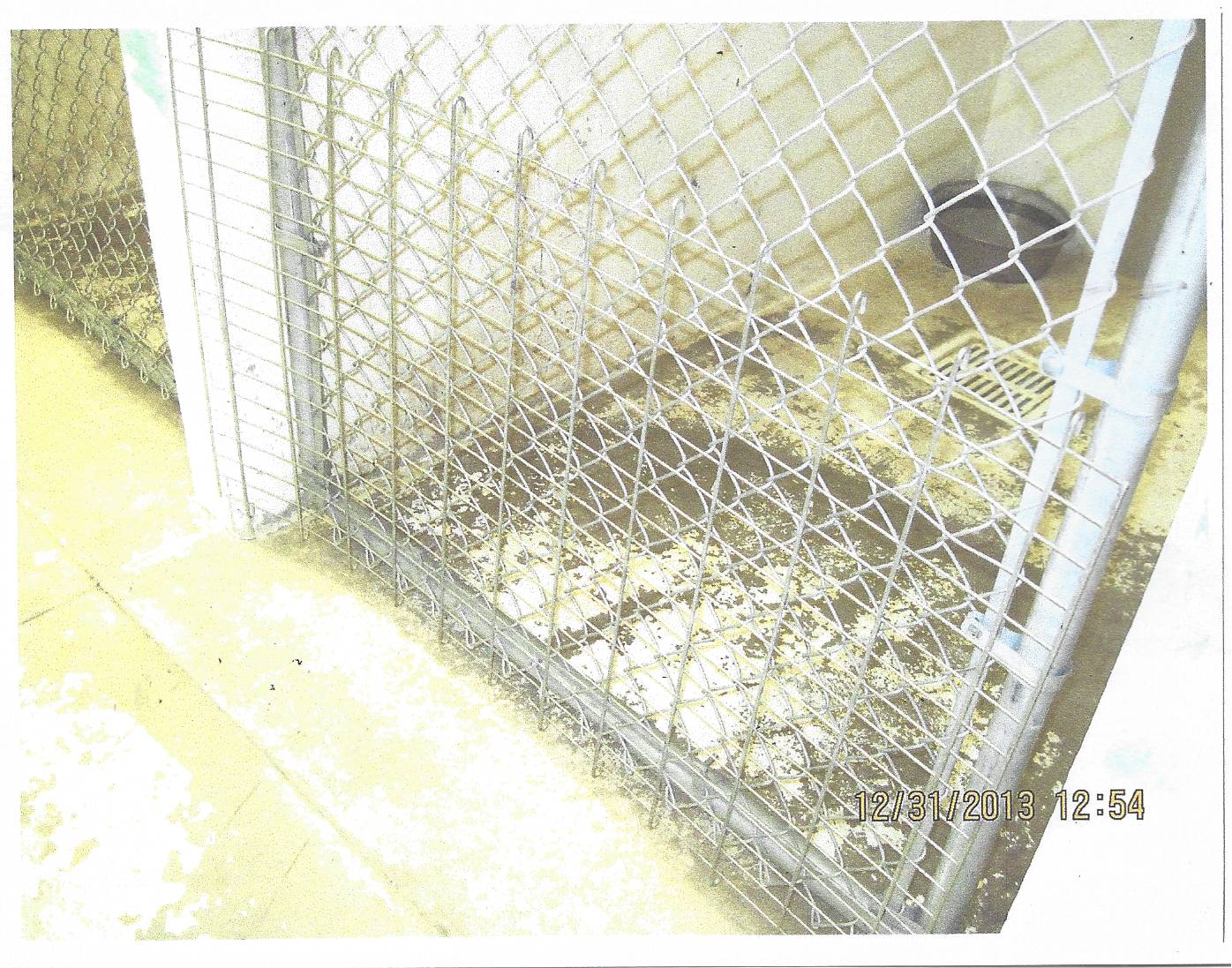 And.....Heimbigner plans to kill over 100 dogs in Ravensdale at the end of June and put the owner Debbie Valenta in jail.
Ravensdale is the home of the second largest wolf hybrid rescue in the United States. Heimbigner has harassed the Wolf Hybrid Rescue in Lassen County for months.
WHY?
It is Personal........
Heimbigner was asked to leave the property because he refused to step in to a bleach solution so as not to bring any contamination into the dog area.
Lassen County's Official Attack dog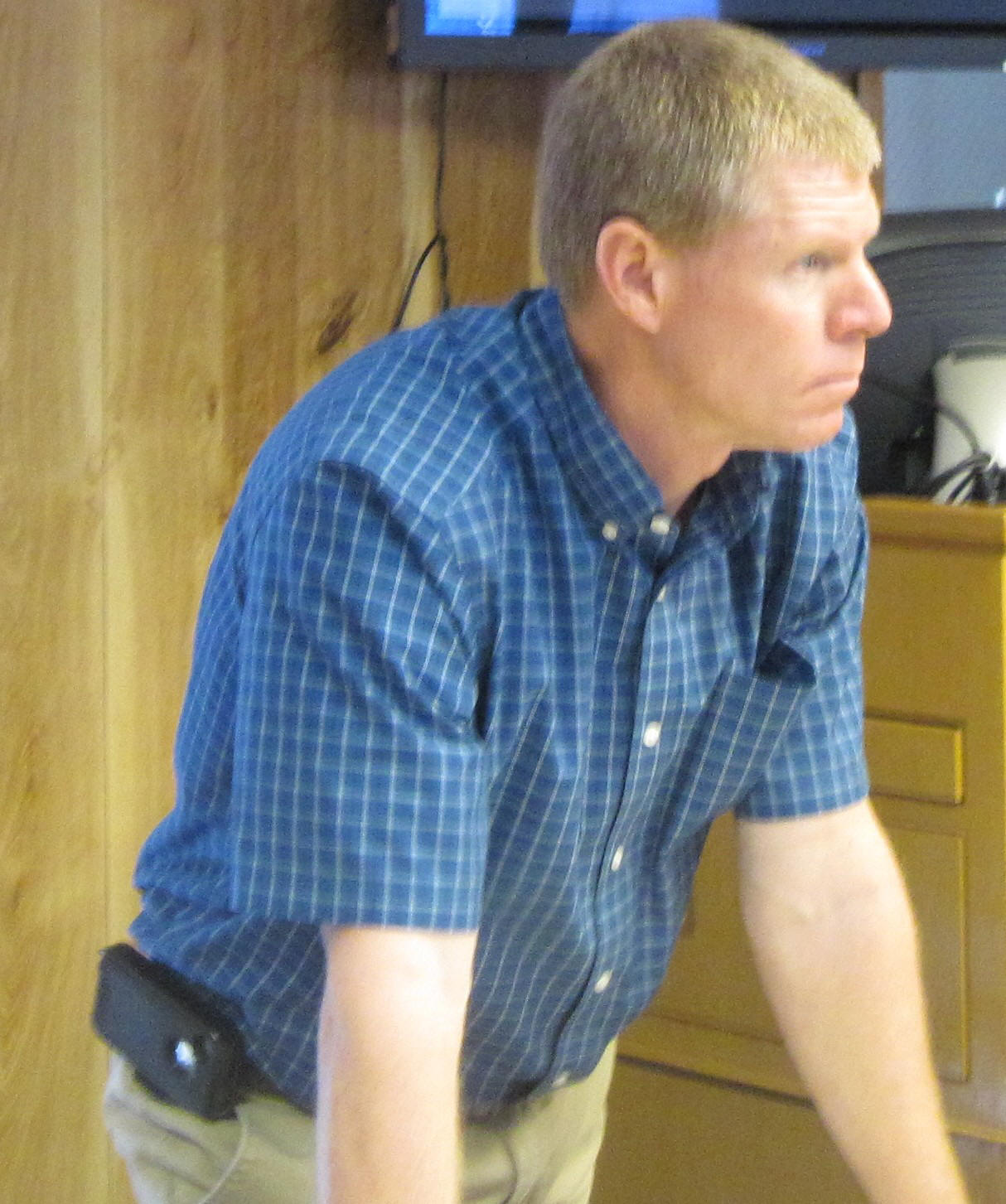 Heimbigner has been accused of strong arming other businesses in Lassen County.
Recently: Bulls Eye Recycling, Steve Pezzullo, Grace Foundation
Who the hell is allowing these abuses?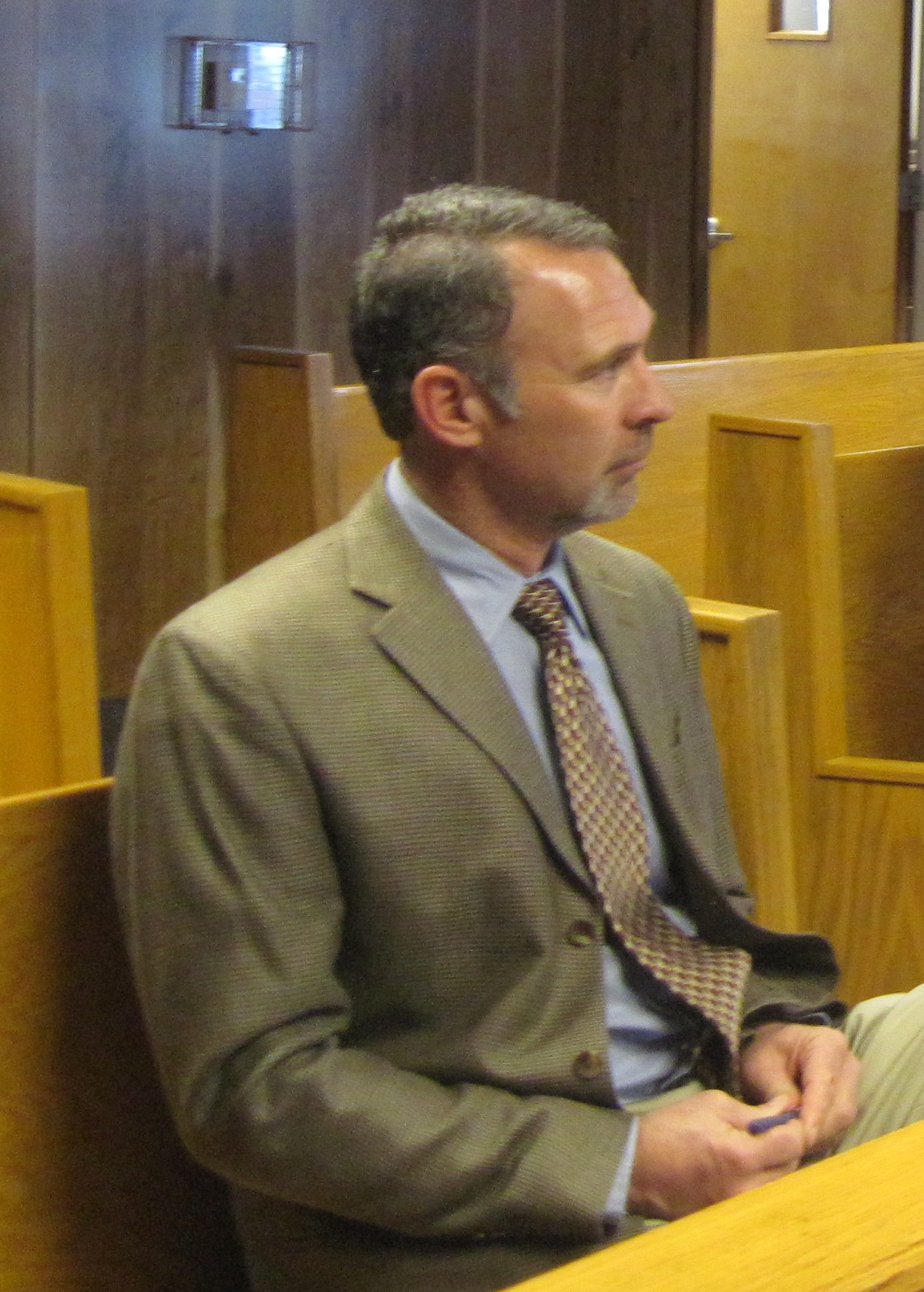 Salary: $174,000
Benefits: $43,000
Highest Paid Lassen County Administrator
in
Lassen County History
Supervisors hired Egan to do a job
Egan accepted the job knowing full well what his duties were
LASSEN COUNTY SUPERVISORS
HAVE
NO INTENTION
OF
CREATING A
CAPITAL IMPROVEMENT PLAN
Major Lassen County land owner/rancher and now County Administrative Officer has no intention of creating a "CIP" for Lassen County.
Hide in Plain Sight
The June 10, 2014 Board of Supervisors Agenda placed creating new positions, new titles, new pay at the end of their Agenda. Why? Because they do not want the public to be present.
Public Entities typically change titles of staff when they want to give HUGE pay raises. CAO Egan rewarded only Cheryl Douglas. Egan pulled Regina Schaap's new "job description" and pay raise. Julie Morgan, Assistant to CAO, was also not rewarded.
The Supervisors approved Agenda Item H8. CAO Richard Egan requests that $102,000be added annually to the County's budget so he can hire a Deputy CAO. Someone to replace him when this rancher/CAO is........absent ?
THE CAO KNOWS THERE IS LOTS OF MONEY FOR HIM TO DO THIS
BUT
NO MONEY WILL BE CONSIDERED
FOR CRITICAL COUNTY
IMPROVEMENTS AND REPAIRS
Until Certain conditions are met:
Begging and/or Favors
That is how Lassen County Government rolls
Lassen County Fails to Present
even a Draft
of the mandatory
Capital Improvement Plan
The County continues to approve new spending for Fair entertainment, toilets for the forest and various projects for certain Supervisors and scheduled budgeted projects just sit year after year.
All five Lassen County Supervisors play the "Board" game Monopoly,
but the public never knows which Supervisor gets to roll the dice.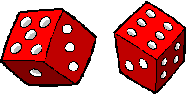 A Touch of Class
at the
Board of Supervisors Meeting Today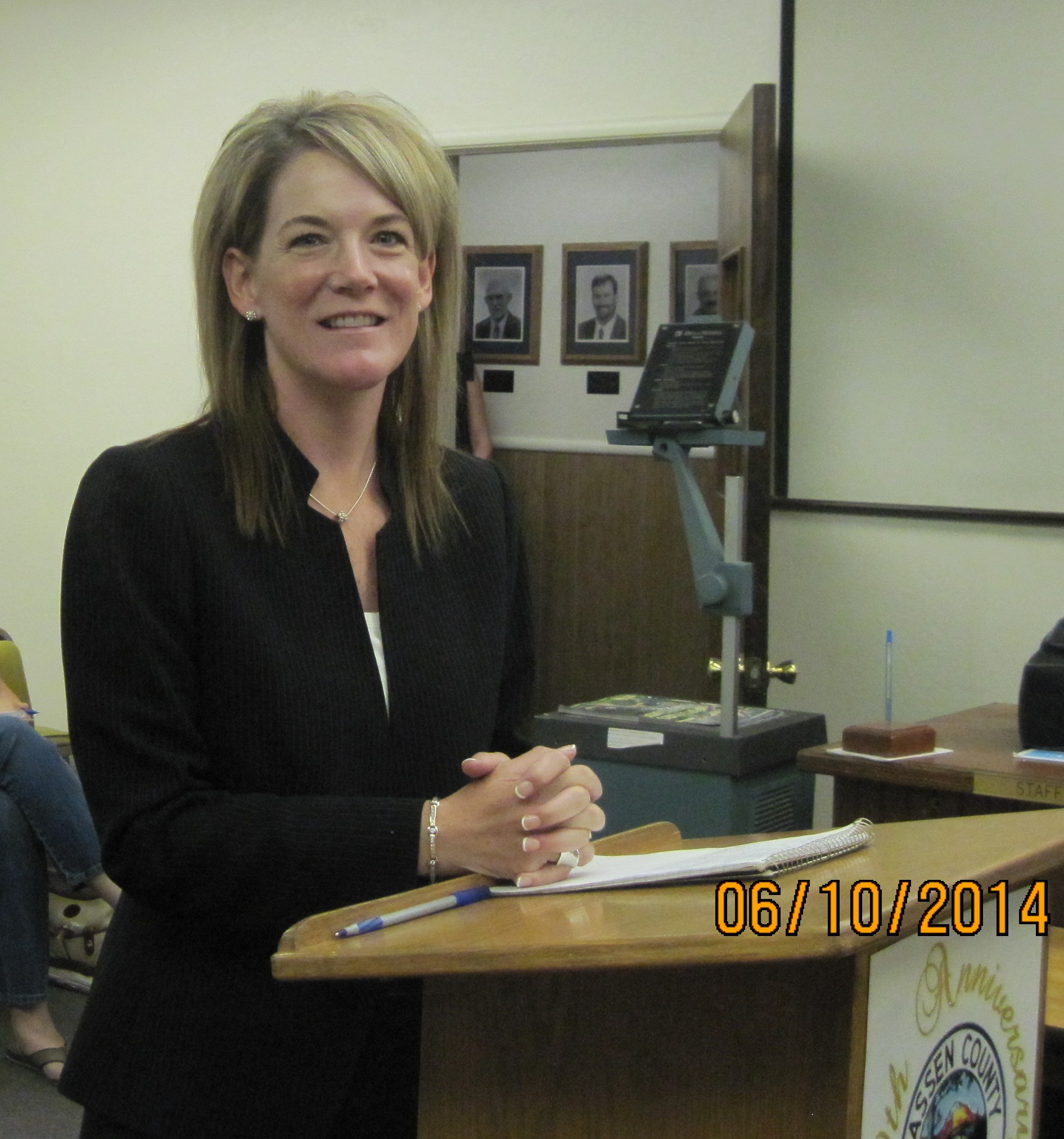 The Lassen County Board of Supervisors voted to appoint newly elected
District Attorney Stacey Montgomery to fulfill Bob Burns remaining term
Lassen County
Animal Control
Hosts
Second Successful
Rabies Clinic
in
Susanville
Hundreds of dogs and cats get low-cost vaccinations on May 31 at Susanville's Memorial Park. $8 rabies shots were available and pet owners could register their dogs for City of Susanville and County dog licenses.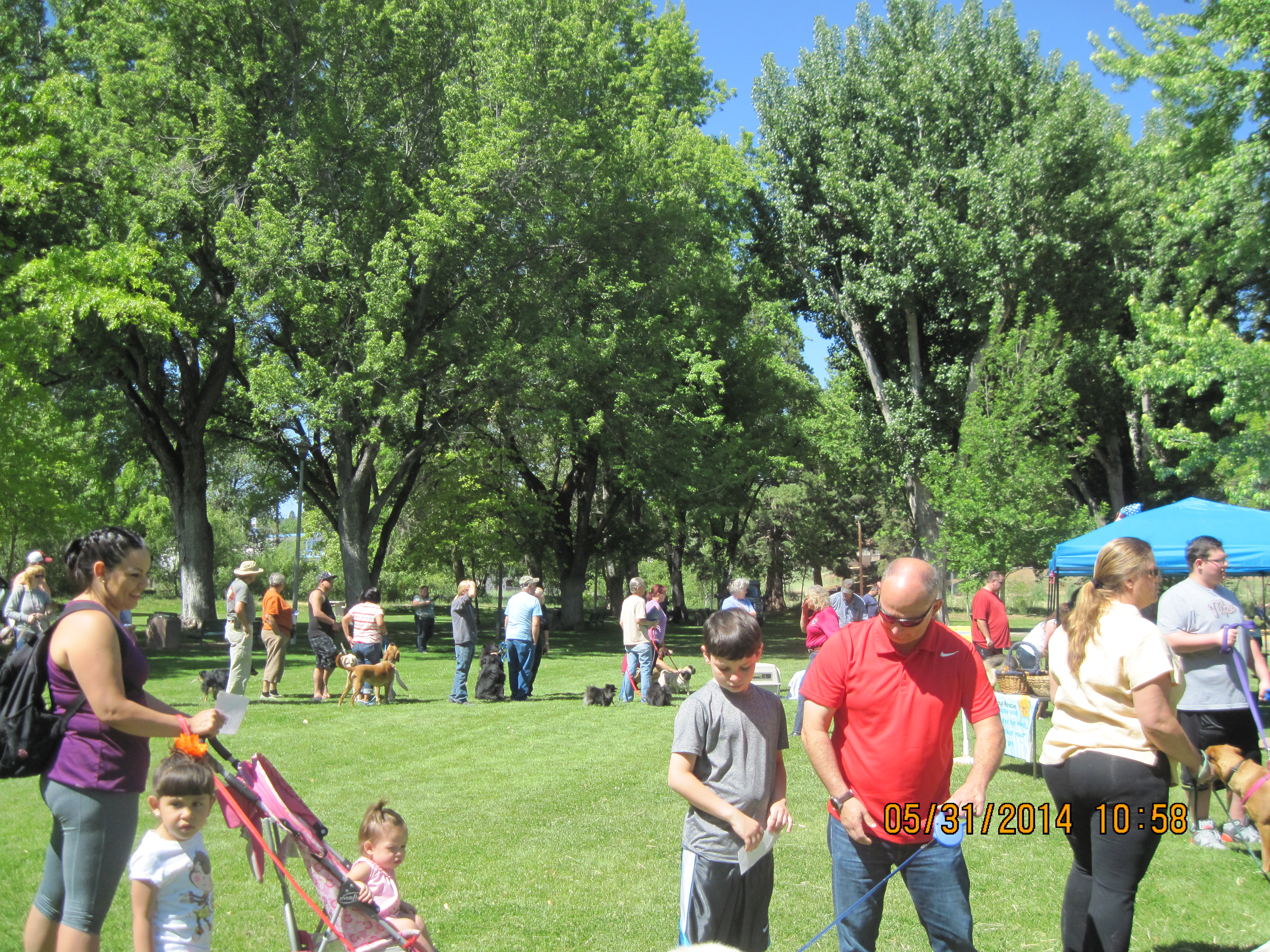 [The local paper does not carry this story ? They don't like dogs and cats................?]
"Pardners", in Susanville, gave goody bags to all that participated. "Sit Spot" set up an agility training area for owners to take their pooches through and "Lassen Animal Rescue" distributed dog "dental" sticks to dog owners and provided staff for coordination. Susanville Police Department offered hamburgers and hot dogs. t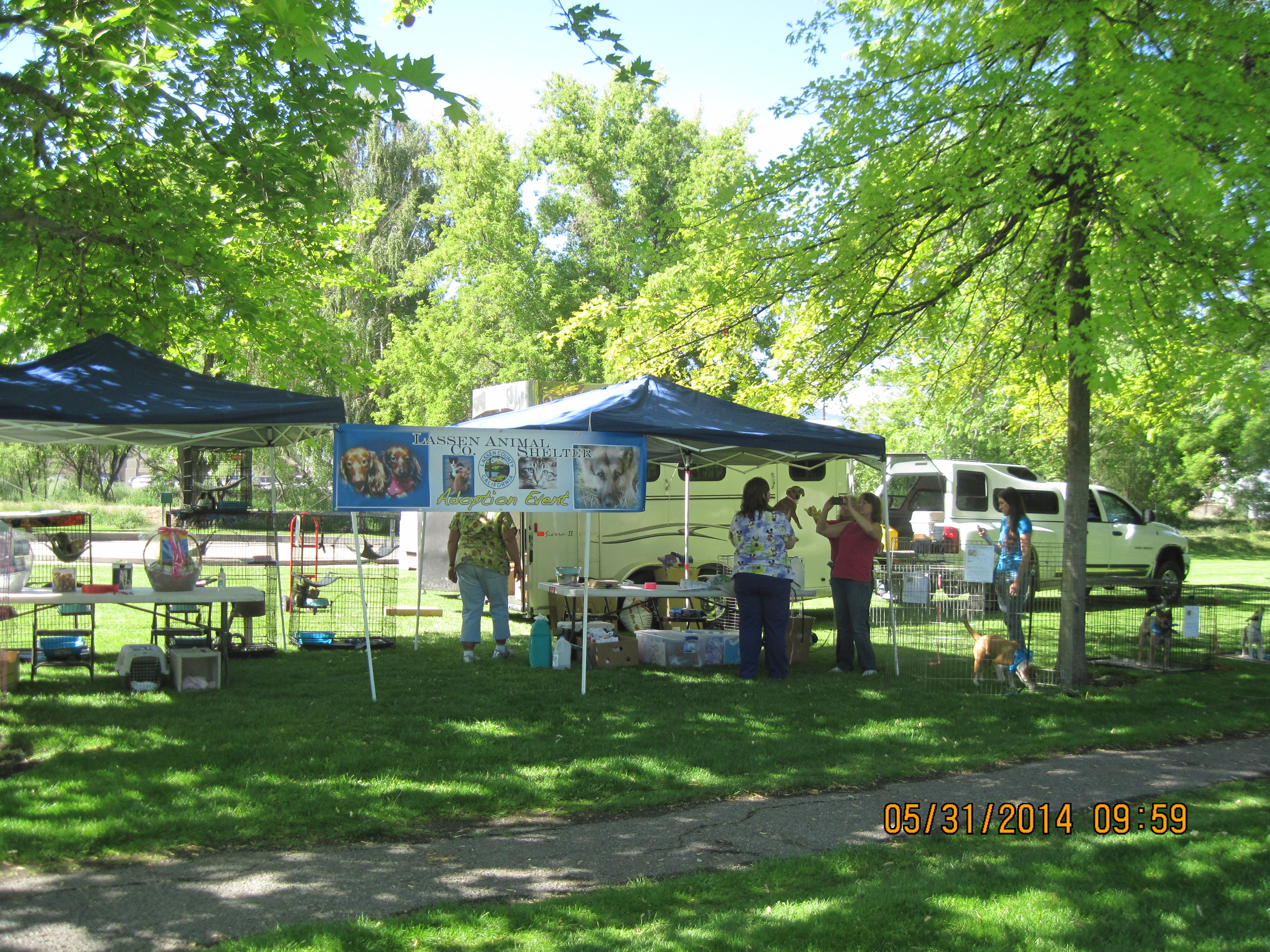 Three kittens and one puppy were adopted at the event.
District Attorney Bob Burns Resigns
and
Recommends that Stacey Montgomery
Be Appointed
to Serve the Balance of his Term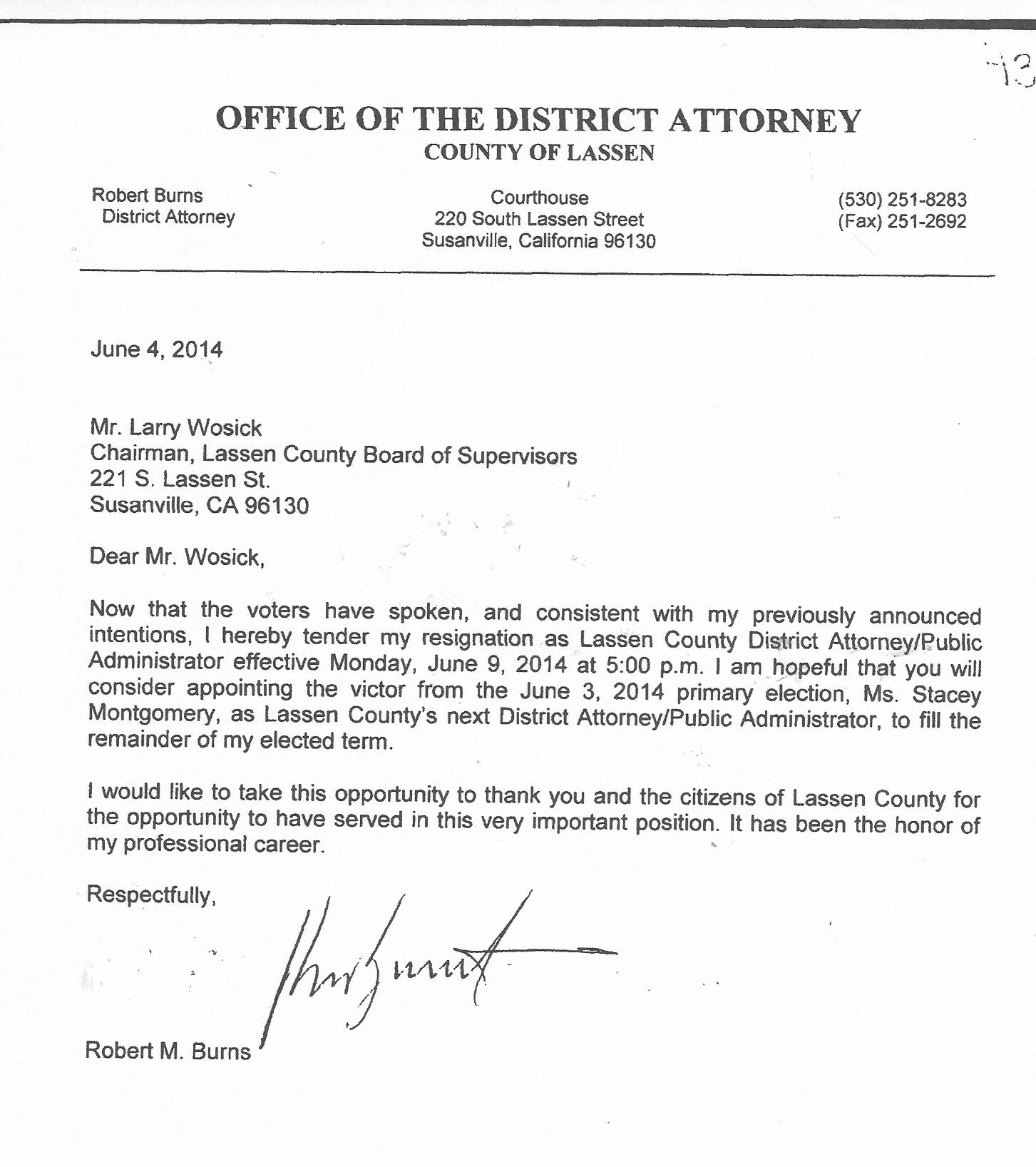 Lassen County
Elects
Stacey Montgomery, District Attorney
Diana Wemple, Auditor
Patricia Gunderson, Superintendent of Schools
Nancy Cardenas, Treasurer
Julie Bustamante, County Clerk
Jim Chapman is not the Auditor
Diebold Voting Machine Easily Changes Votes
In 2002, Kan We Help raised serious concerns that the election had been tampered with. It was documented that the voting machine memory card serial numbers did not match the serial numbers that were registered to the voting machines. The memory cards had been changed.
In 2002, Kan We Help caught Theresa Nagel and Julie Bustamante putting "white-out" (correction tape) on ballots. They just got their hands slapped ?
THE TRUST IS GONE
BUSTAMANTE