THE BULLETIN BOARD
kanwehelp.com, The Lassen County Original Bulletin Board
page one
"An investment in knowledge always pays the best interest",
Benjamin Franklin







ARCHIVES:
Government Code 54950
"The people in delegating authority, do not give their public servants the right to decide what is good for the people to know and what is not good for them to know"
Kan We Help PUBLIC RECORDS requests
UPDATED 10/31/13
Lassen County Supervisor Salary History & 700 Forms
Diebold Voting Machine Program Cards Easily Changes Votes
Look on the Bright Side

District Attorney Robert Burns is not a Judge
Soon, he will not be a District Attorney
He has been demoted
and is now delegated to
three days a month
enduring
the
Board of Supervisors follies
For this, he will receive a modest stipend of:
$126,000 a year plus an additional $31,000 in benefits
BREAKING NEWS ?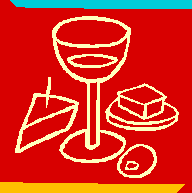 Happy/Happy Hour
4/24/14 @ 11:34 AM
Ms. Bustamante's "Essence of 90% "
can still be conveniently purchased at
Safeway, Young's Market or Susanville Market
Lassen County Supervisors Build Nothing
They talk and talk and talk and never build anything. Lassen County Supervisors
destroy the hopes of the dreamers that want something better in life.
Five MEN that talk big, to get elected, and then find controlling the $120 million dollar county treasure chest too irresistible and just end up helping themselves and their friends.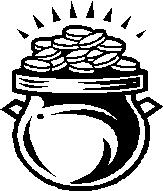 Lassen County Supervisors:
A DEMOLITION DERBY IN SLOW MOTION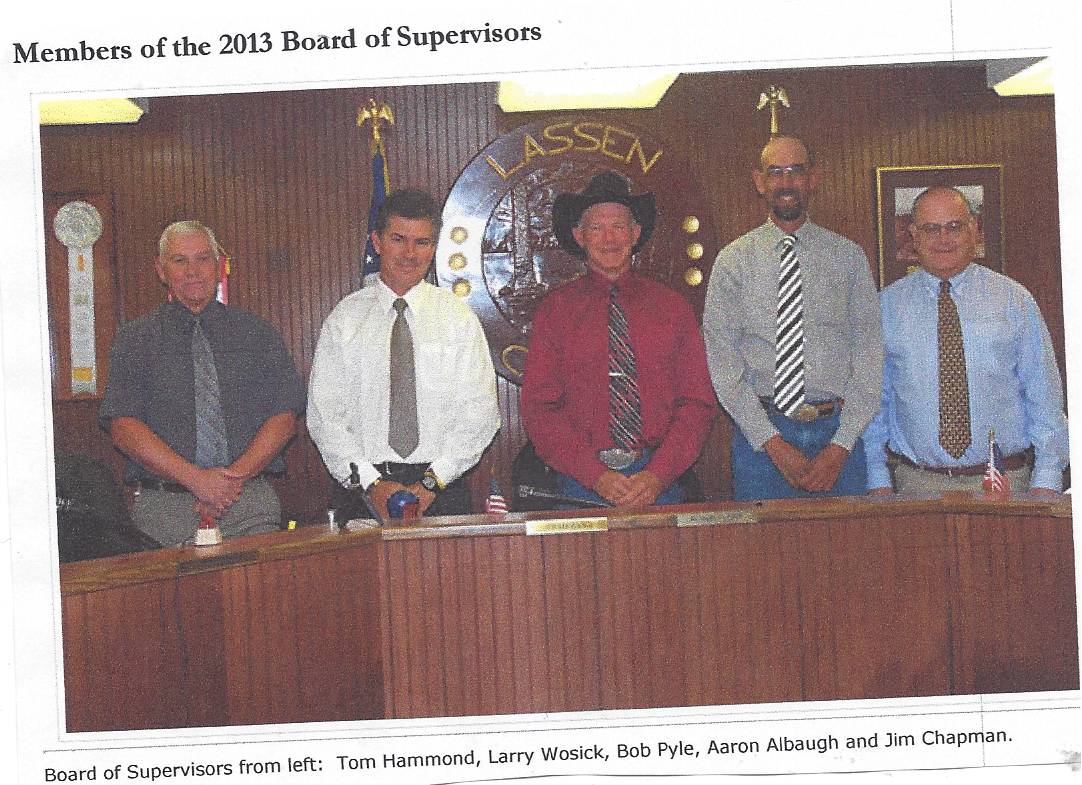 Lassen County has a 40 year career politician that has forgotten that the $120 million dollar County chest of gold belongs to the people and not him.

You have a first term Supervisor that saw an opportunity to scoop up pots of gold around the County and then he quickly exits-stage-left.

You have a first term Supervisor that talked big about cleaning up County government but found joining the "Club" was much more lucrative.

You have a first term Supervisor that was asked to step up and fill some big shoes and found that those shoes just keep stepping in cow pies.

You have a veteran politician that has simply run out of steam after several lawsuits and more legal troubles coming.
Year after year, decade after decade, Lassen County has just been crumbling away.
The Supervisors have no direction except to further their own agendas, which has never
included the needs of the people.
THE COMMUNITY POOL, has become just another Lassen County black hole JPA. Will it be built, probably not. It seems it was just a political stunt by a few local politicians to spring board to higher offices.
LASSEN COUNTY BUILDS NOTHING
THE CAPITAL IMPROVEMENT PLAN is a mandatory document that the Supervisors don't want. It would force them to set priorities before spending money. Their only priority has always been to help themselves and their friends get richer.
LASSEN COUNTY BUILDS NOTHING
ECONOMIC DEVELOPMENT sounds really good when hardworking people write the Grants only to have the Supervisors give it away and tell the people to just "forget about it. Let's just move forward".
NO, the $5.4 MILLION DOLLARS the Supervisors SIPHONED off FROM HERLONG'S GRANT MONEY for salaries and alleged administrative costs .
THE COUNTY'S AGREEMENT WITH THE SIERRA ARMY DEPOT, TO DEVELOP HERLONG, WAS VIOLATED.
SOMEBODY IS GOING TO ANSWER FOR IT.
LASSEN COUNTY
IS ONE
F_ CKED UP COUNTY
Five cowardly supervisors
are going to hire Robert Burns
out of town, in Bieber.
They are going to let him continue to collect his District Attorney pay
and
County Counsel pay ($126,000 will start when Burns is no longer DA)
and
hired a separate law firm to do his job.
When the Supervisors are indicted, will Burns "Prosecute" or "Defend"
Also, pursuant to Gov't Code Section 1099, a person may not simultaneously hold two public offices if there is a significant clash of duties or loyalties between the offices, or there are public policy considerations that make it improper.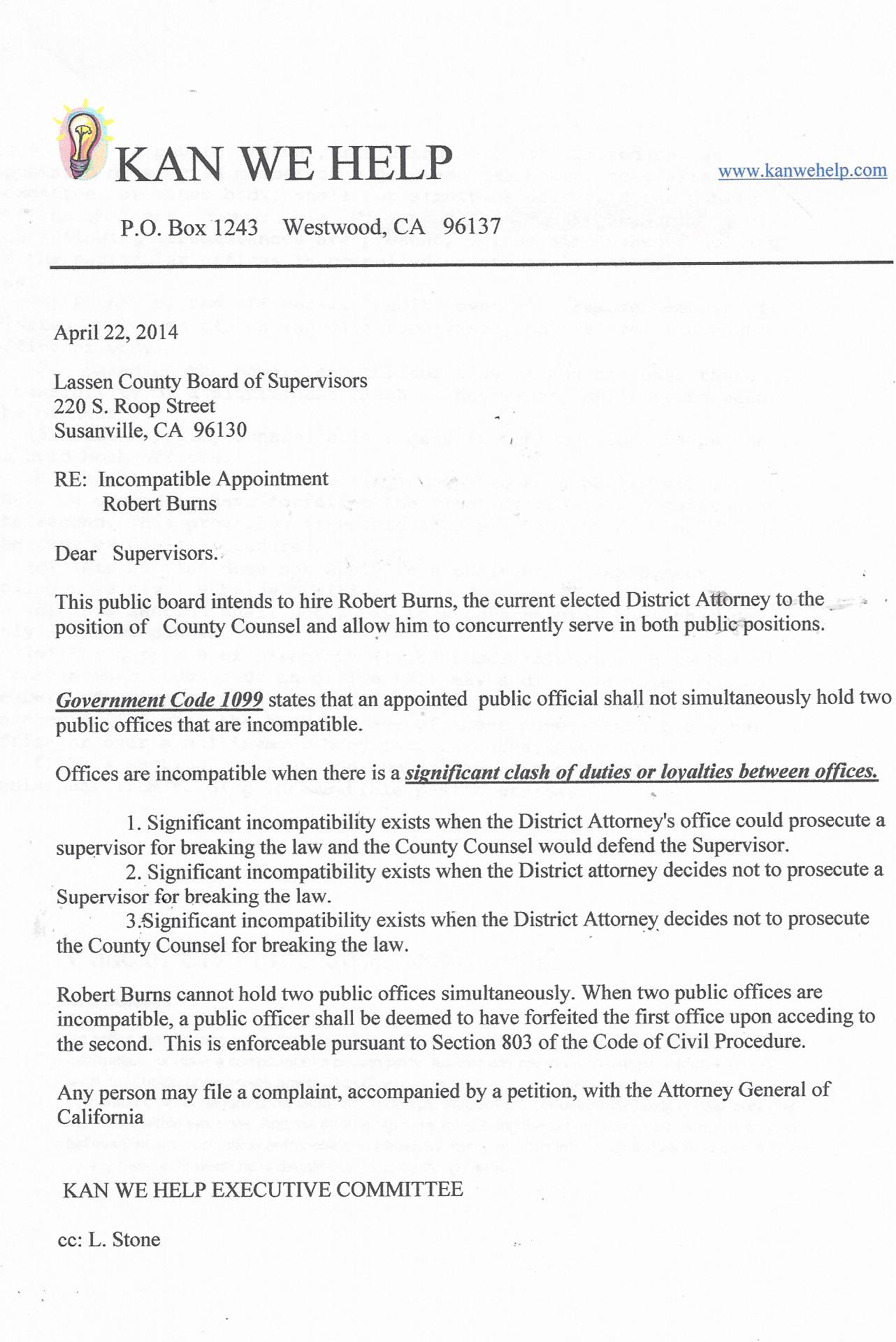 "The consequence of holding an incompatible office is that the person is "deemed to have forfeited the first office upon acceding to the second Gov. Code Section 1099(b)
LASSEN COUNTY VOTERS
THINK LONG AND HARD WHO YOU VOTE FOR ON JUNE 3, 2014
Supervisor Chapman believes that because
he can balance his checkbook
he can be County Auditor
Delusional ?
If you drive a car for 50 years that doesn't make you a mechanic
If you read books for 50 years that doesn't make you an author
30 years ago I did ......please Mr. Chapman, go fishing
All the public has to listen to is the last day of the Budget Hearings in 2013
Audio of 9/5/13 Budget Hearing
The "Envelope Licker" couldn't even use a calculator
Does he even do his own tax returns?
Auditor Karen Fouch attempted many times over the years to tell Chapman
YOU CAN'T DO THIS.
Now, Chapman no longer wants to keep his hand in the cookie jar,
he WANTS THE COOKIES ALL TO HIMSELF
THIS COUNTY NO LONGER CAN TOLERATE BAD BEHAVIOR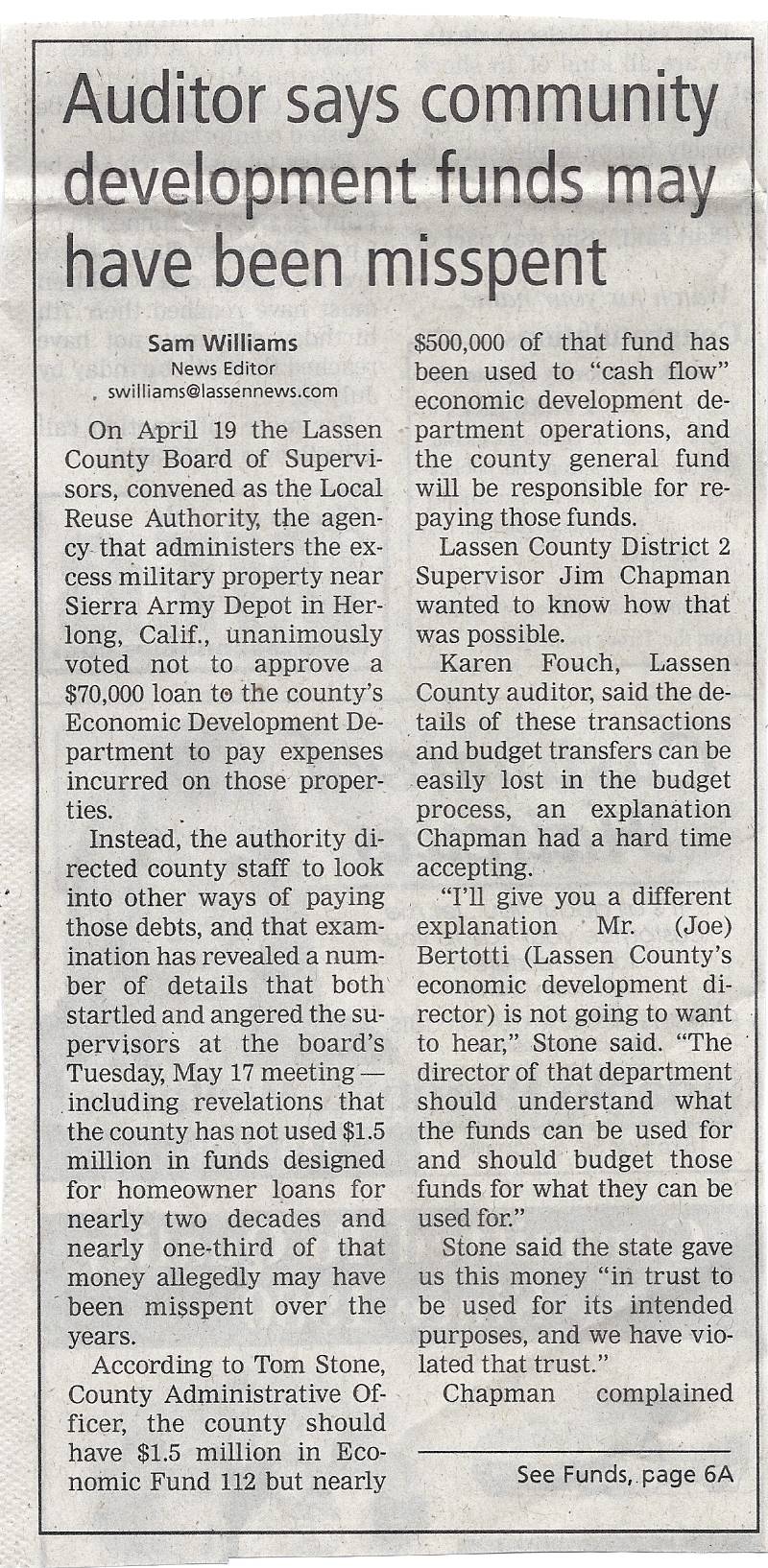 After decades of hiring and firing CAO's
Now, Lassen County has a CAO that has to have TWO titles?
The California Constitution determines the Title:
"County Administrative Officer"
Recalling
Lassen County
Supervisor Chapman & Pyle
is gaining support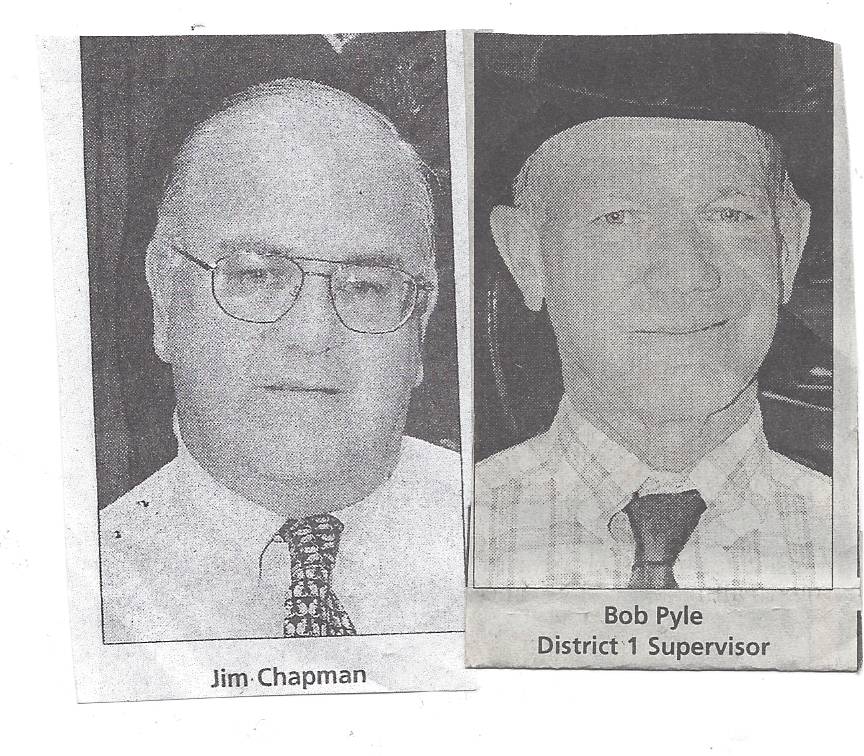 Mis-appropriations of $5 million dollars of Federal trust funds is serious
Does this explain why Supervisor Chapman, all of a sudden, wants to be
Auditor
and
be "in-charge" of the BOOKS ?
COUNTY SUPERVISORS
SETTLE STONE CASE AFTER
CHAPMAN (is this why he's wants to be the Auditor?)
AND
HANSON (RECALLED)
WERE ADDED TO THE CASE
TO
AVOID A PUBLIC TRIAL
Congratulations Mr. Stone.
We sincerely apologize for the sorry state of the Supervisors & all County Counsels that perpetrated this
Press Release
Again and again, hundreds of thousands of dollars have been paid out
because of the bad behavior by these Supervisors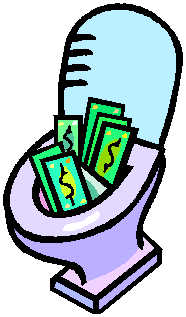 See Lassen County Scoop's documents on the settlement
Thomas Paine Rolling Over In His Grave ?
Lassen County Times Blog
is 100% Anonymous
No authors, Sam?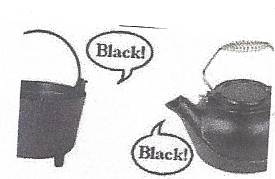 Lassen County Times
Misleads the Public and Reports Stone Dismissed his case.
Sam Williams is an enabler of public corruption......still
"Oh, heavens no,that wasn't me"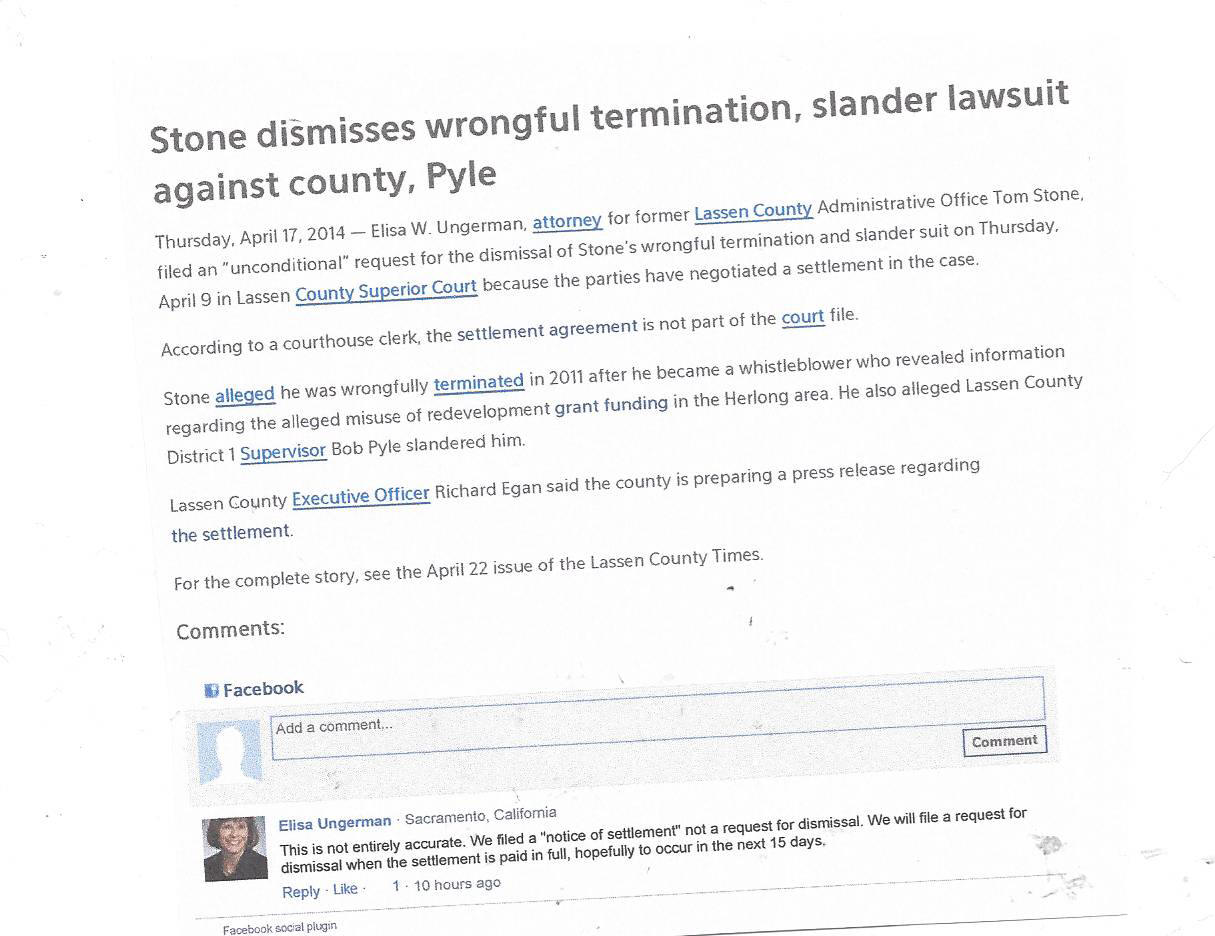 Hey Sam,
Lassen County does not have a
County Executive Officer.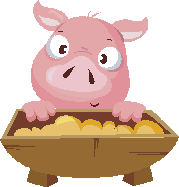 CRUEL PARTING SHOT
AT
LASSEN COUNTY
Vander Ploeg may believe she made the Supervisors look foolish, but they will have the last laugh
Rhetta Vander Ploeg hasn't been that great of an attorney but she should know that the "County Administrative Officer" is a California Constitutionally created County position.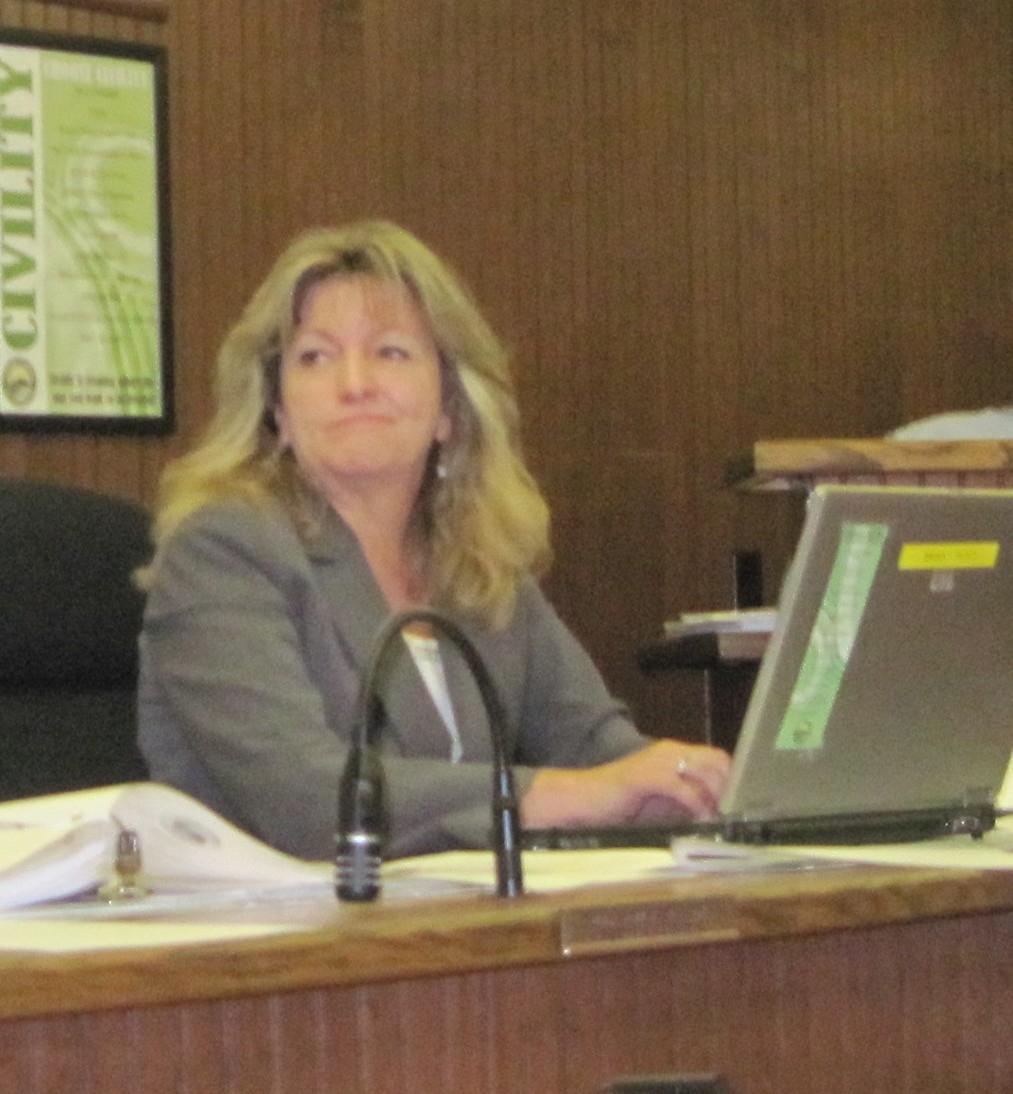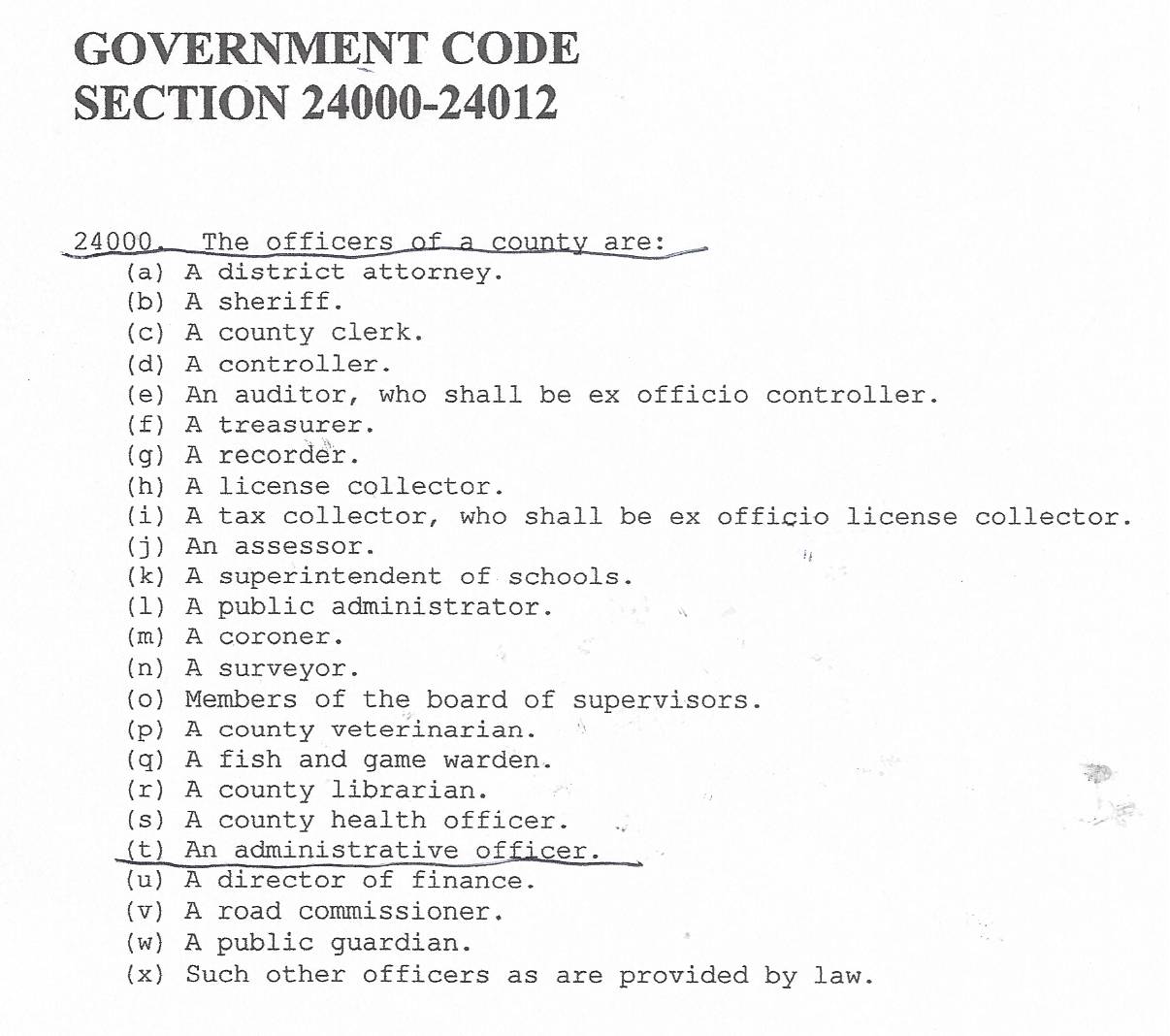 Vander Ploeg even convinced former County Treasurer, Richard Egan, that he could use CEO (Chief Executive Officer) which is a position that does not exist.
County Counsel Vander Ploeg even put CAO/CEO in Egan's contract
to make it look legitimate but the joke has gone far enough. Vander Ploeg has advised CAO Egan that he can sign public documents with CEO.
The County of Lassen has clearly followed the California Constitution when it created Title 2, Chapter 2.06.015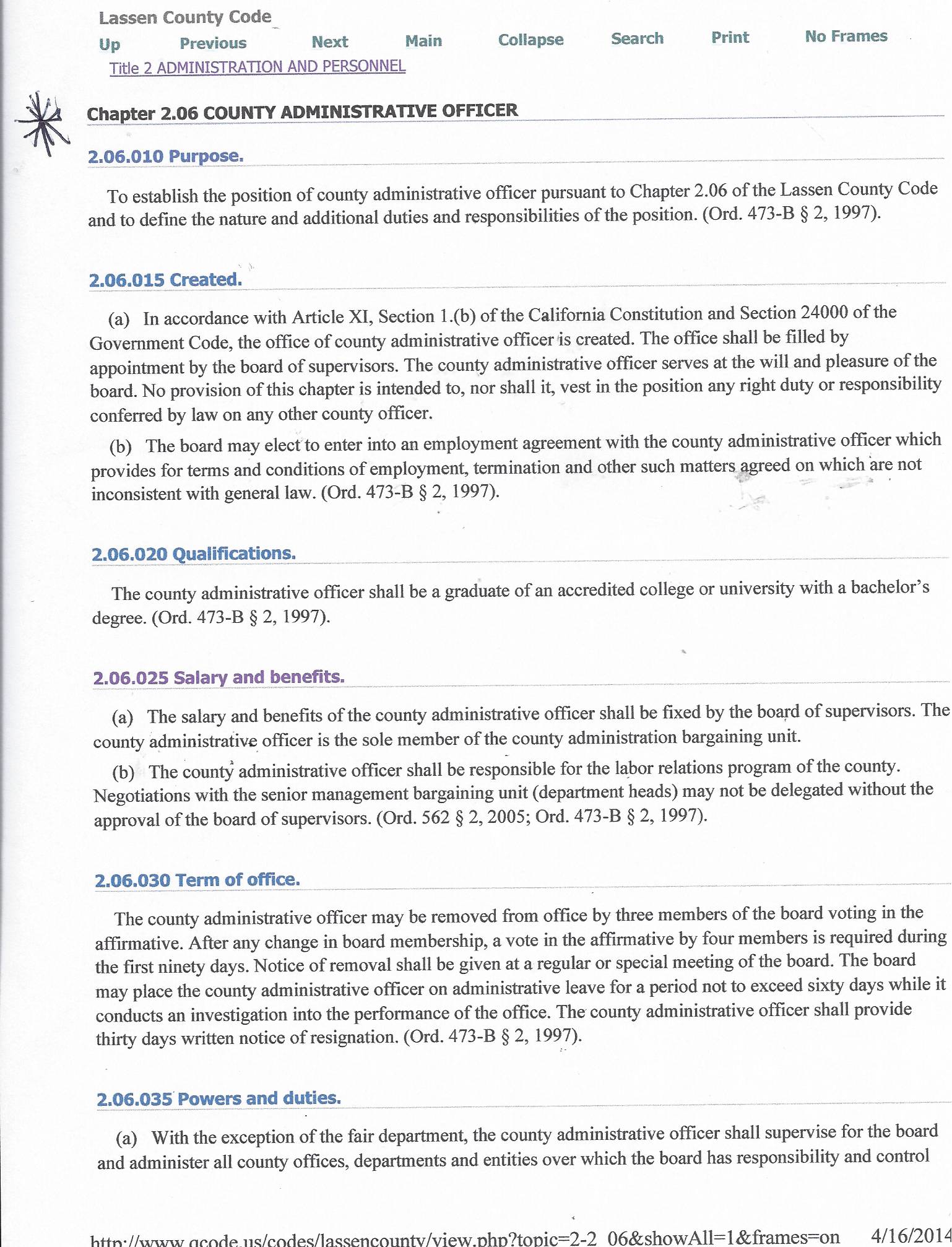 NICE JOKE VANDER PLOEG, BUT IT MAY BE TIME TO SAY GOOD-BYE NOW
Any one that wants out of their County Contract could void it and ask for damages because the County of Lassen
does not have and never will have a position of
"Chief Executive Officer"
or even the newest title
"County Executive Officer".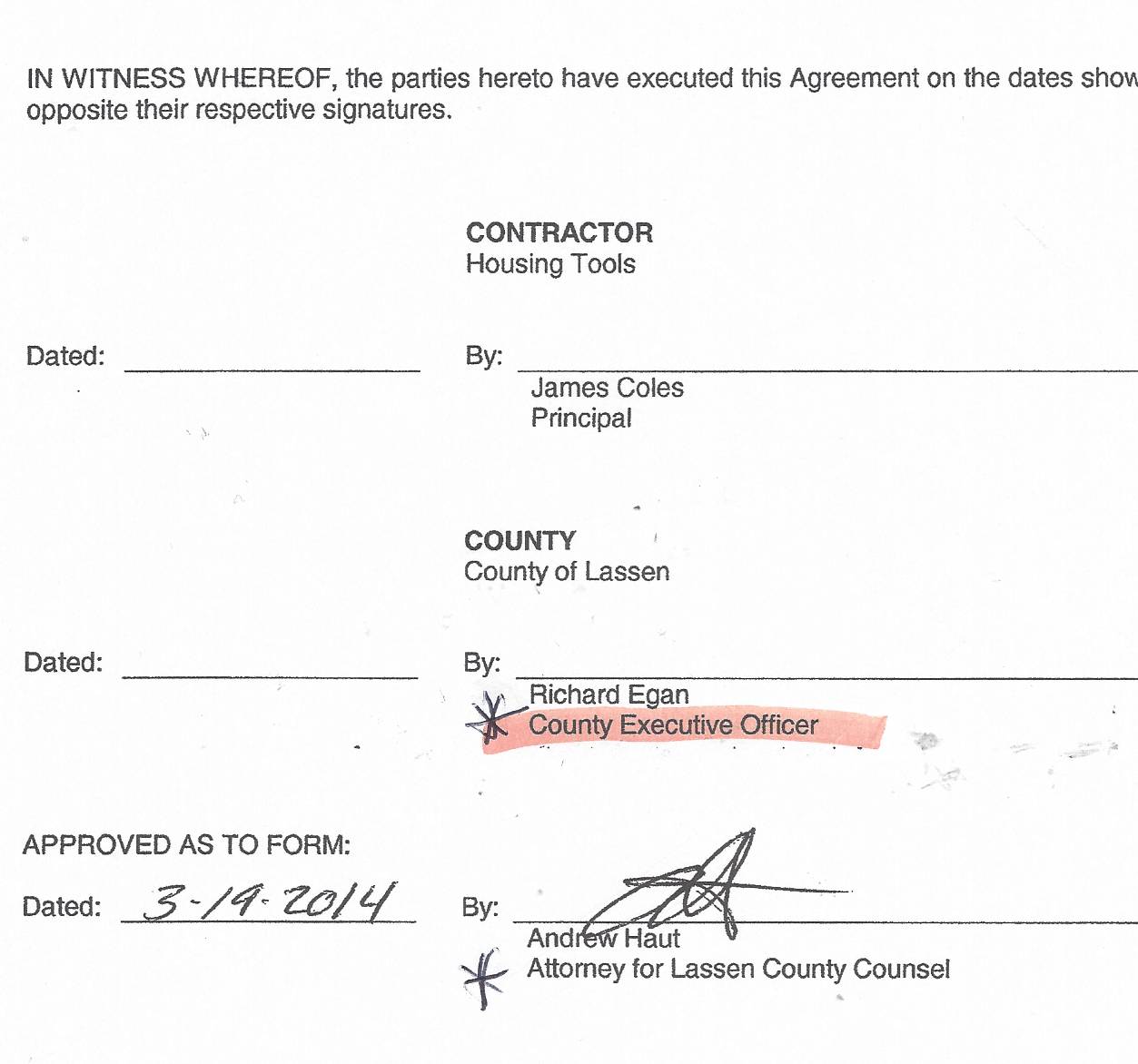 Watch March 24, 2014 video Part 2: 2:51 mark
Watch April 15, 2014: Vander Ploeg convinced Egan that his title was Chief Exective Officer
KAN WE HELP has asked the Board of Supervisors, three times now, to refrain from using the title/position (CEO) that does not exist.
If Chairman Wosick signed as President of the Board of Supervisors, the document would be rendered moot.
If County Counsel signed a County document as Chairman of the County Whoha Department, it would be rendered void.
YOU SIMPLY CANNOT MAKE UP TITLES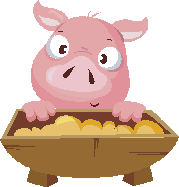 April 16, 2014
Mr. Robert Burns
DON'T GO WHERE YOU ARE NOT WELCOME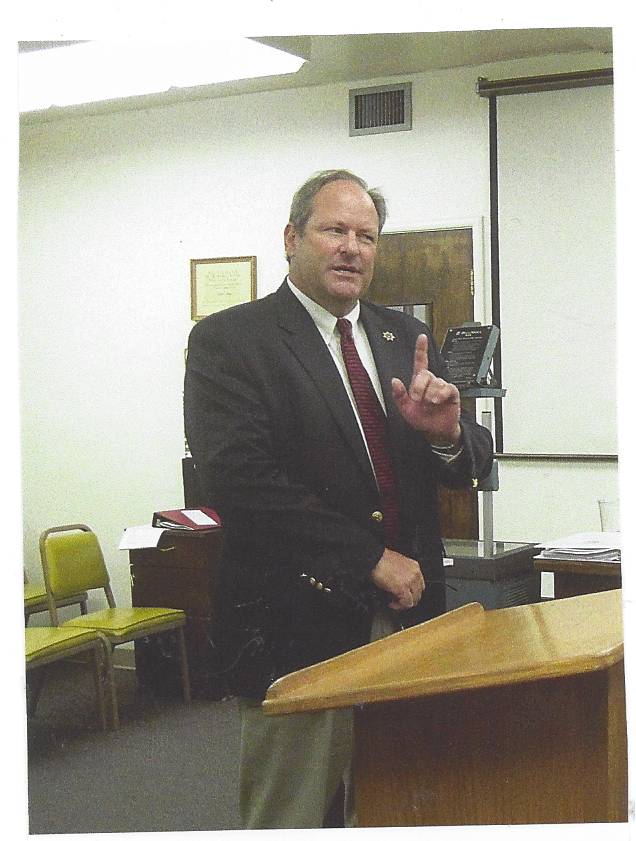 How welcome would you be taking a job at the prison?
How welcome would you be by taking a job at Juvenile Hall Detention?
How welcome would you be taking a job with the Sheriff's Department?
How welcome do you think you will be taking the County Counsel job?
You belong with Frank Cady.
You would be welcome

The author's name has been
omitted
from this ANONYMOUS COMMENTARY ?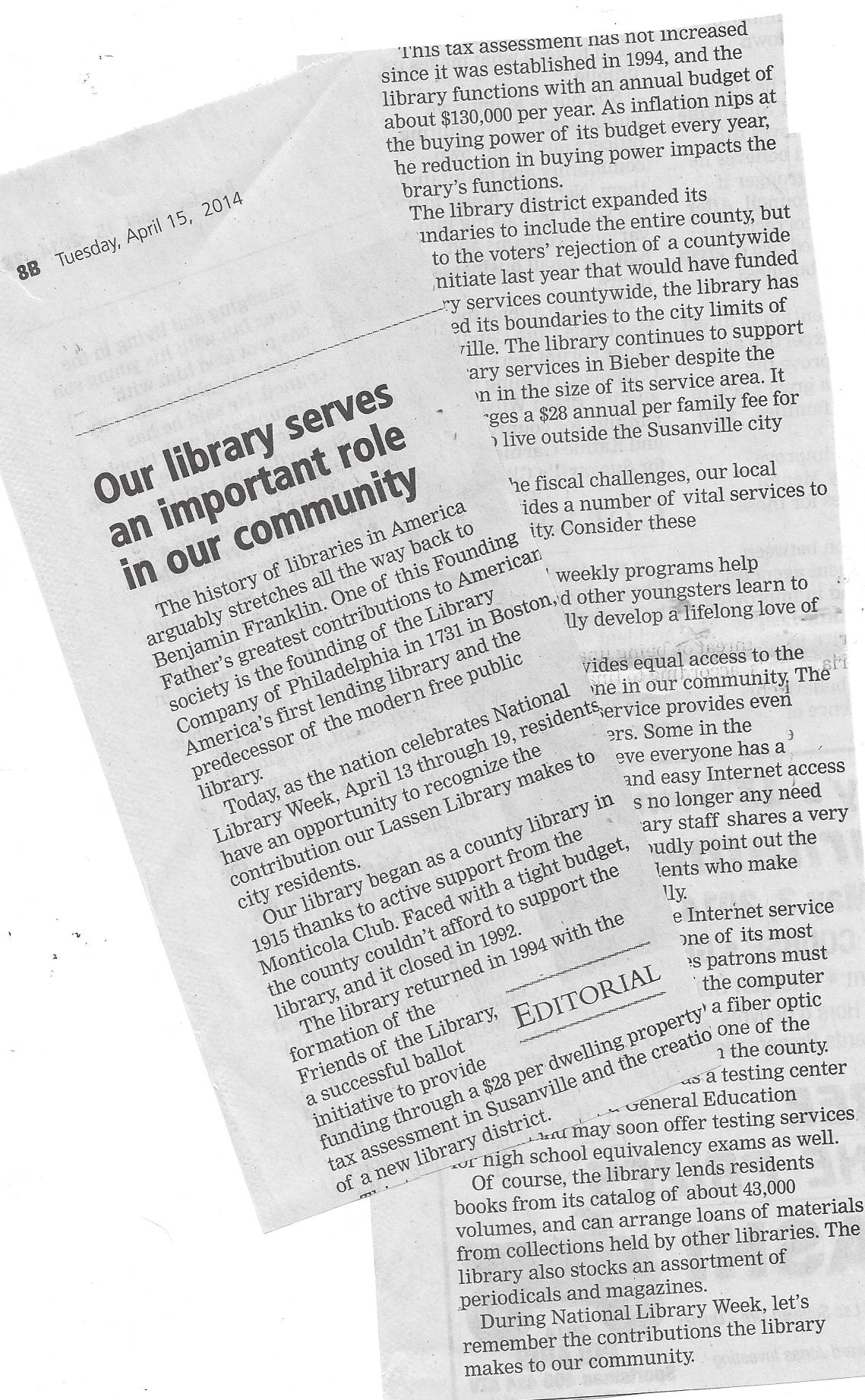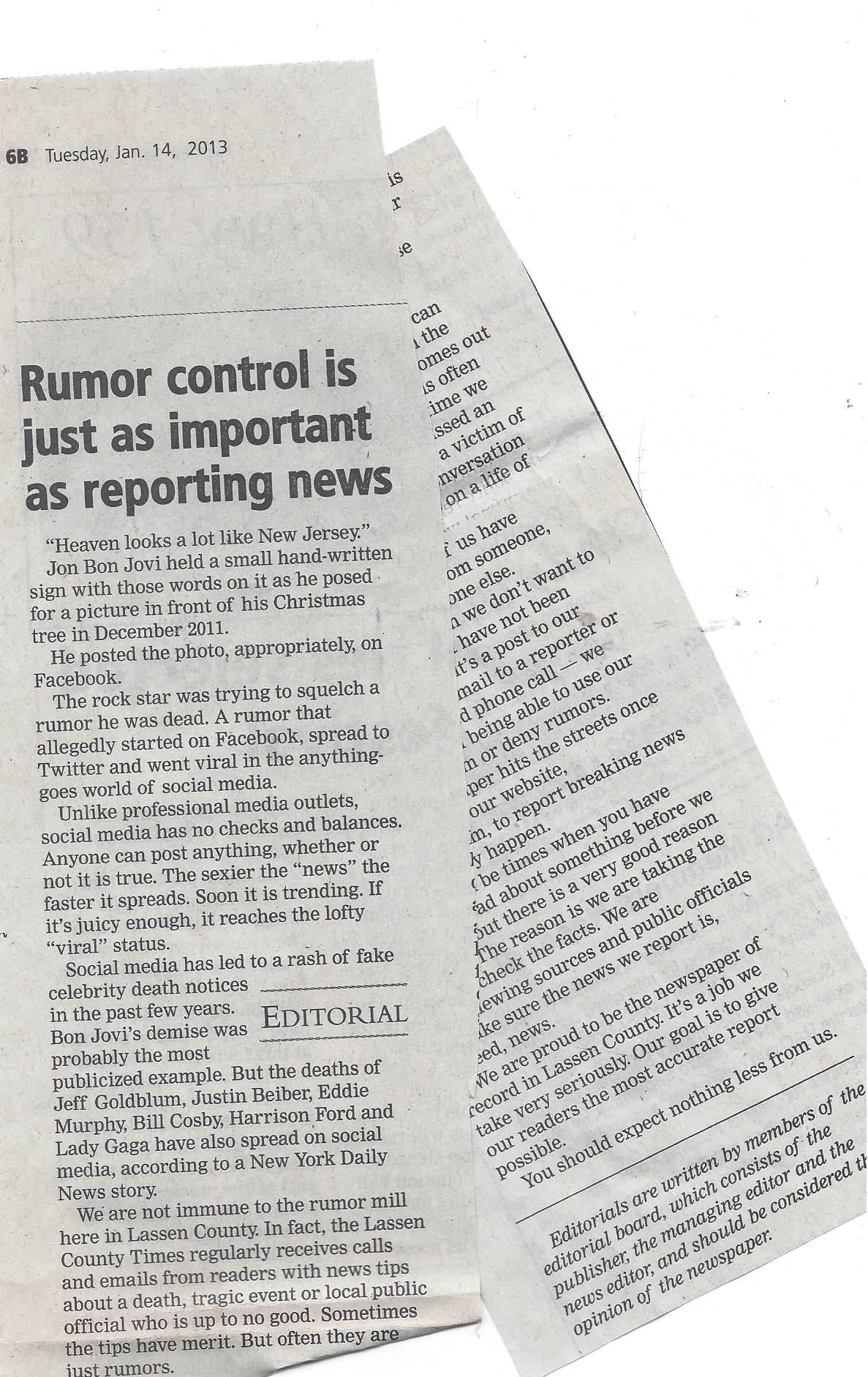 SELF SERVING MESSAGE FROM SAM WILLIAMS
YOU WILL GO BLIND IF YOU READ ANYTHING BUT THE LASSEN COUNTY TIMES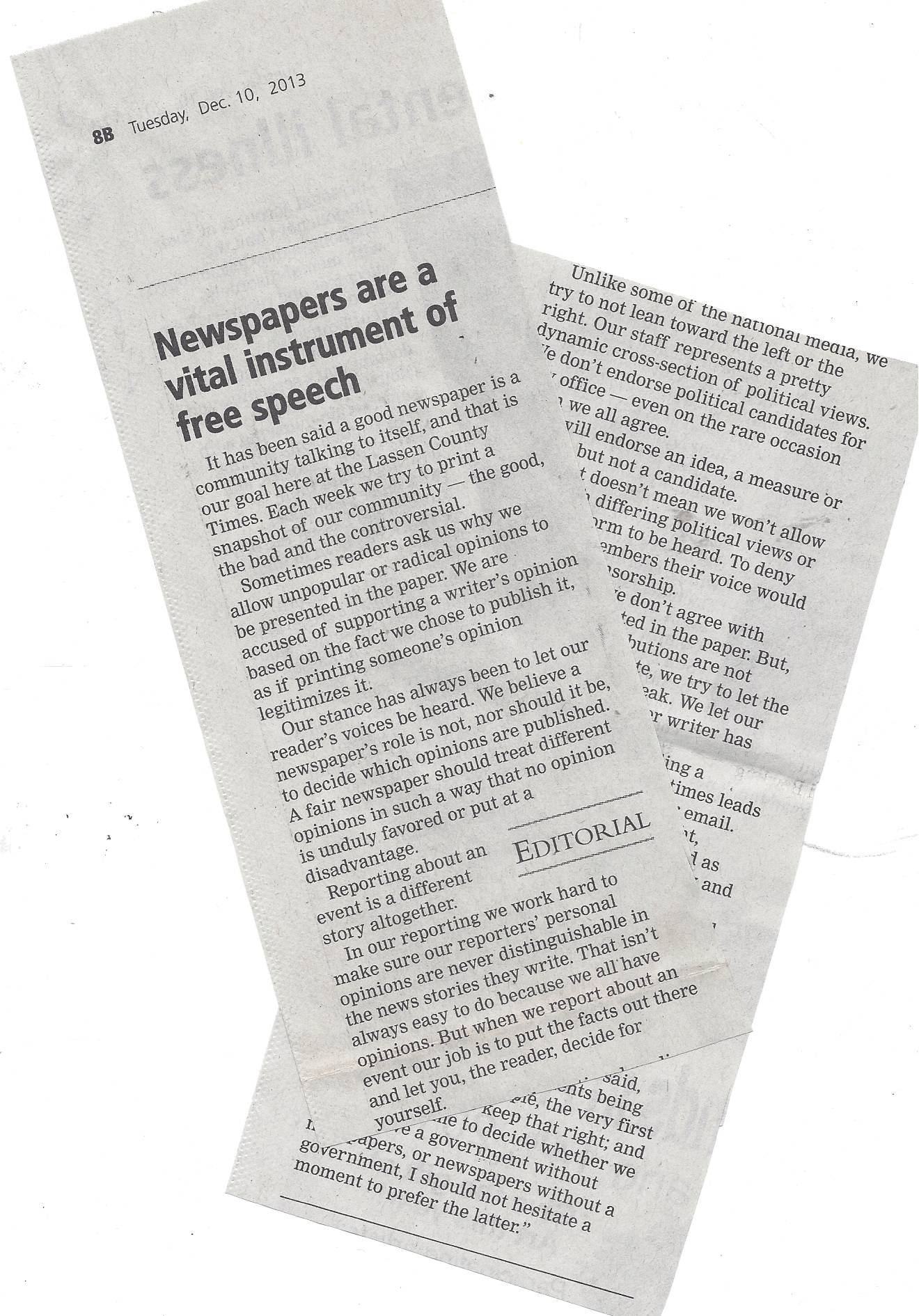 Sam Williams, April 15, 2014, writes
"I hope everyone who brings forward questions, issues and concerns for public discussion will at least have the courage and integrity to identify themselves
.....Why? You don't.
Sam's problem...nobody trusts his newspaper
Westwood Author's Book
Now Available on Amazon.com
Yes, there are recognizable characters from Lassen County
"The Untimely Death and Afterlife of Captain James Munroe"
by Mary Nation
If you have read "The Help" you will want to read this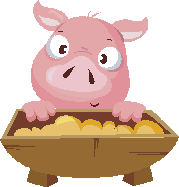 April 14, 2014
?? LOYALTY ??
Bob Burns Own Staff
Thinks He Has Done a Bad Job as District Attorney
David Evans: "Now, is the time to take over this office"........
Don't be fooled voters.....
this is just a mini version of Bob Burns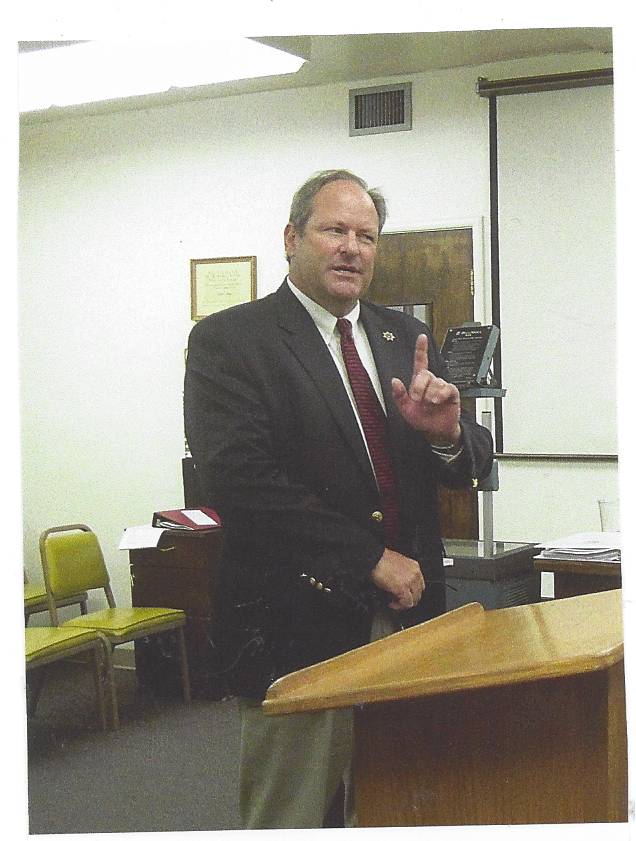 The real Bob Burns now thinks he can slip into the Lassen County Counsel position and still be the District Attorney.
Voters didn't want him as Judge
Voters would not have re-elected him DA
Voters do not want him as County Counsel
Voters just don't want him, Mr. Chapman
(who took over $6,000 from Burns),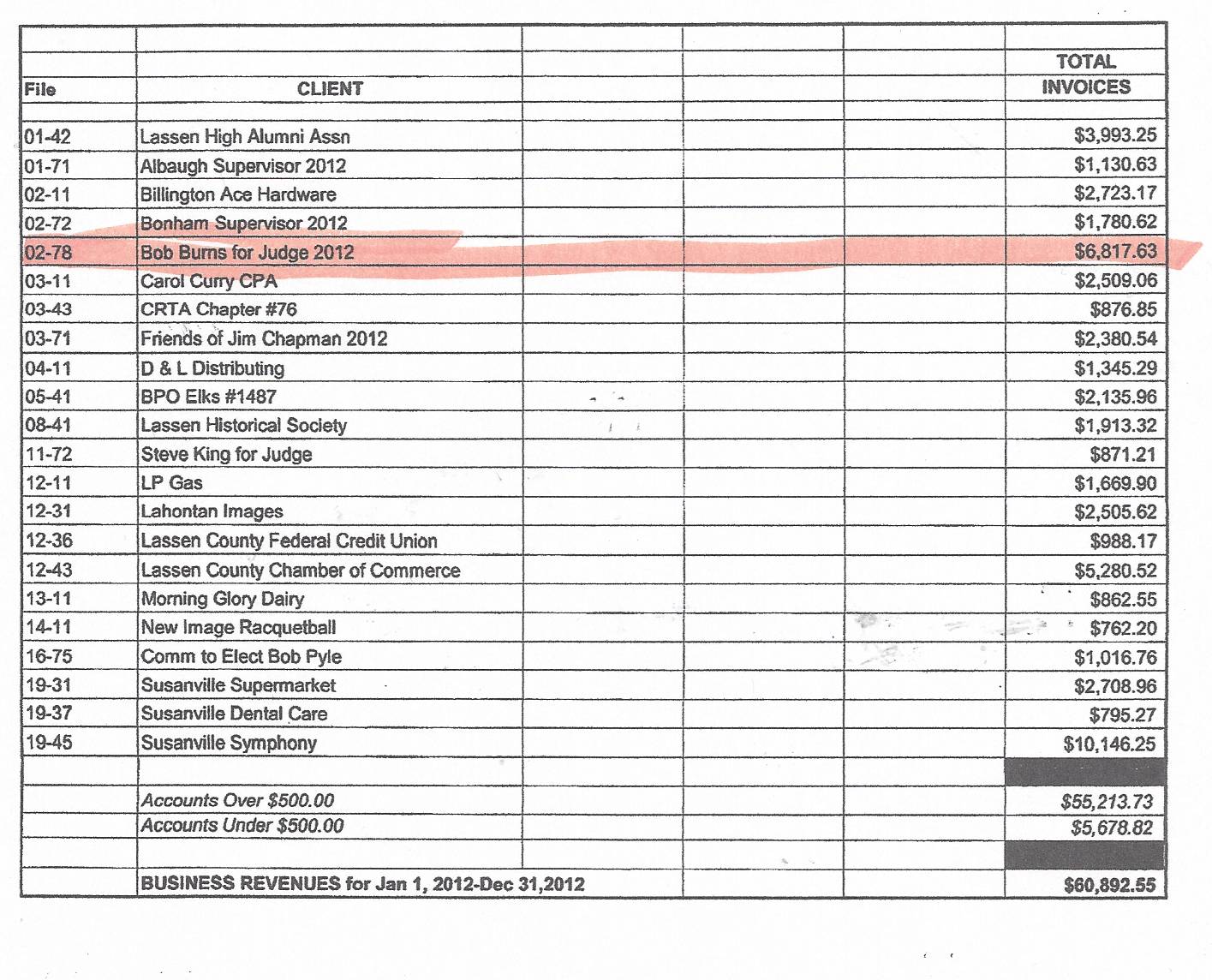 Mr. Wosick (Burns is fixing his criminal complaint ),Mr. Hammond, Mr. Pyle, Mr. Albaugh...Mr. Egan ?
Chapman and Wosick can't vote to approve his contract, huge conflict of interest w/FPPC
The Lassen County Supervisors have shown no ability to hire a County Counsel that is competent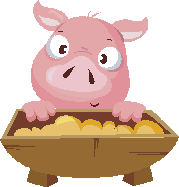 April 12, 2014
What Service Does A County Counsel Really Provide?
Quid Pro Quo.............you want something, I want something
Each one below, without exception, used this position as a springboard
and provided no benefits to Lassen County
CAO Kettleson and County Counsel Settlemire
CAO Settlemire and County Counsel Kettleson
CAO and County Counsel Richard Crabtree
County Counsel Rhetta Vander Ploeg
This attorney should never have been hired, in the first place. She has shown no interest in providing "any" service due possibly to her lack of interest or knowledge in the law.
One of her first acts was to secure a "County Counsel Support" contract for her friend, Sierra County, County Counsel Jim Curtis. Vander Ploeg will jump from Lassen County to Sierra County on May 16. Curtis's contract had expired and Vander Ploeg placed the renewal in the Consent Calendar hoping no one would notice.
Has anyone asked if Vander Ploeg was collecting this at the other end?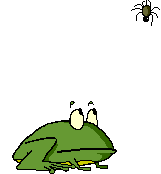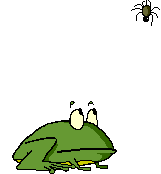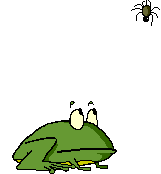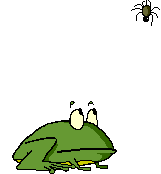 If she had an ethical bone in her body she would have resigned after Martin Nichols was fired.
Has Vander Ploeg been the most useless County Counsel Lassen County has ever had?
No, not if they hire Robert Burns
On July 10, 2012, Lassen County Times Editor wrote about Frank Cady when LMUD hired him as their General Manager:
"Attorneys, even veteran attorneys, obviously don't have the education knowledge or expertise to adequately serve in that position"
Also, pursuant to Gov't Code Section 1099, a person may not simultaneously hold two public offices if either of the offices exercises a supervisory, auditing, or removal power over the other office or body, there is a significant clash of duties or loyalties between the offices, or there are public policy considerations that make it improper.
"The consequence of holding an incompatible office is that the person is "deemed to have forfeited the first office upon acceding to the second Gov. Code Section 1099(b)
The Conflict:
When a County employee or elected officer breaks the law (i e: drug trafficking, embezzlement, mis-use of public funds, falsifying evidence or falsifying court documents or conflict of interest, etc.)
the District Attorney
decides to prosecute or not prosecute.
Mr. Burns has no jurisdiction over Federal charges but he could influence an investigation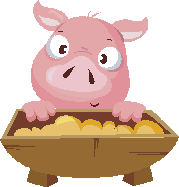 April 10, 2014
Attorney, Lawyer, Counselor, Solicitor
Lassen County definition of County Counsel duties: serving the government of Lassen County, and INDIRECTLY, THE PEOPLE
Historically speaking, the Board of Supervisors have never hired a competent County Counsel that serves the people first.
Their first choice, Frank Cady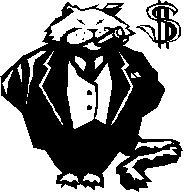 Second choice, Robert Burns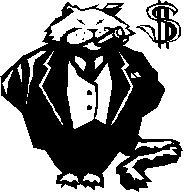 [Has Robert Burns been groomed for human contact yet?]
Who the voting public hates. But worse, Burns thinks he has enough on the Supervisors that he will be allowed to stay and collect his District Attorney salary and the obscene salary for Lassen County Counsel. Let us not forget that he will increase his PERS retirement benefits. [This is similar to what Supervisor Chapman is attempting to do by running for Auditor which he is clearly not the least bit qualified for.]
OH, SWEET LASSEN COUNTY dirty POLITICS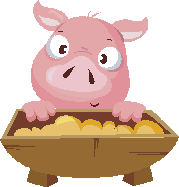 Existing: Rhetta Vander Ploeg
Who gets her legal opinions on Facebook and leaves her job as County Counsel only to be hired by Sierra County Counsel James Curtis
She managed to renew a Lassen County contract ( placed in the Consent Calendar) for legal services with Mr. Curtis before leaving.
Sweet conflict-of-interest ?
Lassen County Supervisors
Avoid a Brown Act Complaint
The Lassen County Supervisors were warned they cannot EVER take a secret vote. They can discuss and deliberate, in closed session, but can only make motions and take action in a "public" setting
On April 1,2014 the Supervisors came out of a Closed Session and "gave direction" to their CAO to begin negotiations with District Attorney Bob Burns for the position of Lassen County Counsel.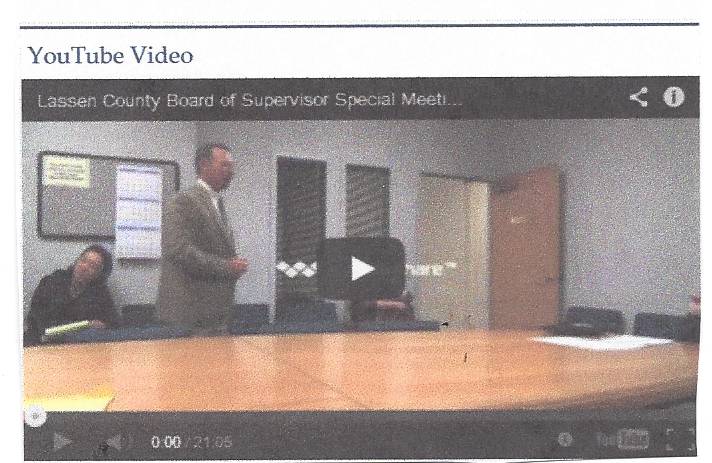 The Closed Session was an April Fools Joke
Three Supervisors open meeting, others just wander in and out?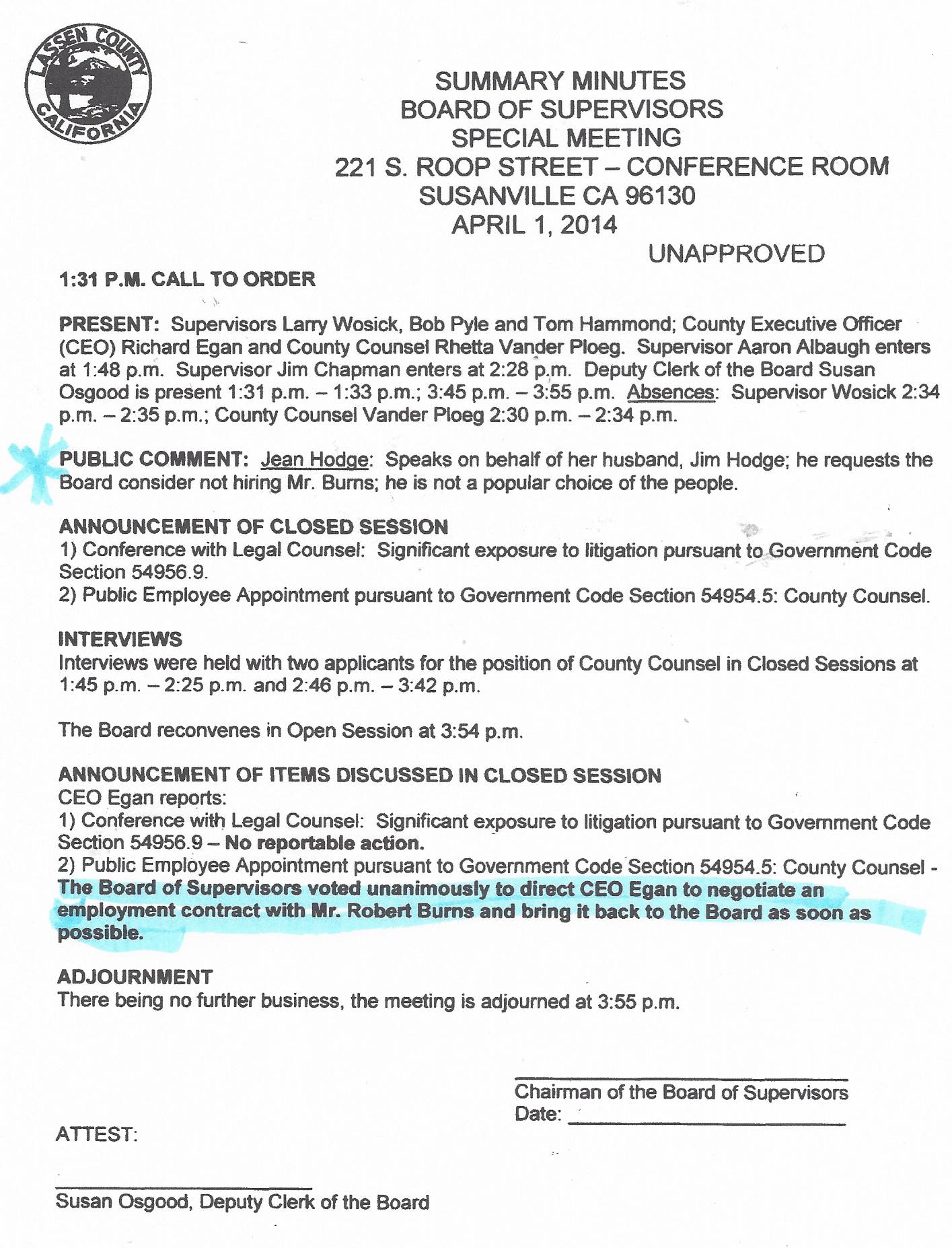 CIP Discussions May Lead to
Lassen County Offices Moving
to an
$18,000 Square Foot Building
Local residents, that included Dr. and Mrs. Hodge, have succeeded in getting the Lassen County Board of Supervisors to focus on creating a Capital Improvement Plan. The CIP has always been mandated to be maintained by the CAO but the Supervisors have, in the past, failed to enforce that duty.
CAO Richard Egan told the Board that rather than wasting General Funds to repair old County offices it might be possible to buy an existing building by the new Court House that is being vacated. The old buildings can be sold.
Currently, the County offices are scattered all over the County in old facilities. This move would allow a Board Room to be in the same building as the County Staff, County Clerk, Assessor, Treasurer, Public Works, Planning. This move will make a "ONE STOP" access for the public. The current building locations are old and in dis-repair and are costing the taxpayers thousands of dollars to maintain. CAO Richard Eagan is having a "NEEDS ASSESSMENT STUDY" done for the County that he said would be done in a few weeks.
The Lassen County Supervisors all agreed that the CIP will give them a map for future capital outlays and a "plan" for the County.
Sheriff Growden and Melody Brawley, Director of Health and Social Services also asked to be included in the CIP. All services that the Sheriff and HSS offer are located in old County owned buildings that are in dire need of repairs. Repairs that the County may not ever be able to get to.
Who will pee,in the cup, for Burns?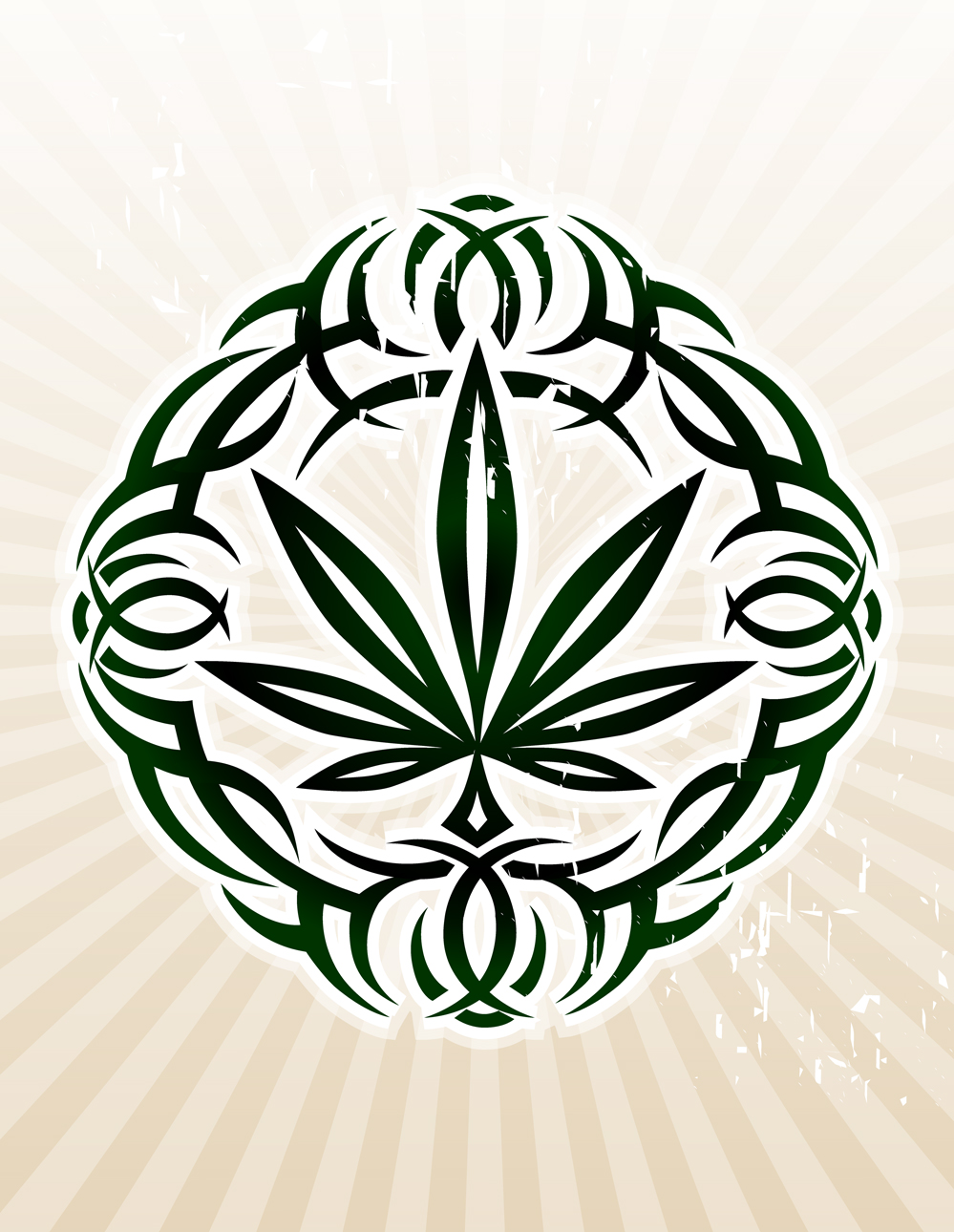 Smallunmonitored rural airports
Those stinkin' truth baiters are gaining huge support from Lassen County voters and Sam Williams can't print enough lies or suppress enough facts, to help his friends anymore
County Counsel Position
Possibly Rigged for Bob Burns
The April Fools Day County Counsel phony interviews for County Counsel was unfortunate.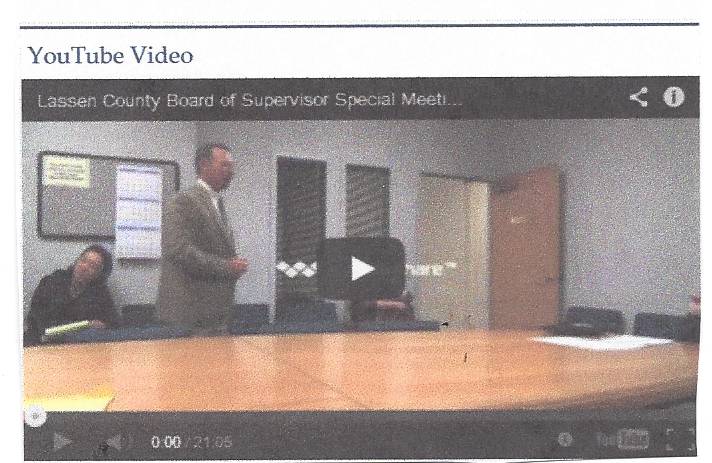 The Closed Session was an April Fools Joke
Wosick, Hammond and Pyle appeared so the phony meeting could take place. Albaugh, Chapman and Burns hid until the public was gone and the cameras were turned off.
Somewhere at sometime prior to April 1, 2014 the Board voted to hire Bob Burns as the next County Counsel. The Board of Supervisors claimed four candidates applied. They claimed that three dropped out. It was evident that the position had been rigged. Lassen County's reputation is safe and secure.... Liars.
The County claimed that they advertised in the Lassen County Times, California State Association of County's (?) and the California Association of County Counsels (?)
2012 advertisement for Vander Ploeg ??
Kan We Help was sent a copy of the 2014 advertisement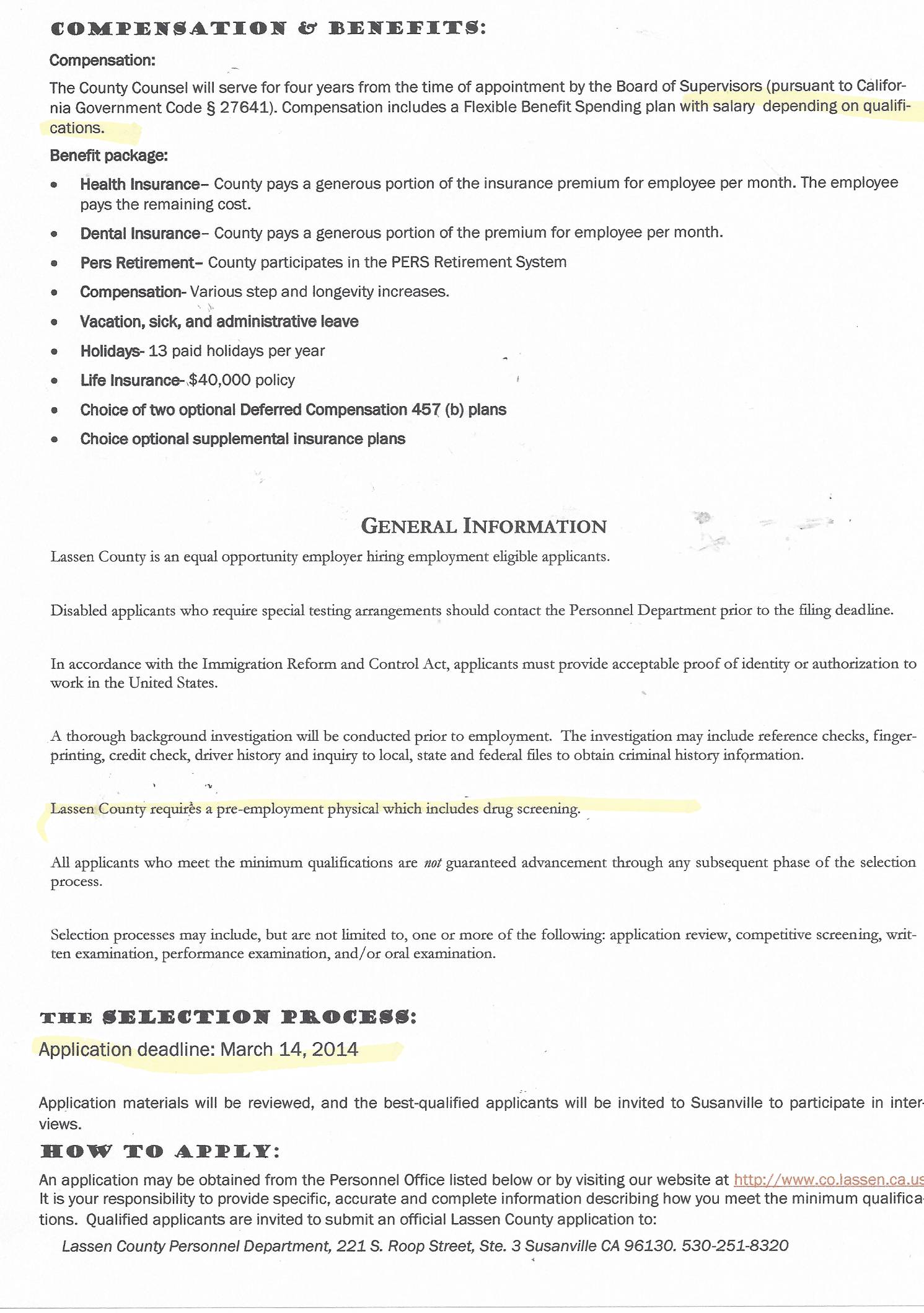 This is the 2010 ad they floated
for Rhetta Vander Ploeg ?

Notice the changes above they made for Burns.
Vander Ploeg was given $107,000 but no stated salary for Burns
Fear me...and don't Mess With Me.....?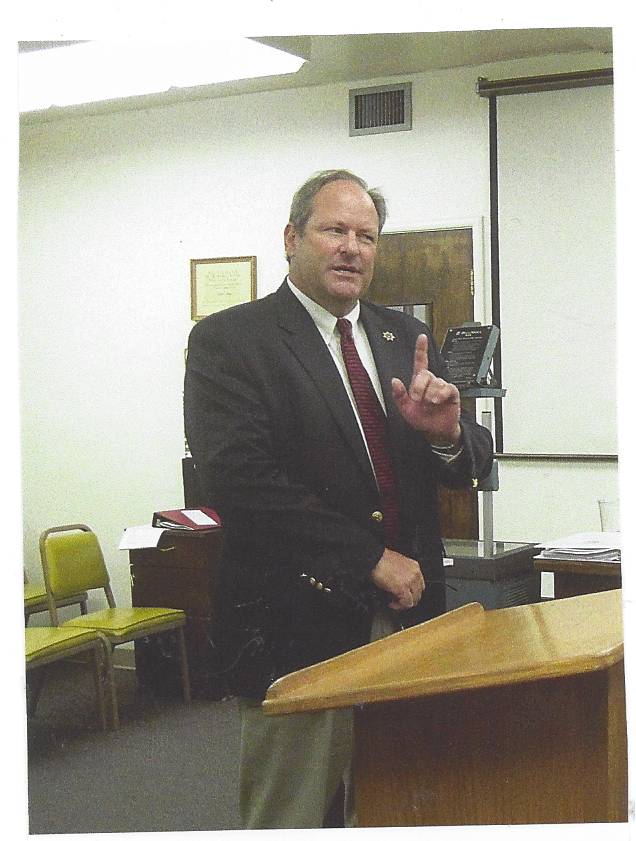 Oh yea.....Mr. Burns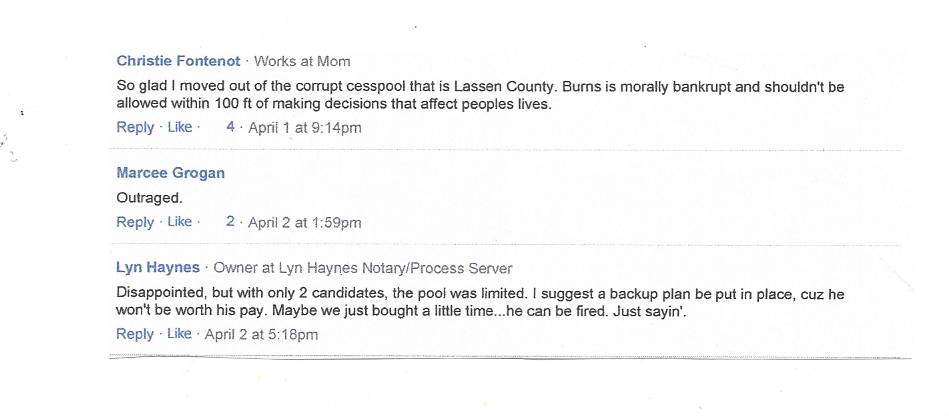 Kan We Help hasn't seen outrage like this
since LMUD raised their rates 160%
"Stupid is as Stupid does"
[ Definition: an intelligent person that does a stupid thing is still stupid]
Supervisor Wosick's vote to hire Bob Burns as County Counsel was a given. Quid Pro Quo ? Burns had to agree not to prosecute Wosick for the Spencer complaint to get his vote. Burns did that for Wosick.
[Wosick just borrowed $240,000 from his partner against his Motorcross. Is this for anticipated legal costs?]
Supervisor Chapman's vote was just plain stupid. He will be on the ballot in June, for the County Auditor position which he is clearly not qualified to hold, and he pulls this. He will be lucky to get votes within his own District.
Supervisor Albaugh is just lost on this Board. He just says and does what Supervisor Chapman tells him to do. It is almost like watching a ventriloquist and his dummy.
Supervisor Pyle is just going to serve out this term, but he still could have done the right thing......but didn't
Supervisor Hammond was the biggest disappointment for his District. Hammond was elected to District 5 when Jack Hanson was Recalled last September and is now on the June Ballot, running unopposed. Hammond will win with his two votes.
The 2000/2001 Grand Jury agreed with Bob Burns that a public board cannot make an appointment in Closed Session;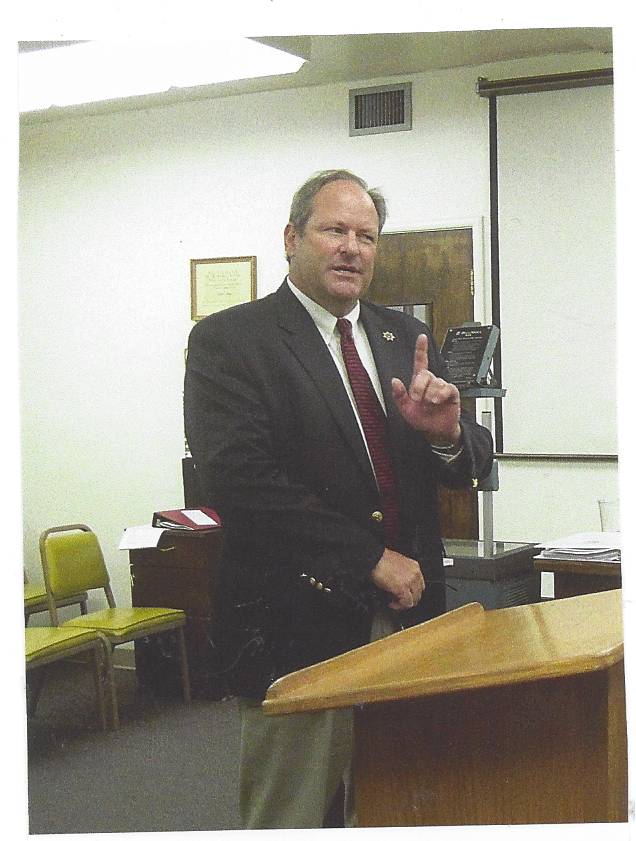 except if the appointment is BOB BURNS.
Kan We Help will get that Brown Act Violation against Burns Closed Session appointment right over to his office...
Comments from Susanville and all over the County seem to all say the same thing...........
PUBLIC OUTRAGE
Richard Egan was not the only person that lied about the April 1 Closed Session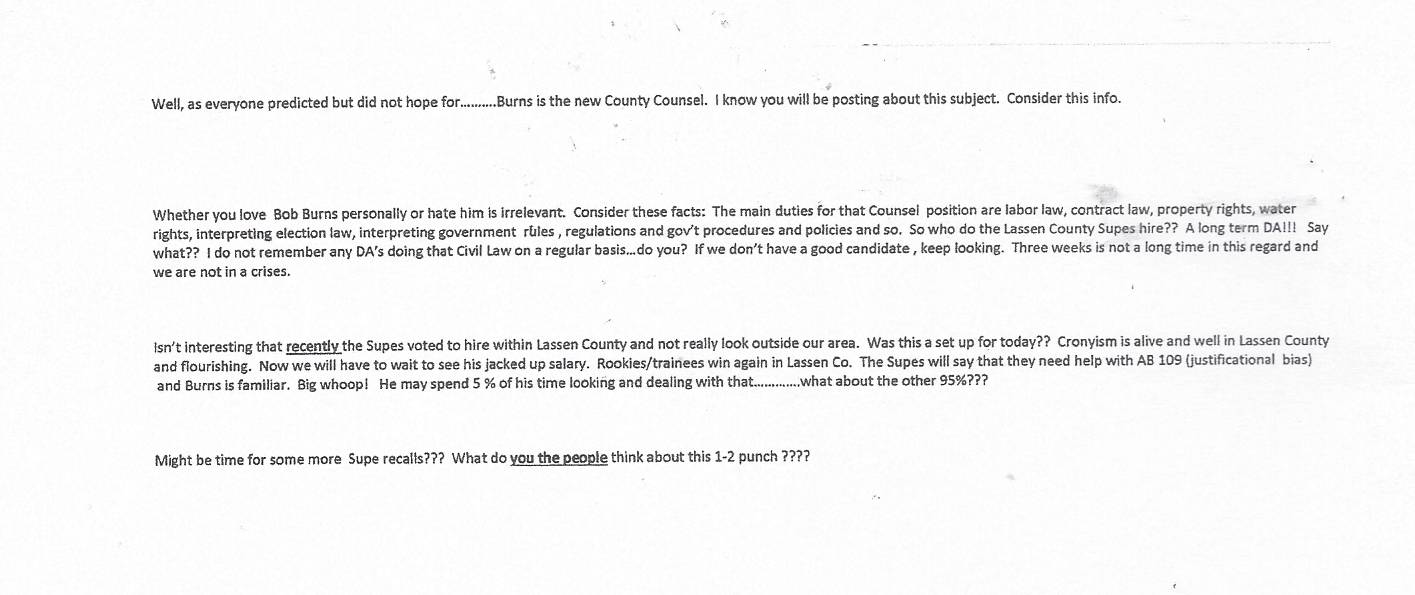 All five Supervisors Listen to the Peoples Advice
and
Hired
a honest, drug free, law abiding, competent
County Counsel, for a change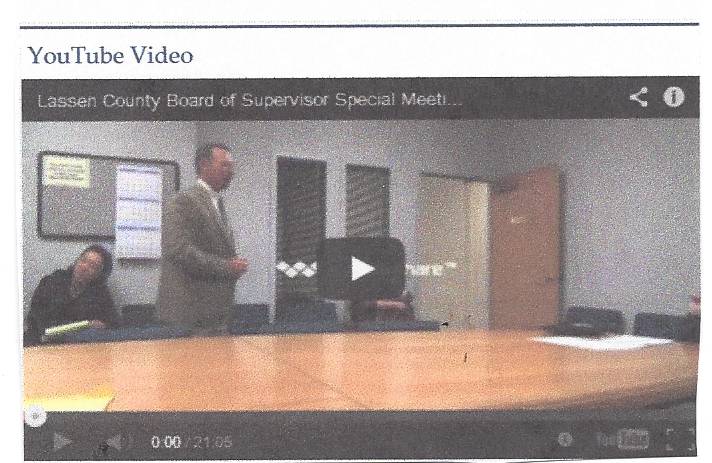 The Closed Session was an April Fools Joke
April
Fools.................
The Supervisors had already hired Burns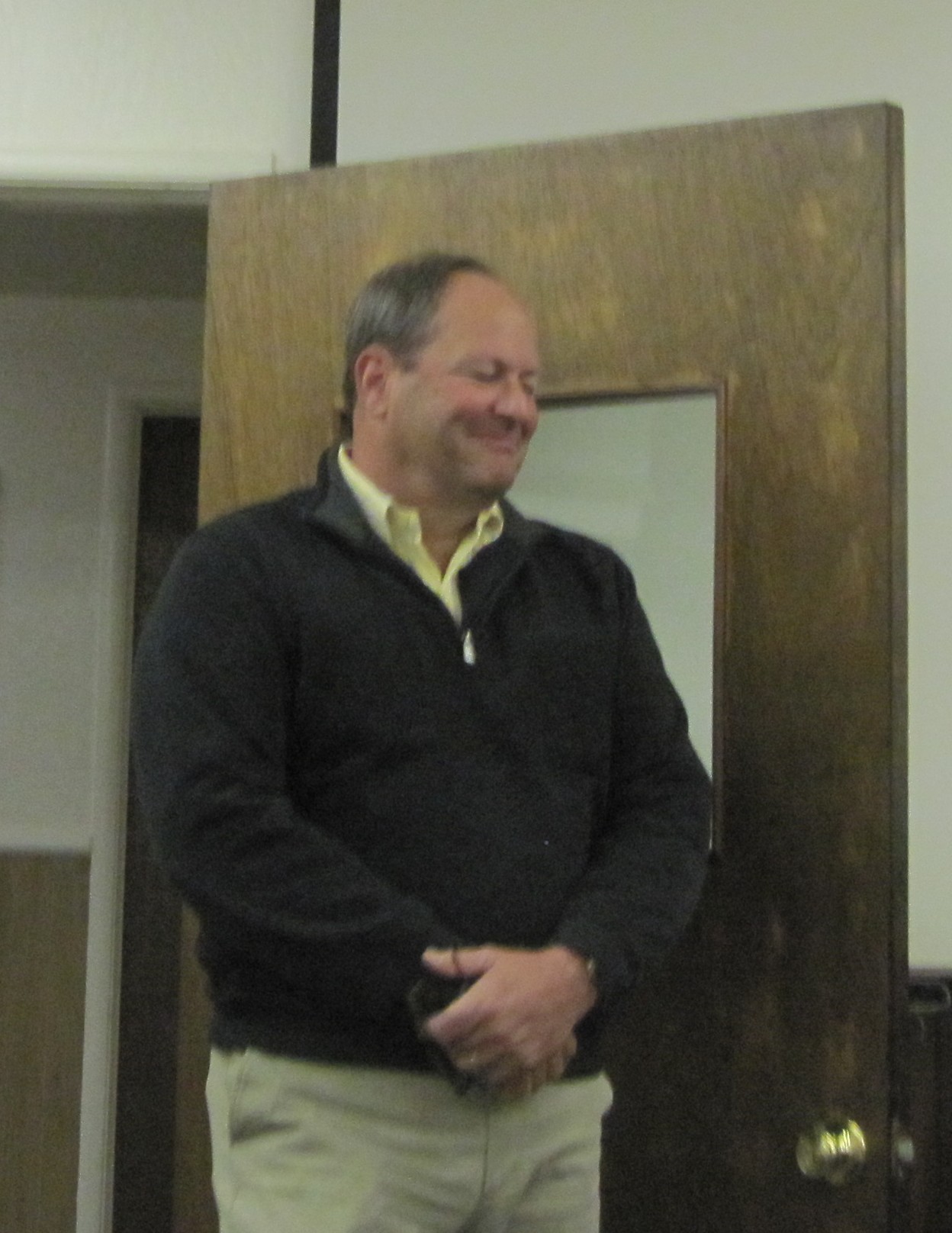 @ 1:00 PM
County Administrative Bldg.
221 S. Roop Street, Susanville, CA
Burns takes care of his "friends"
Burns was a Criminal Prosecutor
when it suited him.
His Friends vs His Enemies
Now, he wants a pay raise as a County Civil attorney
for a population that not only does not respect him but hates him?
Kan We Help will post the reason for Wosicks vote
Kan We Help will post the reason for Chapman's vote
Kan We Help will post the reason for Pyle's vote
Do the Supervisors really think Burns can keep them out of jail?
Can $120,000,000 of tax payer dollars
buy almost anything ?
Robert Burns
Wants to Be
Lassen County Counsel
The public
does not want him
Bob Burns brings nothing to this job except more secrecy and more abuses.
Wosick needs a "Bob Burns" in place while major investigations are ongoing. Wosick owes Bob Burns !
Wosick, Chapman, Hanson, Berttoti, Dahle, Pyle, Crabtree, Nichols, Vander Ploeg
were all directly involved
with the Herlong dollars.
THIS IS THE PEOPLE'S BUSINESS
AND
THEY DO NOT WANT BOB BURNS
AS A JUDGE,
AS DISTRICT ATTORNEY
AS COUNTY COUNSEL
Cleaning up Lassen County
means taking out the trash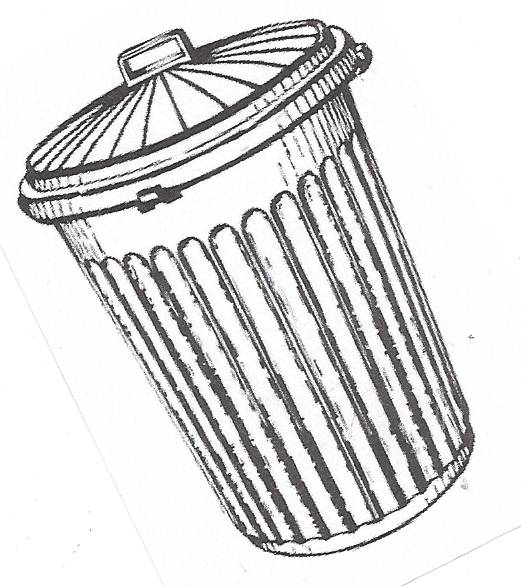 Frank Cady= Robert Burns =Frank Cady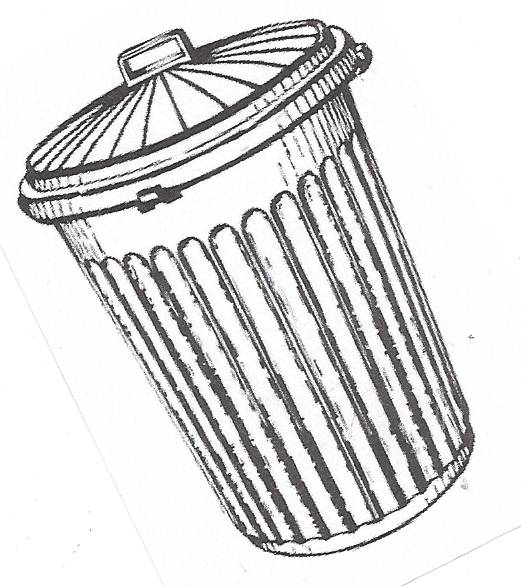 Lassen County deserves better
We will see if the Supervisors
want to continue business as usual
***BREAKING NEWS***
Lassen County Counsel Quits
March 25, 2014
Did the Lassen County Times get it wrong?
Interviews only or Appointment?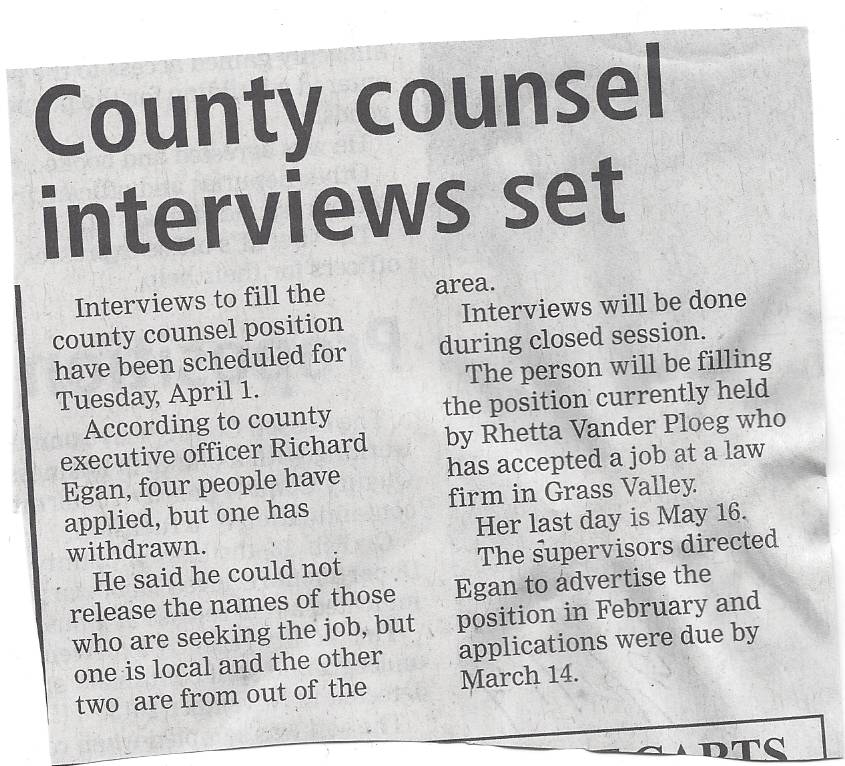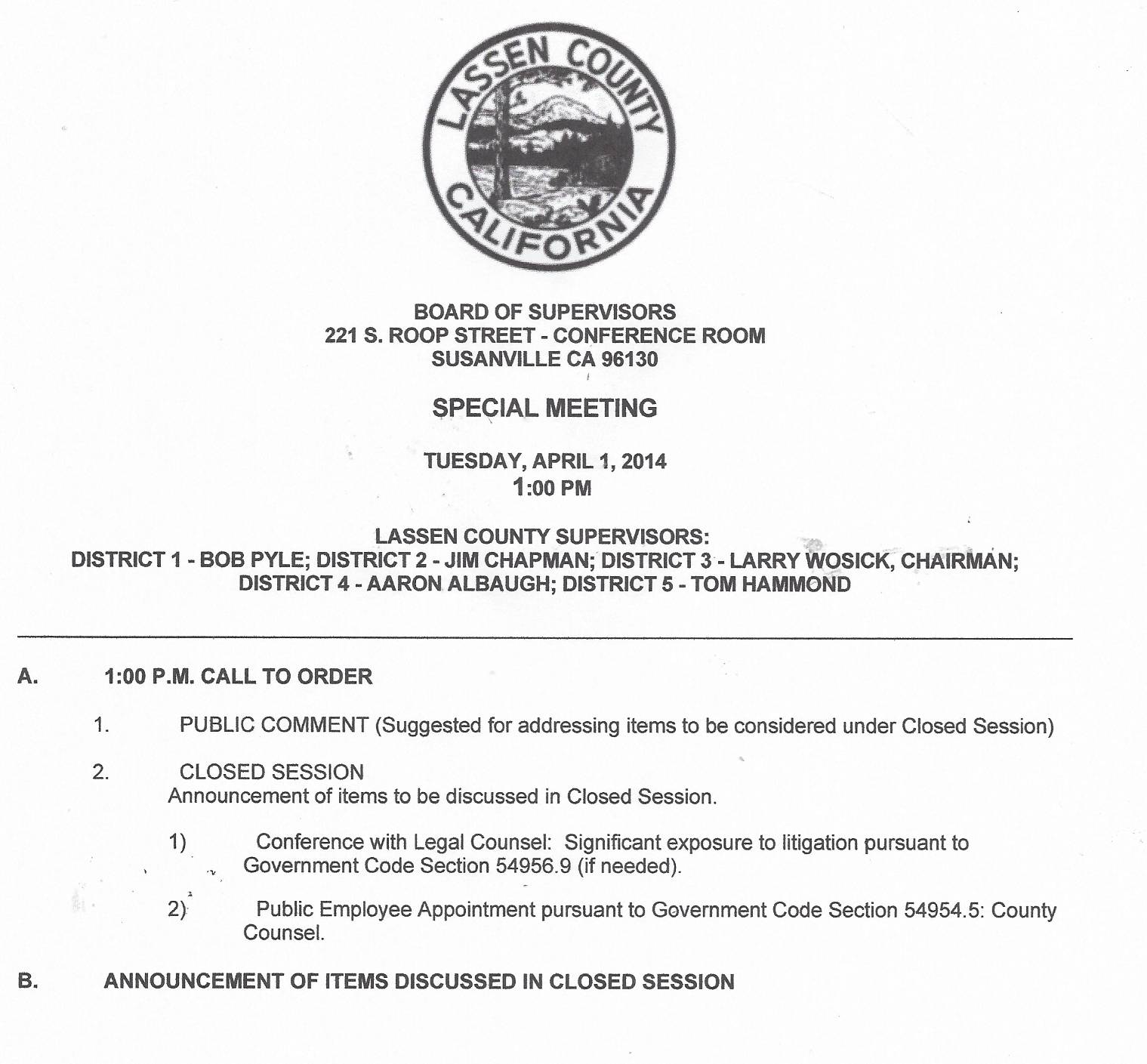 2001 Grand Jury,
Lassen County Times
and
District Attorney Robert Burns
take firm stand against appointments
made in closed session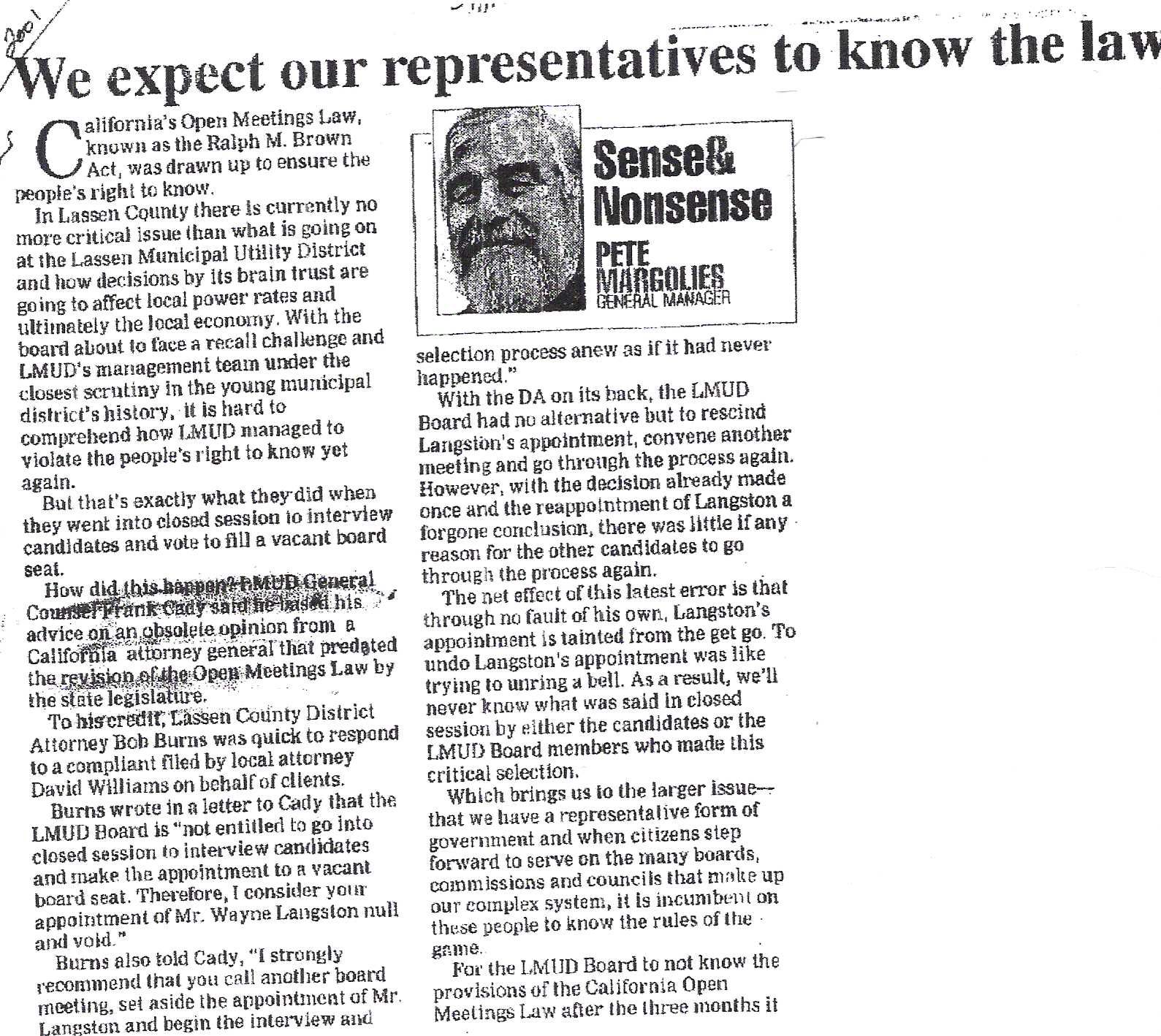 ***BREAKING NEWS***BREAKING NEWS***BREAKING NEWS***BREAKING NEWS
Supervisor Chapman's County Retirement Benefit
based on his $36,000 annual salary
According to Election codes, Chapman is
100% not qualified
to run for County Auditor
but if he should win,
it will triple his Retirement benefit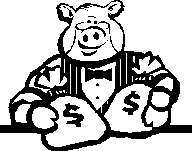 Chapman announced early in the year that he would not be running for re-election in 2016
County Clerk Julie Bustamante "qualified" her friend to run for the Auditor. She has set a very costly policy for Lassen County
FAIR TO THE PUBLIC?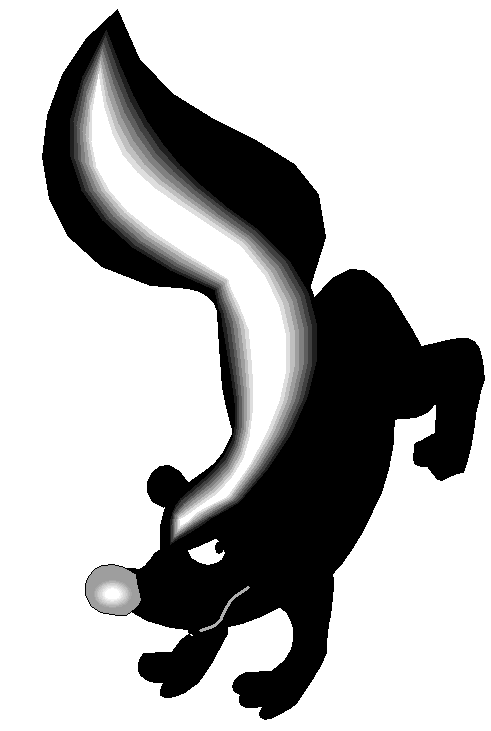 Hey, maybe if he doesn't win the Auditor Race, Julie will qualify him to be the next Sheriff ?
Classless Supervisor Wosick
[who has done nothing for District 3 and has just filled his pockets during his first three years]
Takes Cheap Shots at
Levitt Lake Watch video: Part 7@ 13:10 mark
and
Westwood Watch video: Part 7 @ 17:34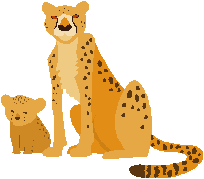 All this from a "for profit" elected official that imports trophy skins from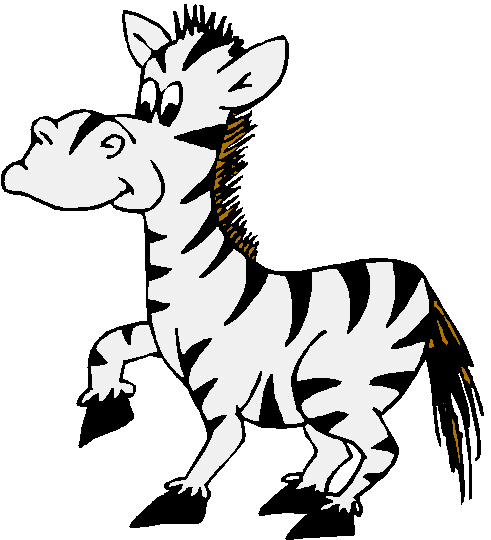 baby animals and their mothers in Africa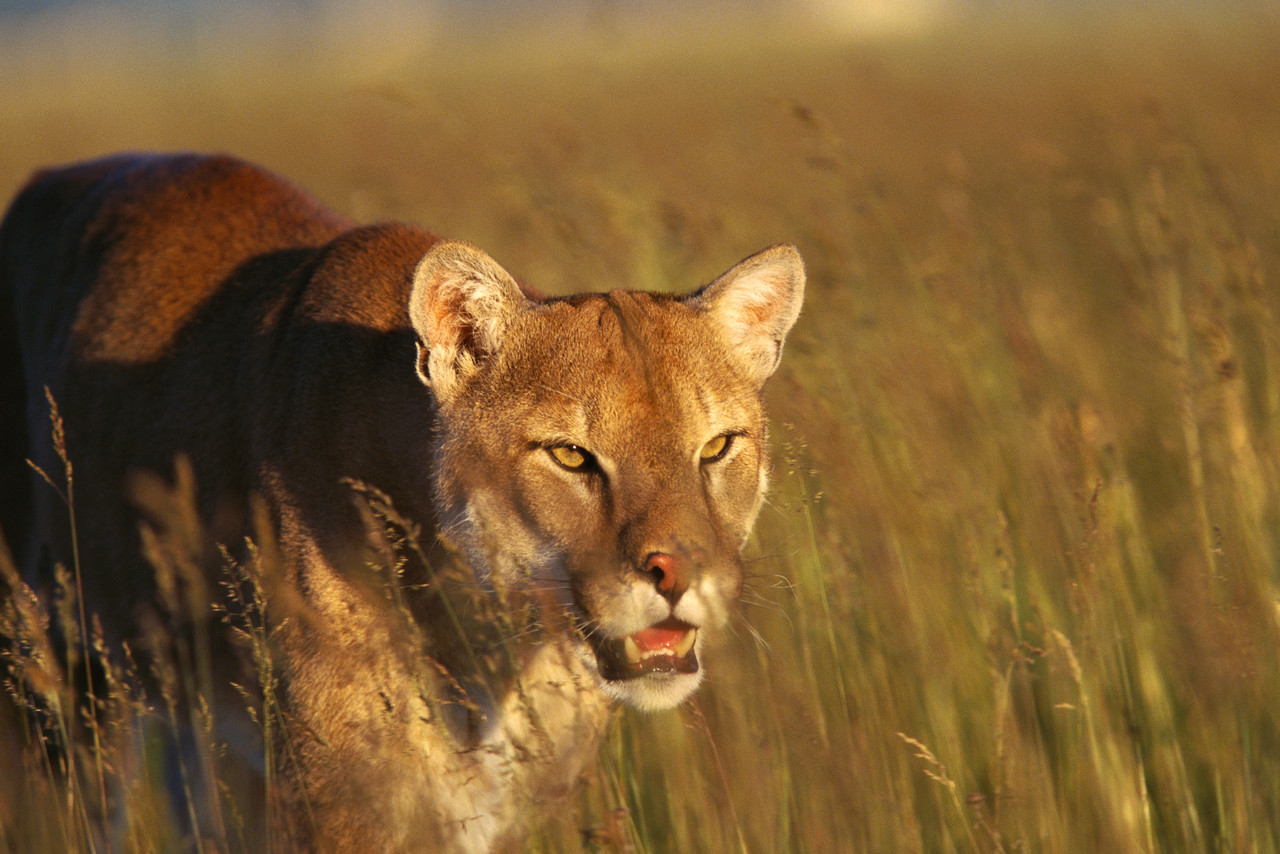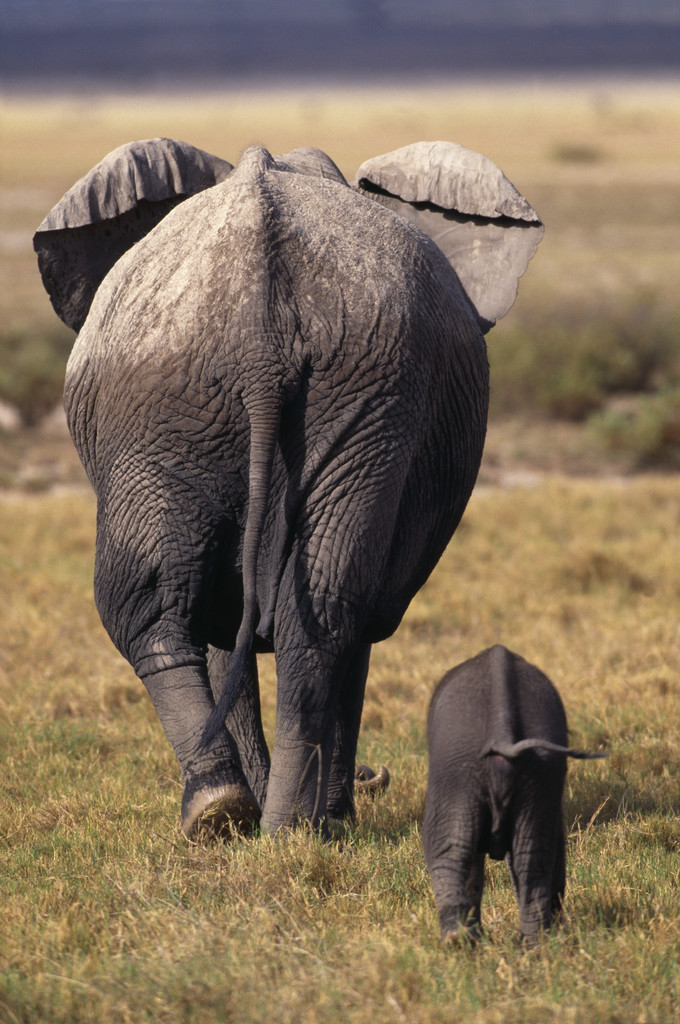 Bravo, Mr. Wosick, Bravo
Lassen County Counsel
NO SHOW AGAIN
Rhetta Vander Ploeg "calls it in" for the Board of Supervisors Closed Session on March 24, 2014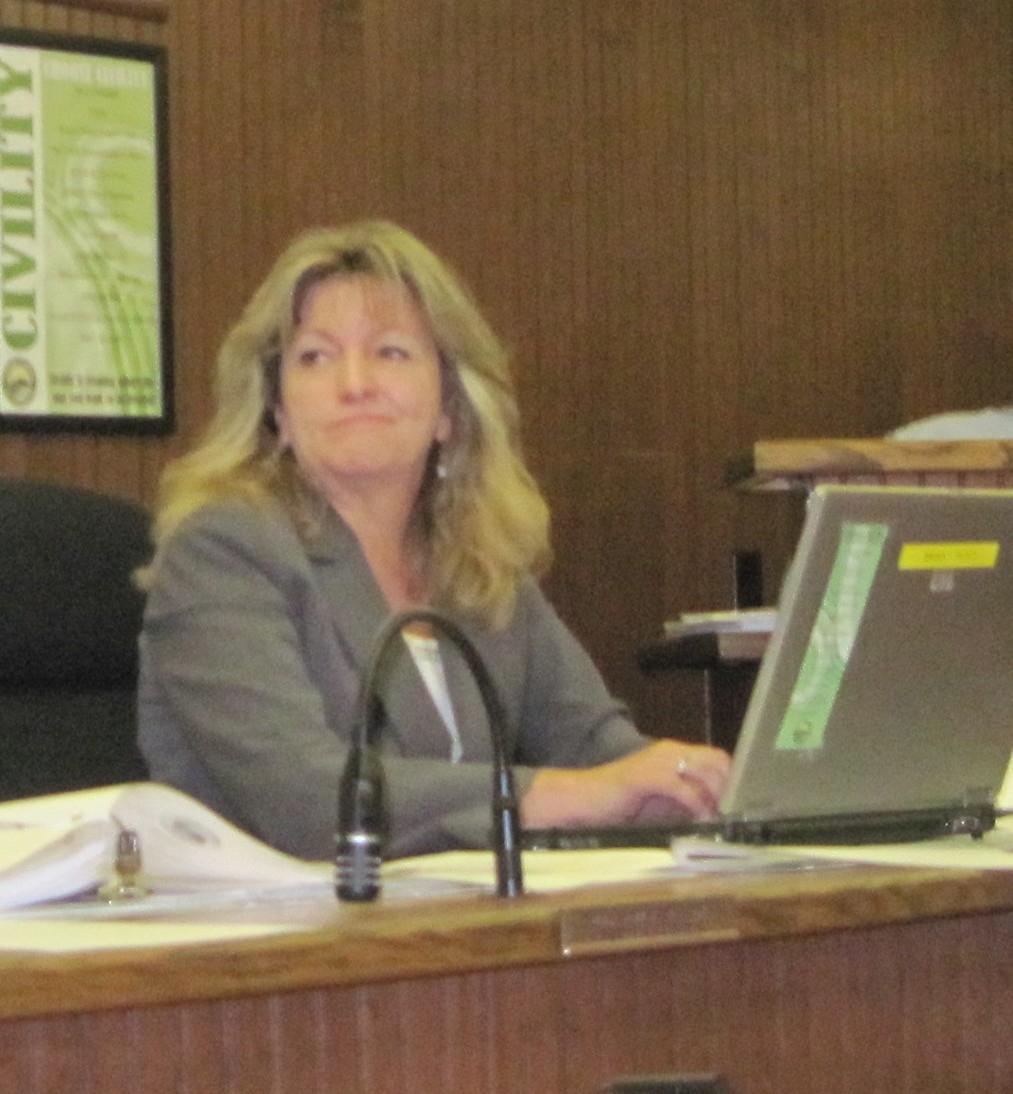 Lassen County Supervisors Are Set to Bungle yet another portion of the Sierra Army Depot Herlong Property
Watch video: Part 4 @ 16:18 mark, all of Part 5 & 6
Property surrounding the Army's Airfield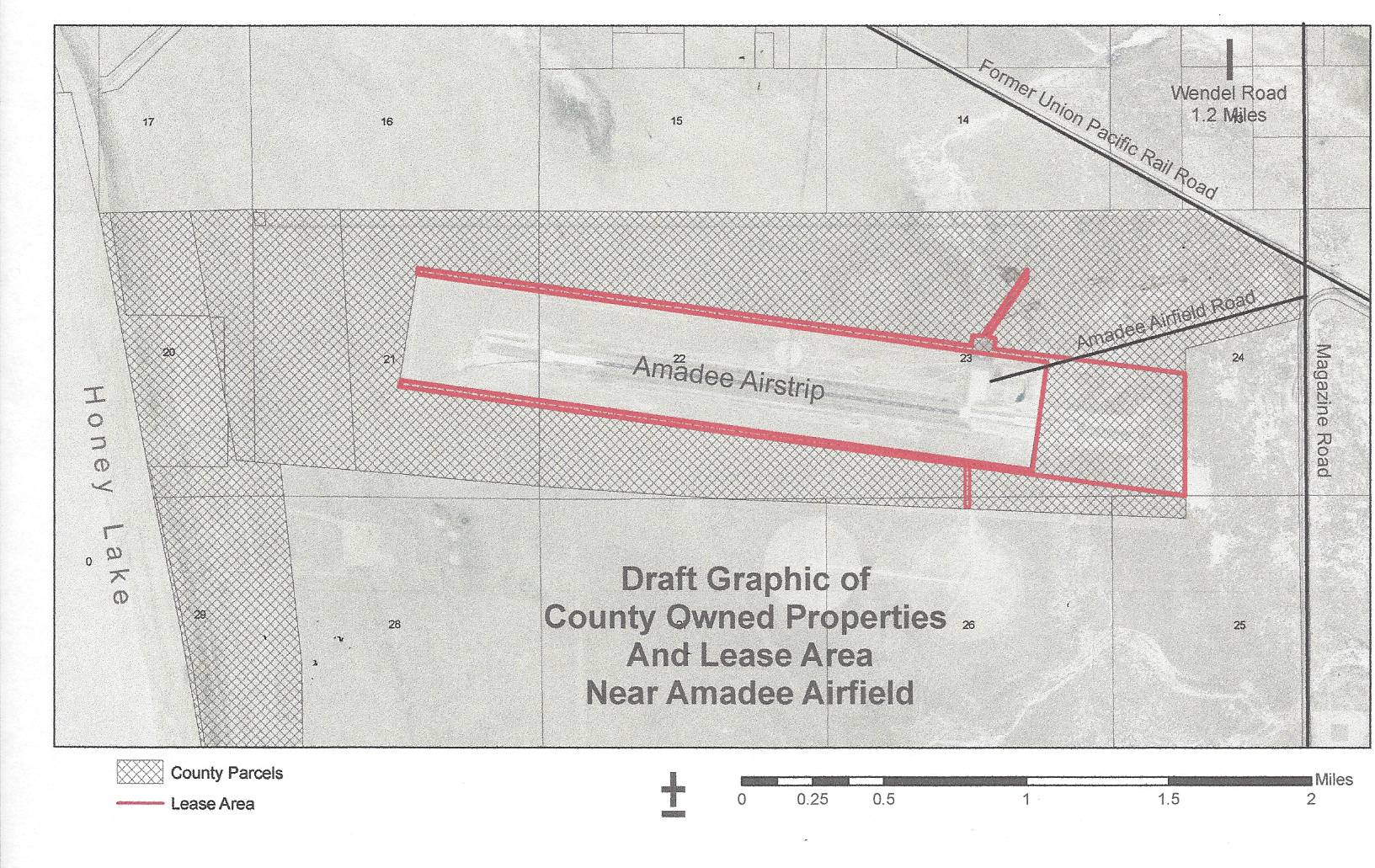 Supervisor Chapman wants a Resolution brought to the Board defining what is not to be sold. Chapman's suggestion is that a portion of the property be set aside so that the County can control access to the airfield (the upper right-hand corner of the map, "Amedee Airfield Road").
Supervisor Hammond replied the access is now being controlled by Army Military Police. The Army has a 50 year lease with the County for the Amedee Airfield with the option of an additional 50 year lease. The Army must approve the use if the County sells the property.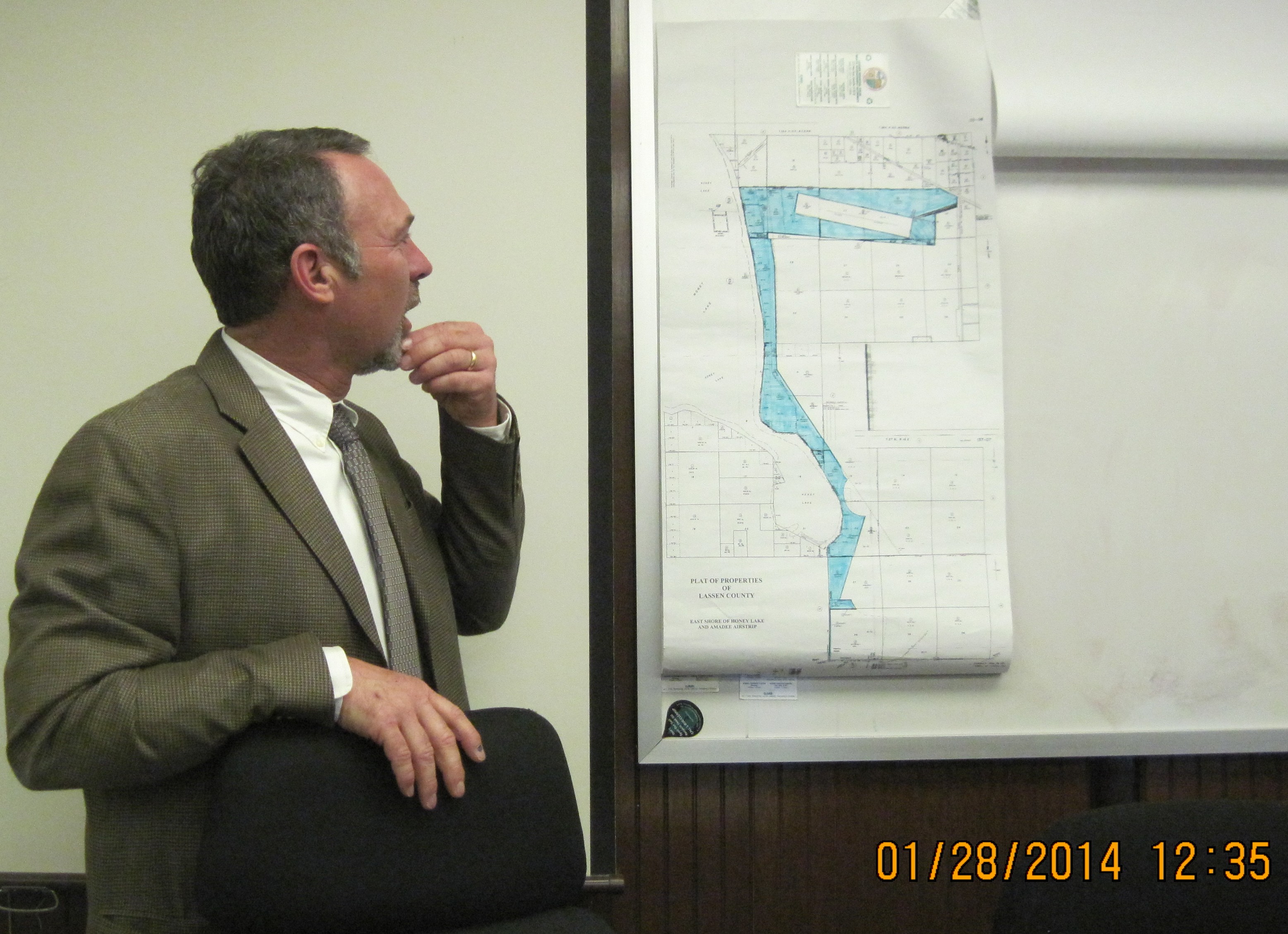 The Supervisors voted to sell the "worthless" property in "one" piece.
There is no public access to this remote property other than an un-maintained gravel/dirt road at the Southern tip of the parcel. Honey Lake is on the left and the Army base is on the right.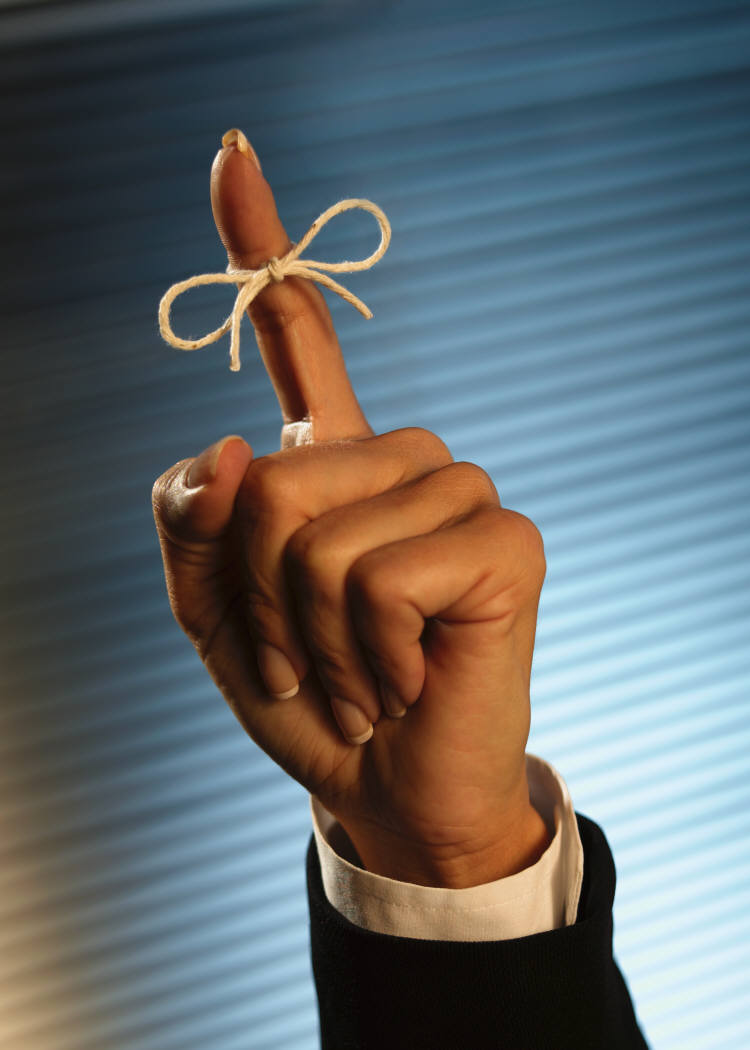 Kan We Help Reminds Supervisors that Lassen County has a
County Administrative Officer
NOT A CEO.
Watch March 24, 2014 video Part 2: 2:51 mark
Lassen County Treasurer
Must Return $402,230
to the City of Susanville
Note: Lassen County does not have a CEO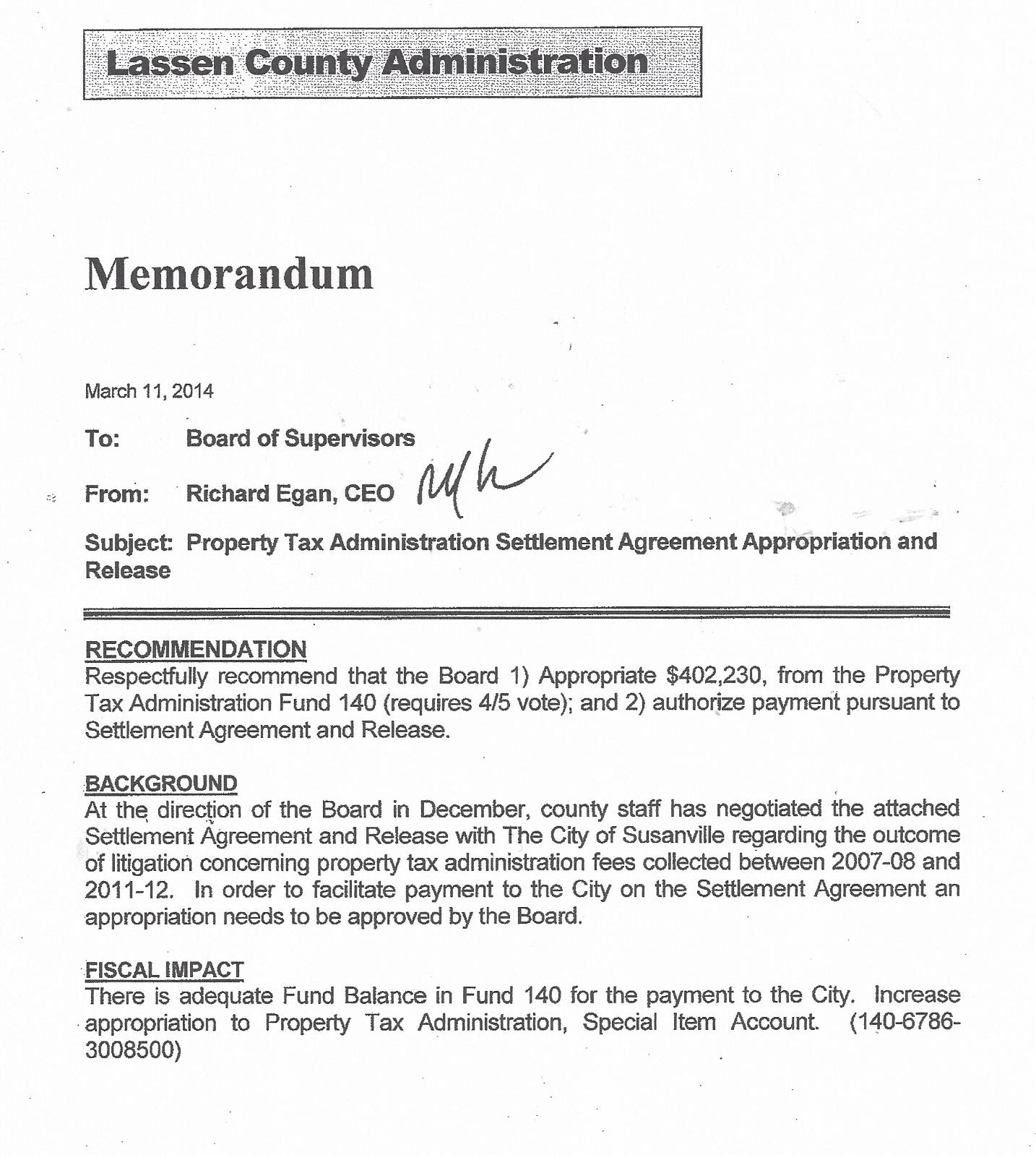 Miss "Land Use" Attorney
Rhetta Vander Ploeg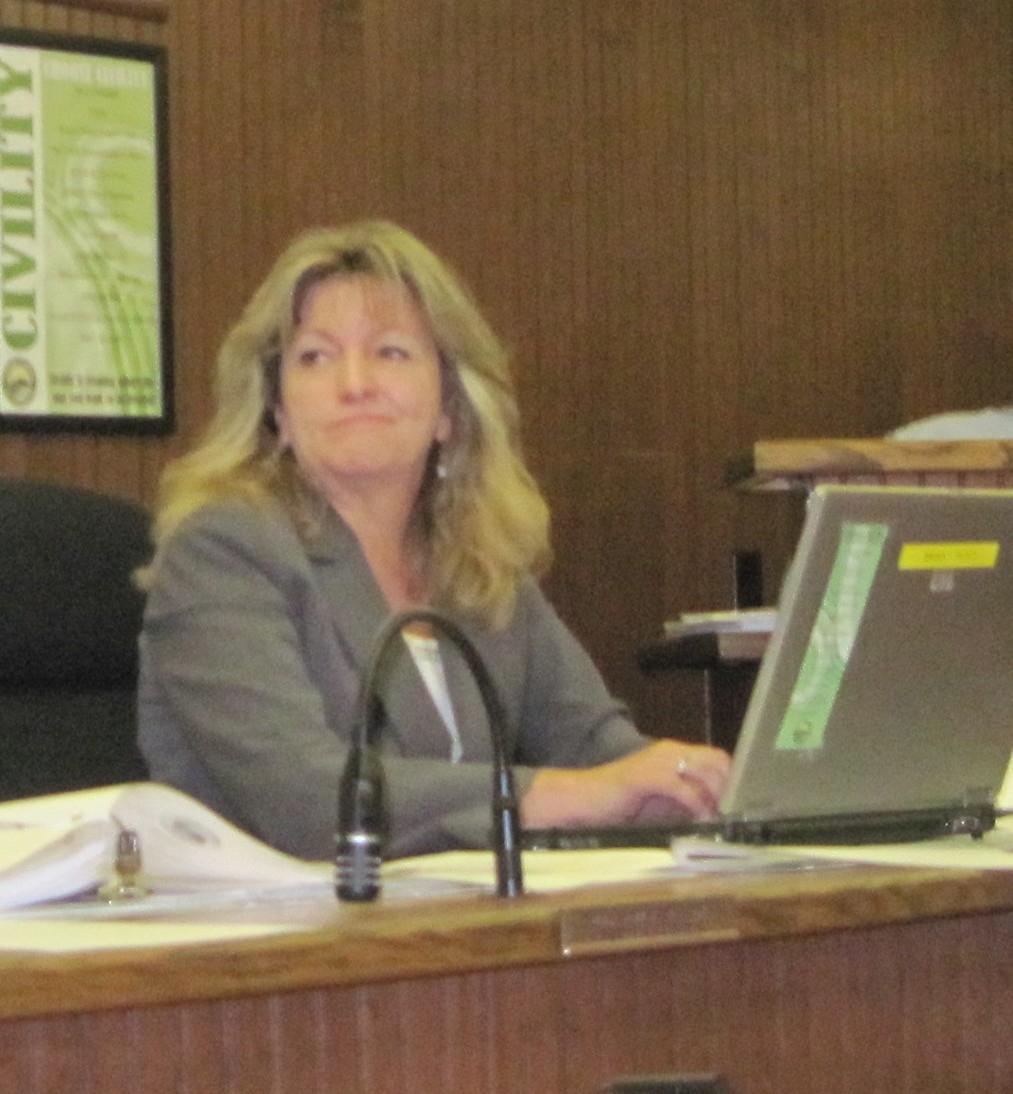 Makes Fatal Error
in Herlong
Transfers
Community Development Grant Money the County used
has restrictions
that prevent Lassen County from selling
LRA properties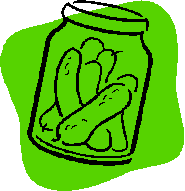 What a pickle Vander Ploeg has created for the people of Lassen County
At the September 11, 2012 BOS meeting and on the advice of Rhetta Vander Ploeg, the Lassen County Board of Supervisors abolished the LRA (Herlong, Local Reuse Authority) and transferred via "Quitclaim" all LRA property to Lassen County including the Herlong Theatre.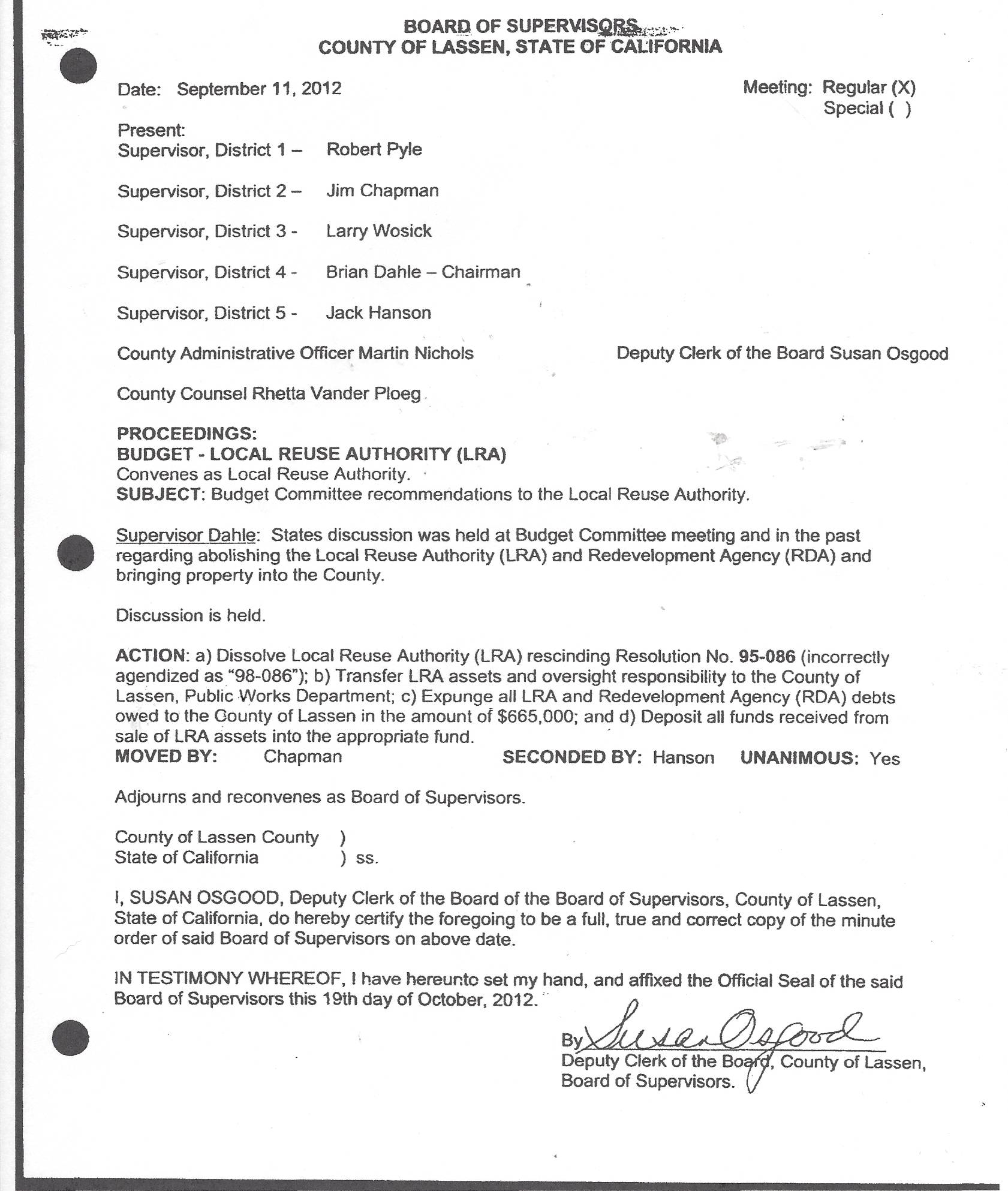 Lassen County now directly took on the liabilities of the Federal Grant monies they mis-spent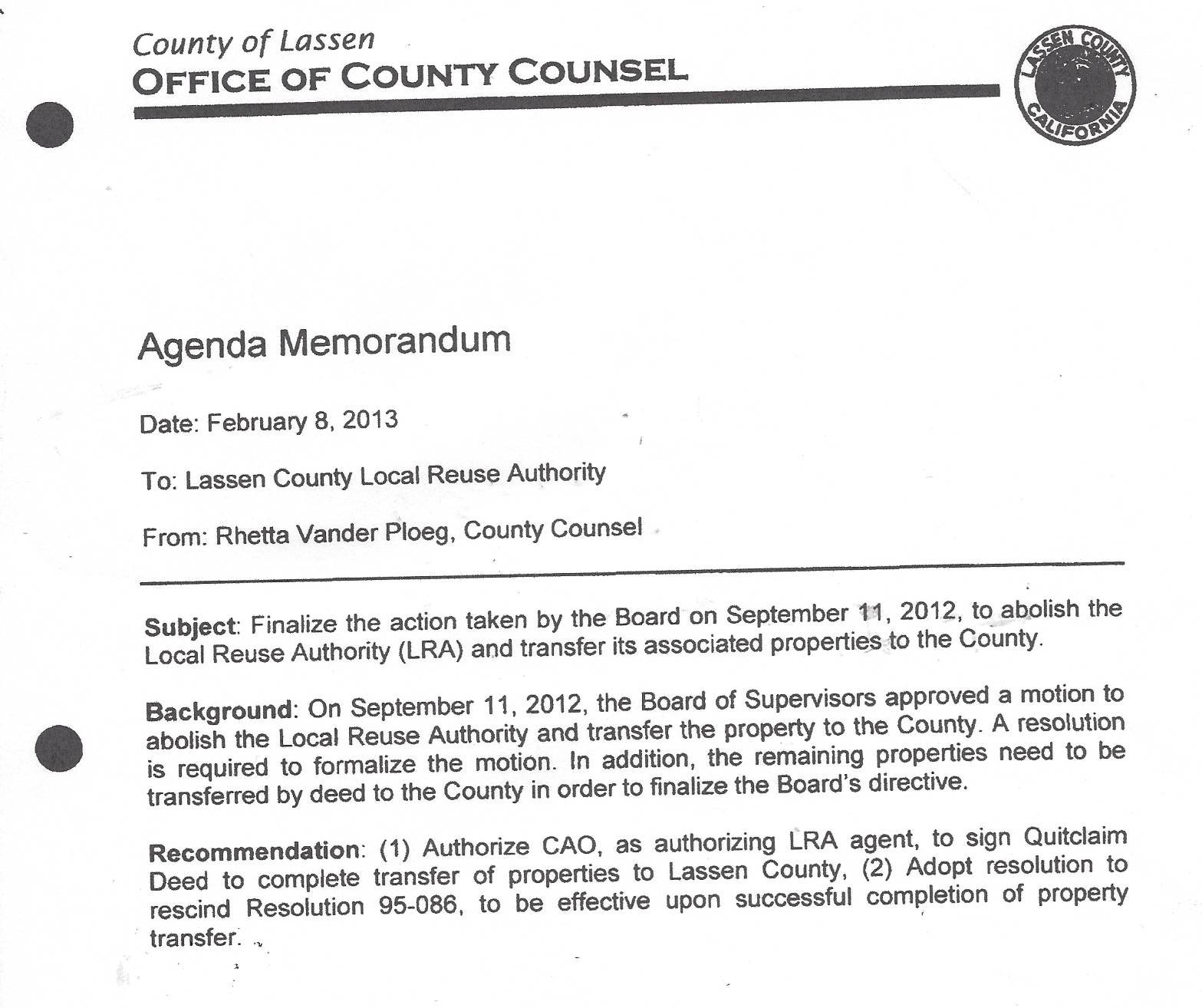 The LRA Herlong Theatre was to be given to the Fort Sage Unified School District on February 19, 2013 but was pulled from the Agenda. A Quitclam Deed was prepared but never filed.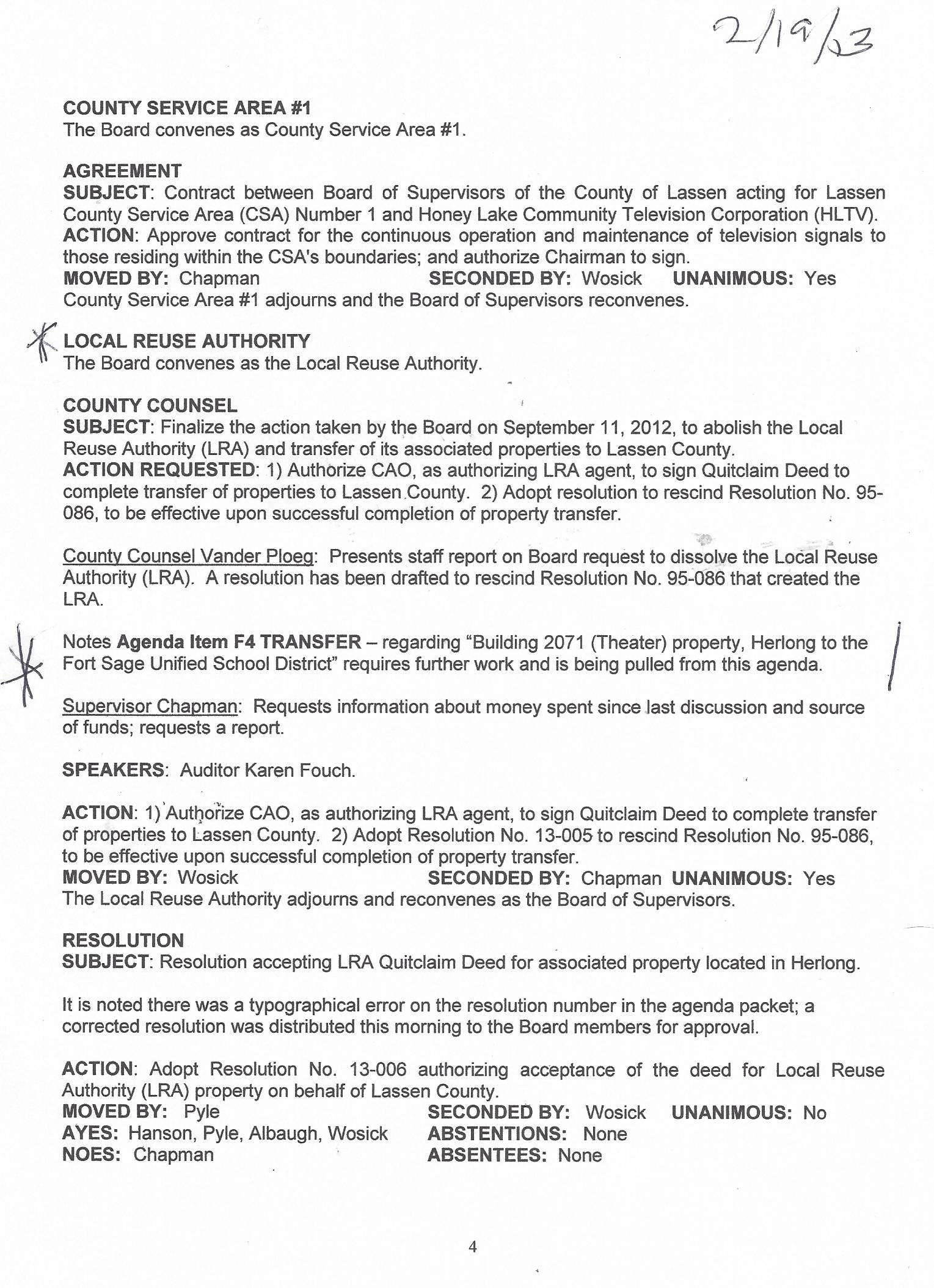 NOW

what about the One-Stop Building........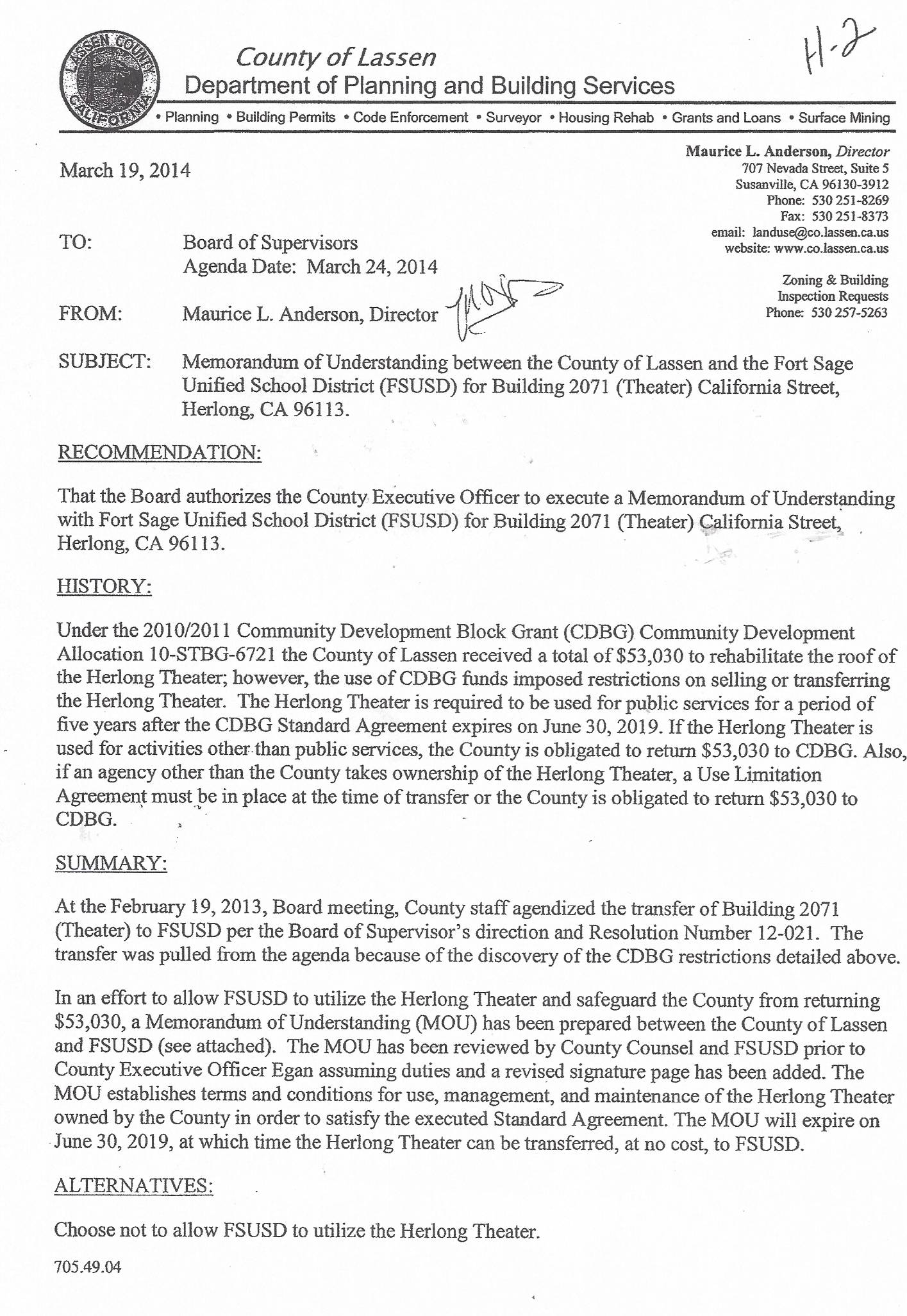 Lassen County Counsel
Shows No Interest Whatsoever
in her JOB
and continues to pick up her paycheck.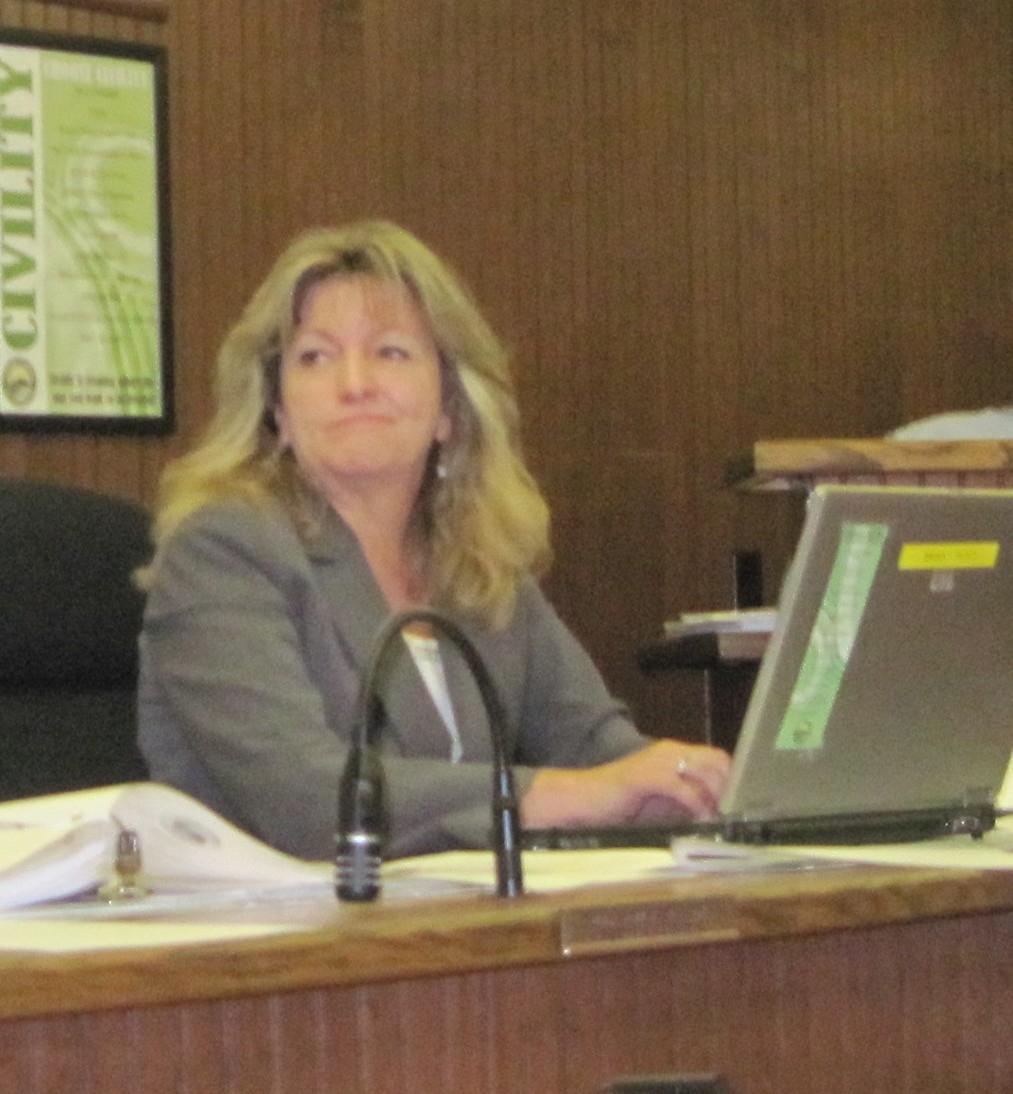 Lassen County Counsel, Rhetta Vander Ploeg does not live in Lassen County and often comes in late to the Board of Supervisors meetings or sometimes not at all. March 18, 2014 was no different.
The January 28, 2014 Board Minutes were being approved and Bob Pyle, who did not attend this meeting, moved to approve the Minutes. Vander Ploeg said nothing, did nothing. She may have been sitting in that chair but her mind was not in Lassen County. Watch: PART 1: 21:47 mark. Supervisor Pyle could not make a Motion or a Second to the Motion, but could only abstain from the vote.
The hand out for the DRAFT RFP Amedee Airfield property was not included on the County's website and a notice was issued that the handout would be available at the March 18, 2014 Board of Supervisors meeting. There were no hand outs available to the public. Rhetta Vander Ploeg didn't have one, but she came to this meeting with nothing and we can only assume she was unprepared even to attend this meeting that she is being paid for. Watch PART 7: 16:00 mark
The Board cancelled their March 25, 2014 meeting due to the fact the CAO could not attend. The CAO suggested scheduling a Special Meeting on Monday, March 24. A Special Meeting requires a 24 hour Notice to the public (Brown Act 54956). Rhetta Vander Ploeg just sat there and said nothing when the CAO stated that a Special Meeting needed a 72 hour Notice. Watch PART 7: 16:00 mark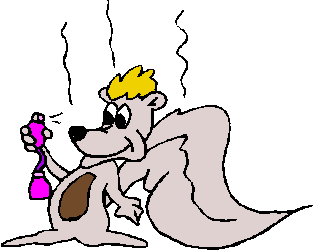 Rhetta Vander Ploeg announced that she is taking a position with James Curtis in Grass Valley.
This is the same James Curtis that she threw several Lassen County contracts too.
This is the same James Curtis that is Sierra County's County Counsel.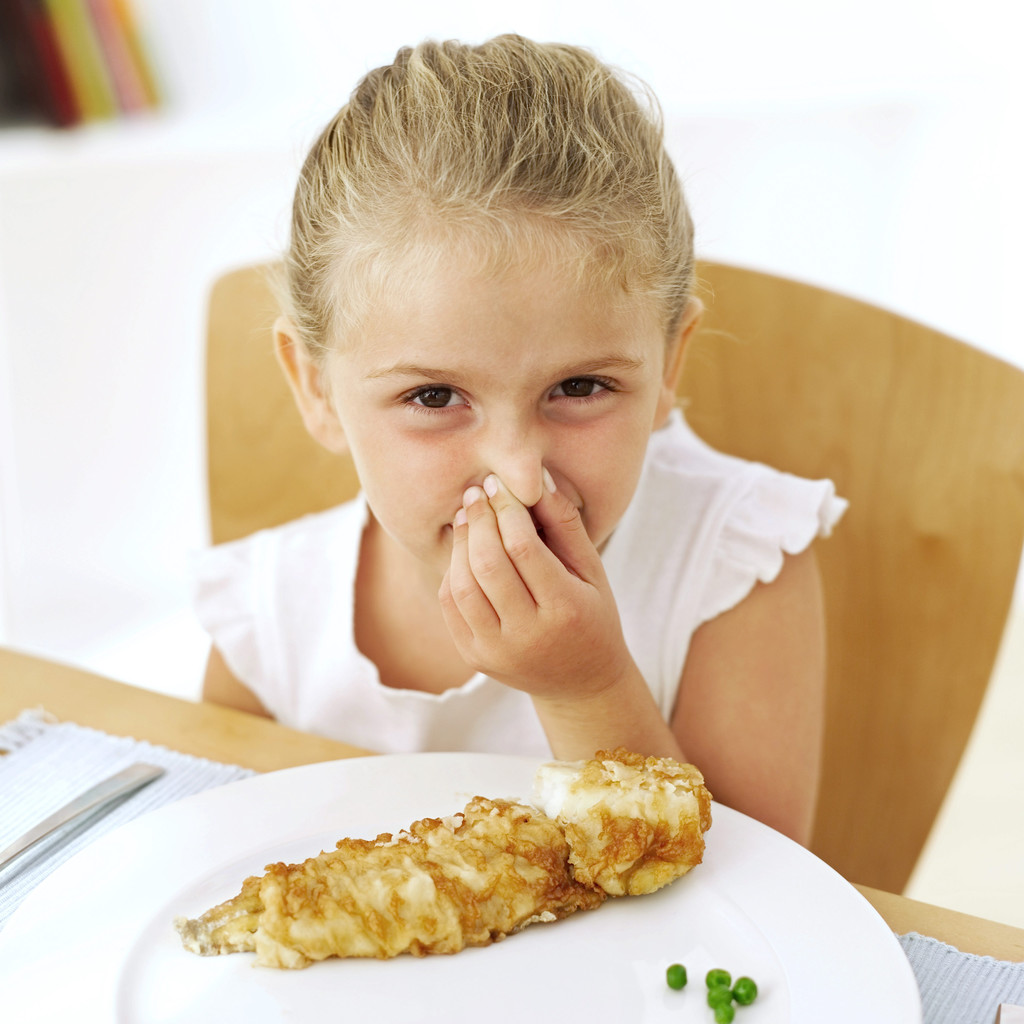 YOU ASK, CAN THIS GET ANY WORSE?
YES, IT CAN
IF THE SUPERVISORS HIRE ROBERT BURNS AS COUNTY COUNSEL
Lassen County Clerk
Borders on
TOTAL DYSFUNCTION
Lassen County Clerk, Julie Bustamante, has fallen behind on the Board of Supervisors business. Meeting Minutes have not been approved for six meetings. Her staff is not even proficient with the old software so how can the public trust her with a new $27,000 software package she purchased last September that has yet to be installed.
Now, the Agendas have "This Agenda item pulled" listed for secret and unknown agenda items? Only the Supervisors can vote to pull an Agenda item. The real reason, the County Clerk does not understand her software.
At the March 18, 2014 Board of Supervisors meeting, Bob Pyle voted to approve the 1/28/14 minutes. The "Problem", he did not attend this meeting. Over the years, the County Clerk failed to present over a dozen Minutes to be approved and the Supervisors could not possibly approve one, two year old minutes. When they were forced, by Kan We Help to address this, they approved all but one. They didn't have a quorum to approve the last one because of Jack Hanson's Recall.
NOT A GOOD WAY TO RUN THE PUBLICS BUSINESS
Maybe, if Julie Bustamante ever visited her office, her staff might get some direction.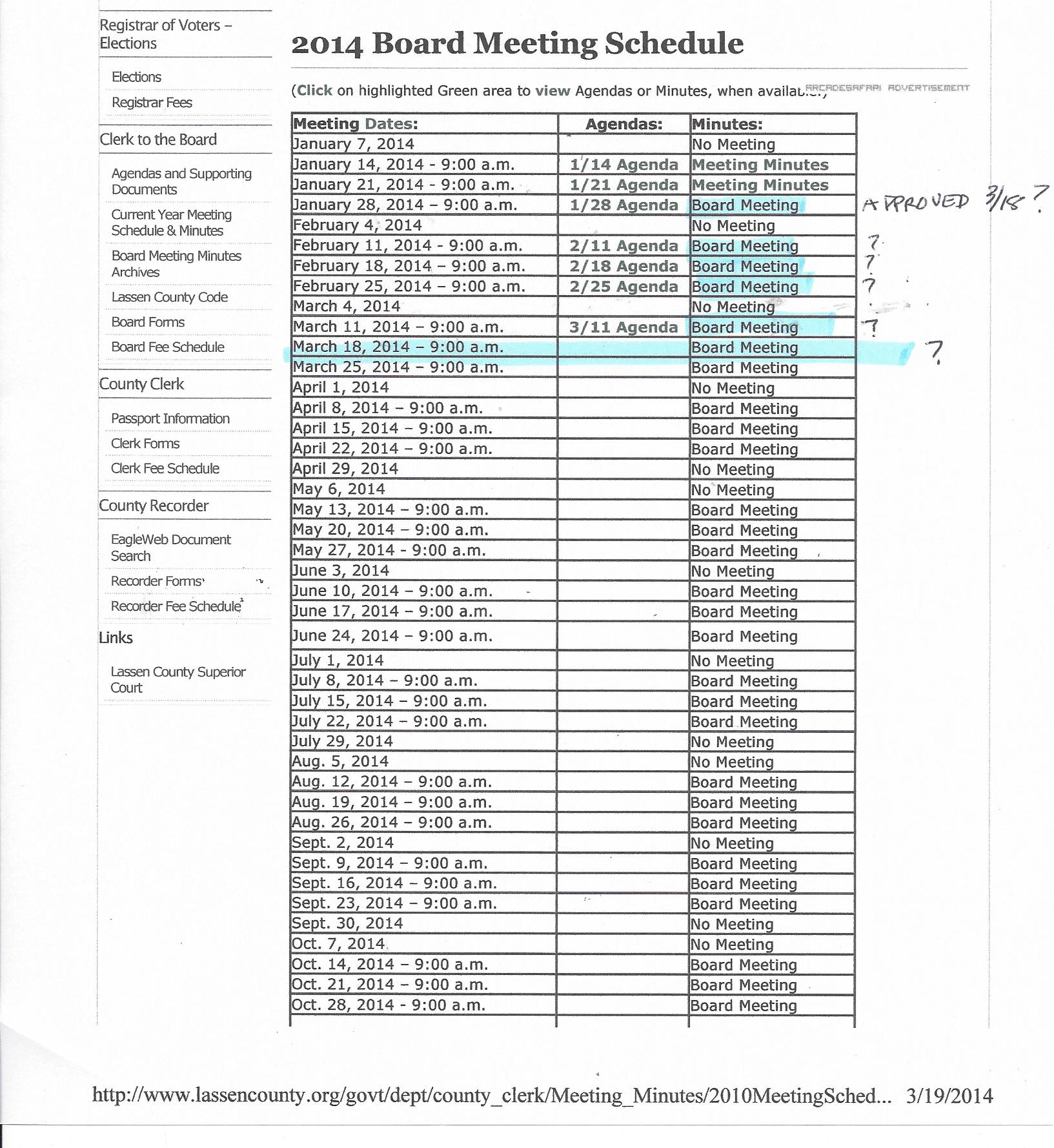 pool*pool*pool*pool*pool*pool*pool*pool*pool*pool*pool*pool*pool*pool*pool*pool*pool*pool*pool*pool*pool*pool*pool*pool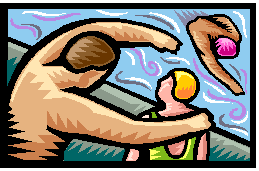 Larry Wosick, Jim Chapman and Brian Wilson
Bail on Pool Project?
HOW SINCERE WERE THEY ABOUT BUILDING A POOL
Supervisor Wosick doesn't live here anymore and had the County Counsel make an unbelievably unprofessional statement that he could still be a Lassen County Supervisor. Regardless of that small detail he has decided not to run again and is moving his Reno family to Texas or Florida. Character matters and Wosick has failed.
Supervisor Chapman has announced that he would not be running again in 2016 and has decided to run for County Auditor which he is not remotely qualified for. That takes him off the JPA pool committee.
Brian Wilson, first time City of Susanville Council member, is running for a County position he is distinctly and legally not qualified for. A position that, if he should win, will take him off the newly formed JPA pool Committee.
Catch The Falling Stars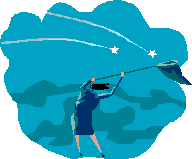 Lassen County Supervisors
Brian Dahle, Larry Wosick, Bob Pyle, Jim Chapman
and Jack Hanson
have hired a parade of really bad County Counsels
in the last ten years.
THE PEOPLE ARE EXTREMELY TIRED OF THIS PRACTICE AND WHAT IT BRINGS.
Lassen County does not need a
stream of constant daily reminders
of the personal history
of Bob Burns on the Internet
and..."who" voted to hire him
Our Learned Scholars:
the lassen county supervisors
will take the appointment of a new county counsel into CLOSED SESSION
on March 18, 2014 @ 9:00 AM
The People expect the new County Counsel to have at least three qualities
clean personal history,
competent in the law
and
care about the peoples business
Wouldn't that be a nice change?
Lassen County Clerk, Julie Bustamante
Makes Exceptions
for Jim Chapman and Brian Wilson
Kan We Help files a complaint with the Secretary of State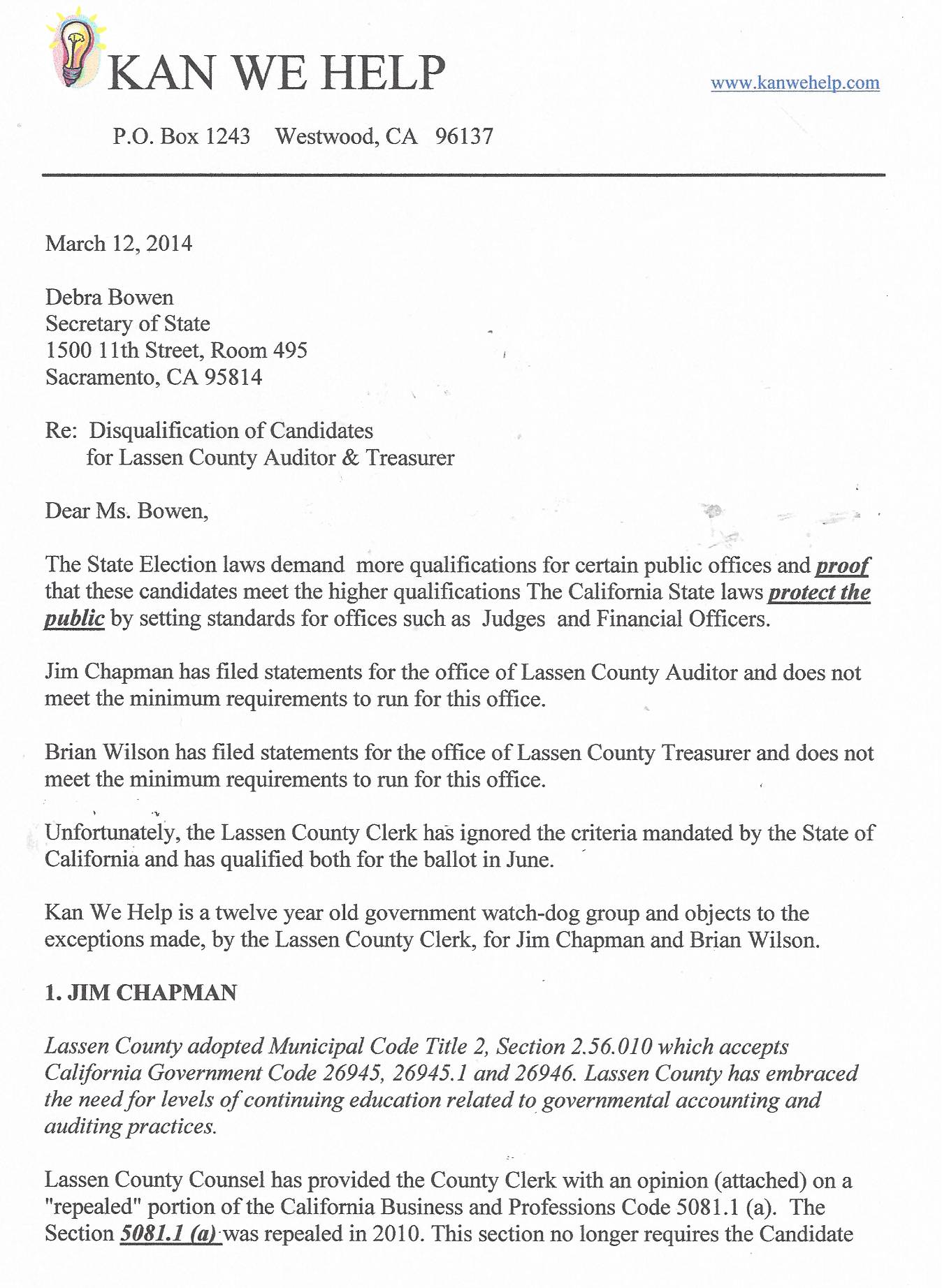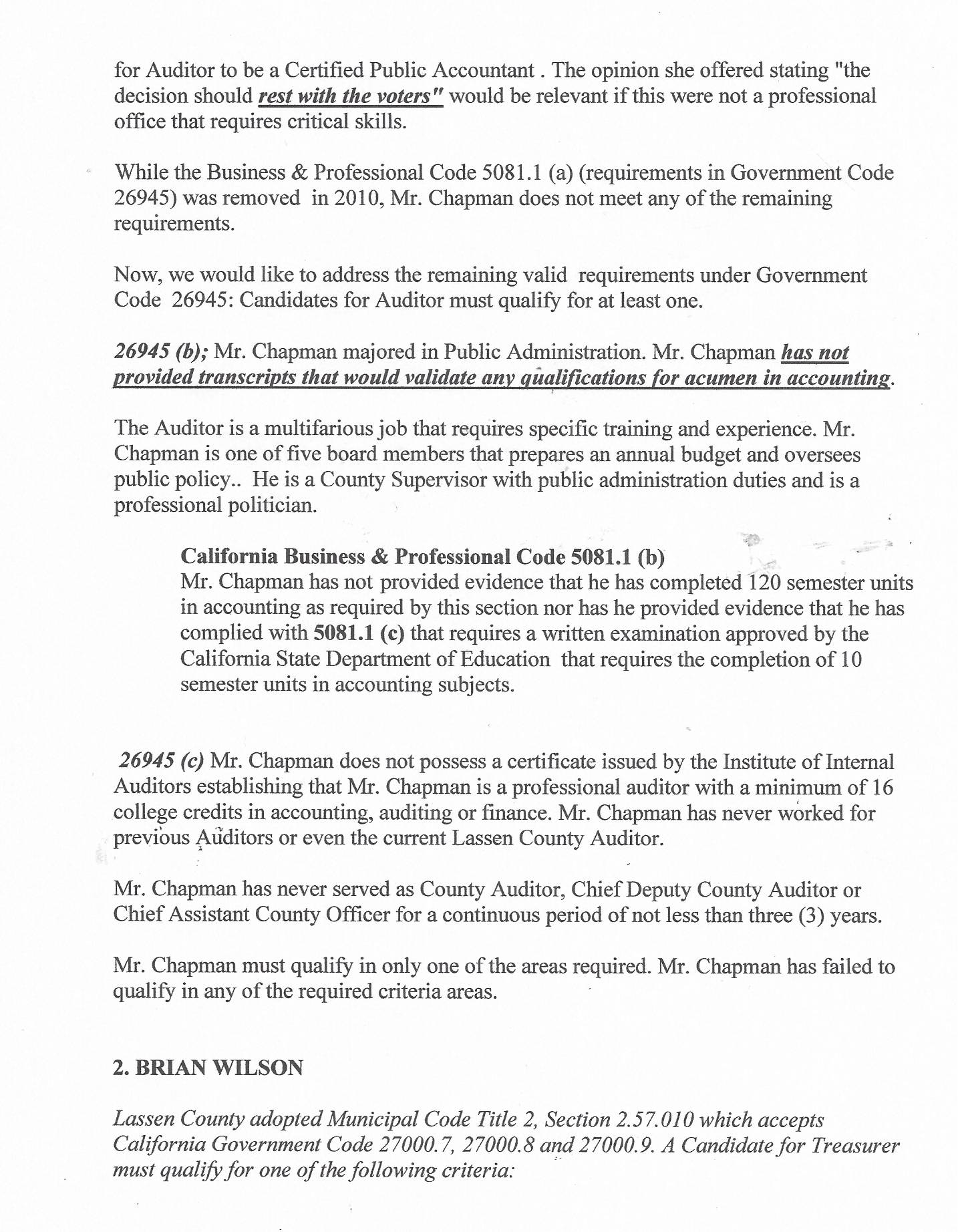 County Counsel's sudden opinion on 5081.1 (a) does not help Jim Chapman qualify. She simply confirmed a known fact that California does not demand that a County Auditor be a CPA after January 1, 2010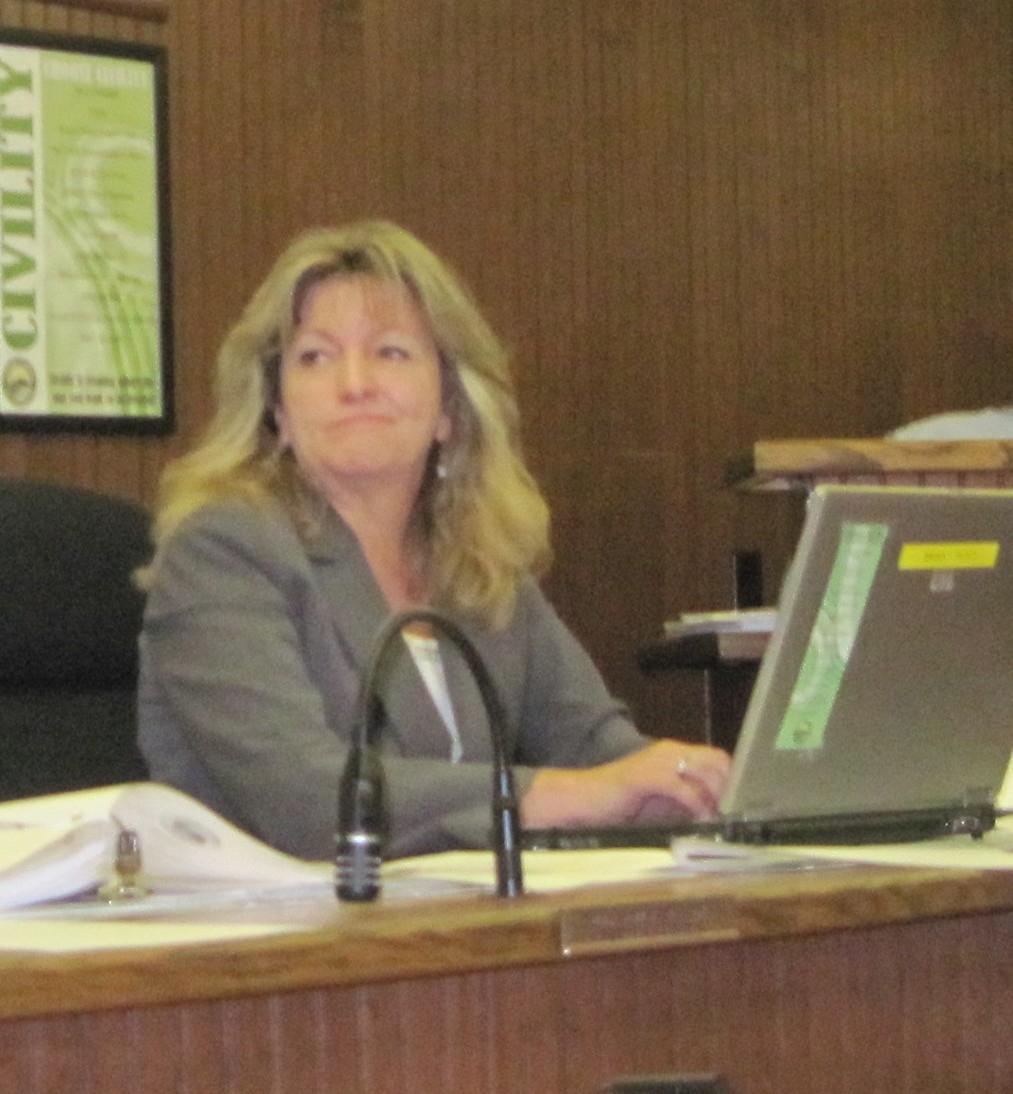 Lassen County Counsel Rhetta Vander Ploeg
Is it odd that she did not render an opinion that Jim Chapman does or does not qualify under California State Law to run for Auditor?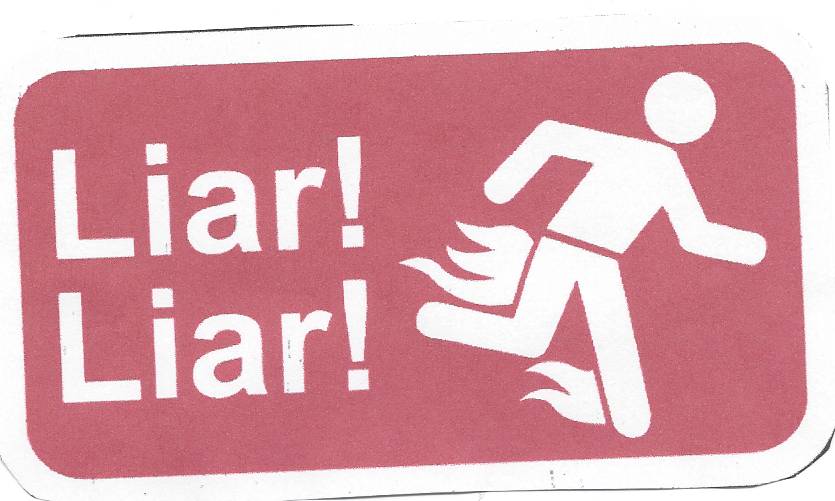 Larry Wosick Admits He No Longer Lives in His District
but claims his "temporary" housing, in Reno,
can keep him on the Board of Supervisors
Wosick had Lassen County's "Empty Chair" legal scholar,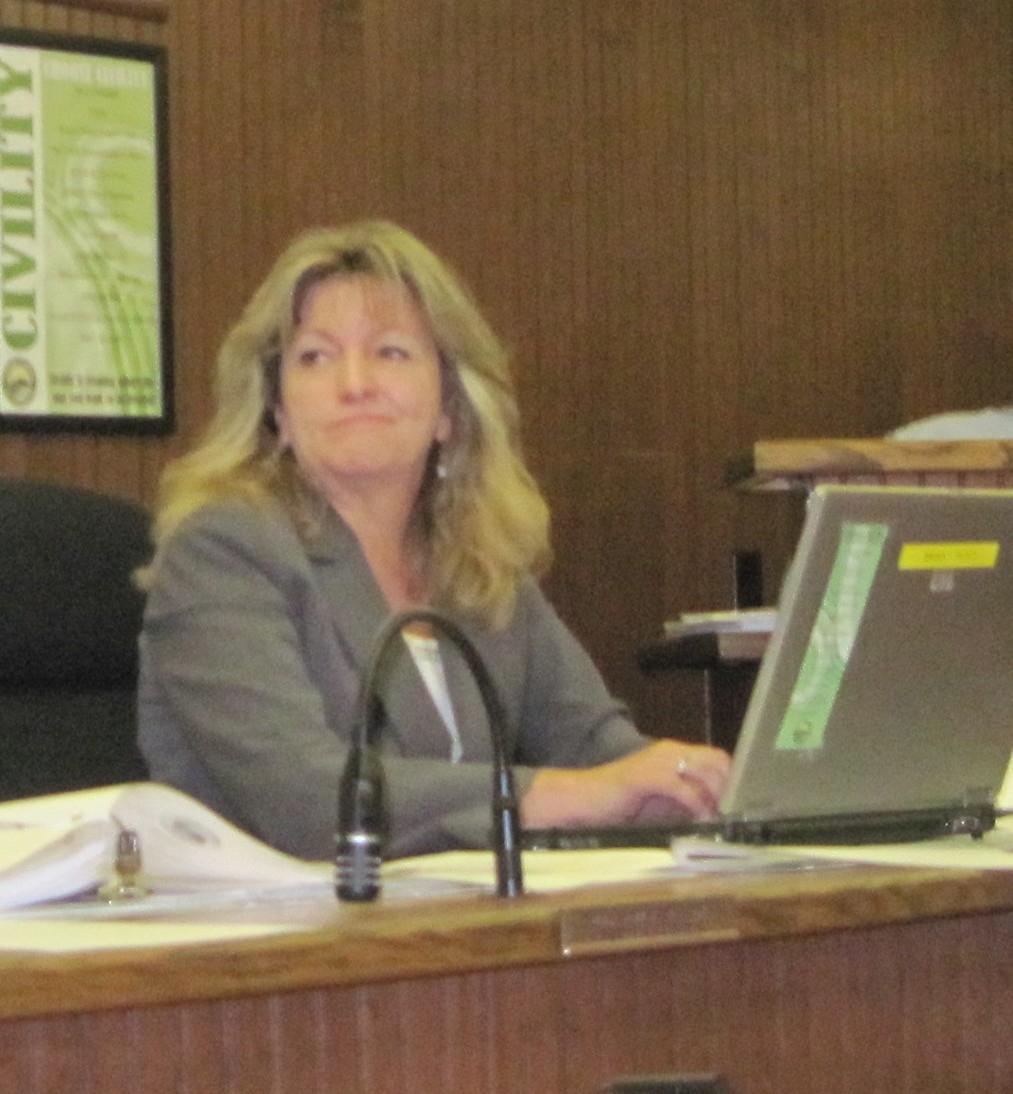 Rhetta Vander Ploeg read a sentence they found on "Frequently Asked Questions".
DON'T LET THE LAW GET IN YOUR WAY Counselor
Larry Wosick owns property in Susanville and Standish. Both parcels have houses on them but they are outside Larry Wosick's District. Larry Wosick does not lose his right to vote in Lassen County if he moves out of his District, but he does lose his seat on the Board.
Election Code Section 2022: If a person moves to another State with the intention of making it his or hers domicile the voter loses his or her domicile in this state.
Election Code Section 2023: If a person moves to another state as a permanent residence, with the intention of remaining there for an indefinite time, he or she loses his or her domicile in this state, notwithstanding that he or she intends to return at some future time.
The Reno home "IS" Larry Wosick's
Permanent Domicile
where he lives now with his wife
He has no intention of coming back to Lassen County. He likes Texas better or was it Florida.............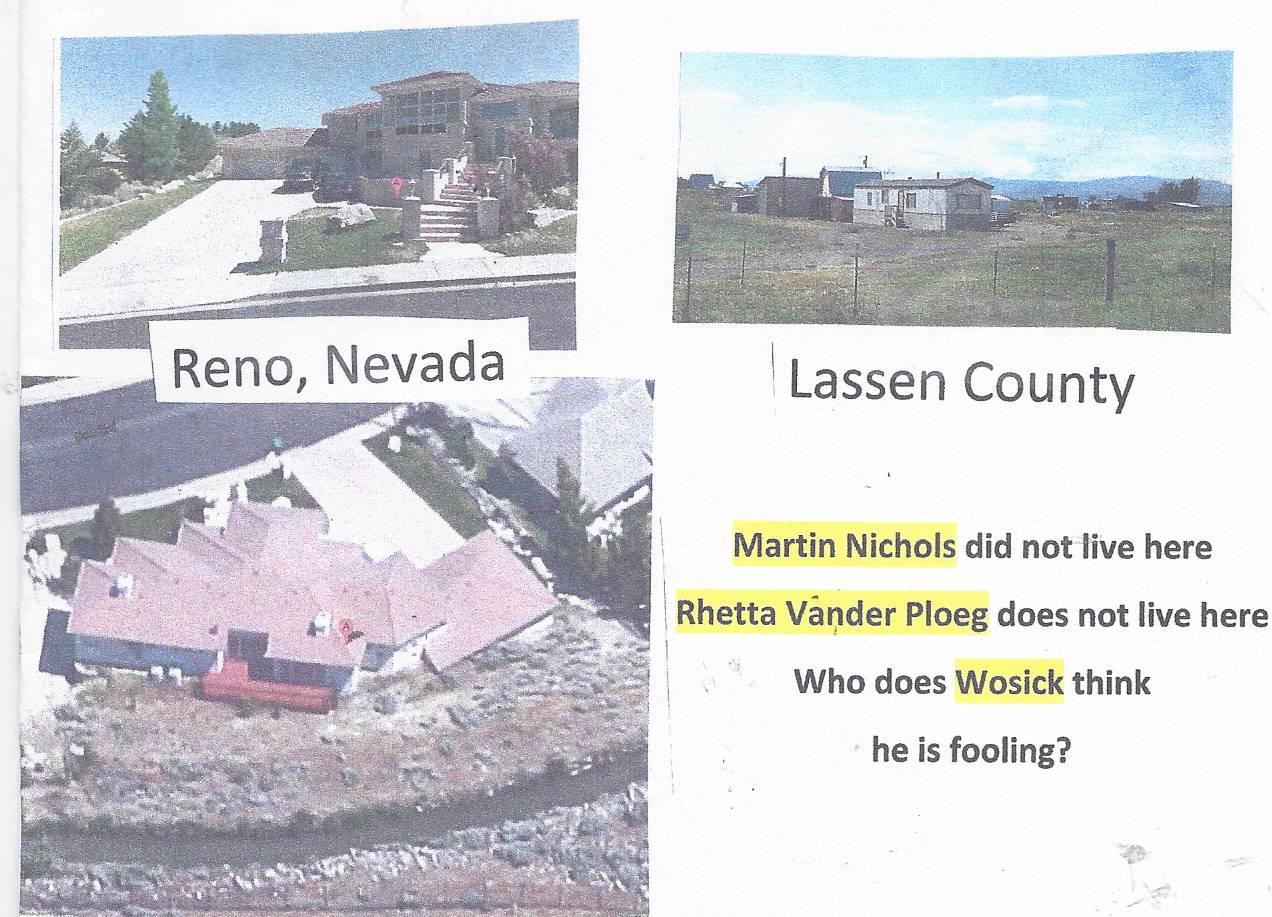 DON'T LET THE LAW HIT YOU ON THE WAY OUT, MR. WOSICK
Lassen County Clerk, Julie Bustamante, has been asked to take a second look at Brian Wilson's Candidate papers for County Treasurer
The State sets the qualifications for the office of County Treasurer, not Bustamante.
As County Clerk/Election Officer she is required to follow the law not bend it.
On March 10, 2014, Julie Bustamante "qualified" Brian Wilson to run for County Treasurer. Bustamante qualified him because he took one class in Business Calculus at Glendale Community College. As an insurance broker, he can offer financial services, such as retirement plans and estate planning. This does not meet the strict criteria the State sets for County Treasurer.
Kan We Help will be filing a formal complaint with the California Secretary of State .
Jim Chapman has filed papers
for County Auditor
He does not meet the State Qualifications for this position and the County Clerk has qualified him also
Kan We Help has filed a complaint with the Secretary of State against the County Clerk for qualifying Wilson and Chapman
Four Lassen County Supervisors
Decide to Table Chapman's
Video of 3/11/14 meeting: Part 7
until a Capital Improvement Plan is in Place
Supervisor Chapman left the meeting with this parting comment:
"Well, you can at least buy some new chairs. I'm tired of looking at these"
New chairs: Part 7 @ 9:30 mark
Jean Hodge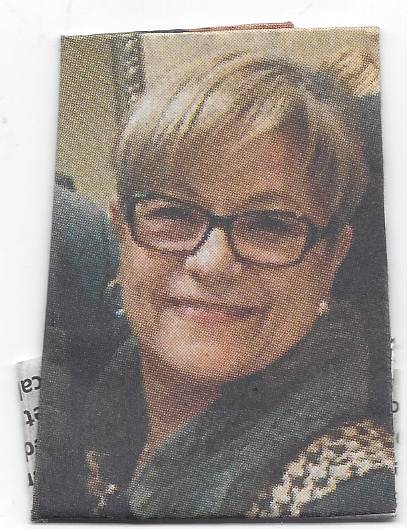 has relentlessly drilled the Supervisors that until they have a Capital Improvement Plan they cannot prioritize their spending. Jean Hodge and her husband, Dr. Hodge, have been submitting CIP examples for over a year and stressed that this is not an arbitrary document but a mandated document.
CIP Workbook submitted by Jean Hodge
New CEO (???) Richard Egan told the Supervisors that he expects a CIP in six months.
It will be evident, when the CIP is done, Chapman's new boardroom
will not even make the top ten in priorities for Lassen County
What do we do with Robert Burns?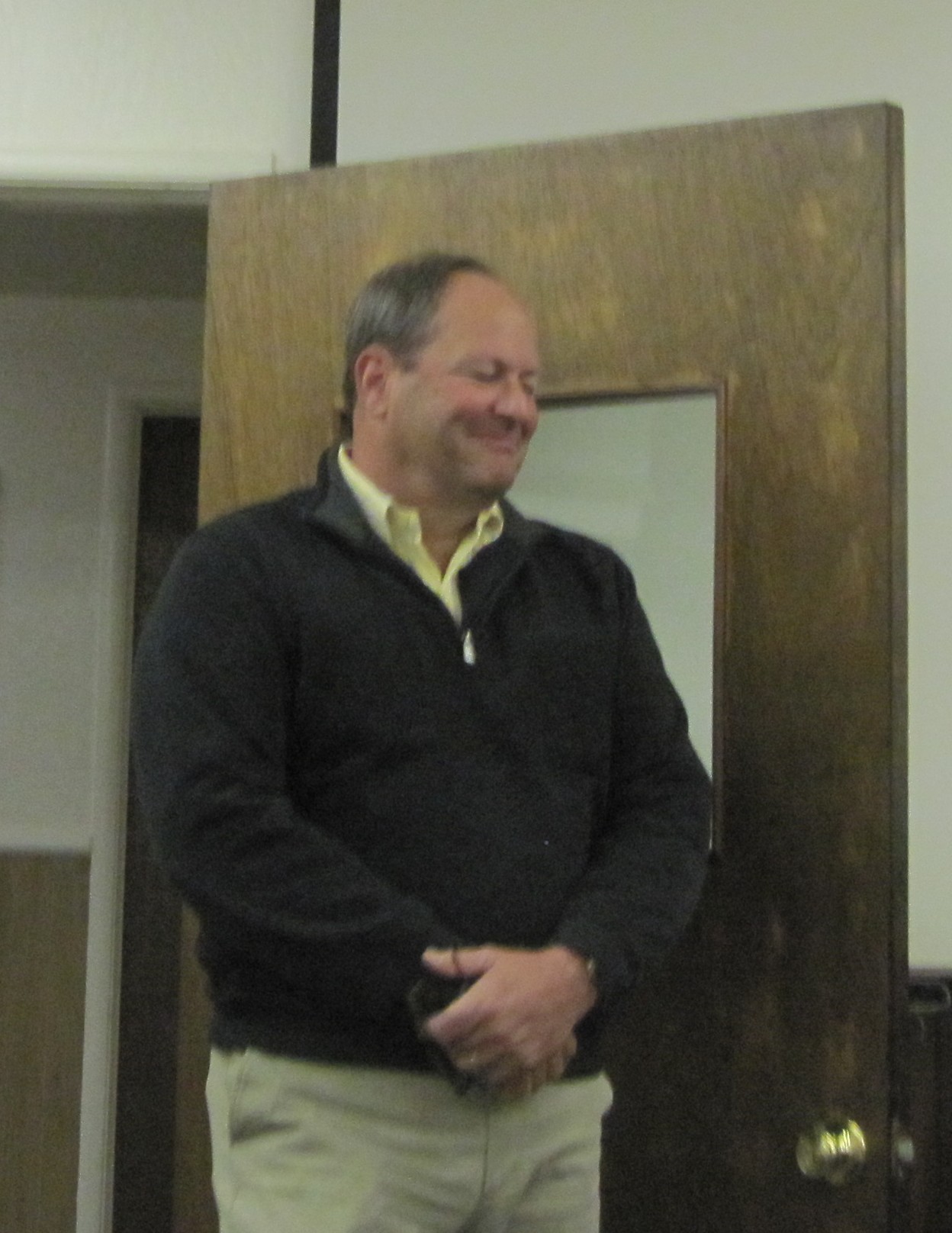 He can't be a Judge
He can't be a District Attorney
He can't be the County Counsel
What do you do with a vindictive, mean person?
Send your helpful suggestions to: opinions@kanwehelp.com
1. Open a Pharmacy
2. Open a Bar
3. Move to Grass Valley
4. Open Boys Boot Camp
5. Open a Brothel on Main Street
6. Evans & Burns Bail Bonds
7. Burns Tri-State Pawn, Inc.
8. Party Planner
9.Pharma Rep
10. Las Vegas Law Firm
11. Chittock & Burns Law Firm
12. Buy a pig farm in Wendel
13. Atlantic City Law Firm
14. Join Dewey, Cheatem and Howe Law Firm
Supervisor Larry Wosick can leave today
Women will be safer?
Superior Court Case #36349
Susanville Police Report #14-0147
No more bad checks ?
No more speeding tickets in Lassen County?
The Court clears all traffic citations after 3 years but
all of the Wosicks Citations were taken off in November of 2012 ?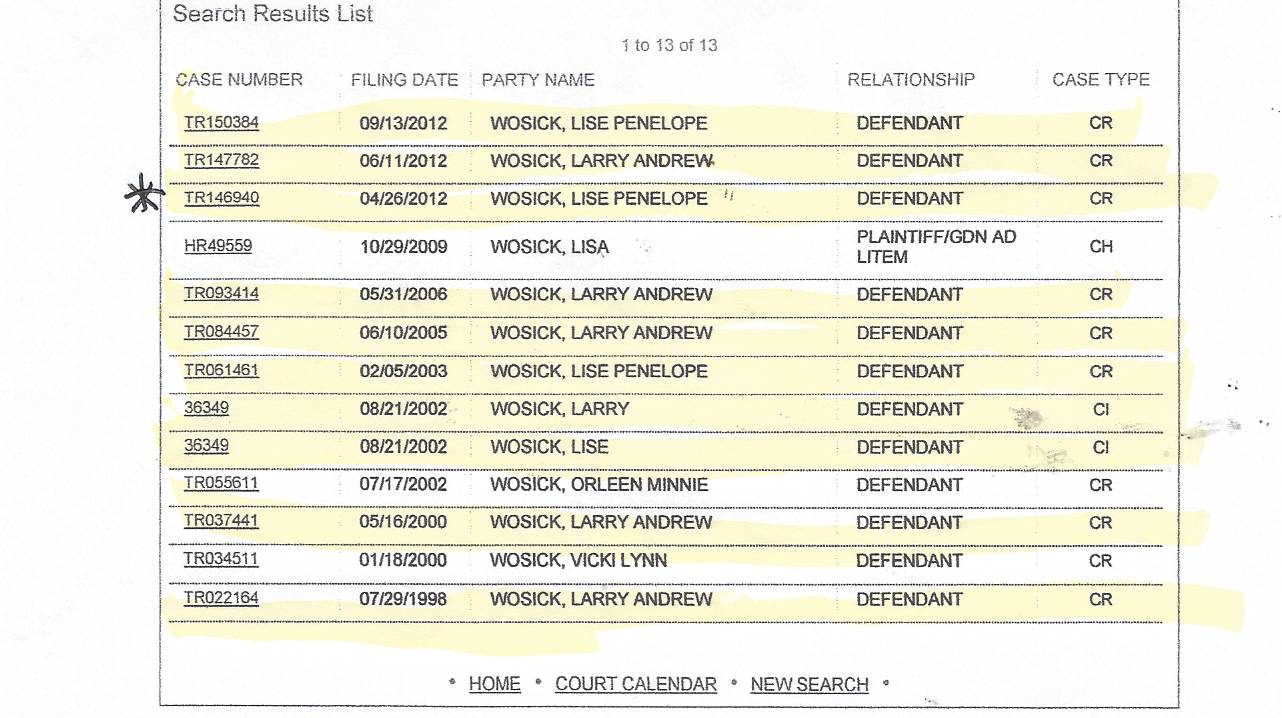 Wosick Sold All His Property in Milford
Across from his Motorcross
to
South Fork Farms in Fallon, Nevada
(Wosick does not own any part of the property marked in yellow below)
So...........where is he living in his District?
Mr. Wosick must reside in Lassen County
in order to register to vote here.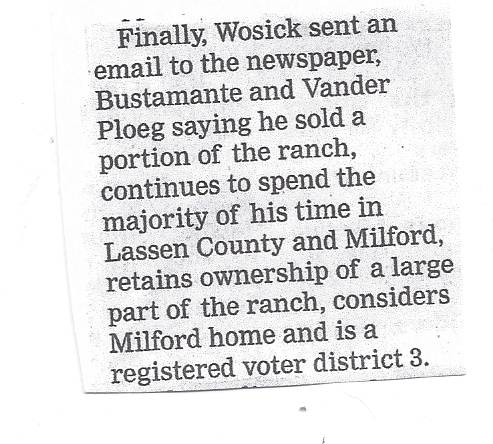 Mr. Wosick went on a spending spree on Lassen County land, late in 2012.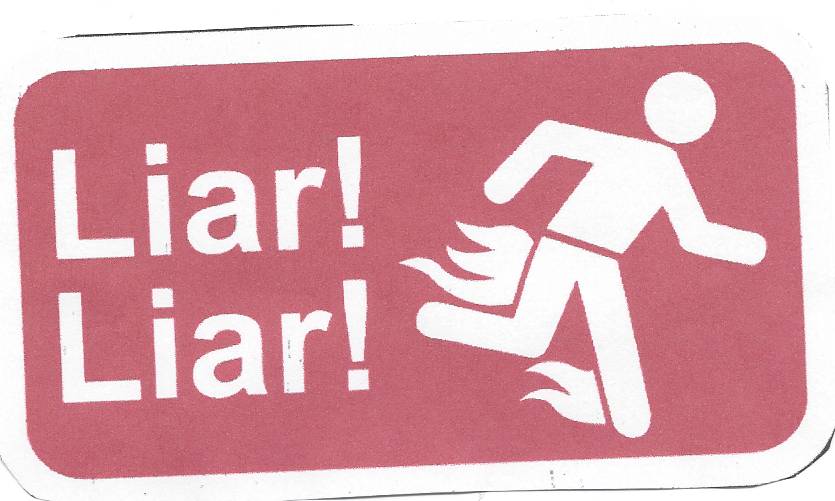 Women will be safer?
No more bad checks ?
No more speeding tickets?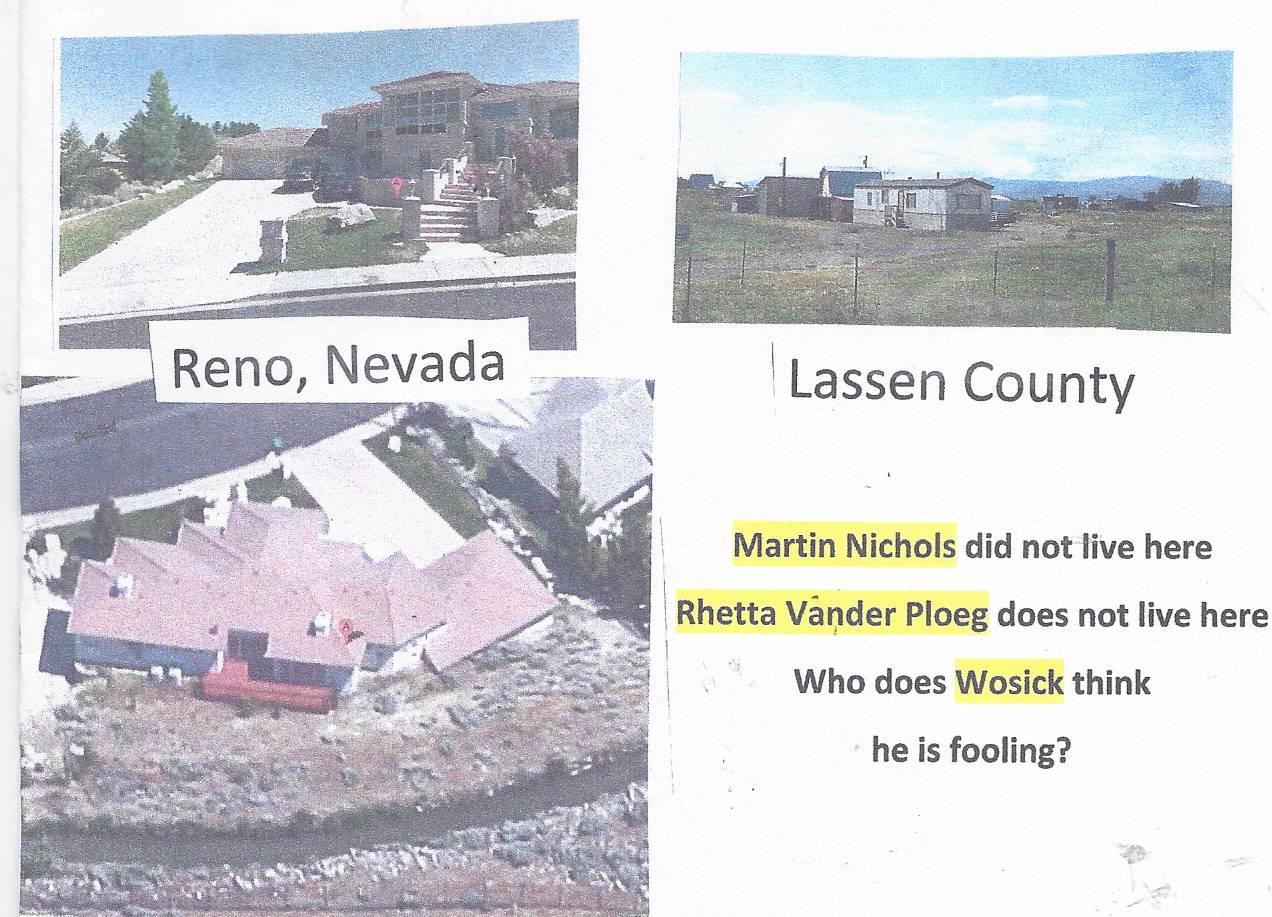 Lassen County Orders Thousands of Dollars
in
New Computers
and they just sit in Storage
Supervisors DID NOT WANT TO TALK ABOUT THIS
WHERE IS THE ACCOUNTABILITY?
These computers were ordered on March 27, 2013 and they have been stored in various places in County buildings. The Supervisors approved this purchase but when asked "Who gets them", they did not know or even care.
When asked on January 21, 2014 why there are no many just sitting around, Julie Morgan claimed the County does not have an IT person and they are slow to get them installed.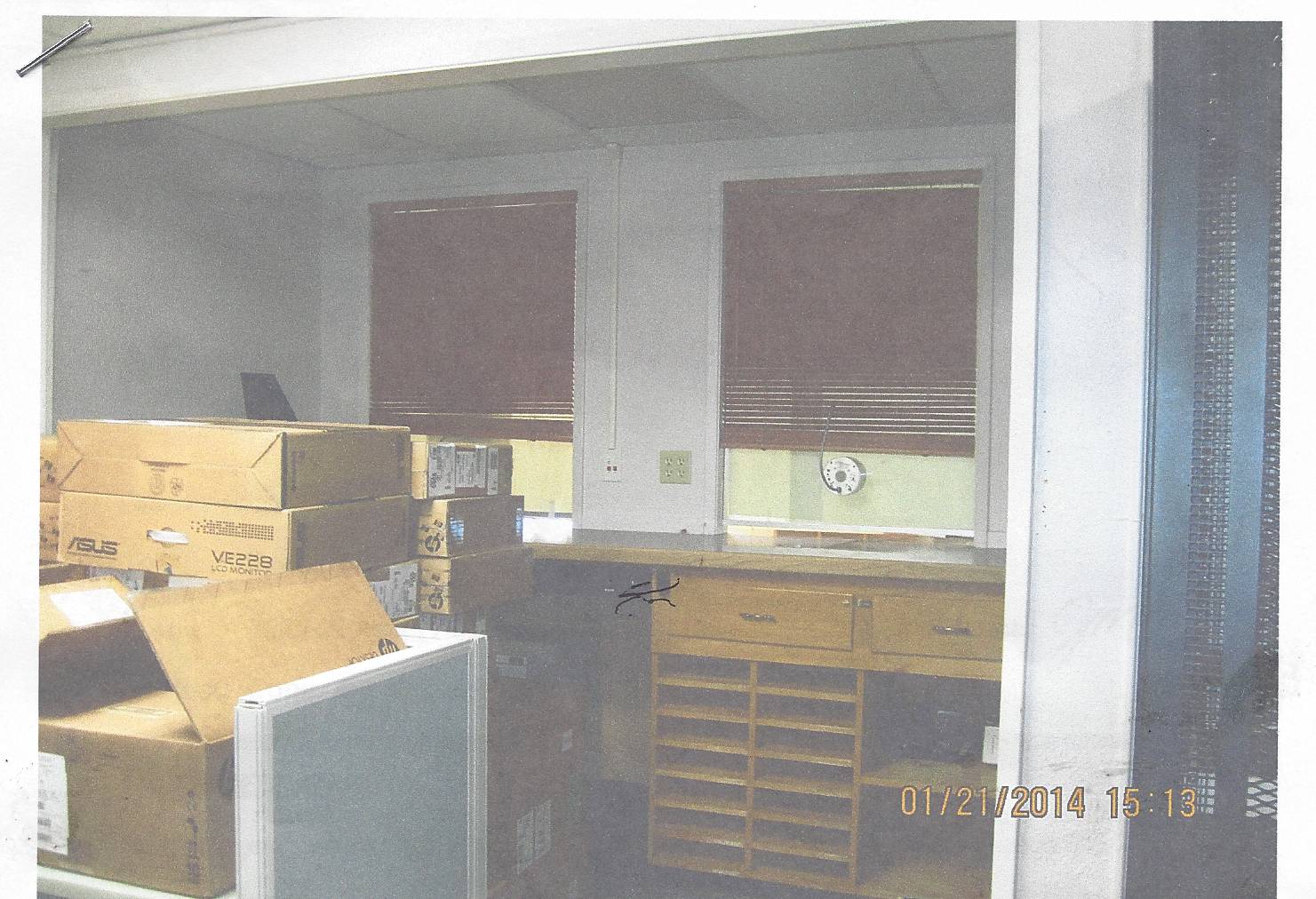 These computers were noticed on the Court Tour on January 21, 2014
Ms. Morgan stated that a 3 year warranty came with these 88 monitors and computers. One year has been wasted by just sitting.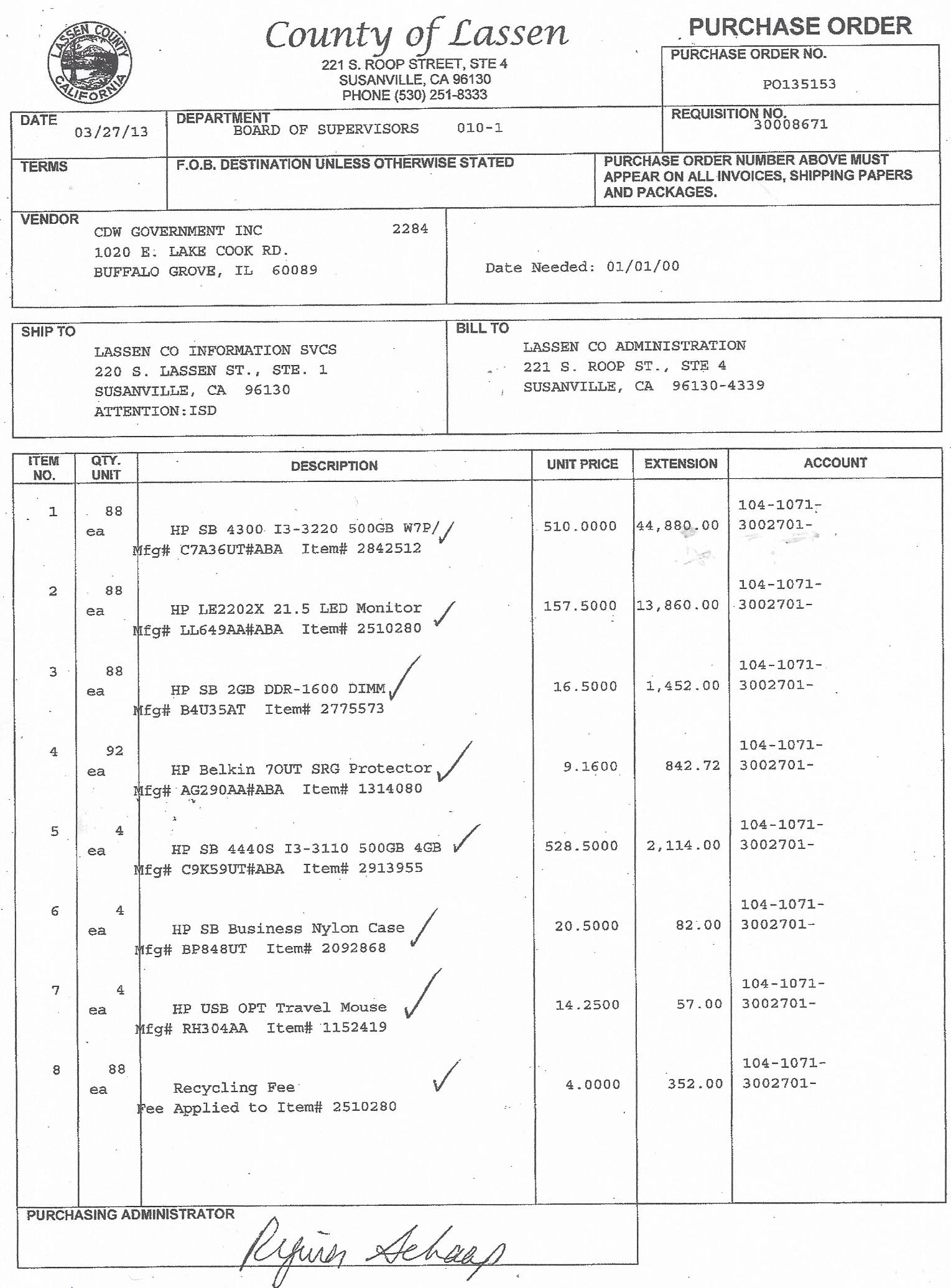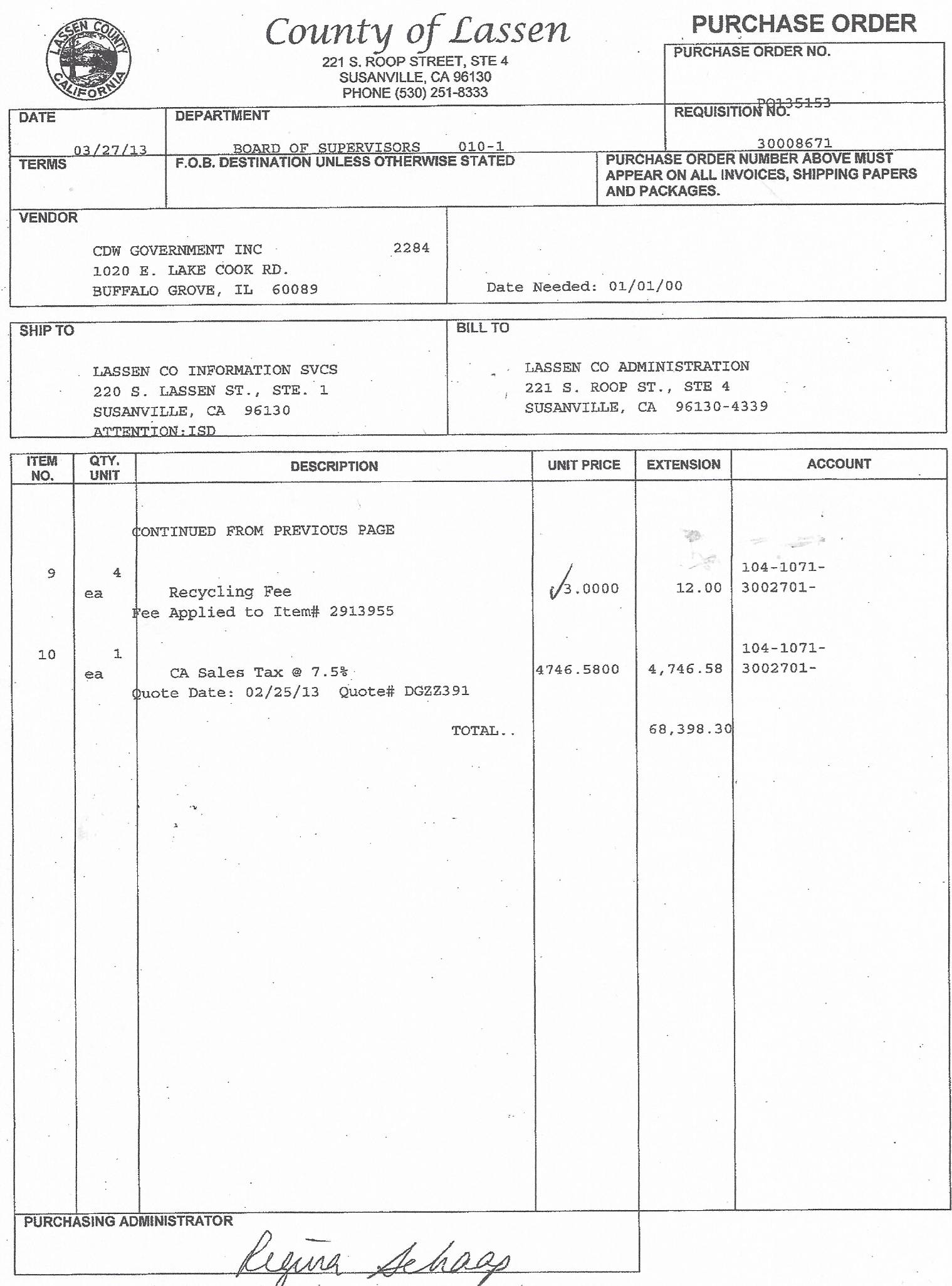 On February 25, 2014, Kan We Help questioned Agenda Item G-1 in the Consent Calendar. This agenda item would approve an additional 85 computers and monitors. Kan We Help asked that this purchase be postponed until July 1, 2014, since these computers will also just be stored.
What really happens to this equipment ?
Surge Protectors do not need to be replaced annually..............?
Lassen County
is about to offer something
FOR SALE
they have publicly admitted
is
worthless

Steve Pezzullo
Owner of the town of Herlong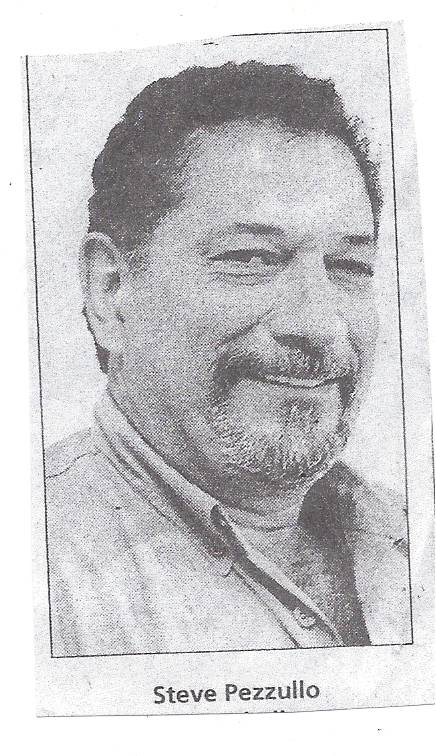 Wants A Written Apology
within 7 days
OR,
he will file a lawsuit against
Supervisor Jim Chapman "the Envelope Licker"
Video Link: Part 2 @ 5:00 Mark
and
Supervisor Aaron Albaugh
for their comments at the
February 18, 2014
https://sites.google.com/site/lassencountyscoop/videos/february-18-2014
Board of Supervisors meeting
Lassen County Candidates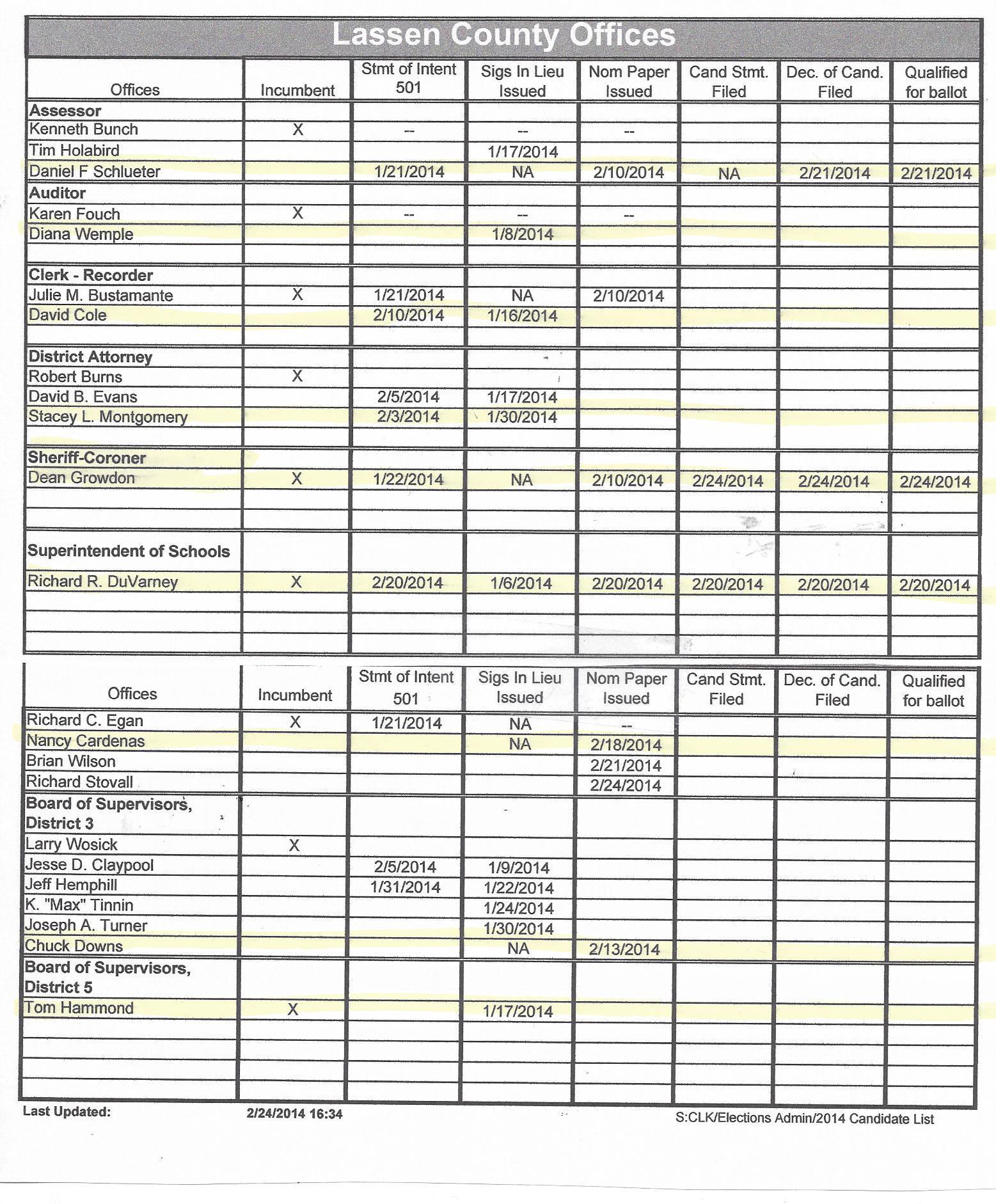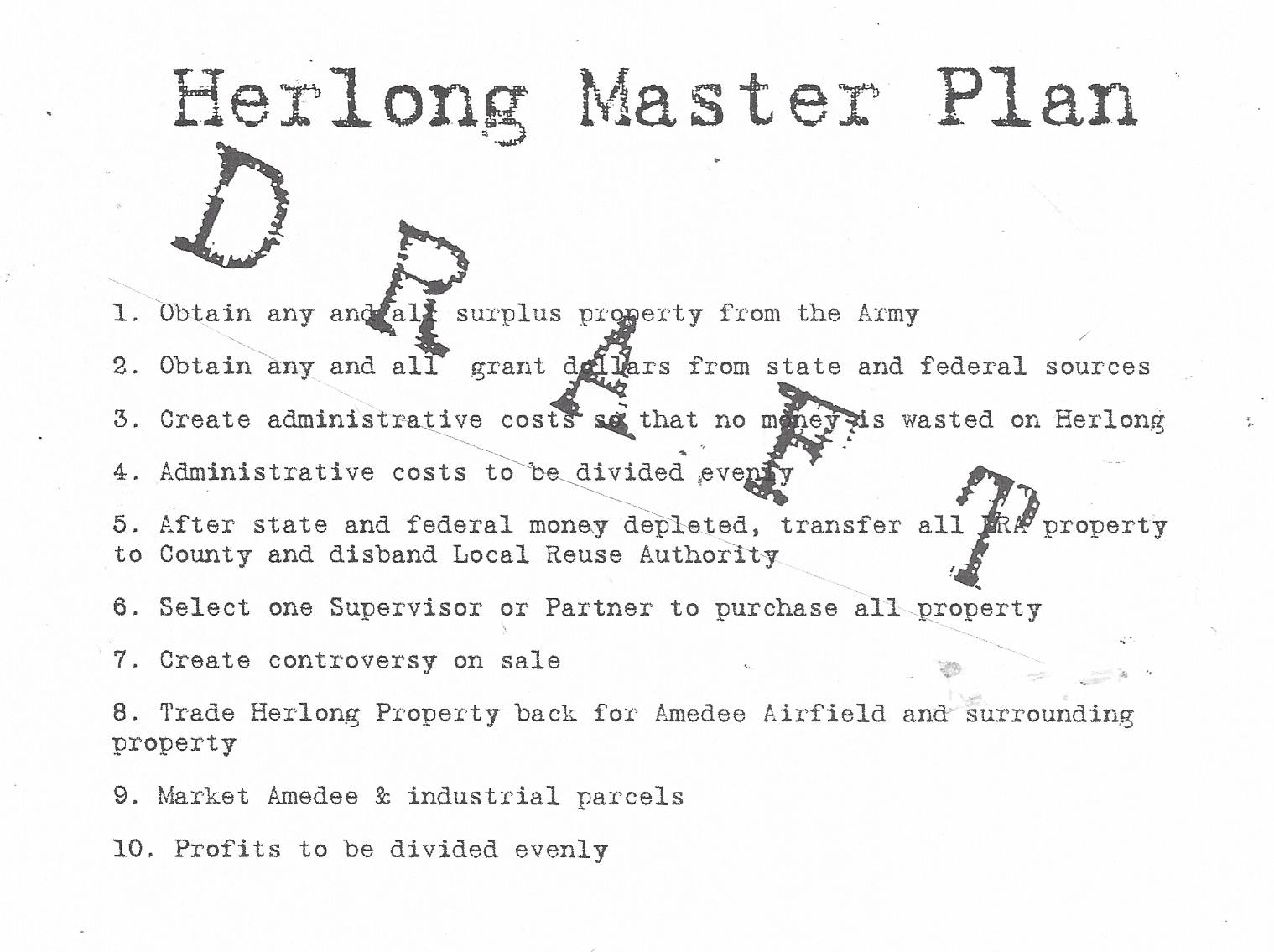 The Herlong Master Plan Almost Complete
and the public isn't the wiser....................






Amedee Airfield Parcels Control
Access to Amedee Army Airfield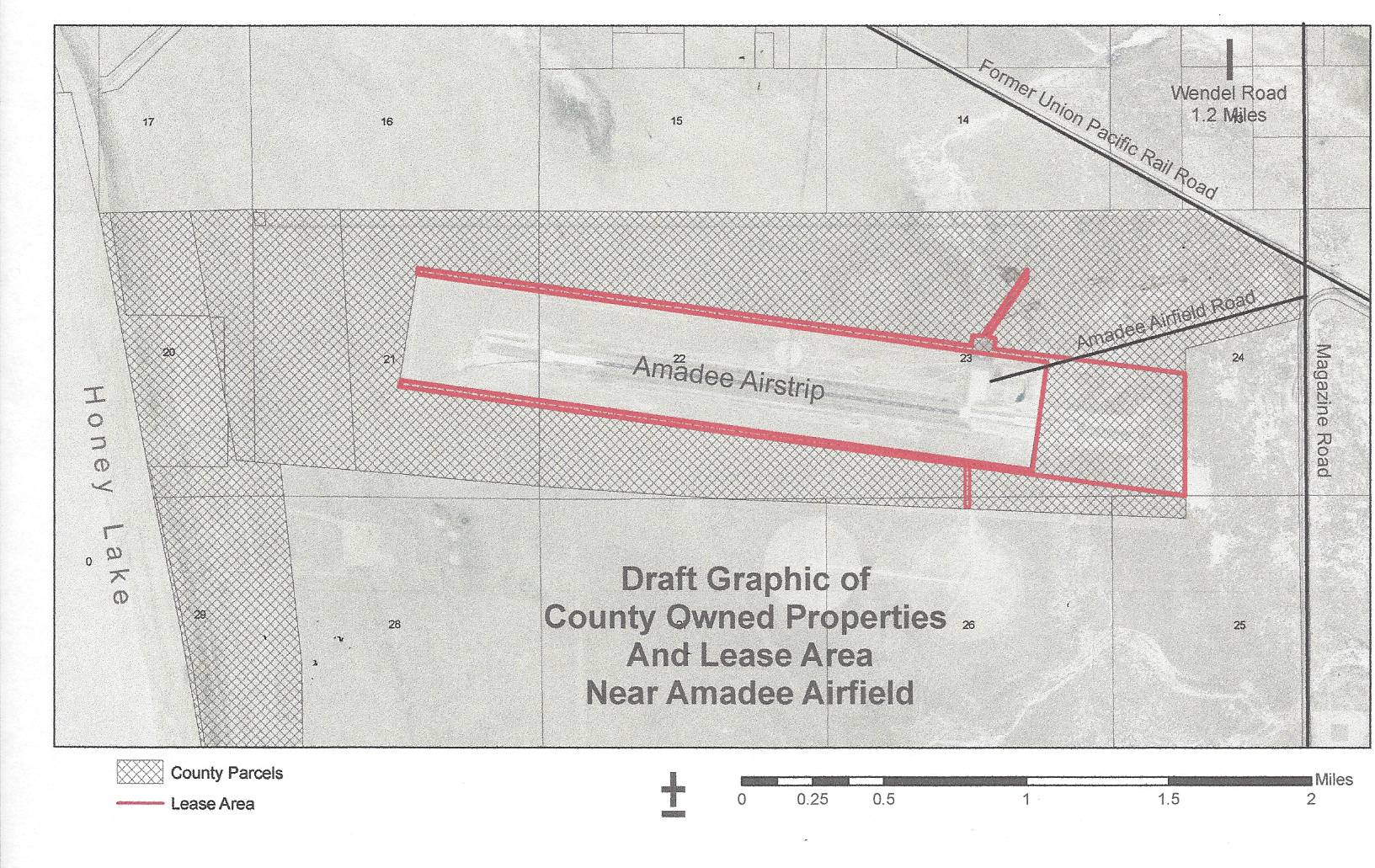 When was this zoned "Industrial"?
Lassen County
Will Have a NEW
Auditor
Assessor
Treasurer
District Attorney
District 3 Supervisor
District 5 Supervisor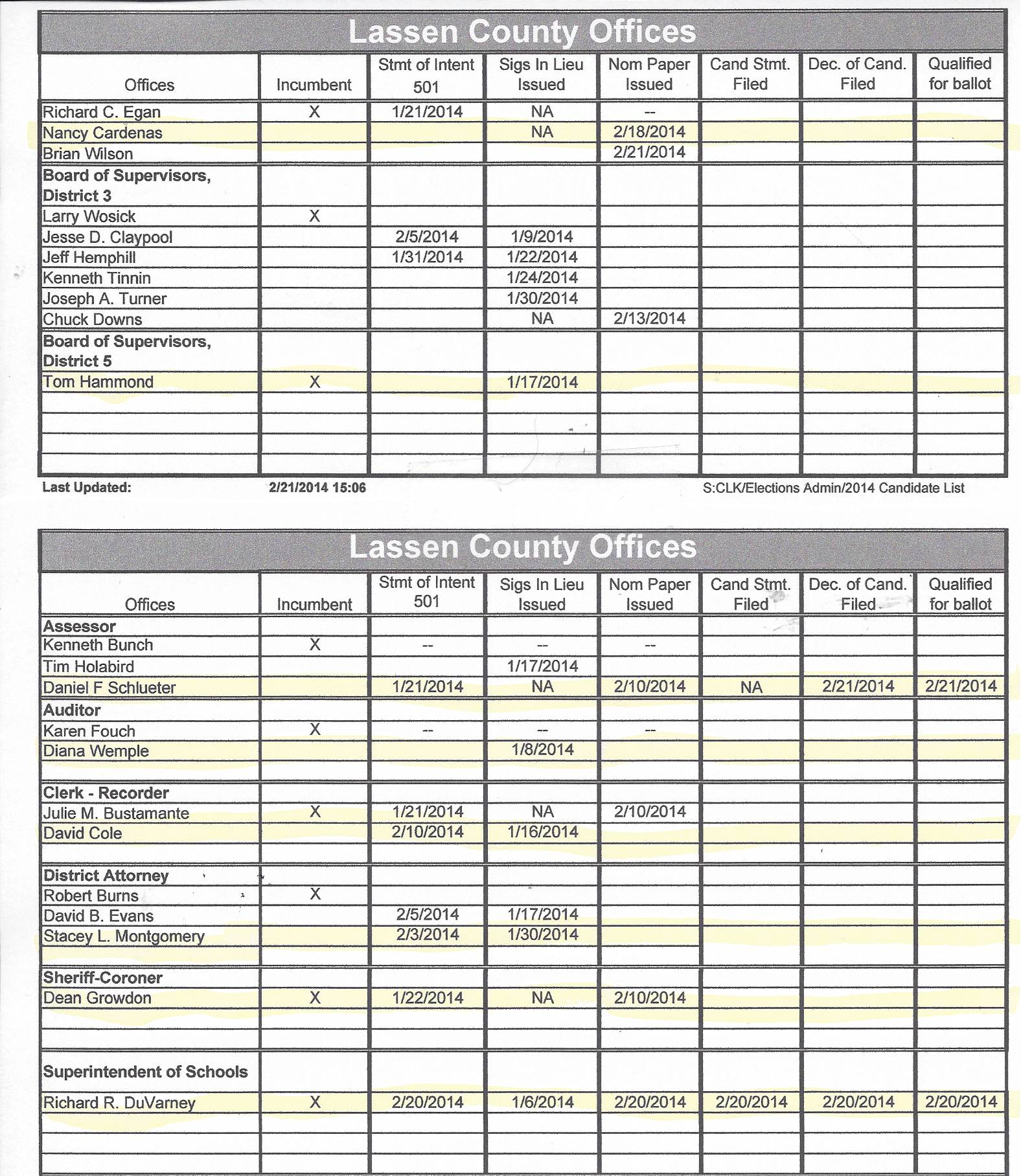 Lassen County Supervisors
Hire New CAO
County Treasurer and Interim CAO Richard Egan accepts the top position
Video link to Board of Supervisors February 18, 2014 meeting
Supervisor Albaugh Wants to
Invoke the "Referee Clause"
in Steve Pezzullo's Herlong purchase agreement
THE ONLY THING THE SUPERVISOR'S WILL BE INVOKING
IS THE FIFTH AMENDMENT
When asked if Supervisor Albaugh could read the "Referee Clause" into the record, since no documents were submitted for this Agenda item, Albaugh could not comply. He just read a prepared statement written by...................?

This act had CHAPMAN written all over it. During this discussion, Chapman, in a brief statement expressed his contempt for Steve Pezzullo. Supervisor Chapman went on to say Herlong is worthless?
QUESTION: Why does Jim Chapman HATE HERLONG?
After Supervisor Pyle objected to this action, the Board decided to table this issue. Pyle then stated that he would not be running for re-election in 2016. Later in the meeting, Supervisor Chapman stated that he will not seek re-election in 2016.
Dr. Jim Hodge coined a great phrase when he objected to the Board spending any money
on a new Board Room Video link: Part 7 @ 6:57 mark
"self justification bias"
If there were ever three words that described Jim Chapman, these three words say it all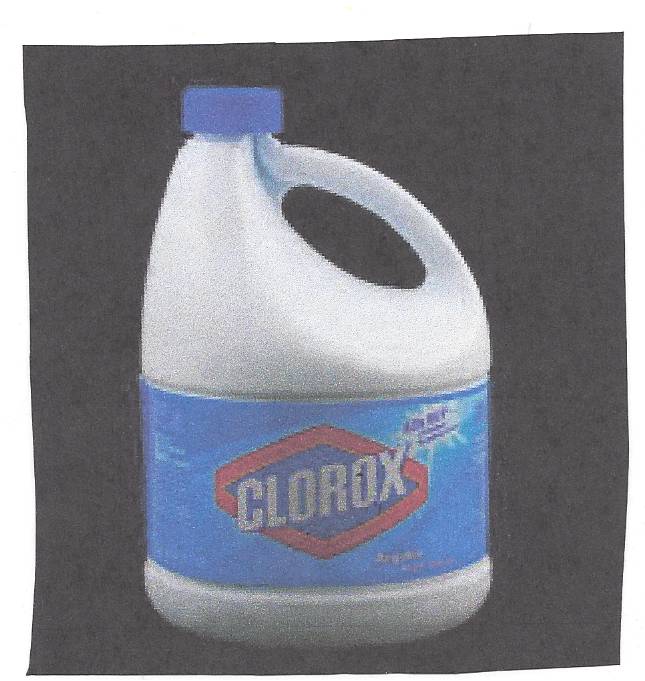 Kan We Help will send a case of
Bleach
to
Ruth Ellis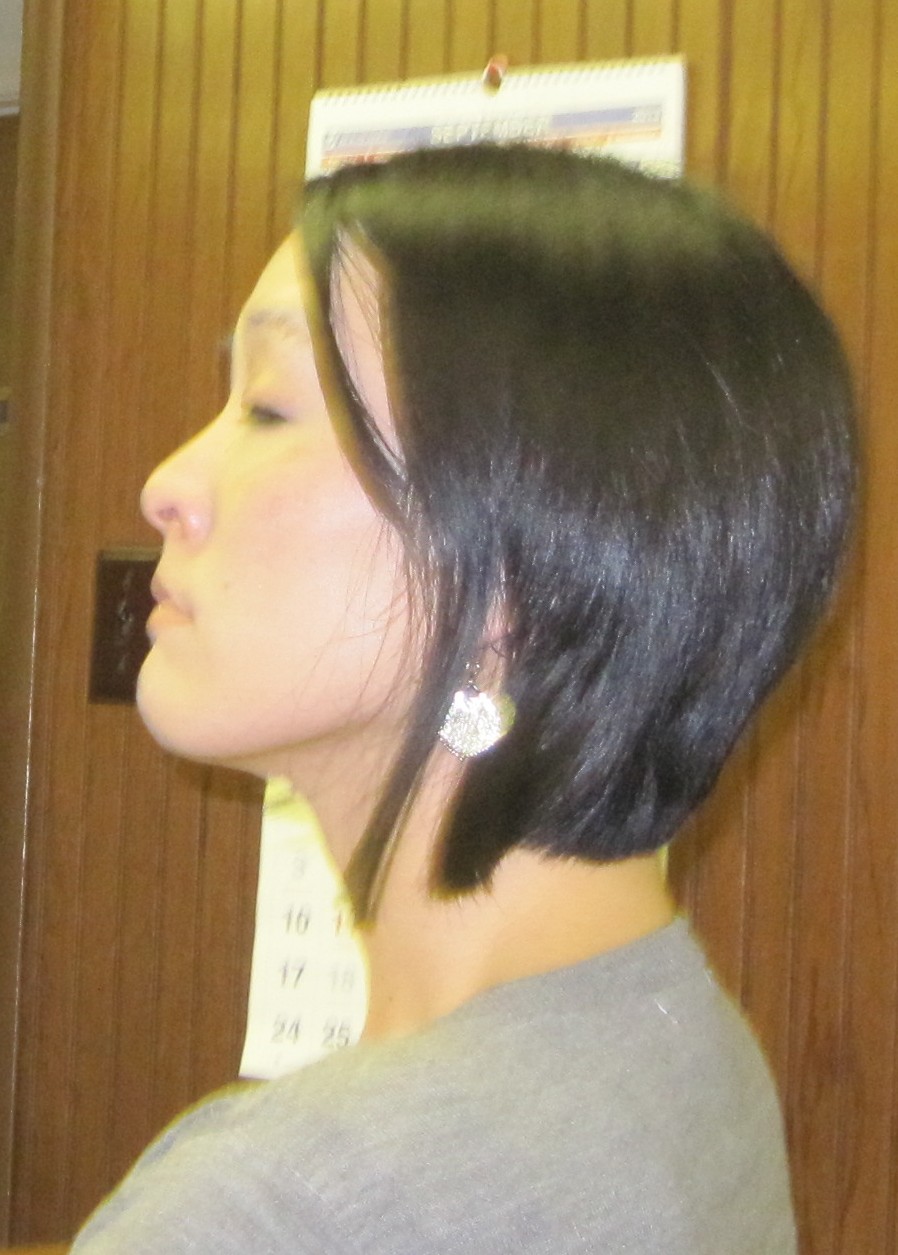 so she can continue to
sanitize her Board of Supervisors stories
or
you can just watch the Supervisors meetings
February 14, 2014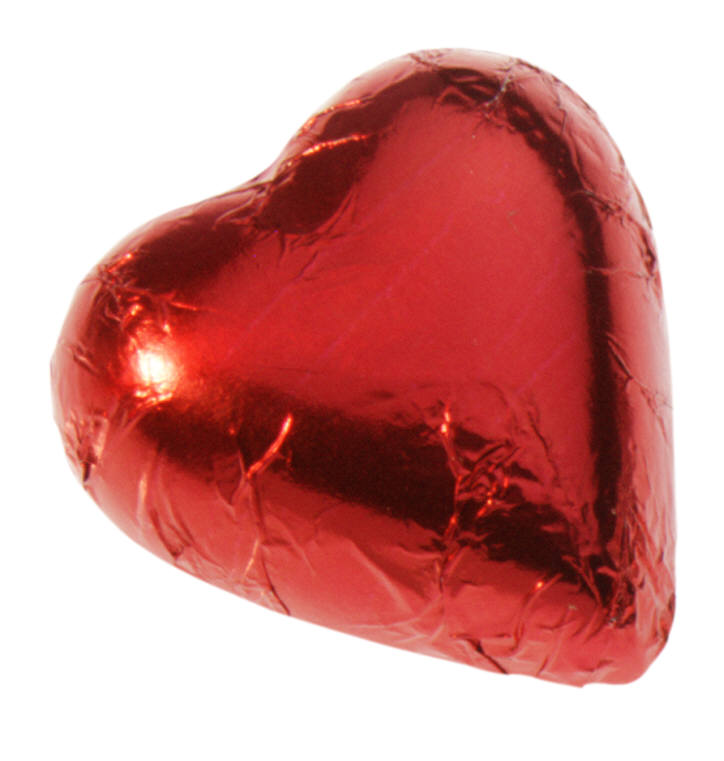 Lassen County Supervisors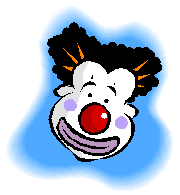 Colossal Dysfunction Junction
Teeny Tiny Itty Bitty Conflict of Interest
District 6, Plumas Sierra Rural Electric Director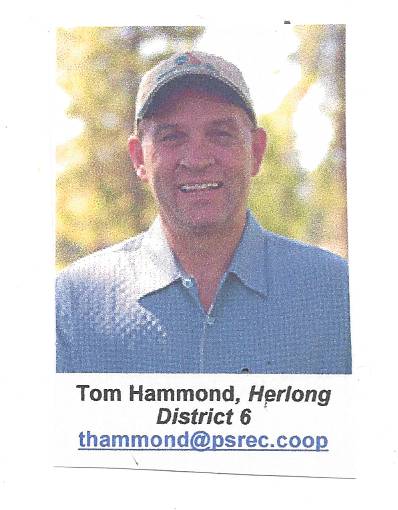 Supervisor Hammond did not list being a Director of PSREC on his 700 form on October 15, 2013. PSREC & LMUD provide services within the District he represents.
Supervisor Hammond must resign his PSREC Board position.
Video link: Part I, @ 37:27 and Part 6, @ 16:44
Lassen County Supervisor Tom Hammond promotes Plumas Sierra Rural Electric Cooperative twice, at February 11, 2014 Board of Supervisors meeting. Julie Morgan tells the Supervisors they need redundancy with their internet connection and recommends that the County contract with Frontier. Supervisor Hammond does not recuse himself from the discussion and violates the County's Conflict-of-Interest Policy (Section 7 (b) of Lassen County's "Rules and Regulations") and continues to promote PSERC.
.
The empty chair in the room

The Lassen County Non-Counsel, who is always glued to her computer seemed to be oblivious to the meeting , said nothing.
She is no longer County Counsel.
Hammond needed to step down in order to avoid a conflict of interest complaint with the FPPC. Since Hammond sits on the Board of PSREC, he could have easily arranged for the PSREC General Manager to give a marketing presentation to the Supervisors.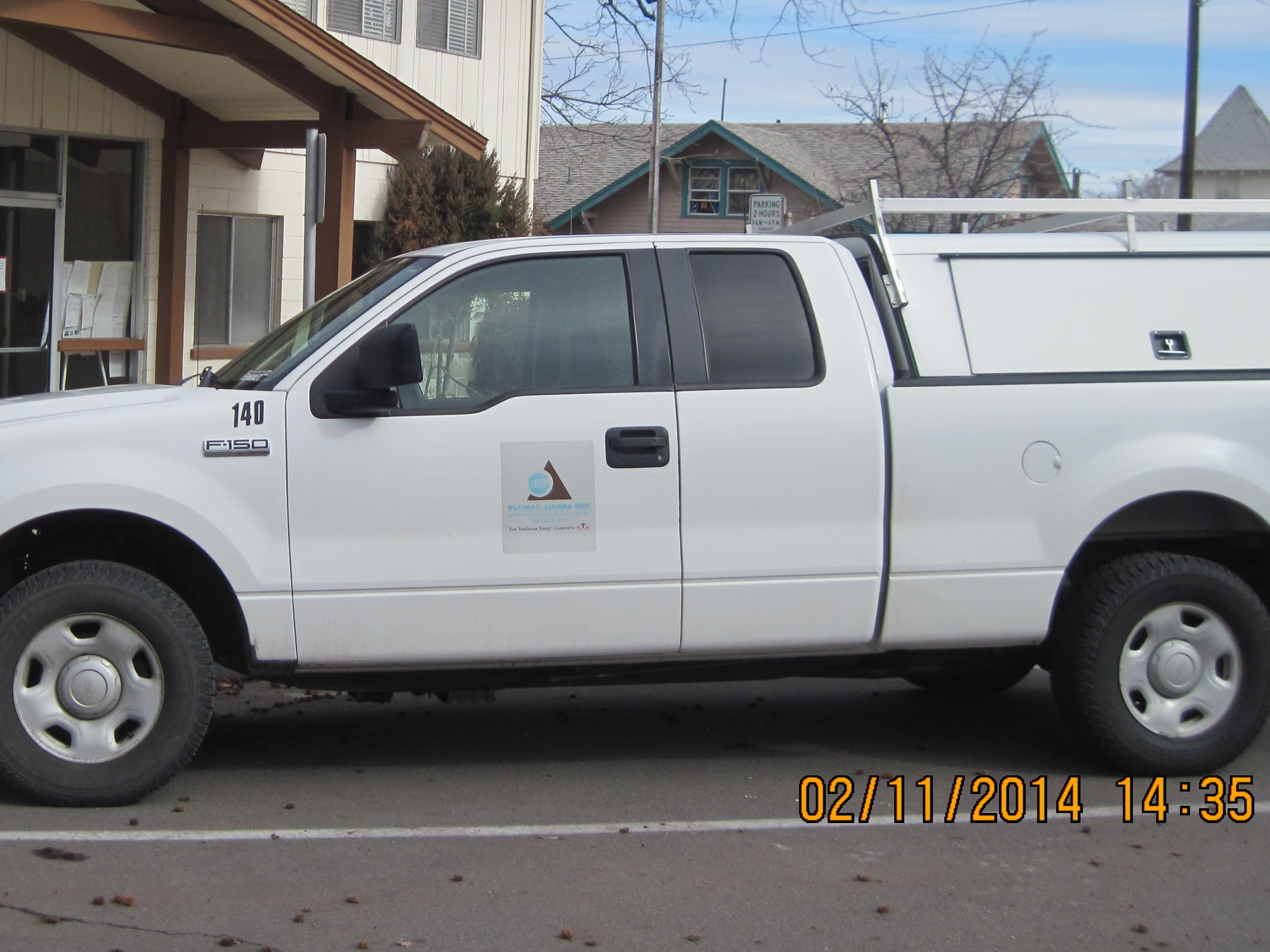 District 4 Supervisor Albaugh shows no interest in the new emergency district being formed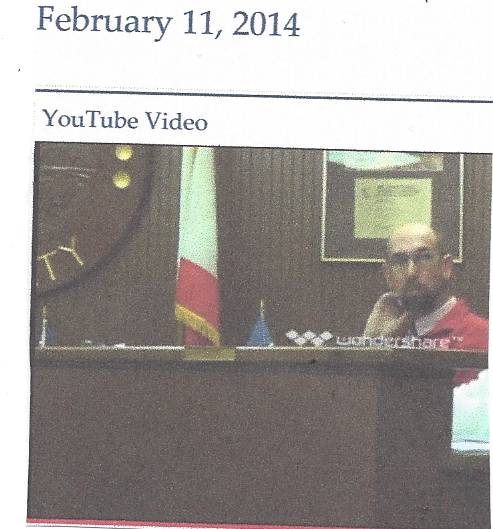 The Lassen County Supervisors have done everything they could to block the new emergency service district to be formed in Big Valley.
Kan We Help chastised the Board for not placing the Southern Cascades Community Service District on the February 11, 2014 Agenda.
LAFCO notified Supervisor Albaugh, Interim CAO Egan County Counsel on January 27, 2014.
nothing was done ?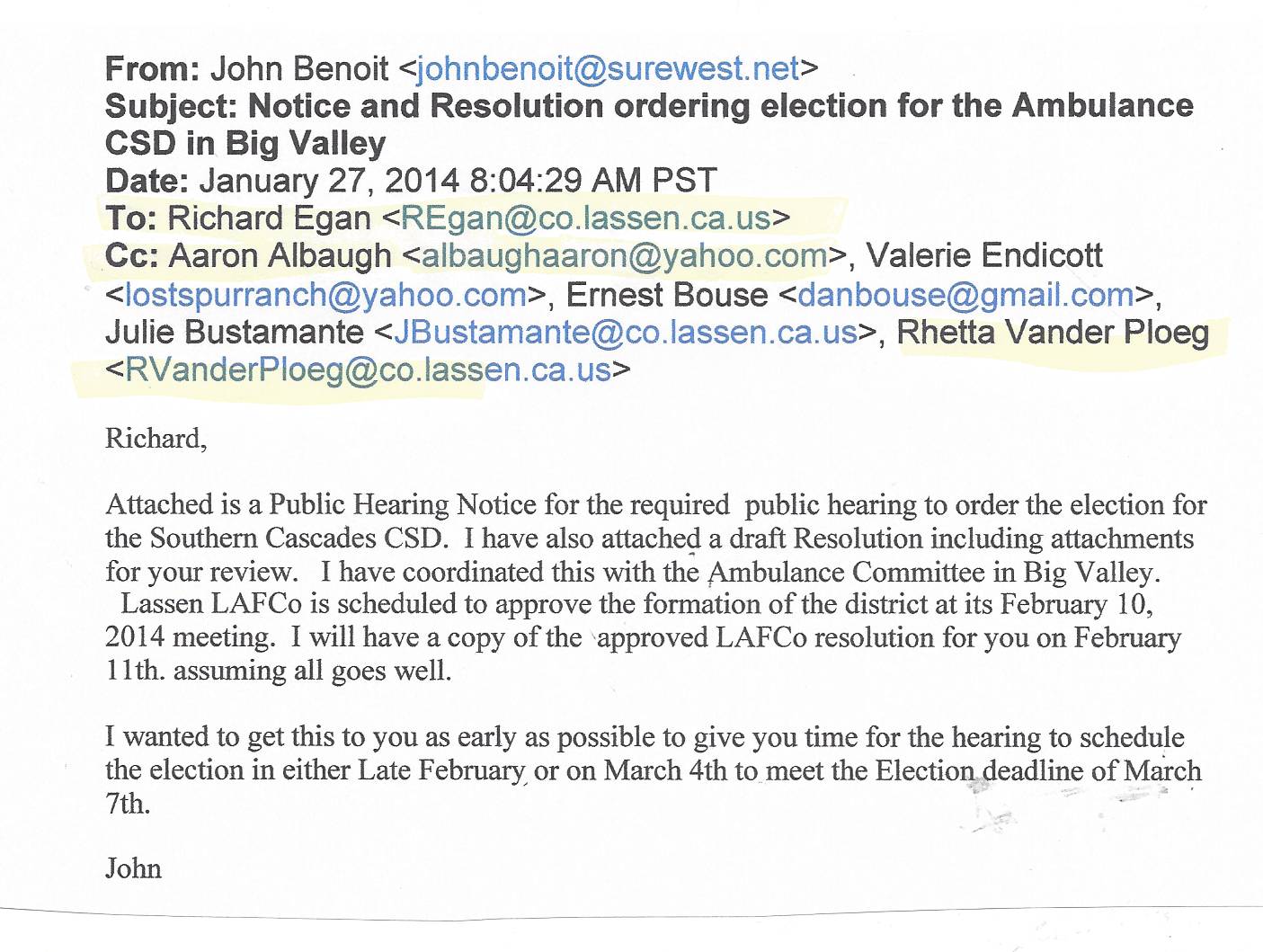 This Resolution will authorize this issue to be on the June ballot and if passed will form a new tax district for emergency services for Big Valley property owners.
Lassen County Supervisors Wosick and Chapman are on the LAFCO Committee. At the December 9, 2013 LAFCO meeting, Wosick and Chapman were given a Public Notice and Resolution to be placed on the Supervisors Agenda.
WOSICK AND CHAPMAN INTENTIONALLY FAILED TO PLACE THIS RESOLUTION ON THE DECEMBER 10, 17 AND JANUARY 14 AGENDA.
KAN WE HELP FORCED THE SUPERVISORS TO TAKE ACTION. Their action: Place the LAFCO resolution on the Agenda as an EMERGENCY ITEM.
It must be noted that District 4 Supervisor Albaugh has said nothing and has done nothing to move this forward .
LIVES ARE AT STAKE, MR. ALBAUGH
The County Interim CAO decided to place the "election approval" on the February 25, 2014 Agenda.
Albaugh remains silent? District 4 (Big Valley) deserves better
Lassen County Supervisors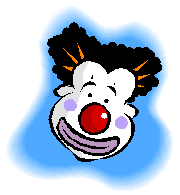 Colossal Dysfunction Junction
The Board again approves former CAO Martin Nichols faux Capital Improvement Plan, aka County Maintenance spreadsheet
Interim CAO Richard Egan asks Board to approve a document that had been falsely represented as a CIP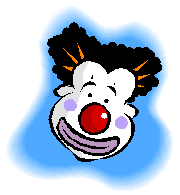 As reported in the Lassen County Scoop former, former Lassen County CAO Tom Stone formed a Capital Improvement Committee in 2011. Stone was fired because he exposed the Supervisors mis-management of millions of Federal grant money. ........Larry Wosick.........."It was a mistake"
Dr. Hodge requests that the Supervisors get serious about the CIP Part I @15:20 mark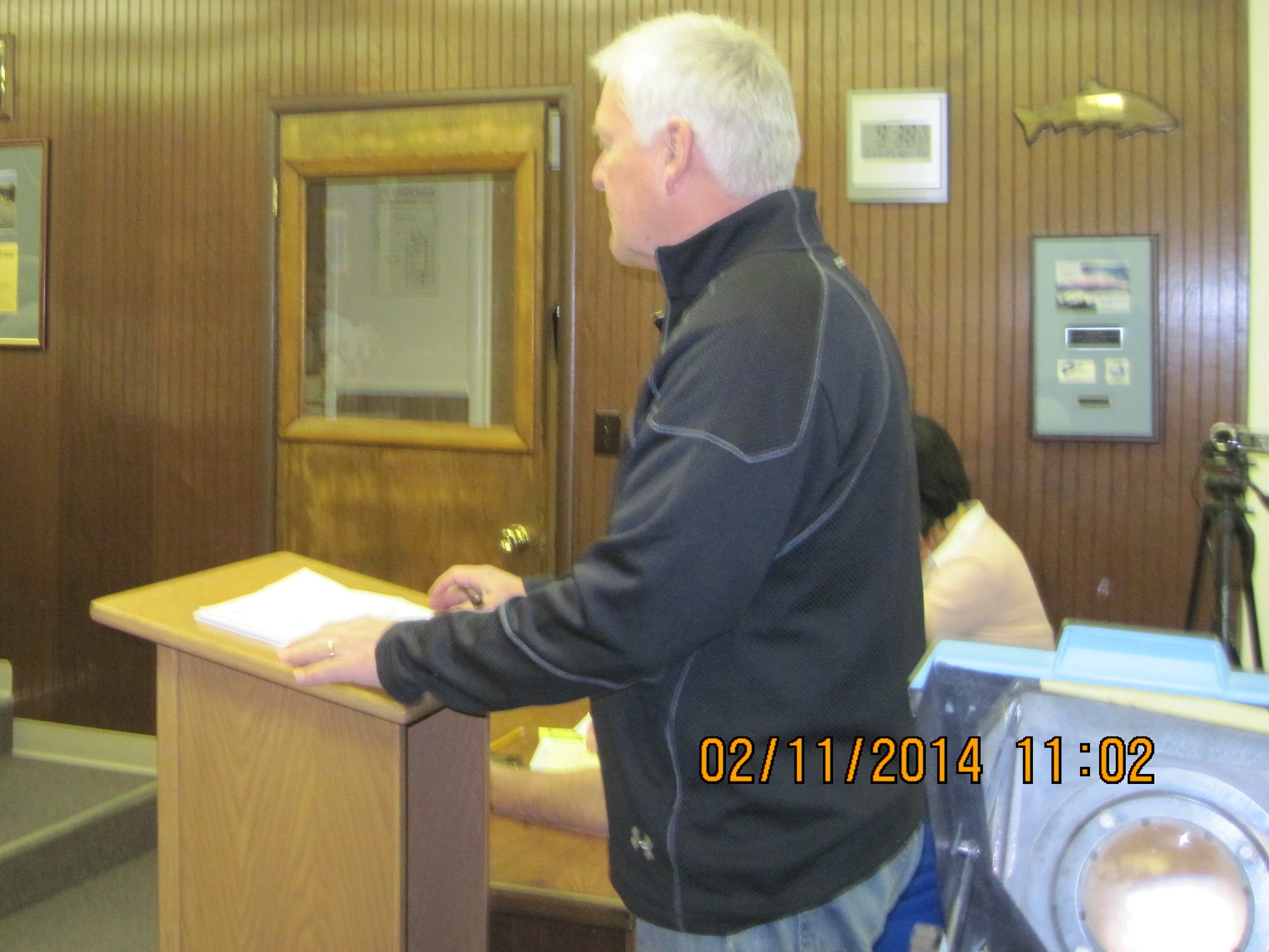 Supervisor Chapman may want this County to stay in the 1970's. It's time to move this County forward Supervisor Chapman and this may not include you. The County has become stagnant under Historian Jim Chapman ideas.
Chairperson Chapman has held back this County long enough
As the last item on the March 8, 2011 Minutes it clearly states that this CIP Committee is headed by Richard Egan. Nothing was done then and nothing will be done today.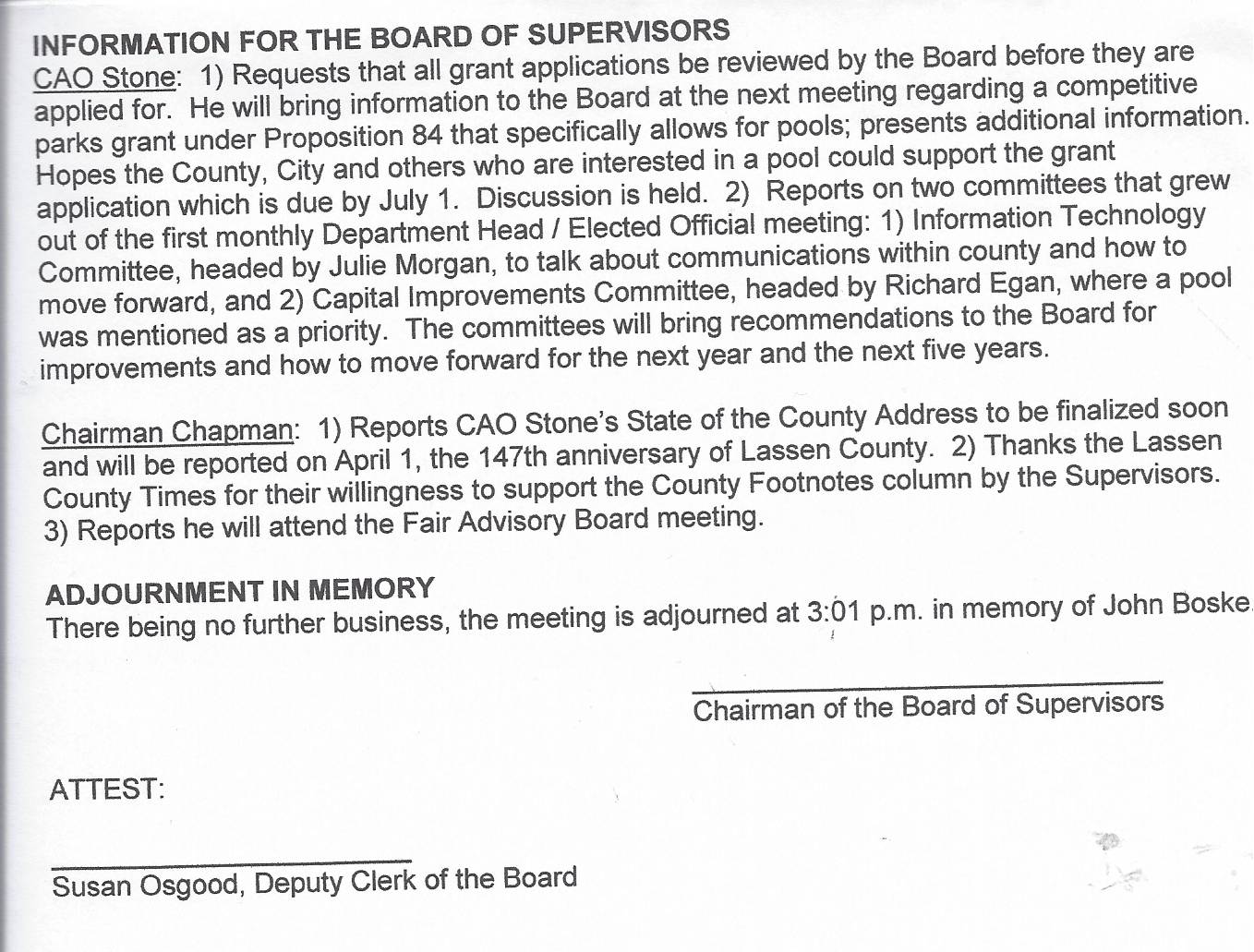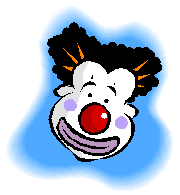 Chapman's
Dreamcicle Board room
absent any reality

At the April 23, 2013 Board of Supervisors meeting, Supervisor Chapman pushed to approve a $20,000 contract with NST to design a new board room for him. No direction or instructions were given to NST for over 9 months and suddenly Supervisor Chapman pushes to get his Board Room done by June 1?
Jeff Morish, from NST, told the Board, on February 11 video link: part 7, that a Master Plan should be done first. Chapman really showed no interest in doing this right. Chapman wants a new big board room and a big closed session room with a big bathroom......NOW.
BUT WAIT..................
The Board published a Notice for public appointments for a new Task Force to work on ideas for the use of the space vacated by Lassen County Superior Court. Historian Chapman volunteered to be the person in charge and was subsequently appointed (??) by the Board.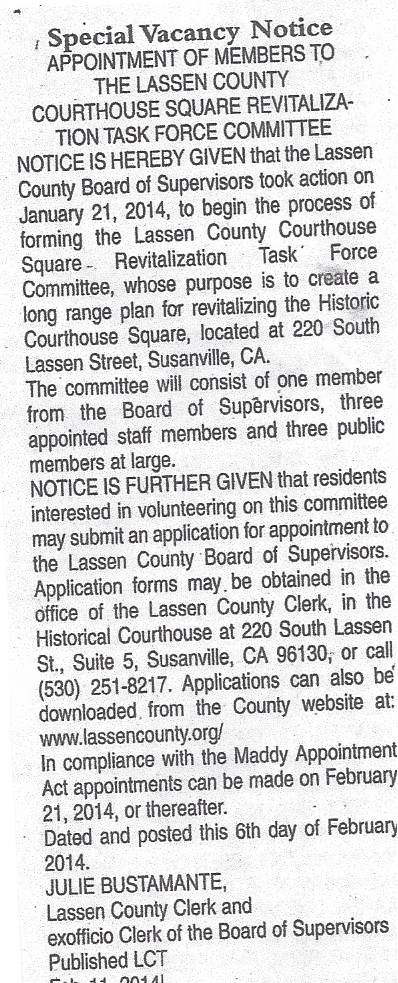 This Task Force would be charged with moving County Staff efficiently into available spaces at the Old Court House & back Annex on Lassen Street in Susanville. This Task Force would recommend any remodeling that would be needed to accommodate these moves, including a possible new Board Room.
We would like to STRESS, EFFICIENTLY MOVE
Chapman asked NST, during the January 21, 2013 Court tour, to design several iterations of his new board room. You will notice that these remodel designs include space that is not defined as to their use, but would remarkably be included in the cost of the Board room remodel.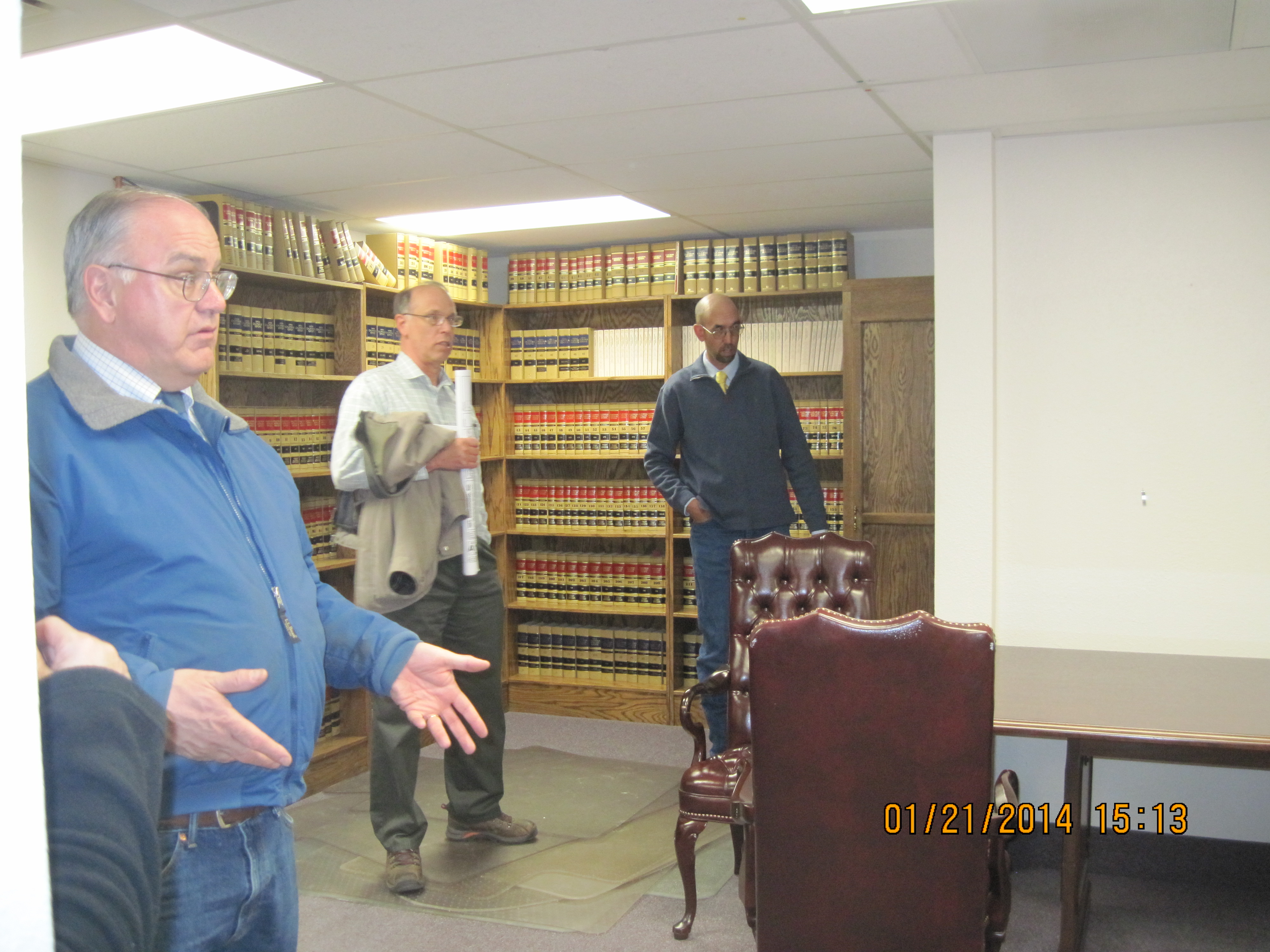 Far left: Supervisor and self appointed faux historian Jim Chapman
Chapman's rush to only build out his Board Room without a plan for the entire space, well it's just another stupid and self-serving thought process by Supervisor Chapman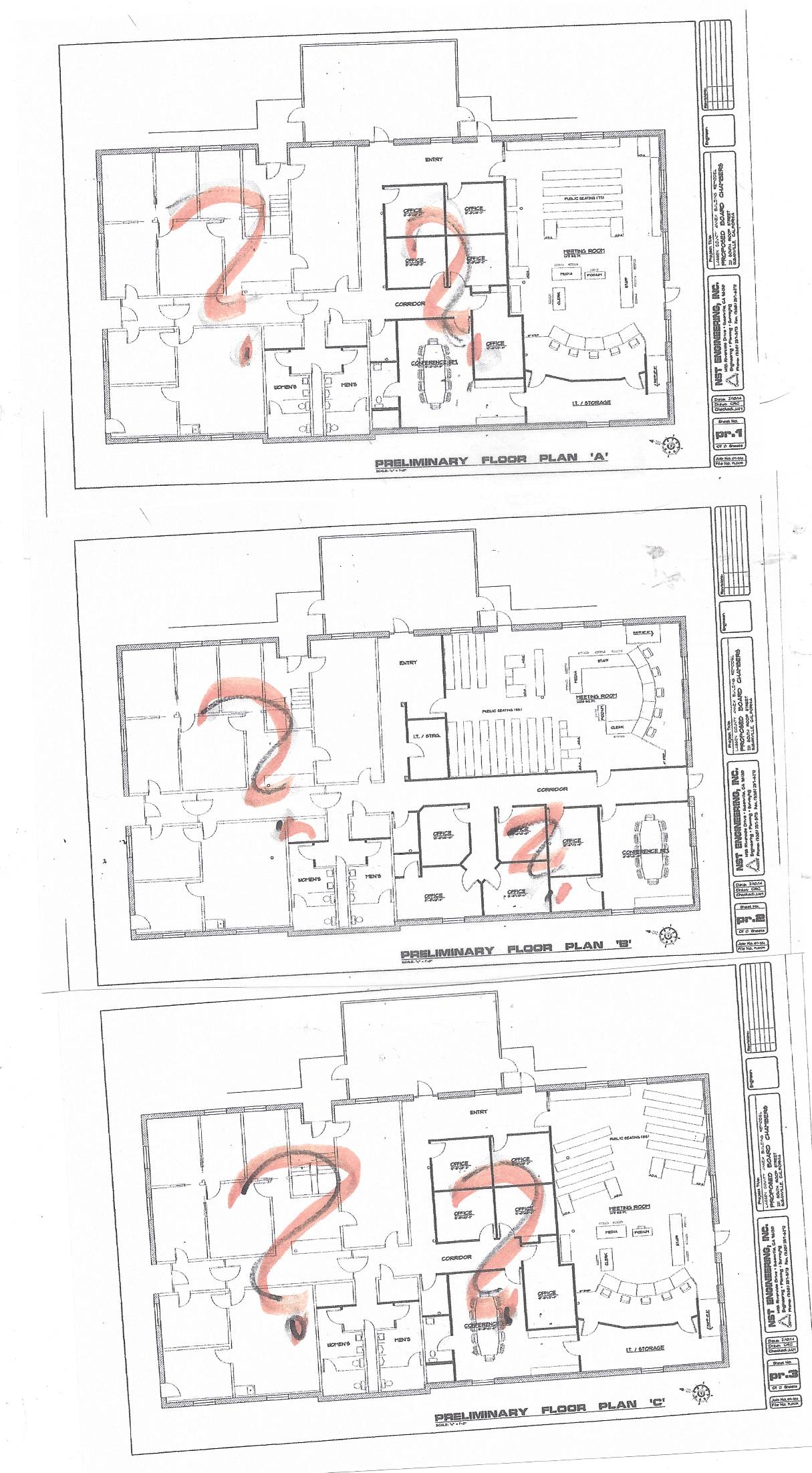 There might not be any money left for the Lassen County Courthouse Square Revitalization Task Force by the time Chapman expels all of his nonsense
Lassen County Supervisors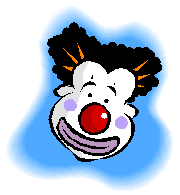 Colossal Dysfunction Junction
The Sheriff's Department presents an immediate need for electrical repairs and the Board takes no action
The Board again approves Martin Nichols faux Capital Improvement Plan, aka County Maintenance spreadsheet
Chapman's Dreamcicle Board room absent any reality
Video Link: February 11, 2014 Board of Supervisors Meeting
Lassen County LAFCO Approves Resolution for
New "Southern Cascades Community Services District"
Next Step: It must go back to Modoc County and Lassen County Supervisors to place it on the June Ballot
Two weeks ago (January 27, 2014), Lassen County's LAFCO Executive Officer, John Benoit, sent a DRAFT of the Resolution to the Lassen County Supervisors. This Resolution needed to be on the January 28, 2014 Lassen County Agenda but certainly no later than the February 11, 2014 Agenda.
Lassen County Supervisor Chapman and Supervisor Wosick failed to place this critical Resolution on either Agenda.
John Benoit, sternly told the LAFCO Board that he would personally take the "NOTICE OF A PUBLIC HEARING" ad to the Lassen County Times and emphasized that this was NOT HIS JOB. This last Resolution needs to be posted for two weeks in a local newspaper and then it must be approved at a Public Hearing. All of this must be done by March 7, 2014.
Lassen County Supervisors Wosick and Chapman (Lassen County's LAFCO representatives) both claimed they had no knowledge of the Resolution sent by John Benoit on January 27, 2014.
Supervisor Chapman & Wosick had no intention of placing this on any Agenda.
Chapman and Wosick just thought they could run out the clock.
WHY?
Both Chapman and Wosick have acknowledged they knew about the March 7, 2014 deadline back in December of 2013. District 4 Supervisor Albaugh sat, watched and did nothing.December 10, 2013 Video link: Part I, @19:37 mark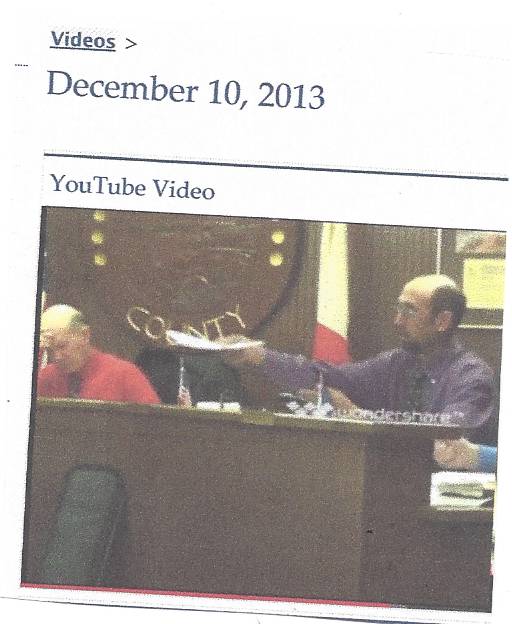 Supervisor Chapman hands the LAFCO Resolution to District 4 Supervisor Albaugh
.
This doesn't explain why the first Resolution (12/9/13) Wosick and Chapman received from John Benoit was also ignored.
[See the January 17, 2014 post below]
Supervisor Chapman stated that after Kan We Help "made a big deal about it", at the January 14, 2014 meeting, the Lassen County Supervisors placed it on their January 14, 2014 agenda as an "Emergency" agenda item. However, the Supervisors violated the Brown Act when they took this action.
Supervisor Chapman can be seen on the meeting video Part I-19:37 mark, waiving the first LAFCO Resolution in the air at the December 10, 2013 BOS meeting, but failed to place it on any agenda.
Supervisor Chapman will blame everyone but himself...........
Supervisor Wosick spent the entire 30minutes looking for something on the floor ?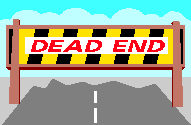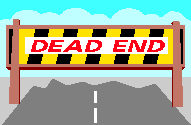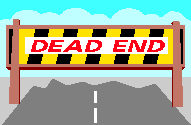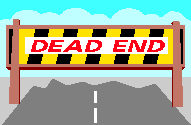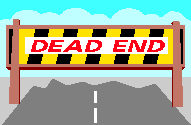 ????????????????
If the Lassen County Supervisors throw any more roadblocks up, this measure will not appear on the June ballot for Big Valley property owners who desperately need emergency services in this very rural part of Lassen County. The District 4 Supervisor Albaugh was present but added only his apologies.
If the Lassen County Supervisors fail to comply, John Benoit said that the Modoc property owners can do this by themselves, but the ambulance district will only serve certain defined areas in Modoc County.
Even if the Lassen County Board of Supervisors place a NOTICE OF A PUBLIC HEARING in the February18 issue of the Lassen County Times they will still have to rush and have a SPECIAL MEETING ON March 4, 2014.
THE QUESTION NOW:
Who on this Board would benefit by NOT CREATING this Special District ?
Kan We Help will continue to monitor this issue !
A comment was made by a member of the audience as they were exiting, "If this doesn't pass, we get the service free"
That is not correct.
If the Big Valley property owners do not pass the creation of this district they must wait 30 minutes or longer for emergency help and Lassen County will have to pay the cost of placing this on the ballot.
???????
Request For Proposal
There is no Master Plan ?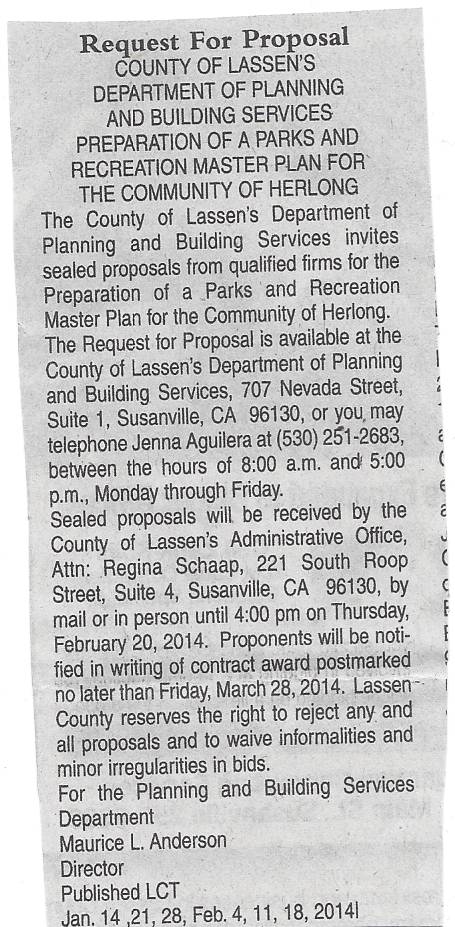 Where did this come from?
It certainly was not on any recent Agenda
It is certainly not on the
the Supervisors are trying to fly.
Herlong Park not listed?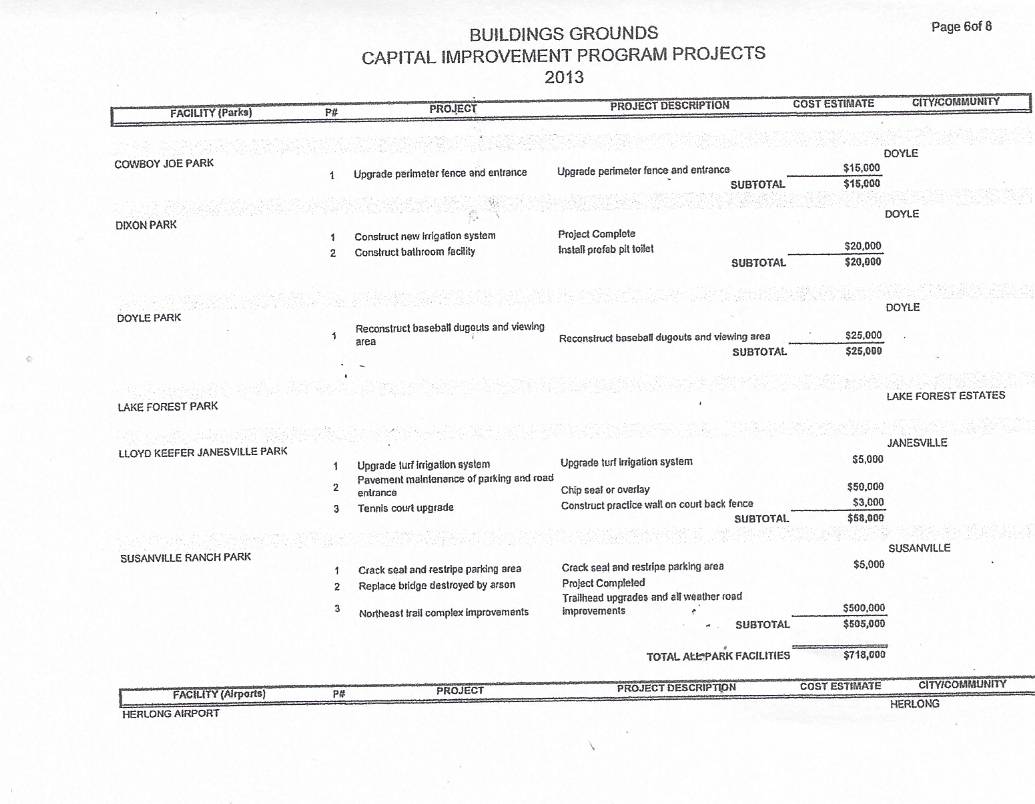 So.....where did it come from?
Well.....you can find this activity in the 2004 Herlong Redevelopment Plan.
Lassen County Board of Supervisors signed an agreement with the Sierra Army Depot contractually obligating the County to "provide needed improvements to the community's recreational, cultural, and other community facilities to better serve the Project area".
Of course the Lassen County Supervisors failed on every contractual obligation to the Sierra Army Depot and to the town of Herlong. So they sell the Town of Herlong?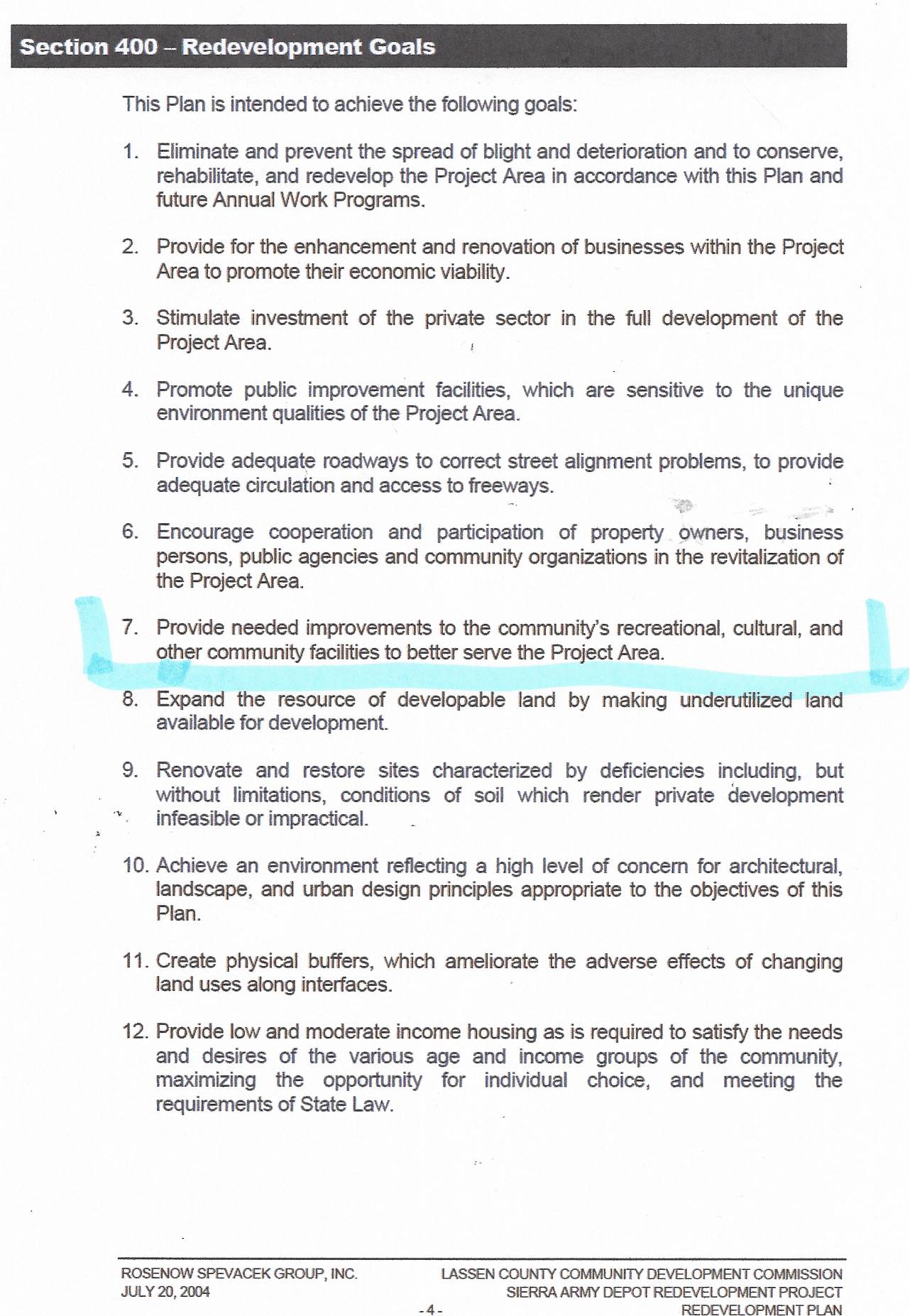 Watch this closely Lassen County.
The Supervisors approved and spent all of the Federal money for Herlong WITHOUT DOING ANY of the 12 improvements.
Will Steve Pezzullo and friendskeep their BIG promises to Herlong
by getting their friends on the Board to sneak through Herlong improvements with public dollars?
?? Pezzullo has no money to invest directly ??
WHERE IS THE SHAME?
WHO ARE THE REAL CROOKS?
PUBLIC HEARING FEBRUARY 11, 2014
Agenda C-1
There is no Herlong "Master Plan"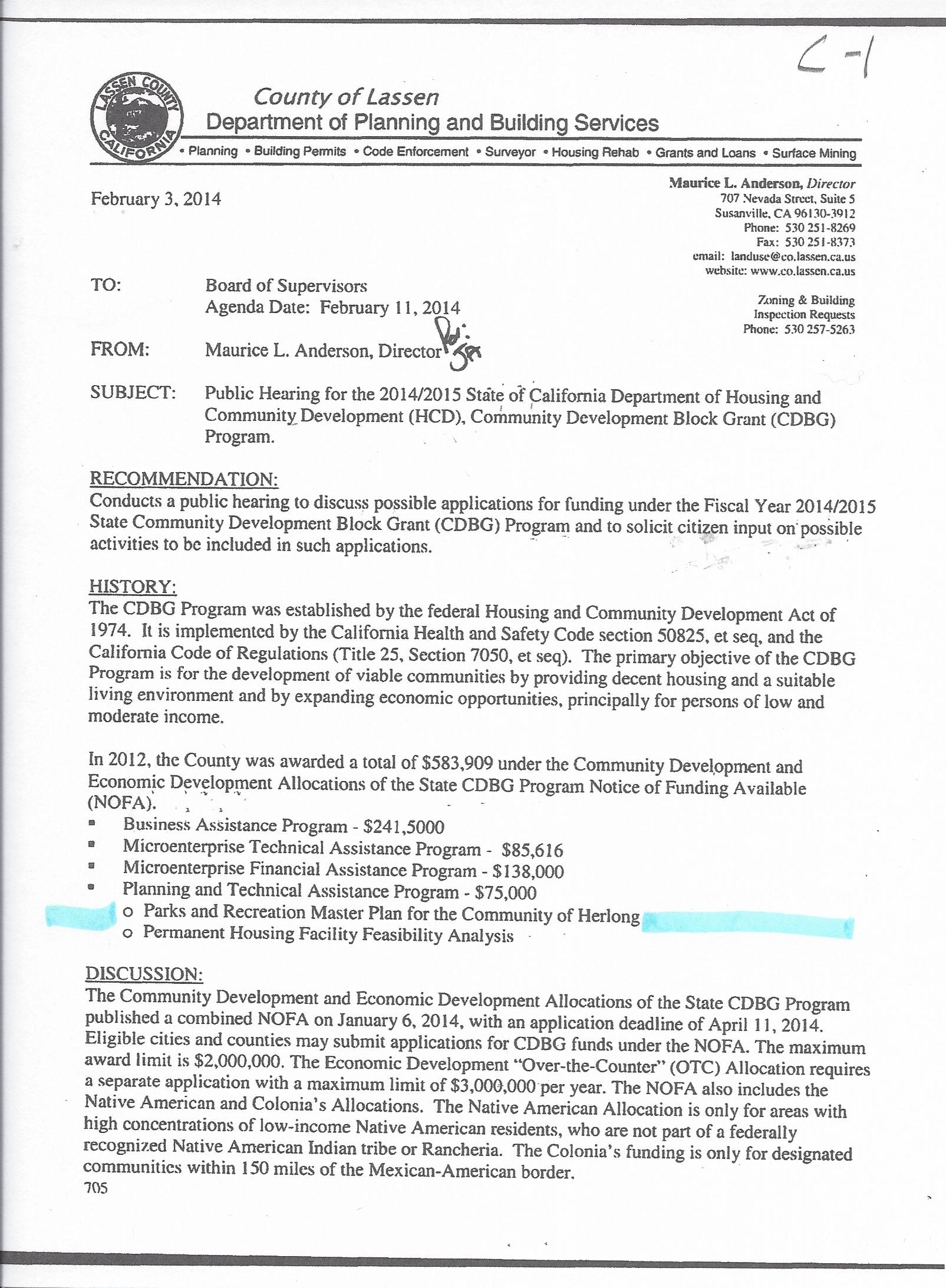 Consent Calendar
Supervisors use the Consent Calendar to hide controversial issues. They quickly pass all Consent Calendar items with one sweeping vote and when this act is exposed they quickly attempt to create a veil of ignorance.
Agenda G-6
BIG PROBLEM, No Master Plan for "Parks and Recreation for the Community of Herlong.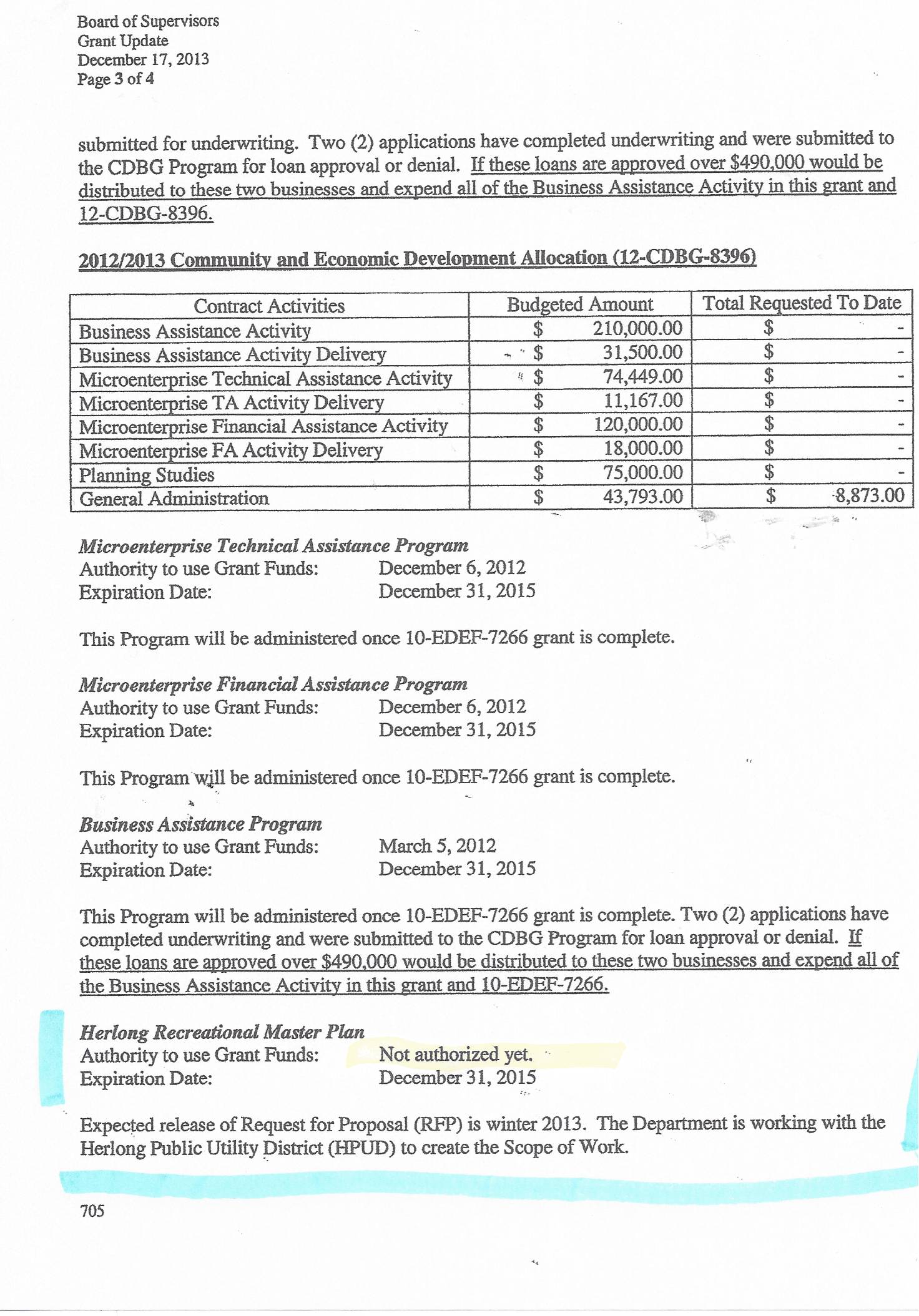 February 5, 2014,
San Francisco Chronicle
32 Republican Senators voted against the Farm Bill

This bill passed the House 251-163
Representative LaMalfa voted yes
"The stability this bill gives California agriculture will be key to helping farmers and ranchers weather the historic drought we are experiencing"
Representative LaMalfa has received over $1.7 million dollars in farm subsidies.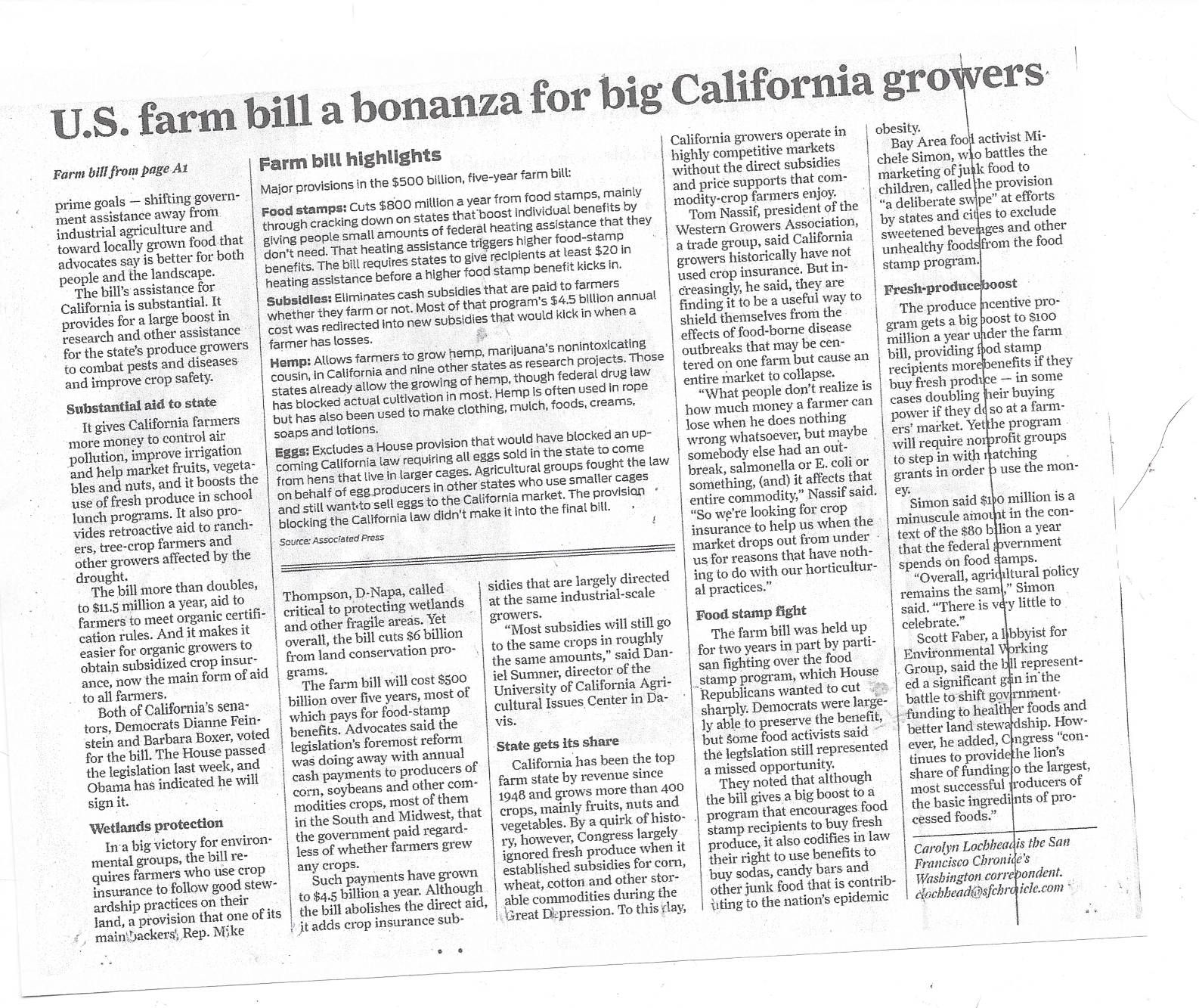 TAXATION WITHOUT REPRESENTATION
Portola has no Special Districts but pays 50% of LAFCO fees
Local Doctor Continues to ask Supervisors
for the
Lassen County Capital Improvement Plan
Lassen County Deserves Fair and Honest Elections
Lassen County Deserves a Functioning County Clerk's Office
Kan We Help gave the Supervisors a long list of Minutes, some were a few years old, that had never been placed on any Agenda to be approved. One by one, the Supervisors placed these old Minutes on their Agenda, failing only to approve just one. Supervisor Hanson was recalled and the Supervisors did not have quorum to approve it. Now, the County Clerk is falling behind again and skipping Minutes.
The Lassen County Supervisors, on July 23, 2013, approved $27,800 for the County Clerk to purchase new software for the Supervisors Agenda's and Minutes. The new software was purchased from Granicus, Inc
The Problem has never been with faulty software. The problem has always been with the County Clerk's lack of management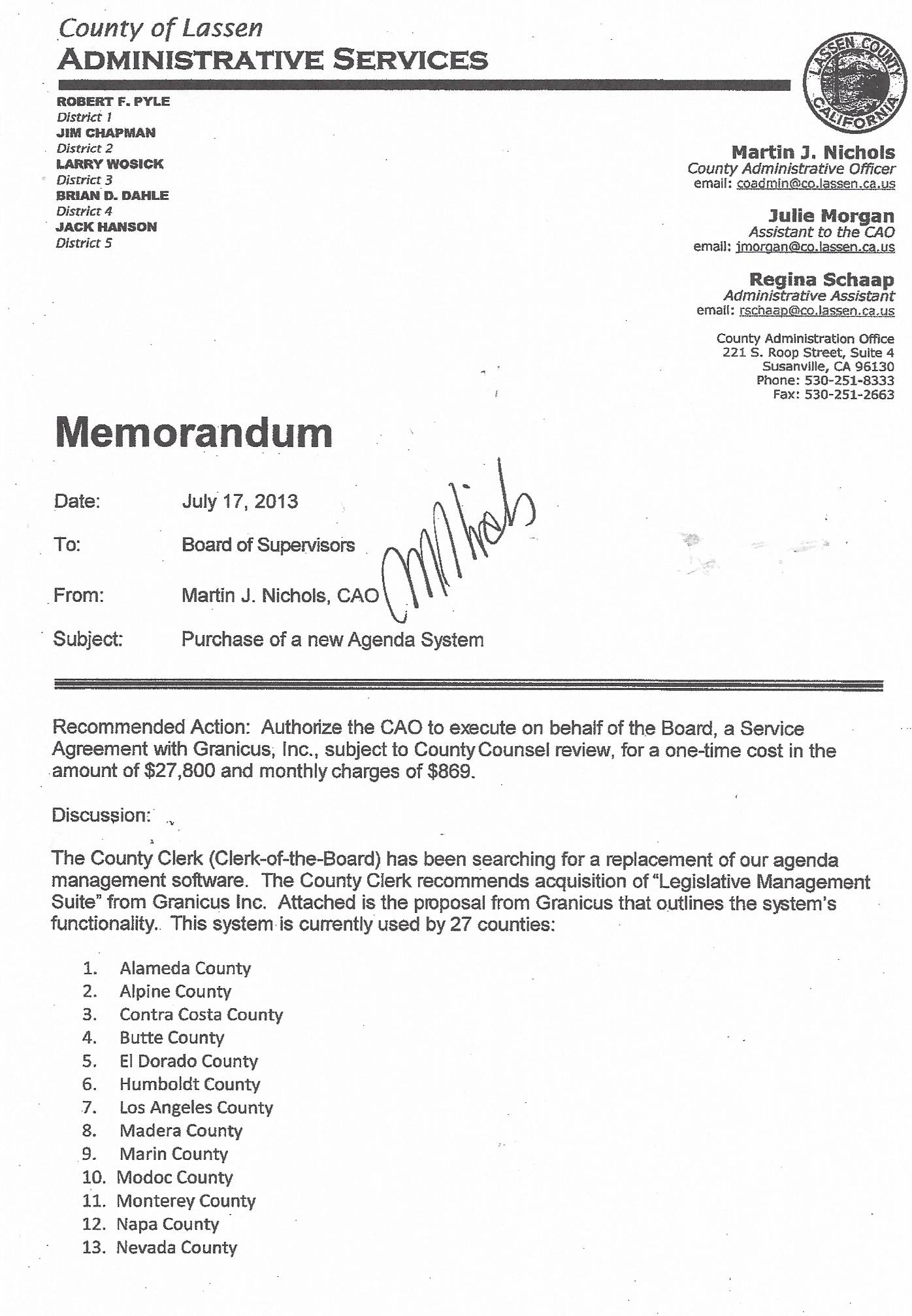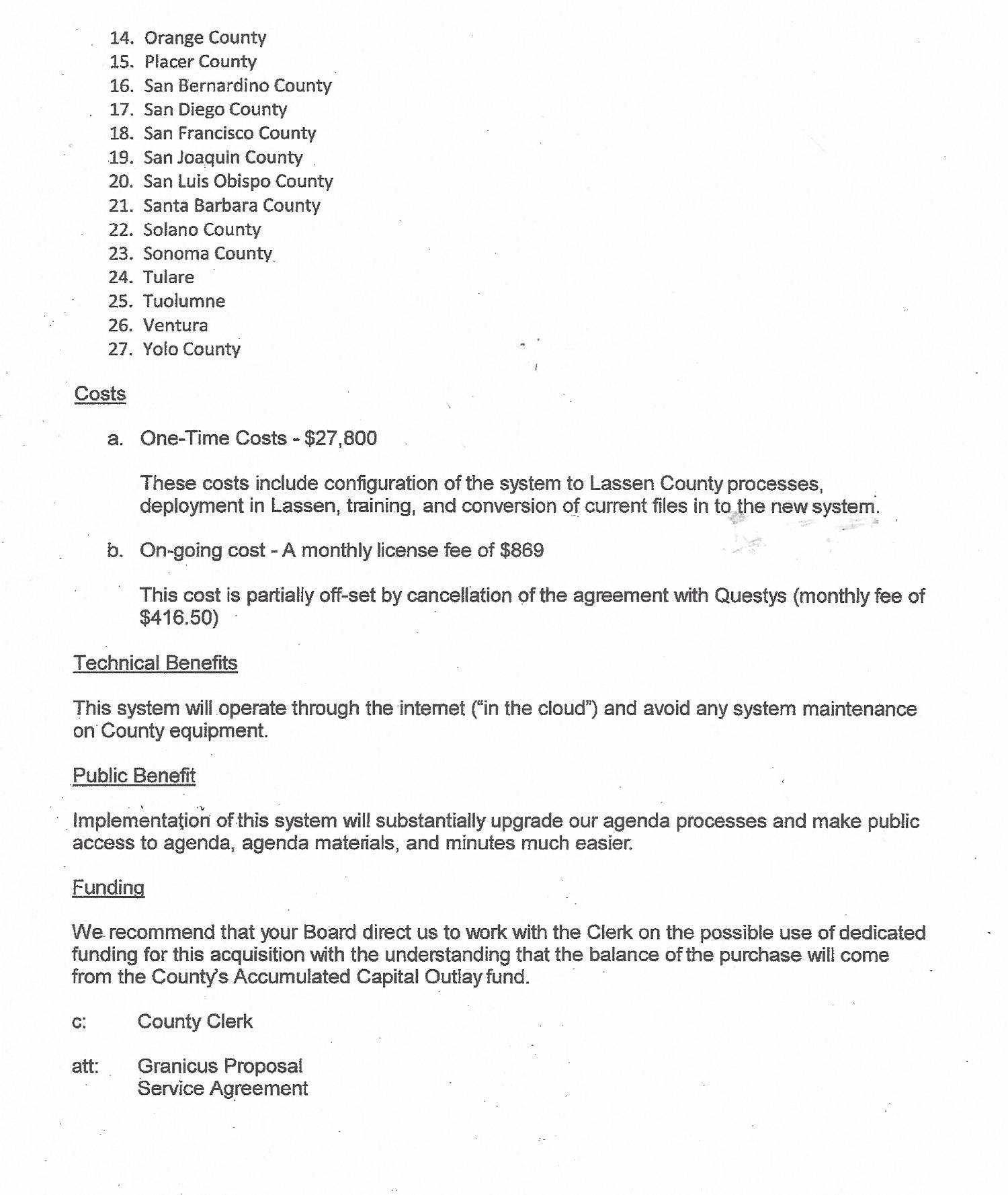 The public relies on the County's website for current and past agendas and minutes.
The County Clerk has yet to install the $27,800 software.
Like other contracts the Supervisors have approved (Pool Design (Aquatic Design Group) and Board Room renovations (NST)) ......maybe nothing has been done
(except encumber the County with useless contracts)
Amedee Army Airfield, Herlong CA.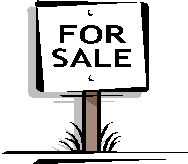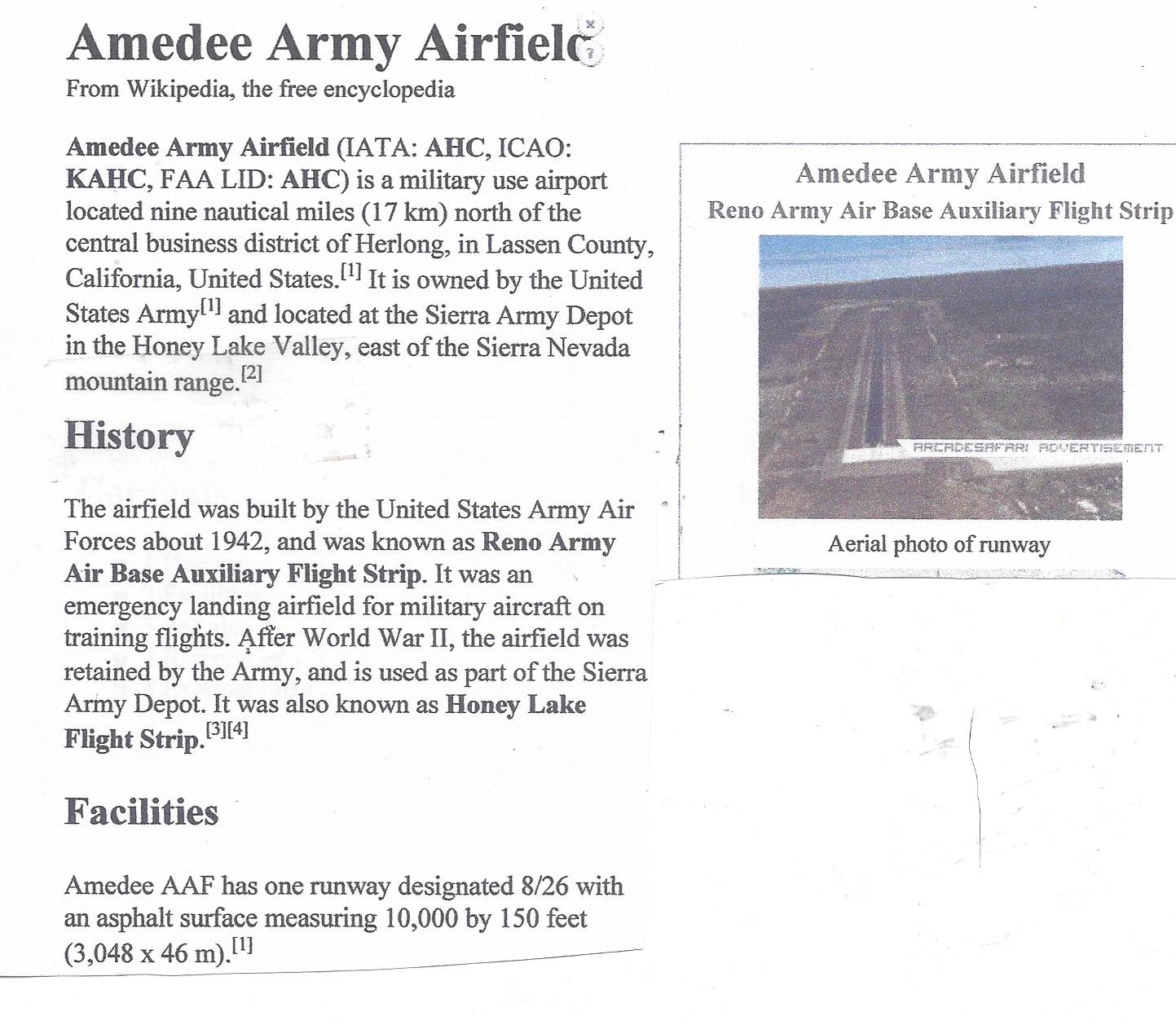 ......Here we go again
The Supervisors placed a "Request for Proposal" to sell the Amedee Army Airfield on the January 28, 2014 Agenda as H-6. It was placed at the end of the Supervisors Agenda, so as to draw little or no attention to it. You have to love the deception of the agenda description.

NOW, LOOK AT THE ACTUAL RFP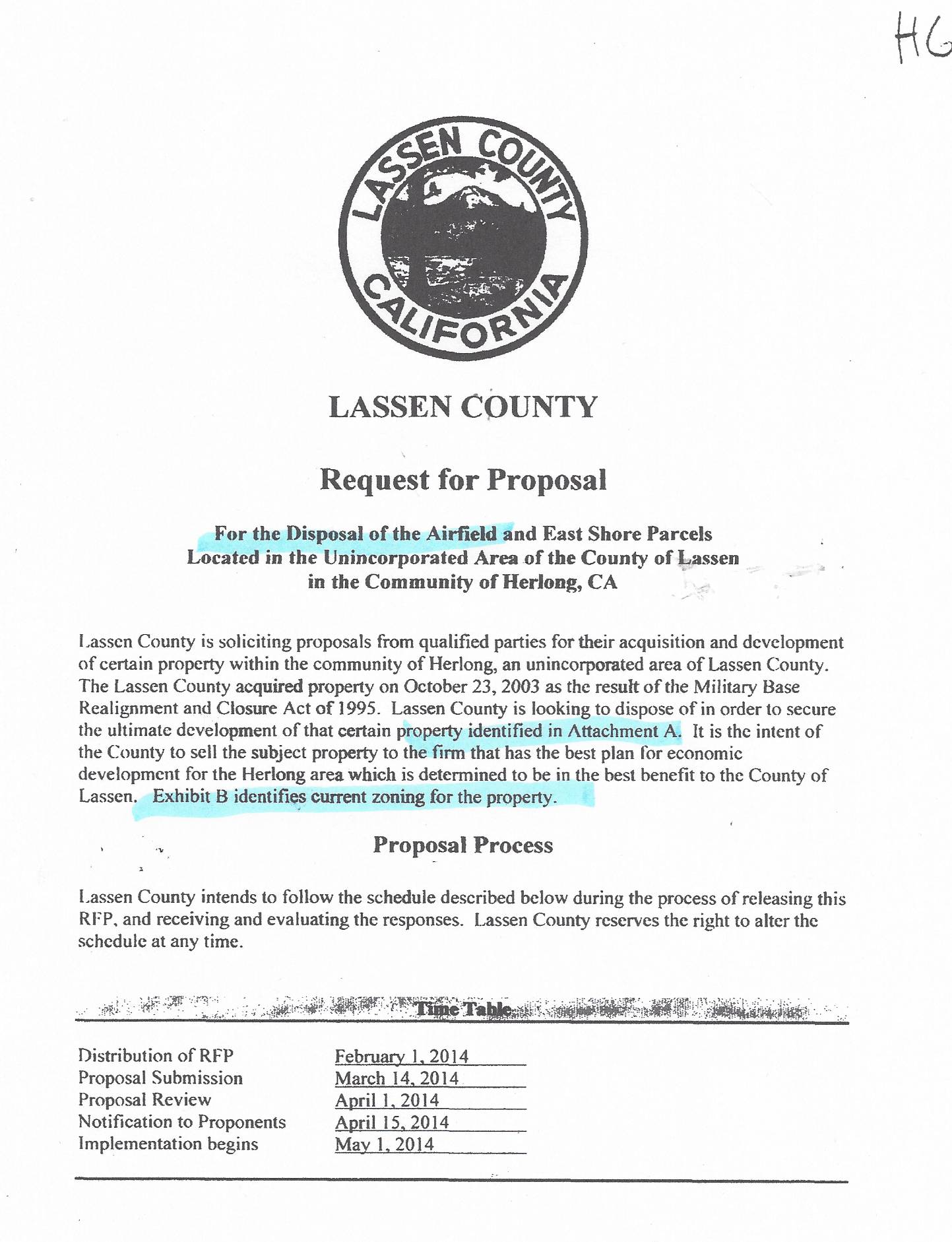 100% Deception
The County cannot sell the Airfield
No Attachments were available
RFP Deficient
Which "friend" of the Supervisors will pick this up for $100 or less.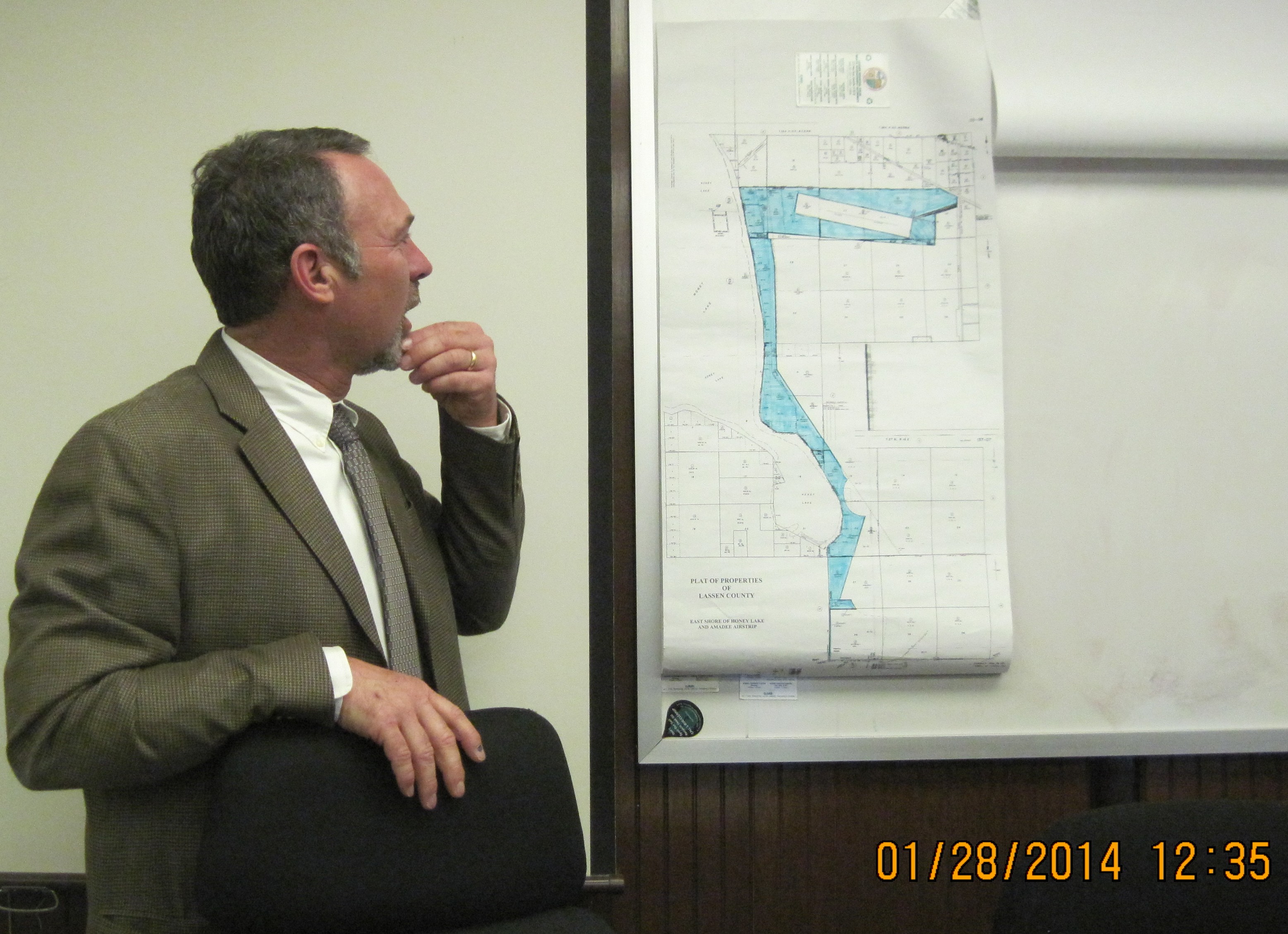 Interim CAO Richard Egan shows the public the actual property the Supervisors want to sell. The property (marked in blue) is worthless without the Army's Airfield, which the County cannot sell.
Websites that advertise public airfields for sale, have a few airfields this size for $825,000 to $1,000,000.
The County does not want to know how much it is worth?
It is a moot point, because no one will buy the land around the airport with limited access because of the Army's airfield.
BACK TO THE DRAWING BOARD AND MAY WE SUGGEST THE NEXT TIME THIS APPEARS ON ANY AGENDA, PRESENT IT HONESTLY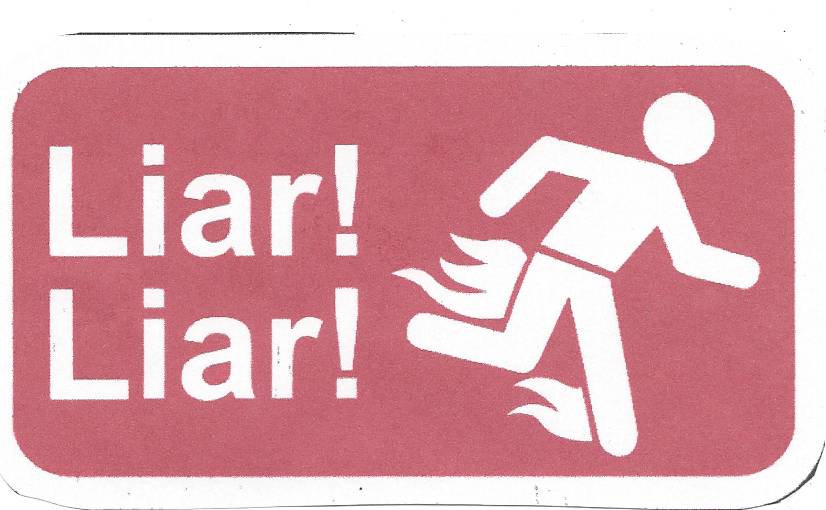 What do you do when you are caught lying?
Some would correct their lie and tell the truth
Some will continue their lies and stop anyone in their way
The Lassen County Supervisors stand by their Herlong lies.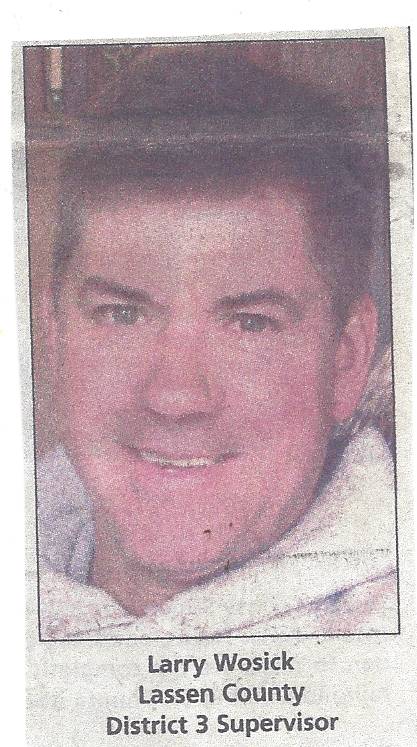 On November 26, 2013, (video link) Supervisor Wosick gave an almost convincing apology to the public. Supervisor Wosick emphatically stated when the County included the One-Stop building in Herlong, it was a MISTAKE. The Board fixed this by firing CAO Martin Nichols [County claims that Nichols was fired and then retired on the same day]
There remains two giant problems for the Lassen County Supervisors:
1. There isn't one document, of any kind, that the County has produced that supports Supervisor Wosick's claim.
2. The Lassen County Supervisors "approved" every cent spent of the MIS-USED Federal and State money (over $5,000,000) This money was designated for improvements to Herlong's infrastructure. The Supervisors allowed this money to be mis-used and Herlong got NOTHING.
Wosick waited 60 days to object to being called a liar.
Wosick recently contacted Kan We Help offering documents that would support his November 28, 2013 statements
This was a break through and could end the publics doubt.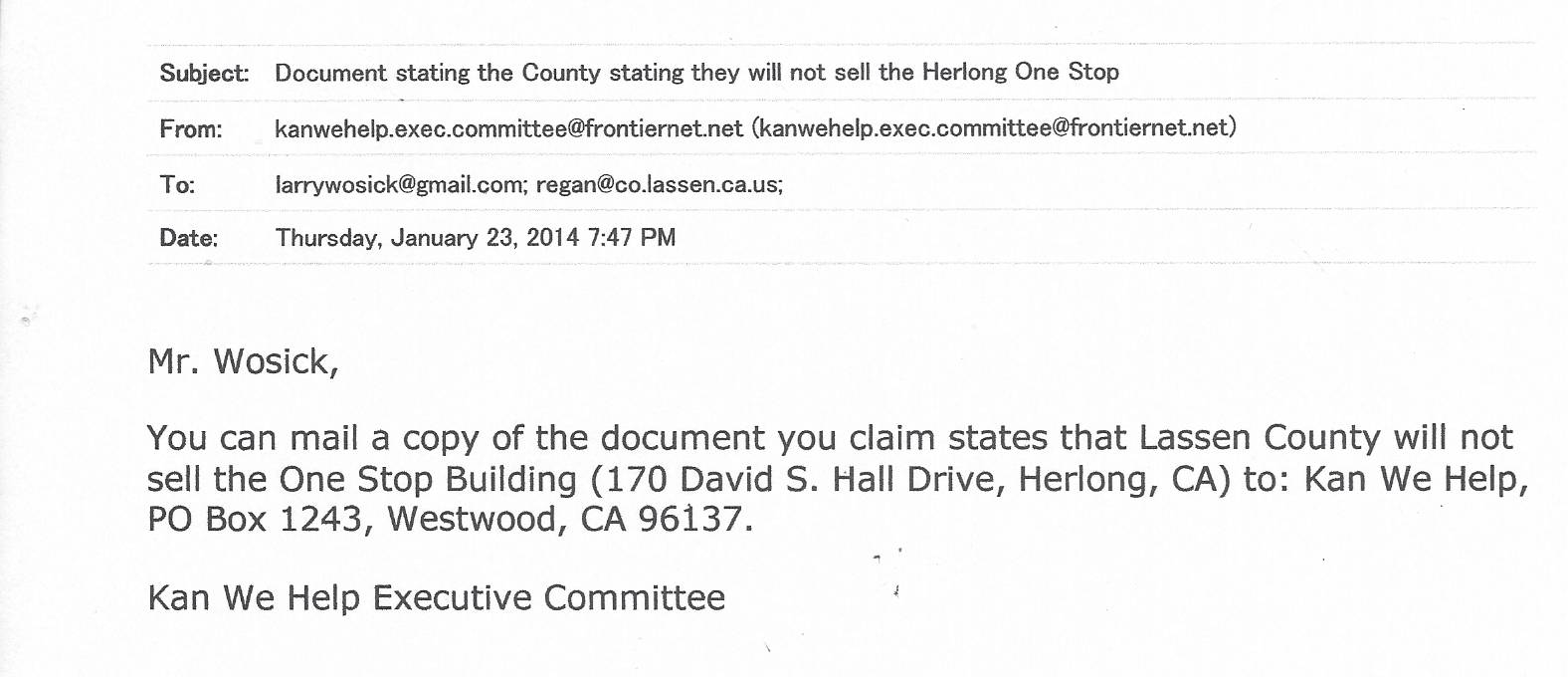 At the January 28, 2014 Board of Supervisors meeting, Larry Wosick passed a note around to Richard Egan to give to KWH Secretary Eileen Spencer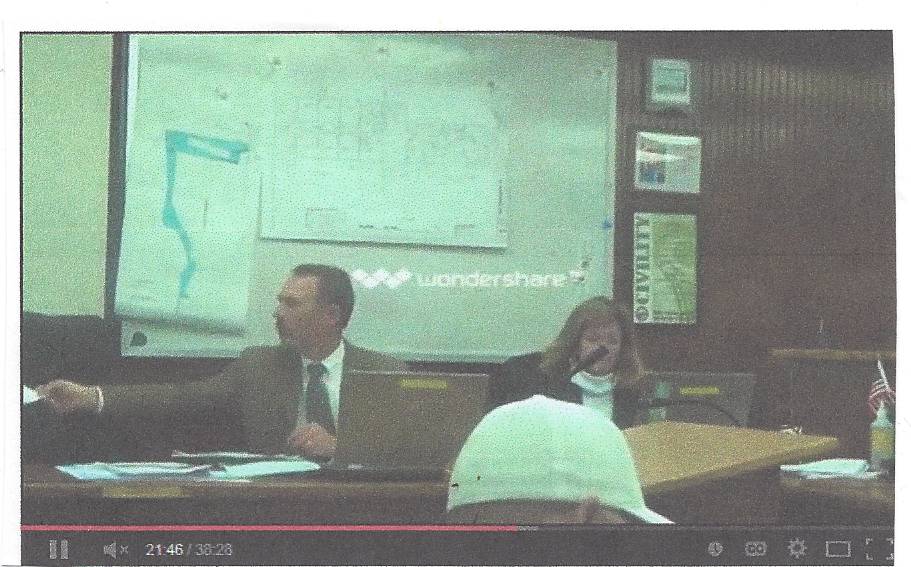 Video link at the 21:38 spot (Part 10)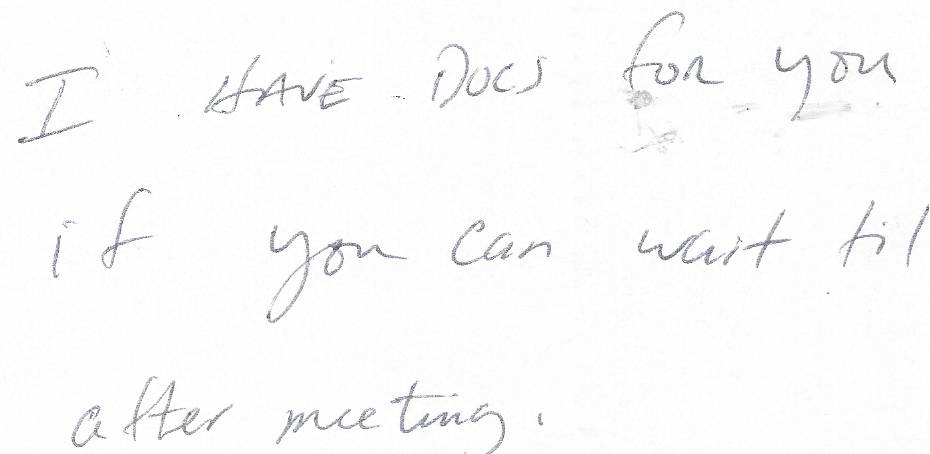 Supervisor Wosick approached Eileen Spencer after the regular meeting adjourned and asked her to go to the County Administrative Building if the Closed Session lasted more than 5 or 10 minutes. He said he didn't have the documents with him.
Spencer waited outside the County Admin building on Roop but when Wosick arrived he had no documents. He insisted that Spencer come into his office where the documents were.
Supervisor Wosick had no document in his office that stated the One-Stop was not to be sold. He had just lured her there under false pretenses.
According to Spencer, Wosick closed the door behind her and began insulting her. Supervisor Wosick blocked the door so Spencer could not get out and continued yelling insults.
Spencer filed criminal charges
against
Supervisor Wosick
YOU CAN'T FIRE ME, I QUIT
Martin Nichols: Hired, 1/17/12 Fired, 12/10/13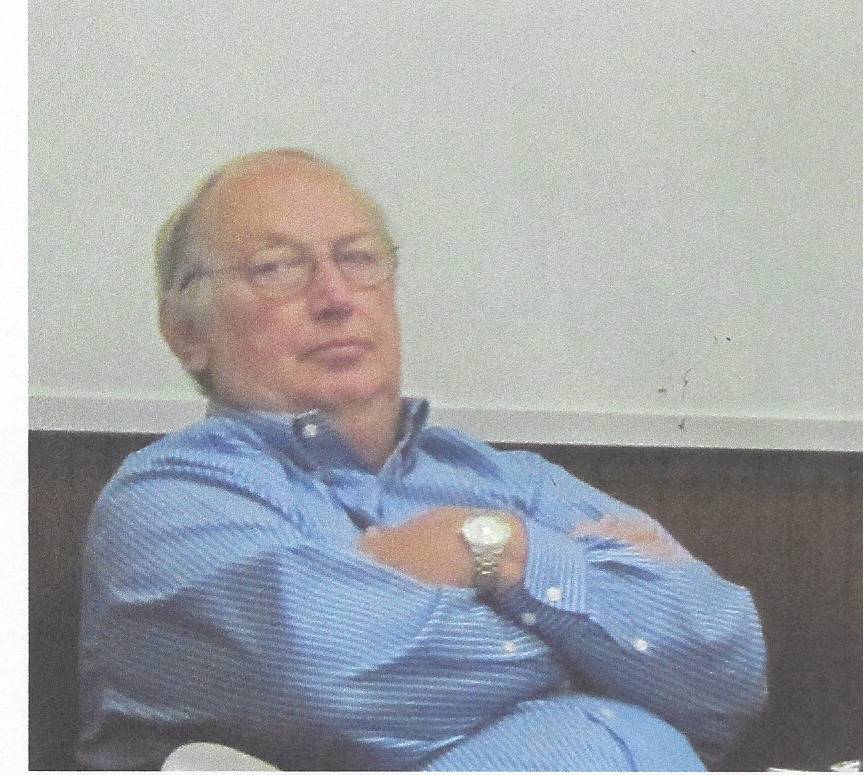 Lassen County Supervisors have a great difficulty with the truth?
Lassen County Supervisors have a great difficulty with telling the truth?
Government Code 54950
"The people in delegating authority, do not give their public servants the right to decide what is good for the people to know and what is not good for them to know"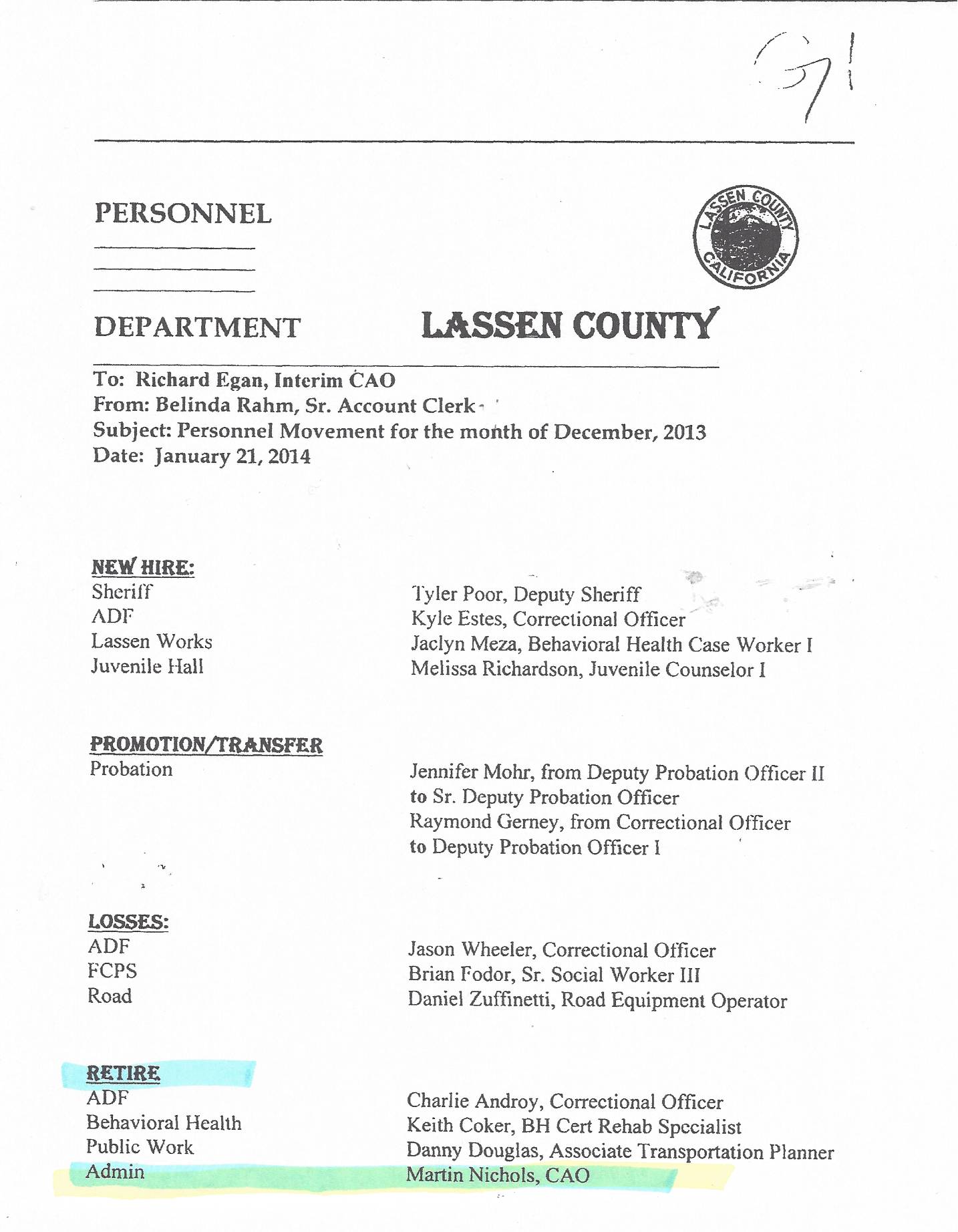 Ever try to fry 1/2 an egg?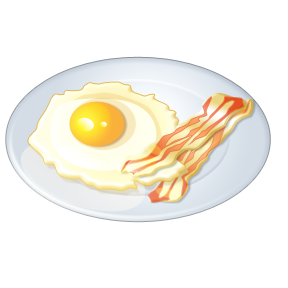 Chapman wants half a remodel
Does Lassen County Supervisor Jim Chapman want his new Board room to be bigger so he can ignore and insult more of the public ?
Supervisor Chapman wants NST to design and build only a larger Supervisors Board Room by June 1, 2014 and ignore the rest of the building. Chapman wants a portion of the remodel, a new Board Room, completed for the 150 year anniversary of Lassen County. How about concentrating on the new Public Pool being completed for the 150th anniversary.
If the decision was left to the public, what would they want.
The Supervisors approved a $20,000 design and remodel contract with NST in April of 2013 for the space vacated by Lassen Superior Court but never instructed NST to START. Now, Chapman creates this urgency to build out just a portion of the space.
[The Supervisors also approved a $10,000 contract for a pool design on 2/19/13, that never was done]
This appears to be just another ego trip for Supervisor Chapman.
There are a lot of major issues with this old cinder-block building.
Old court room space, bottom two corner windows. County Administrative offices above
The County Administrative offices are above the vacated space and the Supervisors have existing offices there. (Chapman wants new offices).
This new space should be first and foremost designed for the public.
Chapman wants Judge Sokol's office to be a Closed Session room.
Judge Sokol moved Department 1 to this building because it had a private bathroom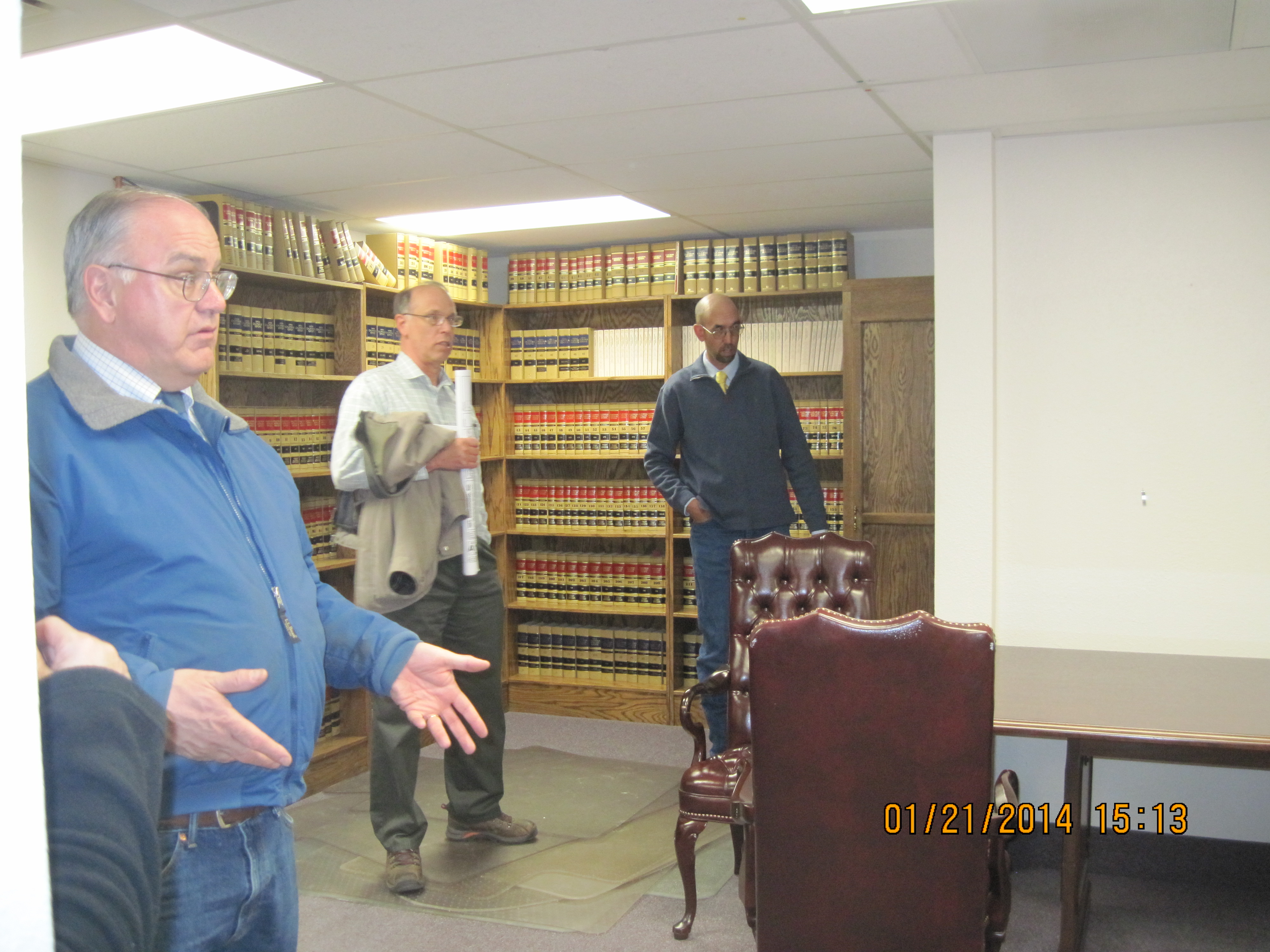 Where's the money to do this? Chapman says he can find it.......................
Will it be the old ROPE-A-DOPE (the public) like Herlong?
Now you see it, now you don't











LASSEN COUNTY SUPERVISORS
DO NOT NEED A COUNTY COUNSEL
THEY NEED A
BABYSITTER
Video of January 21, 2014 Board of Supervisors Meeting
The Supervisors have shut down the meetings to the public they serve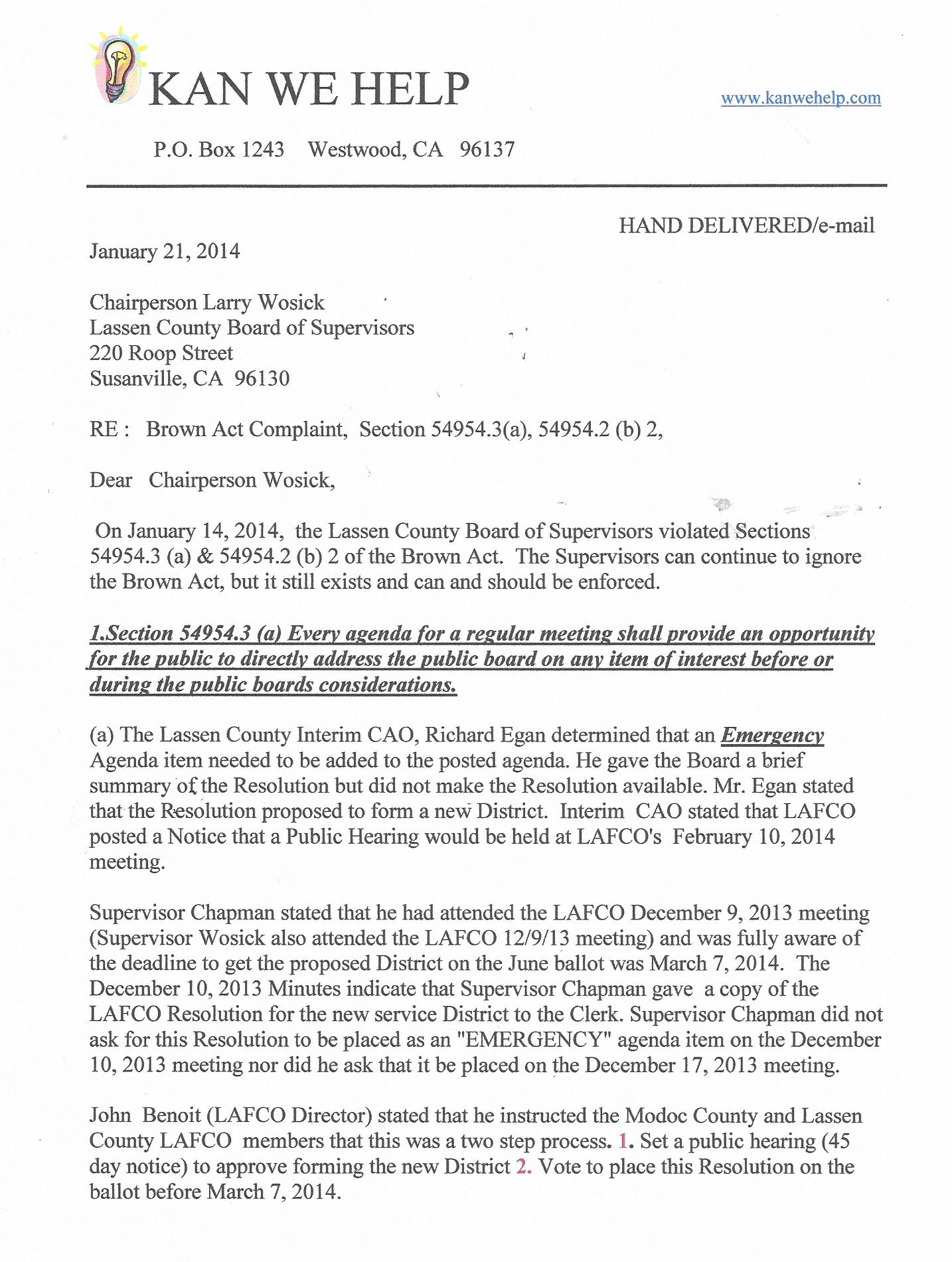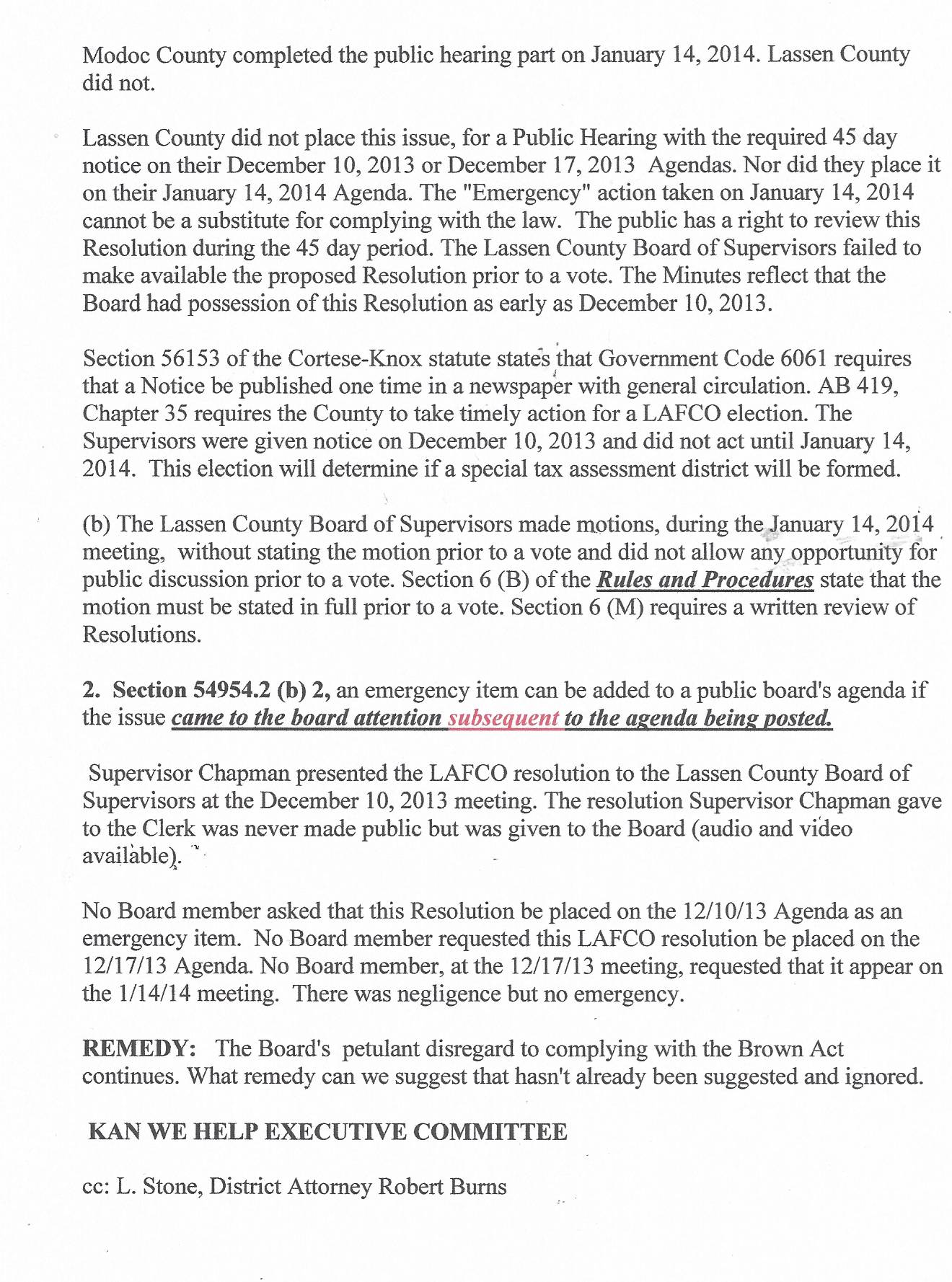 NST $20,000 Courtroom Study Unavailable or Never Done?
Supervisor Chapman pushing for new digs
On April 23, 2013, the Lassen County Supervisors approved a contract to NST (a local engineering firm) to "study" the space at the old Court House. This study was to include renovating the Court's old Department 1 in order to move the Board chambers to this space (Sokol's court). The Board has scheduled a tour of this space on 1/21/14.
Kan We Help submitted a Public Records Request for this document but the County has been non-responsive.
On December 2, 2013, the Supervisors were given a report by the former CAO Martin Nichols. What did Martin Nichols base this "Reassignment of Court House Space" on?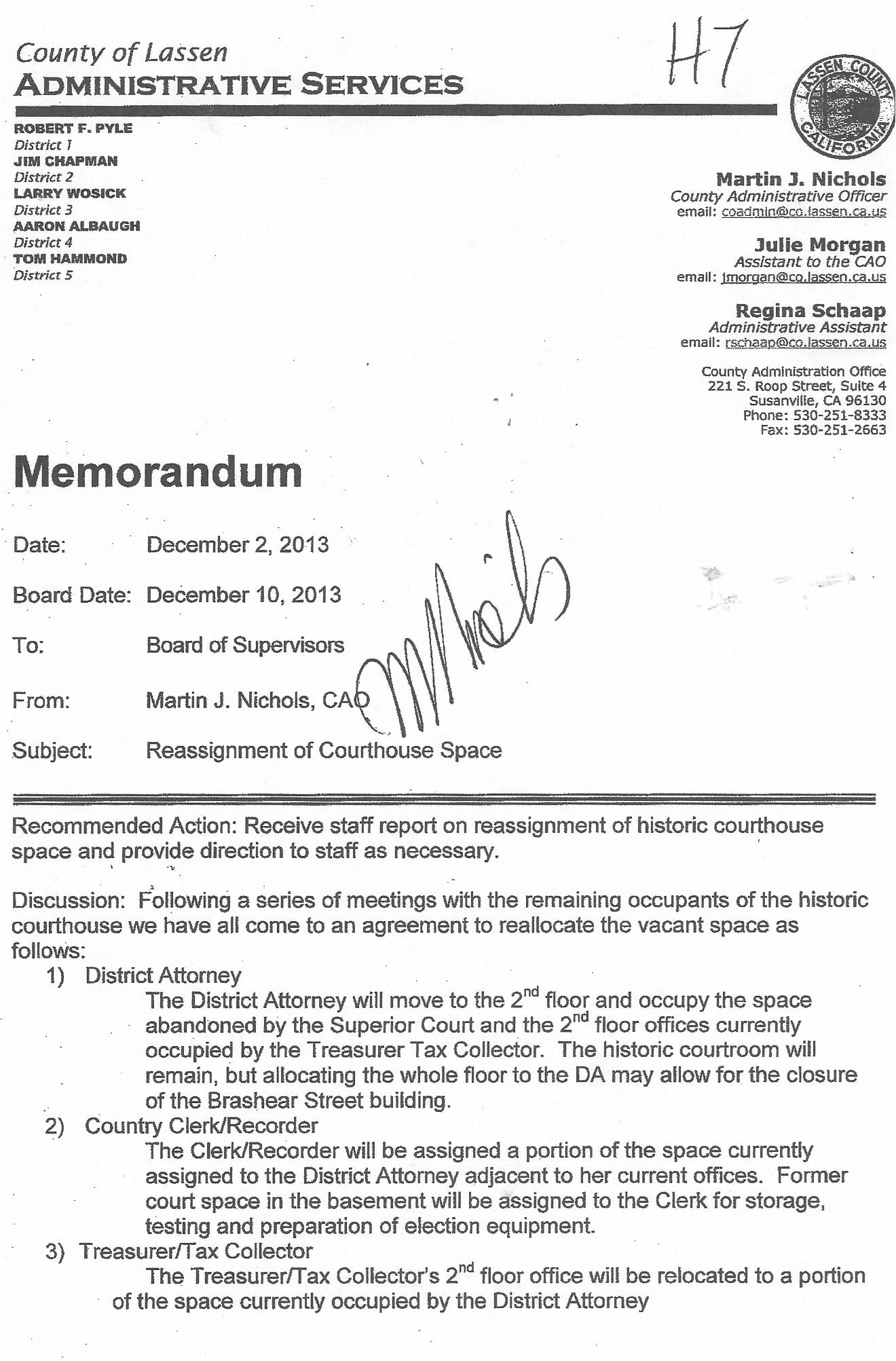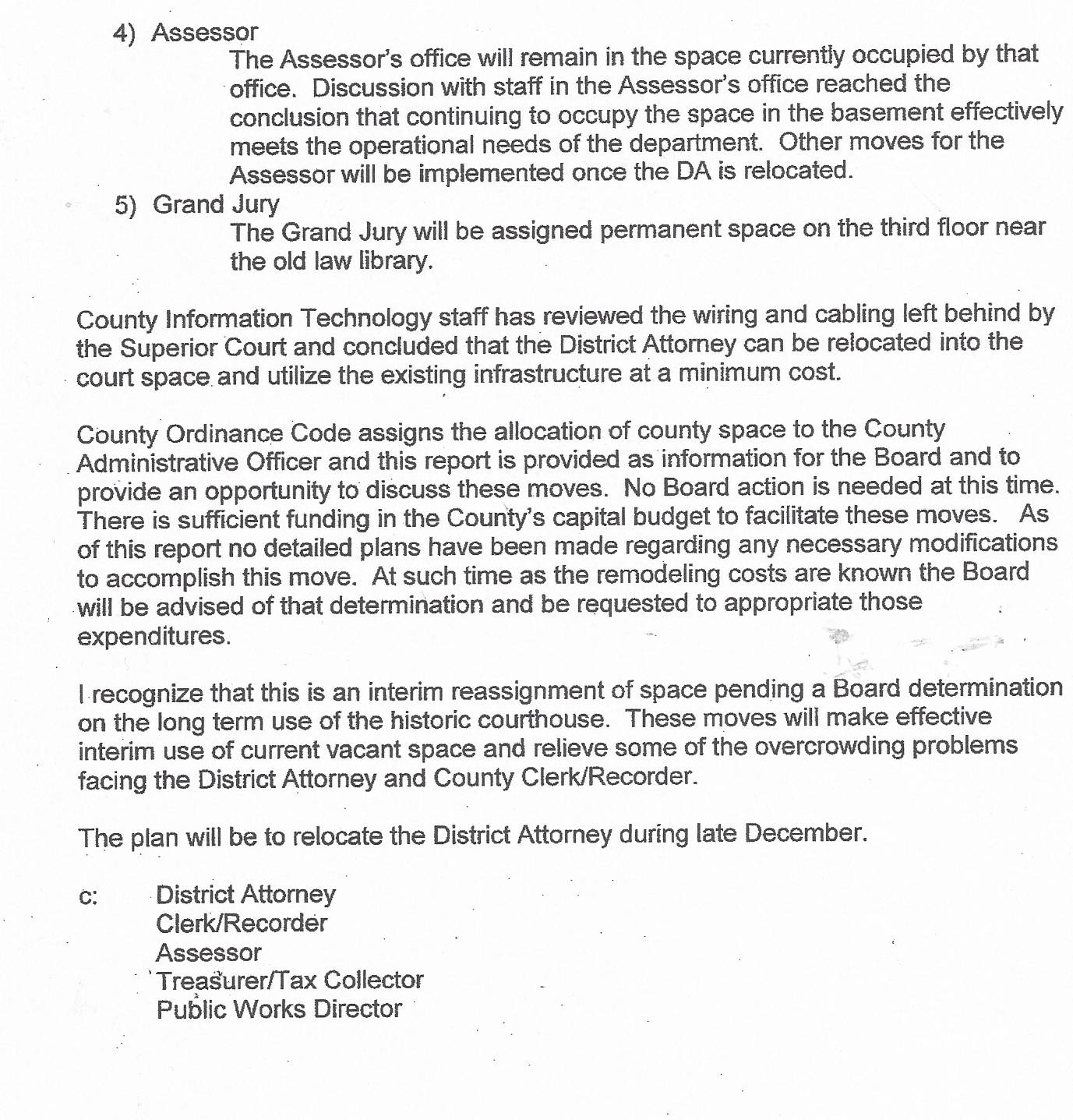 Julie Morgan, Assistant to Mr. Nichols, made a claim to the Supervisors that all of the wiring and cabling was too old and would need to be replaced in the Court House. However, Kan We Help Secretary, Eileen Spencer told the Board of Supervisors that was incorrect. The wiring and cabling was upgraded just before the new court house construction started. All new computers, and new cables. It was learned later that the Court would not be taking any of these new computers with them to the new Court House. A great question.......where did the $50,000 worth of equipment go?
Recommended reassignment of space of the old courthouse.
NO MENTION OF THE COURT SPACE BEHIND THE OLD COURTHOUSE.
New Owners of the Town of Herlong
offer to rent back the million dollar building
they bought from Lassen County for $173.00
Is "manipulation" the new word for governing?
FOR ONE DOLLAR A MONTH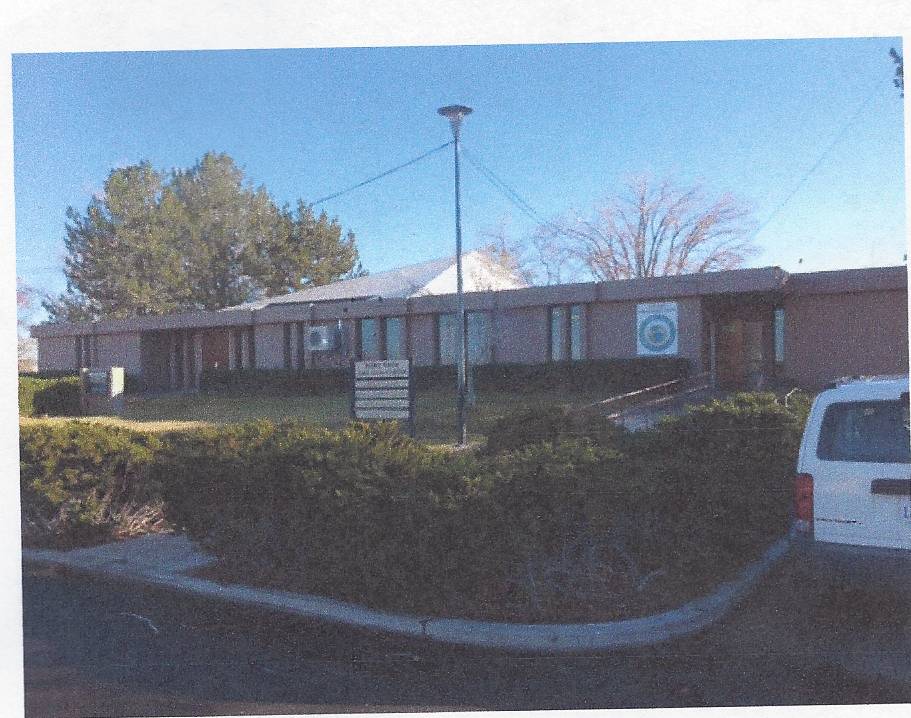 Millions of Federal money was given to the Lassen County Supervisors and they approved every penny of that money that was spent.
NO... SELLING THIS BUILDING WAS NEVER A MISTAKE AND THEY WOULD BE WISE TO STOP CLAIMING THIS
When the Supervisors closed the LRA (Local Reuse Authority) down, they transferred all of the Army property to the County. Herlong was purchased from the County not the LRA. The County got away with issuing the last RFP under the LRA which had already been closed. ????????
This scheme was extremely organized and executed.
Lassen County Rushes
to Pass a Resolution for the Formation of a New Emergency Services District for the June Ballot
but fails to hold Public Hearing on new tax and ballot issue
& violates the Brown Act
Lassen County District 4 Supervisor Aaron Albaugh has been bringing this issue to the Board (ambulance service in Big Valley) from the first day he was elected (January/2013). According to John Benoit, LAFCO Director, ambulance service stopped in the Big Valley area in July /2013, putting a large area of Lassen County residents at risk.
Almost a year later (December 9, 2013) the LAFCO Board, for Lassen County, held a Public Hearing on their intention of placing this issue on the June ballot in Modoc County and Lassen County. Because there are two counties involved, both Modoc and Lassen must vote to approve this action and then pass a Resolution to place this tax issue on the ballot. This requires a Public Hearing.
Modoc County did what they are required to do under the law. The Modoc County Supervisors held their Public Hearing on January 14, 2014.
Interim County Administrator, Richard Egan states LASSEN COUNTY WILL NOT FOLLOW THE LAW. This irresponsible action will hurt the Big Valley area.
1. Chapman's EMERGENCY Motion on January 14, 2014 is voided due to not following the law. After 33 years of sitting on this Board, Chapman knew the procedures he had to follow for this "new tax district". He claims he attended the December 9th LAFCO meeting that spelled out what each county must do. When he can't tell the truth he baffles them with his bull sh_t. Yes, Chapman needs to go.
Watch for yourselves "Part I, 1/14/14 Board of Supervisors meeting"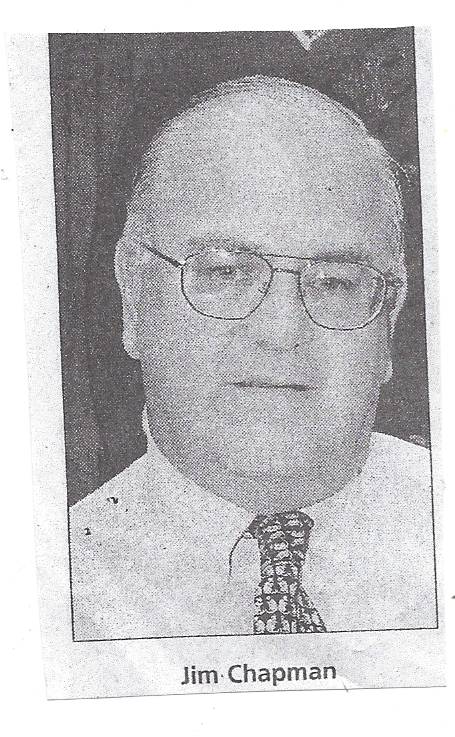 The Lassen County Supervisors must now follow the law and hold a proper Public Hearing to allow public discussion on this issue or the ambulance service will not effect Lassen County's Big Valley residents. Maybe that was Chapman's goal in the first place.
2. The Lassen County Supervisors must pass a Resolution, similar to what Modoc County passed on January 14, 2014. Then must pass a second Resolution to approve this tax issue to be placed on the June ballot. This all must be done by March 7, 2014. If passed by the voters, there will be a new tax district formed to provide ambulance and emergency care to the Big Valley area as soon as 2015.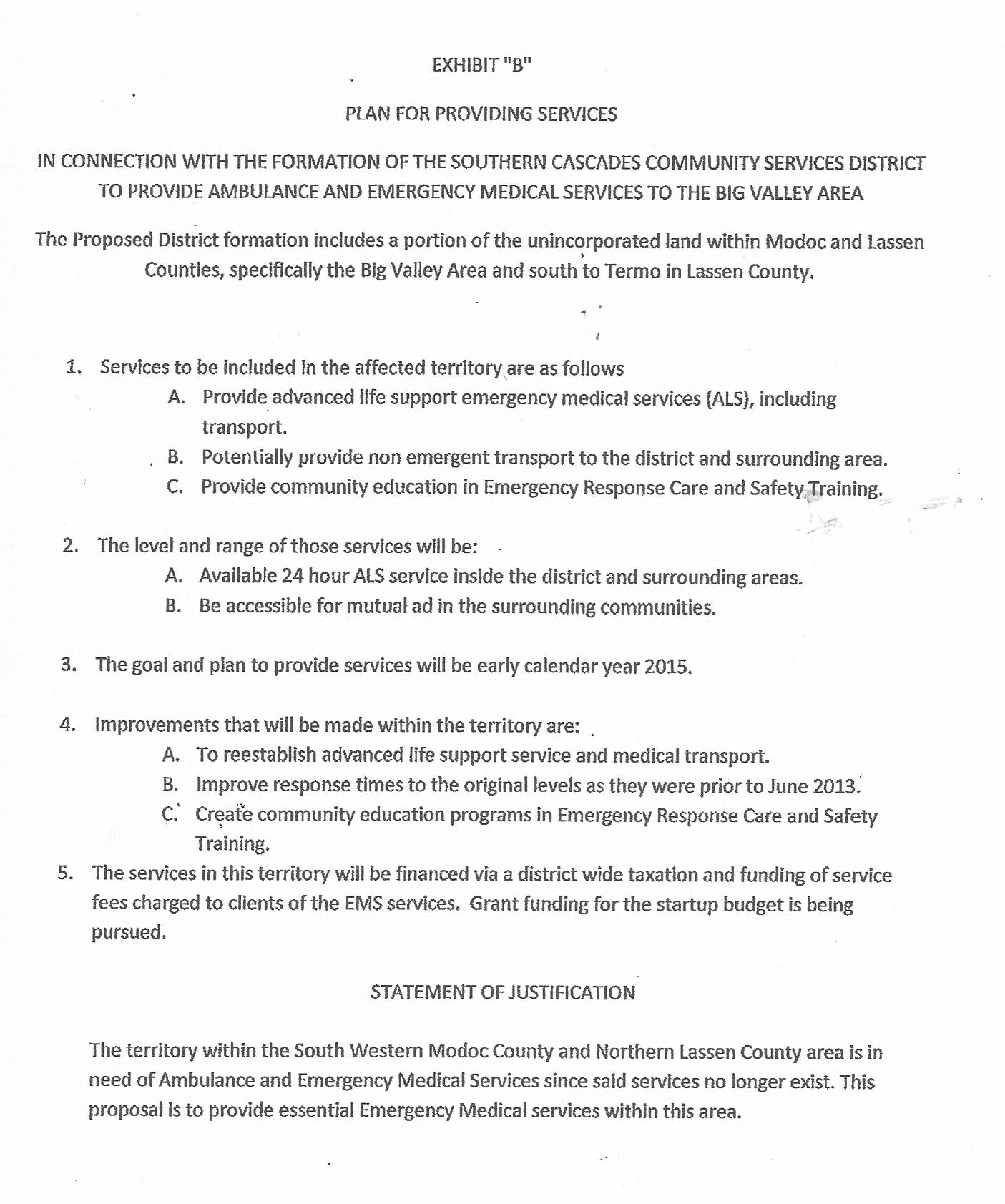 The District will be called "Southern Cascades Community Services District". LAFCO Resolution 2014-02
Lassen County Supervisors Larry Wosick and Jim Chapman sit on the LAFCO Board. Both Supervisors failed to place this issue on the Lassen County Board of Supervisors Agendas. It was poorly (that is an understatement) presented at the January 14, 2014 BOS meeting as an "Emergency" item. It appeared that Supervisor Chapman clumsily attempted to place it somewhere on their 1/14/14 Agenda but failed to distribute copies of the Resolution to the public and failed to place it on an Agenda as a Public Hearing.
NOW,THE MESS CHAPMAN CREATED HAS TO BE FIXED.
There was a NEED to pass a Resolution before the next LAFCO meeting on February 10, 2014 but this was certainly NO EMERGENCY
. The emergency was to cover up Supervisor Chapmans incompetency.
Lassen County must hold a Public Hearing on this issue because it involves a new tax for Lassen County for this new service district. Lassen County must then pass a Resolution to place it on the June Ballot. All this has to be done before March 7, 2014.











SUPERVISOR HAMMOND HOLDS TOWN HALL MEETING IN HERLONG with new owners
As much as the Supervisors want this to go away
The mis-use of the Federal money in Herlong was not a "MISTAKE" but a deliberate act approved solely by the Lassen County Supervisors Dahle, Hanson, Pyle, Chapman & Wosick
No matter how many times the Supervisors repeat it, selling the One-Stop was not a "MISTAKE"
IT IS NOT GOING TO GO AWAY.
For 12 years
Kan We Help has provided
what the Lassen County Times will not provide,
.....the truth
That is why this is the place to look first for Lassen County politics
FIVE MEN CONTROL $112 MILLION and JUST DON'T WANT TO FOLLOW THE LAWS.......what could possibly go wrong?
Lassen County Supervisors
Throw the Brown Act
Down the Toilet
January 14, 2014 BOS Meeting Video
Lassen County Counsel Rhetta Vander Ploeg sat quietly while the Board violated a minimum of three Brown Act Sections in a matter of 15 minutes.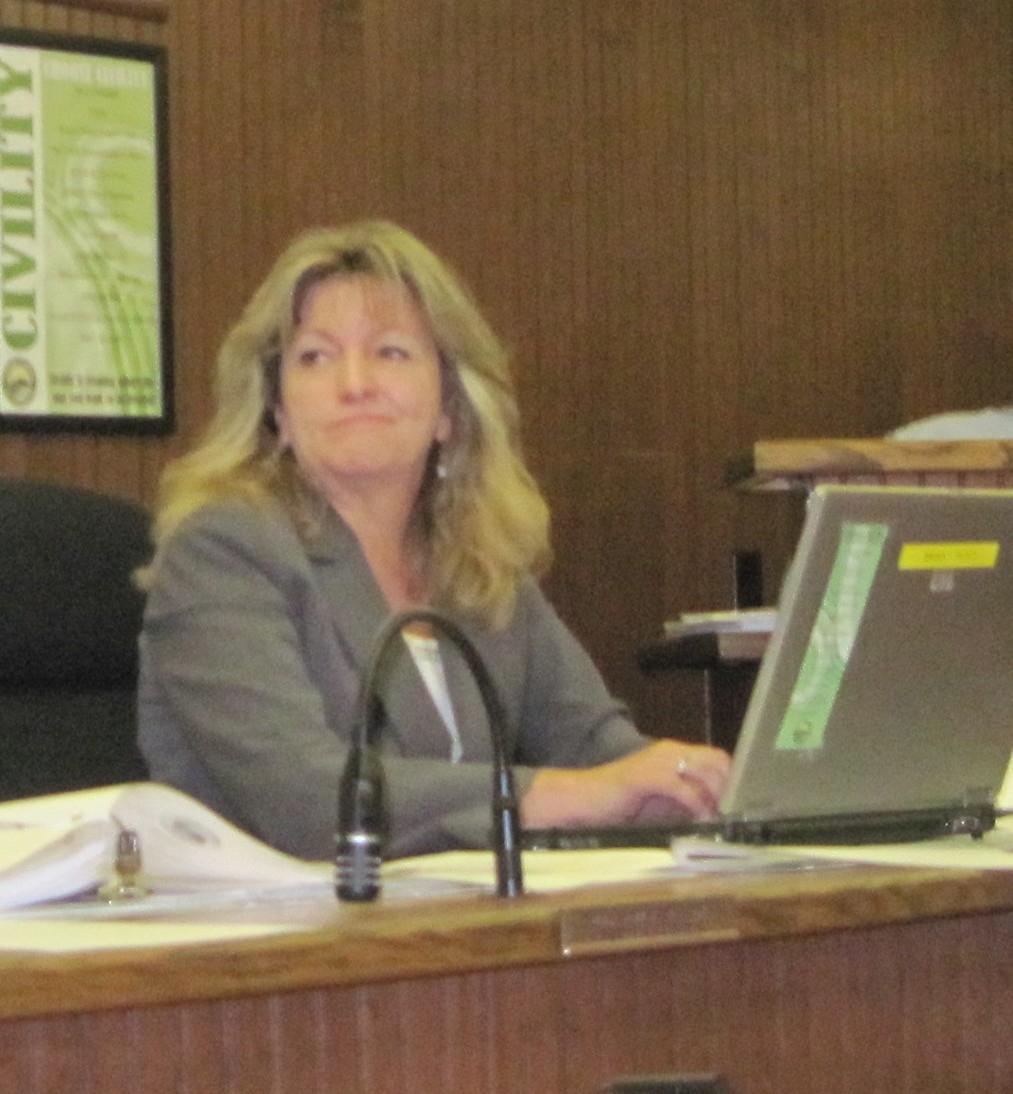 This County Counsel has proven to be 100% worthless.
Supervisor Pyle announced that
District 3 Supervisor Larry Wosick will not run for office again.....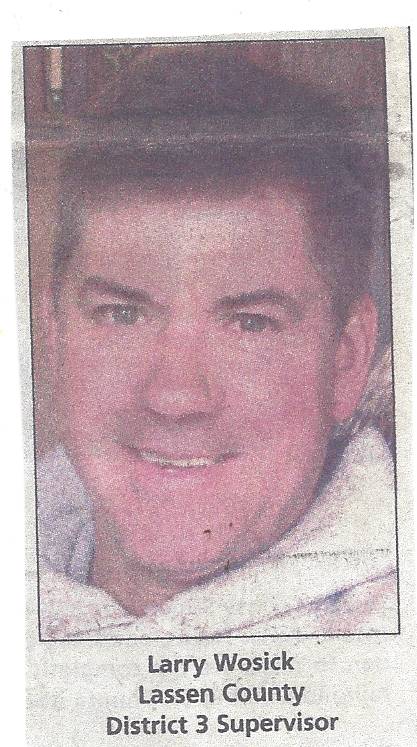 but nominated him for the Board's Chairperson. Pyle also slipped into the conversation that he would be willing to serve as Vice-Chairperson.
Motion after Motion the Board voted without allowing ANY PUBLIC COMMENT.
Newly elected Wosick told the public that he had anticipated this action and stayed up to study Roberts Rules of Order. Even if we gave each of the Supervisors a copy of the Brown Act, they would still violate it because they can. What is it going to take for Wosick or any of these politicians to GET IT?
County Counsel and the District Attorney have complete contempt for the Open Meeting Laws
Kan We Help will again file a Brown Act Complaint for this deliberate violation.
Lassen County Needs New County Clerk
Bustamante must be replaced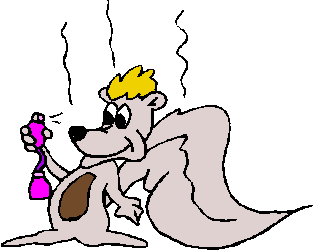 Job too big for her or is she too big for the job? Questionable election handling continues
County website in disrepair
Agendas and Minutes not maintained (new software purchased 7/23/13)
Politically biased
Lassen County Board of Supervisors must elect
Officers to preside over the next calendar year
at the
FIRST REGULAR MEETING OF THE YEAR.
15 year veteran politician Chairperson Pyle failed to place the mandatory election of Board Officers
on the January 14, 2014 Agenda
LASSEN COUNTY RULES AND REGULATIONS, SECTION 3 B

Supervisor Hanson, Pyle and Chapman
have controlled the Supervisors
Agendas, Policies & Direction far too long.
It is time for new leadership
Can anyone imagine the collective outrage by the ratepayers if they knew that the 1 cent LMUD put aside for the DEAD 230 kv line was a fraud.
David Folce told the LMUD Board that the 60 kv will work with the 230 kv project but LMUD would have to install "phase shifting transformers" ....$10 million worth??????
April - 2011
Instead of lowering the LMUD RATES by one cent, the LMUD Board considered and then approved a one cent dedication toward the DEAD 230kv transmission line project, the ATT/Viewland site (that LMUD does not even own) and even moved $1.5 million dollars from the Rate Stabilization fund to a special fund for the DEAD 230 kv transmission line project.
Bill Stewart, a Frank Cady protégé, tells the LMUD Board members that the one cent will produce $8.5 million dollars in 5 years.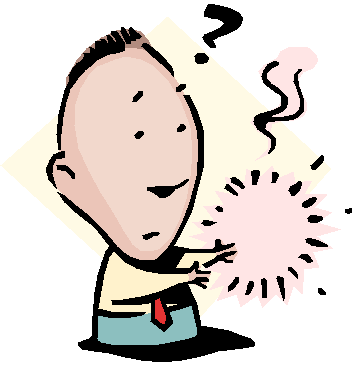 Bill Stewart, Mr. Poof
LMUD Focuses on hoarding millions for the 230 kv Project when they claimed that they would provide only the Right-of-way
Update on the Status of LMUD's Bogus PDCA FORMULA for NOT LOWERING ELECTRIC RATES
"230 kv Expenses"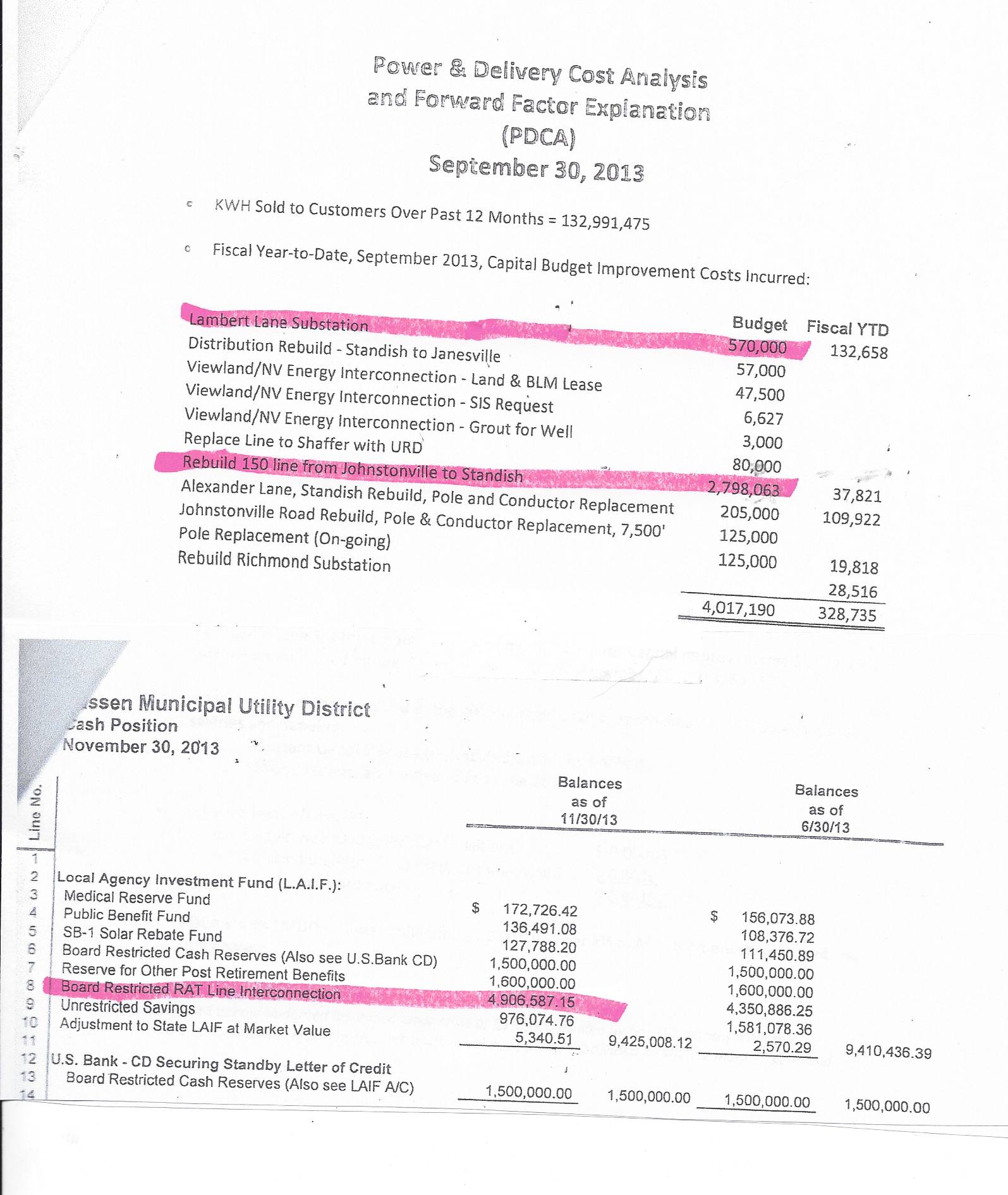 The Herlong Sale Investigation Just Beginning
and you won't read a single word in the Lassen County Times.
The Times will give you Fluff and will continue to suppress the truth about Herlong
LMUD losing ground with renewable energy partners
LMUD is rapidly losing partners in their delusion of a 230 kv line running through Lassen County.
Invenergy walked away from LMUD Directors years ago and now that the energy credits will expire on December 31, 2013 it is unlikely LMUD will be able to claim that any part of the 230 kv would be viable.
Now, the LMUD Directors are floating a new scheme
BUSTED: The LMUD Directors report they are "looking into" signing a contract with Oski Energy (aka Wineagle, Wendell Energy Operations) to purchase Oski's geothermal power for eight (8) cents per kilowatt hour.
Oski has a ghost office in Reno, Nevada and may not even be in a position to sell much of anything to LMUD now or after October/2014. Oski is obligated to sell their power to Pacific Gas and Electric until October 29, 2014. Oski claims that they may "terminate" their agreement with PG&E.......Oh, really?
Oski Energy registered as a Limited Liability Corporation (LLC) in 2007 and in 2009 registered Wendel Energy Operation, LLC with a Reno address of 730 Sandhill Road, Ste 250. The corporation papers show that Derek Bacon is their agent for service.
So why give a press release to a local newspaper that really is pointless?
FOR A HEADLINE ?
Mr. Davis, you should have done your homework.......
SAME OLD LMUD BOARD
Couldn't tell the truth if their lives depended on it.
The LMUD Board reported, at their November 26, 2013 meeting, they had completed Phase I (dirt/rock work) of the new substation on Lambert Lane in Standish. That is true but they decided not to disclose that a transformer had been installed on a pad the same week LMUD changed the transformer at the Standish substation four miles down the road from the Lambert Lane Substation.
In 2009, LMUD, under Bill Stewart, purchased $354,000 in transformers for "Lambert Lane" when Lambert Lane DID NOT EXIST. Those 2009 transformers have never been accounted for. So.......where did this one come from? The five year warranties will expire in 2014. The new Standish transformer installed last summer could very well be one of the "missing" transformers Bill Stewart purchased in 2009. ????
The LMUD Board does not want that question asked and they are certainly not going to answer it if it is asked again and again.....and again.
Stewart learned most of his "flim flam" from Frank Cady, before Cady was fired in 2008. Cady proved to be a master of deceit.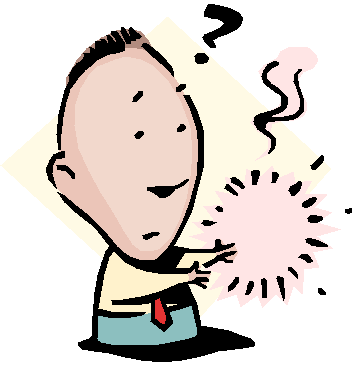 Bill Stewart......Mr. Poof, now it is here, now it is gone.
November 26, 2013- LMUD Minutes
Amedee Geothermal files new litigation in the San Francisco Superior Court on November 7, 2013 against LMUD, but
LMUD does not report this,to the public, at the November 26, 2013 meeting but waits untilDecember 17, 2013 and reports that it is "potential litigation" and gives the Case Number.
Where in the world did these Board members learn to lie with such stupidity ?
LMUD found local attorney Eugene Chittock to take Frank Cady's place after Cady was fired
What have you done for your District lately?
Supervisor Wosick presents Supervisor Pyle an award for 15 years of service.
The Joke:
Wosick starts off with
"I'd like to give you this
Certificate of Resignation"
Watch Wosick's Mistake in Part 1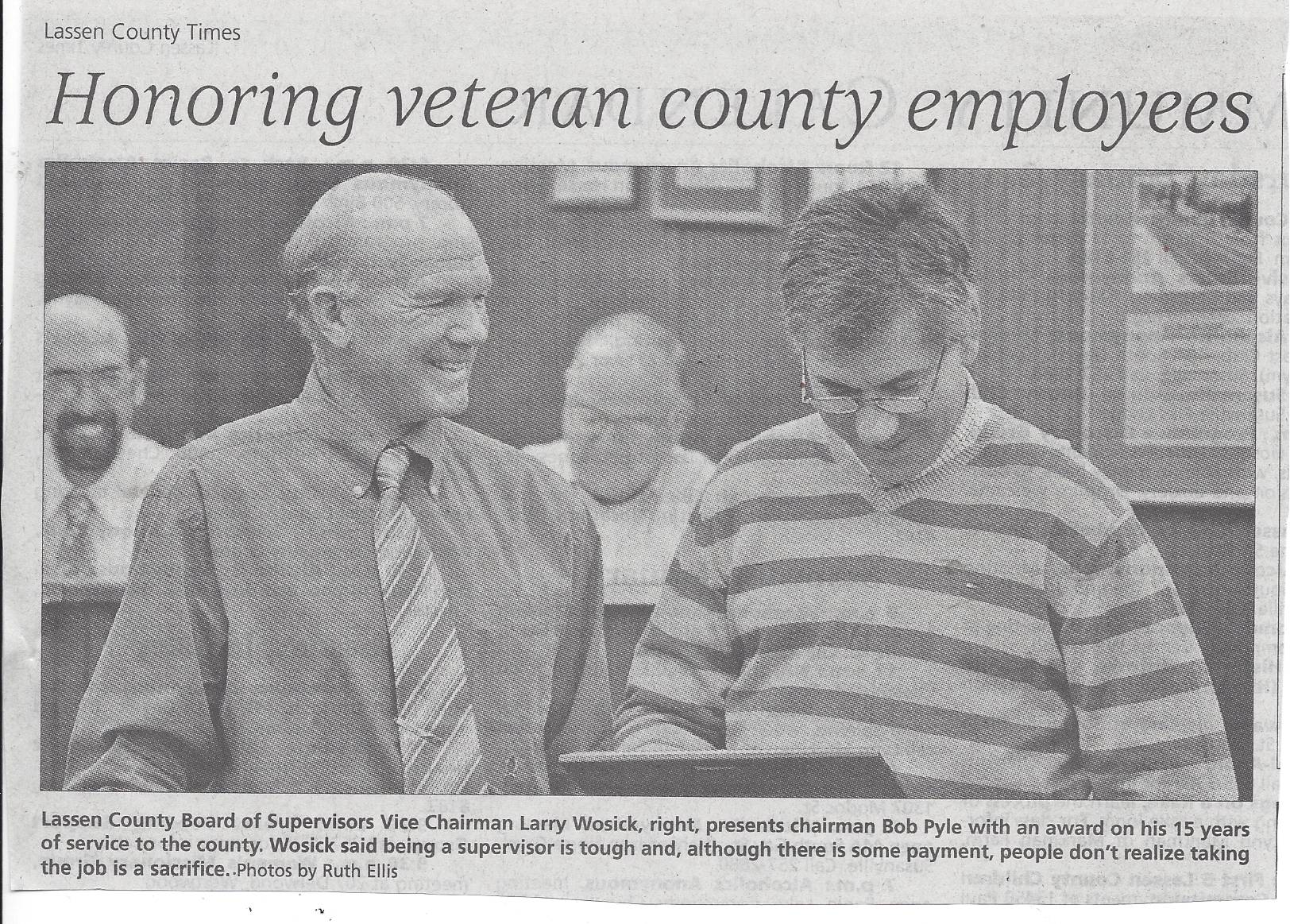 The pay is not "some payment" but, in fact, is a substantial salary and benefit package.
Pyle receives $50,871.58 (salary/benefits). Supervisor Wosick receives $40,956.70, Supervisor Albaugh receives$62,589.48 [based on paystubs].
The County Ordinance states that all five Supervisors shall receive $35,485.
All three are millionaires
Each of the five Supervisor's Districts represents a little over 5,000 registered voters.
Bob Pyle won his seat by a very questionable 27 votes.
There were irregularities, in that election, that were reported to the Secretary of State [a memory card seal, that records the votes, was replaced]
Will Lassen County be able to get a new County Clerk/Election Officer in the June election?