THE BULLETIN BOARD
kanwehelp.com
page one
"People have got to know whether or not their President is a crook", President Richard Nixon, November 17, 1973
RICHARD NIXON RESIGNED ON AUGUST 9, 1974 IN DISGRACE
The Lassen County Original Bulletin Board
daily news & current events
Free Pink Hat Pattern Trump Travesties

ARCHIVES:
Sam Williams
Editor of the Lassen County Times filed a lawsuit against a Kan We Help member for Defamation
and LOST SC 60880 Judgment in favor of Spencer
Kan We Help began receiving demands, in January, for retractions. All of these cryptic threats to Kan We Help came from skywatersam@gmail.com . Kan We Help could not identify "skywatersam" and ignored the threats, but the threats continued and then "skywatersam" demanded $10,000.

Sam Williams, Editor of the Lassen County Times served a lawsuit on Eileen Spencer on June 27 at the Grand Opening of the new Honey Lake Valley community pool where she was receiving an award. Sam Williams filed a libel and defamation lawsuit against Eileen Spencer, a Kan We Help member.
The Judge determined that nothing on the Kan We Help website was defamatory or libelous.
Sam Williams drew public outrage for printing and reprinting one person's "Letters to the Editor" week after week after week. Kan We Help believes that the Williams agenda was to increase circulation. To support this belief, Sam Williams published a letter again from this same person, on August 22, 2017. Williams, then proceeded in the very next issue of the Lassen County Times, published a half page of complaints about why he allowed another factless, religious, racist letter. The "public" again expressed their outrage when Williams continued to post these vile letters. Kan We Help believes this person had the right to racist remarks but Williams took the chance that the public would agree with it. They didn't..............
Kan We Help posted fair comments about issues of public interest about Sam Williams failure to follow the Lassen County Times policies and Sam Williams just didn't like it.
The judgment was based on Williams failure to prove by a preponderance of evidence that Spencer wrote any of the posts on Kan We Help's website, that the posts did not rise to the level of defamation and that Williams did not provide any evidence of economic damages. SC 60880 Decision
An Editor of a weekly newspaper didn't know the difference between defamation and extortion...........or did he?ACCOUNTABILITY THROUGH EXPOSURE
Lassen County Board of Supervisors
Mandated
November 21,2017 Meeting Agenda
NOT POSTED
Do the people NOT MATTER?
The public has been notified that there would be a meeting on November 21, 2017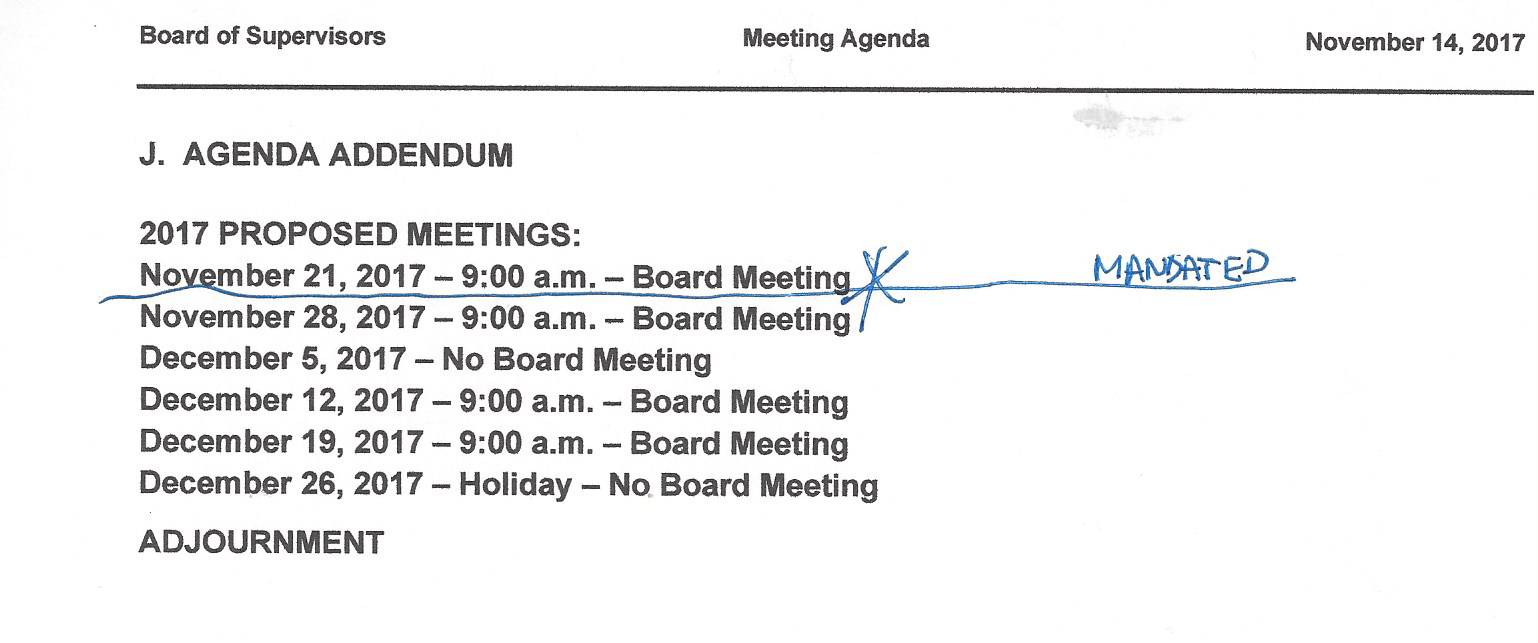 As of November 19, 2017, NO PUBLIC NOTICE of a cancellation ?
The November 2, 2017 meeting is mandated by Resolution 15-051
THE NOTICE IS MANDATED BY THE BROWN ACT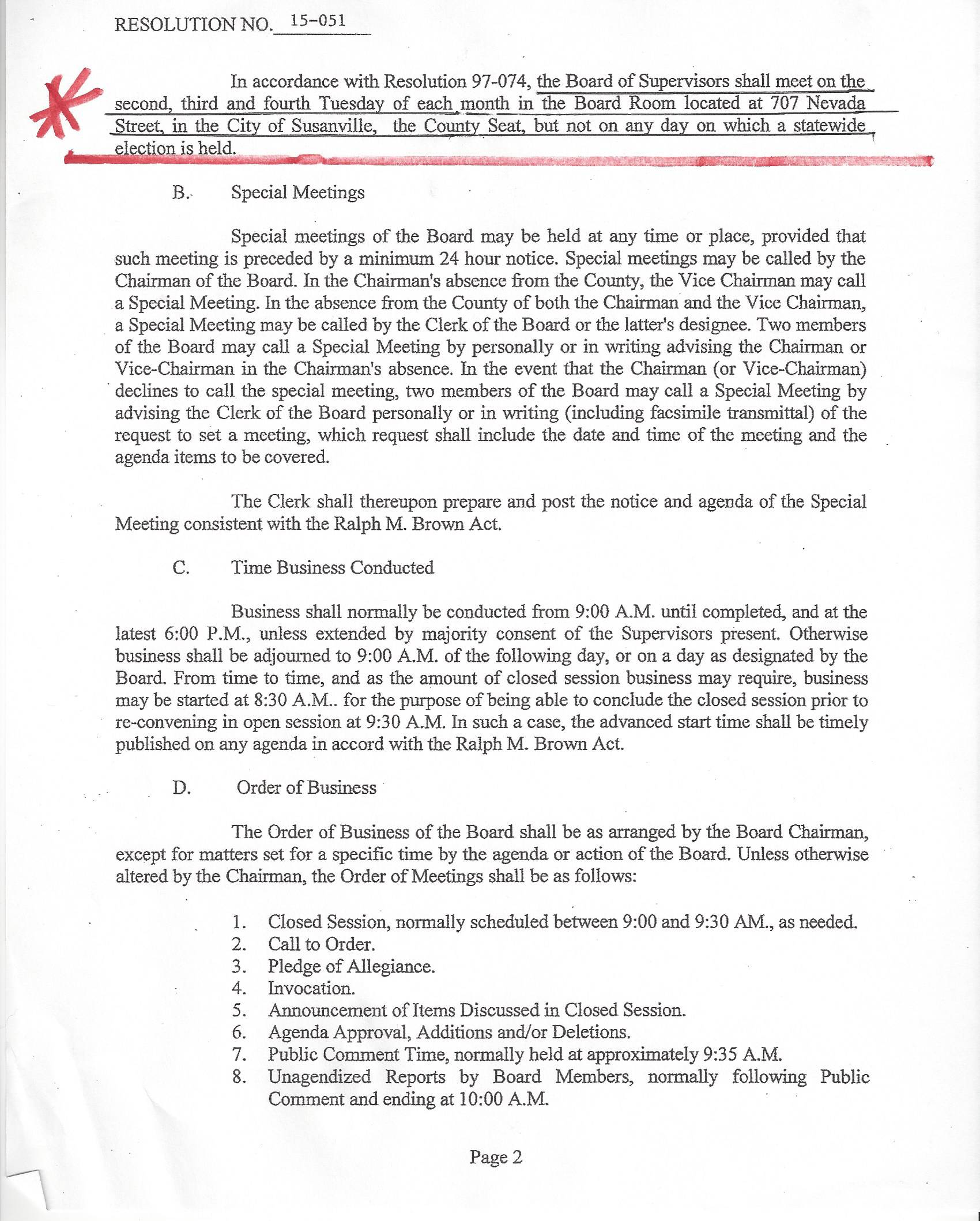 New policy, NO. This Board of Supervisors did this for
the July 18, 2017 meeting also
If the public has no access to public information the Supervisors can do anything they want.....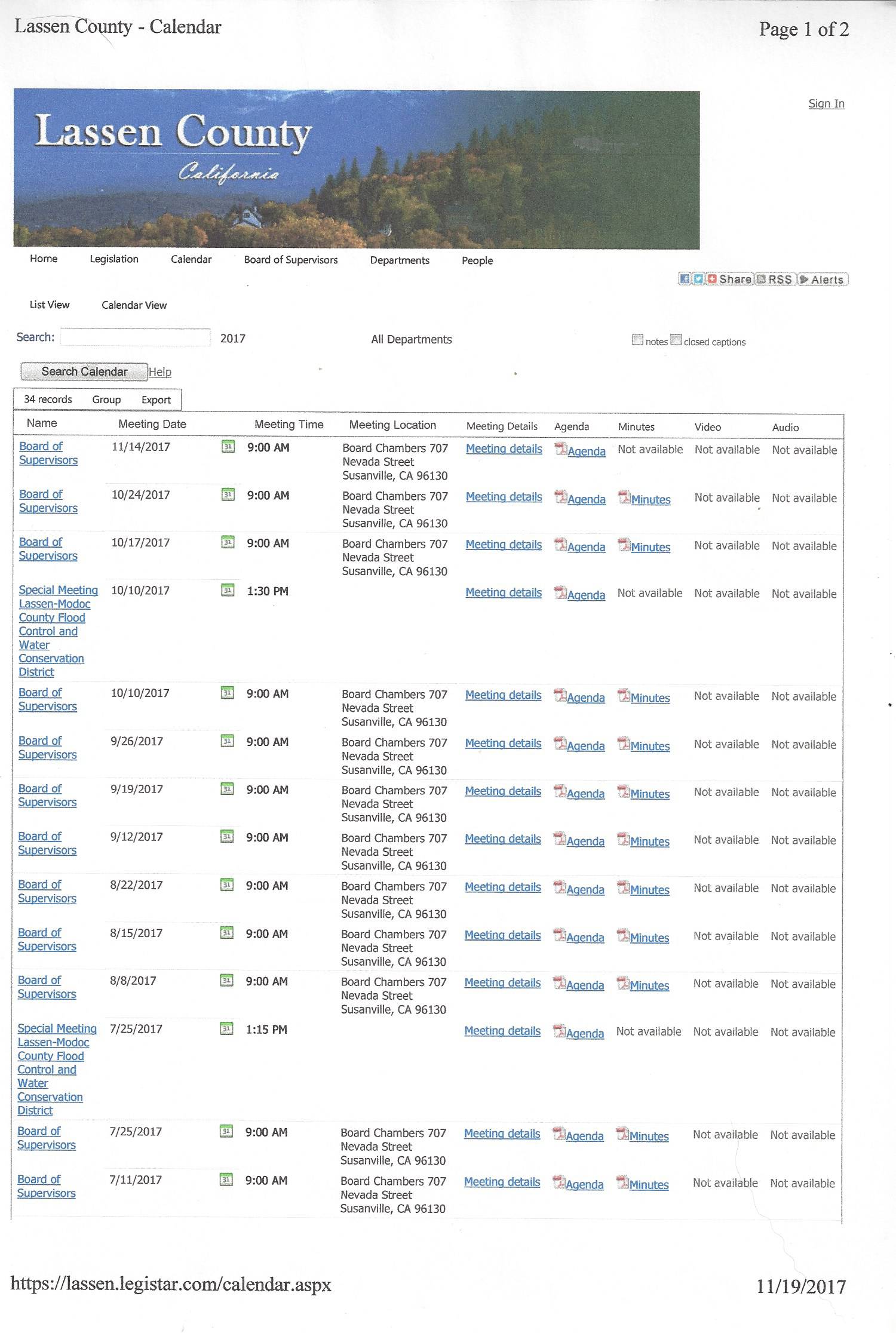 SHAMEFUL BUT EXPECTED
....TRADITIONALLY, ANYTHING THAT WILL HURT THE MIDDLE CLASS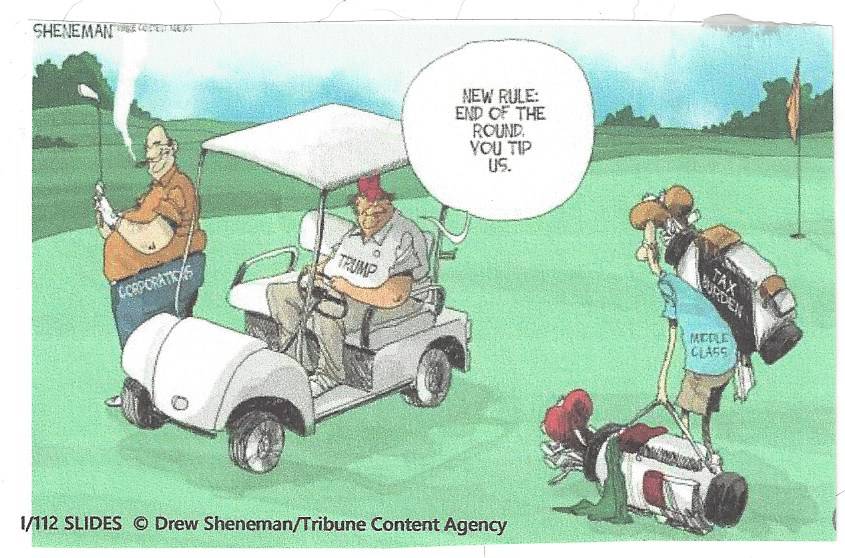 REPUBLICAN SENATORS TAX PLAN
REMOVES
MORTGAGE INTEREST DEDUCTIONS
PROPERTY TAX DEDUCTIONS
AND
FEDERAL MANDATED SUBSIDIES FOR ACA
THIS THROWS 13 MILLION AMERICANS
OFF HEALTH CARE
HR 1 passes
227- 205
LaMalfa again votes yea
NOW IT GOES TO THE SENATE?
The 115th Congress, ruled by Republicans, hit a snag on
the added amendments for their "Tax Cuts for the Rich" but still passed the grossest tax bill in the history of the United States
Republicans vote for a $1.5 trillion increase in the debt to pay for the tax cuts for the rich.
NOT ONE DEMOCRAT VOTED FOR THIS
Cuts to Medicare/Medicaid to pay for
the richest 1% of Americans tax cuts
The REPUBLICANS added: terminate the Federal Subsidies for the Affordable Health Care Act. They have presented this over 67 times since 2009 and it has failed 67 times.
62% increase in the sign-ups for the Affordable Health Care
Republican Senator Mitch McConnell claimed, at a press conference, that the House Bill will increase middle class taxpayers taxes by $4,188.
THE REPUBLICANS JUST TOOK AWAY TEACHERS DEDUCTIONS FOR SCHOOL SUPPLIES
Kan We Help Exposed Lassen County's
Attempt to Devalue Property
in Order to
Scam the State of California
$25,000,000 to develop a vocational center for the Lassen County Jail, but the land must be unencumbered.
IT IS NOT !
NO

W THE COUNTY IS IN A PICKLE !
The Lassen County Supervisors, on November 14, 2017, are going to be faced with a rather daunting decision. Do they go ahead and pursue this deception and risk litigation from Western Alliance (Lender of the $4,080,000

) by devaluing the 23.45 acre collateral (see 2015 parcel map below) to 2.54 acres ?
Richard Egan, CAO, has not, as of this post, notified the Lender in regards to the collateral being devalued............?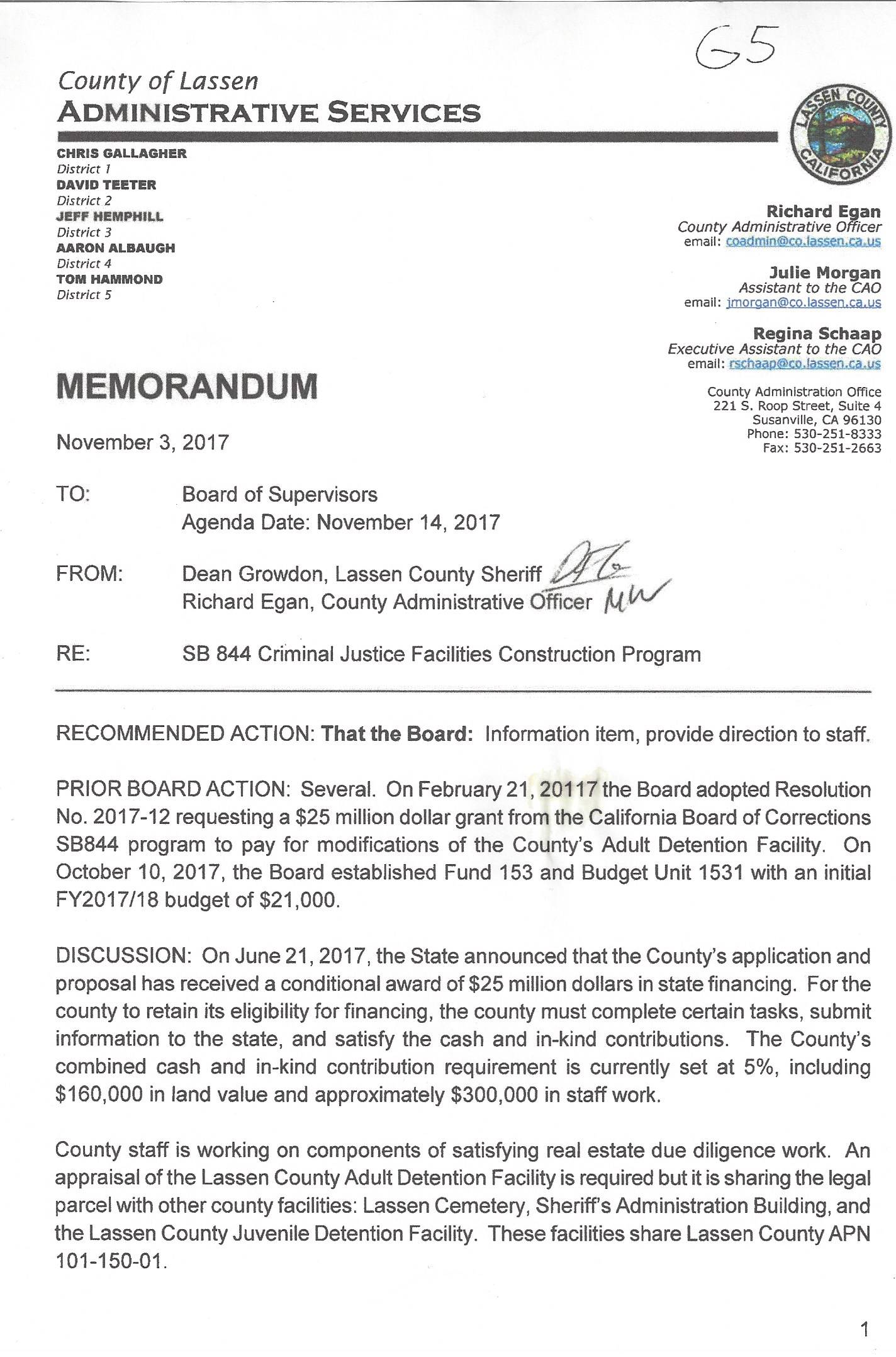 The Supervisors placed 22 agenda items in the November 14, 2017 Consent Calendar in which they deny comments from the public. This was placed as G-5 in the Consent Calendar for a reason...so the public could not comment
SUCH A HUGE BROWN ACT VIOLATION
Kan We Help made this presentation on 9/19/17, at the Board meeting , but you will not see a word about it in the Board of Supervisors Minutes or the Lassen County Times. Just the normal suppression in Lassen County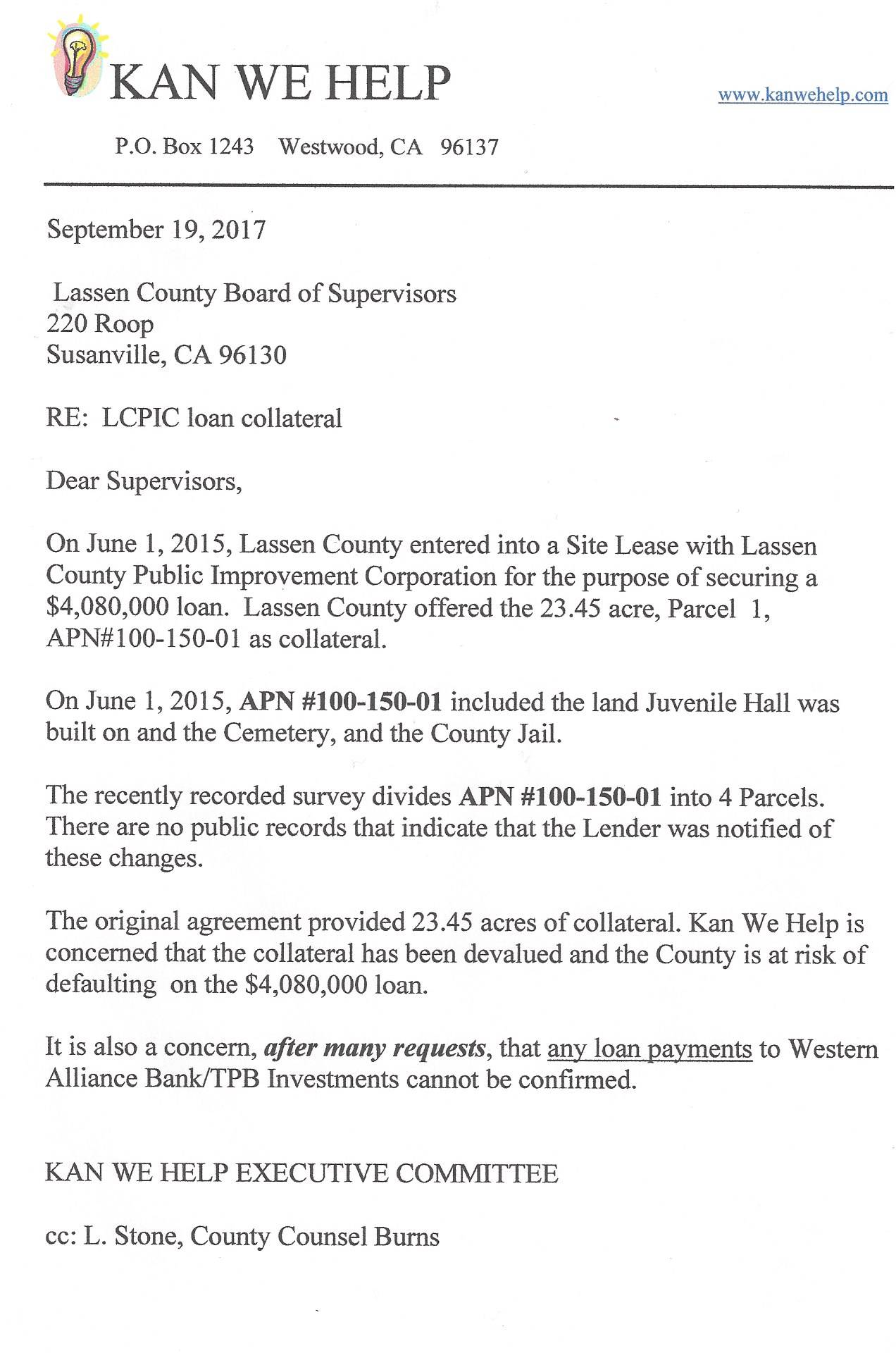 The Lassen County Supervisors took out a Certificate of Participation loan on June 5, 2015

. They used Parcel 1, which is a 23.45 acre parcel that the Juvenile Hall sits on as collateral for the $4,080,000 loan.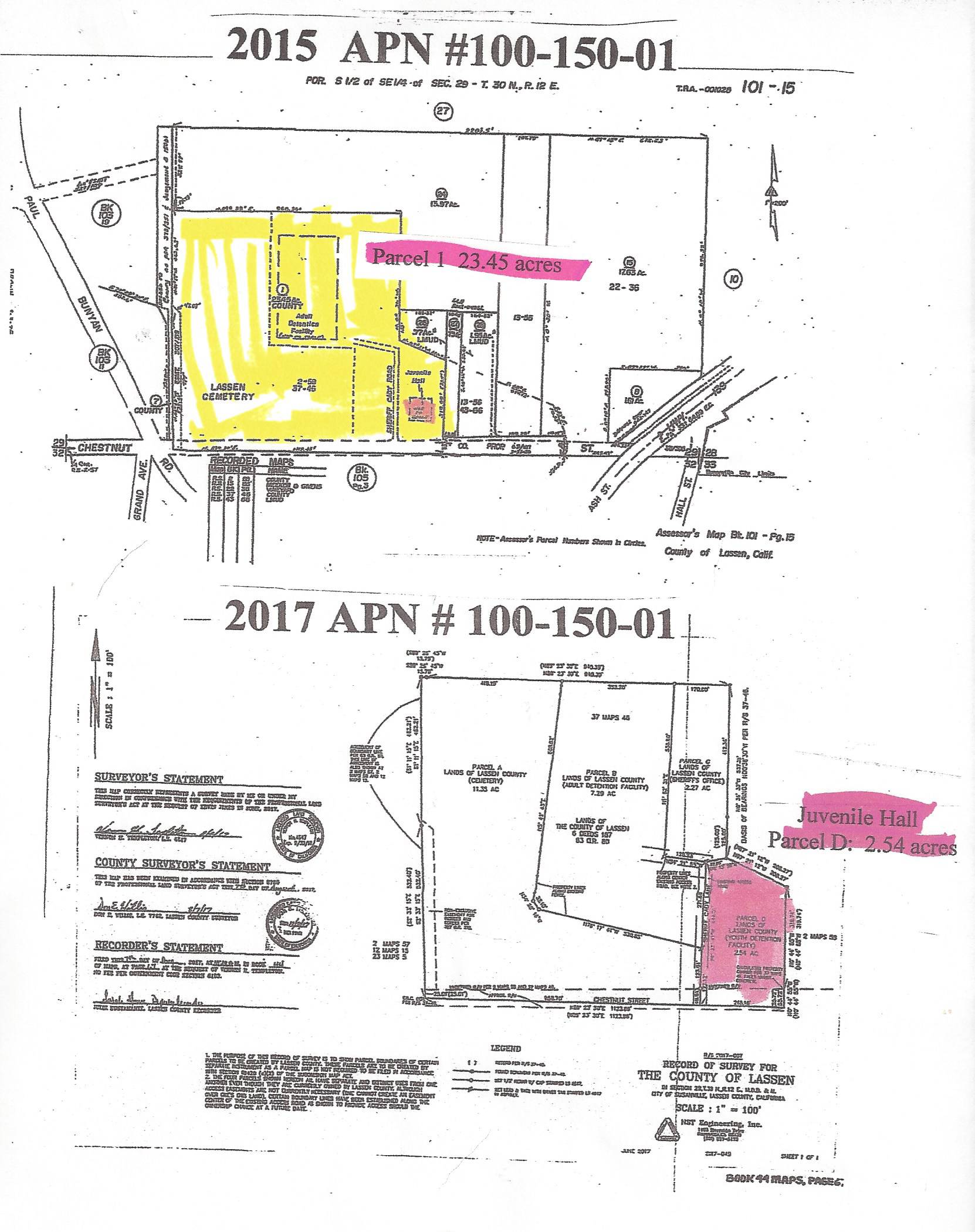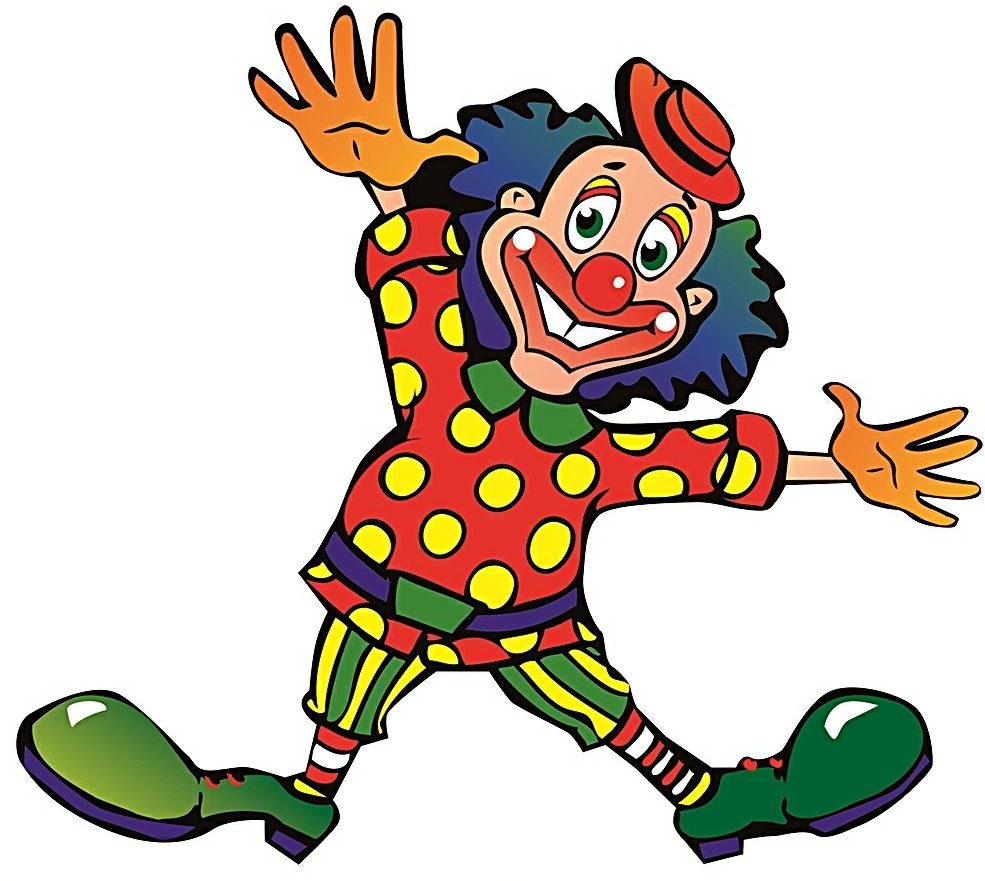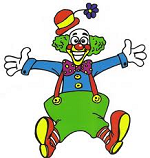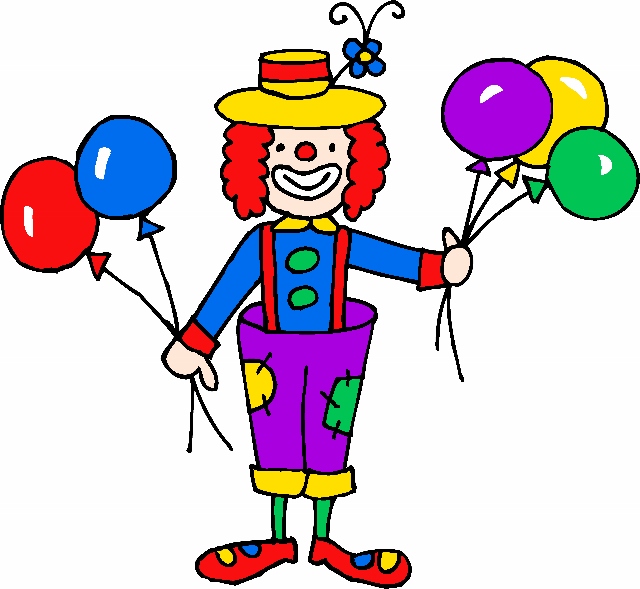 Clown like Court procedure
sets Wayne Cramer free
all three agreed.......the Devil made him do it
Between the visiting judge, public defender and district attorney......Wayne Cramer, with an extensive history of violence was released for a week to get his dog out of animal control and then dismissed all charges against him except the "resisting arrest" charge. He was sentenced to 100 days in the County Jail and must return on November 9, 2017 to finish his sentence (which he won't serve)
This is the criminal history of this Westwood man. The numerous complaints from Westwood residents were not considered.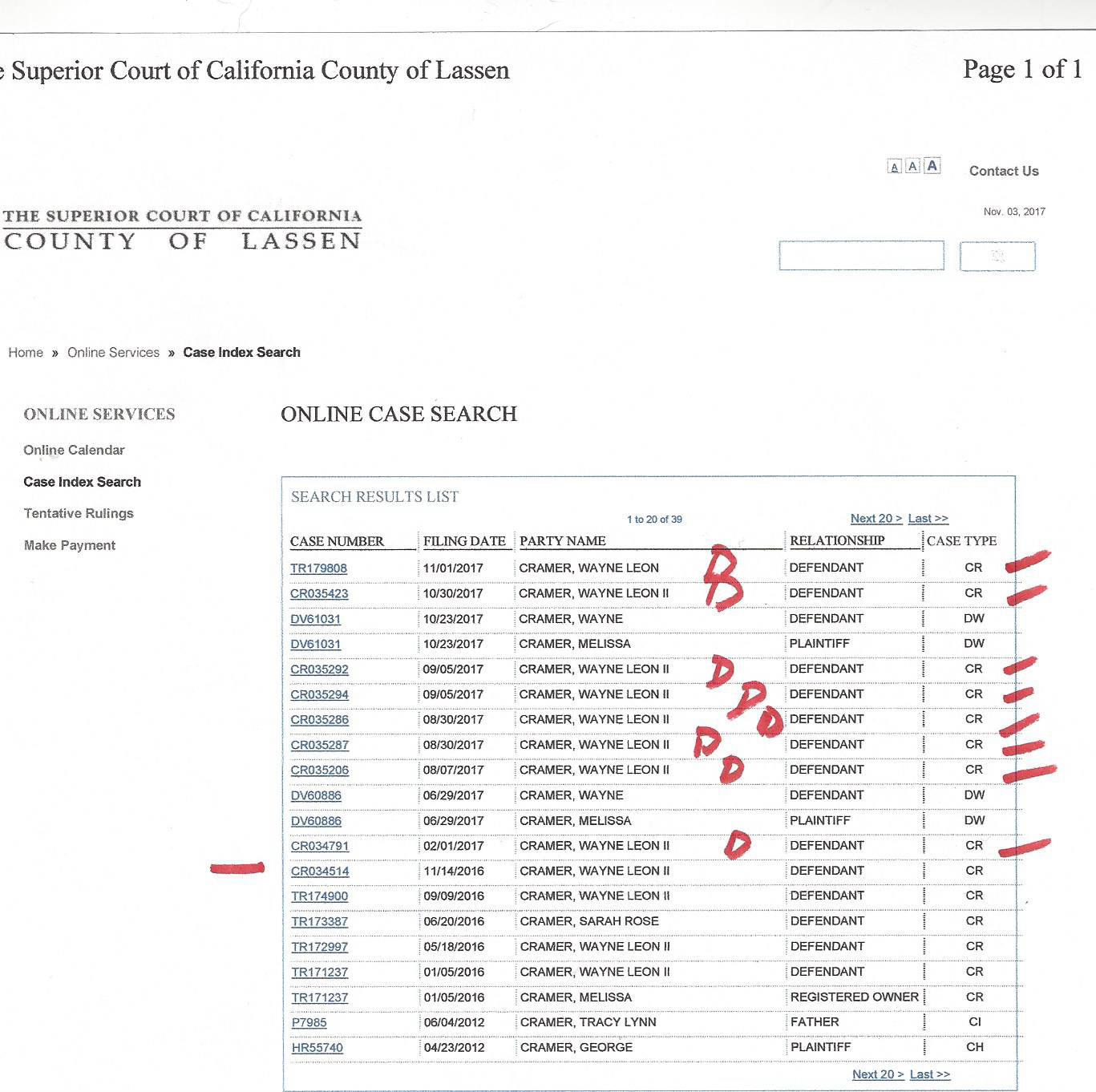 LASSEN COUNTY SHERIFF DEPUTIES RISKED THEIR LIVES TO APPREHEND CRAMER ONLY TO BE INSULTED WITH THE COURT'S ORDERING A FINE OF $542 and 100 days in jail which he will not serve !!!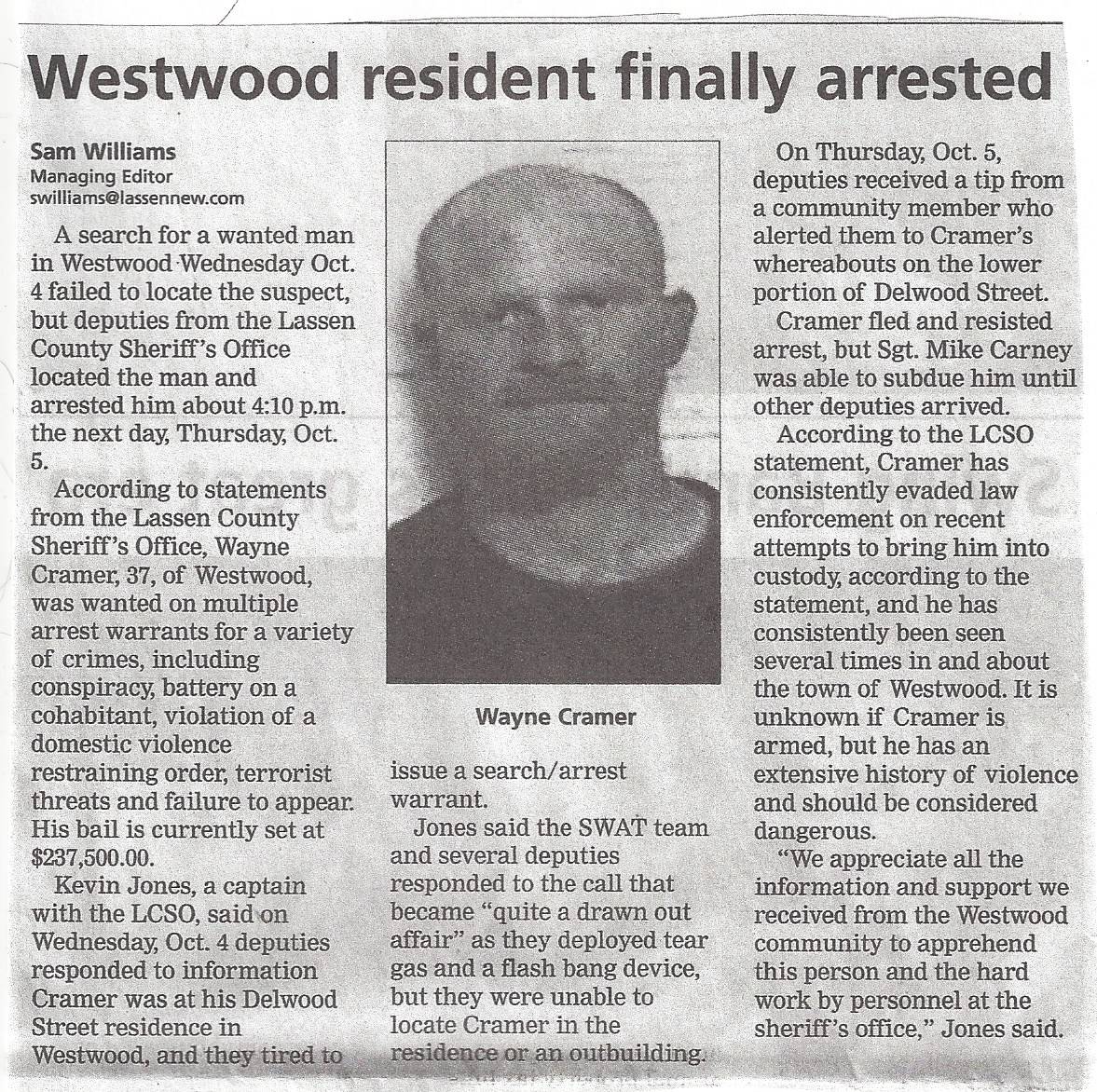 IT NOW IS STANDARD PROCEDURE, FOR THE DISTRICT ATTORNEY, TO DISMISS SERIOUS CHARGES AND ALLOW CRIMINALS TO GO FREE.
THIS DEFENDANT HAS ADMITTED MENTAL ISSUES BUT STILL WAS RELEASED INTO THE COMMUNITY BY THE DISTRICT ATTORNEY, PUBLIC DEFENDER AND THE JUDGE ON HIS OWN RECOGNIZANCE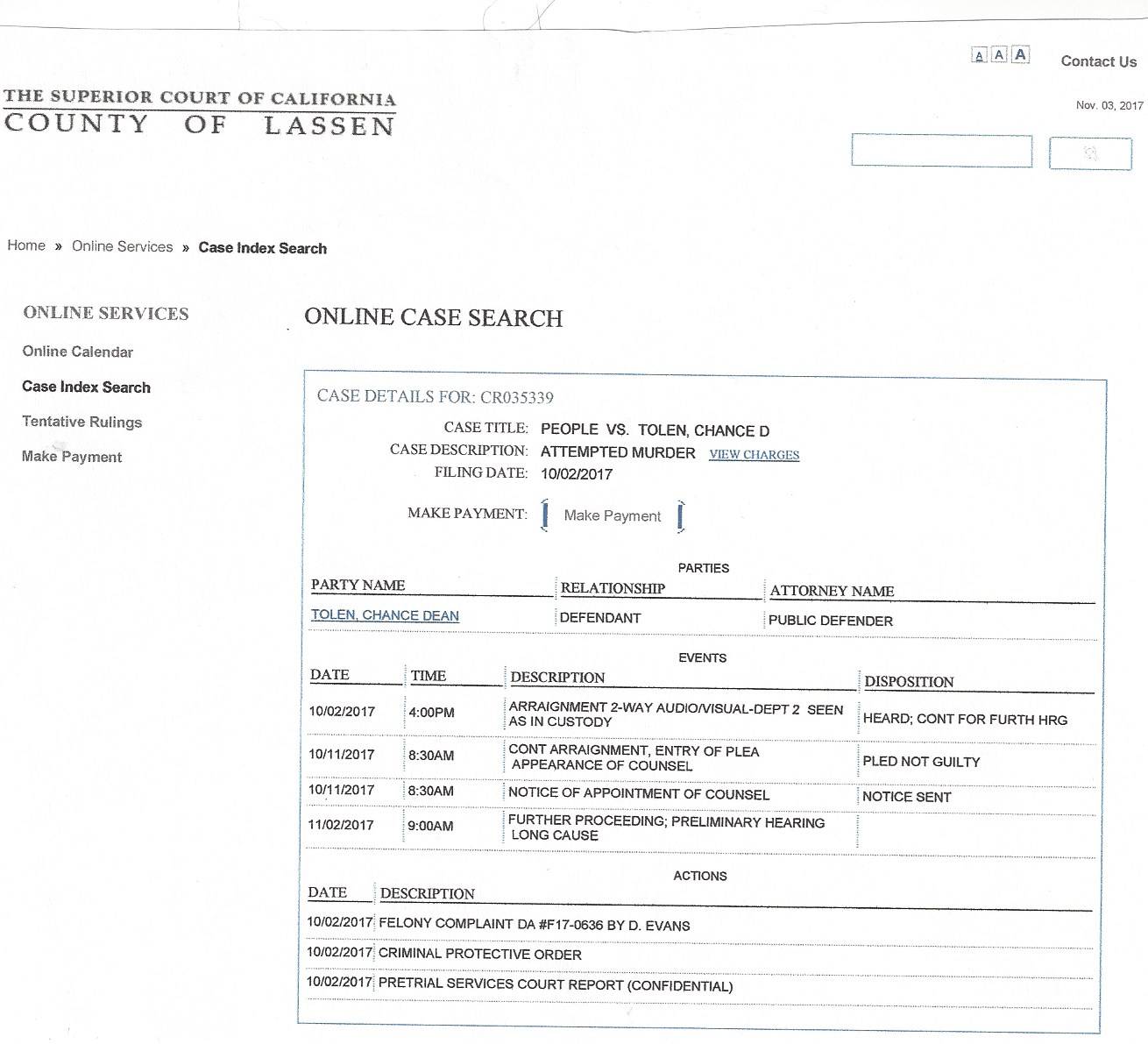 No letter,
No Commitment,
No Money......?
Lassen Municipal Utility District has lived in controversy since they tried to raise rates 162% after they lost $8.7 million dollars
According to Lassen County CAO Richard Egan, the LMUD General Manager Doug Smith has not sent Lassen County a Board mandated letter stating that they can financially clean up their Hayden Hill property.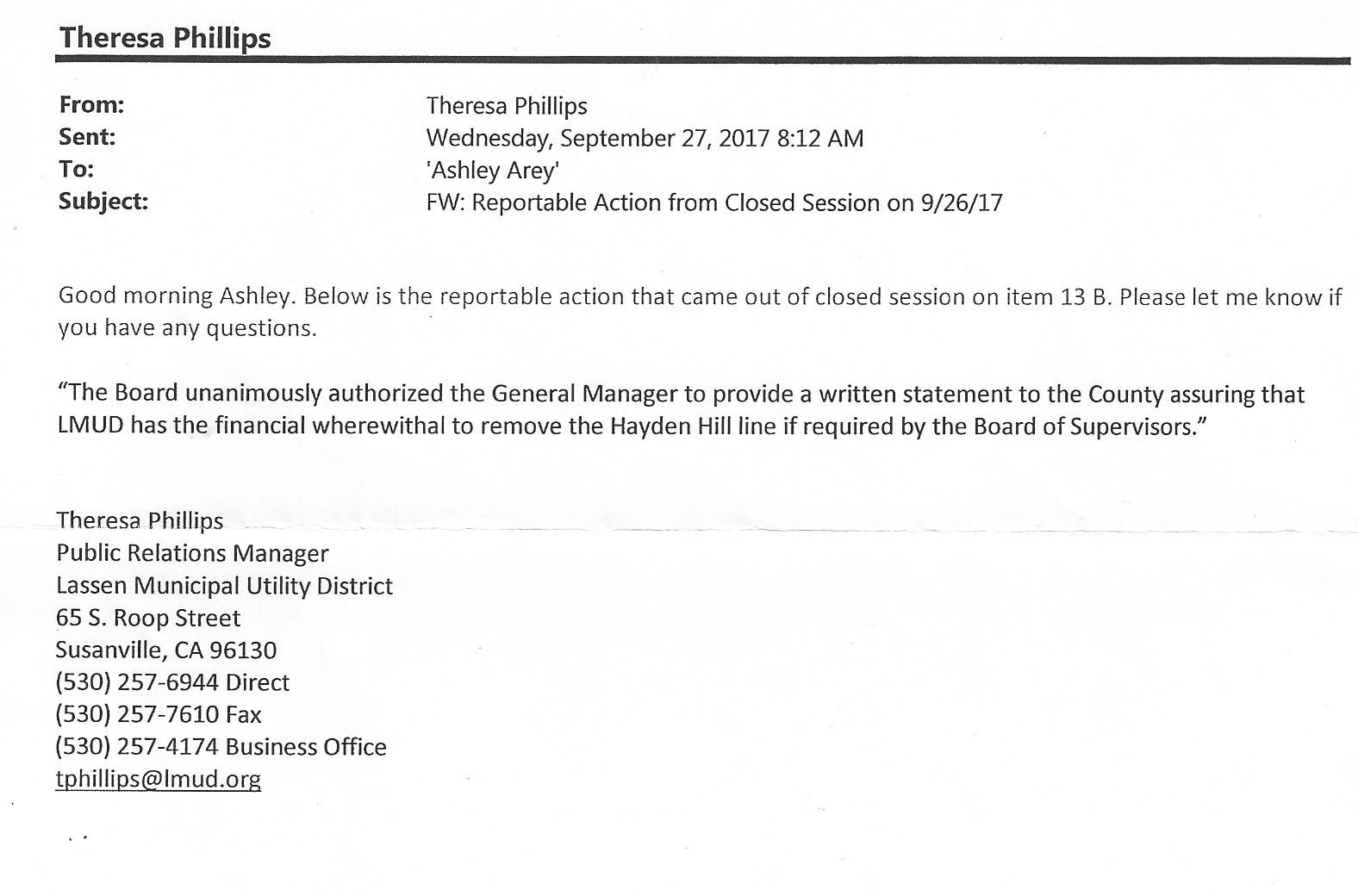 The clean up is more than removing the power lines.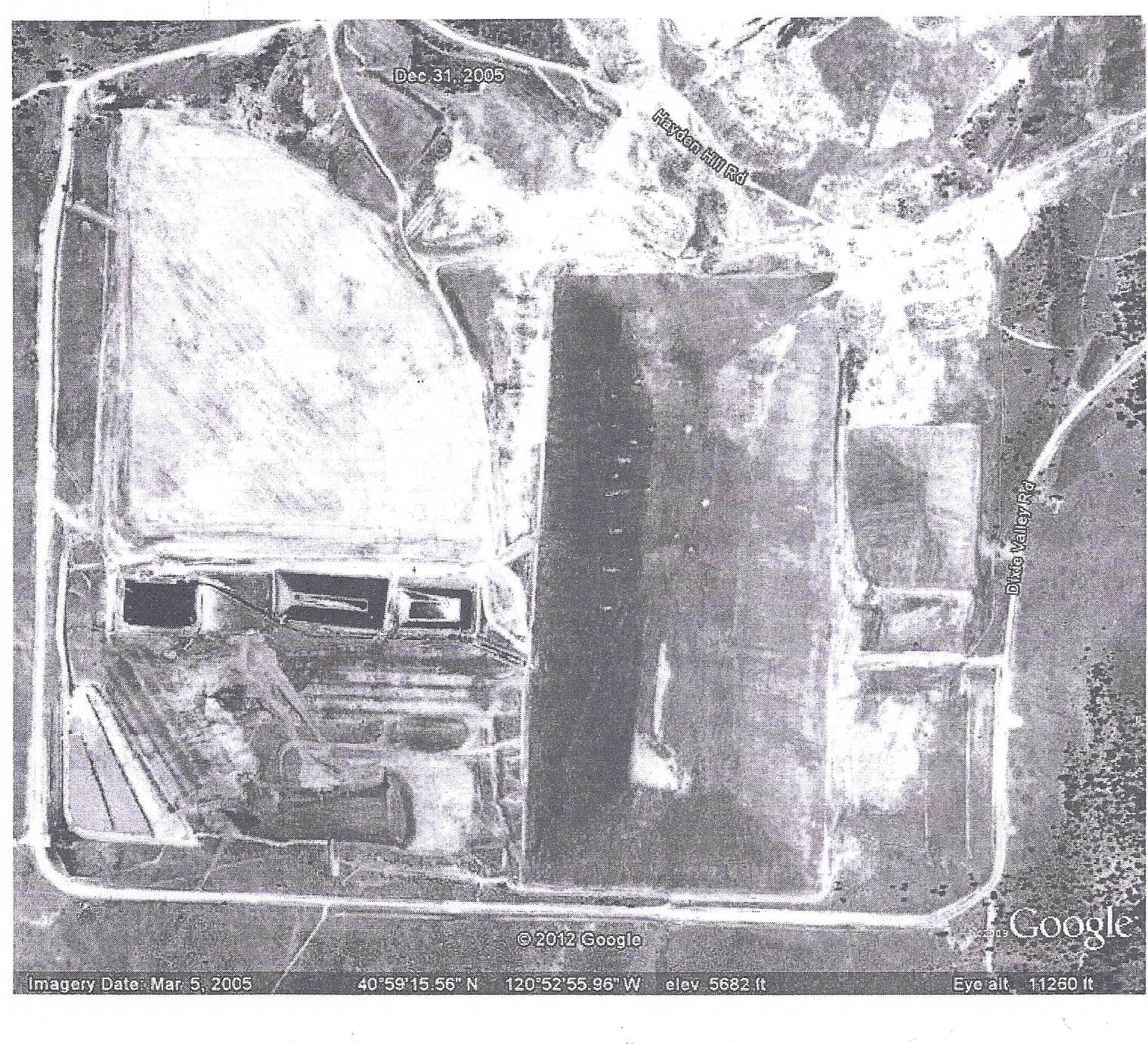 Lassen County holds a $3,000,000 bond for the LMUD clean-up. This "Bond" was required under Lassen County's Reclamation Plan when LMUD purchased this property for $65,000 from Kinross Gold in 2007.

LMUD has now amassed $10,000,000. This is $8,500,000 over what they are required to have in reserve.
LMUD, over the years has been promised pie-in-the-sky million dollar upgrades to LMUD's infrastructure by energy companies. They wined and dined the LMUD Board & coerced LMUD to spend thousands of dollars on "their" studies (which were never released).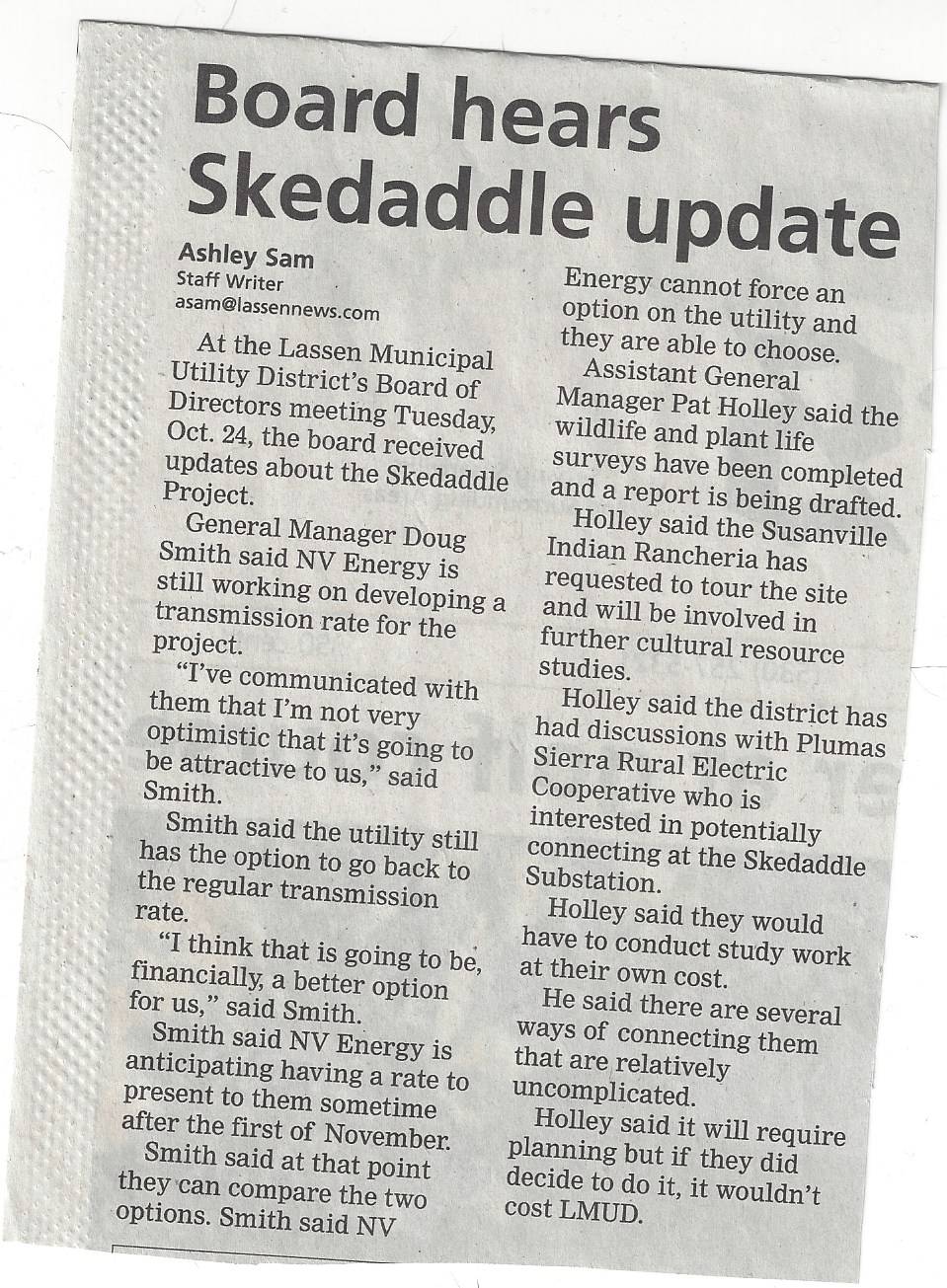 ...IT WOULD COST LMUD NOTHING?
THE RATEPAYERS HAVE HEARD THAT FOR THE LAST 20 YEARS...
LMUD got nothing, for the dozens of studies they had done for these "energy companies"
NOTHING !
Spend millions on the
LASSEN COUNTY MANDATED CLEAN-UP
for their Hayden Hill property
or
millions on
BUILDING NV ENERGY'S
NEW LMUD VIEWLAND Skedaddle Substat
$$$$$$$$$$$$$$$$$$$$$$$$$$$$
NV ENERGY CONTINUES TO LOBBY LMUD
TO PAY FOR BRINGING THEIR POWER INTO CALIFORNIA
NEW LMUD VIEWLAND Skedaddle Substationn
230kv Substation land only
Cost: $250,000
Purchased: November 1,2016
736-415 Wendel Road
241.88 Acres
Today Senate Republicans pass a Budget (51-49) that increases
the National Deficit by $1.5 trillion dollars after they defeated Rand Paul's Amendment of increasing the Deficit by $2.5 trillion.
The reason: A volley of "pork" Amendments by Republicans
All you "limited" government advocates can kiss your tax cuts GOOD-BYE
by the way, this budget also includes a $1 trillion cut to Medicaid (ACA funding)
and $500,000 million from Medicare (Seniors benefits)
KAN WE HELP ASKS COUNTY TO EXPLAIN ERRORS
ON THE
2950 RIVERSIDE BUILDING PAYMENTS



This presentation was made in the Public Comment portion of the Agenda, on October 17, 2017 Board of Supervisors meeting, but will be, as usual, deleted from the official Minutes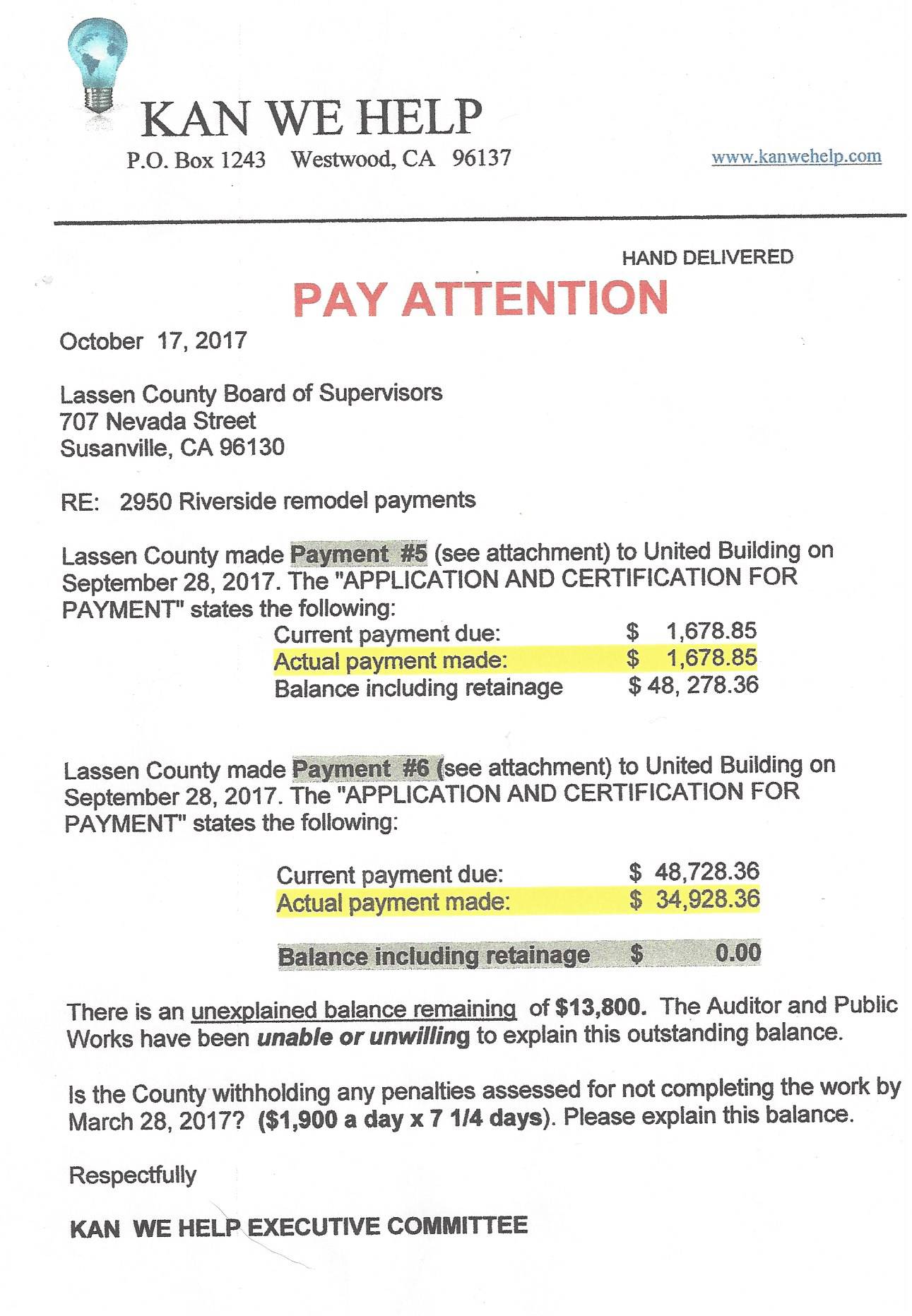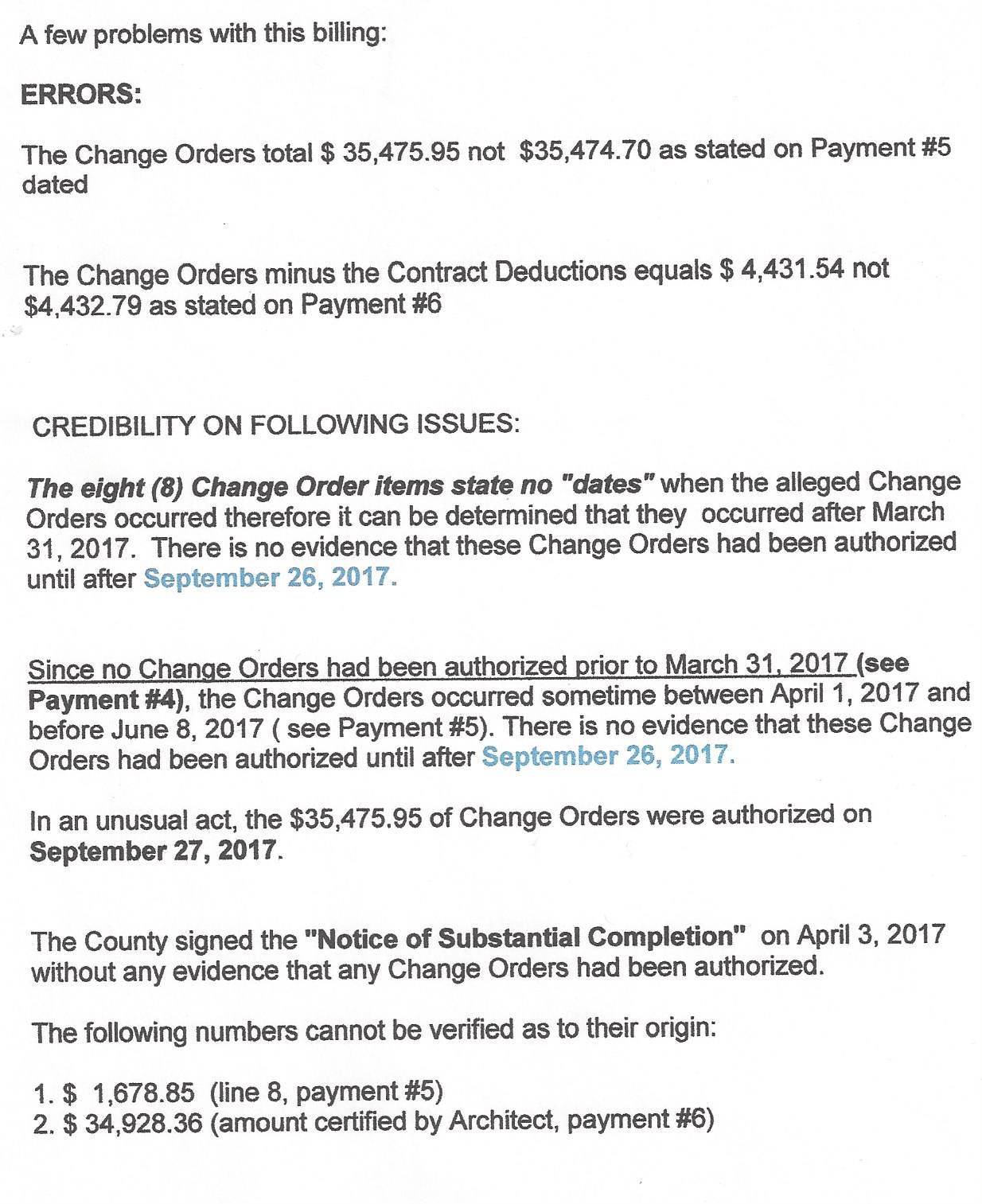 DID LASSEN COUNTY TIMES REPORT MISLEADING INFORMATION or DIDN'T RESEARCH BEFORE THEY PUBLISHED?
Lassen Municipal Utility District's September 26, 2017 Agenda
LMUD NEVER SENT ANY LETTER.
In a response, to a Public Records request, LMUD confirms no such letter exists.
QUESTION REMAINING:
DOES LMUD HAVE THE MONEY TO CLEAN UP THE *HAYDEN HILL SCAM?
* Fred Nagel, Frank Cady & Bill Stewart conspired to sell the Willow Creek ranchers power from the Hayden Hill power lines. Lines that had been taken down by the previous owners of the Kinross Gold mine. The Nagel group was charging $30,000 for a lie. The Hayden Hill power lines were serviced by Surprise Valley Electric District, not LMUD. LMUD never provided any power for the ranchers nor did they return the money.
Lassen County Planning and Building Services confirmed that they never received such a letter confirming that LMUD had the money to clean up Hayden Hill.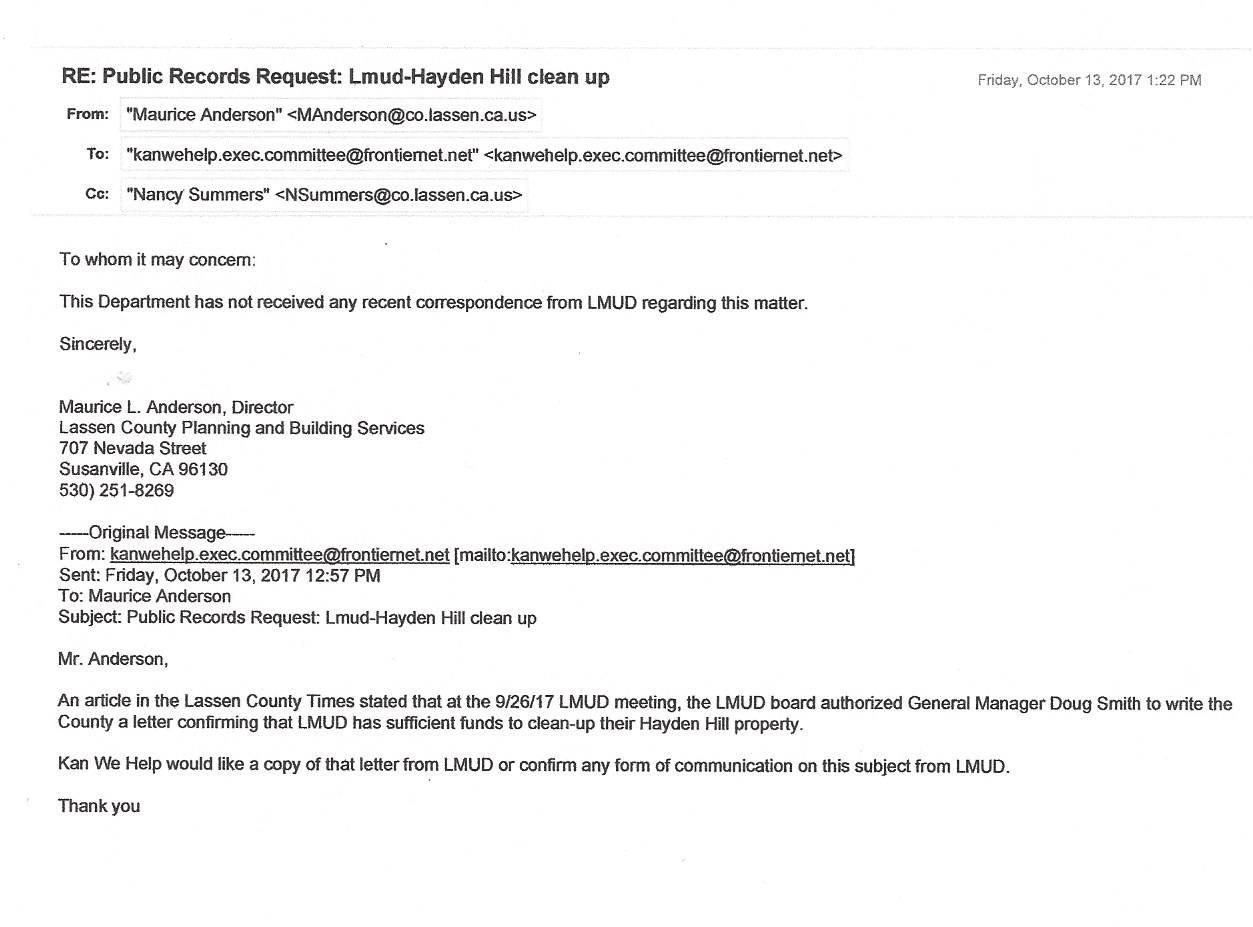 Trump surrounds himself with people that want to destabilize the United States government
But why start with hurting the poor. 70% of those benefitting from the Federal subsidies are in states that supported Trump
Is Trumps contempt for Americans so great that he will continue to destabilize our foreign policy (Iran, N.Korea...and our allies?) and domestic policy (American healthcare) ? What about Trump's trampling on the First Amendment? He hates the truth and is moving to a State controlled press. Sound familiar? If it doesn't......look really closely at his boss, Russia's Putin.
The small percentage of people that Trump panders to, the White Nationalists who represent white supremacy and the representation of the Tea Party/Freedom Caucus in Congress that wants to eliminate the federal government cannot be allowed to destroy our democracy. Those that can remember the John Birch Society should be concerned. Those that don't know the history, look it up....we have Google now.....
TRUMP INTENTIONALLY INJECTED UNCERTAINTY INTO THE HEALTH CARE MARKET TO END THE AFFORDABLE CARE ACT WHICH GIVES MILLIONS OF AMERICANS HEALTH INSURANCE.
Trump's Press Secretary just released a statement that according to the Justice Department (Jeff Sessions) the Federal Government does not have to continue to payFederal Subsidies for the poor.
If Trump enacts this policy, this will end the Affordable Care Act and health insurance for millions of Americans.
TRUMP HAS DONE NOTHING
in 9 months but
HURT AMERICANS...just because he can
How or who can stop this insane man?
LASSEN COUNTY'S MONEY PIT
There was a real good reason why Bureau of Land Management moved out of 2950 Riverside. Nothing worked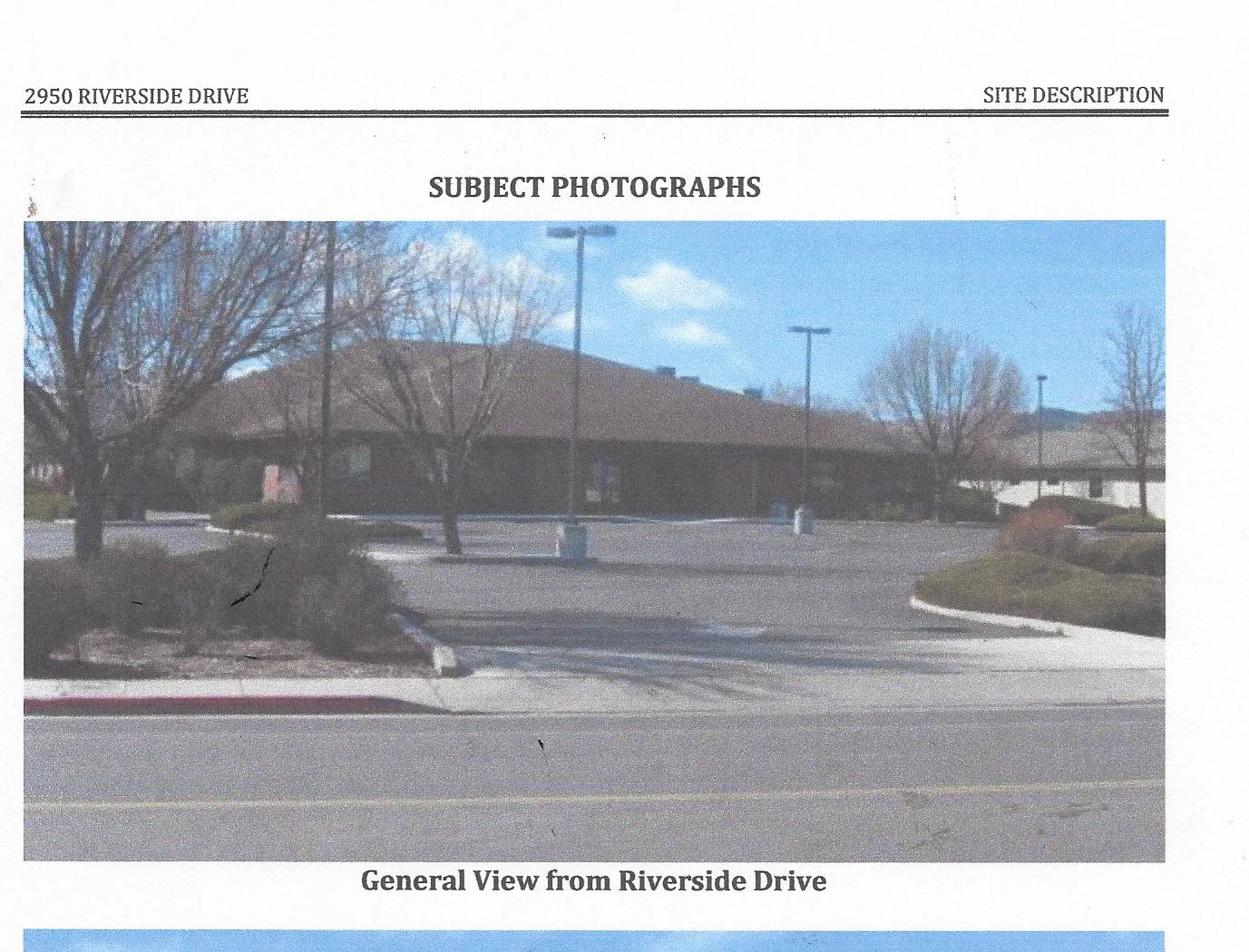 Lassen County purchased this 17,714 square foot building without any inspections. That fact by itself was irresponsible and you have to ask yourself.......WHY?
After spending over $2,500,000 on this property it continues to be a money pit of repairs. The IT company practically lives at the building. The electricians are trying to figure out why the motion lights don't work and the heating and air conditioning is sporadic at best.
Lassen County issued a Notice to Proceed to the Contractor on November 28, 2016

and stated that the project must be completed no later than March 28, 2017. The County signed a Certificate of Substantial Completion on April 3, 2017

. The building was not fully functional but the County moved all four Departments into 2950 Riverside on April 28, 2017 anyway.
The Change Orders were signed on 9/28/2017

, five months after the County departments moved in and the building continues to have major problems. The final (?) payment to Modern Building (contractor for 2950 Riverside) just didn't add up and the County has not responded to explaining the final payment.
Payment #4 April 20, 2017 $409,182.34
Balance $54,840.00 ($48,640 is the retention)
*Payment #5 September 28, 2017 $36,607.21
*8 undated Change Orders, $35,475.95 with 3 contract work deductions, $39,907.49 equals an additional amount owed to the contractor of $4,431.54
The Lassen County's Administrative Officer is moving money around to even make the $300,000 annual payments on the $4,080,000 2015 loan.
The County has sunk over $2,500,000 into this building and the taxpayers need to know about this gross mismanagement