FIGHT BACK
This page will report all problems that involve consumer fraud and businesses that are not reputable. If you have had problems with a business, first report it to your local District Attorney. You don't have to be ripped off.....fight back.........
.......and you don't have to shop there !!!!
If you are not happy with the performance of any elected official...don't keep re-electing them
WARNING to LASSEN COUNTY RESIDENTS
If you need an attorney, hire one outside of Lassen County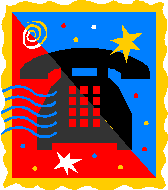 These Area Codes are from foreign countries and are used for scams: 242 Bahamas, 246 Barbados,268 Antigua, 284 British Virgin Islands, 349 Cayman Islands, 441 Bermuda, 473 Grenada, 649Turkey, 664 Montserrat, 721 St. Maarten, 758 St. Lucia, 767 Dominica, 784 St. Vincent & Grenadines, 809, 829, 849 Dominican Republic, 868 Trinidad & Tobago, 869 St. Kitts & Nevis, 876 Jamaica
If you don't recognize the phone number, don't answer
Bias and Prejudiced Judges
Fight back, complain
Write: Commission on Judicial Performance, 455 Golden Gate Avenue, Suite 14400, San Francisco, CA 94102
Phone: 415-557-1200
Safe and Free Credit Report
annualcreditreport.com
TODAY, 10/20/09: Citi Bank announces that they have released
22 Billion Dollars in corporate Bonuses
Citi Bank has not paid back their TARP money (taxpayer $381 billion)
OUTRAGED !!!!!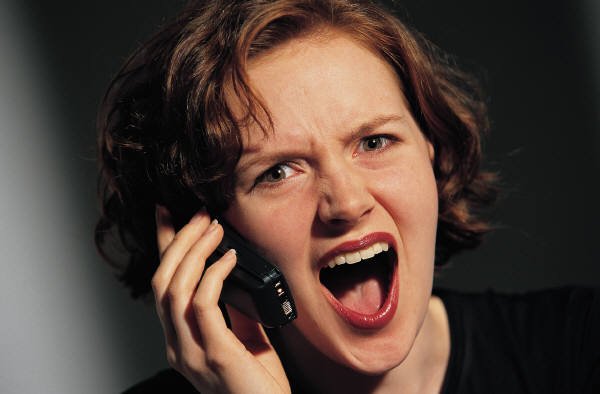 HAD ENOUGH !!!!!
Call Citi Bank toll free: 1-866-915-9424
Write Citi Bank: Customer Service, P.O. Box 6218, Sioux Falls, SD 57117
TODAY: Citi Bank sent notices to all of their customers
raising their interest rates by 12% due to "increased business expenses".
Senator Dodd's credit card reform bill passed on May 22, 2009 and was signed into law by President Obama. This new law prevents credit card companies from increasing rates to their customers for "business expenses". Unfortunately, this law does not go into effect until 2010.
THE BAILED OUT BANKS CONTINUE TO ABUSE CONSUMERS
$23.7 BILLION DOLLAR POLICIES
"Citi" group is the worst of the worst
1. Immediately after the bank bailout, the banks sent letters to their consumers announcing rate increases. Some rates reached 37.9%.
2.These same bailed out banks are charging anywhere from $35-$39 for late fees and overdraft charges. This is a $23.7 billion dollar policy.
3. Consumers are reporting that banks are holding customers credit card payments until after the due dates in order to charge late fees.
4. Consumers are being charged interest on these late fees and overdraft charges. $4.3 Billion dollar policy
5. Banks are charging $5.00 to $15.00 for payments by phone or internet payments.
1. Call your Senator or Congressman and report abuses. Congress is working on legislation to stop these abuses. They need to hear from you. Congress is working on a bill to prevent abuses by credit card companies, but it doesn't go far enough.
2. Call your Credit Card Company and demand a reduction in your interest rate.
3. Call your Credit Card Company and ask that the late charges be taken off and ask for a refund on the interest charged on those late charges.
Be pro-active, it works
4. Congress passed a law on 9/15/09 so Credit Card companies cannot charge any fee for phone payments.
5. Send your payment with "delivery confirmation" if your Credit Card company is holding your payments in order to charge late fees.
6. STOP USING THESE CARDS and shop around for credit cards with lower interest rate. Credit Unions are the most affordable or local banks.
Mortgage Companies insurance Scam
Mortgage companies have a new way to make money. They are sending out letters telling their customers that their insurance policy has lapsed. Then they buy insurance for you and add the premium to the loans.
The problem is that the insurance policies have not lapsed.
The mortgage company then sends out a loan modification agreement to take the insurance premium off your loan but the real reason is that they change your mortgage rate.
READ THE FINE PRINT
PHONE "BILLING" SCAM
ESBI is billing phone company accounts from $11.95 to $14.95 a month for "Emergency Voice Mail" services that were never ordered.
This bogus company calls you and verifies who they are talking to and verifies your phone number and then bills your local phone company (cell phone numbers are vulnerable also) a monthly charge until you cancel it. ESBI does not offer any services at all but is allowed to send bills to your local phone company as a "BILLING AGENT".
CALL YOUR LOCAL PHONE COMPANY AND TELL THEM THAT YOU WANT TO BLOCK ALL "BILLING AGENT" CHARGES. THIS WILL STOP THIS COMPANY AND ANY OTHER "BILLING AGENT".
If you have ESBI "toll" charges on your account you can do the following:
Call 1-800-460-0078 and get a credit for all the months charged or FAX your request to 1-813-449-5163 or e-mail your request for credit to support@myNationwideAsist.com or mail your request for a credit to: ESBI, Processing Center, P.O. Box 15624, Clearwater, FL 33766.
If you are interested and have a few minutes to spare, Google ESBI. This is a nationwide scam.
Changing Satellite Companies may not be so easy.
DISH will not cancel an account but puts your account "on hold".
What happens, your service charges continue. If you pay by check every month, you're okay, but if you do auto-pay the charges continue on your credit card.
Consumers can write and dispute these charges by writing Dish at:
Echostar
Dispute Resolution
P.O. Box 9040
Littleton, Co 80120
or contact your credit card company and dispute the charges. Keep a record of who you talk to, the times and the dates.
Social Security Help
Rep. John Doolittle-(202) 225-2511
Senator Barbara Boxer-(916)448-2787
Senator Dianne Feinstein-(415)393-0707
LOTTO SCAM IN LASSEN COUNTY
Old scam...you send a check to them for $2,845.00 and keep their check for $2995.70. You must send your check before they authorize you to cash their check.
FIGHT BACK-THROW IT AWAY
Kan We Help called the 1-403-667-8720 telephone number. Here's the scam......A lady will answer the phone claiming that she is in Ontario, Canada. We gave her a phony name, phony "Winner Code" and "Reference number". She paused to verify it and then began to give instructions for the $120,000 prize.
She said that we were one out of 18 winners. The lotto was in Dublin, Ireland. She gave instructions to buy a Money Order for the $2,845 "clearance fees" and to call back with the Money Order number. Then, you are to mail the Money Order to
Cindy Huffan at 2540 Missan, Ontario, Canada, 83yin5
You are instructed to wait two days to deposit their check and not to tell anyone about the transaction. Your prize will then arrive by UPS. You must have two forms of identification.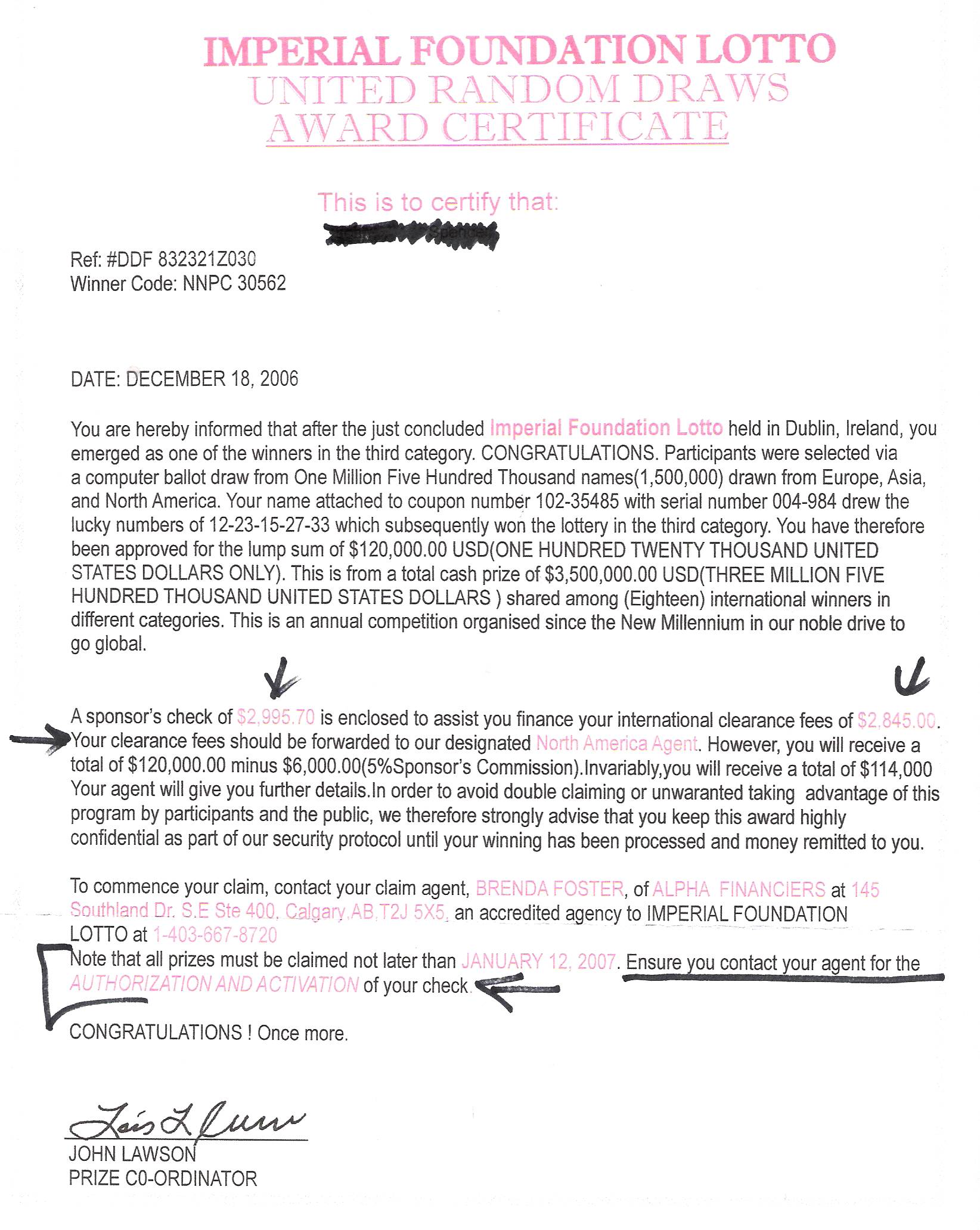 GRAND JURY COMPLAINT FORMS
Available at:
220 S. LASSEN STREET, STE. 6
SUSANVILLE, CA 96130
530-251-8228
Lassen County Bad Check Program
FIGHT BACK, Call the Lassen County District Attorney's office, for details, if you or your business have accepted a bogus check. Call (530)-251-8283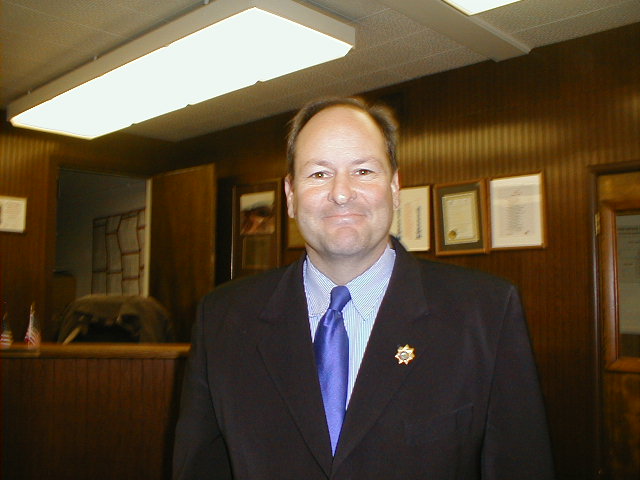 BOYCOTT WAL MART
It's true, Wal Mart is the Worst employer in the United States
Communities all over the nation are saying NO to Wal Mart stores.
They ruin communities and small businesses.
Lassen County, support your "local" businesses
DOG BITES
Contact Attorney Kenneth Phillips
Kenneth Phillips is regarded as the nation's leading authority in dog bite law. His practice is devoted exclusively to representing dog bite victims throughout the United States and is California's leading dog-bite lawyer.
Contact Attorney Kenneth Phillips for dog bite lawsuits e-mail: kphillips@dogbitelaw.com
Beware of DBK Solar Panels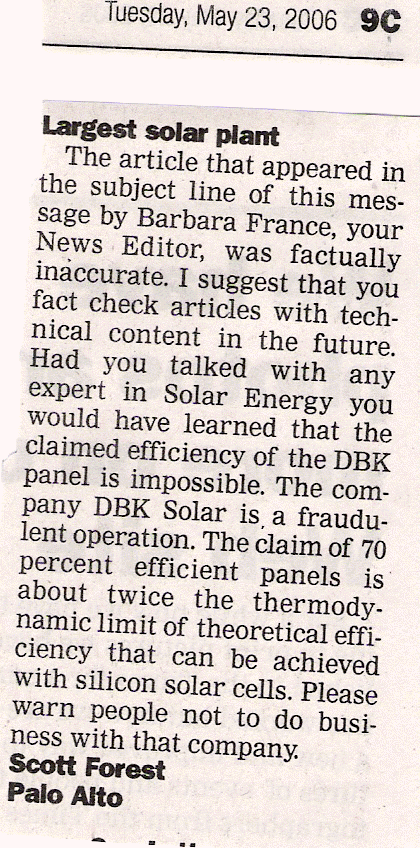 JURY SCAM
The Lassen Superior Court Jury staff does not call local citizens and ask for social security numbers, credit card numbers, bank account numbers or any sensitive information. If you receive a call from anyone claiming they work for the Lassen Superior Courts and they ask for sensitive information call the Jury Commissioner at 251-8109
INTERNAL REVENUE SERVICE
CAUTION
There is a virus being sent, allegedly from the IRS. DO NOT OPEN IT. It may be a scam or worse.....contain a fatal virus.
THE IRS ADDRESS SHOULD CONTAIN "irs.gov"
BANNER LASSEN MEDICAL CENTER
Banner Medical Center has a Complaint Coordinator. You can file a complaint with Pam Novosad. Ms. Novosad is Banner Medical Center's PFS Manager/Complaint Coordinator
Complaints can be filed at 1800 Spring Ridge Drive, Susanville, CA 96130 (530) 252-2000. There website is BannerHealth.com. . A letter can also be sent to the Department of Health Services, 1367 E. Lassen Avenue, Suite B-1, Chico, CA 95926. (530-895-6711
Bothered by telephone solicitors.
1. Register with the "Nuisance Calls" at 1-800-236-5688
2.Register also with the "National Do Not Call Registry"...............www.donotcall.gov
PUBLIC BEWARE
"SICK TV" TRUCK
Reno Small Claim Cases Filed Against This Company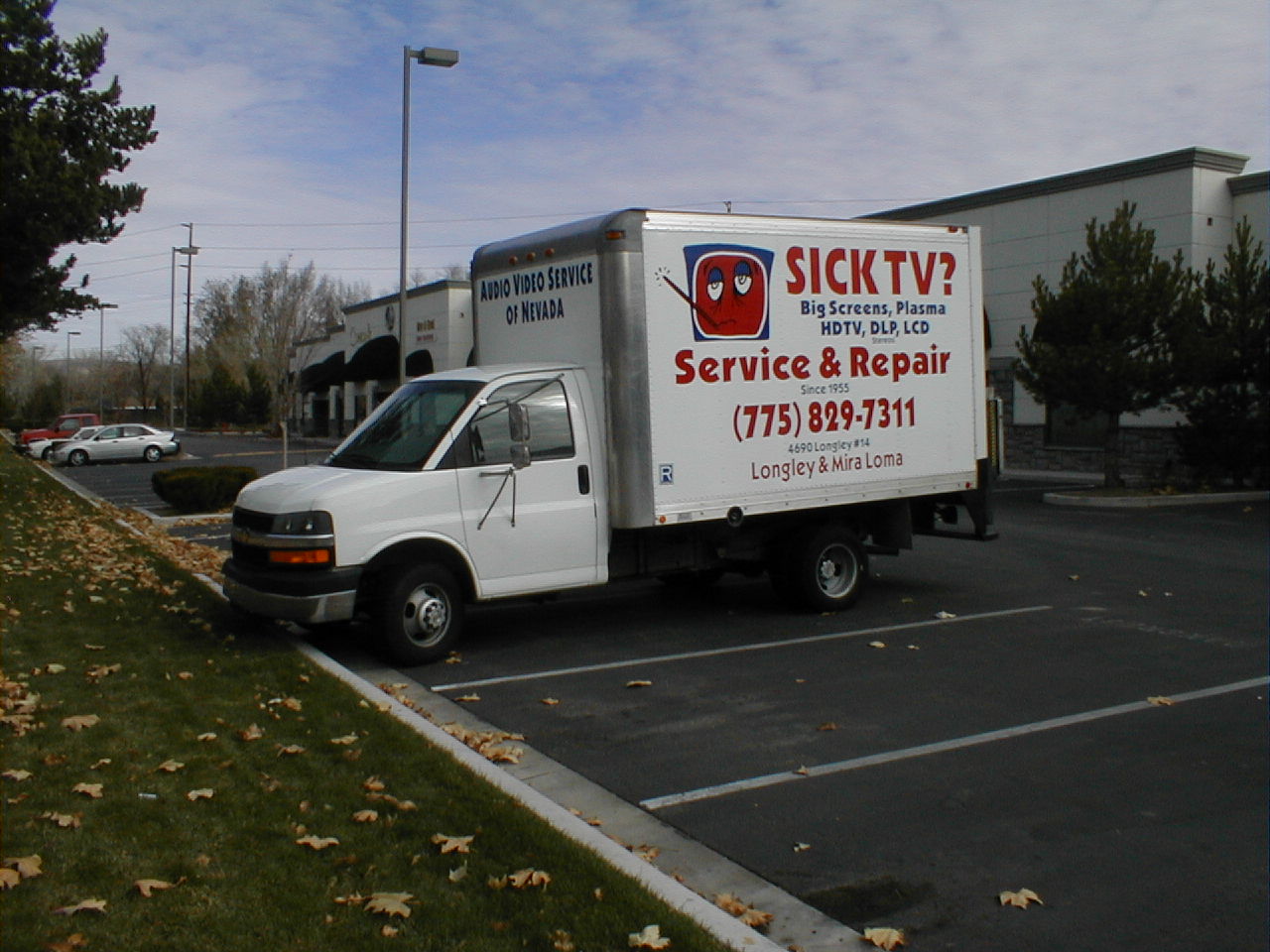 LASSEN COUNTY CITIZENS
Beware: "AUDIO VIDEO SERVICE, CO"
Confirmed Reno Business Licensed registered to James David Harwin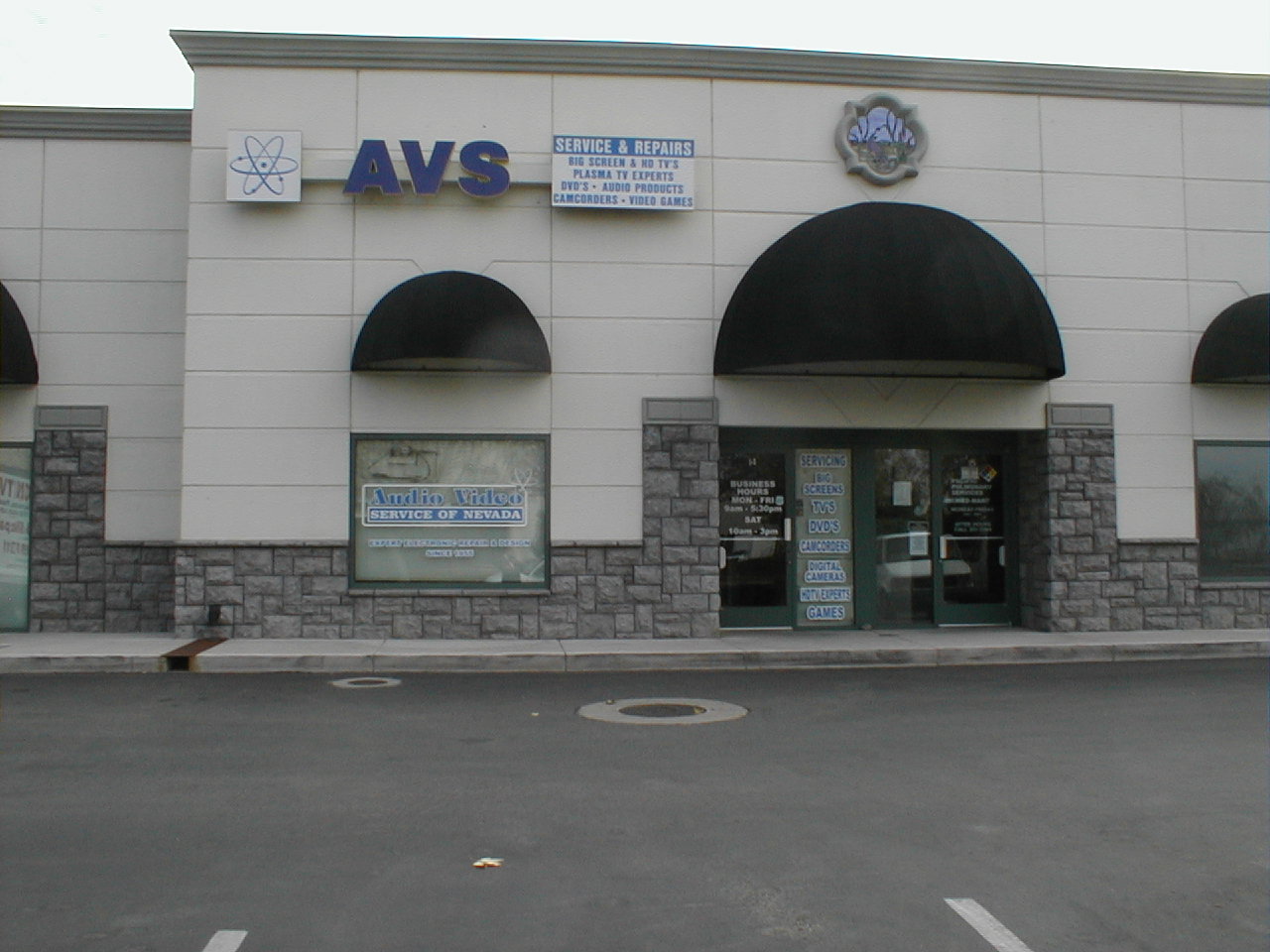 The Reno Better Business Bureau has 27 complaints filed against this company in the last three years. The Reno BBB has deemed this company as an "UNSATISFACTORY BUSINESS DUE TO THE FAILURE TO RESPOND TO COMPLAINTS". THIS BUSINESS IS NOT A MEMBER OF THE RENO BETTER BUSINESS BUREAU.
This is a "Sick TV", TV fixit truck, from Reno, that comes to Lassen County to fix TV's but they do not want to return the TV..... they quote a low price to repair the TV and then ransom the TV off for a higher amount. They don't take checks because they said that people stop payment on the checks..... No kidding......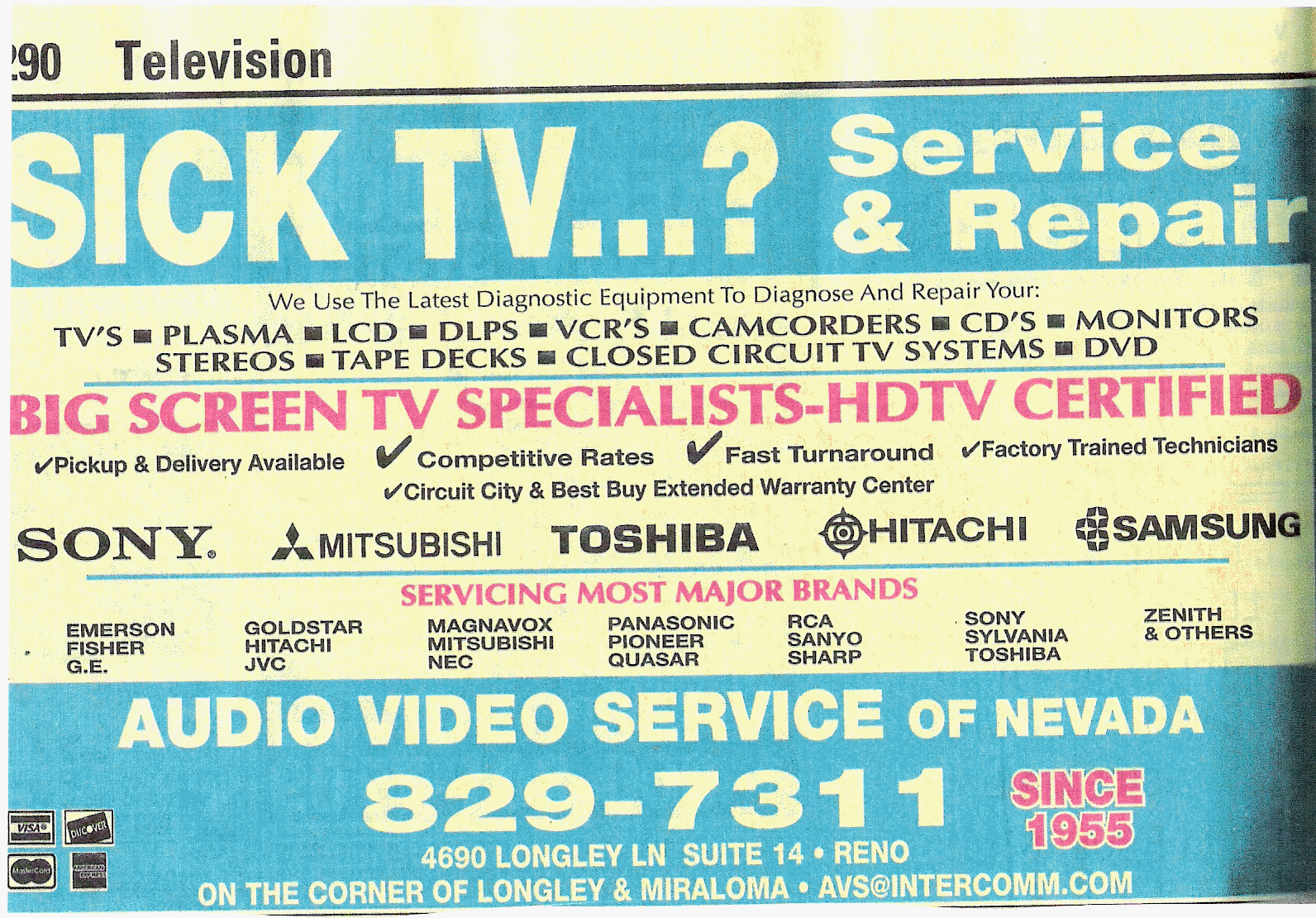 This company has had four complaints within the last six months (COPIES OF COMPLAINTS HAVE BEEN REQUESTED)
Nevada Consumer Affairs Division (775-688-1800) Form to file a complaint
Reno Better Business Bureau (775-322-0657) Form to file a complaint
If you are a victim and want to file a small claims action against this company: call the City of Reno Business Department, (775)325-6501. They will send you a packet to file a claim.
If you are a victim call the Lassen County District Attorney (530-251-8283) or the Nevada State Attorney General's office (775-688-1818) or Reno District Attorney (775-328-3200).
Confirmed Reno Business License registered to James David Harwin
Reno Business License #17267, expires 12/31/05
Audio Video Service, Company
4690 Longley Lane, Suite 14
Reno, Nevada 89502
775-829-7311