TRUMPS TRAVESTIES
If Trump doesn't stop lying he will be Americas first FAKE PRESIDENT
Serial Liar-in-Chief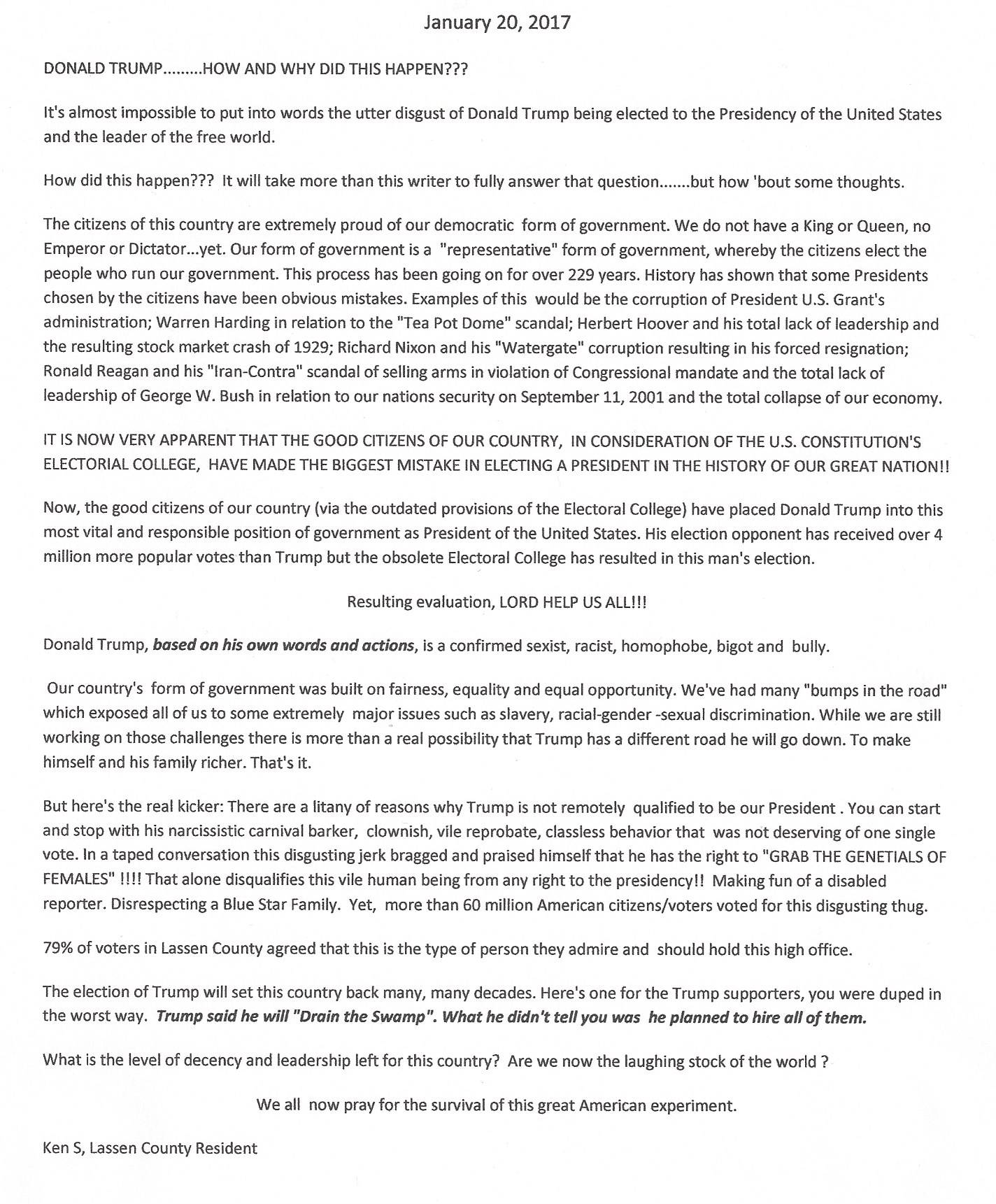 2017
*Unemployment 4.7 as of 12/30/16
War President in the first 100 days
January 20, 2017 to April 29, 2017
April
Trump includes tax breaks for himself and corporations including reducing corporate taxes from 35% to 15%. He is eliminating all tax deductions for the middle class and poor. TRICKLE DOWN IS ONCE MORE ON THE TABLE. He promised to release his taxes if he was elected and states now that he will never release them. Will the American people find out how much he owes to Russia and China? YES
This man will go down as the most crooked, most dangerous man in American history.
APRIL 29: TRUMPS FIRST 100 DAYS
SHUTTING DOWN THE FEDERAL GOVERNMENT
IS AN ACT OF TERRORISM
FACT: The United States government (Congress/Executive Branch)
is controlled by the Republi-Klans
"MEXICO WILL PAY FOR THE WALL"
***THAT LIE GOT TRUMP ELECTED***
TRUMP WANTS TO SHUT DOWN THE FEDERAL GOVERNMENT TO GET
15.4 BILLION DOLLARS TO PAY FOR THE MEXICAN BORDER WALL
BY CUTTING DOMESTIC SPENDING THAT WILL EFFECT EVERY SINGLE AMERICAN
Trump learns a new word, "armada". Trump announces that he is sending an "Armada" to Korea, when in fact the USS Carl Vinson Carrier strike group was heading in the opposite direction, 3,000 miles away. As usual, Trump blames someone else. Many are wondering just how STUPID this man really is
Trump signs Executive Order to "Buy American-Hire Americans" when he still produces his products in China. Executive Order discourages hiring low wage foreign workers ? Hipocrite-in-Chief
Ivanka Trump gets 3 Chinese trademarks approved hours before her father sits down to dinner with the Chinese President
Donald Trump surrounded himself with foreign agents: Roger Stone, Carter Page (Russian) , Paul Manafort (Russian), Michael Flynn (Turkey)
4/13/17: Trump drops a $16 million bomb in Nangarhar Provence, Afghanistan near Pakistan border. The largest US concussive non-nuclear bomb. This was the first time this weapon had been used.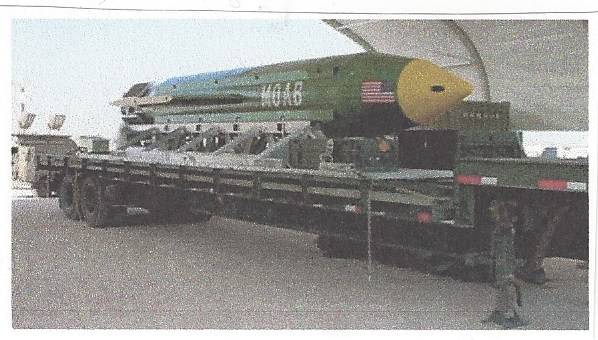 4/11/17: Trump campaign advisor Carter Page was identified, by the FBI, as a Russian Agent.
4/11/17: Trumps White House Press Secretary stated that Hitler did not use chemical weapons during WWII. Maybe he should visit the Holocaust Museum
4/7/17: Republicans change the rules to confirm a Supreme Court Justice to a simple majority (51). An Act that will come back to haunt them. When the Democrats are in power this act will render the Republicans powerless. A desperate act to place an Extremist on the highest court in the land.
4/6/17:Trump orders missile strikes on Syrian airbase where chemical attack on Syrian civilians was launched from
Trump defends Fox News Commentator Bill O'Reilly's sexual assault/harassment cases after declaring April National Sexual Assault Awareness and Prevention Month. Trump's "grab their pussy" statement in 2016 and all of the women that he has sexually harassed over the years confirms that he is a habitual woman abuser.
4/6/17: Republican Devin Nunes resigns from Intelligence Committee Chairperson that is investigating Trumps connection with Russia. Rep. Nunes unethically/secretly went to the White House and received information/evidence from the White House that is a conflict of interest. He could no longer be objective.
4/5/17:Trump removes the fascist Steve Bannon from the National Security Council. A placement that should never have happened. Bannon is from Breitbart. [A far right blog that is responsible for the fake conspiracy news published to incite the right wing sociopaths]. Trump and Bannon are like thinkers
4/3/17: Trump's son-in-law is worth more than 700 million dollars and has been put in charge of overhauling government offices is being sent to Iraq. Personal business? No one in the Trump family is divesting their businesses. Eric and Donald Jr. are traveling at government expense. Trump is playing golf every week-end in Florida and the country is paying for Melania to stay in New York. Ah, the GREAT AMERICAN RIP OFF.
America survived March
Trump interferes with House Intelligence Committee investigating Trump's ties with Russia. Chair Nunes goes to White House to advise administration on evidence before his Committee. Afterwards Chairman Nunes cancels all hearings
Trump gives daughter a new government position as Assistant to the President. This position will allow his daughter to give updates on Trump's businesses
Trump gives son-in-law Kushner a new government position to allow Kushner to go into all government offices and overhaul them and to explore new businesses
for....the government aka Trump interests
The House of Representatives pulled their Amendments to the 2009 ACA today, 3/24/17. NO VOTE TO TRUMP CARE- TRUMP LOST BIGLY
Trump sits at the Resolute desk sitting on President Reagan's rug and President Clinton's drapes hang behind him...............................
3/17/17:The FBI, Justice Department and the NSA confirmed, at the House Intelligence Committee, that there is no evidence that Trump's accusations that President Obama wire tapped Trump Tower and confirmed that an investigation is ongoing with Trump's relationship with Russia.
3/16/17: This dangerously paranoid man has just accused the UK of wiretapping him. Trump issued an apology after the UK Prime Minister was outraged at the Trump statement and told Trump not to do that again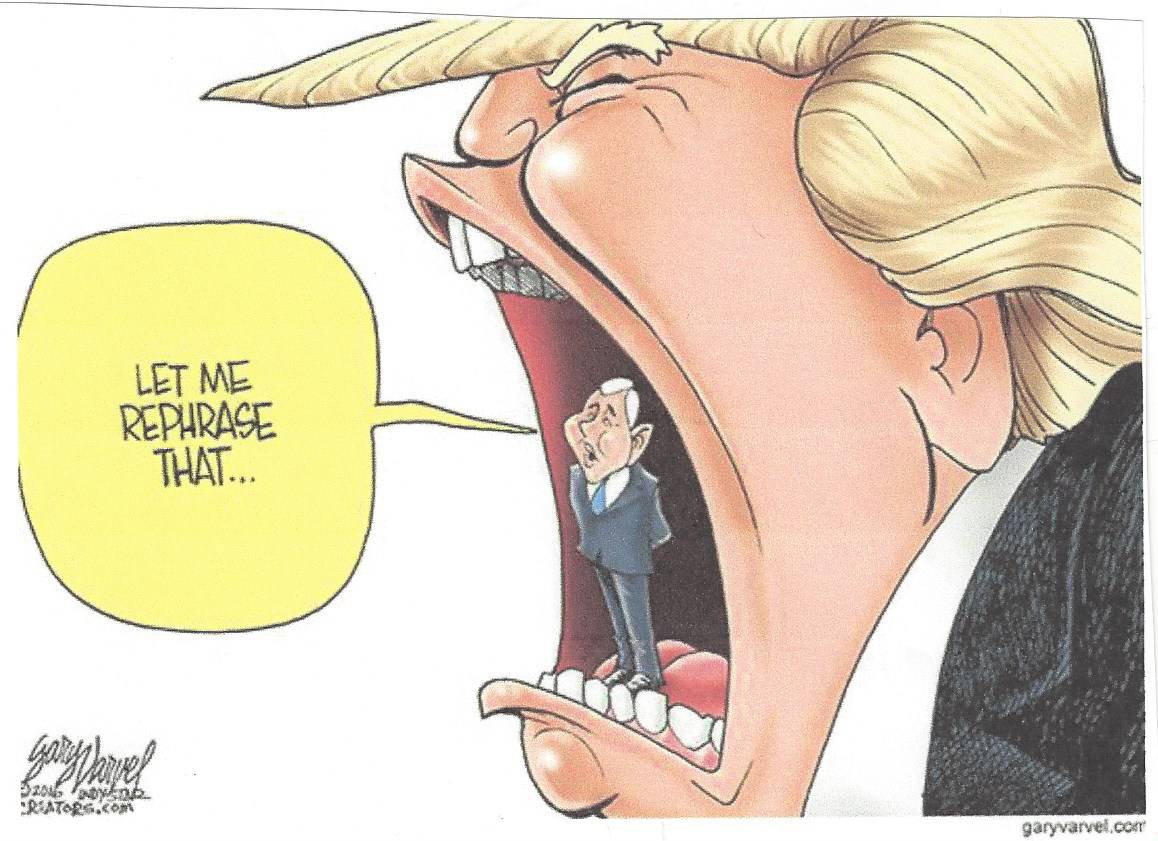 Trump submits his Budget to the House and targets eliminating programs that benefit the working poor. This is draining the swamp? Trump wants to eliminate 19 agencies like Meals on Wheels. He cuts the Coast Guards Budget which renders it a useless entity. 18% cut Health Human Services, 13% cut to HUD, 21% cut to the Department of Agriculture, 31% cut to the EPA. Massive cuts to the environment, sciences, education and the Arts. Ironically, all effecting Trumps base
Federal Judge in Hawaii stops Trump II travel ban of Muslims
The House of Representatives Intelligence Committee determined that Trumps claim that he was "wire tapped" was false and no evidence could be found to substantiate Trumps claim against President Obama. Is Trump guilty of lying again? What are the consequences of violating his "Oath of Office"?
Trump promised he would not take a salary ($400,000 a year). Trump is taking a salary and stated that he would donate it at the end of the year to a charity, taking a $158,000 tax deduction. As with all of his lies will not happen
TRUMP WOULD NOT RELEASE ANY TAX RETURNS FEARING AMERICANS WOULD JUDGE HIM FOR HIS FOREIGN CONNECTIONS
HE DID RELEASE 2 PAGES OF HIS 2005 RETURN THAT MELANIA TRUMP USED FOR HER CITIZENSHIP HEARINGS
TRUMP IS NOT A BILLIONAIRE but he will be when he leaves office!
Trump Care unveiled. 14 million Americans will lose their health care by 2018. 24 million Americans will lose their health care by 2026.
Just released, Michael Flynn was registered as a Foreign Agent for Turkey when he accepted and was confirmed to serve as the NSA Director. Flynn represented Turkish businesses that dealt directly with the Trump organization.
Trumps staff claims that the President is responsible for the February Jobs Report that states unemployment is down to 4.7%. Unemployment was 4.7% on December 30, 2016, January/2017 4.8%. Trump claimed during his campaign that unemployment could be as high 50%.
Trump tweets that he thinks that Obama tapped his phones at Trump Tower because the racist blog "Breitbart" told him this. A FISA warrant can only be issued, by a FISA Judge, if there is probable cause of foreign espionage. Trump could offer no evidence of any wire tapping. [Foreign Intelligence Surveillance Act of 1978]. No President can order a wire tap under this law. "probable cause" has a very high standard.
Trumps Attorney General Jeff Sessions lied about contacts with the Russians during the Trump campaign. Trumps son-in-law also met with the Russians during the 2016 campaign
America survivedFebruary
Trump claims that he took President Obama's drapes down to put up his own. A lie.
Trump fires Shermichael Singleton from HUD because Singleton stated publicly that Trump has taken the Republican Party to a new moral low.
Trump announces how easy it will be to overturn his unconstitutional Muslim ban and then states that he will write a new one ?
Trump trashes the media and then announces that he will not be attending the annual White House Correspondence dinner. First time a sitting President does not attend since 1981
Trump had no idea who the Congressional Black Caucus was. Trump lied about a meeting with Congressman Cummings.
186 non-criminal undocumented individuals are deported
Trump holds a meeting at a public restaurant on the North Korean missile fired. One of the customers "outed" the officer carrying the "nuclear football".
Trump states that the media is the enemy of the people
Trump states a lie about a terror attack in Sweden
Andrew Puzdner withdraws his confirmation process for Labor Secretary after allegations of domestic abuse and undocumented employees
General Flynn, Trump's NSA pick, resigns over close ties with Russia & lying during his confirmation hearings
Appointed his White Nationalist friend Bannon to the Security Council
Federal Courts rule Trumps Muslim ban unconstitutional
Fired Acting US Attorney Yates that would not enforce Trumps Unconstitutional Executive Order
America survived January
banned muslims from entering US at airports
Cut Federal funding to City Sanctuary Funds
Lifts ban on Black Site prisons
Renews Keystone pipeline
Freezes Federal hiring and pay
Cancels TPP
Cut discounts to low income FHA loans
Lies about inaugural attendance ?
Lies now called "alternative facts"
Trump orders Wall to be built w/o anyfunding
Curtails immigration by religion
Cuts climate change from EPA website