2017 page one
ARCHIVES
Judge Mark Nareau
Sworn in as Lassen County Superior Court Judge today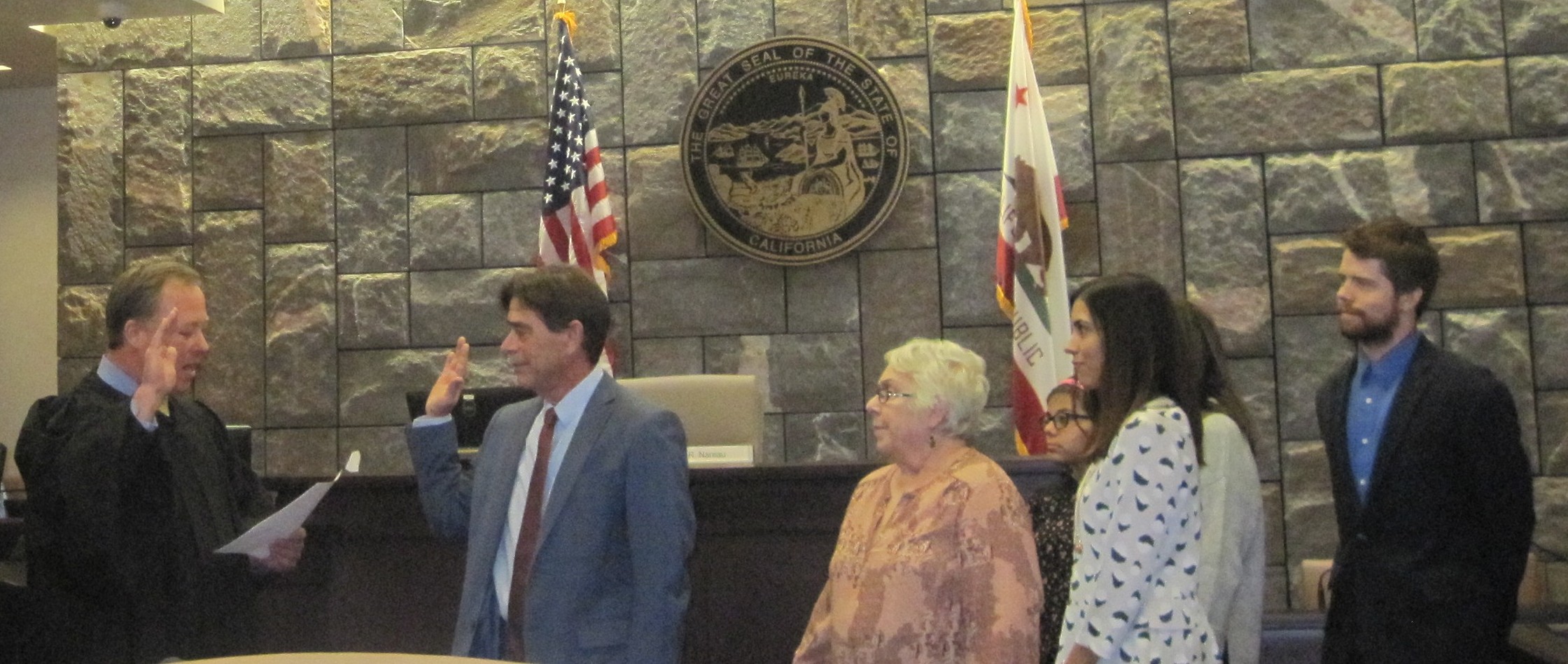 Moving to Courtroom B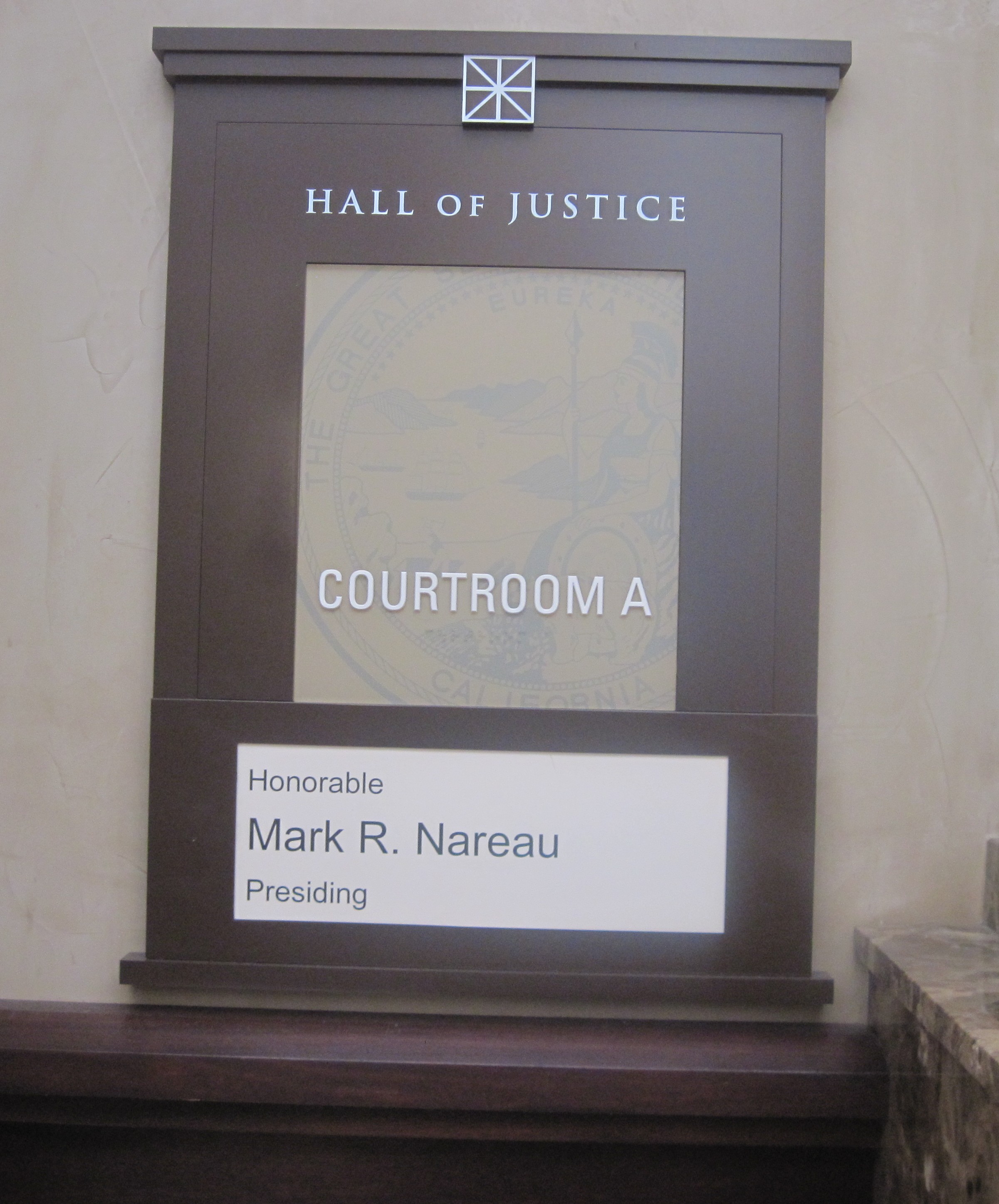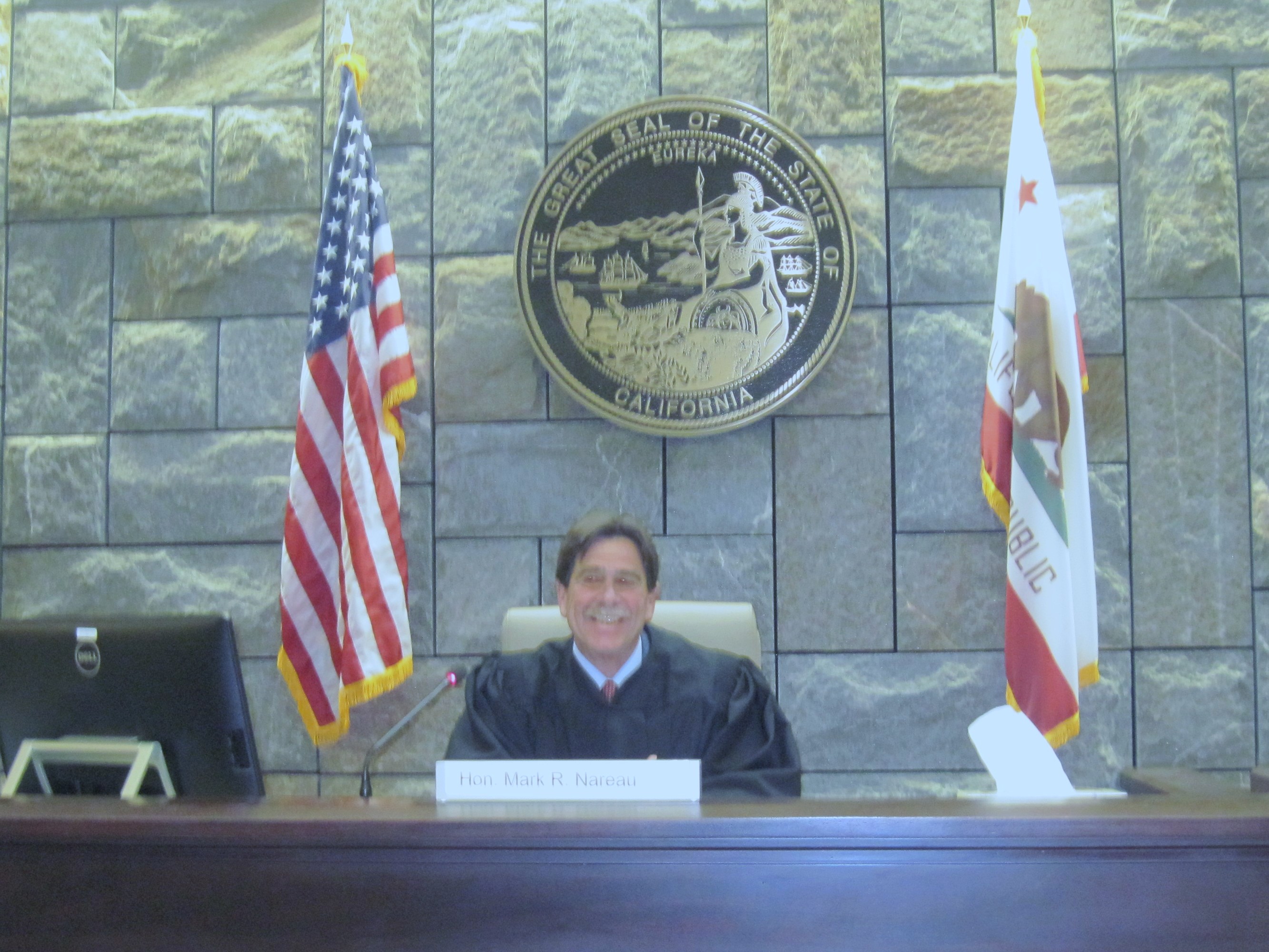 LOCAL ATTORNEY MARK NAREAU
TO BE SWORN IN AS
NEW LASSEN COUNTY SUPERIOR COURT JUDGE
AT
1:30 pm
DECEMBER 28, 2017
LASSEN COUNTY COURT HOUSE
12/6/17: OPINION POLL
How has owning an assault rifle with a 100 bullet clip made your life better?
926 participated
371 stated that 100 bullet clips for their assault rifle made their life better
223 stated they did not own an assault rifle
154 stated that 100 bullet clips should be banned
178 stated they did not own any firearms

A court in total chaos
Governor Jerry Brown appoints
local attorney mark nareau to fill the vacancy left by Judge michelle verderosa in the
the lassen county superior court
ONE STOP, PROPOSITION 63 FUNDS
HELD UP FOR NINE YEARS
Deadline to return Prop 63 funds: June 1, 2018
Kan We Help has monitored this Fund from day one and feared that it would be mis-used or re-directed illegally.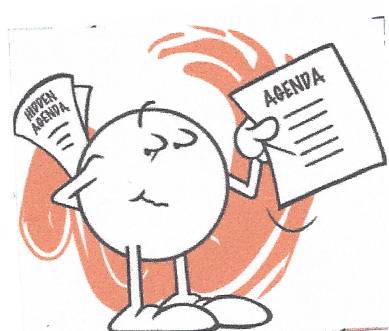 In 2004, California voters approved Proposition 63 which generated funds to improve mental health services for the un-served and underserved.
In 2009, there was an amendment to the Welfare and Institutions Code (Section 5891 and 5892), Mental Health Services Act directing improvements to mental health facilities
Lassen County received $788,500 from this (restricted) fund to improve the three One-Stops.
At least that's what they told the State of California and the people of Lassen County
According to the Lassen County,as of 11/30/17, Lassen County MHSA fund balance is $635,126.20.
HISTORY:
Herlong Fort Sage One Stop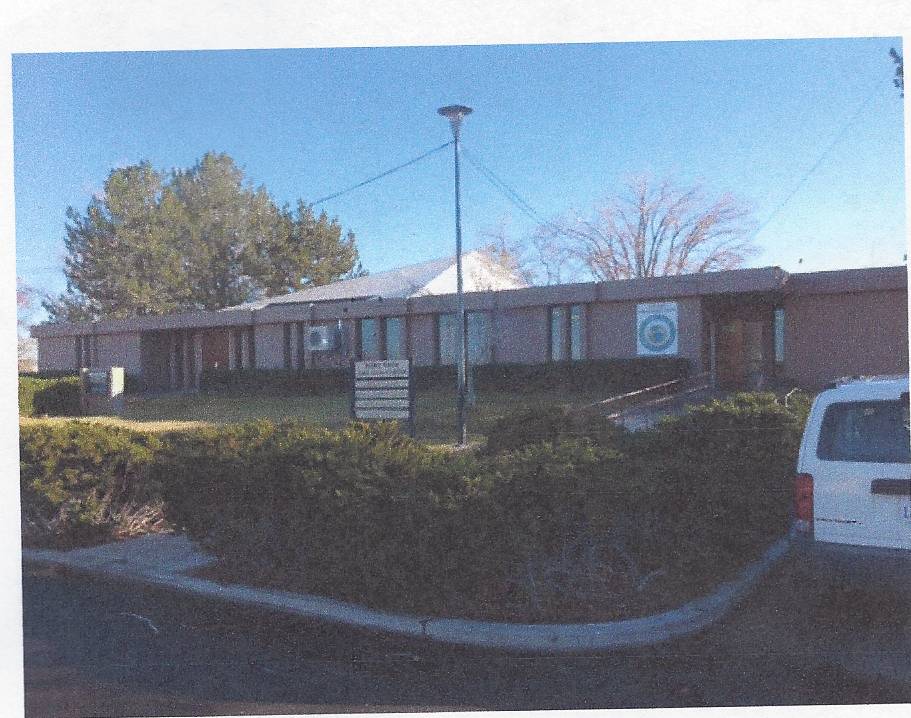 The Fort Sage One-Stop in Herlong has an interesting past. Under former/recalled Supervisor Jack Hanson, this facility received a new roof and various repairs and benefits under the Lassen County Local Re-use Authority. The LCLRA was created when the Army gave Lassen County the township of Herlong (435 acres) and the Sierra Army Depot's Amedee parcels (3,000 acres). When the LCLRA was dissolved, no more funds were available to pay the mounting bills at the Fort Sage One-Stop. Lassen County eventually included the Fort Sage One-Stop in the "give-away" of this Army land to HSP Resources (Hal Hayes, Larry Smith and Steve Pezzullo) illegally.
The Fort Sage One-Stop had to eventually be returned to Lassen County. Lassen County again, had the responsibility of maintaining this building. Lassen County, ignoring Bieber and Westwood One-Stops, spent hundreds of thousands of dollars on the Herlong One-Stop.
Lassen County's initial use of the Proposition 63 funds was to replace the HVAC ($102,701.68) at Herlong's Fort Sage One-Stop. These funds could only be used for mental health capital facilities improvements
Beiber Big Valley One Stop
On March 18, 2013, the Lassen County Supervisors & CAO Richard Egan created the illusion of remodeling the Bieber Big Valley One-Stop. Lassen County spent $68,886.25 (Prop 63 funds) on "plans" (NST Engineering, Semingson Architects) that they never, ever intended to use.
At the November 17, 2015, the Board of Supervisors meeting (Agenda H-1), plans were presented, to the Board, to purchase a triple wide mobile building that could have been installed within 3 months. Public bids came in and the winning bid was $184,094.60. This was rejected
From March 18, 2013 to October 26, 2017, the Board of Supervisors had spent $68,886.25 on this lie.
The Board of Supervisors tabled this issue never to return to any Agenda.
Westwood One Stop
WESTWOOD GETS ZERO, ZILCH, $0.00
Lassen County Supervisors issued a Request for Proposal, on October 17, 2017 for remodel work at the Westwood One-Stop. The bids were received on November 9, 2017. The low bid was $297,393. This was more than a fair bid for the work the County required. The County paid out $1,881.46 for this phony effort
ALL BIDS WERE REJECTED BY THIS BOARD
ALL FIVE SUPERVISORS TABLED ONE-STOP ISSUES UNTIL 2018......what a surprise
Kan We Help will be there!
Lassen County 2018 Elections
June 5, 2018
Declaration of Candidacy: February 12-March 9, 2018
Judge Tony Mallery
District Attorney Stacey Montgomery
Supervisor Jeff Hemphill
Supervisor Tom Hammond
A court in chaos,
judicial failure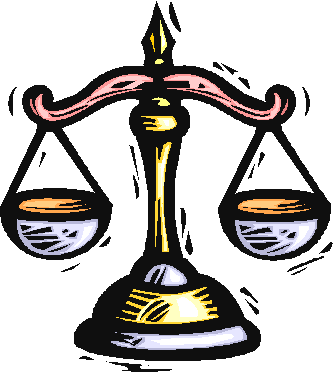 Kan We Help members attended all (except Juvenile cases) Lassen County Court cases from August 28, 2017 to December 8, 2017. The results were astonishing and shocking.
Judge Tony Mallery was sued for Abuse of Power. Judge Tony Mallery lost this case, on February 9, 2017.The taxpayers paid out a $184,830.99 settlement.
The Lassen County Superior Court was crippled when the Presiding Judge Michelle Verderosa resigned on May 8, 2017 and is no longer even a practicing attorney. Governor Brown selected the replacement for Judge Michelle Verderosa today. The official announcement will be made on or around December 22.
3075 cases were heard, in the Lassen County Superior Court, from August 28, 2017 to December 8, 2017.
1811 cases were heard by Assigned Judges.
Judge Mallery is the most recused Judge in the history of this Court.
What was stunningly notable was the frustrations by the Visiting Judges. Some commented during open sessions of court of the "shabby" presentations of cases by the Deputy District Attorney's.

Some stating that they have never, ever seen a court in such disarray. One Judge commented that it was "unfair" to have to endure such chaos.
1. Cases were dismissed, by Visiting Judges, for the District Attorney failing to file timely motions
2. Cases were dismissed, by Visiting Judges, for the District Attorney failing to present or even subpoena witnesses
3. Cases were dismissed, by Visiting Judges, for the District Attorney failing to provide the Court with any evidence.
4. Cases were dismissed, by Visiting Judges, for the District Attorney failing to provide competent management of
cases
5. Cases were dismissed, by Visiting Judges, for the District Attorney failing to be able to proceed.
One Visiting Judge commented that coming to Lassen County was like riding a merry-go-round and complained that the Officers of the Court played a game of "catch me if you can".
One case, a Deputy District Attorney left the Court in mid-sentence and never returned ?
A few Visiting Judges displayed outrage at the lack of discipline by Officers of the Court (attorneys)
Most Visiting Judges expressed concern for the condition of case files; missing documents, errors in case indexes
One Judge proclaimed that she was glad it was Friday and that she didn't plan on returning
This Court has become a
Defense Attorney and Public Defenders heaven
The Lassen County Sheriffs Department and all other law enforcement agencies put their lives at risk everyday to arrest Lassen County's drug dealers, rapists, thieves, child molesters, wife beaters and murders.....only to have the District Attorney dismiss case after case without a hint of any obligation to the public or law enforcement.
Don't let the excuse be...."but the new laws". This is about incompetency!
An eye opening 15 weeks
OPINION POLL
How has owning an assault rifle with a 100 hundred bullet clip made your life better?
opinions@kanwehelp.com
Trump now has to look up to see the bottom
Trump endorses the Alabama pedophile for the Senate
This shouldn't surprise anyone since Trump boasted, on the Howard Stern show, that he went into the dressing room of a teenage pageant while they were dressing.
"WHEN YOU'RE FAMOUS THEY LET YOU DO IT"
The degradation of the Presidency
Late last night the Republicans Pass
51-49 (R-Senator Corker voted no)
(Republiklns marked up the 500 page Bill and was released two hours before the vote. Not even Republicans were allowed to discuss the contents before vote)
the
Tax Cut for the rich & the Trump family
taking $1.441 trillion dollars from the US Treasury
The tax increases, in this Bill, are directed at the Middle Class and Poor
Republicans state they will now have the leverage next year to go after Social Security and Medicare.
This Bill will make it financially impossible, in 2019, for 13 million Americans to afford health insurance
Trump drained the swamp and welcomed them to Washington DC
Lassen County Government: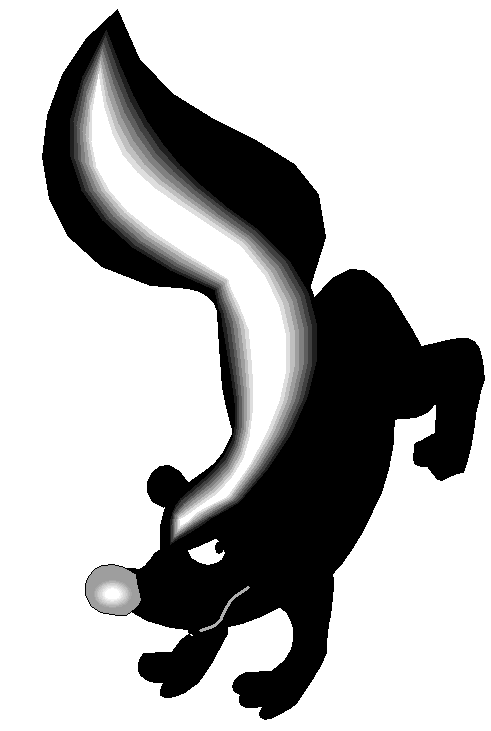 The Lassen County Auditor states that no money ($21,000) has been transferred to the new Fund 153 (alleged Fund for a $25,000,000 Grant)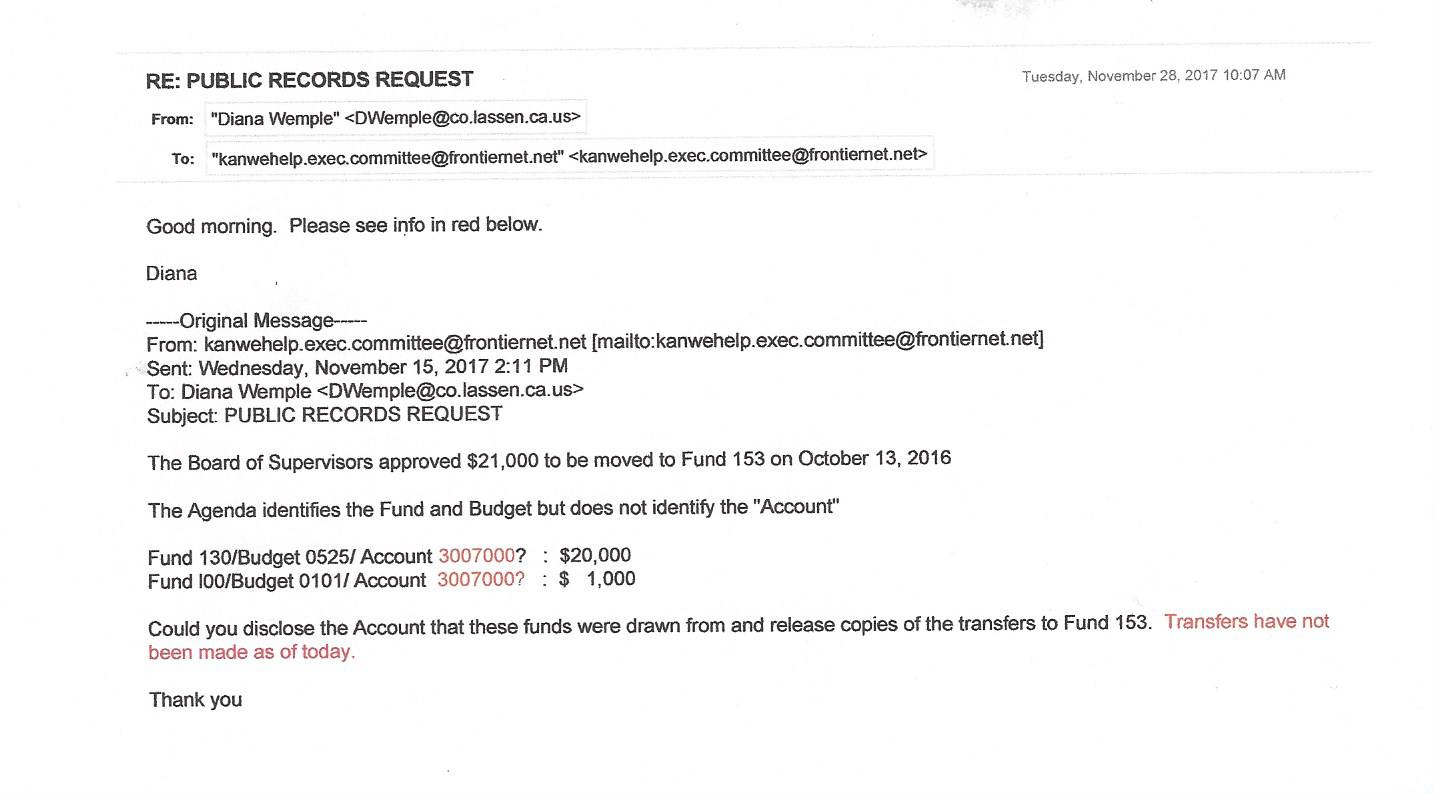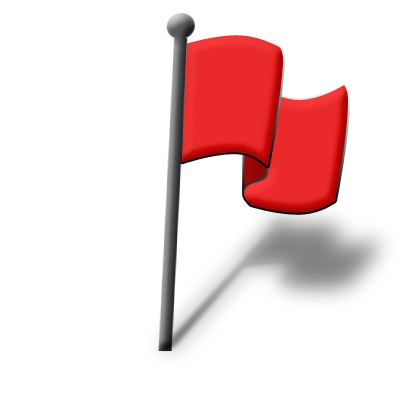 The Lassen County CAO states that money ($21,000) was transferred to Fund 153. The CAO can transfer money at will and no one, including the Supervisors will ever know
take a look


Hurting Americans with this tragic tax bill for the rich.......IS just another photo op for Trump
TRUMP JUST WANTS A WIN AT ANY COST
Shutting the United States government down
is
just UN-AMERICAN
No one should be able to shut our government
down
RepubliKlans have done it once, and
they will try and do it again...........
THIS IS TREASON
CONFIRMED: TRUMP IS A RACIST, BIGOT AND......CLASSLESS MORON
Trump held a ceremony, in the Oval Office, and placed the podium in front of his Andrew Jackson portrait to honor 3 Navajo "US Marine" Code talkers. The Code Talkers started in 1940 with the Chippewa & Oneida Nations. The US Marines recruited 29 Code Talkers in 1942 and the program was so successful that over 400 were recruited during WWII. The Code was never broken
Andrew Jackson was known to say "A good Indian, is a dead Indian. Jackson's goal, as President, was to annihilate the Native American Indians. In 1838 Jackson signed the Indian Removal Act and then proceeded to kill.
President Jackson is Trumps favorite President
TRUMP INTENTIONALLY PLACED THE PODIUM UNDER THE JACKSON PORTRAIT FOR THE NAVAJO CODE TALKERS CEREMONY
TRUMP HAS A LONG HISTORY OF MAKING RACIAL SLURS AND REMARKS AGAINST NATIVE AMERICANS. IN 1993, TRUMP WAS FACING COMPETITION WITH NATIVE AMERICAN CASINOS OPENING AND TOLD CONGRESS THAT "THEY DON'T LOOK LIKE INDIANS TO ME".
Trump was a jerk then and he is just an old jerk now
Lassen County Supervisors
may not think Westwood is
worth spending any time or money on...
but
Dollar General does
Grocery store to open soon ...
Lassen County is a welfare county
Do Poor People in Lassen County
MATTER?
Kan We Help exposed the Lassen County Supervisors attempting to remove all funding for the three One-Stops (Herlong, Bieber, Westwood) in their 2017/2018 Budget. The One-Stops funding was eventually re-instated.
Lassen County was awarded $788,500 in Grant money and designated this "restricted" money to upgrading the three One-Stops

These On-Stops service the disadvantaged in Lassen County. The Herlong One-Stop was remodeled with Capital Outlay funding and then the County gave it away for $172.00 in the Herlong sale to HSP Resources. HSP Resources returned the property because they did not want to maintain the building and also there were restrictions on the building that prohibited the County from selling it. It is estimated that over $300,000 was spent on Herlong One-Stops remodel
The State Proposition 63 (2009) money has been wasted over the last 8 years and no upgrades of any kind have been done. Lassen County does not have any competent staff that can handle maintenance of their buildings and their buildings continue to move toward USELESSNESS.
Lassen County has gone through numerous tepid RFP's pretending to move toward awarding contracts for these remodels. NO CONTRACTS HAVE BEEN AWARDED.
The latest, November 9, 2017 Westwood Bid, was no different. Even though the three bids came in more than reasonable, NO CONTRACT WAS AWARDED.
THE PUBLIC SHOULD BE CONCERNED
Lassen County is hoping no one is watching!!!
This Grant is in jeopardy of being mis-used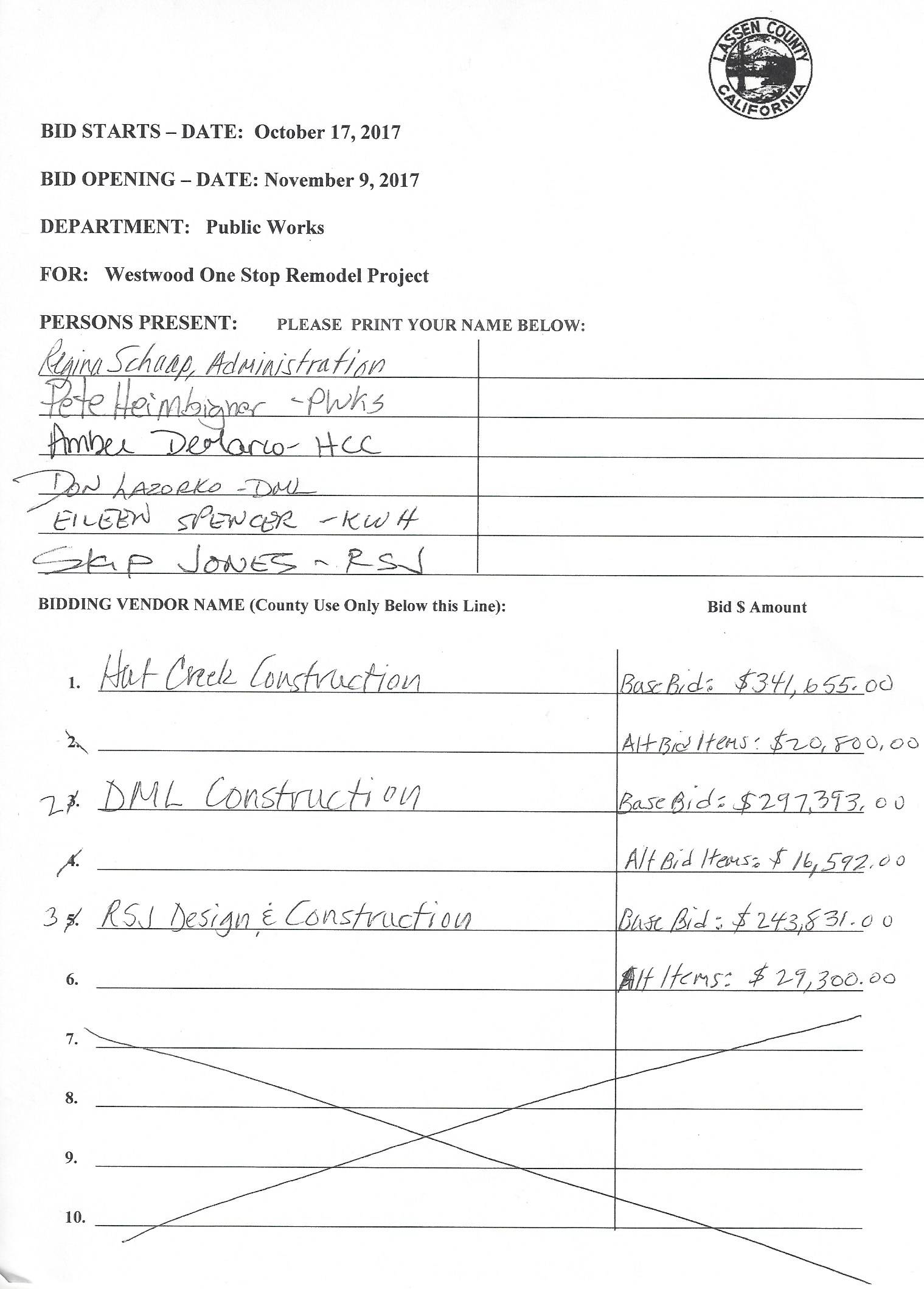 Lassen County Board of Supervisors
Mandated
November 21,2017 Meeting Agenda
NOT POSTED
Do the people NOT MATTER?
The public has been notified that there would be a meeting on November 21, 2017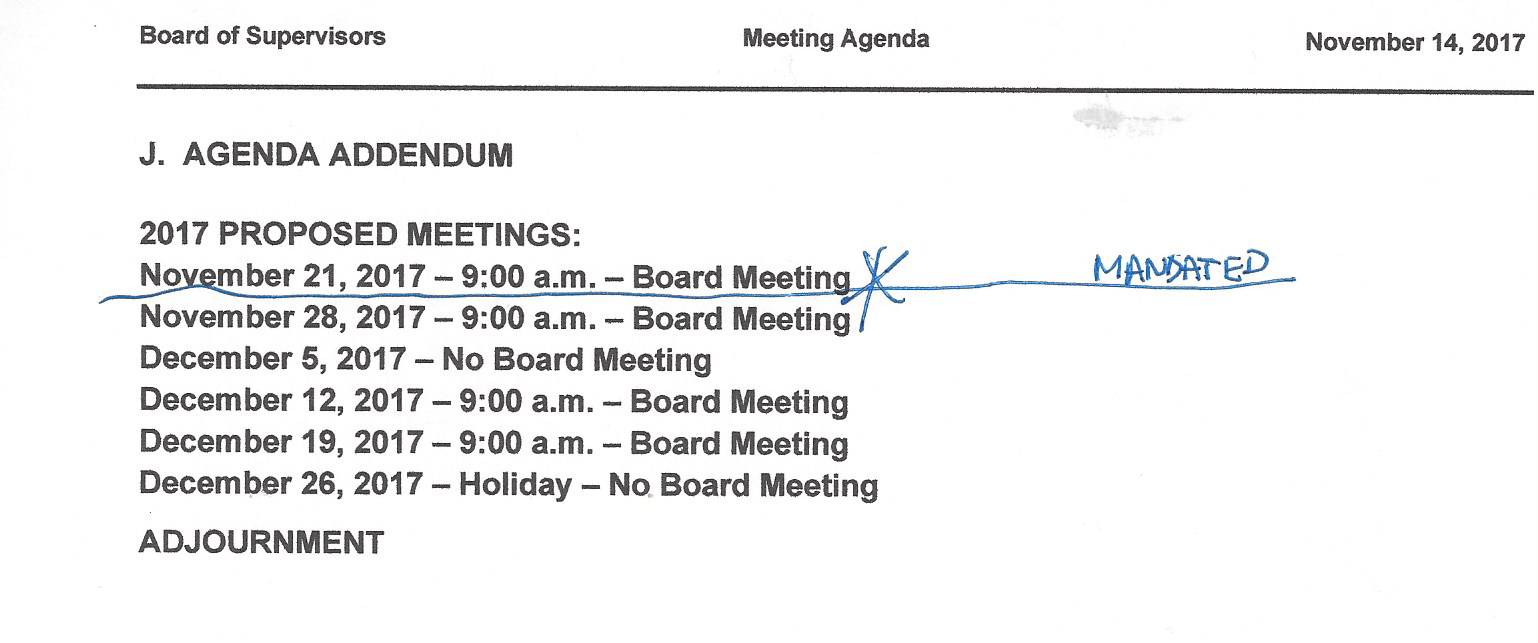 As of November 19, 2017, NO PUBLIC NOTICE of a cancellation ?
The November 2, 2017 meeting is mandated by Resolution 15-051
THE NOTICE IS MANDATED BY THE BROWN ACT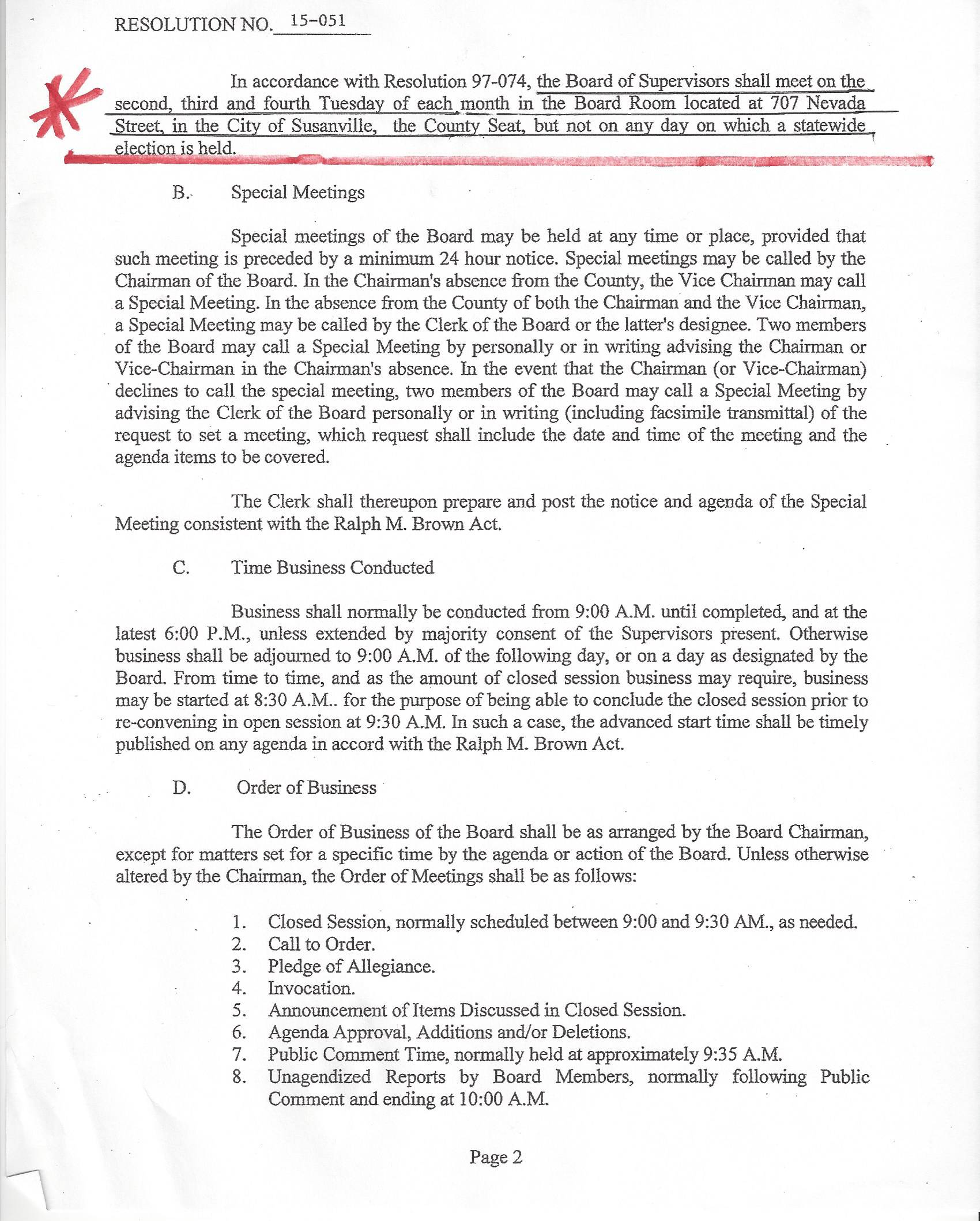 New policy, NO. This Board of Supervisors did this for
the July 18, 2017 meeting also
If the public has no access to public information the Supervisors can do anything they want.....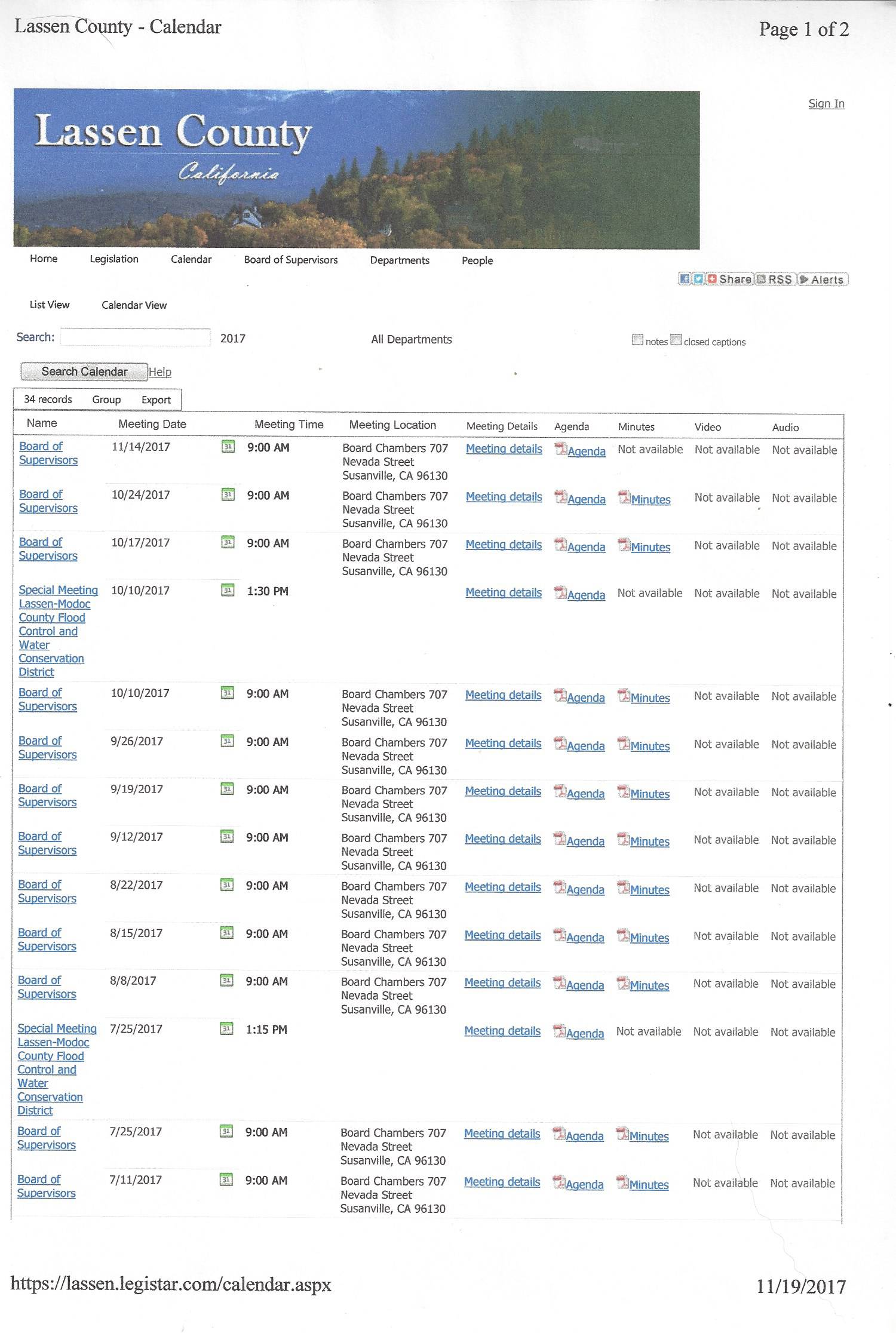 SHAMEFUL BUT EXPECTED
....TRADITIONALLY, ANYTHING THAT WILL HURT THE MIDDLE CLASS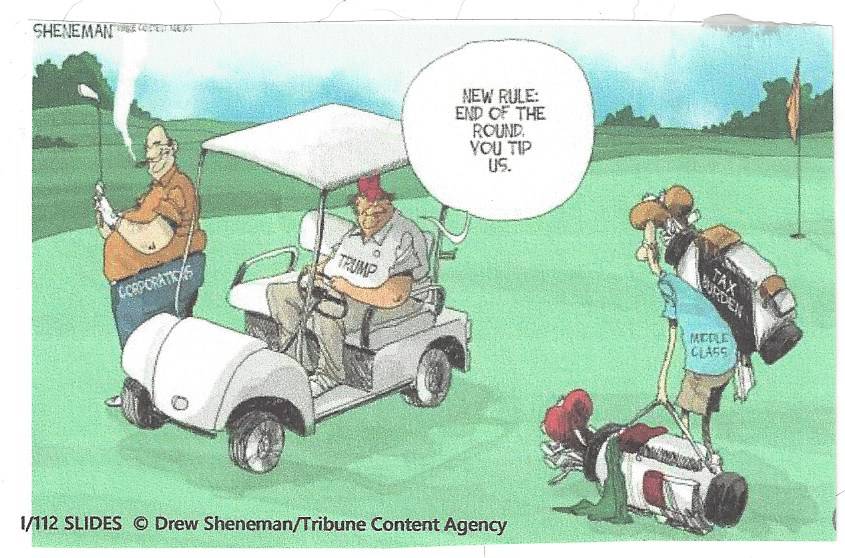 REPUBLICAN SENATORS TAX PLAN
REMOVES
MORTGAGE INTEREST DEDUCTIONS
PROPERTY TAX DEDUCTIONS
AND
FEDERAL MANDATED SUBSIDIES FOR ACA
THIS THROWS 13 MILLION AMERICANS
OFF HEALTH CARE
HR 1 passes
227- 205
LaMalfa again votes yea
NOW IT GOES TO THE SENATE?
The 115th Congress, ruled by Republicans, hit a snag on
the added amendments for their "Tax Cuts for the Rich" but still passed the grossest tax bill in the history of the United States
Republicans vote for a $1.5 trillion increase in the debt to pay for the tax cuts for the rich.
NOT ONE DEMOCRAT VOTED FOR THIS
Cuts to Medicare/Medicaid to pay for
the richest 1% of Americans tax cuts
The REPUBLICANS added: terminate the Federal Subsidies for the Affordable Health Care Act. They have presented this over 67 times since 2009 and it has failed 67 times.
62% increase in the sign-ups for the Affordable Health Care
Republican Senator Mitch McConnell claimed, at a press conference, that the House Bill will increase middle class taxpayers taxes by $4,188.
THE REPUBLICANS JUST TOOK AWAY TEACHERS DEDUCTIONS FOR SCHOOL SUPPLIES
Kan We Help Exposed Lassen County's
Attempt to Devalue Property
in Order to
Scam the State of California
$25,000,000 to develop a vocational center for the Lassen County Jail, but the land must be unencumbered.
IT IS NOT !
NO

W THE COUNTY IS IN A PICKLE !
The Lassen County Supervisors, on November 14, 2017, are going to be faced with a rather daunting decision. Do they go ahead and pursue this deception and risk litigation from Western Alliance (Lender of the $4,080,000

) by devaluing the 23.45 acre collateral (see 2015 parcel map below) to 2.54 acres ?
Richard Egan, CAO, has not, as of this post, notified the Lender in regards to the collateral being devalued............?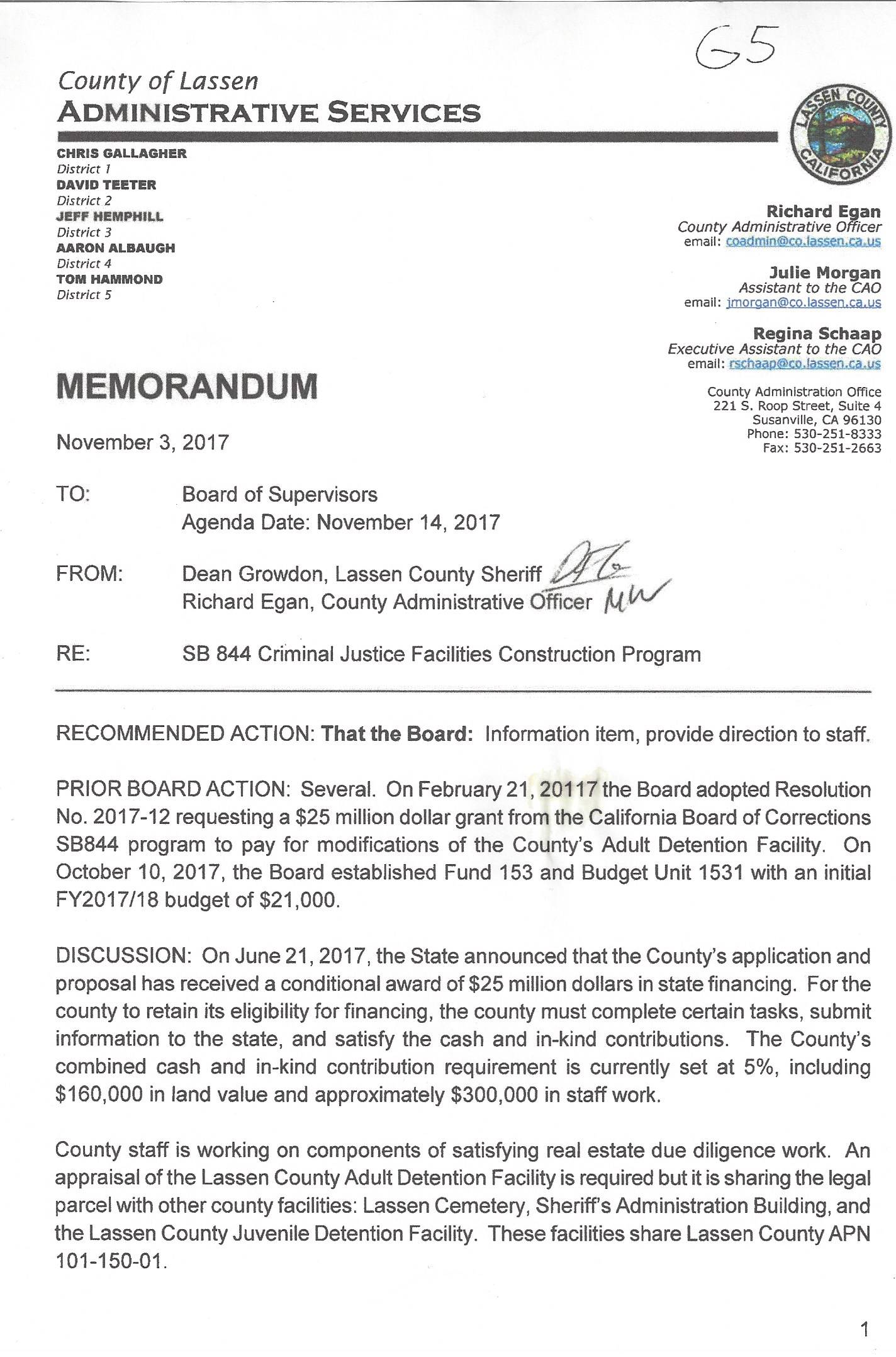 The Supervisors placed 22 agenda items in the November 14, 2017 Consent Calendar in which they deny comments from the public. This was placed as G-5 in the Consent Calendar for a reason...so the public could not comment
SUCH A HUGE BROWN ACT VIOLATION
Kan We Help made this presentation on 9/19/17, at the Board meeting , but you will not see a word about it in the Board of Supervisors Minutes or the Lassen County Times. Just the normal suppression in Lassen County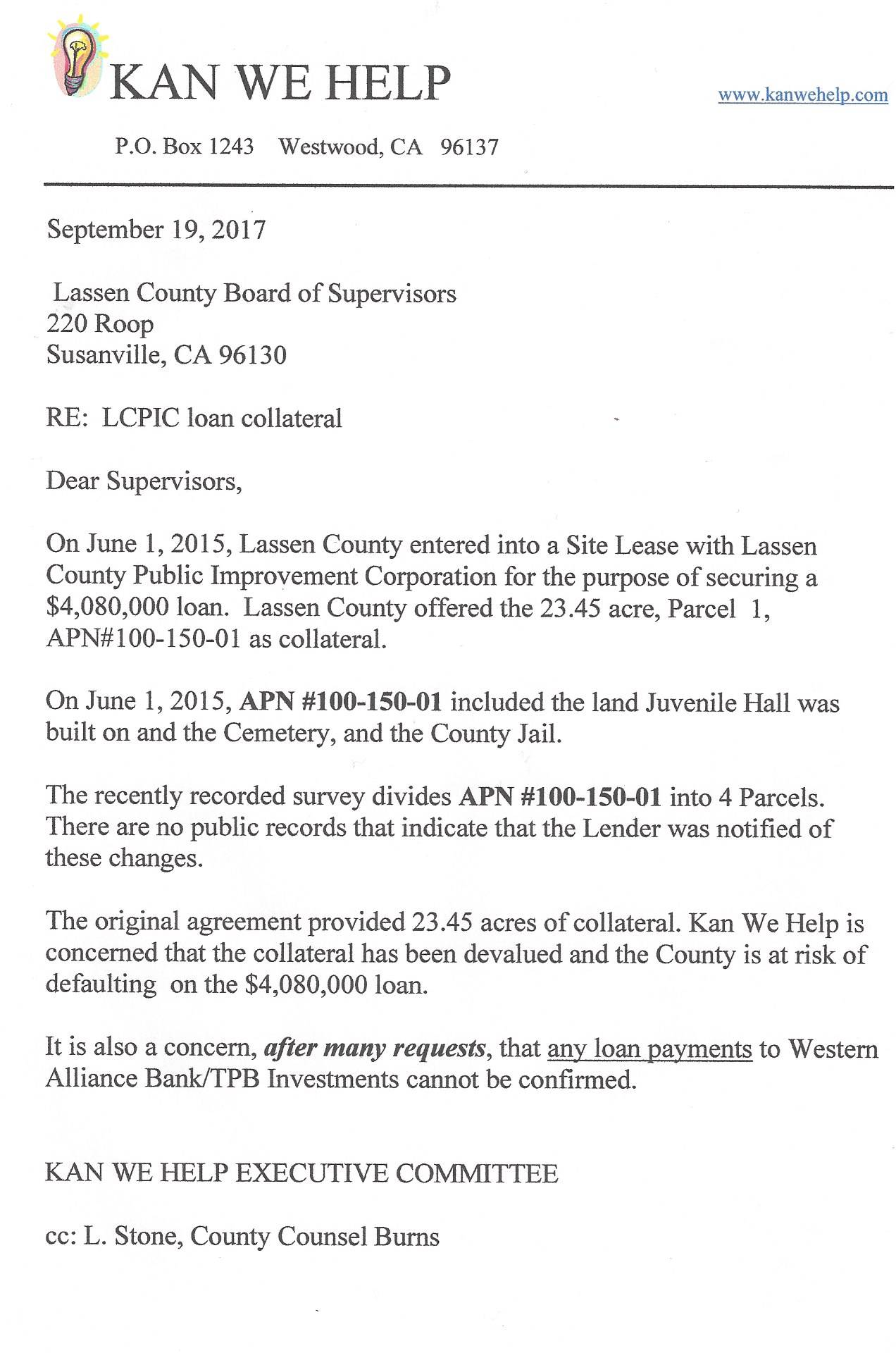 The Lassen County Supervisors took out a Certificate of Participation loan on June 5, 2015

. They used Parcel 1, which is a 23.45 acre parcel that the Juvenile Hall sits on as collateral for the $4,080,000 loan.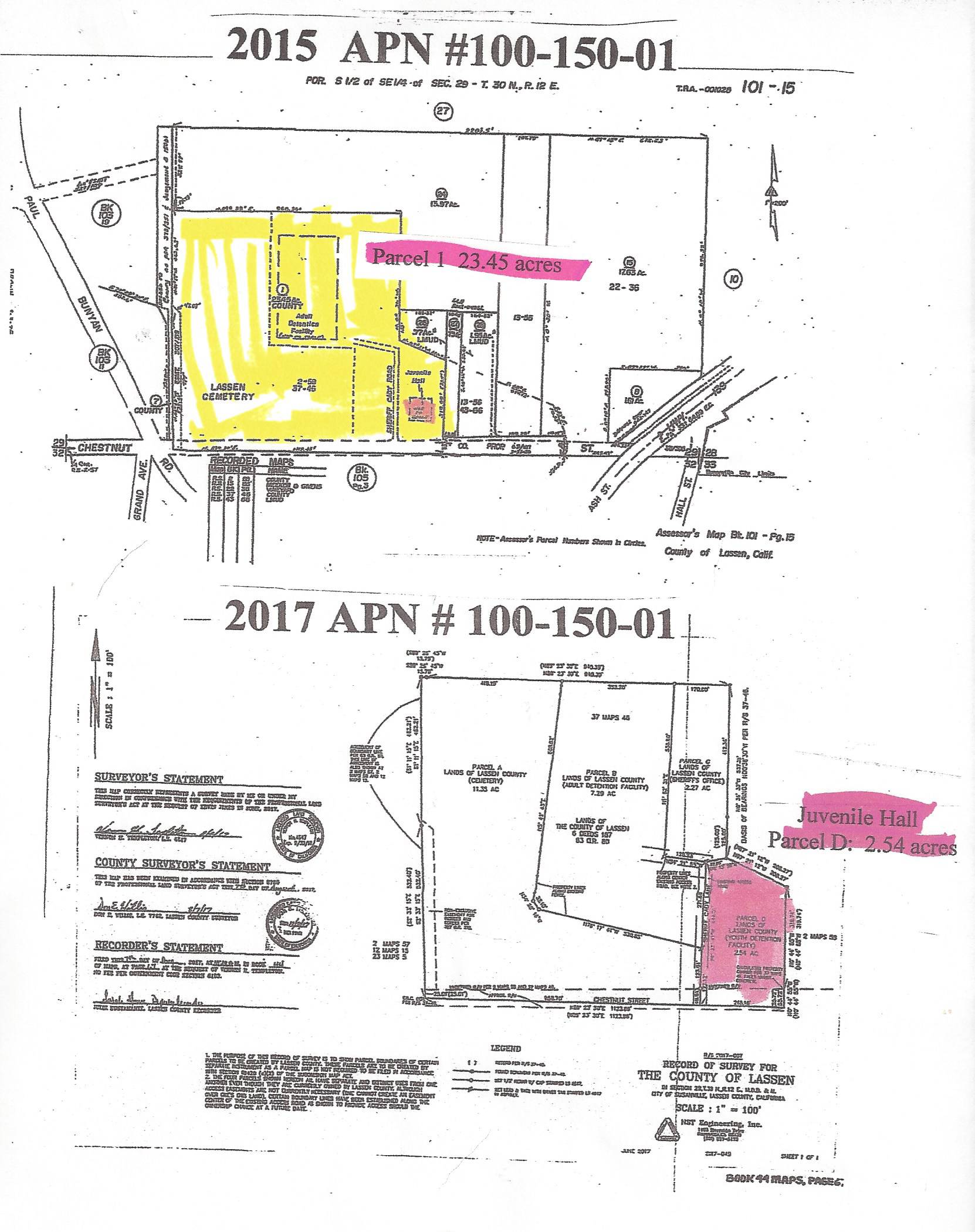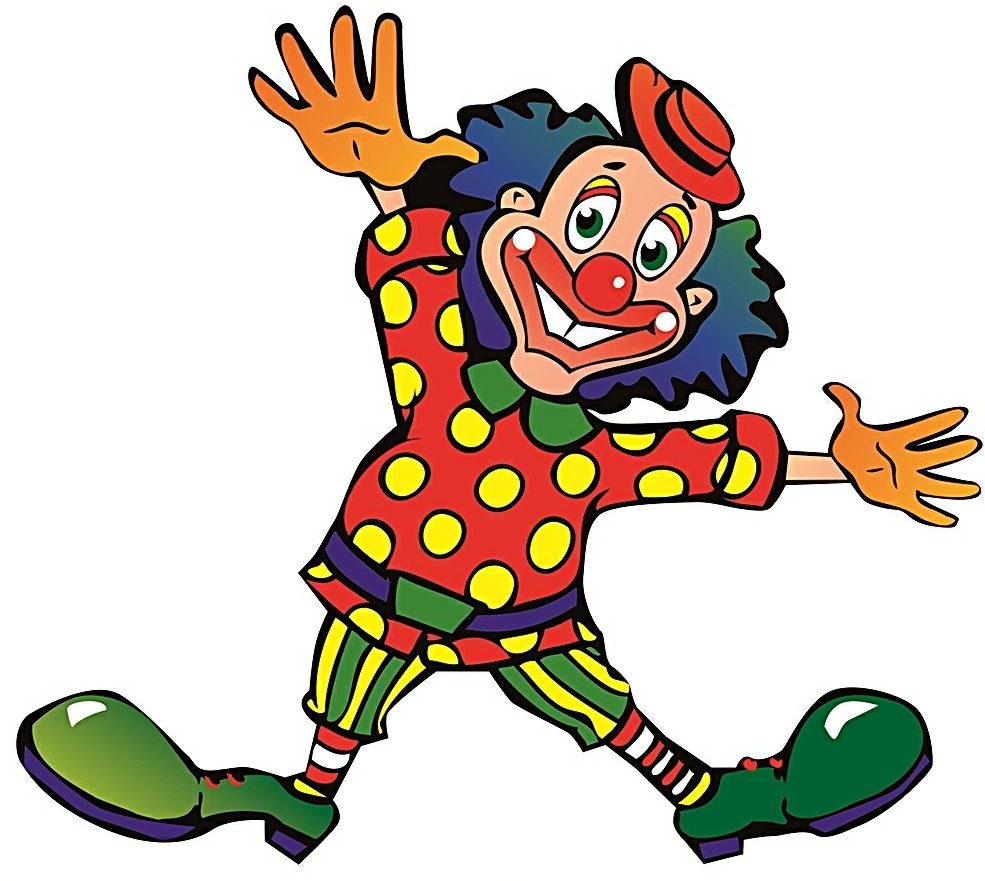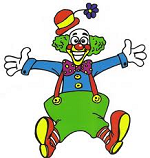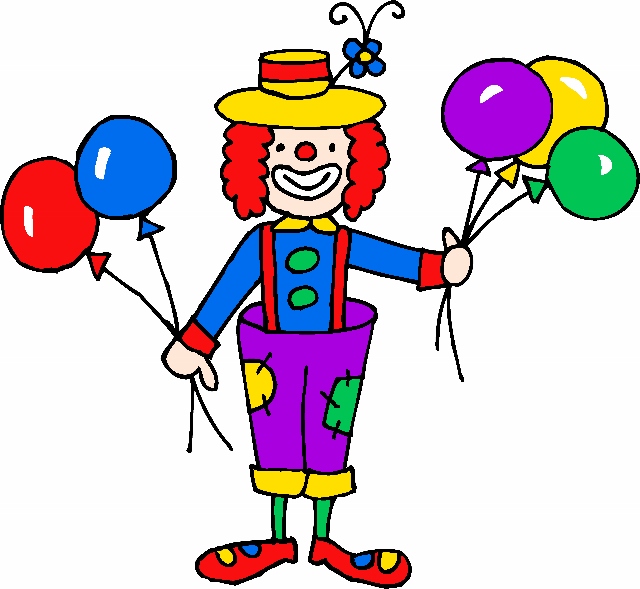 Clown like Court procedure
sets Wayne Cramer free
all three agreed.......the Devil made him do it
Between the visiting judge, public defender and district attorney......Wayne Cramer, with an extensive history of violence was released for a week to get his dog out of animal control and then "they" dismissed all charges against him except the "resisting arrest" charge. He was sentenced to 100 days in the County Jail and must return on November 9, 2017 to finish his sentence (which he won't serve)
This is the criminal history of this Westwood man. The numerous complaints from Westwood residents were not considered.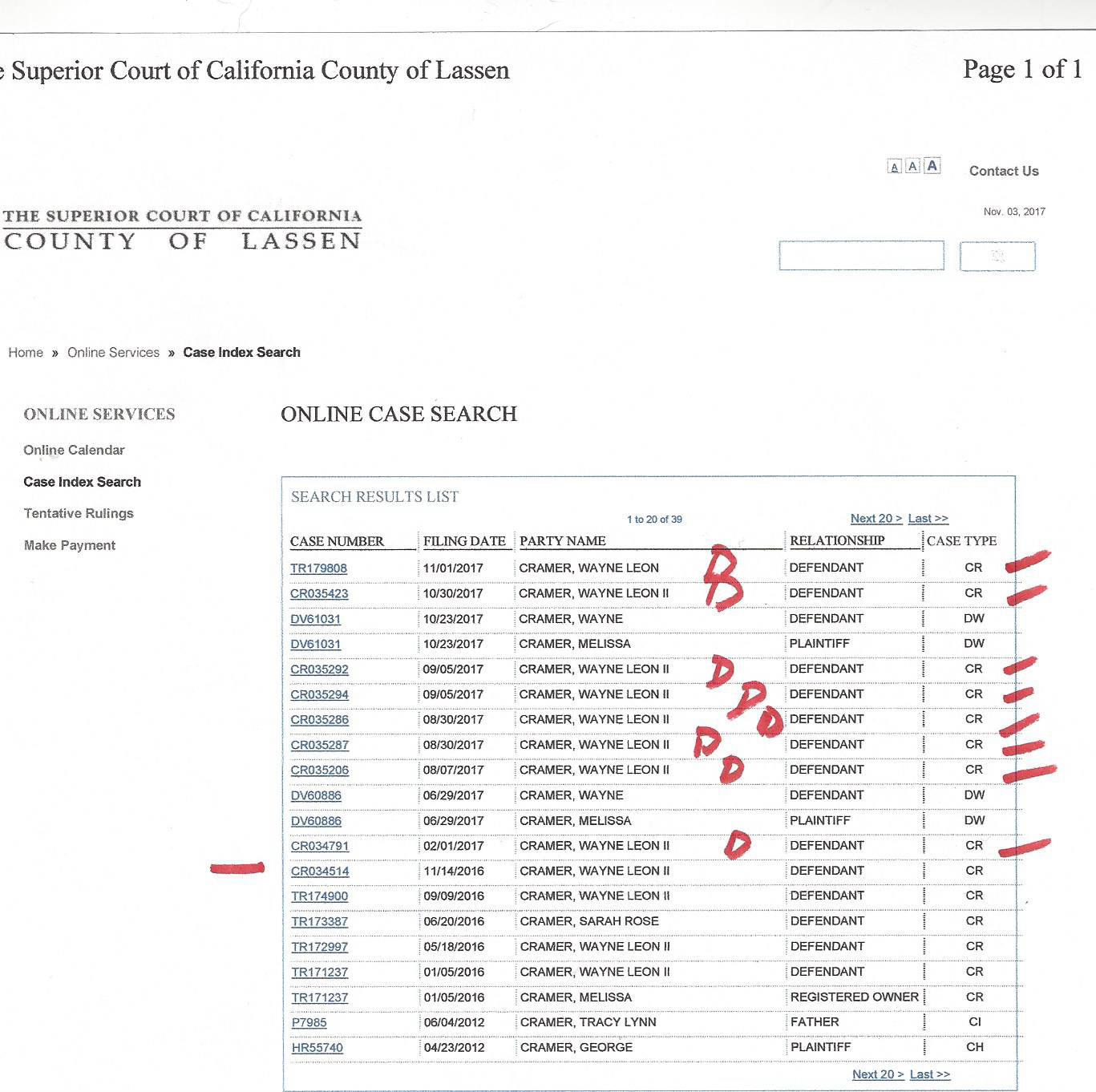 LASSEN COUNTY SHERIFF DEPUTIES RISKED THEIR LIVES TO APPREHEND CRAMER ONLY TO BE INSULTED WITH THE COURT'S ORDERING A FINE OF $542 and 100 days in jail which he will not serve !!!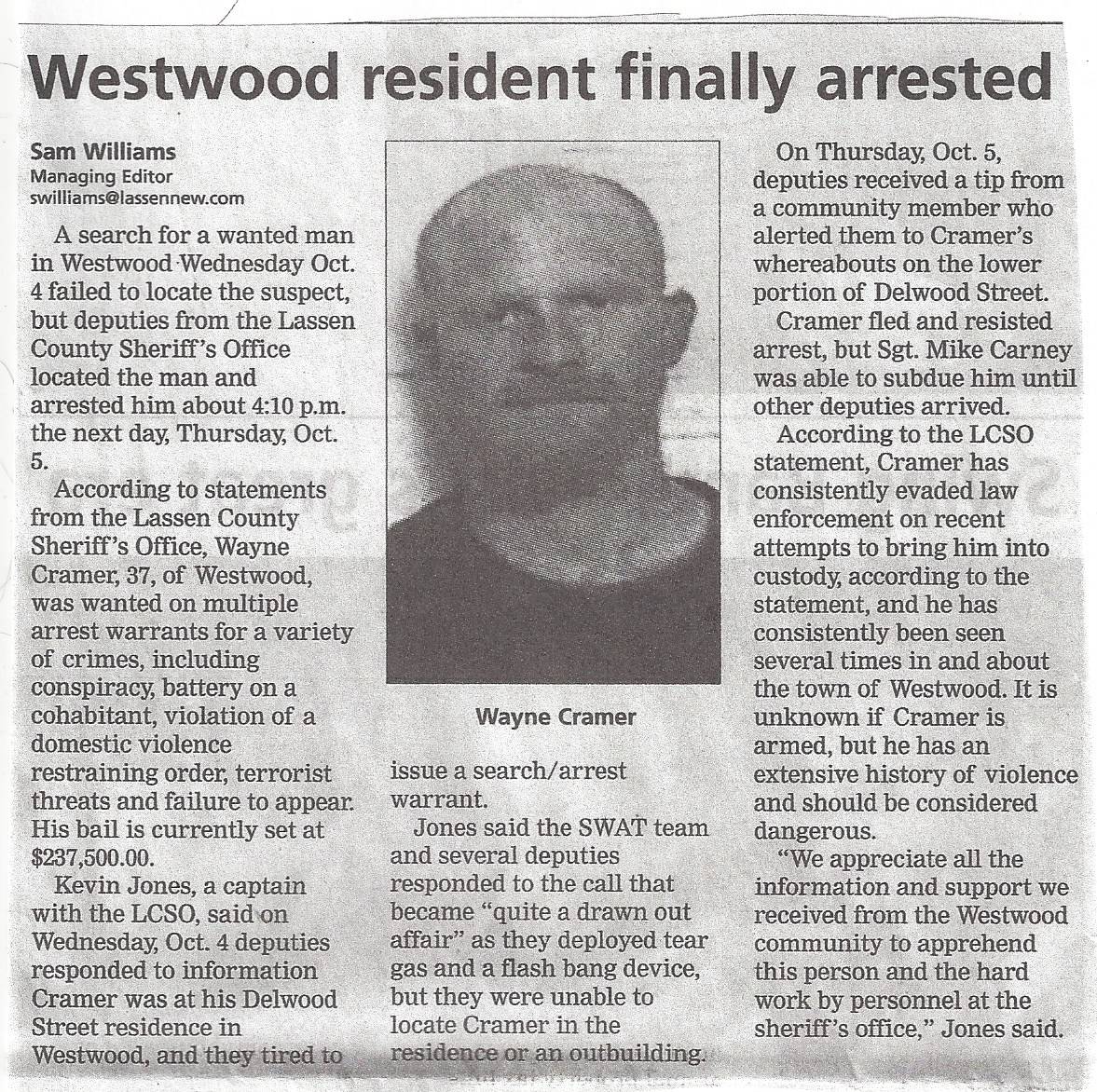 IT NOW IS STANDARD PROCEDURE, FOR THE DISTRICT ATTORNEY, TO DISMISS SERIOUS CHARGES AND ALLOW CRIMINALS TO GO FREE.
THIS DEFENDANT HAS ADMITTED MENTAL ISSUES BUT STILL WAS RELEASED INTO THE COMMUNITY BY THE DISTRICT ATTORNEY, PUBLIC DEFENDER AND THE JUDGE ON HIS OWN RECOGNIZANCE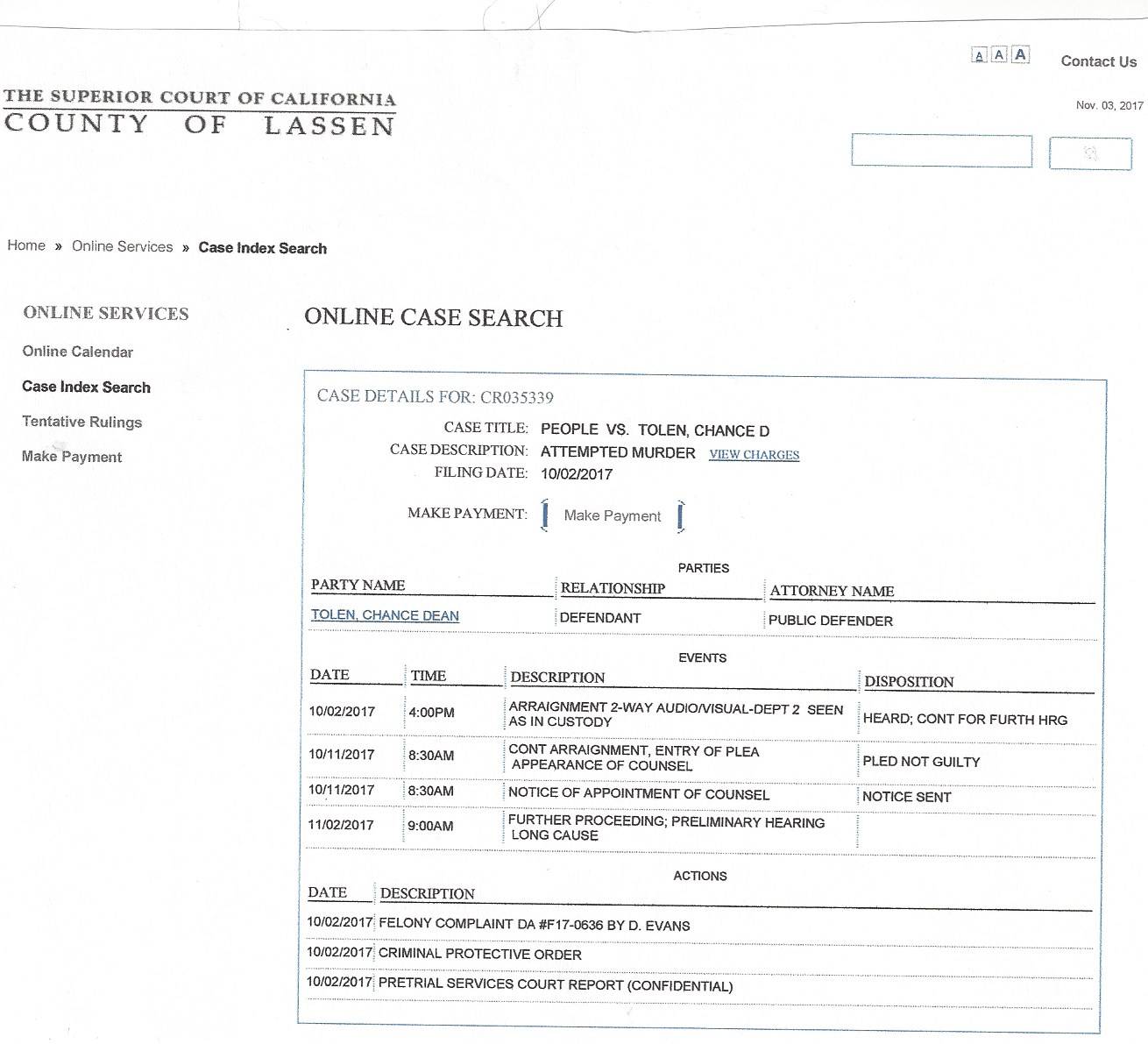 No letter,
No Commitment,
No Money......?
Lassen Municipal Utility District has lived in controversy since they tried to raise rates 162% after they lost $8.7 million dollars
According to Lassen County CAO Richard Egan, the LMUD General Manager Doug Smith has not sent Lassen County a Board mandated letter stating that they can financially clean up their Hayden Hill property.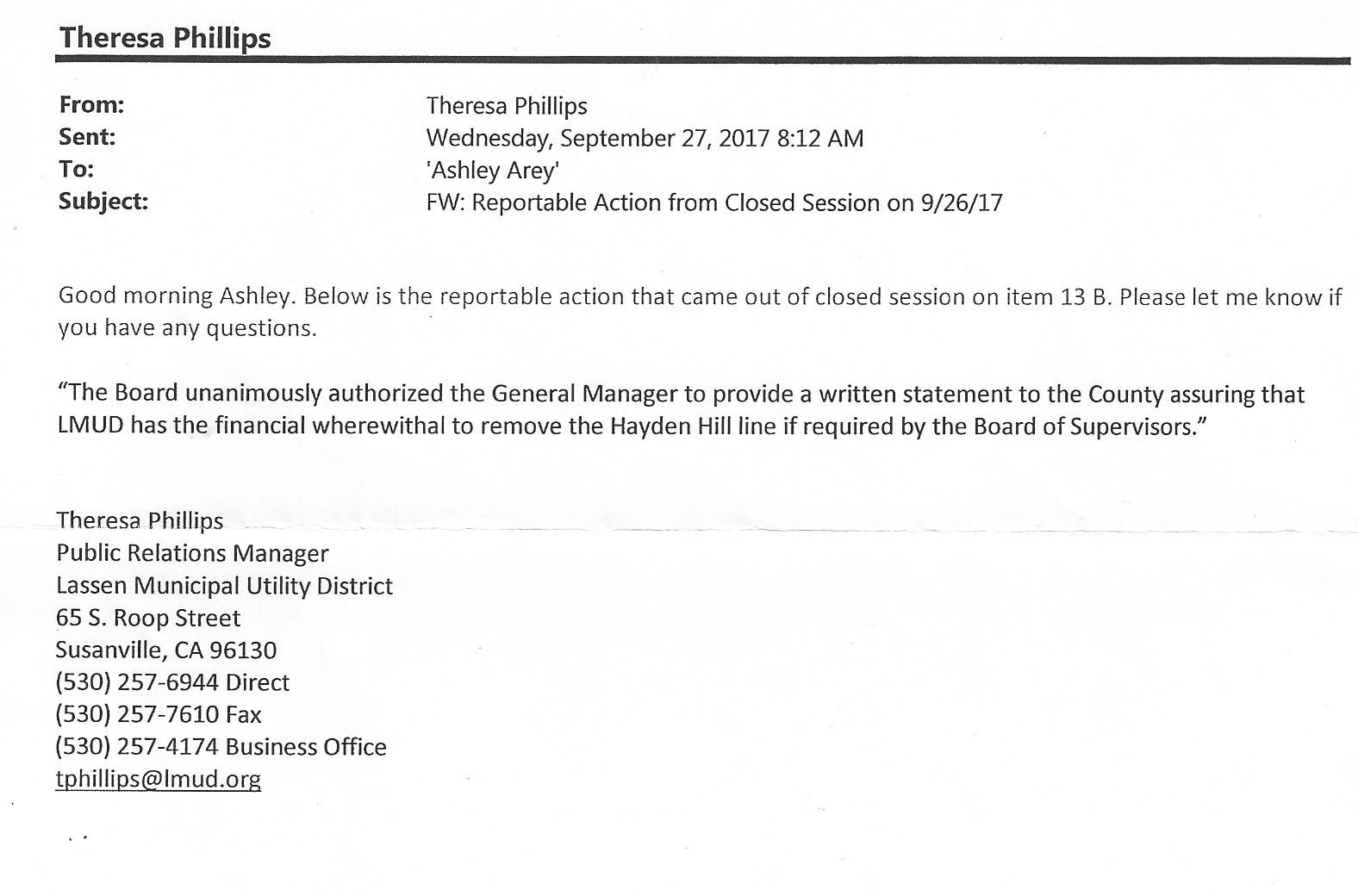 The clean up is more than removing the power lines.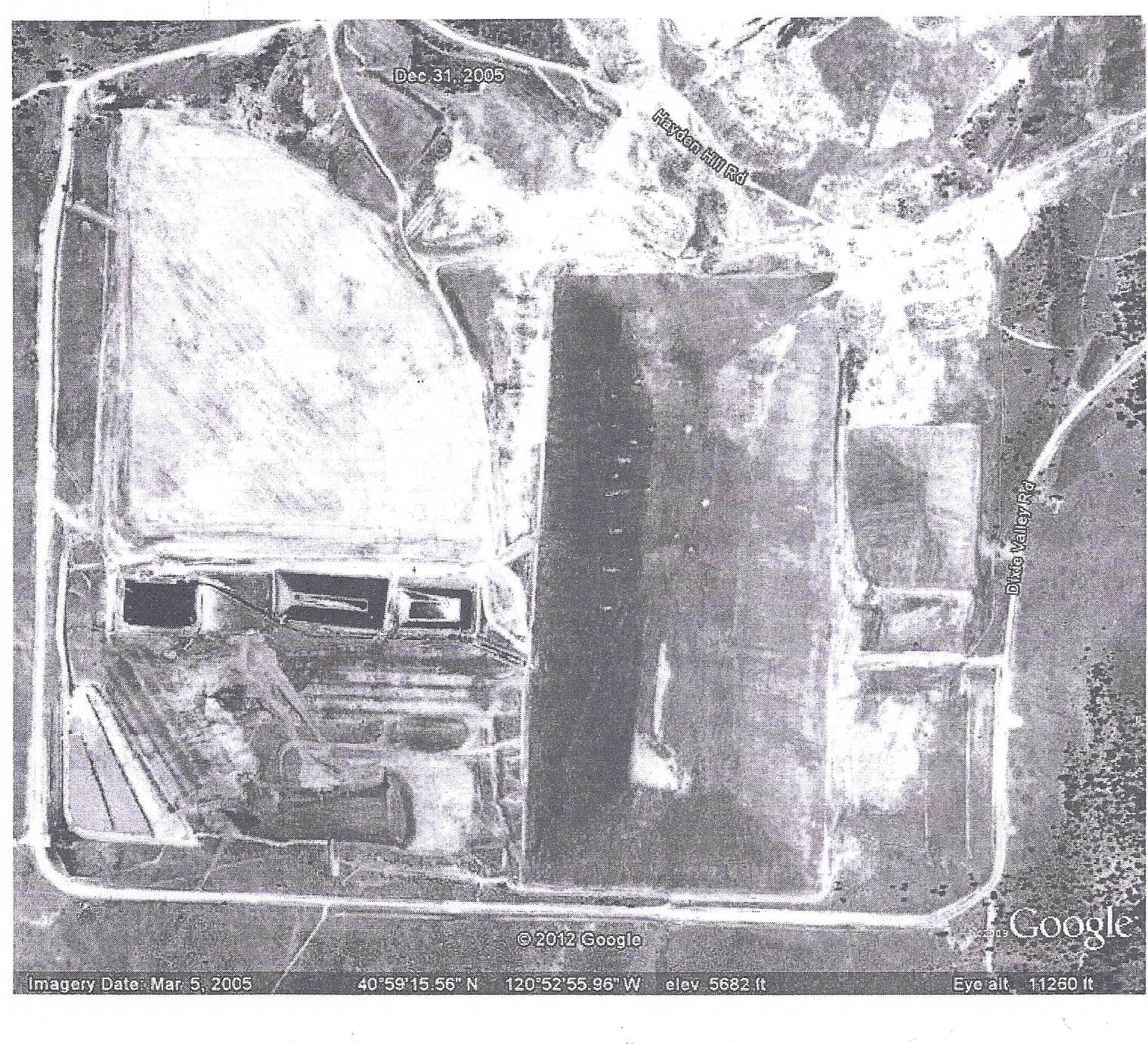 Lassen County holds a $3,000,000 bond for the LMUD clean-up. This "Bond" was required under Lassen County's Reclamation Plan when LMUD purchased this property for $65,000 from Kinross Gold in 2007.

LMUD has now amassed $10,000,000. This is $8,500,000 over what they are required to have in reserve.
LMUD, over the years has been promised pie-in-the-sky million dollar upgrades to LMUD's infrastructure by energy companies. They wined and dined the LMUD Board & coerced LMUD to spend thousands of dollars on "their" studies (which were never released).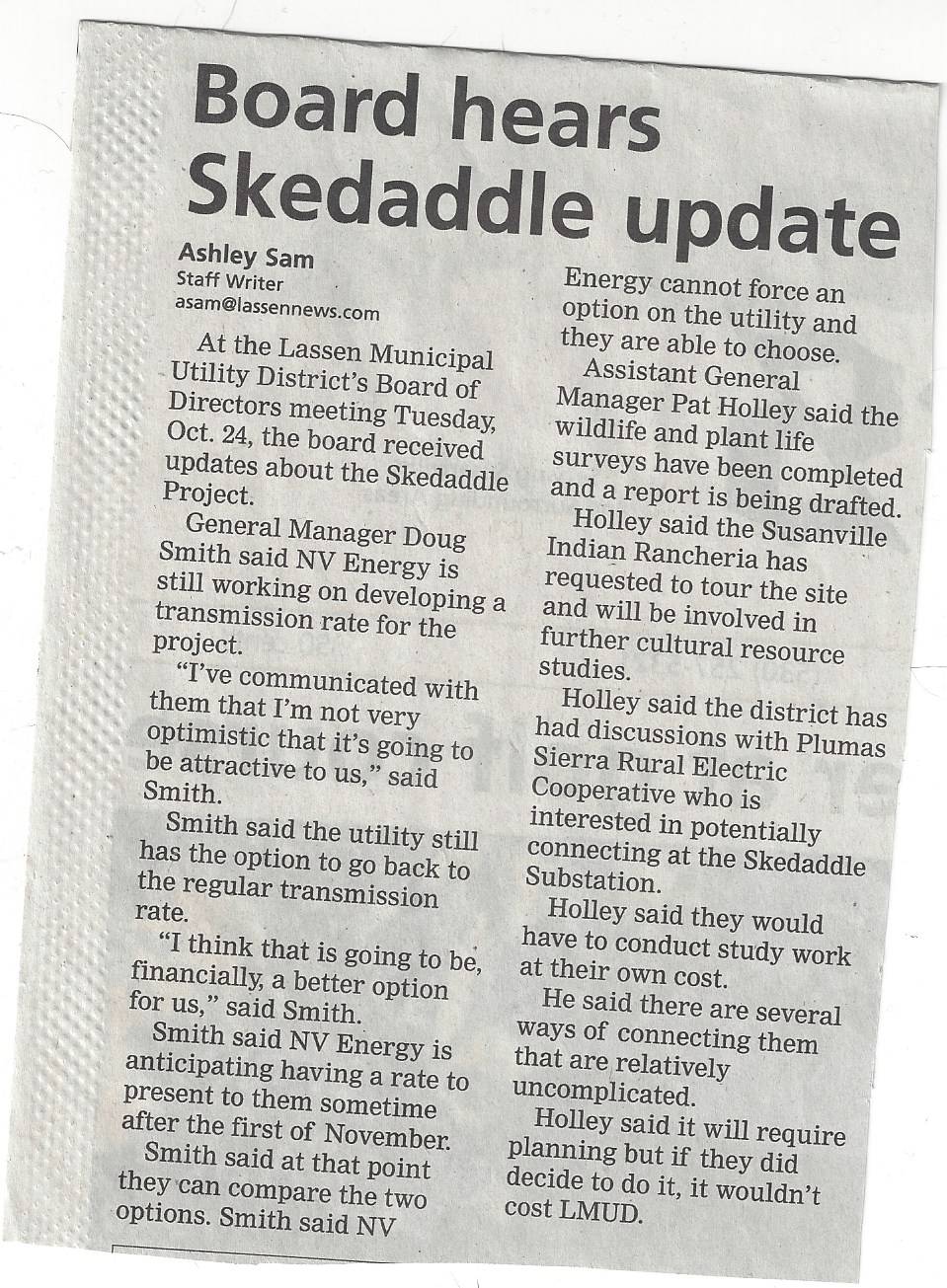 ...IT WOULD COST LMUD NOTHING?
THE RATEPAYERS HAVE HEARD THAT FOR THE LAST 20 YEARS...
LMUD got nothing, for the dozens of studies they had done for these "energy companies"
NOTHING !
Spend millions on the
LASSEN COUNTY MANDATED CLEAN-UP
for their Hayden Hill property
or
millions on
BUILDING NV ENERGY'S
NEW LMUD VIEWLAND Skedaddle Substat
$$$$$$$$$$$$$$$$$$$$$$$$$$$$
NV ENERGY CONTINUES TO LOBBY LMUD
TO PAY FOR BRINGING THEIR POWER INTO CALIFORNIA
NEW LMUD VIEWLAND Skedaddle Substationn
230kv Substation land only
Cost: $250,000
Purchased: November 1,2016
736-415 Wendel Road
241.88 Acres
Today Senate Republicans pass a Budget (51-49) that increases
the National Deficit by $1.5 trillion dollars after they defeated Rand Paul's Amendment of increasing the Deficit by $2.5 trillion.
The reason: A volley of "pork" Amendments by Republicans
All you "limited" government advocates can kiss your tax cuts GOOD-BYE
by the way, this budget also includes a $1 trillion cut to Medicaid (ACA funding)
and $500,000 million from Medicare (Seniors benefits)
KAN WE HELP ASKS COUNTY TO EXPLAIN ERRORS
ON THE
2950 RIVERSIDE BUILDING PAYMENTS



This presentation was made in the Public Comment portion of the Agenda, on October 17, 2017 Board of Supervisors meeting, but will be, as usual, deleted from the official Minutes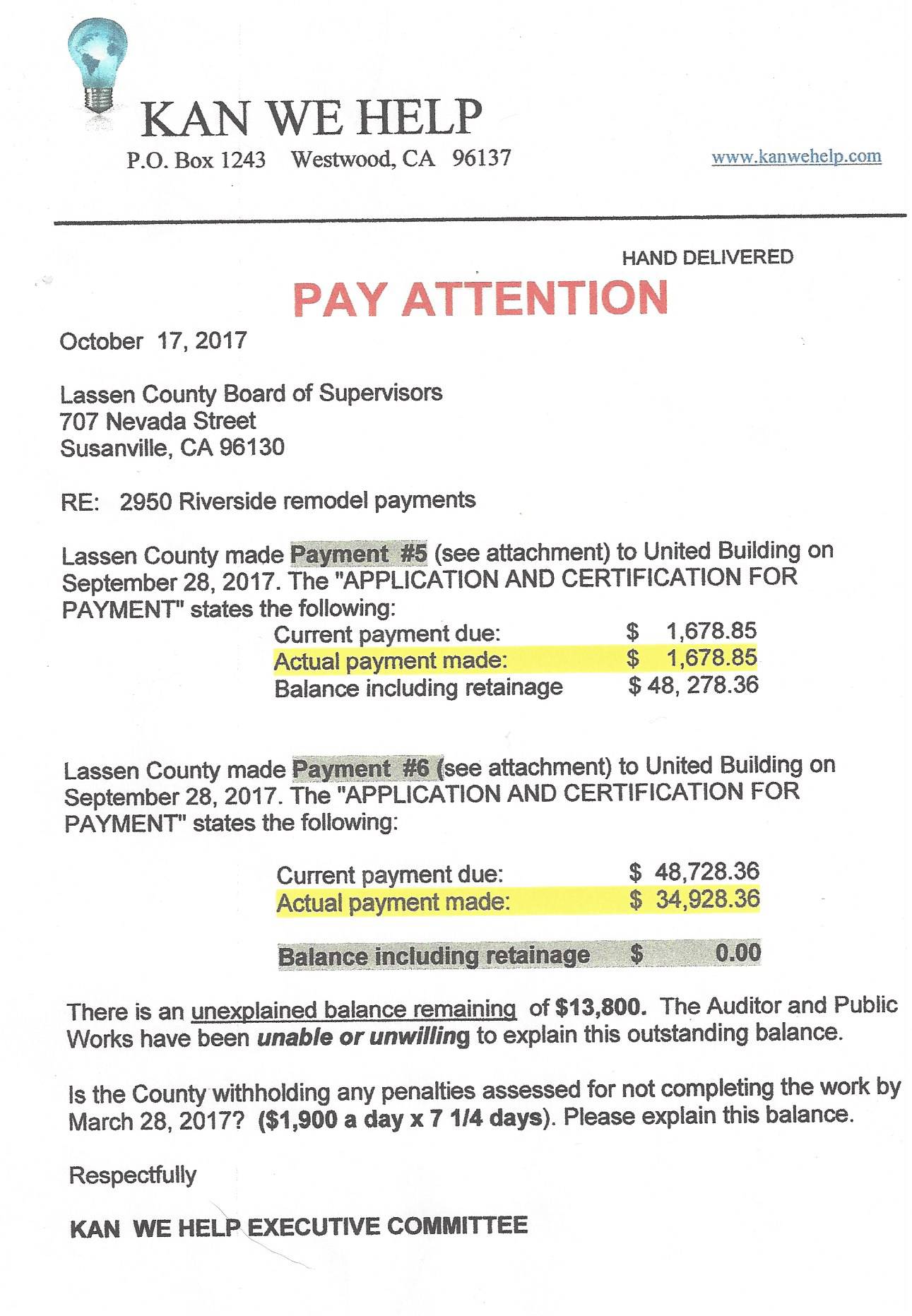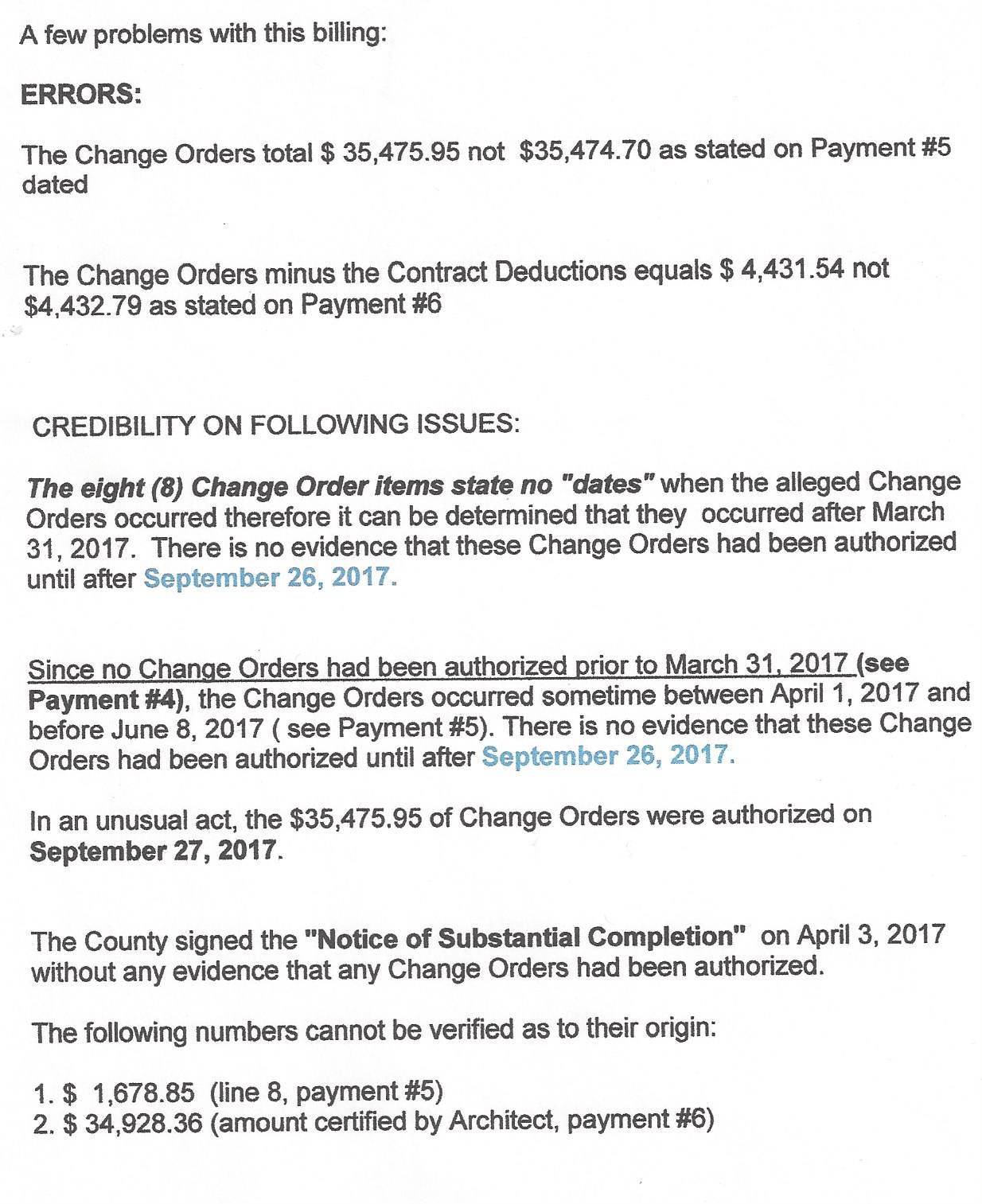 DID LASSEN COUNTY TIMES REPORT MISLEADING INFORMATION or DIDN'T RESEARCH BEFORE THEY PUBLISHED?
Lassen Municipal Utility District's September 26, 2017 Agenda
LMUD NEVER SENT ANY LETTER.
In a response, to a Public Records request, LMUD confirms no such letter exists.
QUESTION REMAINING:
DOES LMUD HAVE THE MONEY TO CLEAN UP THE *HAYDEN HILL SCAM?
* Fred Nagel, Frank Cady & Bill Stewart conspired to sell the Willow Creek ranchers power from the Hayden Hill power lines. Lines that had been taken down by the previous owners of the Kinross Gold mine. The Nagel group was charging $30,000 for a lie. The Hayden Hill power lines were serviced by Surprise Valley Electric District, not LMUD. LMUD never provided any power for the ranchers nor did they return the money.
Lassen County Planning and Building Services confirmed that they never received such a letter confirming that LMUD had the money to clean up Hayden Hill.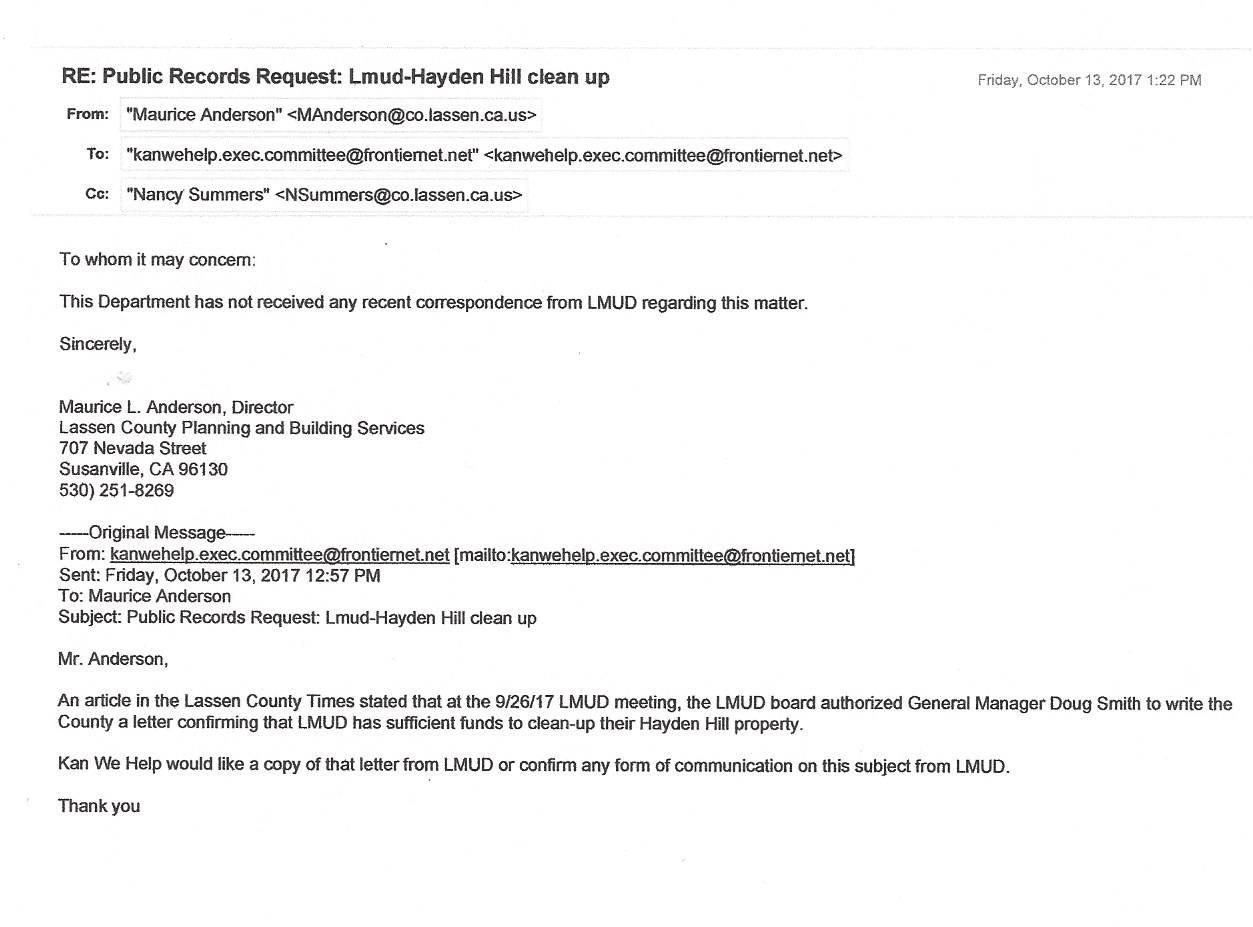 Trump surrounds himself with people that want to destabilize the United States government
But why start with hurting the poor. 70% of those benefitting from the Federal subsidies are in states that supported Trump
Is Trumps contempt for Americans so great that he will continue to destabilize our foreign policy (Iran, N.Korea...and our allies?) and domestic policy (American healthcare) ? What about Trump's trampling on the First Amendment? He hates the truth and is moving to a State controlled press. Sound familiar? If it doesn't......look really closely at his boss, Russia's Putin.
The small percentage of people that Trump panders to, the White Nationalists who represent white supremacy and the representation of the Tea Party/Freedom Caucus in Congress that wants to eliminate the federal government cannot be allowed to destroy our democracy. Those that can remember the John Birch Society should be concerned. Those that don't know the history, look it up....we have Google now.....
TRUMP INTENTIONALLY INJECTED UNCERTAINTY INTO THE HEALTH CARE MARKET TO END THE AFFORDABLE CARE ACT WHICH GIVES MILLIONS OF AMERICANS HEALTH INSURANCE.
Trump's Press Secretary just released a statement that according to the Justice Department (Jeff Sessions) the Federal Government does not have to continue to pay Federal Subsidies for the poor.
If Trump enacts this policy, this will end the Affordable Care Act and health insurance for millions of Americans.
TRUMP HAS DONE NOTHING
in 9 months but
HURT AMERICANS...just because he can
How or who can stop this insane man?
LASSEN COUNTY'S MONEY PIT
There was a real good reason why Bureau of Land Management moved out of 2950 Riverside. Nothing worked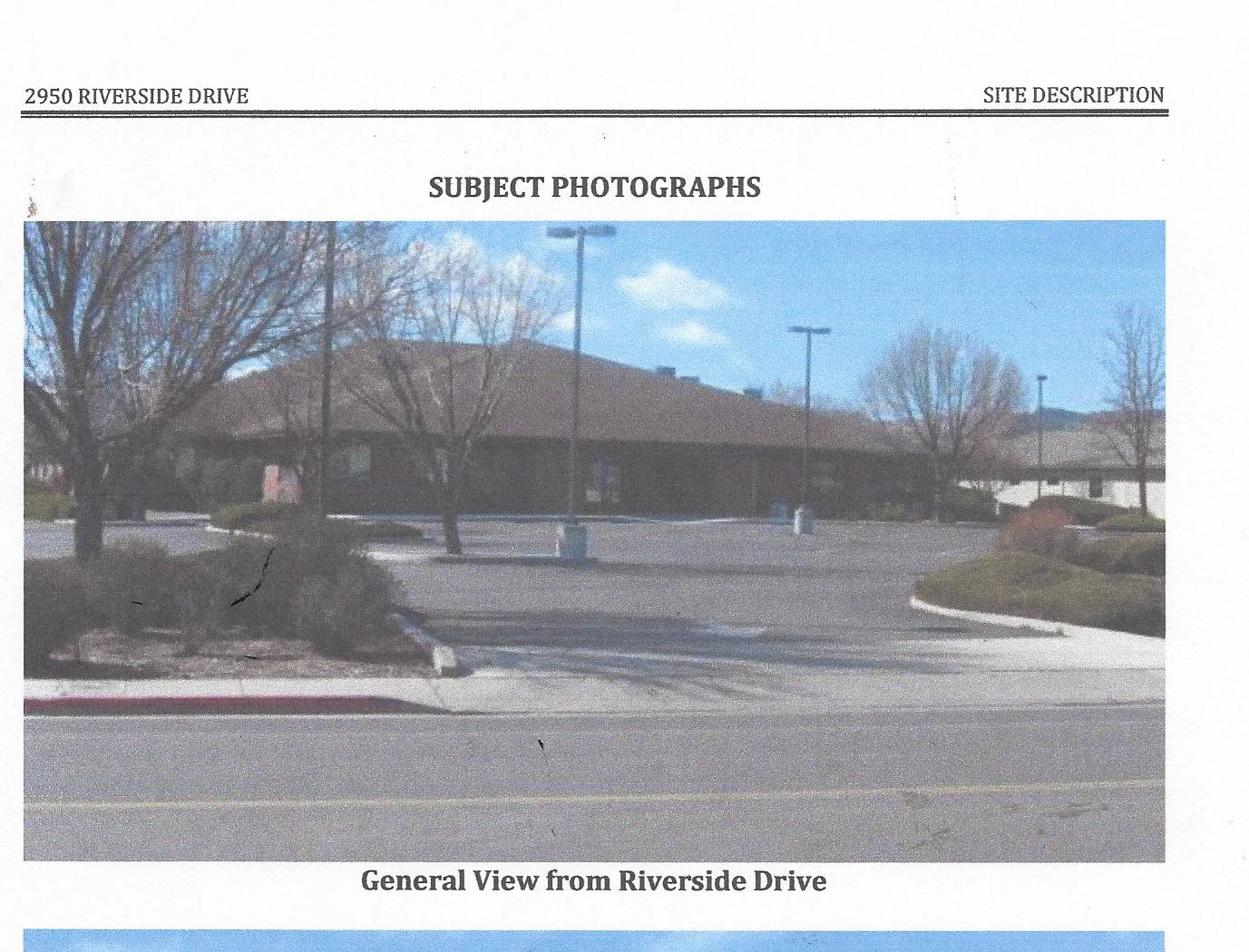 Lassen County purchased this 17,714 square foot building without any inspections. That fact by itself was irresponsible and you have to ask yourself.......WHY?
After spending over $2,500,000 on this property it continues to be a money pit of repairs. The IT company practically lives at the building. The electricians are trying to figure out why the motion lights don't work and the heating and air conditioning is sporadic at best.
Lassen County issued a Notice to Proceed to the Contractor on November 28, 2016

and stated that the project must be completed no later than March 28, 2017. The County signed a Certificate of Substantial Completion on April 3, 2017

. The building was not fully functional but the County moved all four Departments into 2950 Riverside on April 28, 2017 anyway.
The Change Orders were signed on 9/28/2017

, five months after the County departments moved in and the building continues to have major problems. The final (?) payment to Modern Building (contractor for 2950 Riverside) just didn't add up and the County has not responded to explaining the final payment.
Payment #4 April 20, 2017 $409,182.34
Balance $54,840.00 ($48,640 is the retention)
*Payment #5 September 28, 2017 $36,607.21
*8 undated Change Orders, $35,475.95 with 3 contract work deductions, $39,907.49 equals an additional amount owed to the contractor of $4,431.54
The Lassen County's Administrative Officer is moving money around to even make the $300,000 annual payments on the $4,080,000 2015 loan.
The County has sunk over $2,500,000 into this building and the taxpayers need to know about this gross mismanagement
Lassen County Times claims they are a "watch dog" paper
The one thing the Lassen County Times is NOT, is a WATCH DOG PAPER. The greatest complaints that Kan We Help receives is that the Lassen County Times suppresses the facts. They don't investigate or do any follow up on their stories and they omit stories that might offend their "advertisers".
Manipulated news................. for profit?
Having a "competitor" like Kan We Help, keeps the news on the straight and narrow. The Lassen County Times must please their advertisers first, to stay in business. Remember, this is a weekly throw-away which is locally called fish wrap.
Kan We Help was sued on June 27, 2017 by the Lassen County Times Editor, Sam Williams.
Sam Williams LOST his defamation CASE against Kan We Help. SC 60880 Decision
For 15 years Kan We Help has posted stories that the Lassen County cannot publish....because we can investigate, we can follow-up, we can print the truth and the people like that and have trusted Kan We Help.
Does the Lassen County Times practice what they preach? Most might say a whopping big No......
The Lassen County Times sends staff to cover public meetings and people that have attended these same meetings complain about the huge omissions of fact when they read the published version in the Lassen County Times. There is no excuse for this from a weekly advertiser that claims to be a "newspaper", that claims to have "journalists". You can find the real story about LCT by talking with former employees, which Kan We Help has done.
Not too long ago, the Lassen County Times trashed "blogs" and now has tried desperately to be an on-line blog. This is a reminder of when a former Editor of the Lassen County Times was caught publishing fake comments to support her position as Editor.
Trump snaps at San Juan Mayor after she begged him for help and Trump complains that "they want everything to be done for them"
Trump was at his New Jersey golf club when he made the statement about the Puerto Rican Americans.
This is Trumps "staff" at Mar a lago. The staff at his golf club is twice as "BIGLY"
HE'S A BUM: Labron James
no.....he is an Emperor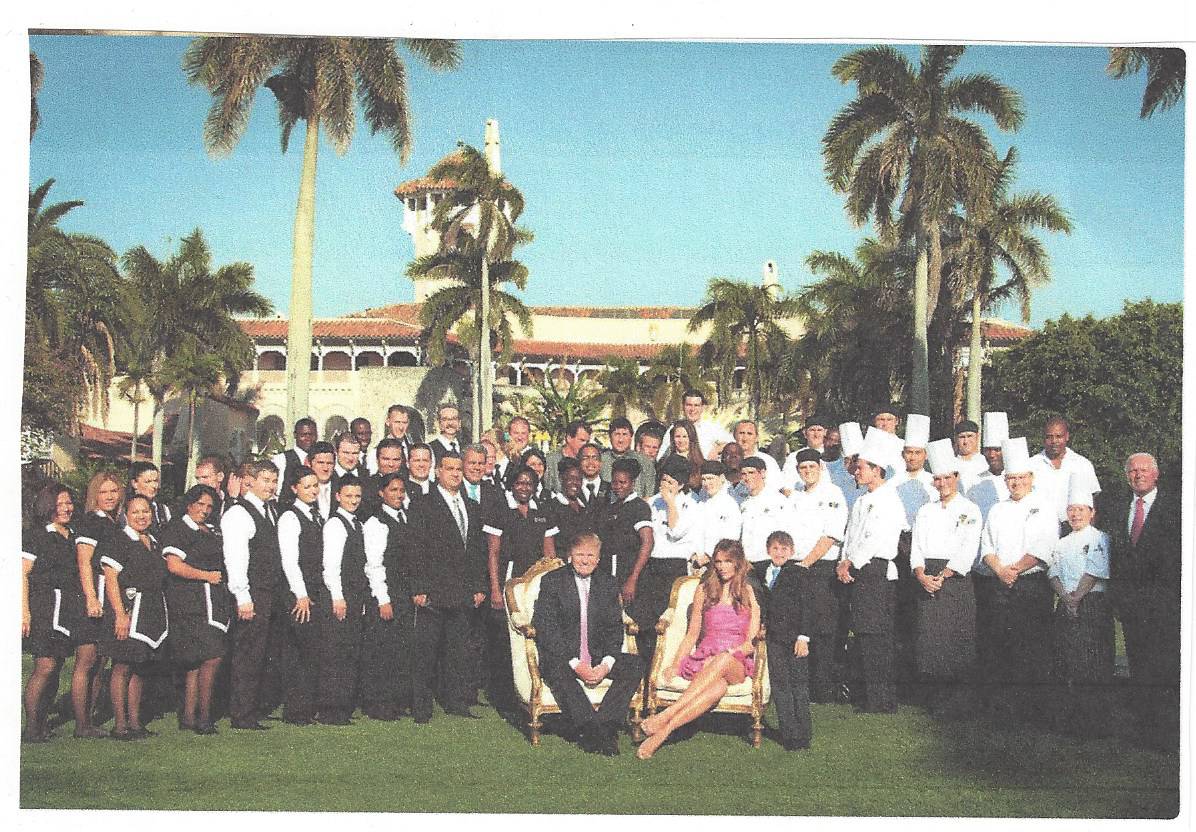 City of Susanville has a new Community Pool
The City of Susanville is the only incorporated city in Lassen County. The taxpayers of Susanville donated a million dollars + and the taxpayers of Susanville (residents of Lassen County) paid another million dollars + from the County coffers to build this pool.
Susanville taxpayers paid twice so naturally they should act like they own the Honey Lake Valley Pool at 800 South Street. The County has relinquished any interest in the management or financial control of the pool.
The City of Susanville now totally runs
the pool in all aspects.
This explains why the County refuses to attach any link to the Honey Lake Valley Community Pool on the County's website, ANYWHERE.
The City of Susanville has refused to link the Lassen Rural Bus Schedule on their website for fear that Herlong, Doyle or Westwood people would likely want to use Susanville's Pool.
LET'S MAKE SOMETHING PERFECTLY CLEAR:
THE NEW COMMUNITY POOL IS FOR SUSANVILLE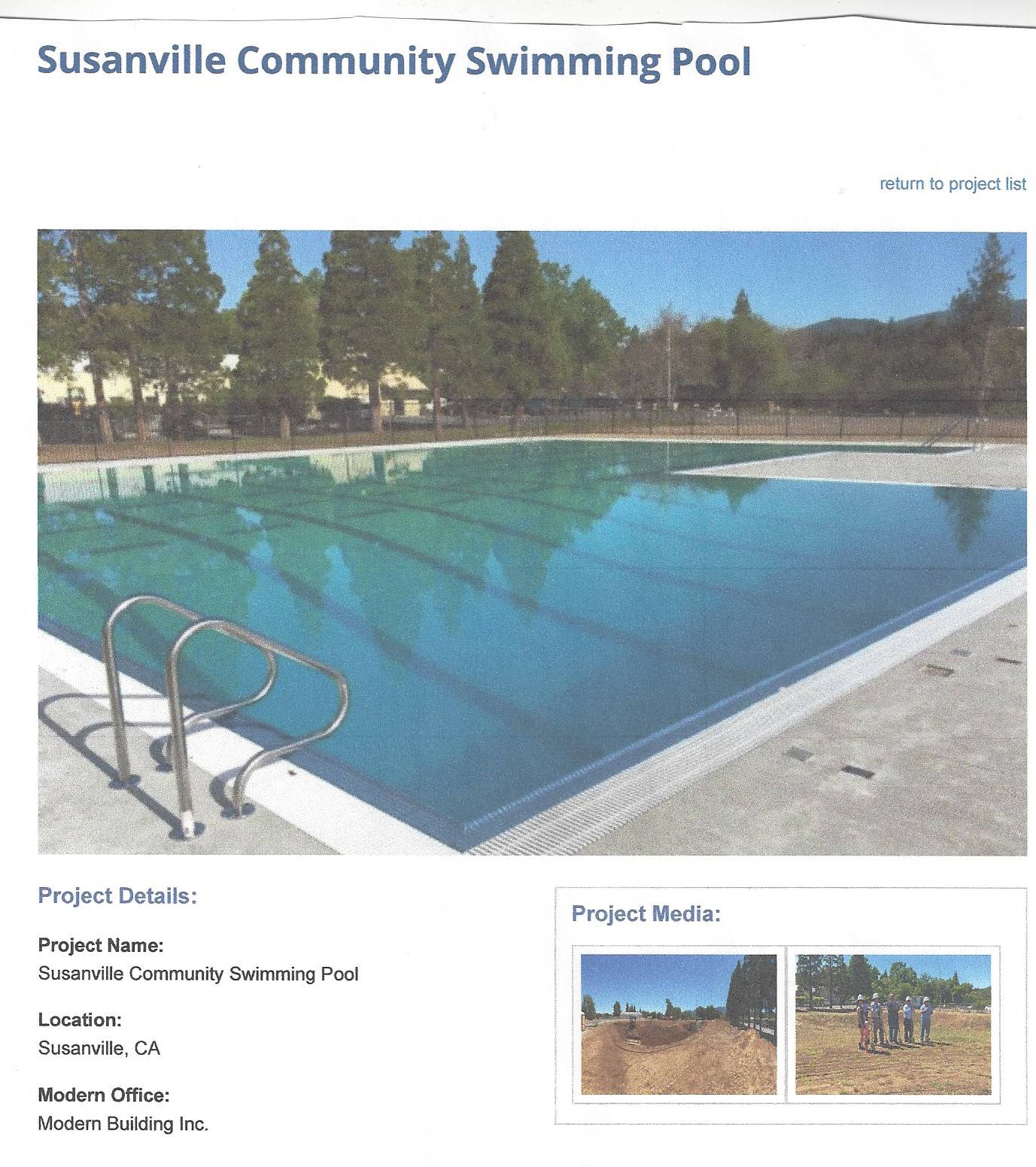 With three Susanville residents on the 5 member HLVRA Board, the County has even lost their voice on the Joint Powers Authority (HLVRA).

This could be why the outlying towns in Lassen County did not want taxpayer money spent on a pool that will only be used for Susanville residents.
KEEP IT A SECRET FROM THE REST OF LASSEN COUNTY
MEDICARE FOR ALL AMERICANS
Take Insurance companies out of health care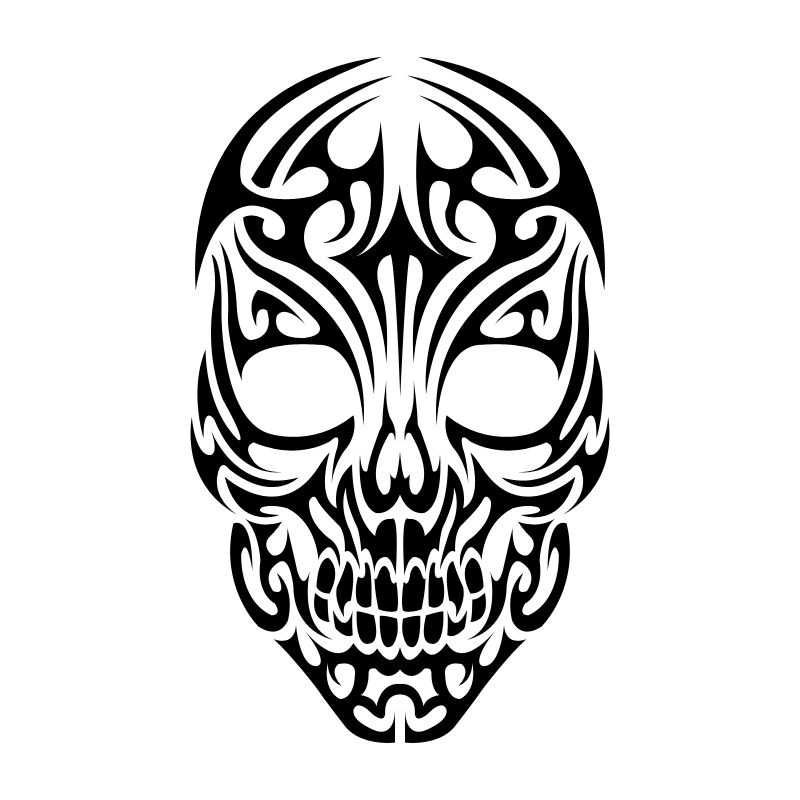 Trumpcare 2.0 Dead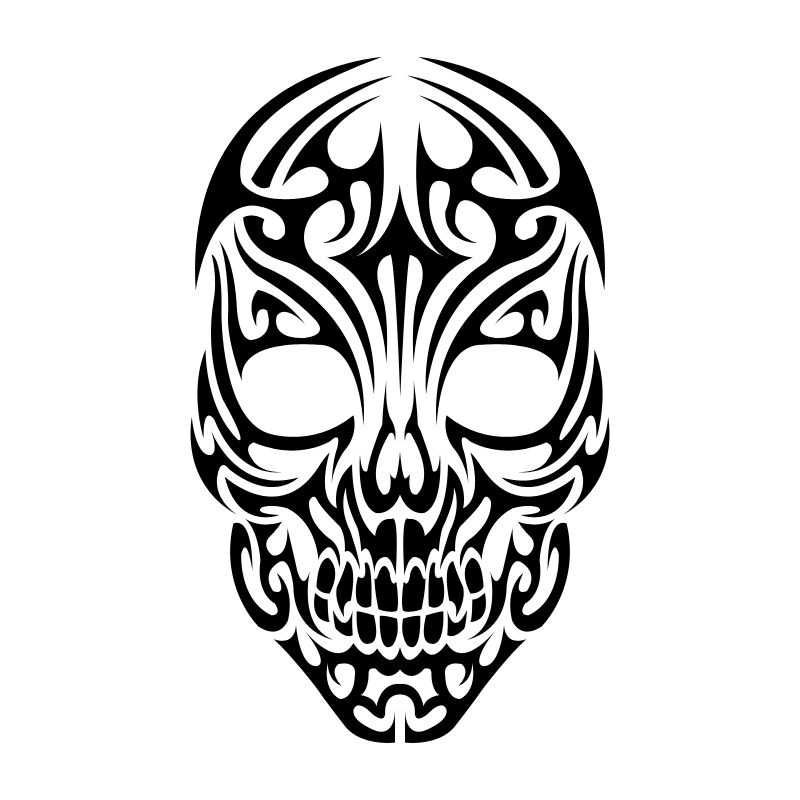 This version [Graham/Cassidy] would have ended
Medicaid Expansion in all 50 States
Senators McCain, Rand Paul, Susan Collins will vote NO
Nineteen states did not accept the Medicaid Expansion after the 2012 Supreme Court decision which made Medicaid Expansion optional. Medicaid Expansion covers the low-income and this is what Trump has targeted to be eliminated. Killing Medicaid Expansion would kill the Affordable Care Act and give Trump his money for tax cuts for the rich.
THIS IS HIS URGENCY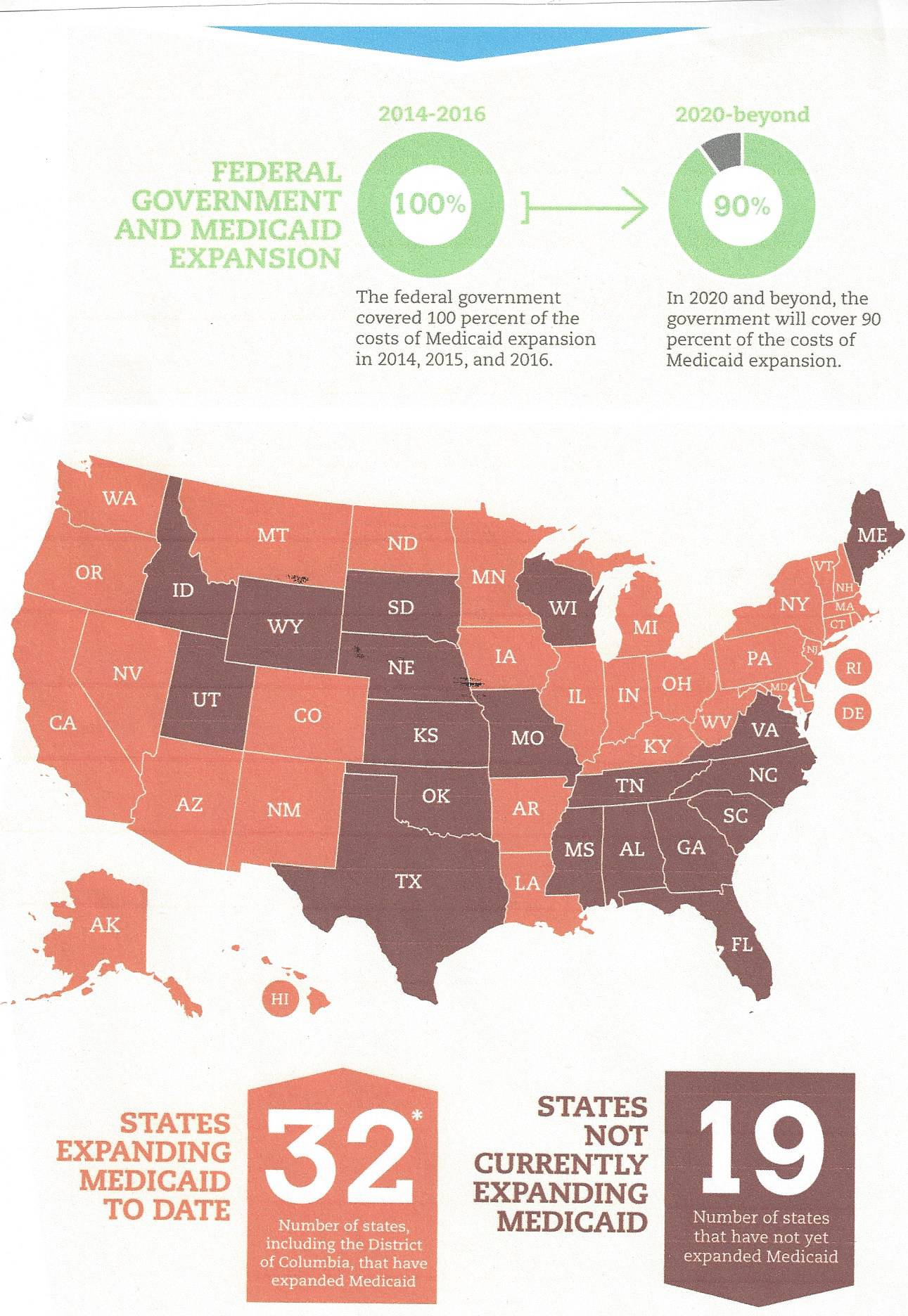 September 23, 2017
After nine years, the Republi-Klans (Tea Party/Freedom Caucus)
are still trying to take away health care for Americans
Trumps Treason: Clear & Present Danger
PAY ATTENTION
This presentation was made on 9/19/17 at the Board meeting but you will not see a word about it in the Board of Supervisors Minutes or the Lassen County Times. Just normal suppression in Lassen County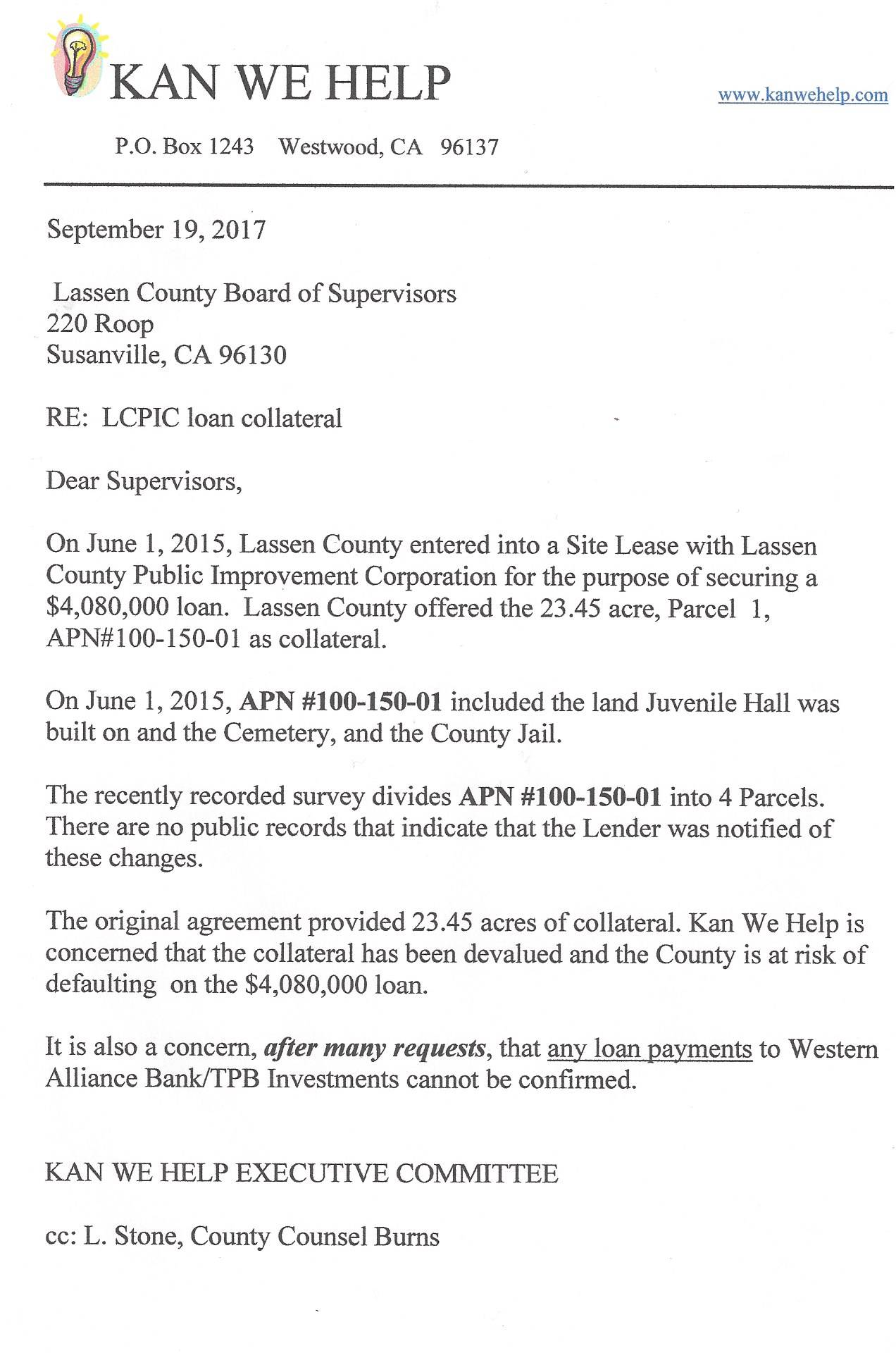 This smells of the same Amedee Army Airfield deception.
Kan We Help exposed the Supervisors attempting to include the airfield in the Pezzullo Amedee Parcel Sale. Property that the Supervisors publicly stated they were keeping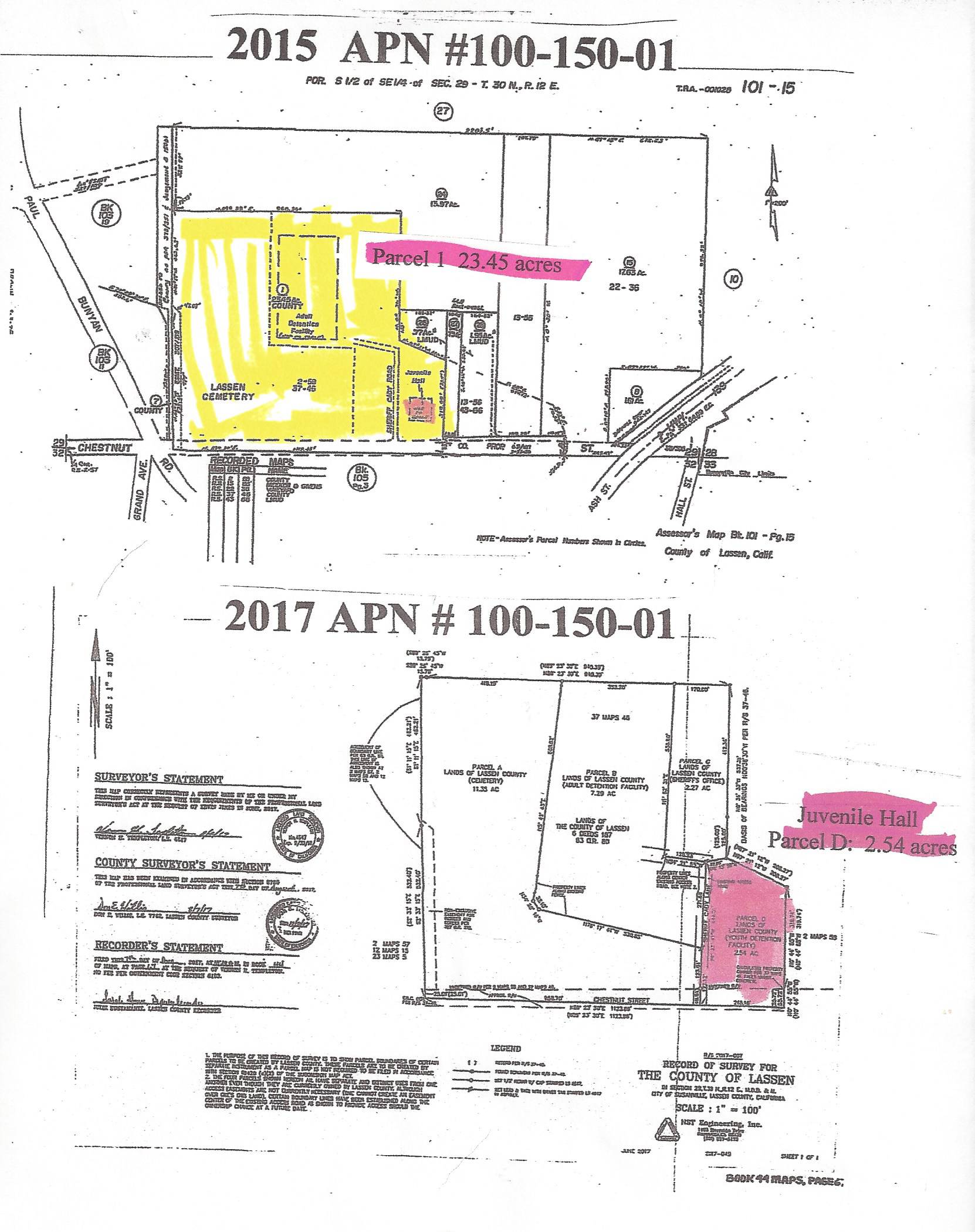 Lassen County Supervisors are being advised to
de-value the collateral they put up for the
$4,080,000 loan

The Lassen County Supervisors took out a Certificate of Participation loan on June 5, 2015. They used Parcel 1, which is a 23.45 acre parcel that the Juvenile Hall sits on as collateral for the $4,080,000 loan.
Kan We Help argued that if Lassen County defaulted on this loan
that the County would lose the jail.
APN 101-150-01 (2015 map marked in yellow)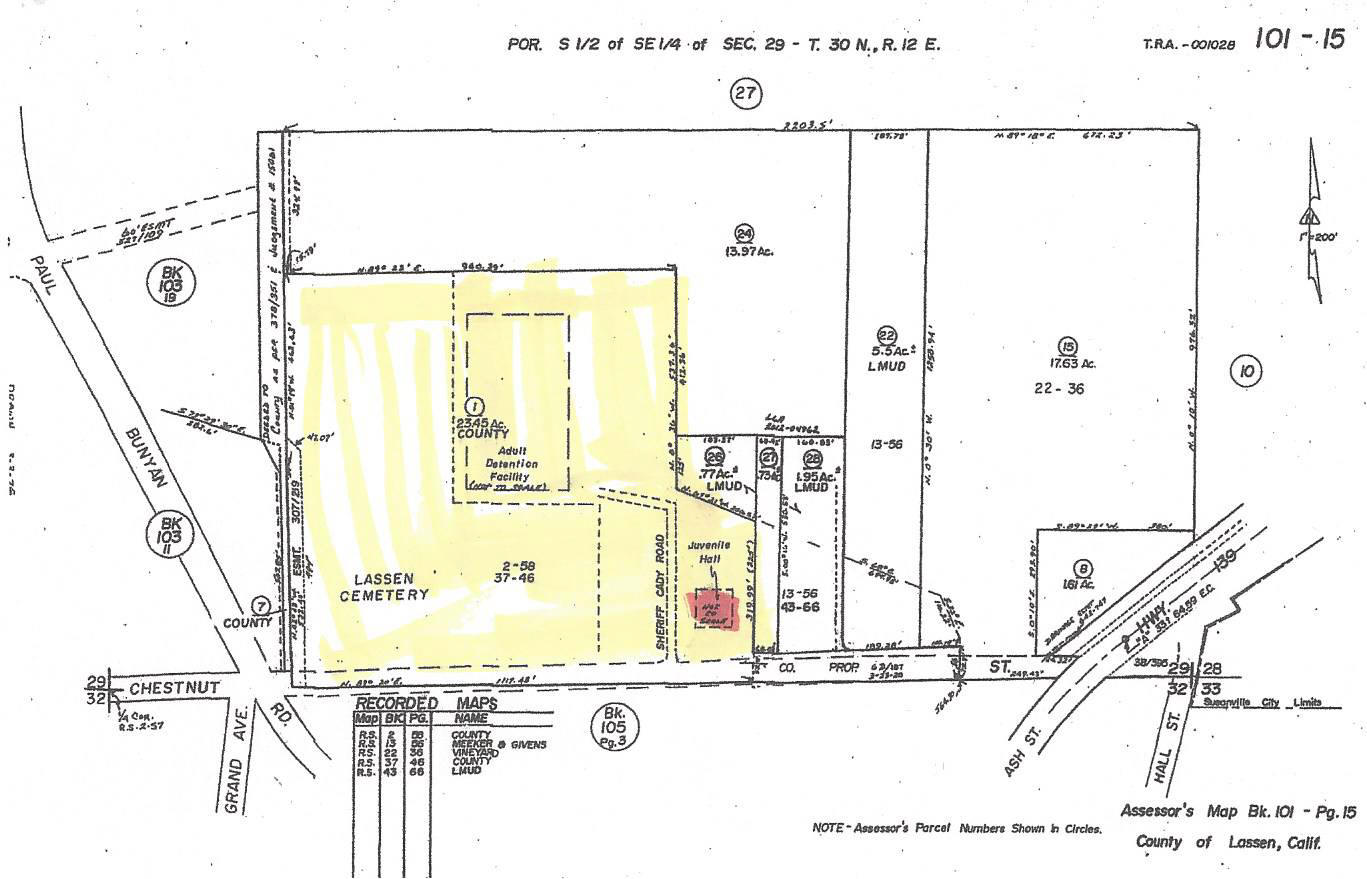 The "Site Lease" between Lassen County and the shell corporation "LCPIC" included the 23.45 acre Parcel 1 above.
Now, Lassen County is attempting to degrade their collateral without telling the Lender, *TPB Investments owned by Western Alliance Bank
*TPB Investments was incorporated in 2011 and is based at 201 East Washington Street, Ste 1200, Phoenix, Arizona.
TPB Investments does not have any recorded key officers
If the County goes through with this, the 23.5 acre collateral would be reduced to 2.54 acres and puts the County at risk
Tony Shaw claims that the County does not have to inform the Lender.
It would be the equivalent of someone taking out a bank loan on property the bank thinks is 23.45 acres but was reduced to 2.54 acres. The bank would be in a position to file legal action against LCPIC and Lassen County
APN 101-150-01 (2017 map marked in pink)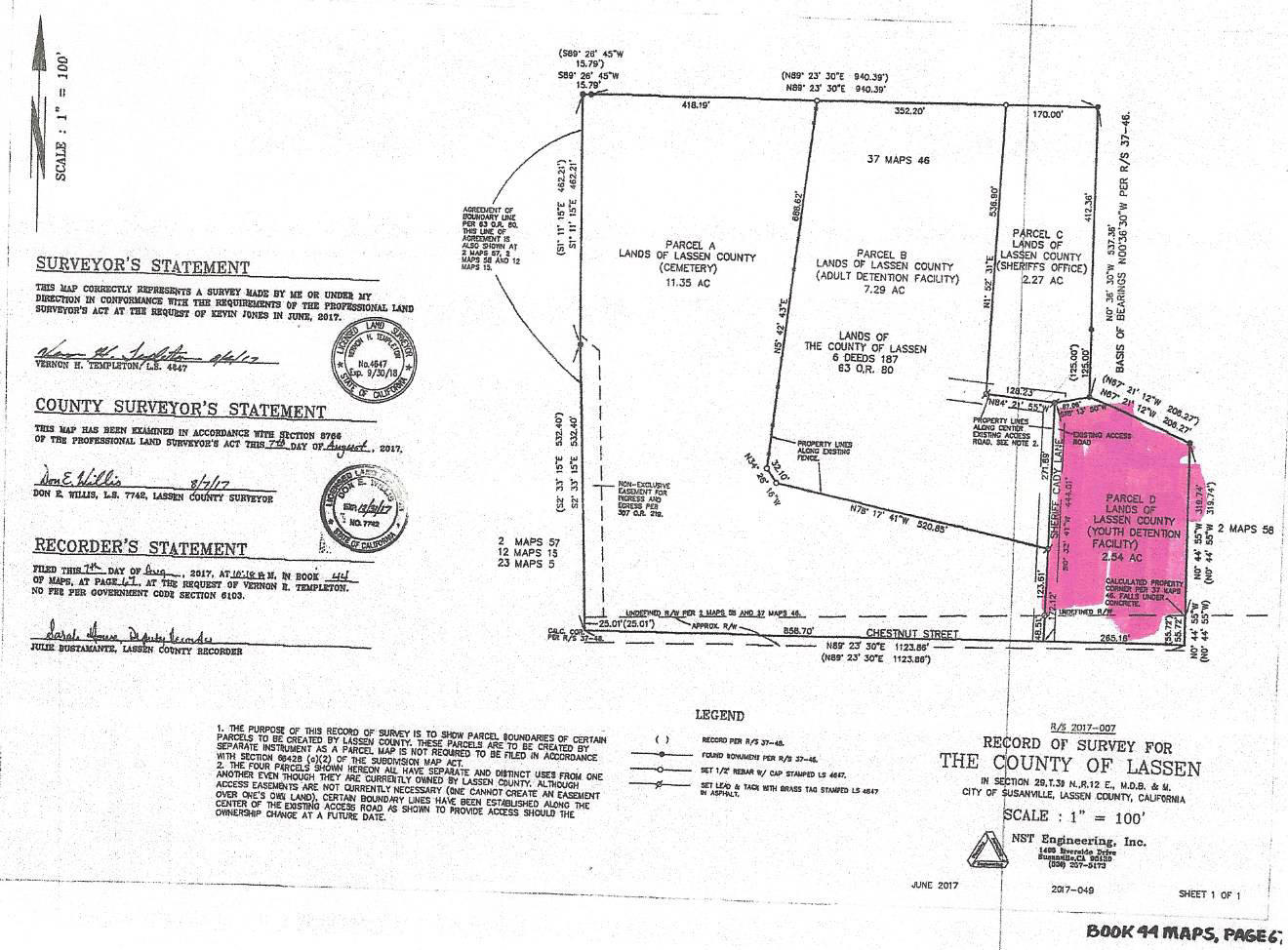 LASSEN COUNTY SUPERVISORS VOTE TO APPROVE
THE COUNTY'S 2017/2018 BUDGET
AT THEIR SEPTEMBER 12, 2017 MEETING
Old habits are hard to change, however this year's Budget made a good attempt to clean out those pockets of padded accounts that have held millions of dollars that Kan We Help identified
Kan We Help thinks some decisions should be looked at more closely:
The 2014/2015 Budget and 2015/2016 Budget designated $10,000 each to the three "ONE STOPS" (Family Resource Centers) which directly aids the needs of the County's disadvantaged population. All funds have been cut.
However, the $20,000 contribution for Supervisor Albaugh's District 4 Beiber Pool was preserved.
The $80,000 HLVRA annual contribution has been moved into the General Fund.
Kan We Help is still waiting for public documents proving Lassen County has made the annual payments on the $4,080,000 2015 loan

Lassen County is attempting to degrade the collateral on this loan. Could mean legal problems for the County
(coming soon: details on this issue)
9/12/17 UPDATE: Supervisors restored the funds to all three Family Resource Centers.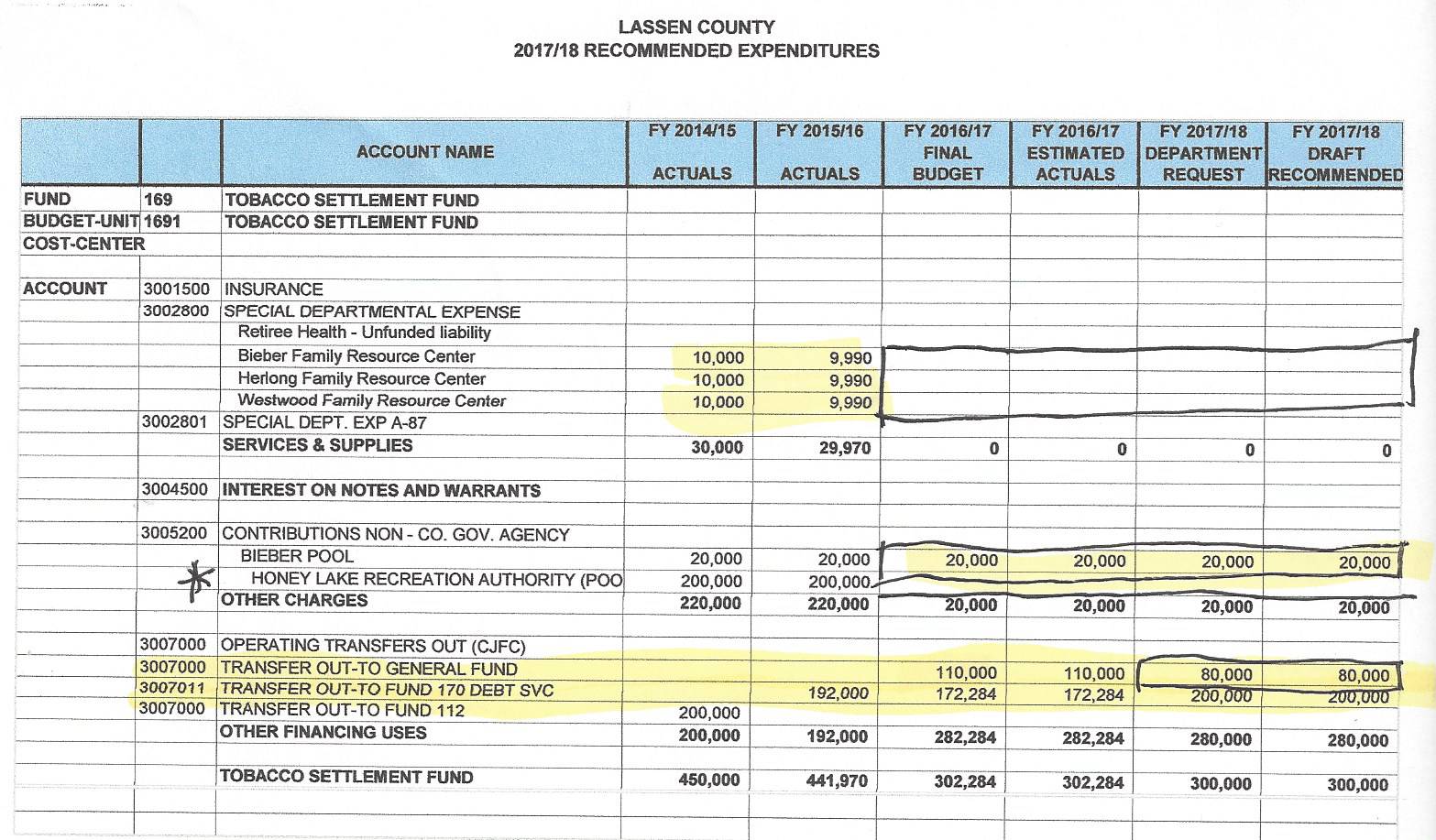 Would this be a good time to eliminate the Supervisors "politically used"
$25,000 Discretionary Fund and move it into the Family Resource Centers funding?
Lassen County's $5,000 donation to the Chamber of Commerce for the County Courthouse Centennial Event has only produced a few tours but mainly a fund raising opportunity for the the "Chamber". The $5,000............?
In the very recent past, other frivolous large donations by Lassen County, to the "Chamber" included fees for a contest the "Chamber" wanted to enter and a fake Christmas tree.
NEVER ANY ACCOUNTABILITY FOR A SINGLE DOLLAR
??????????
Lassen County Counsel's Budget continues to hide expenses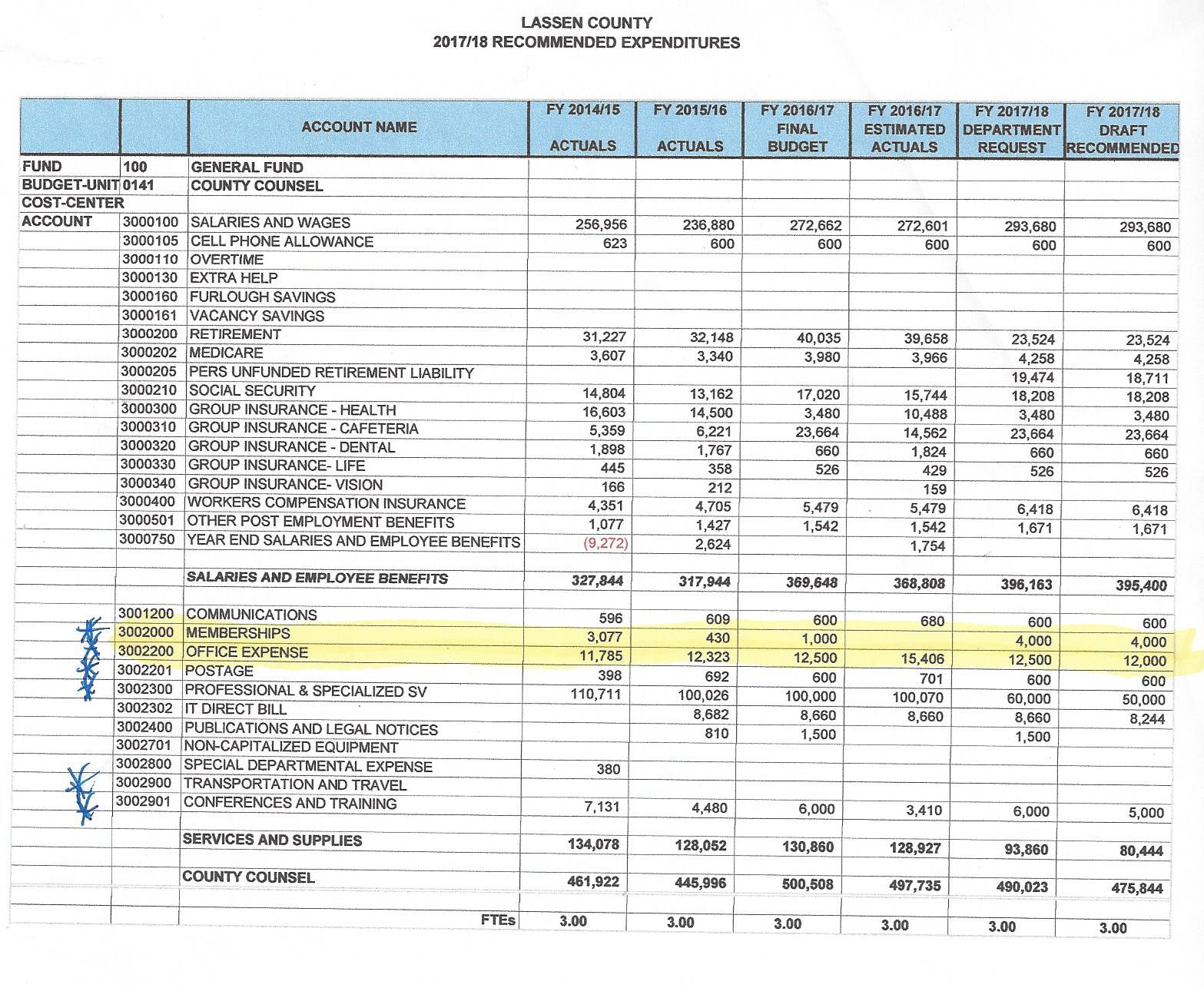 Kan We Help exposed Lassen County Counsel deceptions on his Budget
Lassen County Counsel has been posting his membership costs, postage, travel expenses, and conferences all in OFFICE EXPENSE.
The Membership Account (#3002000) has not been corrected to show the actual costs of memberships and has even been padded with additional funds.
The Office Expense Budget has not been corrected. Office Expense continues to include memberships, postage, travel and conferences expenses and funding has been duplicated now in these individual budgets.
Lassen County continues to deceive the public on this Budget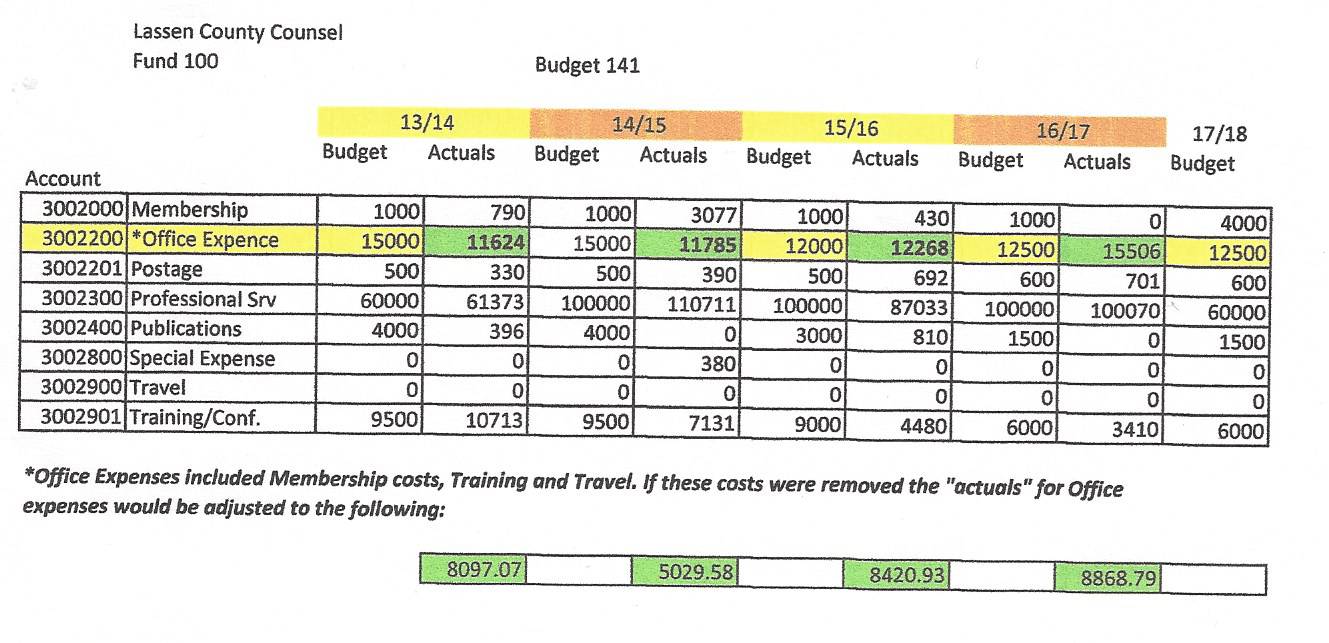 CAPITAL PROJECTS vs capital projects
Capital Projects have always been this County's Achilles heel. Because Lassen County rarely builds anything
Fund 150/Capital Projects indicates for the 2017/2018 fiscal year that the only Capital Project is $30,000 for more "slab & underground" work for the Public Works Department & more "Stones Well" work. This Budget allows $175,000 for "Professional & Specialized Services". It appears that slab work/well work has become very, very expensive.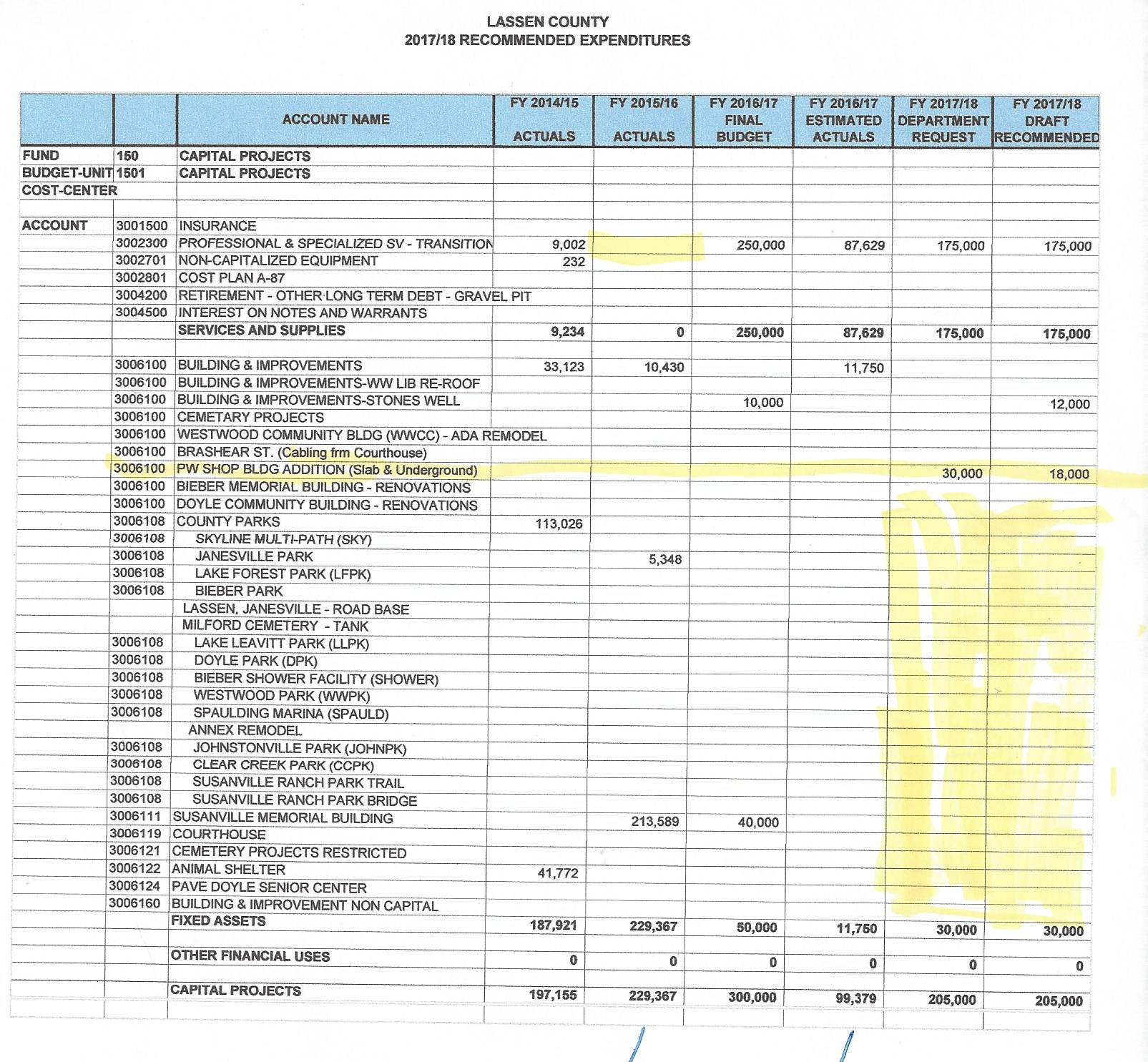 Fund 151 however indicates that the Lassen County Supervisors are attempting once again trying to budget $300,000 for the old Courthouse and $50,000 for 2950 Riverside. The Riverside Building continues to cost the taxpayers thousands of dollars in repairs and maintenance. There seems to be no end......
There is one big problem. The LCPIC loan has only $301,017.71 left.

TRUMP TERMINATES "DACA"
&
NOW TRUMP THINKS HE CAN BLACKMAIL CONGRESS TO PASS AN IMMIGRATION LAW THAT INCLUDES BILLIONS FOR HIS WALL.
NO SUCH DEMANDS FOR HURRICANE HARVEY RELIEF FROM THIS president
THE STUPID WALL THAT TRUMP RAILED ON THAT MEXICO IS GOING TO PAY FOR
TRUMP IS PANDERING TO THE 15% THAT REPRESENT THE WHITE SUPREMACIST
THE PEOPLE THAT GO TO HIS DWINDLING RALLIES
CORPORATE AMERICA AND THE DECENT AMERICANS ARE FIGHTING AGAINST THIS
TRUMP HAS THE TEMERITY, AUDACITY, AND GALL TO TERMINATE
PRESIDENT OBAMA'S ORDER TO "DEFER ACTION FOR CHILDHOOD ARRIVALS"
DACA
1. Trumps mother, Mary Anne MacLeod, was a 17 year old immigrant in 1929, that listed her profession as a "domestic" (housekeeper/cook)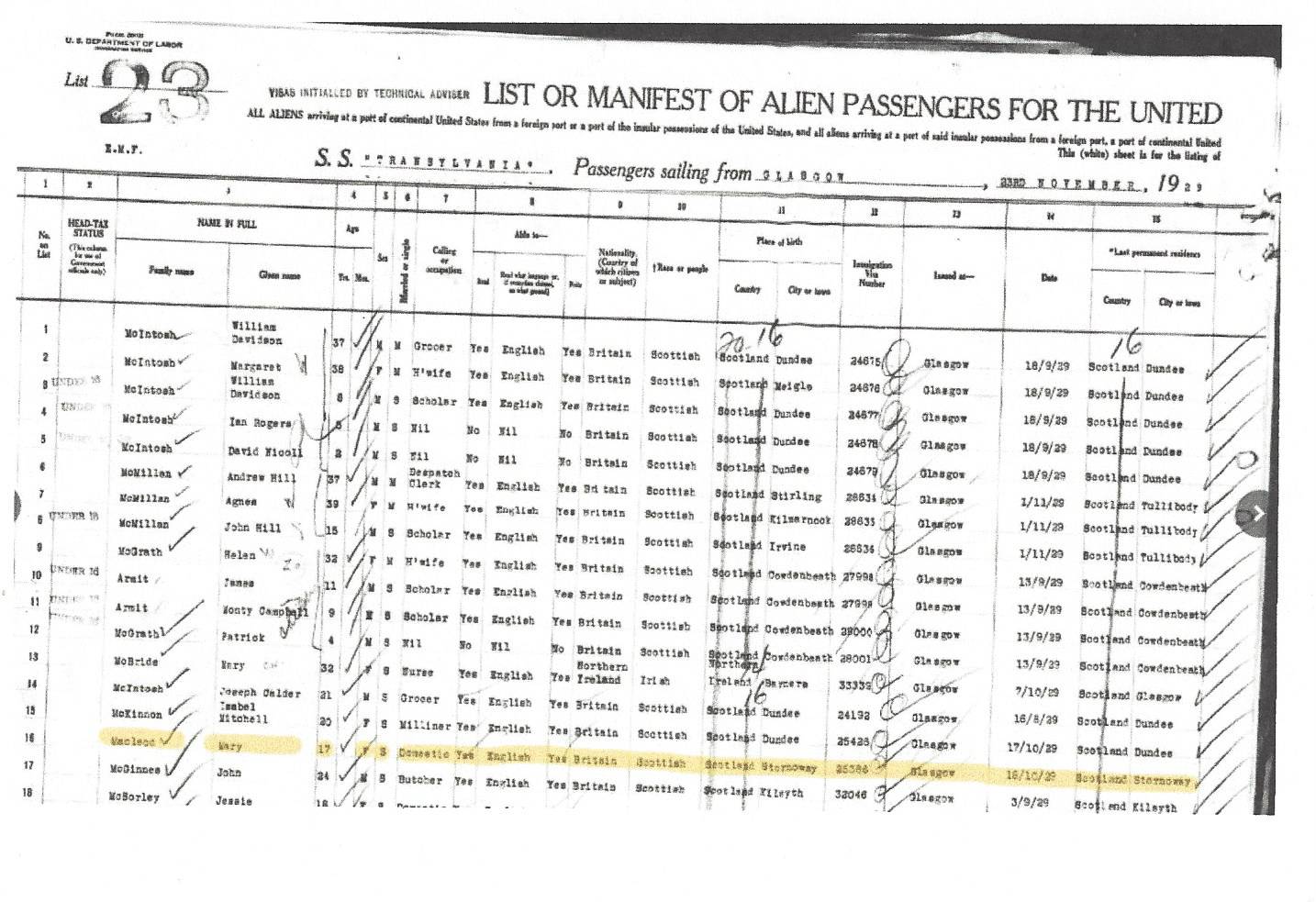 2. Trumps first wife, Ivana Zelnickova, was an immigrant from Czechoslaovakia. She married Trump on April 7, 1977
3. Trumps third wife, Melania Knavs was an immigrant from Slovenia, working in the United States without legal work visas. After working for Trump Model Management in 2000, she obtained a Green Card and married Trump in 2005
TRUMP: If you are WHITE, illegal immigration is accepted.
TRUMP WAS AND IS A RACIST
HE SURROUNDS HIMSELF WITH WHITE SUPREMACIST/NATIONALISTS
THE UNIVERSAL SHAME OF THIS MAN.........
UNHEALTHY COURT
Visiting Judge Jerry Johnson being manipulated and influenced
by Lassen County Presiding Judge Mallery
on cases Mallery has not been assigned to
Cases assigned to visiting Judge Jerry Johnson are being influenced by Tony Mallery. Growing concerns that Lassen County Presiding Judge Tony Mallery is coming out, to the bench, during court hearings to coach Judge Jerry Johnson on cases Mallery has been recused from. Judge Jerry Johnson calls recesses to hearings to counsel with Mallery. Judge Tony Mallery bumps visiting judges to hear cases that he has conflicts with.
Is Mallery out of control with his unethical, unchecked actions ?
The public can file complaints against any Judge that acts unethically
Commission on Judicial Performance
455 Golden Gate Avenue, Suite 14400
San Francisco, CA 94102
Recuse/Remove a Judge from hearing a case
The "Susanville" Community Pool......could it be true?

The last time Kan We Help checked this was a joint effort by Lassen County and the City of Susanville.
The City of Susanville promotes the pool as their "Community Pool" and provides a link to the Honey Lake Valley Recreation Authority's Community Pool website
THERE IS NO LINK OR MENTION OF THE HLVRA'S POOL ANYWHERE ON LASSEN COUNTY'S WEBSITE?
Who dropped the ball on this?
THERE IS NO LINK TO THE LASSEN RURAL BUS SCHEDULE THAT WOULD BRING SWIMMERS FROM ALL OVER LASSEN COUNTY TO THE NEW POOL ON LASSEN COUNTY'S WEBSITE, OR THE CITY OF SUSANVILLE OR THE *HLVRA'S WEBSITE?
*Update: HLVRA has now added a link to the County's bus schedule. Lassen County Supervisors have refused
KAN WE HELP HAS REQUESTED THESE LINKS TO BE ADDED.........TWICE NOW!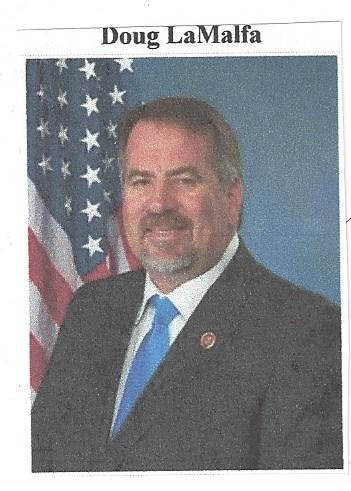 DISTRICT 1 CONGRESSMAN DOUG LAMALFA
RUNS INTO A BUZZ SAW IN 3 COUNTIES...
........the informed constituents in Butte, Plumas and Lassen County Town Halls
When confronted with those pesky facts, LaMalfa denies his own voting record.
When confronted with "his own words" (that simply regurgitate Trumps word vomiting) LaMalfa goes on the defensive.
Congressman LaMalfa claimed he lives a humble life but did not deny he has a home in the Lake Almanor Country Club now, in Plumas County, and has taken over $5,000,000 in Federal Subsidies.
Congressman Doug LaMalfa took office on January 3, 2013
FACTS THAT WERE DENIED BY DOUG LAMALFA
HR 45: First vote for Congressman Doug LaMalfa; to repeal the ACA
HR 152: Voted "NO" on Disaster Relief Appropriations Act 2013 (This was for Hurricane Sandy relief. (This Bill passed the House 241-180) 1/25/13
S 47: Voted "NO" on the "Violence Against Women Reauthorization Act" that was approved by the Senate (This Bill passed the House 286-138) 2/28/13
HR 3134: Co-sponsored 7/21/2015 "Defund Planned Parenthood Act" (This Bill passed the House 241-187) 9/18/15
HR 2406: Voted :YES" on the "Sportsmans Heritage & Recreation Enhancement Act" that allowed elephant trophy's including ivory to enter the United States, to allow polar bears to be harvested for their body parts, to remove the gray wolf from the endangered list and kill bears while they sleep (This passed the House 242-161) 2/26/16
Congressman Doug LaMalfa did not want to talk about Interstate 11
even though this issue sits in his House Committee on Transportation and Infrastructure.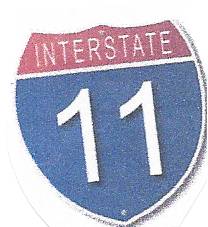 District 1 Congressman Doug LaMalfa
Is Scheduled to Hold Lectures
at
Veterans Halls in Susanville on August 22 and Chester on August 23
Town Hall formats are out ?
The La Malfa's "fast track" policy is instituted immediately when he doesn't like what the public is saying.
Make America Great White Again
Trump: a damaged pathetic personality raised by a father that supported the KKK
David Duke, former Grand Wizard of the KKK, stated in Charlottesville, Virginia yesterday (in a TV interview) that they finally after decades have a leader in the White house.
Was he talking about Donald Trump or Brietbarts racist Steve Bannon?
Everyday, it is becoming clearer and clearer that Donald Trump is not a friend of America
TRUMP FAILS TO DENOUNCE THE WHITE RACISTS IN CHARLOTTESVILLE
RUSSIA'S TRUMP IS NO FRIEND OF AMERICA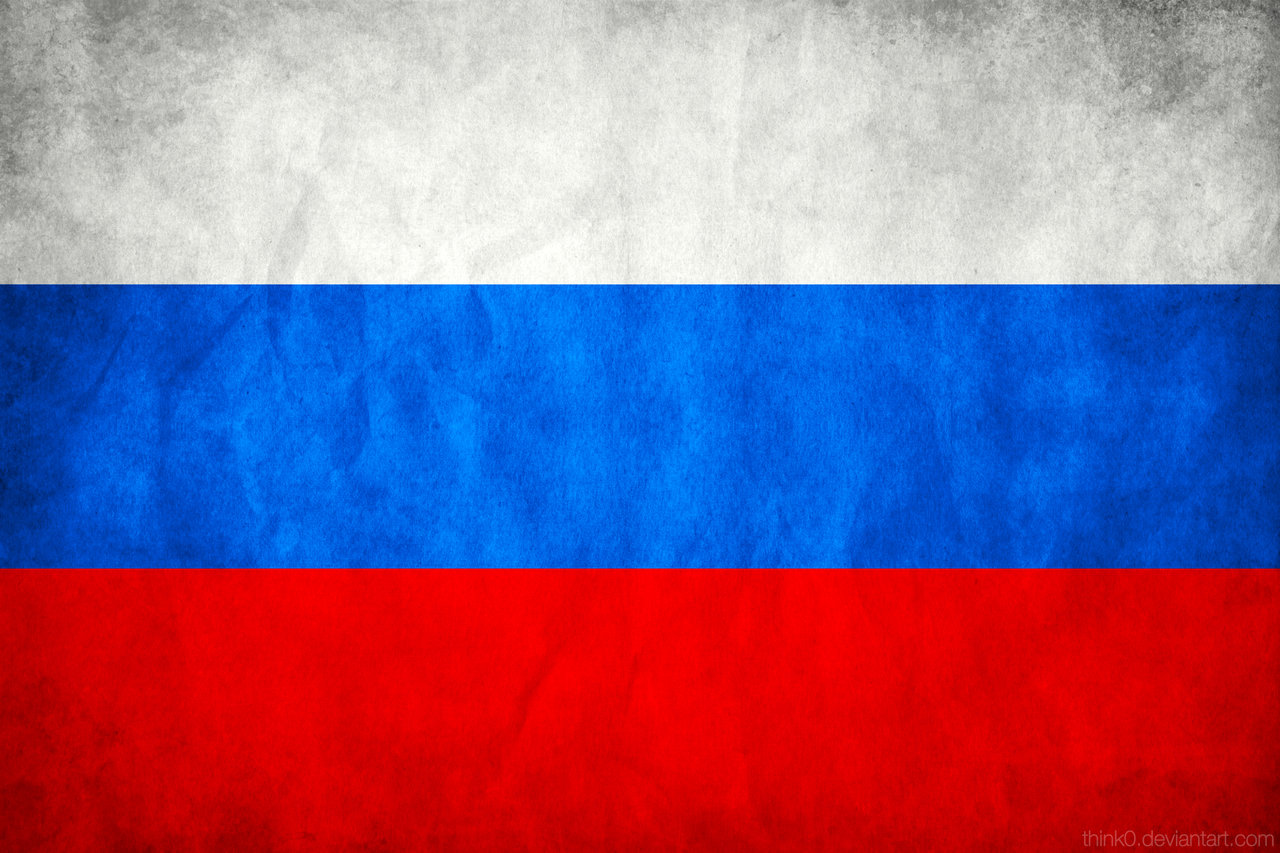 Trump finally signed Congresses new sanctions on Russia, North Korea & Iran.
Congress passed this 5 days ago and Trump tried to find a way to "not sign". No public ceremony with his oversized scribbled signature. No criticism of Russia's interference in our elections. Trump signed these new sanctions against his friends, in secret.
If Trump let this Bill sit on his desk for ten (10) days it becomes law as long as Congress is in session. Congress made this a "Veto Proof" bill because they do not trust Trump with Russia
Congress will stay in session to prevent Trump from removing the Attorney General and tampering with the investigation against him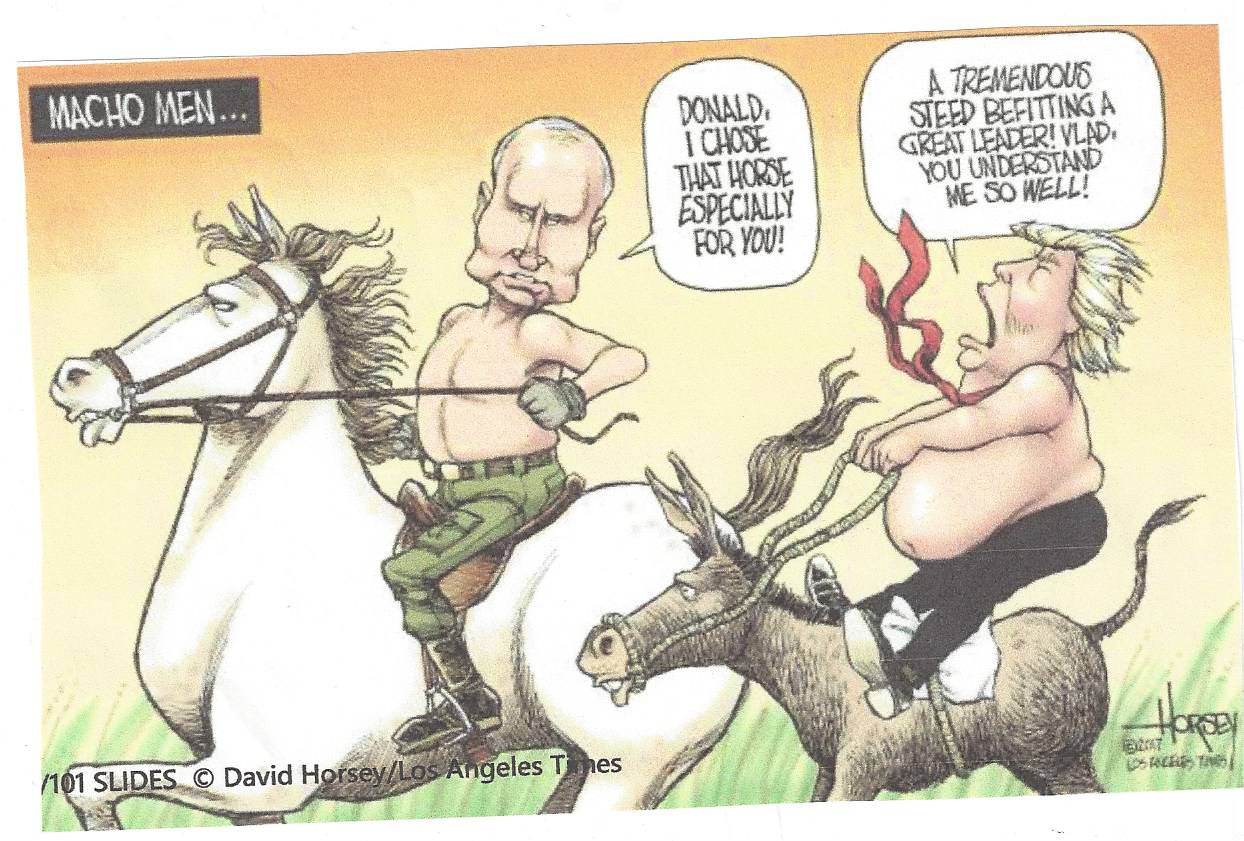 #1 Industry
in Lassen County,
illegal drugs

LASSEN COUNTY DRUG DEALERS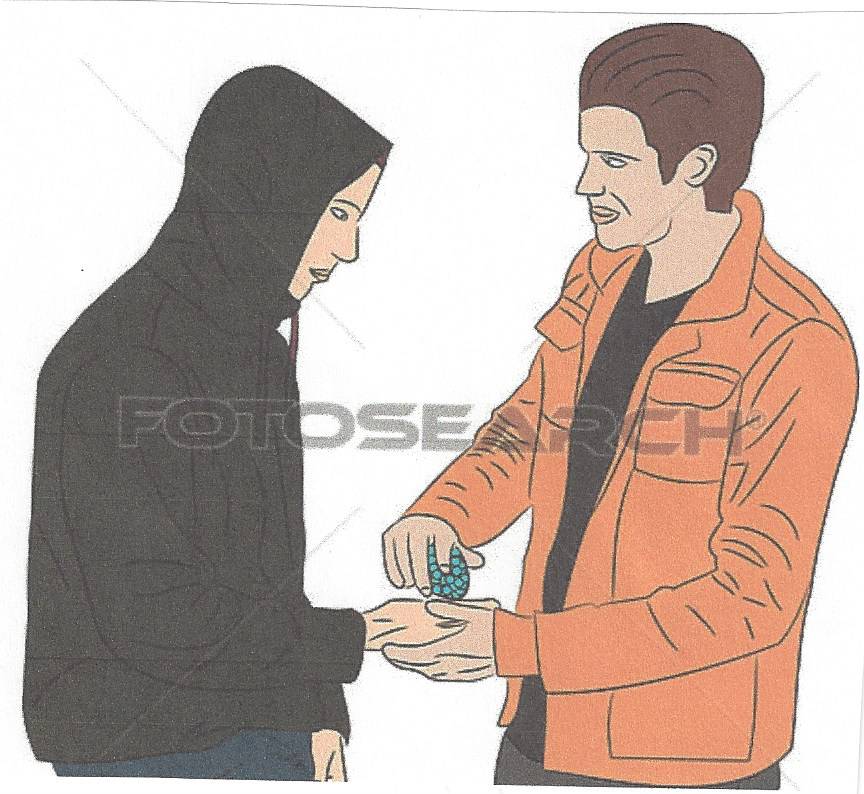 OUT NUMBER
LAW ENFORCEMENT
100 TO 1
Why should Officers risk their lives for something that is out-of control ?
Does Lassen County need Federal Troops?
Lassen County Judicial System Broken
Criminal Cases are Dismissed Every day
due to "Failure to Prosecute"
After Lassen County Superior Court Judge Verderosa suddenly resigned,
the majority of Lassen County cases now are being heard by judges assigned by the Judicial Council.
Adding to this problem, the public is recusing Judge Mallery.
Who decides when the Supervisors hold "REGULAR" meetings?
........NOT THE COUNTY CLERK AND NOT THE COUNTY COUNSEL......
RESOLUTION 97-074 DOES
Lassen County Rules of Procedures
The Lassen County Supervisors must meet on the second, third and fourth Tuesday of each month.
The Supervisors must meet and comply with Resolution 97-074,
Kan We Help files a Brown Act Violation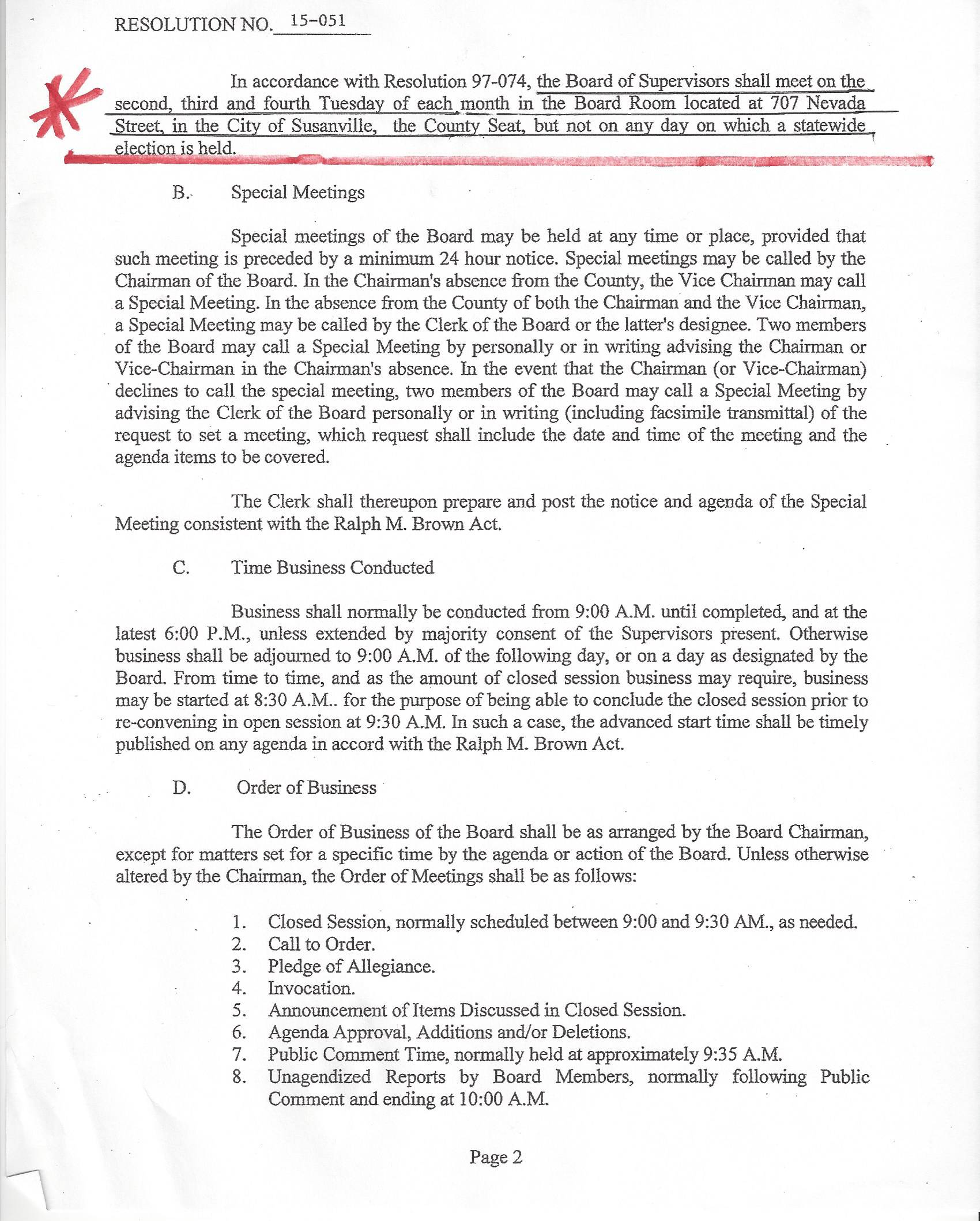 THE COUNTY CLERK FAILED AGAIN.
THE REGULAR MEETING ON JULY 18, 2017 WAS CANCELLED WITHOUT NOTICE TO THE PUBLIC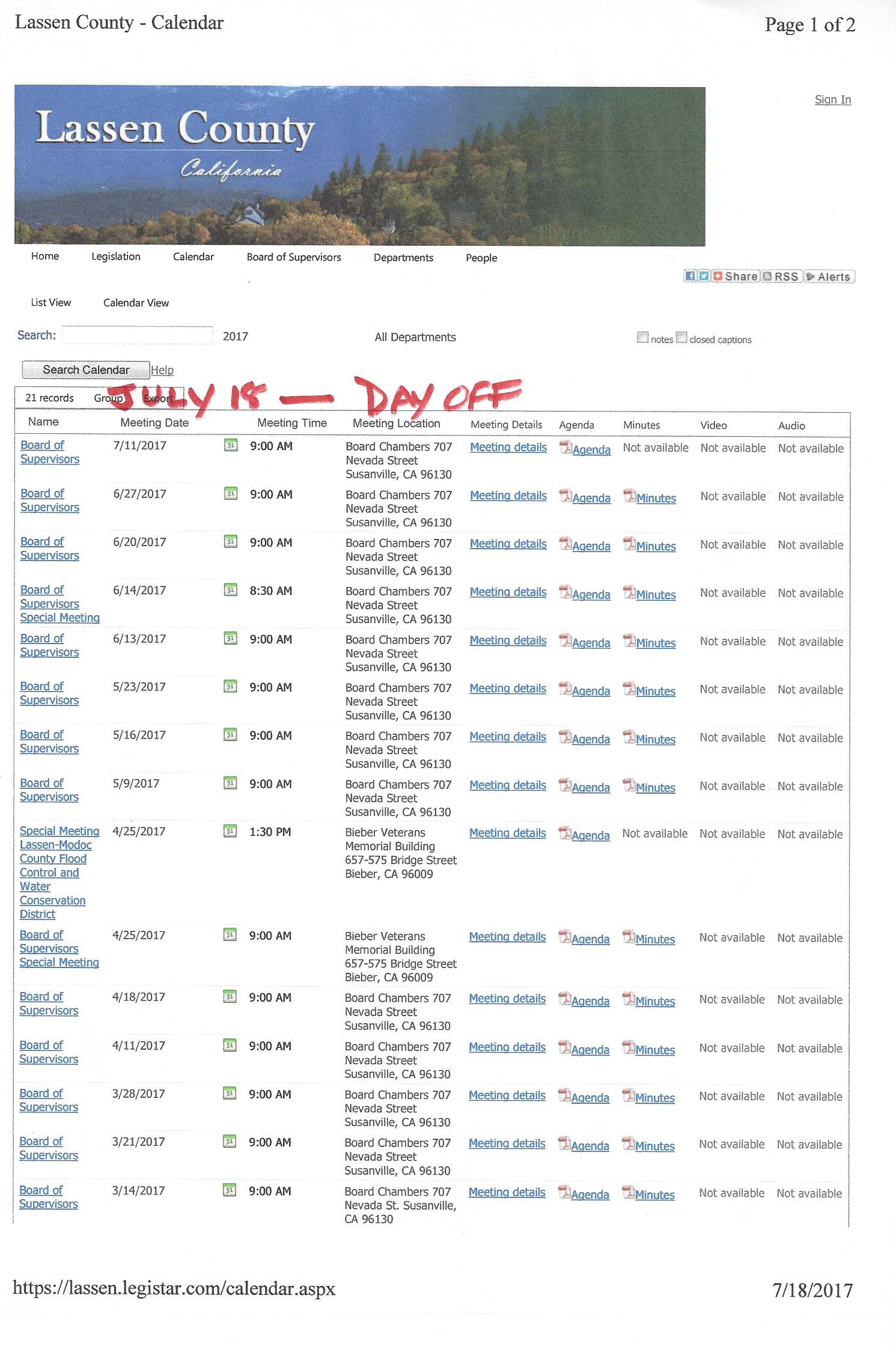 HONEST, GOOD GOVERNMENT
REQUIRES
THAT THE PEOPLE DEMAND IT.
GET INVOLVED
Lassen County Clerk sends out conflicting Agenda
for the LCPIC meeting today

This is the shell corporation that Lassen County used to borrow $4,080,000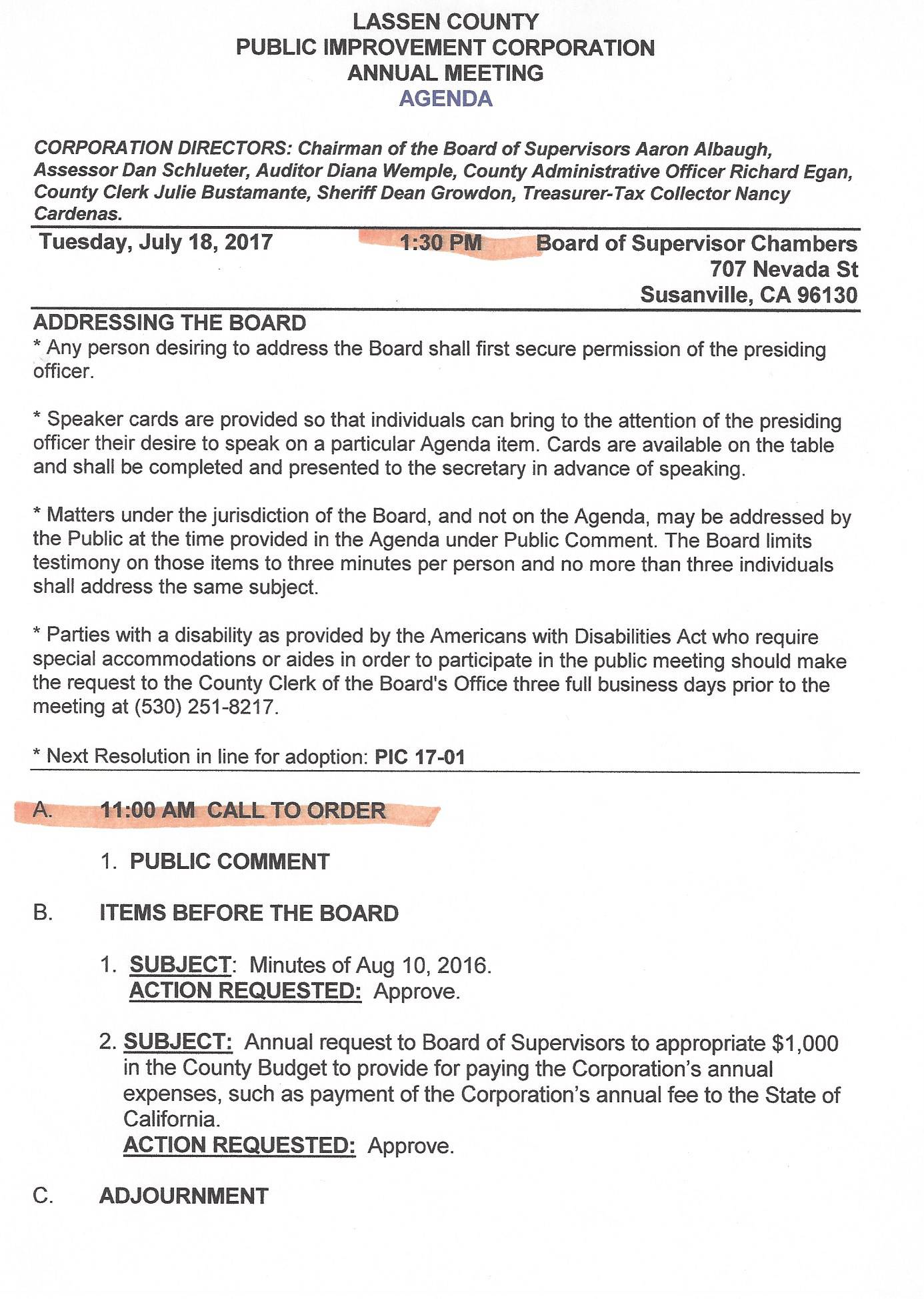 IT'S TUESDAY AND WITHOUT NOTICE
THE LASSEN COUNTY SUPERVISORS
JUST TOOK THE DAY OFF ?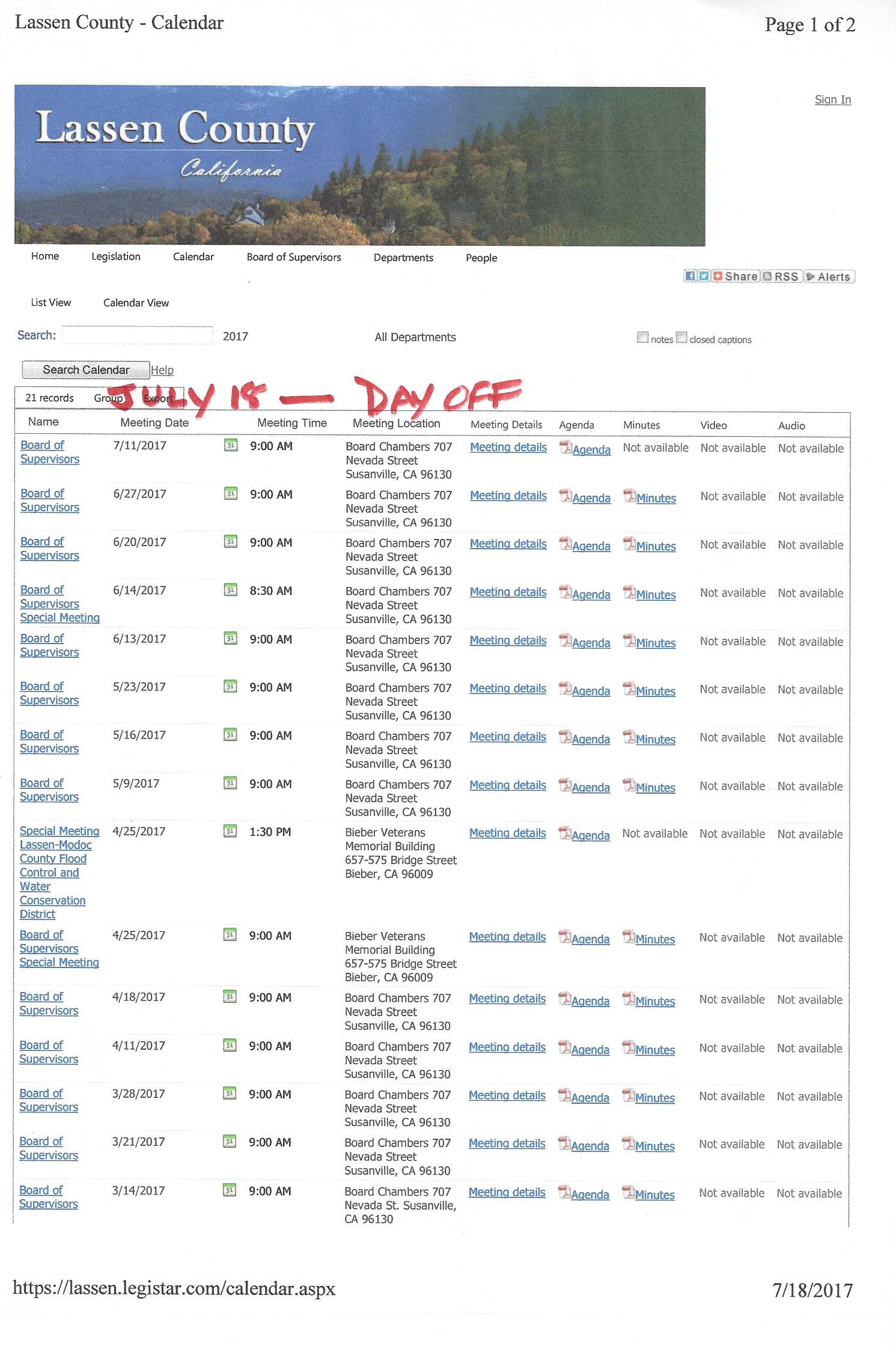 LASSEN COUNTY CLERK FAILS TO POST
BOARD OF SUPERVISORS
JULY 18, 2017 MEETING
and
CLAIMS THAT NO NOTICE FOR A CANCELLED MEETING IS REQUIRED
tell that to the person that traveled a hundred miles to speak in PUBLIC COMMENT....
This is a "regular" meeting and requires a 72 hour notice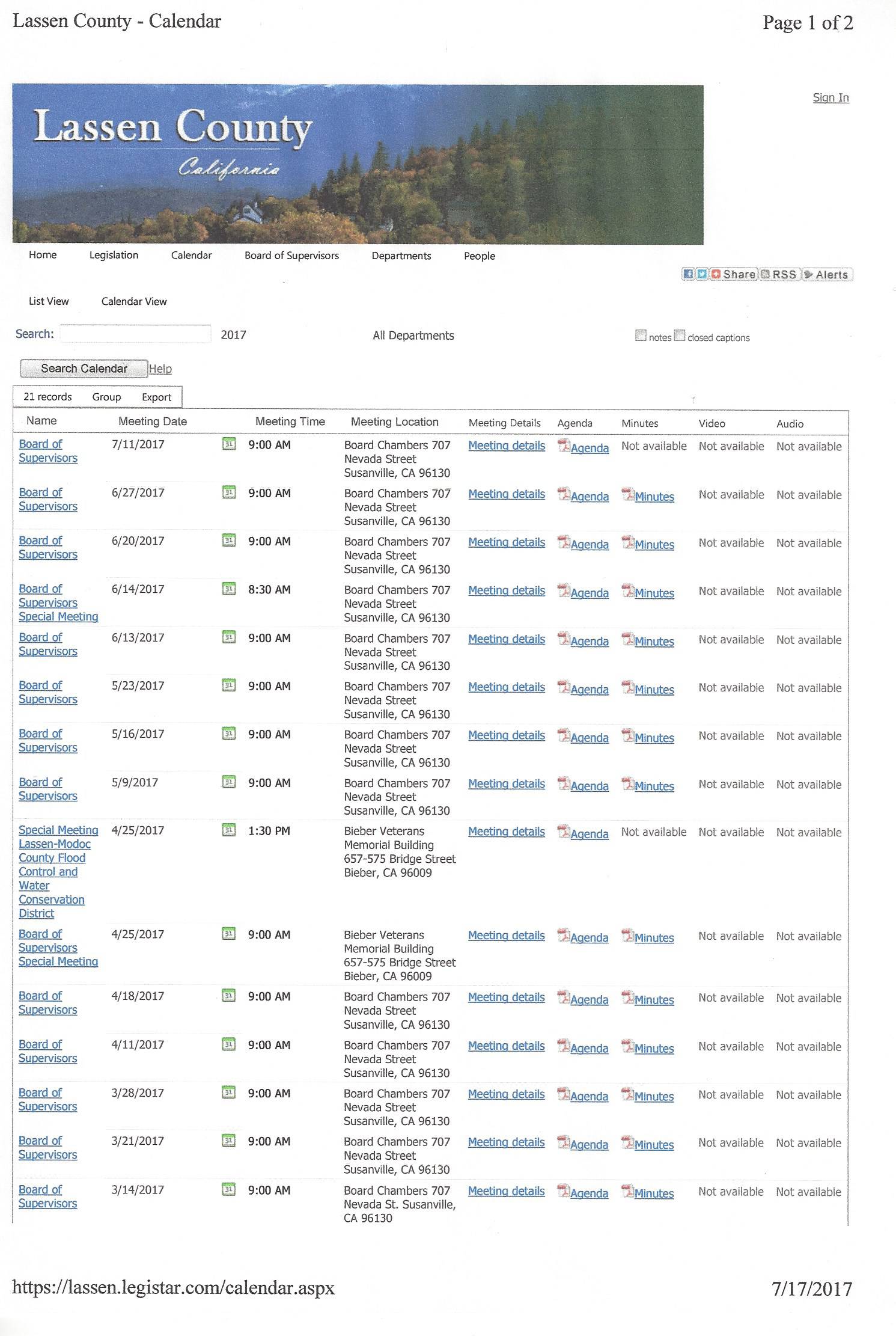 July 18, 2017 is a regularly scheduled posted meeting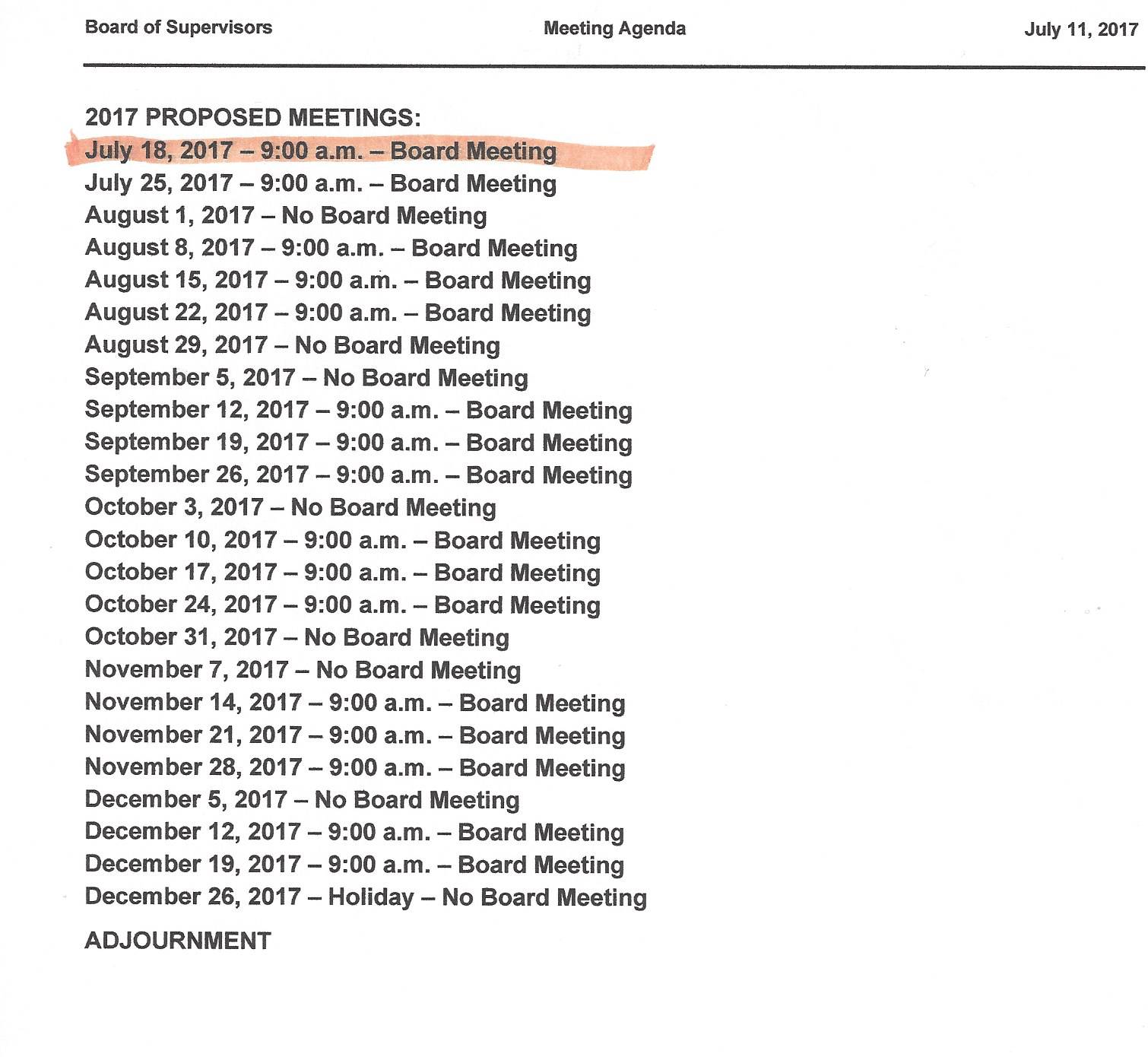 When the President does it, that means that it is not illegal"......Richard Nixon, 1977 David Frost interviews
"I can stand in the middle of 5th Avenue and shoot someone and I wouldn't lose voters" Donald Trump, January 23, 2016
Open
Who will use it?
800 South Street, Susanville, CA
This pool is a County wide swimming pool that Lassen County and the City of Susanville paid for with tax dollars. The HVLRA has installed a bus kiosk in the front so that LRB can drop off/pick up swimmers.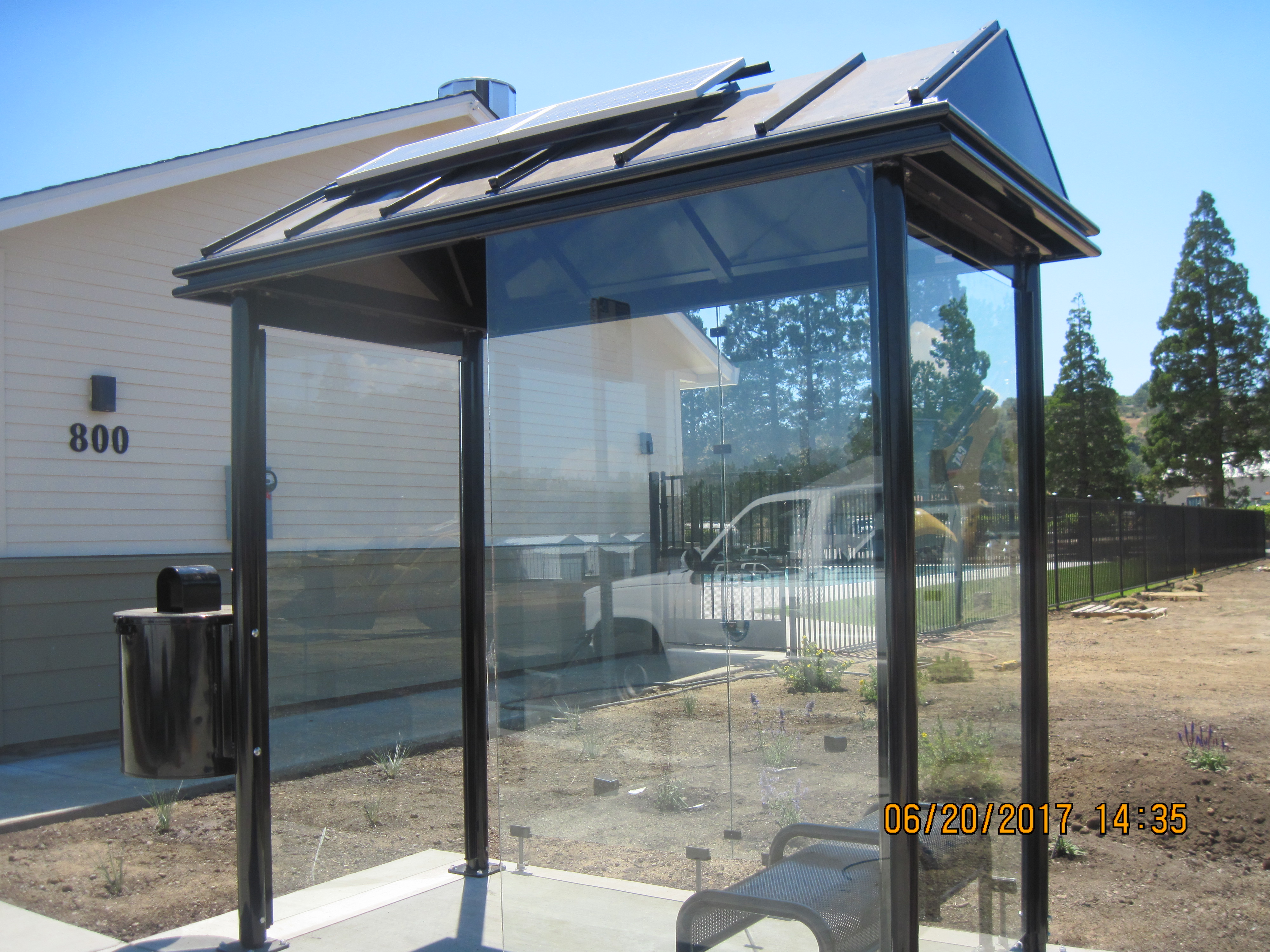 Where is the link to the Lassen Rural Bus Schedule ?
The HVLRA now has a website for pool hours but needs to add a link to the Lassen Rural Bus website also.
LINES CANNOT BE BLURRED
AS TO "WHO" OWNS THE POOL
The City of Susanville has added a link to the pool on their website. The Lassen County Supervisors should also add a link to the pool information on their website.
City of Susanville's Community Pool Link
Lassen County's website makes no mention of the HVLRA pool, a Joint Powers Project
The only link to "recreation" in Lassen County is the Susanville Ranch Park? There is no information about the pool on the County's "Visiting" page?
Certainly Lassen County can tout more recreation in the County and at least should be promoting the new Pool after donating over $1,000,000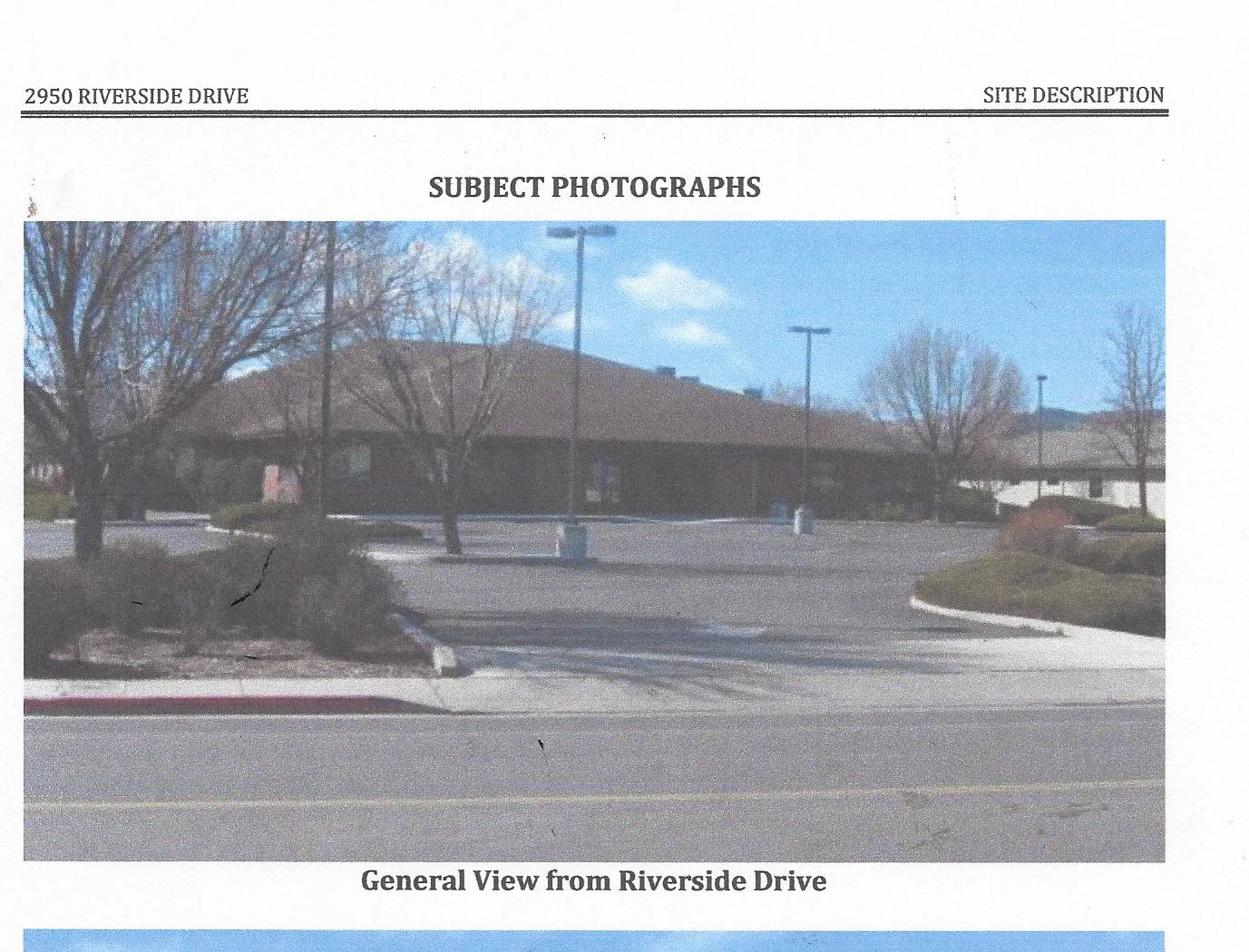 Lassen County CAO, Richard Egan told the Supervisors and the public that the 2950 Riverside building would cost $1,100,000
The actual cost to purchase 2950 Riverside: *$1,381,065.50
and the CAO also claimed that it would cost $600,000 to renovate
Actual costs as of 5/24/17:* 1,050,679.87
and the building is far from functioning at 100%
*public records from the Lassen County Auditor
...and the Lassen County Supervisors believed him?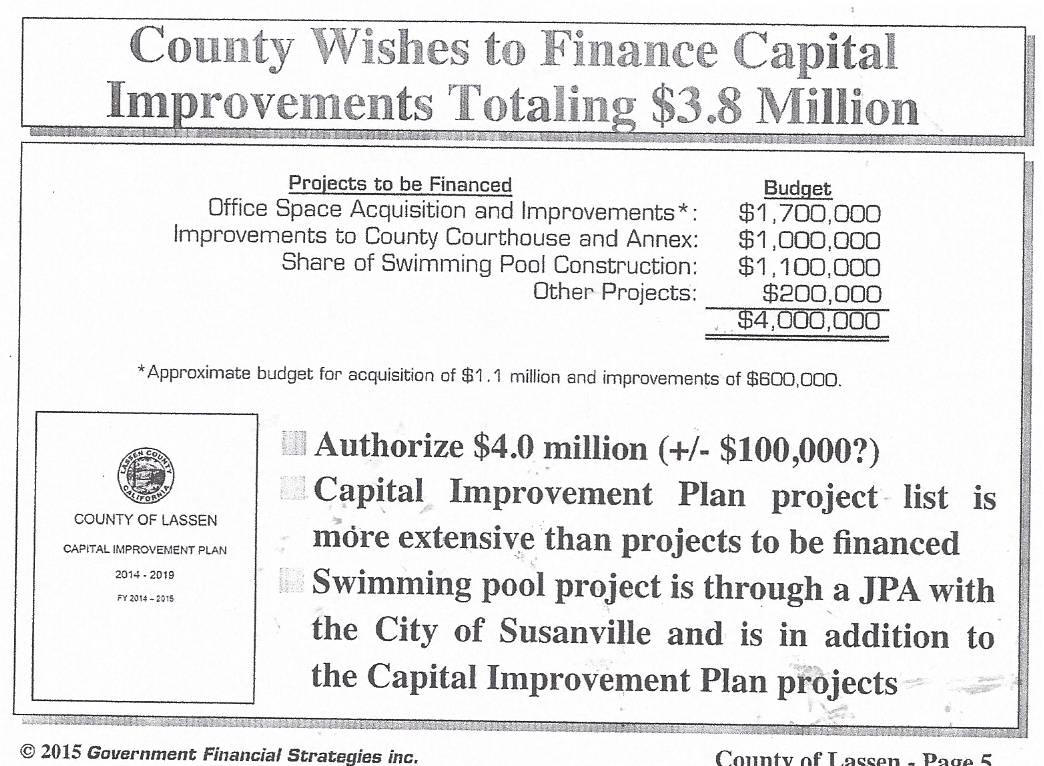 ALSO:
CAO Richard Egan inappropriately used $80,000 of the LCPIC fund to give to the HLVRA. The annual $80,000 commitment to the community pool was to be paid out of the Tobacco Fund.
Lassen County Counsel's Budget
Will Need Future Adjustments
During budget discussion on June 14 &15, County Counsel was asked why there was a sudden jump from $1,000 in Memberships to $4,000 in Memberships. After the Board called a recess, County Counsel Burns stated that Memberships had been paid in "Office Expense".
Kan We Help submitted a Public Records Request for four years of County Counsel Budget expenses. The reports showed that not only Membership costs were paid out of Office Expenses but, Travel and Training had also been paid out of Office Expenses.
County Counsel, Bob Burns, was hired on May 16, 2014.
Lassen County Holds Budget Meeting today
Attendees conclude that there is not enough data yet and will meet again after the end of the fiscal year on July 11 @ 1:00 PM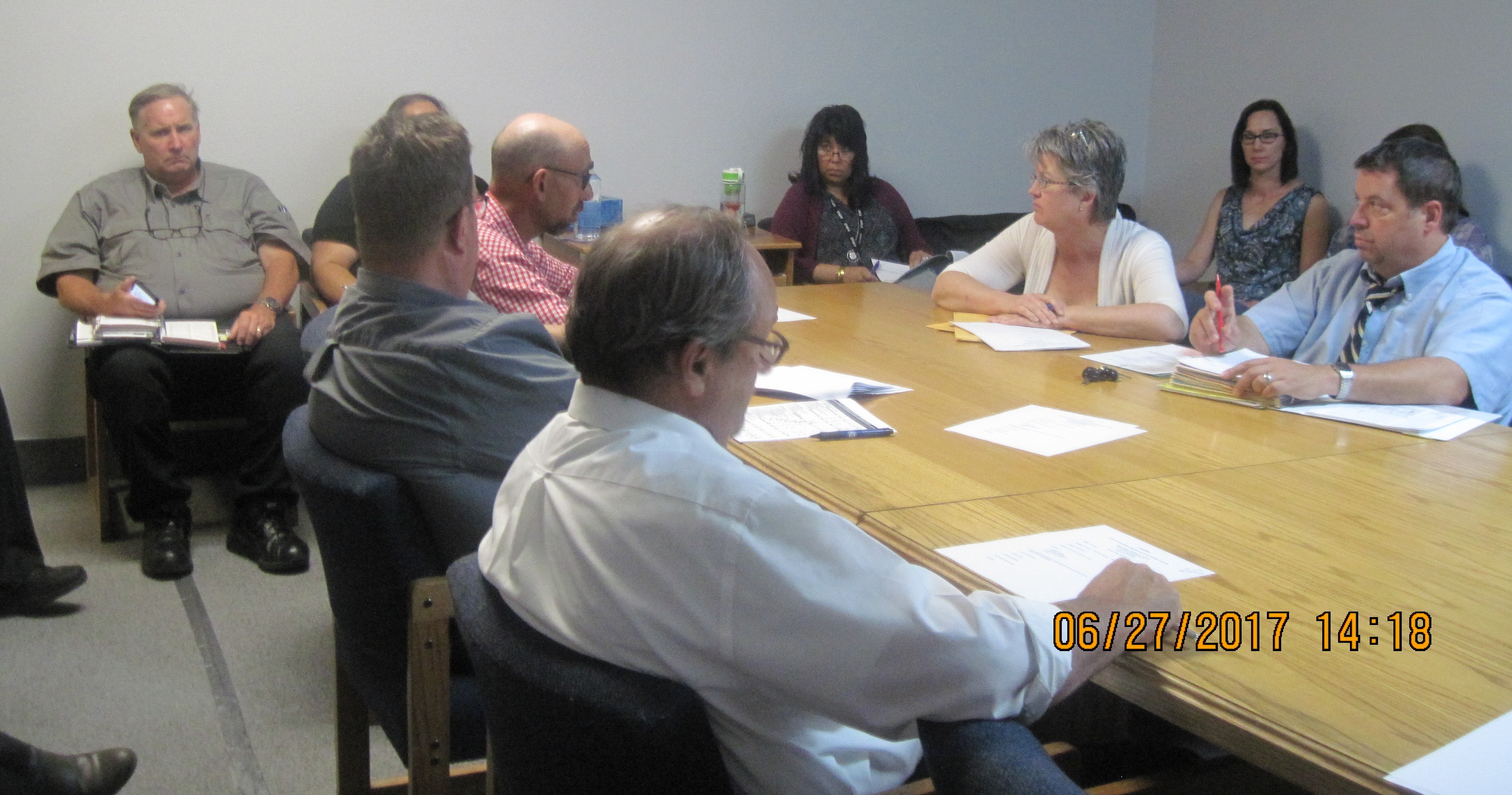 Supervisor Aaron Albaugh (red checkered shirt) on point with his questions and concerns. IMPRESSIVE SUPERVISOR ALBAUGH !!!!!!
Kan We Help files concerns
Lassen County plays with the Revenues to try and show a deficit and/or they increase fake expenses in bloated small line accounts to show a deficit
EITHER ONE IS NOT ILLEGAL
BUT
HIGHLY UNETHICAL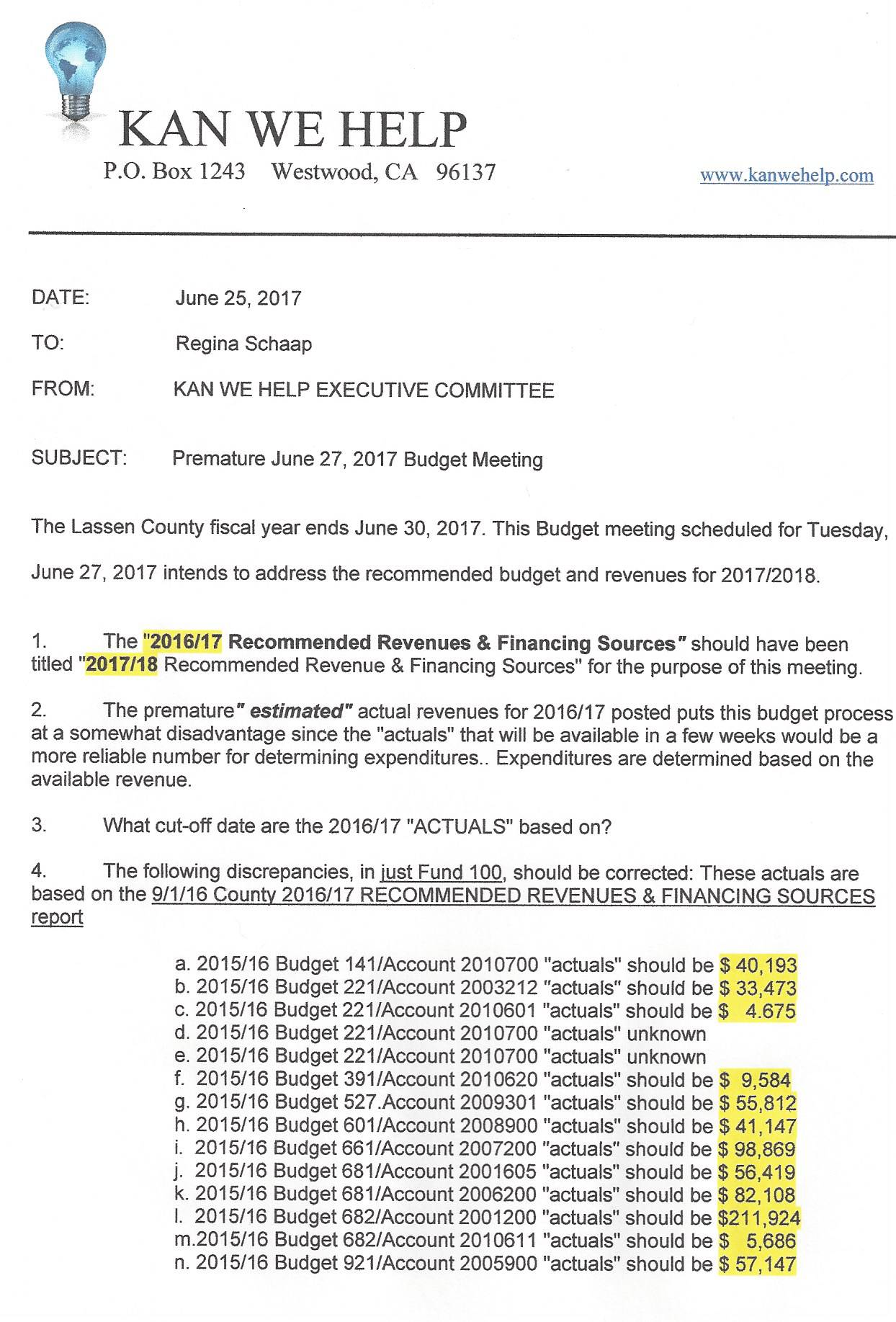 Honey Lake Valley Community Pool
will open on
Saturday, July 1, 2017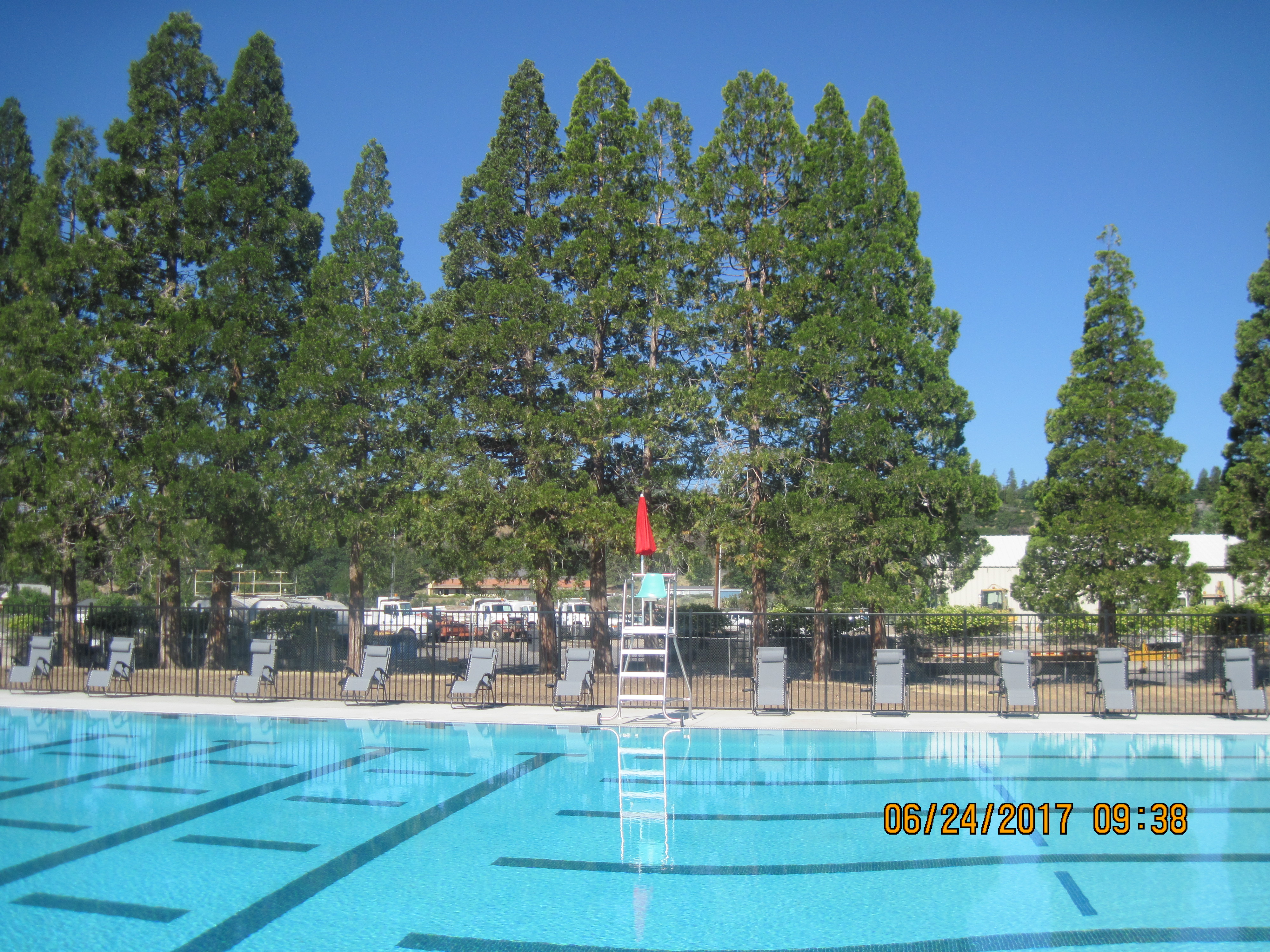 800 South Street, Susanville, CA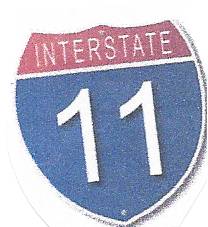 Interstate 11 held up in Congress Indefinitely
Republicans stop all movement of funds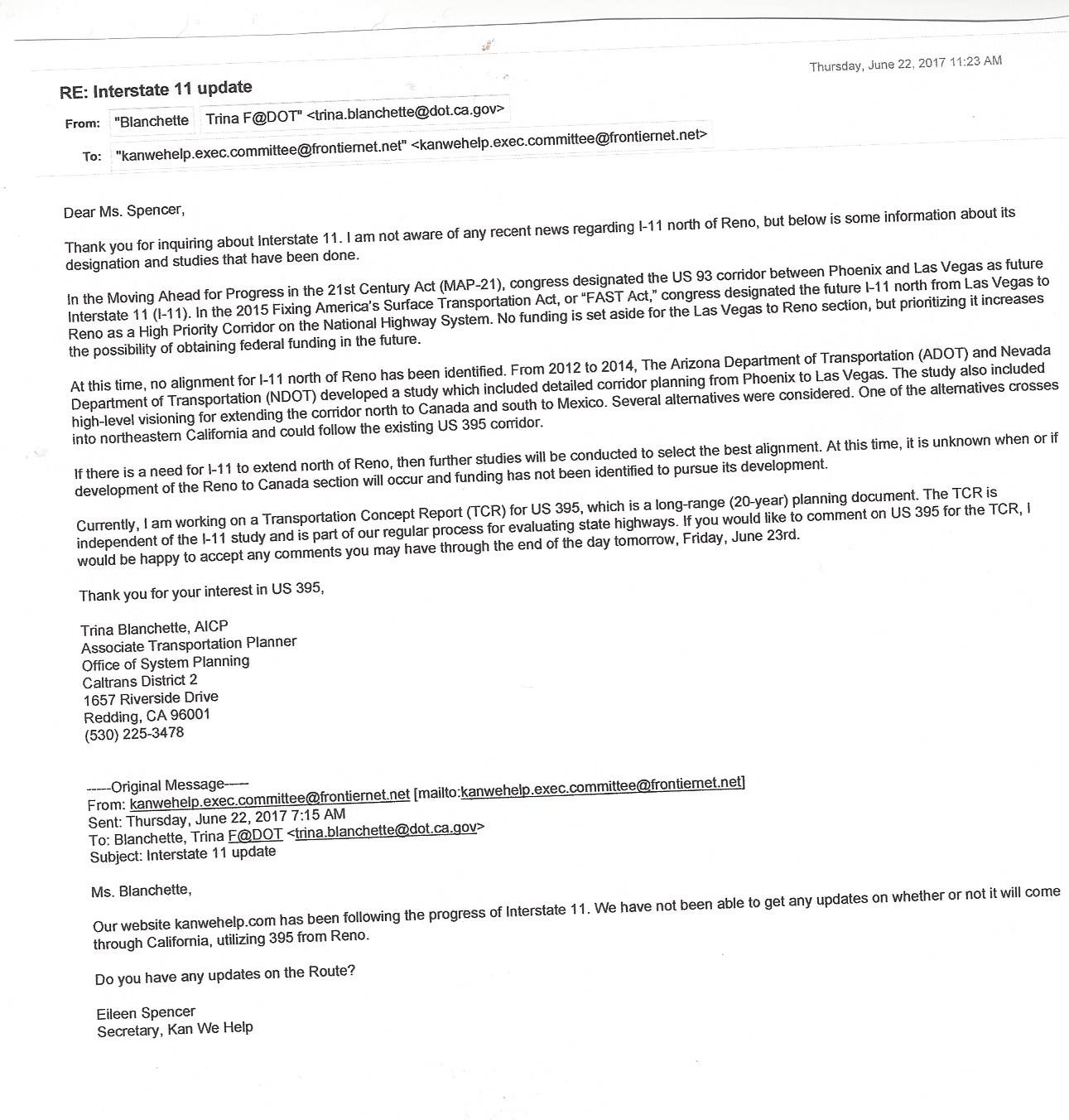 Lassen County Superior Court Judge
bumps
an "assigned" Judge
to hear
his friends son's case

This specific unethical action was named in the lawsuit against Judge Mallery that the Court Executive Clerk filed last year and won. Mallery was ordered to pay $184,830.99 in damages to the high court employee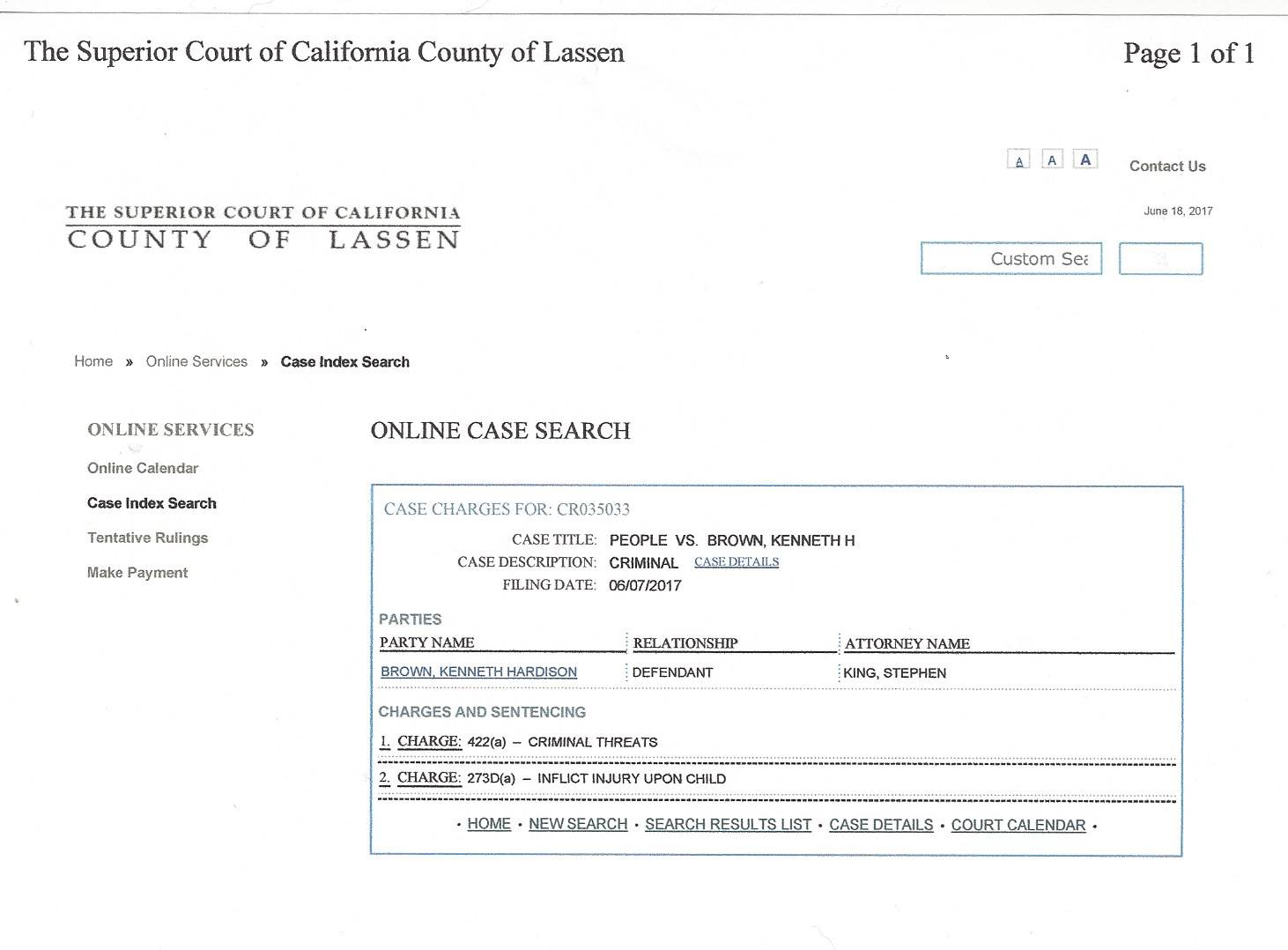 MORE ABUSES IN
UNHEALTHY COURT
First term Superior Court Judge Tony Mallery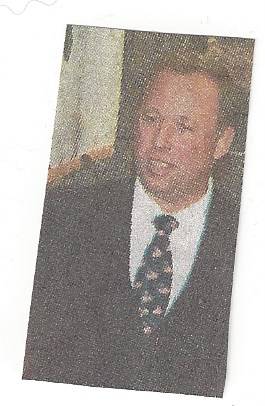 Manipulates Court Calendar
on Court Website
eliminating selected criminal cases
This Criminal Case (CR053033) is scheduled for a June 21, 2017 hearing but
does not appear on the Court Calendar.
This is Westwood's Chamber of Commerce President Gail Brown's son
Ken Brown lives at 611 Ash Street, Westwood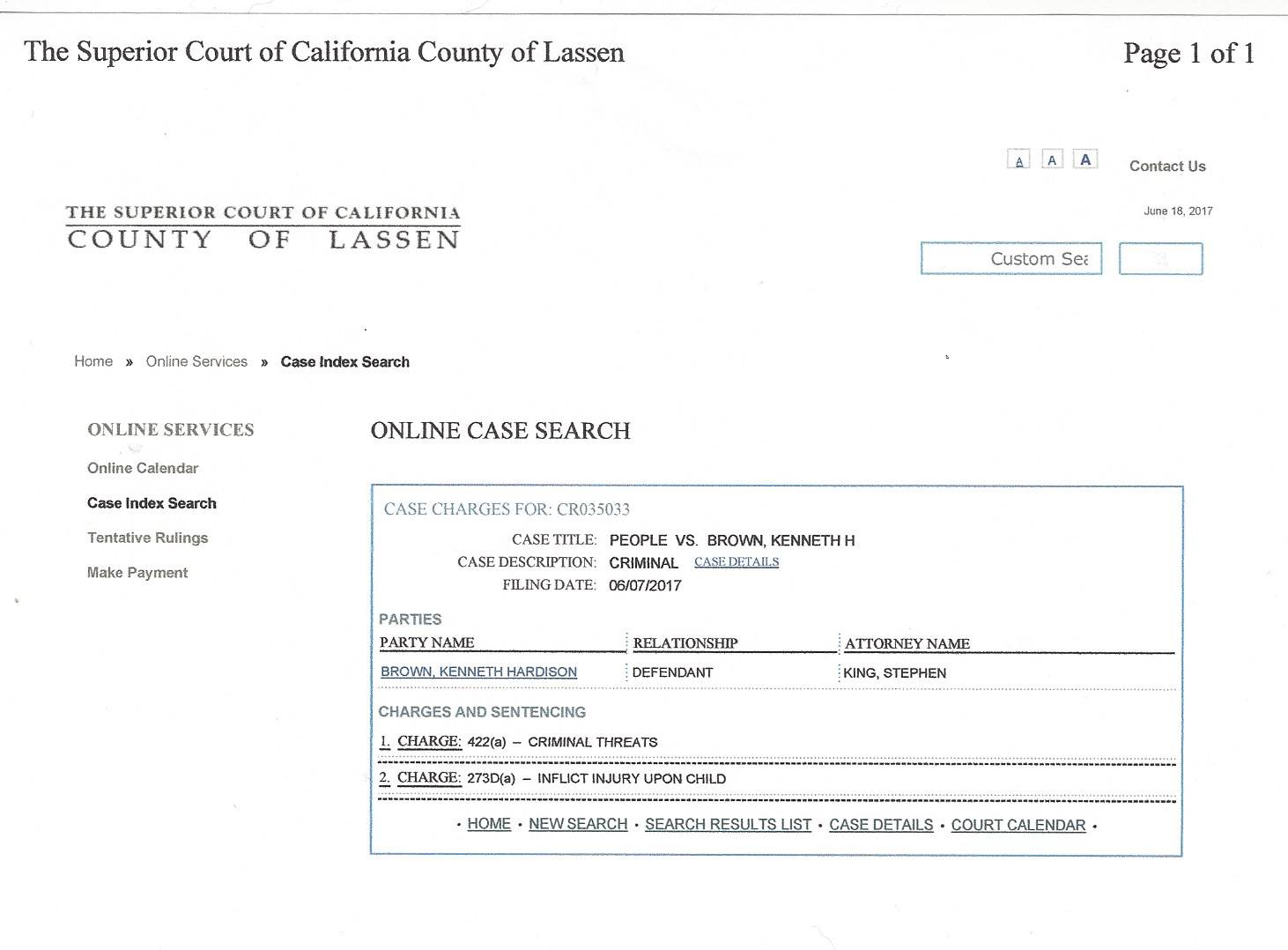 JUDGE MALLERY REMOVED THE FOUR CRIMINAL CASES FROM THE JUNE 21, 2017 COURT CALENDAR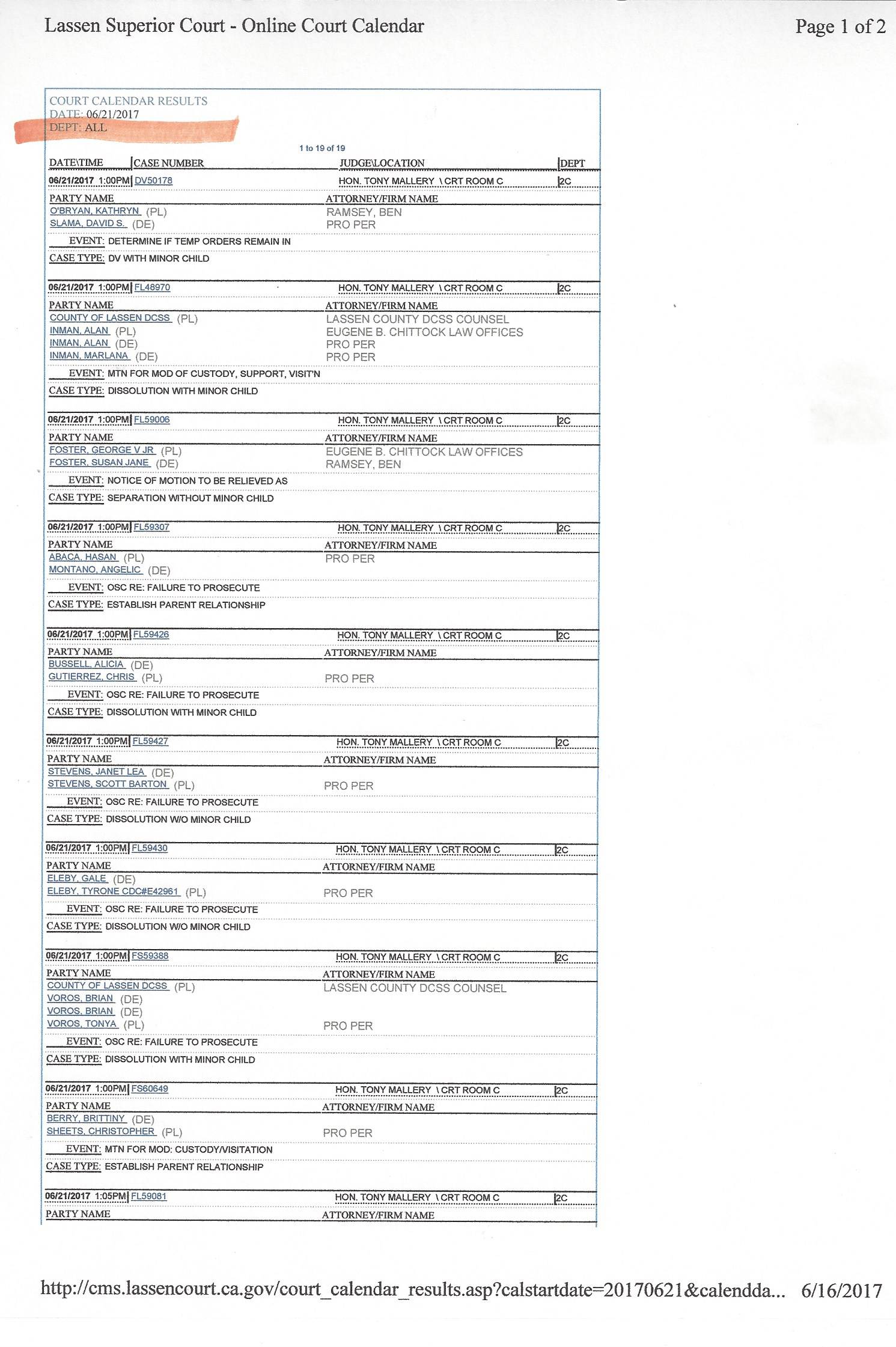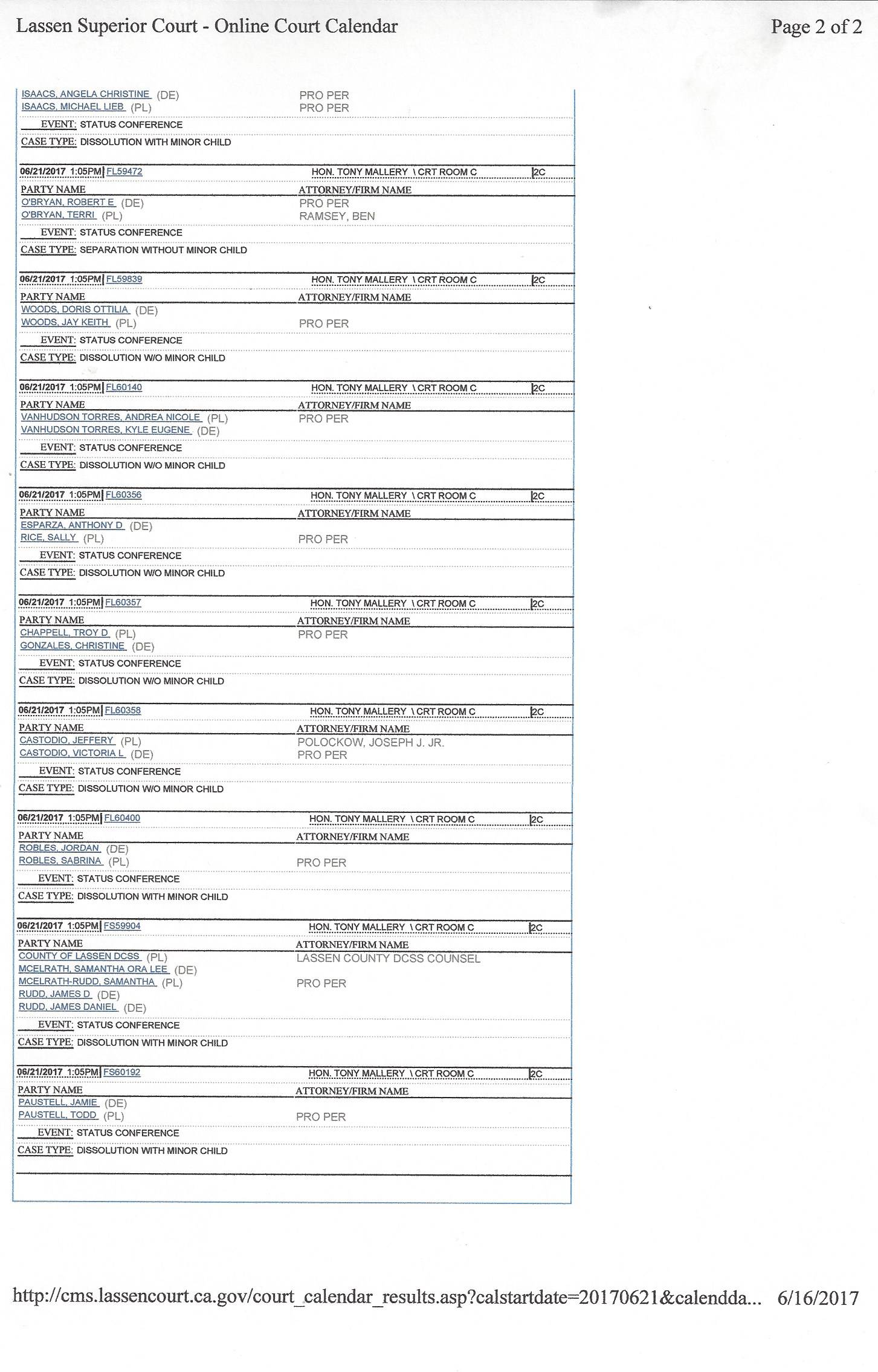 Lassen County Supervisors
Hold a two day "Meet and Greet"
Prior to the Budget Committee meetings
Left to right: CAO Richard Egan, County Counsel Bob Burns, District 5 Supervisor Tom Hammond, District 3 Supervisor Jeff Hemphill,
District 4 Supervisor Aaron Albaugh, Blocked from view: District 1 Supervisor Chris Gallagher & District 2 Supervisor David Teeter
All Department Heads made presentations on...what they do
In the past, only Supervisor Chapman or Supervisor Pyle chaired the Budget Committee. This Committee reviews the revenue and expenditures for Lassen County and submits a budget for the Board of Supervisors to adopt. The County's fiscal year is from July 1, 2017 to June 30, 2018. In the days to come, before June 30, 2017, the Supervisors will adopt a preliminary budget so they can continue to run Lassen County.
The Lassen County Budget Committee, open to the public, will then fine tune their expenditures and revenue streams before October. Department Heads will have an opportunity to defend their budgets.
Last year, Kan We Help presented the full Board with evidence that certain budget accounts hide millions of dollars in-plain-sight (Memberships, travel, office supplies, conferences). Kan We Help exposed over $6,000,000 in padded budget accounts. The CAO could not publicly state his usual claim that the County was running a million dollars in the red.
Kan We Help video taped the Budget meetings last year, at the Administration Building on Roop Street in Susanville. It was standing room only. The Budget Committee meetings will be video taped this year, no matter where they are.
This year the "new" Board is looking at the County Budget with a new respect of WHERE the money is.
Drug Dealers in your neighborhood?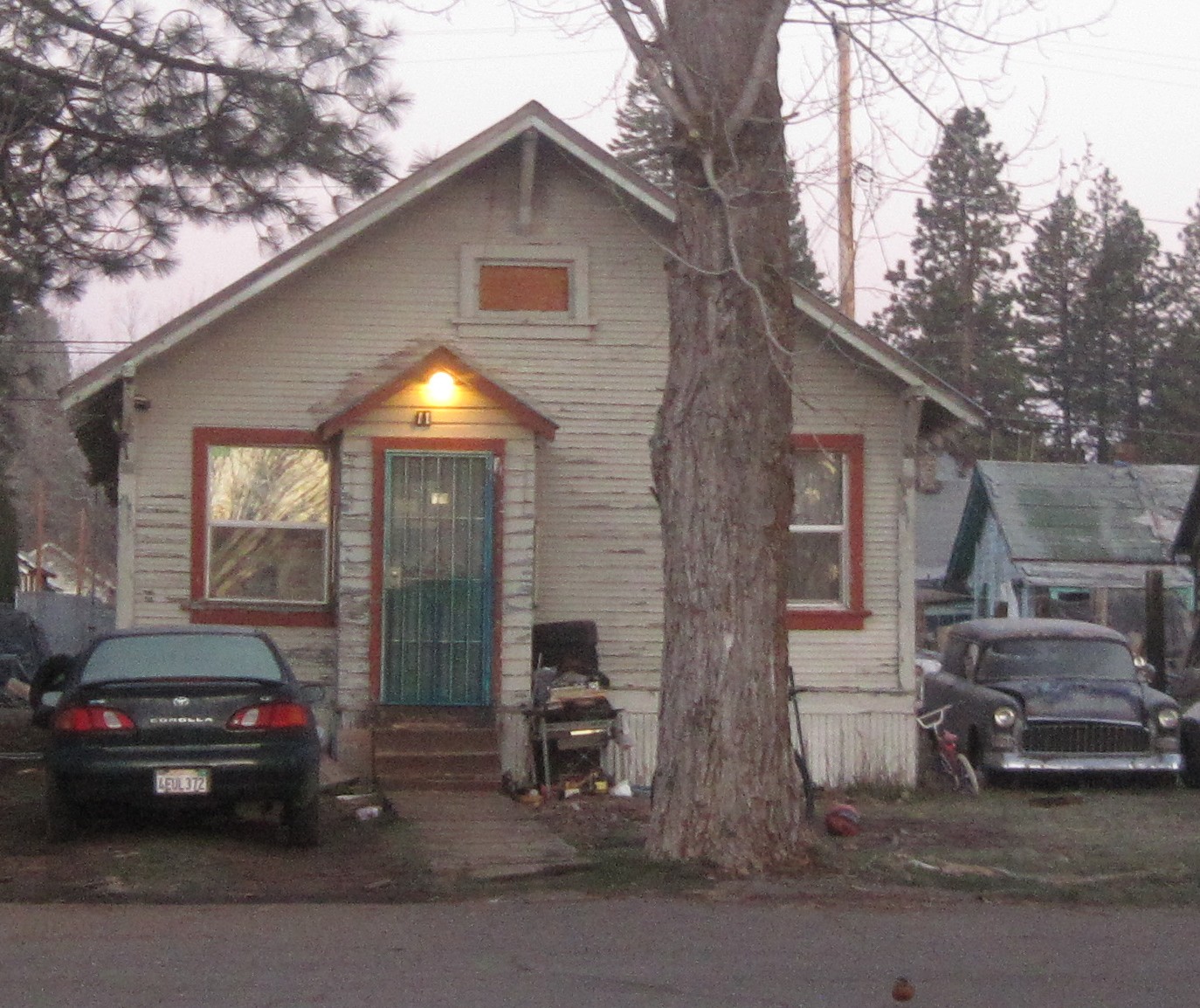 They can look like this but more than likely you wouldn't even suspect that it is a drug house unless you watch the "traffic"
Drug Traffic @ Drug houses: Cars or pedestrian traffic that is frequent and lasts less than a minute.
Delivery of product: Will be accompanied by the Enforcers, Look outs, & some use the intimidation of dogs
Distribution of product from Drug Houses: Unusual amount of "children" showing up on a specified day, to the drug house, and leaving with full back packs.
The saddest reality of "drug houses" is the use of children
SICK CYCLE:
Child Protective Services will take the children out and then have to put them right back in
Law Enforcement knows where each and every one of these DRUG HOUSES ARE.
In Lassen County drug deals are made in broad daylight on any corner of of any town
Lassen County District 1 Supervisor Gallagher
to hold
Town Hall Meeting
at the
Westwood Community Center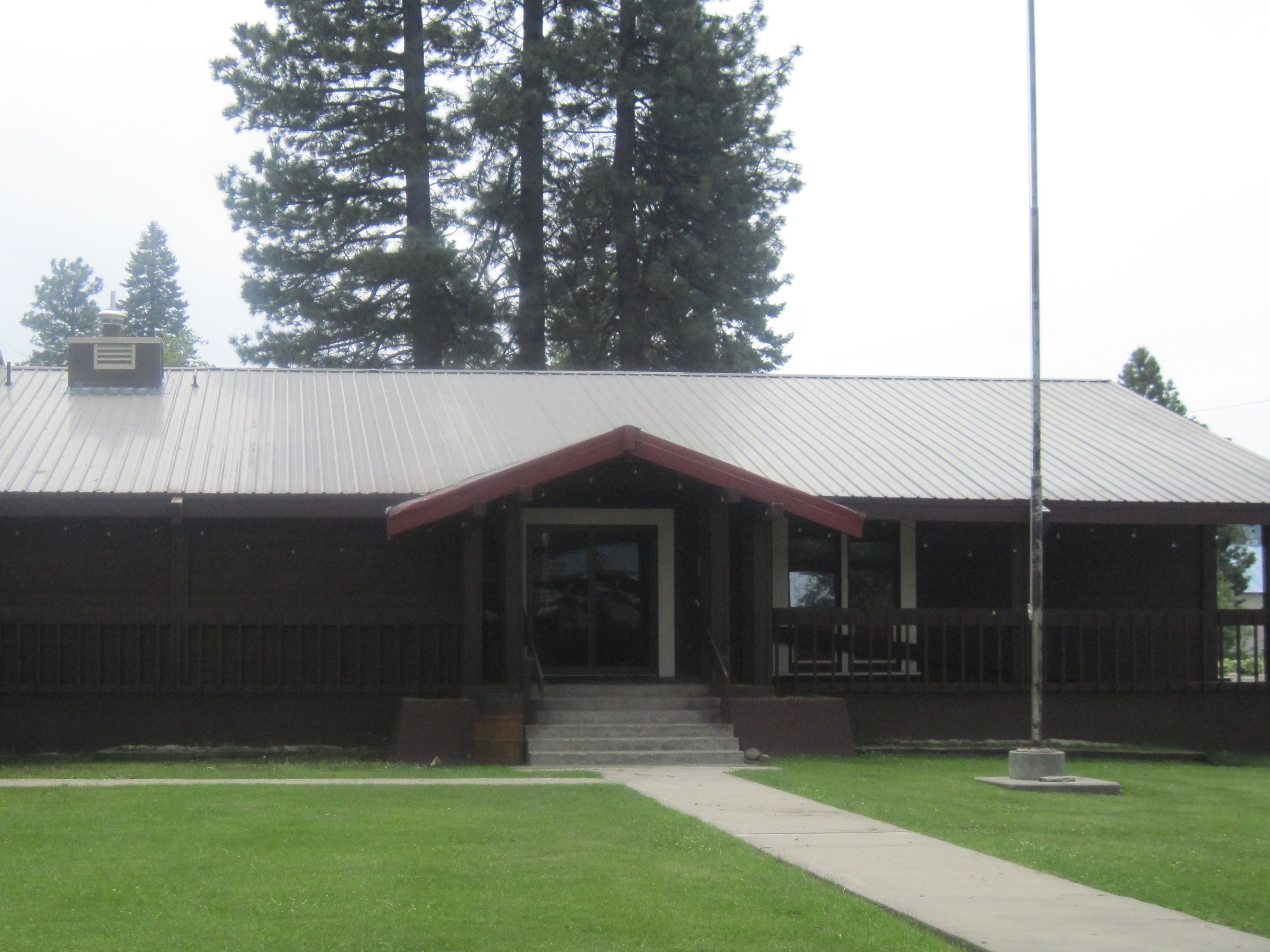 Westwood Community Center, 3rd/Ash Street
Thursday, June 15, 2017 at 6:00 PM
Lassen County District 1 Supervisor
Chris Gallagher
WESTWOOD'S HERO
Successful Clean up Day
Residents took advantage of the free dumpsters Supervisor Gallagher brought to Westwood. Most Westwood Residents complied with County letter to cleanup "trash" on their property
NOTICE:
@1:00 pm -DUMPSTERS FULL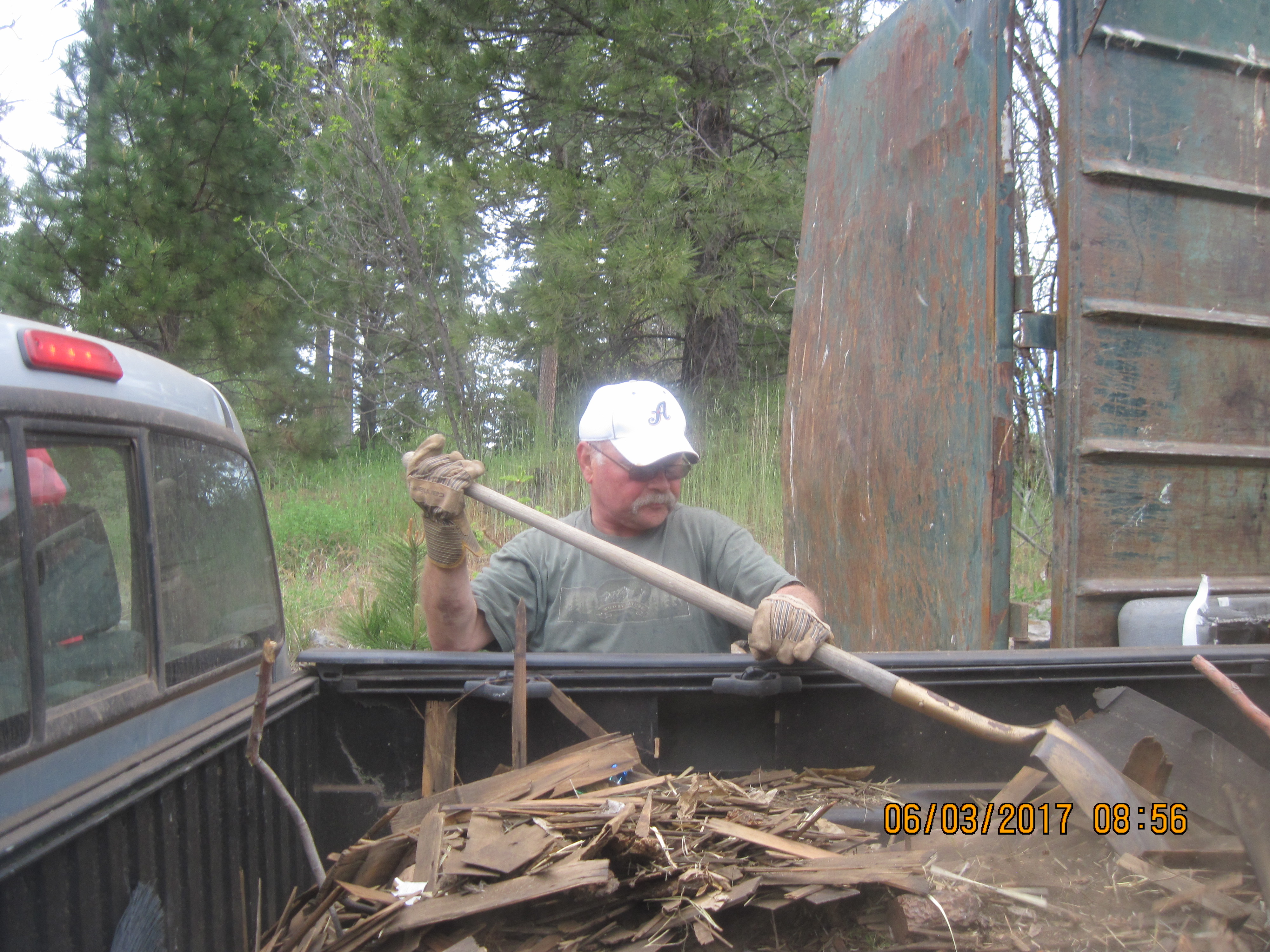 Supervisor Gallagher has done more in six months than former Supervisor Bob Pyle did in his 12 years as Supervisor of District 1
Then there are home owners, like 211 Delwood Street, Westwood, (out of protest) that have added to their piles. They do not intend to comply
Worst property in Westwood ?
Out of shear contempt, this homeowner has added more debris and trash which now extends into the street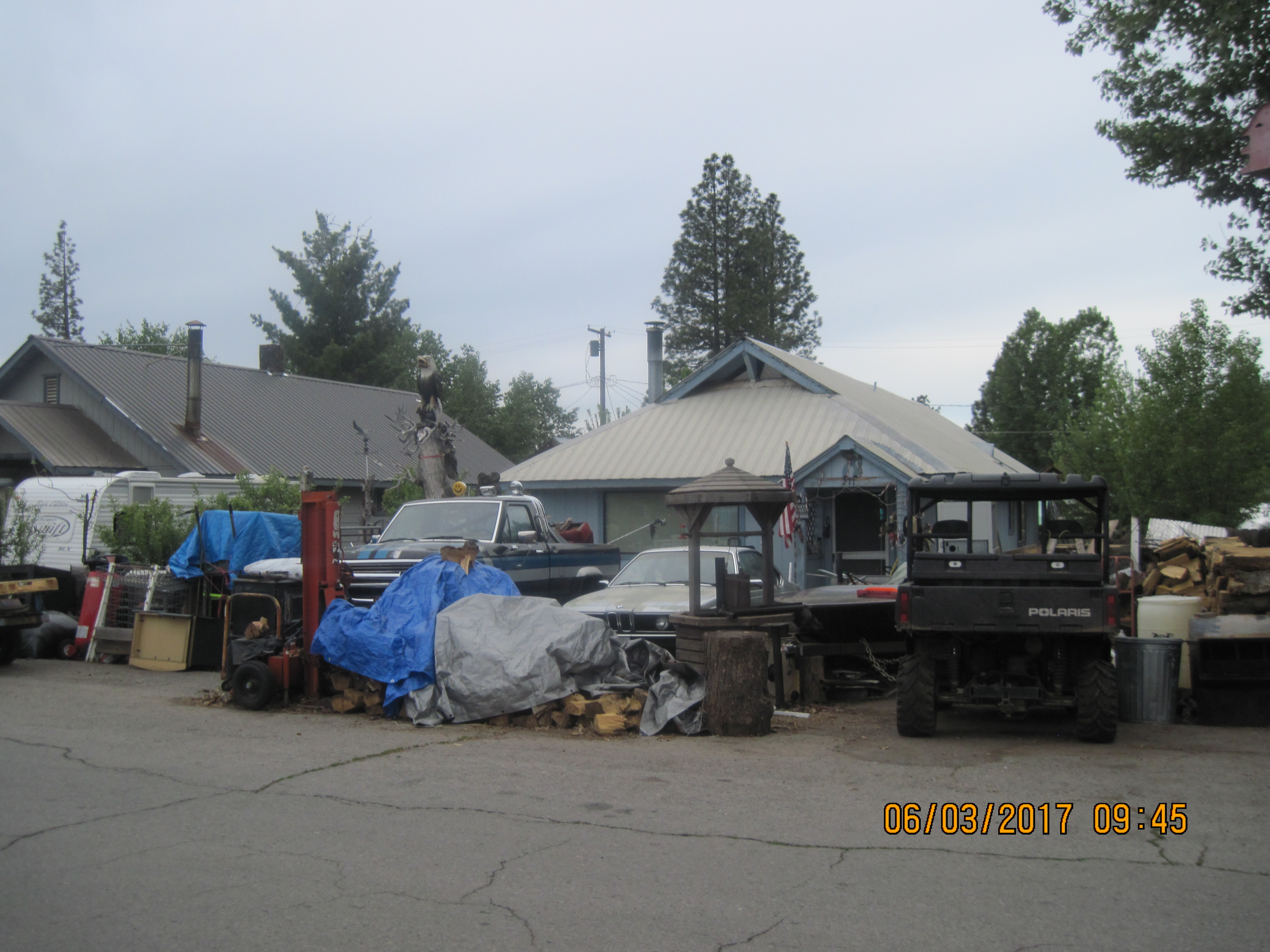 Trump's Withdrawal from the Paris Climate Agreement Today
Tells the World and Americans:
DIE QUICKLY
The United States joins the only two countries that did not sign on to the Paris Accords; Syria and Nicaragua
We have yet to determine
how stupid this President is.
Lassen Municipal Utility Board has Wasted
Millions on Filing Frivolous Lawsuits
The LMUD Board went to War with Amedee Geothermal in Wendel, CA. Amedee Geothermal fought back and won [Lassen County Superior Court Case 59485]. This was one of many battles with this unethical public utility. The case was filed on June 25, 2015 and went to trial on April 11, 2017. The Jury returned a verdict for Amedee and LMUD was ordered to pay attorney fees.
During the Fred Nagel/Frank Cady days, LMUD purchased downed power lines at the Hayden Hill Gold Mine in attempt to scam the ranchers, various other land scam deals, Arrowrock Hydro scam, Viewland/ATT scam . All of this and more

over the last 17 years [LMUD abuses]
LMUD'S LATEST SCAM ON THE RATEPAYERS
Of all names.........Skedaddle Project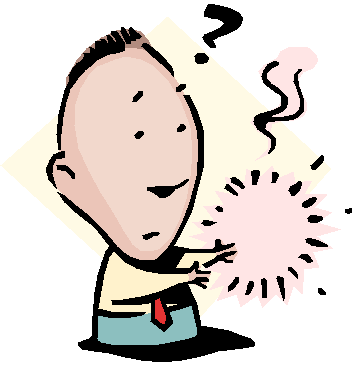 The only thing that will skedaddle is the ratepayers $10,000,000. The last time LMUD amassed this amount of money, it went POOF..........LMUD'S $8.7 Million Dollars
Trump's Foreign Trip Handicapped
with his 20 Word Vocabulary
13 Adjectives and 7 Verbs
Trump at NATO conference in Brussels today
and faces the anger of NATO countries in regards to Trumps campaign statements about withdrawing the US from NATO
Trump has cozied up to Dictators and insults our Allies
Trump vomited words that Germany is "very, very bad" and
he will stop the German cars from being imported to the US shows how stupid he is
Trump strikes his Mussolini Pose at NATO, and the world laughs
The World is laughing at this newly elected classless thug that came from the United States. Trump's shoving Prime Minister Dusko Markovic, from Montenegro, and then doing his Mussolini pose has gone viral.
Trump's Budget will hurt his "BASE",
Rural America , the most
and
Congressional Budget Office scored Trump Care:
23 million Americans will lose their healthcare
and Trump will decrease the deficit $119 billion over a ten year period
Trump's Budget intends to cut Medicaid, Social Programs and Rural Programs for rural America. His budget cuts will hurt farmers and ranchers the most....and no new jobs
House and Senate say D.O.A.
County first Congress, County first
Trump House/Senate investigations closing in on Trump collusion with the Russians
FBI closing in on Trump Treason & Obstruction of Justice
Impeachment charges around the corner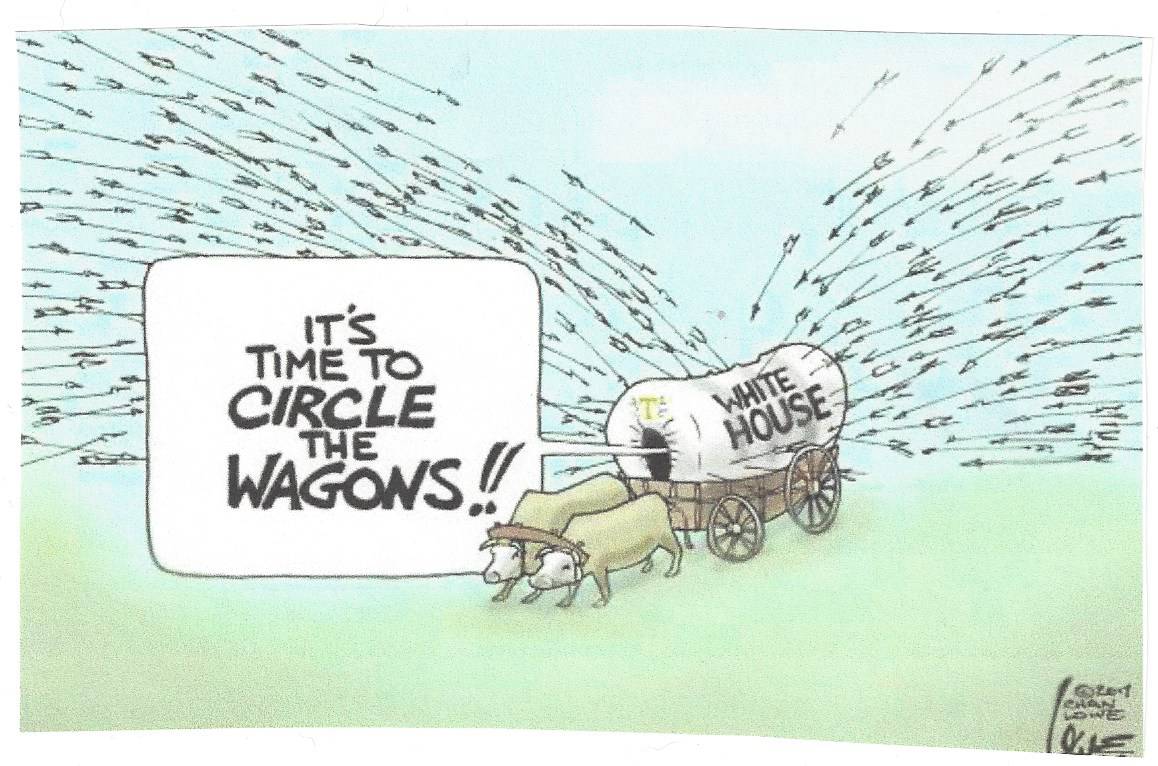 Lassen County Times Editor is Under Severe Public Criticism
for
Continuing to Post Carol Byers Vile Writings Week after Week
This practice is not about FREE SPEECH.
This is about the Lassen County Times Editor pushing his own agenda and political leanings. Byers letters have always been filled with blatant racial overtones, just pure hate and rarely contain any facts.
The last time Kan We Help criticized the Editor about breaking the weekly papers policy, Sam Williams threatened to sue Kan We Help. When that didn't work he attempted to extort $10,000 from Kan We Help.
Sam Williams has now demanded again a retraction from Kan We Help and $10,000 or he will sue Kan We Help (third time)
When asked to provide evidence that Kan We Help posted an error, Mr. Williams could not provide Kan We Help with any evidence, other than he didn't like it.
Mr. Williams, the public has let you know how they feel about your Byers weekly posts.
Kan We Help had nothing to do with that anger.
LET'S GET READY
TO
SWIM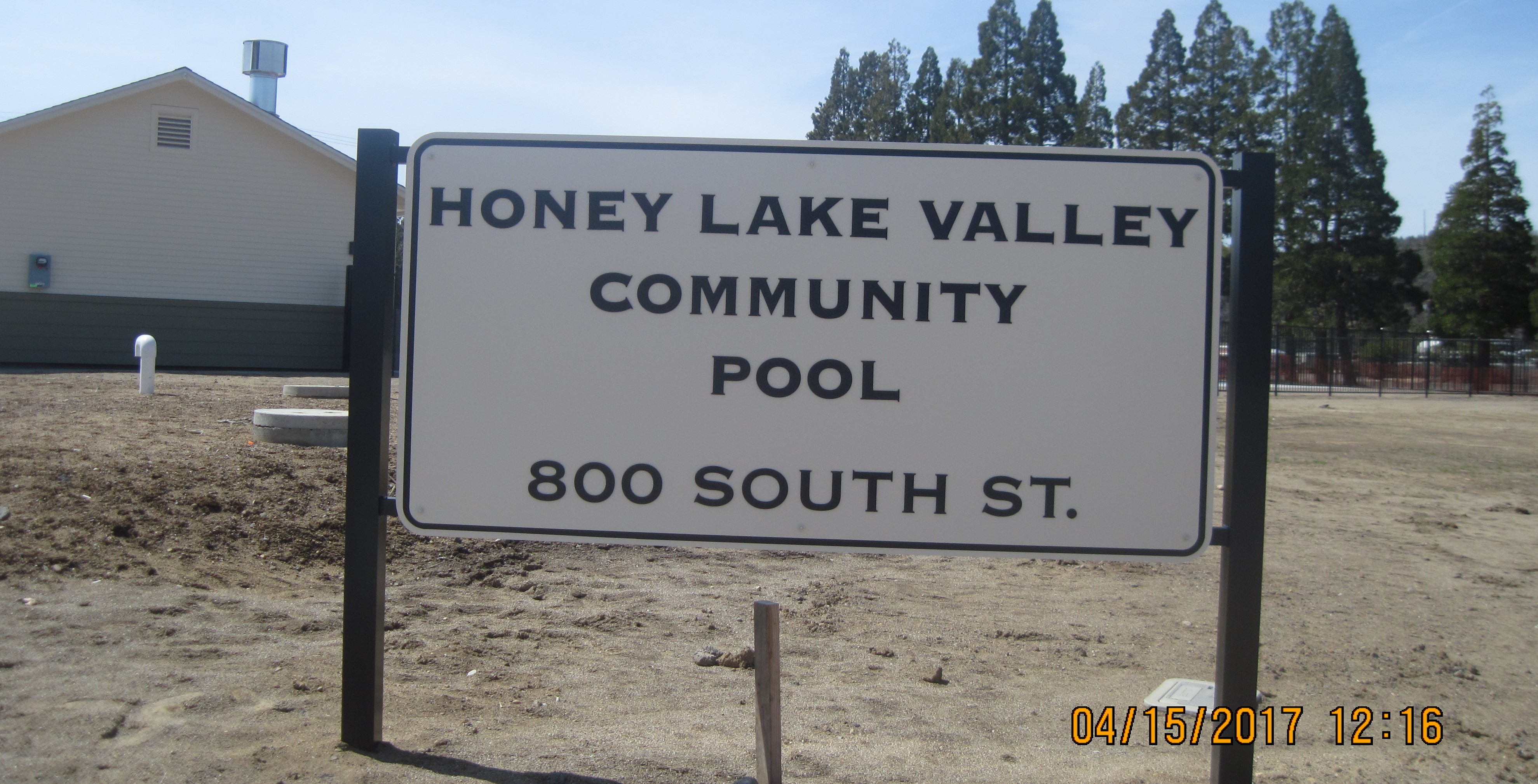 MEDICARE FOR ALL
Remove all insurance companies from Health care.
No Exchanges, No discrimination
No more forms, no limitations, no naked cruelty to the poor and disabled
Preamble
We the people of the United States, in order to form a more perfect Union, establish Justice, insure domestic Tranquility, provide for common defense, promote the general welfare, and secure the blessings of Liberty to ourselves and our prosperity, do ordain and establish this constitution for the united states of america
INDIVISIBLE: A PRACTICAL GUIDE FOR RESISTING THE TRUMP AGENDA
Look.....watch that shiny object over there...
Republicans have been caught in a disgraceful lie
New Jersey Representative Tom MacArthur introduced the "Fairness for Our Hospitals Act" (HR 1831) on March 30, 2017. Speaker Paul Ryan and Donald Trump are trying to sell this as a Repeal to the ACA. It states nothing about any Repeal but give them a few days to bastardcize it.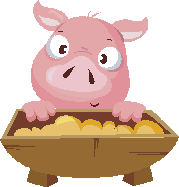 Speaker Ryan is using HR 1831 to bribe Congressman with Pork. Rep. MacArthur was offered $4 million for Opiod Relief for his State. Millions of dollars in Pork/bribes are being offered to just get this to floor for a VOTE on this phony bill.
OBJECTIVE: Remove the pre-condition exemption from the Affordable Care Act....even if it takes lies and bribes
The reason there isn't any Text for the House Representatives to read............there isn't any yet.
What a tangled web we weave when first
we practice to deceive
Lassen County Deputy CAO Tony Shaw
refused to disclose his interests
in
Granite Construction on his 2017 (for year 2016) FPPC 700 Form
The Fair Political Practice Commission requires the Conflict of Interests Form700 to be filed annually
and
Granite Construction gets a
$111,495.38 contract in Herlong
Tony Shaw was hired on January 5, 2015 and Mr. Shaw's January 3, 2015 FPPC 700 ( for yr. 2014) Form indicated that he had an investment in Granite Construction.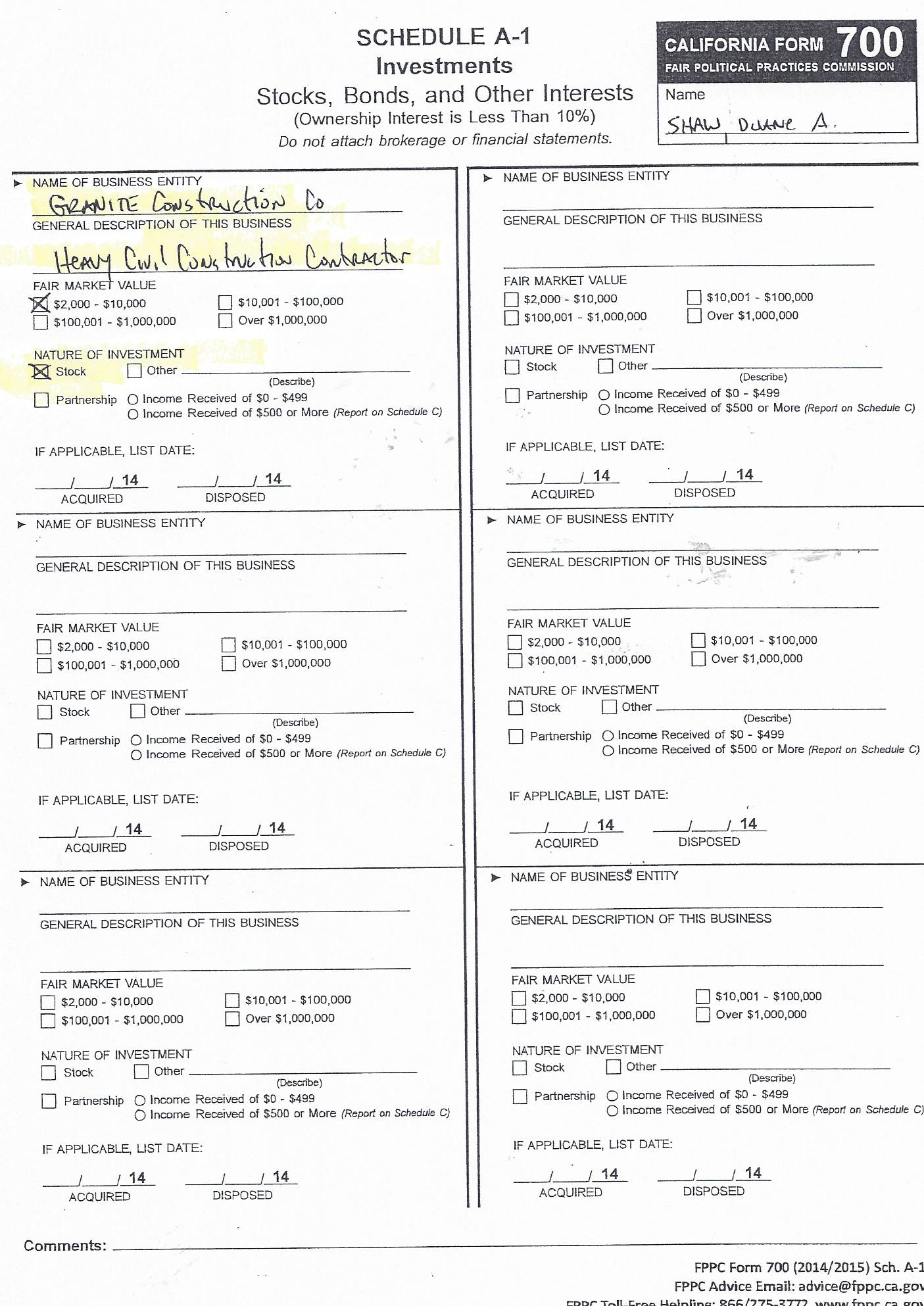 Mr. Shaw's January 9, 2016 FPPC 700 Form ( for yr. 2015) indicated that he continued to own stock in Granite Construction. Mr. Shaw did not disclose the disposal of his Granite Construction stock.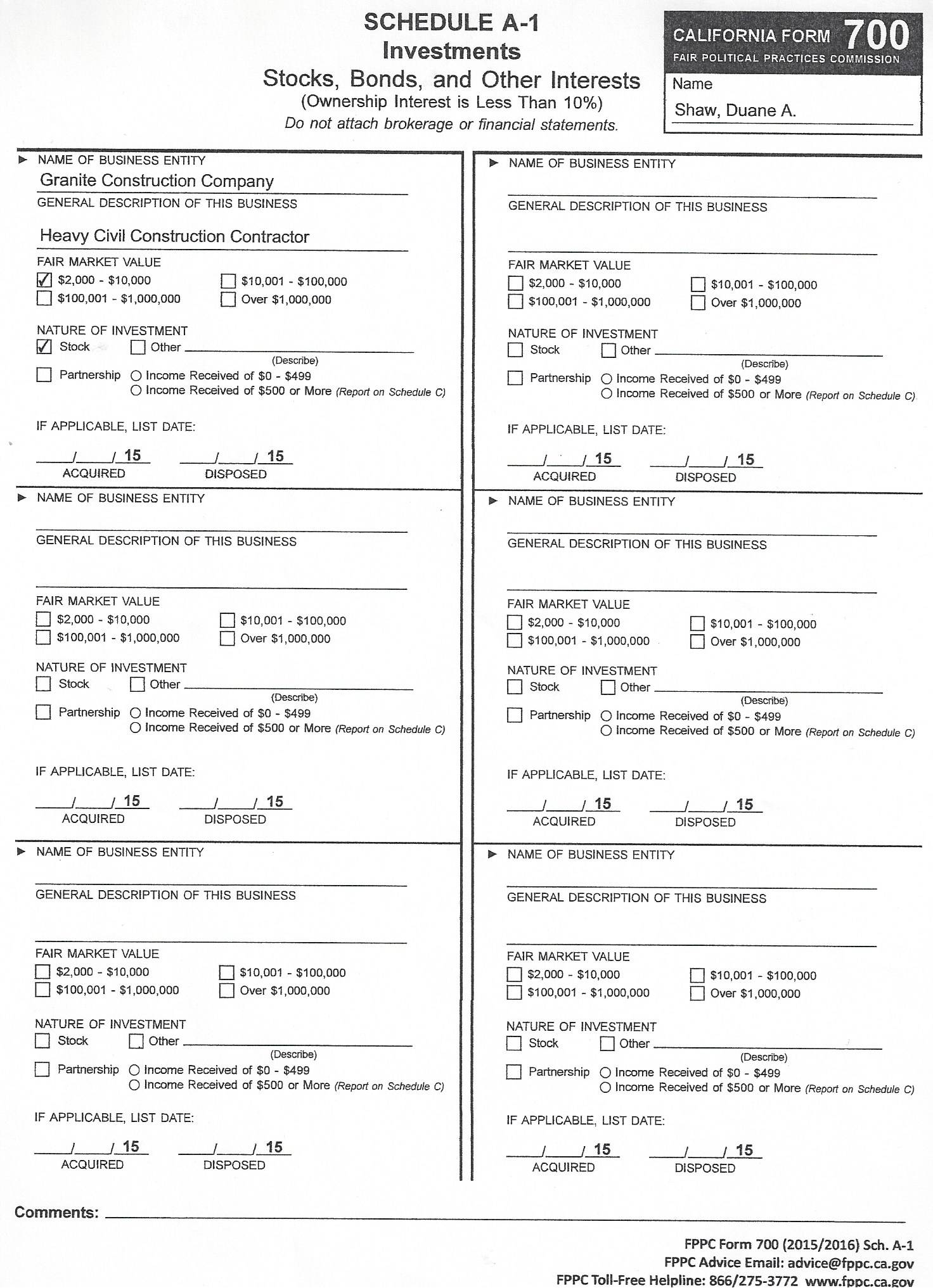 Kan We Help asked Mr. Shaw twice to disclose his "2016" interest in Granite Construction and he refused twice.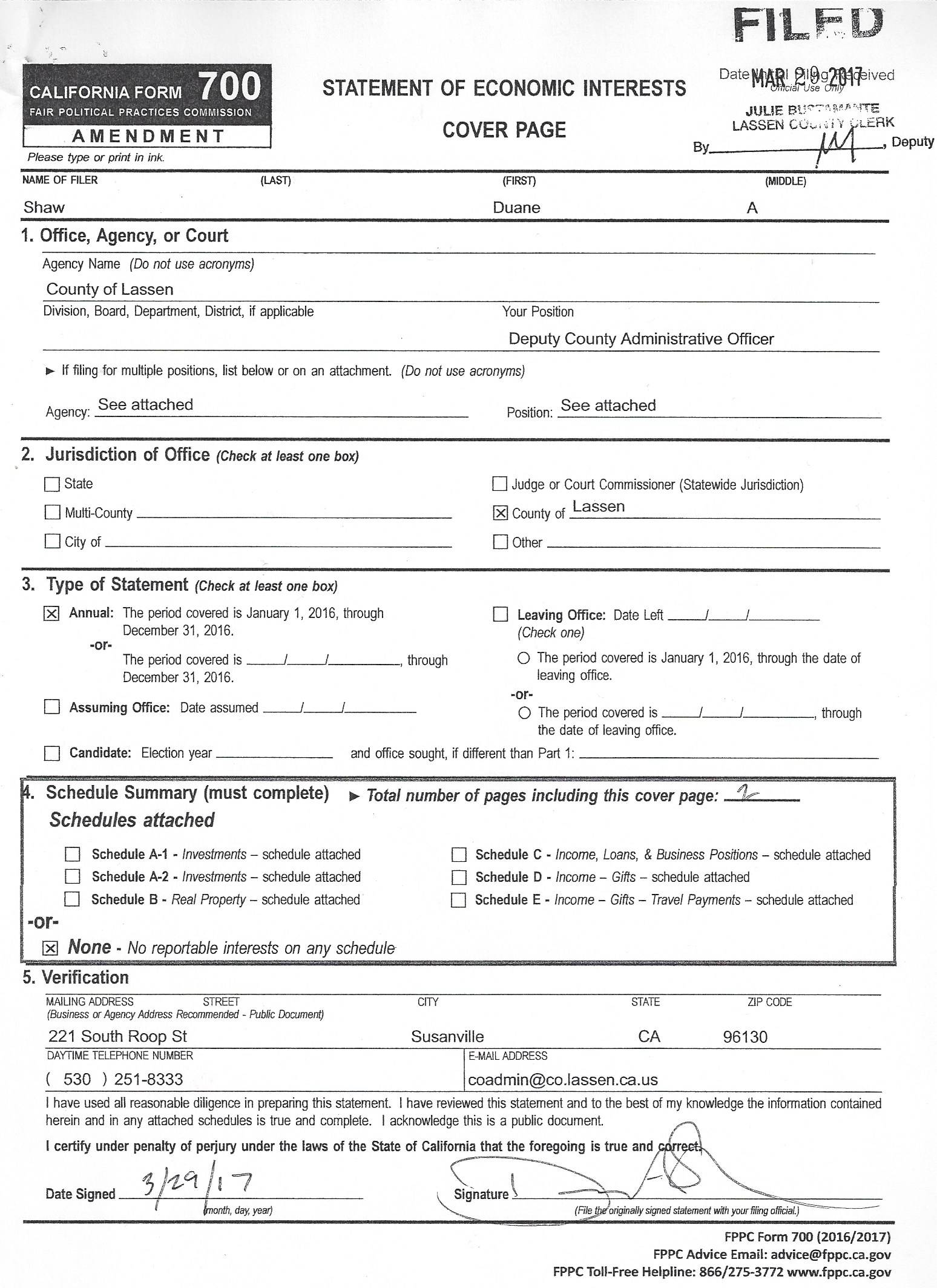 On September 9, 2016 Granite Construction was awarded a $ 111,495.38 contract to pave Sage Valley Road in Herlong.
New Jersey Congressman Tom MacArthur will try to
introduce the third Amendment to Obama Care in 2017
The Tea Party/Freedom Caucus demanded an Amendment to eliminate mandatory coverage for "pre-existing conditions"". Rep. MacArthur ran into resistance from the moderate Republicans to allow the States to determine "pre-existing conditions. He then altered his bill to exclude Congress.
In the last 8 years, the Republicans have tried over 60 times to Repeal the Affordable Care Act. It has become a very successful fund raiser for Republicans in their Districts.
CALL YOUR REPRESENTATIVES AND SENATORS NOW
Today Marks Trump's 100 days of Impotence
Trumps World is Void of Reality
This poor old man is lost in his incompetence. The United States has never seen such a disaster in the White House.
Donald J. Trump: "Only I can fix this"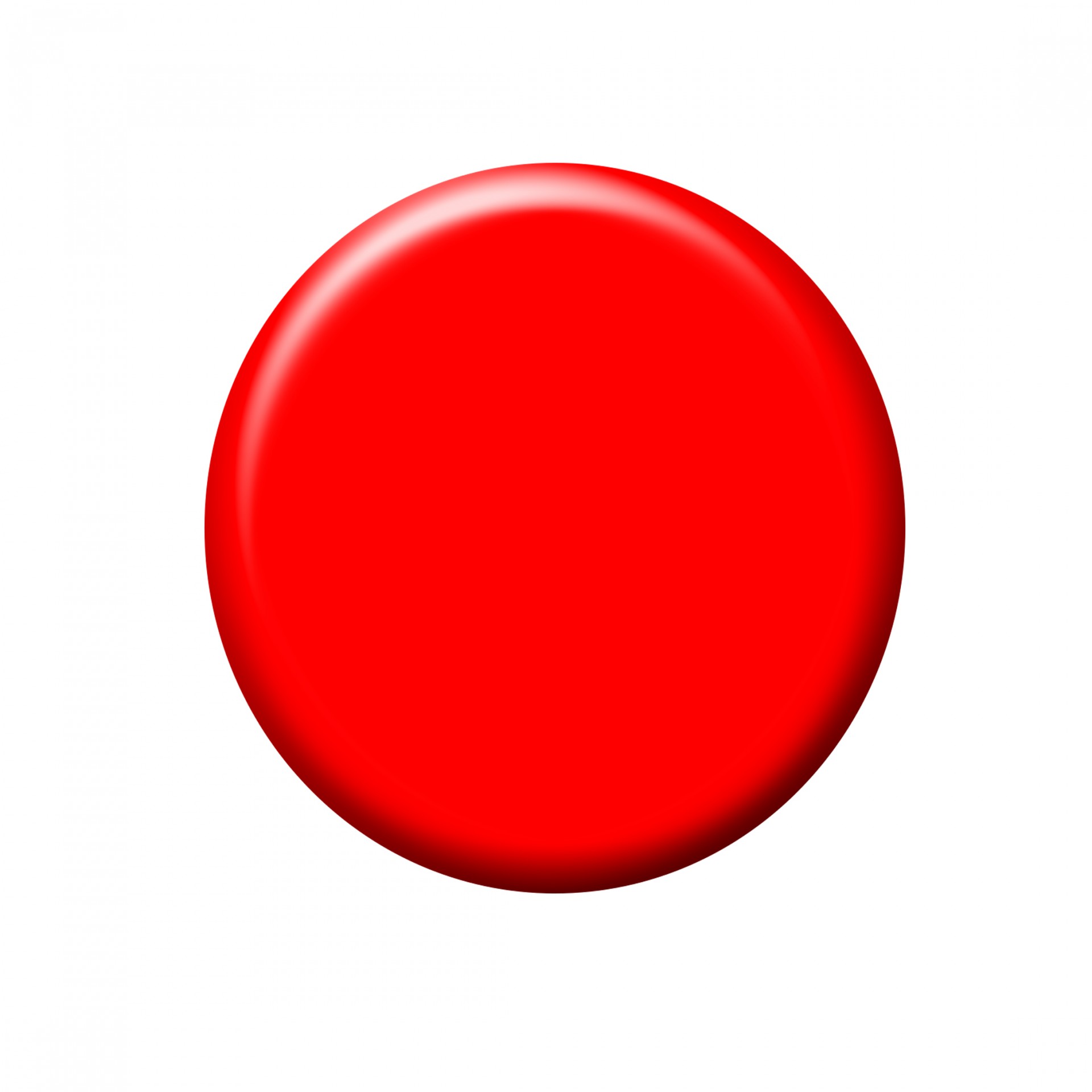 JUST KEEP HIM AWAY FROM THE RED BUTTON. HE THINKS IT IS FOR A COKE
Not a single legislative victory. Dozens of destructive Executive Orders between golfing (Trump's NRA gift: approved killing bears while they hibernate).
Skill Set: Bloviating, Narcissism, Fascist, Cheater-in-Chief, Racist, Needs 24/7 Attention, Bully, Serial Sexual Harasser, and a Serial Liar, etc., etc.,etc.......and the worst is yet to come
The making of a Dictator
Trump's Second Attempt to Repeal the ACA Fails
The Tea Party/aka Freedom Caucus agreed to vote today for an Amendment to the Affordable Care Act only if the "Pre-existing condition" section was removed. The Republi-Klans could not sell that in their Districts so NO VOTE TODAY.
TRUMP PROMISED OVER AND OVER THAT HE WOULD REPEAL "OBAMA CARE/aka Affordable Care Act" ON THE FIRST DAY.
This is day 98 and his 2 attempts have failed
TRUMP STRUGGLES WITH HIS INCOMPETENCE
TRUMP HAS NO TAX PLAN THAT BENEFITS AMERICAN FAMILIES
BUT.......BENEFITS HIMSELF AND OTHER BILLIONAIRES
*In this "one" page farcical joke tax plan, Trump "the phony President", eliminates the Alternative Minimum Tax to benefit the RICH.
NOTE: At the end of this document Trump promises to work with HIMSELF in the "Process"
*some are speculating that Trumps youngest son may have typed this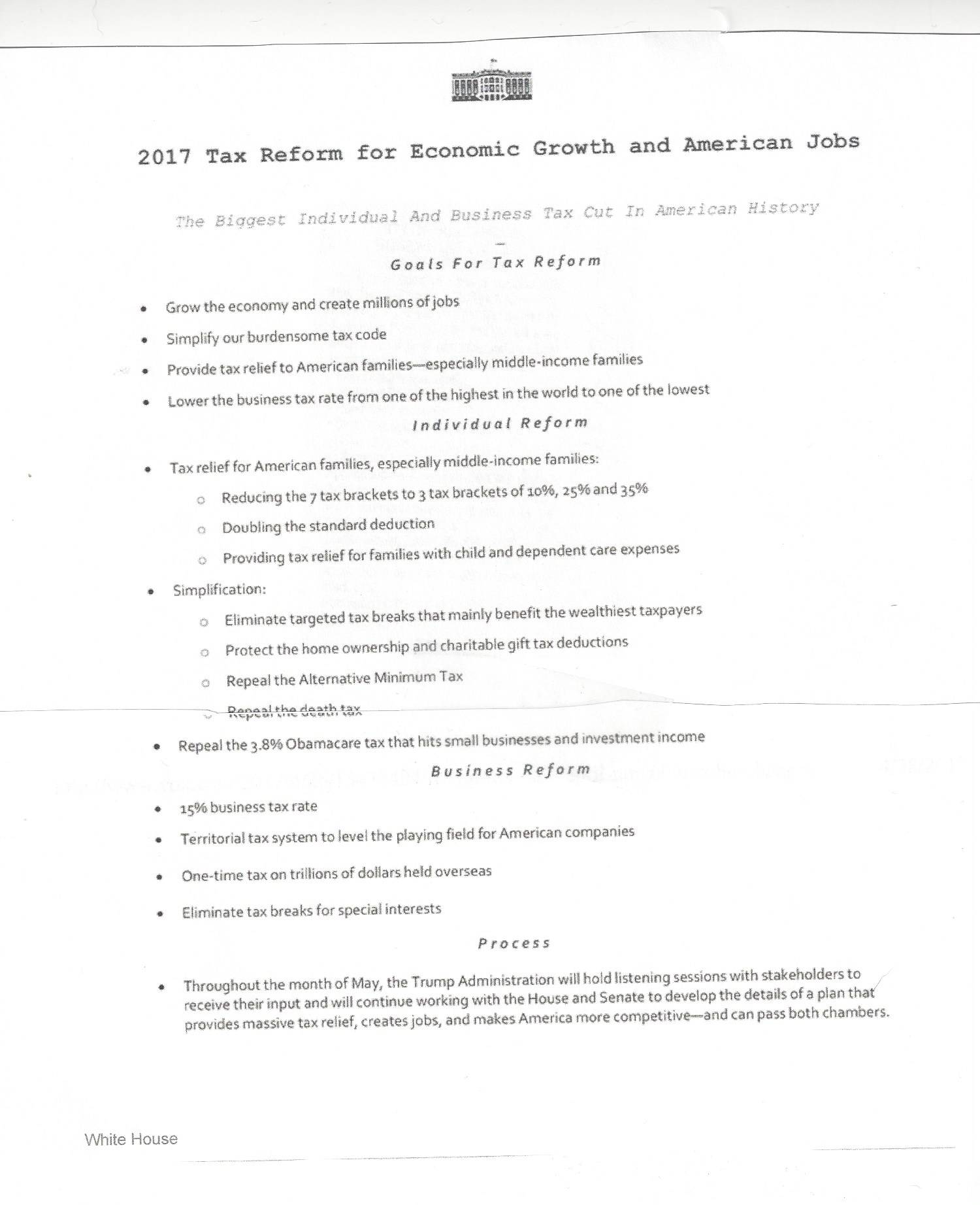 In 2005 Melanija Knays Trump had to file public documents to become a naturalized citizen. This included her tax return.
In that 2005 tax return, Donald Trump the citizen, paid $31,261,179 in Alternative Minimum Taxes (on line 45 below). With Trumps proposed tax cut he would have paid $5,300,000 for the Alternative Minimum Tax.
THIS IS THE 1986 "OLD" ROPE-A-DOPE
TRICKLE DOWN TAX CUT
Congresspersons cannot sell this in their Districts
D.O.A
LASSEN COUNTY DISTRICT ATTORNEY'S OFFICE CANNOT PRODUCE A RECORD FOR THE SUPERVISORS OF HER SUCCESSFUL PROSECUTIONS?
How many Assault cases go free?
How many Drug cases go free?
Lassen County District Attorney's Criminal Cases this week
Tuesday: 4/25/17 Wednesday: 4/26/17 Monday: 5/1/17
Assault 10 cases 11 cases 10 cases
Criminal ? 8 cases 2 cases 5 cases
DUI 6 cases 2 cases 9 cases
Conspiracy 5 cases 1 case 0 case
Theft 4 cases 0 case 4 cases
Drugs 4 cases 2 cases 10 cases
Trespassing 2 cases 0 case 2 cases
Larceny 2 cases 1 case 0 case
Weapons 1 case 2 cases 2 cases
Rape 0 case 1 case 0 case
Child Abuse 0 case 0 case 2 cases
If you have drug dealers as neighbors, learn to live with it.
The Sheriff won't arrest them & the DA cannot successfully prosecute them.
Neighborhood "watch" groups can
do nothing but WATCH
Americans need a plan about CRIME and it isn't more cops and more prisons
APRIL 29: TRUMPS FIRST 100 DAYS
SHUTTING DOWN THE FEDERAL GOVERNMENT
IS AN ACT OF TERRORISM
FACT: The United States government (Congress/Executive Branch)
is NOW controlled by the Republi-Klans
"MEXICO WILL PAY FOR THE WALL"
***THAT LIE GOT TRUMP ELECTED***
TRUMP WANTS TO SHUT DOWN THE FEDERAL GOVERNMENT TO GET
15.4 BILLION DOLLARS TO PAY FOR THE MEXICAN BORDER WALL
BY CUTTING DOMESTIC SPENDING THAT WILL EFFECT EVERY SINGLE AMERICAN

Move to Lassen County
and
Meet your neighbors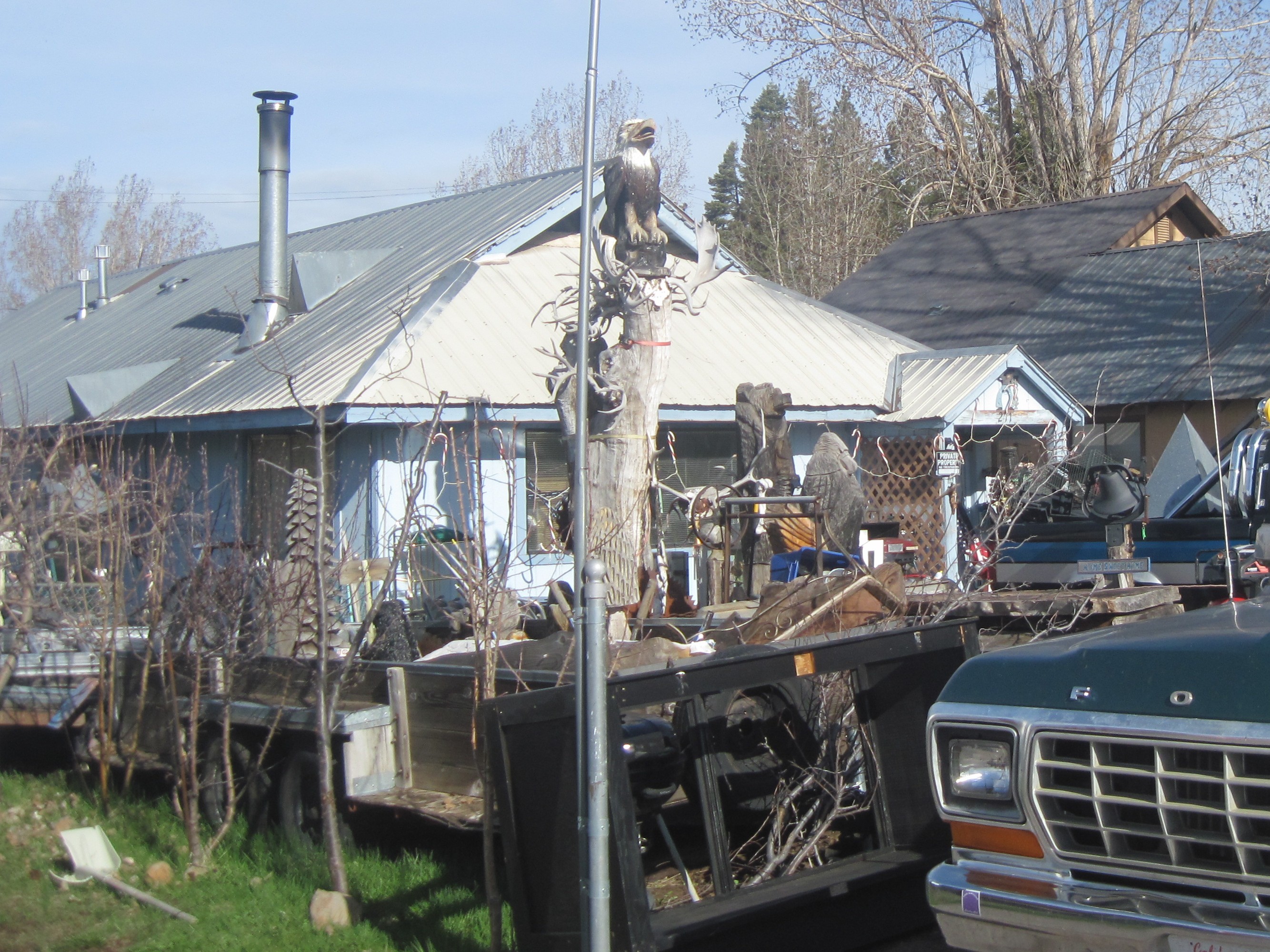 TYPICAL HEROIN HOUSE IN LASSEN COUNTY?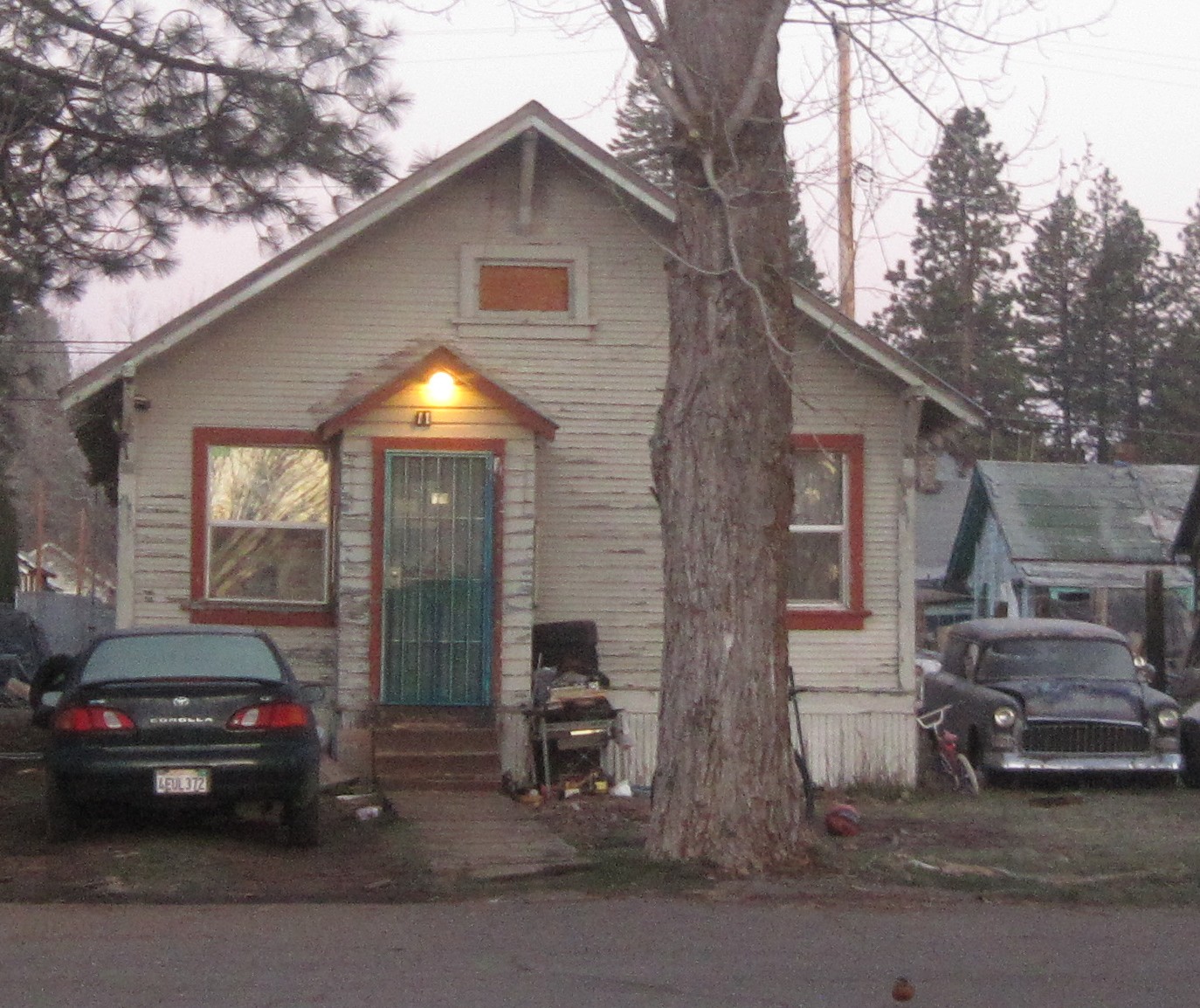 These drug houses in Lassen County exist and profit without any fear of disruption.
This hurts neighborhoods, schools, property value and most of all the SAFETY OF HARD WORKING PEOPLE.
Sheriff's Department: Open for business around 3:00 PM every single day
BEWARE: Kan We Help will begin posting photos of their customers.
TRUMP USES FULL FORCE AND POWER OF HIS OFFICE TO ENRICH HIMSELF AND HIS FAMILY
The Great Fake US President Signs Yet Another Executive Order
"Buy American-Hire American
This asshole manufactures his crap in China and Mexico and just hours before his meeting with the Chinese President, at a resort, his daughter receives news that three of her Chinese trademarks have been approved
During an interview, Trump claims he sent 59 missiles to Iraq
Crazy, old man who needs attention 24/7 is incompetent BIGLEY
The Honey Lake Valley Community Pool

will open in 2017....
....after three years of waiting for this pool, it is almost here !!!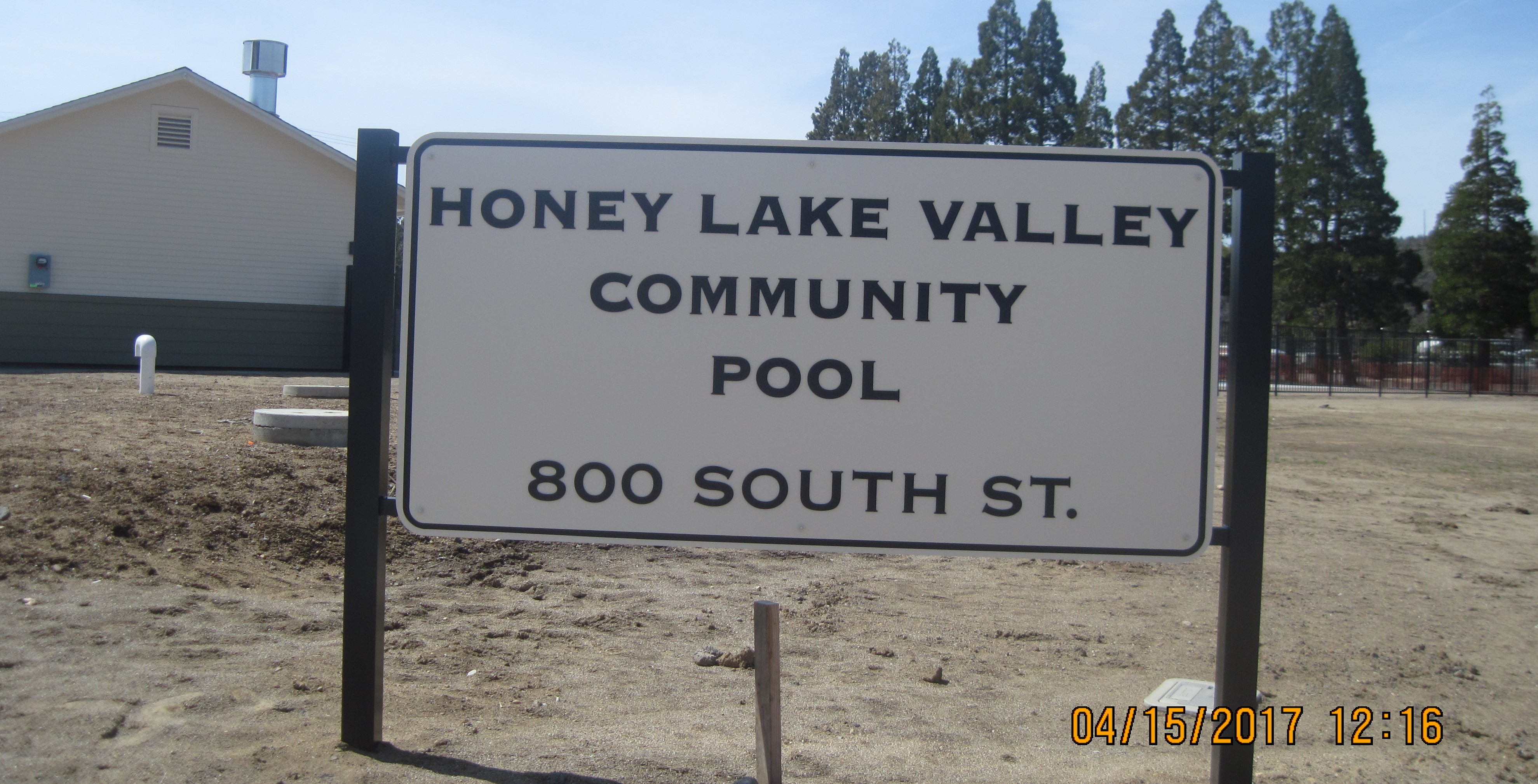 The sign will be lighted and have landscaping shrubs, trees and rocks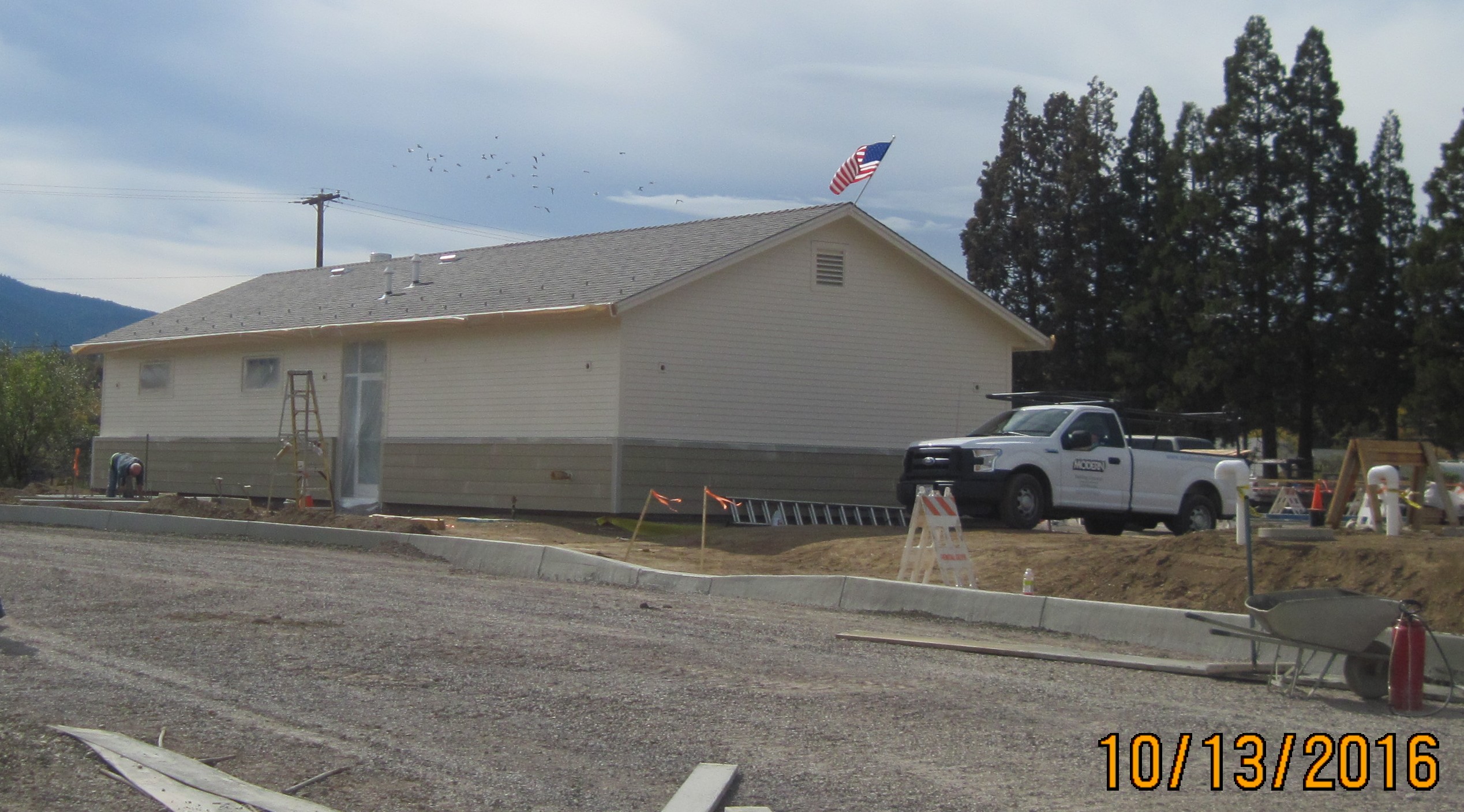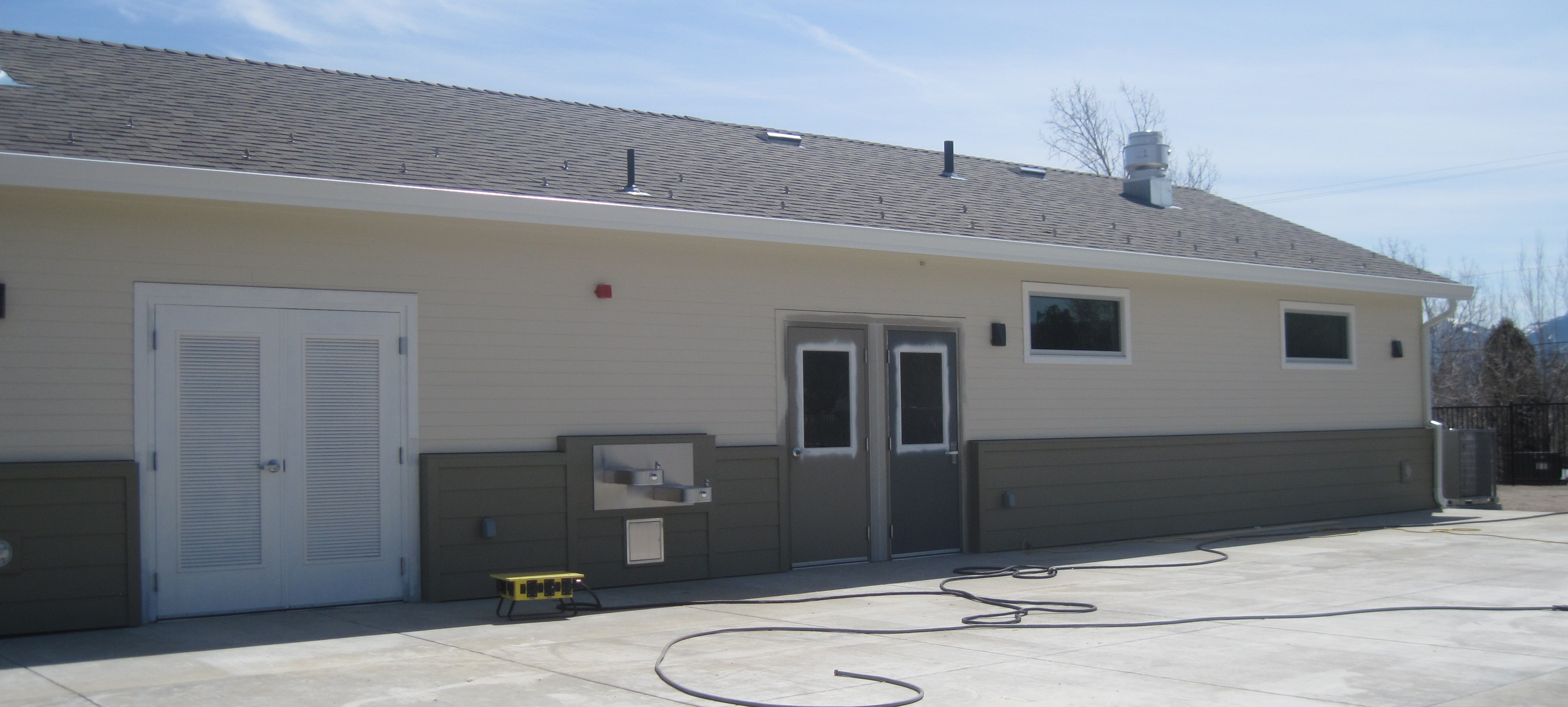 Pool side of building. White doors house the equipment, next two doors go to the lobby of the pool house and dressing rooms are on the right
NEED FOUR GOOD SUNNY DAYS TO FINISH THE POOL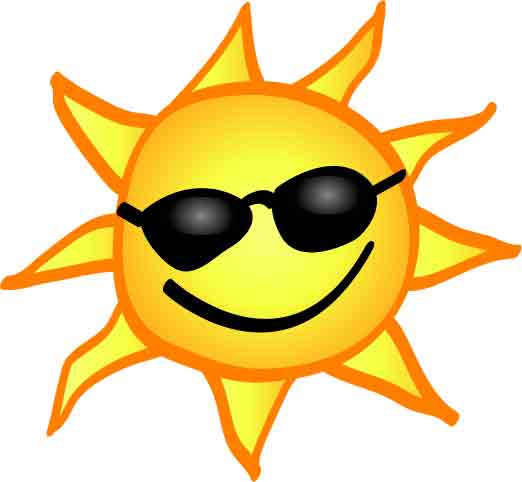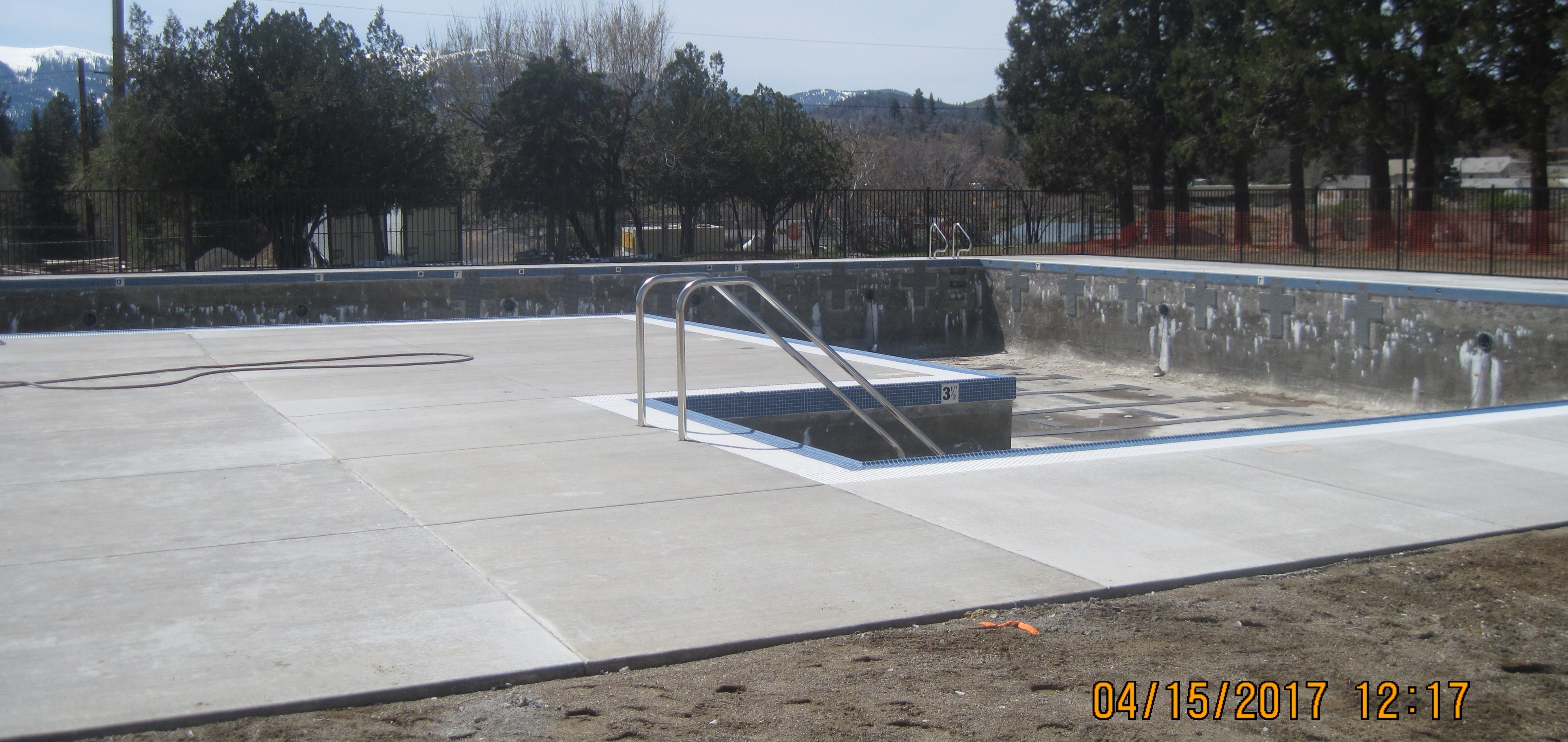 The community pool project shrank when the available funds could only provide for the construction of a smaller pool and a smaller administration/pool building.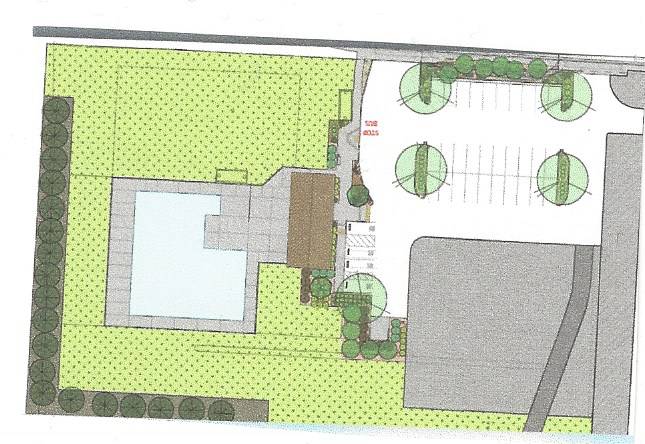 PAY ATTENTION
LASSEN COUNTY SUPERVISORS
Lassen County CAO Richard Egan Continues to Move Money
that isn't even there to spend (this issue is just the tip of the problem)
Fund 150/1501/3006100 Budgeted $10,000 for Stones Well
*Expenditures, for 150/1501/3006100, were approved for $15,683.82....what did Egan actually spend this on?
*Increasing a budget requires 4/5 vote by the Board of Supervisors
Public Records show that NO action was ever taken to increase Fund 150/1501/3006100
The only other project that had money budgeted for the current fiscal year was the
$40,000 for the Veterans Hall.
What did Egan spend the $15,683.82 on?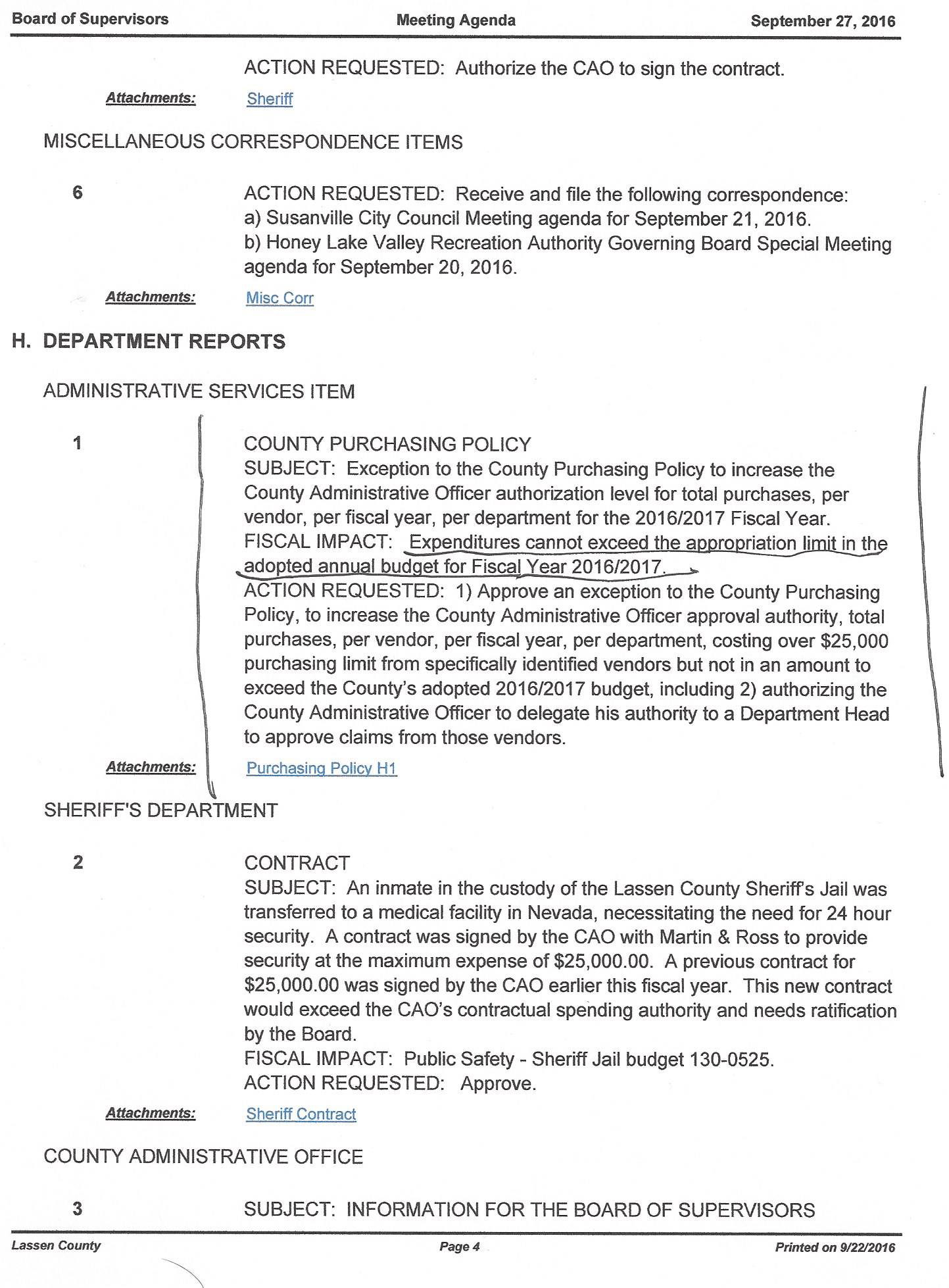 The appropriation limit for Fund 150/Budget 1501/Account 3006100 was $10,000
KAN WE HELP
TELLS SUPERVISORS
TO
PAY ATTENTION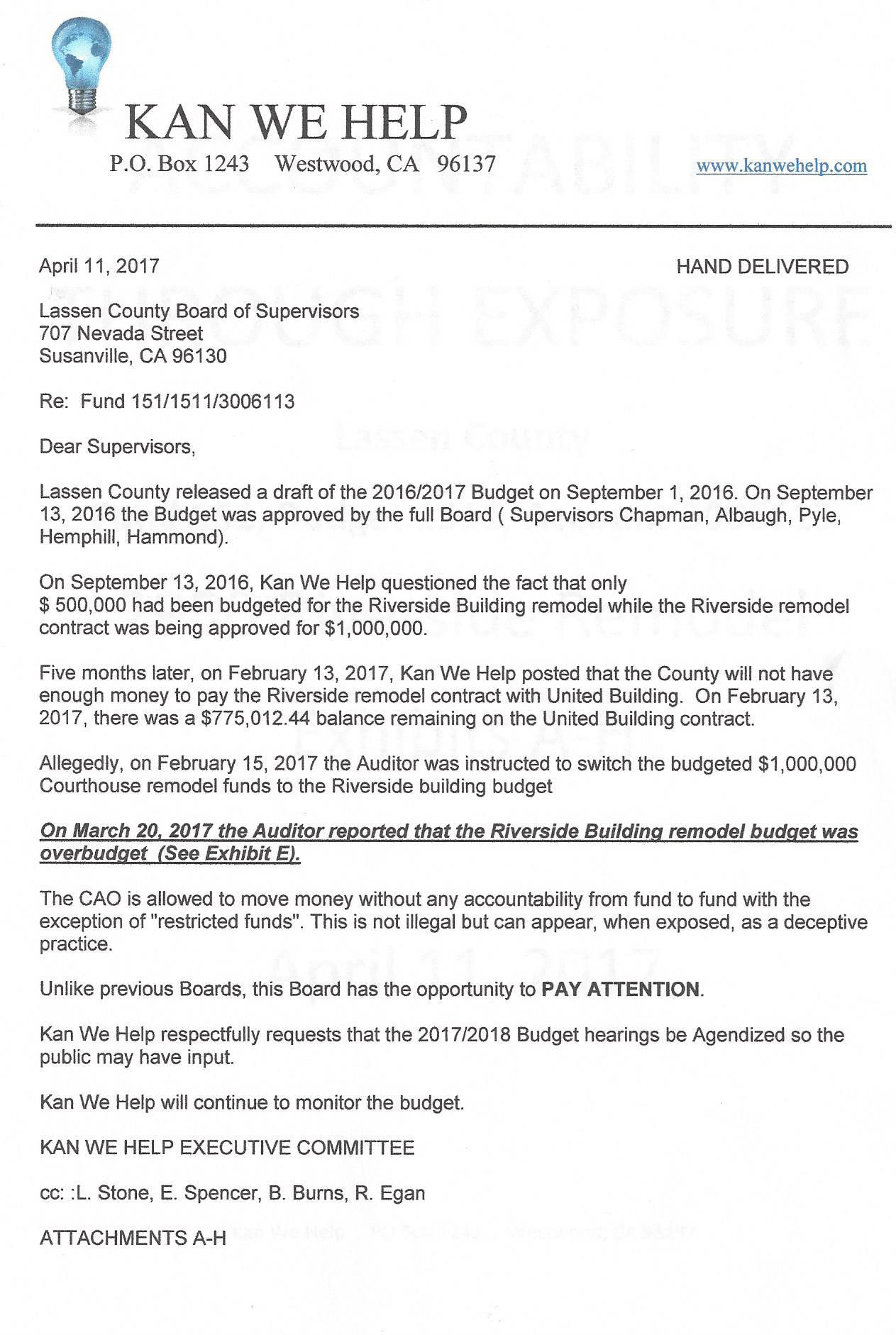 Riverside Remodel 55.37% complete as of 3/2/17
As of 3/28/2017 this Building was not complete. Lassen County must invoke the $1900 a day penalty for every day after March 28, 2017 that the work is not complete
$26,600 and counting..........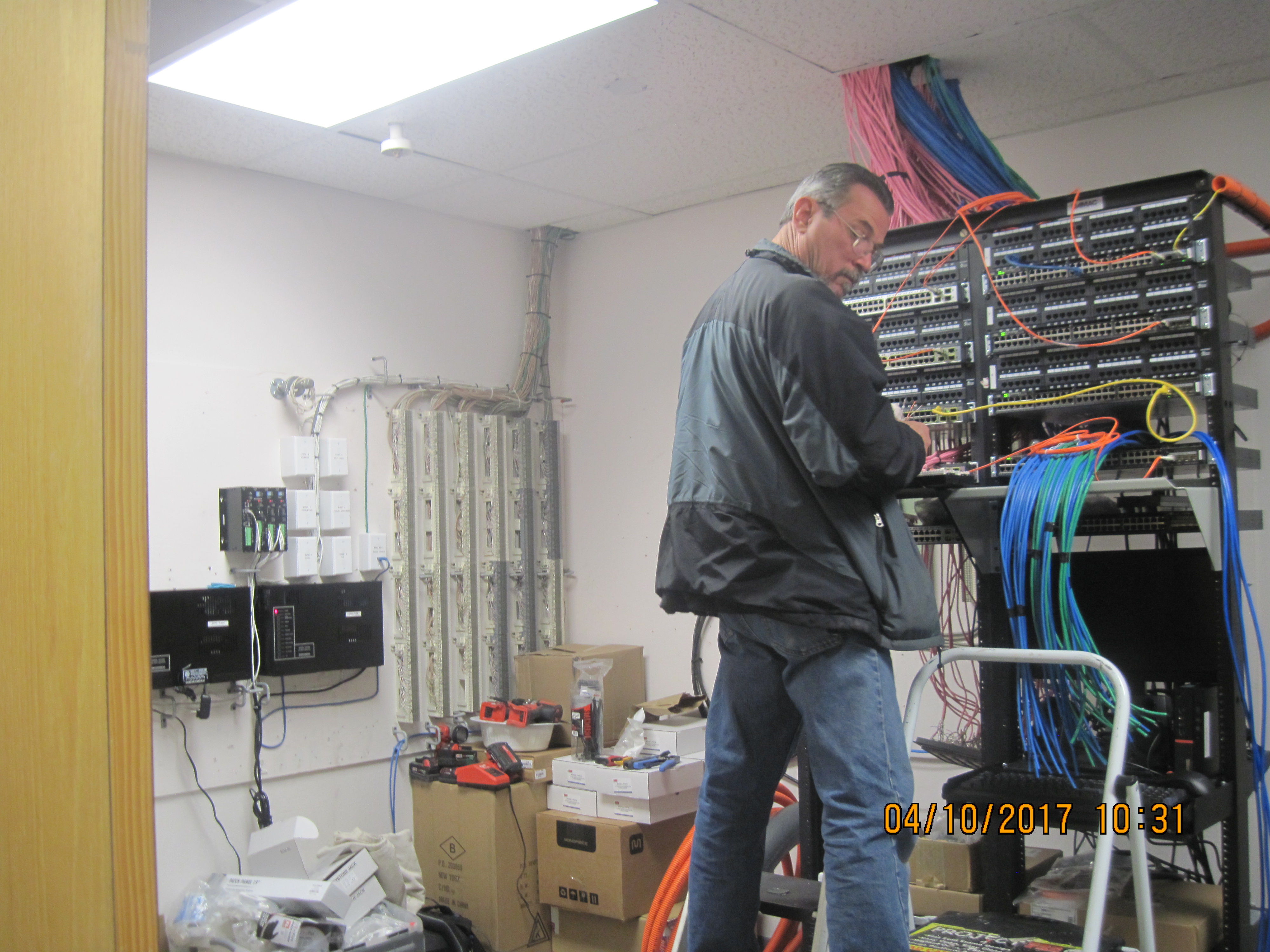 Technology Room- NOT READY ?
2950 Riverside Building History
Lassen County District 1 Supervisor
Chris Gallagher
Holds Town Hall Meeting
in
Westwood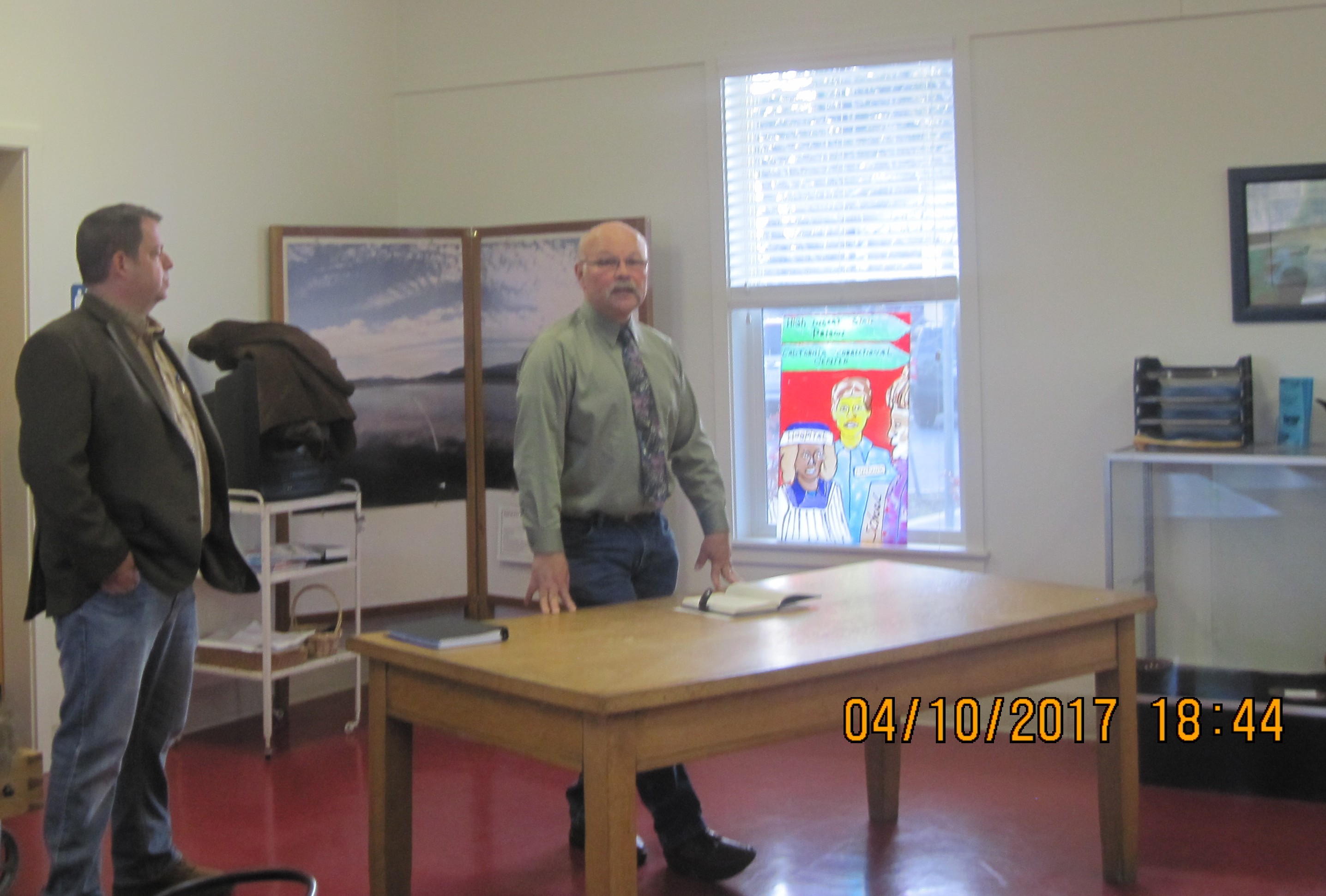 LEFT: Lassen County Director of Planning RIGHT: Newly elected District 1 Supervisor Chris Gallagher
TOPICS: CRIME AND CLEANUP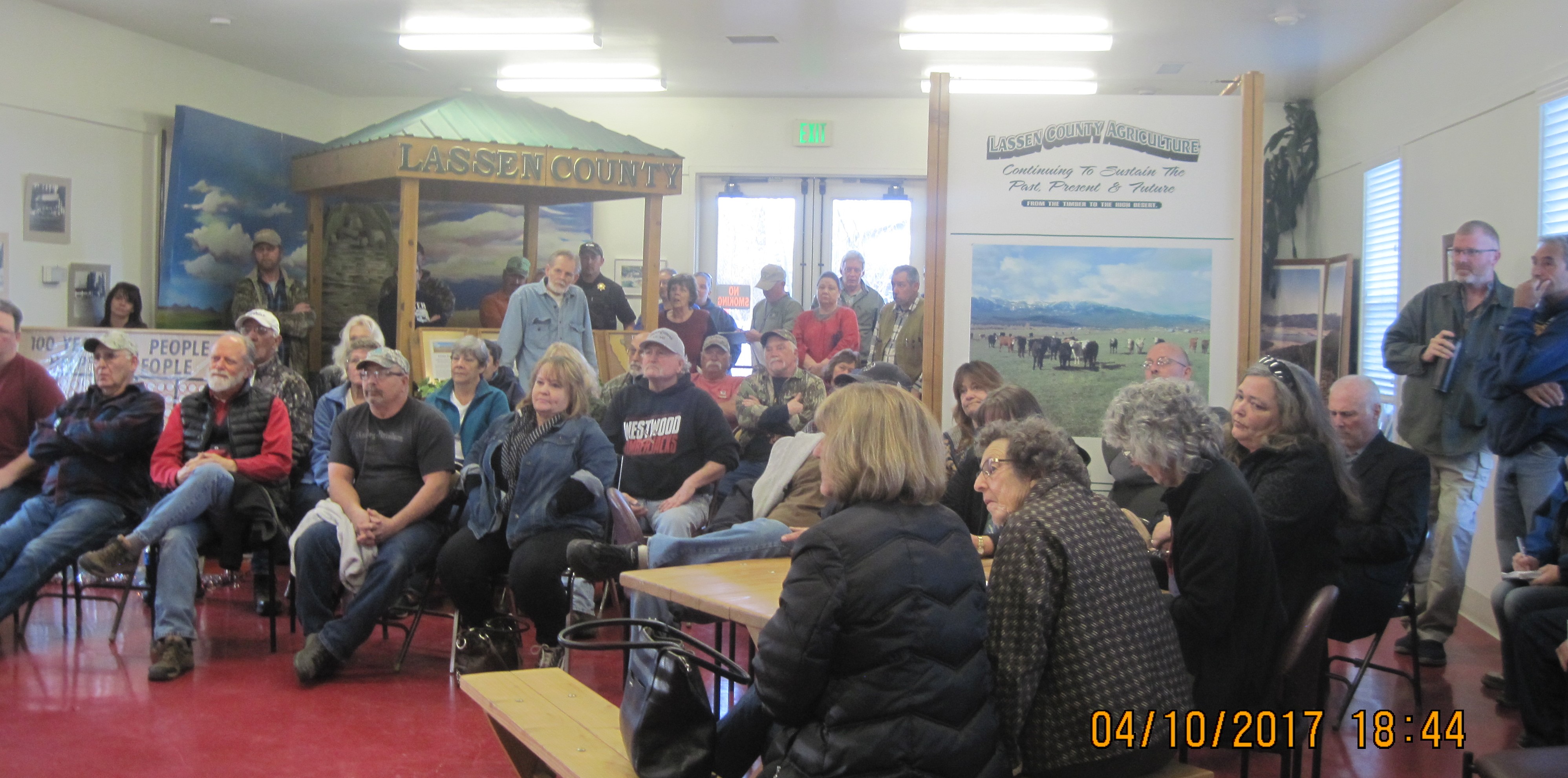 PUBLIC TOUR
LASSEN COUNTY'S $2,700,000 WHITE ELEPHANT
April 11, 2017
1:30 PM
2950 Riverside Street, Susanville, CA
Lassen County 2017 Frank Cady Worst Public Servant Award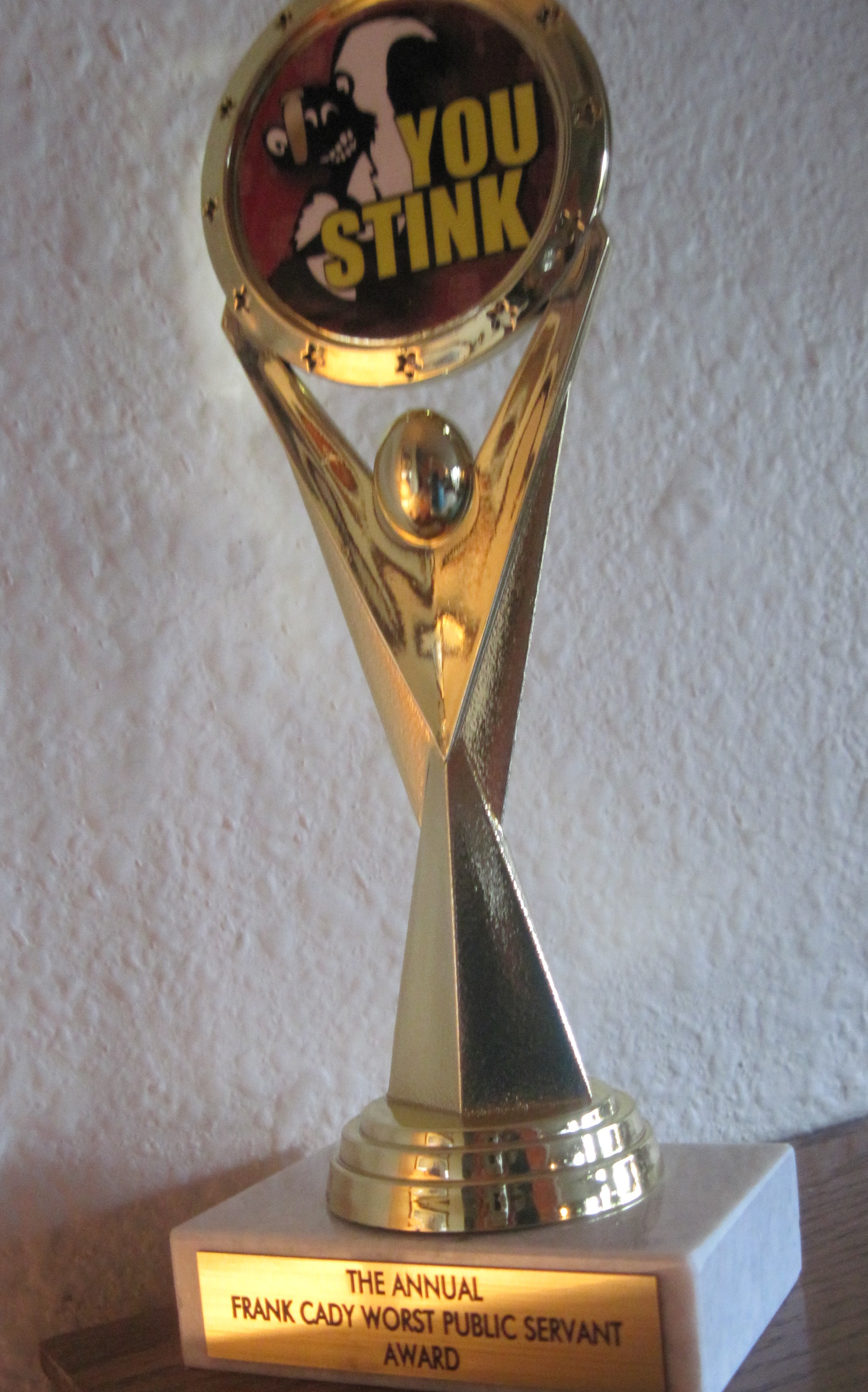 NEW LASSEN COUNTY DISTRICT 2 SUPERVISOR DAVID TEETER
COMMITS HIS FIRST
CONFLICT OF INTEREST VOTE
Supervisor Teeter not only is the former President of the HUSA District where the event will take place
but is a member of the Chamber of Commerce.
$5,000 gift to the Chamber of Commerce again
March 26, 2017
HSP Resources (Steve Pezzullo/Larry Smith) want their taxes reduced on the Amedee Airfield Parcels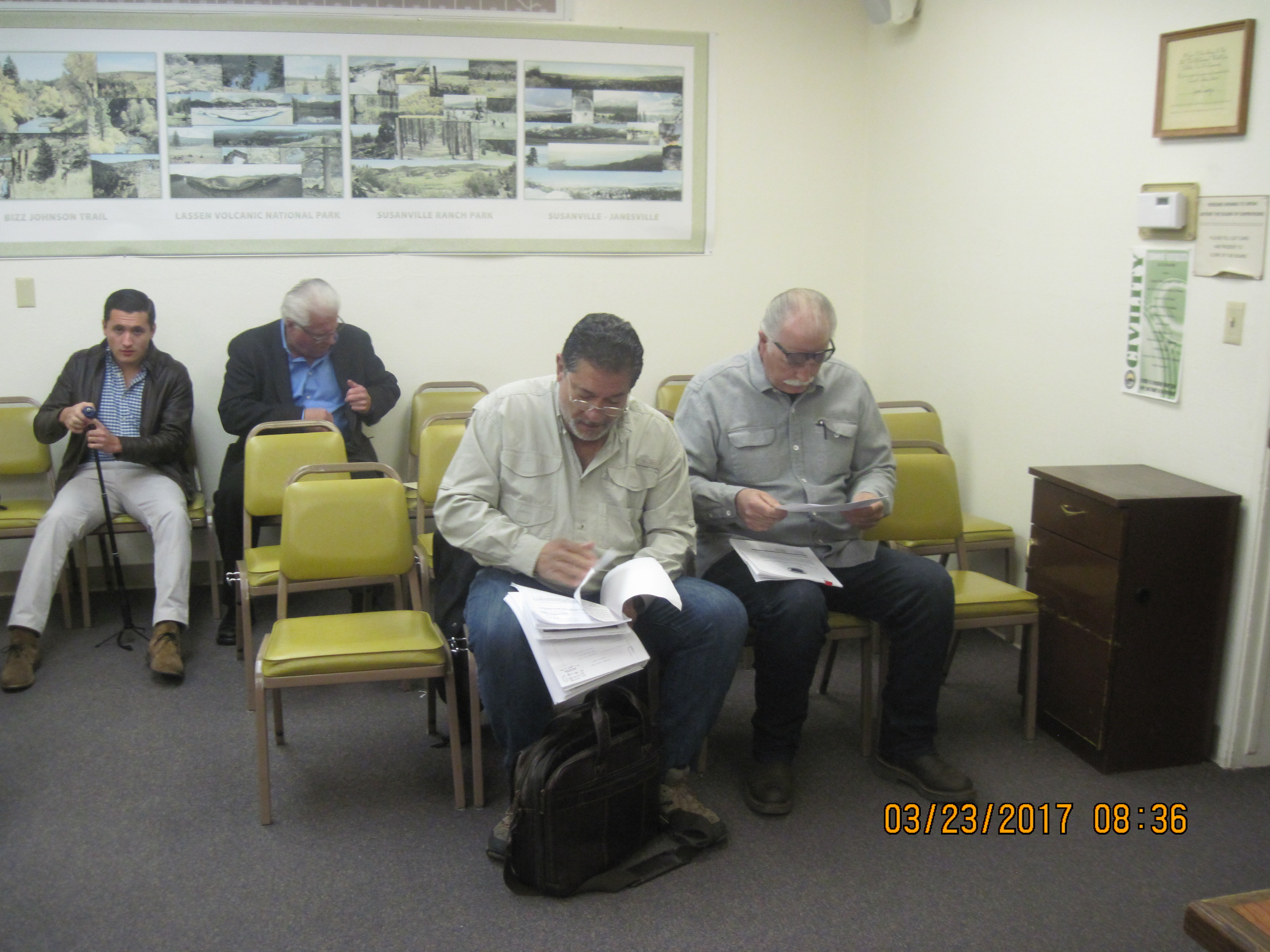 Steve Pezzullo submitted an application to the Lassen County Assessment Appeal Board to have his taxes reduced on the Amedee Airfield parcels he purchased under HSP Resources claiming that most of the 3576 Acres are un-usable due to contamination and now he finds out that he can't rent the Army's Amedee Airfield. The contamination of this property was included in the RFP. HSP Resources claimed they were going to bring in business with private planes landing on the Army's Airfield.
Kan We Help told the Supervisors, at public meetings, that the Army will never allow private businesses to have access to the Army's airfield in Herlong Something Kan We Help told "everyone" when the first of six RFP's were issued by Lassen County.
The value of the 3576 Acres had been assessed at $521,000 after the land was sold to a private party. On March 23, 2017, the Assessment Appeals Board reduced the value and the 3576 acres will be taxed on $393,277.
CHRIS MONTGOMERY
VIDEO TAPED THE HEARING
FOR HIS LANDLORD, STEVE PEZZULLO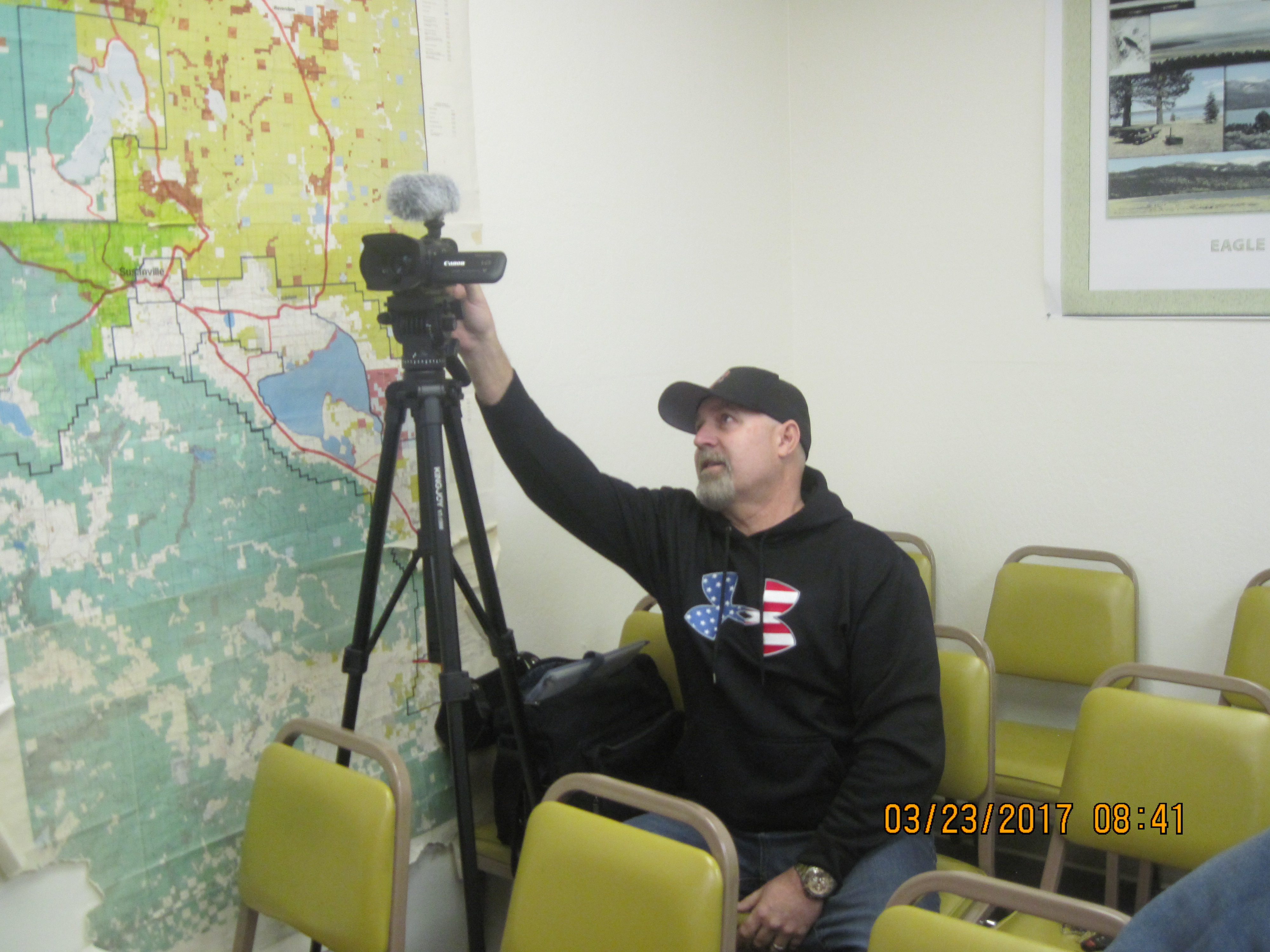 KSUE/JDX RADIO HOST and husband of the DA, CHRIS MONTGOMERY
STATED THAT HE WASN'T THERE FOR THE RADIO STATION
Were Pezzullo's promises to bring economic development to Herlong just empty promises. Pezzullo and Smith now own the township of Herlong and the 3576 acres surrounding it
........AND HAVE DONE NOTHING
A good day for Americans
POLITICS OVER COUNTRY
COUNTRY WINS
TRUMP CARE DEAD
American Health Care Act 2017
Amendments to ACA:
1. Americans not required to have health insurance
2. Effective 2020, Republicans will roll-back state Medicaid subsidies to States effecting 10 million poor Americans
3. Republicans will not require employers to provide health insurance for employees
4. Americans that can afford health insurance but let their private health insurance lapse will now see their insurance premiums raised up to 30%
5. Republicans will cut funding to Planned Parenthood for one year and programs for the working poor
6. Republicans intend to issue "credits" to people based on age & income, but a planned "phase out" would eventually eliminate these credits
7. Reverse tax increases on high-income taxpayers
8. Removes mandate for insurance companies to spend 80% of premiums collected for people's healthcare. Windfall for insurance executives
Speaker Paul Ryans last minute changes to try and get votes:
9. Repeal significant health benefits; outpatient care, emergency services, hospitalization, pregnancy, maternity and newborn care, mental health and substance abuse disorder services, prescription drugs, lab work, preventative services, all pediatric services.
Millions of Americans will keep their healthcare!
The amendments only Trump wanted to make in the
2009 Obama Affordable Healthcare were pulled today from any Vote in the House. Hundreds of NO votes.
Repeal of the ACA was never on the table
Major defeat for the Trump administration
This is the second defeat for Trump in his first 100 days in office
FOLLOW THE BOUNCING BALL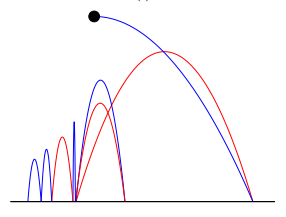 The amendments to the 2009 Affordable Health Care Act have gone from HR 277 (introduced 1/4/17) to HR 1275 (introduced 3/6/17) to
HR 1628 (introduced 3/20/17)
30 House Republicans
will not vote "for" HR 1628
on 3/23/17 because it hurts Americans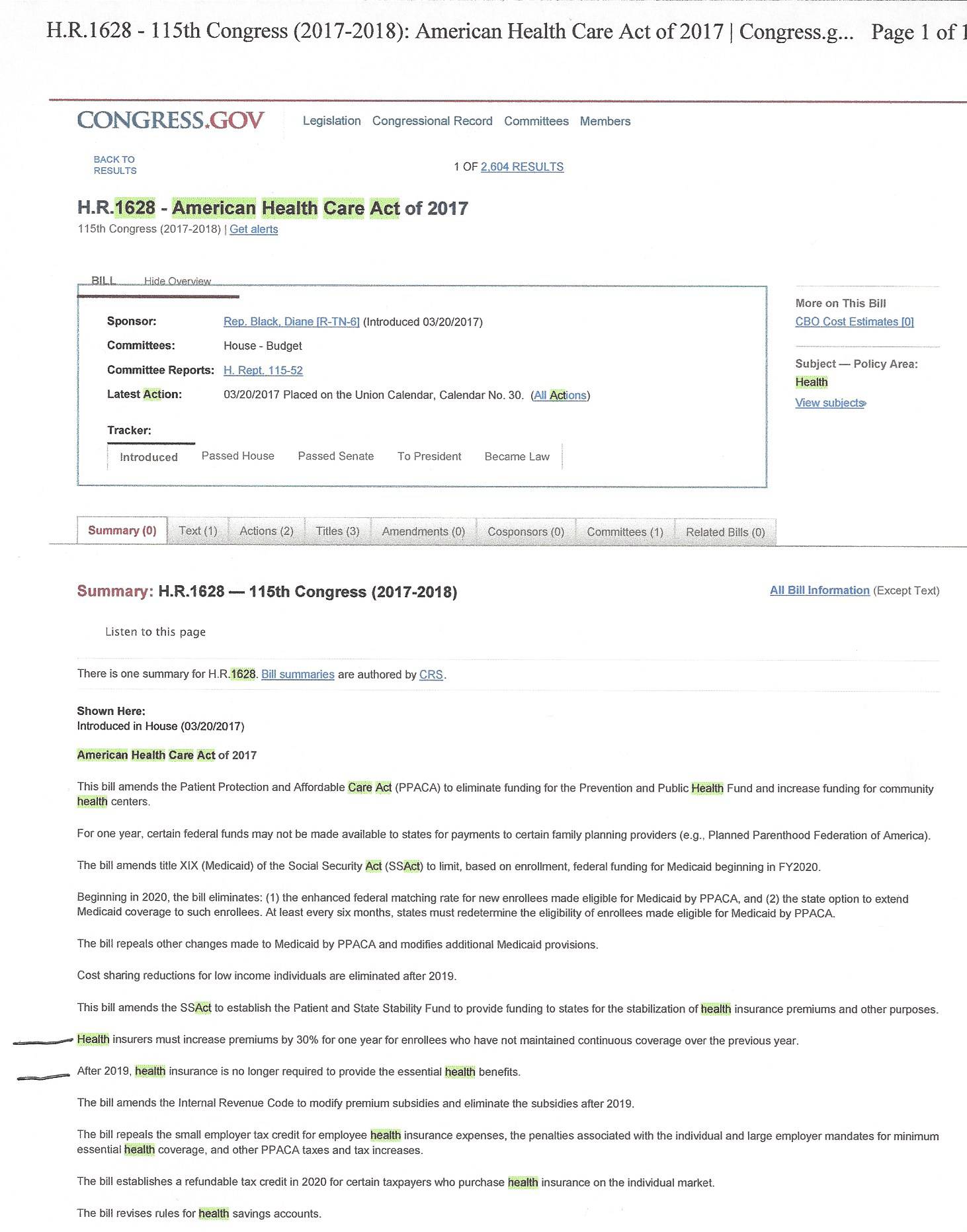 Can the Republicans hate the American people this much ?
Supervisor Teeter wants to give the
Republican Chamber of Commerce $5,000
for
an event for the 100th anniversary of the Old Courthouse
Board of Supervisors 3/21/17 Agenda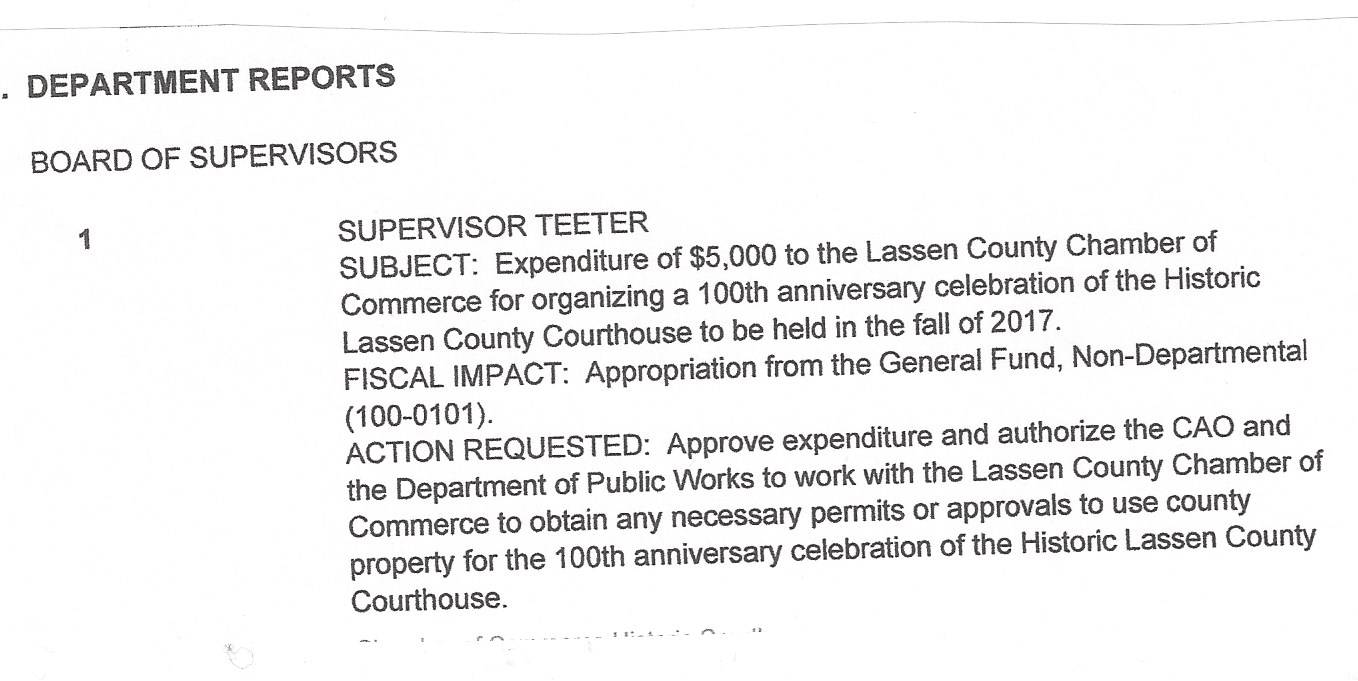 The Chamber collects dues from Lassen County businesses in order to support events that promote their businesses.
The County does not ask for ANY ACCOUNTABILITY for the thousands of dollars they give to the Chamber of Commerce.
Supervisor Teeter cannot even "vote" to promote a public event or public project within the HUSA boundaries with public money. Supervisor Chapman recused himself from these votes until he left HUSA (Historic Uptown Susanville Association)
First of many TESTS for the new Supervisor
Local Weekly Newspaper
Supports Venom Loaded
"Letters to the Editor" from 1 person
week after week after week, and reprints the worst despite their own rules?
The current Editor rejects letters that challenge this practice
so the papers position can be maintained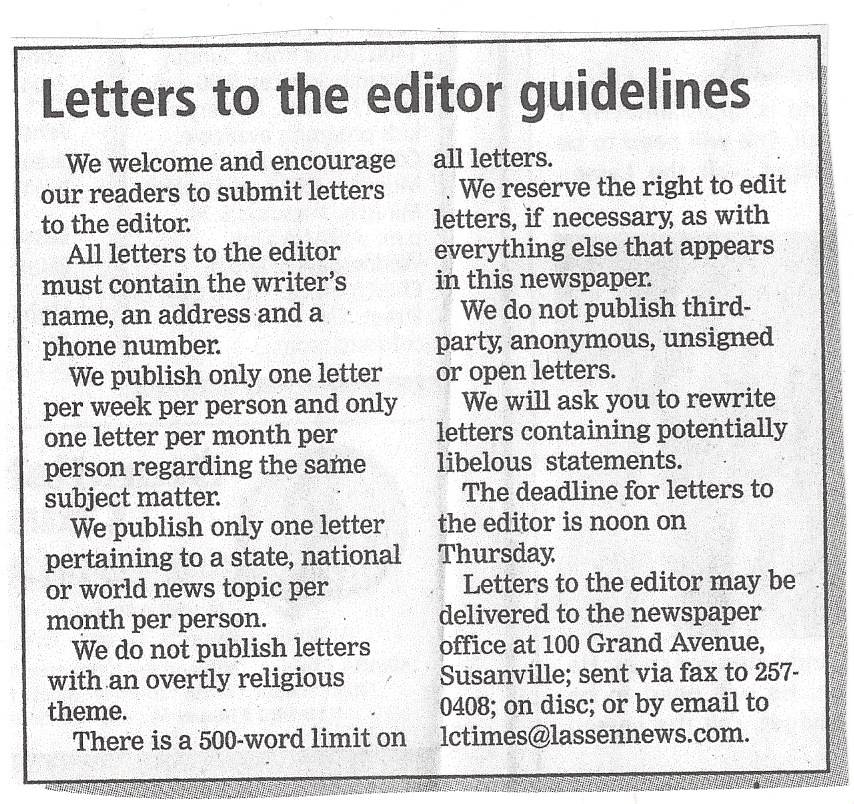 KAN WE HELP SUGGESTED THAT THE EDITOR SHOULD JUST GIVE THIS PERSON HER OWN WEEKLY COLUMN WITH A POSSIBLE TITLE OF:
"Springtime with Hitlerette"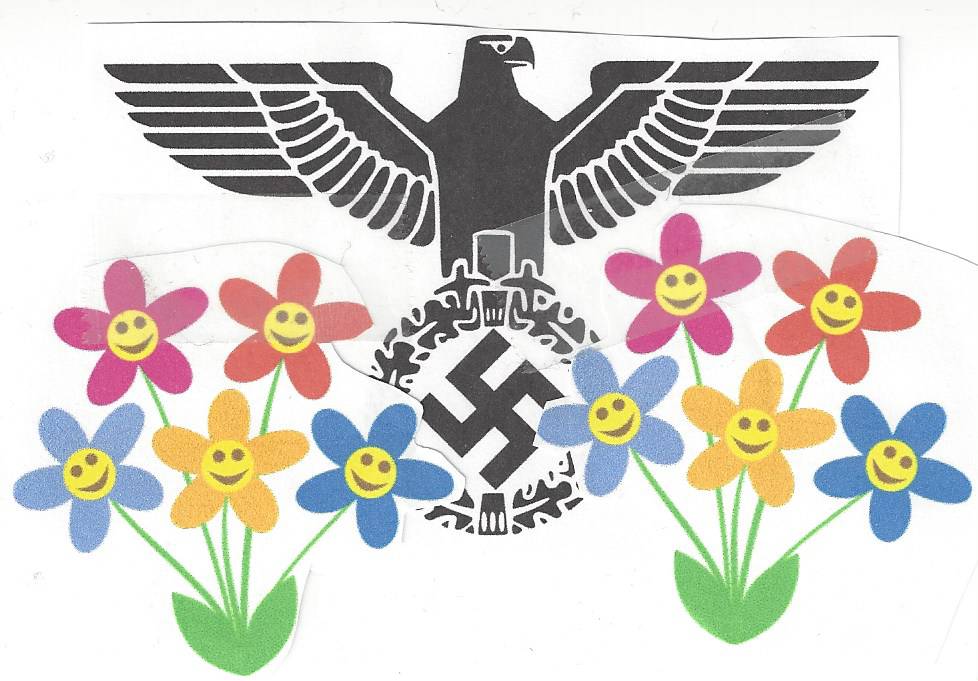 Kan We Help's
Annual Frank Cady Worst Public Servant Award
coming soon....
Congressional Budget Offices
Scores
the Republican "Trump Care"

Higher costs for less coverage
By 2018, 14 million Americans will lose their health care insurance subsidies from the Federal Governments Medicaid ($881 billion) and will shift to the States.
Under the Trump Plan, Medicaid is scheduled to be totally
phased out by 2020
24 million Americans will lose their health care by 2026.
19 State Republican Governors (Trump supporters) that in 2009 refused to take the Federal Medicaid subsidy & originally left millions without coverage.
Over a 10 year period Trump will save $337 billion at the cost of American lives
.....anyone out there care?
Trump campaigned on
"everyone will have health care"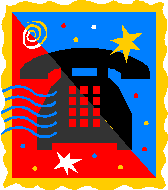 These Area Codes are from foreign countries and are used for scams: 242 Bahamas, 246 Barbados, 268 Antigua, 284 British Virgin Islands, 349 Cayman Islands, 441 Bermuda, 473 Grenada, 649 Turkey, 664 Montserrat, 721 St. Maarten, 758 St. Lucia, 767 Dominica, 784 St. Vincent & Grenadines, 809, 829, 849 Dominican Republic, 868 Trinidad & Tobago, 869 St. Kitts & Nevis, 876 Jamaica

If you don't recognize the phone number, don't answer
House Speaker Paul Ryan
Introduces HR 1275
Title: American Health Care Act, HR 277
Read and/or print a copy of HR 277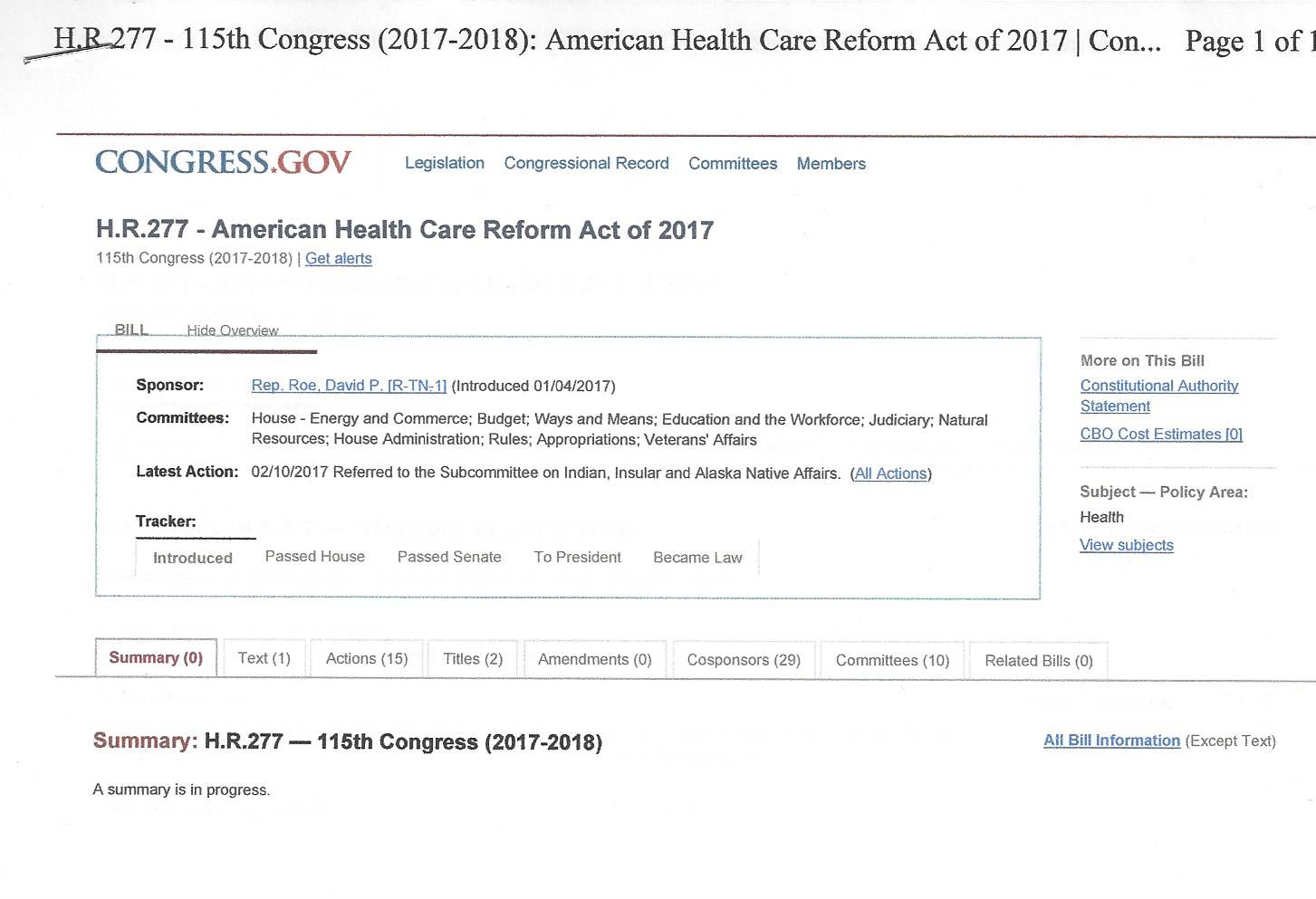 or the latest Title;WORLD'S GREATEST HEALTHCARE PLAN OF 2017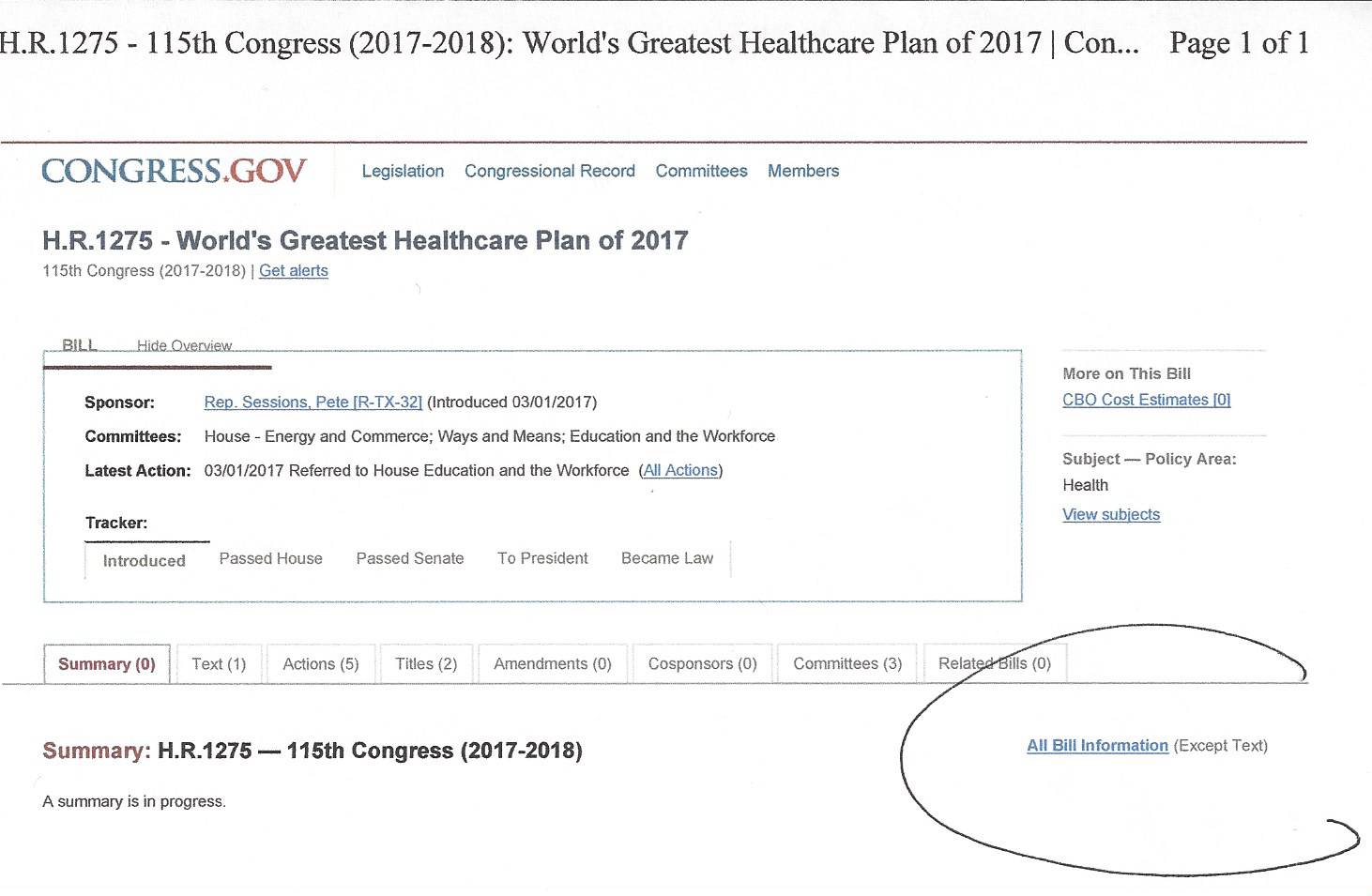 ..... AS OF 3/10/17: NO TEXT AVAILABLE ON HR 1275....
HR 277 includes devastating changes for Americans. For some Republican Congressmen it doesn't go far enough, others just want a few changes to HR 277 to make it palatable for the few votes they need to pass it.
Kan We Help has contacted the offices of 72 Republican Congressman and 0 acknowledged
HR 1275 or HR 277. KWH contacted 84 Democratic Congressman who, all but 2, acknowledged HR 1275 or HR 277.
California District 1 Congressman Doug LaMalfa offices claimed they had no knowledge about either one?
Read or print a copy of HR 277
Speaker of the House Paul Ryan
Not Honest
Uses dead Bill as Prop
On Monday, March 6, 2017, Speaker Paul Ryan waived around a 63 page pamphlet claiming that the Republicans are ready to repeal the Affordable Care Act. The mistake he made was stating that it was HR 3962. HR 3962, appeared in the House and was voted on 60 times from 2009-2014 (to repeal the Affordable Health Care Act). HR 3962 does not appear in the 115th Congress, but HR 277 does
HR 277 is not 63 pages, it is 183 pages
Read or print a copy of HR 277
Kan We Help contacted Congressman Doug LaMalfa's office on Tuesday and his staff stated that they did not know anything about HR 277.
Today, they not only knew about HR 277 but admitted that this Bill is still in Committee and will be the "Repeal of the Affordable Care Act" when it is brought to the floor of the House of Representatives.
Kan We Help contacted Congressman Phil Roe's (author of HR 277) office today and they stated that the Congressman will support Paul Ryans 63 page alleged "Repeal" that Ryan presented on Monday. However, when HR 277 was brought up they didn't want to talk about it. Is it Rep. Roe's intention to vote for a dead 63 page Bill or vote for his hidden 184 page Bill?
THE THEATRICS OF SENATOR RAND PAUL
Senator Rand Paul was "fake" outraged when he revealed he believed the House was hiding the Repeal to Obama Care (aka ACA) in the basement. Senator Paul even took a copy machine with a bevy of cameras to force the House to give him a copy him a copy of this "HR 3962". (HR 3962 died in the 114th Congress and was never re-introduced)
Senator Paul knew that the real Bill was parked in the House Indian Affairs subcommittee on February 1.
so why the fake drama?
HR 277 - AMERICAN HEALTH CARE REFORM ACT
Introduced on 1/4/17 by Rep. David Roe (R-TN) under the House Energy and Commerce Committee. This was co-sponsored by 29 Republicans.
Only 1 California Congressman co-sponsored HR 277, repealing the Affordable Care Act....
......the disgraced Tom McClintock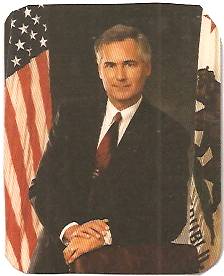 Kan We Help had to do some deep digging to even find a copy of this hidden Bill. We will make the 184 page Bill available soon on this website. It simply is the ACA revised with devastating changes
Read or print a copy of HR 277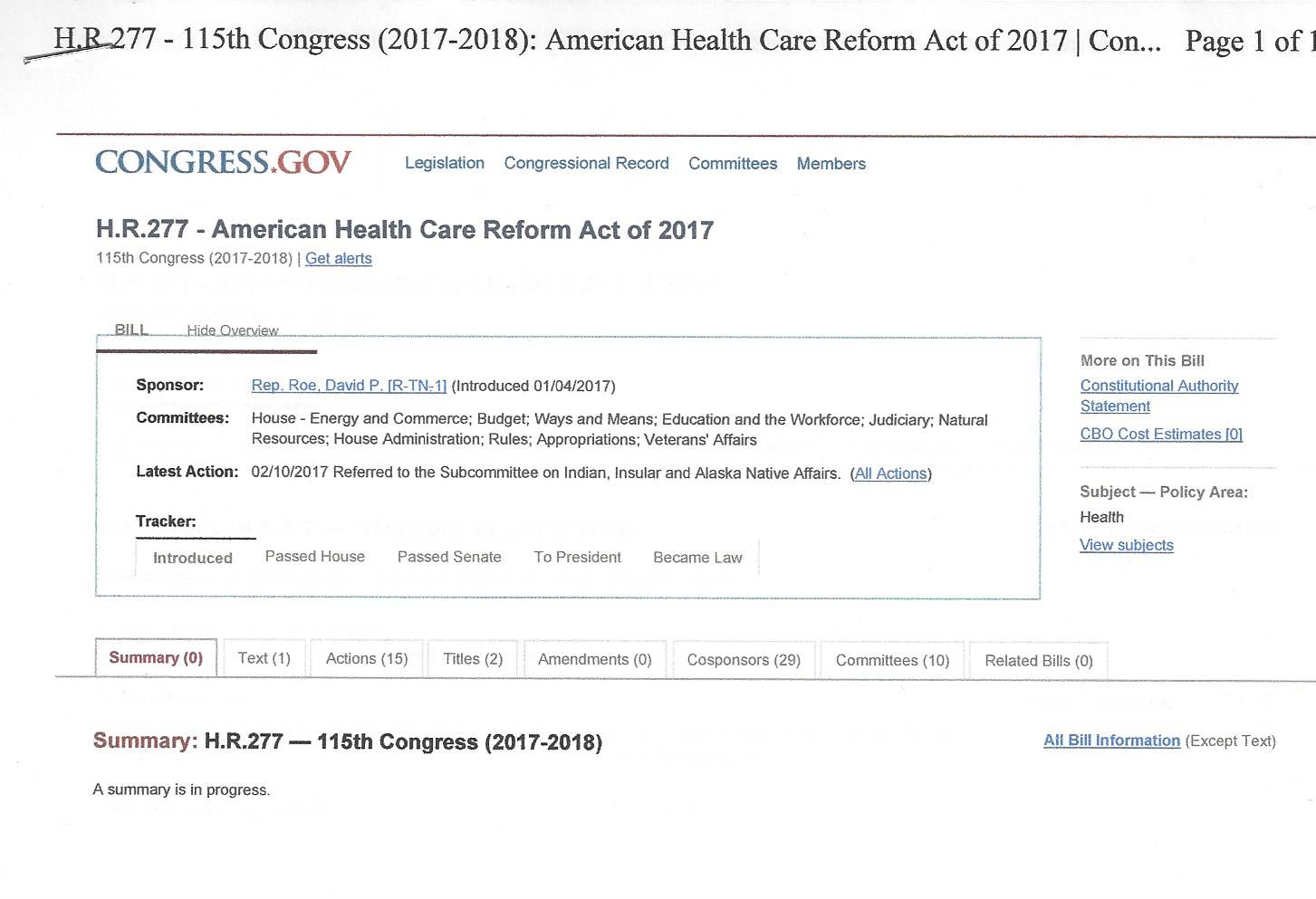 Republi-Klans are intent on erasing eight years of President Obama's successes
They want to repeal "the Affordable Care Act" ?
Really?
Then what racist ass-hole wrote "Obamacare" as the first order of business?
This is about a black President, and nothing else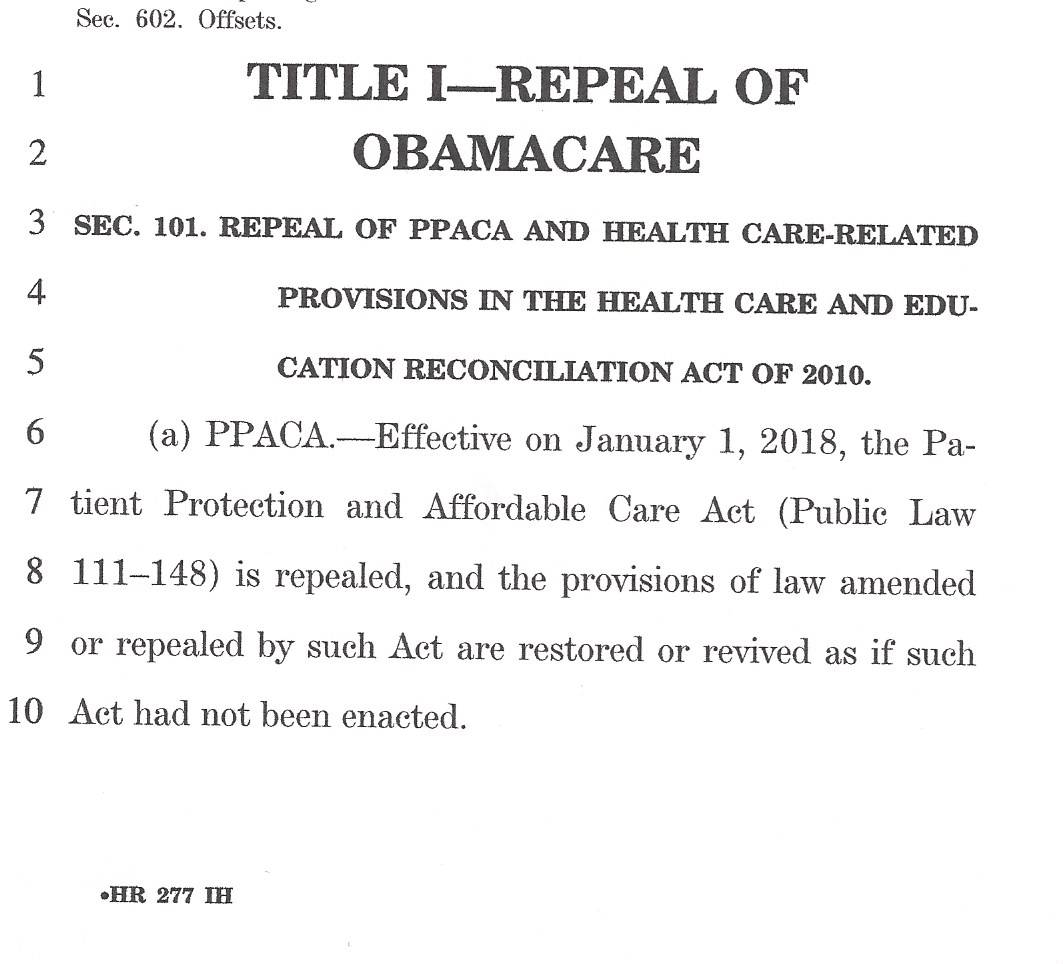 Pete Heimbeigner, Deputy Public Works Director, gave a bumbling/mumbling update on the progress of the County's 2950 Riverside property at the 2/28/17 Board of Supervisors meeting.
Check out the report on Part 3 of the Board of Supervisors 2/28/17 meeting video:
Mr. Heimbeigner solved the fire suppression issue (no fire sprinkler system was ever installed in this building) by installing "fire walls & doors". Does he anticipate the occupants to stay in a burning building or run out and make sure they close the door?
United Builders has 80 "work" days from November 28, 2016 to March 28, 2017 to finish a million dollar project. It appears that Public Works is anticipating giving the contractor credits for days they weren't there. This contract states that the contractor will pay a $1,900 a day penalty if they don't finish by March 28.
The actual move-in day cannot be released even to the four County departments that will be occupying this old building. Public Works was not questioned about the "move-in" costs and who will pay for it.
And then there's Jim Chapman's elevator for his new Boardroom that the County has no money for. Originally a million dollars was initially set aside (from the CIP $4 million loan) to put an elevator in the Old Courthouse but the County needs every penny left (approximately a $200,000 remaining balance after the 2950 Riverside remodel) to finish their boondoggle Riverside building.
However.....let's look at what Chapman managed to stick into the 2016-2017 151/1511/3006118 before he left office. This is the Fund for the CIP loan
$1,000,000 for his elevator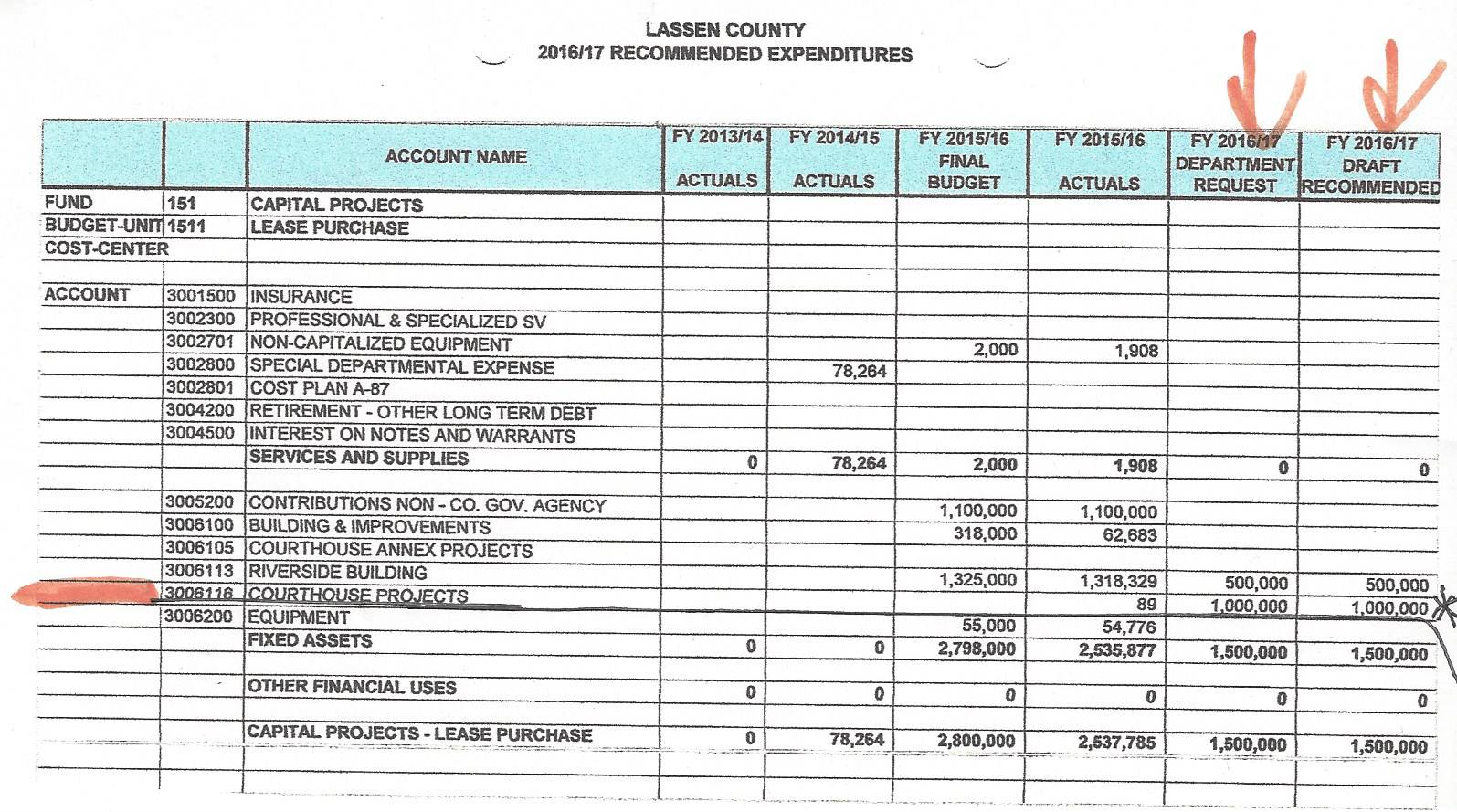 This was a deceptive budget. This cripples the Auditor from paying the $800,000 remaining (3006113) on the Riverside building in this fiscal year.
To date, the County has spent over $2.8 million dollars of the $4 million dollar CIP loan on the Riverside building.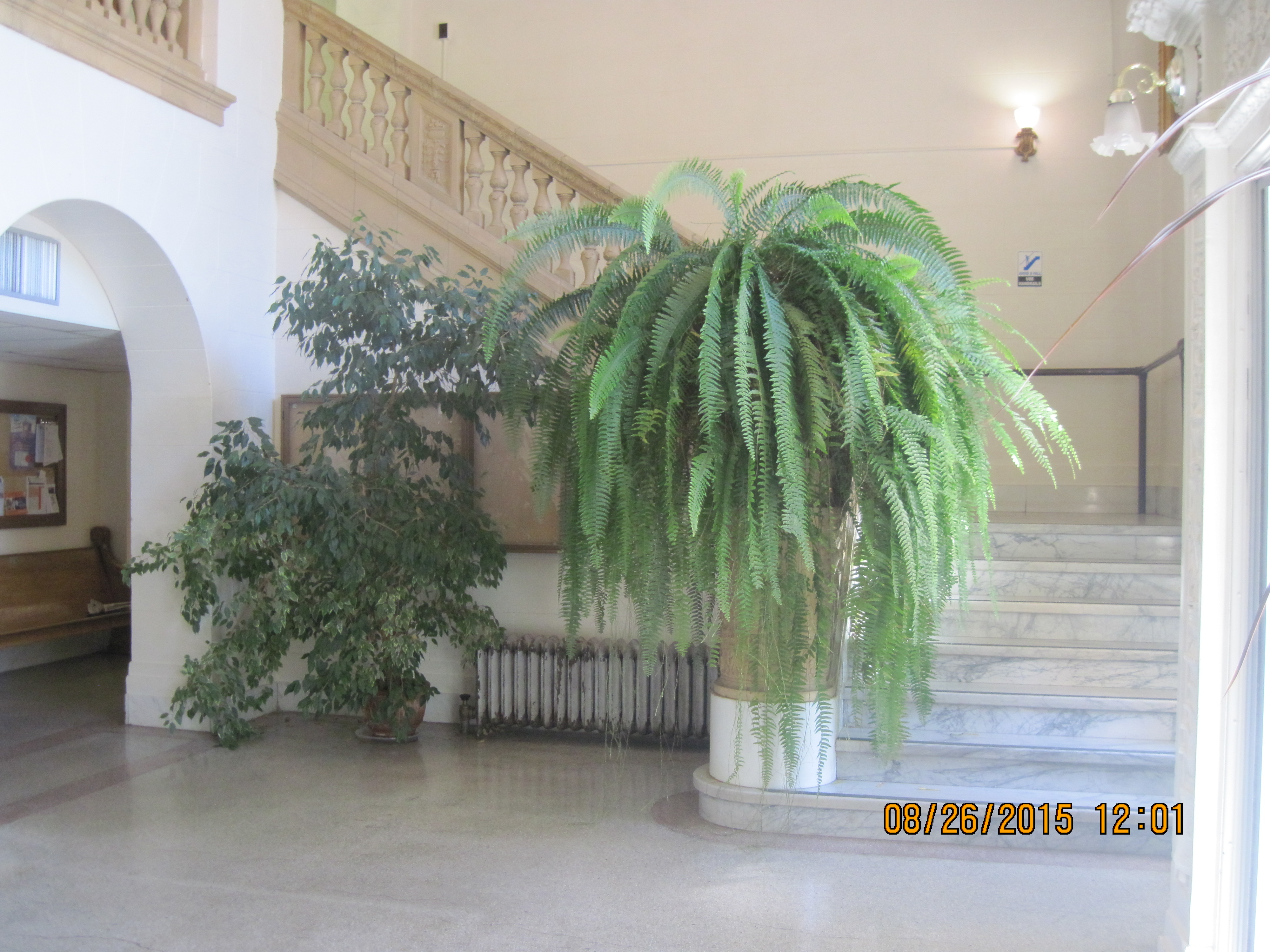 Remarkable marble staircase inside the Old Courthouse
THIS IS WHY KAN WE HELP IS WATCHING
EVERY PENNY..............
Who has to pay
for
Judicial Misconduct ?
Case 16cv02114 was about Tony Mallery
Read the original complaint filed on 9/2/16 against Mallery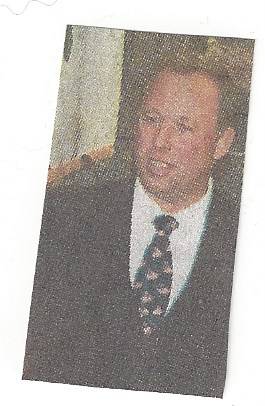 Judge Tony Mallery continues to sit on the bench in the Lassen County Superior Court (some thought he should have resigned) after a Federal Court orders him to pay $184,830.99 to the 19 year Court veteran Andi Barone who didn't want to take the abuses anymore?
The Lassen County Times has to be goated into publishing the updates and the settlement against Judge Mallery and all they can do is attempt to trash a "local blog" Kan We Help for reporting the truth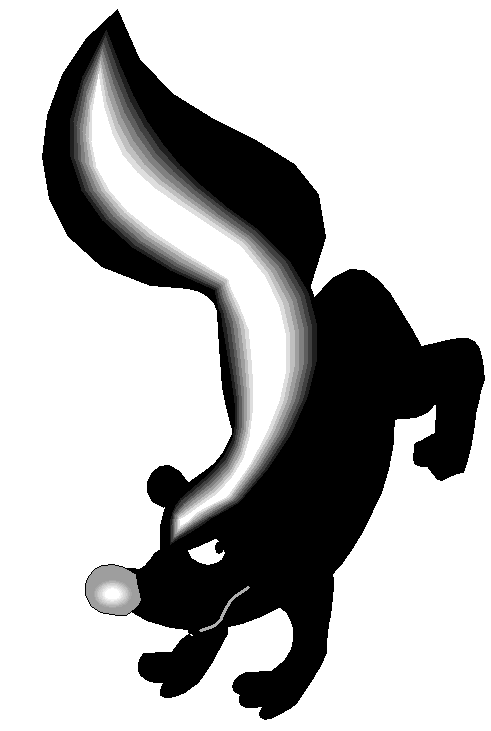 The Lassen County Times reports the Mallery Settlement by publishing, again,photos of Mallery's family and friends.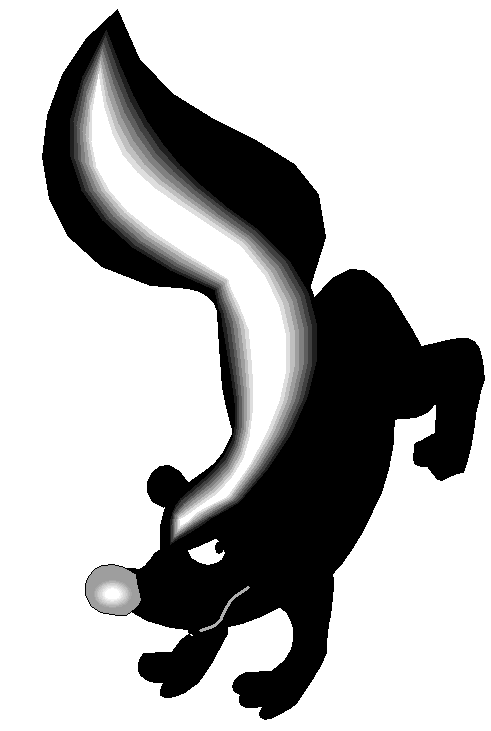 Well, Mr. Sam Williams alleged Lassen County Times Editor, what about the rest of Lassen County that has to pay $184,830.99 for his misconduct and must now continue to question his integrity on the bench?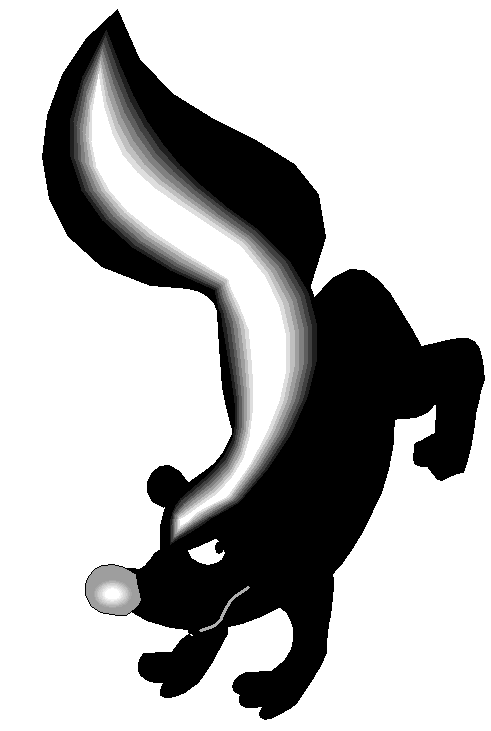 Tony Mallery's judicial term
ends in 2018
Trump "claims" that he removed President Obama's
Oval Office rug and drapes within hours after taking the Oath
and replaced them with his gold theme
LIAR, LIAR, NOTHING BUT LIES FOR 4 YEARS
Presidents are given $100,000 to use for limited personal upgrades in the White House. (The Oval office & private living space)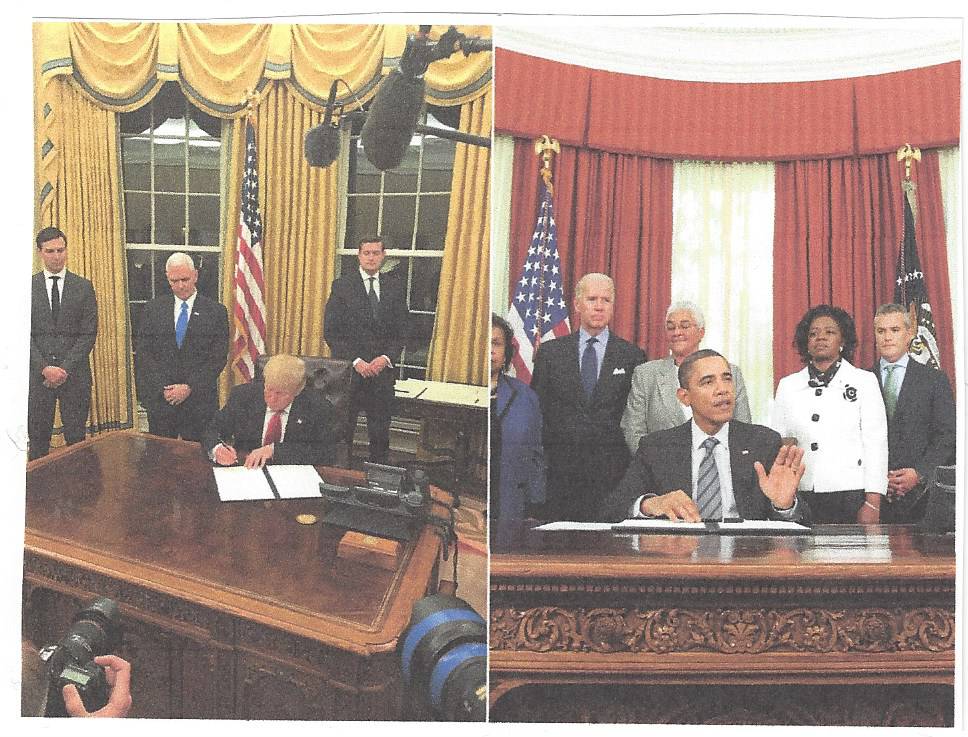 Don't worry taxpayers...
Trump put President Bill Clintons old drapes back up
AND....... President Reagan's rug
THE ONLY TRUMP "TOUCH".......WAS PAINTING THE WHITE DOORS BROWN SO HE COULD FIND HIS WAY OUT
NO ELEVATOR
AT THE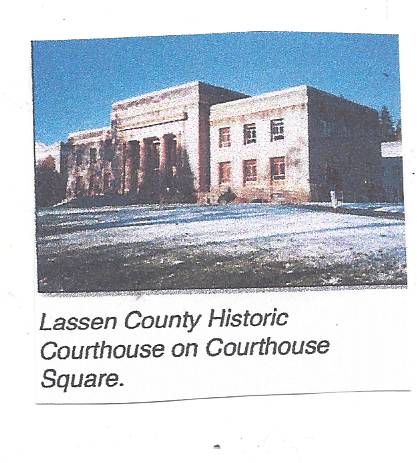 There was just so much money in the County's "$4 million loan" to use for the new pool, purchase and remodel the old building on Riverside.
There was not going to be ANY LOAN MONEY to put Jim Chapman's elevator in the old courthouse. Chapman finagled $133,000 from the "loan" money to have another so-called "study" by Lionakis, but it actually cost $62,682.50. As usual, the balance of the $133,000 will become part of a "slush" fund to be used at a later time.
Kan We Help suggested years ago, if the Board of Supervisors want a new Board room they can move the Auditor into the empty downstairs of the Administration Building and put a Board room in that area.

Auditors Office
Lassen County Superior Court Judge Tony Mallery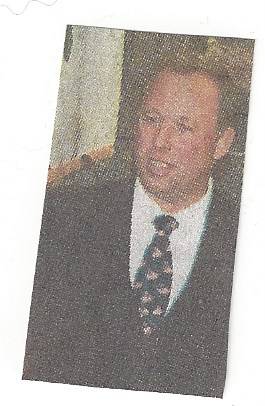 ordered to pay Executive Clerk Andi Barone
$184,830.99
(Mallery's actions cost the Courts/taxpayers)
for
alleged abuses of judicial conduct
Tony Mallery's term ends 2018
52 Republicans and 5 Democratic Senators
today
repealed
the Background Check Law
that prevented Mentally ill people
from getting guns
The idiocy of the Republicans
A victory for the gun manufacturers that own Congress
A major loss for Law Enforcement & the safety of Americans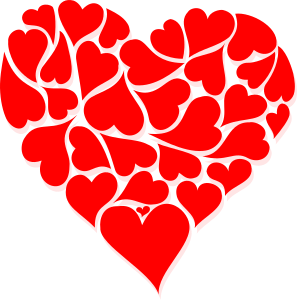 February 14, 2017
Sam Williams, alleged Editor of the Lassen County Times, wants "civility" and yet he allows dozens of hateful factless articles to be published year after year by Lassen County's Queen of Racism.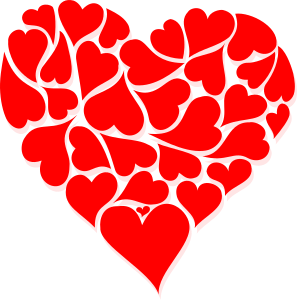 Williams also has a new Where's Waldo....Where's Jim Chapman.
Every single week this year, Chappies photo has appeared in the Lassen County Times....some very vintage.......
The love affair continues?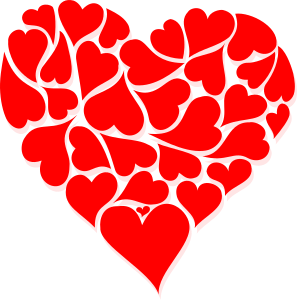 When did the clock start ticking
on the 80 days?
When did Lassen County issue the
"NOTICE TO PROCEED"
On November 28, 2016, United Builders signed a $979,000 contract with Lassen County to remodel the 2950 Riverside building.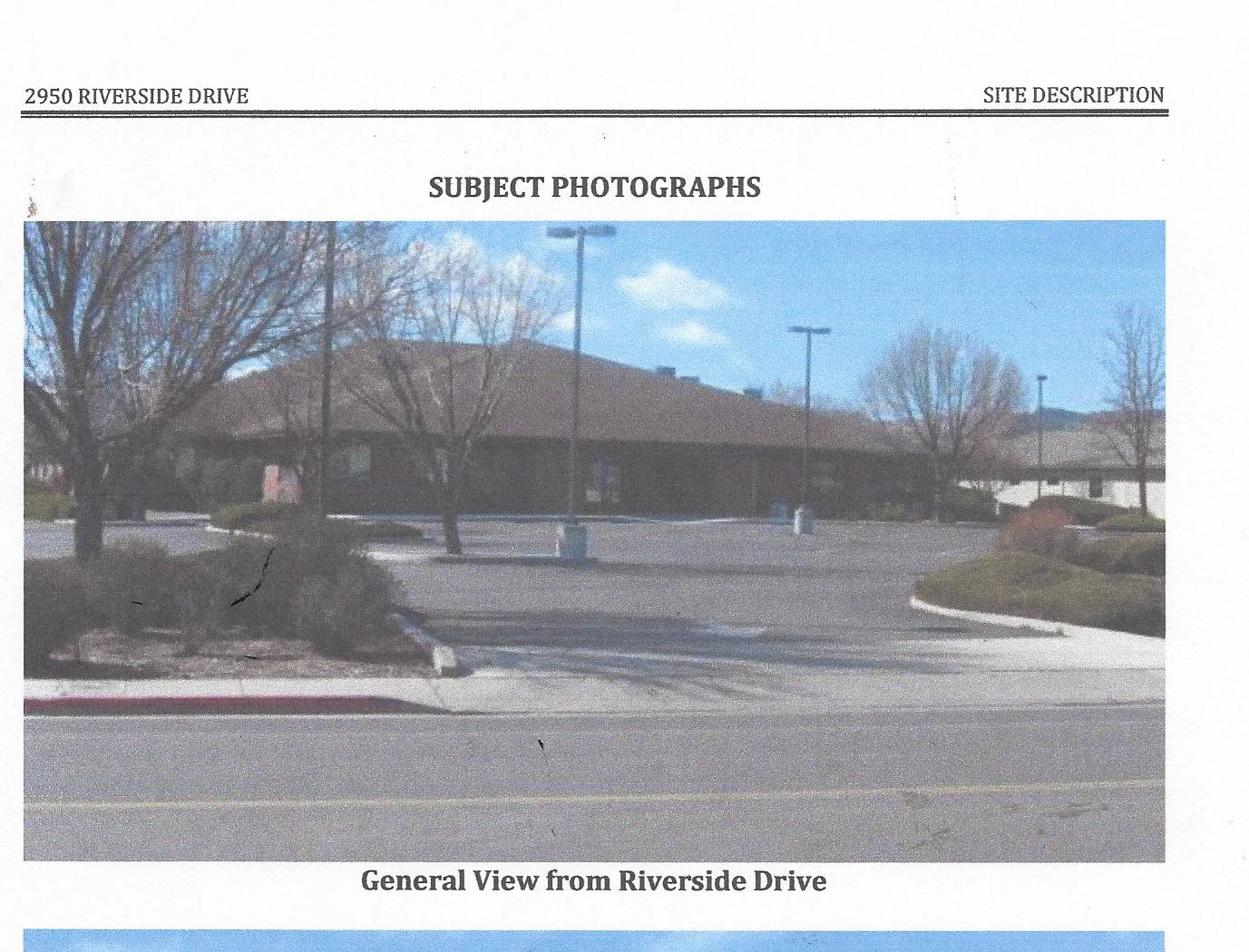 According to the contract, if United Builders does not finish the project in 80 days they must pay Lassen County $1,900 a day penalty until the job is complete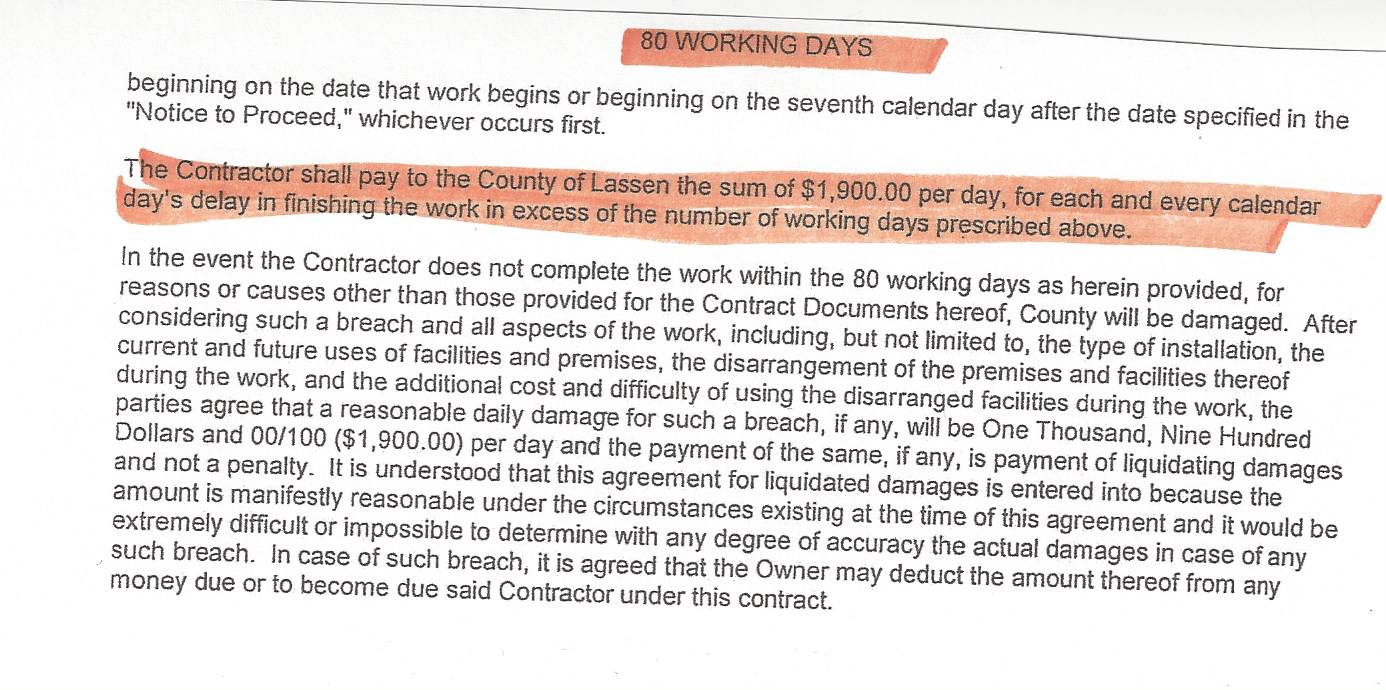 Today Trump has threatened to pull all
Federal Funds from California
California is 13% of the GDP
California is the 6th largest economy in the world
To our Twitter Freak Donald.....
we say bring it on
79% of Lassen County voted for Trump
100% of Lassen County
will suffer from Trump
WEBSTER'S UNABRIDGED DICTIONARY
fac'ism (fash'izm) n. a system of government characterized by a rigid one party dictatorship, forcible suppression of the opposition (unions, parties of minority groups, etc.) Example: Nazi Party
Republi-Klans have finally succeeded in creating
their
fascist government
There is nothing to stop them.....
Now, sit back and watch everyone's freedom erode............
Watch Federal money and jobs dry up in rural communities
Trump is well on his way to building his racist administration
Senator Mitch McConnell censored Senator Elizabeth Warren today from reading Coretta Kings 1986 letter into the Senate record during open floor discussions on the confirmation of the racist Jeff Sessions to US Attorney General
Kings ten page document containing Sessions historical racist act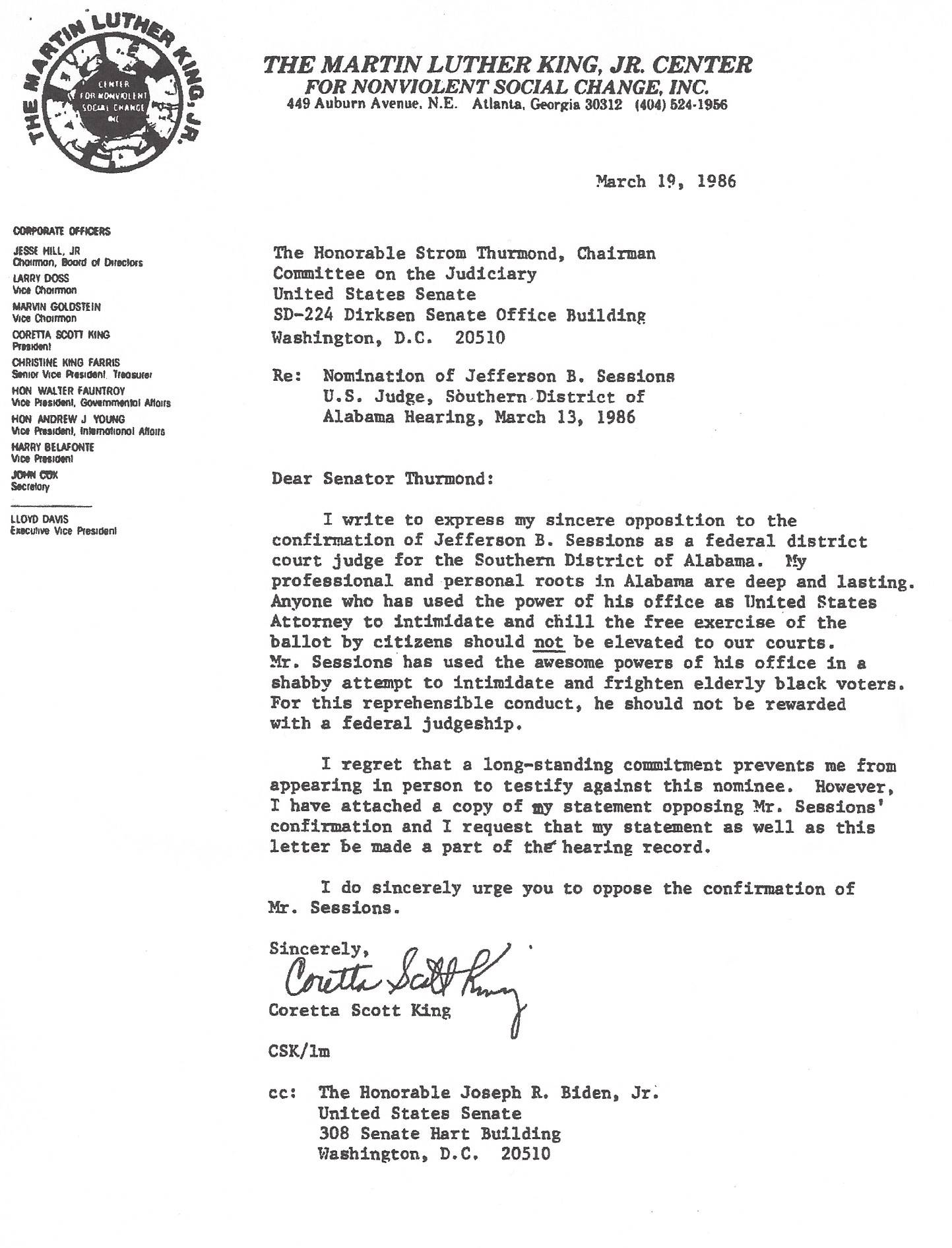 Trump's racists roots are leading to a Constitutional crisis
Are the Trump supporters getting exactly what they wanted:
A racist administration willing to put the rich white class first
It's not like Trump didn't tell you who he was and what he was going to do
Small welfare county's, like Lassen, will be the first to be hurt
LMUD'S "Skedaddle Substation"
The Lassen Municipal Utility District Boards have a long history of poor judgment, scams and lies.
The latest is the "get outta here" project in Wendel.
If unchallenged the LMUD Board will invest most of the ten million dollars (collected by excessive rate hikes) in bringing Nevada energy into California.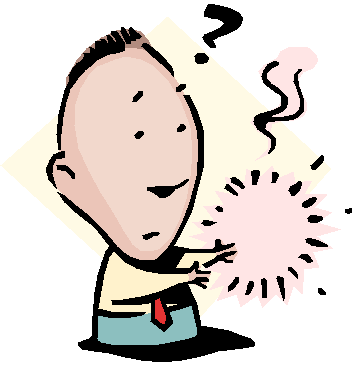 General Manager Doug Smith told Kan We Help last year that he was familiar with LMUD's history and would work hard not to go down the same roads of past Board decisions that led to one disaster after another.
2017 promises to be a year of cover-ups
Red Badge/Green Badge
Make sure you have the right badge on "today".
Tomorrow the "bad" badge might be "pink" or "black" or "rainbow"
This is only going to get worse
Why does a "Reality" show star ignore reality?
......because he has a ten minute attention span?
A man that is obsessed with only his "popularity"
and has the maturity of a ten year old spoiled brat
Rural welfare counties will be the first to be hurt with the Republi-Klan cuts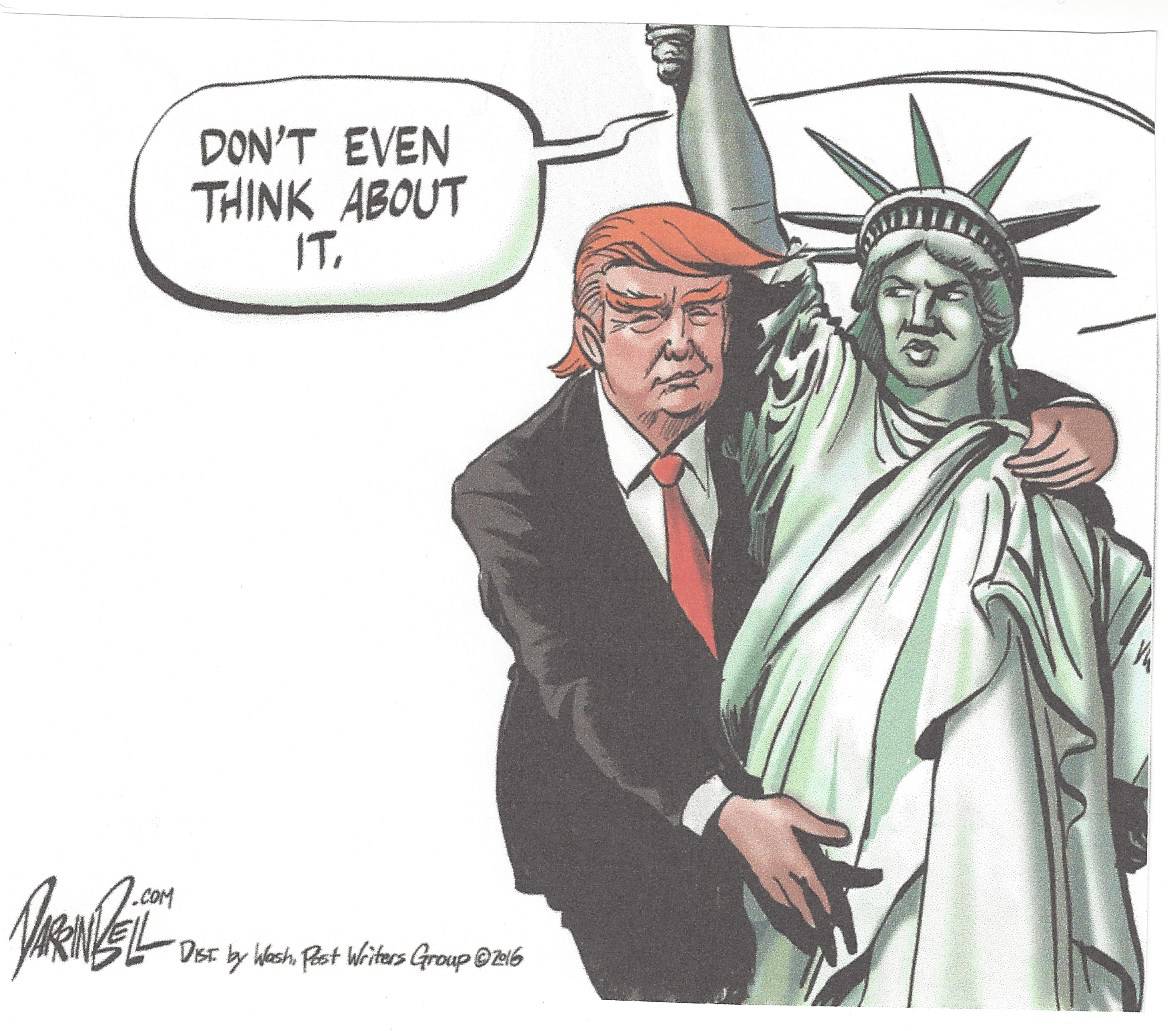 The Editor of the Lassen County Times believes that voters should accept the new administration
Does he mean the same way Lassen County accepted the first black President ?
"NOT MY PRESIDENT"
resonated
in the millions across the United States and in 30 countries
following the January 20, 2017 inauguration.
The editor (?) allowed the most dishonest, factually lacking, racist, bigoted letters to be published more frequently than their own policy allowed.
Now, this severely biased...editor.....wants to tell the 21% that did not vote for the KKK supported candidate that they should accept an incurably flawed President?
Let's see what he writes when the Federal funding dries up for Lassen County. It has already started.........

The January 8 PG&E
Power Outage is More than Suspect now
The public deserves to know the truth and history about the power outages
The LMUD Board has made it clear that the newly planned Wendel Substation will be built to replace power from PG&E. PG&E is not reacting to this well and intends to not play nice.
THE LMUD BOARD IS NOT KNOWN FOR HAVING THE BRIGHTEST LIGHT BULBS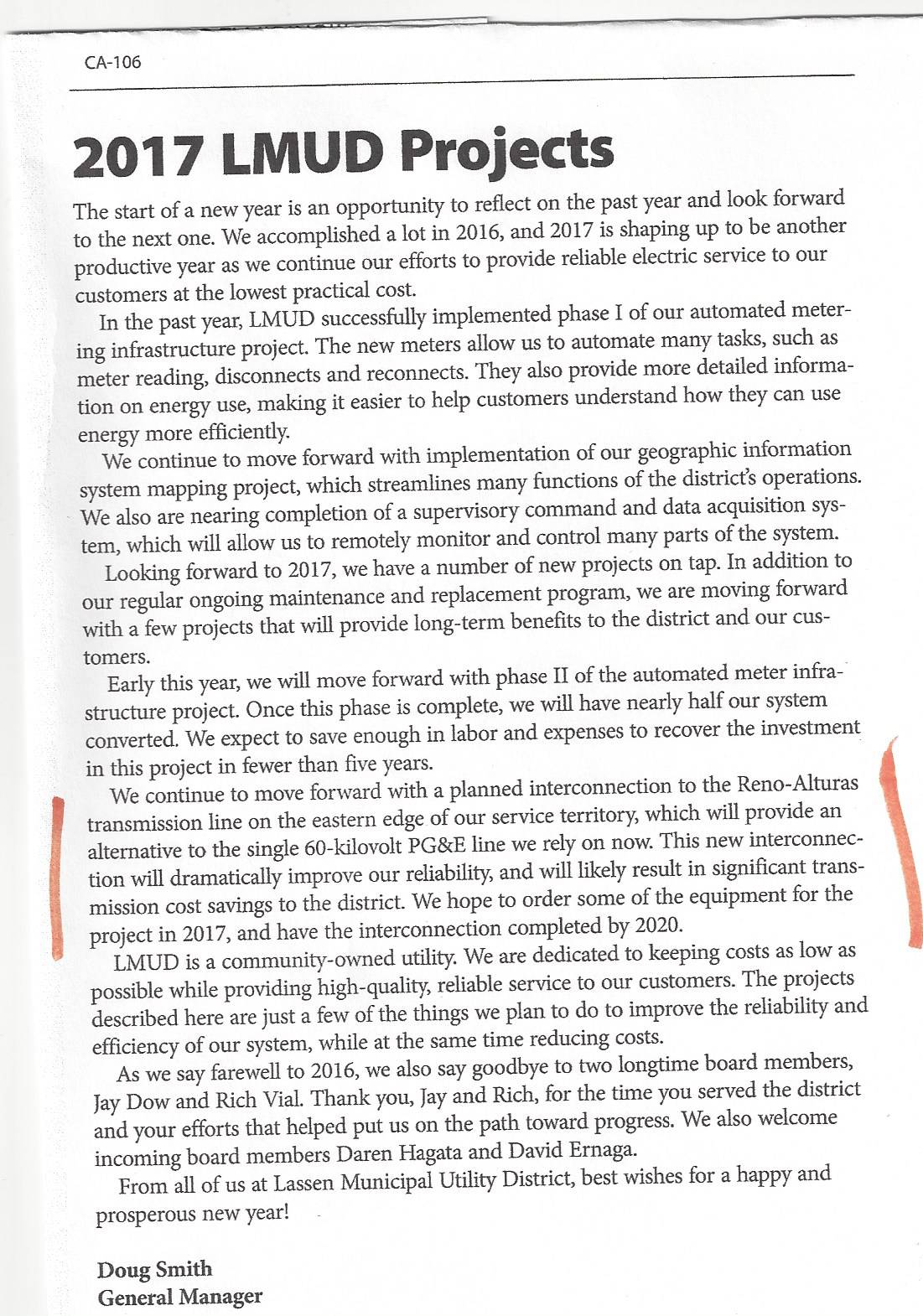 PG& E vs NVEnergy
.....and LMUD finds themselves in the middle
more to come....
This District wide outage was not LMUD's fault
PGE is able to give LMUD power today?
ANYONE WANT TO KNOW HOW THIS WAS DONE TODAY AND NOT YESTERDAY ?
LMUD Director Fred Nagel has power,
PSREC Power
Fred Nagel has never had Lassen Municipal Utility District Power
He has been allowed to sit on the LMUD Board, raising rates that he does not have to pay
He has always been a Plumas Sierra Rural Electric customer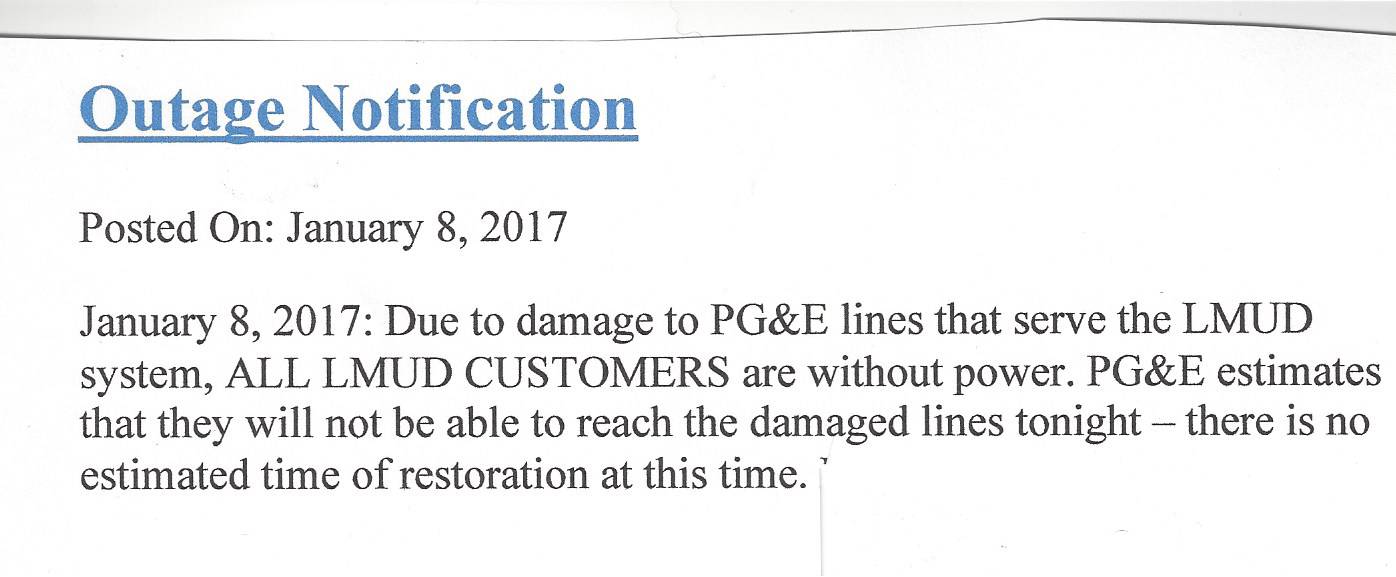 Be careful out there.............
Only the Year Changes
Lassen County Times Continues Its Tradition
of
Suppressing the News
Not a Word about:
Judge Tony Mallery losing the Abuse of Authority lawsuit against him on 12/30/16
Chapman's "free vacation" to Palm Springs ($3,000) paid for by taxpayers
Lies about LMUD purchasing the Viewland property
Steve Pezzullo stopping payment on the $47,996.50 Amedee Airport Land Use Plan check
The County Clerk deleting/tampering with the audio of a Board of Supervisors meeting
Chapman's outbursts and public tirades
Chris Montgomery falsified Candidate forms to run for Supervisor
A paper without ethics ?
A paper that enables and promotes the corruption in Lassen County ?