THE BULLETIN BOARD
kanwehelp.com, The Lassen County Original Bulletin Board
page two
FRANK CADY'S ARROGANCE SUPPORTED BY FAMILY TIES
Frank Cady's "power" may have been from his ties with the California Public Utilities Commission and the Attorney General's office.
Donald Charles "Bill" Cady worked for the CPUC until recently. He has moved to California Department of Water Resources [Hydro]......and now "Poof".
Jennifer Cady passed the California Bar Exam one day after Frank Cady. She worked at the California Attorney General's office.
How many complaints have been thrown out or ignored from Lassen County Grand Jury and the District Attorney's office that have been sent to the Attorney General's office?
Lassen County District Attorney and Lassen County Clerk Conspire to allow a PSREC resident to run for the LMUD Board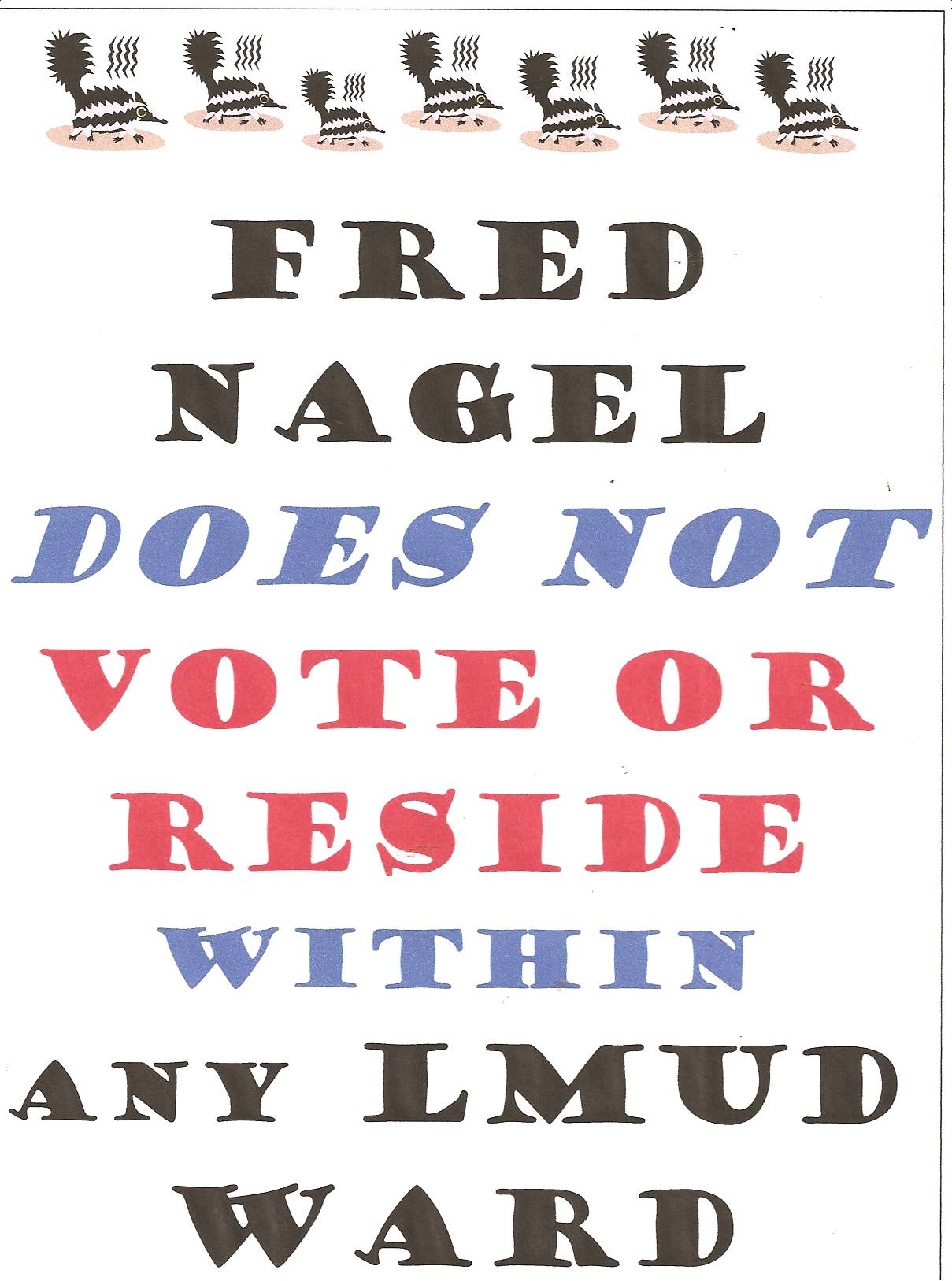 "Let Mikey Do it"
The Susanville City Council has a very difficult task to undertake. Keeping the City from going bankrupt.
At a special meeting, council members acted with lightening speed to put the BIGGEST EGO in charge of the city and appointed a Buffoon as Mayor.
THE "NEW" MAYOR NEVER KNEW WHAT HIT HIM
City of Susanville Names Jeff Atkinson Chief of Police
Acting Chief of Police Atkinson replaces Chris Gallagher . Gallagher left the City under much controversy
LMUD BOARD CONTINUES TO DISCUSS NCPA "PHONY" PROJECTS
LMUD 11/21/06 meeting
CVP/NCPA "RESOURCE 500" PLANT SCAM
NCPA/LMUD Green Power Agreement
This LMUD Board continues to support Frank Cady's phony projects. This has cost the ratepayers hundreds of thousands of dollars.
Arrowrock power plant-scam I- terminated
psrec/ncpa power plant - scam ii-terminated
IS IT REAL OR IS IT MEMOREX?
Supporters of any political party can donate additional money by paying from $50 to $100 to have your photo taken with an elected official at a fund raising event. It's never free. The lines are generally long but if you plan on taking it home and submitting it to your local newspaper.....well, then it is worth every penny................?
When candidates are not available, cardboard cut outs are used. In this case.....you really can't tell, can you?
Did LMUD ratepayers pay for this extravagant gesture on October 3, 2006?
Public apathy is the perfect breeding ground for government corruption
Lassen County Clerk Doesn't Trust the New County Website
Great new look to County website
Lassen County revamped their website on November 1, 2006, but Theresa Nagel, County Clerk has decided not to use it

A phone call was made to the County Clerk's office because the County Clerk's new County webpage is partially "unlinked"......all of the important "stuff". The public cannot access Supervisors Agendas and Meeting minutes on the new County website?
Susan Osgood, Deputy Clerk, told the caller (Osgood repeating Nagel's response in the background) that Nagel was going to have her (County Clerk) website separate from the County's because she wanted it accurate. ACCURATE (?) BUT INACCESSIBLE
NAGEL LEAVES OFFICE IN JANUARY/2007 ???
Theresa Nagel chose not to run for office again after she was named in the Diebold Voter Fraud lawsuit.

Nagel however, has asked the Board of Supervisors to hire her as the "Clerk of the Board". The only problem......this is the COUNTY CLERK'S JOB and Nagel will no longer be County Clerk.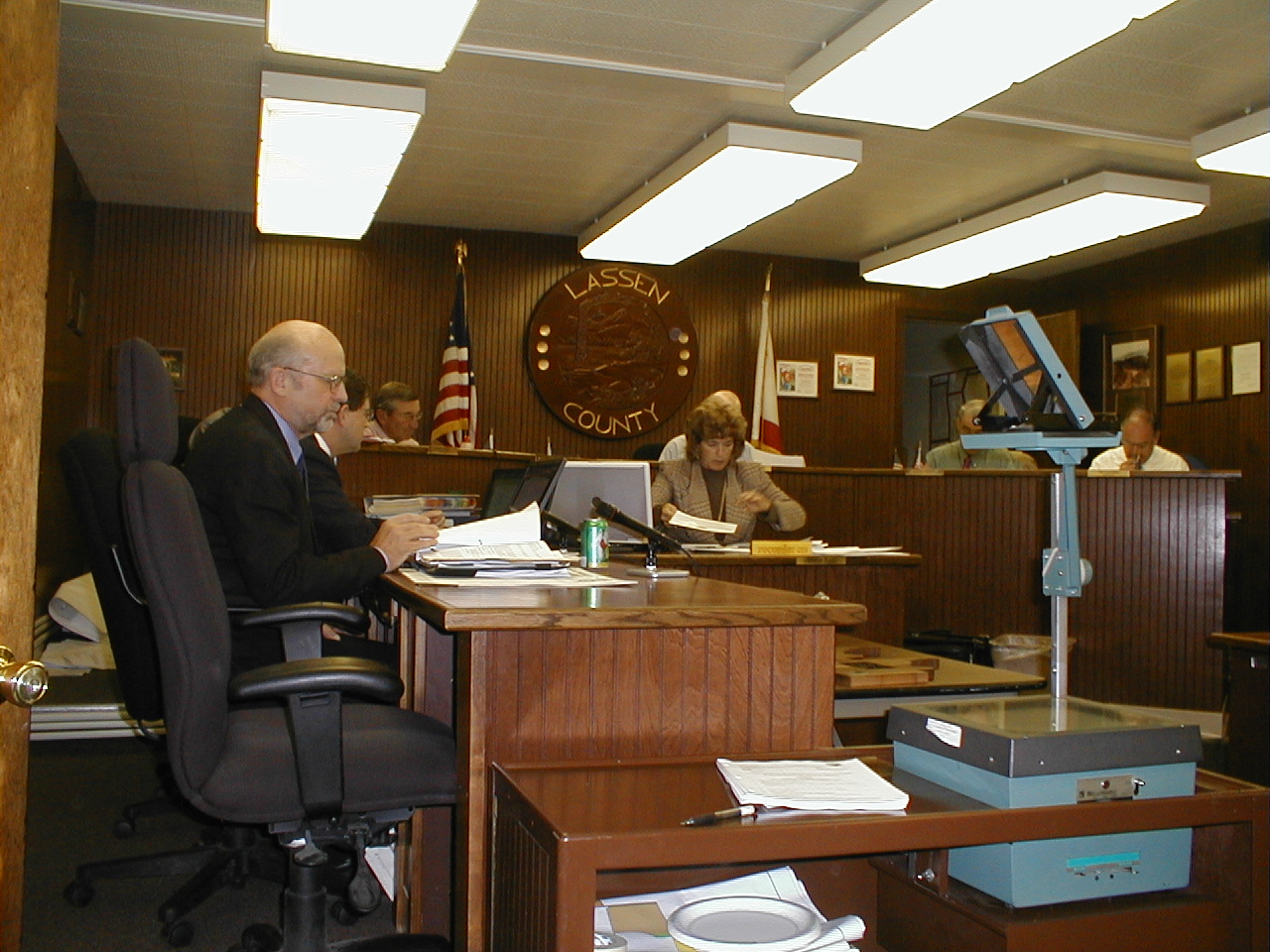 The "Clerk of the Board" is part of the County Clerk's duties
The Board of Supervisors approved $118,320 budget for the "Clerk of the Board" for the 2006-2007 fiscal year?
Was a deal made before the Diebold lawsuit or after?
Supervisor Pyle instructed the CAO to include a position for Theresa Nagel, as the "Clerk of the Board", during the Budget Hearings?
******
Earlier, Nagel also asked the Board of Supervisors to separate the "Registrar of Voters" position so she could head that part of the COUNTY CLERK'S JOB. This position has the largest Budget of $283,417. The BOS said no!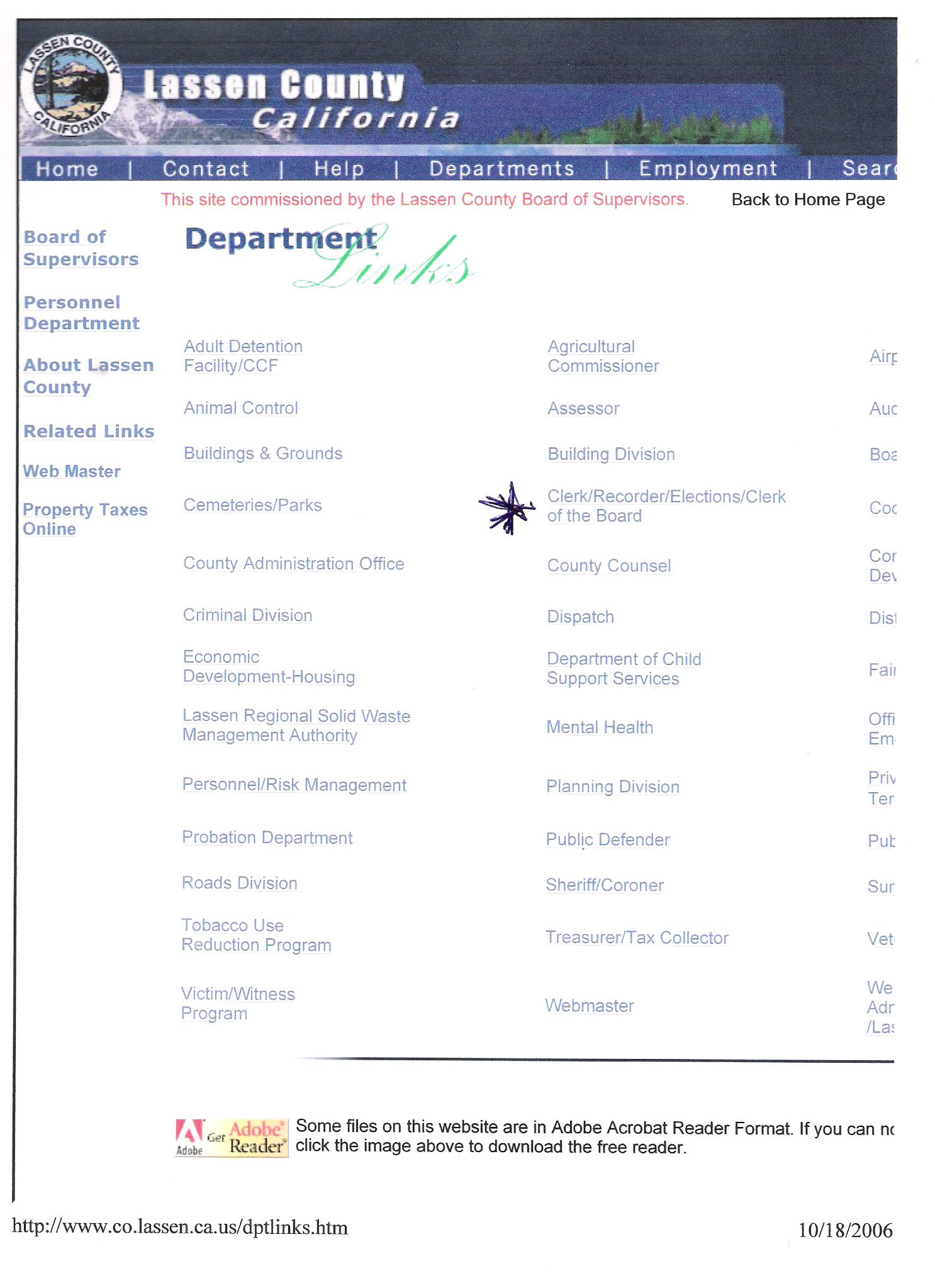 KWH REQUESTS A COPY OF THE "CLERK OF THE BOARD'S" PAYSTUB
County Clerk, Theresa Nagel failed to respond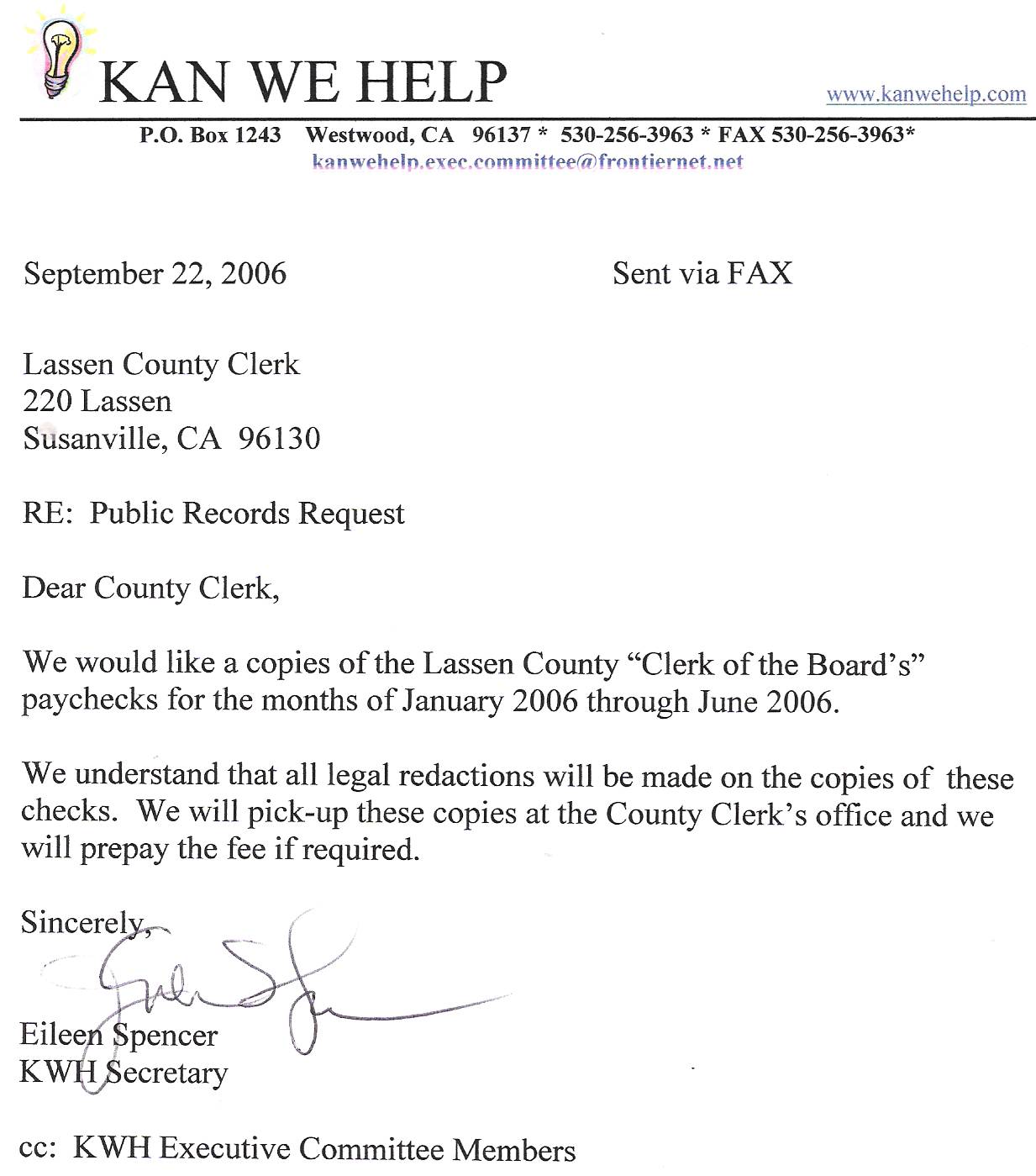 The County Clerk's office has been the best government office in Lassen County to comply with the Public Records Act. But, this time Theresa Nagel refused to respond or comply with this request for public documents. It involved HER.
After many requests and no response from the County Clerk, THREE WEEKS LATER, County Counsel responded and said that Theresa Nagel does not receive a separate check for "Clerk of the Board" because it is part of her duties as Lassen County Clerk.
Theresa Nagel
County Clerk/Recorder/Clerk of the Board/Elections
2006-2007 Budget- $617,336
County Clerk-$40,648
Recorder-$174,951
Clerk of the Board-$118,320
Elections-$283,417
HOW DOES JULIE BUSTAMANTE, THE NEW LASSEN COUNTY CLERK, FEEL ABOUT A PART OF HER JOB BEING GIVEN AWAY?
RECOMMENDED READING: "PIGS AT THE TROUGH", by Arianna Huffington
September 6, 2006
Mike Taborski constantly looking for help, not good help, just help.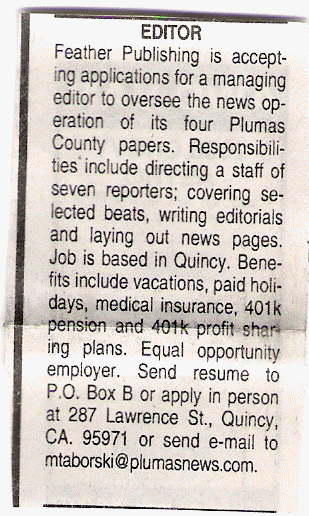 August 24, 2006
NCPA HAS NEW PLAN TO $$$$$$$$DRAIN $$$$$$$ LMUD RATEPAYERS
The Bait: Green power
NCP(party) A has never succeeded in any "project" that has ever been presented to the LMUD Board members. But they continue to be paid obscene amounts by the LMUD Board and General Manager to do absolutely meaningless studies for bogus projects ....that never lead anywhere.
CVP/NCPA "RESOURCE 500" PLANT SCAM V.
psrec/ncpa power plant - scam ii-terminated
Why?.....NCPA gives great parties
This is an organization that needs to keep "its" employees occupied with pointless studies and questionable "services" to public utility companies.
The "Agreement" actually allows NCPA to bill for "studies" again....and that's all LMUD ratepayers will get from this latest agreement or any agreement with NCPA. This contract is the worst agreement next to the bogus "Resource 500 Plant". CVP/NCPA "RESOURCE 500" PLANT SCAM
Frank Cady, Cady's buddies and selected LMUD Board members enjoy lavish week-ends sponsored by NCPA.....this is the only reason that these worthless NCPA contracts, with no benefit to the LMUD ratepayers, continue to be signed by Frank Cady.
The latest is the Green Power Agreement that LMUD signed on August 15, 2006.
The LMUD Board decided not to get involved..... Are times changing........don't count on it !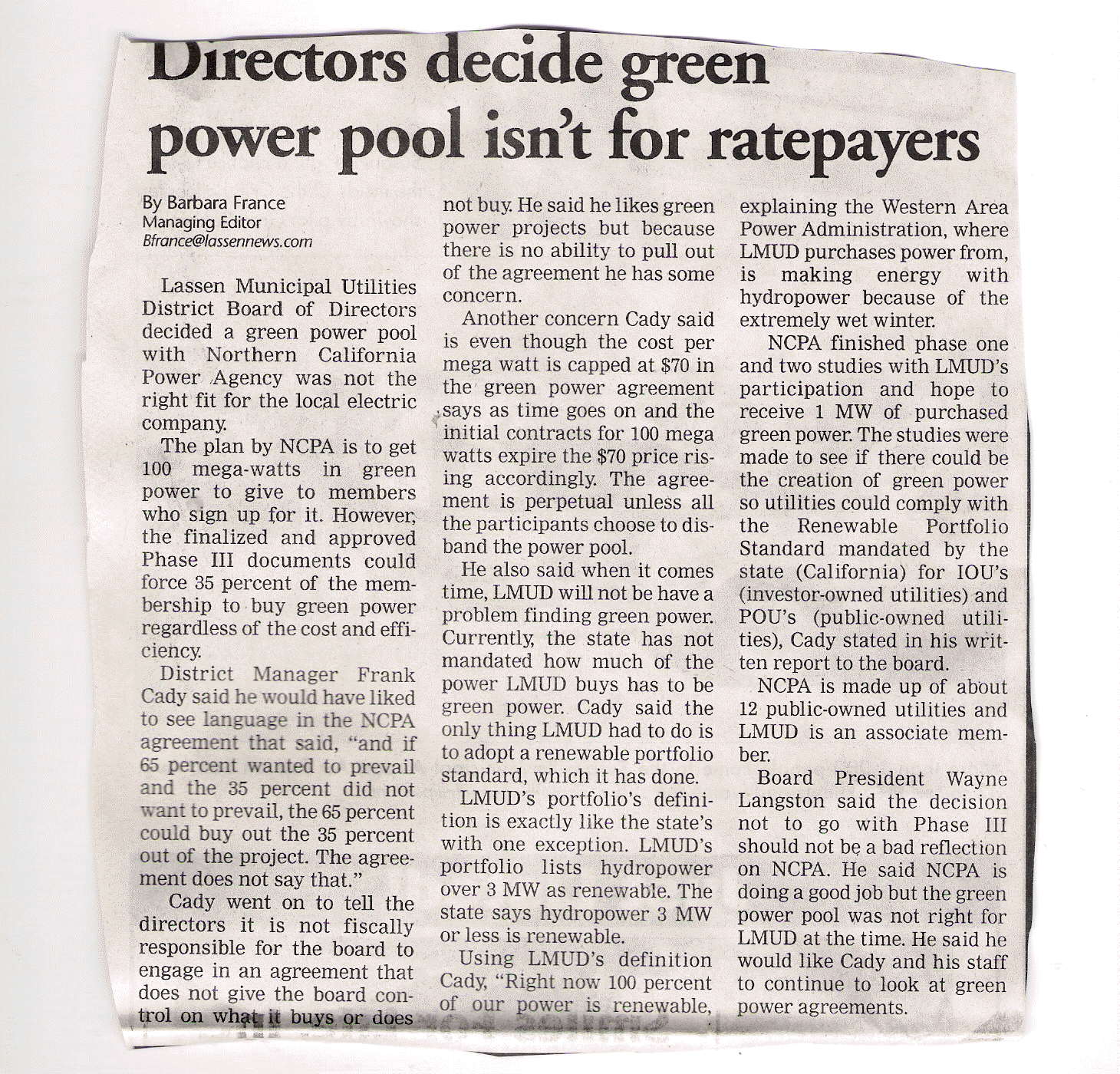 June 20, 2006
The City of Susanville continues to ignore the growing dog problem
The Susanville City Council included $24,000 for Animal Control Dispatch for the budget year 2006/2007. They even put the "dog box" back on the Animal Control Truck, but the City is using this vehicle for PARKING TICKETS.
Given the fact that the Police rarely act on any animal control problems, this is throwing money away that could have been spent on restoring the Animal Control Officer position.
Chris Gallagher eliminated this Animal Control position last June to hire a friend of his.
HELPING A FRIEND........
Now he has hired a friend of Barbara France's husband at the Sierra Army Depot in Herlong.
CRONYISM IN ITS FINEST HOUR
IRONIC: In the dictionary, the word "crook" is just below the word "crony"..........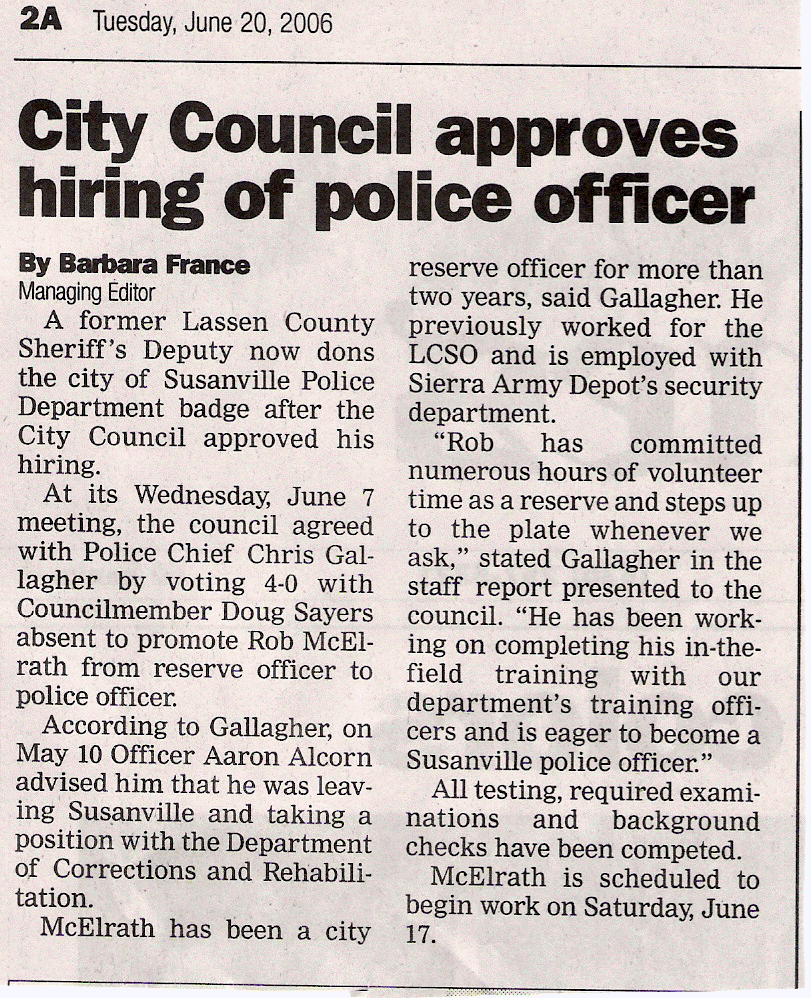 LMUD HIRES HELP FOR FRANK CADY...now Cady doesn't have to be there at all...that just might be a good thing
WELCOME RAY, BUT WE GIVE YOU SIX MONTHS and IF YOU WERE SMART YOU WOULD WALK AWAY FROM THIS JOB NOW.
Frank Cady, LMUD General Counsel/General Manager, was never qualified to be anything useful for this little public utility district except..
Cady has been behind every scam you can think of. From the phony "Arrowrock" hydro project that never existed to the new "Resource 500" project that doesn't exist. Cady has altered LMUD minutes to keep from going to jail, announced fake lawsuits against the public, threatened to arrest the public at meetings, made phony deals for a "co-generation" project with NCPA, purchased property without a public vote by the Board, hidden Directors expenses so the public wouldn't find out their excessive spending, hired his friends to do nothing and get huge monthly checks, he's given his law partner public benefits, charged the District excessive legal charges for doing nothing........it goes on and on......
This sitting Board of Directors has been the absolute worse Board in the Lassen Municipal Utility District's history and are very much responsible for the mess this District is in, and will continue to be in as long as they sit on the Board.
LMUD could not get anyone to come to this corrupt utility. LMUD's reputation kept honest people away.
Ray, WE BELIEVE THAT THEY WILL EXPECT YOU TO DO THINGS THAT ARE MORE THAN ILLEGAL, IMMORAL, UNETHICAL. LMUD's corruption is a full service utility.
CHUCK LUSKY, YOUR PREDECESSOR, LEFT IN DISGUST.
Check out the history of this corrupt Board RETURN TO other pages
May 19, 2006
THE CITY OF SUSANVILLE TO HOLD HEARINGS ON 2006/2007 BUDGET on June 7, 2006
The City of Susanville has reinstated $24,000 for "Animal Control".
When asked what this was for.......Mayor Rod DaBoar says it's for DISPATCH.................
WRONG ANSWER
$24,000 for Dispatch ?????. Why?
The City Police are slow to respond to animal control calls and most of the time they don't respond at all
May 18, 2006
KAN WE HELP OBJECTS TO TABORSKI'S, owner of the Lassen County Times "LAND FOR FEES" SCHEME
Kan We Help presented the Susanville City Council with this letter at the May 17, 2006 Council Meeting.
The KWH Executive Committee asked the Council Members to explain this issue and no Council Member responded until after KWH left.
Doug Sayers asked for an investigation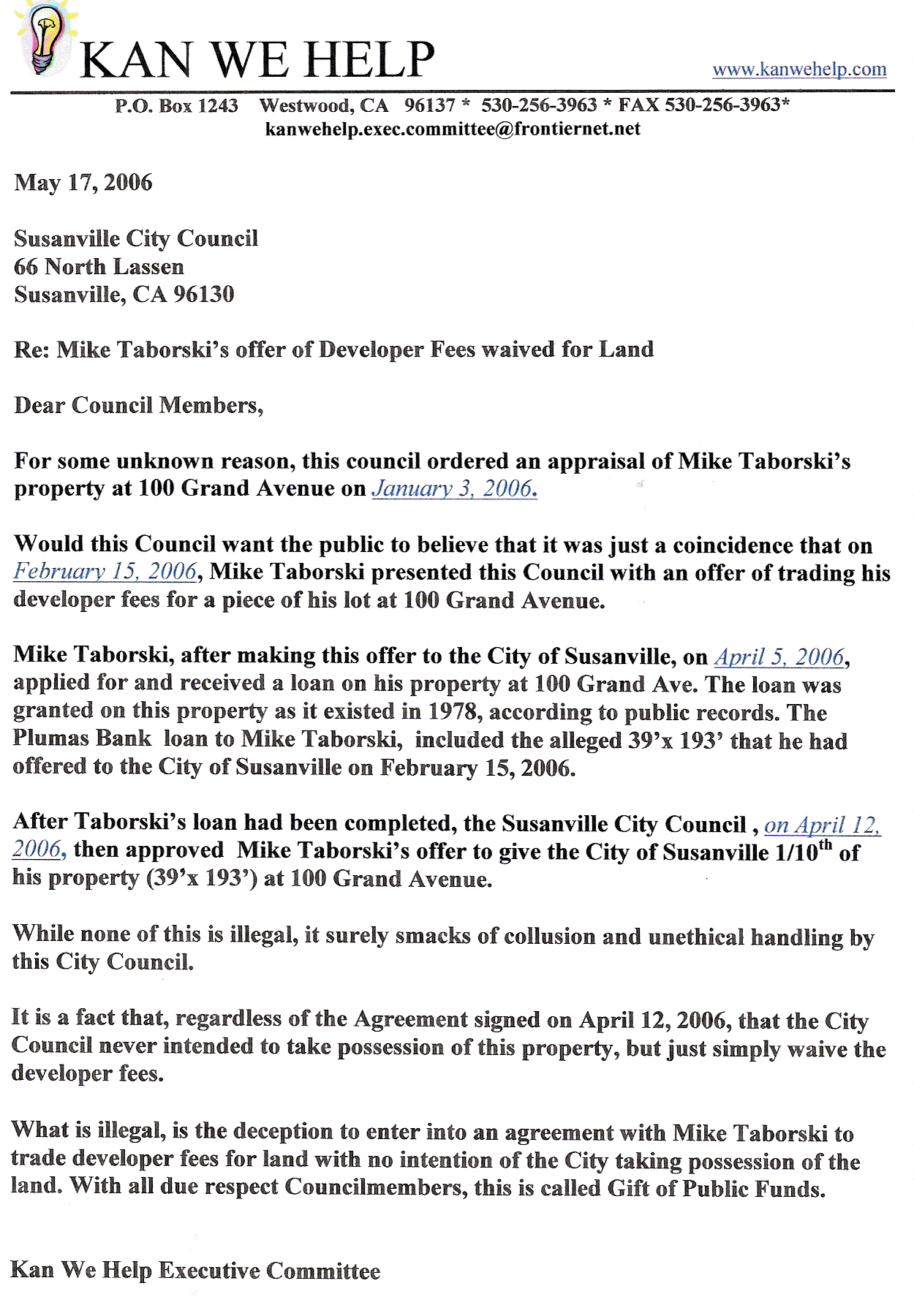 Is Susanville Chief of Police
Positioning Himself for City
Administrator Luanne Rainey's Job? 5/17/06
The City of Susanville city services staff has a table against the wall in the Council chambers. These services are represented by the Chief of Police, Fire Chief, Public Works Director and the Community Services Director.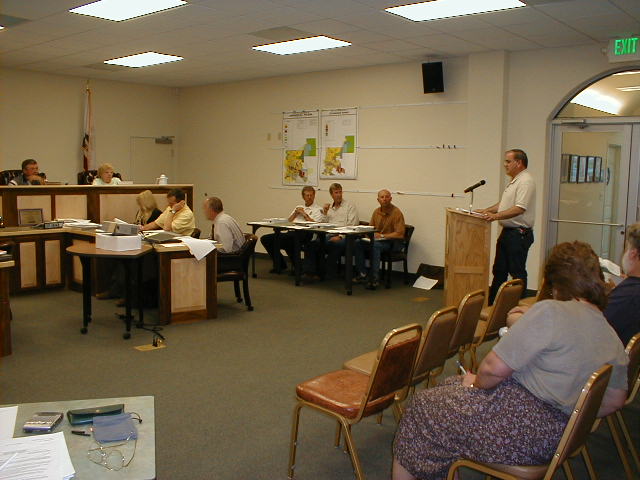 Back table against the wall, Ted Friedline, Asst. Fire Chief, Craig Plat, Public Works Director, Rob Hill, Community Services Director...however the Chief of Police seats himself with the City Administrator and City Clerk
Because Chris Gallagher is "coincidentally" close friends with Barbara France's husband, Gallagher gets special and unusual exposure in her newspaper
Example:
On 5/16/06, the Lassen County Times News Editor, Barbara France writes a HALF PAGE article on "Mold Plagues Local Home Owners and Tenants" (page 11A), and includes a photo of her husbands golfing buddy, Chris Gallagher.
Please, tell this website what the Chief of Police has to do with MOLD?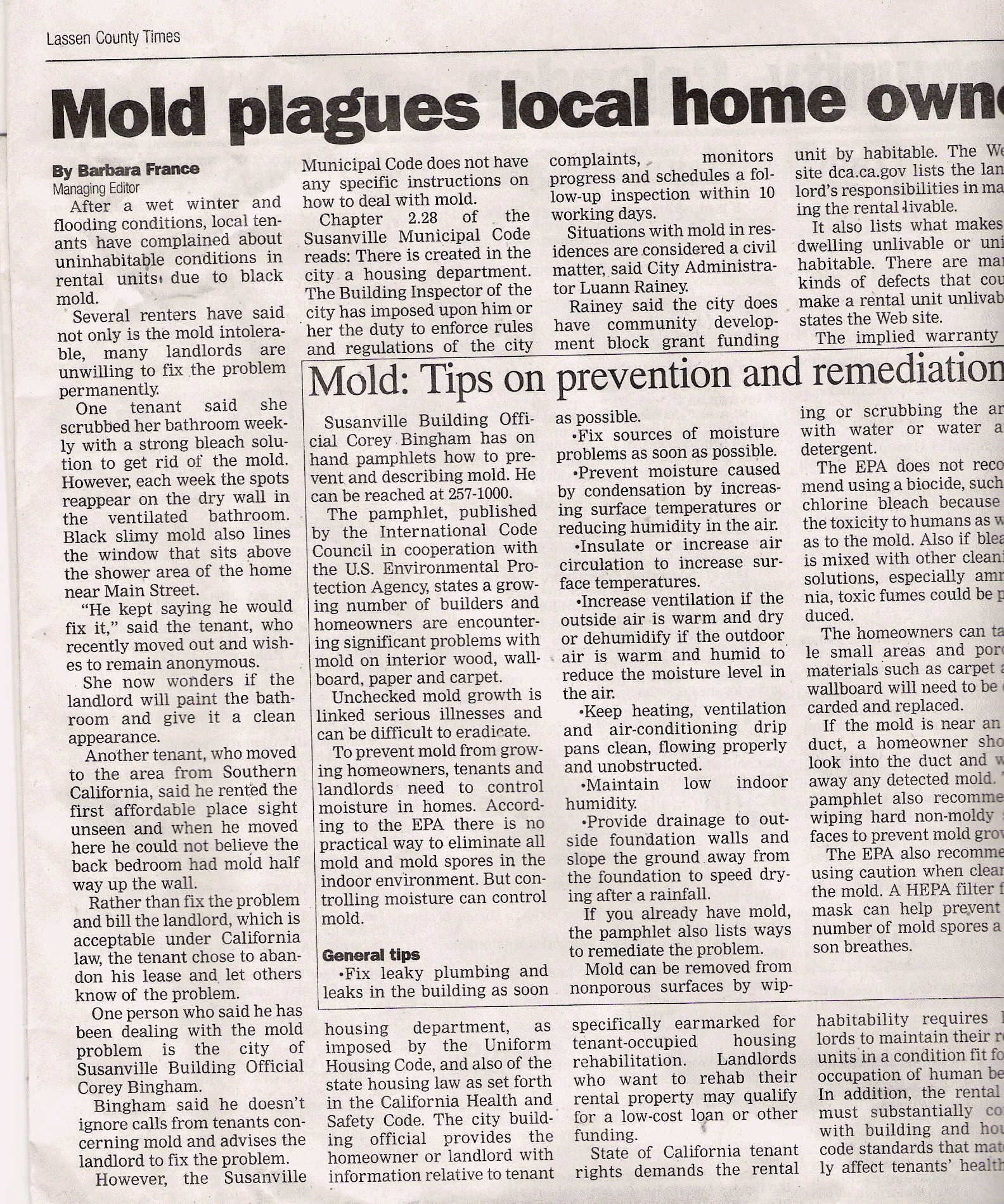 May 16, 2006
Don Battles, BIG PAY FOR UNKNOWN WORK
plus lots of expensive travel and perks...............
The LMUD Board will approve an update for Don Battles contract at the regular LMUD meeting tonight.
Don Battles has a controversial history with LMUD John Baxter/Don Battles
Frank Cady, Darrell Wood and Wayne Langston's buddy has been given large checks every month since Cady hi-jacked the utility district. Frank Cady doesn't require his buddies to disclose what work they did for LMUD. Cady just writes them a check.
Cady bills this "gift of public funds" to Other Services & the Public Benefit Fund
LMUD refused to disclose Don Battles invoice for $7,143.55 (Check #14960)
LMUD check #14634
LMUD check #14788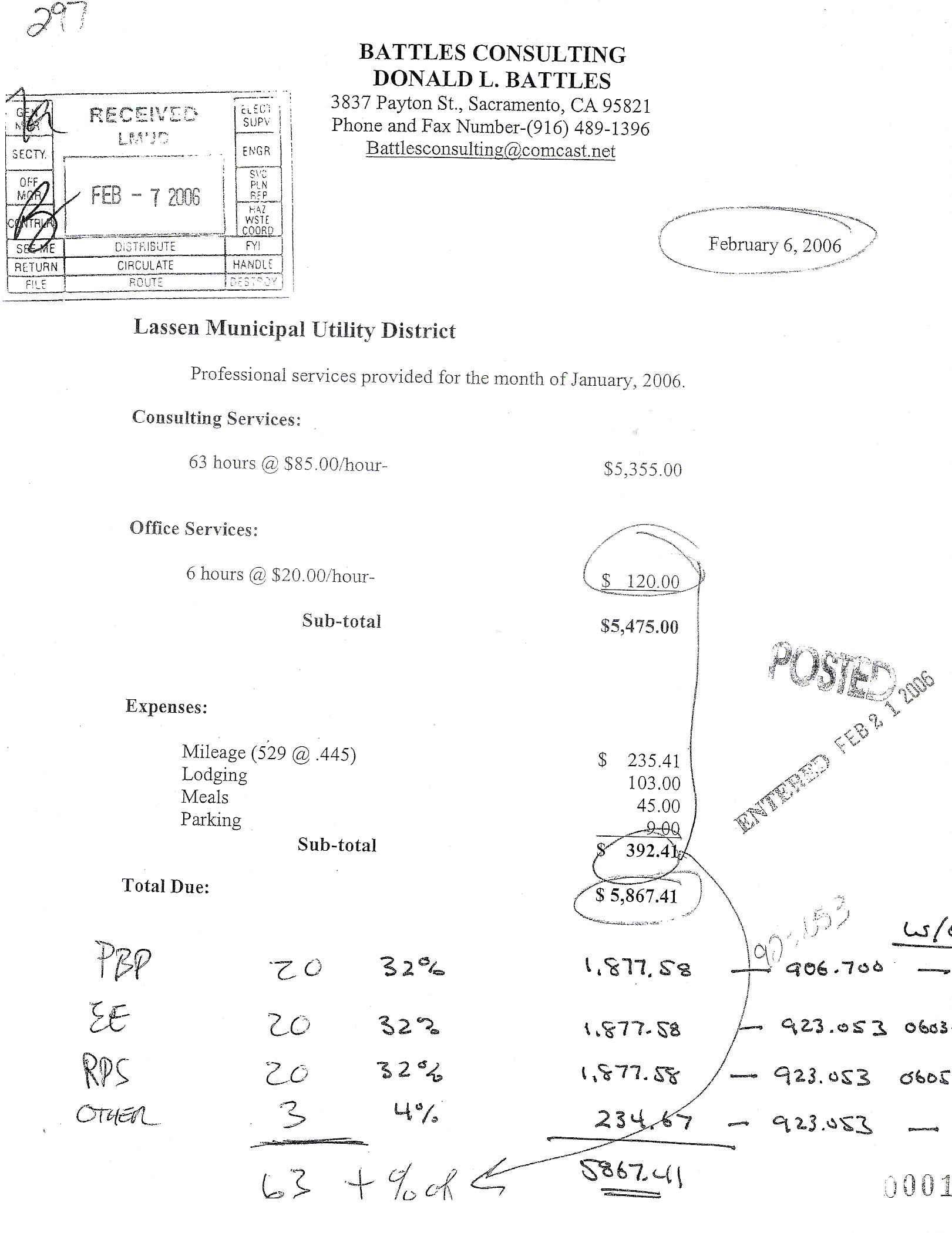 LMUD GENERAL MANAGER CONSTANTLY CHANGING MANAGEMENT TITLES
WHY?
LMUD General Manager is constantly changing the titles of LMUD's management staff. Paul Glau's title has been all over the map (from mechanic, to Haz.Mat.Coordinator. Now Cady wants to create a "Facilities Manager" position for Paul Glau.
Same with Keri Richards. Keri came to LMUD from Frank Cady's office. She was hired by LMUD to be the Secretary to the Board, then on to Officer Manager when Sharon Edwards left. LMUD then changed her title to Customer Service Manager and now Frank Cady wants it changed back to Office Manager.
LMUD and Cady now are creating a position for "Assistant General Manager-Director of Engineering & Operations". LMUD has spent literally thousands of dollars with a headhunting agency, Mycoff & Associates, to find a Director of Engineering & Operations.
EVERYONE INTERVIEWED DID NOT WANT TO WORK FOR LMUD
The LMUD Board knows Frank Cady has no experience in running this public utility. Frank Cady has a great deal of experience "CONTROLLING THE LMUD FINANCES" but no background in running an electric utility.
Now, it appears that Frank Cady is hoping to find someone to do his work, so he can spend all of his time at his law practice.
May 12, 2006
Clear Abuse of the Brown Act
*Fred Nagel, **Wayne Langston and Darrell Wood met in Reno on March 21.
Board members cannot meet without a "notice to the public"....but they know this and they did it anyway.
*The person Nagel met with is redacted. No secret meetings allowed
**The person Langston met with is redacted. No secret meetings allowed.
LMUD Director violates LMUD's Resolution 90-02
Nancy Cardenas knows she cannot charge $100 for attending a community event, but continues to do it. Cardenas not only attended the "Science Bowl" but charged $350 for dinner. The Board Members do not have any discretionary funds. Board Statement of Meetings
Kan We Help has exposed Cardenas's phantom meetings and Langston's $100 e-mails.
Is this how Cady controls the Board?...."the illegal give-aways"
The LMUD Board members hide their expenses in LMUD credit cards and legal invoices.
They do this to avoid disclosure of Board travel expenses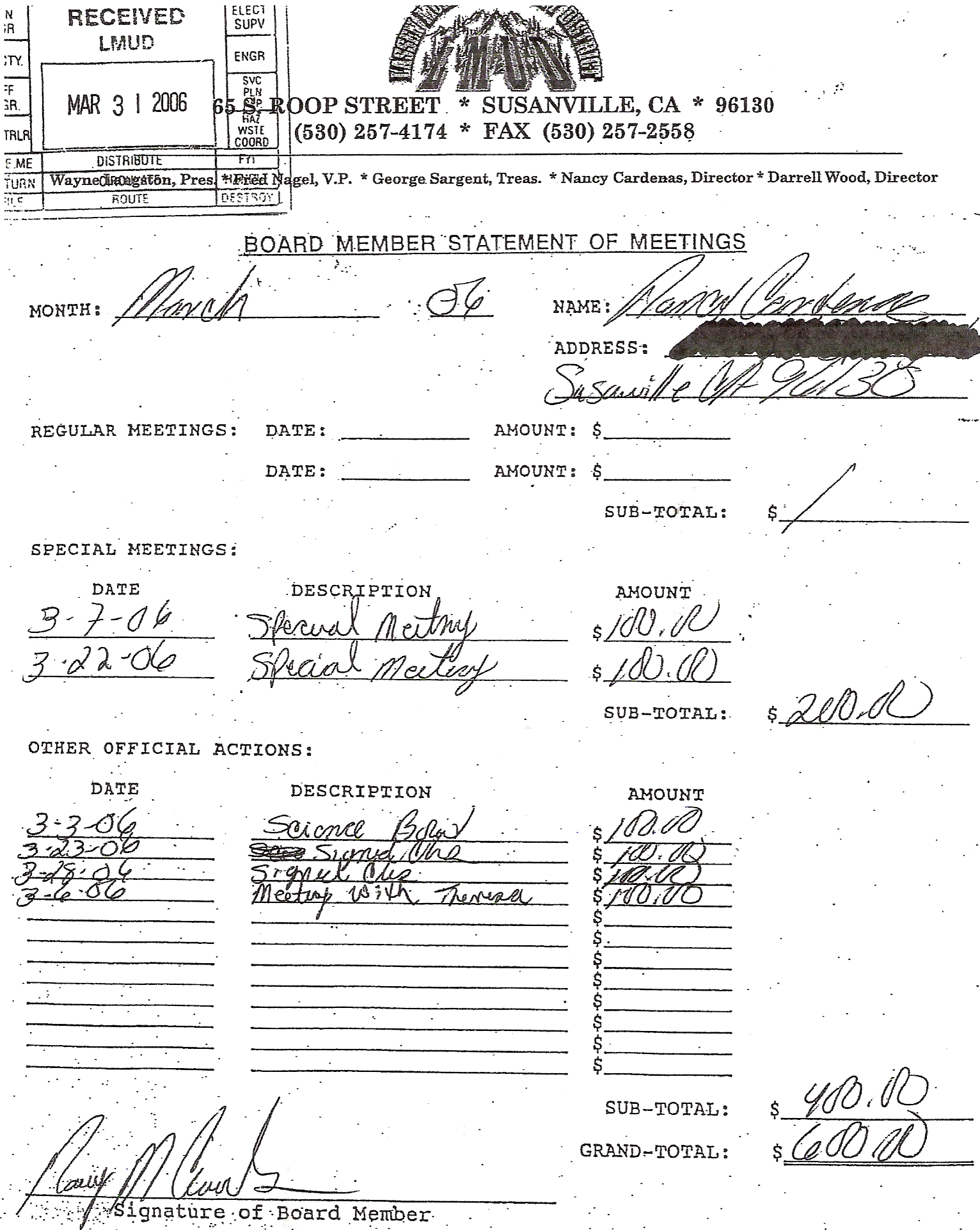 May 11, 2006
Public Records disclose luxury weekends given to Jaimee Richey
LMUD GENERAL MANAGER CONTINUES TO BUY COMPUTERS AND FURNITURE
The LMUD Board gave Frank Cady the authority to dispose of LMUD property anyway he wants......Concern: unnecessary purchases in order to make gifts of LMUD property.
The GM, prior to Cady, had to get permission to buy computers, office equipment, new furniture.
This was charged to Building maintenance and repair ?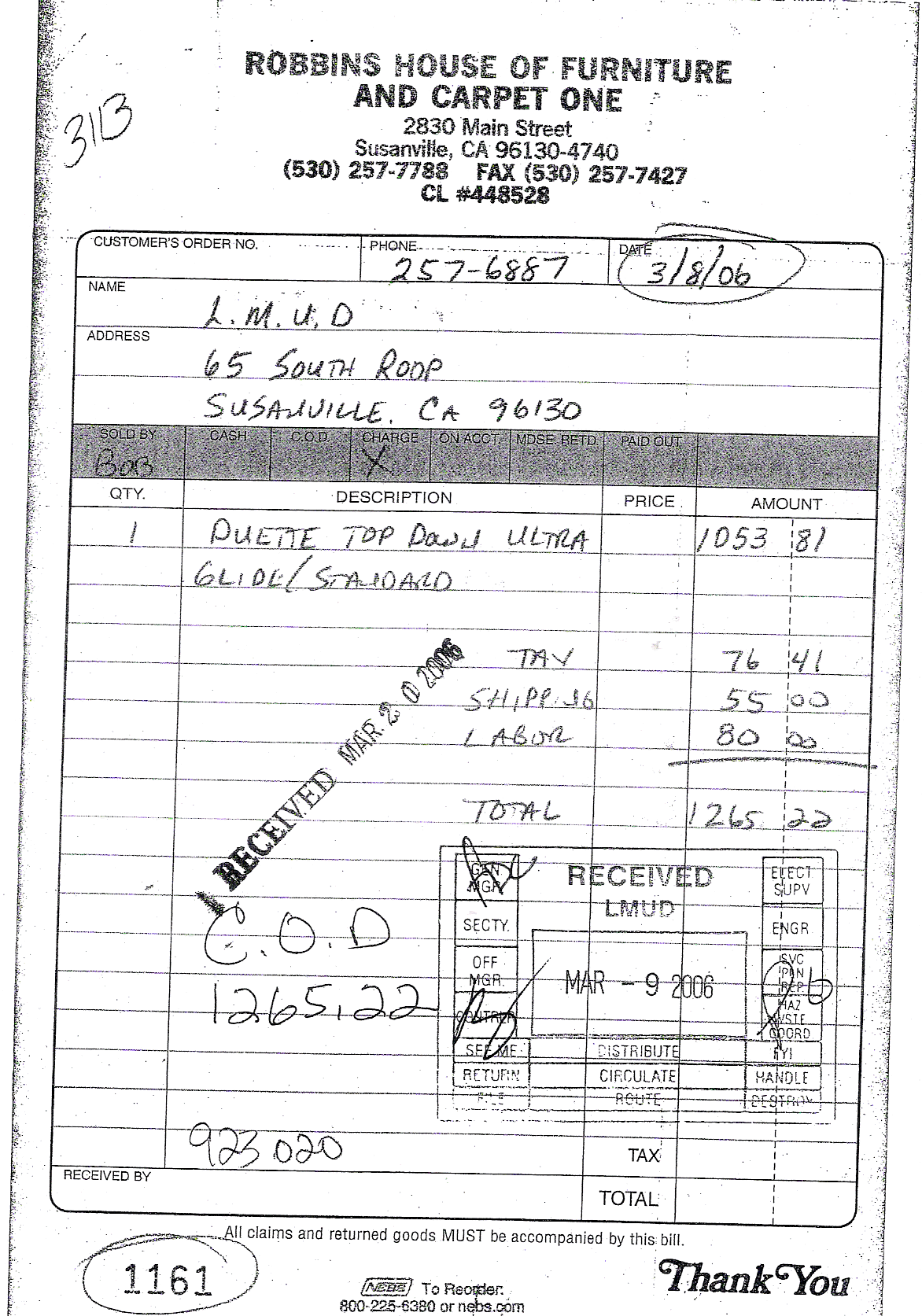 May 3, 2006
REMEMBER WHEN.......Lassen County Times, 5/2/06
LMUD Board alters 4/25/01 Minutes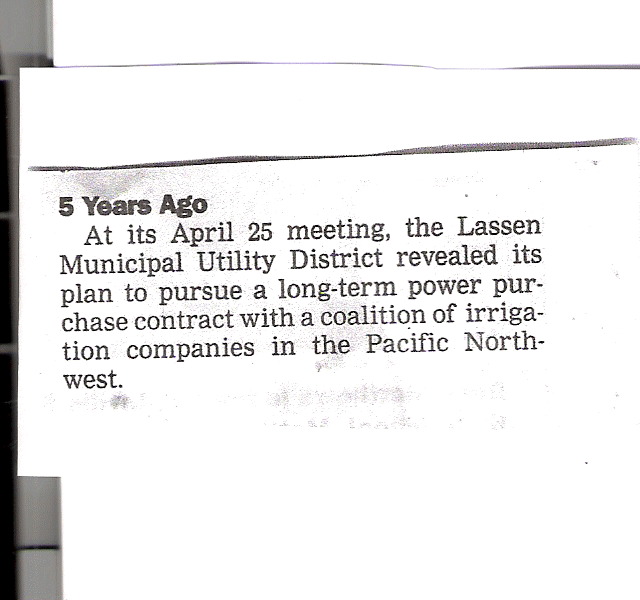 Arrowrock power plant-scam I- terminated
Susanville City Engineer Fred Nagel volunteers to take a cut in pay?
No, he just wants to work 16 hours a week
On February 1 2006, Fred Nagel submitted a request to the Susanville City Council to modify his contract. Nagel, now wished to work only 16 hours a week instead of 20 hours a week. The Lassen County Times slants the May 2, 2006 story as though Nagel was willing to work 20 hours a week for less money....not the case at all.
The City of Susanville was actually paying Fred Nagel $70,000 for 20 hours a week ($1,346.15 for 2 1/2 days work). It's kind of like paying a dentist for 5 minutes to do a root canal.
Nagel's position was purely a "political gift"
Due to a conflict of interest, Fred Nagel resigned from the County Planning Commission to take the City Engineer's job.
Is is true that Fred Nagel always seemed to end up with most of the engineering work from his position at the County? Fred Nagel allegedly sold his interest in NST Engineering in Susanville.........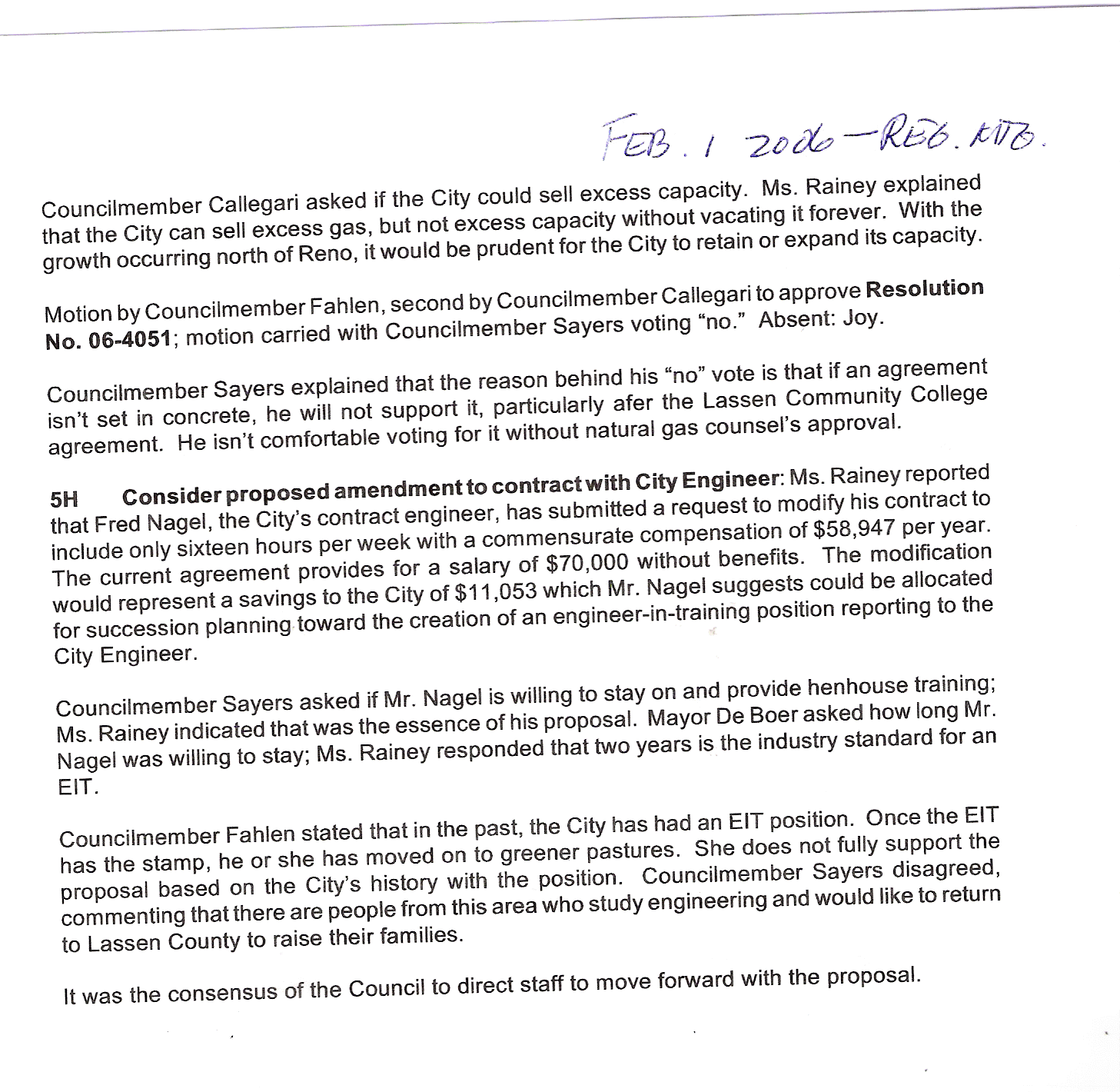 THE CITY OF SUSANVILLE CONSIDERS ADDING A $72,000 ASSISTANT ENGINEER BUT HAS NO MONEY FOR AN ANIMAL CONTROL OFFICER
This City Council doesn't have a clue...........................
On May 2, 2006, Barbara France picks up the story?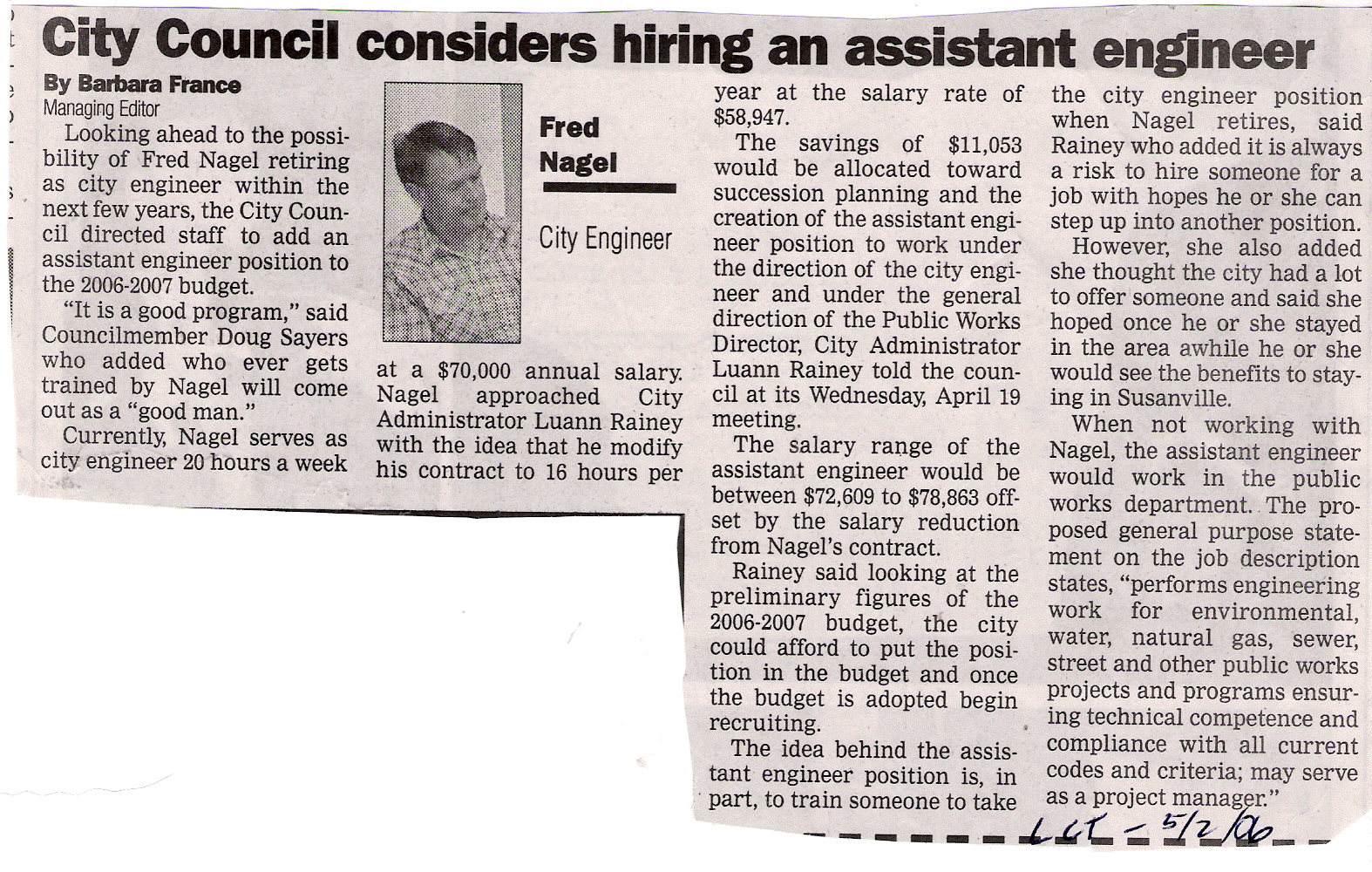 April 29, 2006
LMUD BILLS INCREASE BY 25% -35% ?
RATES INCREASE BY only 5%
LMUD ratepayers should check their LMUD bills closely.
March/April meter readings have increased by 25% to 35% .
A customer in Westwood complains that his house was vacant from 4/6/06-4/18/06 and his electric bill increased by 400 KWH over the previous month.
A customer in Janesville complains that her house was vacant from 3/18- 4/12/06 and her bill increased by 316 KWH over the previous month.
A customer in Standish complains that their house increased 633 KWH from last months bill and the house is vacant.
In addition, General Manager Frank Cady (who now can raise rates "at-will") has raised the residential rates from $ .115 to $ .12. So why did LMUD ratepayers realize a $50-$60 increase in their bill......
The LMUD Board has never considered reducing their wasteful, selfish spending. This latest increase is an insult to the hardworking people of Lassen County.
LMUD Director Fred Nagel is a Plumas Sierra Rural Electric Cooperative customer...... this will not effect him.
April 26, 2006
LMUD GENERAL MANAGER STATES
"We need revenues to increase. We need to sell more electricity"
Cady never mentions or considers reducing his reckless spending
Cady's Solution: He raises residential rates to $ .12 KWH
Frank Cady is very smooth at re-writing LMUD history.
FACT: In December 2000, the LMUD Board played the market ( on the advice of Frank Cady) and purchased more power in order to resell it at a profit. The net result was a $8.7 million dollar loss. The District never recovered and it nearly bankrupted this small utility. Instead of firing Frank Cady, the Board took the blame and the public recalled them. All but Wayne Langston who was saved by his mother-in-law, Theresa Nagel.
Cady depends on the Board believing his fabricated stories about the energy market. The LMUD Board is lazy and has become disinterested in doing what the public elected them for......running the Lassen Municipal Utility District.
The Lassen County Times has no knowledge of the energy market and blindly publishes Cady's jibberish. Managing Editor France doesn't even ask for any documentation of what Cady throws at her and then publishes his rantings as the truth.
The public deserves the truth about LMUD
THE PUBLIC NEEDS TO WRITE THE STATE LEGISLATURE AND DEMAND THAT CPUC DIVISION 6 NEEDS TO BE AMENDED TO MAKE MUNICIPAL UTILITY DISTRICTS ACCOUNTABLE TO THE STATE.
Presently there are three Municipal Utility Districts in California, Sacramento MUD, East Bay MUD (with hundreds of thousands of ratepayers) and the tiny little Lassen MUD (9,000 ratepayers ?).
LMUD doesn't even qualify as a Municipal Utility District. Frank Cady has never complied with the Municipal Utility District statutes. Maybe letters should be written to CPUC attorney, Donald "Bill" Cady.
CPUC, Division 6 was designed for self-governing. Frank Cady has raped this little MUD for a very long time. It is his personal "piggy bank". You put that kind of power together with a "sheepish" Board that is scared to death of him.....the end result is abuse and excessive uncontrolled undisclosed spending.
INFORMATION IN DISPUTE:
$125,000 IMPROVEMENTS IN EFFICIENCY
$39,000 INVESTMENT IN SOLAR PROJECTS
$600,000 IMPROVEMENTS IN THE DISTRIBUTION SYSTEM
SOLVENCY OF LMUD
"PAY AS YOU GO" AGRICULTURAL RATES (??????????)
LMUD BOARD IN CONTROL OF THE DISTRICT
April 18, 2006
LMUD LOWERS AGRICULTURAL RATES
AND
WILL RAISE RESIDENTIAL RATES TO PAY THE DIFFERENCE LMUD 4/18/06 AGENDA
March 23, 2006
SUSANVILLE CITY COUNCIL HITS ROCK BOTTOM
March 22, 2006 Susanville City Council holds hearings on City finances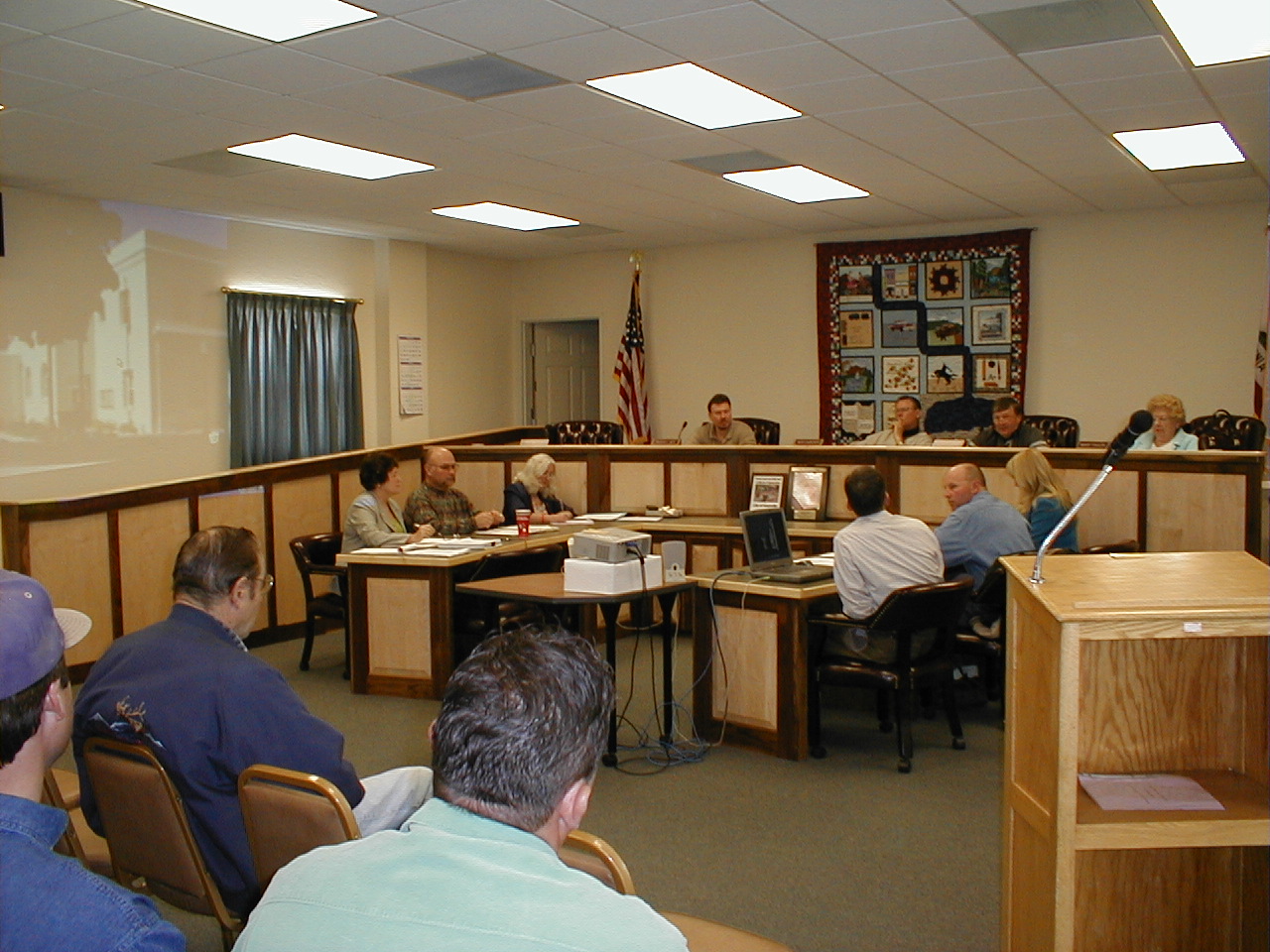 March 22, 2006
THERESA NAGEL'S FINAL "ACT OF ABUSE" OF HER OFFICE
Nagel has decided NOT TO PLACE "unopposed" candidates on Ballot. "UNOPPOSED" COUNTY POSITIONS HAVE ALWAYS BEEN ON THE BALLOT (see 2002 & 2004 ballots below)
ONE BIG PROBLEM WITH THAT.....write-in candidates
California Election Code 15340: Each voter is entitled to "write" the name of any candidate for any public office, including that of President and Vice-President of the United States, on the ballot of any election.
Also....she arbitrarily extended, without notice to the public, the date for candidates to file......you must ask yourself.....who was this for?
Lassen County Times, March 21, 2006- Ashmore knew that the "unopposed" County candidates must be placed on the ballot, but didn't bother to report this..............DELIBERATE SUPPRESSION OF THE FACTS ?
STORY DOES NOT MATCH HEADLINE....???????
CORRECT HEADLINE: NAGEL VIOLATES ELECTION LAW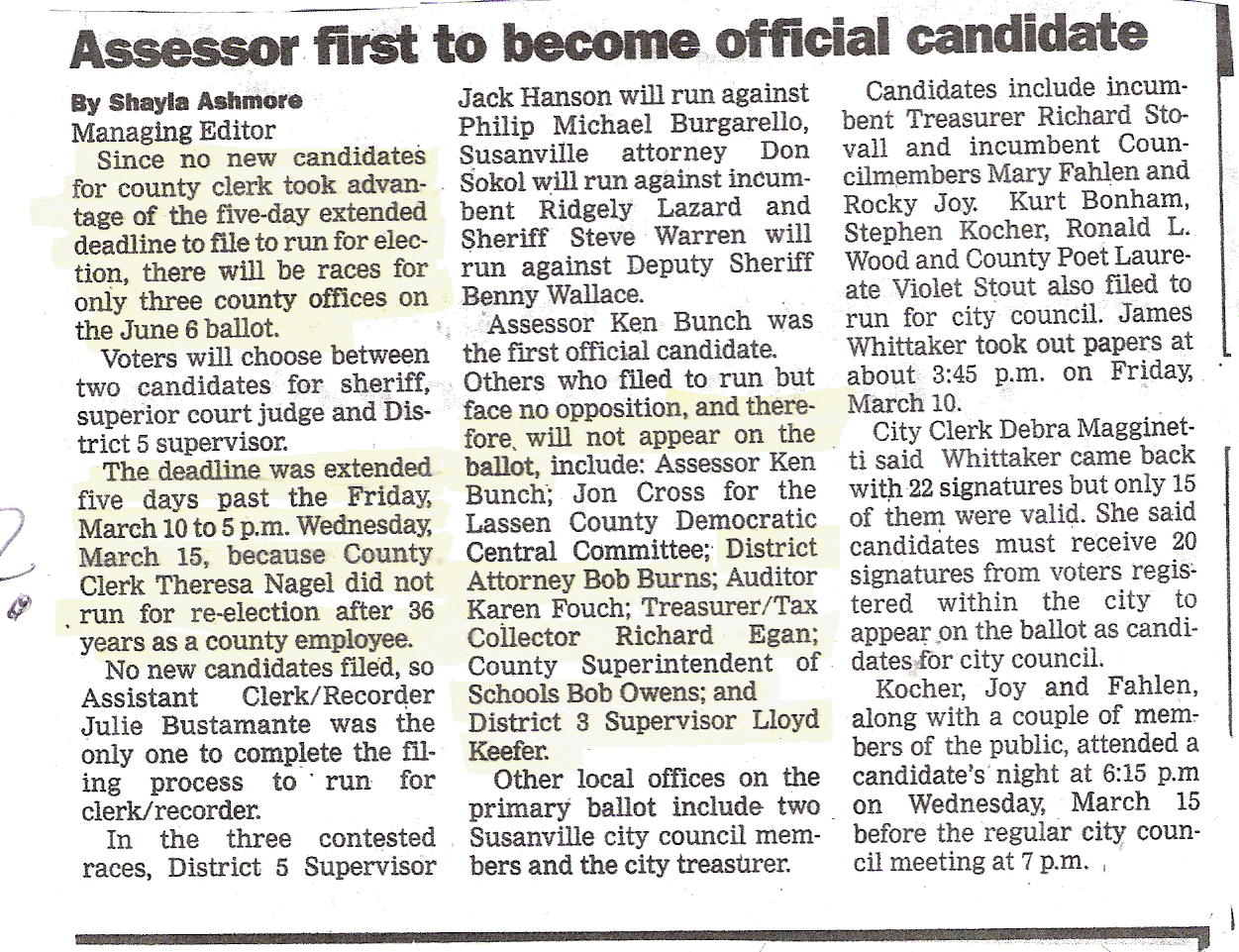 The Lassen County voters must look seriously at the procedures that will be used in the upcoming Lassen County election in June 2006.
Theresa Nagel excluded her son-in-law, Wayne Langston, from the ballot twice, even though the LMUD "governing law" states that the candidate running for a Ward must receive the highest number of votes to win. He was required to be on the ballot
The law was broken when Nagel failed to place Langston on the ballot and when she failed to place the "write-in" line for the voters California Election Code 15340.
You can't receive the highest number of votes, unless you are on the ballot.
She omitted putting Langston's name on the ballot twice, once on March 5, 2002 and then again in 2004. Why.....he can't get elected.
UNOPPOSED COUNTY CANDIDATES HAVE ALWAYS BEEN ON THE BALLOT
2002 ELECTION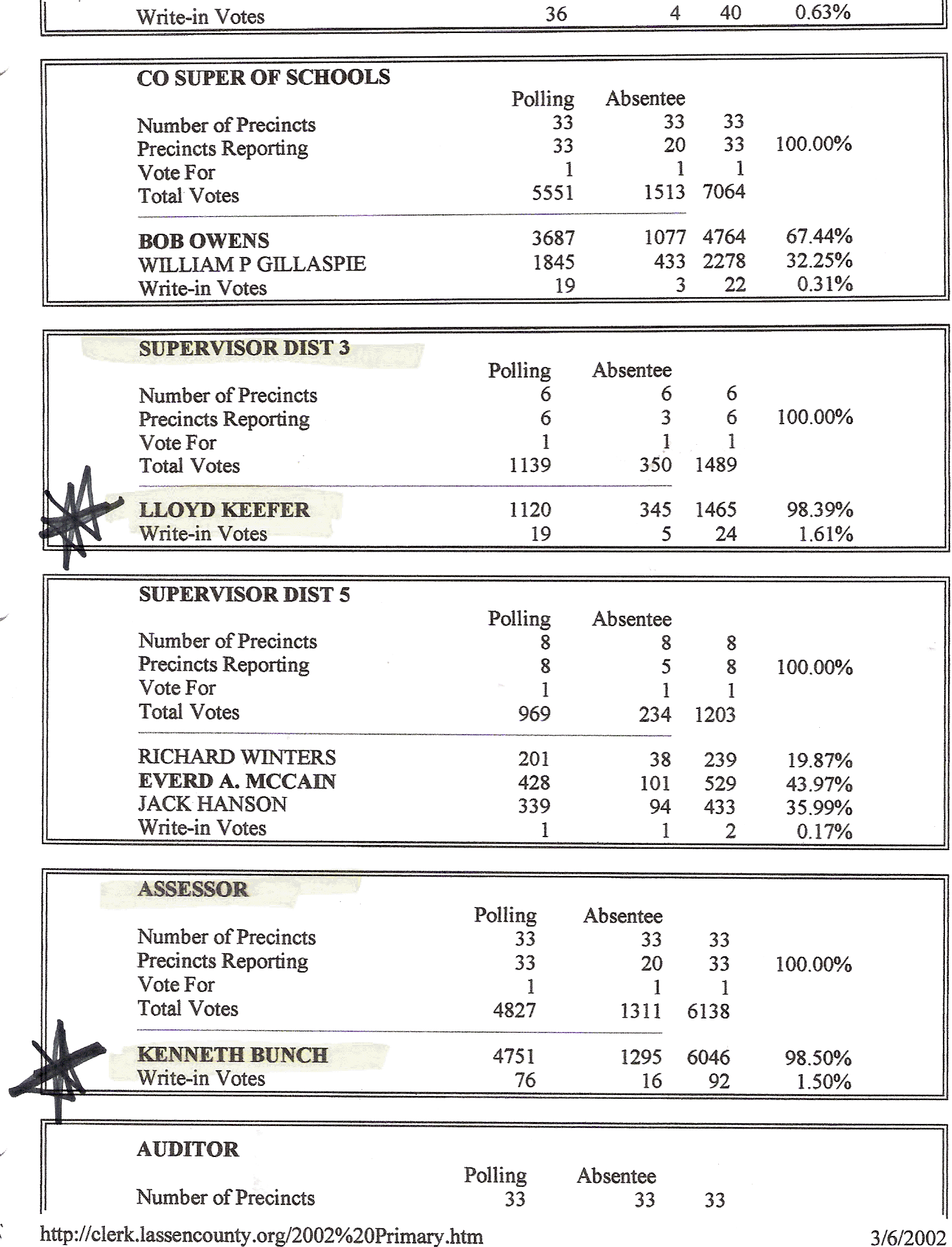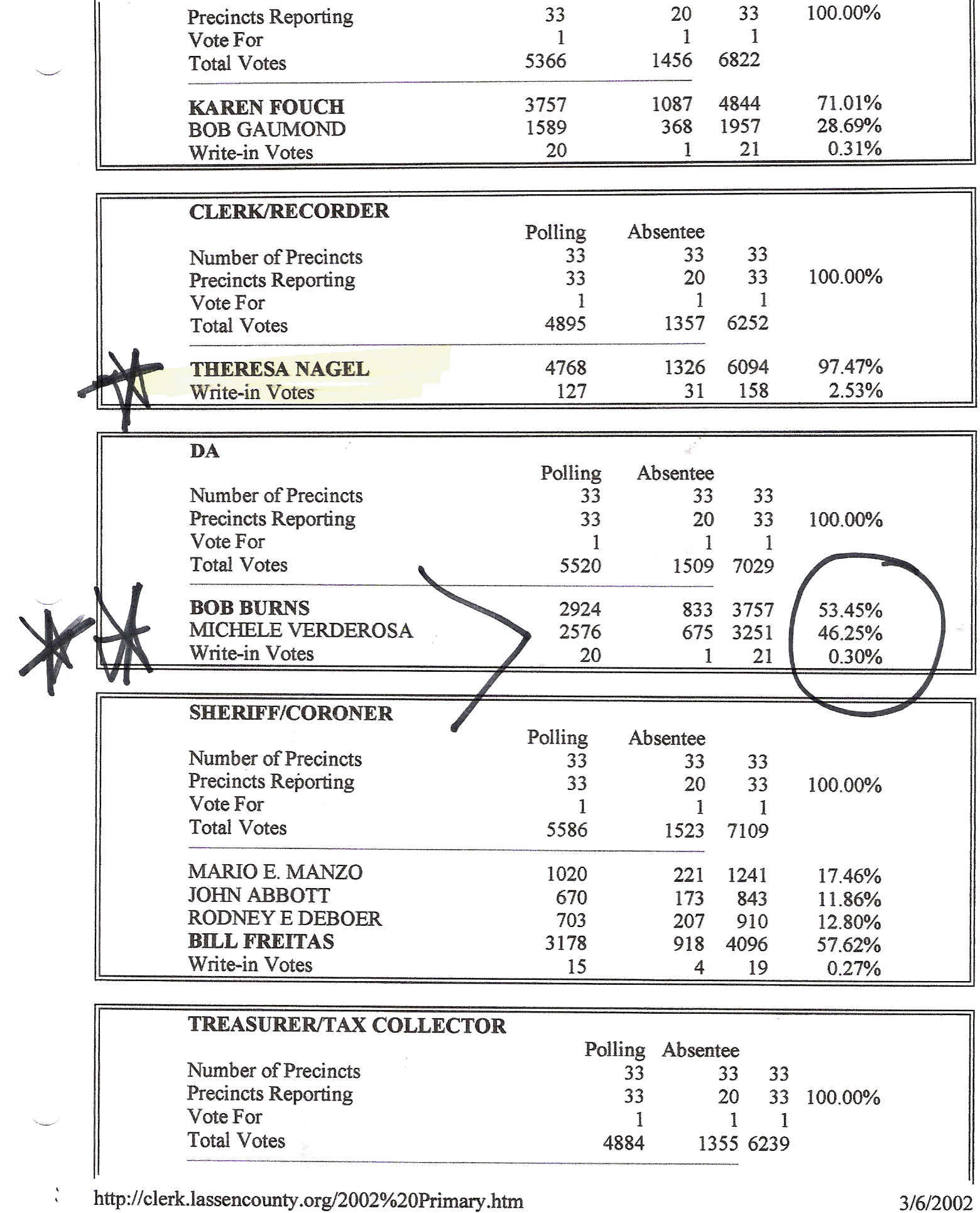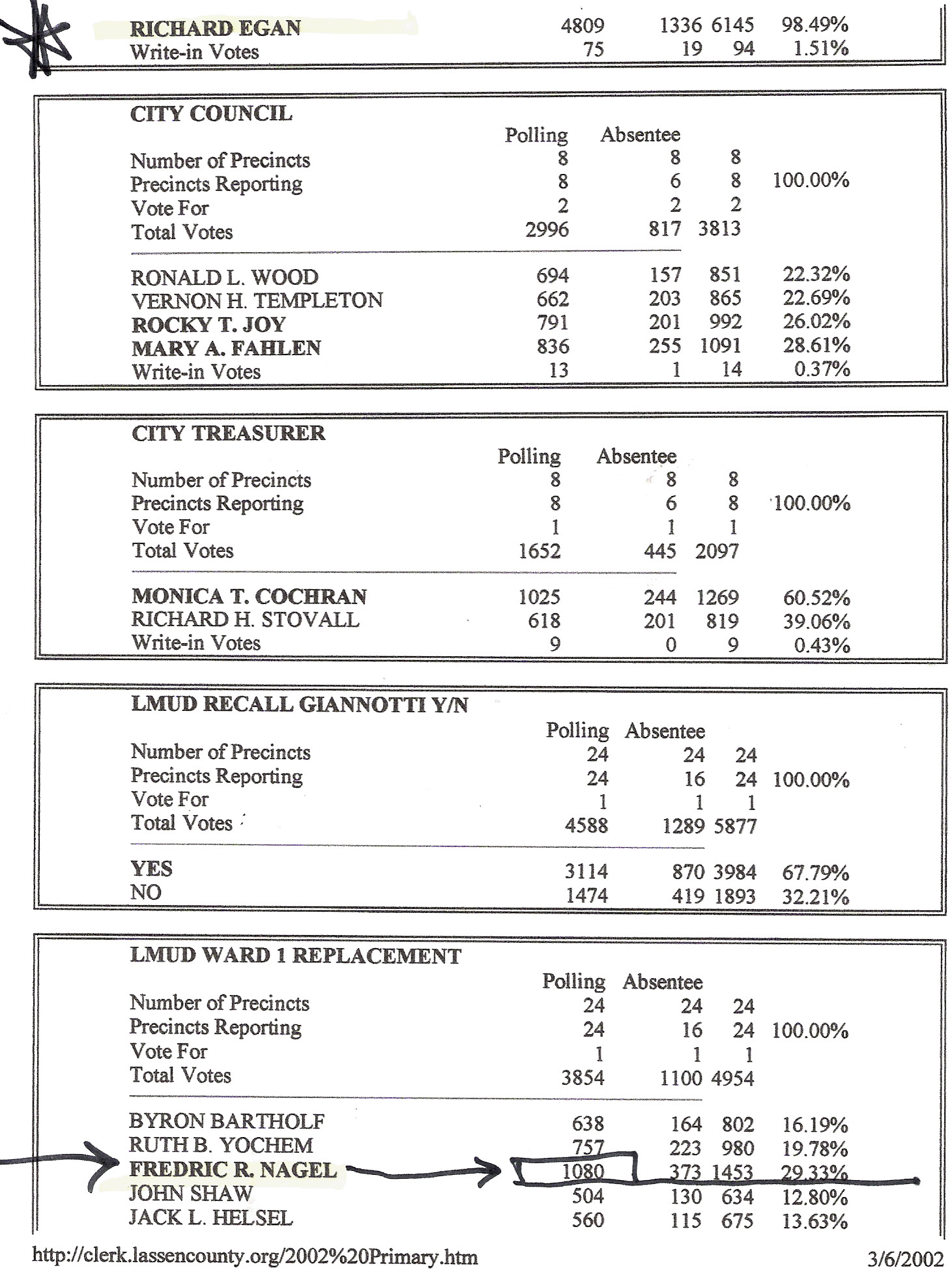 2004 ELECTION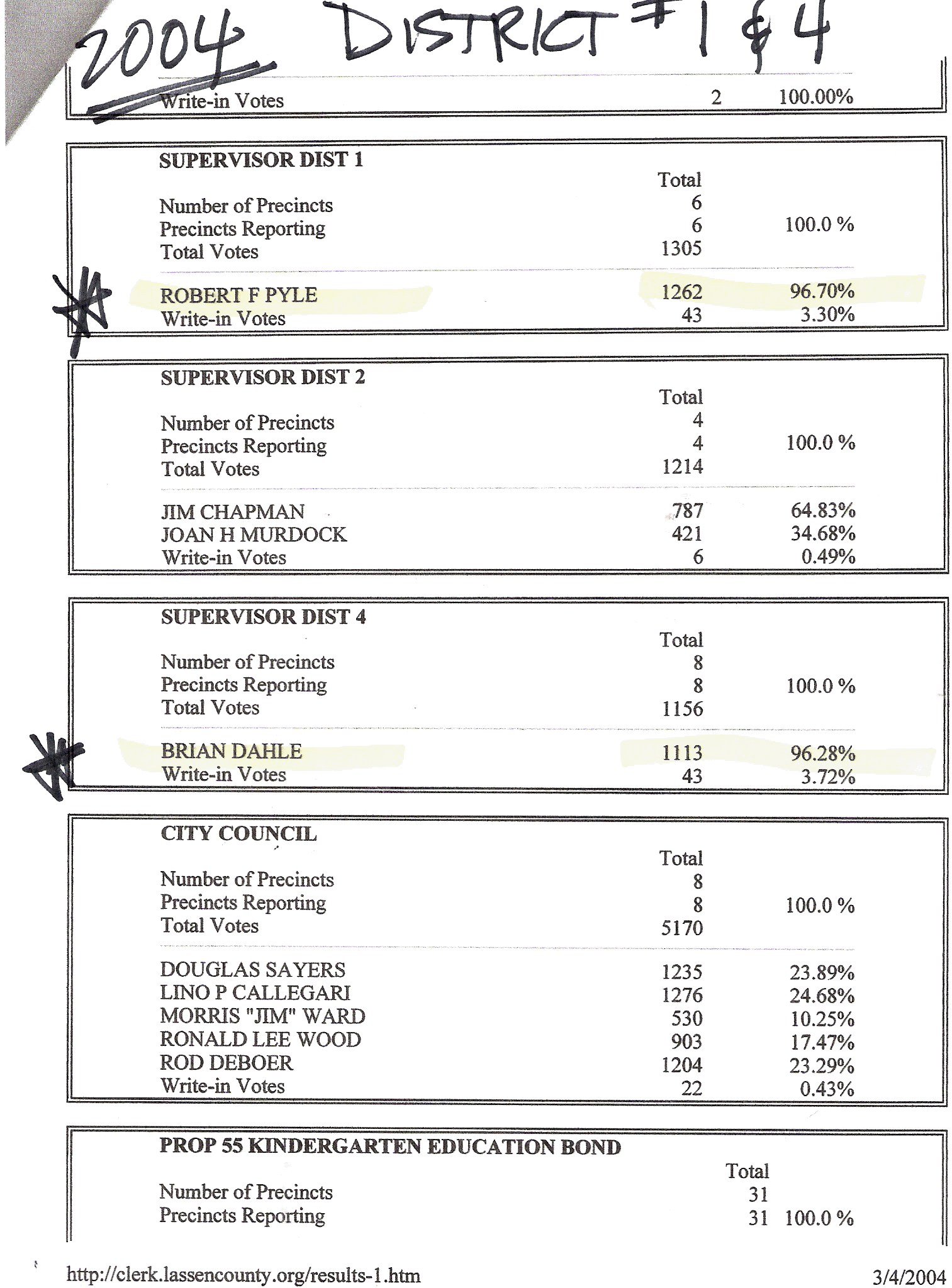 January 24, 2006
LASSEN COUNTY CLERK ANNOUNCES SHE WILL RETIRE
The County Clerk has had a history of complaints
A complaint filed with the Secretary of State in 2002 stopped County Clerk, Theresa Nagel, and Julie Bustamante from using "white out tape" at elections
Theresa Nagel and Julie Bustamante used white-out tape at the precincts until 2002.
Altering ballots is illegal. Including white out tape with the precinct supplies was highly suspect as to the intended use at each election. Spoiled ballots altered with white out tape are void. The correct procedure would be to void the spoiled ballot and issue a new ballot.
Since ballots cannot not speak as to "who" put the white out tape on them all Lassen County elections are suspect up to 2002.
Theresa Nagels husband was allowed to be on the LMUD, March 5, 2002 ballot (Theresa and Fred Nagel do not live within the LMUD service boundaries). Theresa Nagel failed to even place her son-in-law on the LMUD ballot twice. Election Code 10529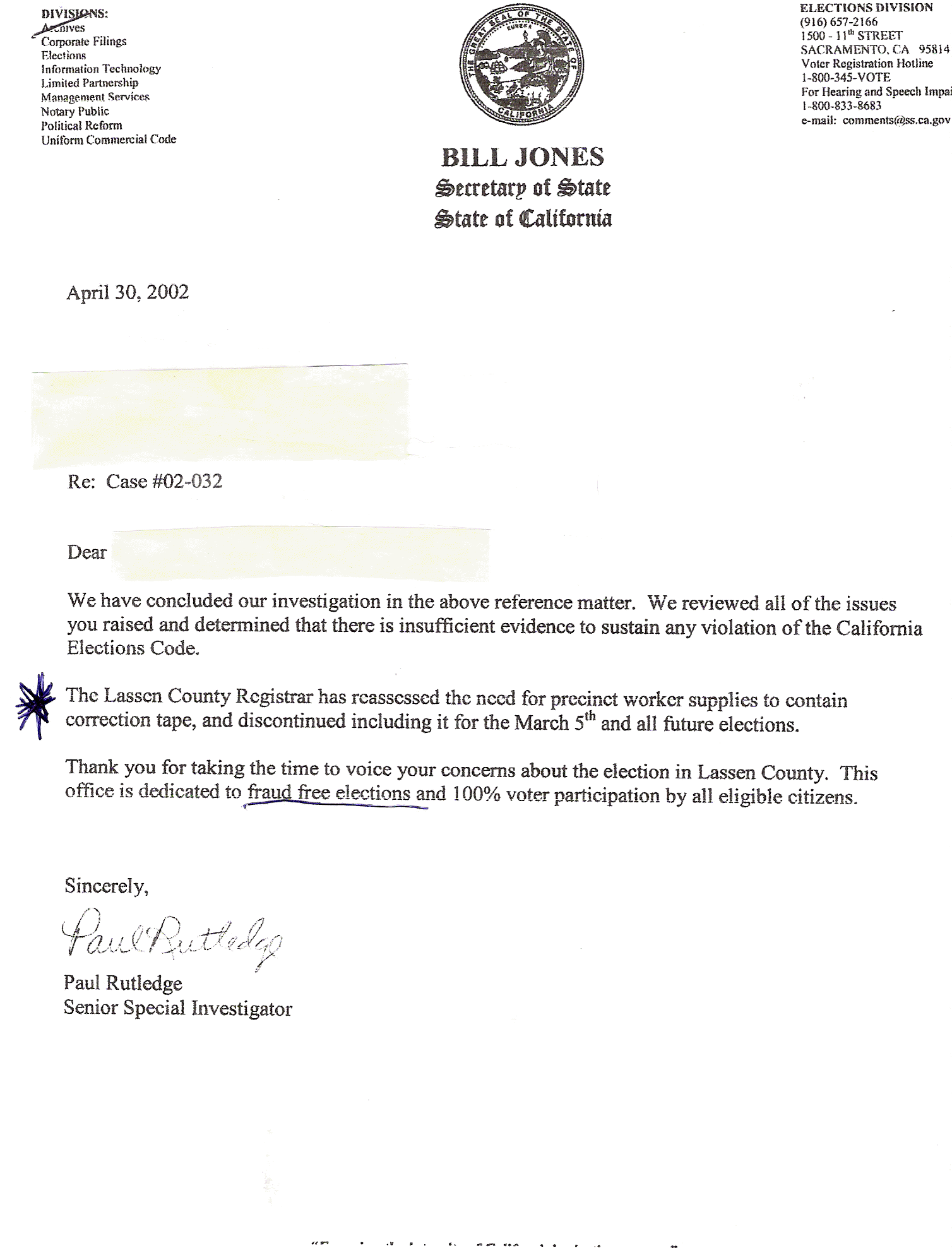 January 18, 2006
SUSANVILLE ATTORNEY FILES APPEAL (?) AFTER BEING CAUGHT MANUFACTURING EVIDENCE WHEN HE FILED THE ORIGINAL LAWSUIT ???
Today the court orders Williams to pay all of Defendants costs and attorney fees on the original lawsuit.
Local Susanville attorney, David Williams, files an appeal on a case that he was sanctioned by the court for filing a lawsuit that had no damages. Williams filed a lawsuit when he knew that his client had no damages and now is attempting to appeal the court's decision. link
December 28, 2005
LASSEN COUNTY BOARD OF SUPERVISORS DISCUSS CREATING AN ELECTION OFFICER
Restore confidence in Lassen County Elections
The best thing that could happen to Lassen County would be the creation of a "Registrar of Voters". The size of Lassen County has nothing to do with creating or not creating an independent Election Officer.
The Secretary of State over the years has received "too many" complaints against the County Clerk.
The County Clerk has abused many of the election codes and has made it impossible for the public to exercise their right to observe the election activities. The Lassen County Clerk has called law enforcement agencies when citizens have tried to simply observe the election process. Certainly questions about the validity of Lassen County elections have resurfaced year after year.
If the Board of Supervisors decide to create this position, the County Clerk or anyone from her office should not be considered. This includes Julie Bustamante.
It seems that the Board of Supervisors wishes to eliminate the questions that always arise......the bias and prejudice that seems to surround the County Clerks office before and during Lassen County Elections.
December 27, 2005
LMUD RELEASES AUDIT12/20/05
LMUD did not release copies of the 2004/2005 Audit before the December 20, 2005 meeting. Only one member of the public attended this meeting. The public is at a huge disadvantage when there are no copies available prior to the meeting.
No questions were asked for a good reason....the audit was given out at the meeting.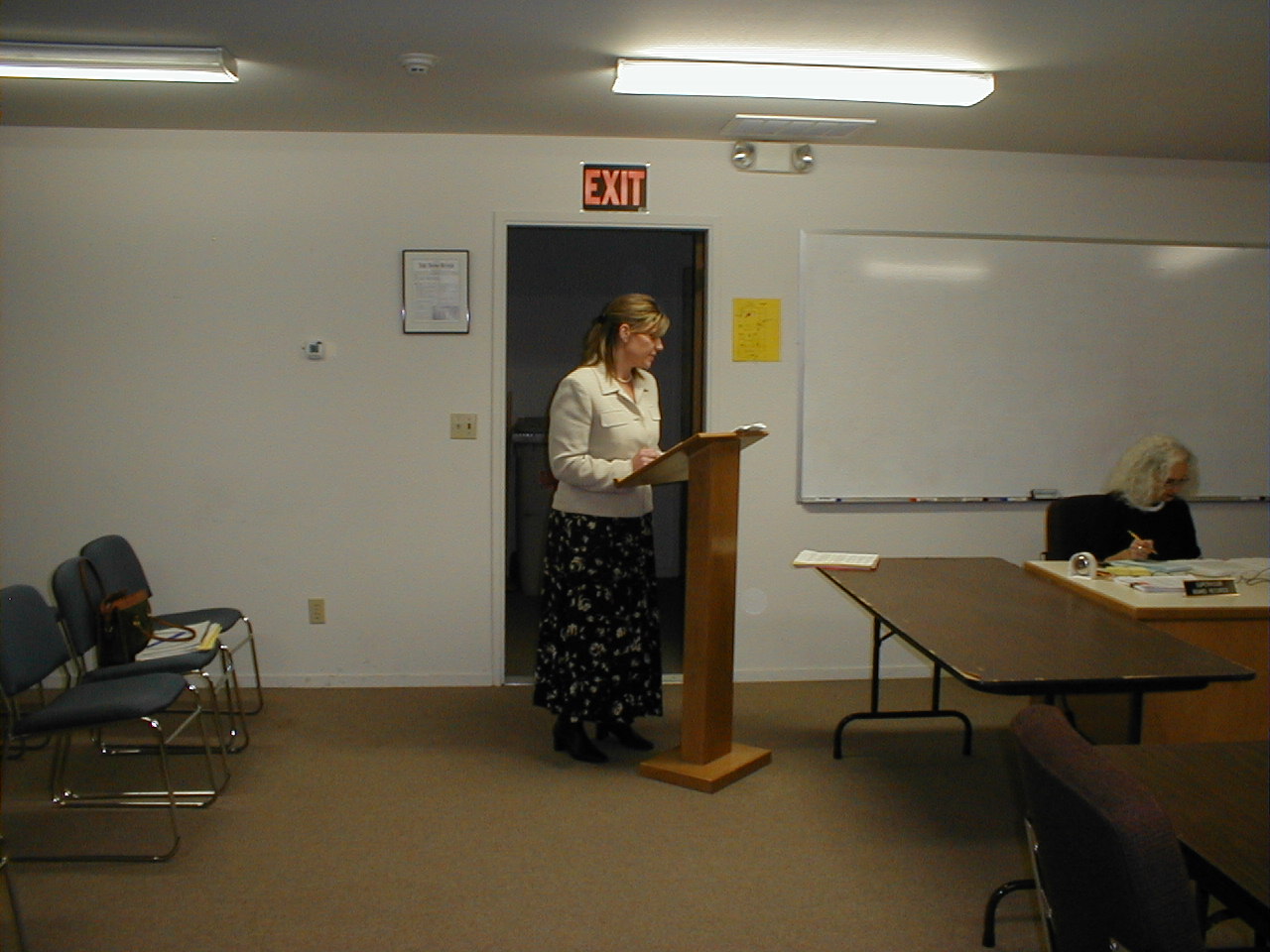 Julia Gussett reports on LMUD annual audit at December 20, 2005 LMUD meeting
Julia Gussett (Pezzullo & Gussett, CPA) gave an abbreviated report as compared to last years audit report when she reported that the LMUD Board had exposed the District to "gifts of public funds" and Steve Pezzullo demanded Nancy Cardenas's resignation. LMUD Audit
November 9, 2005
Placer and San Diego Counties first to report election result @ 8:01PM
ALL STATE INITIATIVES FAIL
Secretary of State County Report
SUSANVILLE ATTORNEY, DAVID WILLIAMS, LOSES THIRD CASE AGAINST SPENCER
Susanville attorney, David Williams, received notice on 10/20/05 that his third action against Eileen Spencer has ended in sanctions against him and his client James Forbes.
David Williams, Jim & Carol Forbes attorney, has filed three actions in the past year and they have lost all three.
Williams proceeded with the last case when he knew that the evidence was manufactured and there were no damages prior to filing the case. The Judge ordered Williams and Forbes to pay Spencer's attorney fees.
Judgment on Motion Court's ruling
FERC NOTIFIES KWH ARROWROCK IS OVER
JUDGE BRADBURY RESPONDS TO KWH COMPLAINT AGAINST FRANK CADY & RICHEY
KWH ASKED THE LASSEN COUNTY CLERK ABOUT LMUD BOUNDARY CHANGES ON 9/27/05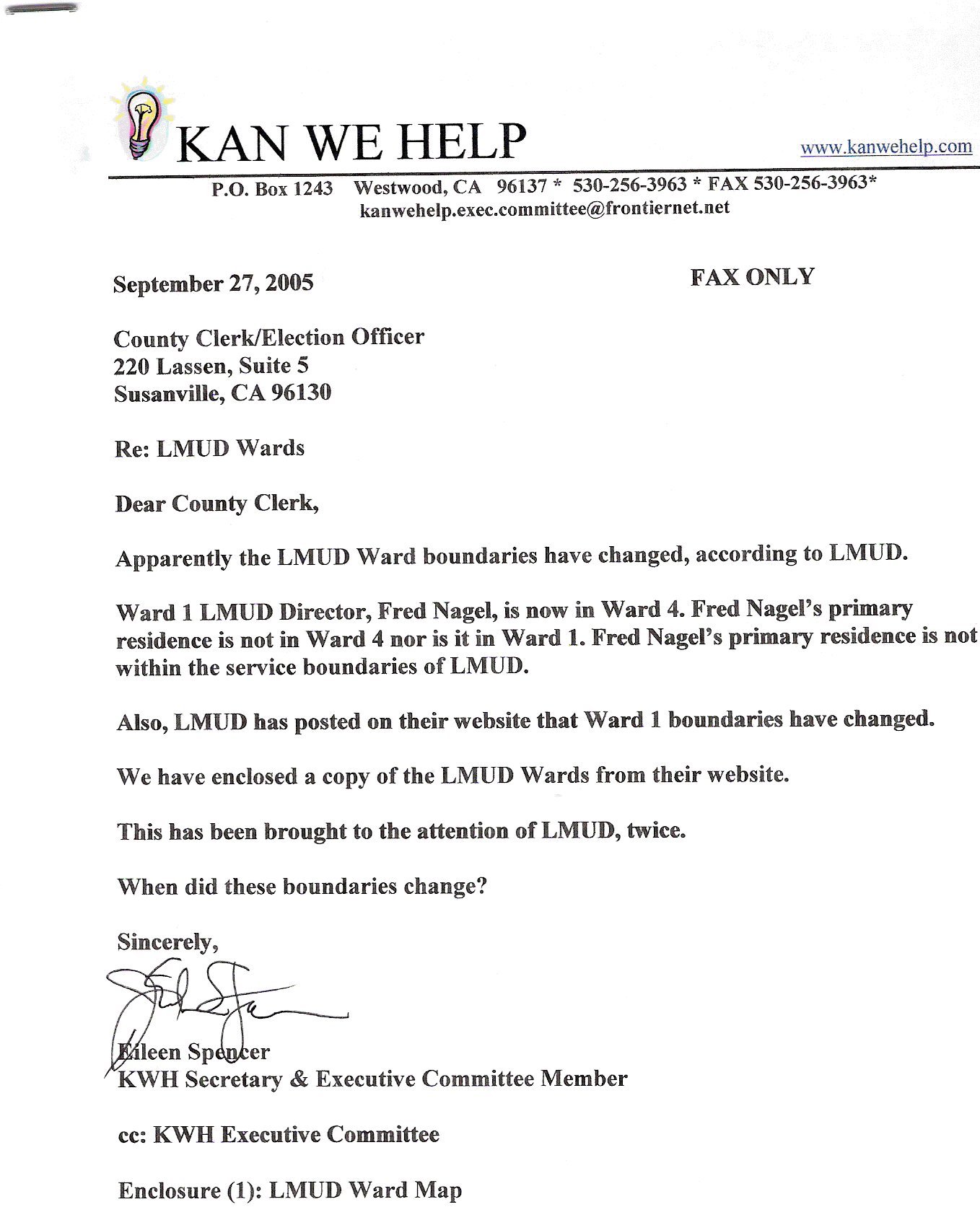 LMUD changes the Ward map the next day
LMUD CHANGED THE WARDS?
On August 22, 2005, KWH asked LMUD to correct the Ward Map. Ward 1 is Ward 4.....Ward 4 is Ward 1
NO RESPONSE ?
LMUD GENERAL MANAGER CONFIRMS THAT THE UTILITY DISTRICT IS CASH POOR
LMUD Financials still just "Smoke and Mirrors"
This LMUD Board is worse than the 2002 recalled Board. They continue to squander the $.035 surcharge that they promised to remove in January 2001. Their wasteful spending and unsound business practices (not power prices) have led them to this crisis.
LMUD IS IN THE SAME SITUATION AS THE CITY OF SUSANVILLE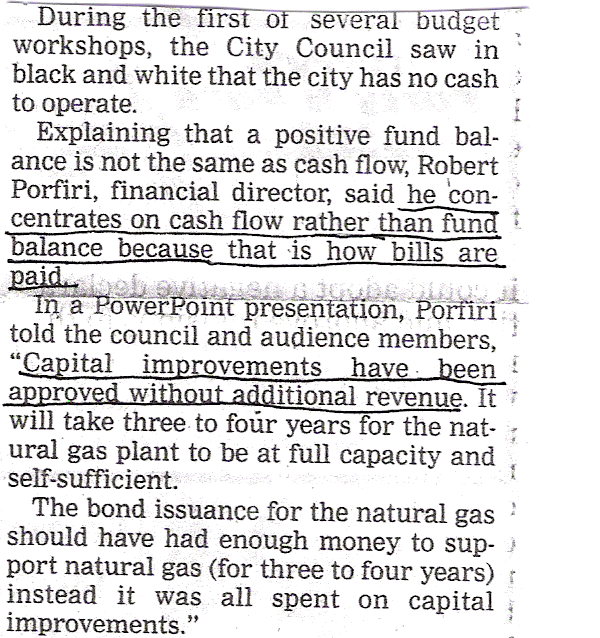 LMUD ADVERTISES FOR GENERAL COUNSEL
LMUD legal budget: $330,000
Request for Qualification and Proposal
LMUD NEEDS $300,000 TO MAINTAIN EQUIPMENT AND LINES. GUESS WHERE THEY COULD GET THE MONEY?
IS THE CITY OF SUSANVILLE TRYING TO DUMP THEIR NATURAL GAS BUSINESS ON LMUD? 8/9/05
But wait......LMUD has no financial capability to purchase anything......
SUSANVILLE WINS LAWSUIT FILED BY Jim & Carol FORBES
LMUD GENERAL MANAGER WANTS TO SHRED PUBLIC DOCUMENTS
Thanks MC
The fox is in the hen house.
here's a real possibility that documents have and are being shredded......
Now we know that Cady plans to systematically shred public documents.
Frank Cady cannot afford any witnesses (staff) this time, to shred public documents, so he wants to hire an outside company to do it. This is typical of Frank Cady. He did this in 2001 when the District lost $8.7 million dollars speculating on the energy market. It keeps him out of jail.
August 10, 2005, LMUD's Agenda item 5 A 2:
"Consideration of Approval of Agreement with Recall Secure Destruction Services, Inc. and authorization for President to sign."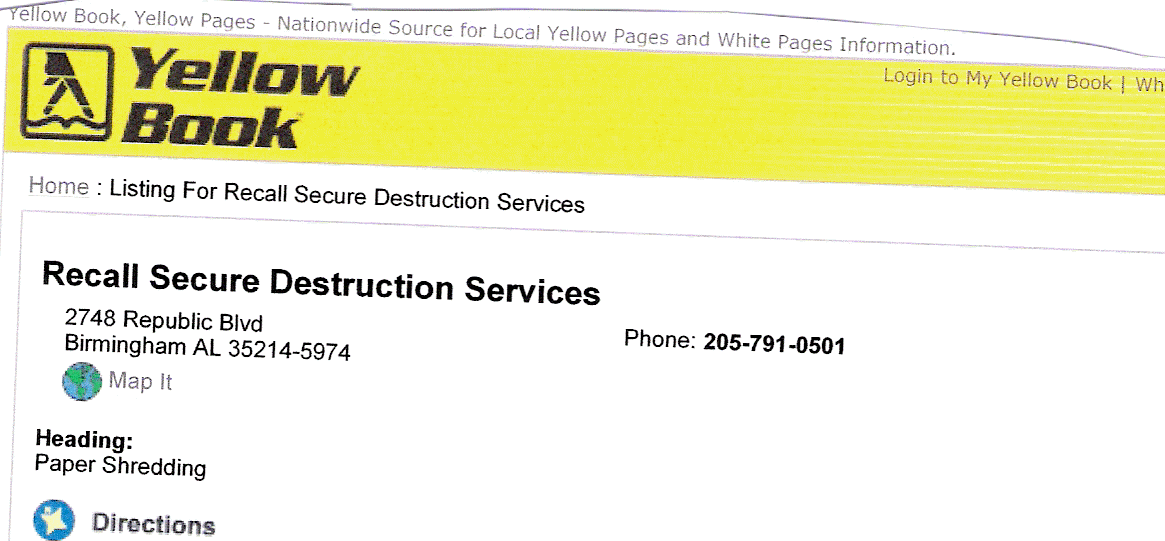 FRANK CADY LIES ABOUT " EXECUTIVE SECRETARY" POSITION
Vernacular: the shop talk or idiom of a profession or trade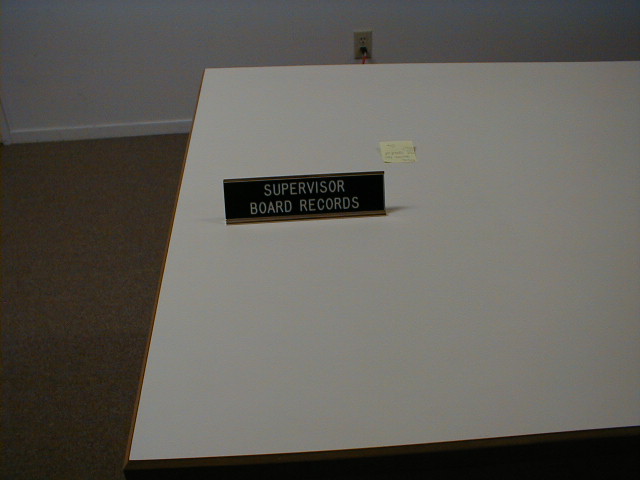 Jeri Kresge is the "Supervisor of Board Records" or PRA clerk, or Board Secretary or Executive Secretary to Frank Cady or Administrative Assistant to Frank Cady.......LOTS OF HATS
Frank Cady states:
"No new Executive Secretary has been hired, the Board Secretary/Administrative Assistant to the General Manager (?) is now being referred to, in my vernacular, as my Executive Secretary"
Frank Cady's "idioms" need to focus on telling the truth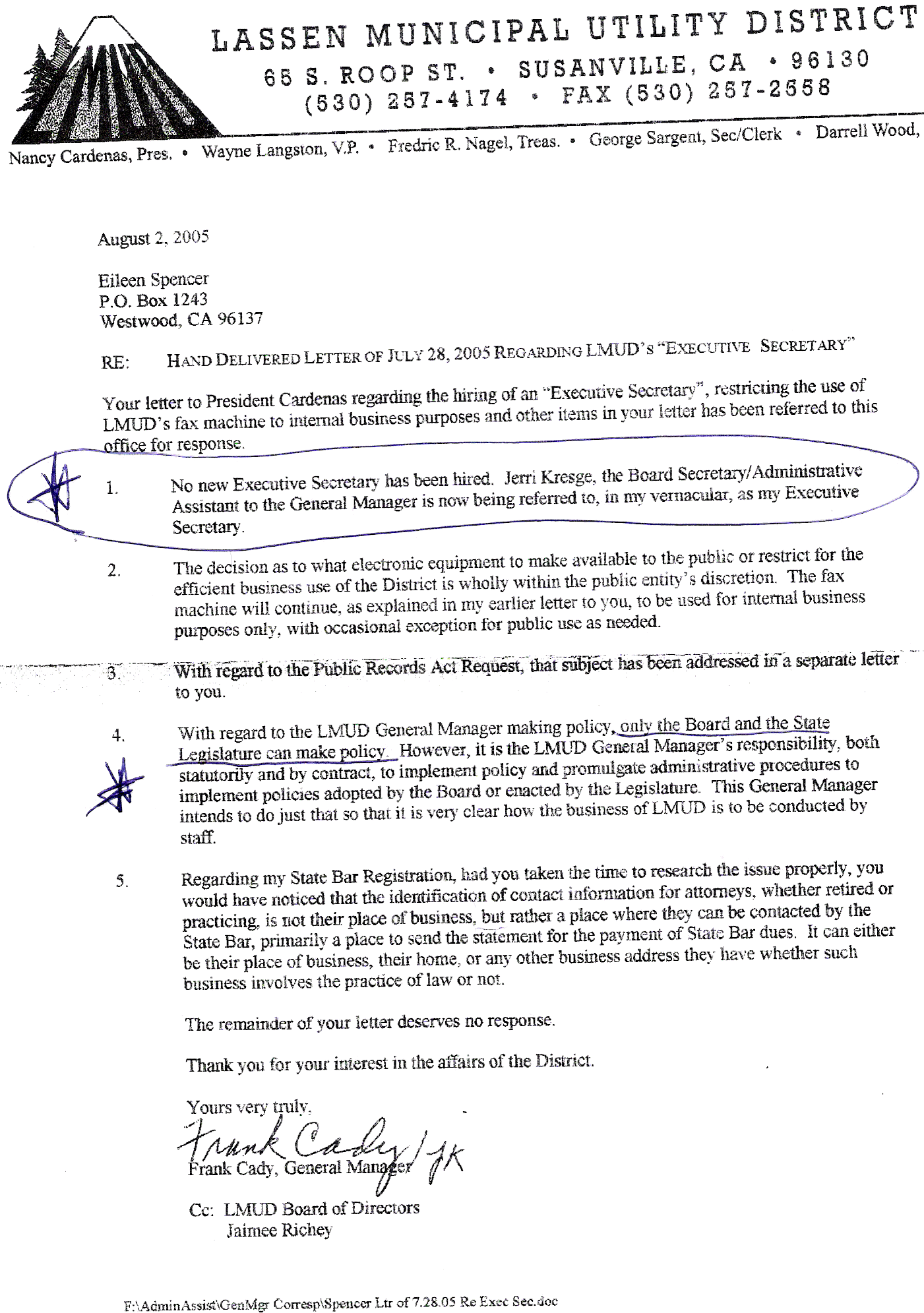 CADY PUTS RICHEY ON THE GRAVY TRAIN
LMUD hired a general manager that is an "EXPERT" on the Public Records Act, yet he lets Jaimee Richey, Cady's law partner, process public records requests at $180.00 an hour. Richey contract
A $.75 request, for Richey's LMUD three page contract, was given to Richey to process for $180. LMUD has a PRA clerk........what exactly does this clerk do?
When Frank Cady comes to the LMUD Board to increase electric rates, please remember these management decisions.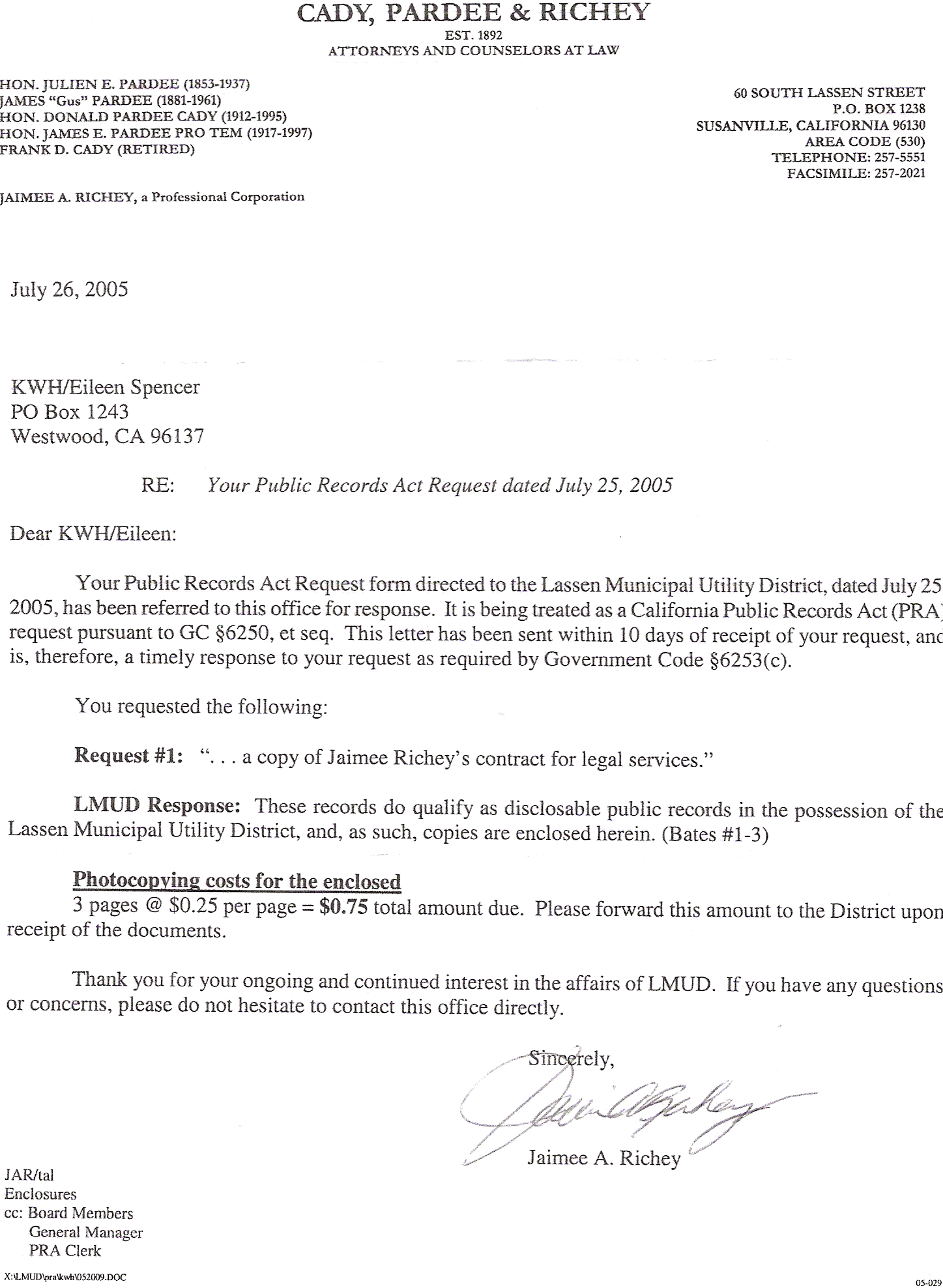 where's frank cady.....he is never in his LMUD office.....maybe he's still at 60 S. Lassen running his law practice on the ratepayer's dime?
where's the LMUD board?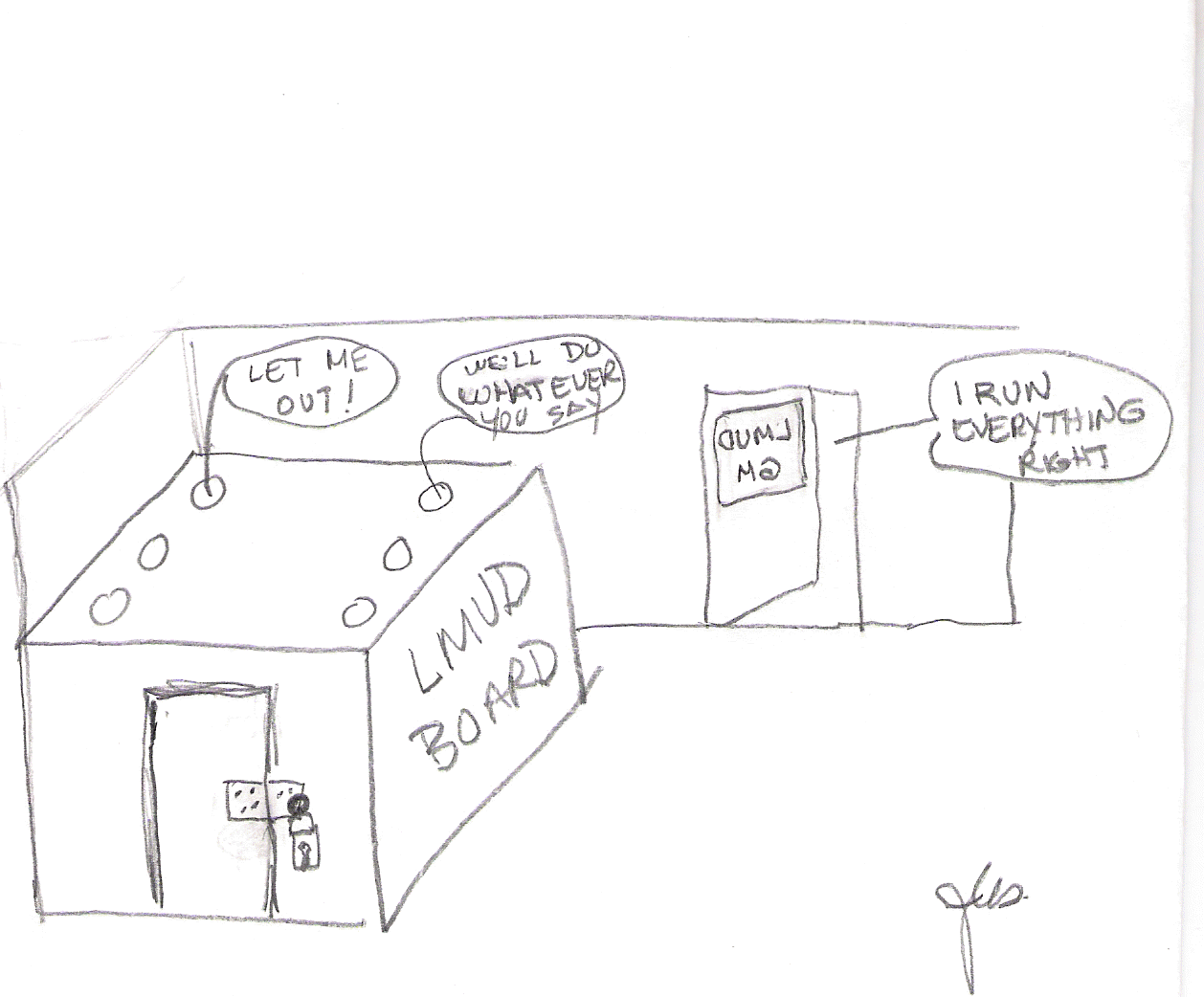 Cady discriminates against KWH sending faxes to LMUD, a public utility
In typical "Cady style", he wants to create a legal problem for LMUD
The LMUD Public Records Act Request Form allowed the public to fax their requests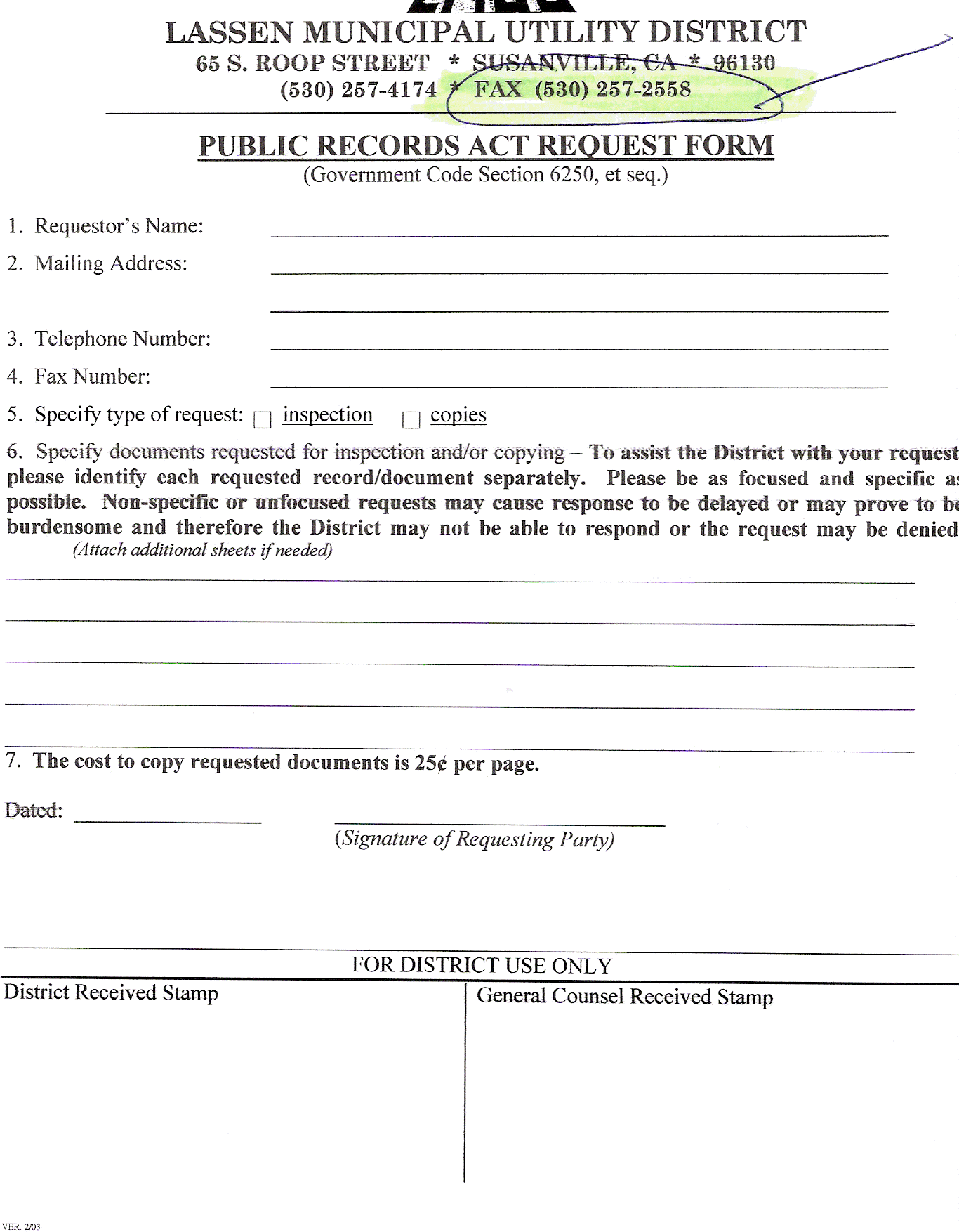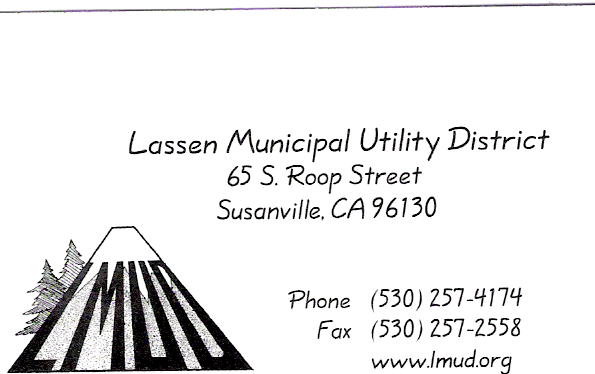 Frank Cady intends to restrict faxes that irritate him. KWH sends faxes only for public records requests and letters to the LMUD Board.
This is LMUD's business.
Frank Cady is paying an additional fee to restrict KWH from faxing letters to the Board.
Cady will no longer notify the ratepayers that a LMUD meeting is scheduled. Cady and the LMUD Board can then hold "Special Meetings" that no one will be notified of. LMUD has faxed KWH the agenda's in the past and Cady says that by "a General Manager Administrative Policy" he will no longer do that and if you want the agenda sent to you, you must pay $50 a year.
The LMUD Agenda is normally one to two pages.
Ratepayers can obtain a copy of the Agenda free, by visiting the LMUD office or by calling everyday to see if there is a special meeting.
WHAT HAPPENED TO THE AUTHORITY OF THE LMUD BOARD. Resolutions must be passed by the Board for such changes. Has Cady thrown out the Board of Directors too?
LMUD BOARD NO LONGER ACCOUNTABLE TO THE RATEPAYERS
CADY ALLOWED TO CLOSE LMUD TO THE RATEPAYERS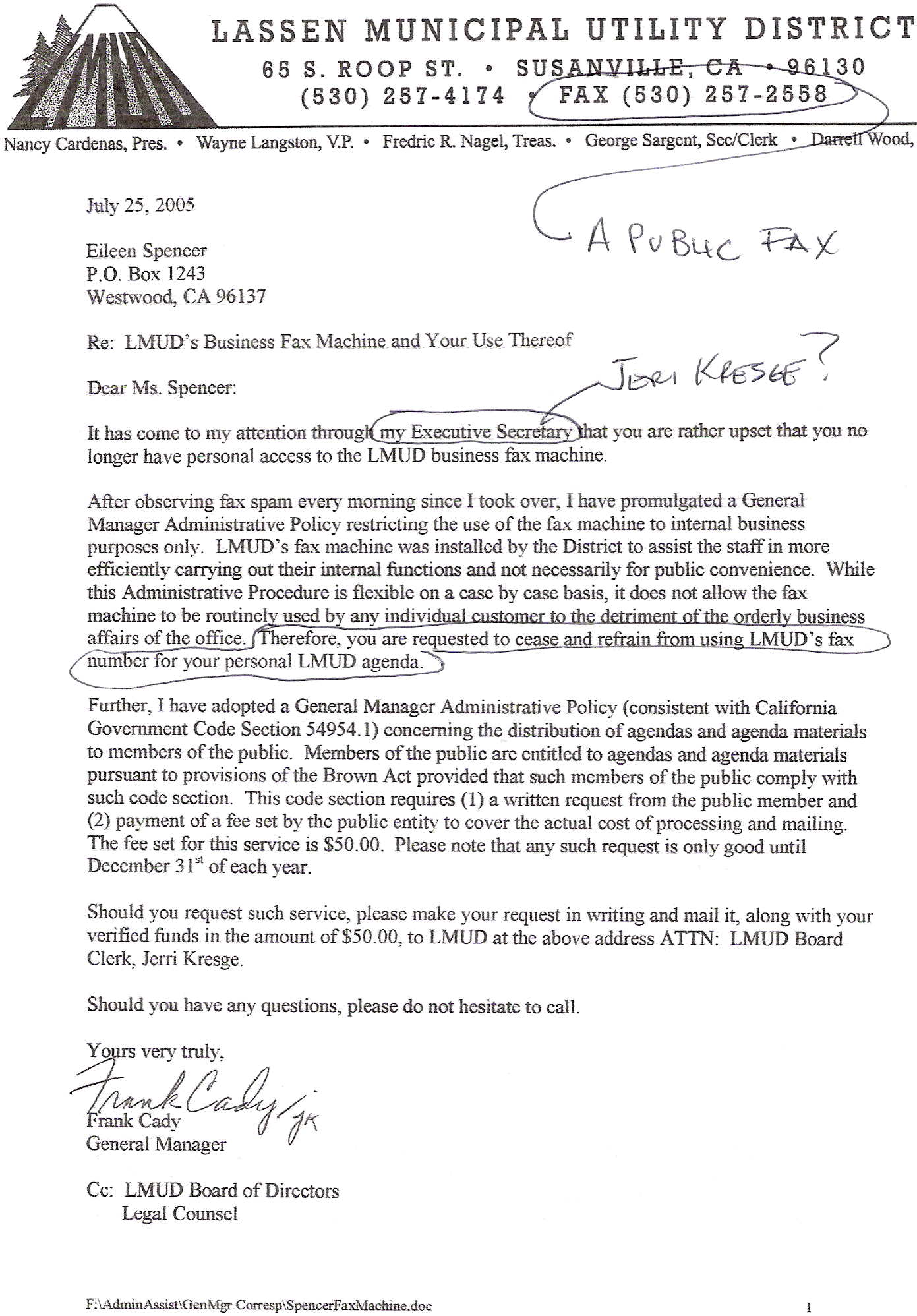 FRANK CADY STILL LMUD COUNSEL
Frank Cady has not removed his name from LMUD Litigation. LMUD is still allowing Cady to represent LMUD on their numerous lawsuits. Example
FRANK CADY BLOCKS KWH PHONE NUMBER
Frank Cady is so intimidated by KWH that he decided to block receiving calls from KWH. Frank Cady thinks he can block any ratepayers phone number.
LMUD Recording:
"I'm sorry but the party you have called is not accepting your call"
Childish, immature, unprofessional...yes.
The problem is that this is a public phone not a private corporation's phone. The people pay the phone bill and the people should have access to LMUD. .
LOOK FOR MORE BAD MANAGEMENT DECISIONS
LAFCO HAS NEW CHAIRMAN
The Lassen County Lafco Board voted Rocky Joy as the Chairman of Lafco at the beginning of the meeting. (6/13/05)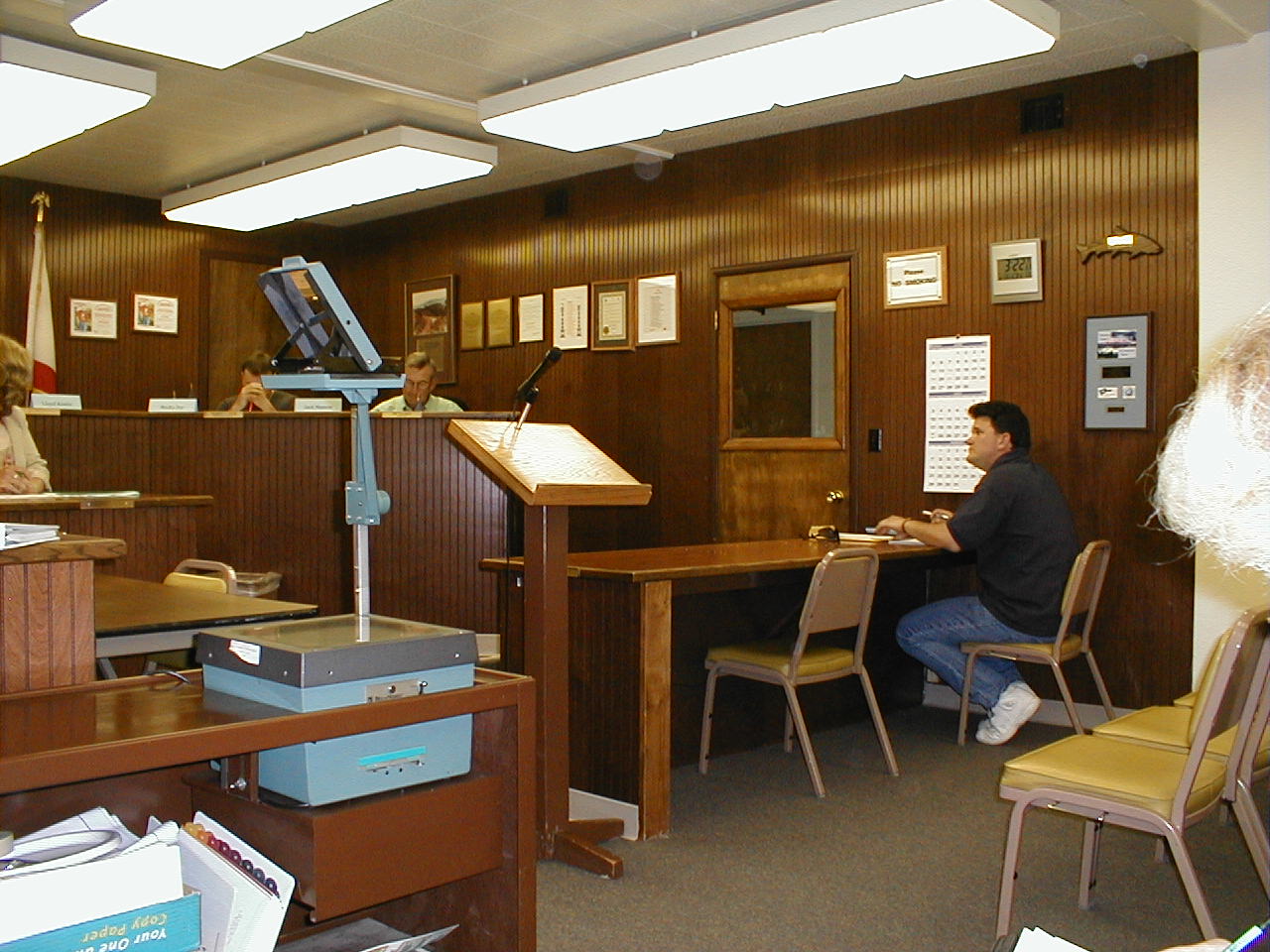 The gentleman sitting to the right asked Jack Hanson if the press ever came to LAFCO meetings. Jack Hanson answered that they "only come if LMUD is on". The gentleman asked if he could sit at the press table and Jack Hanson told him"Sure".
The gentleman ,ANDREW WELBOURN, on the far right had a blue "Banner Health" shirt on.
LMUD HIRES CADY AS GM
LMUD paid Carl Mycoff to prepare Cady's contract. This contract was discussed in closed session and announced in open session that Cady had accepted the terms. LMUD will pay Cady $10,800 a month for twelve months and then review his salary and contract.
Cady Pardee & Richey LLP cannot represent LMUD as of June 8, 2005. Cady is a partner in this law firm.
The "MEDIA" has changed since the internet, You can find little and big news on the internet
KAN WE HELP
Redding Searchlight Blogs Sacramento Bee
San Jose Mercury News San Francisco Examiner
Definition of Media: communication organization
Definition of Press: printing or publishing establishment