1/9/18
Honey Lake Valley Recreation Authority
Joint Powers Authority, a public entity
Lassen County & the City of Susanville

Payments to the City of Susanville
#1 Design & Build Request for Proposal- all bids rejected
#2 Design & Build Request for Proposal-secret bid opening again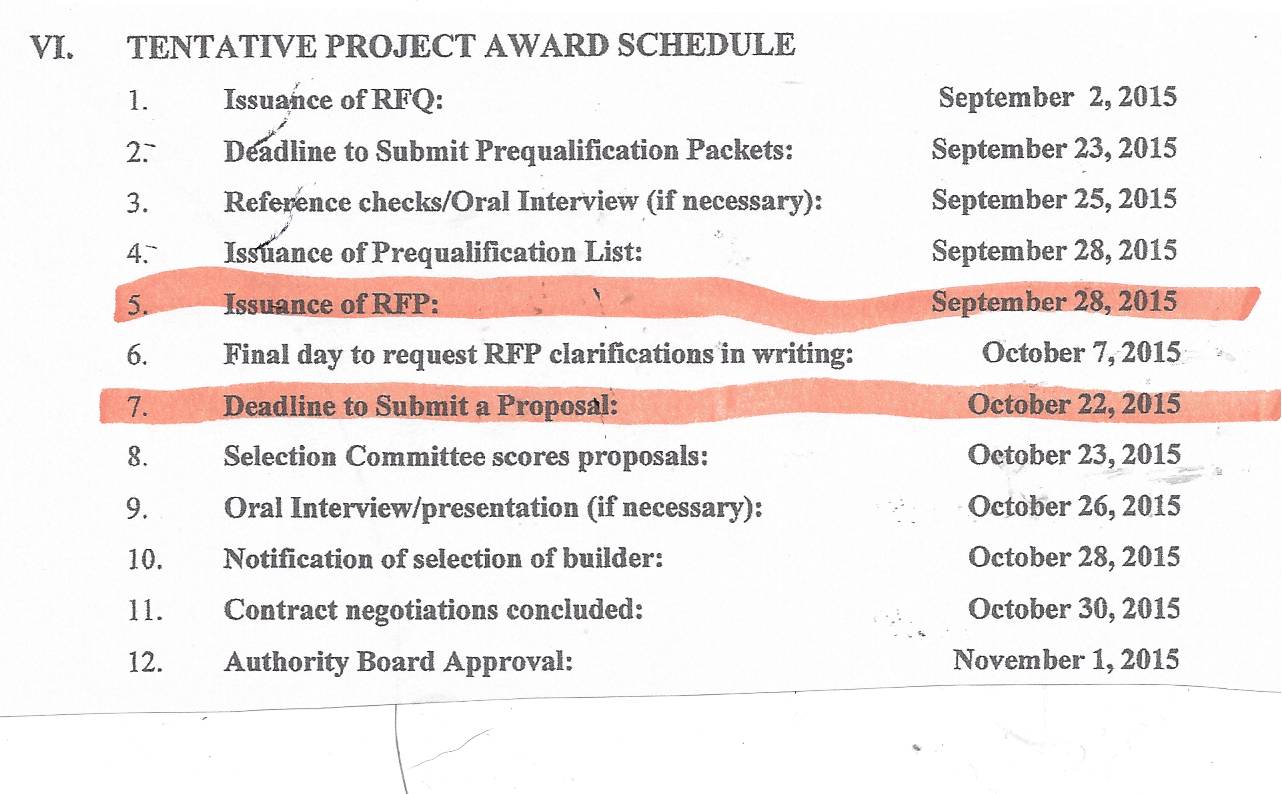 ???????????????????????????????????????????????????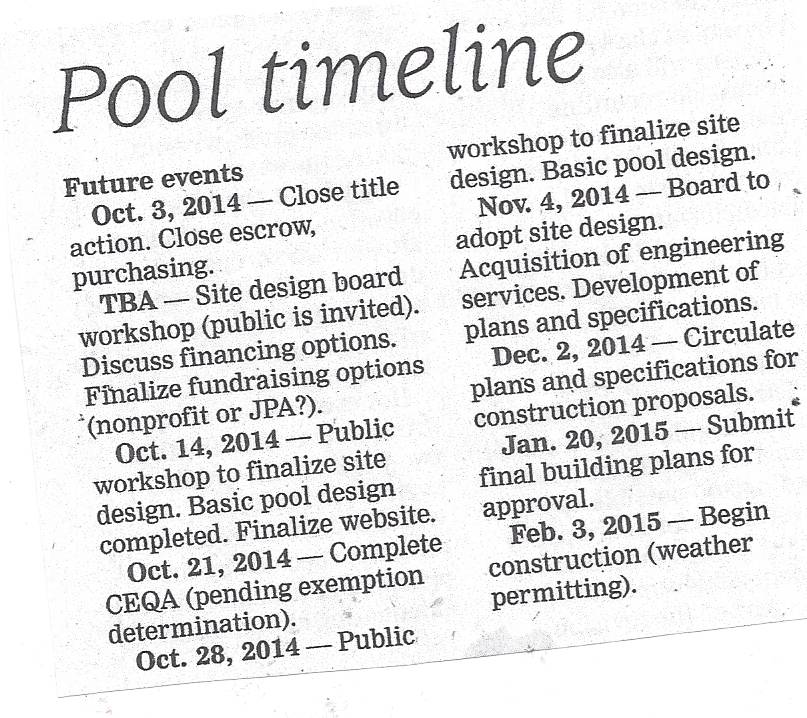 BUDGET

Lassen County Finally Adds Link to the
Honey Lake Valley Community Pool
on their website
This pool was paid for by two public loans.
One from the County and one loan from Susanville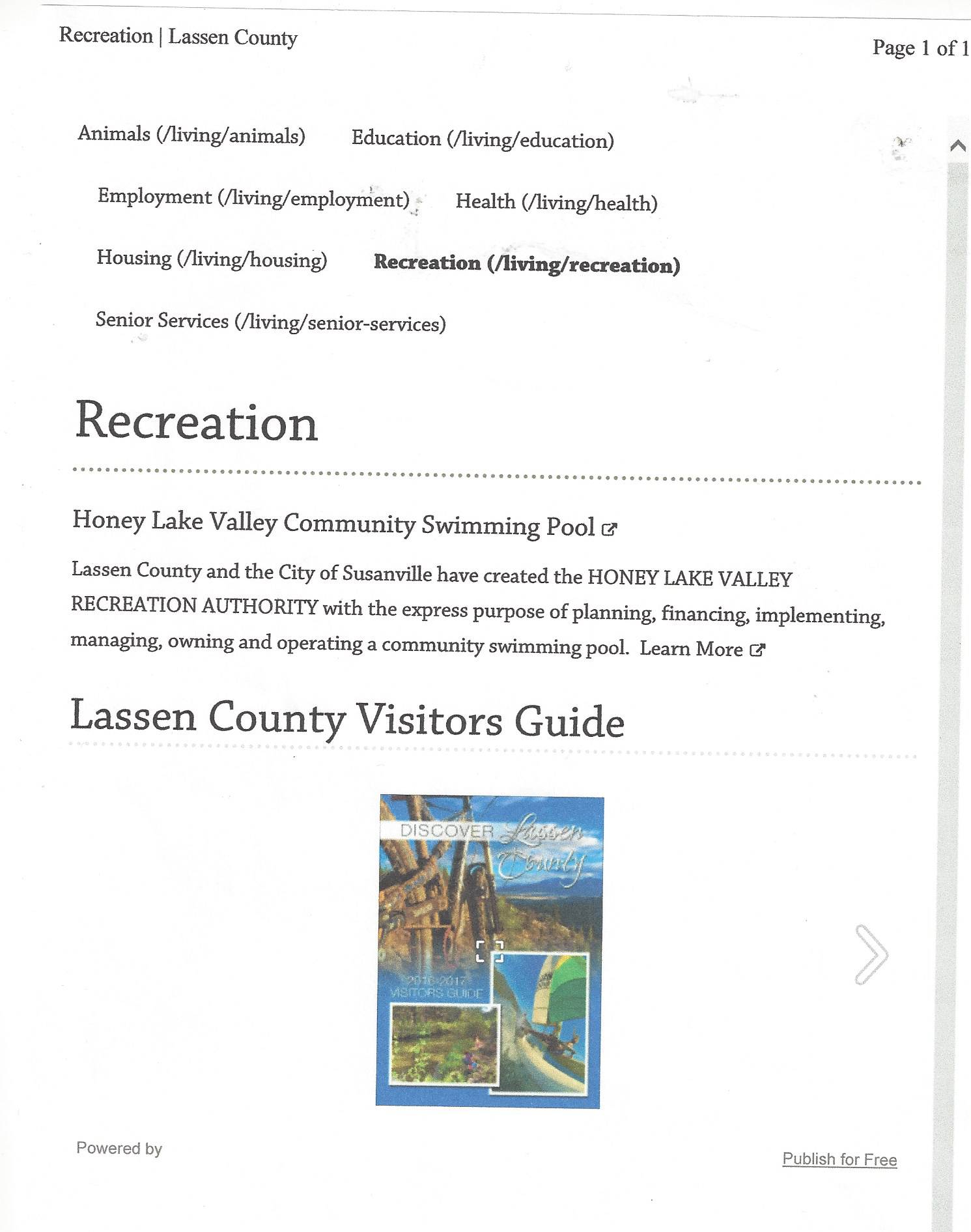 City of Susanville has a new Community Pool
The City of Susanville is the only incorporated city in Lassen County. The taxpayers of Susanville donated a million dollars + and the taxpayers of Susanville (residents of Lassen County) paid another million dollars + from the County coffers.
Susanville taxpayers paid twice so naturally they should act like they own the Honey Lake Valley Pool at 800 South Street. The County has relinquished the management, financial control and interest over the pool. The City of Susanville now totally runs the pool in all aspects.
This explains why the County will not attach any link to the Honey Lake Valley Community Pool on the County's website, ANYWHERE. The City of Susanville has refused to link even the Lassen Rural Bus Schedule on their website.
LET'S MAKE SOMETHING PERFECTLY CLEAR:
THE NEW COMMUNITY POOL IS FOR SUSANVILLE
With three Susanville residents on the 5 member HLVRA Board, the County has even lost their voice on the Joint Powers Authority (HLVRA).

This could be why the outlying towns in Lassen County
did not want taxpaper money spent on a pool for Susanville
The "Susanville" Community Pool ......could it be true?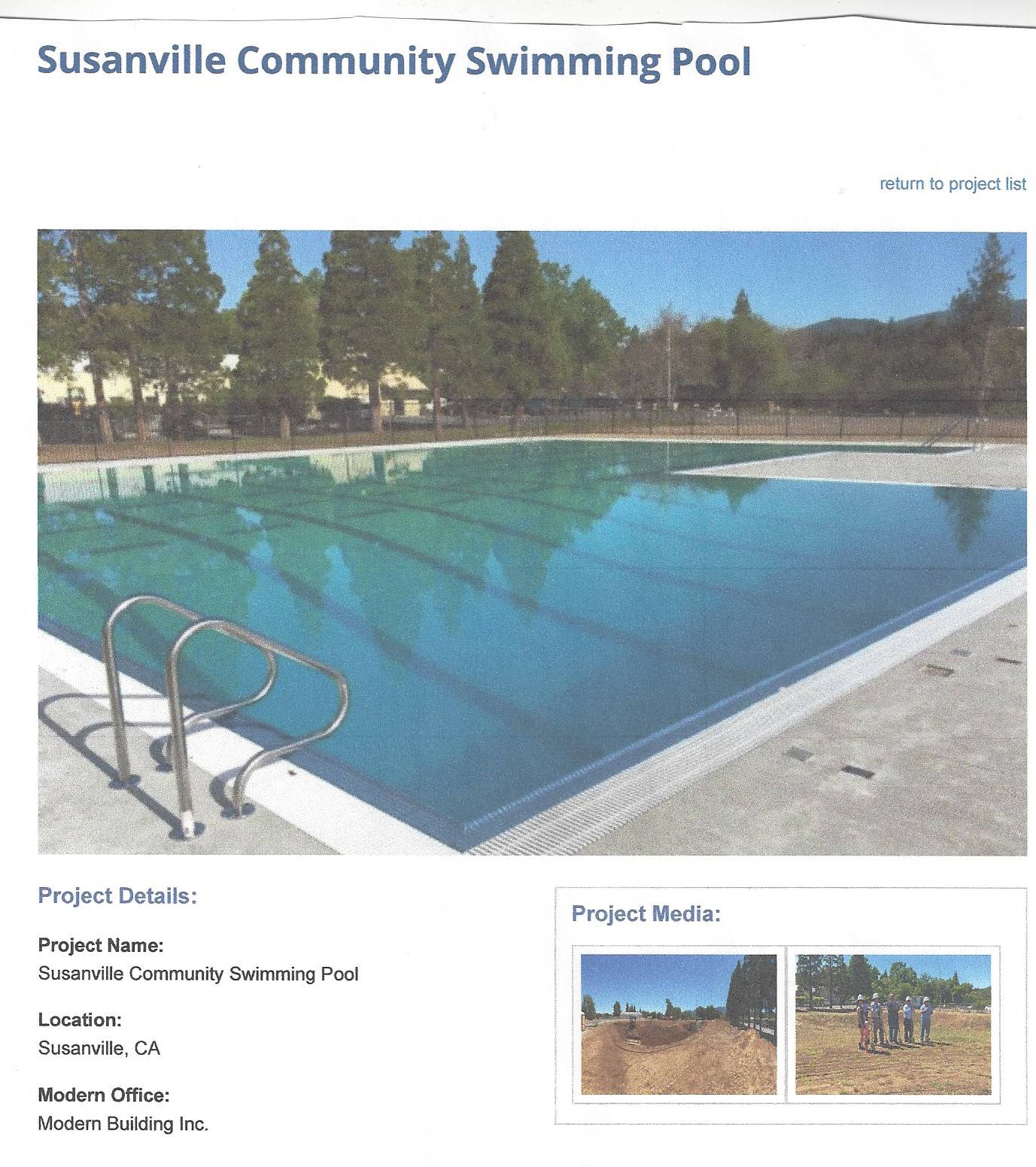 The last time Kan We Help checked this was a joint effort by Lassen County and the City of Susanville.
The City of Susanville promotes the pool as their "Community Pool" and provides a link to the Honey Lake Valley Recreation Authority's Community Pool website
THERE IS NO LINK OR MENTION OF THE HLVRA'S POOL ANYWHERE ON LASSEN COUNTY'S WEBSITE?
THERE IS NO LINK TO THE LASSEN RURAL BUS SCHEDULE THAT WOULD BRING SWIMMERS FROM ALL OVER LASSEN COUNTY TO THE NEW POOL ON LASSEN COUNTY'S WEBSITE, OR THE CITY OF SUSANVILLE OR THE HLVRA'S WEBSITE?
KAN WE HELP HAS REQUESTED THESE LINKS TO BE ADDED.........TWICE NOW!


Honey Lake Valley Pool Open
Who will use it?
800 South Street, Susanville, CA
This pool is a County wide swimming pool that Lassen County and the City of Susanville paid for with tax dollars. The HVLRA has installed a bus kiosk in the front so that LRB can drop off/pick up swimmers. The HVLRA now has a website for pool hours but needs to add a link to the Lassen Rural Bus website.
HLVRA POOL GRAND OPENING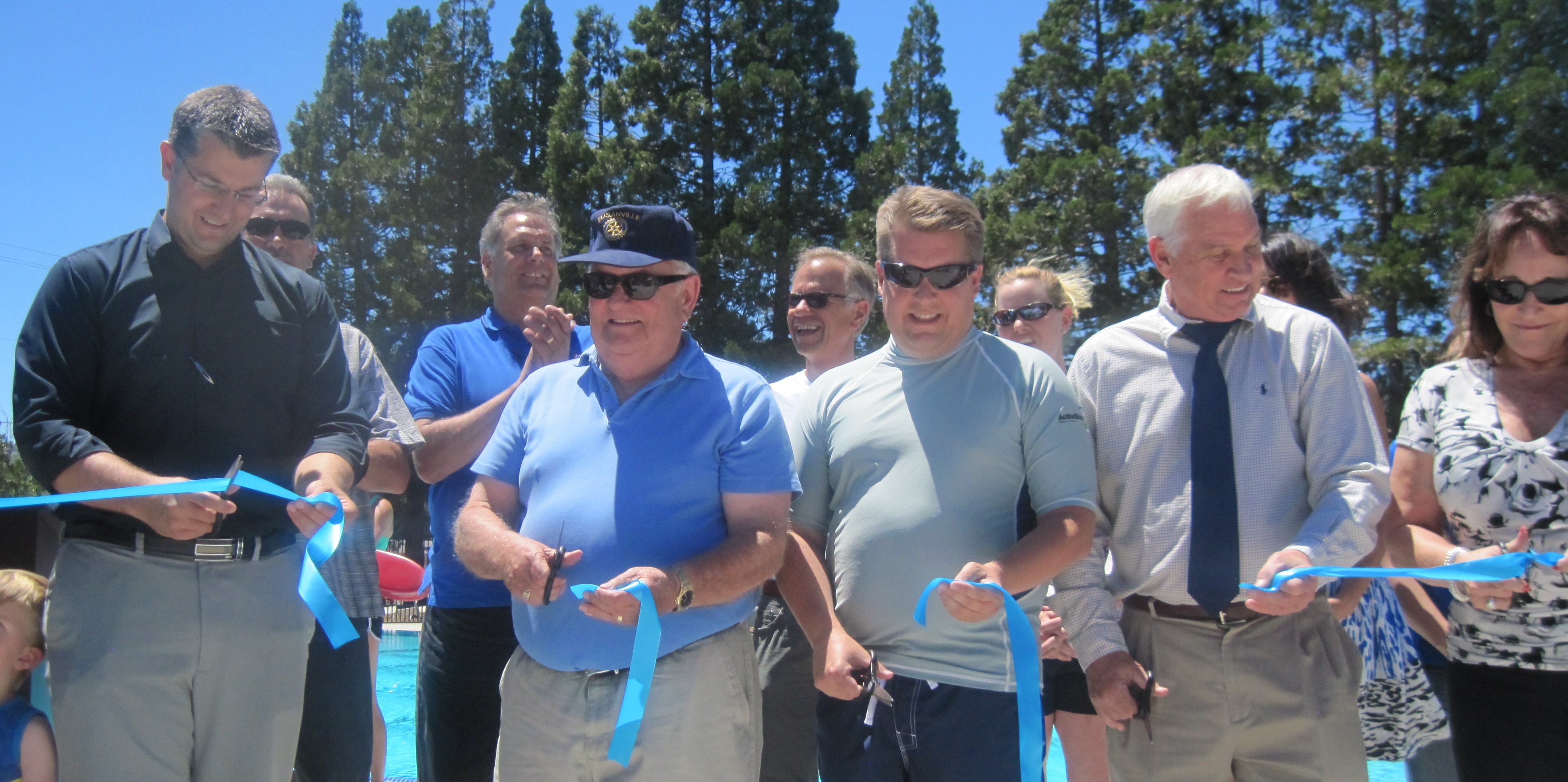 Left to right: Jared Hancock, Dave Meserves, Brian Wilson, Tom Hammond, Kathy Garnier
FREE SWIM TIME
Honey Lake Valley Community Pool
will open on
Saturday, July 1, 2017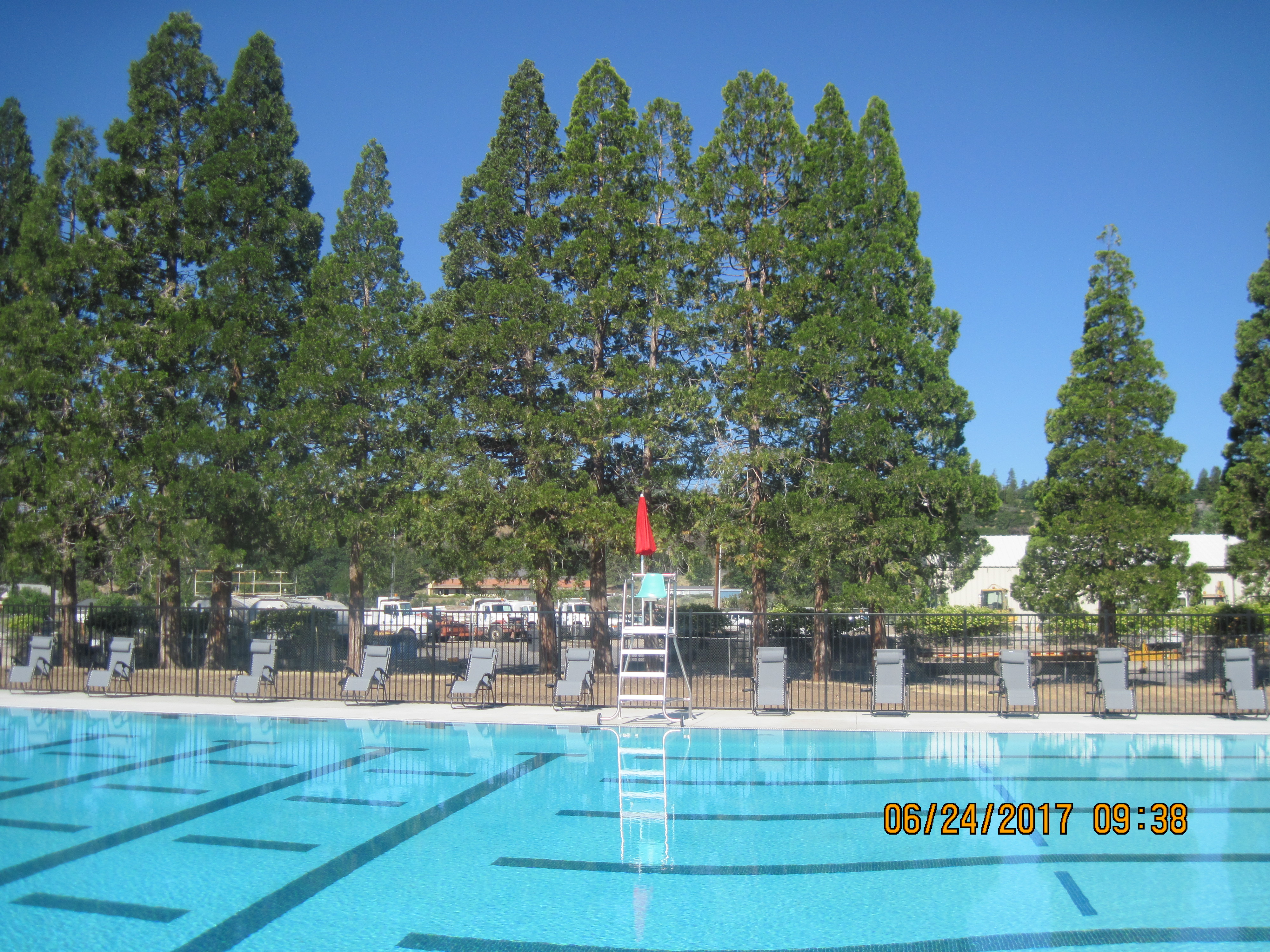 800 South Street, Susanville, CA
Pool will open in early July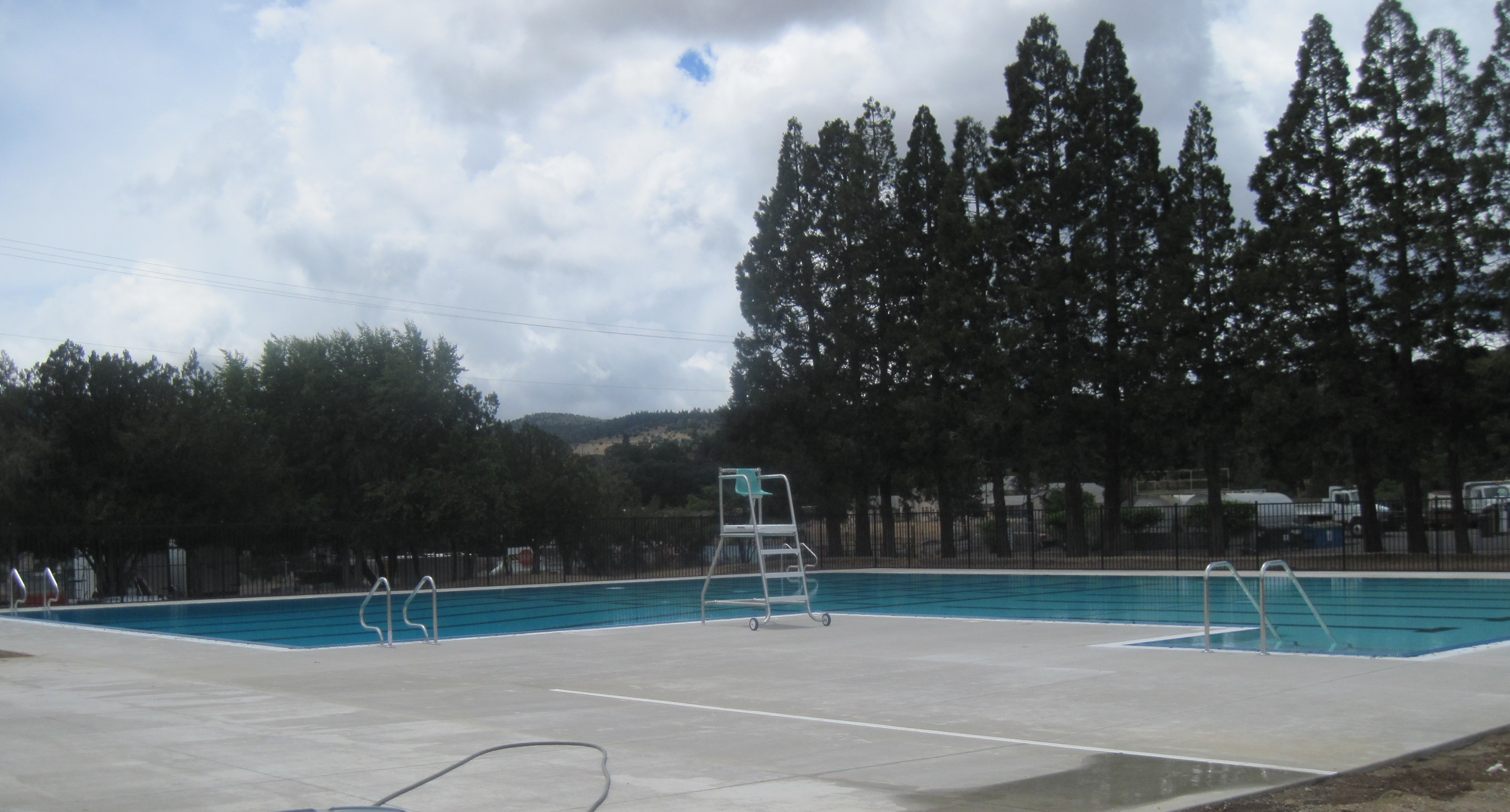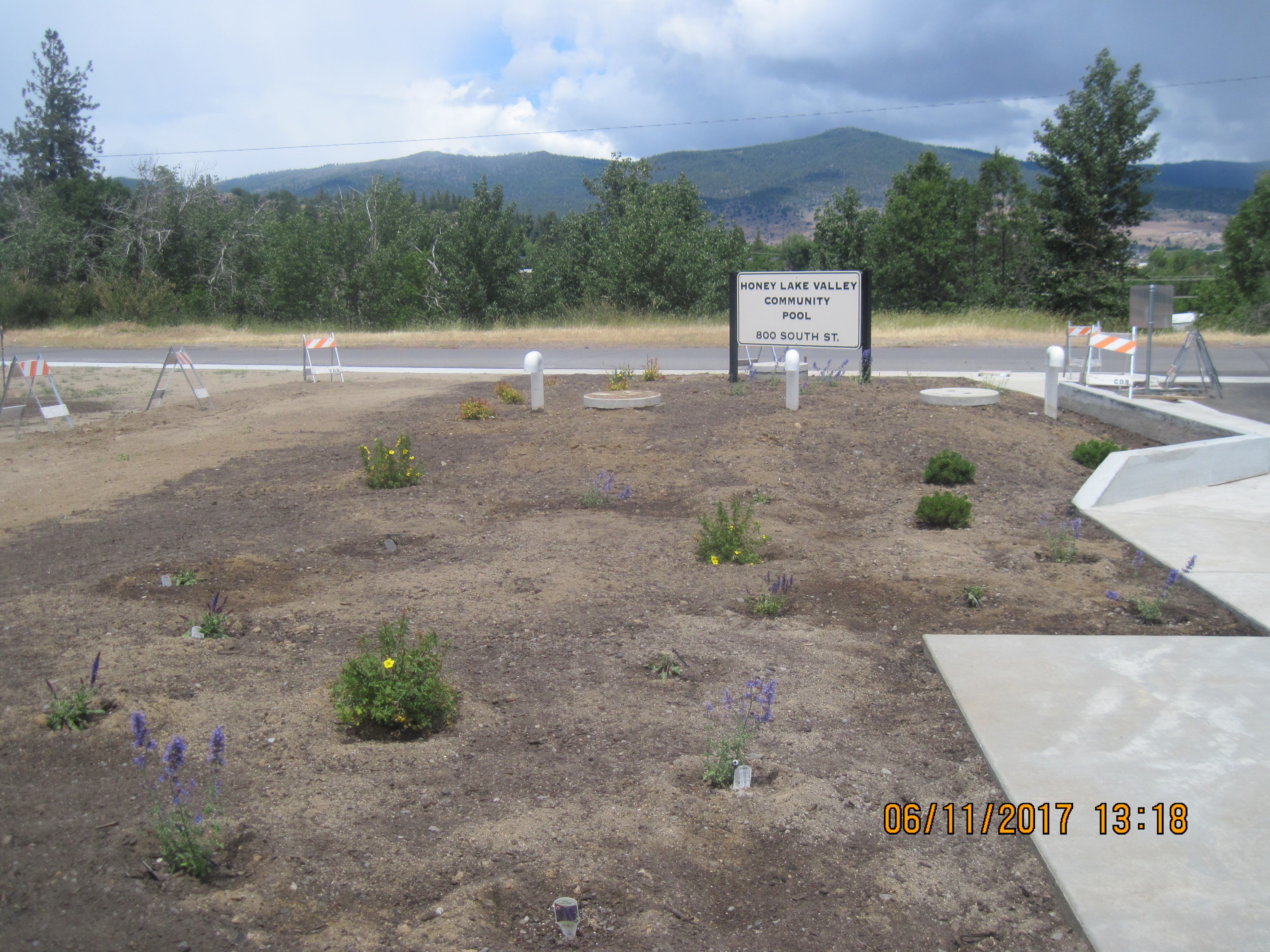 Don't worry, they will grow !
LET'S GET READY
TO
SWIM
The Honey Lake Valley Community Pool
will open in 2017....
....after three years of waiting for this pool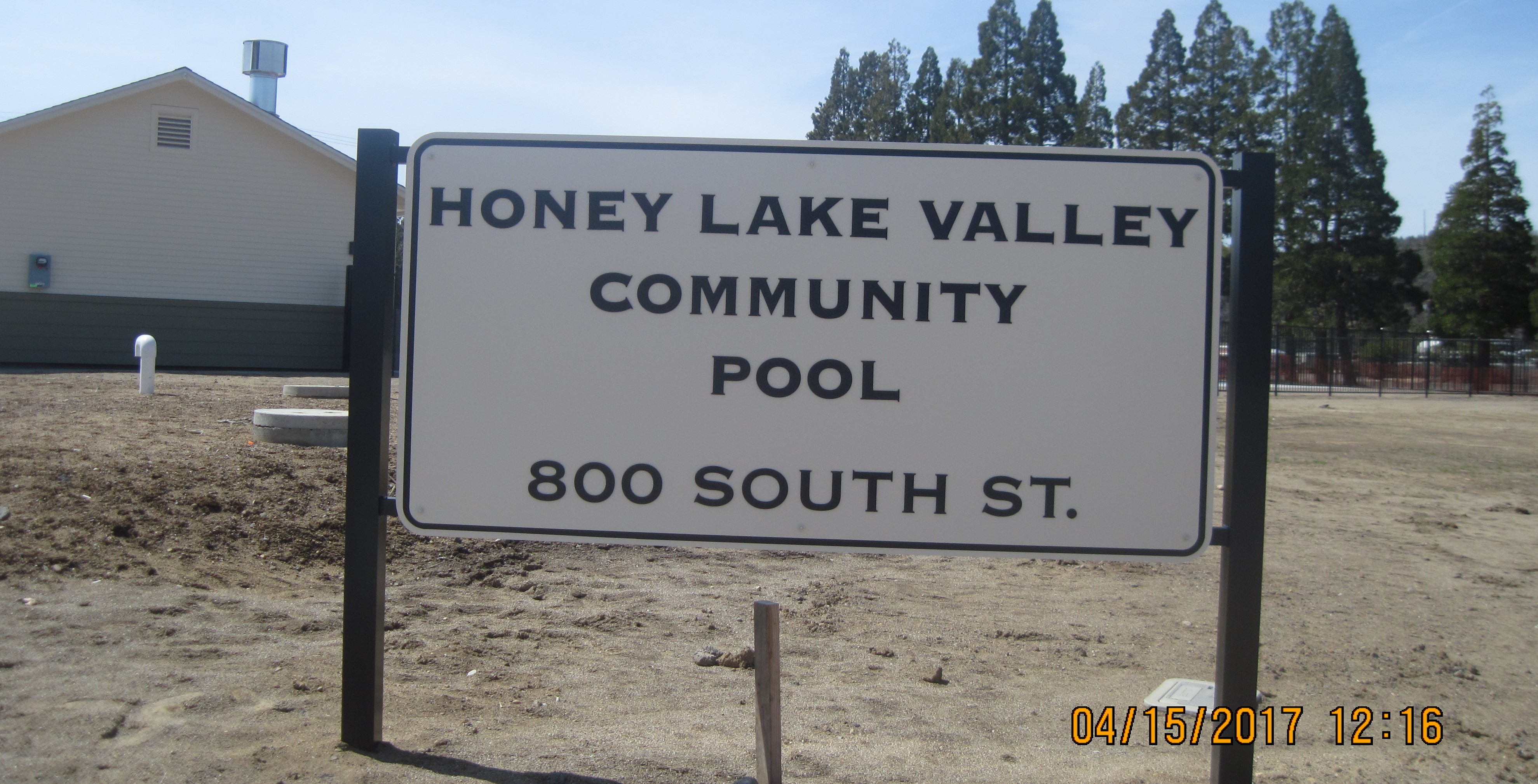 The sign will be lighted and have landscaping shrubs, trees and rocks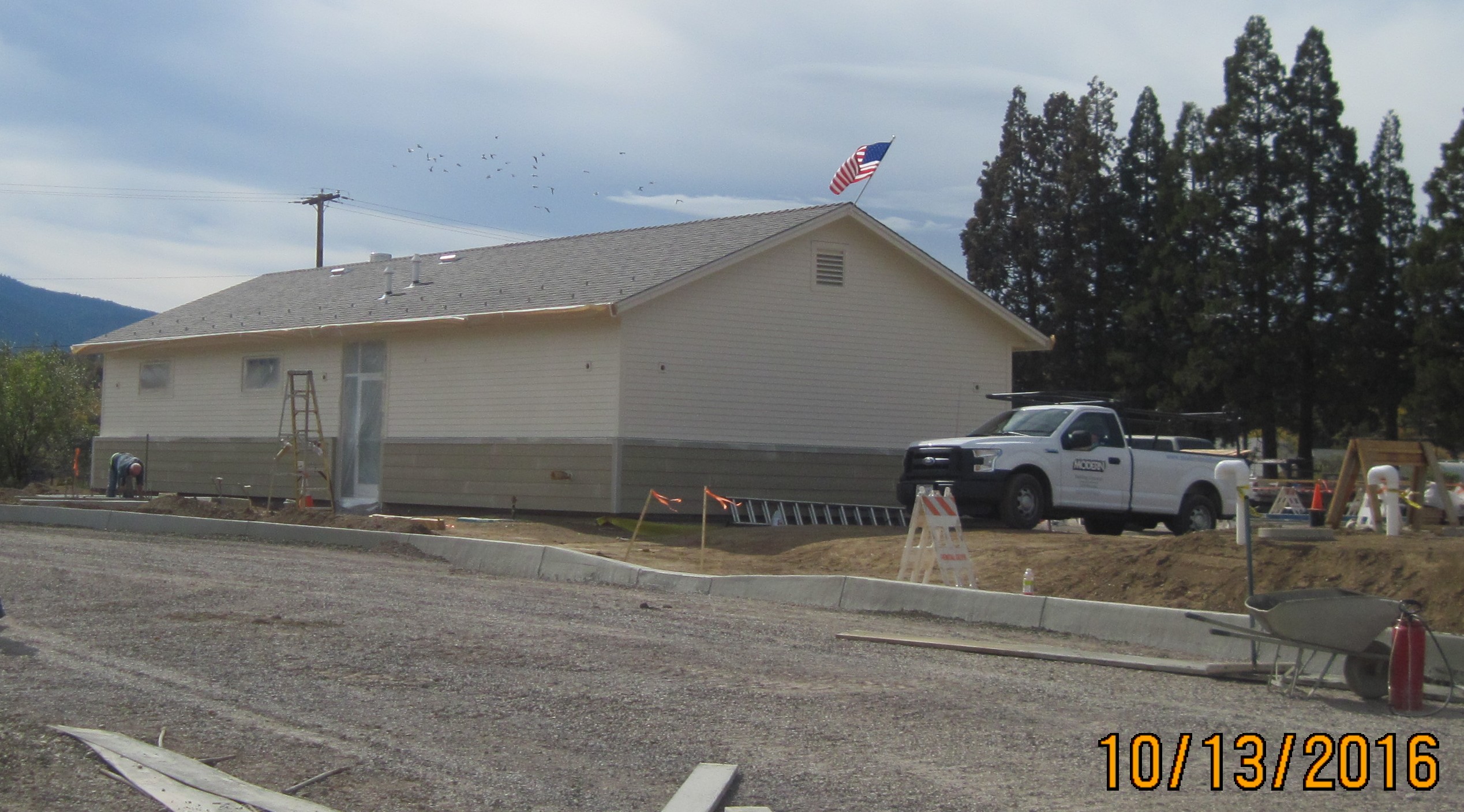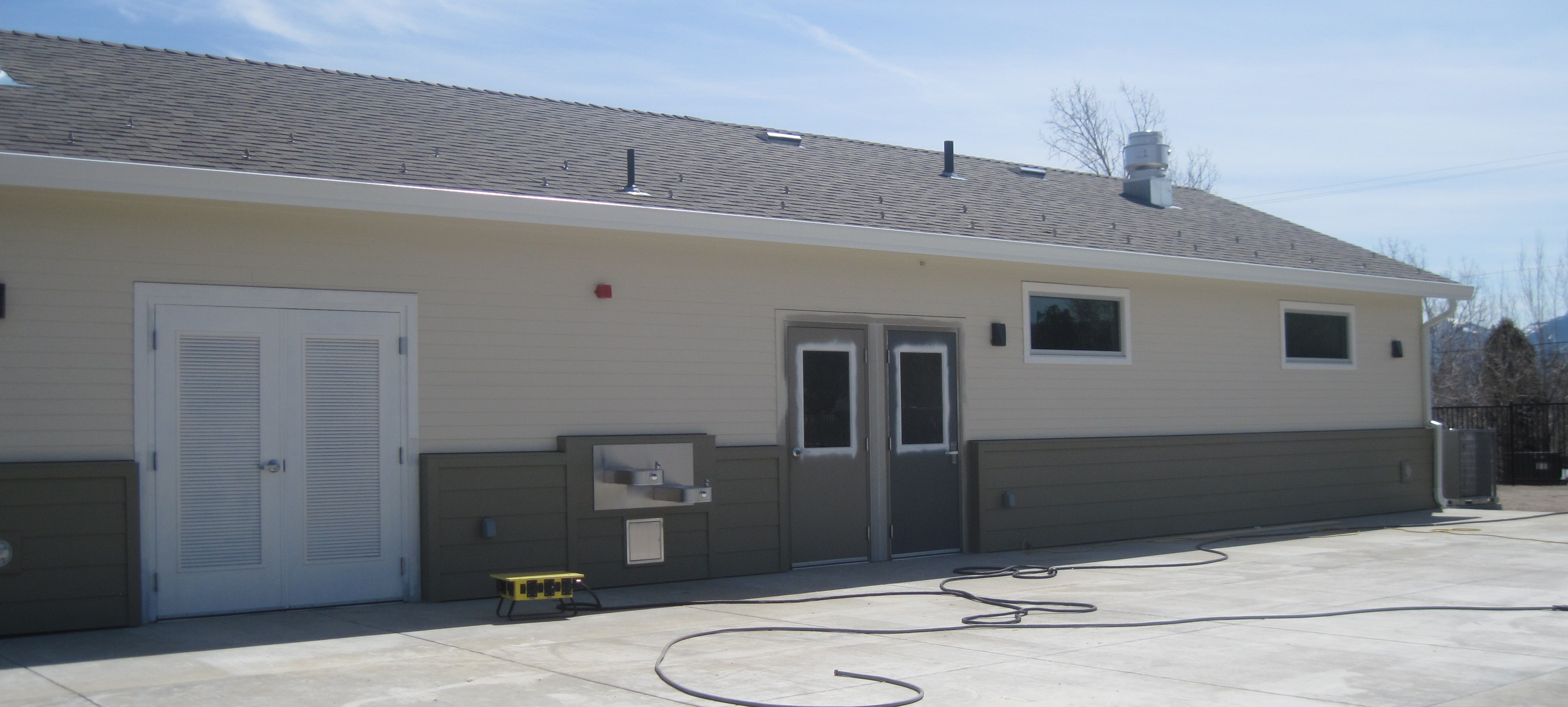 Pool side of building. White doors house the equipment, next two doors go to the lobby of the pool house and dressing rooms are on the right
NEED FOUR GOOD SUNNY DAYS TO FINISH THE POOL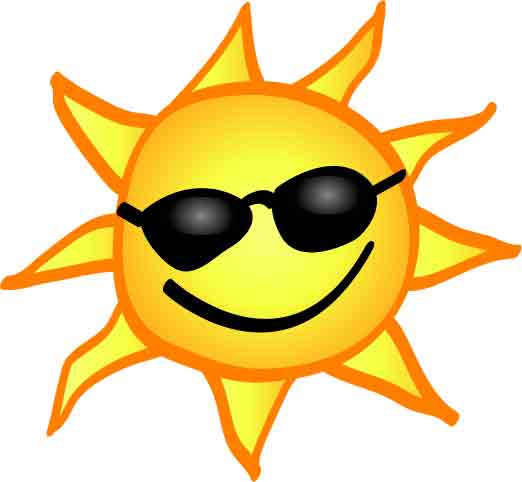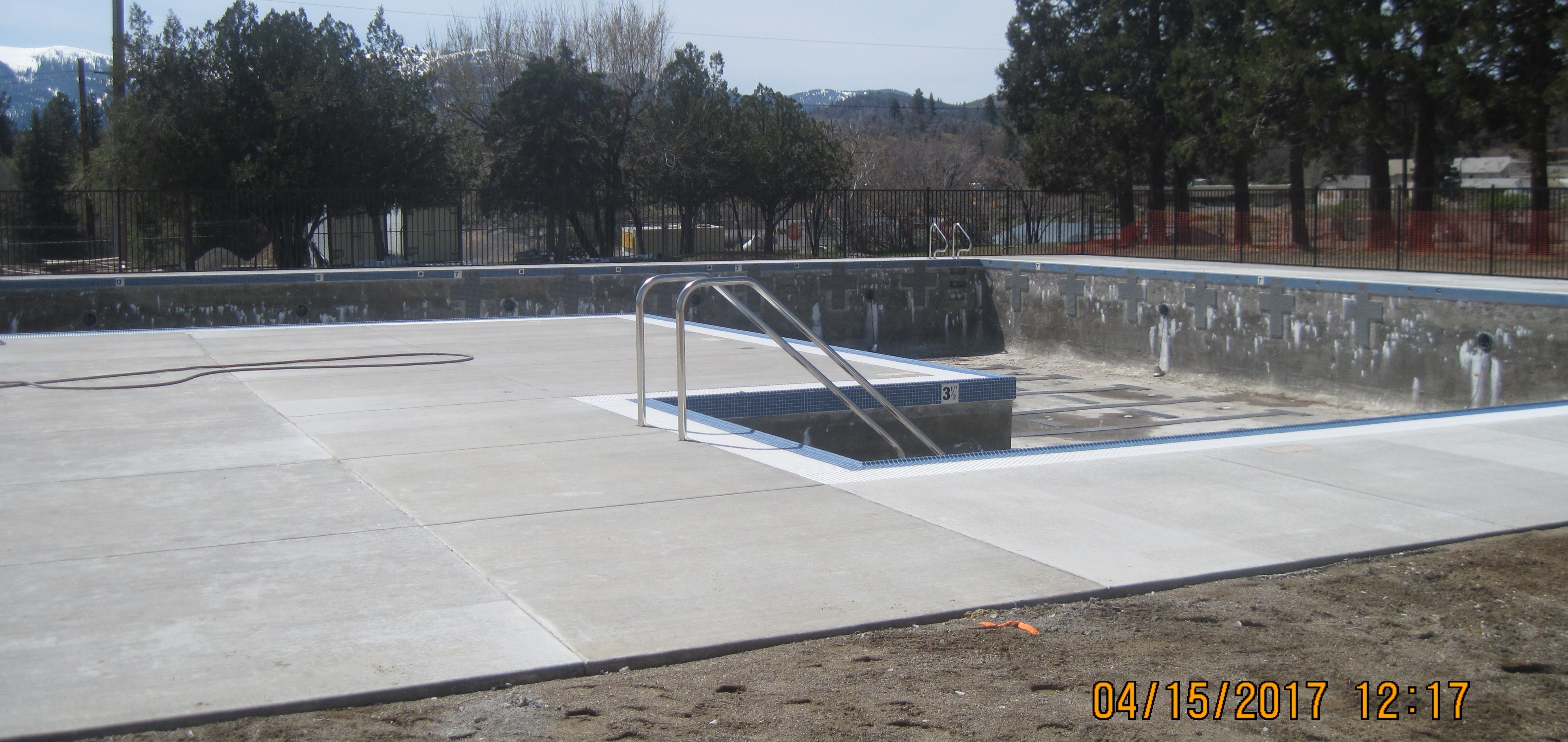 HLVRA Leases "triangle" from the City of Susanville ?
The HLVRA leased the .17 acre triangle from the City of Susanville for 99 years.
The community pool project shrank when the funds could only provide for the construction of a smaller pool and a small administration building.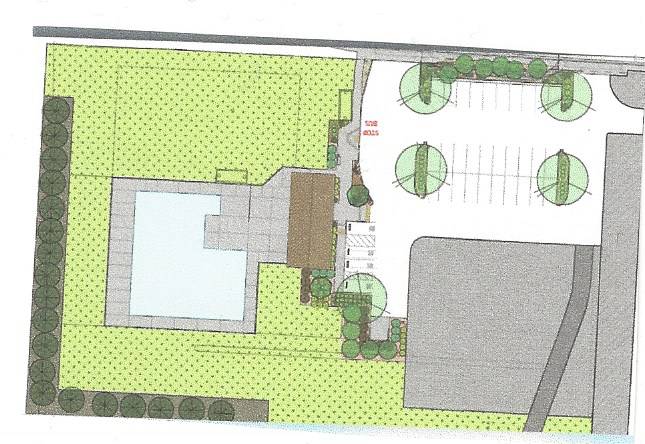 Lots of room to expand the community pool area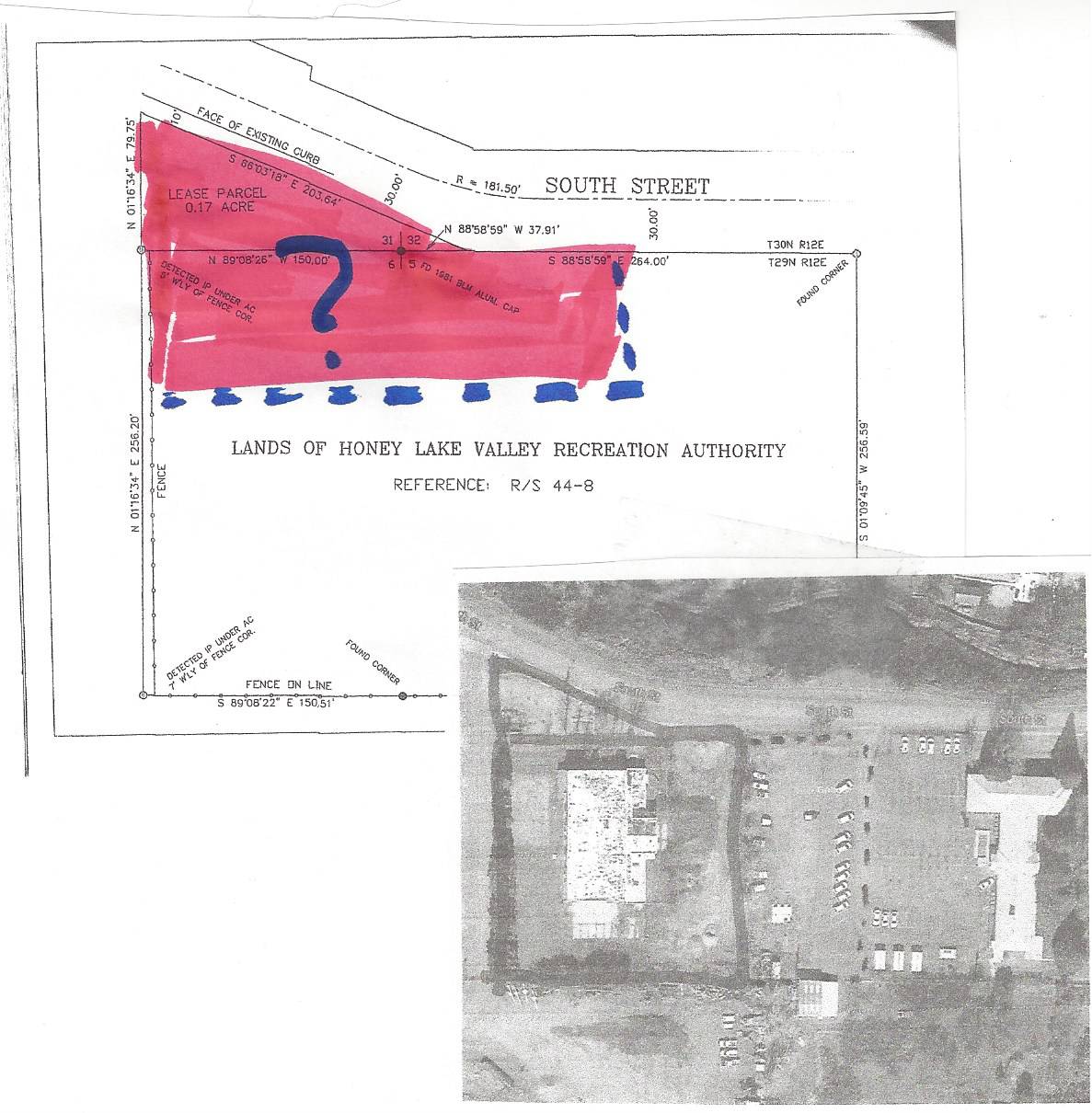 Modern Building Construction makes great progress
on new community pool, in Susanville, despite bad weather
Pool Construction Cost as of 11/22/16: $2,047,725
Administration Costs:

HLVRA votes "No" on diving boards (?)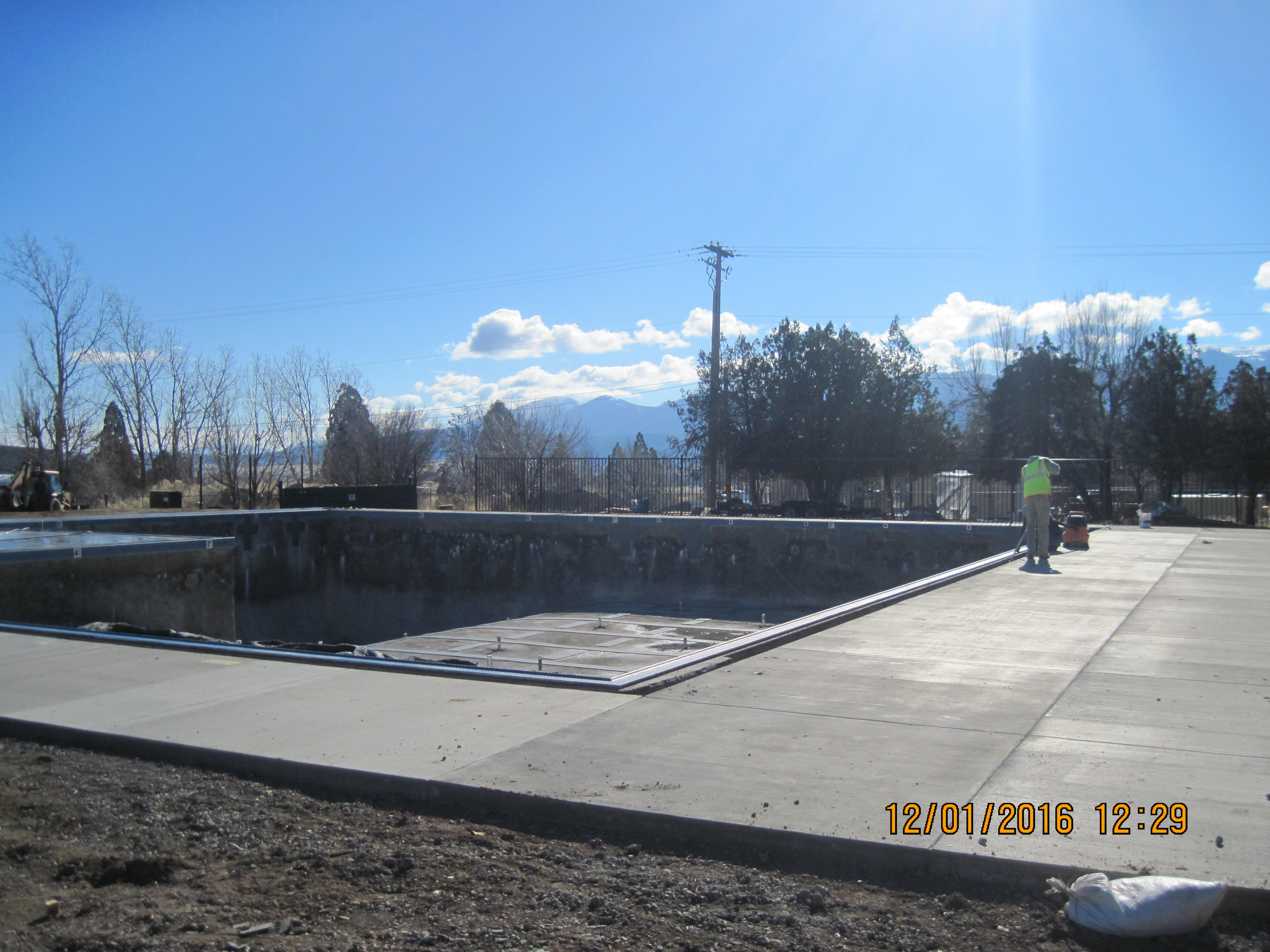 New Honey Lake Valley Community Pool
Survived the First Bad Weather
Parking lot done and lights installed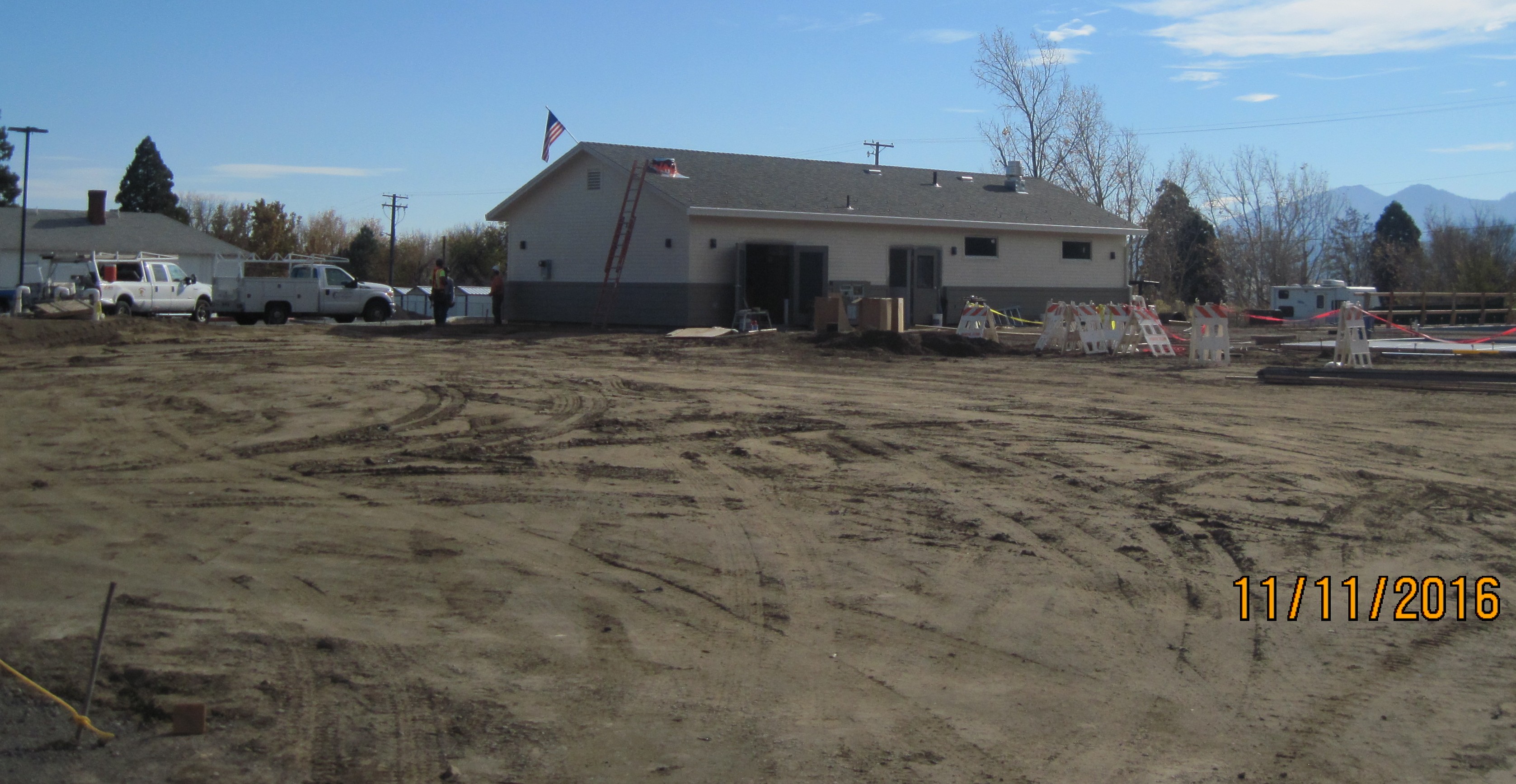 Pool House scaled down to save money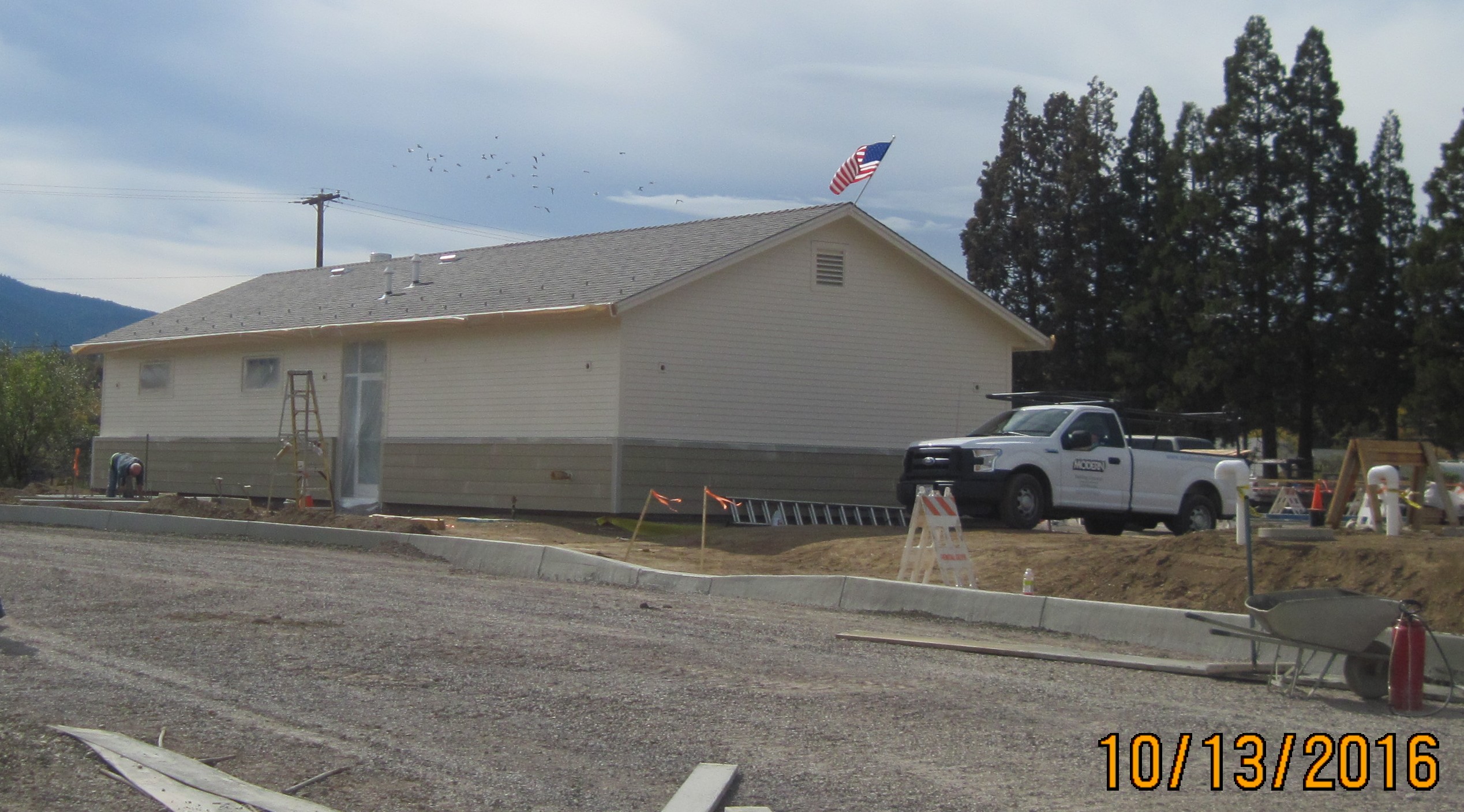 Front of the pool house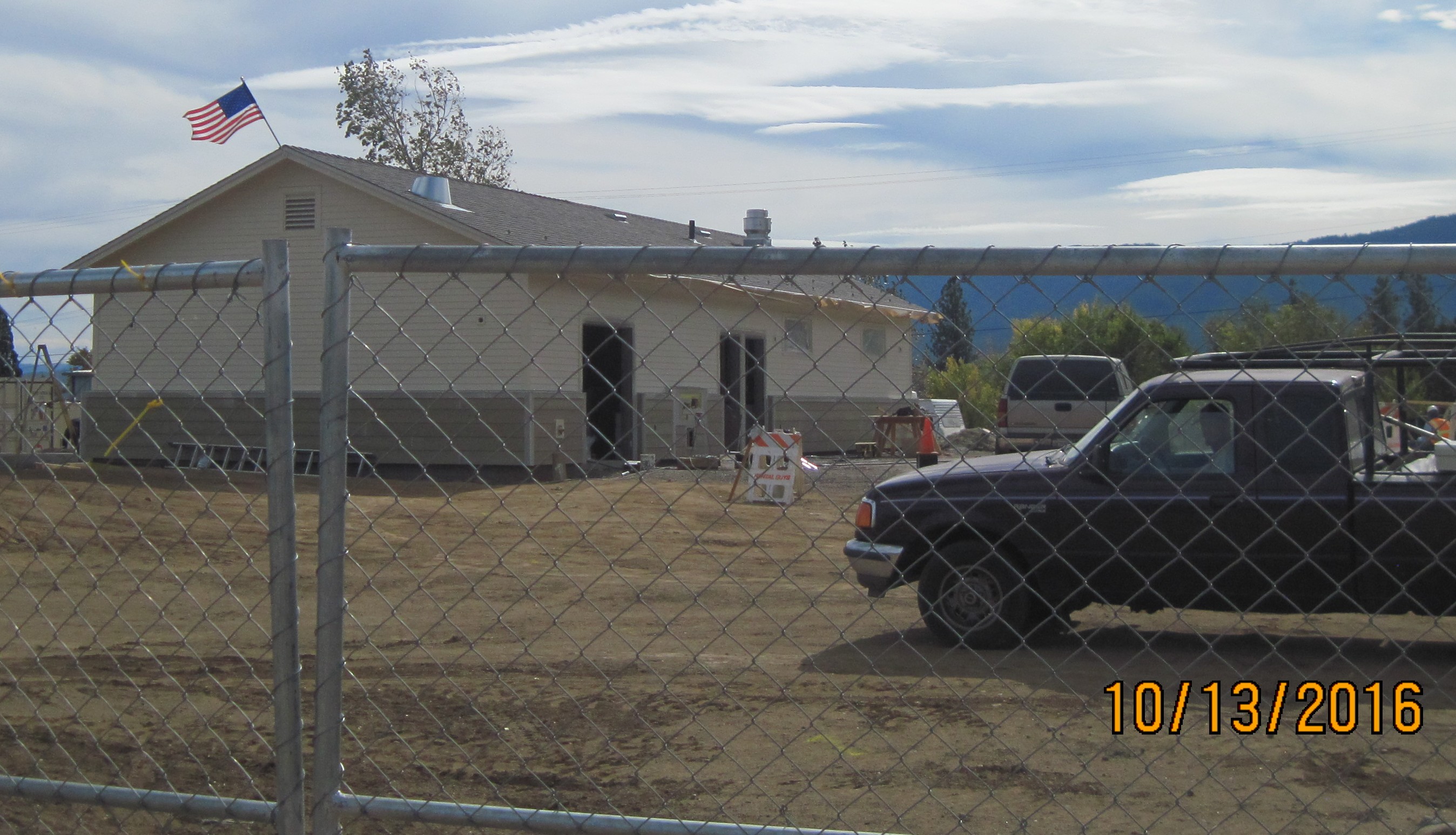 Back of the pool house
HLVRA Has a Razor Thin Budget
to Open Pool
Despite Chapmans Stupid Statement
"Public help is not needed"
Chapman tells the HLVRA Board, at a Special meeting, that they don't need money from the public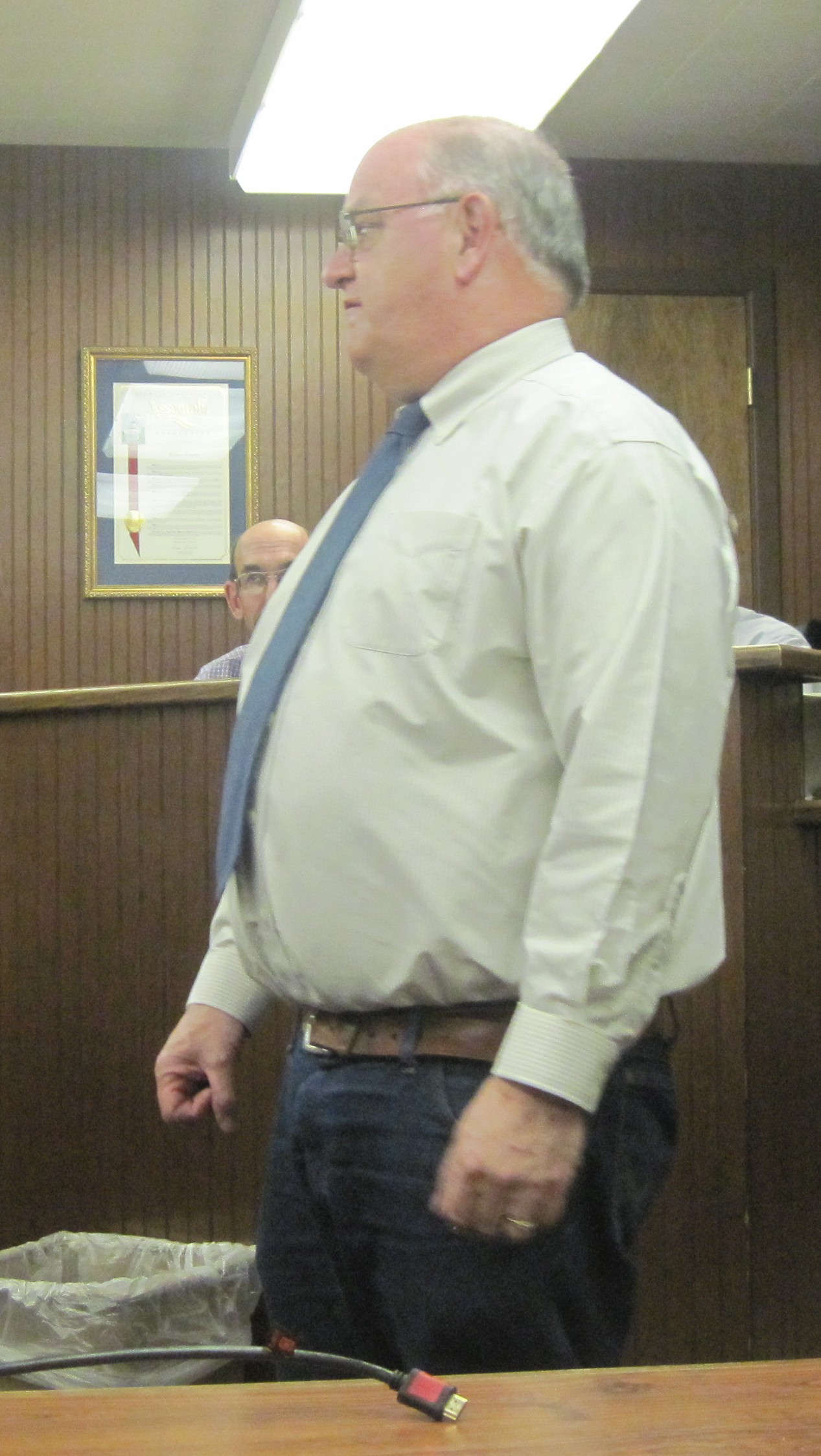 Supervisor Chapman leaves office in December of 2016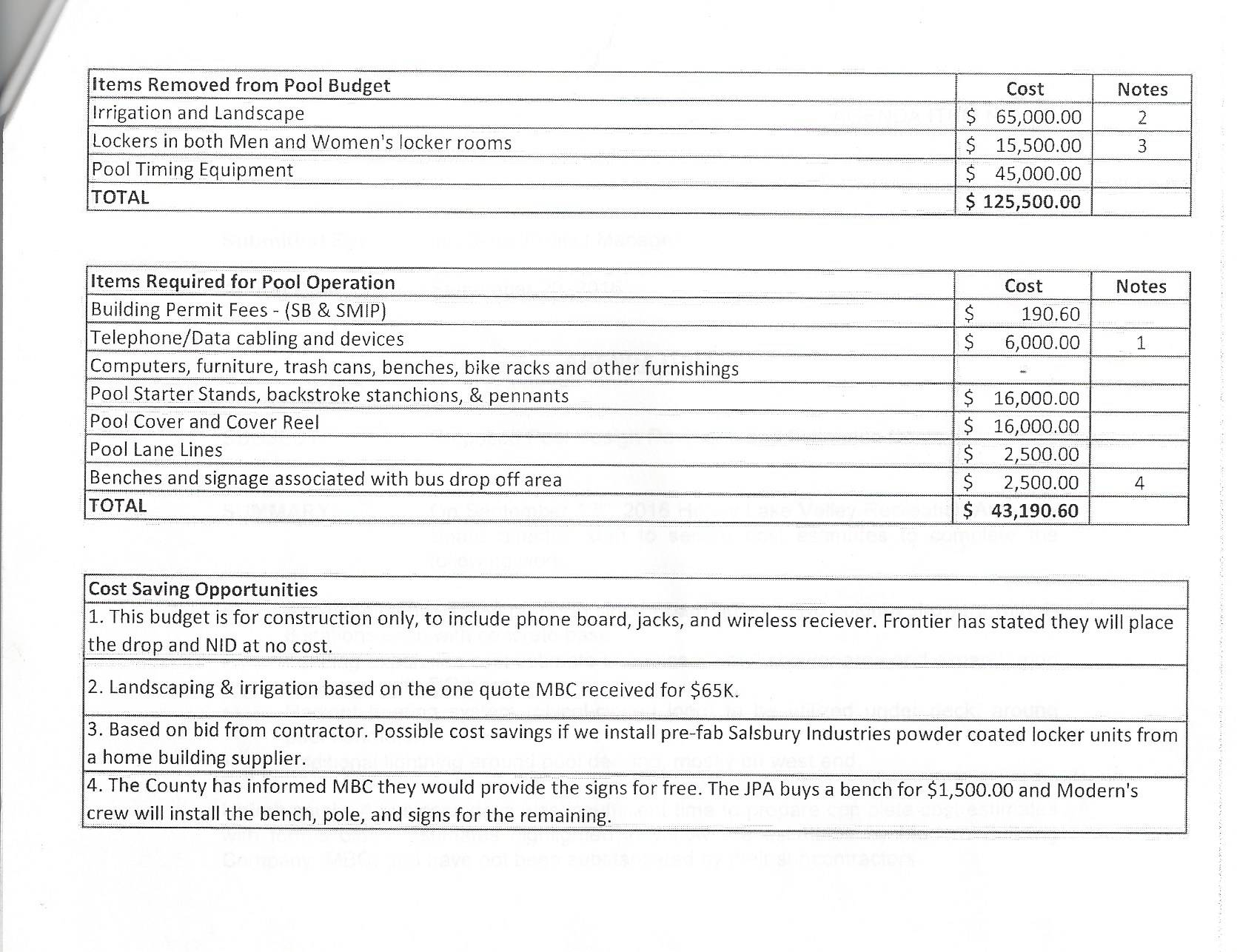 Chapman tells the HLVRA Board, at a Special meeting, that they don't need money from the public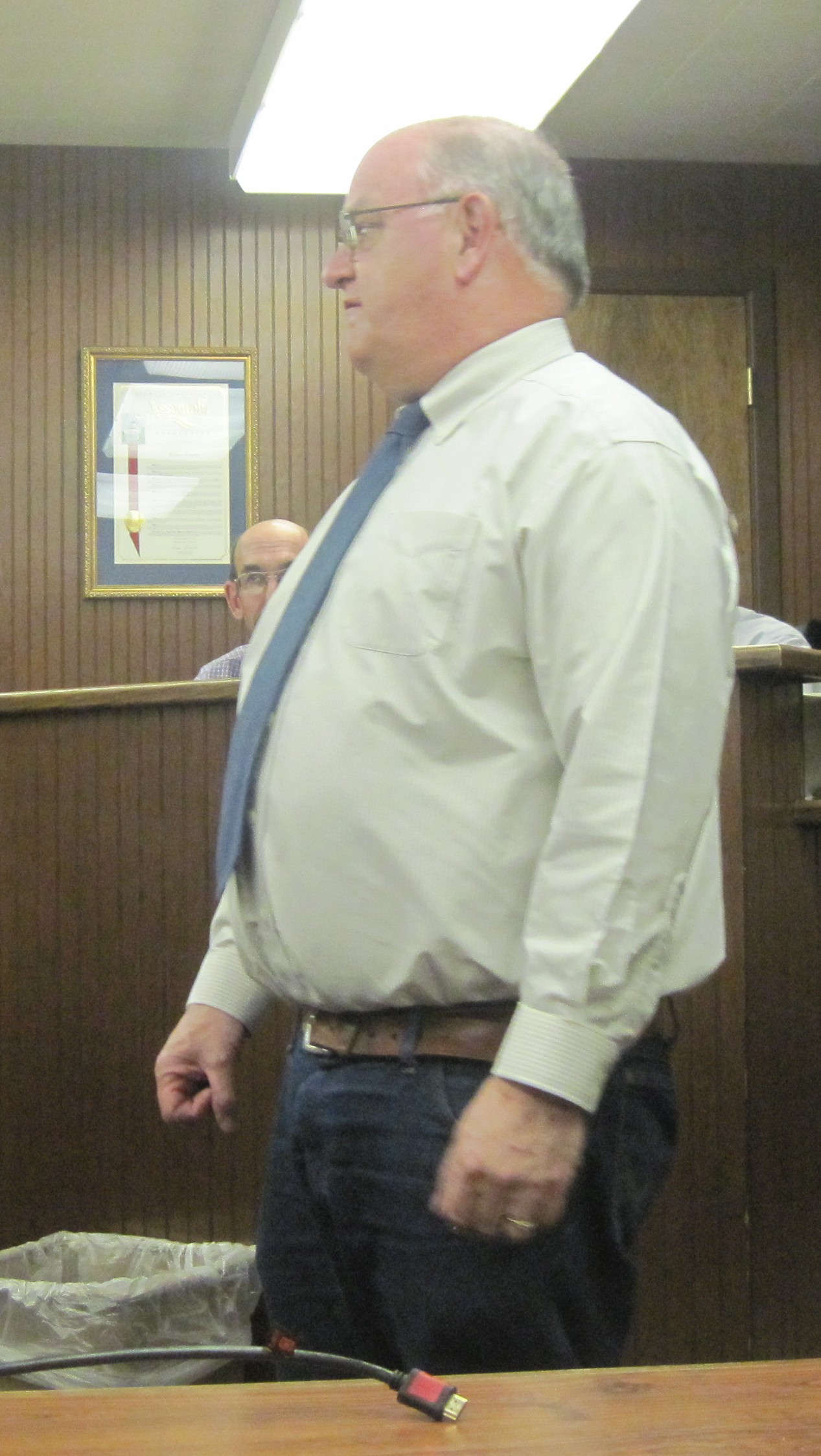 Supervisor Chapman leaves office in December of 2016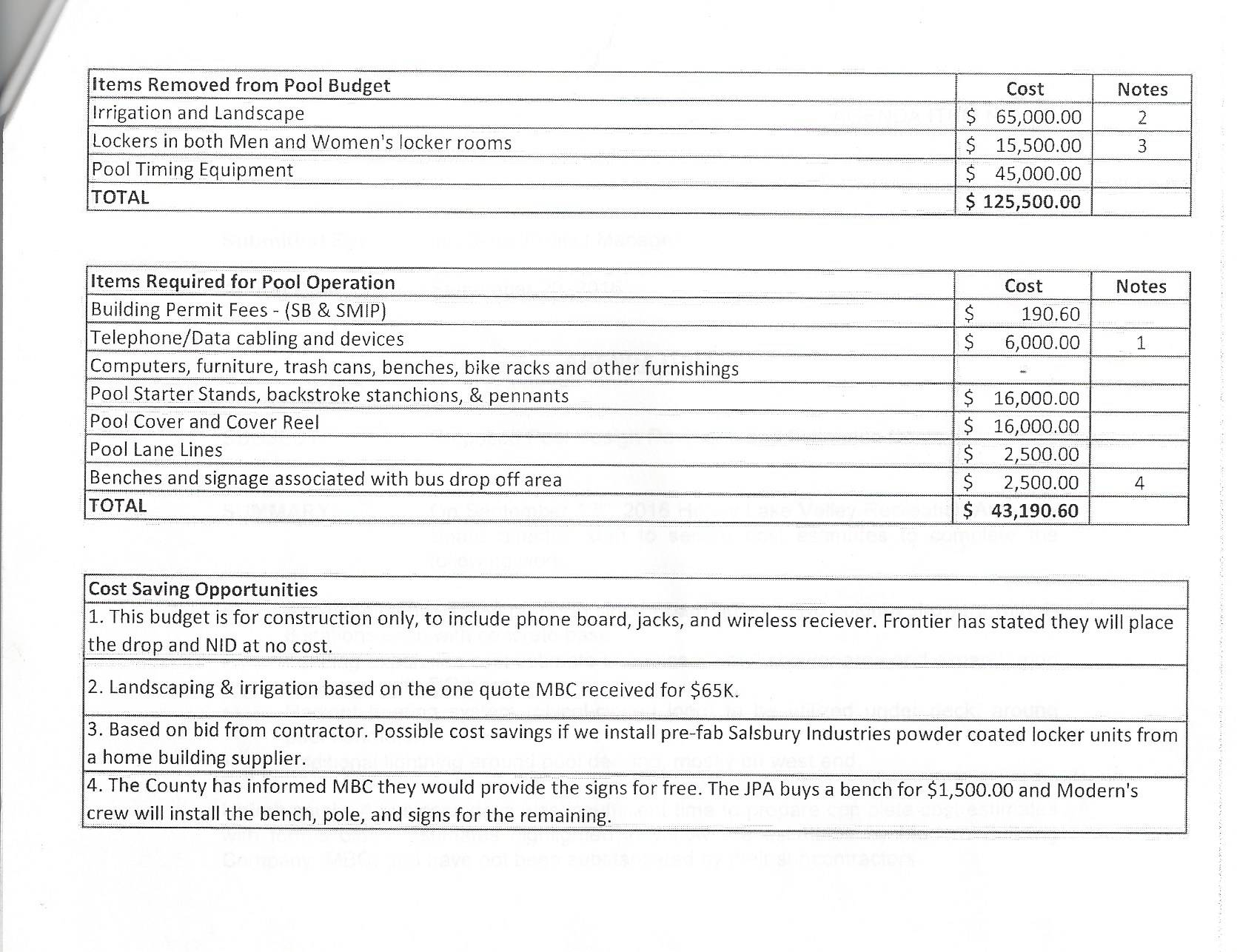 Honey Lake Valley Community Pool Moving Along
Construction Progress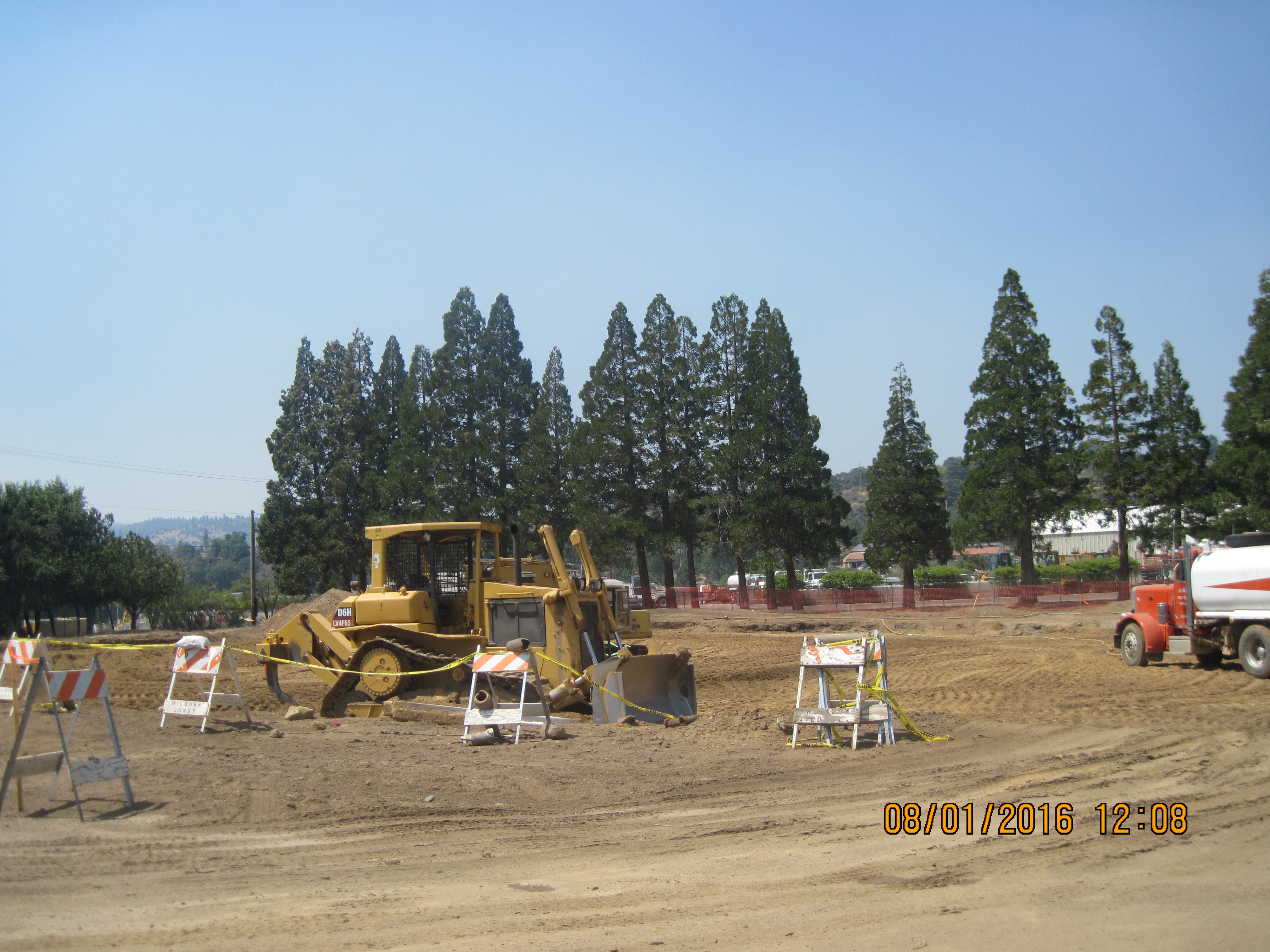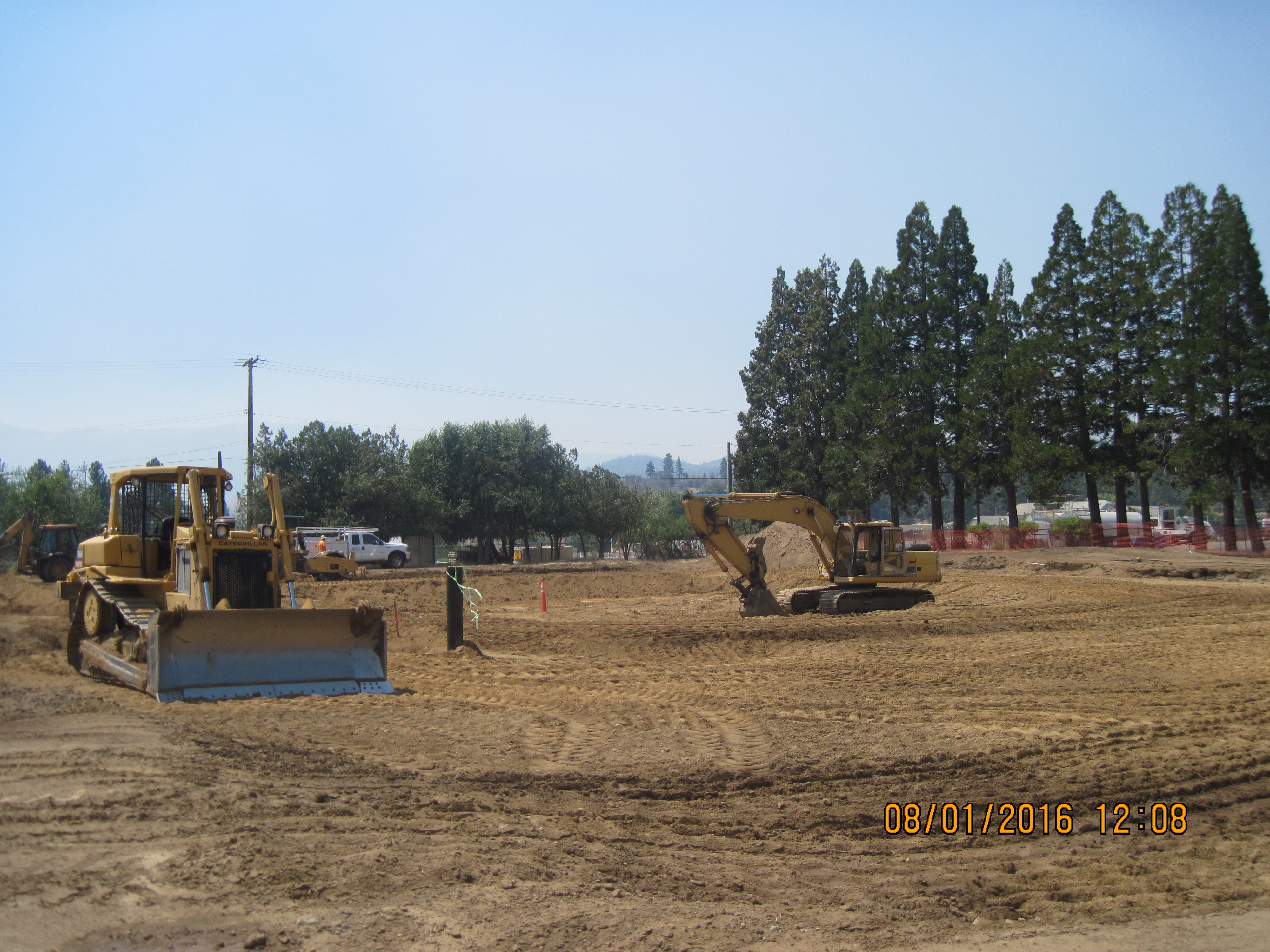 The Joint Powers Authority, HLVRA,
Wants the $80,000 Annual Payment
from Lassen County
for the
Community Pool by August/2016
THE COUNTY DOES NOT HAVE IT
According to Lassen County CAO Richard Egan, the HLVRA has asked for the Supervisors to pay the annual payment early in August.
The original conditions have changed since the Lassen County Supervisors voted to take out a $4,080,000 loan to build the new pool and purchase a building.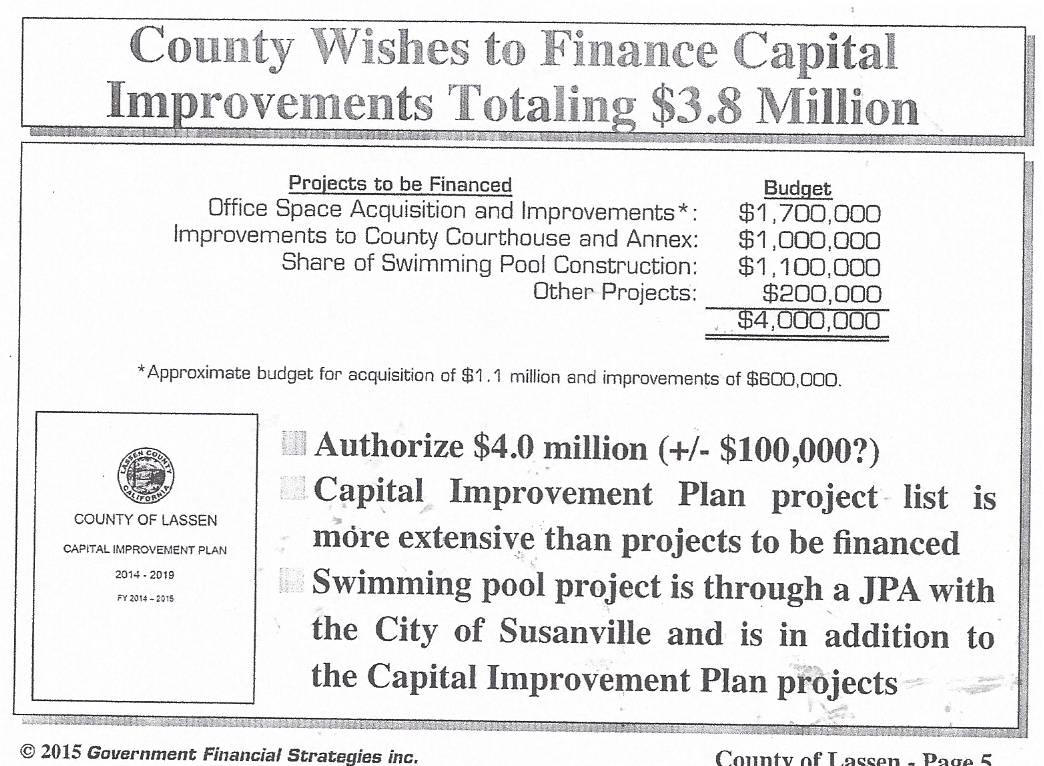 When Kan We Help asked, the Supervisors refused to disclose what the annual payment. This payment is due on June 4 of each year until 2035.
This payment takes all of the Tobacco Settlement Fund each year.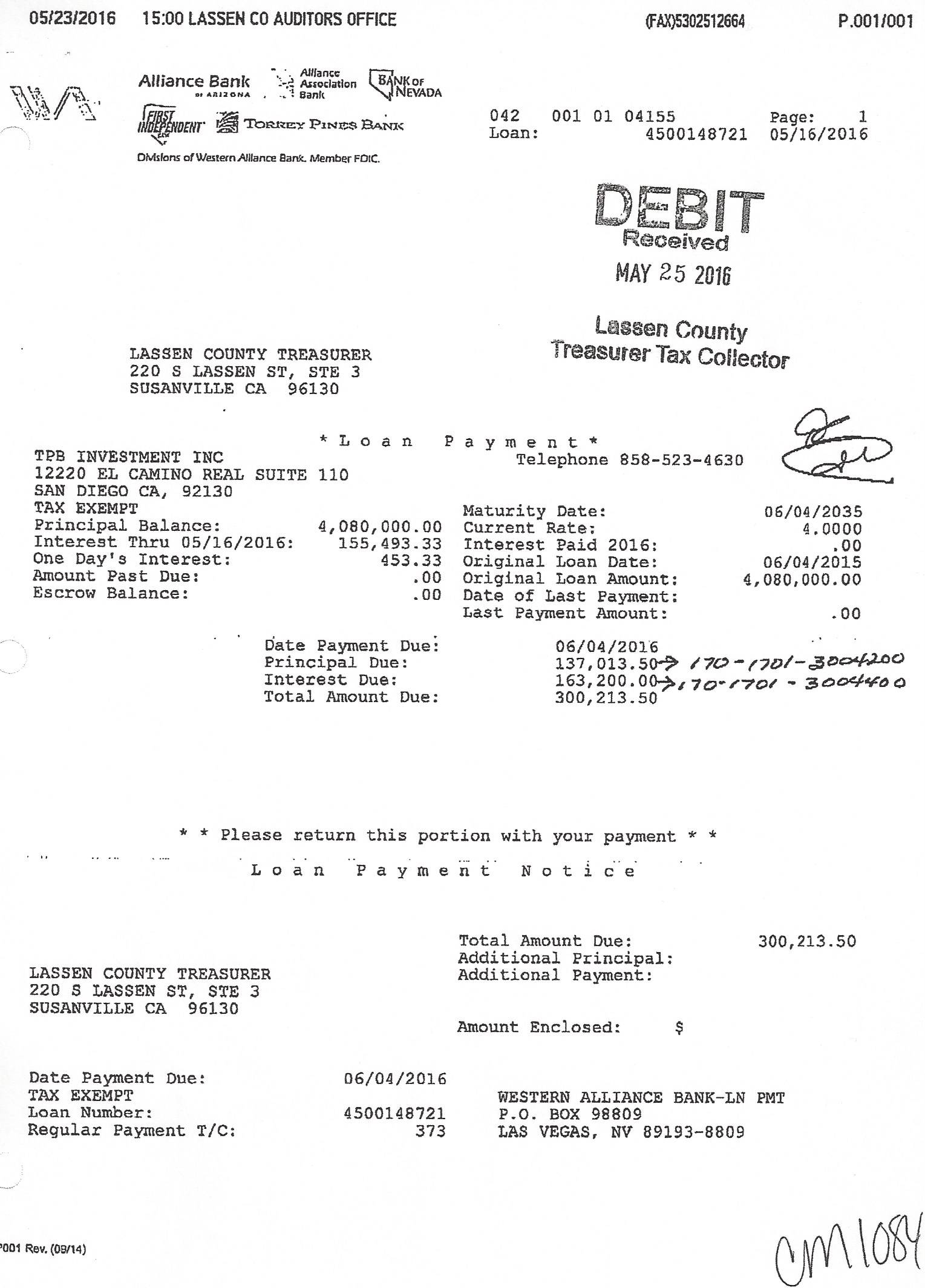 The Supervisors told the public the County's annual HLVRA support payment would be paid from the Tobacco Settlement Fund. There is less that $1,300 left in the Tobacco Settlement Fund until it is replenished with an "undetermined" amount each year.
THE 40 YEAR CAREER POLITICIAN, SUPERVISOR CHAPMAN, TOLD THE CAO TO JUST TAKE IT OUT OF THE GENERAL FUND
19 DAYS LATER........
assessing the hole?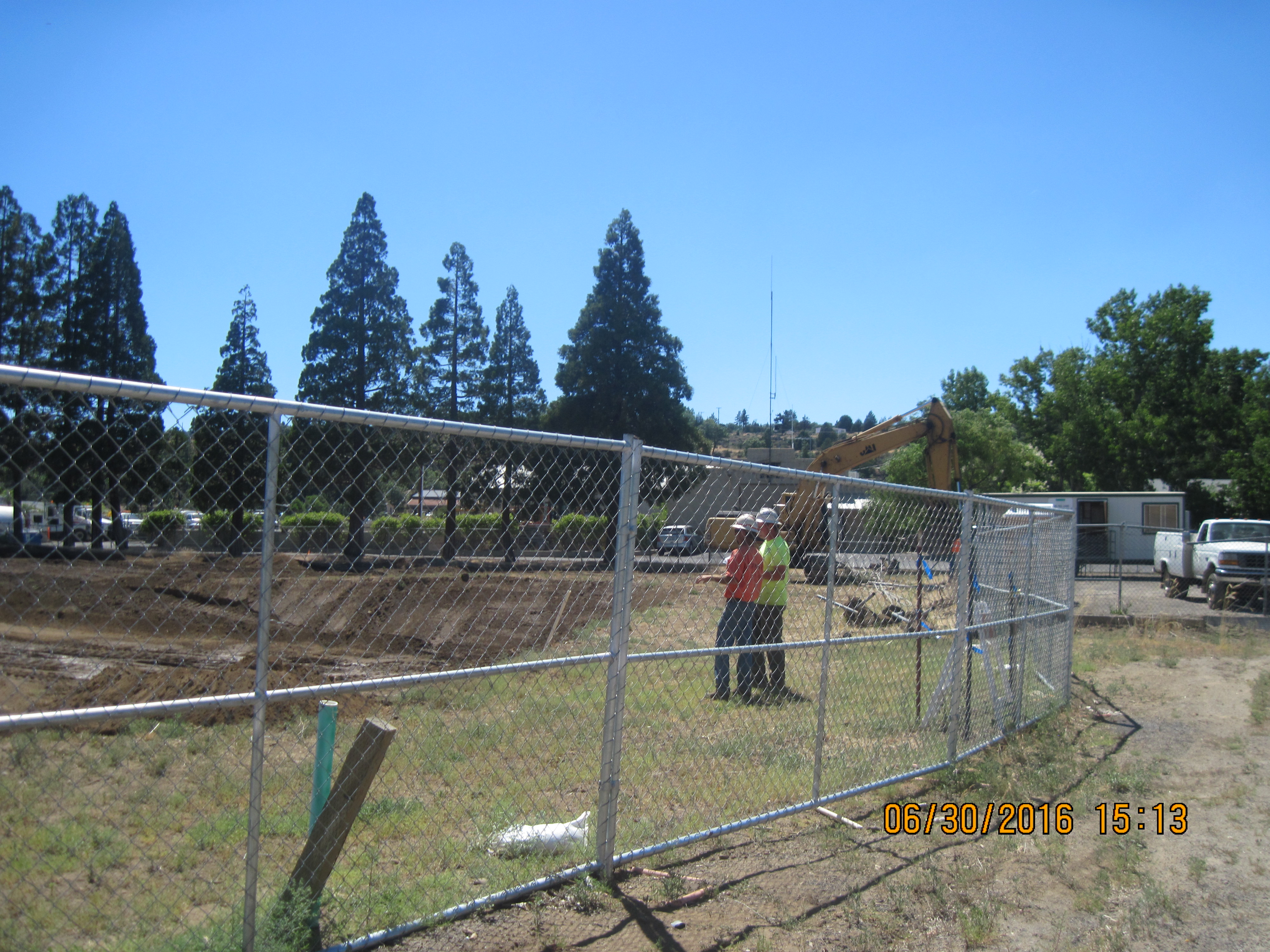 HLVRA OFFENDED BY COWS IN THE POOL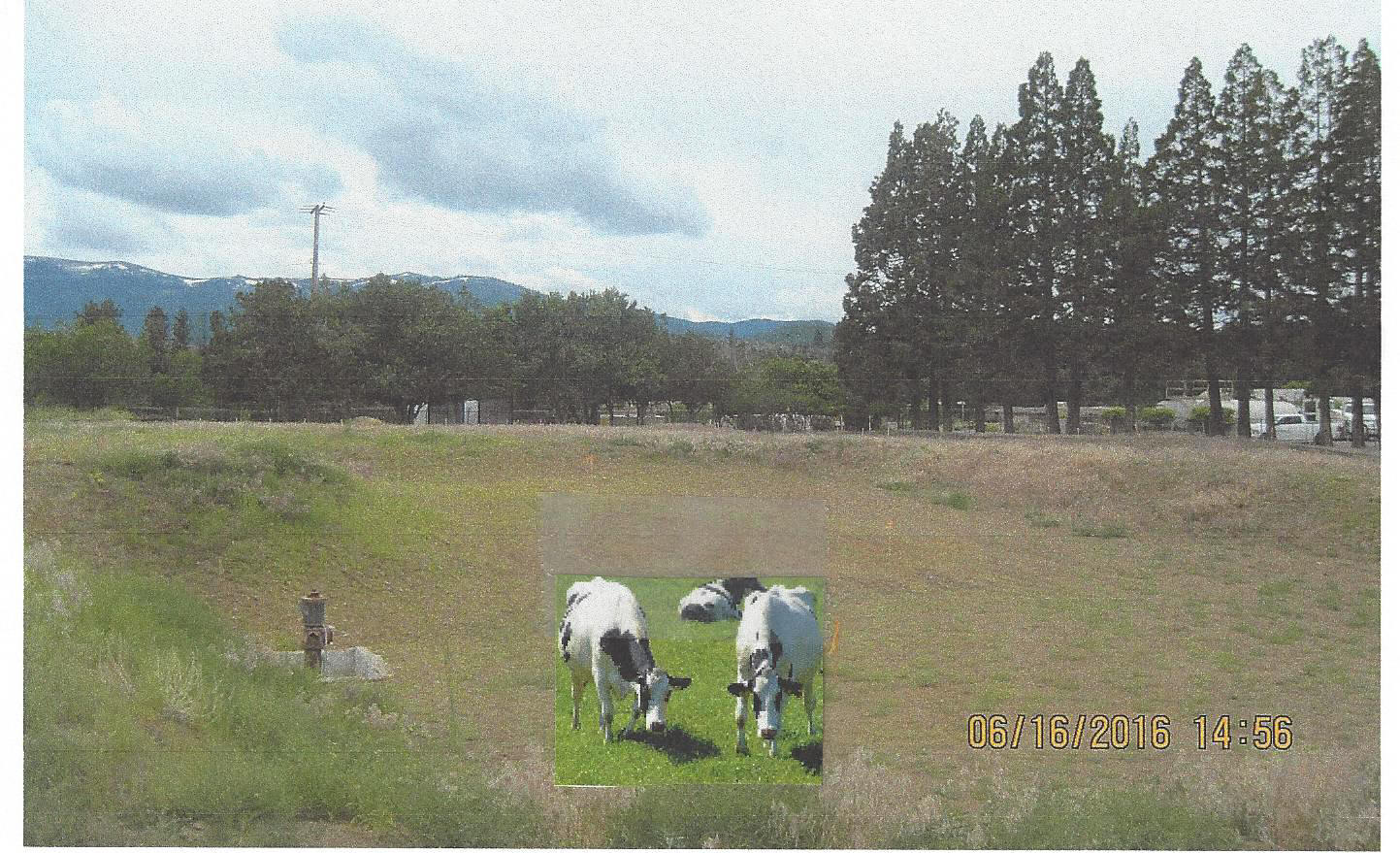 AND
SCHEDULED A QUICK
"GROUND BREAKING CEREMONY
Chapman was walking around telling anyone that would listen that
"HE" was responsible for getting the pool.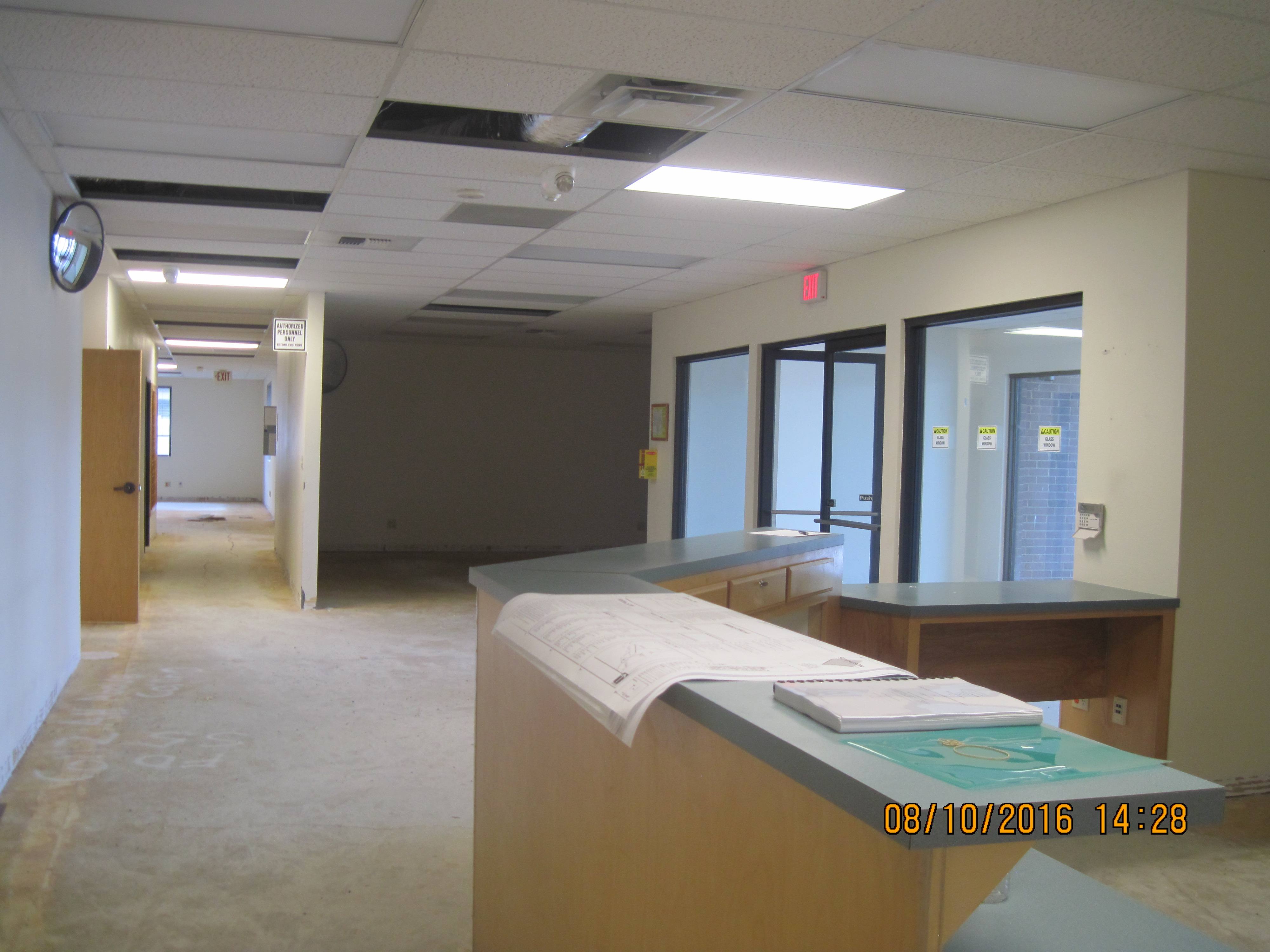 Lassen County Community Pool
Now Just a Cow Pasture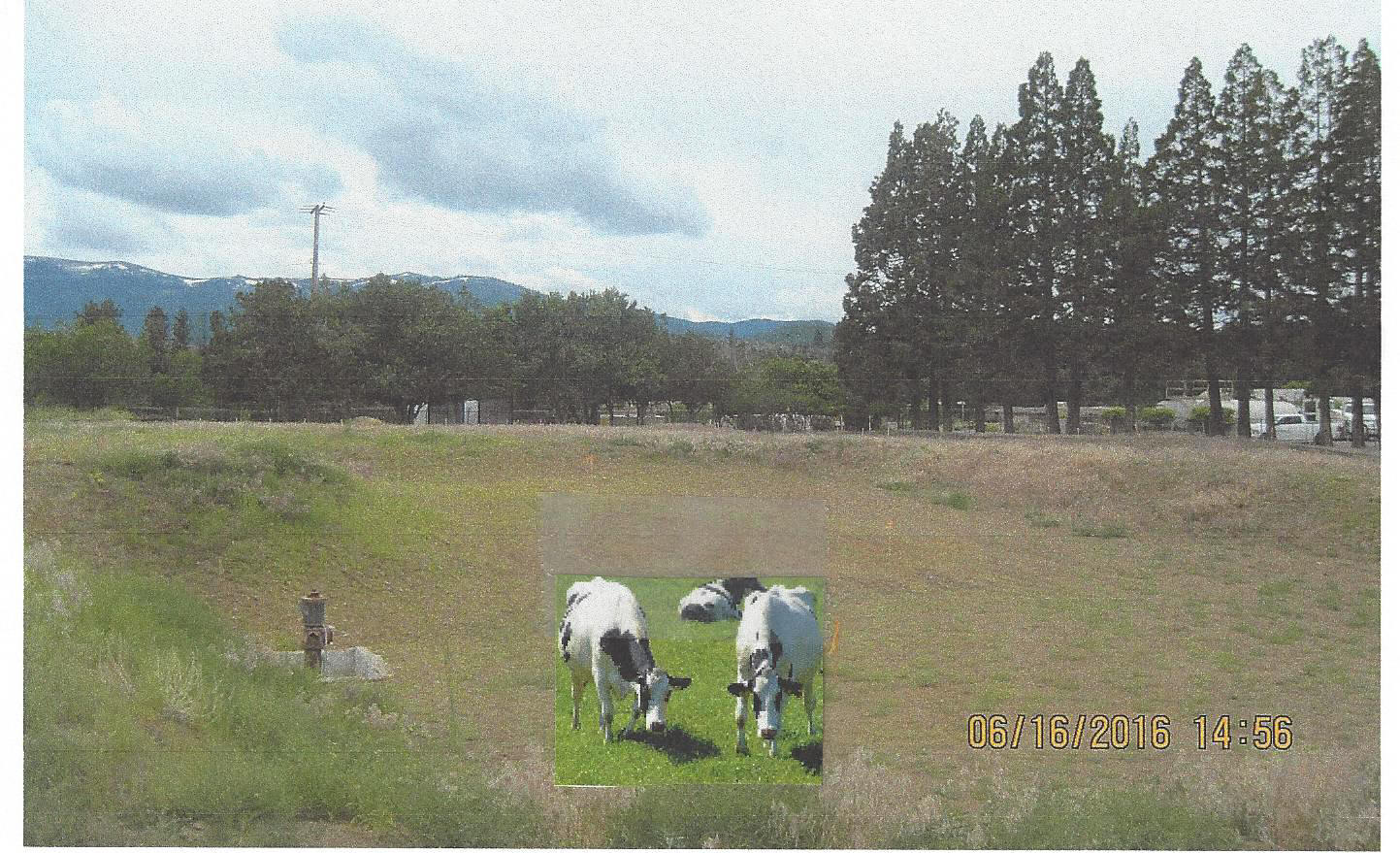 Honey Lake Valley Recreation Authority
Does Not Qualify
to be a
NON-PROFIT ?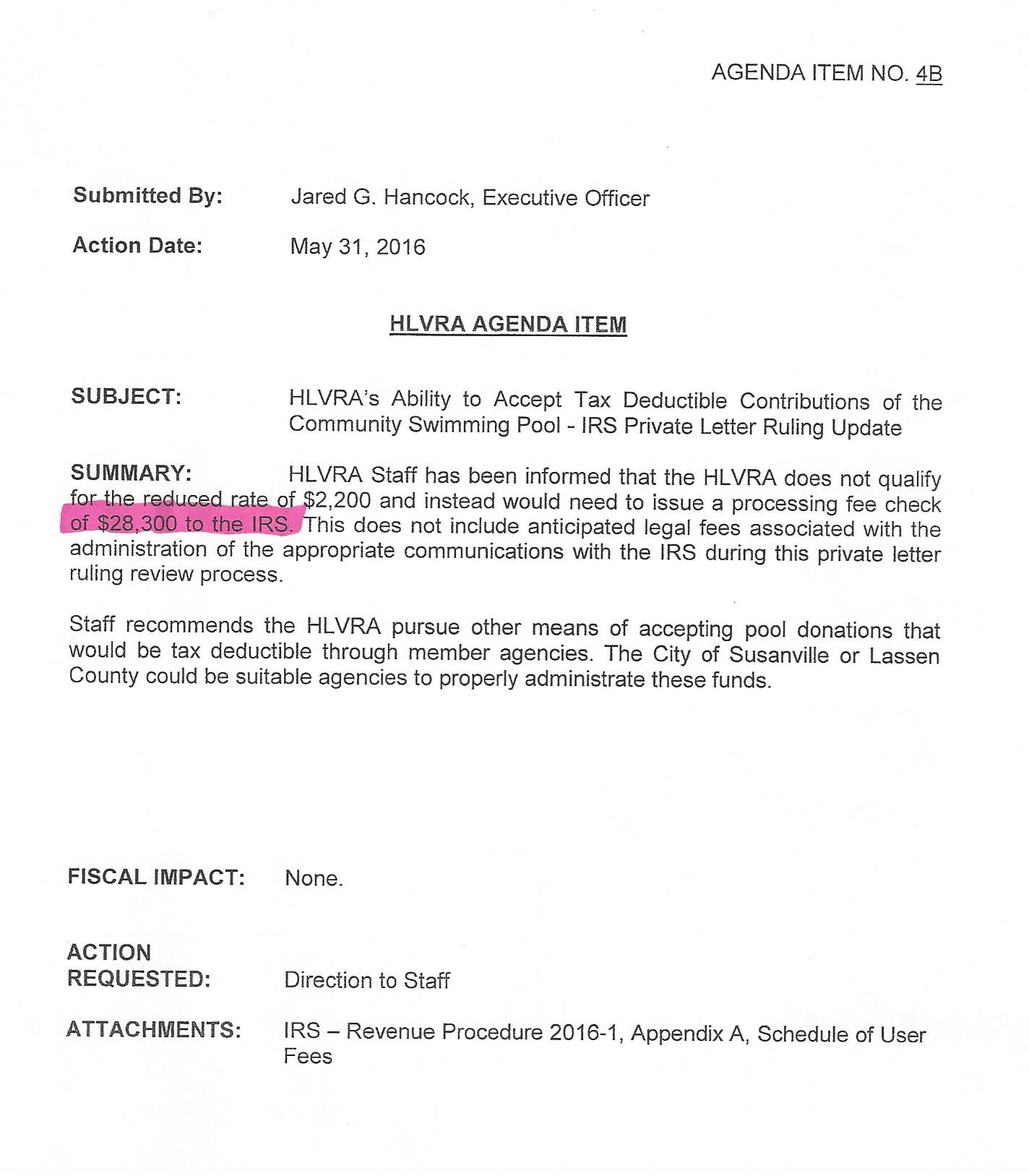 Community Pool or Puddle Pool?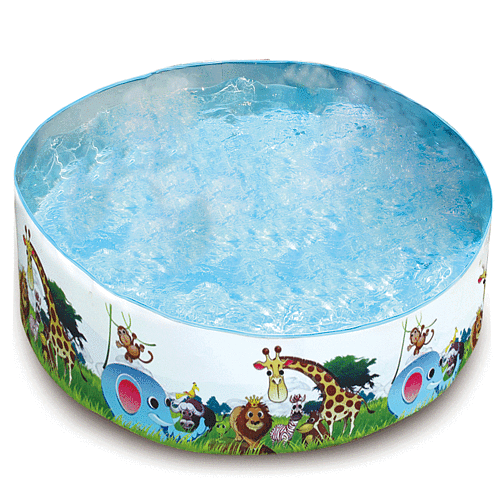 Budget Cuts Should Typically lower the price, but
Pool Costs Have Escalated to $2,750,000
...but does not include the following
Local Deer Enjoy
the Community Pool
in Susanville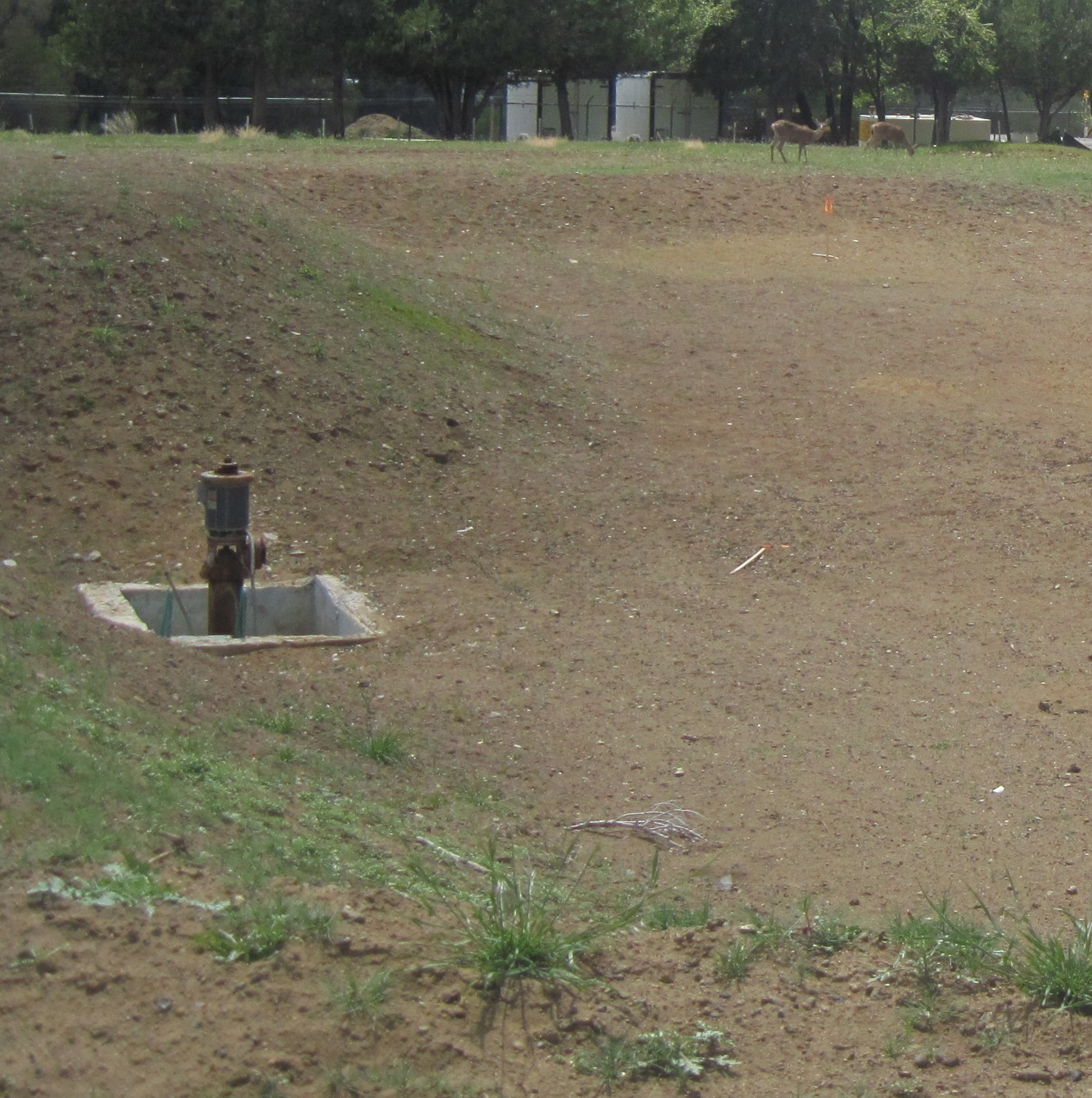 Lassen County Times Editor Sam Williams
BLINDLY PREJUDICE
"Chapman walks out of pool meeting ?"
.....Williams failed to mention a few people walked out before Chapman when it became too painful to listen to the sad, sad, discussion
Williams writes that there are "nattering naysayers" against the pool project.
There were no "nattering naysayers" at the March 29 Pool meeting. There was a very supportive group that wants this community pool and has supported this project for 2 1/2 years of fumbling and bumbling from five men that have no idea what they are doing
Chapman leads this Board in delays and ignorance
The bad decisions, of a clueless HLVRA Board, is beyond frustrating.
The problem was the HLVRA Board has no idea what they are doing & Chapman has been the biggest problem
The HLVRA is no more closer to starting construction than they were in 2013.
SWIM FREE ZONE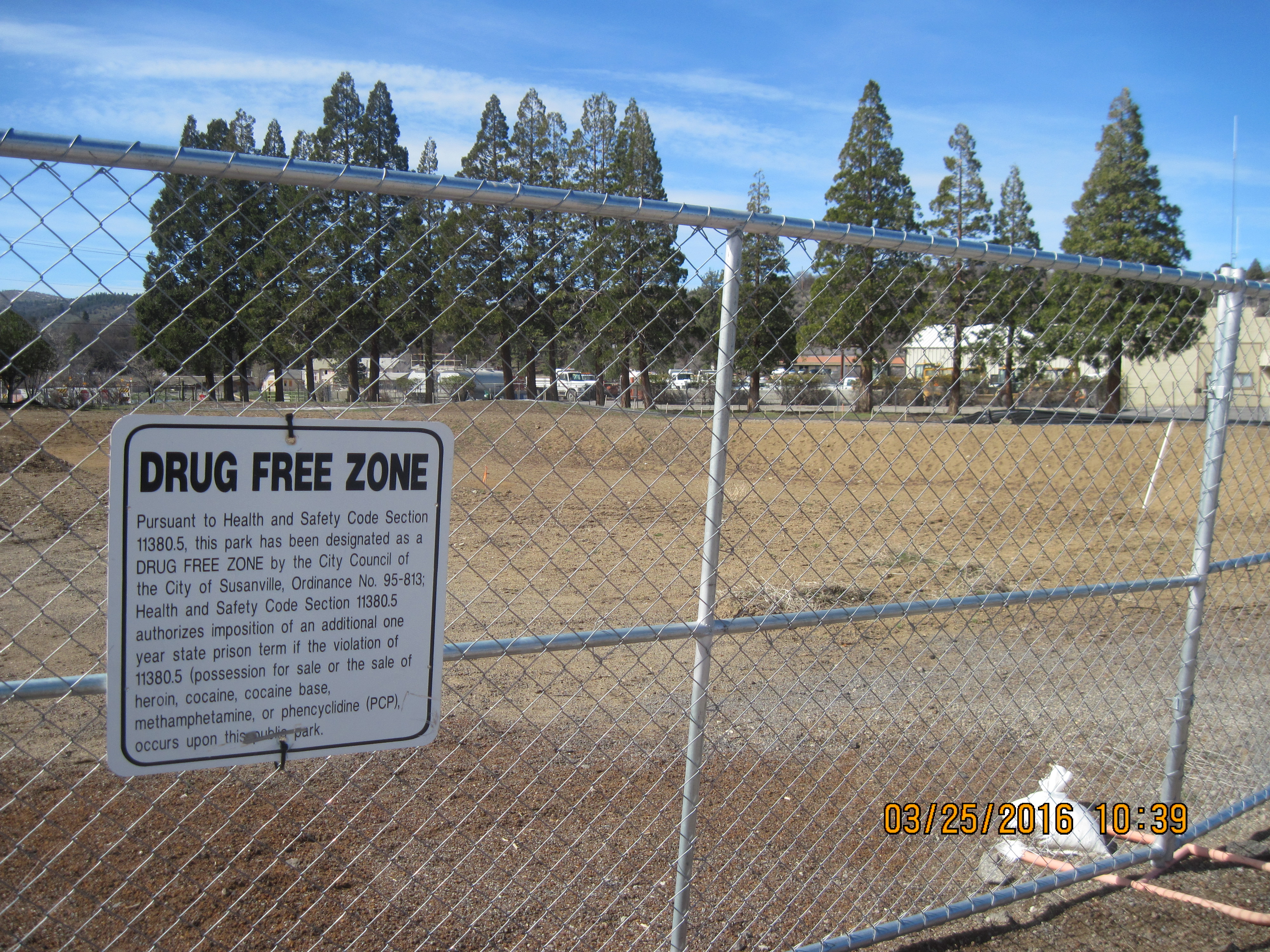 The March 29, 2016 meeting was too painful to watch
The pool design is now back to three options, A, B, or C
Supervisor Chapman threw one of his tantrums again. He would have split a gut if they told him they had to cut out the elevator
One thing that is extremely obvious with this JPA:
the five member Board should have been fired/replaced after six months
Honey Lake Valley Recreation Authority
Has Dug A Huge Hole
For
Themselves
.......and that's about it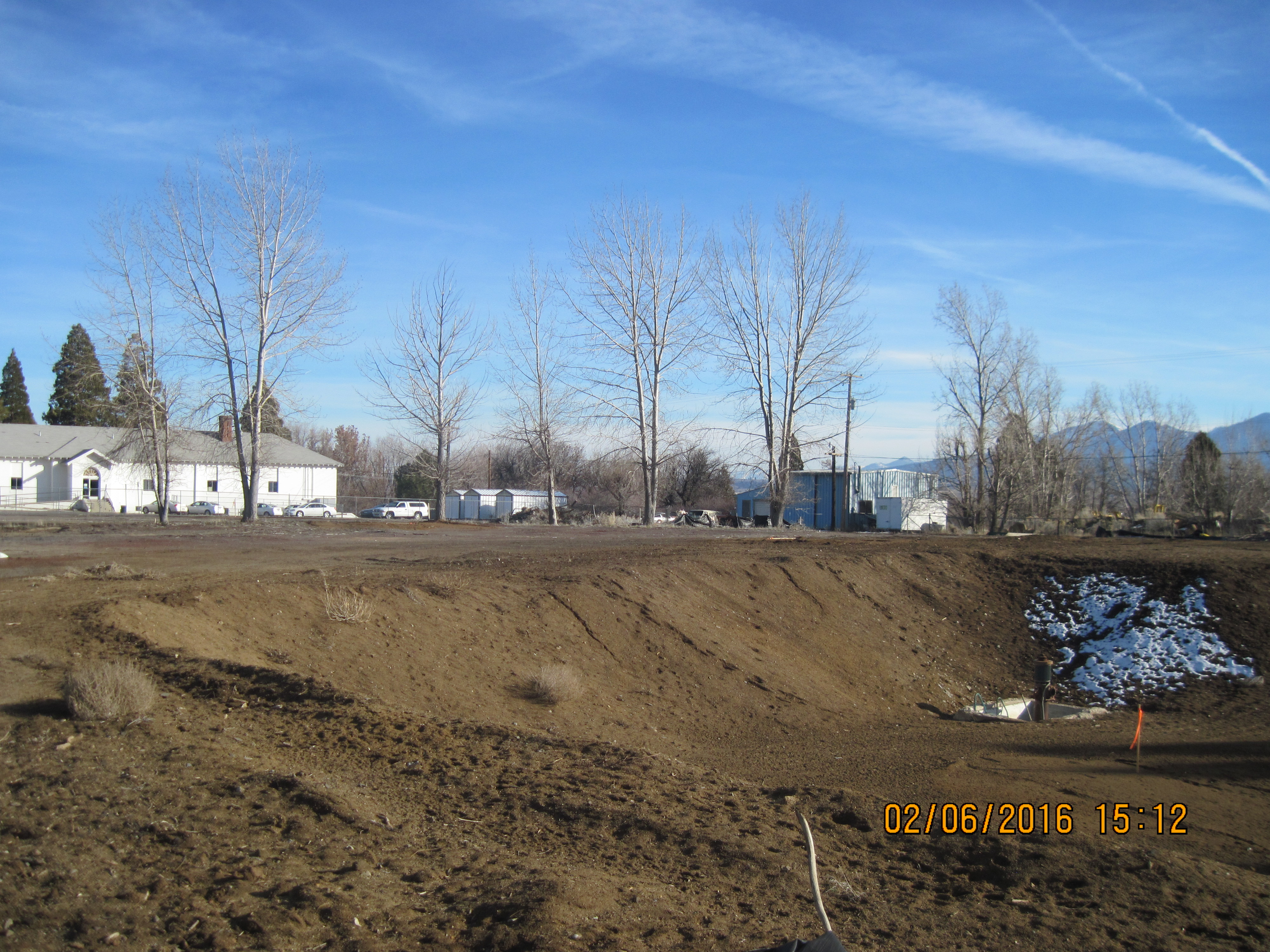 February's are coming and going
and NO PROGRESS ?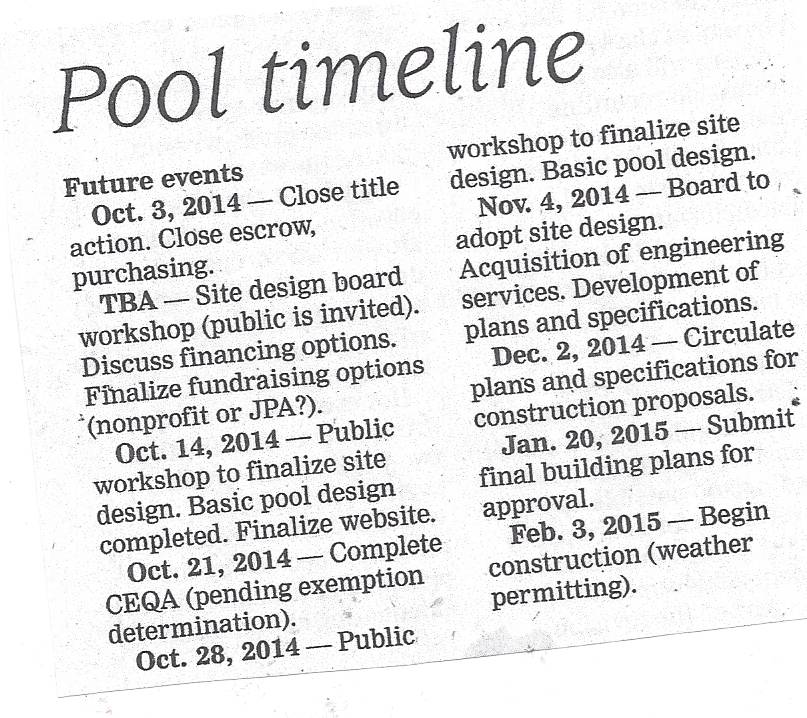 Pool Board Approves
the
Contract
to
"Design" the $3 Million Dollar Pool
......of course they do not have $3 million dollars
While the Executive Director Jarod Hancock continued to claim the "DESIGN BUILD" process would save money and the professionals told him that was the wrong approach.......now Mr. Hancock was reluctant to admit that the professionals were right.
Hancock: "It's been slower and more expensive"
The contract "for design only" Mr. Hancock presented to the HVLRA Board, on December 3, 2015 was for $73,000. The Contract the Board approved was for $127,792.
HLVRA POSTPONED APPROVING
CONTRACT FOR POOL
UNTIL 12/15/15 @3:00 PM
For the second meeting in a row no board packets had been made for the Directors or the Public. Brian Wilson, Jim Chapman and Nick McBride did not attend this meeting. Vice-Chairman Jim Chapman was at a "vacation/meeting" in Monterey, Ca. It was not stated why Wilson or McBride did not attend. Dave Meserve chaired the meeting.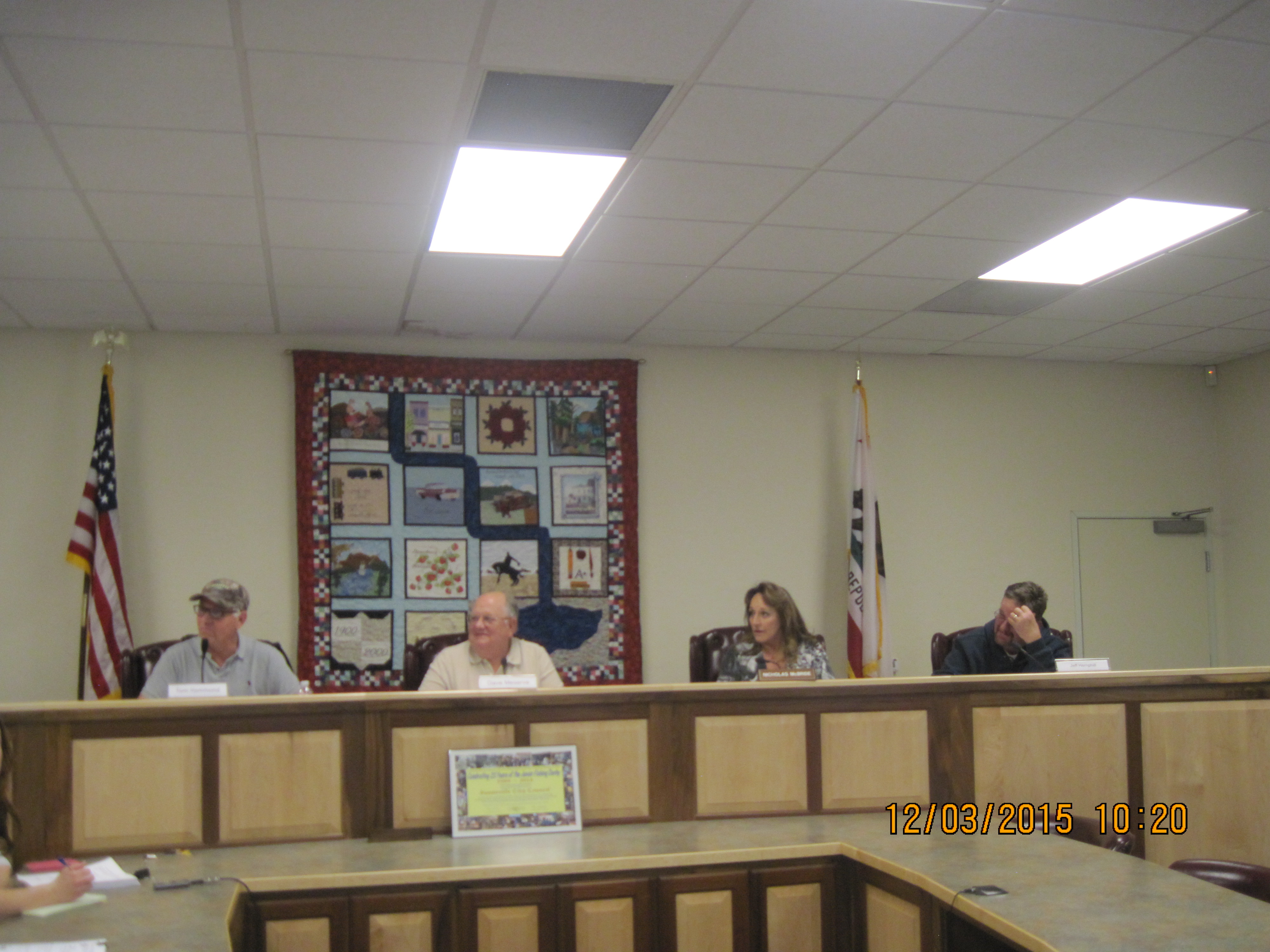 The Lassen County Auditor and Treasurer stated that they would not approve any more Reimbursements to the City of Susanville without proper authorization. A Resolution was placed on the Agenda but both offices stated that they were told by their outside Audit company that the language was not sufficient and needed to be amended
Lassen County Auditor Diana Wemple told the Directors that the JPA would begin reimbursing County officials in April of 2016.
HLVRA Unprofessional Speculations May Prove Costly
The HLVRA Board of Directors would not listen to those professionals that strongly suggested getting a set of Plans done a year ago.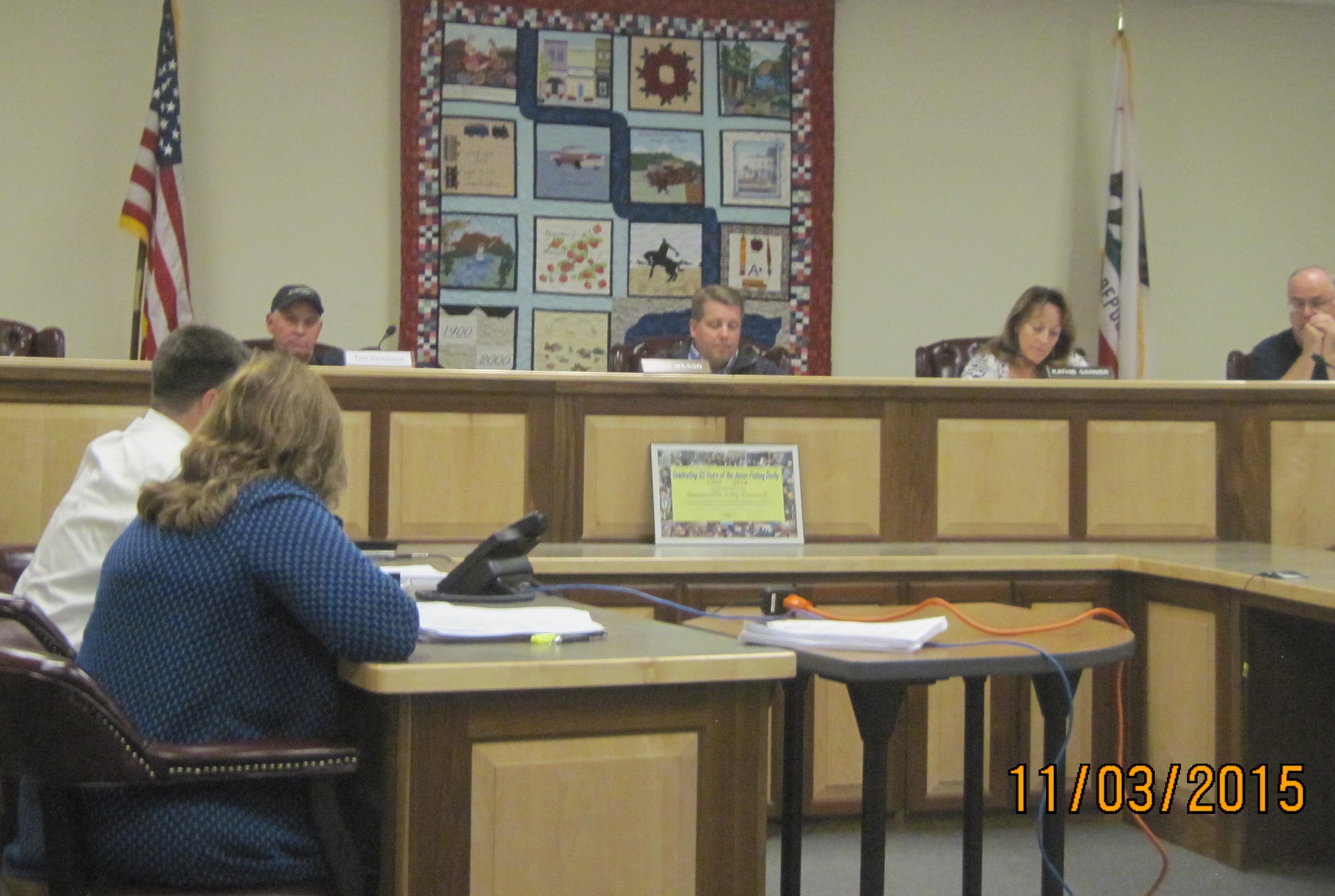 The original thought was to have "plans" made and then issue an RFP for construction.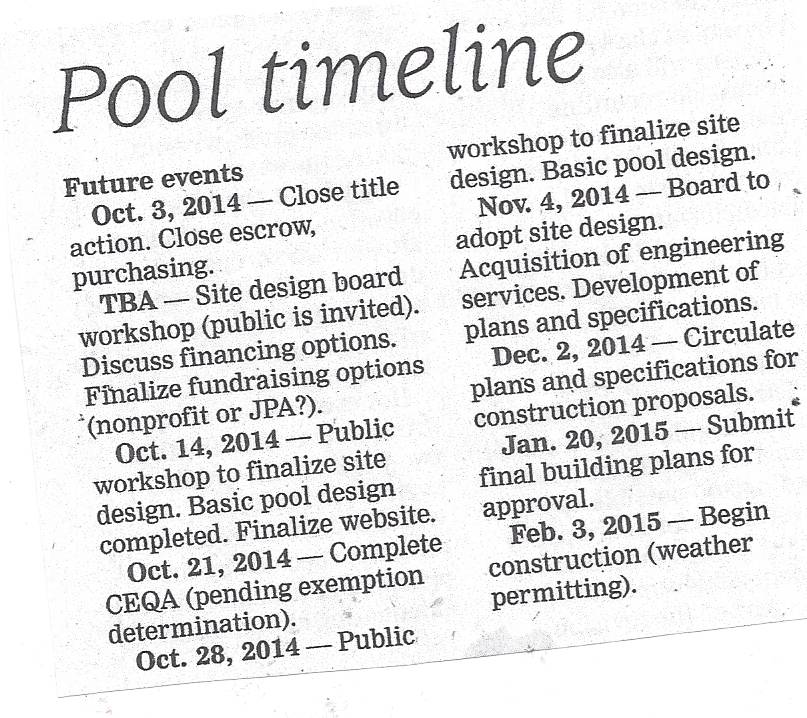 Things went wrong when the decision was made to have one company do everything.
This stumbling Board has now issued two RFP's that included a Gross Maximum Price of $2,249,866 to design and build a community pool
This pool cannot be built for $2.2 million & the HLVRA Board was told this over and over.
Even though the second RFP clearly stated the GMP, only two Contractors Bid in an illegal and unethical secret bid opening. Modern Building bid $2.9 million and Tricon bid $3.3 million
The Board voted to sign a contract with Modern Building and try and scale down the pool because they do not have $3,000,000.
GUESS WHAT?
THEY ALSO TALKED ABOUT JUST HAVING THE DESIGN "PLANS" DONE AND THEN BACK OUT OF THE CONTRACT WITH MODERN !!!!!!!!
Hopefully none of these Board members (Hammond, Chapman, Wilson, McBride) will be in office when they come to the public for more money
Honey Lake Valley Recreation Authority
promised that the second RFP bids
for the Community Pool
would be open to the public
The Executive Director, Jared Hancock never had any intention of making the bid opening public
The public is banned from the bid opening at 5:00 PM this afternoon
This unfortunate action puts a permanent black cloud over the legitimacy of the entire process
Where's the shame....?
The "Design/Build" PCC Section does not give the HLVRA the right to close the bid opening to the public. This was a policy decision.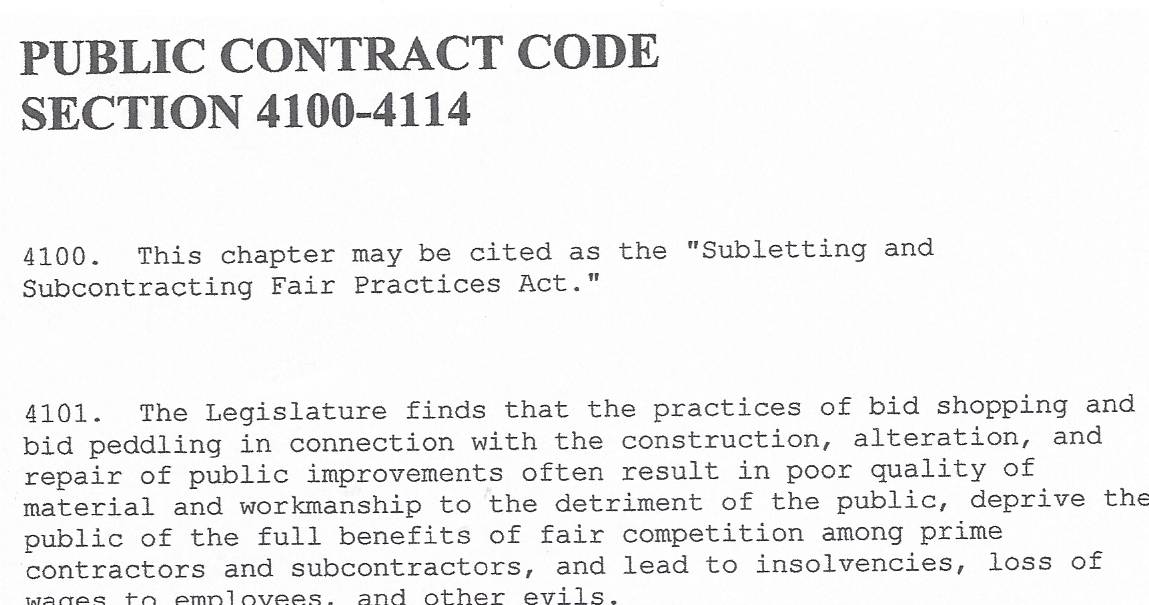 City of Susanville
Approves $1.2 million dollar
for Community Pool
New RFP for "Design Build" RFP will be issued on 9/28/15
NOTE: BIDS WILL BE OPENED IN PUBLIC VIEW ON OCTOBER 22, 2015
Honey Lake Valley Recreation Authority
Rejects All Bids
and
Plans to Reissue the RFP
Kan We Help
Files
Complaint Against the HLVRA
for Public Contract Code Violations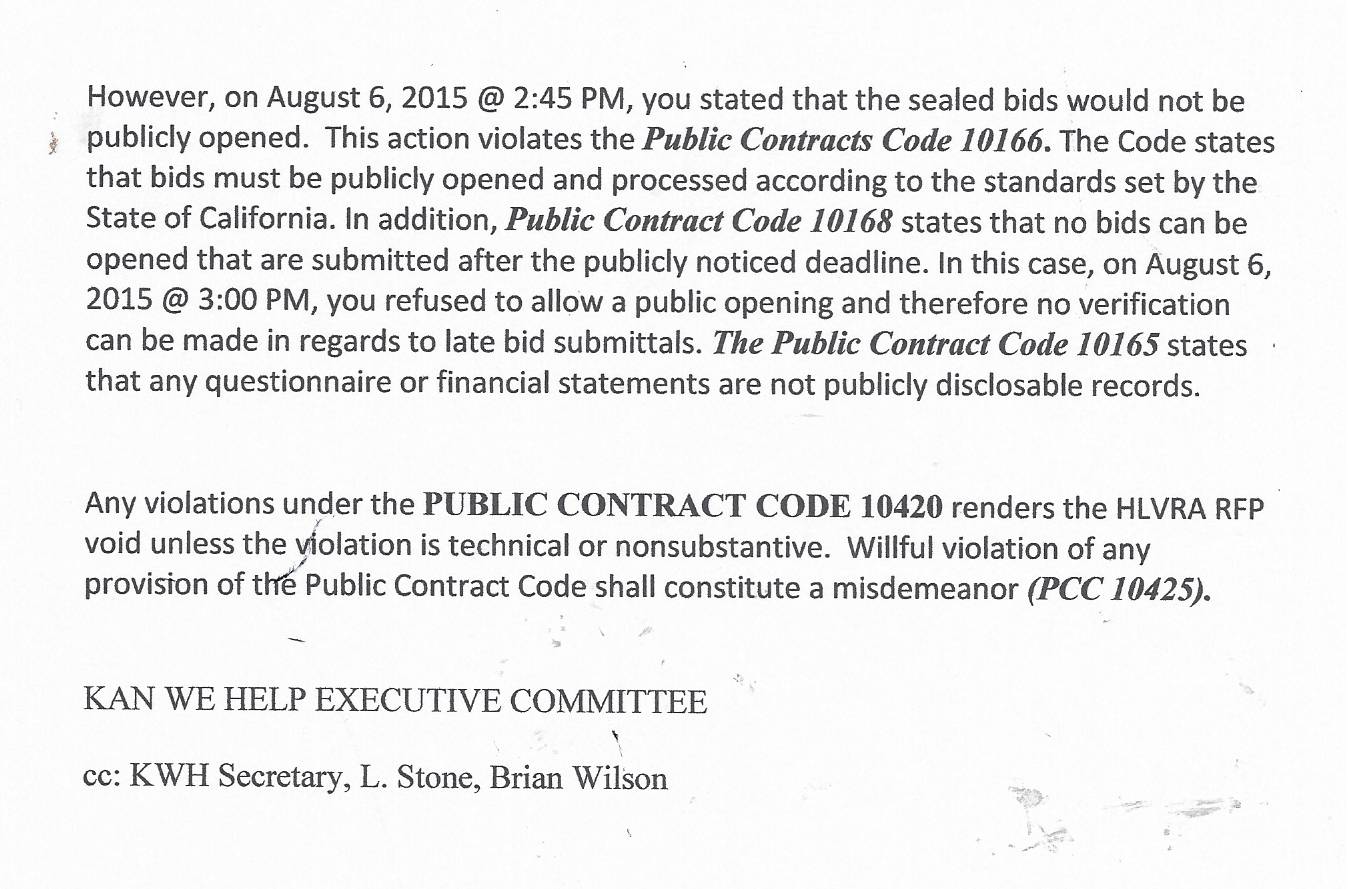 BID OPENINGS ARE
OPEN TO THE PUBLIC
[California's Antitrust Laws prohibit "bid rigging"]
Executive Officer of JPA-HLVRA
Jared Hancock
Unfortunately Decides the Bid Opening
Would Be Secret
You do this when the RFP is rigged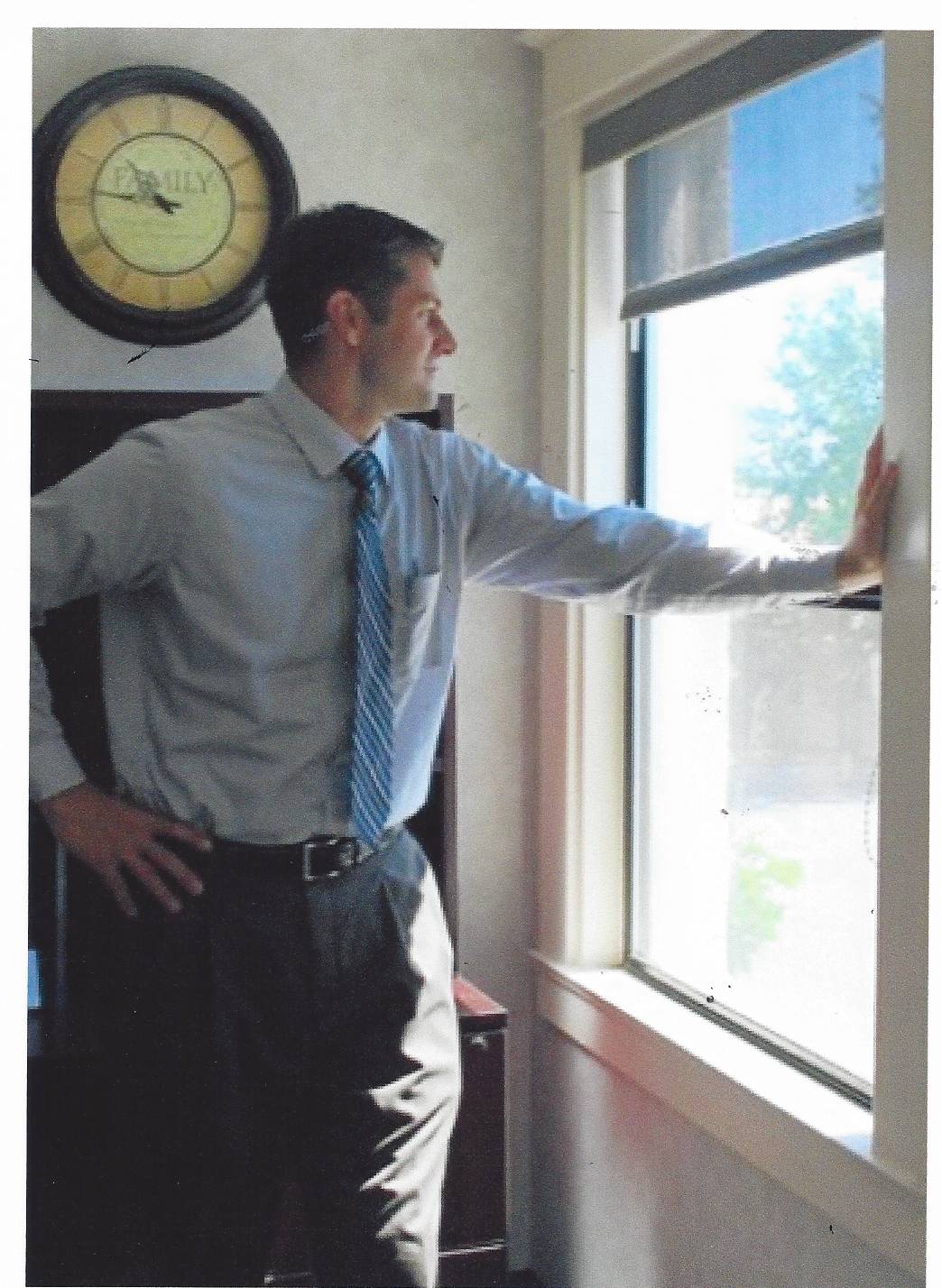 The Honey Lake Valley Recreation Authority issued a Public Request for Proposal on June 17, 2015
The day (August 6, 2015 @3:00 PM) the public Bids were to be opened, Executive Officer Jared Hancock decided to open the bids secretly.
(Public bid openings are open to the public. This is a $2,000,000 public project to build a community pool)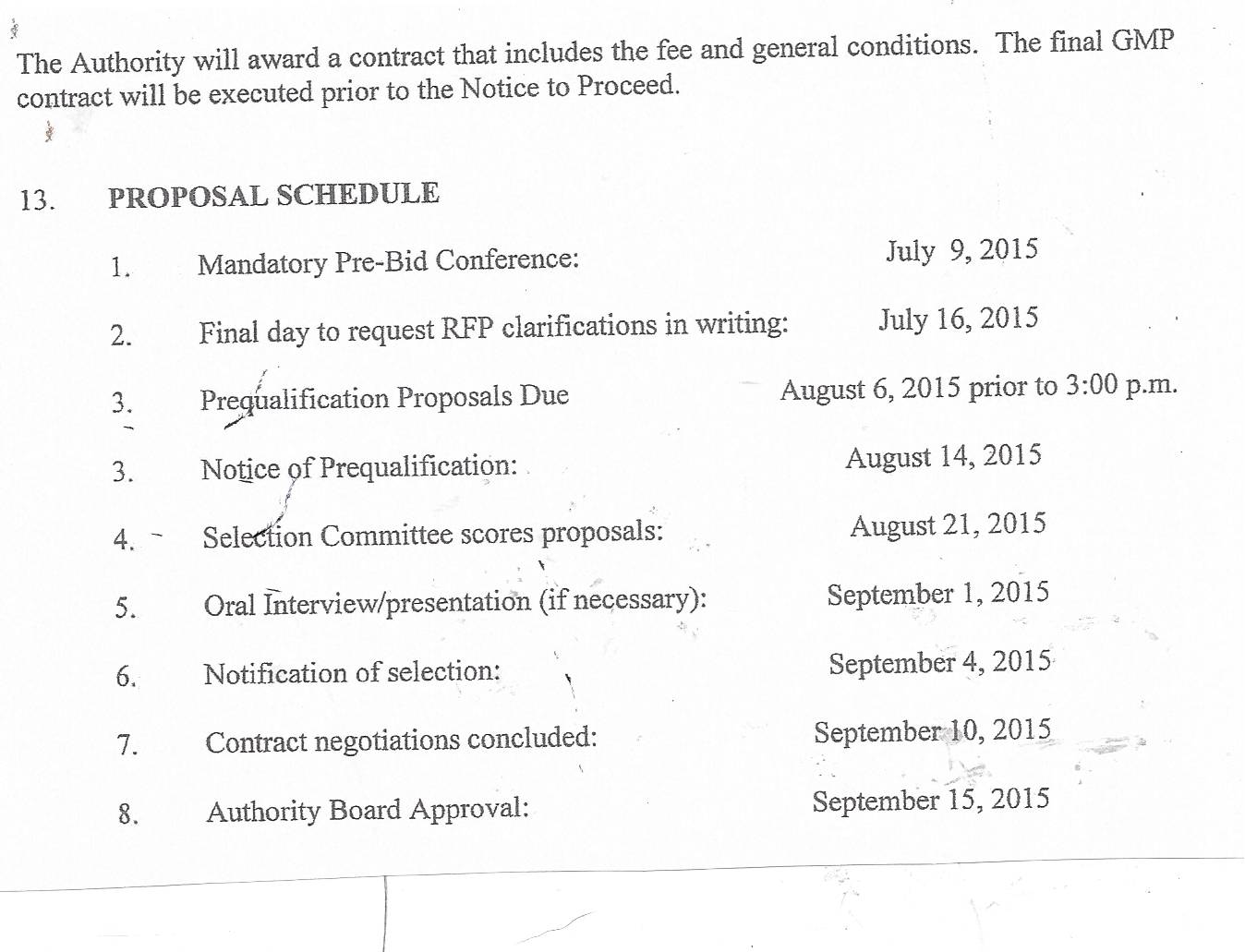 Hancock based his decision, for the secrecy, on Public Contract Code 22160-22169. Of course, this government code does not give him any authority to make the bids secret.
THE PUBLIC AND THE CONTRACTORS BIDDING SHOULD BE VERY CONCERNED
WITH
HANCOCK'S ACTION
Submitting bids for public jobs is very expensive for contractors and when the process is tainted, someone should pay
Comedy Central's Jon Stewart advised his viewers, on his final show:
"If you smell something, say something"
The Honey Lake Valley Recreation Authority
Releases Request For Proposal
THE HLVRA ISSUED THE RFP
WITHOUT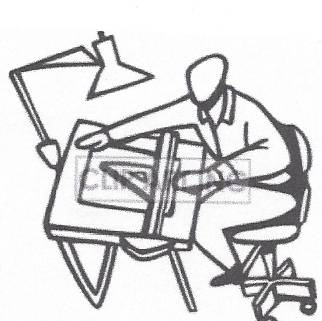 ANY "PLANS " WHATSOEVER
(only specifications & artwork provided)
AND
states that the Bids cannot exceed the "Guaranteed Maximum Price"
Option 1: GMP $1,162,466
Option 2: GMP $1,087,400
Option 3 (1 & 2): $ 2,249,866
Good Luck...this will be awarded to NST
Lassen County RFP's are politically selected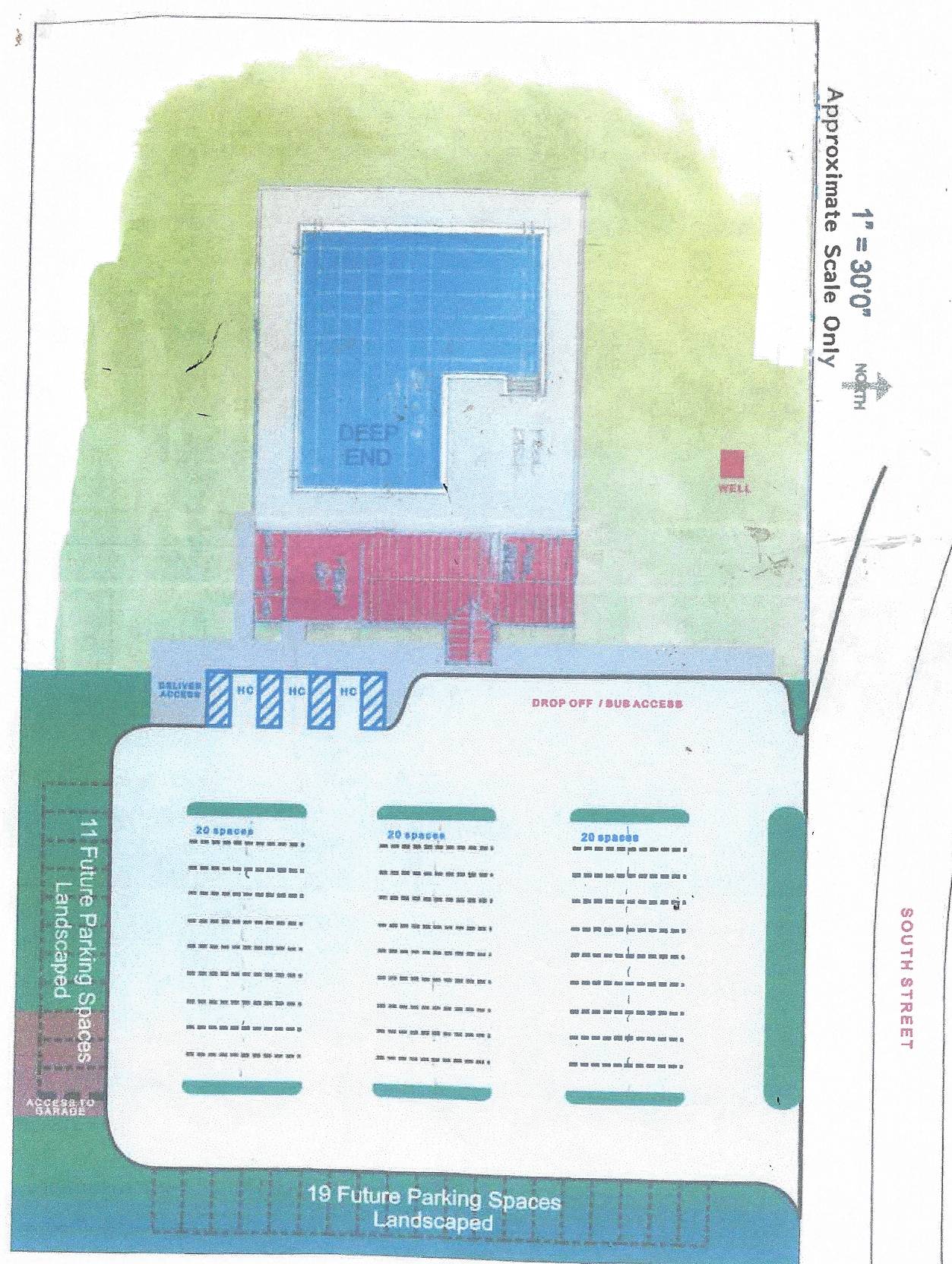 This is the JPA's Schedule
HLVRA Fails to Get Grant
&
Must Rely Now on the City of Susanville
for
Construction Dollars
Numbers a little fuzzy?
Collateral: Susanville Fire House 0r Police Station ?
Umpqua Bank costs: $319,452 not $539,376
Payments?
Fees?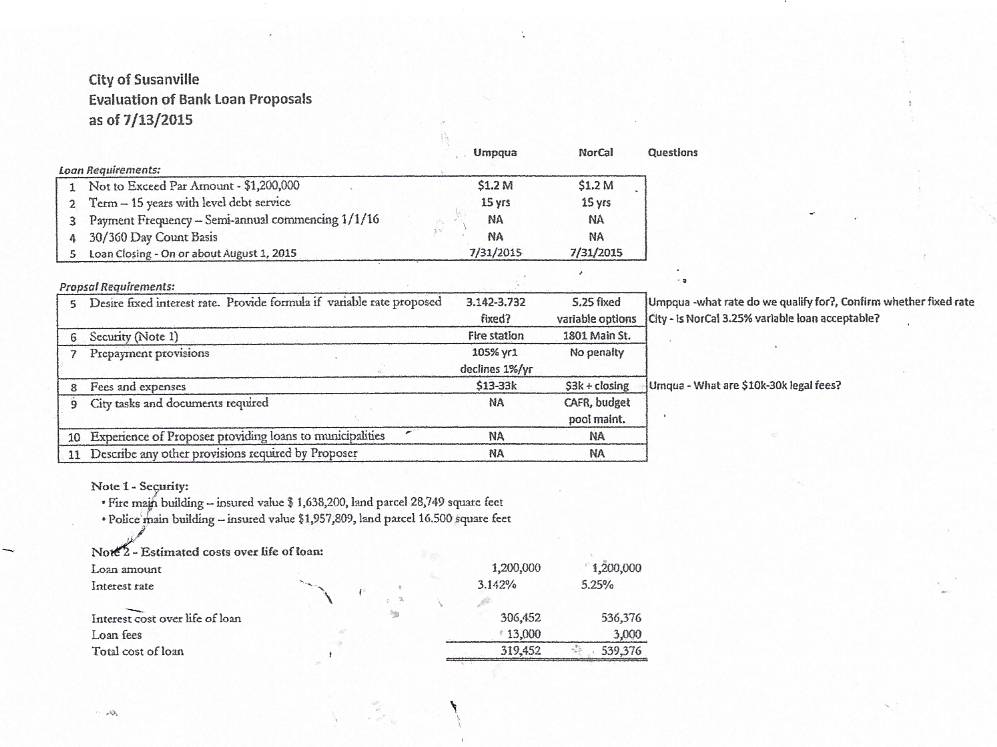 KAN WE HELP
ASKS
CHAIRMAN PYLE
TO APPOINT
NEW HLVRA MEMBERS
Chapman attends less than 50% of the JPA's meetings and when he does show up he talks and talks and talks. Did we mention that he just T A L K S.
Chapman has been responsible for most of the delays.
CHAPMAN LIES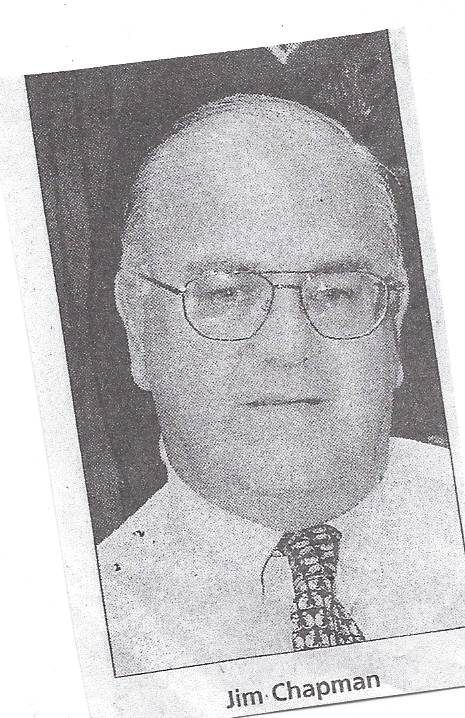 AND HAMMOND SWEARS BY IT
Video June 23, 2015 BOS meeting: Part 2, 12:56 to 18:15
Supervisor Hammond & Chapman
deliberately
misled the public
Lassen County District 2 Supervisor Jim Chapman and District 5 Supervisor Tom Hammond sit on the Honey Lake Valley Recreation Authority created by the City of Susanville and Lassen County.
Honey Lake Valley Recreation Authority
These two men attended the June 16, 2015 HLVRA meeting when the Executive Director Jarod Hancock announced that Susanville did not get the OGALS Grant. The OGALS Grant, if awarded, was to be used for Susanville's share ($1.1 million) of the construction costs for the community pool. Susanville must now find another source for the pool construction costs.
The County will hold onto the $1.1 million that they borrowed on June 4, 2015 until Susanville can find a source for the pool construction costs.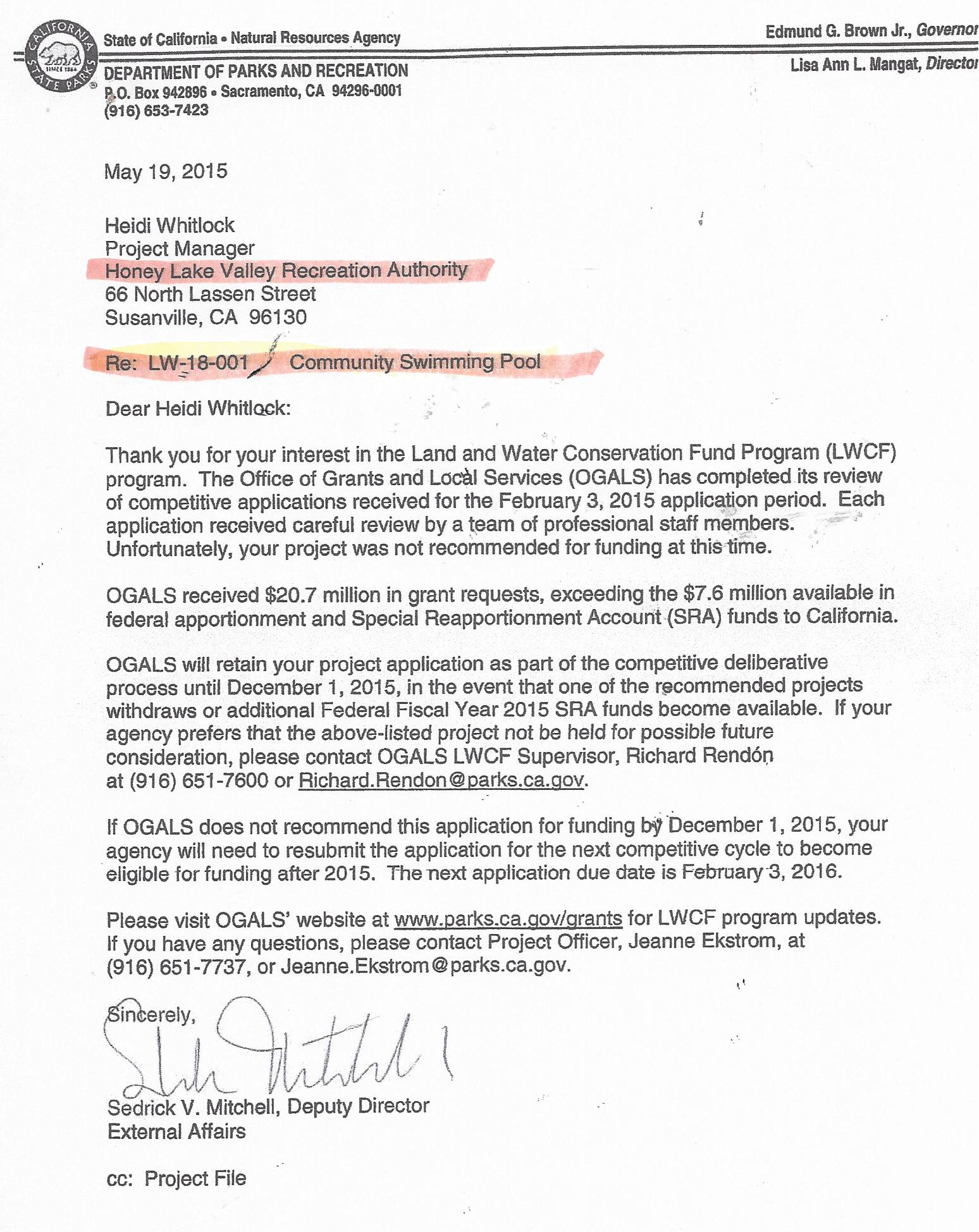 Chapman and Hammond stated clearly that this Grant had nothing to do with the pool.
JUST TWO PLAIN OLD FASHION LIARS THAT THINK
THE PUBLIC DOESN'T CARE IF YOU LIE TO THEM
YESTERDAY, AT THE BOARD OF SUPERVISORS MEETING, CHAPMAN AND HAMMOND FAILED TO REPORT THIS "FACT" DURING AGENDA B-4 (Unagendized Reports by Board Members aka meetings they attended) AND WERE CLEARLY ANNOYED THAT THE ISSUE WAS BROUGHT UP BY KAN WE HELP.
City of Susanville Fails to Get the $1.1 Million Dollar Grant for
Construction of the
Honey Lake Valley Recreation Authority Pool
There are no planned "amenities". This is a basic "L" shape pool. The "Pennies for the Pool" fund will be able to fund "amenities" after the pool is built.
Lassen County Supervisors and the only incorporated city in the County, Susanville, formed a Joint Powers Authority in 2013 to build a community pool.
The HLVRA moved forward today and approved a Request For Proposal (RFP) to find a developer or contractor to build the pool even though there are no funds yet. The two public entities have each been contributing $200,000 a year to the HLVRA towards the construction costs. Funds have been used to demolish the old pool
This Board has no sense of urgency and indicated that this process could take years.
Could this be just another JPA bottomless money pit
Wrong Board Members
for Pool Project
No interest
No progress
No funding
After a year and half, this Joint Powers Authority is just holding one meeting after another that produces nothing. They don't care if meeting notices are published. They don't seem to care that no one attends the meetings anymore. They don't seem to care if the Minutes are correct of past meetings. There is no interest, no progress, no funding.
It will take another year before they even have plans drawn up and find funding to build
This Board has ZERO knowledge, experience or interest in building the pool.
This is the design that the Board chose: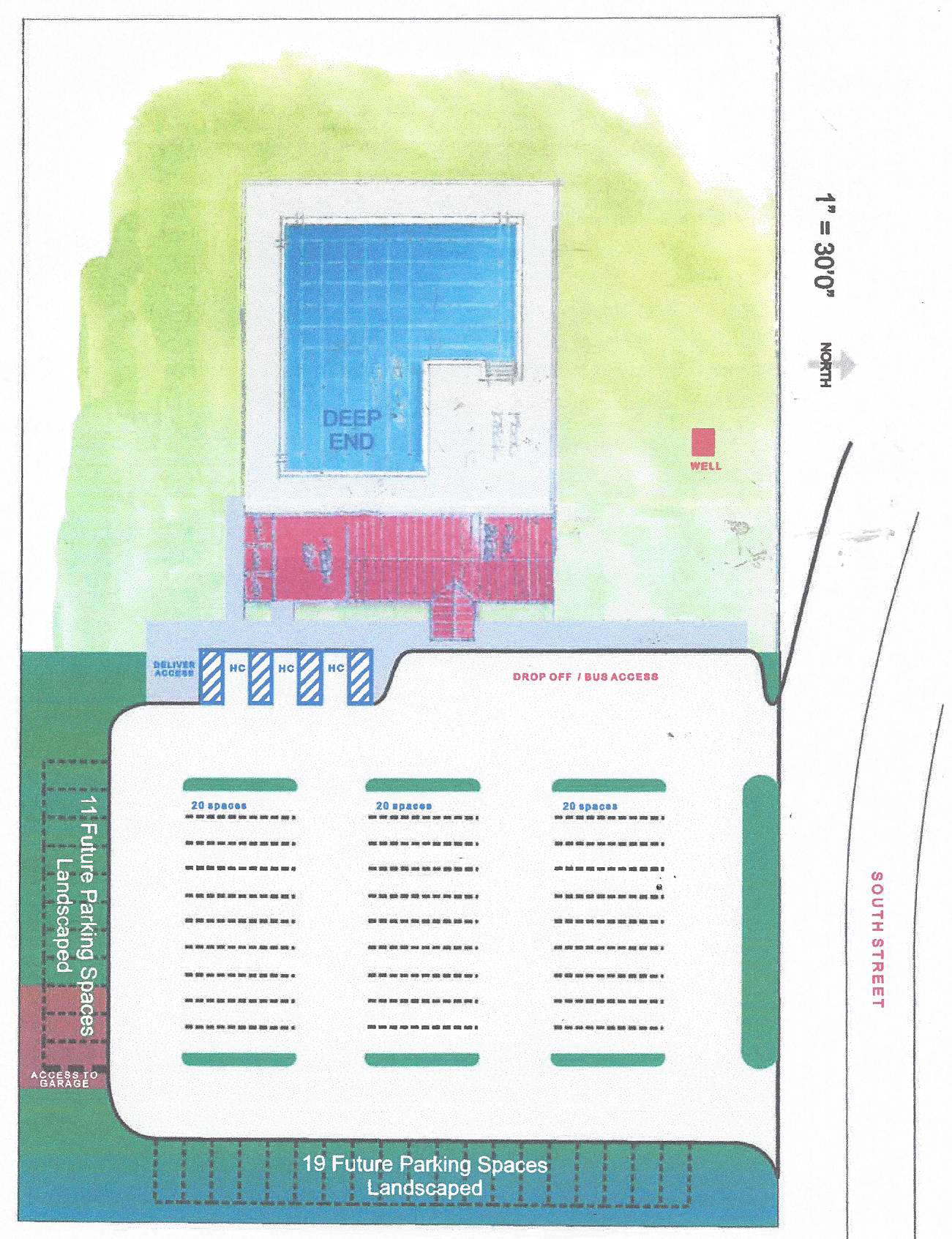 The footprint of this project basically takes up the entire lot and Supervisor Chapman wants more discussion on where to place the pool?
The JPA Continues to Lack Funding for Construction
The old Roosevelt pool has been demolished but the HVLRA struggles to move forward.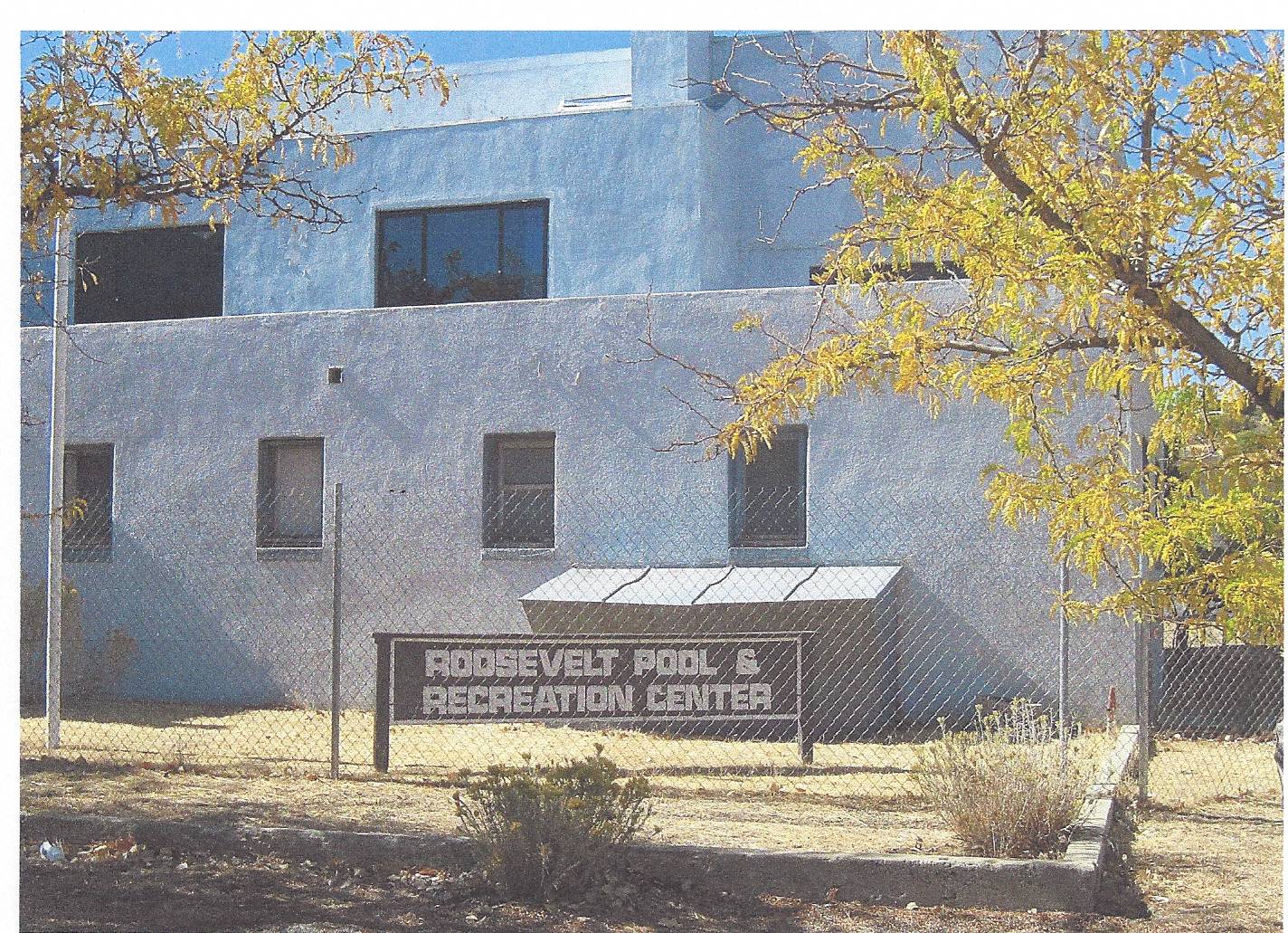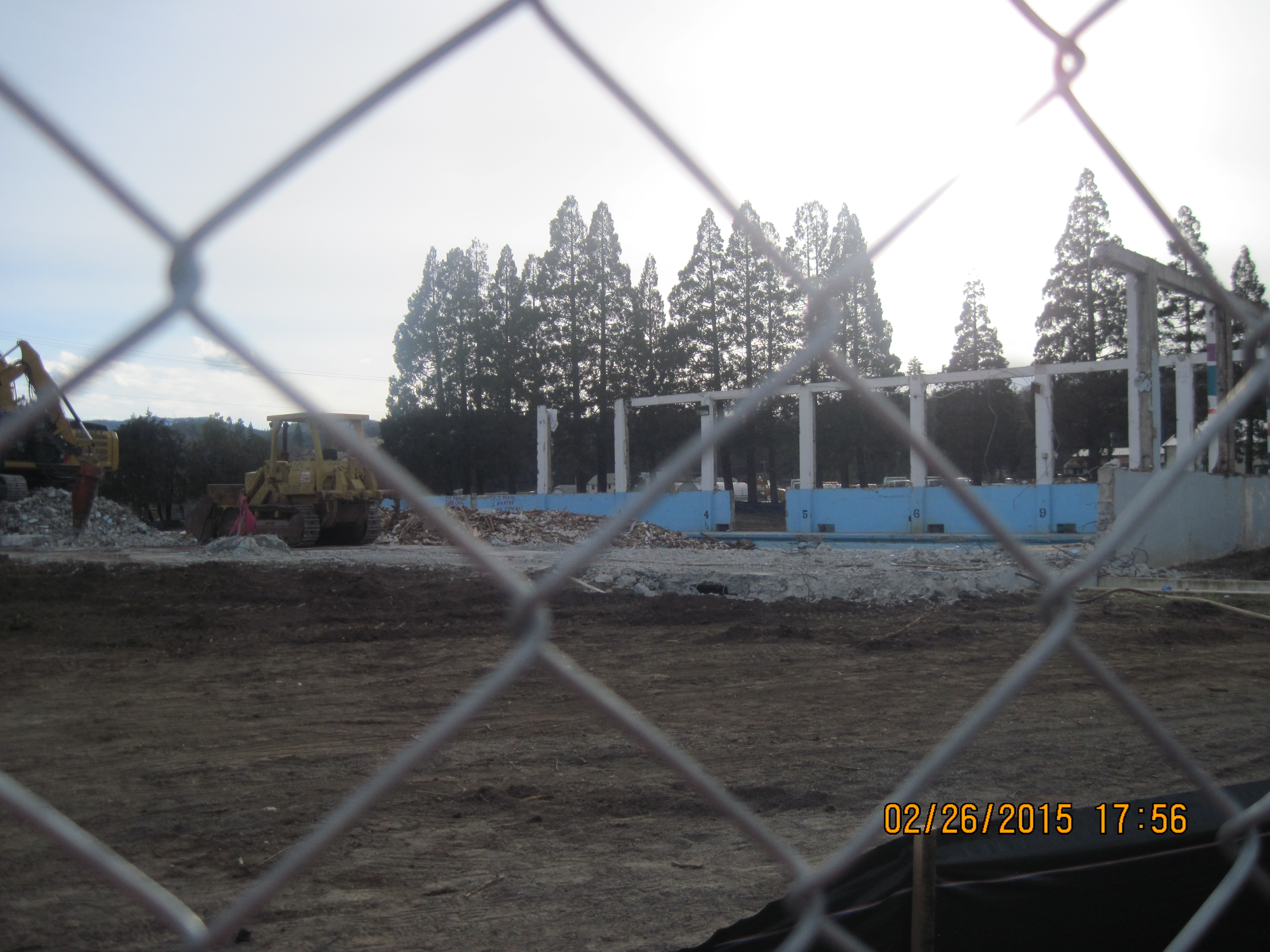 The City of Susanville applied for a Grant but will not know before September 2015 whether or not they will get funding from that source.
The County on the other hand has contracted a firm for $64,000 to advise them on borrowing $1.1 million and contracted a law firm for another $26,000 to watch the loan process
$90,000 that could have been
used for construction
?ATTENDANCE:
THE RESULT
OF AGENDA'S NOT BEING POSTED?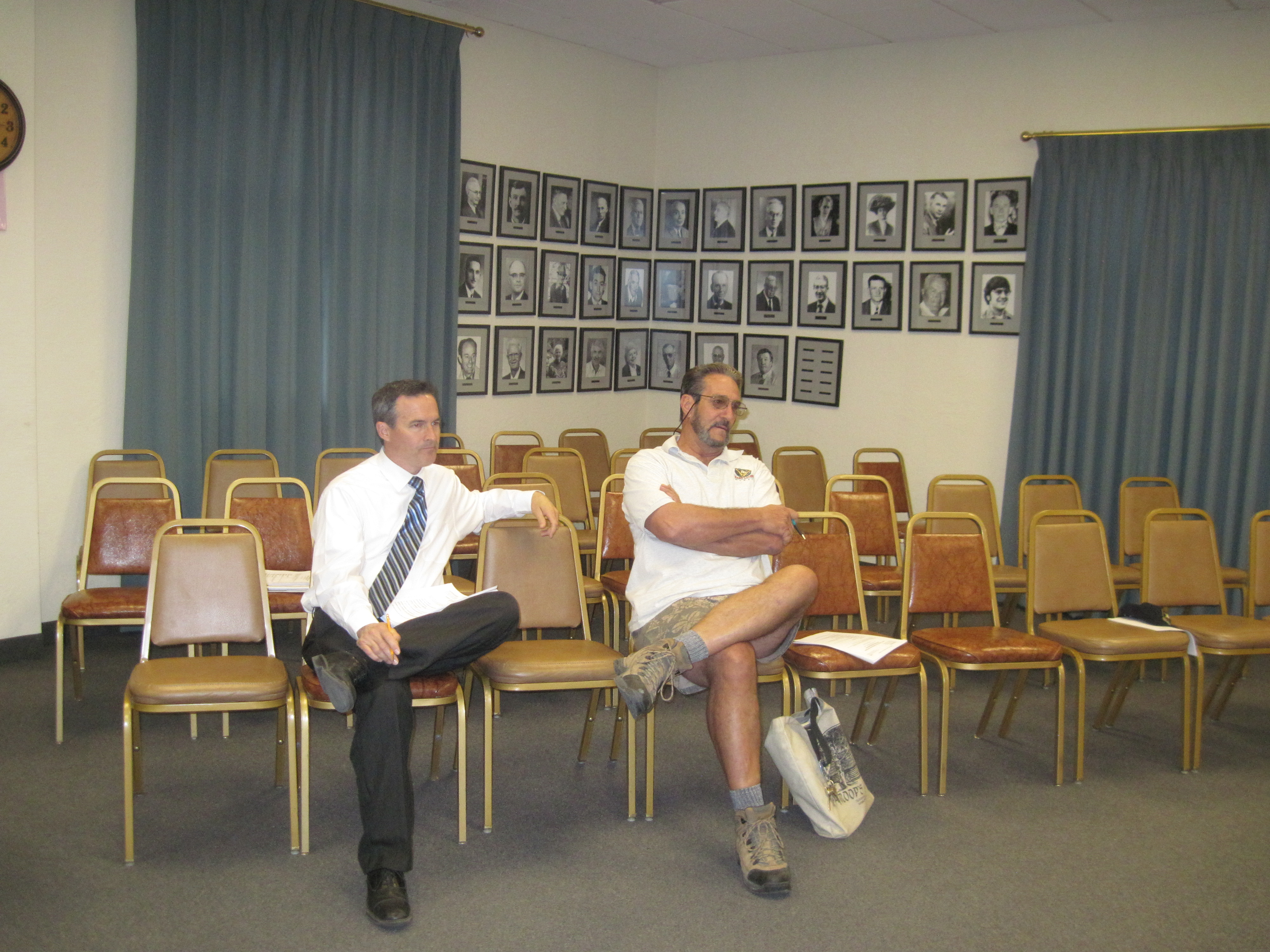 The JPA Board did decide to have plans drawn up for the pool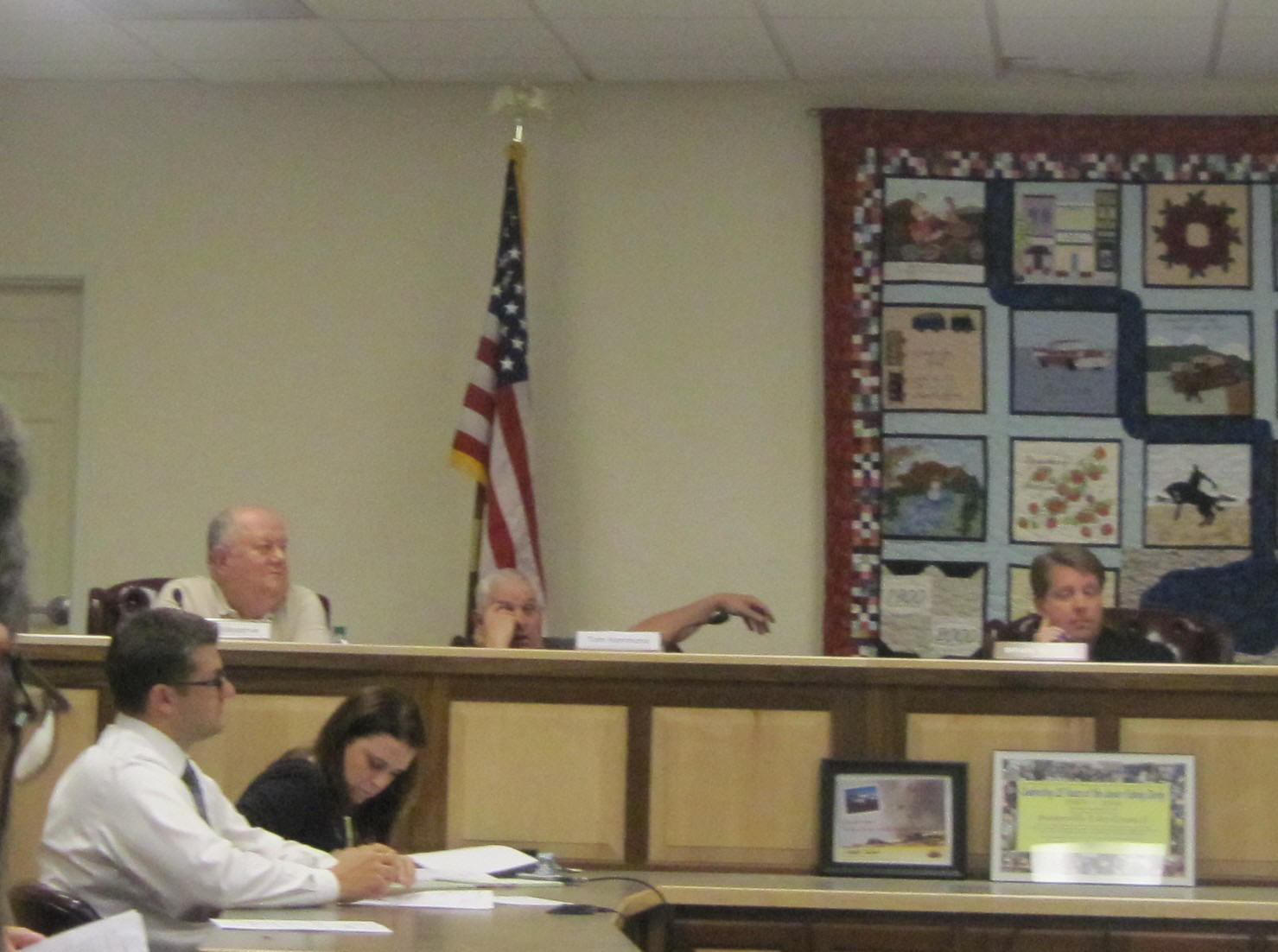 JPA Board: David Meserve, Tom Hammond, Brian Wilson
HLVRA Board asked, again, to post their agendas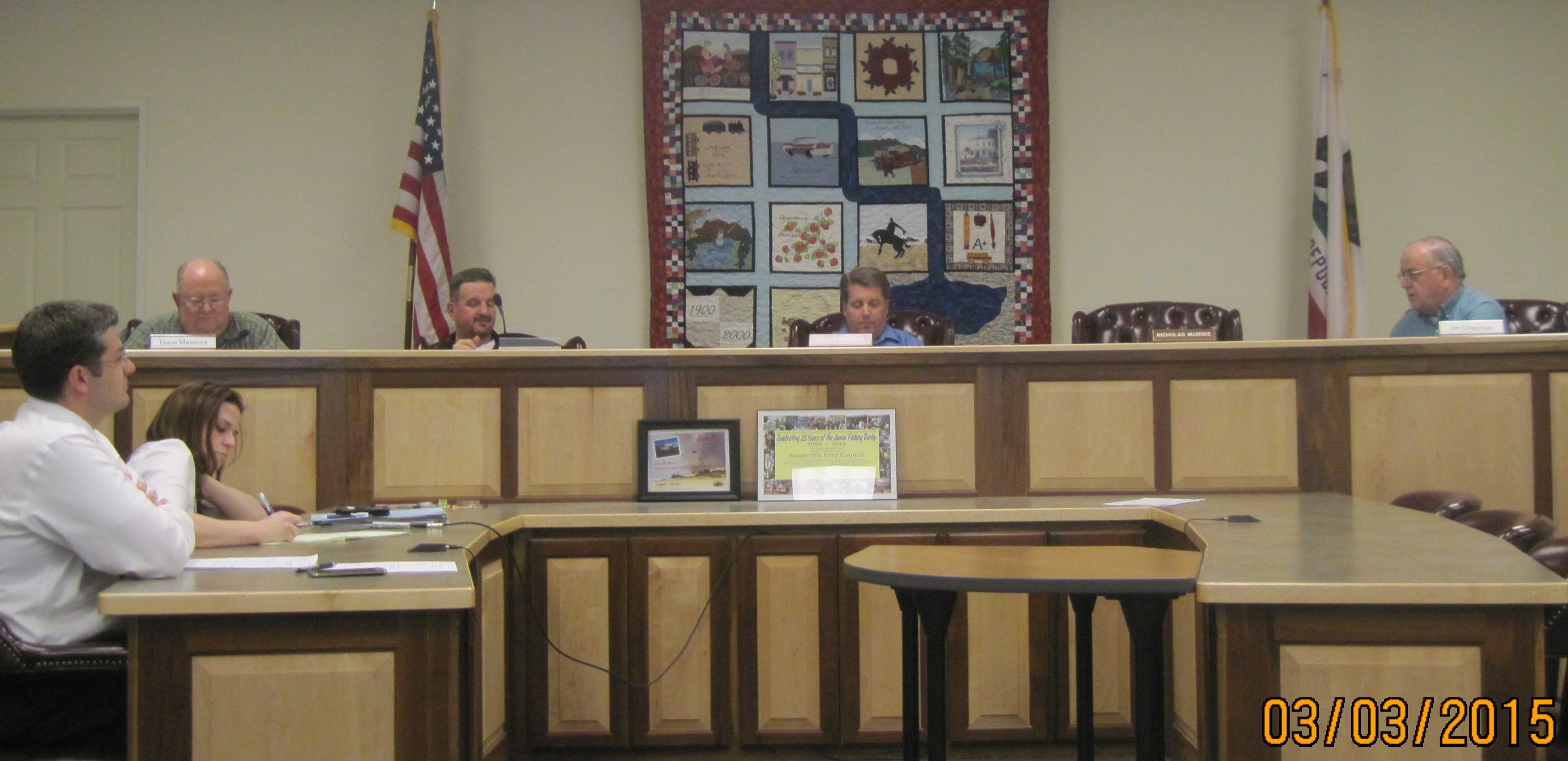 L to R: David Meserve, Alternate Jeff Hemphill (Hammond a no-show) Brian Wilson, Jim Chapman
Jim Chapman lashed out at the public for attending too many public meetings and he feels that the agenda is available at enough places. That explains all of the empty chairs at all of the meetings.
The problem: the Brown Act requires the Agenda to be posted on their website.
The JPA was established in late 2013 to build a Community Pool for Lassen County. To-date, they have not secured any funds to build the pool. The old Roosevelt Pool has been demolished and now, no money to start construction.
Kan We Help provides a link, above, to the HLVRA's meetings
If the HLVRA doesn't want you to attend, not posting their agendas is a good way to accomplish this.
THIS IS ALL PUBLIC MONEY
Roosevelt Pool Demolition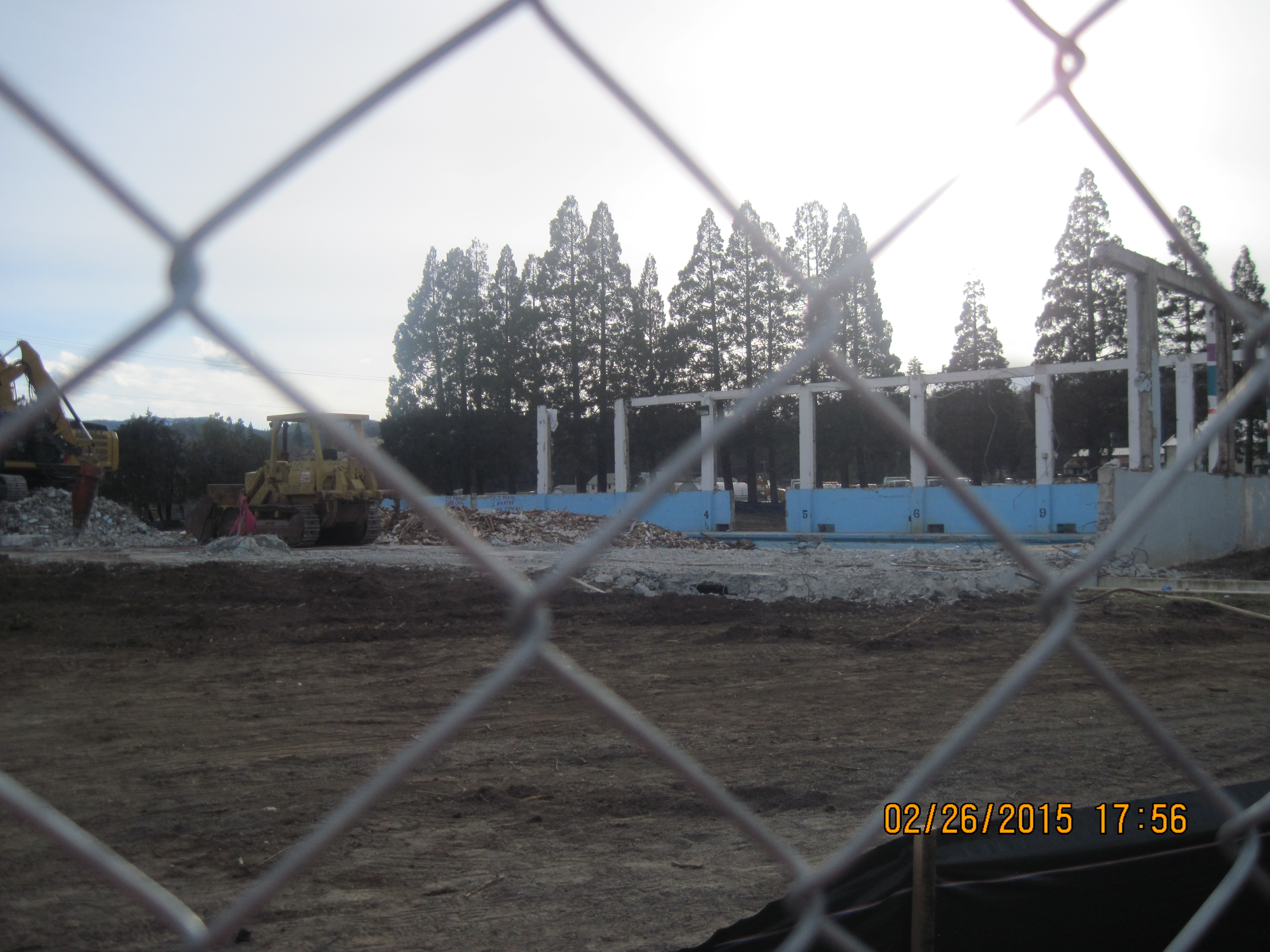 Three HLVRA Board Members Approve
Demolition Contract for Roosevelt Pool
The big problem: No property has been transferred to the JPA.
[the school district still owns Roosevelt Pool and the County still owns the parking lot]
and a
Legal Services Contract
Kan We Help Receives Public Records Request
The delay.....they had to suddenly "create" the supporting documents
The HLVRA could not release the supporting documents for their "staff hours" because they did not exist.
Because the HLVRA was non-responsive, Kan We Help also filed a Public Records Request for the HLVRA invoices supporting documents with the Lassen County Auditor.
The HLVRA finally provided newly created staff hours reports. These staff hour reports were filled out by one person and coincidently matched all of the invoices billed to the County. Obviously, this was an effort to validate the $58,000 billed to the HLVRA for Susanville staff time.
Hopefully, when these documents are requested in the future, they will be legitimate.
HLVRA Executive Officer
Ignores Public Records Requests
to
Release Supporting Documents
for Payments to Staff
Jared Hancock, HLVRA Executive Officer has refused or cannot comply, after several requests to release documents that support reimbursements to Susanville "staff". Lump sum invoices are submitted and quickly paid.
There are currently no employees at the year-old Joint Powers Authority created to handle millions of taxpayers dollars to build and manage a community pool in Susanville, California.
Accountability + Transparency= Trust
After several requests by Kan We Help, the HLVRA has agreed to submit at least monthly financial statements.
Honey Lake Valley Recreation Authority
meets today at 3:00 PM at the Susanville City Hall
New pool designs, New Costs
$ 3,002,924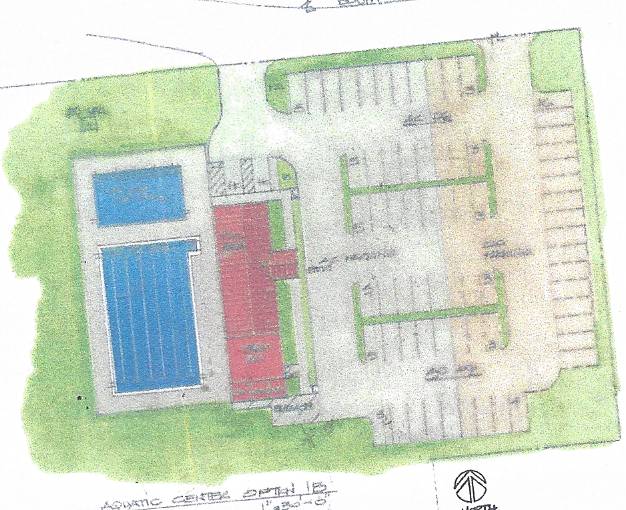 $3,008,604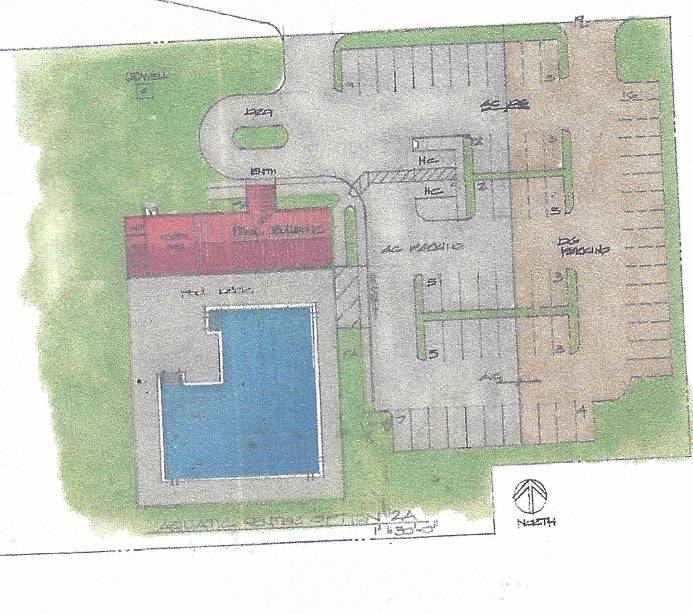 $3,277,880
$3,283,560
MORE HOUSEKEEPING NEEDED
MORE INTEREST NEEDED BY HLVRA
In October, Kan We Help submitted a request for the HLVRA to bring their website up to date with Minutes and Agendas.
Now that all Agendas have been posted it appears that the February 18, 2014 Minutes were never approved.
Also, the June 17, 2014, July 1, 2014 and the August 5, 2014 Minutes were approved without a quorum
Now, there are currently six outstanding minutes.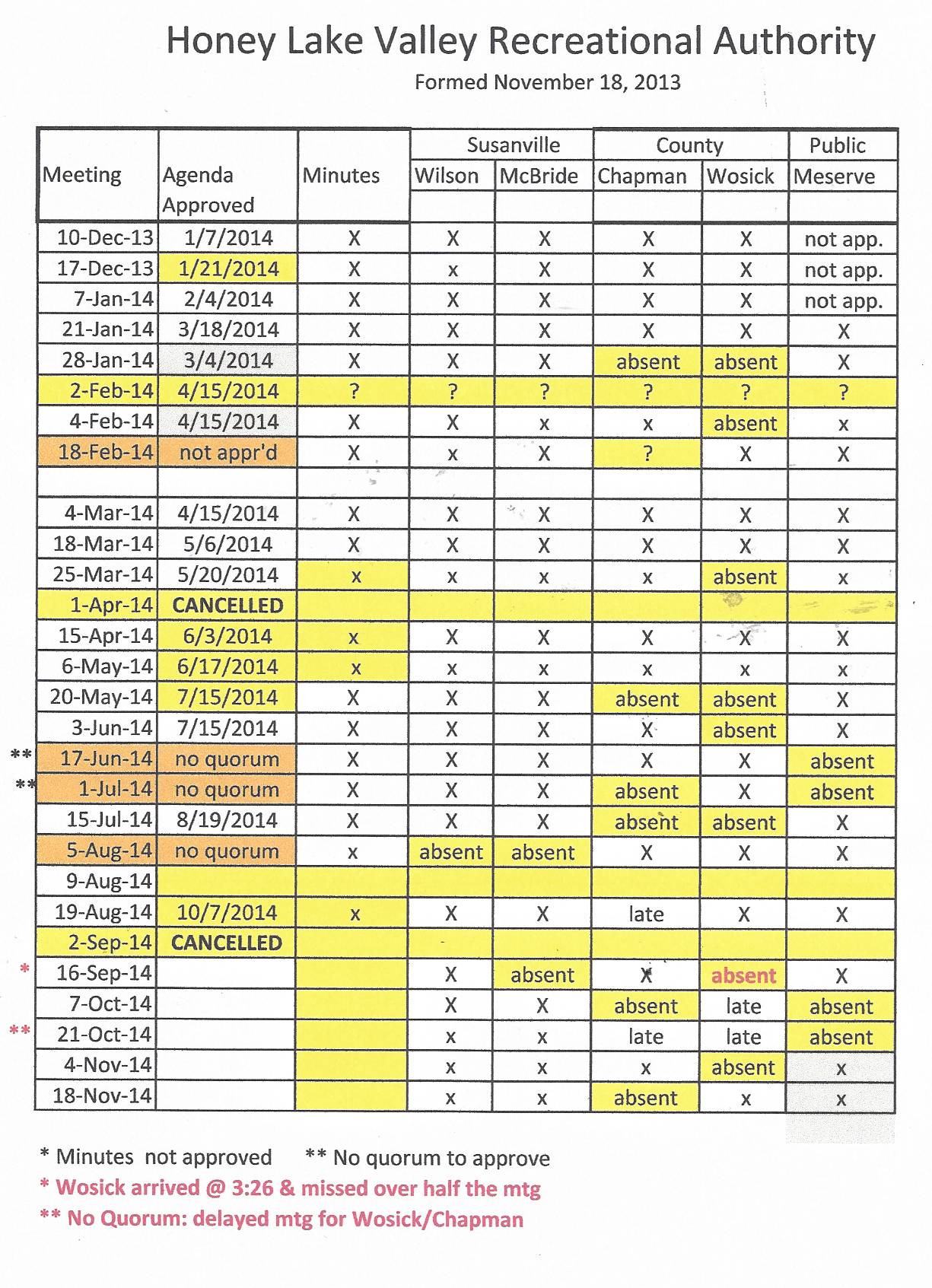 Community Pool
Lacks Funding
to
Proceed
The City of Susanville and the County
will not advance the $3,500,000 for construction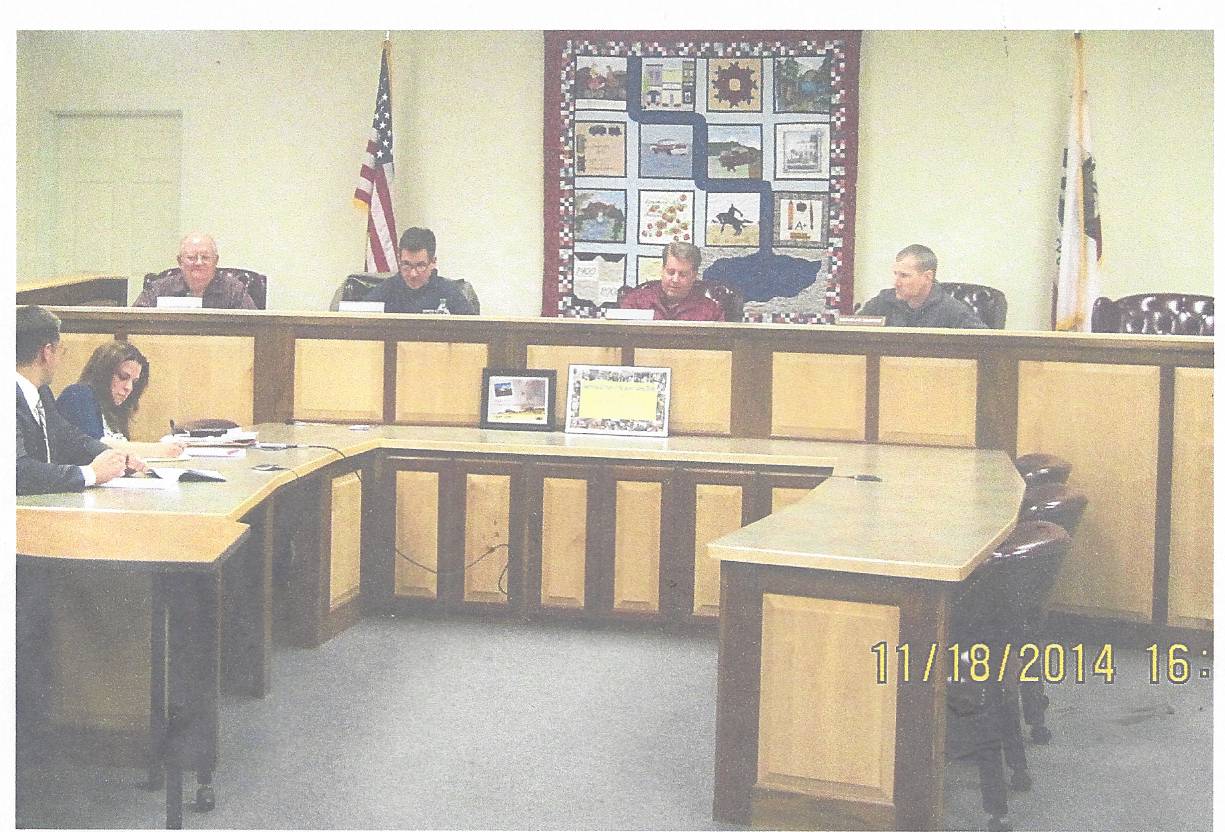 Honey Valley Lake Recreation Authority meets AND DOES NOTHING. Supervisor Chapman absent again.
This JPA Board has had the "Funding" conversation over and over and over.
May 6, 2014 JPA Minutes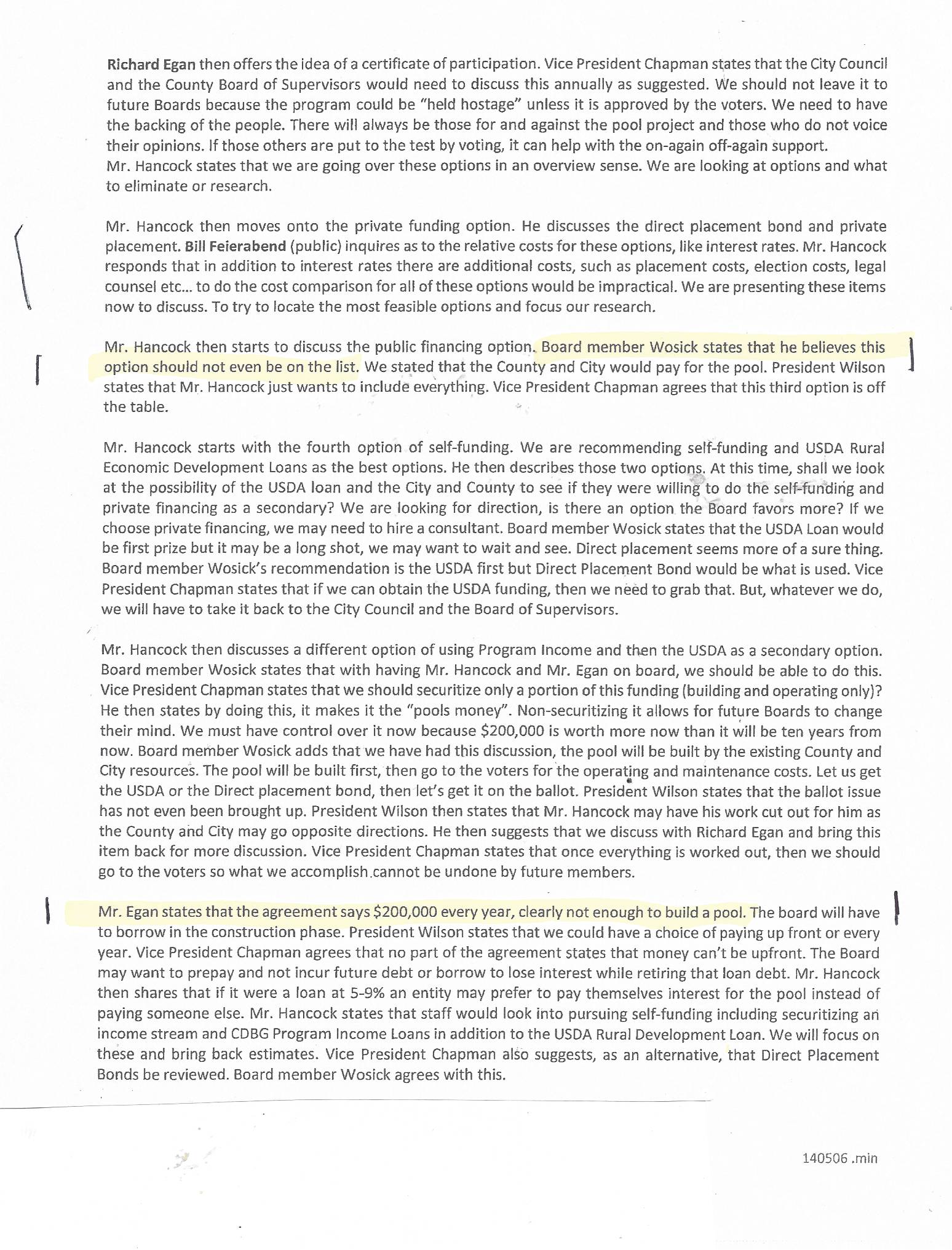 "Million Penny" Donator pleads for the JPA
to do the right thing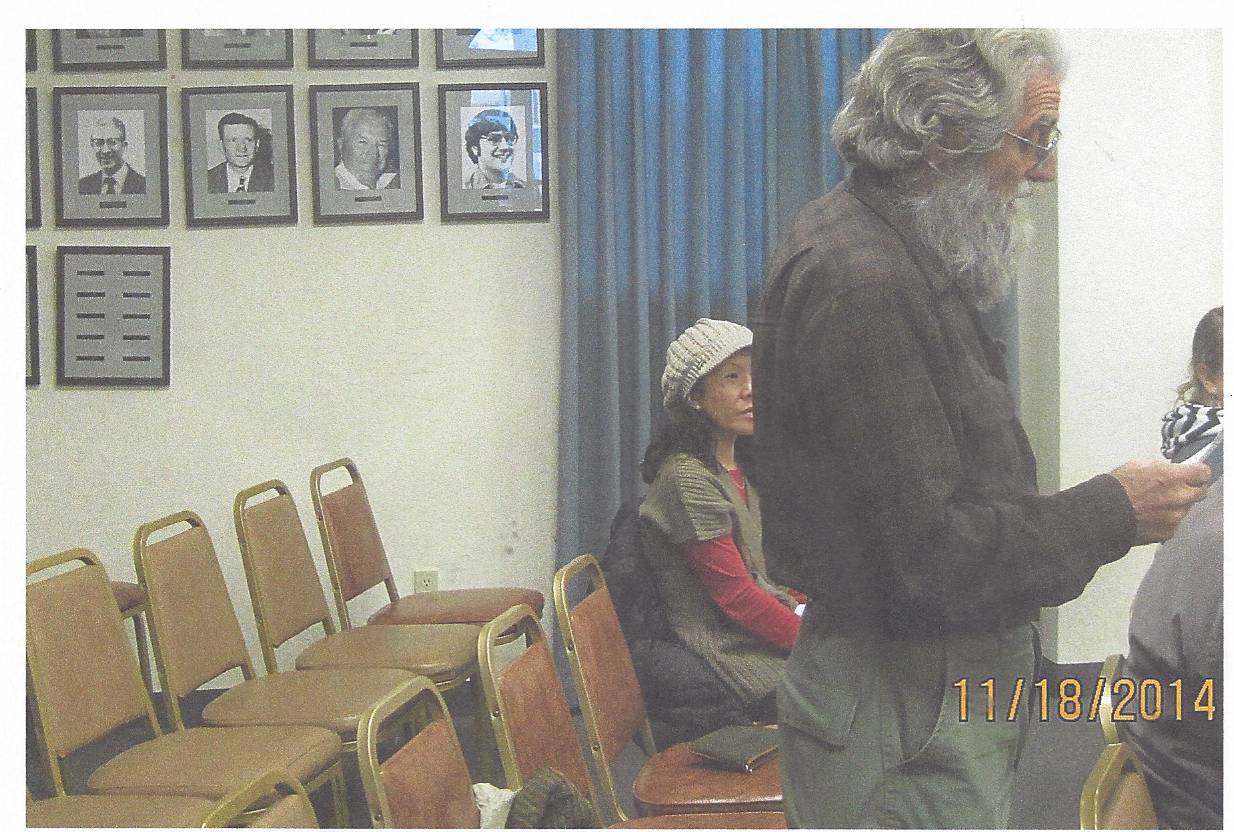 Bill Feierabend donated $10,000
?NO ACCOUNTABILITY
FOR THE POOL MONEY ?
Susanville Dentist, Dr. Jim Hodges, asks the Lassen County Board of Supervisors why the Community Pool has not been put on the Capital Improvement Plan.
Maybe.......What the public doesn't know won't hurt them.........?
The Supervisors have hidden six pages of County's Capital Improvement Projects from the public. These projects still exist but the Supervisors don't want the public pressure to complete them.
Maybe.......What the public doesn't know won't hurt them.........?
The Supervisors voted to donate $200,000 (of taxpayers money) a year to build a community pool at the old Roosevelt Pool site which closed in 2004.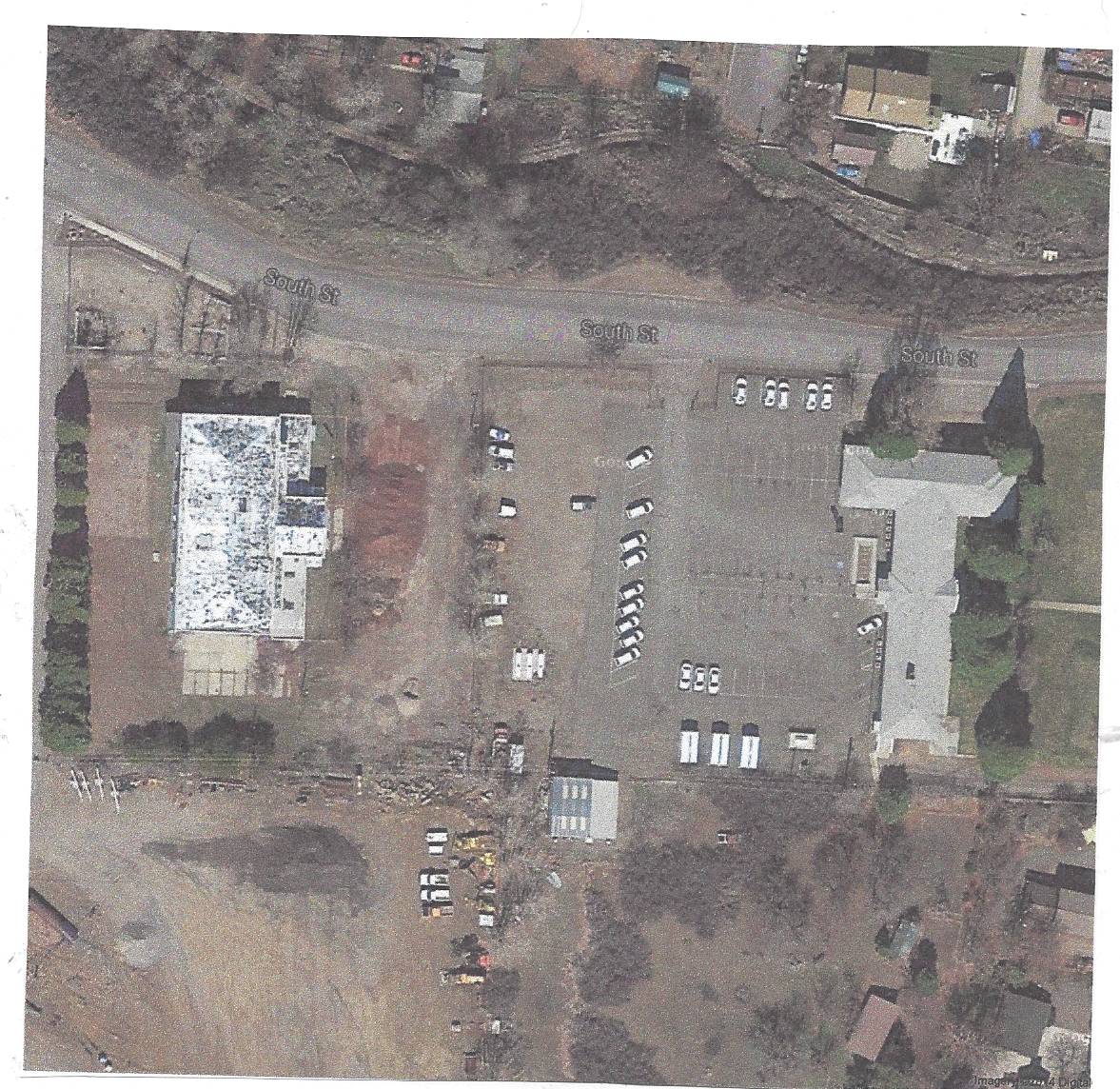 After one year, the JPA (Honey Lake Valley Recreation Authority) has been reluctant to release current financial statements.
The City of Susanville has donated $400,000 since the JPA was formed on November 18, 2013. The County has matched that amount and now is attempting to match the $1,750,000 needed for construction costs.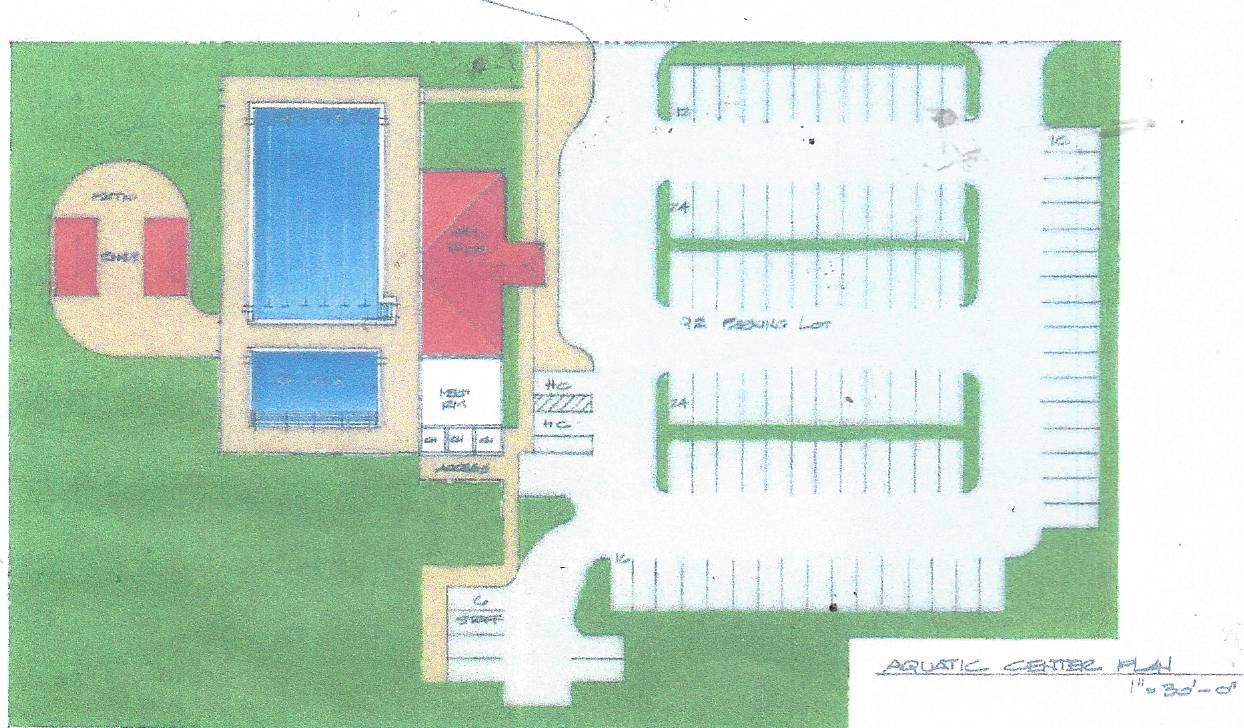 LASSEN COUNTY SUPERVISORS
HAVE NOT
LOCATED A FUNDING SOURCE FOR
THE HVLRA COMMUNITY POOL
Another week goes by and the Supervisors have yet to place any item, on their agenda, for the $1.75 million dollar's needed for County's portion of the construction costs for the pool
The old Roosevelt Pool, closed in 2004, and may well stay closed if the JPA does not find funding soon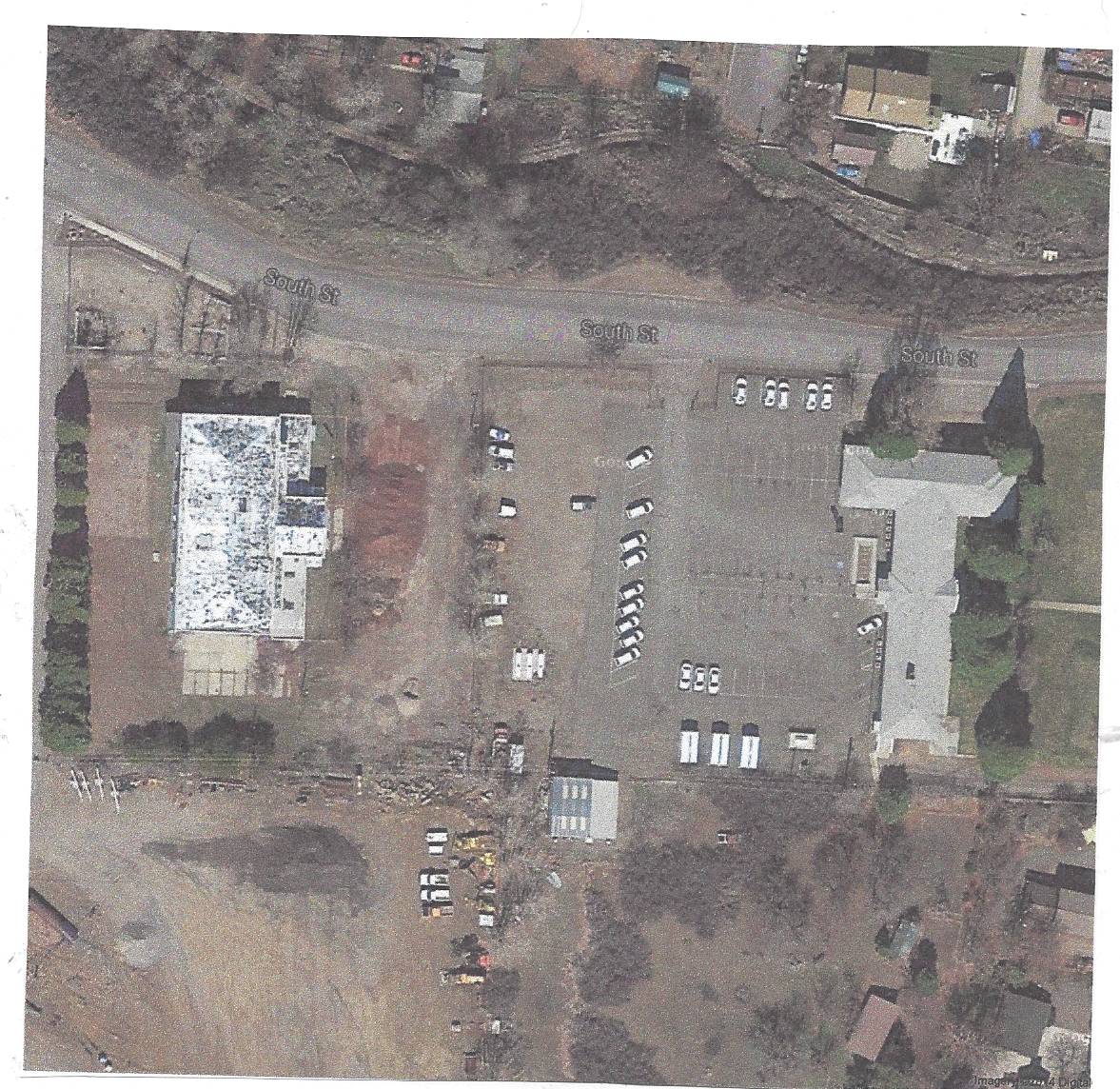 Design Options for Community Pool
Offered to HVLRA
Site: Old Roosevelt Pool
Option 1: $3,867,482
Enclosed Pool for year-round use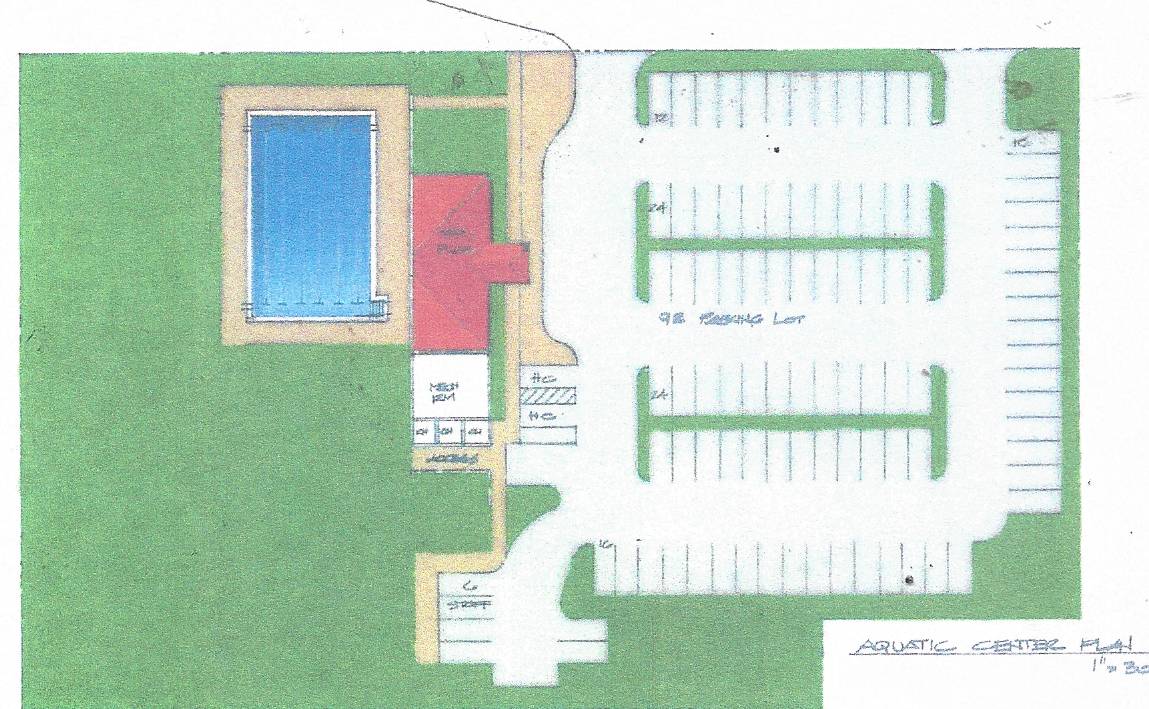 Option 2: $ 2,924,193
Not enclosed, for seasonal use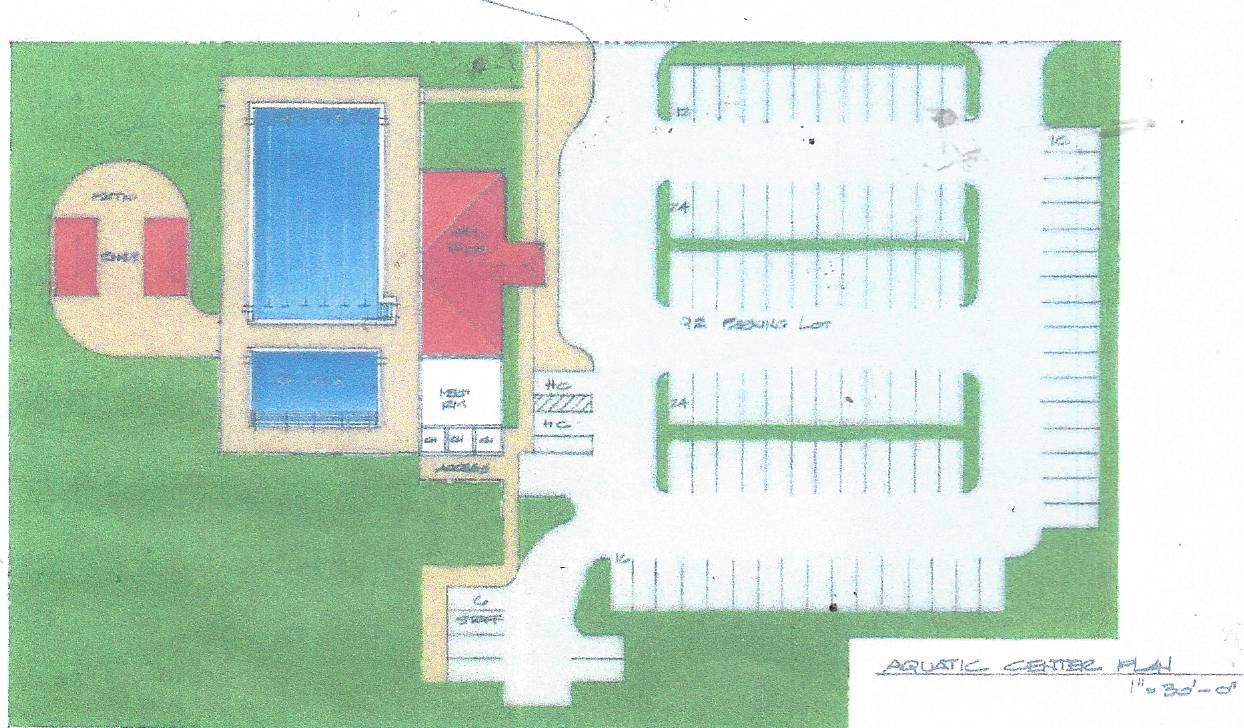 Honey Valley Lake Recreation Authority
Met on November 4 and
Presented Options for the Susanville community Pool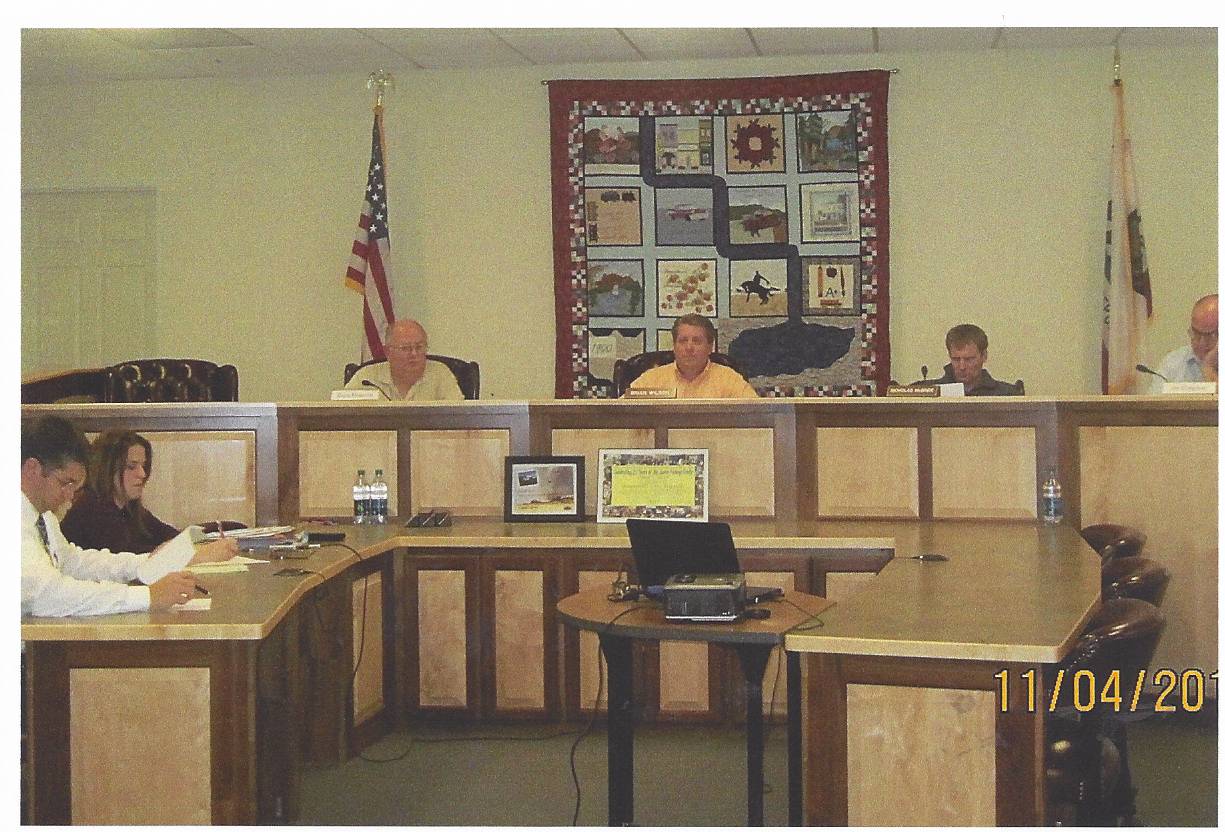 ABSENT: Supervisor Wosick. He has resided outside his District since January. He resides in Reno.
The HVLRA will be one year old on November 18 and the two public entities that make up this Joint Powers Authority (City of Susanville and Lassen County) have yet to secure any money to construct this community pool. The costs now exceed $3 million.
The JPA was asked to begin being accountable for the $800,000 now in its' treasury. Jared Hancock showed resistance to this type of accountability. President Brian Wilson asked Mr. Hancock to present a financial report at their next meeting.
JPA's are notorious for pissing away money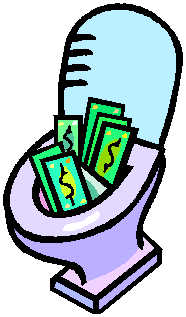 JPA's don't think they have to be accountable for the people's money
On November 5, 2014, the City of Susanville Agenda Item 12 failed to inform the public that $1.75 million dollars will be needed to donate to the construction of the community pool.
The Wheels, they keep on spinnin'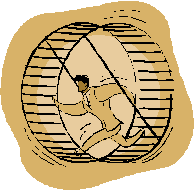 The Lassen County Supervisors decide to go on a Scavenger Hunt
The Supervisors decided to table the approval of $1.75 million dollars, for the pool construction costs, until they could locate the cash. It was decided that CAO Egan, Supervisor Chapman, Supervisor Hammond and Auditor Karen Fouch would meet early next week and find the money. The annual $200,000 donation to the HVLRA comes out of the "Tobacco Settlement" fund now, but would be up to the discretion of future Boards to continue this donation.
Supervisor Chapman stated that February was unrealistic to begin construction. Susanville City Manager, Jared Hancock is determined to keep the project moving forward.
In the mean time, the HVLRA met at 3:11 PM, across the street at the Susanville City Hall, and decided that a short mini-meeting was all they needed. A quick sweep through the short agenda and they went home.
Pool Joint Powers Authority
Plans to pay cash for Pool
$1,750,000 from the City of Susanville
and
$1,750,000 from Lassen County
Shhhh.....even though the Agenda title is a bit mis-leading...
Supervisors still place it as the last item on the Agenda, hoping no one will notice?
Agenda item H-6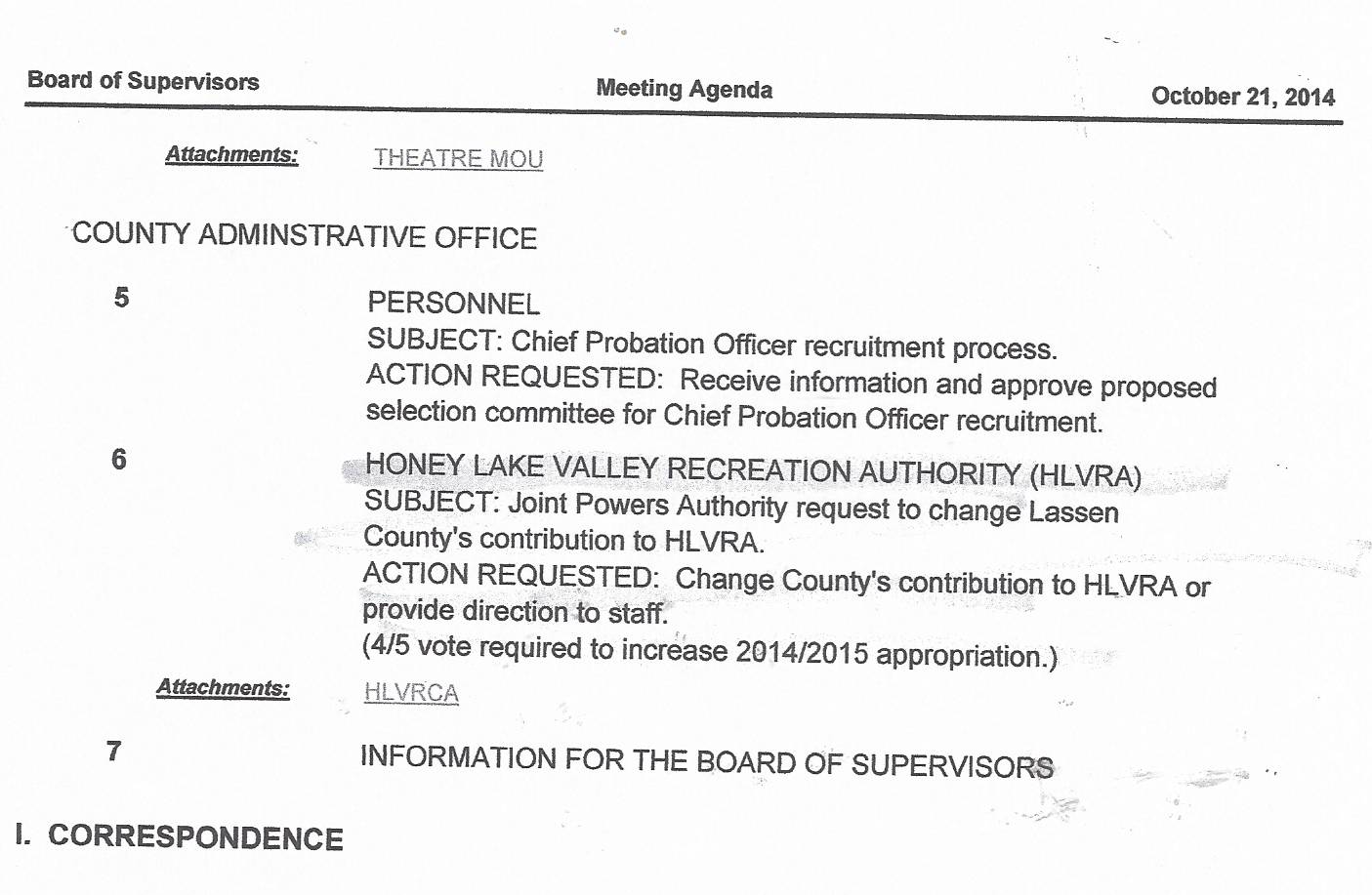 HLVRA Executive Officer, Jared G. Hancock sends both public agencies a request to consider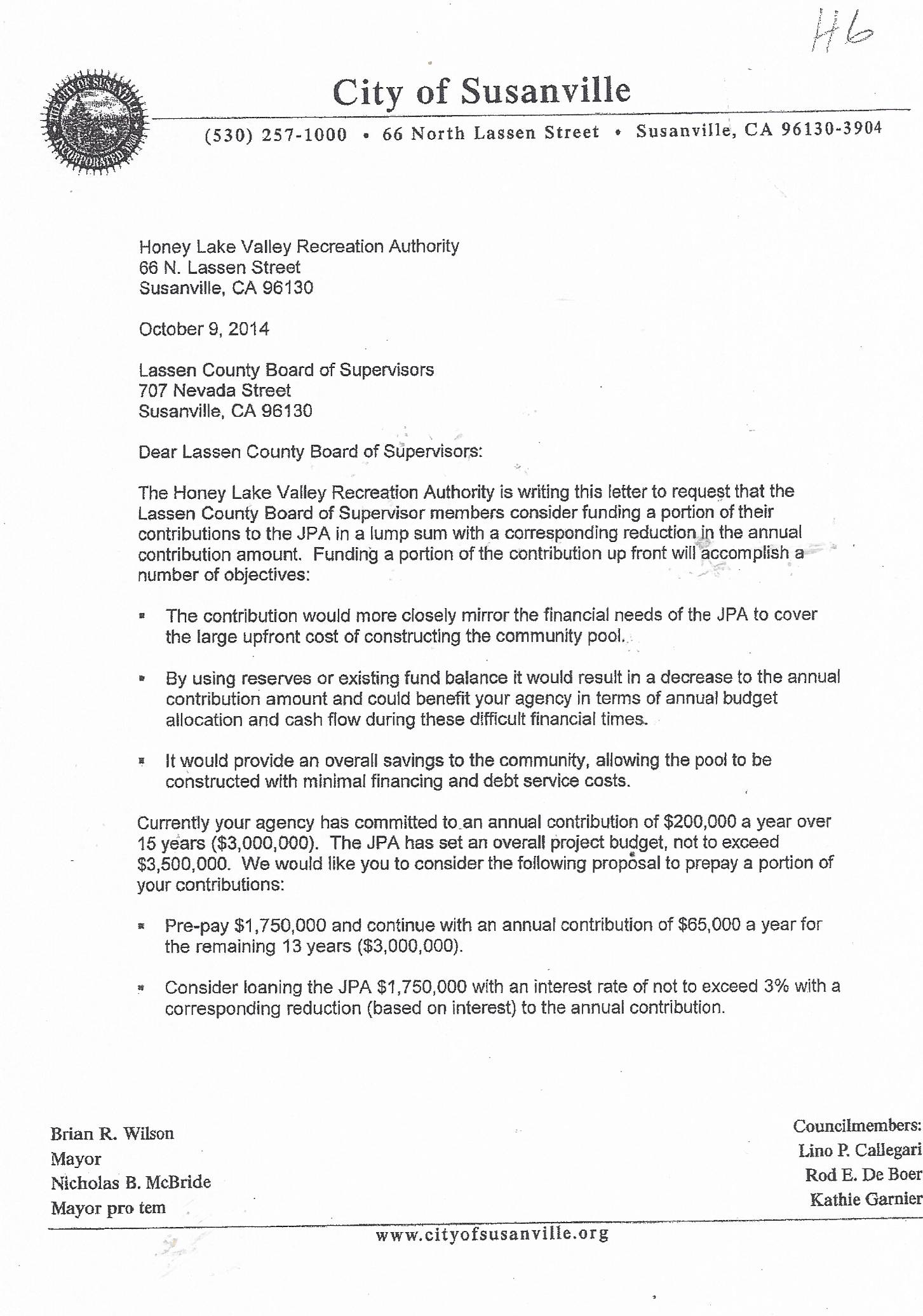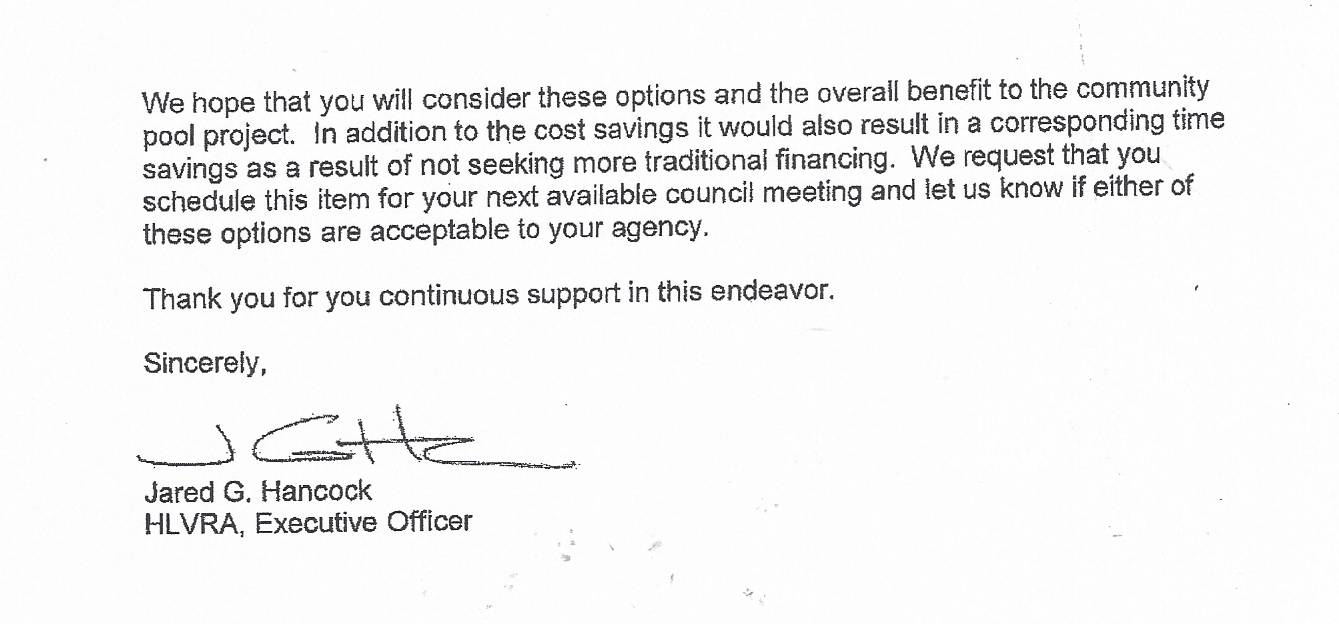 HLVRA
NEEDS A HOUSEKEEPER
Missing Agendas, Missing Minutes
A whole lot of cleaning up needs to be done on the Honey Lake Valley Recreation Authority Board. This JPA was formed in 2013 to build a community pool in Lassen County.
THREE BROWN ACT VIOLATIONS
A Quorum to approve the Minutes:
three members that attended the meeting and can attest to the accuracy and correctness of the minutes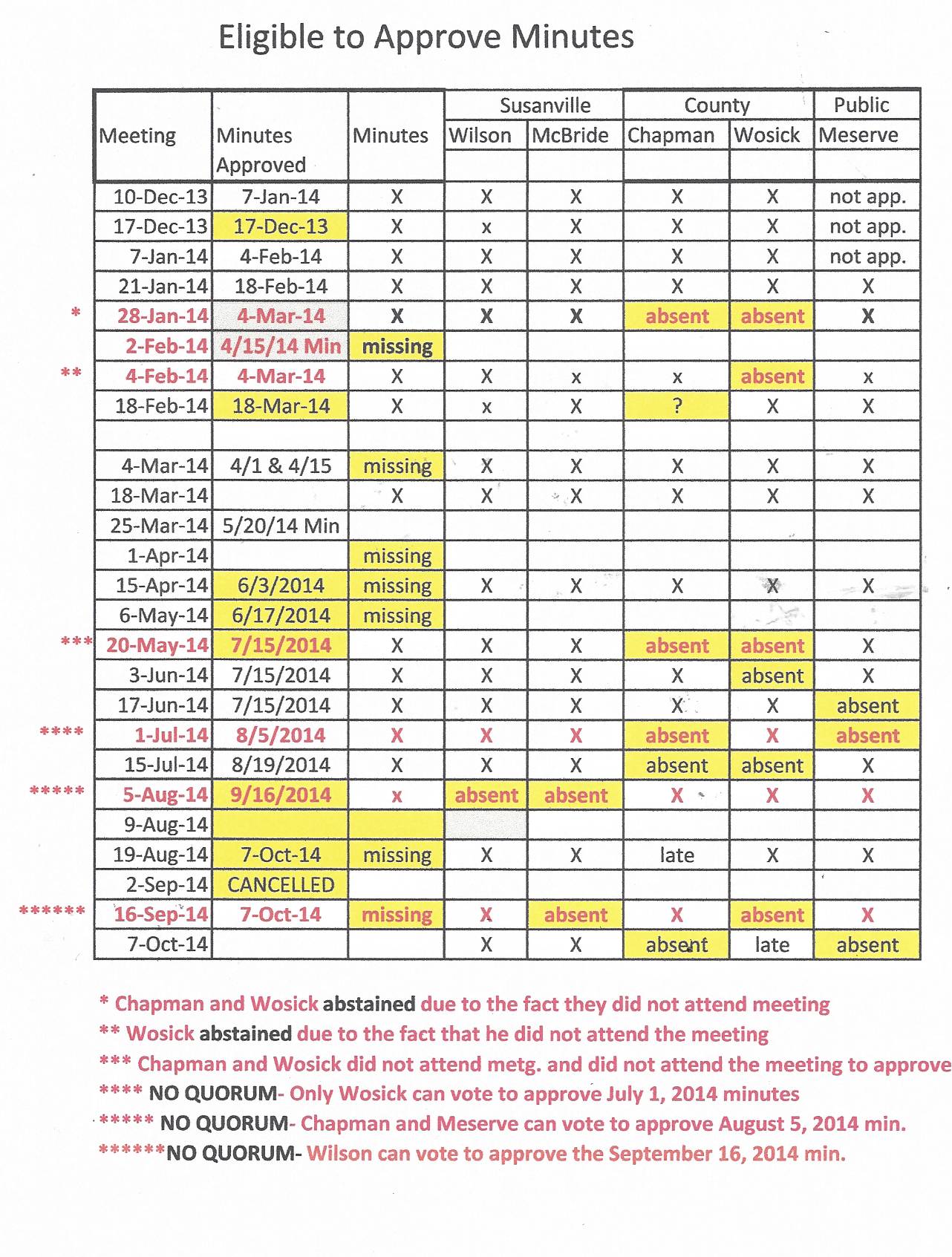 After a year, the Authority has not secured funds for the proposed $2.5 million project
NO POOL MEETING TODAY
NEXT MEETING: October 21, 2014
@ 3:00 PM, Susanville City Hall
LASSEN COUNTY HAS
HALF
THE REPRESENTATION
AT POOL JPA
Supervisor Wosick goes to one meeting and
Supervisor Chapman goes to the next.
The HLVRA ran into a problem at their October 7, 2014 meeting today. They had two meeting minutes to approve but NO CHAPMAN AND NO WOSICK. This meeting had only two regular members present and an alternate. Wosick showed up at 3:15 but could not vote to approve the Meeting Minutes for the September 16, 2014 because he didn't attended only the last half of that meeting. That left only two members that attended the 9/16/14 to vote, three members were needed to approve the 9/16/14 meeting. These minutes were tabled.
THE HLVRA IS SUBJECT TO THE BROWN ACT
Wosick, Wilson and McBride attended the 9/19/14 meeting and these 3 JPA members can approve these minutes.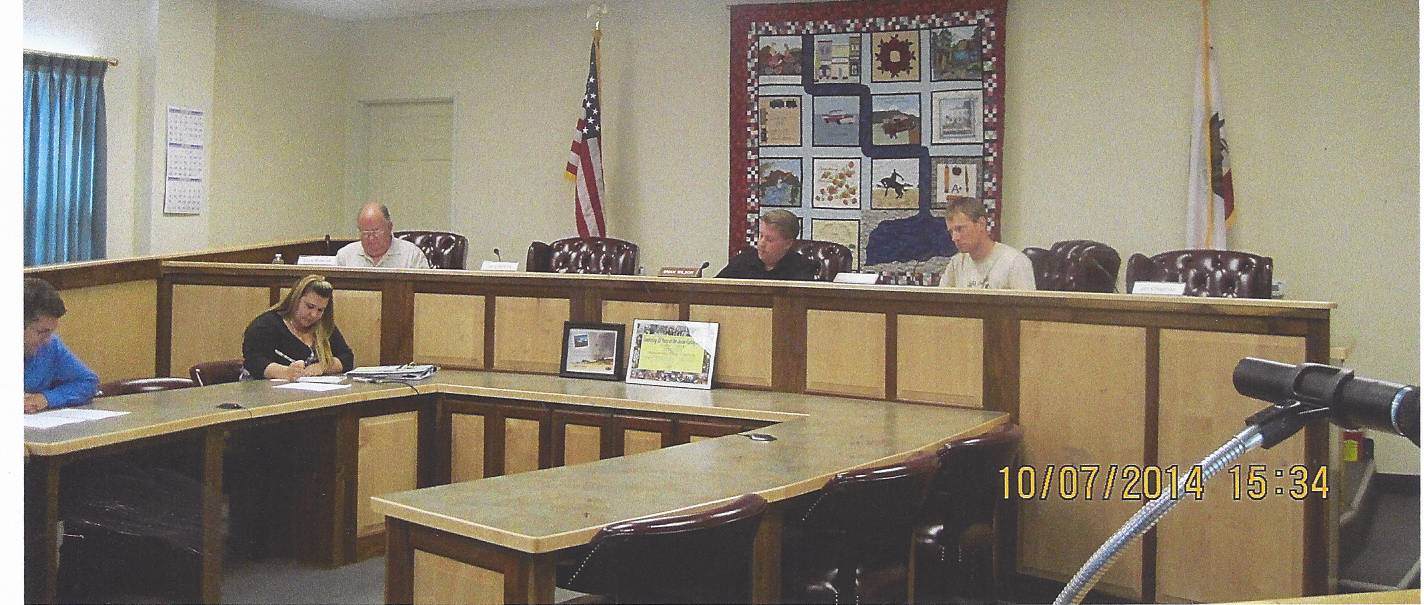 voted 10/7/14 Meeting: The alternate to the JPA sits on the far left, Brian Wilson, Nick McBride, absent were Supervisor Chapman and Supervisor Wosick.
The design company has been asked to design a pool for $2.5 million.
The JPA does not have $2.5 million.
No decision was made on financing. Both Susanville members and County members will agendize the options to finance the pool. The JPA leaned toward asking each public entity to pre fund the money needed to build the pool.
They anticipate, weather permitting, to start the 6-7 months construction, in February 2015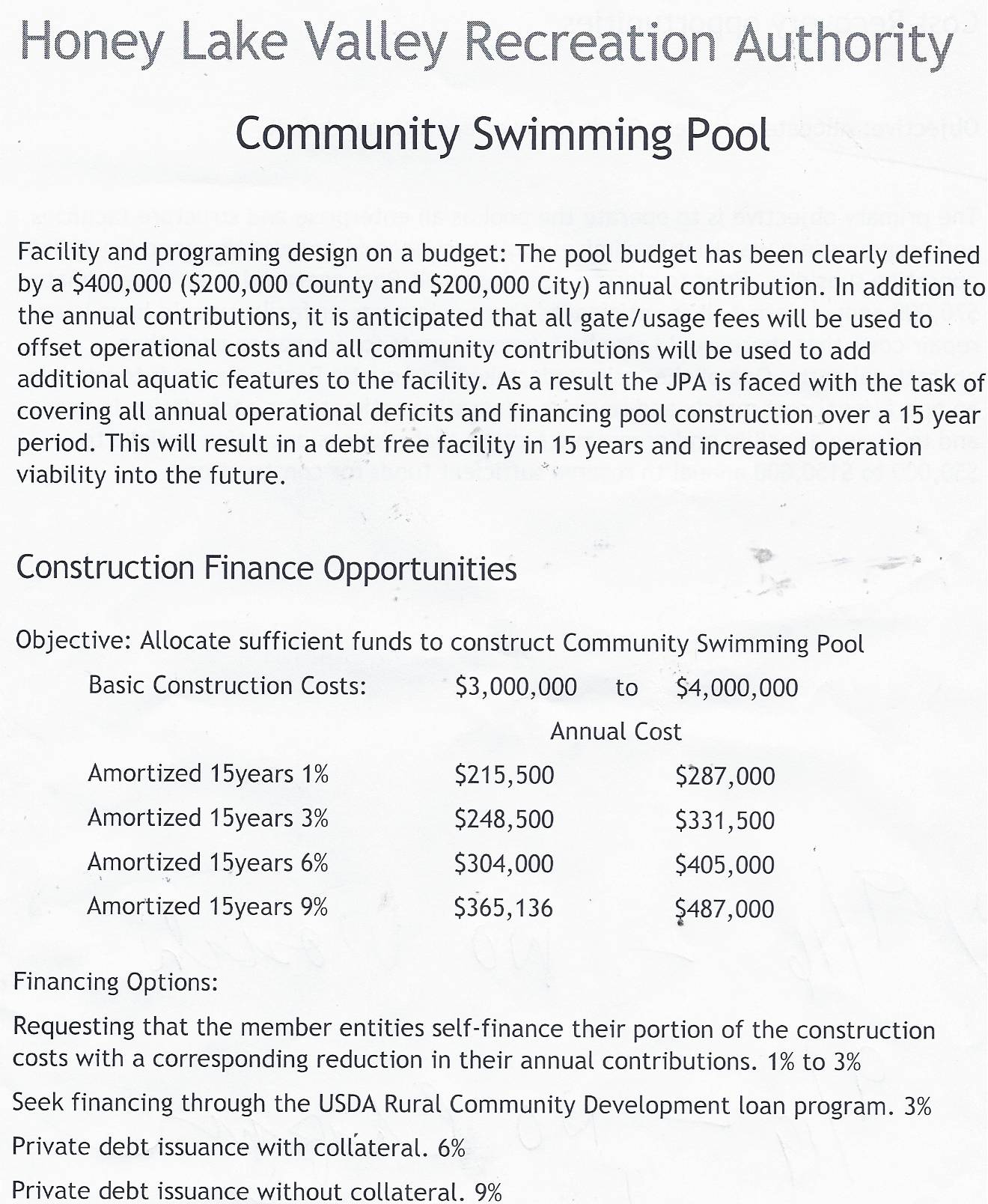 UNEXPECTED AGENDA ITEM
The JPA's Agenda item included a Closed Session item"
"Significant Exposure to Litigation"
Kan We Help Secretary Eileen Spencer asked Executive Officer Jared Hancock who their "legal counsel" was. He replied they did not have one. Mr. Hancock stated that Mr. Burns will sit in on the Closed session. The JPA has no agreement with Mr. Burns or any other attorney, other than a land acquisition attorney handling the property transfers.
Mr. Burns was allowed to sit in the Closed Session. Mr. Burns was a civilian and does not represent the HLVRA in any way shape or form ?
DESIGN MEETING
PUBLIC MEETING:
September 30, 2014 , 6:00 PM , Susanville City Hall

Lassen County
May Actually Get A Community Pool
The City of Susanville, under the great leadership of Jarrod Hancock, could keep this project afloat. County Supervisors could easily upset the progress by their incessant bloviating. The Supervisors do not take notes during their meetings and literally start from square one when the pool issue, or any ongoing issue, comes up. The only Supervisor that retains "any" information is Supervisor Chapman.
September 23, 2014 BOS meeting: Part 8 @ 19:30
The Supervisors did state that they are considering transferring only 140 ft from the existing property line between the closed Roosevelt Pool and the old Roosevelt School. They are still a couple of months away from the transfer. Kan We Help will monitor this process.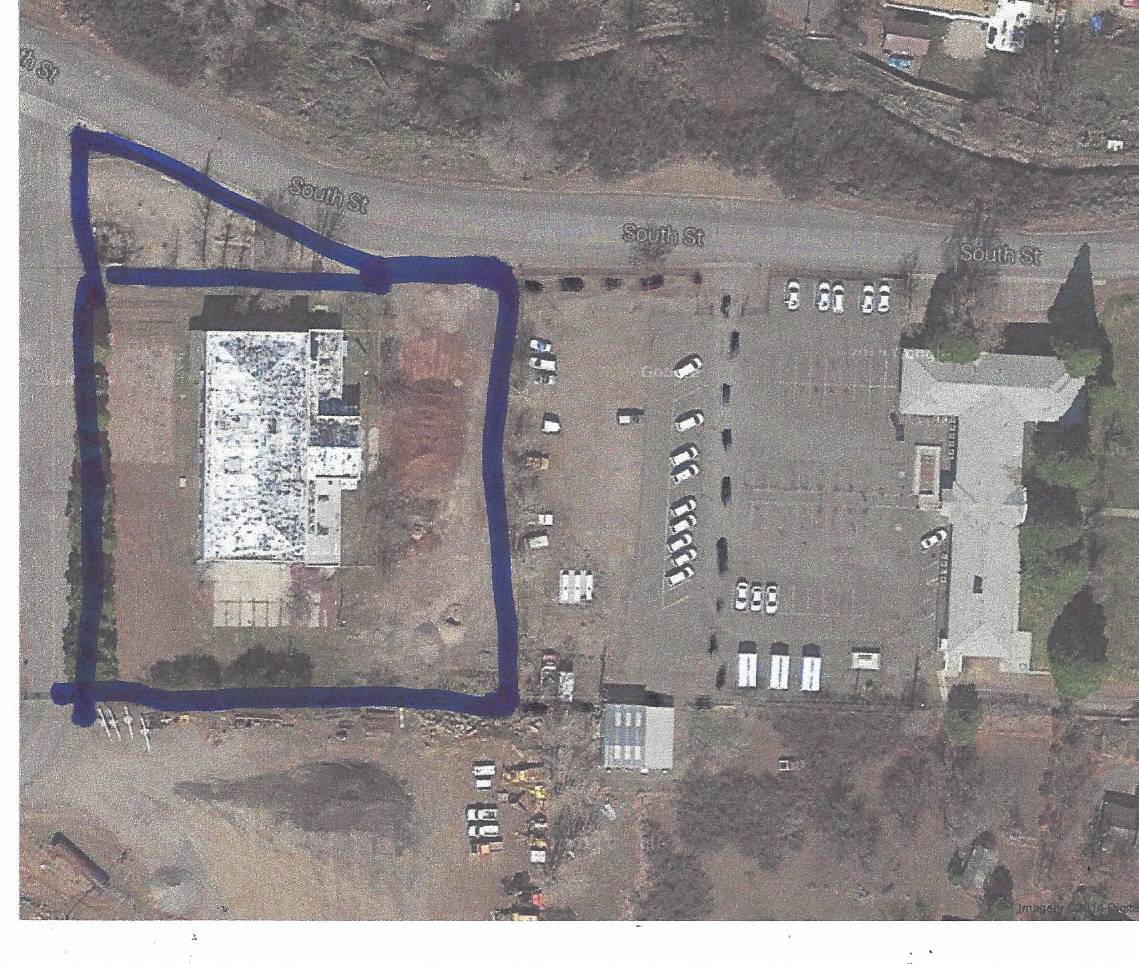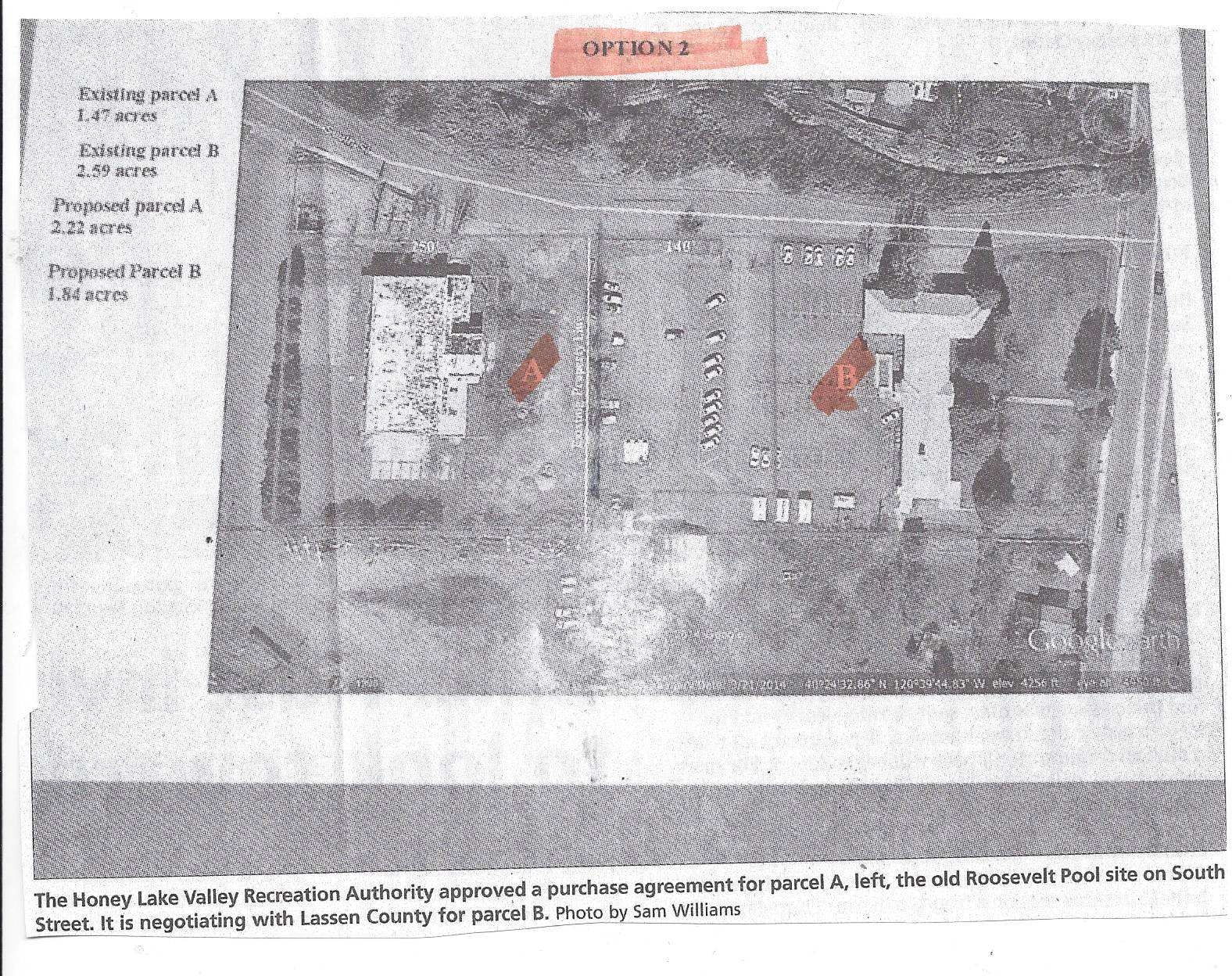 Supervisor Chapman Makes a Motion
to give the HVLRA, a Board that he and Wosick sit on,
a 14,000 square foot building
Pool discussion very misleading
CAO Richard Egan indicates that only a portion of the Roosevelt School property would be given. The City of Susanville actually owns the property the pool (Parcel A) will be built on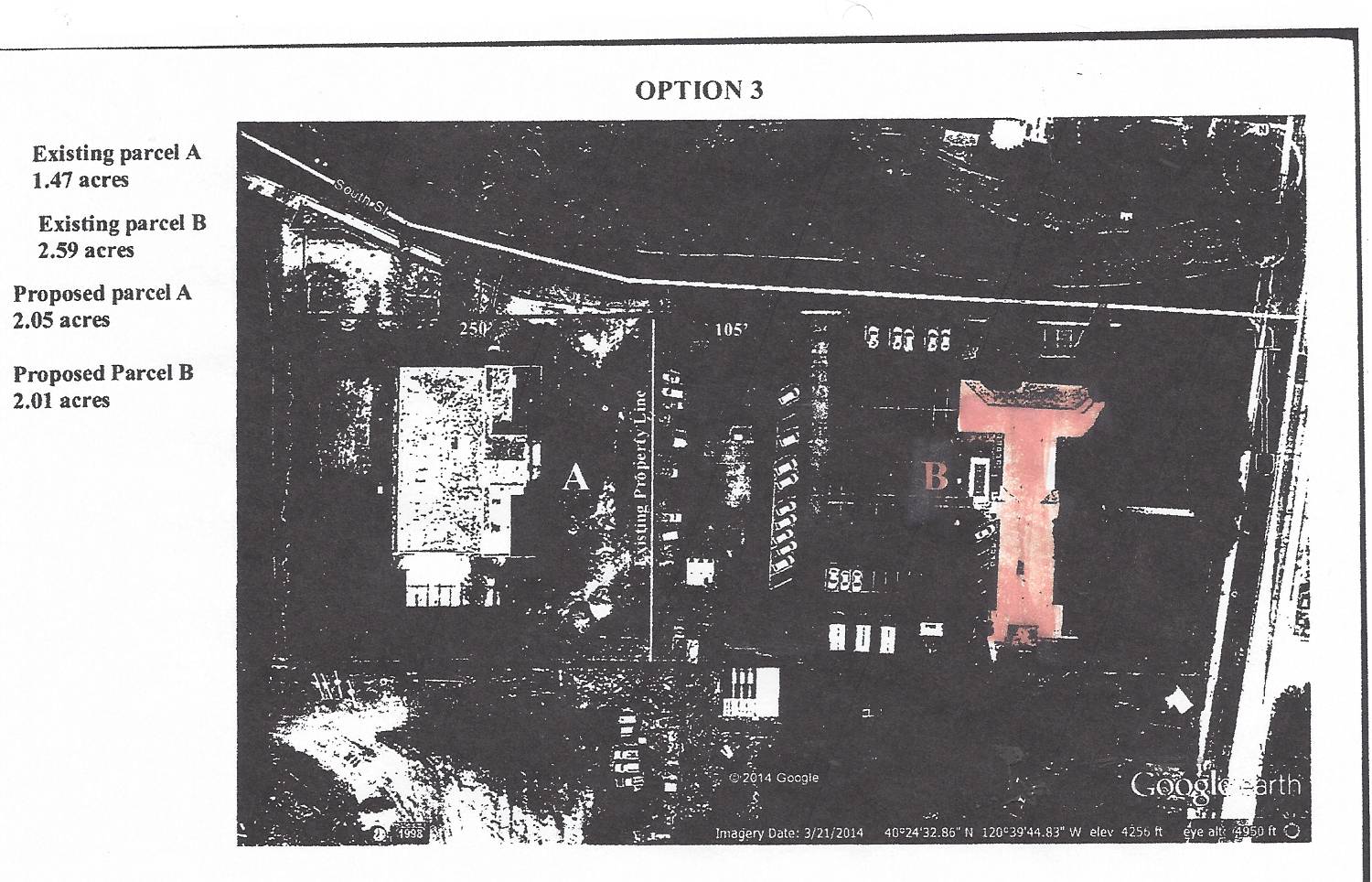 NOW.......
just a month after the Supervisors want to give public property away (Roosevelt Annex), they propose to spend $675,000 to remodel the Roosevelt Annex in the next fiscal year. This building is currently being used by Lassen County Health and Human Services.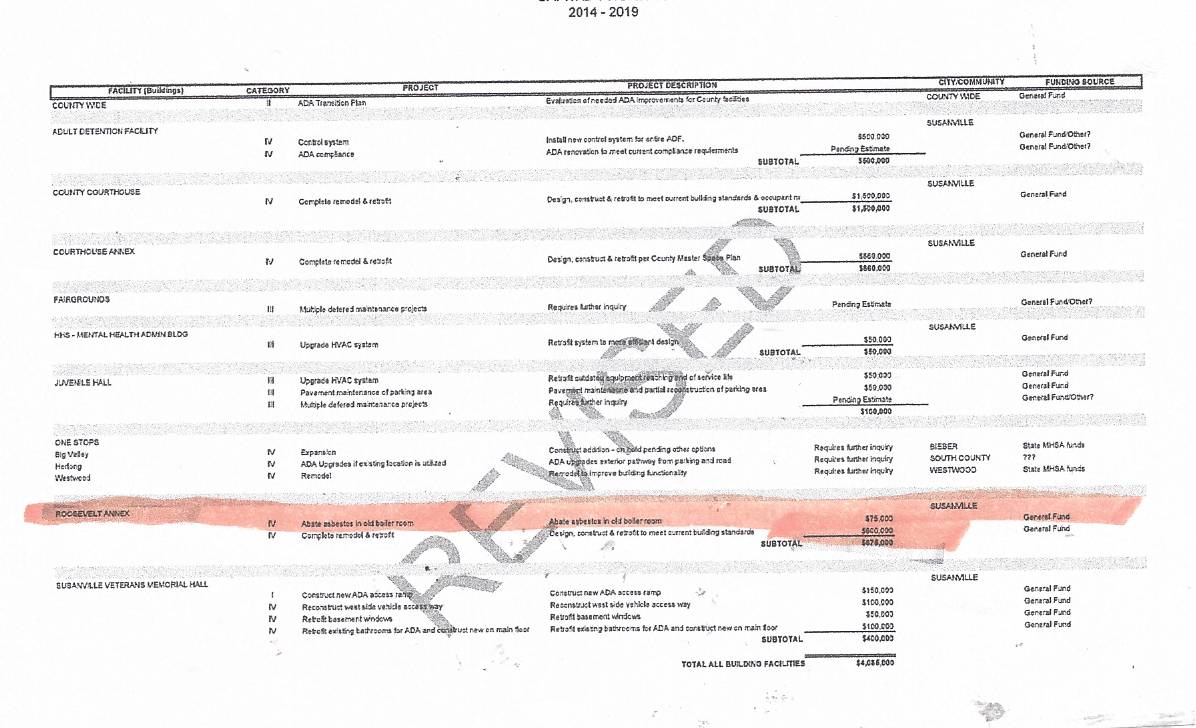 Sound familiar.........Health and Human Services "One Stop" in Herlong. The County poured thousands of federal money into it and then sold it to Pezzullo & friends for $172. Pezzullo purchased an entire town for $31,900.
Kan We Help Secretary Eileen Spencer was cut off by Larry Wosick when she wanted to know why they were planning to spend $625,000 to remodel a building they plan to "GIVE AWAY".
FRIENDS WITH BENEFITS
NOTE: Once the Roosevelt Annex is given to Wosick and Chapman they can sell it to a private buyer........
KEEPING BOTH EYES ON THE
BACK ROOM LAND DEALS
It is not a coincidence that the old Roosevelt Pool site was chosen for the new swimming pool. It became apparent at the Board of Supervisors August 12, 2014 meeting that this site was not chosen because it was the best site for the pool but it had the Roosevelt Annex building on the parcel. Presently this building is being used by Health and Human Services.
Supervisor Chapman's wants to UNNECESSARILY give a County building to the HLVRA...who does he represent?
Listen to Supervisor Chapman giving the Roosevelt Annex to the JPA Honey Lake Valley Recreation Authority
CAO Richard Egan begins his presentation by suggesting to the Board that the entire parcel (Parcels A & B) be transferred to the HLVRA, which includes the Roosevelt Annex building.
Listen to the entire discussion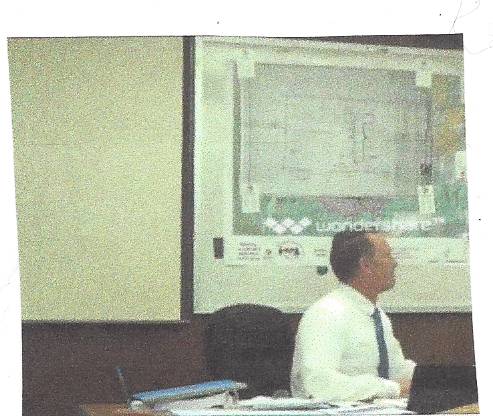 Parcel A: existing Roosevelt Pool owned by Susanville
Parcel B: Roosevelt Annex Building owned by the County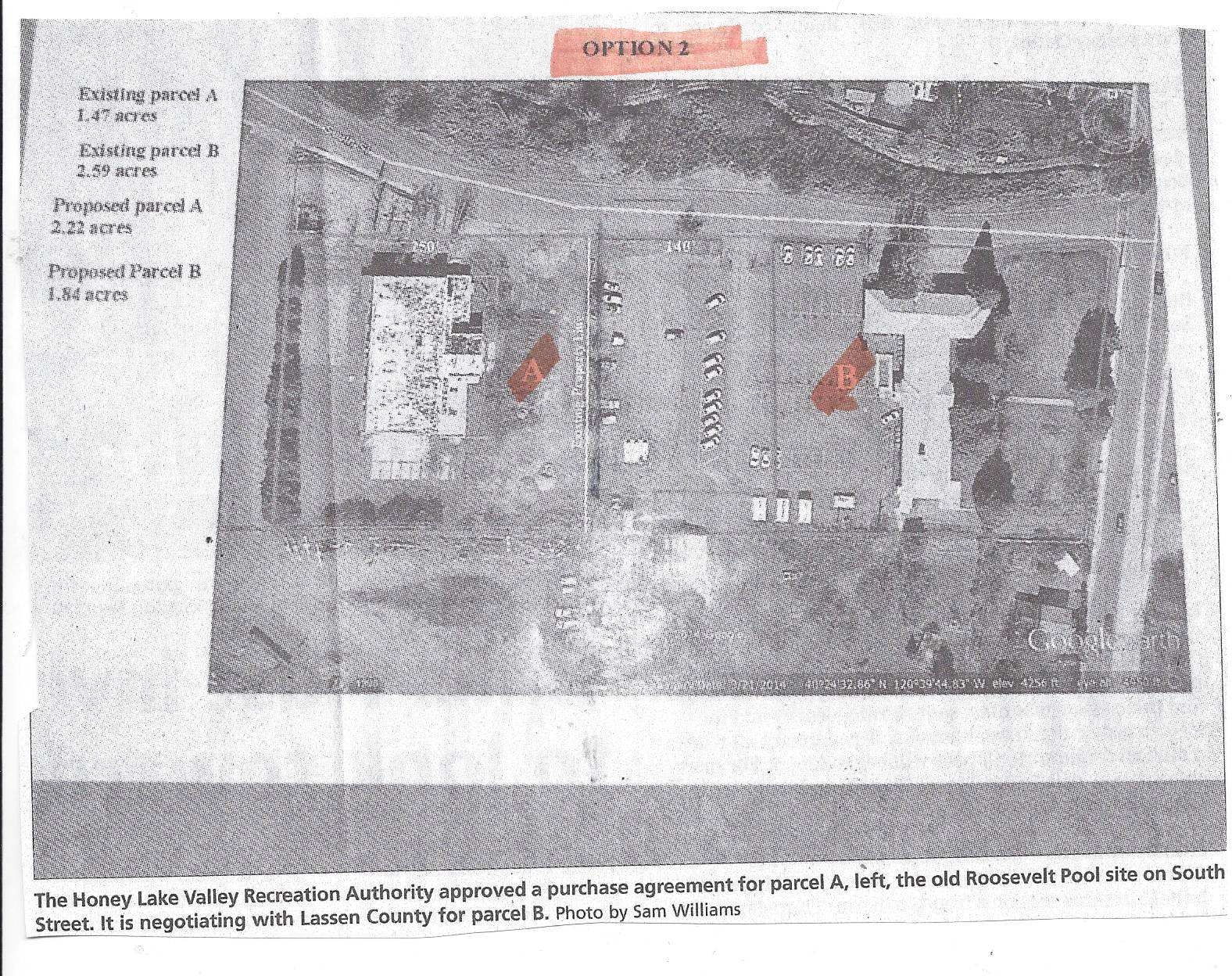 or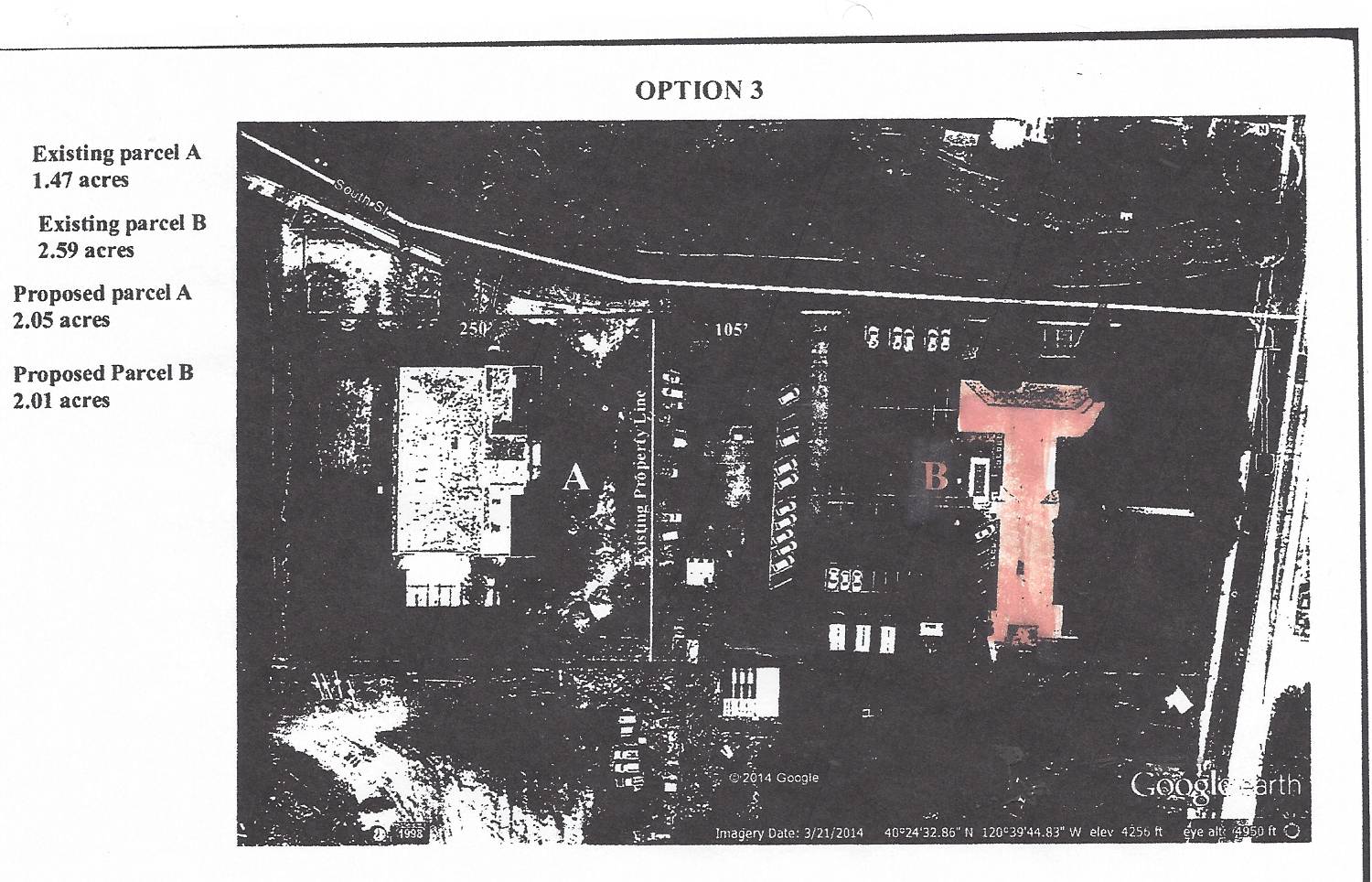 Honey Lake Valley Recreation Authority
ANOTHER LASSEN COUNTY JPA
BLACK HOLE


Lassen County Does Not Build Anything, ever....................
Watch every dollar literally, go down the drain
[The County signed a contact with a company to research sites. The public has asked what happened to this contract, the County's answer..........( ).

pool*pool*pool*pool*pool*pool*pool*pool*pool*pool*pool*pool*pool*pool*pool*pool*pool*pool*pool*pool*pool*pool*pool*pool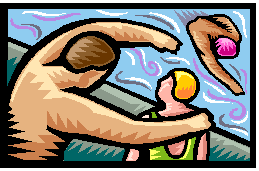 Larry Wosick, Jim Chapman and Brian Wilson
Bail on Pool Project?
HOW SINCERE WERE THEY ABOUT BUILDING A POOL
Supervisor Wosick doesn't live here anymore and had the County Counsel make an unbelievably unprofessional statement that he could still be a Lassen County Supervisor. Regardless of that small detail he has decided not to run again and is moving his Reno family to Texas or Florida. Character matters and Wosick has failed.
Supervisor Chapman has announced that he would not be running again in 2016 and has decided to run for County Auditor which he is not remotely qualified for. That takes him off the JPA pool committee.
Brian Wilson, first time City of Susanville Council member, is running for a County position he is distinctly and legally not qualified for. A position that, if he should win, will take him off the newly formed JPA pool Committee.
Catch The Falling Stars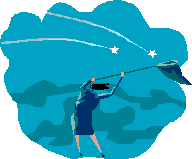 Supervisor Chapman picks the Creedance School site for his pool
Currently being used by Lassen Community College &
right across the street from his brothers business.
View looking East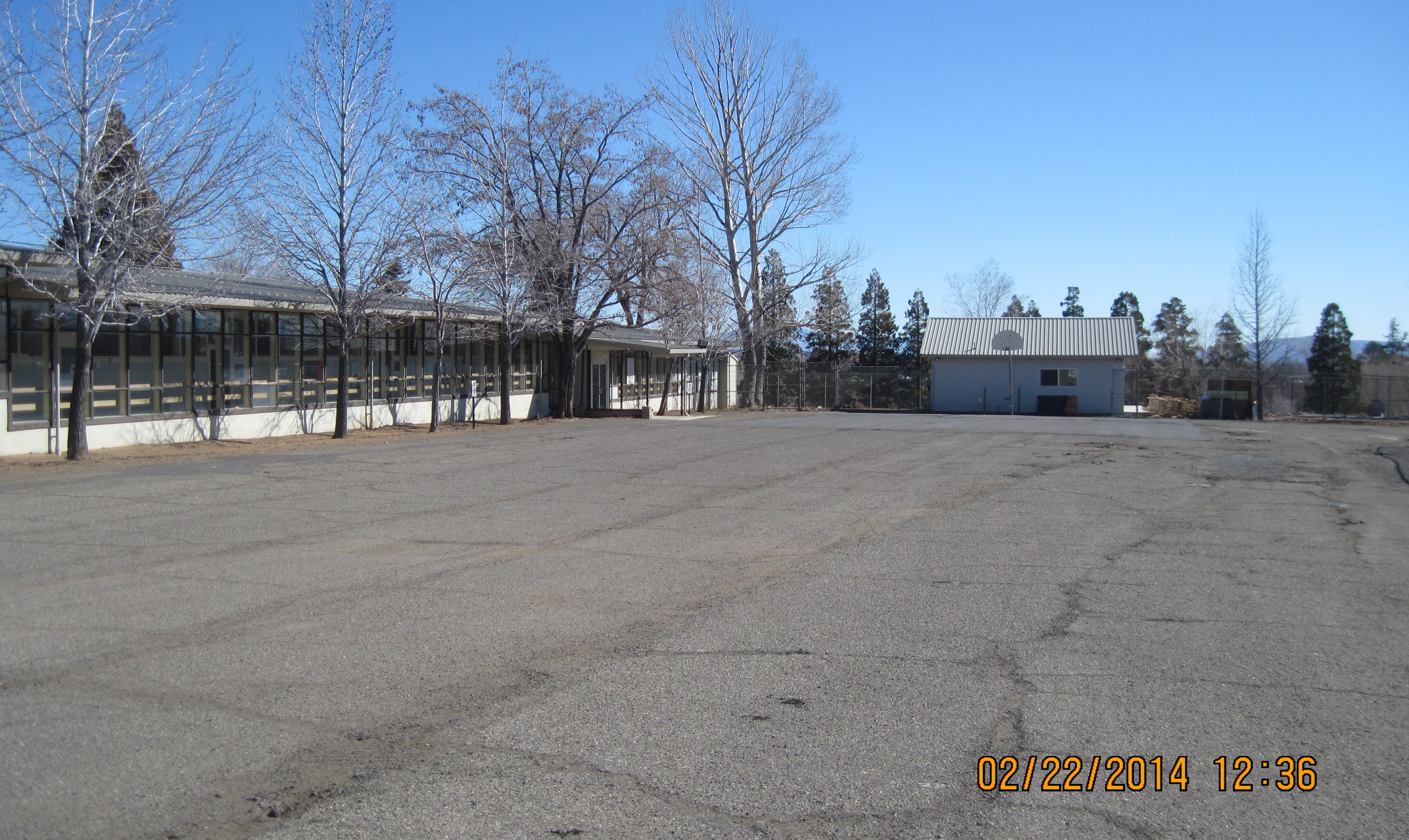 View looking West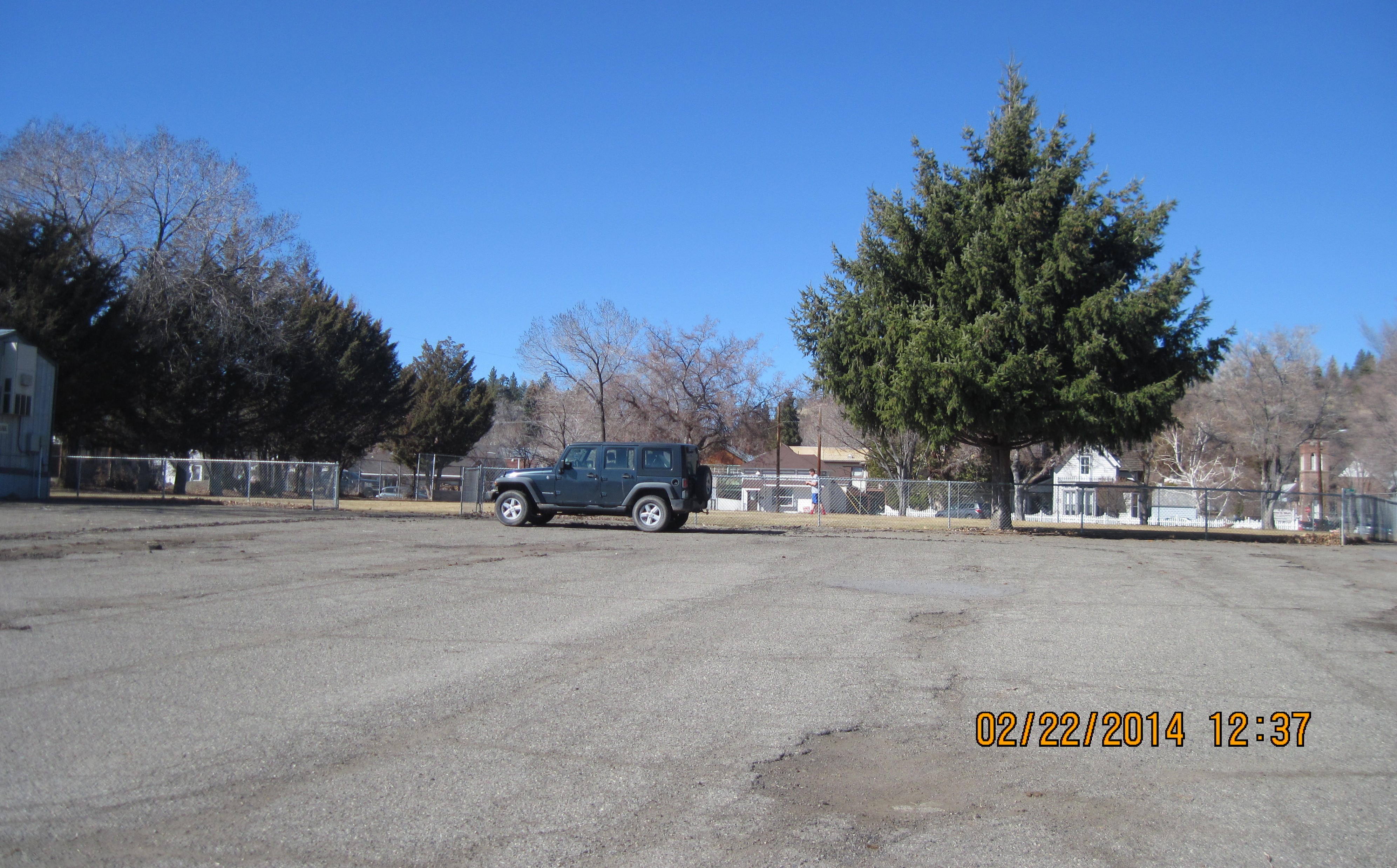 Supervisor Chapman pulls
an UNKIND
DISINGENUOUS
POLITICAL STUNT
to those committed to building a community pool
Chapman knew that the Supervisors were going to release a MEMO at the August 20, 2013 Board of Supervisors Meeting that would recommend employee pay reductions & program reductions.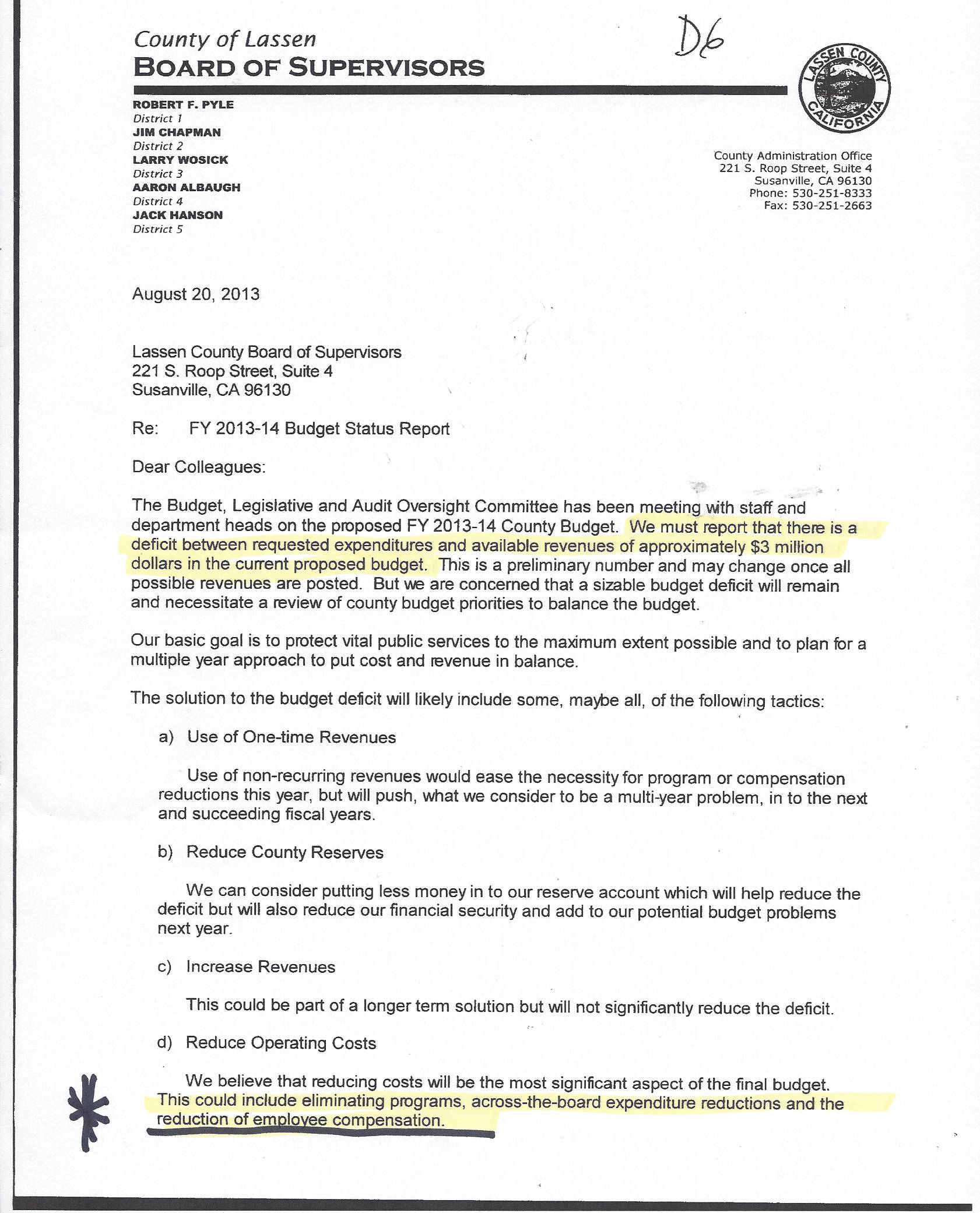 WHERE IS THE SHAME ?
New Susanville Councilperson Brian Wilson
and
Career Politician Jim Chapman
Suddenly
Announce a Pool Plan
The County's Roosevelt Pool closed in 2004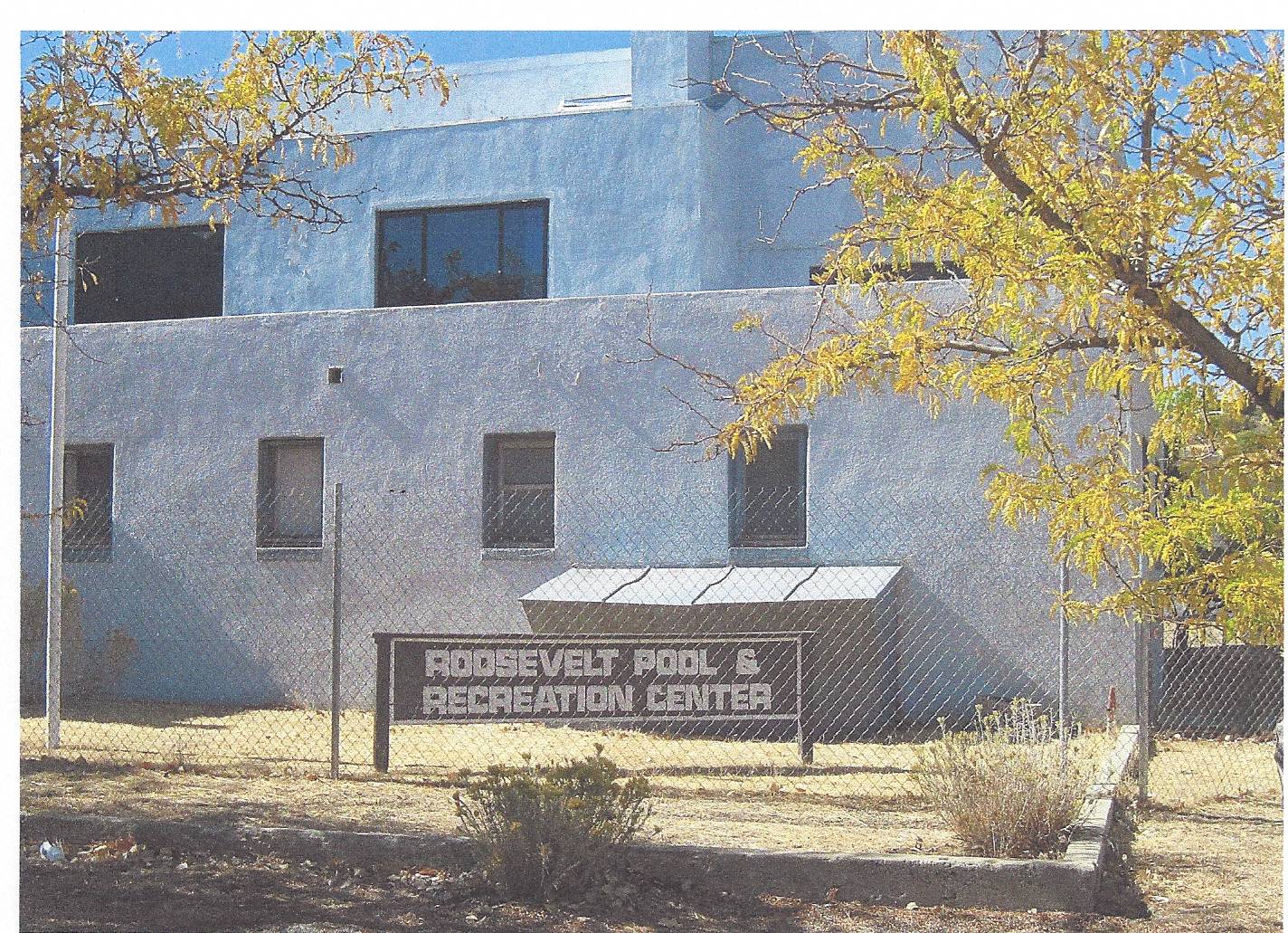 Eight (8) years later, on October 9, 2012, Chapman supported forming a "POOL" committee headed by County CAO Nichols.
Lassen County CAO Martin Nichols was charged with returning, in January of 2013, with a PLAN.
This Committee will be dissolved on December 31, 2014.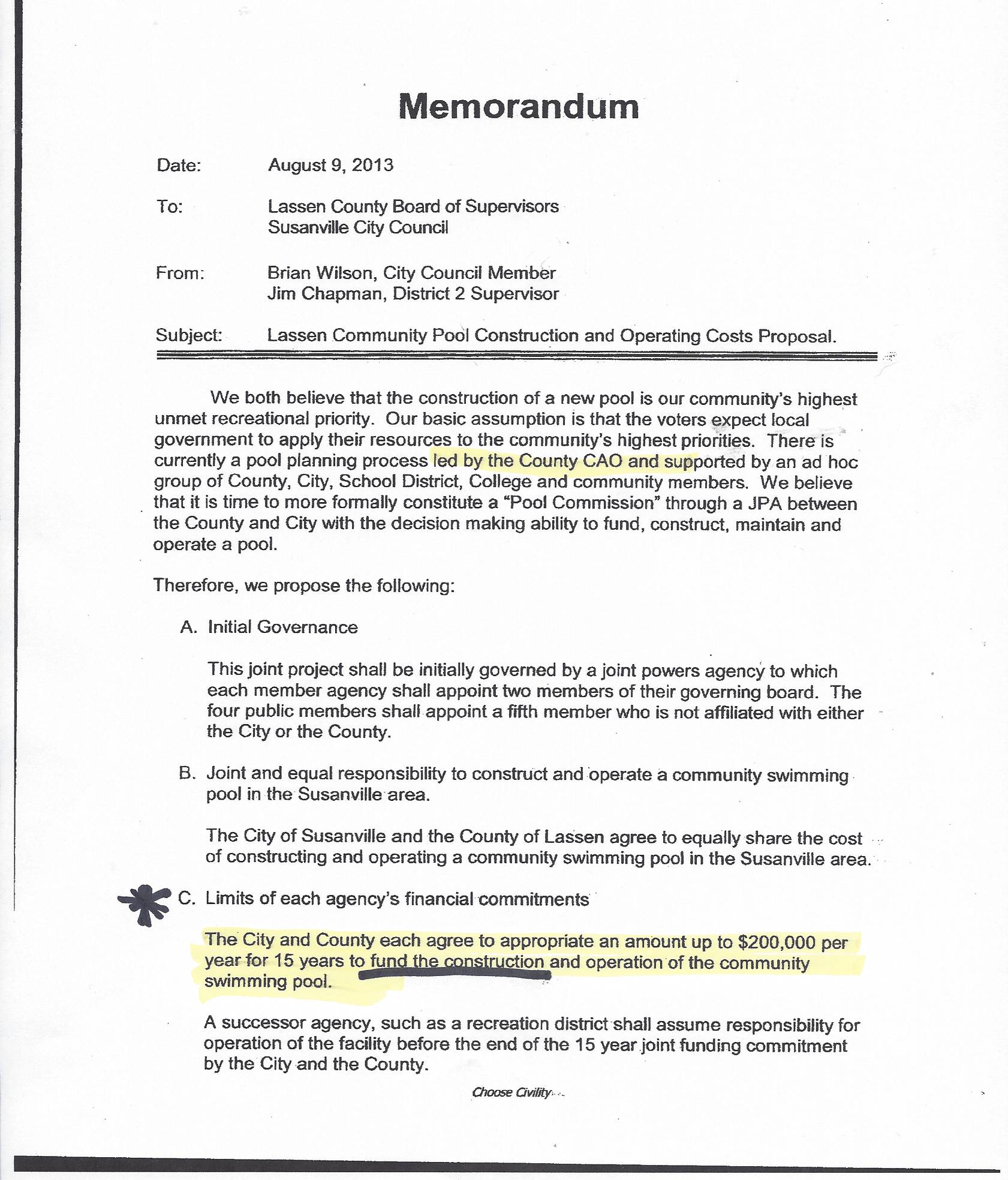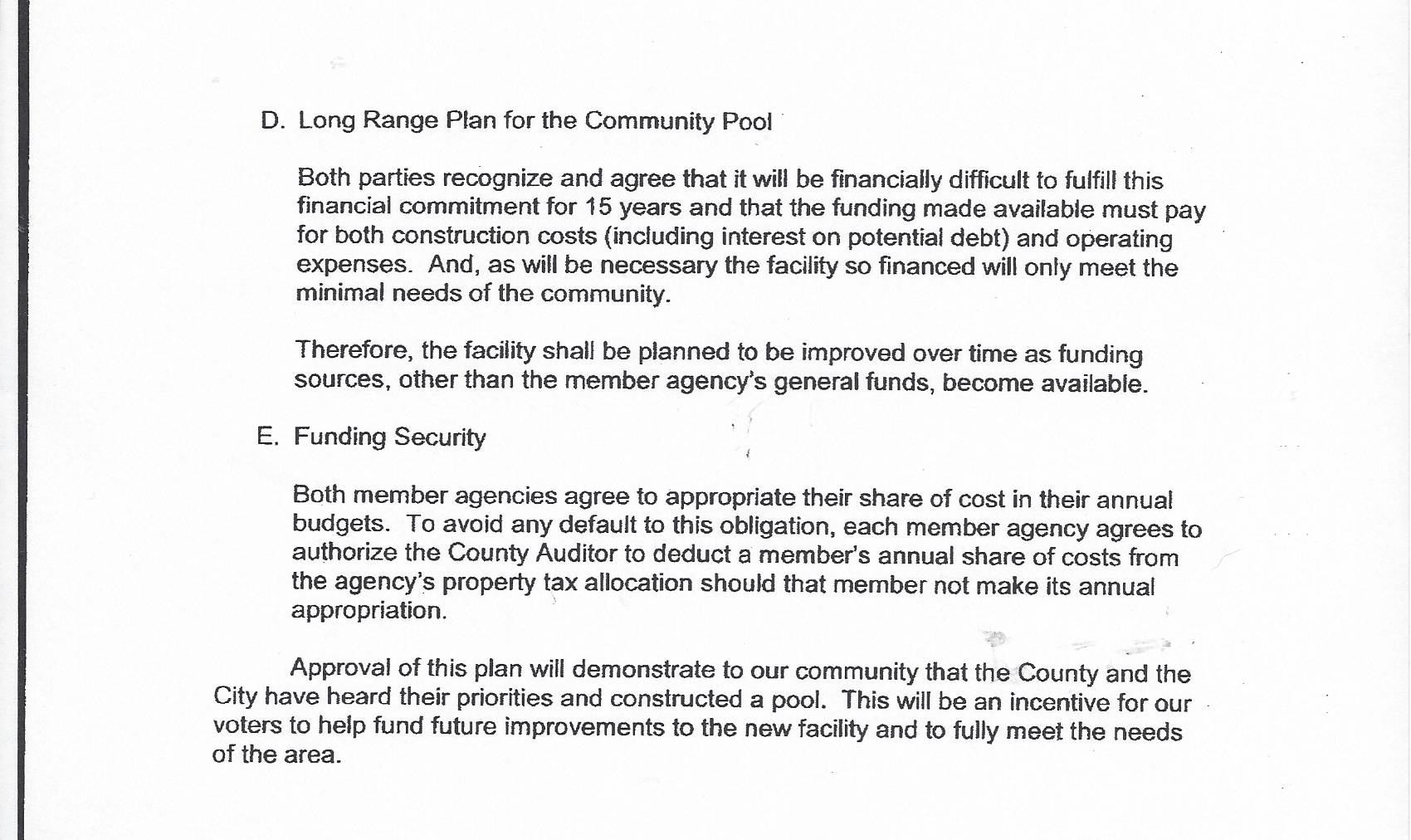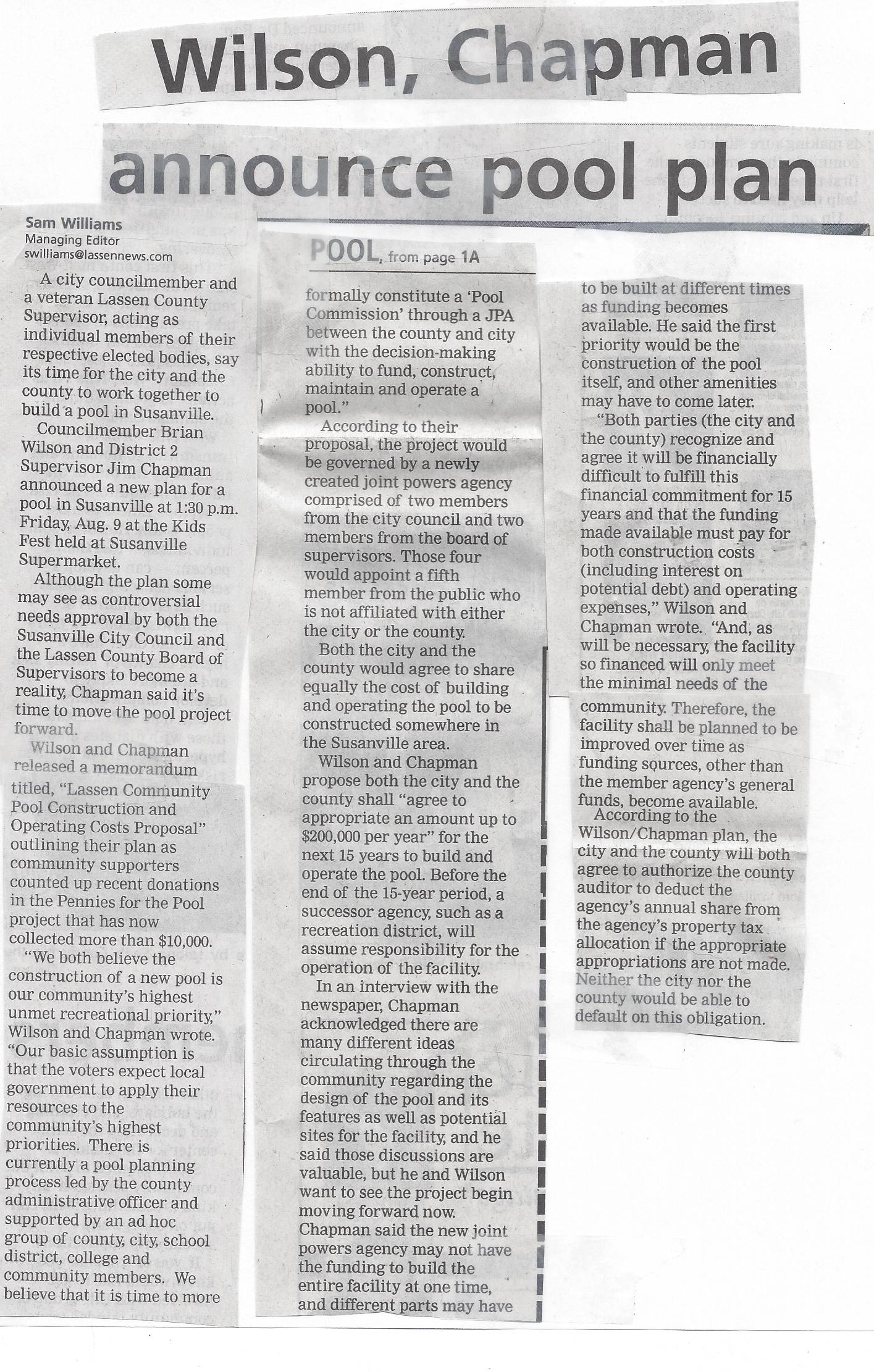 New Susanville Councilperson Brian Wilson
Votes Against "Grant" $$ Dollars $$
for New City Park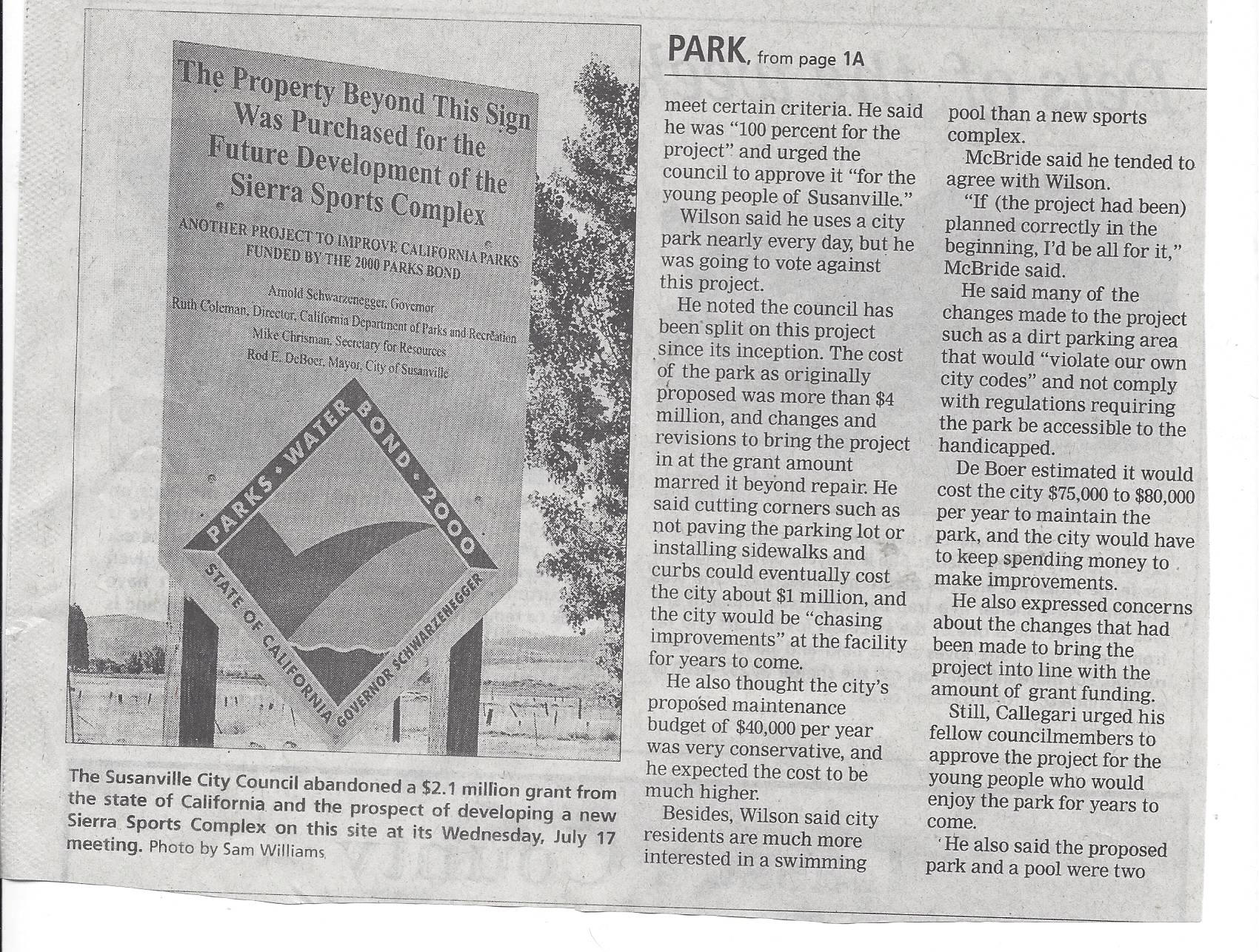 LASSEN COUNTY BOARD OF SUPERVISORS
SIGNS CONTRACT WITH
AQUATIC DESIGN GROUP
FOR COMMUNITY POOL
AGENDA ITEM H-5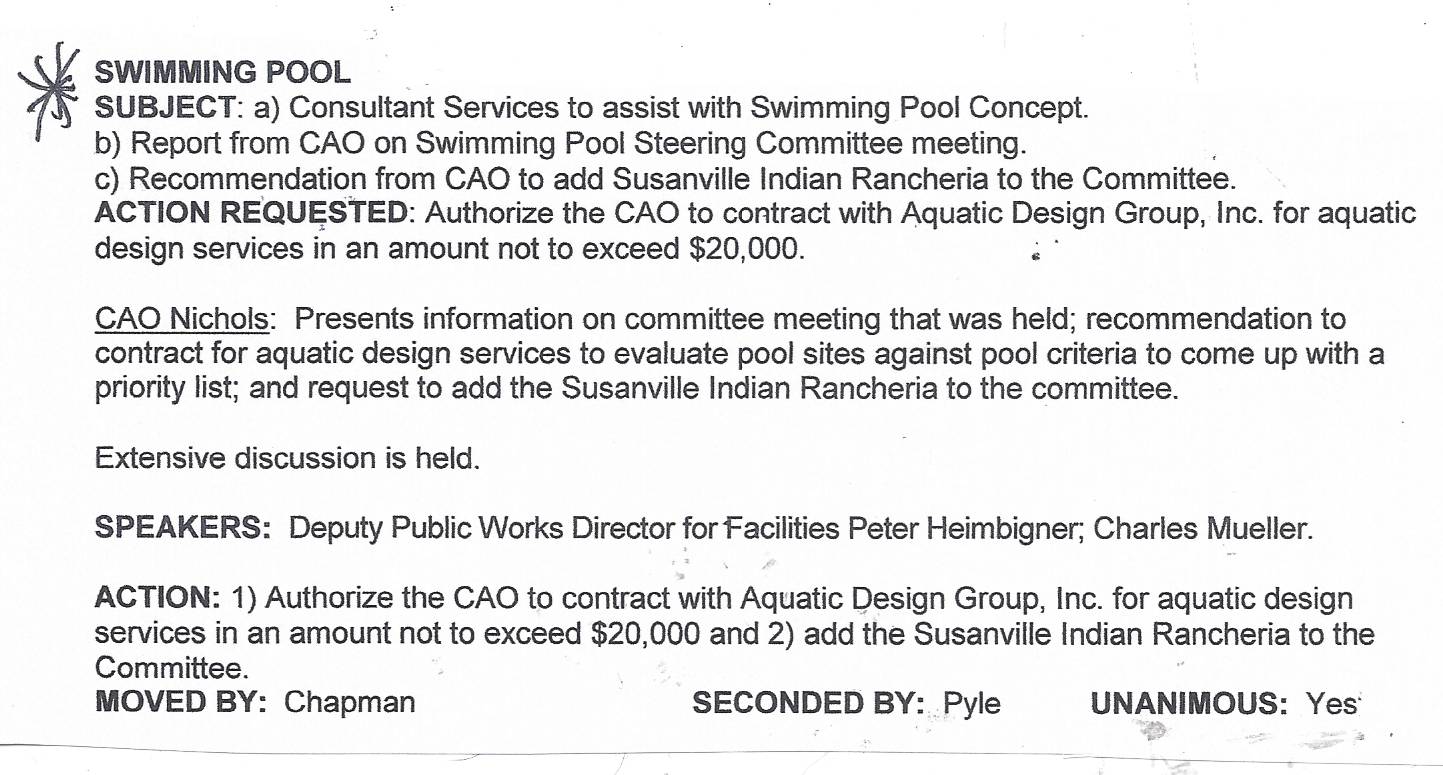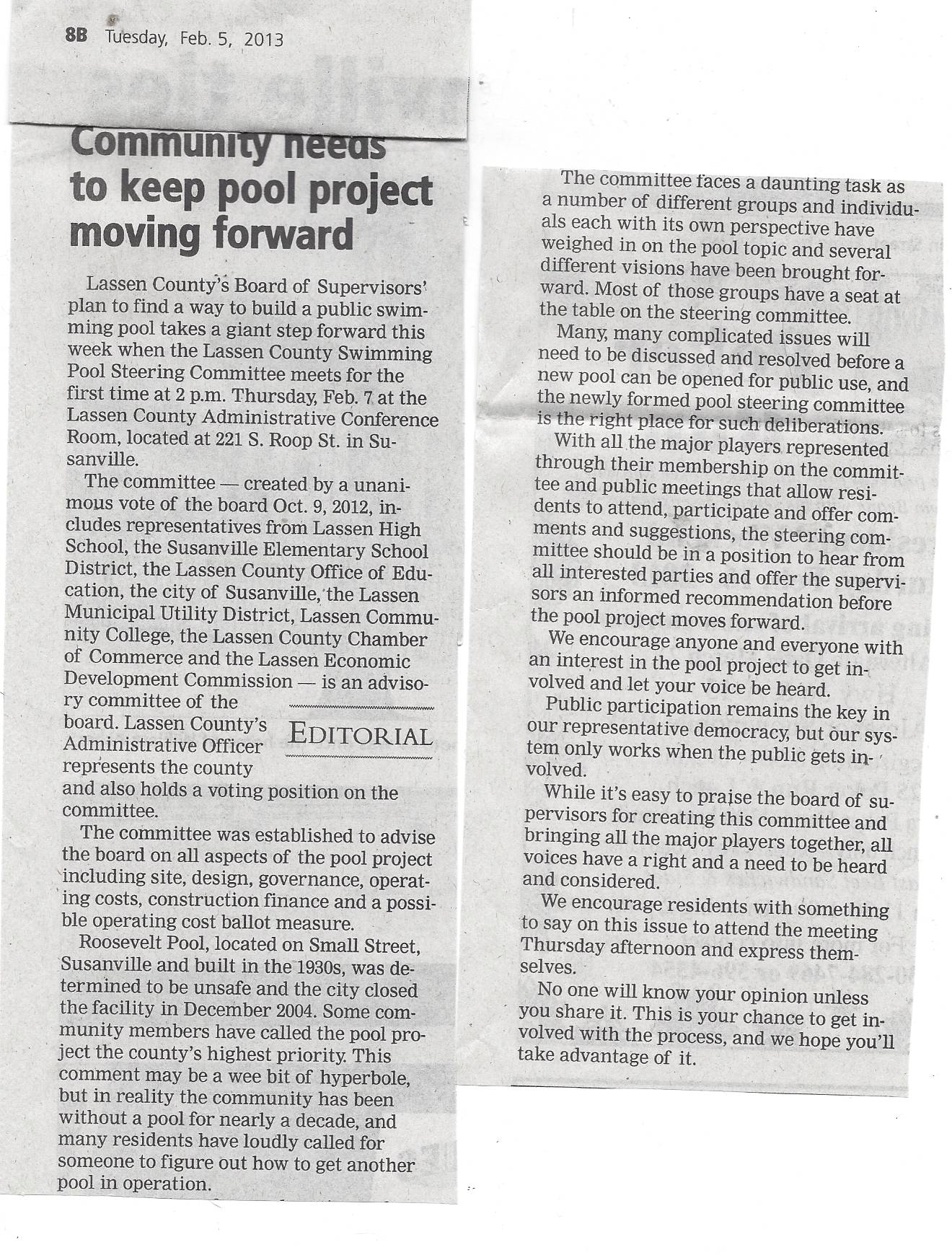 The public has longed for a community pool since the Roosevelt Pool was condemned in 2004.
The Lassen County schools, City of Susanville and Lassen County have all been tapped for money to build a new community pool but MONEY has always been the stumbling block.
Were the $621,216 improvements to the Eagle Lake Airport more important than a pool?
AFTER THE LASSEN COUNTY BOARD OF SUPERVISORS APPROVED $621,216 TO IMPROVE THE EAGLE LAKE AIRPORT, THEY FORMED A POOL COMMITTEE

ROOSEVELT POOL
BUILT IN 1938
CLOSED IN 2004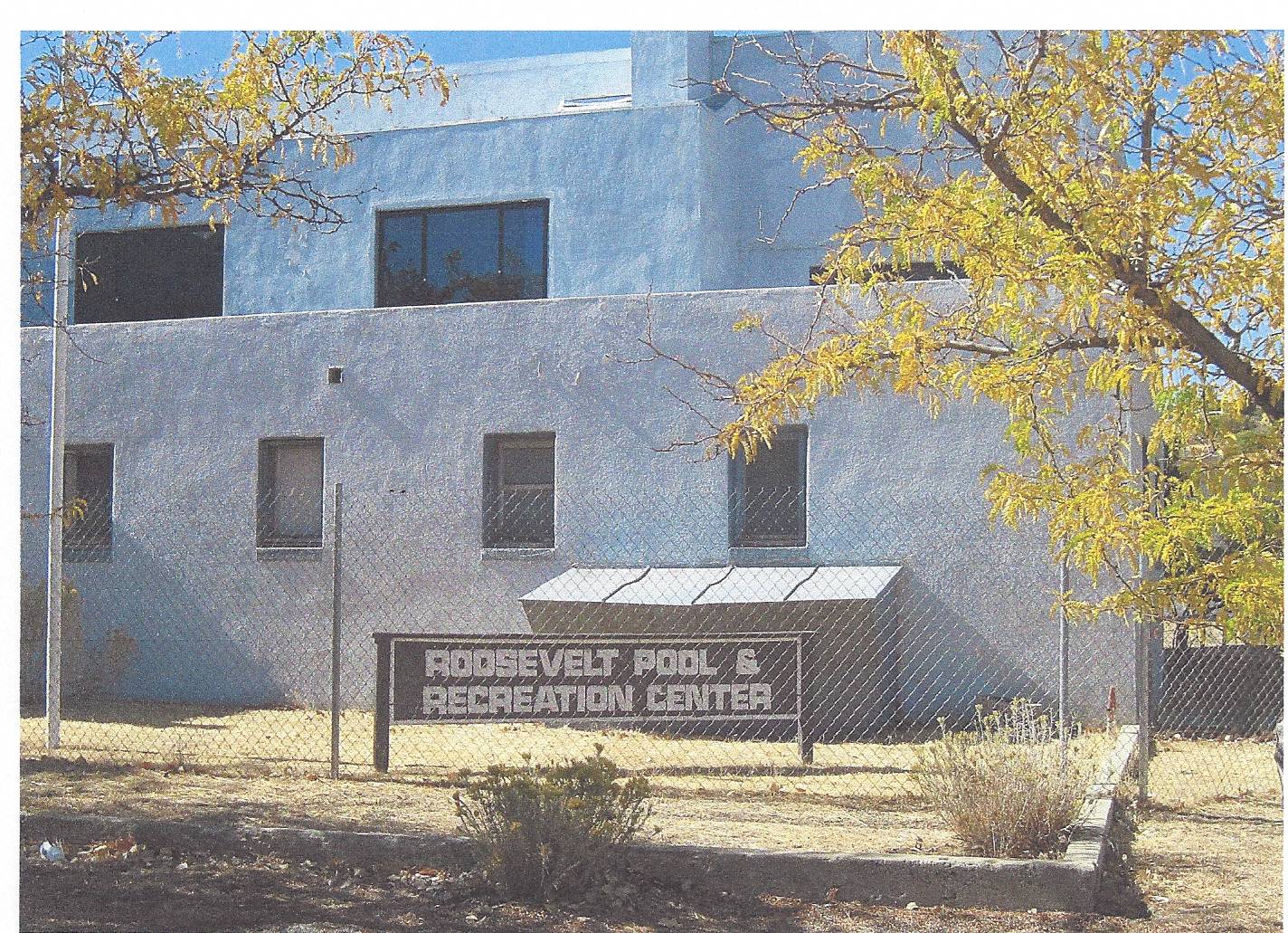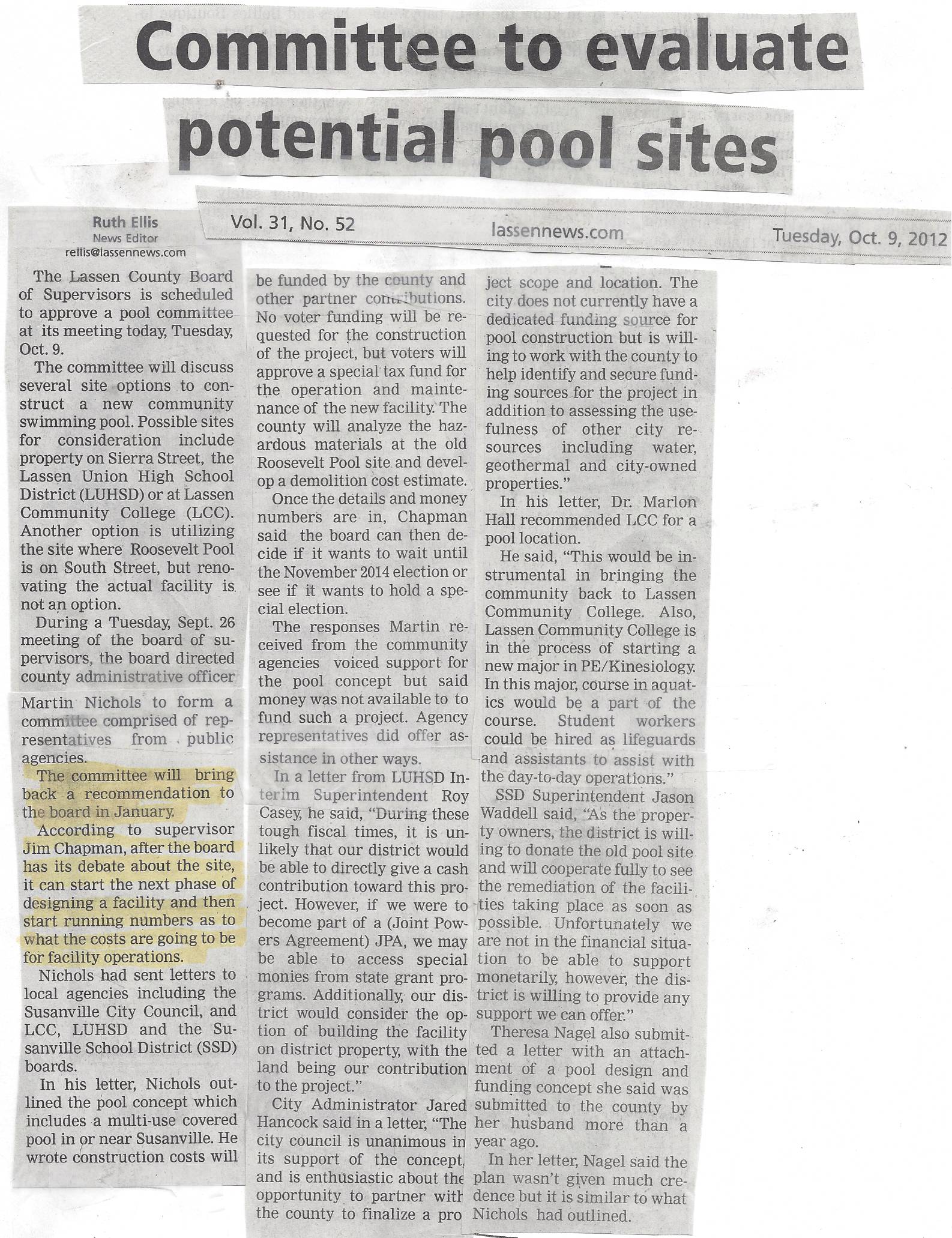 Does Lassen County need a $621,216 Eagle Lake Airport for Fred Nagel's
friends and family
The Nagels have been purchasing property at Eagle Lake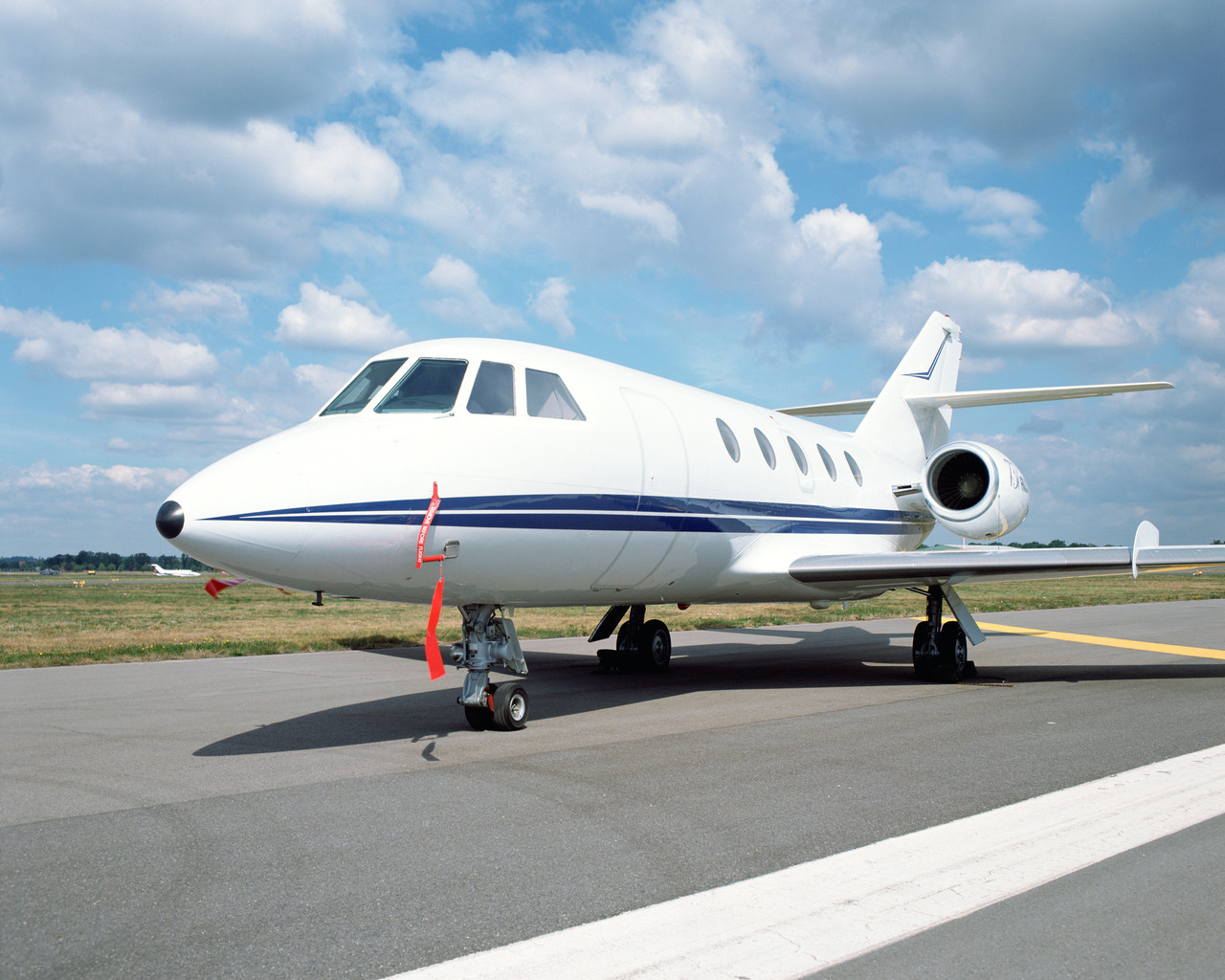 Nagel is representing the company that wants a full service resort at Eagle Lake. They will need an airport, right?

or
does Lassen County need a Community Pool