2012 CONGRESSIONAL REDISTRICTING ELIMINATES McCLINTOCK FROM DISTRICT 1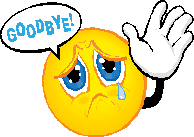 Congressman Tom McClintock
Elected: 11/08 and ran for Governor in 2003
Another lazy Congressman goes to the 4th District?
CHECK YOUR
BRAIN AT THE DOOR,
AND PICK UP YOUR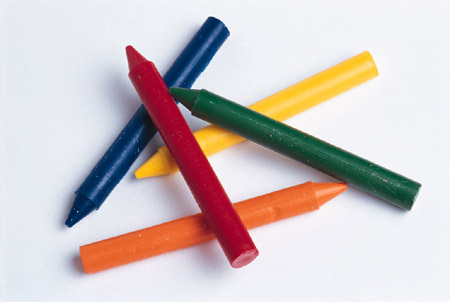 CRAYONS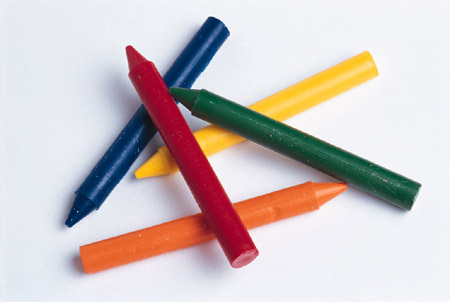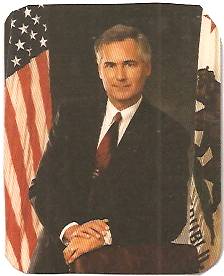 First term Congressman McClintock voted NO on every issue while in the California State Legislature and continues this practice in Congress
A few months in office (after replacing disgraced Republican Congressman Doolittle) McClintock continues to VOTE NO, no,no,no and no.
You can look-up any state or national politicians voting record, in the United States, at this website: www.votesmart.org
McClintock consistently voted against animal rights legislation
McClintock consistently voted against California workers
Votes NO on the Jobs Bill.
Congressman Tom McClintock,
A STINKING COWARD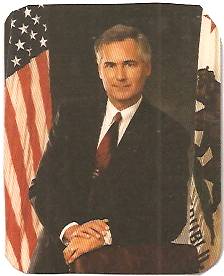 Fully funded, HR 847, McClintock voted NO
The fully funded Bill gave the 9/11 emergency first responders health care for 30 years (most are so ill from breathing acid, concrete and toxic air they won't benefit from this Bill). The original Bill started at 7 Billion dollars.
Republicans wanted it reduced to 6.2 Billion dollars and 10 years and then voted NO on it.
It was then reduced again to 4.2 Billion dollars for 5 years and it passed.
The coward, McClintock voted NO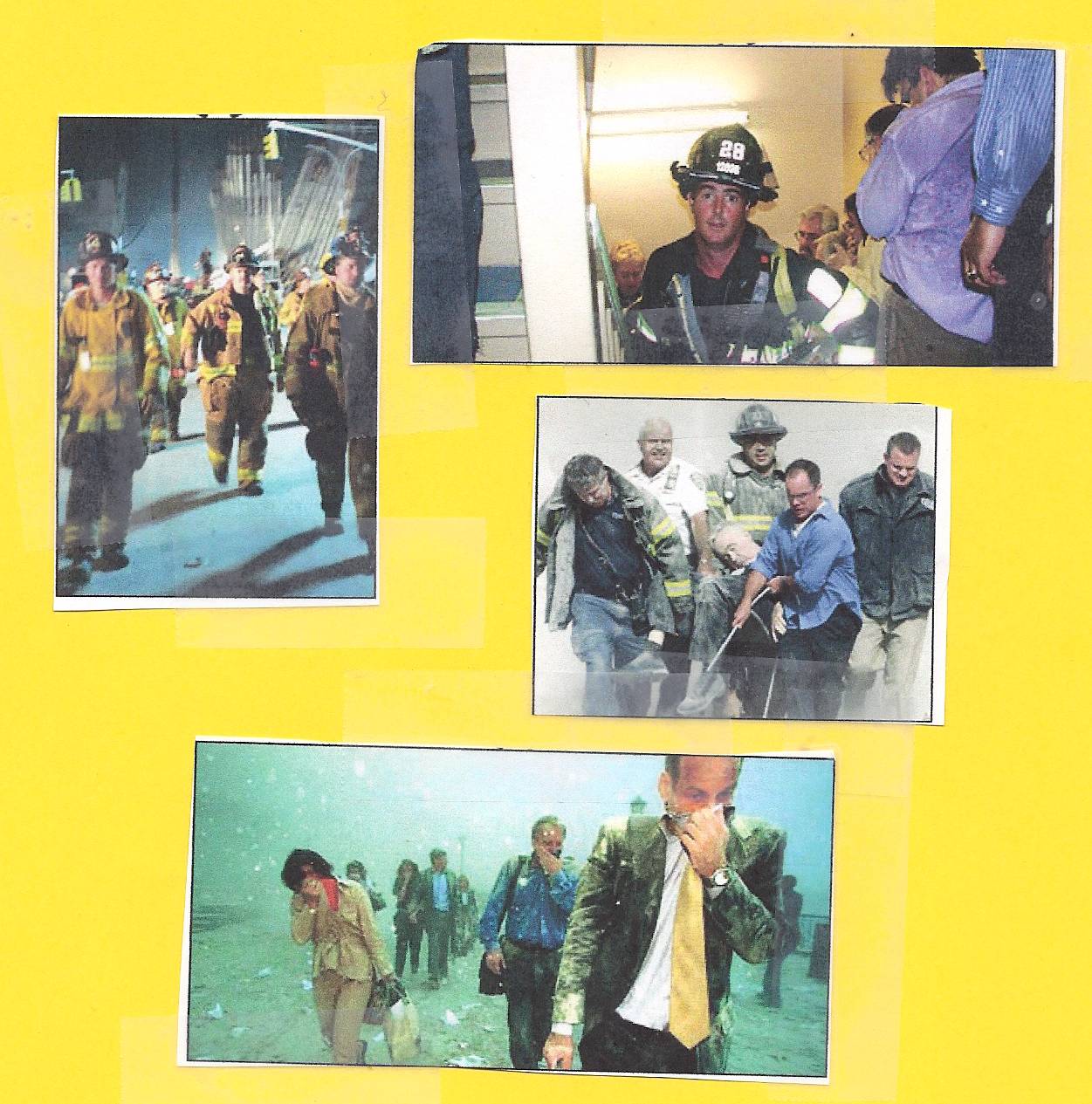 First term, Congressman McClintock
Votes "No" on HR 4785www.votesmart.org
Less than two years in office and McClintock has voted no on every Bill that would help the 4th District?
Fortunately, on September 16, 2010, the Democrats passed this Bill 240-172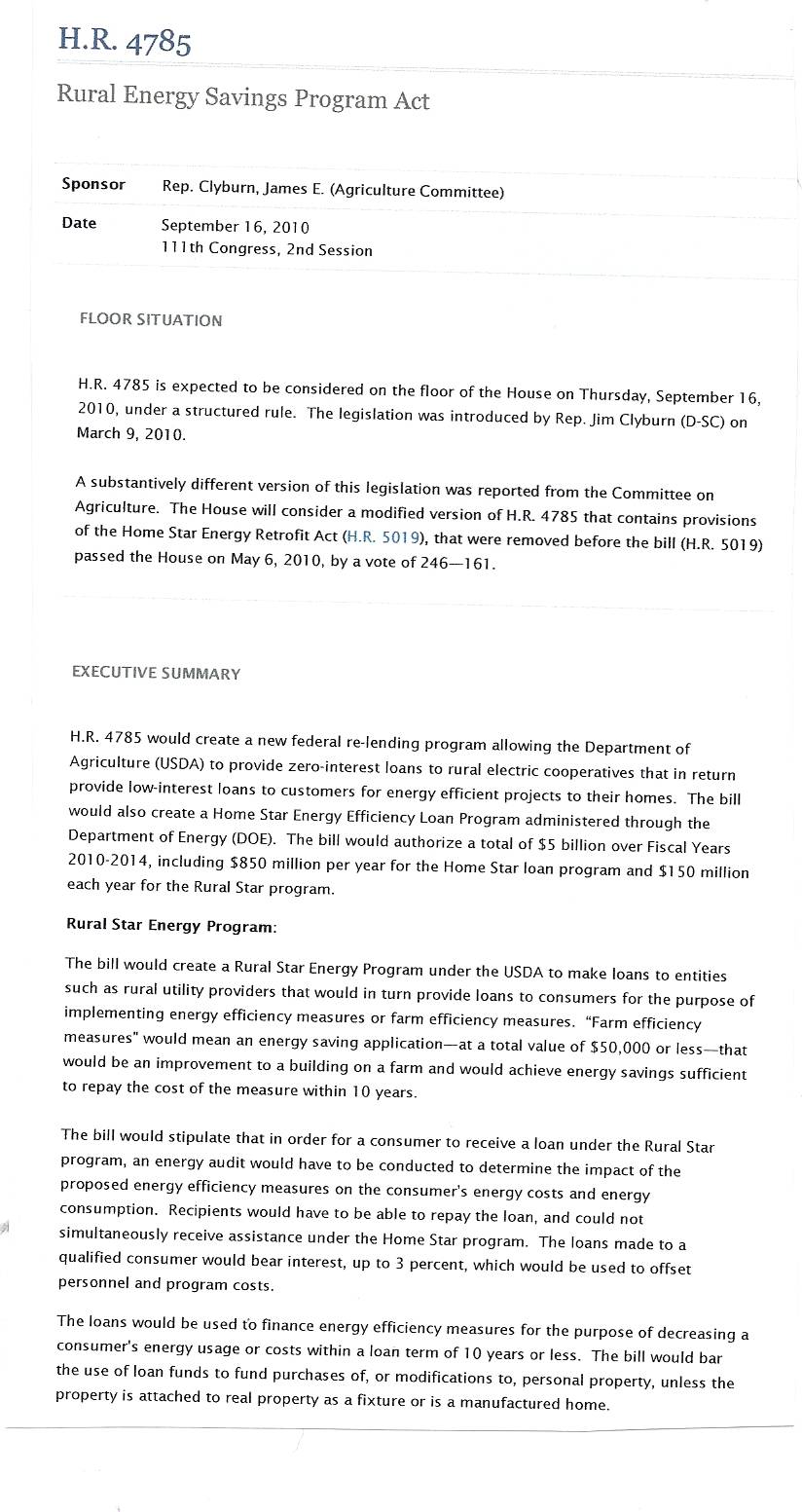 President Obama's Recovery Act Revitalizes the Geothermal Program
at the Department of Energy
Lassen County gets the benefit
President Obama's new Department of Energy head, Secretary Chu, has revitalized the geothermal program that President Bush had been closing out over his terms of office. President Obama re-strengthened this program with the Recovery Act.
The Obama Recovery Act has made processes more efficient with great focus on communication. These Grants are competitive and whoever scores the highest receives the money.
Congressman McClintock had absolutely nothing whatsoever to do with the $2,000,000 Department of Energy Grant recently awarded (9/15/10)to the California company Modoc Contracting in Canby, ,California.
The Nevada company, Oski Energy, located at 730 Sandhill Road, Ste. 250, Reno, Nevada
also received a $2,000,000 DOE Grant
Congressman McClintock voted "NO" on HR 4785, Authorizing loans for energy efficient purposes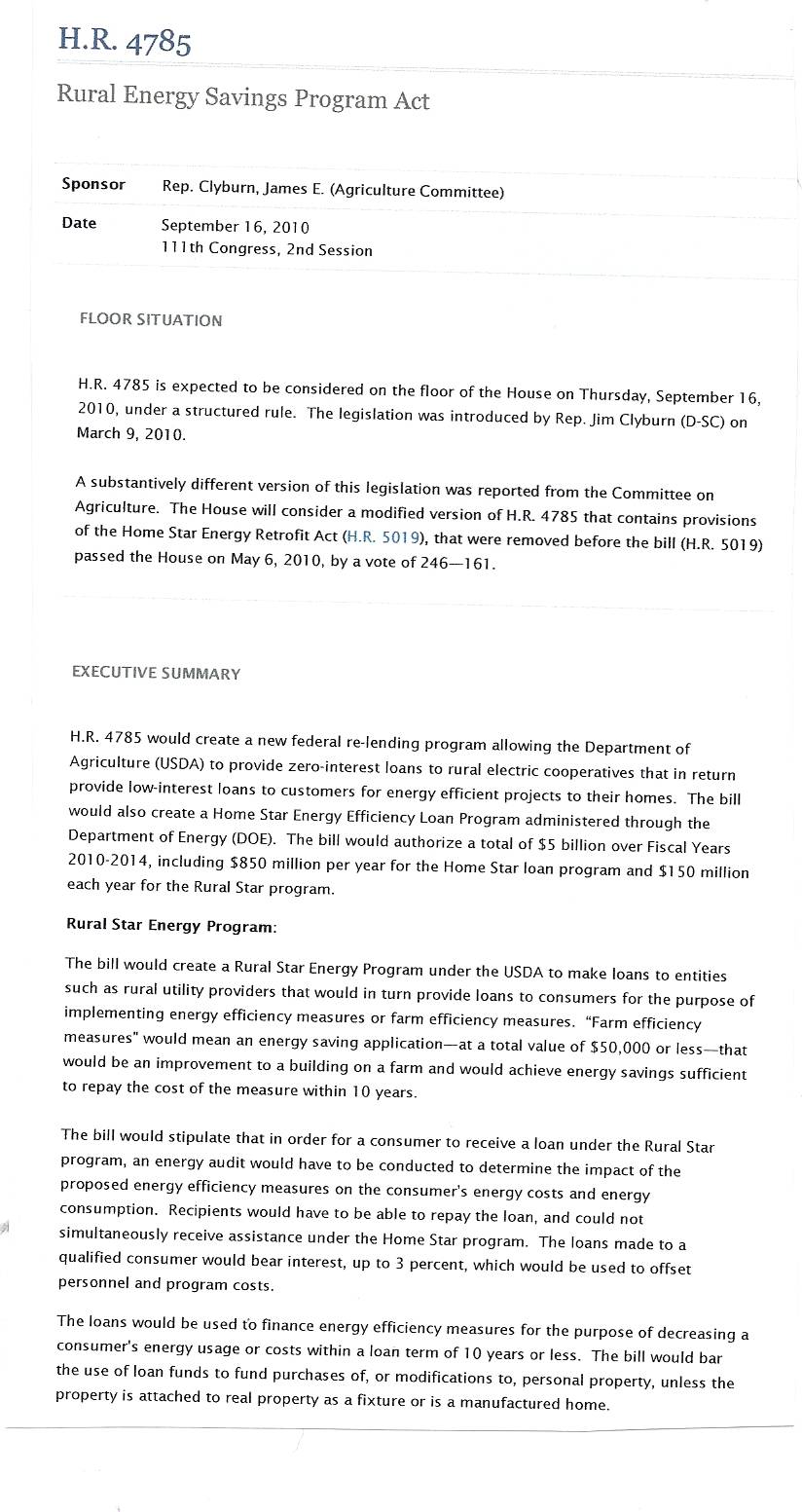 These DOE grants are competitive and whoever scores the highest wins. These geothermal grants are funded in "Stage Gates". Once the companies reach Stage 1, there is a review process that will take them to the next funding stage. All federal grants can be accessed on grants.gov
Pandering to Lassen County Prejudices but rides on President Obama's successes
FIRST TERM Congressman McClintock has voted "NO" on every issue before the House of Representatives that would create jobs in California and would help California businesses
Unfortunately, Tom McClintock has obstructed all economic measures to help Californians
"Unfortunately, government cannot inject a single dollar into the economy that it has not first taken out of the same economy", Congressman Tom McClintock, Lassen County Times "Where I Stand", 9/28/10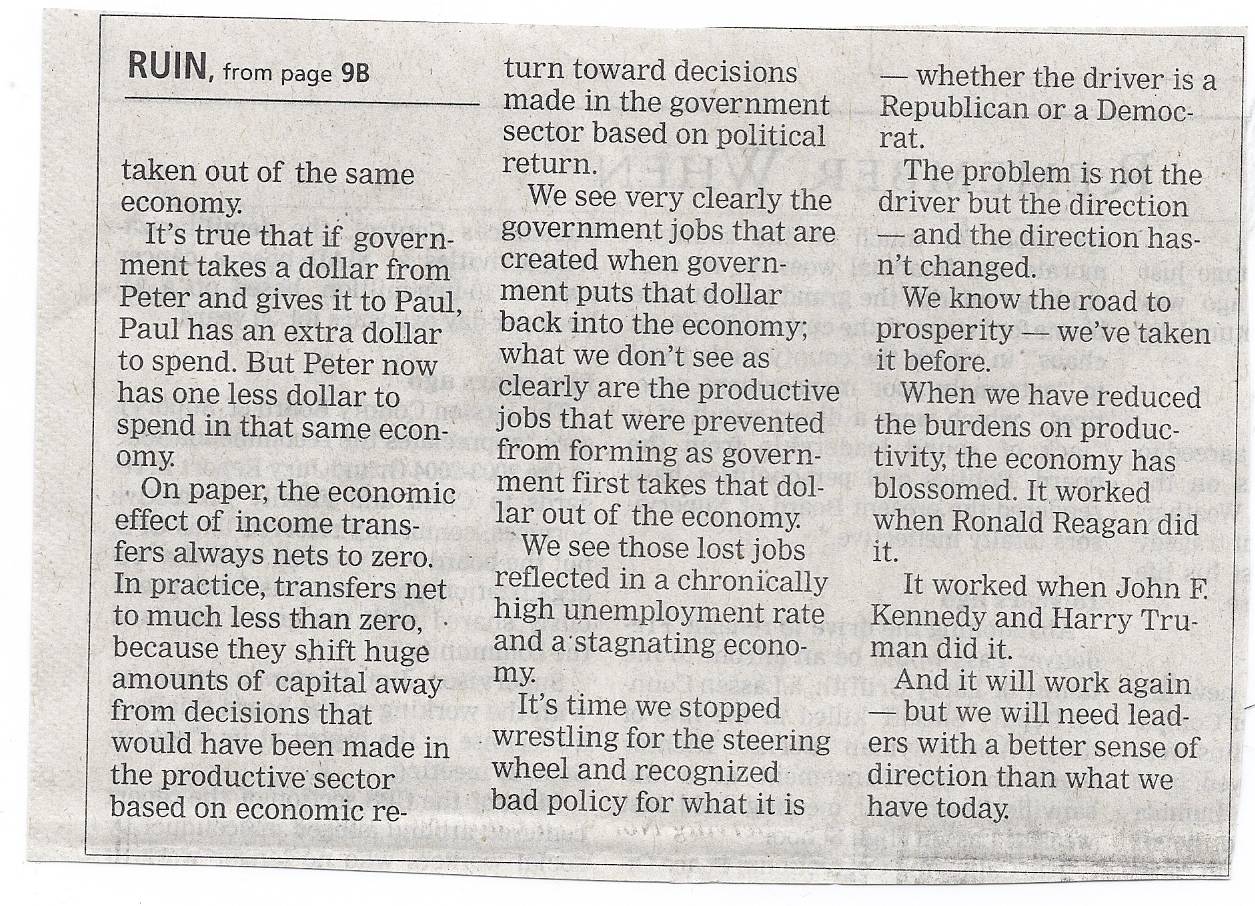 Congressman McClintock Rides on Coat tails of Democrats
Rep. McClintock Voted NO on HR 1586, but California will get $1.2 Billion despite Rep. McClintock voting no on "every" Bill presented in the House.
He hurts California.
He hurts Lassen County
House of Representatives Vote on HR 1586
Gives the States $26 Billion of Stimulus Dollars
Lassen County's Congressman McClintock voted NO, NO, NO
$16 Billion to restore Medicaid to the States
$10 Billion for teachers, police officers and fire fighters
$6.7 billion dollars was cut from tax cuts that Corporations used to move American jobs to foreign countries. 4.2 million jobs have been moved out of the United States. U.S. companies have sent their customer service and human resource departments to Manila, Sri Lanka, India, Pakistan.
First term, US Congressman McClintock
on Wrong Side of Issue for Lassen County
........or he just may not have done his homework
In 2009, Lassen County received $538,206 in PILT payments for 1,650,000 acres of federal land
The Western Counties Alliance is a Republican "talking points" group that monitors the "Payments in Lieu of Taxes" for western states that receive Federal subsidies for Federally owned lands in their states. Lassen County receives PILT funds.
In 2005, President Bush cut these funds to the Counties by one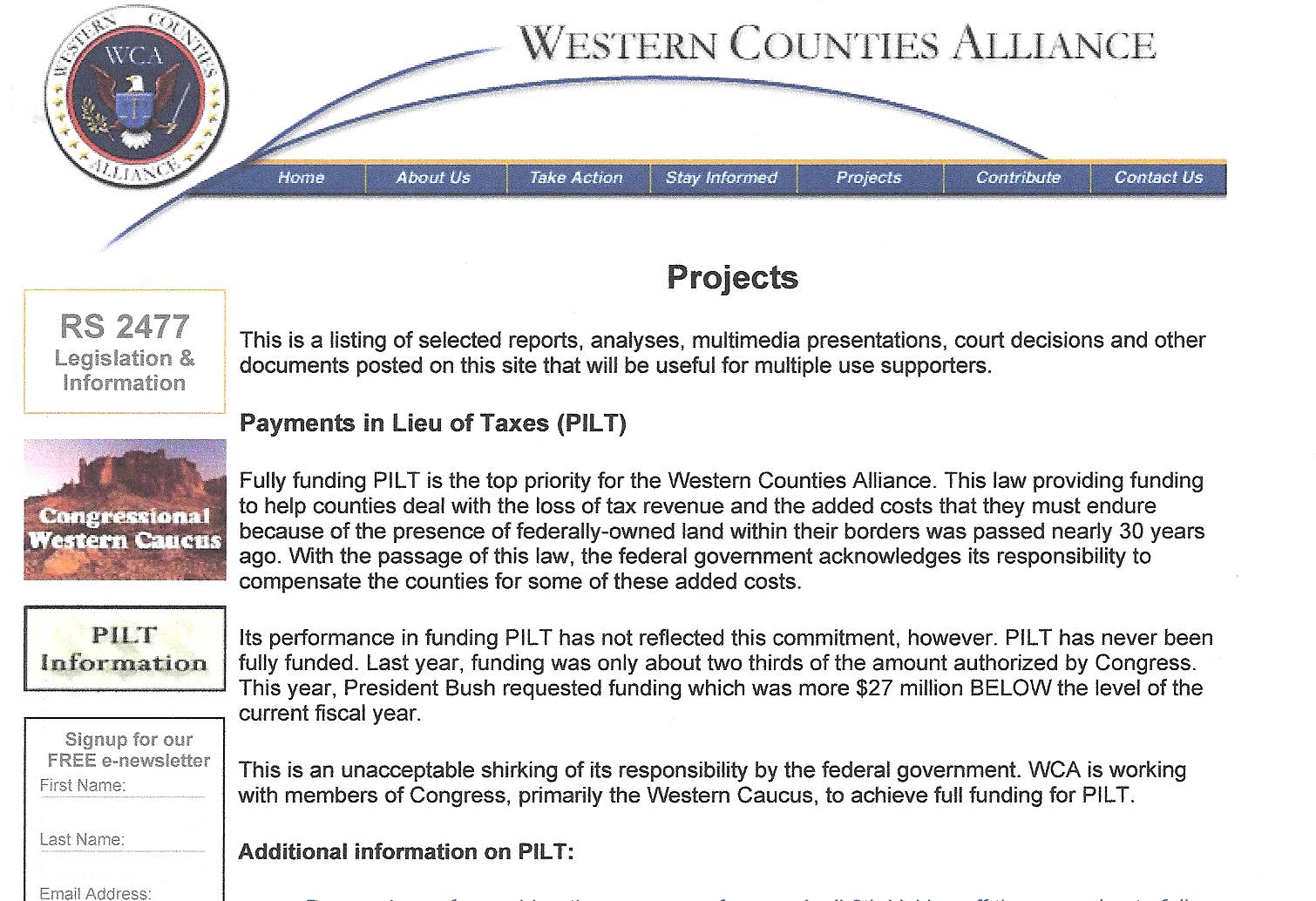 On April 6, 2005, the "Western Caucus News" campaigned unsuccessfully for full funding for PILT. It wasn't until 2006, when the Democrats took control of Congress, that these funds were restored.
California received the second highest payment for Non-use Federal lands in 2009, $34,397,858. Only New Mexico received more at $$37,013,334.
In 2007, California received $21,026,411 in PILT funds
In 2008, California received $33,234,973 in PILT funds
In 2009, California received $34,397,858 in PILT funds
We should ask Congressman McClintock how he voted on this issue, since he has a record of voting NO on every spending issue since November 4, 2008.
The land owners in Lassen County should not be concerned with McClintock's objection to more PILT lands being designated but more concerned that Lassen County not getting their fair share of the Federal "Payments in lieu of Taxes".
2009
Department of Interior PILT Disbursements
Lassen County received $538,206 for 1,650,00 acres
Los Angeles County received $1,243,691 for 708,500 acres
Fresno County received $1,739,068 for 1,500,000 acres
Imperial County received $3,093,802 for 1,350,000 acres
#########
Congressman McClintock gets Headlines in the Lassen County Times for making statements in Herlong (not at the Susanville town hall meeting days before) because he received copies of what every other Congressman received to-date. ???????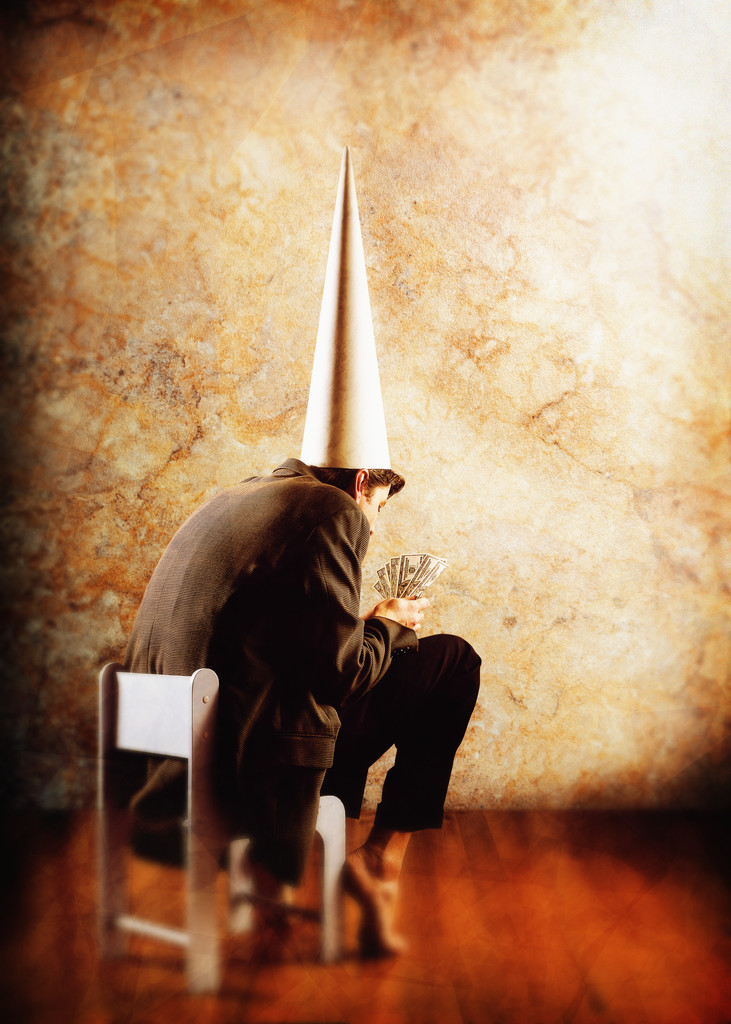 WHO IS HE REALLY LOOKING OUT FOR.....................CORPORATIONS AND HUGE LAND OWNERS?
Less Government or Better Government?
Congressman McClintock
& Assemblyman Logue

have spent this entire term voting NO on everything.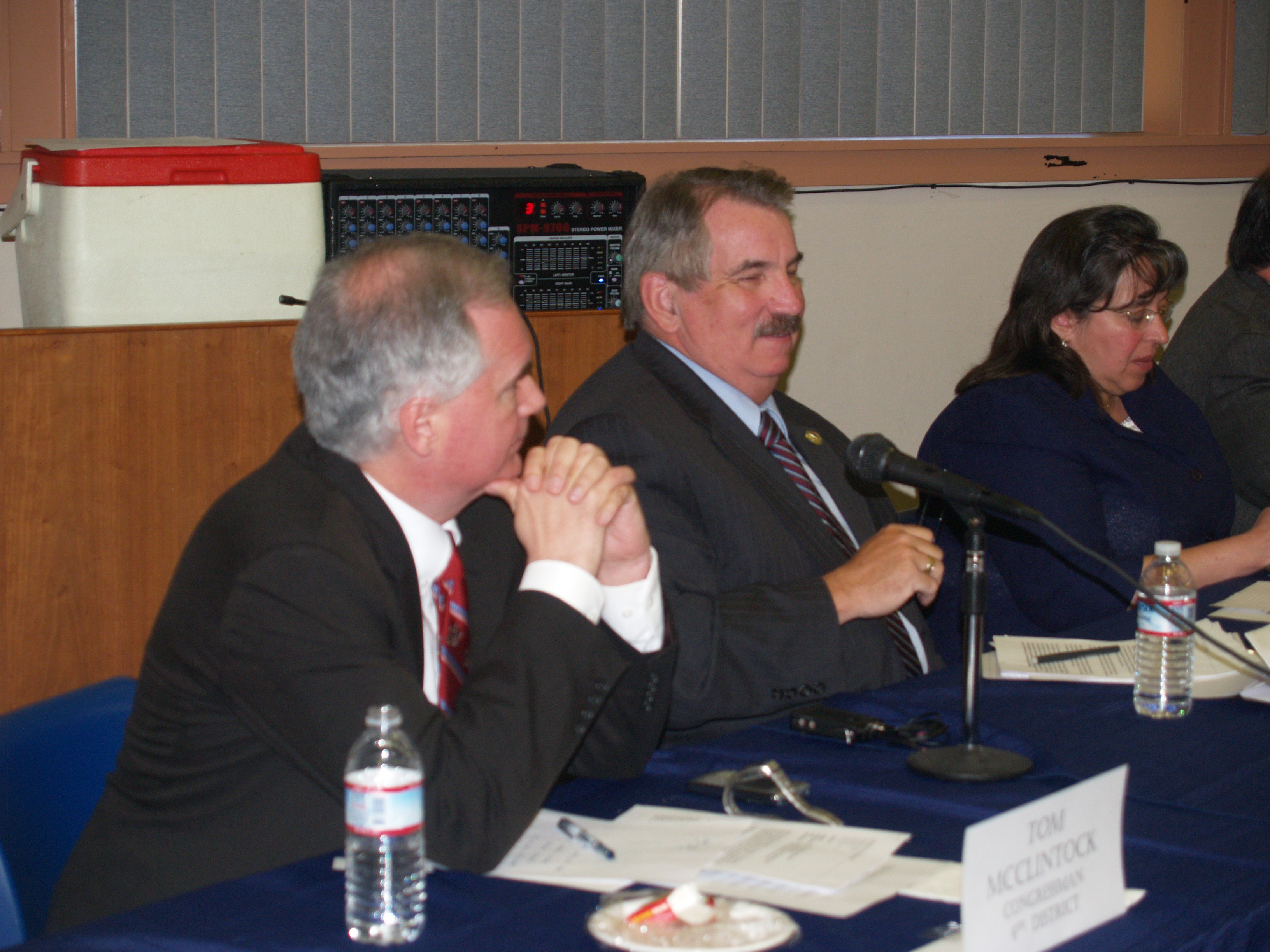 Left: District 4 Congressman Tom McClintock and District 3, California Assemblyman Dan Logue at Town Hall meeting "FOR JOBS"
Congressman Tom McClintock and Assemblyman Dan Logue held a town meeting on "jobs & taxes" in California at Lassen Community College this morning. In this two hour meeting, local corporations (Banner Medical, PSREC, Sierra Pacific, Honey Lake Power, Surprise Valley Electric, LMUD) and business owners complained about the business climate in California.
These two gentlemen, who represent Lassen County have spent their entire term of office voting NO on everything. Their voting record is available to the public. It's not just NO with these guys, but HELL NO.
McClintock has never sponsored a single bill......EVER ?
McClintock Co-sponsored a bill to release Stabilization Funds on January 6, 2009.......that's it folks
Both do not have a single act, on their record, of doing anything?
Lassen County has a $70,000,000 ranching and farming industry and Rep. McClintock and Assemblyman Logue have DONE ABSOLUTELY NOTHING to help that industry.
There were a lot of complaints that government was prohibiting them from making more money. One gentleman complained that the Americans for Disabilities Act was digging into his profits. Others complained that we needed to get rid of environmental laws that were draining their profits. Insurance Agent Richard Parker (RECALLED LMUD director ) complained that the business climate is so bad in Lassen County that there was no one to sell his insurance too.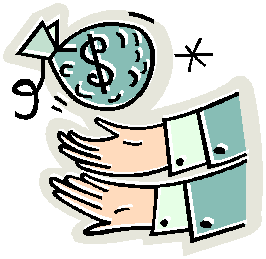 These same people pay people to look for the "free" money that government hands out to them and complain now that it is no longer there.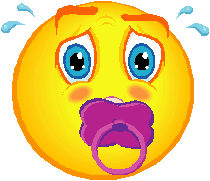 Better government is needed and we need to find BETTER representation to make that happen. What Lassen County, California, and this country needs are harder working elected officials that don't get elected with "CHEAP applause line rhetoric" and then sit on their asses.
THAT IS EXACTLY WHAT MC CLINTOCK AND LOGUE HAVE DONE AND WE DESERVE BETTER.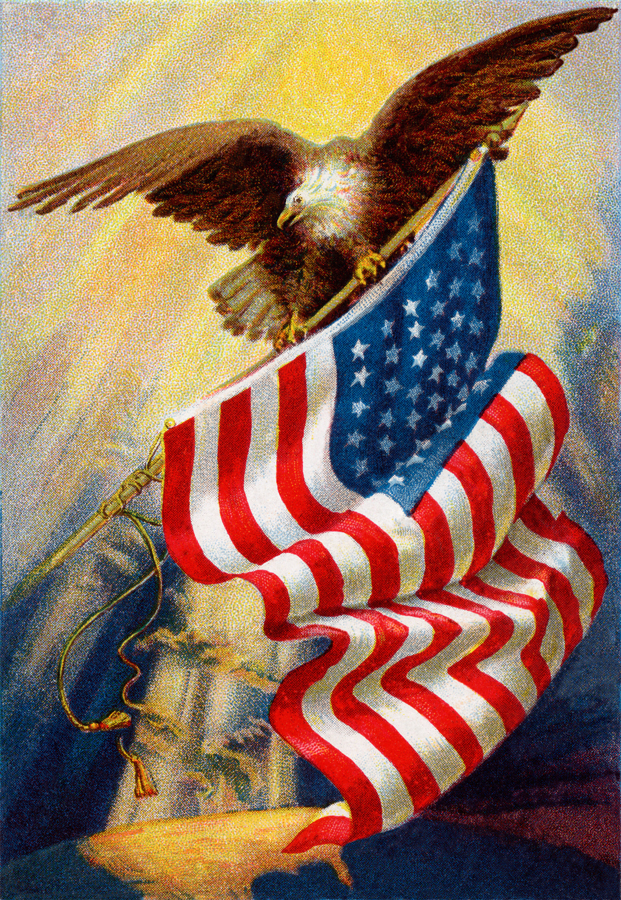 Less Government or Better Government?
ACTION: Let's eliminate Cal Trans and let the private sector maintain our roads.
Impact: Only individuals that can afford to maintain their roads will be able to hire private contractors
ACTION: Let's eliminate all agricultural regulations and restrictions in California.
Impact: California's farming would be destroyed
ACTION: Eliminate all government subsidies of schools
Impact: Only those that could afford private educations could educate their children
ACTION: Eliminate requirements for doctors, teachers, lawyers, architects and engineers from being state regulated and certified
Impact: Third World results with more dead people, poorly educated children, quackery and abuse, buildings that fall down
ACTION: Eliminate the US Postal Service
Impact: $25.00 to send a letter to some areas of the country.
Action: Eliminate the Department of Forestry, Agriculture, Interior
Impact : Clear cutting, drilling, mining, pollution, destruction of wildlife in our most beautiful and pristine parks
Action: Eliminate Bank Regulations
Impact: mattress stuffing and basic world chaos
Action: Repeal AB 32 that Republican Governor Schwarzenegger signed into law in 2006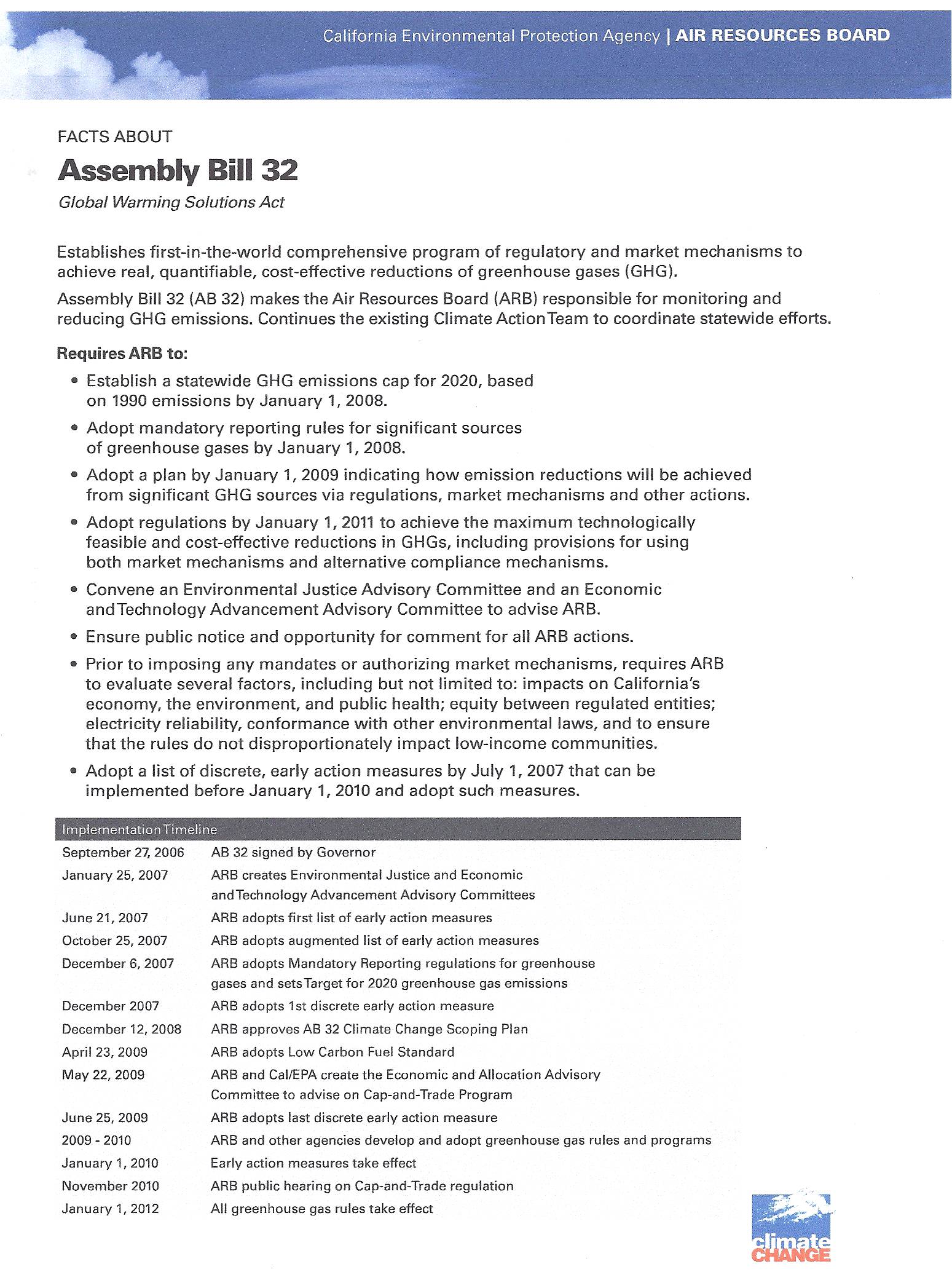 MEETING OVERVIEW:
This meeting was orchestrated by Assemblyman Logue for the purpose of bringing forward business representatives of our community to promote their profits and to
reduce and/or eliminate laws and safeguards that have been enacted to protect the consumer and our families.
Message: Let's eliminate clean water and air regulations so my business can increase my profits. Let's eliminate laws and regulations that prevent ground pollution to help increase my profits for my business.
Let's use Wal-Mart
as our business model for PROFIT, as represented by the profits that they report, forgetting that these profits are generated on how they treat and pay their employees. Let's privatize all government programs and agencies and let the private sector perform these services, forgetting that these same programs and services are not designed to make a
profit.
To privatize these same programs and services would require an increase in costs to provide a profit, and/or reduce programs and services to provide a profit.
NO NO NO NO NO
THIS WAS A MEETING TO GENERATE GREED AND PROFIT OFF THE BACKS OF THE PUBLIC. THIS MEETING, AND THE PRESENTERS,
REPRESENTED A MICROCOSM OF THE GREED AND SELF SERVING ATTITUDE JUST DISPLAYED BY GOLDMAN - SACHS AT THEIR TESTIMONY
BEFORE THE SENATE BANKING COMMITTEE.
McClintock & Logue to Visit Susanville 4/30/10
10:00 AM, Lassen Community College, Middleton Hall
District 4, U.S. Representative Tom McClintock
Votes "NO" on Jobs Bill, Tax credits for Business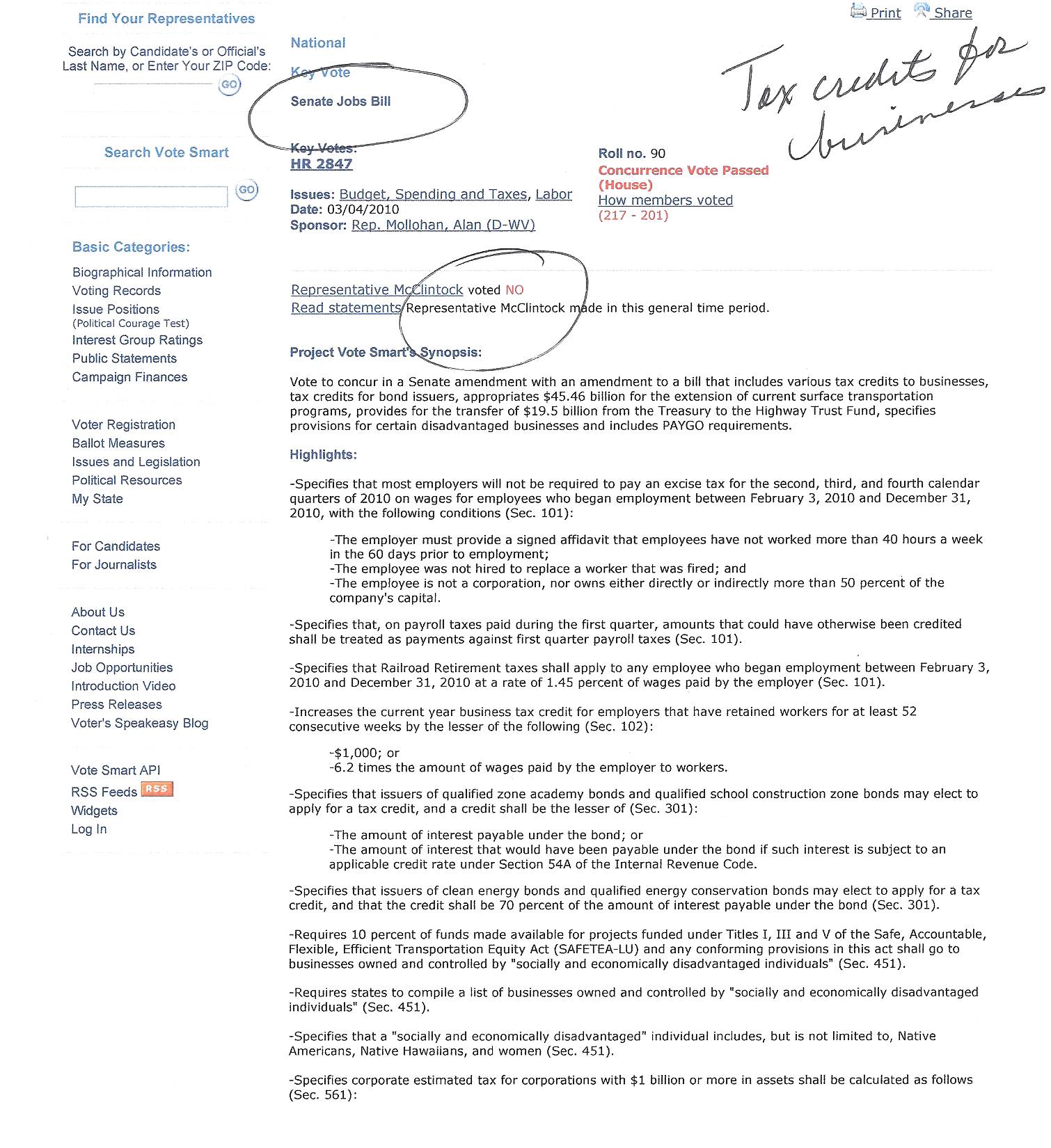 District 4, U.S. Representative Tom McClintock
Votes "NO" on Unemployment Benefit Extention
District 4 Congressman McClintock Votes No on "Jobs Bill" that would have brought money and jobs to Lassen County.
This guy votes "No" on EVERYTHING.
....fortunately the Democrats passed this bill. now let's see if this guy works to bring money and jobs into Lassen County after he voted NO on the JOBS BILL?
SO......WHY DID WE VOTE FOR THIS SOUTHERN CALIFORNIA POLITICIAN?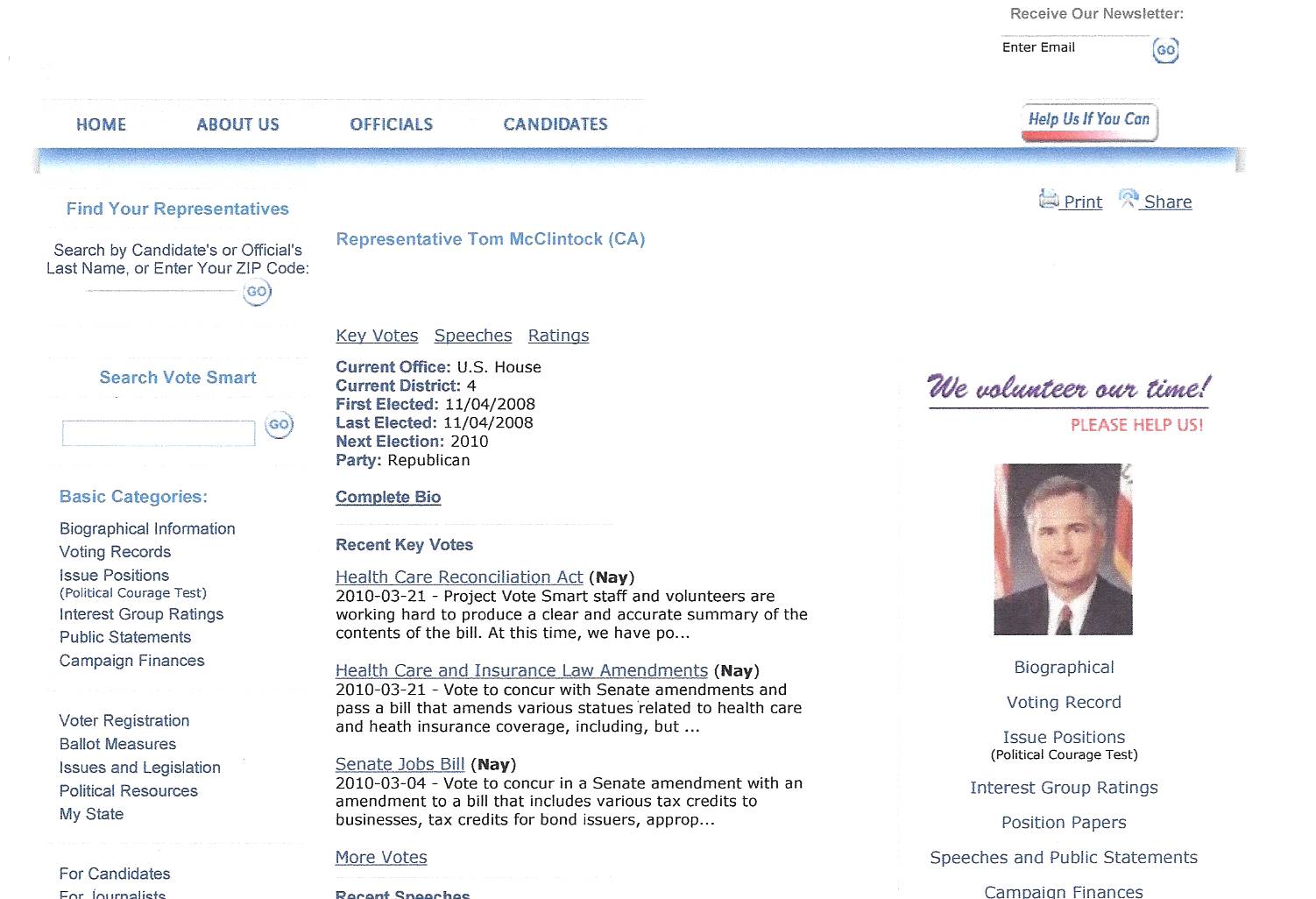 McClintock Does Nothing to Bring Jobs to the 4th District
As of 11/1/09: Congressional Districts Receiving Stimulus Dollars
5th District, 94,840 jobs, $3,719,701,156
9th District, 1,087 jobs, $1,641,914,379
34th District, 470 jobs, $1,560,064,309
53rd District, 708 jobs, $768,172,217
46th District, 180 jobs, $708,367,394
Carpet Bagger, Congressman Tom McClintock, Panders to his base at Susanville Town Hall Meeting
He tells them about the Death Panels, Euthanizing seniors, closing down Medicare........
and admitted that he hadn't even read
HR 3200.
He has only READ the Republican Party talking points?
$$$$$$$$
McClintock brought a graph that showed a red line that was placed to show that President Obama had ruined the economy
Ooops, it was a Republican President that pushed the economy into the dumps in 2008.
only a minor tiny little detail he left out.............
the small blue "Up" on his chart is the last Democratic President's term (Doesn't quite look like an 8 year span, oops). All of the DOWNS are Republican administrations, oops.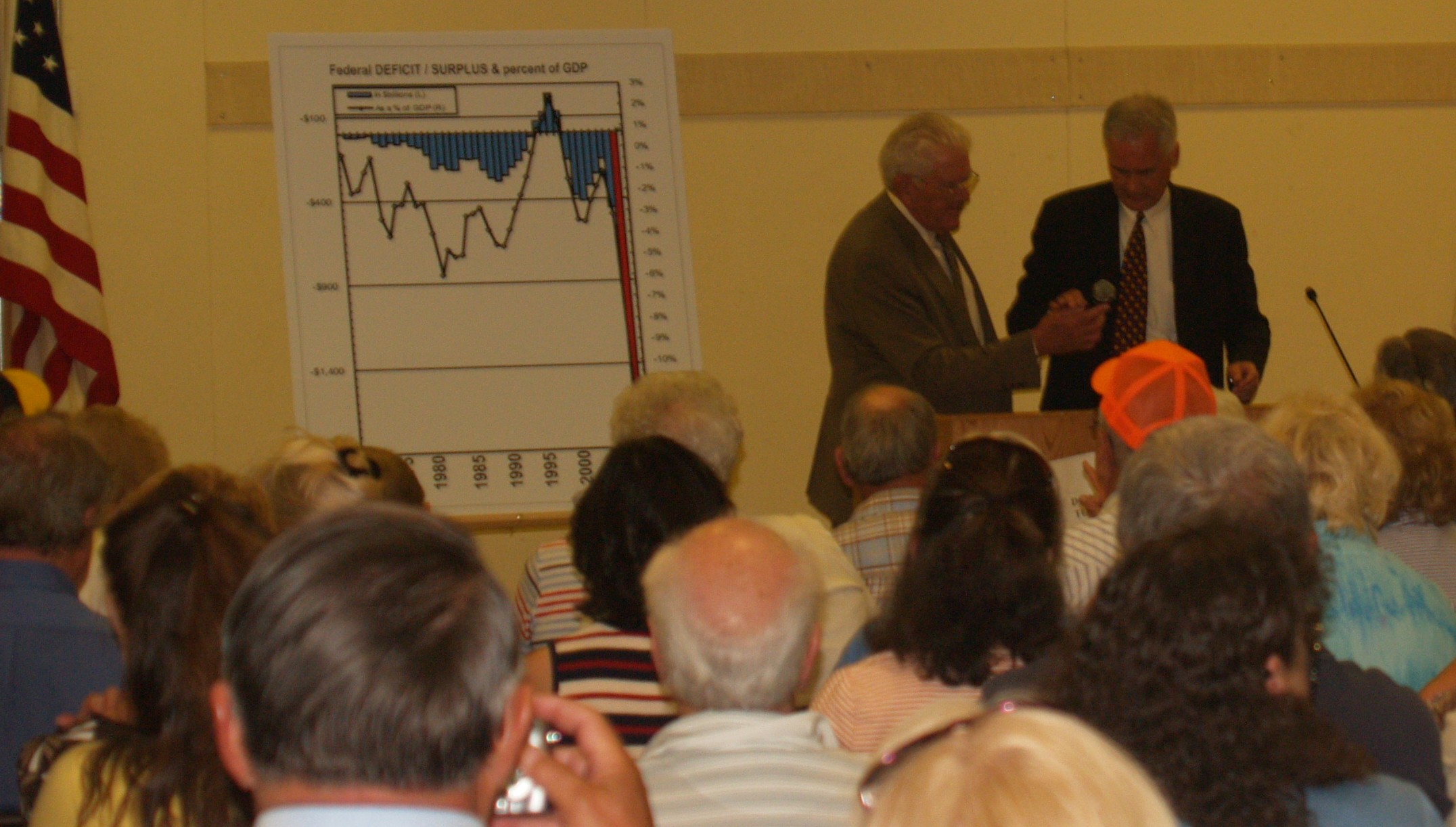 FEAR mongering...NO TRUTH, JUST LIES ALL EVENING?
He lied to the 500 people that took the time to attend this Town Hall Meeting and turned them into Bobbleheads.
Lassen County citizens are "Smarter than the average bear", Congressman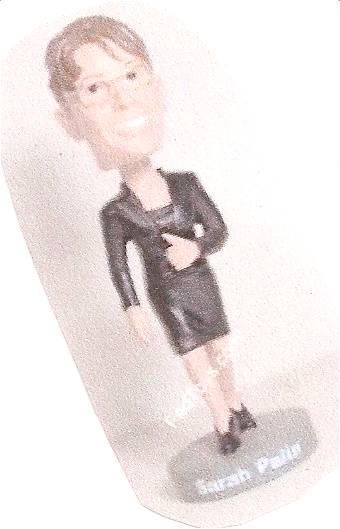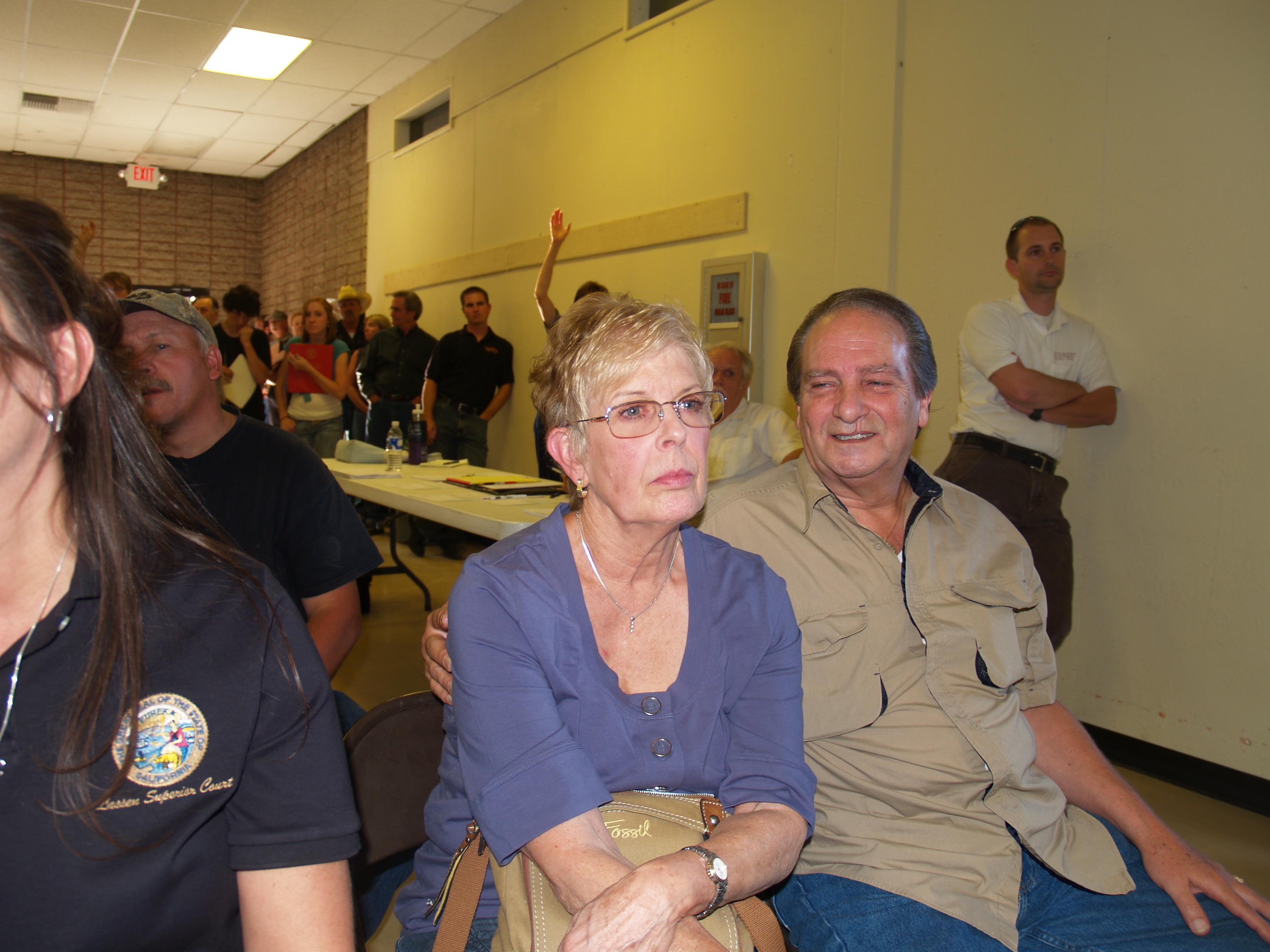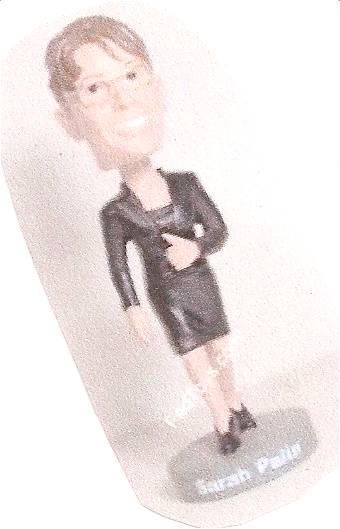 Mr. & Mrs. Bobblehead; The nights BIG "BOBBLEHEAD" COUPLE
"Obama is a Marxist" Mrs. Bobblehead screams, "Obama is a Communist" Mrs. Bobblehead yells and much worse........
This couple was nodding and parroting word for word everything the Congressman said all evening and then added an AMEN or HALLALUYA. All you needed was a big tent.
Representative McClintock did not reprimand the morons that stood up and wanted people to call in bomb threats and assassinate the President. People were yelling that the President was a "Communist", "Marxist" and much worse. McClintock allowed this. He was a big hit !!!!!!!
McClintock did not correct the outright lies repeated by the audience but fueled the misrepresentations with more lies. He had a moral obligation to at least tell the truth. He chose to fire the attendees up with insults about Obama, Reid, Pelosi, Boxer and Feinstein.
THOSE THAT DISAGREED WITH THE CONGRESSMAN WERE GREETED WITH TOTAL INTIMIDATION BY HIS STAFF and used LOCAL POLICE to surround people that disagreed with the Congressman. SHAMEFUL.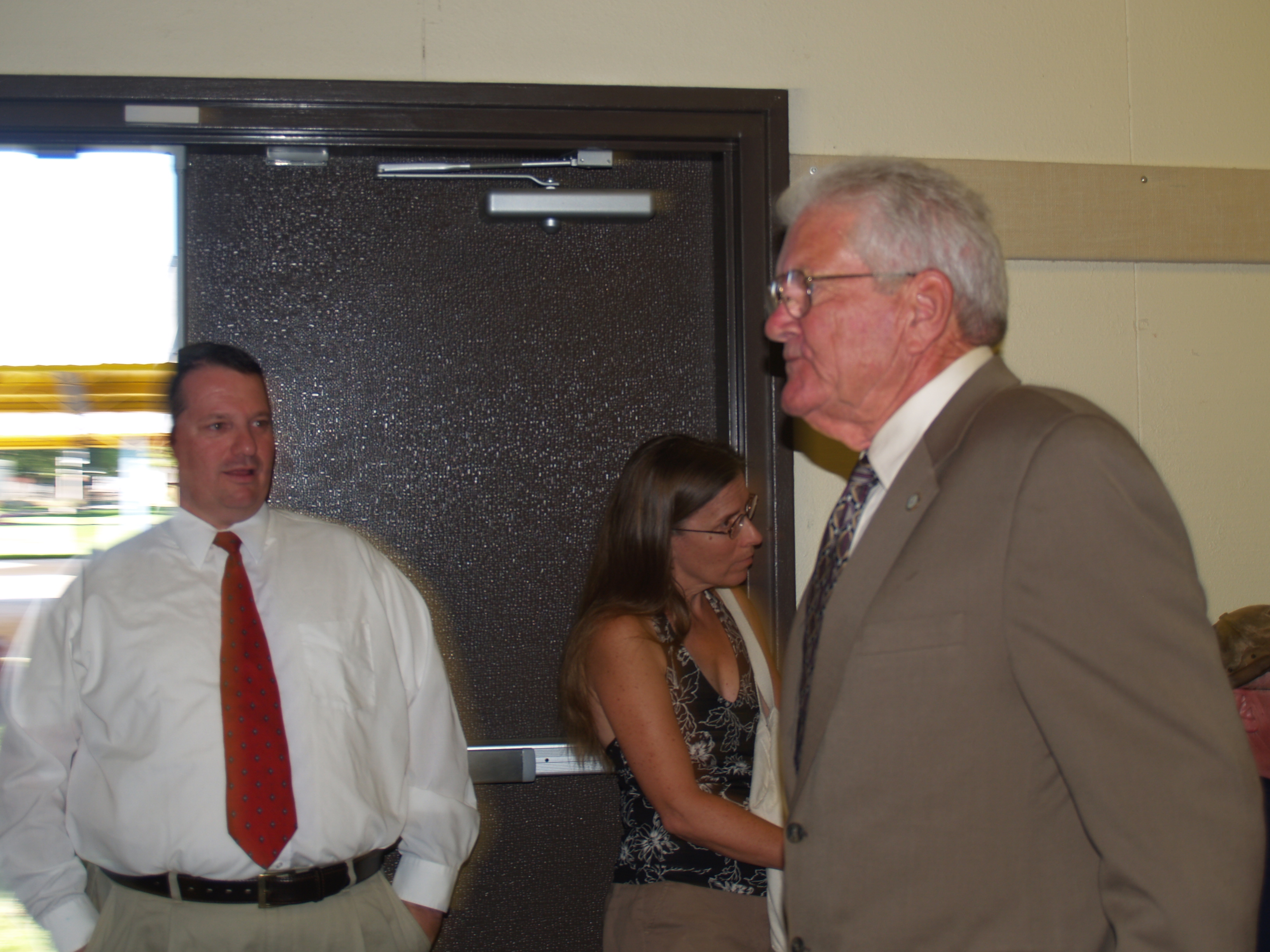 She was given support from the crowd (that agreed with her) when all of the muscle showed up
SHAMEFUL...........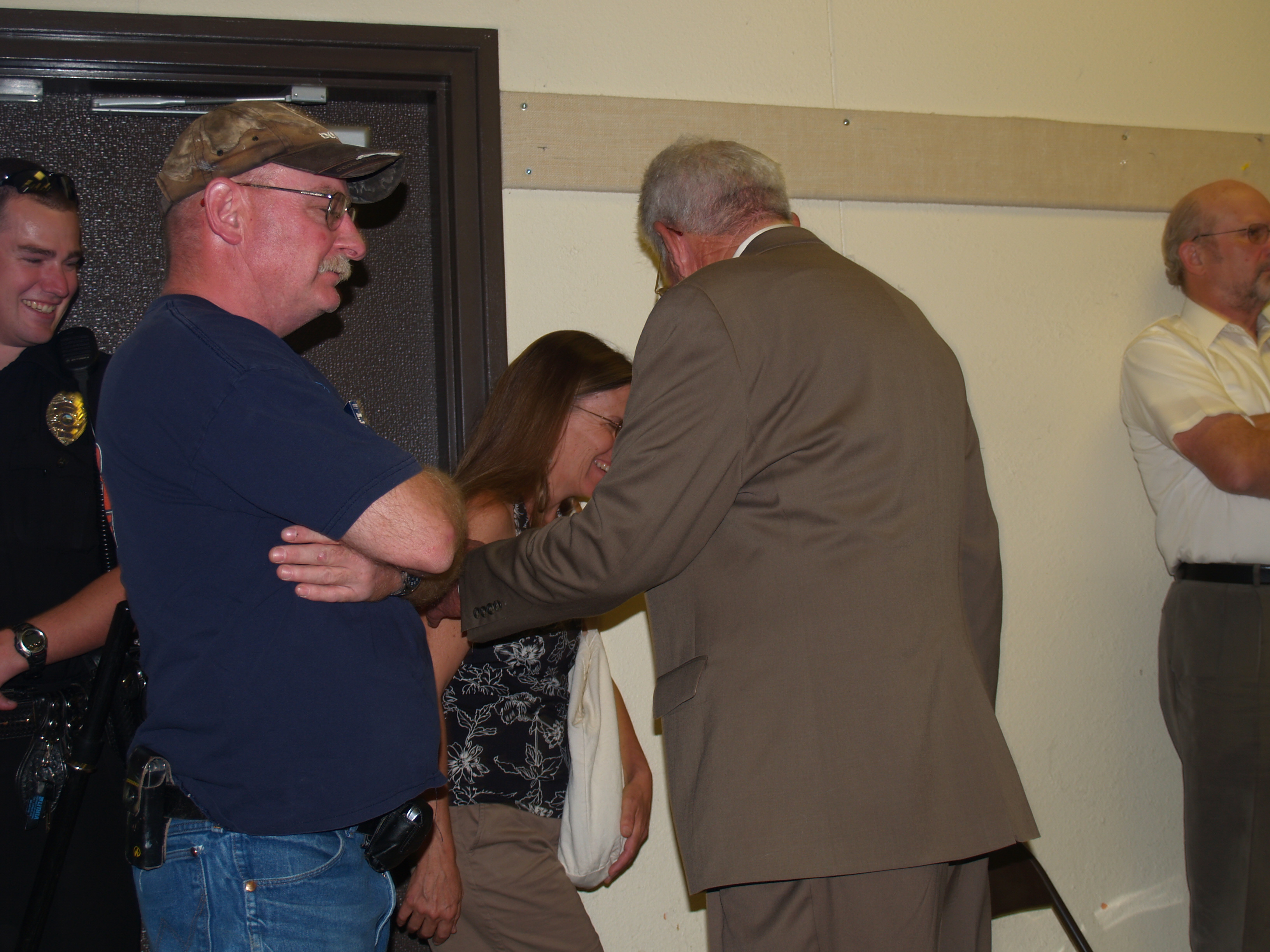 CENTER: Igor, the Congressman's Chief of Staff, job was to keep the people that disagreed with his boss, OFF THE MIKE.
THE CONGRESSMAN HAD STRONG ARM MEN THAT MOVED IN AND SAT NEXT TO THE PEOPLE THAT DID NOT AGREE WITH HIM. These men sat and heckled the individuals until they left. It was all done very quietly.
Just shameful