Theresa Nagel Decides Not to Run For County Clerk
LINK TO NAGEL ELECTION PROBLEMS
NOW, WE KNOW WHY NAGEL DIDN'T RUN.........and Bustamante hesitated to run
Theresa Nagel, Lassen County Clerk named in Diebold lawsuit
How much is Julie Bustamante implicated?
LASSEN "DIEBOLD" VOTING MACHINES VULNERABLE TO VOTE MANIPULATION & FRAUD link
Lawsuit filed in San Francisco
On March 21, 2006 a lawsuit was filed in San Francisco that requests the court to rescind certification of the Diebold optical scan (Accuvote-OS) systems. If the court agrees, these machines will not be allowed to be used in the November 2006 election.
Critics claim that when the election officials are allowed to "program" their own voting cards, there is an opportunity to program multiple cards. This would allow an election official to switch cards and essentially effect the outcome of the election.
County Clerk, Theresa Nagel, has never allowed Poll Monitors to observe the election process. Nagel has never allowed Poll Monitors to observe the processing of Absentee Ballots....all allowed under the law............
California Secretary of State in
DAMAGE CONTROL
California Secretary of State visits all 18 Counties effected by the Diebold lawsuit prior to the legal action filed on March 21, 2006.
Chester Progressive, March 28, 2006, Lyn Walters
"Bruce McPherson, California Secretary of State, visited Plumas County early Monday, March 21, 2006. Plumas County Clerk-Recorder Kathy Williams said this was only the second time in her 18 year history at the election office that the county had received such a visit"
Monday was March 20, 2006 not March 21, 2006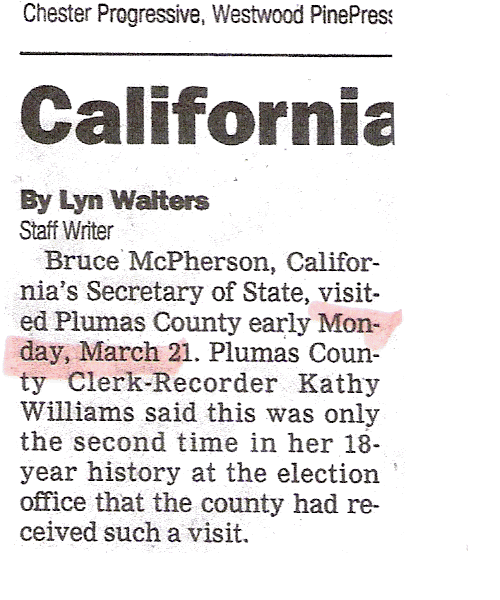 Plumas County is one of the 18 California counties named in the lawsuit.
Lassen County Times aids and abets both the Secretary of State and the County Clerk and suppresses the Diebold lawsuit story. Way to go Shayla....................(Shams by Shayla) LINK

March 29, 2006
KWH
DERAILS THERESA NAGELS PLAN TO KEEP "UNOPPOSED" CANDIDATES OFF OF BALLOT
The Lassen County Times Managing Editor attempted to help the County Clerk keep the "unopposed" candidates off the June ballot. KWH alerted County Counsel.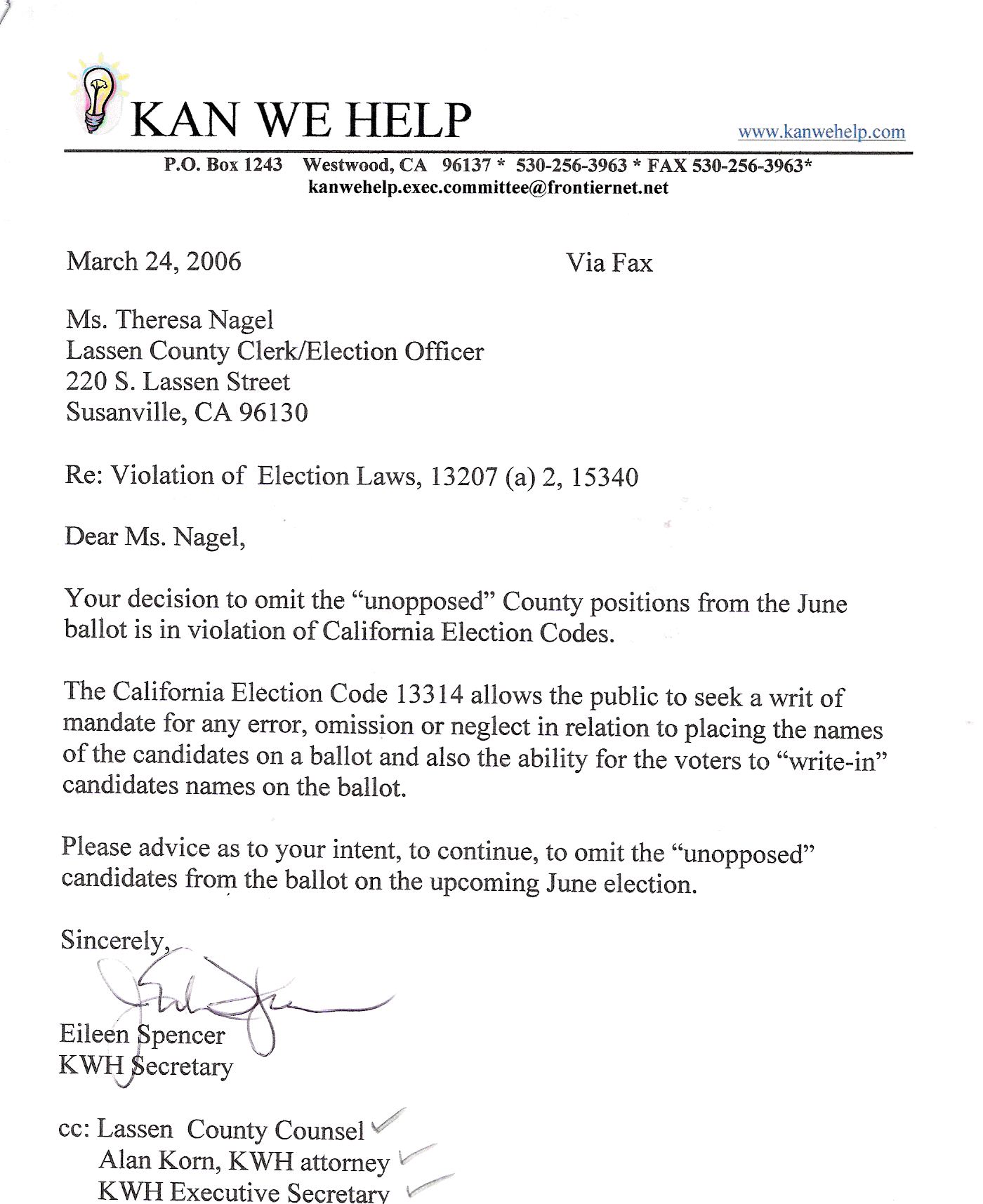 LINK TO NAGEL ELECTION PROBLEMS
Lassen County Times, March 28, 2006