JOHN ZENITH IS NOT AN ATTORNEY
5/27/09
Spencer v John Zenith/James Forbes
Jury Verdict: 12-0
Jury members were convinced that attorney David Williams should have been on trial
David Williams, has moved again and again and again and again......
9/11/12......he is now practicing (?) out of a duplex in Chico, Butte County. Zenith.....no where to be seen.
The Spencers win Malicious Prosecution/Abuse of Process Case against John Zenith & Jim Forbes
also, the Spencers were granted a permanent injunction against Jim Forbes and John Zenith preventing anymore lawsuits against the Spencers without court permission
In 2004, John Zenith and James Forbes demanded that the KWH website remove the statement "John Zenith is not an attorney" even though it was a true statement. John Zenith introduced himself to John and Eileen Spencer, in November of 2001, as an attorney from Susanville. John Zenith is not an attorney and has no legal background according to his testimony at the trial.
The Jury found that David Williams Litigation Manager, John Zenith, had influenced and aided James Forbes to file a lawsuit to take over the KWH website, in order to remove this statement. The statement was, in fact, TRUE.
Kan We Help, to this day, has never received any demands from John Zenith to remove the statement, "JOHN ZENITH IS NOT AN ATTORNEY" or anything else from the Kan We Help website.
David Williams advised his client, Jim Forbes, to pursue six actions against the Spencer's and lost all of them.
John Zenith and attorney David Williams threatened James Forbes, (David Williams client for the lawsuits against the City of Susanville, Lassen County Times, LMUD, Bill Noonberg, Susanville Police Chief, Frank Cady, etc.) on February 12, 2004, to publish a retraction in the Lassen County Times or David Williams would not represent James Forbes in his lawsuits against Lassen County Times, Bill Noonberg, City of Susanville, Susanville Chief of Police and Lassen Municipal Utility District. James Forbes lost all six of these cases including the six he filed against Eileen Spencer.
On February 2, 2004, Eileen Spencer told Jim and Carol Forbes that she would not testify for them in their lawsuits based on the February 18, 2003 assault incident at a LMUD meeting. Spencer told the Forbes that she felt that the LMUD incident had been staged by Zenith and Williams. Zenith had told Spencer "Dave wants you to stay by Jim. He may need him to faint", Forbes stated to John and Eileen Spencer that "David wanted him to get his heart beat up before he could go to the hospital".
With the influence of David Williams and John Zenith, Forbes filed a lawsuit (39188) against Eileen Spencer (not KWH) on March 18, 2004 to take over the KWH website kanwehelp.com.
In the 39188 lawsuit, Forbes claimed that a rubber light bulb (that was given to him at a convention) was the official logo of KWH and Eileen Spencer stole it from him. Forbes had possession of this rubber light bulb the entire time of his lawsuit. FORBES LOST THIS LAWSUIT
J On March 18, 2004, Jim Forbes and John Zenith served the lawsuit (39188) to the Spencer home under the direction of attorney David Williams. Attorney David Williams knew his client, Jim Forbes could not be a party to the service.
John Zenith was hidden from the Spencer's sight while Jim Forbes rang their doorbell. John Zenith jumped out and entered the Spencer's home to hold the Spencer's door open but did not say anything and admitted that he did not drop any paperwork. John Zenith and Jim Forbes attempted a home invasion to scare the Spencer's. The jury found that this was an act of Abuse of Process.
In August of the same year, Forbes is talked into filing an additional lawsuit by his attorney David Williams and his Litigation Manager (?), John Zenith. Forbes lawsuit 40000 wanted repayment for attorney John Latini's fee of $ 2,031 from Spencer. The problem is that Forbes had agreed to fire John Latini and not pay this fee.
James Forbes gave John Latini a check that was never cashed and when Spencer asked for a copy of the cashed check to John Latini, Forbes refused to disclose it. Forbes then had John Latini cash the check 52 weeks after it was given to him and 52 weeks after filing his lawsuit. The Latini check bounced (Forbes check was marked "non-sufficient funds").
FORBES LOST THIS LAWSUIT BUT continued to pursue this lawsuit and LOST HIS APPEAL one year later. FORBES ATTORNEY DAVID WILLIAMS WERE SANCTIONED OVER $9,000.
Jim Forbes testified, UNDER OATH, that he did not know why John Latini cashed his check.
John Latini testified, UNDER OATH, that James Forbes called him and asked him to cash the check..............
David Williams states that the Mayor of Susanville, Kurt Bonham, owned the website lasseninformer.com, not him
The website "lasseninformer.com" was created with information that made it appear that attorney David Williams owned it. This website trashed Williams client, James Forbes and other KWH members. When KWH confronted David Williams about this website, David Williams claimed that it was not his website. Williams revealed years later, at the Spencer v Forbes/Zenith trial, on two occasions that Kurt Bonham owned this website and tried to make it look like it was owned by David Williams.
This site was opened after the LMUD assault incident on February 18, 2003. (KWH has copies of all postings)
This website was taken down April 4, 2004 after KWH confronted David Williams about the website
Attorney David Williams office address is 803 Main Street, Susanville, CA 96130
The phone number listed is the number for "information".
John Zenith also used this address for his company CRMS
John Zenith tries to talk Randy Singh into filing False claims
Link: Randy Singh denies Zenith's claims
Susanville attorney claims that his office is closed.
John Zenith claims that David Williams office is closed. Zenith stated that all employees have been let go, except for him.
HAS HIS REPUTATION CAUGHT UP TO HIM?
Williams was removed from a criminal case, by the Court, when it was discovered that Williams had submitted false evidence to the Court. Williams recent (civil) loss to KWH also involved false evidence.
DOES THIS COMMUNITY REALLY NEED ATTORNEYS LIKE THIS?
DAVID WILLIAMS, LOCAL SUSANVILLE ATTORNEY FORCED TO WITHDRAW FROM "PHONY" EVIDENCE CASE
Could Williams, like his client, face felony perjury charges?
Did his client,Brown, act on advice from Williams?
This isn't the first time Williams has been caught manufacturing evidence to support a clients case. How much tolerance will Judge Dier or the District Attorney have for this misconduct?
David Williams submitted phony photographs to the court to defend his client Richard Brown and subsequently now has withdrawn as counsel for Brown.
Williams client faces felony perjury charges but isn't it the responsibility of the defense's counsel to verify all evidence.
SUSANVILLE ATTORNEY DAVID WILLIAMS UP TO SAME OLD TRICKS
PHONY PHOTO TRICK ?
Will Mr. Brown tell the Judge that he"acted on advice from his attorney"?
DEJA VU...............
David Williams filed four frivolous lawsuits against Kan We Help and he lost all four. In an act of desperation, Williams and his client James Forbes (an expelled KWH member) filed the last of these lawsuits with phony evidence.
Williams submitted a check to the court, as evidence of a loss by his client, James Forbes. However, the check was written but never cashed. At the end when they cashed the check, it bounced.
John Zenith is not an attorney
David Williams client, Jim Forbes was expelled from KWH. Jim Forbes was forced to file a lawsuit to get control over the KWH website for John Zenith and lost.
Your reality "check" bounced
"Unclean Hands"
Jim and Carol Forbes (at 1101 Modoc, Susanville) are stalking Eileen Spencer's son. These are truly sick people. Spencer's son is autistic and cannot defend himself. 5/23/06
Carol Forbes, far right. Carol and Jim Forbes sued LMUD and lost. Carol Forbes was a special education teacher and was fired by the school district. Maybe the truth is she doesn't like "special education" kids............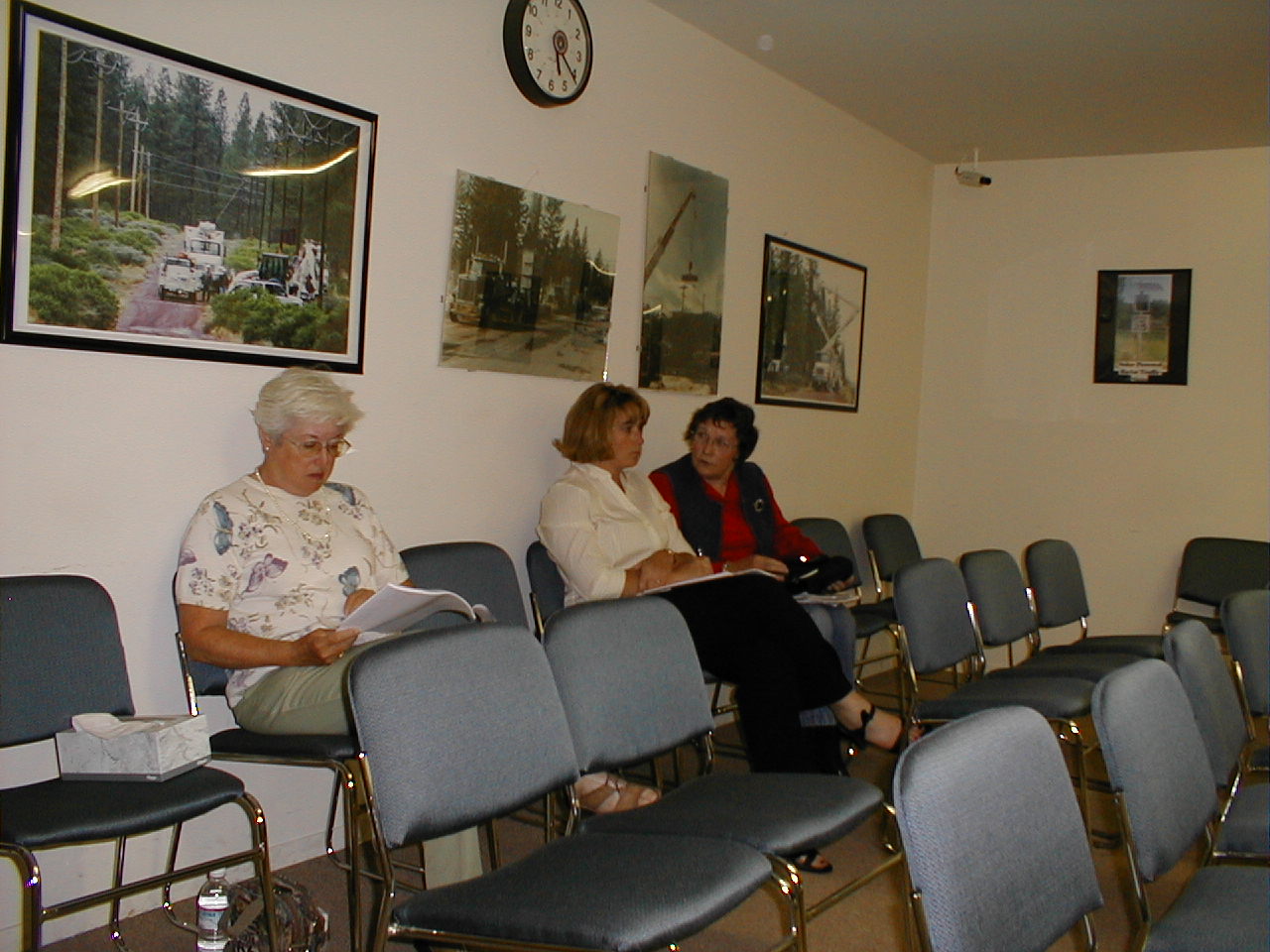 One hour after receiving this notice, Jim Forbes stalked Spencer's son at his work. Jim Forbes followed Spencer's son into his place of work and just followed him around for an hour. This is an ongoing event with the Forbes. They keep loosing their frivolous lawsuits against Spencer and this is there only outlet. Jim Forbes owns a gun.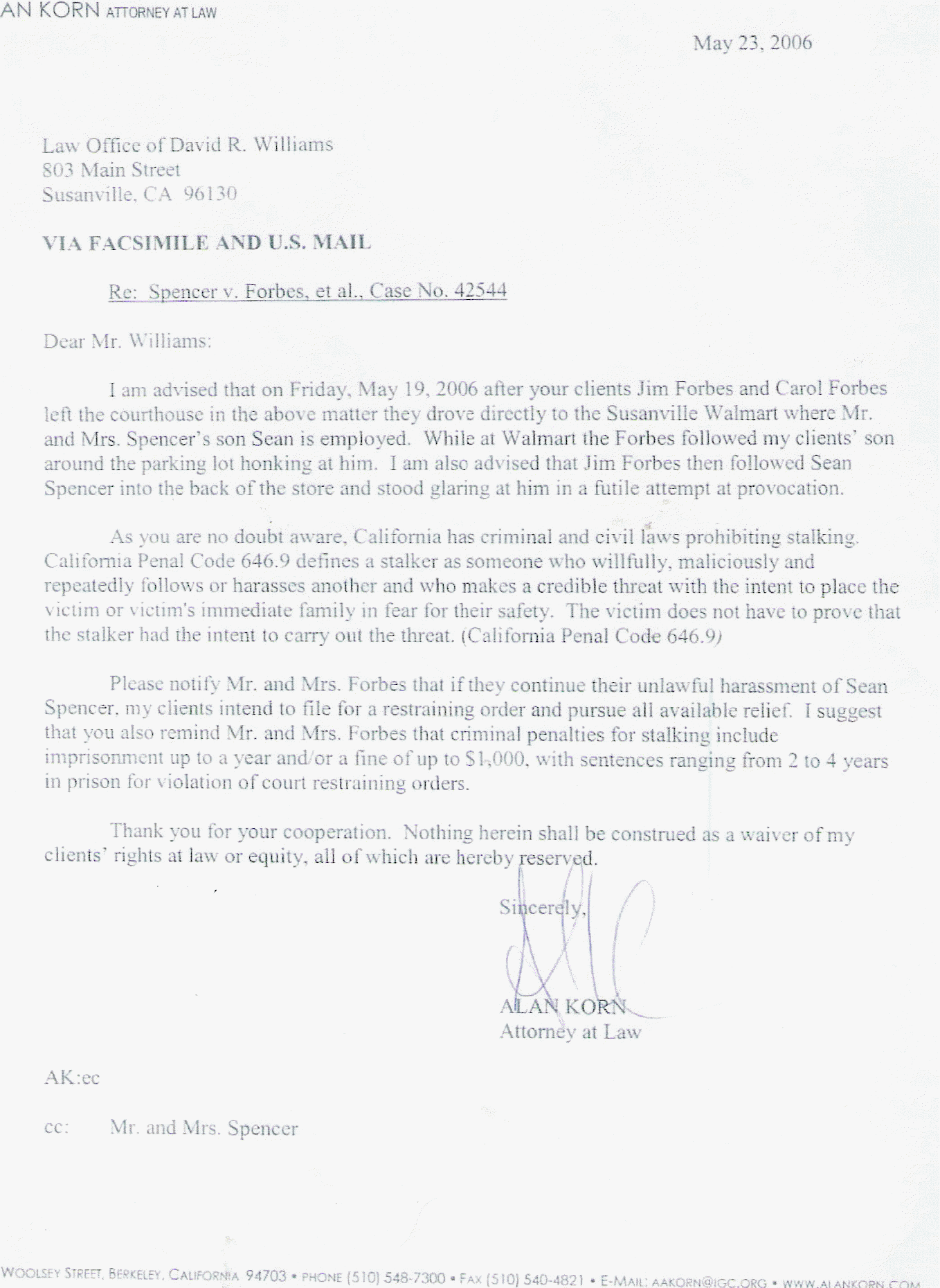 When does $6231.00 cost you $25,000, your license, and jail ?
APPEAL, PERJURY, APPEAL, PERJURY, APPEAL, PERJURY, APPEAL, PERJURY.....you had choices Mr. Williams.
SUSANVILLE ATTORNEY FILES APPEAL (?) AFTER HE WAS CAUGHT MANUFACTURING EVIDENCE WHEN HE FILED THE ORIGINAL LAWSUIT ???
Is Williams risking his license to practice law on this one ????
On January 18, 2006, Lassen Superior Court orders Williams to pay all of Defendants costs and attorney fees on the original lawsuit.
Local Susanville attorney, David Williams, files an appeal on a case that he was sanctioned by the court (for filing a lawsuit that had no damages). Williams and Zenith initiated a lawsuit that claimed their client suffered damages of over $6,000. The problem.....the $6,000 check (the alleged damage) was given to a Sacramento attorney (John Latini) that held the check for one year and never cashed it. When Williams client Forbes was forced to produce the check, the Sacramento attorney then cashed the check and it bounced.
Williams filed a lawsuit when he knew that his client had no damages and now is attempting to appeal the court's ruling. Williams and his client were sanctioned, by the court, $9,000.
Susanville Attorney, David Williams, was sanctioned over $9,000 by Lassen Superior Court, for manufacturing evidence
Forbes files admission with the court
JOHN ZENITH IS NOT AN ATTORNEY
November 7, 2004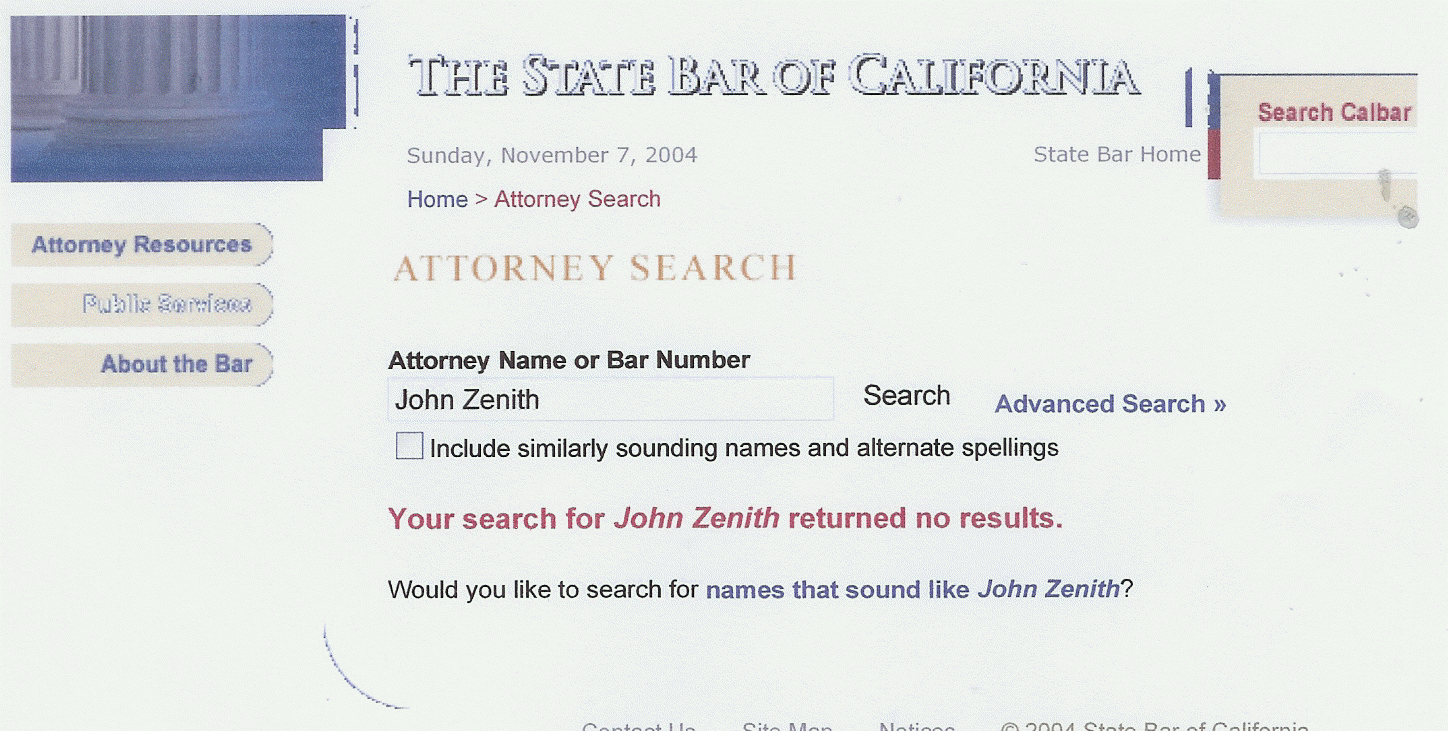 Jim Forbes has not won any of the lawsuits that he has filed (0-6). The lawsuits lack facts or truth and are malicious in nature. Forbes manufactures evidence for his lawsuits.......and this may land him in jail along with all those who are a party to it.
LASSEN COUNTY TIMES SUBPOENA'S SPENCER TO TESTIFY FOR THEM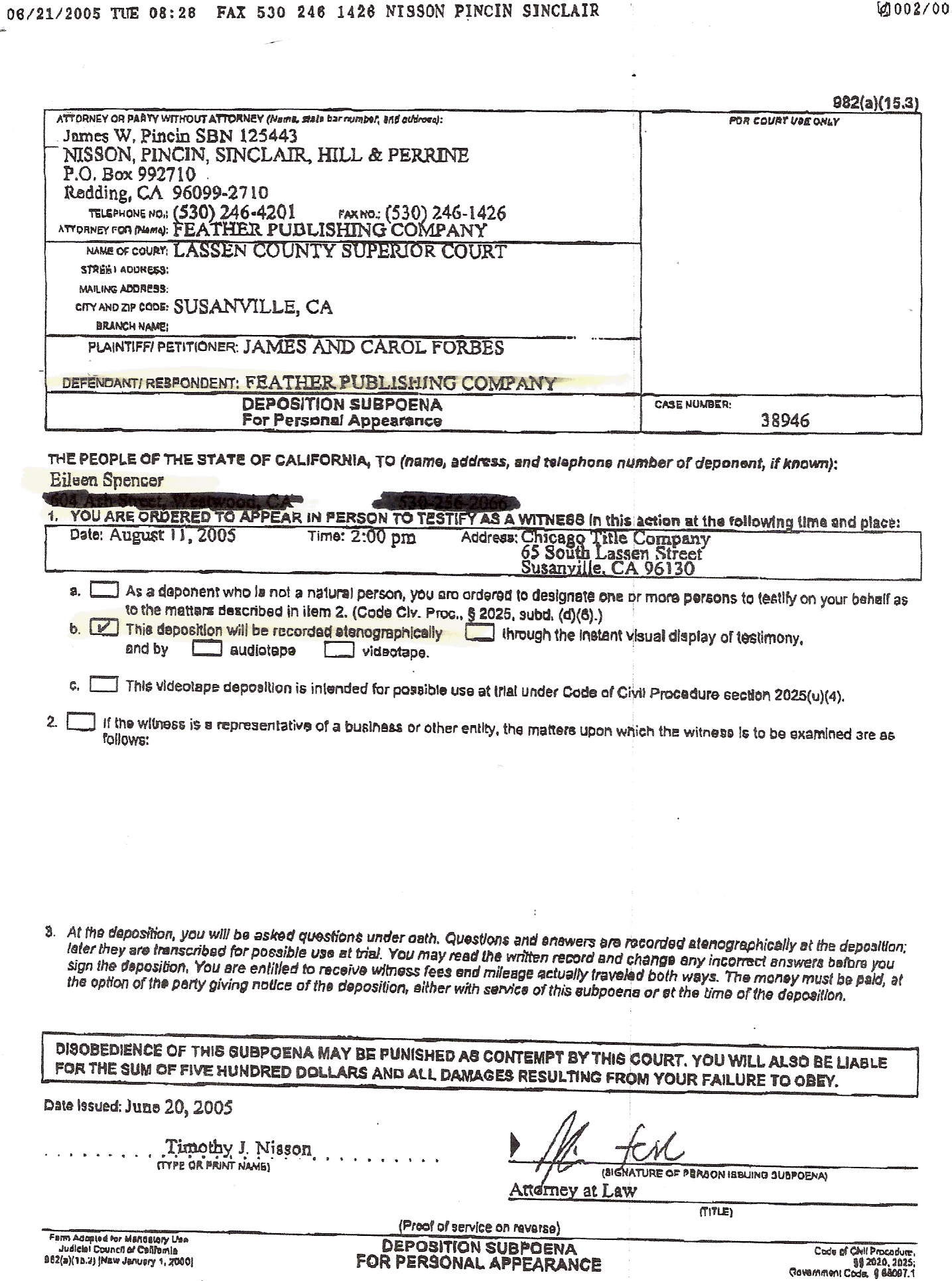 Jim Forbes and his wife Carol went to Wal Mart and tried and succeeded in getting Eileen Spencer's autistic son fired. Carol Forbes is an unemployed special education teacher. Carol Forbes employment was terminated by the school district. They have filed a baseless restraining order and the court threw it out and the Forbes have lost the other two lawsuits against Spencer too.
KWH rejected having John Zenith as a member. LINK
JUDLIN V DavidWilliams MALPRACTICE-NEGLIGENCECase 40107link
Mr. Williams now faces "personal" lawsuits for negligence and filing malicious lawsuits.........there will be many more filed against the Williams Team
Local Susanville attorney, David Williams "threatened" to sue this website today(8/30/04), in Dept. 6, Lassen County Superior Court, because of the references to John Zenith and because a picture of Craig Kellison's door is shown on this website. Williams claims all of this is libelous ????????? Okay......and.....The opinions published on this website are protected by the First Amendment.
The facts, well just deal with it. Facts are Facts.
Now.............
John Zenith served with restraining order
John Zenith was served a restraining order by the Sheriff's Department, on 3/23/04 at 4:20 PM, for forced entry into the home of a KWH member.
[Mr. Zenith, a truly happy person is one who can enjoy the scenery on a detour]
Judge Bradbury signed the TRO on 3/22/04. Zenith will have to appear before the court to show cause for his actions. The hearing is set for May 20, 2004. The restraining order will be in effect until the hearing.
On March 25, 2004, the Lassen County Sheriff's Department filed charges for Burglary Penal Code 459) and Assault (Penal Code 241) against John Zenith.
P.O. Box 215, Canoga Park, Ca 91305, P.O. Box 17265, Anaheim, CA 92817, 1029 Sundance Ct., Anaheim CA 92808, 12 Buccaneer Street, Venice, CA 90292, 1466 Diego Way, Upland, CA 91786
A word of Caution:
It is still against the law to force a client to make false statements under oath.
It is still considered malicious and unethical to file a complaint based on total and absolute lies.
It is still against the law to threaten your own client
John Zenith threatens to sue everybody, its just KWH's turn
KWH says go ahead and sue, but will you win ???
Lassen County Times calls Police (11:10 AM, 3/2/04)
to remove "unwanted subject".
The "unwanted subject" was John Zenith. The newspaper called the police to remove John Zenith. The Lassen County Times office was given instructions about John Zenith and his unacceptable behavior.
John Zenith was asked to leave and he refused. Zenith's behavior was bad enough that the local police had to be called.
NOTE: John Zenith filed for a fictitious business name (CRMS) and used the address 803 Main Street, Susanville, CA . link
A website that trashes Jim Forbes, a client of David Williams, uses the "Domain" address 803 Maine Street. link David Williams address is 803 Main Street.
????????????????????????????????????????????????????????????????
This website has now gone "offline" 4/4/04........ ?
KWH has sent a letter to 803 Maine Street and David Williams admits to receiving it. KWH asked David Williams to look into this website, last December, that was registered to his address. The person that registered this website attempted to disguise the address and phone number. The Domain phone number listed is 555-1212...(or 411, information).
After posting the above domain information on this website, the address has now changed to 49684 9th Street, Palmdale, CA 93561 ??????
John Zenith has been warned to cease and desist representing himself as a KHW member.
John Zenith is more well known in this county for his reputation.
PUBLIC BEWARE:
JOHN ZENITH IS NOT AN ATTORNEY
John Zenith has never been a member of KWH and never will be a member of KWH.
John Zenith has threatened to sue two members of KWH. This is what John Zenith is well known for.
John Zenith wrote a "To whom it may concern" letter and then made threats to the KWH members if they didn't sign it. These two KWH members were forced to sign a statement, that John Zenith wrote, under extreme duress even though John Zenith was given a statement by another KWH member that took full responsibility for the references made about him on this website. The person responsible had full authority to put the references about John Zenith on the KWH website.
These threats don't make any more sense than all of the other threats John Zenith has made.
John Zenith is free to sue anyone anytime. He will most likely snooker some poor soul into paying for it.
What is Zenith's real motive????
WHO DOES HE REALLY WORK FOR.?
ASK FRANK CADY.
What do you get when you add one Williams, one Cady one Zenith together?
Answer: One poor old snookered EXPELLED KWH MEMBER, Jim Forbes