LMUD's PHONY STUDIES
Invenergy/LMUD/NV Energy
Friend or Foe?
LMUD executed a MOU (Memorandum of Understanding)at their August 28, 2012 regular meeting with Invenergy to "STUDY" the feasibility of constructing a 230 kv line from their Viewland property
to WAPA's 500kv Olinda substation in Olinda, CA (west of Cottonwood, CA in Shasta County)
Odd, LMUD did this on August 10, 2010 with TANC & WAPA (see below)
LMUD PAYS INVENERGY FOR FEASIBILITY STUDY, AGAIN
Ignore Invenergy's $40,000,000 promises
This Feasibility Study does not state how much LMUD can spend on this phony study. This contract was approved by LMUD legal counsel Eugene Chittock.
Invenergy wants the LMUD ratepayers to spend hundreds of thousands of dollars, maybe millions on the 230 kv transmission line that Invenergy said that they would pay for.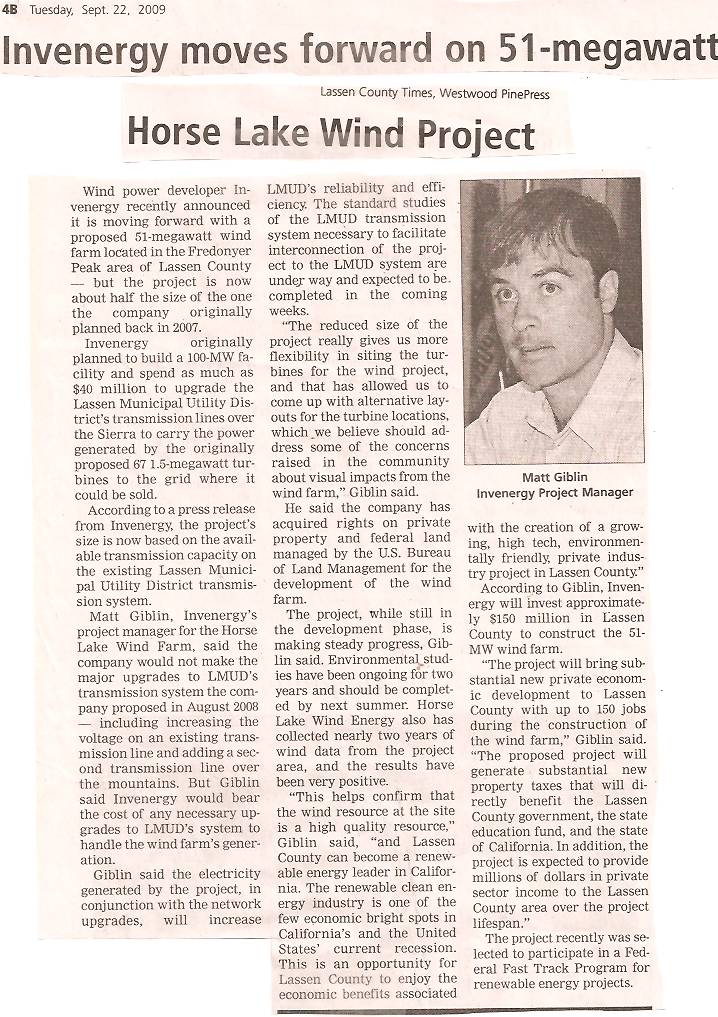 LMUD CONTINUES TO LIE ABOUT "STUDIES"
Navigant is run by TANC............NO CONFLICT THERE FELLAS.
WHY: PSREC customer Fred Nagel was able to save "HIS" utility company the cost of this expense.
The LMUD Boards have approved spending for dozens of fake studies for the last ten years. Kan We Help requests copies of these studies and LMUD replies, "They don't exist or they are not in the possession of LMUD" yet thousands of public dollars continue to be spent.
no accountability for money spent on any LMUD "studies"
LMUD has spent hundreds of thousands of dollars on these phony studies and has produced NOTHING.
This is no different...............
Navigant run by TANC
Check out what Navigant really does

for $455 per hour !
Kan We Help will track the alleged $33,000..........Study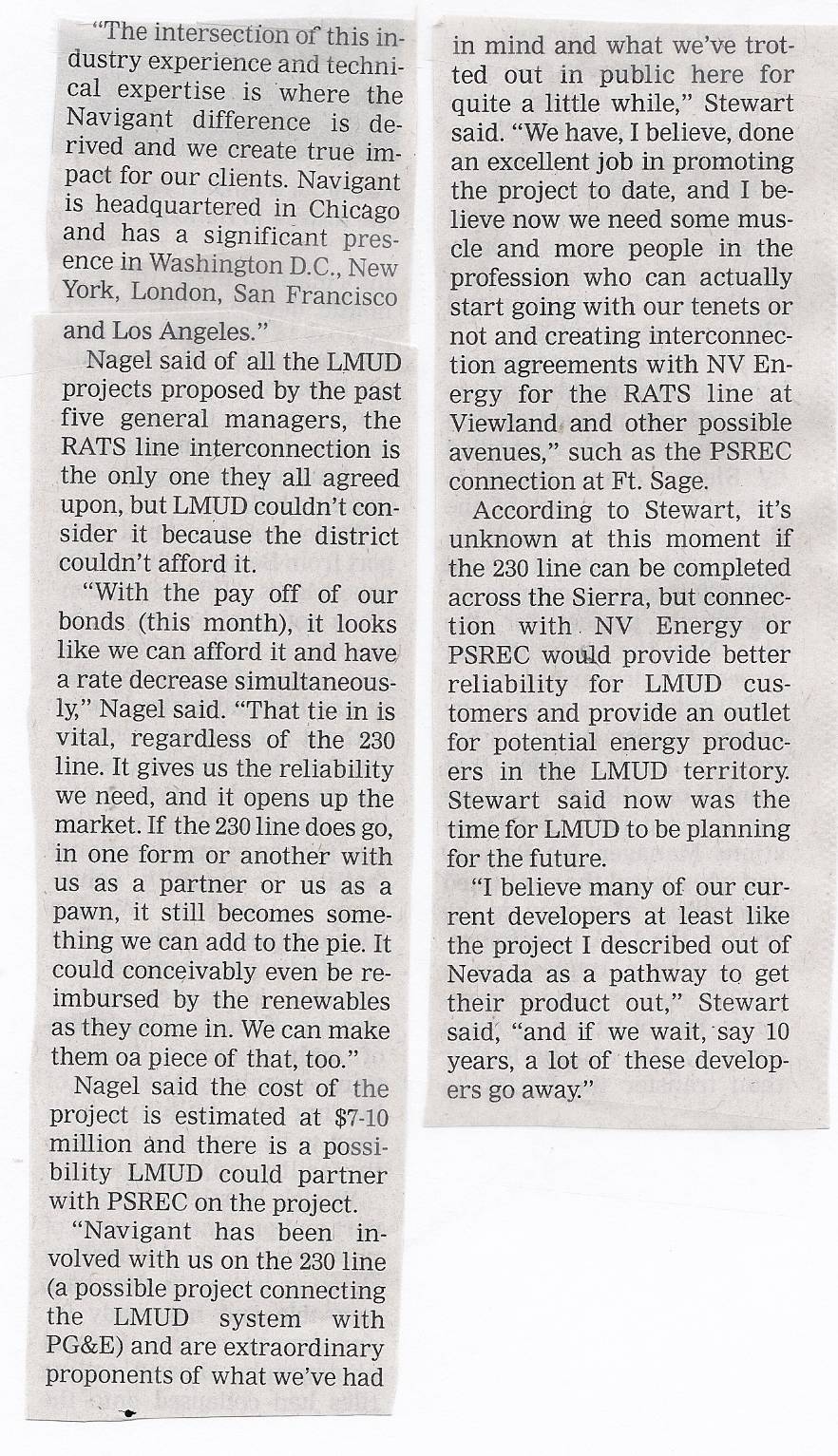 LMUD Board Lies About $80,444 UAMPS Payback
Kan We Help called this Bogus affiliation between UAMPS & LMUD years ago.
The Utah based UAMPS has nothing to offer the Lassen Municipal Utility District ratepayers. This organization just came here to grease palms and drain our coffers.
The LMUD Board and General Manager never had any intention of this relationship benefitting the ratepayers. It has however, provided many VERY EXPENSIVE retreats and vacation meetings for Board Members and Ray Luhring.
There will be no payback.
UAMPS does not have the money to pay back even if it is in 6 installments.
The LMUD Board's incredible lack of business acumen has led to yet another stupid fake energy scam.
UAMPS plan is to repay LMUD in "energy credits"
Presently LMUD is posting between $400.00 -$1200 monthly payments TO UAMPS for ENERGY?.
Kan We Help has not been able to find out what these small payments to UAMPS have really been for.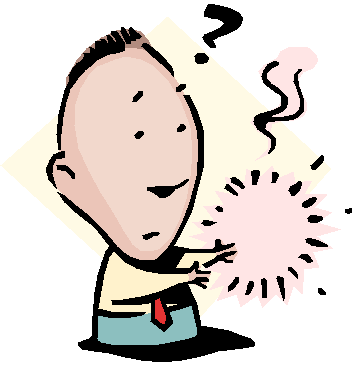 LMUD Board Members Have Wasted hundreds of thousands of dollars on phony energy studies

and lied consistently to the public
Remember the $81,997 they gave PSREC for a study on a co-generation plant that PSREC cut LMUD out of?
or the $50,000 for the Invenergy Study.
ALL PHONY, ALL SCAMS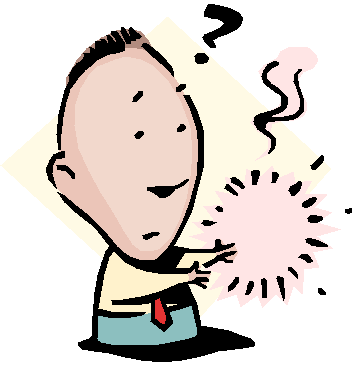 LMUD Minutes, September 28, 2010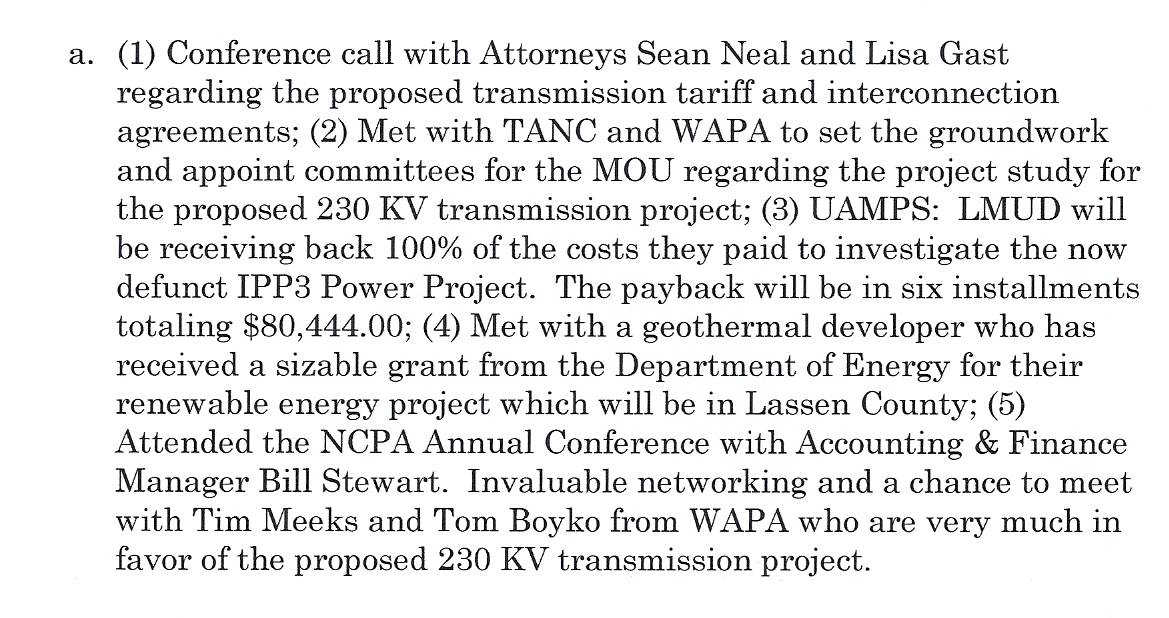 Non-member LMUD attending NCPA parties again
However, Fred Nagels PSREC is an Associate Member. Did Ray Luhring and Bill Stewarts entourage attend as guests of PSREC?
LMUD JUST SIMPLY
CANNOT TELL THE TRUTH

TANC (Transmission Agency of Northern California) abandoned this EIR on July 15, 2009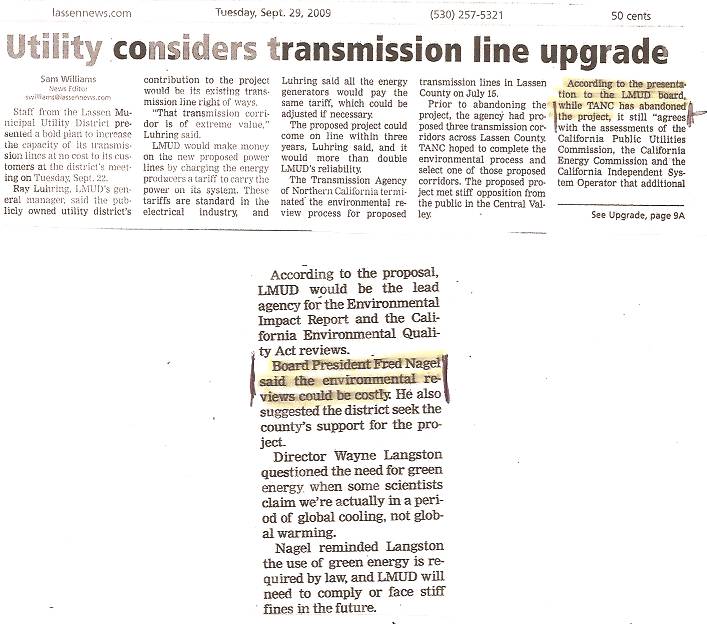 This "idea" depends on bio-mass generation companies being able to stay in business in Lassen County. Two conflicting problems exist. The Bio Mass plant in Wendel has stated that it(LMUD Director Jay Dow's Ward and LMUD Director Fred Nagel owns property in Wendel) cannot survive if the Nature Energies Bio mass plant in Susanville is re-opened.
Are LMUD Directors ignoring all of their "Interconnection Agreements"?
LMUD attorney Eugene (Chip) Chittock recently claimed that LMUD has never had any "Interconnection Agreements" with anyone. ooooops?
SO WHAT IS IT?
IT'S TIME FOR ANOTHER "SECRET" MOUPUBLIC BEWARE: LMUD Directors Nagel and Langston have a 10 year history of these phony projects where public money just disappears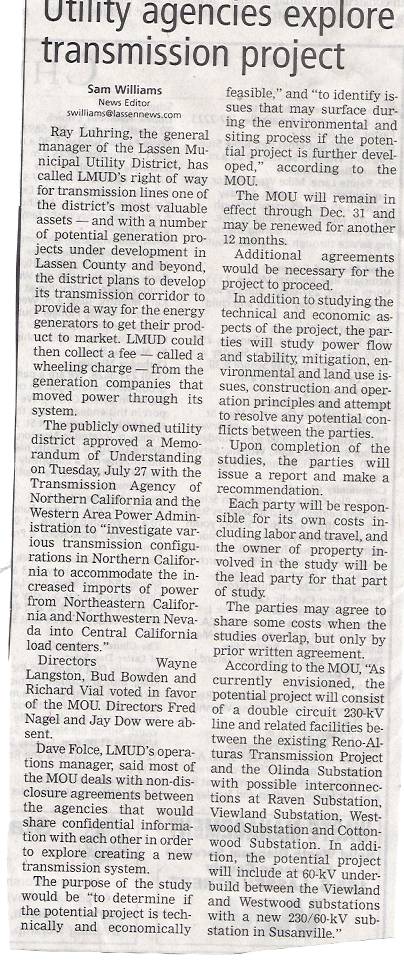 September 14, 2010, Lassen County Times, page 14A
LMUD's Memorandum of Understanding
with
Transmission Agency of Northern California (TANC) and Western Area Power Administration (WAPA)
A Study to build transmission line to "IMPORT"
LMUD Moves Public Documents to Avoid Release
.......simply illegal
Former LMUD attorney and general manager, Frank Cady, moved LMUD documents to his office and then claimed they were not in the "possession" of LMUD.
LMUD UP TO THEIR OLD TRICKS
[Interconnection Deposit for Bio-mass Plant]
Public Records Request for a copy of a $30,000 check issued to PGE for an interconnection fee study
.......not signed (?)
..........unauthorized signatures(?)
Thousands of LMUD checks are mailed every year. The public is entitled to know if this was signed by authorized personnel
There only just "one" reason why LMUD blocked the signatures ?
...perhaps a check was issued but never mailed (?) (Frank Cady used to do that and the LMUD Board went along with it)
LMUD attorney, Eugene Cady Chittock instructed LMUD to hide signatures.
There is nothing on this "public" check that can be covered up.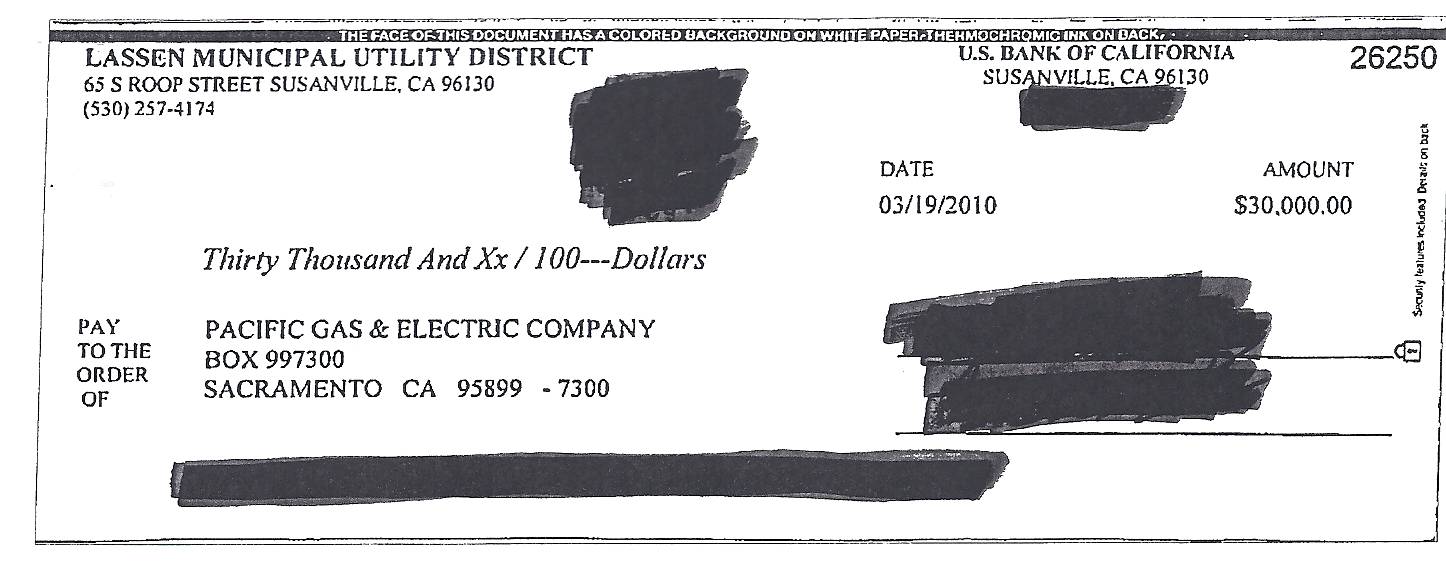 ...........here we go again.................more to this story than meets the eye folks and we will give it to you!
Ray Luhring cannot approve any expenditure in excess of $10,000 without Board approval.
Brown Act Violation:
Renegy, Nature Energies, or the Biomass Plant have NEVER been on ANY LMUD AGENDA, EVER.(KWH maintains the LMUD Agenda's and minutes)
Eugene Chittock, LMUD's attorney,condoned this. This is right out of Frank Cady's playbook.
LMUD announces phony UAMPS study for bogus natural gas project
LMUD pays for these studies but never releases them because they don't exist.
What does this money really pay for?
We know it doesn't pay for any STUDIES.
LMUD BOARD JUST......... "DUMB"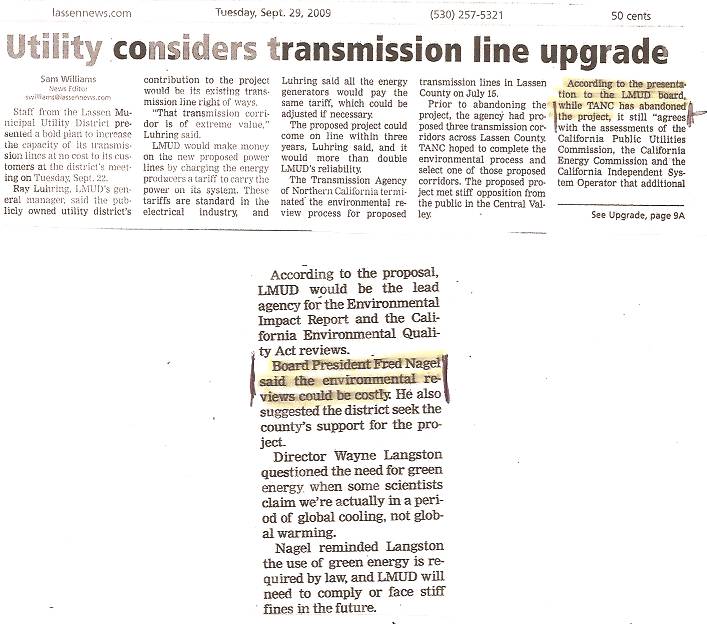 This LMUD Board has wasted hundreds of thousands of dollar on "DUMB" useless, phony studies.......
The money that LMUD has spent on these phony studies, in the last 7 years, could have reduced rates by 2 1/2 cents.
They're dumb, but they're our dumb board, doggone it !!!
INVENERGY....just another Arrowrock?
Invenergy - ALL HAT, NO CATTLE
The LMUD Board CONTINUES TO spend thousands of dollars traveling to Colorado for the bogus $40 million dollar promise by Invenergy to upgrade LMUD's transmission lines.
KAN WE HELP CALLED THIS A BOGUS PROJECT TWO YEARS AGO
EMPTY PROMISES....................
"Matt Giblin, Invenergy's project manager for the Horse Lake Wind Farm, said the company would not make the major upgrades to LMUD's transmission system the company proposed in August 2008, including increasing the voltage on an existing transmission line and and adding a second transmission line over the mountains. Lassen County Times, 9/22/09
Can anyone name any LMUD Board members that own property in the Horse Lake Wind project?
STUDIES, MORE STUDIES ?
"The standard studies of the LMUD transmission system is necessary to facilitate interconnection of the project to the LMUD system are UNDER WAY and expected to be completed in the coming weeks."
Betcha LMUD residents are paying for this Bogus Study and Betcha it will not be available to the public, because.....
they don't really do any studies. Money is simply paid to Invenergy for these phony studies.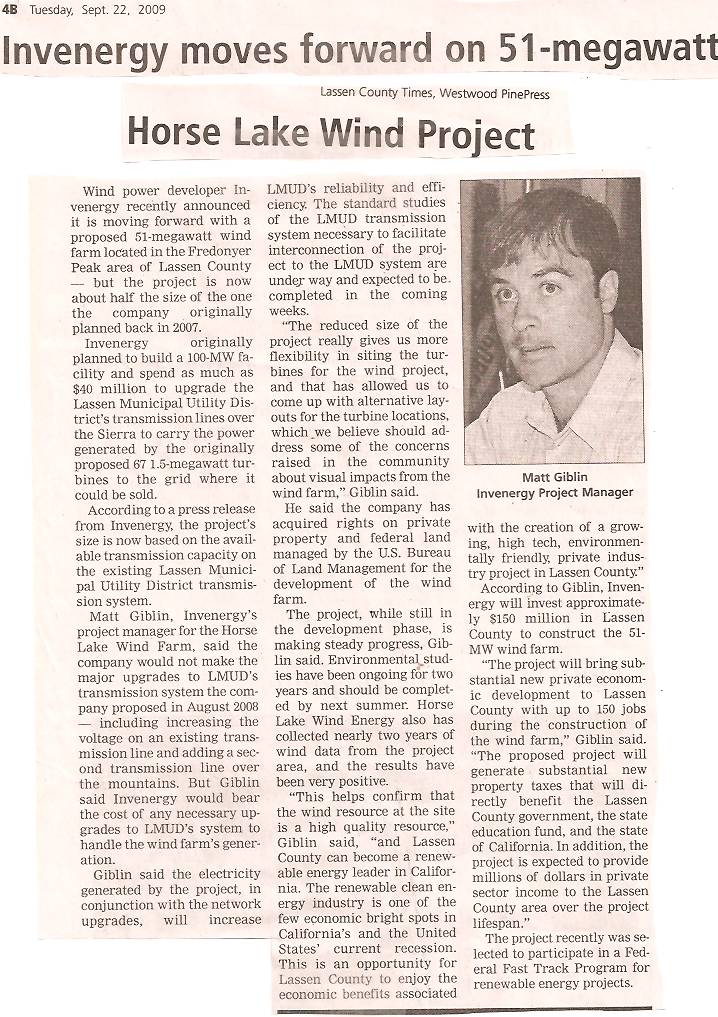 Kan We Help will continue to monitor the Invenergy project closely
LMUD's history on "studies" has been 100% bogus.
Zero accountability
The alleged phony PG& E study will be no different.
LMUD gets Nothing back from Invenergy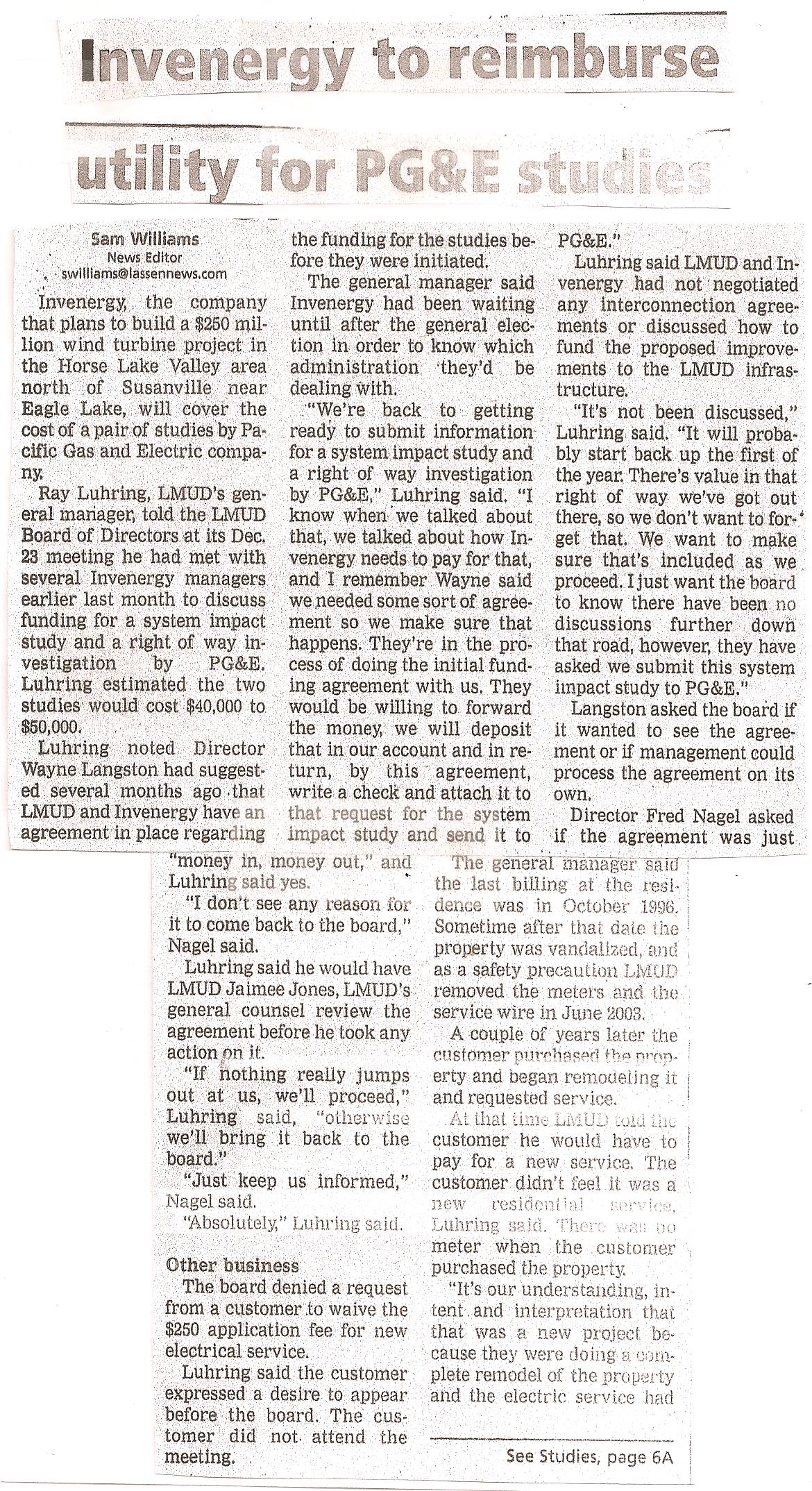 Lassen Municipal Utility District
Lies to the Public about Phoney Projects
LMUD to receive $9 million from PSREC
On July 25, 2001, LMUD told the ratepayers that they had a study done by Powers Engineers to evaluate the value of LMUD customers being transferred to PSREC. No study was ever done and the ratepayers were lied to once again. LMUD has received $1.25 million for the transfer and that money is gone......
LMUD General Manager and NCPA lied to the public and the LMUD Board to get $100,000
Cady, Langston and Nagel conspires with NCPA
On March 29, 2004, LMUD signed an agreement to get involved with NCPA and PSREC (Fred Nagels utility) to "study" building a co-generation plant at the State Prison.
LMUD has no ability to help finance a $10,000,000 project (LMUD's commitment would be $4,300,000) or anything else for that matter. KWH files objection
So why did they agree to help pay for PSREC's co-generation plant?
RATEPAYERS ASK YOURSELF,
Why would LMUD continue to fund a study when there is no possibility of financing the project. ZERO %?
On March 29, 2004, LMUD hid paying for Phase I by disguising it as a "Needs Assessment". LMUD paid NCPA $10,000 for this, alleged and never to be released, "Needs Assessment".
While LMUD jumped right in and approved Phase II , at the same meeting, the Phase II Agreement did not include providing RFP's (Request for Proposals) or RFQ's (Request for Qualifications).
The "Needs Assessment" did...but NCPA is not asking for more money for the Needs Assessment, but asked suddenly for $100,000 for Phase II that doesn't even require or provide for RFP's.
Confused? You should be. This was a quickly put together scam that Frank Cady and NCPA cooked up.
The "Agreement" states that NCPA must give LMUD and PSREC a 30 day notice if they need to more money. LMUD was under no obligation to suddenly approve an additional $43,000. Phase II Agreement
Frank Cady presented NCPA's request for an additional $100,000 on Phase II anyway. Cady hoped that no one would pick up on the deception. Keep in mind, that the Board does not read anything and has shown no interest in curtailing bogus expenses. This Board has abdicated its financial responsibilities to Frank Cady.
LMUD has spent $64,816 ($21,816 over budget) without approving any additional funds for this.....Arrowrock like project (The Arrowrock Hydro project was a scam that Cady brought to the 2000 LMUD Board to distract the public from the $8.7 million loss by the Board. This Board was recalled in March/2002).
LMUD has been paying NCPA $3,426 a month.....for what? Do we have the right to ask?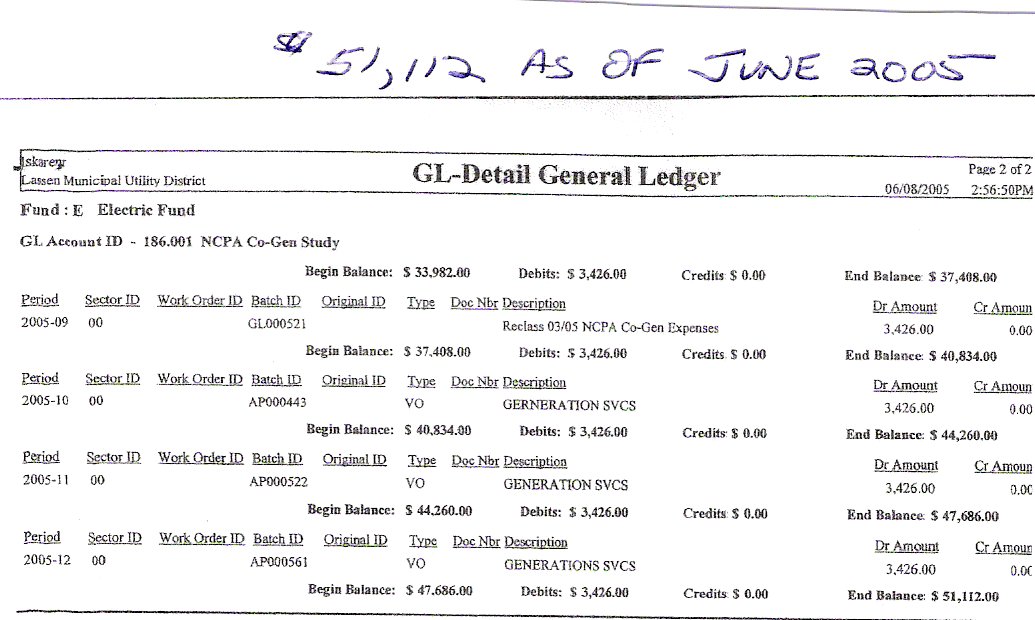 LMUD RATEPAYERS WILL NEVER SEE "ANYTHING" FOR THIS MONEY
Cady simply needed the money to cover up the fact that the Board spent more than the amount approved for Phase II. Cady has a proven track record, that it is easy to lie and get away with it..........
April 6, 2004
LMUD was lured into this "Bill of Goods" by Frank Cady, Fred Nagel (PSREC customer) and NCPA with the promise by NCPA to finance the $10,000,000 boondoggle.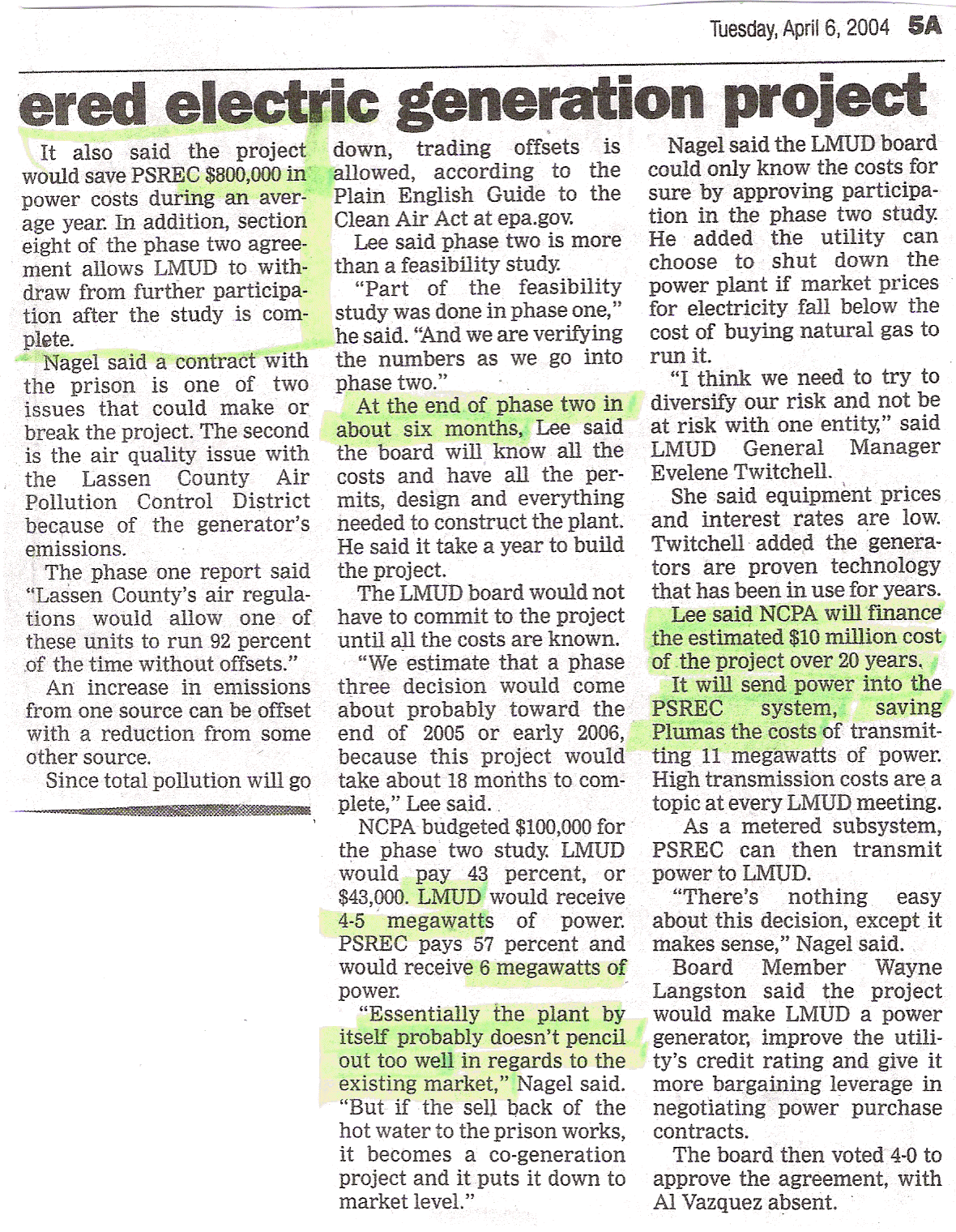 NCPA BACKED OUT OF FINANCING...WHY? BECAUSE NCPA KNOWS THE PROJECT IS NOT FEASIBLE. link
PUBLIC BEWARE
(LMUD and the General Manager plan to delay the rate issue from being heard hoping that the public will leave to attend another HOT issue at Susanville City Hall at 7:00 PM on the natural gas rate increase link )
NOTE: The public can address agenda issues at the beginning of the meeting, in "Public Comment", or they have an opportunity to speak when the agenda items are discussed by the board. The Brown Act allows this link. The LMUD meeting rules are repressive, abusive and violate the Brown Act .
LMUD continues to throw money at NCPA and the public has received no information on what the $60,000 (Phase II budget is $43,000) has been spent on. LMUD must release the "feasibility study" to the public before moving to Phase III.........but they will hide it and lie just like they did with the Arrowrock study. BOGUS, BOGUS, BOGUS.
LMUD has wasted over $60,000 on this "Arrowrock" type project.
LMUD has refused to disclose when or even "if" they gave NCPA the initial $10,000.
Just how stupid does LMUD think the public is ?
THE CO-GENERATION PROJECT WITH PSREC IN NOTHING BUT ANOTHER SCAM ON THE LMUD RATEPAYERS
LMUD and PSREC attempted to borrow money from the U.S. Department of Agriculture (RUS) for this project in Phase II (the study phase) link. Kan We Help contacted RUS in May/2005 and alerted them that LMUD is still in Phase II (study) and had not authorized any action to be taken to move into Phase III (financing).
KWH QUESTIONS NCPA ON THE NATURAL GAS CO-GENERATION POWER PLANT that LMUD/PSREC plan to build.
Big savings for PSREC, little benefit to LMUD
LMUD's records show that LMUD has spent $51,112 on the study as of 6/8/05
LMUD does not report on study prior to seeking financing
LMUD's role in this $10,000,000 project .......... link
NCPA will not finance project as per Don Dame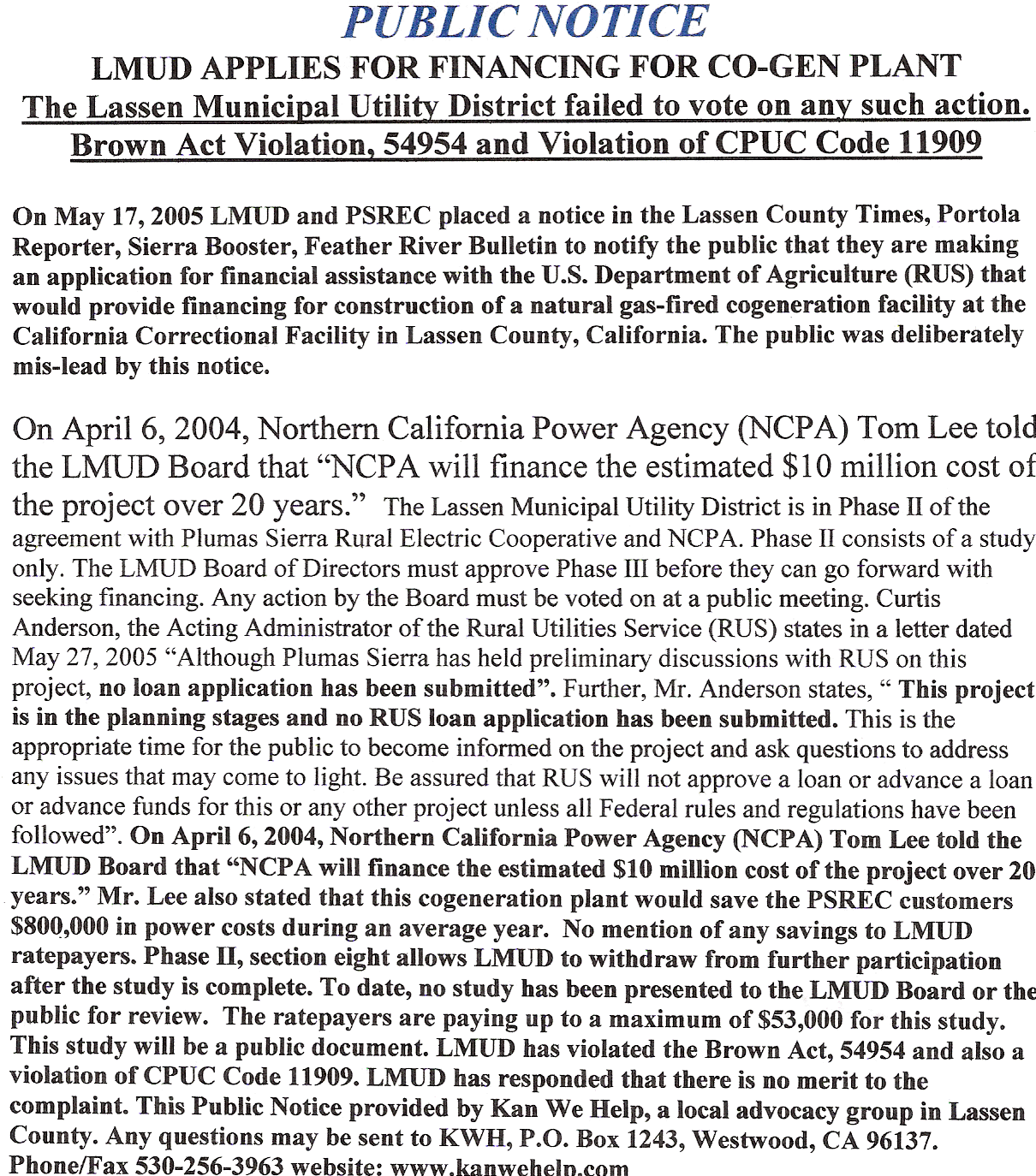 3/29/04: George Sargent questioned "why should we go into debt for millions when buying the 5 MW on the open market is less of a risk." Where was George when the Arrowrock Scam was being marketed by Frank Cady?
$800,000 annual savings to PSREC...LMUD Director Fred Nagel is a PSREC customer.
OUTGOING DIRECTOR, AL VAZQUEZ SAID....."It sounds like we're just passing a hot potato around".
If it walks like a duck and smells like a skunk....its probably a skunk.
US DEPARTMENT OF AGRICULTURE RESPONSE
NCPA COMMITMENT TO FINANCE- GONE
LMUD's Phony "High Sierra Co-generation Plant" is gone !!!!!October 26, 2005
psrec/lmud/ncpa power plant - scam ii
Unlike, Arrowrock, KWH was able to get all of the documents in order to monitor and expose the bogus project. The $64,000 question is what did the ratepayers get for their hard earned money......like the bogus Arrowrock Hydro Plant in Boise, Idaho (a $300,000 scam)......NOTHING.
At the end, KWH exposed Frank Cady's fake memo's that tried to suck another $100,000 of our money. LMUD went over their $43,000 budget and had two choices:
1. Lie about what they had spent to-date and approve more money to cover it
2. Drop the project
THEY DROPPED THE PROJECT
October 19, 2005,LMUD BOARD VOTES TO BACK OUT OF NCPA'S & PSREC's Co-generation Project at the State Prison
KWH STRONGLY OBJECTED TO THIS BOONDOGGLE
KWH files objection at the October 19, 2005 meeting
Finally, they did something right !
At the LMUD meeting on October 19, 2005, the LMUD Board did not support the General Manager's position to continue pouring money into this project.
LMUD LIES ABOUT HOW MUCH THEY SPENT ON BOGUS STUDY AND NOW MUST COVER IT UP BY APPROVING MORE MONEY.
As of October/2005, LMUD has invested $64,816.00 for what?
(The approved budget is $43,000)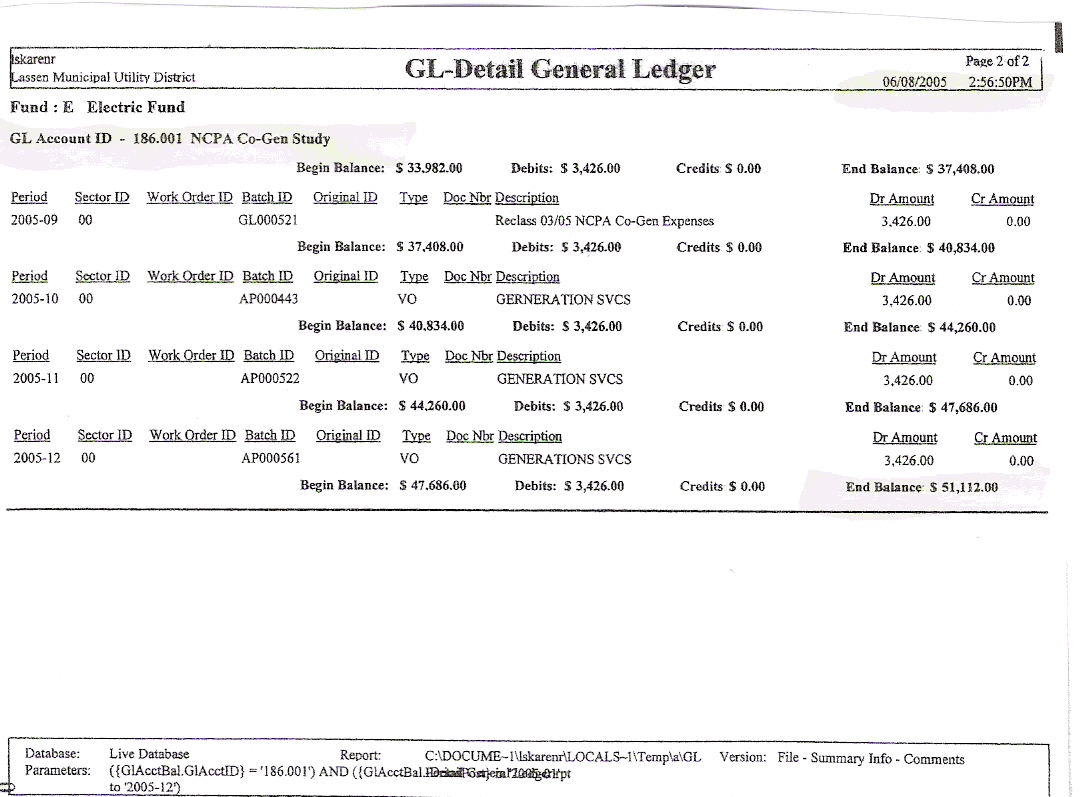 They have yet to produce the "study" that was promised. Sound familiar? (the promised Arrowrock study was never produced either) Now, NCPA wants an additional $100,000.
Ratepayers pay and get NOTHING.....again ?
ARROWROCK..... ALL OVER AGAIN
NCPA stated that the "feasibility study" will be completed by 2006. No study is being offered by NCPA, but their hand is out for another $100,000. LMUD lies to the public and has moved into PHASE III. LMUD Nov. 4, 2004 meeting
REVISIT THE PAST......LASSEN COLLEGE CO-GENERATION PLANT link
LMUD presents phony project "Resource 500"
The Lodi Project doesn't exist December 6, 2005.
These bogus projects historically have been invented to create legal work for Cady, Pardee and Richey LLP, Cady's law firm.
They have never been any benefit to the ratepayers.