INVENERGY....just another Arrowrock, UAMPS, NCPA, PSREC BOGUS PROJECT?
$40 Million Promises turned to lies
LMUD Holding on to Millions for a project that will never be.....when they could lower rates
for LMUD customers
The LMUD Directors report they are "looking into" signing a contract with Oski Energy (aka Wineagle, Wendell Energy Operations) to purchase their geothermal power for eight (8) cents per kilowatt hour.
Oski has a ghost office in Reno, Nevada and may not even be in a position to sell much of anything to LMUD. Oski is obligated to sell their power to Pacific Gas and Electric until October 29, 2014.
Oski Energy registered as a Limited Liability Corporation in 2007 and in 2009 registered Wendel Energy Operation, LLC with a Reno address of 730 Sandhill Road, Ste 250. The corporation papers show that Derek Bacon is their agent for service.
So why give a press release to a local newspaper that really is pointless?
FOR A HEADLINE ?
Mr. Davis, you should have done your homework.......
Oski wants to dump PG&E. Really?
LMUD losing ground with renewable energy partners
The Lassen Municipal Utility District is rapidly losing partners in their dream of a 230 kv line running through Lassen County.
Invenergy walked away from LMUD Directors years ago and now that the energy credits will expire on December 31, 2013 it is unlikely LMUD will be able to claim that any part of the 230 kv would be viable.
WILL THE CHECK CLEAR ???
Can they buy a NEW REPUTATION IN LASSEN COUNTY?
Invenergy/LMUD/NV Energy
Friend or Foe?
LMUD executed a MOU (Memorandum of Understanding)at their August 28, 2012 regular meeting with Invenergy to "STUDY" the feasibility of constructing a 230 kv line from their Viewland property
to WAPA's 500kv Olinda substation in Olinda, CA (west of Cottonwood, CA in Shasta County)
Odd..............they did this on August 10, 2010 with TANC & WAPA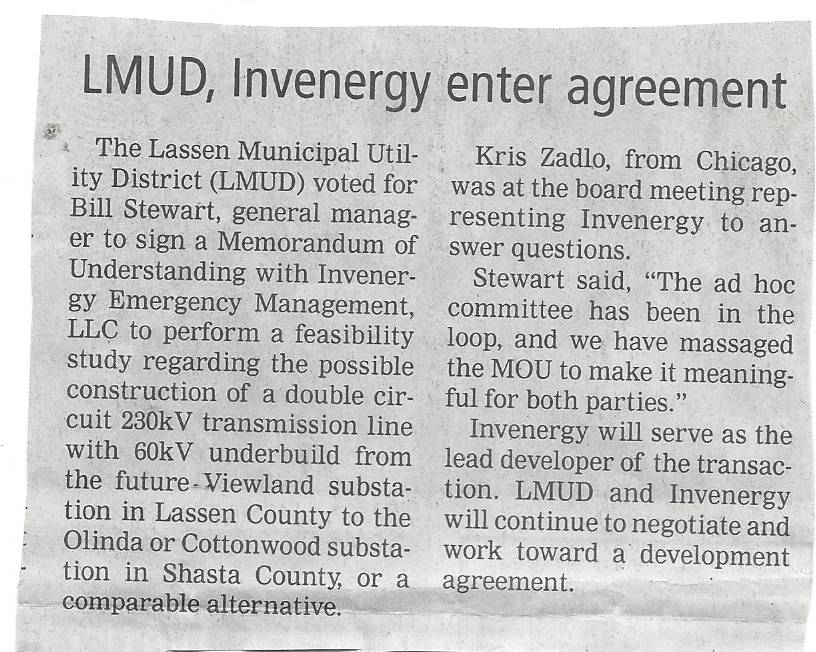 Invenergy excluded LMUD in their wind ventures after reneging on the MILLIONS OF DOLLARS OF INFRASTRUCTURE THEY WERE GOING TO GIVE LMUD and yet they expect LMUD to build the million dollar Viewland substation to distribute Invenergy's renewable energy to Sacramento and beyond.
Take a look at the feasibility of this venture.
$$$$$$$$$$$$$$$$$$$$$$$$$$$$$$$$$$$$$$$$
COST TO LMUD RATEPAYERS
LMUD has designated $3,092,883.04 to build two substations. Lambert Lane and Viewland
LMUD disclosed at their August 28, 2012 meeting that they had "declining sales"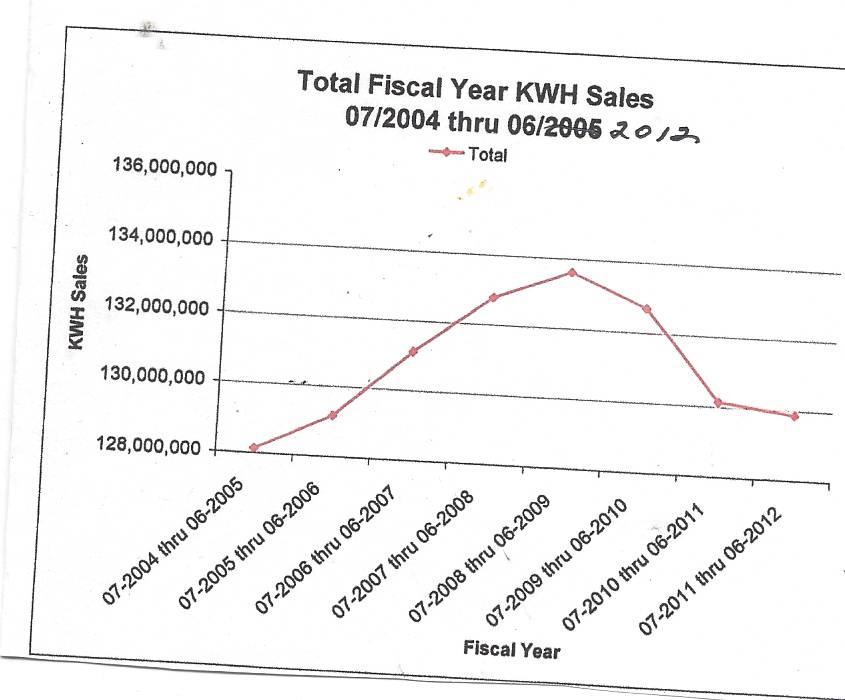 Less Power purchased would mean less revenues for the LMUD Board to squander ?
NV Energy..............
The Lassen Municipal Utility District does not include the discussions they are having with NV Energy. NV Energy needs to export their renewable energy to California but has no way to transmit it.
NV Energy needs LMUD ratepayers to build the Viewland substation.
A substation that NV Energy has assumed that LMUD will build for them. Has another secret "back room" deal been made by the LMUD Board members.
Benefit to LMUD ratepayers, ZERO
NV Energy needs to export their renewable energy to California markets. The only way NV Energy can do this is if LMUD builds theViewland substation and the 230 kv line to WAPA's 500kv line in Orlinda, CA.
LMUD EXPECTS TROUBLE FROM THE PUBLIC ?
Invenergy Claims LMUD Will Not Have To Pay for Upgrades:
On September 24, 2009 Invenergy states that they are not paying for any LMUD upgrades
Is there a signed Interconnection Agreement, LGIA, with Invenergy ?
KAN WE HELP CALLED THIS A BOGUS PROJECT THREE YEARS AGO
EMPTY PROMISES....................
"Matt Giblin, Invenergy's project manager for the Horse Lake Wind Farm, said the company would not make the major upgrades to LMUD's transmission system the company proposed in August 2008, including increasing the voltage on an existing transmission line and and adding a second transmission line over the mountains. Lassen County Times, 9/22/09
See entire article below @ September 24, 2009
Invenergy states that they will be starting "free" upgrades to LMUD's system in January 2012 and will be completed in 2014
"The upgrades are expected to begin in January 2012 and be completed within six to eight months"
In January of 2009 the LMUD Board agreed to pay for a "Study" for Invenergy. The cost....$40,000 to $50,000. LMUD General Manager Luhring was told by the LMUD Board that Luhring could sign an agreement with Invenergy but added that they did not need to see it. Not a single dime has been repaid
On December 10, 2010 Kan We Help requested copies of all LMUD's "Interconnection Agreements". LMUD stated that these documents did not exist

INVENERGY moves ahead on Wind energy but leaves LMUD behind
Invenergy came into Lassen County with big promises of a $40 million dollar investment in Lassen Municipal Utility Districts transmission lines. Frank Cady flew the entire management staff and Board Members to Colorado for a vacation/meeting just before he was fired by the new LMUD Board (three Board Member quit because of the pending scandal with Frank Cady).
In late September of 2009, Invenergy completely pulled out on their "pie-in-the-sky" promises to LMUD. LMUD spent thousands of dollars on a project that was going nowhere.
[HINT: When the LMUD Board votes to spend money on "studies", you can guarantee the vacation/meetings will increase]
Invenergy never paid LMUD back for the $50,000 PGE study. LMUD has never released any alleged "STUDY" in ten years.
LMUD's response to any request for these studies, "Not in the possession of LMUD" Hmmmmmmmmm..........
Invenergy - ALL HAT, NO CATTLE
The LMUD Board CONTINUES TO spend thousands of dollars traveling to Colorado for the bogus $40 million dollar promise by Invenergy to upgrade LMUD's transmission lines.
KAN WE HELP CALLED THIS A BOGUS PROJECT TWO YEARS AGO
EMPTY PROMISES....................
"Matt Giblin, Invenergy's project manager for the Horse Lake Wind Farm, said the company would not make the major upgrades to LMUD's transmission system the company proposed in August 2008, including increasing the voltage on an existing transmission line and and adding a second transmission line over the mountains. Lassen County Times, 9/22/09
Can anyone name any LMUD Board members that own property in the Horse Lake Wind project?
STUDIES, MORE STUDIES ?
"The standard studies of the LMUD transmission system is necessary to facilitate interconnection of the project to the LMUD system are UNDER WAY and expected to be completed in the coming weeks."
Betcha LMUD residents are paying for this Bogus Study and Betcha it will not be available to the public, because.....
they don't really do any studies. Money is simply paid to Invenergy for these phony studies.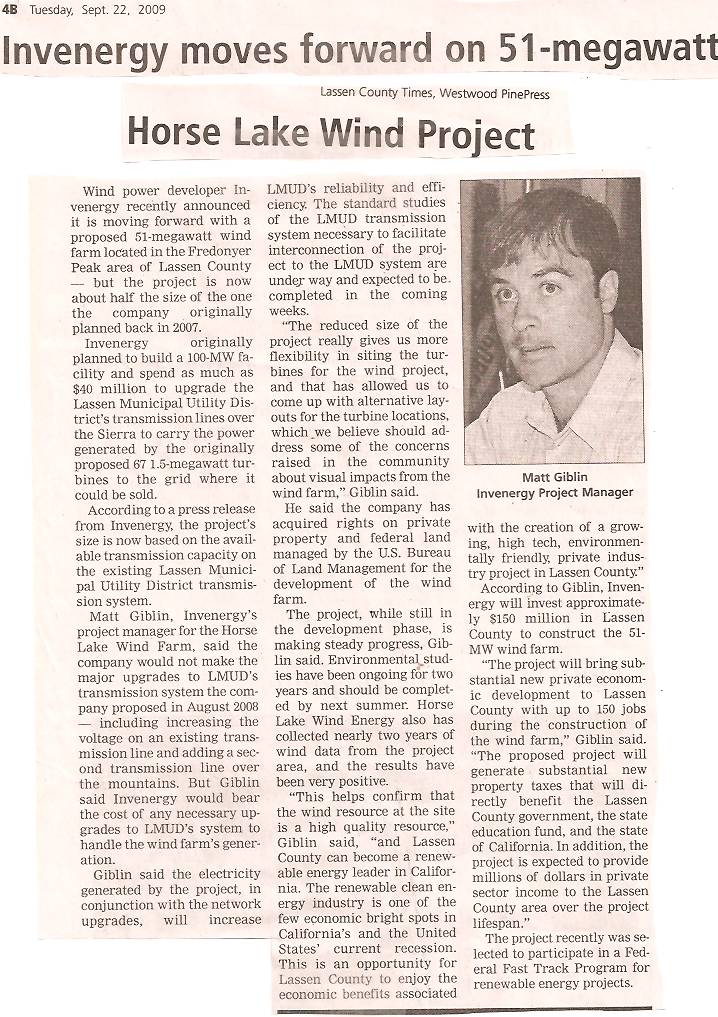 Update: Temporary Wind Towers
1. Invenergy's application for the 19,402 acre STAMPA site near Schaffer Mountain expired in December of 2008. Four towers were authorized.
2.Invenergy has submitted an application for 9,863 acre site near Schaffer Moun tain.
3. Invenergy submitted an application for a STAMPA site (93,920 acres). No towers were ever authorized. This permit expires in December 2010.
4. Invenergy requested a POD application for a 27,022 acre site near Horse Lake.
5. Invenergy has four towers near Horse Lake, three are operational. This permit ends in December 2010
6. Invenergy has a STAMPA permit near Horse Lake (30.46 acres) for 11 towers but none are operating. This permit expires in December 2011.
7. Invenergy applied for a STAMPA permit (4,160 acres) at Cottonwood Mountain/South Warner Mountains. One tower is in operation.
8. Invenergy applied for a STAMPA site permit (2,888 acres) at Rocky Prairie/Likely Tableland. No towers are in operation.
Kan We Help will continue to monitor the Invenergy project closely
LMUD's history on "studies" has been 100% bogus.
Zero accountability
The alleged phony PG& E study will be no different.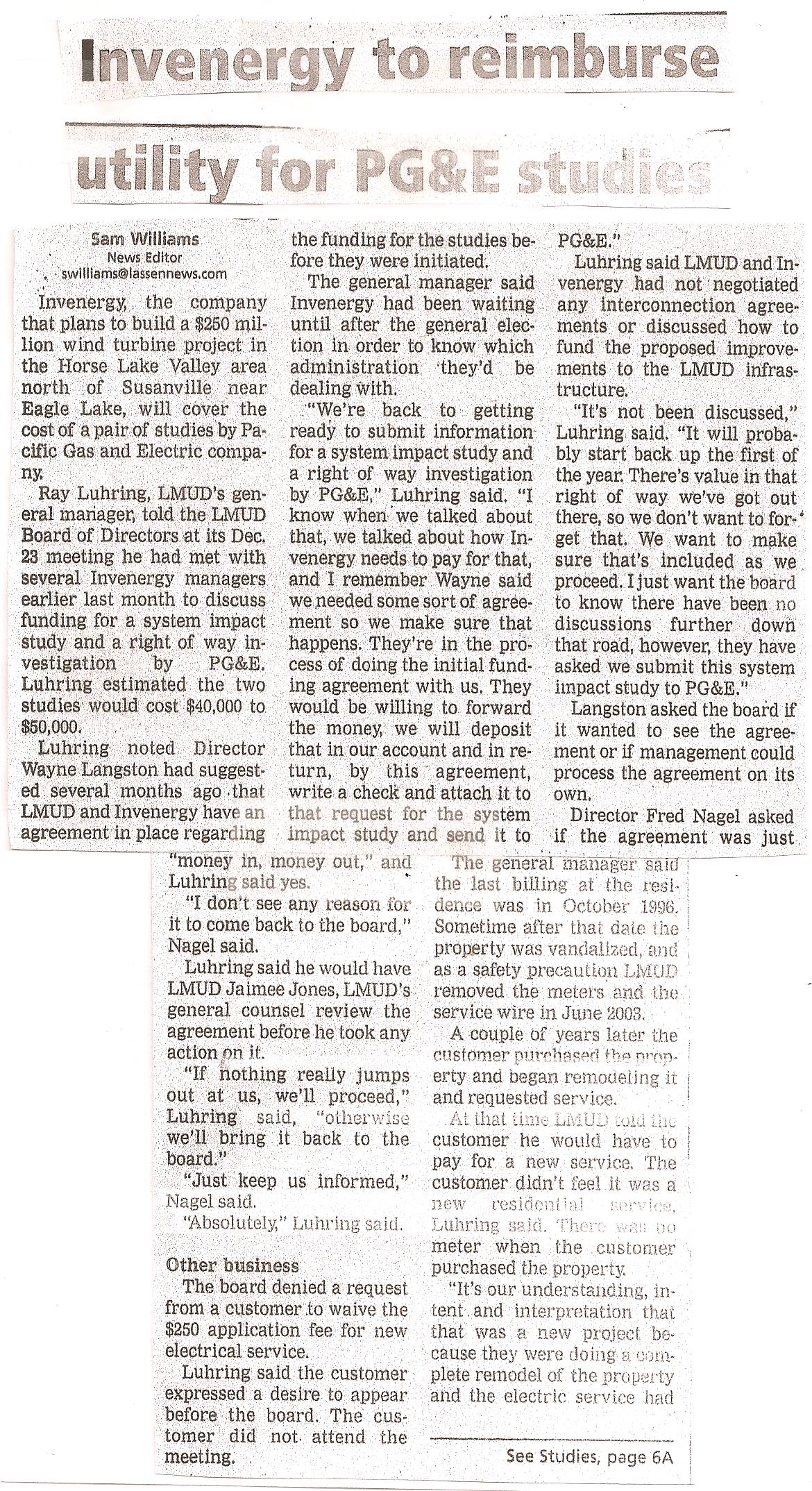 still no agreement with Invenergy to replace LMUD's infrastructure EMPTY PROMISES = MORE LIES FROM LMUD
no PG & E study was ever ordered................
now ONE study has turned into TWO studies ?????
BOGUS-BOGUS-BOGUS-BOGUS-BOGUS-BOGUS
note: KWH will request a copy of the alleged studies and a copy of the Invenergy check to LMUD. Also, Langston and Nagel have been buying property in the Horse Lake Valley..............???????
See below: Ooooops, PSREC CUSTOMER, FRED NAGEL HAS A SLIGHT CONFLICT OF INTEREST WITH THE PSREC/LMUD DEAL
LANGSTON NAGEL LANGSTON NAGEL LANGSTON NAGEL LANGSTON NAGEL LANGSTON NAGEL
LASSEN COUNTY TIMES JANUARY6, 2009
Also, Langston and Nagel have been buying property in the Horse Lake Valley..............???????
LMUD has no agreement with Invenergy but approves $40,000 study to be done. LMUD claims that it will be reimbursed this amount by Invenergy. LMUD has a history of these type of bogus "studies", in the past, with no reimbursements ever made.
So "who" got the $40,000?
EIR Report already exists
according to the Lassen County Times:
Bogus Studies: money spent and no report exists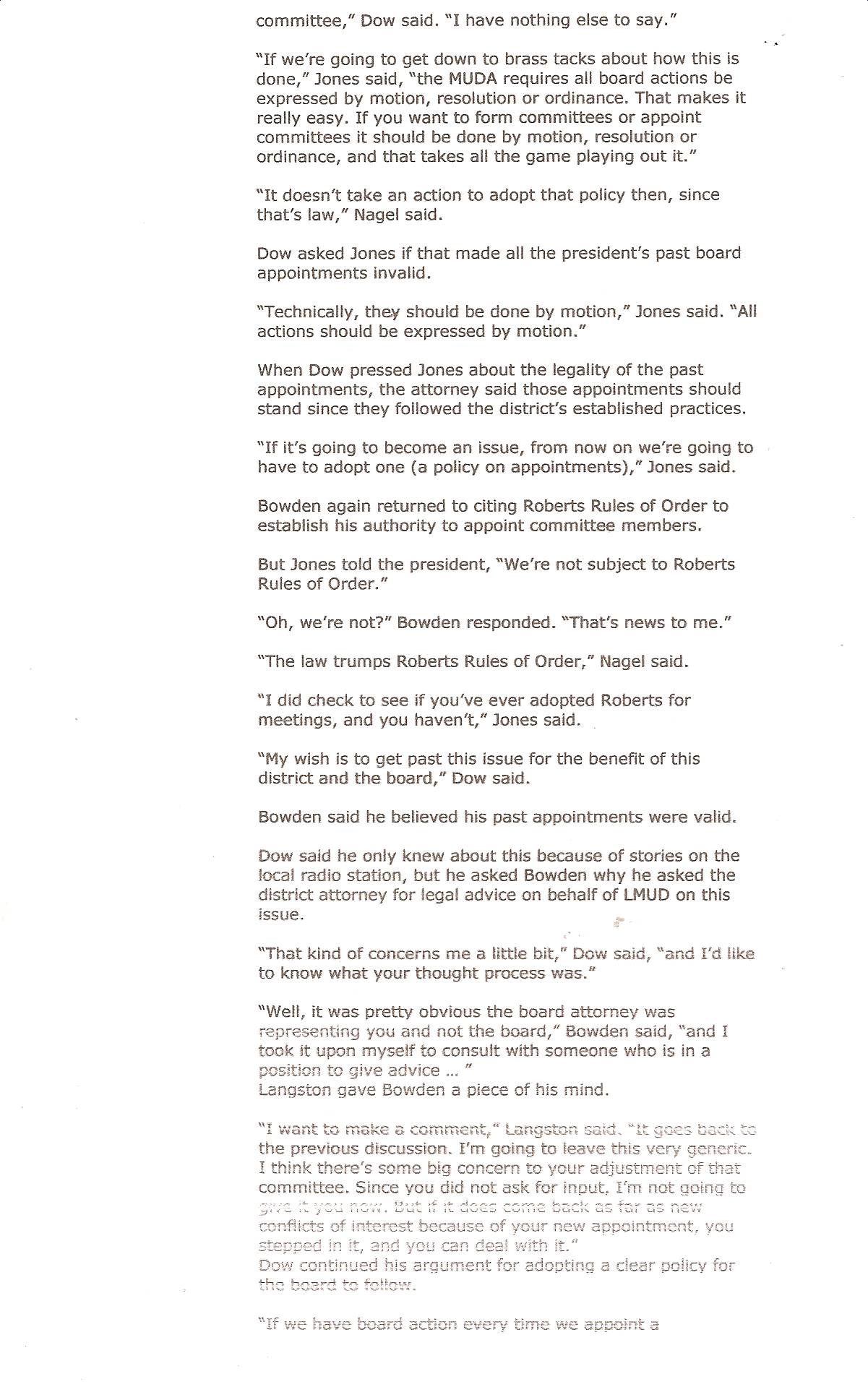 LMUD President Bud Bowden Removes Jay Dow from Invenergy Ad Hoc Committee
(continued bad advice from LMUD legal counsel Jaimee Jones)
"Last month Invenergy offered to make millions of dollars of upgrades to LMUD's transmission lines in order to create a path to move its power to market."
"Any interconnection agreement between LMUD and Invenergy would need to be approved by the LMUD Board."
LMUD BOARD APPROVES AN AD HOC COMMITTEE TO STUDY INVENERGY CONTRACT
LMUD President appoints Jay Dow to the Ad Hoc Committee Member
LMUD Agenda, May 27, 2008
LMUD minutes, May 27, 2008
LMUD PUTS INVENERGY "INTERCONNECTION AGREEMENT" ON AGENDA FOR 5/27/08 MEETING
Agenda item 12: Consideration of entering into negotiations with Invenergy for a proposed interconnection agreement
Lassen County Times reported, on May 20, 2008, that Invenergy stated:
"And many of LMUD's most troublesome transmission lines that frequently fail in the winter will be upgraded at no cost to LMUD or its ratepayers"
Hmmmmmm.................Let's hope that it's not the same as Arrowrock's "free hydro power" that had a price tag of over $32 million dollars.
Beware of Strangers Baring "free" gifts
******
LMUD Board to "evaluate" General Manager's performance AGAIN...............Waz up guys?
Is Luhring being rewarded for securing "Invenergy" perks for the Board ?
LMUD Boards have ONLY rewarded General Managers BAD BEHAVIOR IN THE PAST....................
LMUD'S WIND ENERGY MAY JUST BE "HOT AIR" ENERGY
Has Invenergy released the results from the BLM test towers?
It has not been determined whether or not wind turbines will even be feasible and yet Invenergy is releasing pie in the sky marketing statements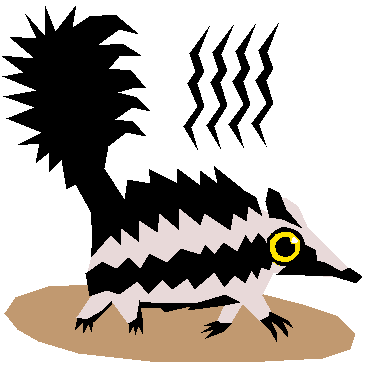 Look for alot.......of trips to Colorado and the proverbial greased pig
Skeptical....you betcha...this is the same cast of characters that have brought all of LMUD's BOONDOGGLES IN THE PAST.
LMUD calls special meeting, on May 14, for "Invenergy" after Lassen County Supervisors overturn the Planning Commission decision not to approve windmill test towers
Lassen Municipal Utility District wasted no time to bring *Invenergy back to the LMUD Board after four Board of Supervisors (Hanson abstained) overturned the Planning Commissions decision not to approve the wind test towers for Invenergy.
*Invenergy now has opened an office at 900 Main Street, Susanvillle.
Former General Manager, Frank Cady, just prior to being fired, sent all of the LMUD Board and the LMUD Management to Colorado for a vacation meeting with Invenergy. This expense was obscenely expensive and served NO BENEFIT TO THE LMUD RATEPAYERS. It did serve a purpose for LMUD Director Darrell Wood.
Now that Darrell Wood is no longer on the LMUD Board he can now push for windmills on his property in Lassen County. Wood does not live in Lassen County. (Frank Cady charged ratepayers to fly to Wood's home and bring him to LMUD meetings).
LMUD's Matt Lavacot's family members (the Swickards/Five Dot Ranch) have been very outspoken against windmills in Lassen County. Matt Lavacott is the Hay Production Manager on his uncle's ranch.
LMUD's Wayne Langston will continue to look after Darrell Wood's interests.
This should get very interesting............
ONLY ONE PERSON APPLIED FOR A TOWER
A private citizen, Carla Allen, paid $2,381 for a "USE PERMIT" for Invenergy, for a test tower on 10/9/07 but withdrew the permit on 12/4/07.
Kan We Help will monitor all "USE PERMITS" issued for wind towers.
WERE THE LMUD RESIGNATONS AND APPOINTMENTS DIRECTLY CONNECTED TO WIND GENERATION?
Public funds used for private concerns
LMUD trucks have been seen going to Darrell Woods property for months. Darrell Wood stands to make a great deal of money on the wind turbines placed on his property. When this conflict of interest was exposed, Wood needed to resign in order for the deals to go through.
LMUD employees are still at risk because they know what is going on
The Board of Supervisors never asked any questions? Why? Because they already knew the answers. The Lavacot and Dow appointments were not a surprise when Pezzullo, Turner and Parker pulled out of the race.
Politics and Profiteering, not strange bedfellows in Lassen County
Zenith and Ron Wood, idiots that they are, would have been serious contenders if they had property for the wind turbines.
2007- FRANK CADY SPENDS THOUSANDS OF DOLLARS TO TAKE LMUD MANAGEMENT STAFF and LMUD Board TO BE WINED AND DINED BY INVENERGY IN COLORADO