BOTTOM FEEDERS CLUB MEMBER
THE LASSEN COUNTY TIMES
Weekly Advertiser & Withholder of Truth
When the truth becomes ugly a lie becomes beautiful
The public has the right to be told the truth, something the Lassen County Times is not interested in......ever.
The Lassen County Times and Managing Editor, Barbara France, have taken a huge hit on "credibility"
Lassen County Times Editor has taken a big hit on her credibility and the papers credibility. Now, she whines about the fact that more people are reading the local "blogs" than her sorry representation of a newspaper.
HELLO.......the Blogs are subject to the same libel laws as a newspaper. Blogs are subject to the rights under the First Amendment.
The people of Lassen County have long turned away from believing anything that the Lassen County Times prints. There is a good and logical reason for this........they suppress the truth !!!
People have turned to "Blogs" because they have had only a weekly advertiser available that has no interest in the truth......none whatsoever............





FLASH
........This website prints the TRUTH and that is the simple reason for it's success.
BLOGS ARE HERE TO STAY
LCT SPORTS EDITOR, SAM WILLIAMS.......LISTED AS NEWS EDITOR ?
Sam has yet to write ONE news story since Ashmore stepped down on June 6, 2006.....Is Sam REALLY NEWS EDITOR?
July 18, 2006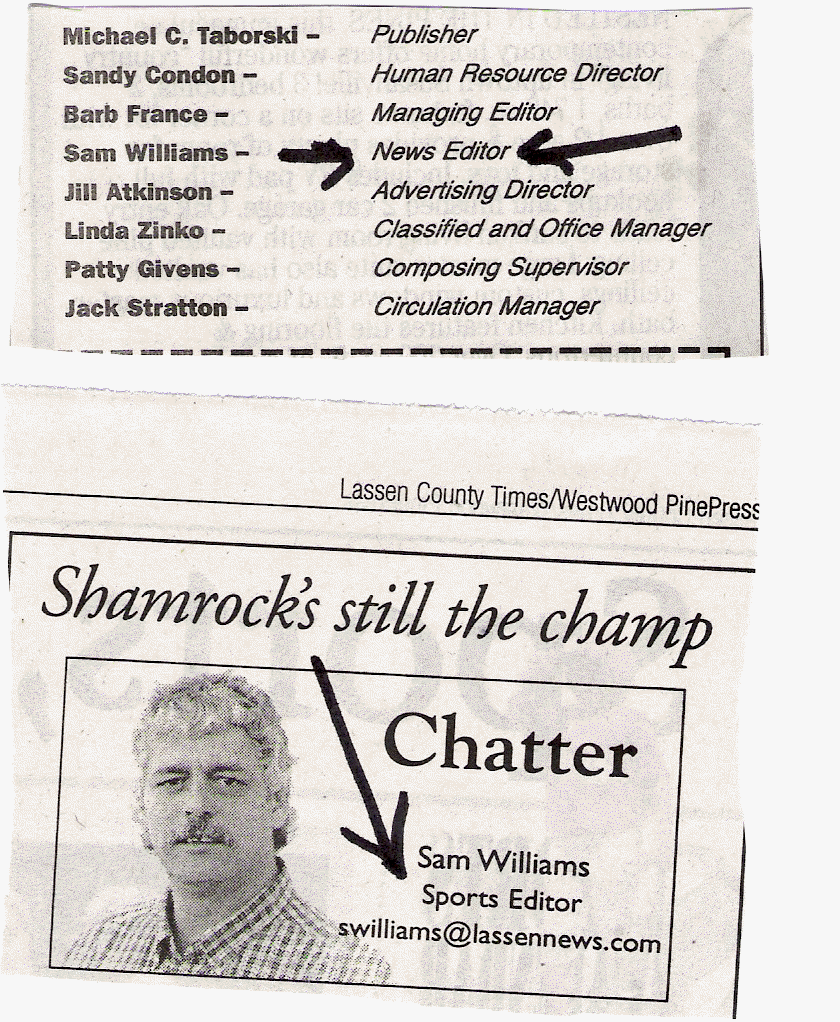 BARBARA FRANCE REPLACES ASHMORE...this is GOOOOD 6/6/06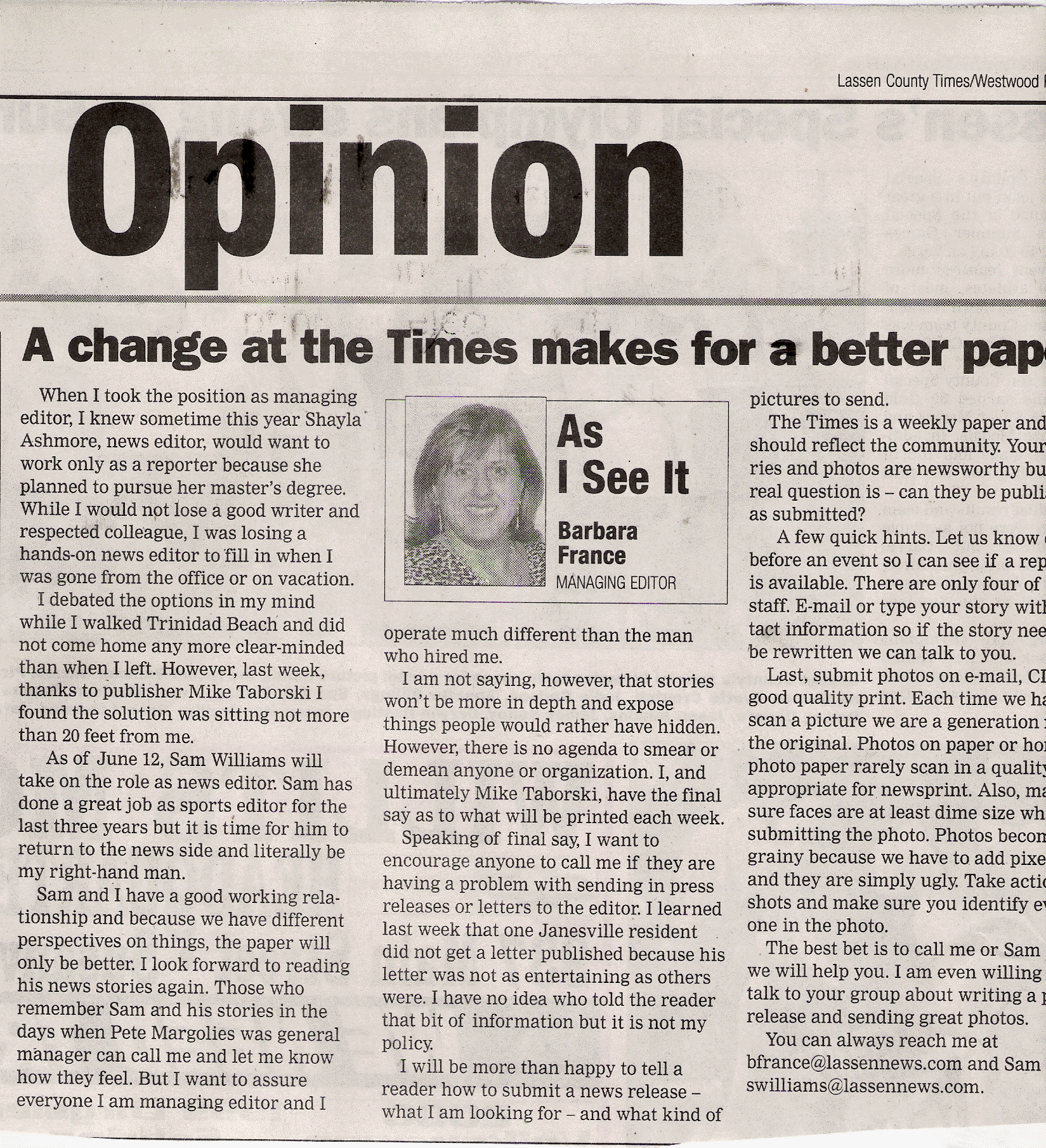 SHAYLA ASHMORE DOESN'T LIKE THIS WEBSITE 6/6/06
Ashmore claims that Kan We Help doctors public records. Funny, these records are available to the public. Shayla could obtain all the public records published on this website...but that would mean that she would have to publish the truth...........no brainer Shayla.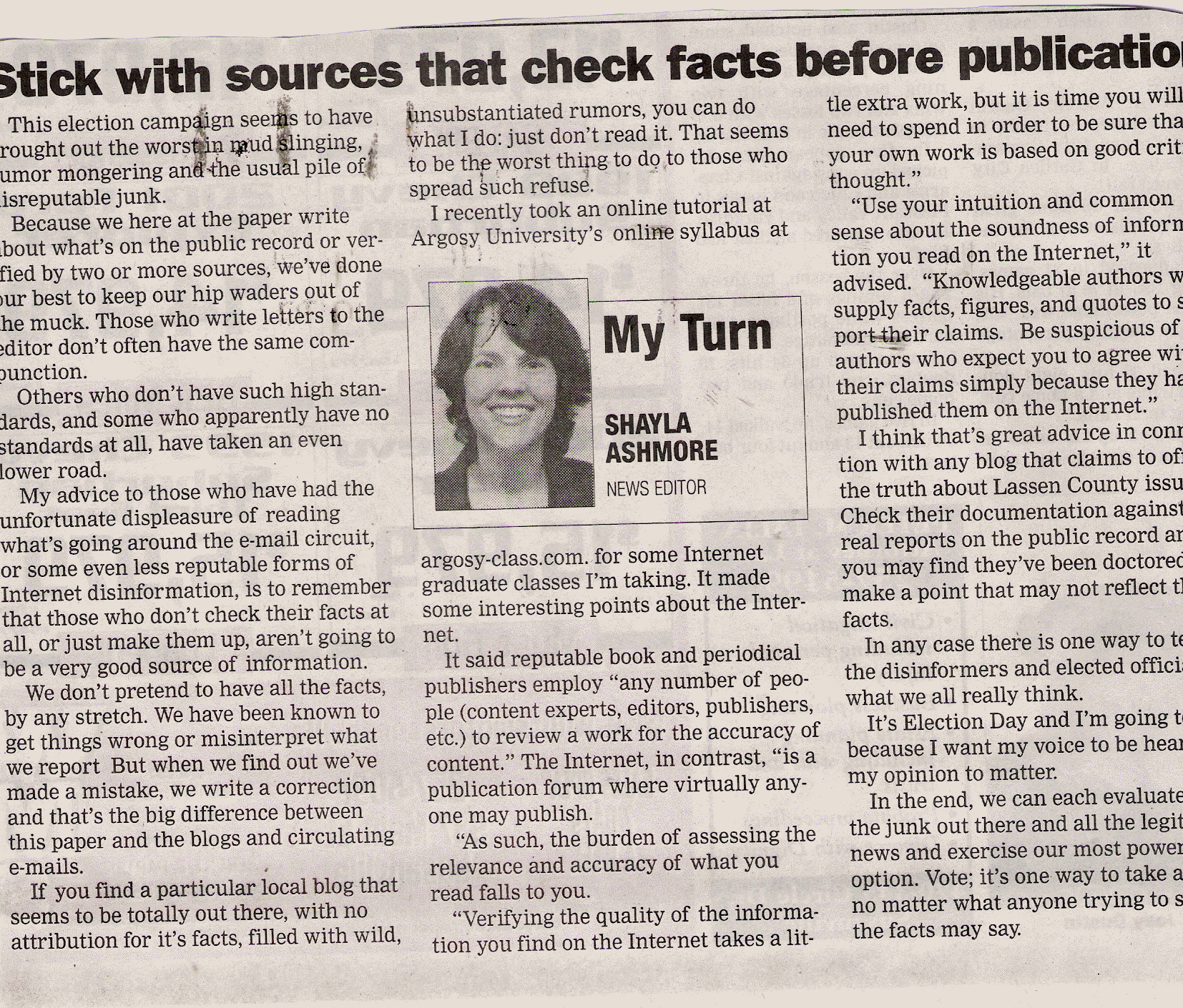 BARBARA FRANCE INVENTS "e-mail people"5/26/06
Barbara France, now Managing Editor of the Lassen County Times", invented two maybe three people to write this website. France has stopped writing under the cover of her e-mail address and has invented "Nikki Smith", "Liz Mahan", "Drant Wilson" and the latest..."Rita St. Andrews".
RESPONSES TO THE PUBLICS "LETTERS" MAY BE PHONY
France's boss, Mike Taborski, didn't like KWH exposing his "fees for land" scheme, so now this website is getting threatening e-mail from France's "Liz Mahan".
Ashmore decides what you have "A RIGHT TO KNOW"
The Lassen County Times has no commitment to protecting the public from corrupt government in Lassen County.
France makes a mistake and Ashmore comes to her aid -10/4/05
Lassen County Times News Editor Thin Skinned 9/27/05
The Lassen County Times is just a "small town" weekly paper that serves the business community.......that's all.
France calls this website a "little known anti-LMUD" and claims that the website e-mail address is "bogus"....yet this website has received more than five e-mails from France?????
The Lassen County Times on Wrong Side of "Right to Know"
Publisher Mike Taborski aids Frank Cady on keeping Arrowrock facts out of public eye. link
LMUD SUPPORTS ARROWROCK Arrowrock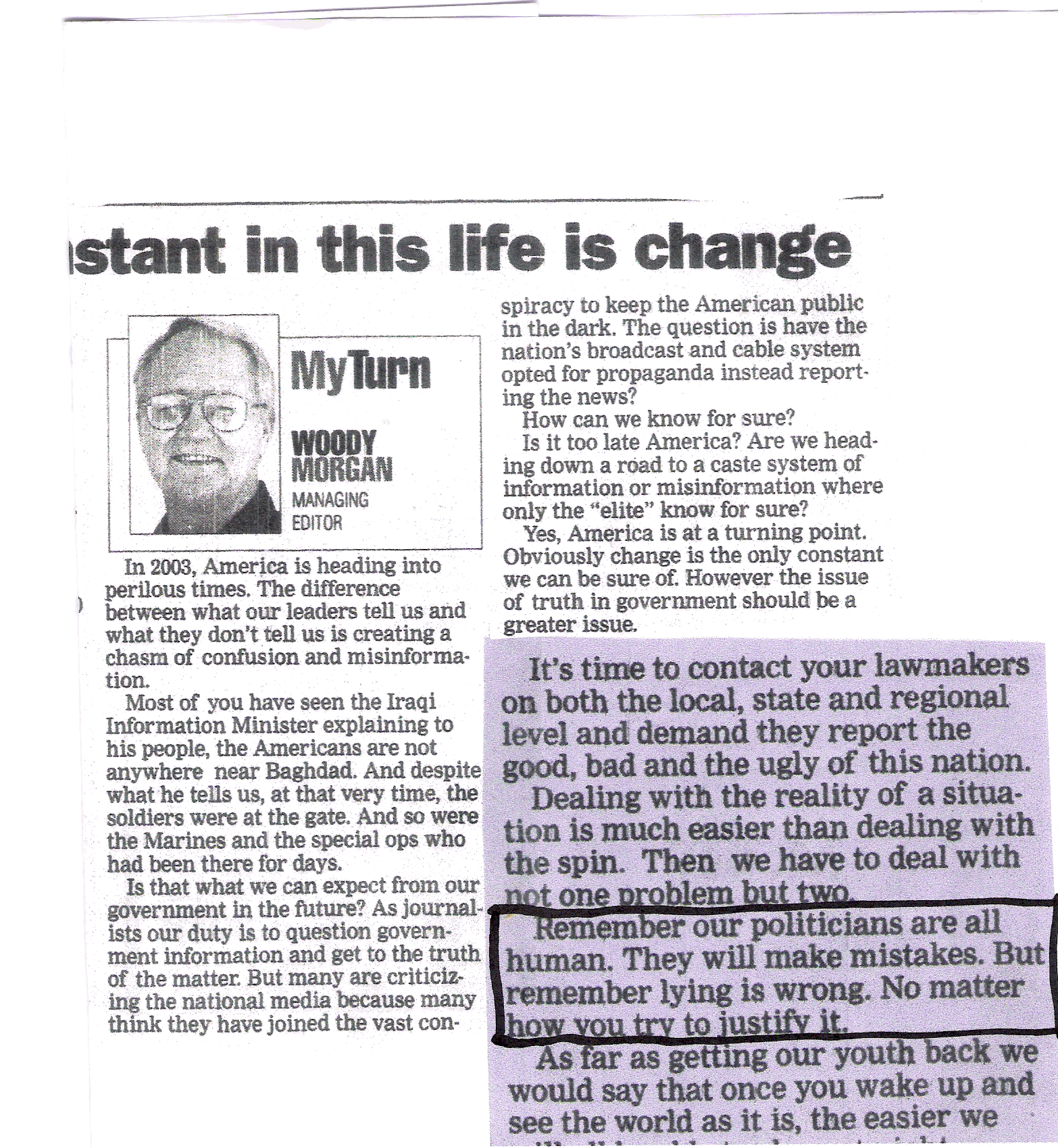 Lassen County Times News Editor less than honest 8/16/05
Barbara France, LCT News Editor, was less than honest in her report of the LMUD meeting on August 10, 2005. France deliberately withheld the General Manager's financial report that LMUD is cash poor. This was a significant fact that was withheld by the News Editor of the Lassen County Times. LMUD MEETINGS
France also just flat out lied about the board rescinding a resolution which allowed the demand of the district to be paid without board interaction.
The Board used to be involved with the accounts payable of the District. At least to the point that they simply signed the checks after the fact. There is still no Board control over the expenditures. The Auditors, Pezzullo and McKenzie reported that LMUD overspent $1.2 million dollars of their operating budget (Management expenses) in 2003/2004. France withheld that fact from the public also.
Resolution 2005-12 created a position of District Treasurer. This was a dangerous and fiscally unsound decision by the Board. The LMUD Board appoints new positions each year (President, Vice-President, Secretary and Treasurer). This resolution takes the Board out of the loop. A loop that they were elected to stay in. Frank Cady suggested that the LMUD legal counsel (and Cady's law partner) could be the District Treasurer....(Jaimee Richey????). CPUC DIV 6-11931- Accountant, Secretary, Treasurer, Attorney
LMUD Board of Directors allow Frank Cady to erode their duties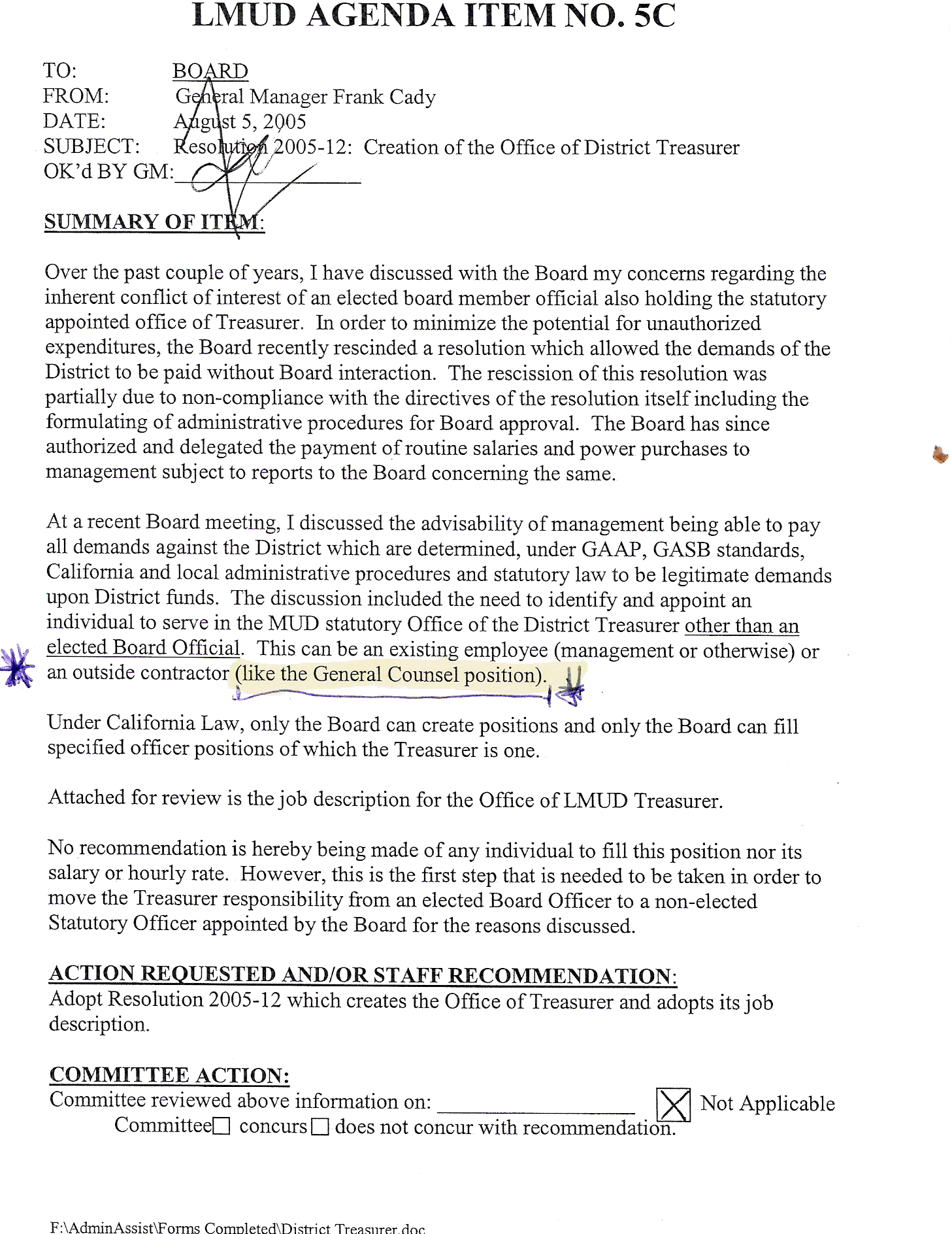 The LMUD Board added the President and Vice-President to be allowed to move money.........everyone can move public money now with little or no accountability........VERY BAD FOR RATEPAYERS.
Resolution 2003-02 Resolution 2005-11
LASSEN COUNTY TIMES SUBPOENA'S SPENCER TO TESTIFY FOR THEM
Perfect timing..........................8/11/05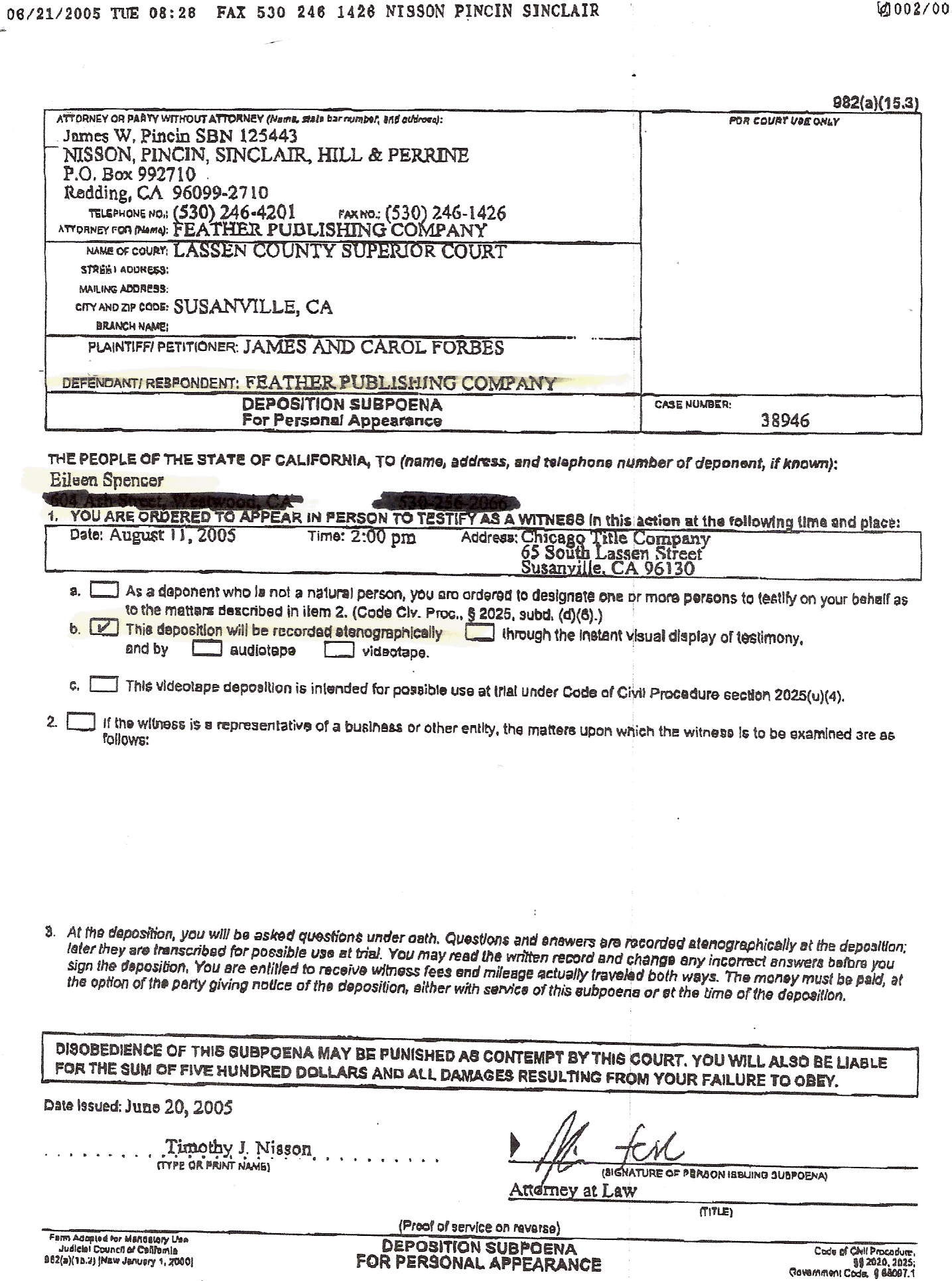 Lassen County Times refuses to print a "paid ad" from KWH
A newspaper has no value when it advocates public involvement and then withholds information
KWH submitted this information to the News Editor of the Lassen County Times and she igonored it. Now we now why?
Mike Taborski claims "that it is something that they are not interested in"
KWH then submitted, on June 8, 2005, "paid ads" and they were refused.
note: Mr. Taborski should never use the term: "The right to know" again......ever !
BARBARA FRANCE, NEWS EDITOR May 24, 2005
News Editor, Barbara France has lost her interest or courage now that her husbands job was saved (Sierra Army Depot) and she will not be moving. She has a lot of political fences to mend now that she is not moving. Barbara had the opportunity to be a "real" journalist for a brief period. We thank her for that time and extend sympathy to her that she must now return to protecting the rotten politics in this county.
Lassen County Times=Keep the Truth from the Public
Barbara France used the newspaper to lobby for public support for her own personal agenda.





LASSEN COUNTY TIMES SCREAMS THAT THE PUBLIC SHOULD HAVE INPUT 2/8/05 LINK
SHE DECIDES WHAT YOU HAVE A "RIGHT TO KNOW"
Most small family owned newspapers totally depend, on their existence, from their advertising dollars. Small newspapers like the Lassen County Times do not have the luxury of a big city newspaper. Although we understand your disappointments and frustrations, this website can do nothing.
This little newspaper does the best it can, under the constraints our community puts on it. READ IT OR DON'T READ IT. This is, of course an option that you always have. One person wrote, "Every Tuesday take your newspaper and throw it back on their doorstep"......novel idea.
Barbara France's recent display of "courage" may well have been based on whether the Army base remained open.5/24/05
Barbara France used the newspaper to promote the saving of the Sierra Army Base...why? Her husband works there. Her recent editorial revealed that she will not have to move and can stay in Susanville because the Army Base was not on the closure list.
With that news......her bravery and courage will most likely diminish since now she must retreat to her required cow-tow to the local "good ole boys".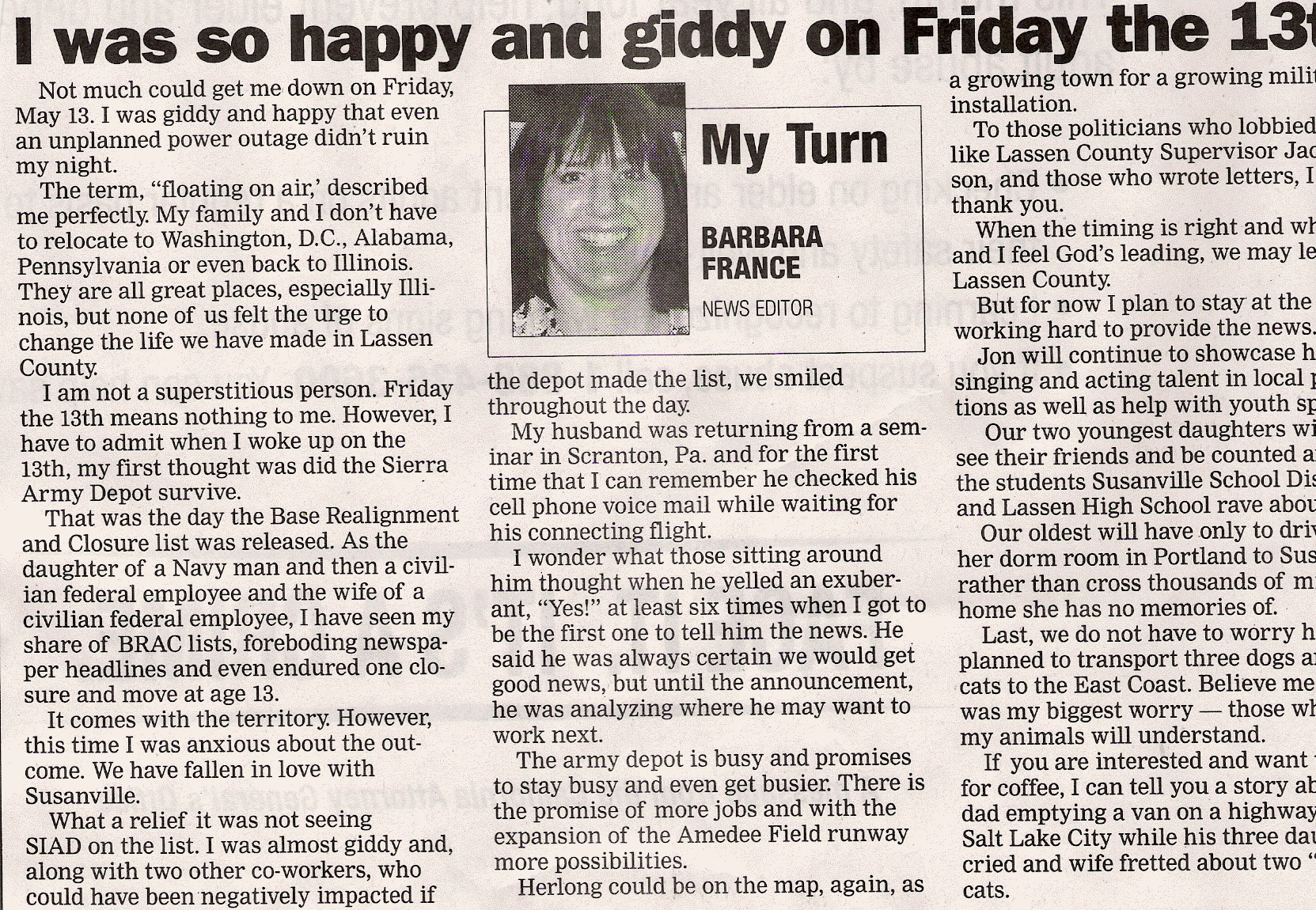 SPENCER TAKING ACTION AGAINST FALSE STATEMENTS IN THE LASSEN COUNTY TIMES
Lassen County Times prints a full retraction LINK
Lassen County Times a little late on the Nevada power plant story. Sacramento Bee reported this on February 15, 2005 link
January 6, 2005
The Lassen County Times sent a reporter to the LMUD meeting but did not record the meeting or make any notes. The reason for this? She will only write a "censored" version of the meeting. God forbid that the public would read the truth about LMUD. The public will get a very sweet "sanitized" version of this meeting. LMUD MEETING
Shayla truly believes that CRIME DOESN'T EXIST, IN LASSEN COUNTY, IF YOU DON'T READ IT IN THE LASSEN COUNTY TIMES.
January 4, 2005
The Lassen County Times once again suppresses the Bad News of LMUD. For two weeks Shayla has avoided printing LMUD's 2003/2004 Audit report.
Before the November election, Shayla featured the LMUD Directors on a full page...the story.....a two week old LMUD meeting. She was able to give unfair advantages to Nagel, Cardenas and Vazquez.
December 22, 2004
The Lassen County Times never sends a reporter when they know that LMUD is going to get BAD NEWS.
The news couldn't have been worse for LMUD. The LMUD Auditors submitted the 2003/2004 Audit which was "Qualified" for the first time in fifteen years. Definition of "Qualified": the result of the limitation is the failure of the CPA to obtain sufficient objective and varifiable evidence in support of business transactions of the entity being audited.
This should have caught Shayla's attention:
"Uncertainty now exists as to the exposure of the District for unlawful disbursement of public funds" link
October 19, 2004
Shayla Ashmore somehow managed to give LMUD an entire page in today's paper. She can't feature each of the LMUD incumbents, as she has done in the past, prior to an election so she writes "ad nauseam" to fill an entire page. Shayla would have normally given this meeting five or six paragraphs.
What Shayla didn't write about link

A letter to the editor was submitted to the Lassen County Times on October 6, 2004 and low and behold the LMUD Board addressed specifically each of the issues in this letter at their 10/7/04 meeting. The Lassen County Times would not give LMUD a copy of this letter would they?
LCT has a maximum 500 word limit on Letters to the Editor. This letter was 483 words and LCT said it counted words differently than the public. I guess you have to count a period as a word... In any event they wanted to edit the letter to their liking... who knows what will be published. This is an OPINION section of the newspaper not a NEWS story.
The letter was published with only the references to the Lassen County Times deleted and the following; The LCT added something that changed the meaning of the sentence. A correction notice was asked for and denied. The letter did not include (as of 2003). The Lassen County Times added this to make it appear as a mistake by the author.
They "write" that the people have a "right-to-know" one week to get the public "up-in-arms".....then when the public reacts...they write a story about the Mayor of Susanville taking "control" of the council meetings. link
The public has no right to expect this newspaper to have principles
Headlines sell newspapers. Headlines sell ads. That's the single motive that drives this newspaper....There is absolutely nothing wrong with that......but don't expect them to have a conscious or tell the truth. There is no money in telling the truth. This is just a business driven by what the Advertisers want in the Lassen County Times.
They don't have to care about our community and our problems. They only care about their ADVERTISERS
LASSEN COUNTY TIMES EDITORIAL DEMANDS THAT SUSANVILLE MAYOR TAKE CHARGE OF MEETINGS9/21/04
The Lassen County Times has never taken the position that the public has a constitutional right to redress their government.
They supported LMUD when Wayne Langston suppressed First Amendment rights and violated the Brown Act. This newspaper suppresses wrong doing by the LMUD Directors and reported public outrage as citizens that "disrupted" meetings.
Now, they want to suppress the public's outrage of the Susanville City Councils poor management history.
The Lassen County Times has never taken the position that the public has a constitutional right to redress their government.
They supported LMUD when Wayne Langston suppressed First Amendment rights and violated the Brown Act. This newspaper suppresses wrong doing by the LMUD Directors and reported public outrage as citizens that "disrupted" meetings.
Now, they want to suppress the public's outrage of the Susanville City Councils poor management history.
The public packs the meetings with genuine concerns for the wanton and shameful activities of this council . You will soon see this newspaper begin calling the public derogatory names and making up ficticious group names to discredit honest people. This is how this newspaper participates in the democratic process. They will beat down any person or persons that stands up and demands change.
LMUD MENTALITY
SPREADING
"IT'S NONE OF THE PUBLICS BUSINESS" IS SPREADING
Lassen County Times, August 31, 2004, "Right to Know".
Suddenly, the Lassen County Times is concerned that public officials need to be reminded "who they work for". Now is not the time to get religion about what Lassen County elected boards need to do for the public. But...if you are going to have a change of policy...be consistent.
Shayla Ashmore sat for two years and watched the LMUD meetings deteriorate to a point where the public is thrown out & threatened with arrest for stating concerns and the public today.....is not allowed to speak at all during the business portion the the meeting... and Shayla says nothing. First Amendment rights were trampled on and she has said nothing.............
The public was constantly interrupted during public comment, at LMUD meetings, by then President Langston because he didn't want to listen to anymore complaints about management abuses. The Lassen County Times did not report violations of the First Amendment rights of the public but reported instead that the public was disruptive.
The Susanville Police are exploited and used to enforce "public officials" abuses.
This is a "paper" that was told not to print anything about Wayne Langston's DUI arrest.
The Lassen County Times said nothing when the public was denied the right to know what the Board members were being paid.
This Lassen County Times "newspaper" sat silent when the public asked for and was refused the "Arrowrock Feasibility Study" that the LMUD Board promised to release to the public in 2001.
This "paper" sat silent when the public was threatened with five fake lawsuits by Frank Cady. These lawsuits were intended to intimidate the public so they would not attend meetings and if they did they could not speak. WOW...where was the Lassen County Times ?
This "paper" sat silent when Brown Act violations were running rampant at each LMUD meeting. This paper is silent to this day about the illegal meeting that the LMUD Board members had with Frank Cady and Evelene Twitchell on June 4, 2003.
KWH FILES APPEAL IN THIRD DISTRICT COURT OF APPEALS
The Lassen County Times published a story on August 9, 2004 that stated "Spencer hasn't appealed ruling to pay LMUD attorney fees".
Shayla Ashmore, Editor of the newspaper, stated that Spencer did not respond. The reason for this was that Spencer was never contacted.
When KWH sent the Lassen County Times a copy of the Appeal on August 12, 2004, Shayla ignored it. KWH submitted a written statement to this paper and they chose not to publish it. Biased, prejudiced and serving only a few people in the community...this about sums up the unprofessional conduct of Shayla Ashmore.
How dare the "Times" use this statement
Lassen County Times, 6/8/04 LMUD votes to pull out of Arrowrock
"Kan We Help, a citizens watchdog group, claimed the BBC (Boise Project Board of Controls) failed to inform LMUD ratepayers that it has never been able to secure a power-purchase agreement, a developer nor any financing for the project"
Correction: "LMUD failed to inform the LMUD ratepayers that the BPBC has never been able to secure a power-purchase agreement, a developer nor any financing for the project"
All five LMUD Directors should be investigated for their part in this scam.
The Lassen County Times went out of their way to suppress information on the phony hydroelectric scam.
PUBLIC DEFENDER, HEALY SLAMS LOCAL NEWSPAPER FOR THEIR INABILITY TO REPORT THE TRUTH
Letter to the Editor: "Questions policy" 5/4/04
Healy states very clearly that the Lassen County Times has no ability to report the truth or an unbiased story. The publics First Amendment rights are not only trashed in this newspaper but in public meetings as well. This newspaper looks the other way and only has an ear for the select few that dictate what they print. Local newspaper accused of censorship.
LASSEN COUNTY TIMES ACCUSED AGAIN OF BIAS
John Dirks, from the Public Defenders office, complains about bias reporting, in the letter to the Editor (4/27/04, "Unanswered questions").
Mr. Dirks is only one, of a growing number of citizens, that have complained of slanted articles that the paper represents as "News".
The Lassen County Times doesn't even champion free speech which is the cornerstone of our country and the reason newspapers exist.
Instead this paper supports the repression of the publics right to redress their government. They write stories that champion public agencies suppressing public documents. They promote secret meetings and votes by elected officials. They hide wrong doing by elected officials.
This newspaper exists for the benefit of a "few" and has completely lost sight of "unbiased" reporting. They have lost sight of even a simple concept...the truth.
Woody Morgan Quits Lassen County Times
Where was the Lassen County Times when the facts were being given to them about the Arrowrock scam......Managing Editor, Woody Morgan refused to print it?
Woody Morgan's sudden departure leaves the Lassen County Times back in Shayla Ashmore's lap. Will the public see truth, facts, impartial and unbiased stories? Time will tell.
1/21/04
Golden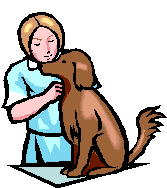 Retriever Comments
on
Woody Morgan, managing editor
An official representing a local board is arrested and the Lassen County Times refuses to print the story, any story. WHY?
Answer: The Lassen County Times is not a real newspaper, but exists for just a few of the "good ole boys". They now advocate DRUNK DRIVERS.
Mike Smith, of KSUE radio, who did report this story in a timely manner, is commended for his journalistic integrity.
Lassen County Times finds no value in the communities concerns
1/20/04: Woody Morgan, the house husband. This may have been the best profession for this lost soul and suggest that he return to a most adequate and honorable position. After a woman turned down the Managing Edition job, it was offered to Woody Morgan. That's got to be hard on a man's ego. Woody is in Susanville, frankly because he has no where else to go.
The weekly throw away was inundated with complaints about the inaccuracies of the Dyer Mountain story in todays paper. The story was filled with inaccuracies and misinformation.
Woody's Solution: Limit the number of "Letters to the Editor" to one article per person per month.
KWH solution: Send no articles. Let them fill the space with more fiction. If they can't handle the truth, which they can't, then maybe this weekly tabloid needs to shut its doors. It has no value in the community, if it has no interest in the communities thoughts and concerns.
As it stands now, Woody censors letters that are detrimental to his friends, the good ole boys crowd.
As it stands now, Woody rejects articles that are accompanied by documentation and evidence.
As it stands now, Woody represents editorials as news. Full of opinions short on facts.
1/13/04: Woody is not a person that should be writing about CREDIBILITY. Don't go there Woody. You have no credibility....................................The public didn't trust you yesterday, they don't trust you today...tomorrow is up to you.
Woody Morgan writes: "The first resolution to make sure this newspaper continues to provide a mirror of the community at large." Woody has managed to provide a mirror of the type of newspaper he runs. The community has long gotten used to the lack of truth from this newspaper. The public hasn't taken this weekly tabloid seriously for a long, long time. Woody could turn this richly deserved reputation around, but then he wouldn't get those free dinners and lunches and "invites".

Woody Morgan writes: "To make sure we continue to provide a fair and balanced approach to the gathering of OUR NEWS." Woody needed to state that it is THEIR NEWS. The Lassen County Times has always been known for its Biased, Prejudiced and Slanted news stories. The community would be shocked to actually read the truth about ANYTHING the Lassen County Times prints.
Woody Morgan writes: "One of those ways we can do that is communication. If you have news make sure you let us know." Make sure you let the Lassen County Times know so they can either bury the story, tell one side of the story, or just out right leave the fact out of the story.
"Unfounded or unproved allegations will not be printed but that doesn't mean we don't want to hear from you." Change that to "unwanted" stories that will disclose wrong doing by the friends of Woody. Woody uses this weekly throw away to protect his friends. This he vows to continue........................
The Lassen County Times Managing Editor, Woody Morgan, seems to take exception to websites that expose, with documentation, wrong doing. It is something that his paper is unwilling to do and prints biased slanted one-sided statements, instead of news based on facts.
"The District Attorney must now revisit the LMUD Boards illegal payments. The District Attorney is responsible for the continuance of these actions and the Lassen County Times must take full responsibility for not reporting the continued illegal and improper actions by this LMUD Board".
"Bill Noonberg assaulted Jim Forbes and is allowed to write articles that attempt to discredit the witnesses to this assault. The Lassen County Times has lost any credibility, as a newspaper, and will continue to publish anything that will forestall a huge lawsuit against the paper. Bill Noonberg was on duty as a reporter with LCT when he struck Jim Forbes."
*****************************************************************************
Dan A. Howe, Susanville December 23, 2003, Letter to the Editor
"Unbelievable! While working for the District Attorney's office, I became accustomed to your negative-biased reporting regarding law enforcement and the criminal justice system. It had actually appeared that, over the past year or so, your paper was "turning a corner" toward fact based reporting. Alas, it wasn't to be."
This Letter to the Editor was critical of Shayla Ashmores failure to report the facts, and accuses Ms. Ashmore of writing, yet another biased slanted editorial. It appears that Ms. Ashmore may simply have a prejudice against educated, successful, assertive, no-nonsense women.
Look at Shayla's articles....A KWH member is thrown out of a LMUD meeting for exercising the right of free speech and Ms. Ashmore slants the article, not about Langstons disrupting the meeting again, violations of the Brown Act....but Spencer being thrown out again.
SHAYLA ASHMORE DEFINITELY HAS EXPOSED A RATHER BAD PERSONALITY FLAW.

LASSEN COUNTY TIMES HIDES WRONG DOING BY
LMUD BOARD
SHAME ON SHAYLA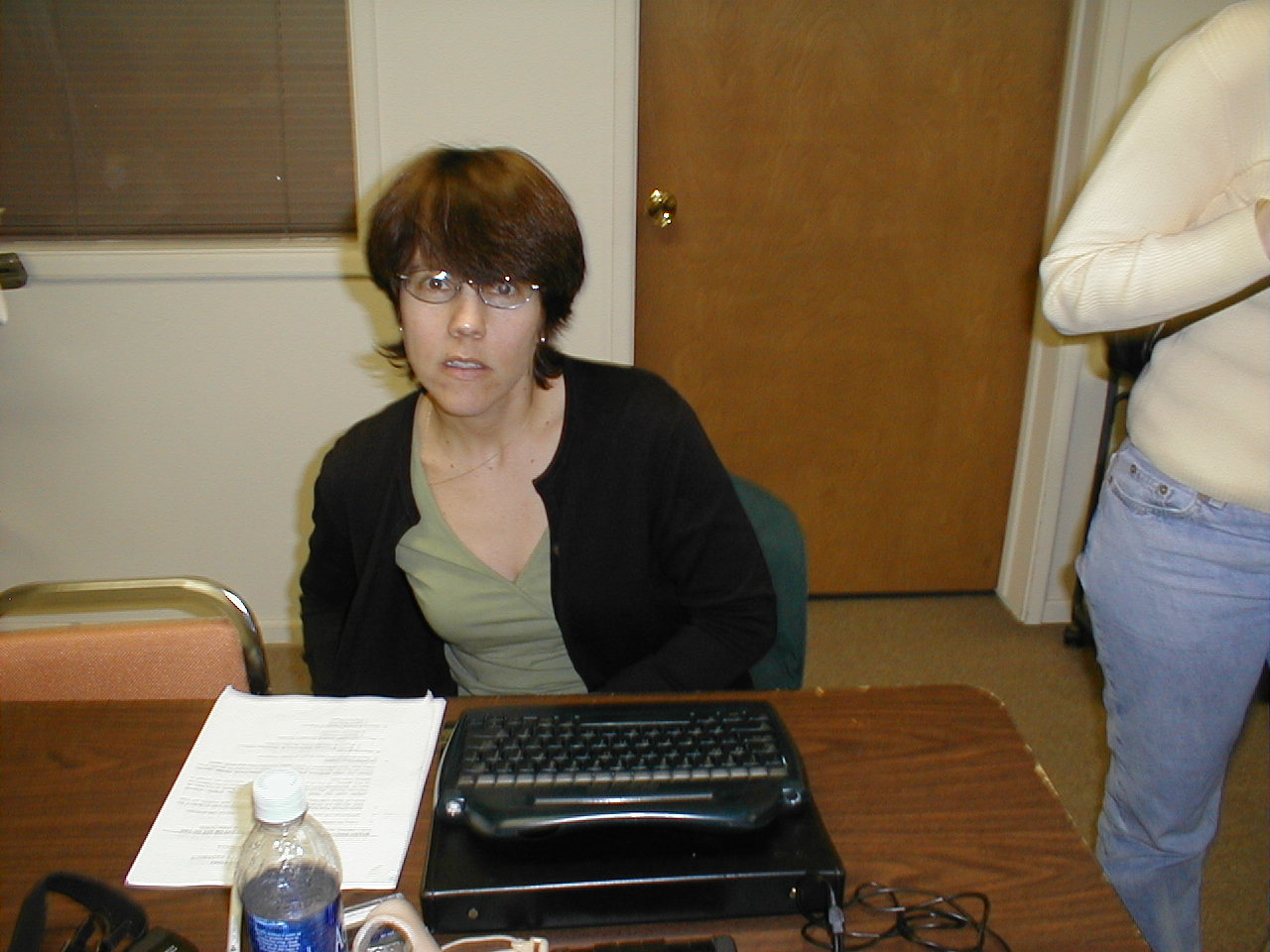 On November 6, 2003, Shayla Ashmore was given a complete package of evidence that the LMUD Board members continue to overpay themselves and she buried the story.
Shayla Ashmore, left the December 4th LMUD meeting after a KWH member was asked to leave, because Langston said "I don't want to hear your comments anymore".
Shayla was in such a hurry to write her editorial that she missed the best part of the LMUD meeting...Langston never gaveled anymore interruptions from the public.
Was her story about Freedom of Speech or Brown Act Violations
NO...Shayla did not write about the public exercising their constitutional rights
No...Shayla did not write about the constant Disruptions by Langston.
Langston disrupts LMUD meetings when he doesn't like what you are saying.
Shayla was asleep when:
1. Helene Williams told Langston that he was in violation of the Brown Act. Ms. Williams received a gavel and a threat by Langston. This was the first Langston disruption.
Langston made a recommendation for action that was not on the LMUD agenda.
2. Eileen Spencer asked if the rules have changed again. Ms. Spencer received a gavel and a threat. This was Langtons second disruption of the meeting.
Langston announced that you will receive only one warning
3. Helene Williams asked about the board packets during Agenda item 5B.
Langston did not throw Ms. Williams out for asking about an issue not on the agenda, but continued in dialogue with her.
4. Eileen Spencer was recognized to speak on Agenda item 5B. Ms Williams interrupted and was not gaveled or asked to leave. Ms. Spencer was asked to leave after two minutes (LMUD rules allow five minutes).
Langston disrupted the meeting by gaveling Ms. Spencer and told her to leave because he didn't want to hear her comments. Langston threatened a member of the public for asking a question at a public meeting. This is a misdemeanor (Election Code 18340).
Shayla Ashmore was in such a hurry to write about DISRUPTIONS...she forgot who disrupted the meeting. It wasn't the public.
Shayla wouldn't have a job, there wouldn't be any newspapers.......if we didn't protect our
FREEDOM OF SPEECH
Susanville City Council respects the Brown Act
Lassen College respects the Brown Act
Lassen County Board of Supervisors respects the Brown Act according to LCT
Can anyone imagine the Chairpersons from these Boards calling the police because they didn't like what the speaker was saying ?
These Boards respect the intent of the Brown Act. The public is allowed the freedom of addressing all agenda items.
These Boards would never gavel a speaker and say "I don't like your comments, someone call the police".
Wayne Langston constantly disrupts LMUD meetings while the public is speaking because he doesn't like what they are saying
1. Arrowrock was a fraud
2. The LMUD Board members have overpaid themselves for two years.
3. Their legal counsel interferes with other local agencies.
4. Their legal counsel uses LMUD funds for other clients.
5. They have been caught reporting no action in closed sessions and then taking secret actions.
6. They have been caught in outright lies to the public (rate decrease)
7. Hiding board expenses
The list is long and undistinguished...................
LASSEN COUNTY TIMES, editorial 12/16/03
"From our observance everyone has an opportunity to speak during public comment and on agenda items. They do it from a respectful point of view and questions are answered".
EXCEPT, at a LMUD meeting. The Lassen County Times forgot to mention WITH THE EXCEPTION OF THE LMUD MEETINGS.
The Lassen County Times must send someone to the LMUD meetings that is not brain dead and doesn't have an anger management problem.
THE PUBLIC IS NOT ALLOWED
TO DISCUSS ANY BUSINESS AGENDA ITEMS WHEN IT IS DISCUSSED BY THE BOARD?
Prophetic words from a "wise" person............
Lassen County Times Editorial, 10/21/03
JUSTICE: more or less
"It is all up to the residents. Step forward and be heard. Or sit back and gripe about the situation and nothing will change. It is up to you."
The only JUSTICE in Lassen County is "POLITICAL JUSTICE".
The DA only prosecutes what he is told to prosecute.........
MY, MY, MY....the Lassen County Times publisher or managing editor or news editor is promoting the people to come forward and be heard .
Then the Lassen County Times will call these same people names and discredit them for speaking out. Or you risk being arrested or thrown out for quietly stating your position.
The Lassen County Times has not been critical of the illegal meeting rules at LMUD, they publish half the truth and
THEN THEY ADVOCATE RESIDENTS TO COME FORWARD. NOT IN THIS COUNTY IF YOU WANT TO KEEP YOUR JOB.
Mike, Woody, Shayla, what hypocrites you all are.
LASSEN COUNTY TIMES IS
ALLERGIC TO THE TRUTH
September 9, 2003, KWH/LMUD Lawsuit
KWH offered Shayla Ashmore, employee of the times, evidence that Evelene Twitchell, LMUD new General Manager and Frank Cady, LMUD legal advisor, did in fact lie about the legal expenses of LMUD.
This was a publicity stunt by Frank Cady because he knows he can't go to court with this case.
LMUD should turn the documents over to KWH and stop this circus. Not one more "red" cent should be spent on legal expenses to keep these documents "secret"!
Twitchell and Cady claim that LMUD's huge legal expenses are due to Public records requests and KWH's lawsuit against LMUD for Public Records Violations. KWH has obtained copies of Frank Cady's invoices thru the Public Records Act.
Bottom line...
LMUD BOARD SAYS NO RATE REDUCTION FOR RATEPAYERS.
Shayla Ashmore declined the documents KWH offered and
The Times is known for their errors, but this was just plain fiction.
KWH will expose, with documents received through the Public Records Act, legal expenses this LMUD Board is approving.
A sample: Cady's travel expenses, "General Municipal Law" charges, other Cady client charges......you will be shocked at what the ratepayers are paying for....
The legal expenses have nothing to do with a rate reduction for the ratepayer. A rate reduction could have been given 1 1/2 years ago. A rate reduction can be given today. MORE INFO COMING........
The LMUD gross legal fees have everything to do with "OVERFILLING"
GOOD MORGAN"
LASSEN COUNTY TIMES HOLDS PUBLIC FORUM WITH
COUNTY CLERK
September 24, 2003 @ 9:00 AM
Woody Morgan invites the community to have coffee with him and "newsmakers", but Woody didn't show up for his guest, Theresa Nagel. There were members of the community that sat and waited.....but no Woody. There was however a flurry of activity. A "go-fer" of Woody's was running back and forth from the coffee shop to the Lassen County Times. It seems that the "go-fer" was trying to find Theresa Nagel and warn her before she walked into Woody's "community meeting". Finally a very nice young lady came over to "Woody's table" and told the people that came to hear from the County Clerk, to go home.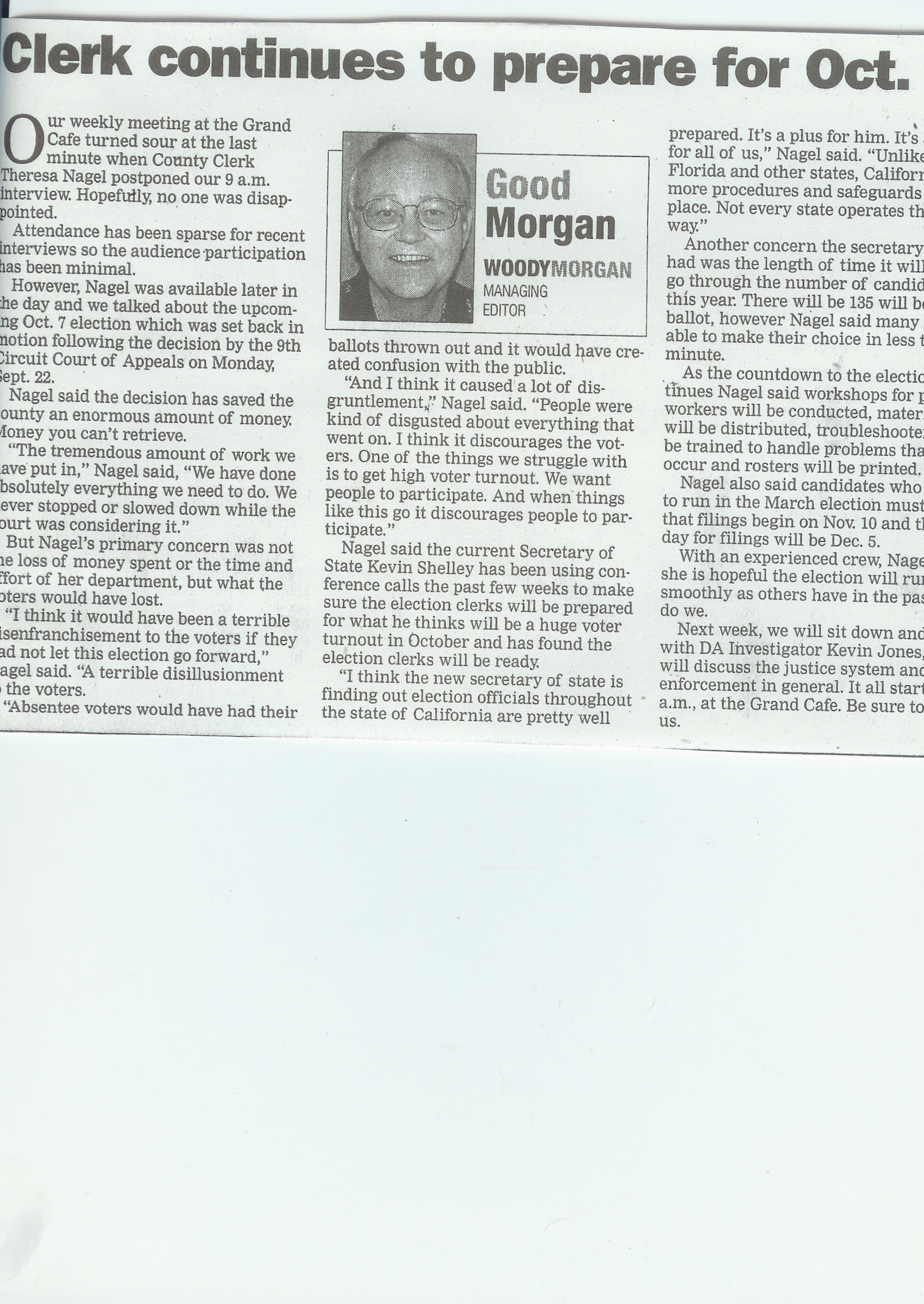 JIM CHAPMAN
September 17, 2003 @ 9:00 AM
Did Jim Chapman actually say that his recent political problems are because he will be running for reelection in "March of 2003"?