FRANK DECKER CADY
California State Bar Complaint form
Frank Cady's California State Bar Association Number 102238
FRANK CADY HAS ENTERED THE
"TWILIGHT ZONE"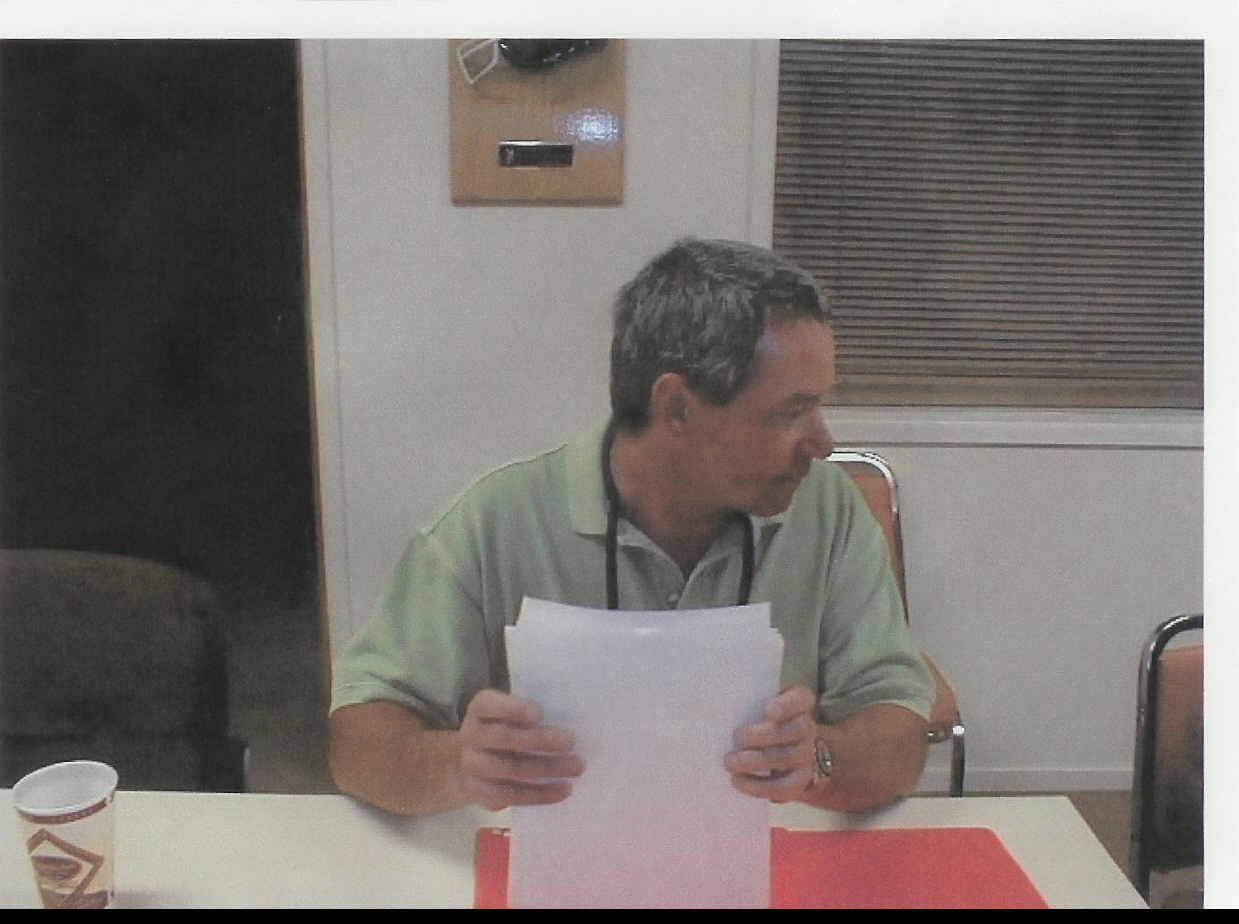 Frank Cady was in line for the open seat in the Lassen County Superior Court. Ridgely Lazard won the seat. Frank Cady has been reduced to a manager of a small utility and he was even fired from that job
"Cady, Pardee and Richey is one of the largest historic law firms in Susanville, rich in history...." link
NOTE: David Taliant had a phone in Cady's office only. Taliant did not have a business license in Susanville
From his fathers law firm to........established 1938?...............Frank Cady wasn't even born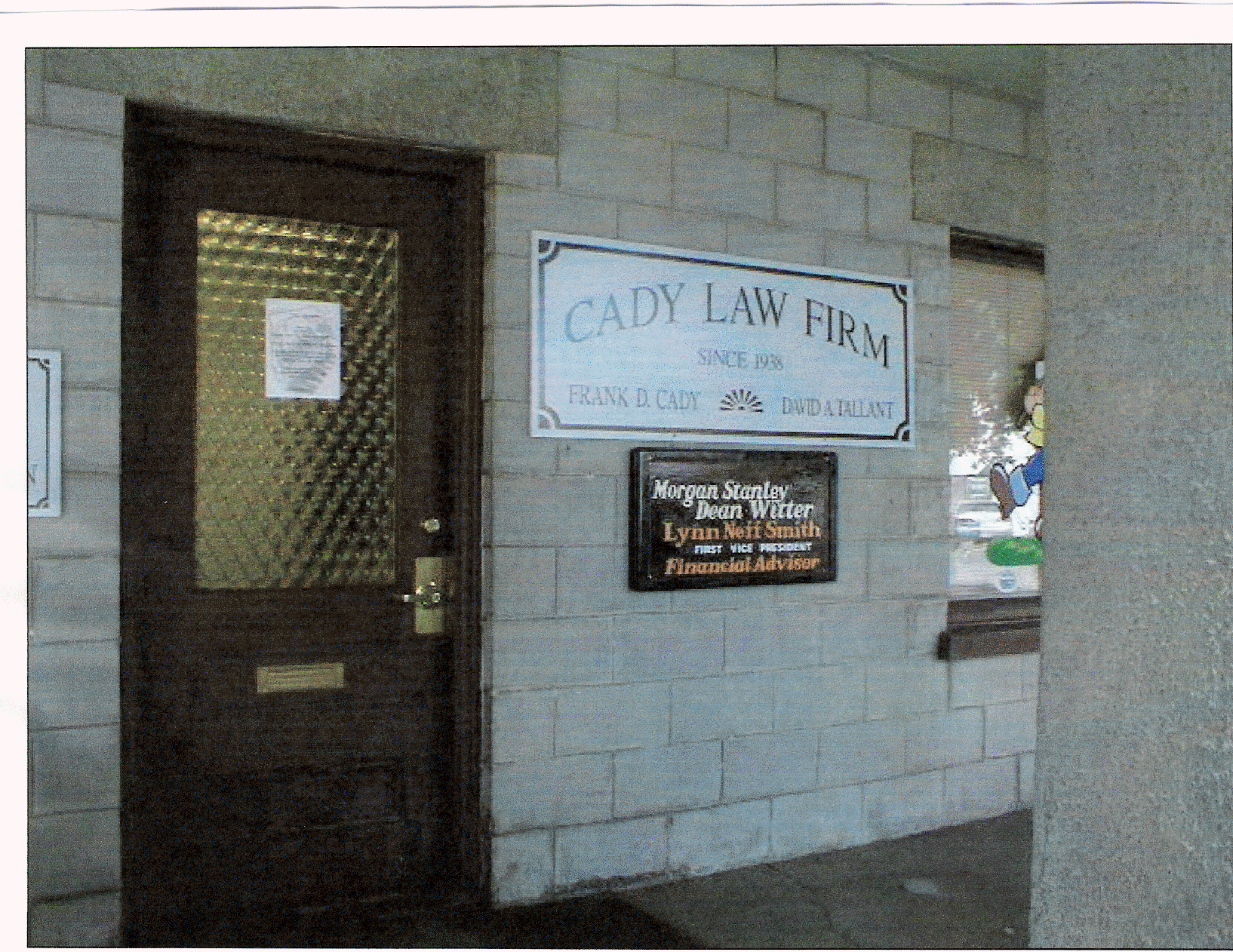 to this

What a ride to the bottom............................
October 26, 2011
Presently at 1516 Main Street, Susanville, CA 96130
Frank Cady 2002 Frank Cady 2005 CADY, PARDEE, RICHEY LLP
Cady and Richey are the joke of Lassen County
Historic...no, maybe hysterical
Jaimee A. Jones "aka" Richey-Jones moves on..Cady moves on...?
Jaimee Jones removes "Cady, Pardee, Jones" but doesn't remove the "est. 1892"
Misleading the public.....you betcha.
Unethical......................you betcha.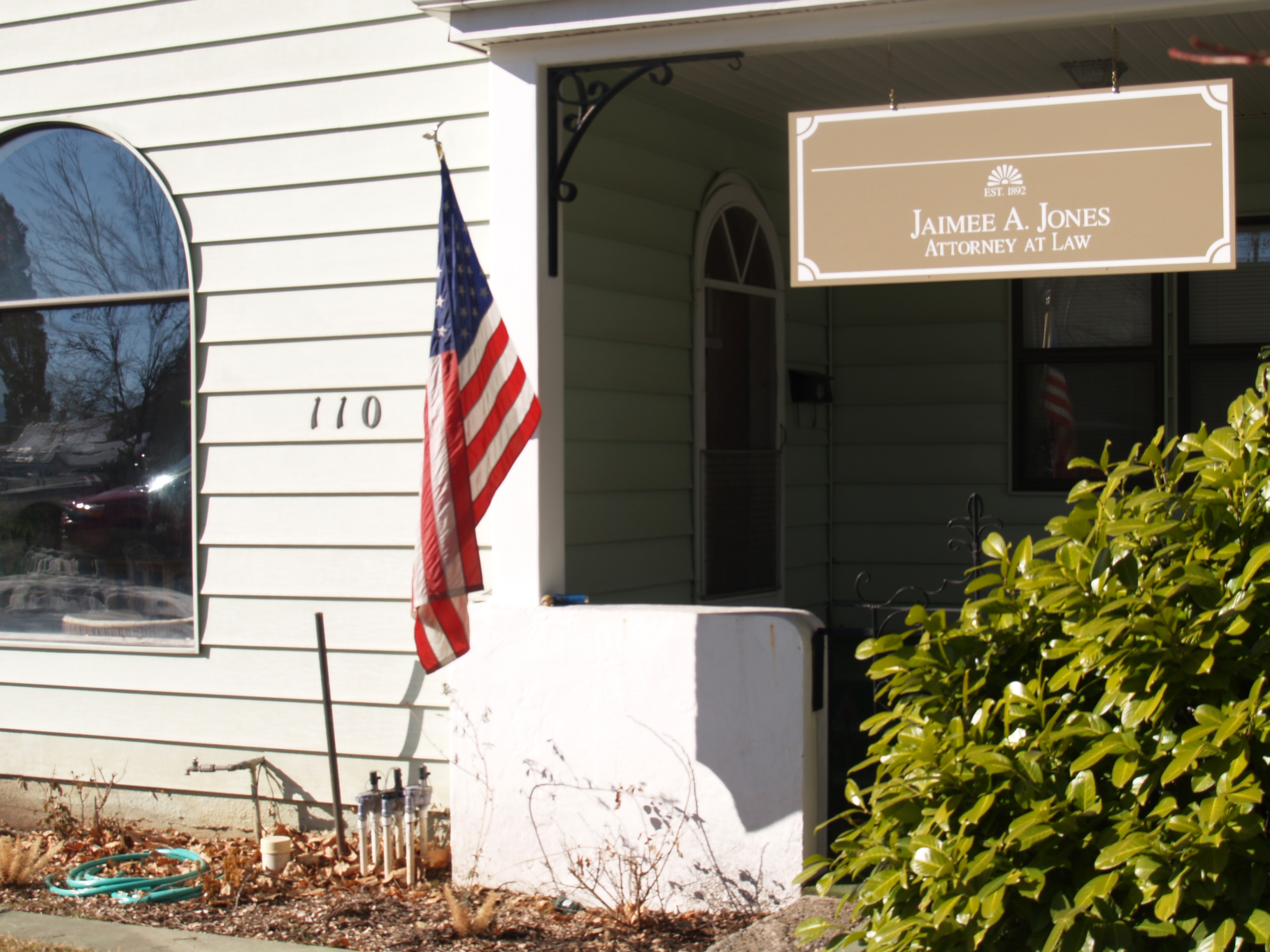 LMUD fires Jaimee Jones 1/27/09 LMUD fires Frank Cady 1/4/08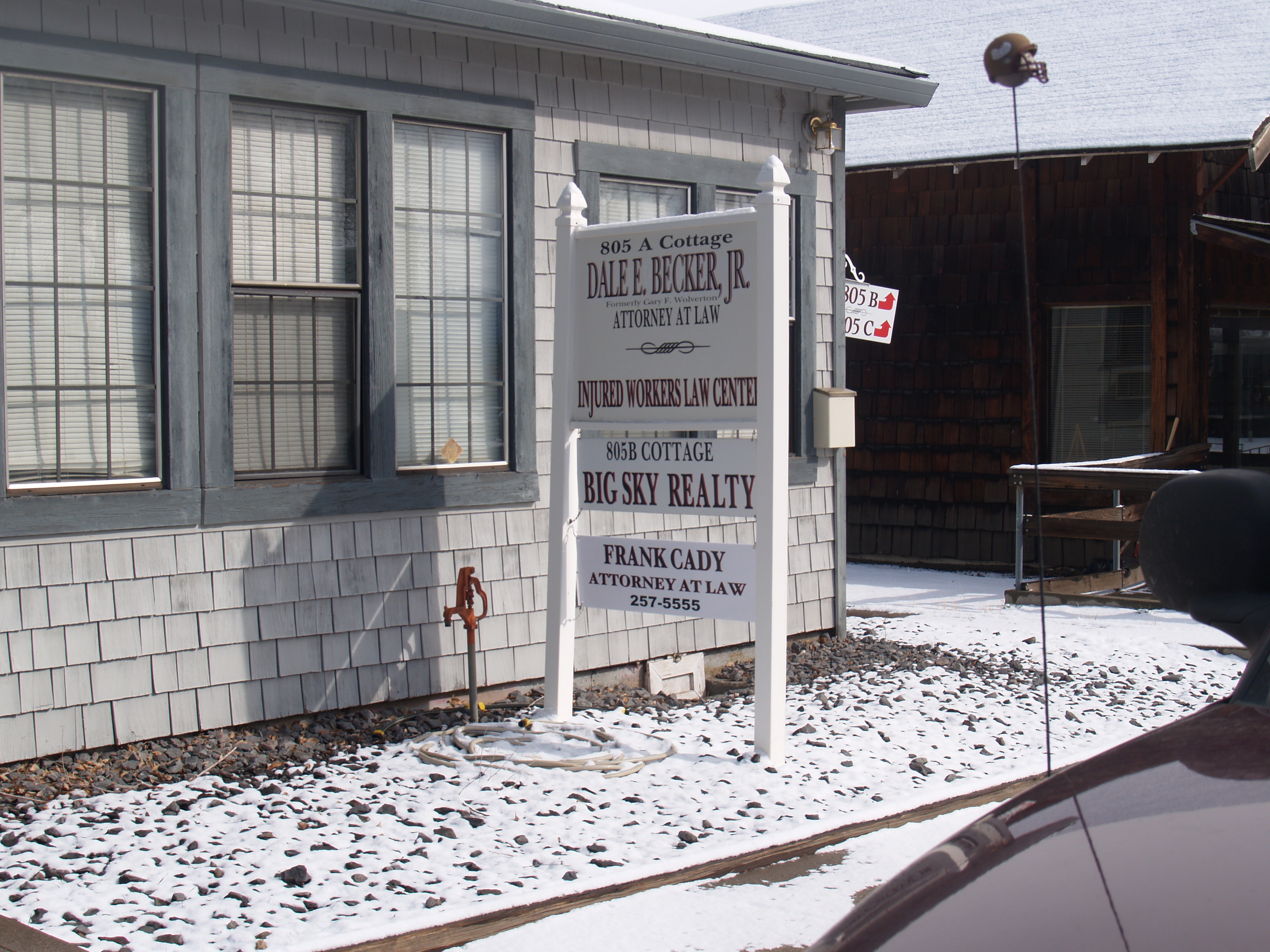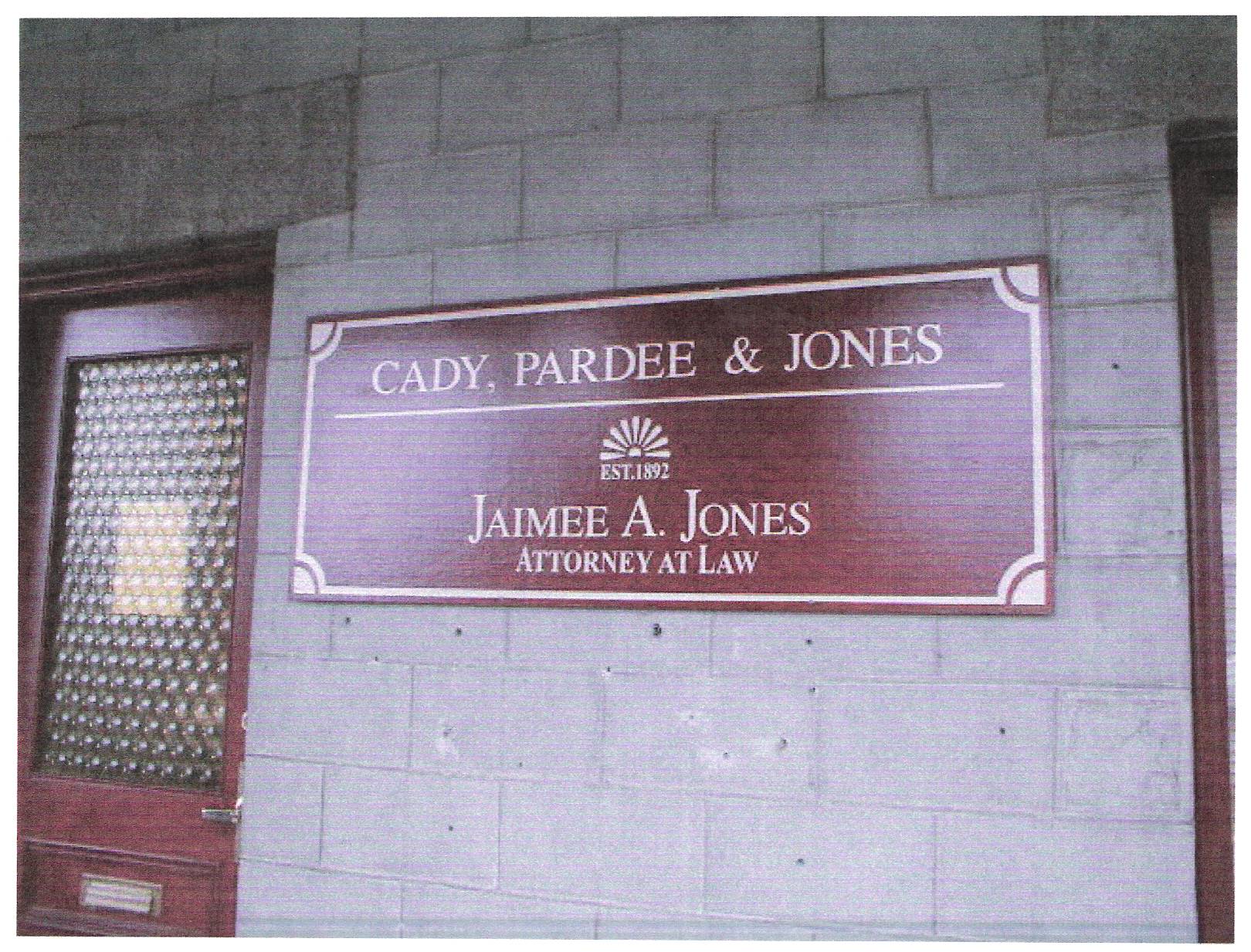 Cady, Pardee & Jones....no more....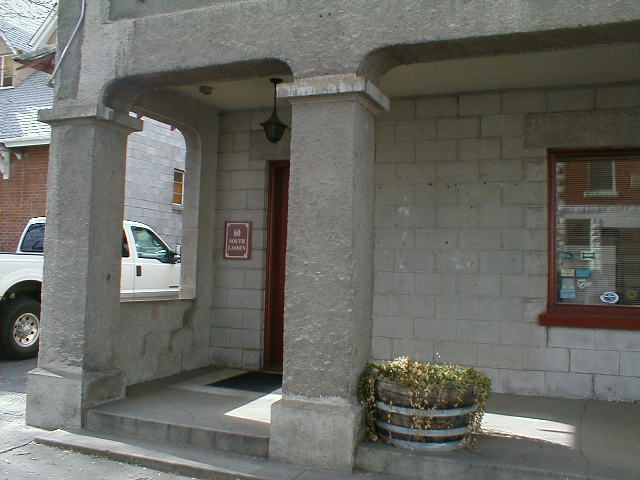 February 13, 2009
2/13/07-So what name are they going to put up next?
JONES (formerly Richey) & O'BRIEN LAW FIRM????????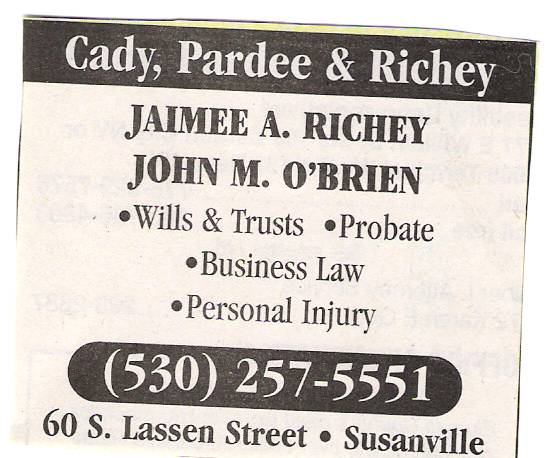 (John M. O'Brien practices law in Susanville without a City Business License. Mr. O'Brien has deleted his Susanville office from his website and with the California Bar Association but continues to practice law in Susanville? )
Cady Pardee & Richey was established in June/2002, not 1892 or 1938
Richey and Cady formed a Limited Liability Partnership in 2005, prior to Cady being named LMUD General Manager and prior to Richey being named LMUD General Counsel. GROSS CONFLICT OF INTEREST.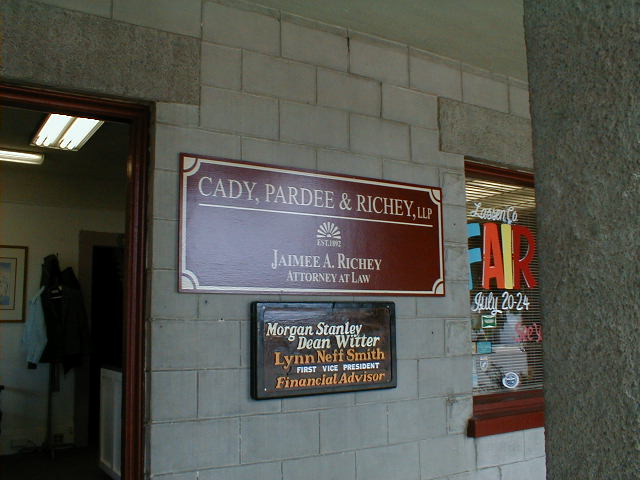 Taken 7/28/05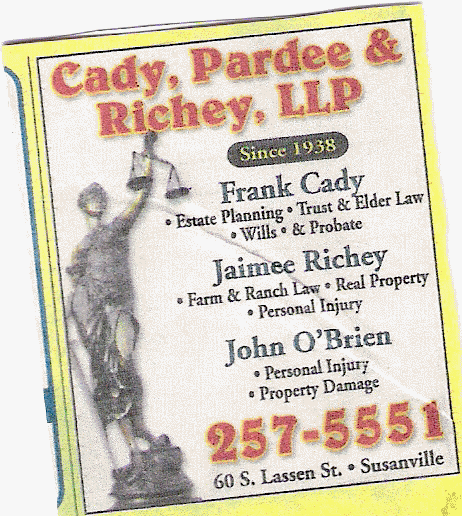 Taken 7/25/05
Established 1938 or 1892 or 2002..............right answer 2002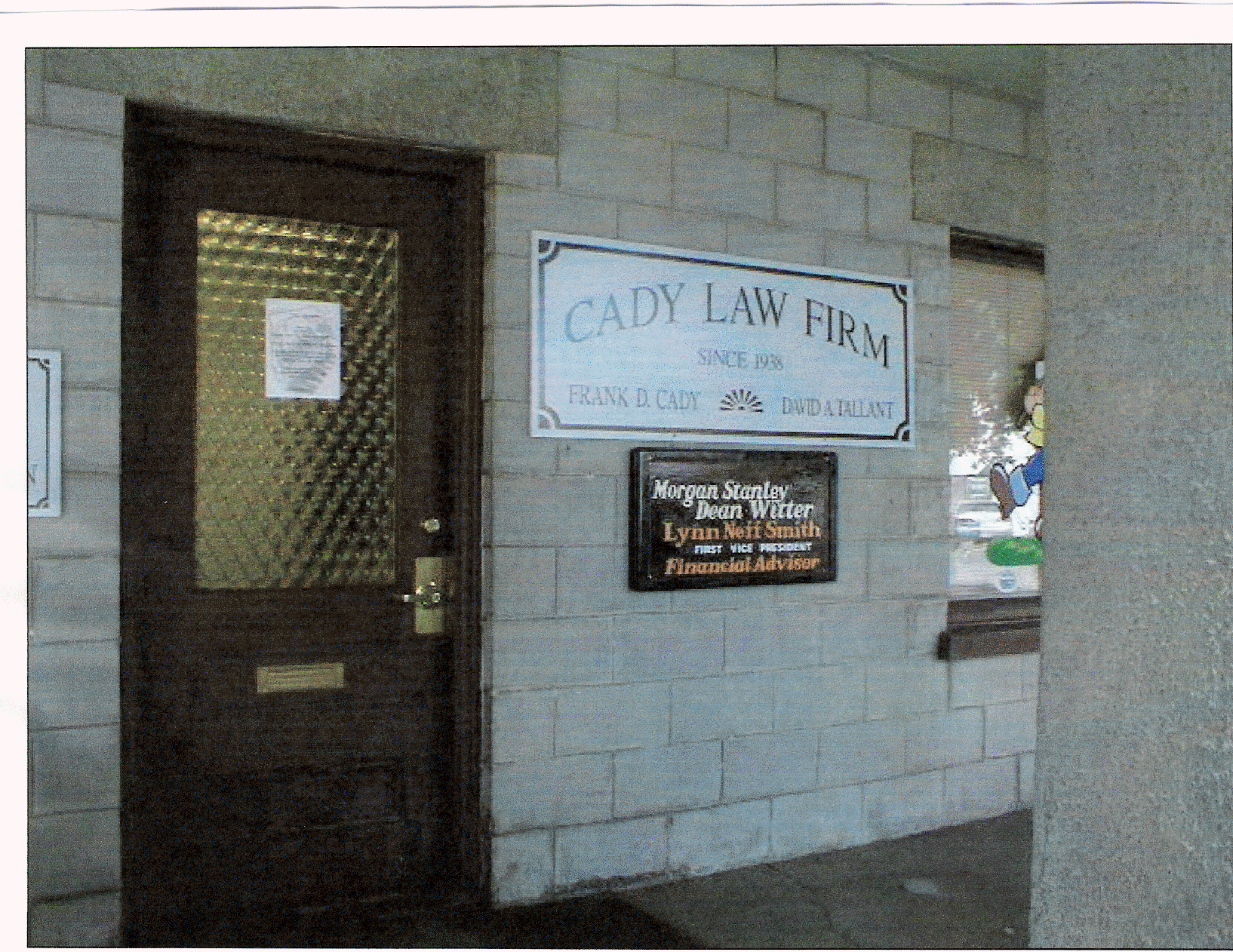 The Cady Law Firm changed their sign in 2002 when he hired Richey. The Cady Law Firm Sign reads "Since 1938". There have been no Pardees, and there was no "Law Firm", just Frank Cady prior to Richey.
The new sign "Cady and Pardee" says "Est. 1892"
The Public Comments on Frank Cady
2002 LMUD board clashes with Cady
Lassen County District Attorney asks Susanville Chief of Police to investigate unlawful distribution of public funds by LMUD
Chris Gallagher decision puts LMUD at risk
Gallagher claims Cady is an officer of LMUD LINK
Who is LMUD's current legal counsel? CLICK HERE FOR THE ANSWER
FRANK CADY CONTINUES TO EXPOSE LMUD TO UNLAWFUL ACTS
KWH FILES BROWN ACT VIOLATION2/11/05
The LMUD Board was warned on February 4, 2005 not to include a "Public Employee Performance Evaluation" for Frank Cady in closed session. Frank Cady told the Board that he was an employee of the District
KWH WARNS LMUD Brown Act Violation filed with DA
KWH OBJECTS TO CADY BEING TREATED LIKE A PUBLIC EMPLOYEE LINK
The LMUD Board will attempt to do a "Public Employee Performance Evaluation" for Frank Cady...in CLOSED SESSION on Wednesday, February 9, 2005.
Problem...he's not a public employee LMUD Agenda, 2/9/05
Paragraph 6. : INDEPENDENT CONTRACTOR. General Counsel is an independent contractor and not an employee of the DISTRICT under this Agreement.
Frank Cady nor Jaimee Richey are public employees. They do not receive W-2's. However, the Board of Directors is illegally giving Cady a 457K retirement benefit plus full health benefits for him and his family. It's not like the $300,000 a year could not buy health benefits.
Frank Cady over-bills LMUD 70%.
"When you hate your clients, overbilling lets you sleep at night"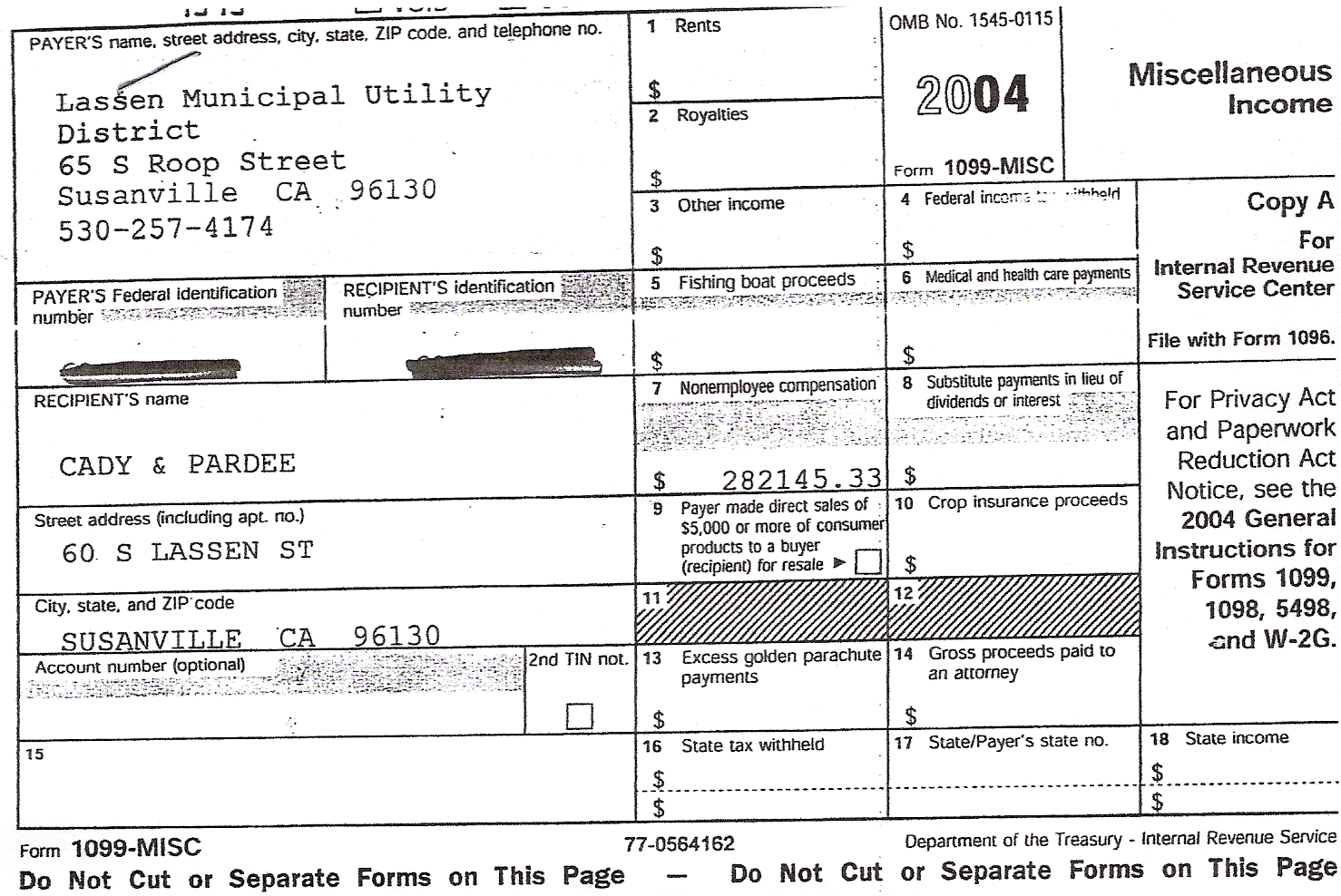 Frank Cady is in Breach of his Contract with the Lassen Municipal Utility District. A complaint has been filed with the LMUD Board of Directors for over-billing.
NOTE: The LMUD Board will copy the Lassen County Board of Supervisors and hold a closed session before the meeting begins, in order to decide how they are going to vote on the Action Items.
Frank cady exposes lmud board's illegal meeting
IN AN ATTEMPT TO FATTEN HIS FEES, FRANK CADY DISCLOSES AN ILLEGAL MEETING WITH THE LMUD BOARD ON jUNE 4, 2003. kwh FILES BROWN ACT VIOLATION WITH THE DISTRICT ATTORNEY.
nagel, vazquez, cardenas, sargent and langston ...all above the law...................
FRANK CADY- 10/21/03
"LMUD legal counsel Frank Cady said the contracts were necessary because of recent arrests and convictions of chief executive officers from various companies."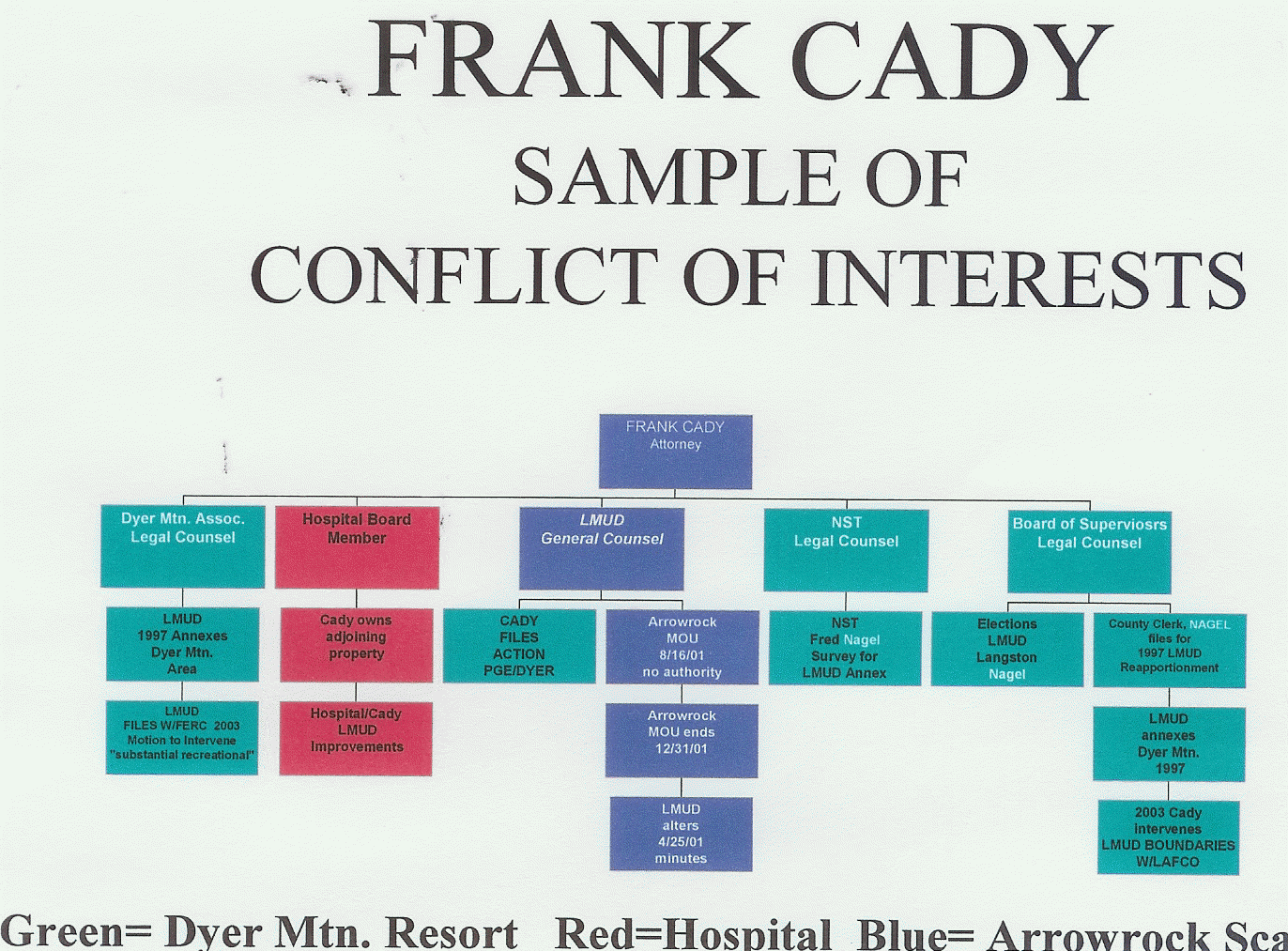 Cady was a no-show at the LMUD November 6 meeting and the LMUD December 4, 2003 meeting???????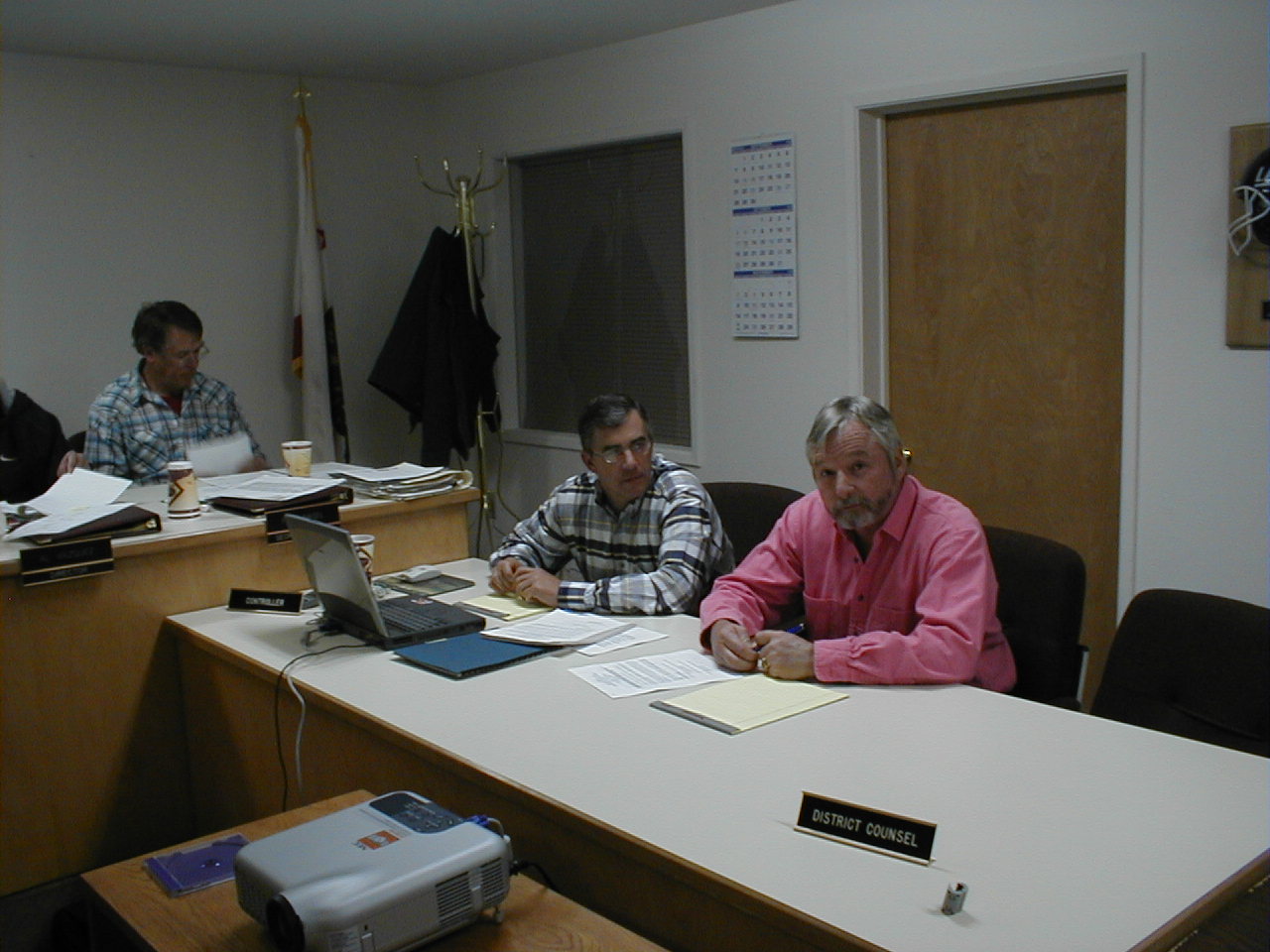 No this is not Frank Cady....but Craig Kellison.
Granted......, Kellison would be a vast improvement over our "pretend" attorney. Craig Kellison is U.S. Magistrate link
EXPOSED CORRUPTION JUST A DIFFERENCE OF OPINION
Link LMUD & Cady corruption just a "difference of opinion"
cady losing ground & personally threatens kwh
Frank Cady writes to KWH; Letter dated 8/15/03
"LMUD continues to keep track of these misrepresentations, manipulations, and false filings for future use. As the KWH/Spencer vs. LMUD matter becomes ripe, LMUD will be using depositions, document subpoenas, interrogatories and other discovery tools to obtain, under oath, all KWH membership information." THE JUDGE SAID NO.................
If the LMUD Board of Directors truly wanted, to be responsive to the public and reduce legal fees to an absolute minimum, they would make a change in legal counsel.
The present legal counsel has so many conflicts of interest that it has become impossible to tell who he represents.
++++++++++++
Pay no attention to the man behind the curtain............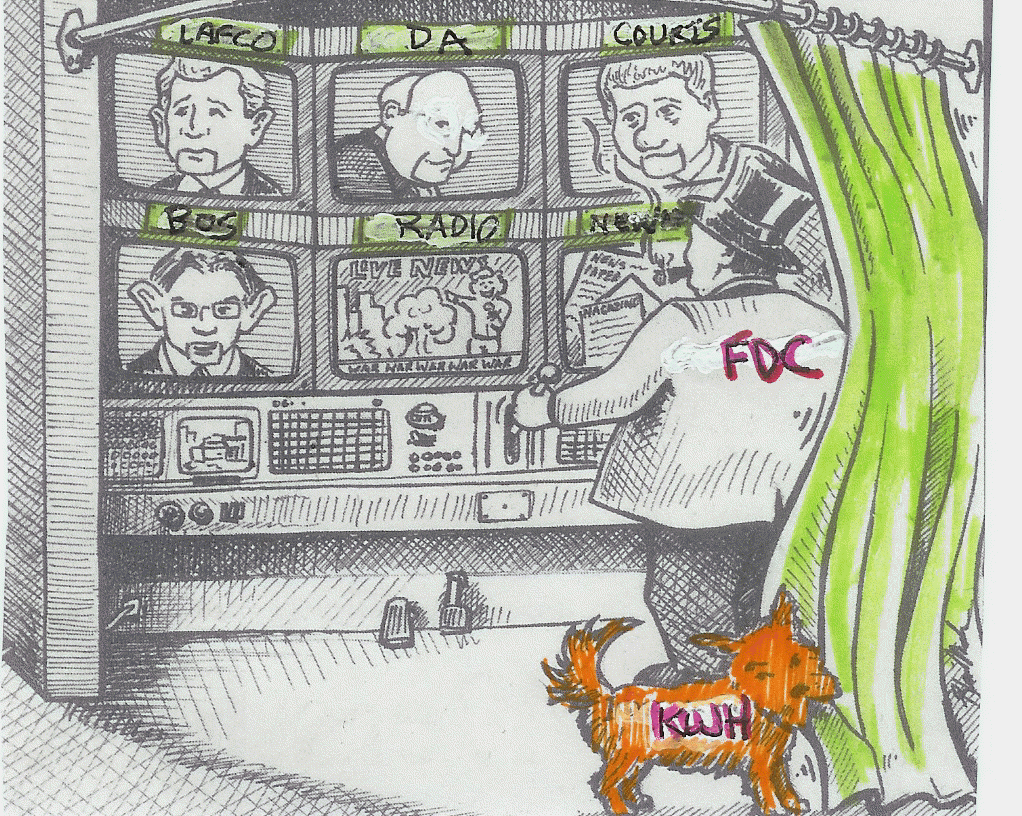 FRANK CADY HIRES YET ANOTHER LAW FIRM.
This LMUD Board voted to sign another legal contract. LMUD now has 5 law firms that deal exclusively in energy. Gross redundancy, gross waste of money.........gross incompetence by LMUD.
The LMUD Board is trying to tell the public that they cannot depend on the skills of an attorney that has represented this utility district for 14 years.
Cady vows to improve the secrecy of his LMUD actions
See August 21, 2003 letter to ratepayer
LYING , CHEATING, AND MORE
KWH ASKS FOR HIS CONTRACT TO BE TERMINATED.
KWH has submitted substantial evidence to this LMUD Board to show unethical conduct, conflict of interest, padded invoices, breach of contract and there is more coming.
The list is long and undistinguished.
Is the LMUD Board scared of Cady....you betcha
Is the LMUD Board part of the problem....you betcha, if they continue to keep a corrupt general counsel that has gone way over the line...............
CAN YOU RECALL THIS BOARD......you betcha !!!!!!
Click here for MORE INFORMATION:
Cady Contract LMUD v PGE P-2105 on Hold
KWH FILES PROTESTS CADY'S FAKE LMUD LAWSUIT
Why does a 10,000 meter utility spend $250,000 a year on legal services when the legal contract says $72,000.
Click on this link: $1000 TO $6000
Answer: Because no one is smart enough to tell him no! Their legal counsel creates unnecessary legal problems, bills LMUD for work done for Cady's other clients, involves LMUD in unnecessary costs for self-serving and self promoting issues.
Solution: A responsible manager would terminate Cady's contract and retain legal services from a reputable attorney on an AS NEEDED basis.
Cady received $78,330 in 2000
Cady received $325,474 in 2001 (This is the year LMUD took Cady's advice and bought $12.1 million worth of power that they did not need and ended up not being able to pay for it...or sell it)
Cady received $201,873.12 in 2002
Cady received over $250,000 in fiscal year 2002-2003.
Cady received over $282,000 in fiscal year 2004.
IS CADY GOOD FOR LMUD...........NOT NOW, NOT EVER.
LMUD buys influence in boundary issue. Cady hires LAFCO attorney
A formal complaint was filed with the Attorney General and the local District Attorney against Frank Cady (LMUD general counsel), Jaimee Richey (counsel for LMUD) and John Kenny (general counsel for LAFCO)
John S. Kenny (Moss & Enochian, aka Enochian & Kenny) is presently counsel for the Lassen County LAFCO Board. Due to conflicts of interest, John Kenny cannot represent any other public entity within LAFCO's jurisdiction (Lassen County).
Cady & Pardee (Frank Cady and Jaimee Richey) are presently representing Lassen Municipal Utility District. LMUD is a public entity within LAFCO's jurisdiction.
Cady & Pardee (Frank Cady & Jaimee Richey) hired the firm of Moss & Enochian (John Kenny). John Kenny received a payment of $542 on March 31, 2003 from LMUD's general counsel Frank Cady. KWH received a copy of Cady's invoice through a Public Records Request.
In addition, John S. Kenny billed LAFCO for a conversation with Frank Cady on May 30, 2003 for $154.00. KWH received a copy of John Kenny's invoice to LAFCO through a Public Records Request.
A ratepayer brought the boundary issue before the LMUD Board of Directors beginning in January 2003.
Two non-ratepayers sit on the LMUD Board, Wayne Langston and Fred Nagel. The public has protested these non-ratepayers sitting on the LMUD Board since March of 2001. Langston and Nagel are PSREC customers. Theresa Nagel, husband of Fred Nagel and mother-in-law to Wayne Langston, allowed them to run for the LMUD Board knowing that they were not ratepayers. Theresa Nagel is presently the Lassen County Election officer.
LMUD is a customer based utility. When the LMUD Board of Directors refused to review LMUD boundaries the issue was taken to LAFCO at the May 12, 2003 meeting. On May 30, 2003 Frank Cady called John Kenny. John Kenny subsequently calls LAFCO's Executive Officer, John Benoit to tell him that he was not to take any action on the LMUD boundary issue. Kenny sent John Benoit a fax to confirm this. A LAFCO special meeting was called for June 2, 2003 to discuss the LMUD boundary issue and ....NO ACTION WAS TAKEN. John Kenny told LAFCO that the LMUD boundary issue was not within LAFCO's jurisdiction.
At the July 14, 2003 LAFCO meeting, ratepayers submitted substantial evidence that the LMUD boundary issue is well within LAFCO's jurisdiction. Ratepayers filed a complaint against John Kenny for his unethical actions on the LMUD issue. A complaint was also filed against Frank Cady and Jaimee Richey.
The LMUD service area boundaries have significantly changed since 1997. A reduction or addition to the service area effects the elections. PSREC service customers are allowed to vote in LMUD elections and two have been elected to the LMUD Board.
The complaint states that JOHN S. KENNY, FRANK D. CADY, JAIMEE A. RICHEY have willfully conspired to influence and change the business of LAFCO. They cooperated with each other to deceive the public and engaged in conflicts of interest. These attorney's have caused and are causing substantial harm to the public.
LMUD ALLOWS CADY TO INTERVENE IN PG & E'S HYDRO LICENSE
Recent activity on the FERC license P-2105 involves stopping PG &E from effecting the recreational facilities at Walker Lake...future home of Dyer Mountain.
LMUD filed a "Motion to Intervene" when PG &E filed an application with FERC to alter their hydro license for that area.
Cady billed LMUD ratepayers for work that he did on the PG & E hydro issue. Thousands of dollars of work that ratepayers ended up paying for.
Evelene Twitchell authorized these Cady invoices. She is either "dumber than dirt" or she is in collusion with Frank Cady and the Dyer Mountain group. There is no winning choice here.
FRANK CADY BRINGS US CRIMINALS
Frank Cady brought us Enron. Don Battles and Timothy Belden signed the Enron contract on June 12, 2001. Belden is going to jail.
Frank Cady brought us Arrowrock. Don Battles was told to sign the Arrowrock Power Purchase-Sales Agreement on August 9, 2001. Only the body of this document indicates that it is NOT a Power Purchase-Sales Agreement but only disguised as such. It simply obligates LMUD ratepayers to build, construct and maintain a hydroelectric facility ($32.5 mil) that could only give us surplus energy. There will be no surplus energy. LMUD signed this document that commits ratepayers to deal exclusively with the Boise group for long term power. This exclusivity ends when the MOU is no longer in effect. The Boise Project Board of Controls stated to FERC that the exclusitivity ended in December of 2001.
Did the Boise group know about the long term (7 years) agreement Don Battles had signed three months earlier? Conspicuously absent, in the Arrowrock MOU, is a PPA (Power Purchase Agreement) .
LMUD signed a "Power Purchase-Sales Agreement" with Enron on June 12, 2001.
Mr. Langston and Mr. Cady have advised the Boise Project Board of Controls that the "Power Purchase-Sales Agreement" (????) signed in 2001, by Don Battles, is still in effect.
If this is true, this presents quite a few major problems for the Boise Project Board of Controls and the Lassen Municipal Utility District.
Did the Boise Group know that on June 30, 2001, LMUD had declared an $8.7 million loss?
Frank Cady brought us Coral Energy , as reported by the Lassen County Times reporter Bill Noonberg. HEADLINES December 30, 2002: LMUD HAS NEW POWER SUPPLIER.
"The real credit goes to General Manager Les Leiber and General Counsel Frank Cady for their efforts, said Langston."
Coral Energy is under indictment also.
We need to look in to the reason Mr. Cady presents the LMUD Board with criminals.
We need to look in to the reason the LMUD Board continues to deal with criminals.
DON BATTLES , FORMER LMUD GENERAL MANAGER, IS STILL RECEIVING CHECKS FROM LMUD?????????????