1/27/09 LMUD Board terminates Jaimee Richey/Jones
LASSEN MUNICIPAL UTILITY DISTRICT
SEEKING NEW GENERAL COUNSEL ?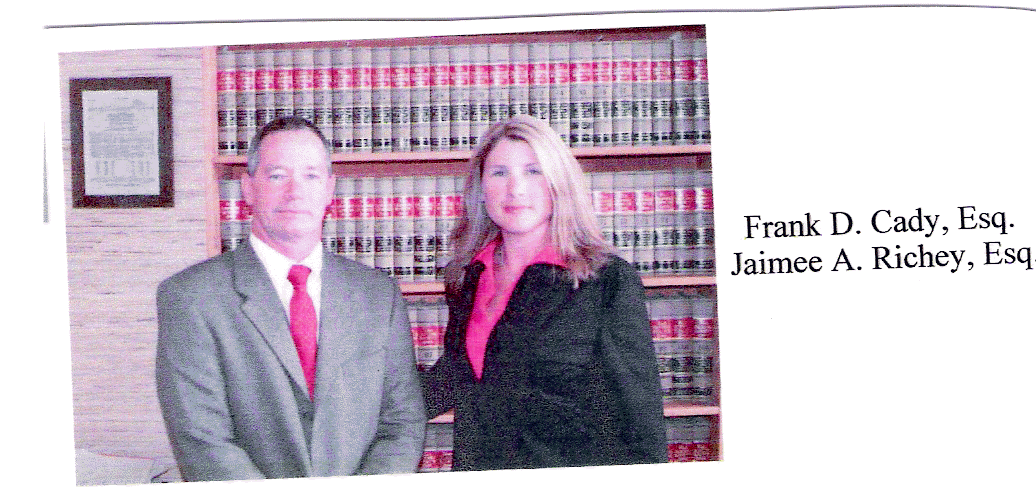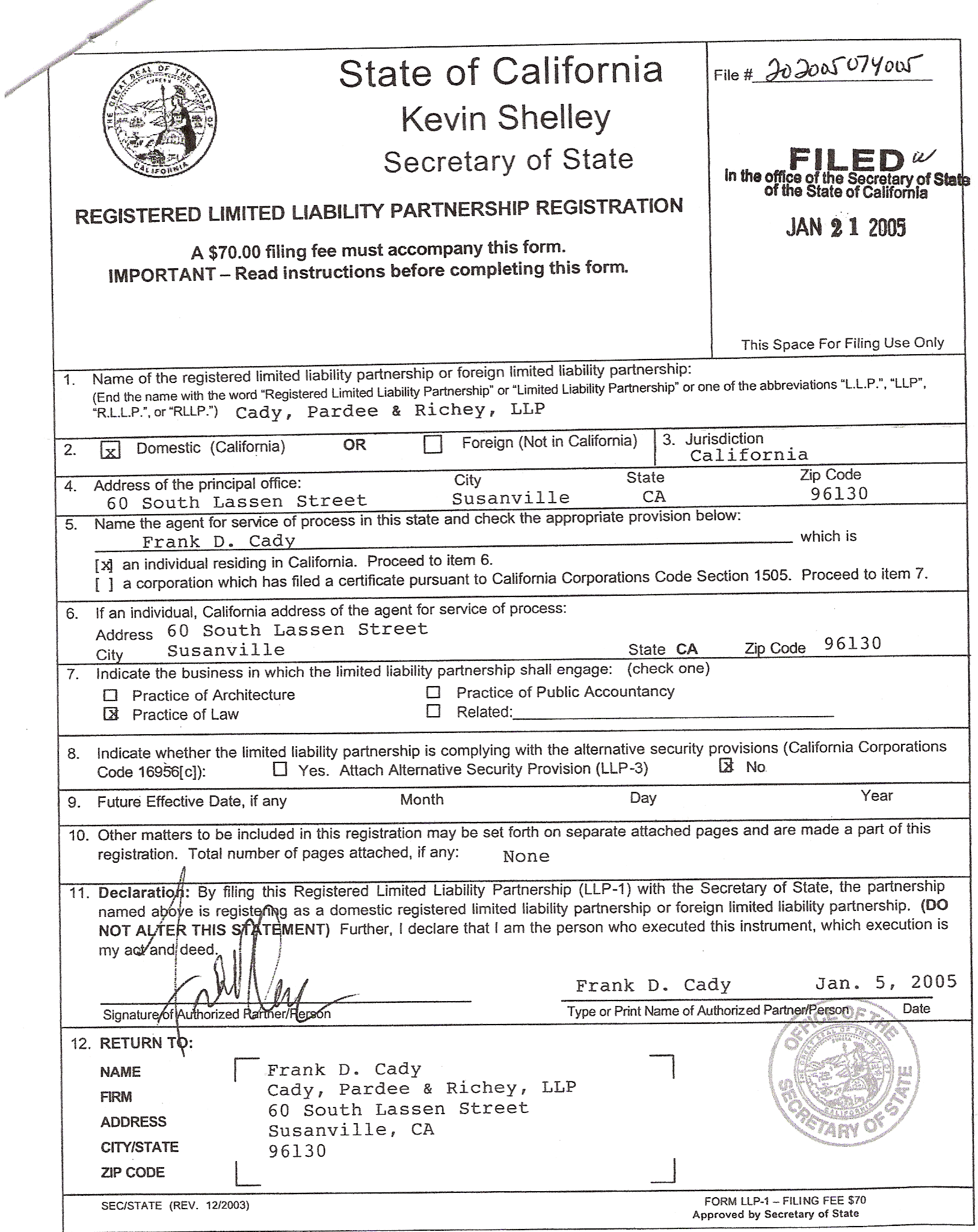 Jaimee Richey/Jones (Frank Cady's law partner) given 30 day notice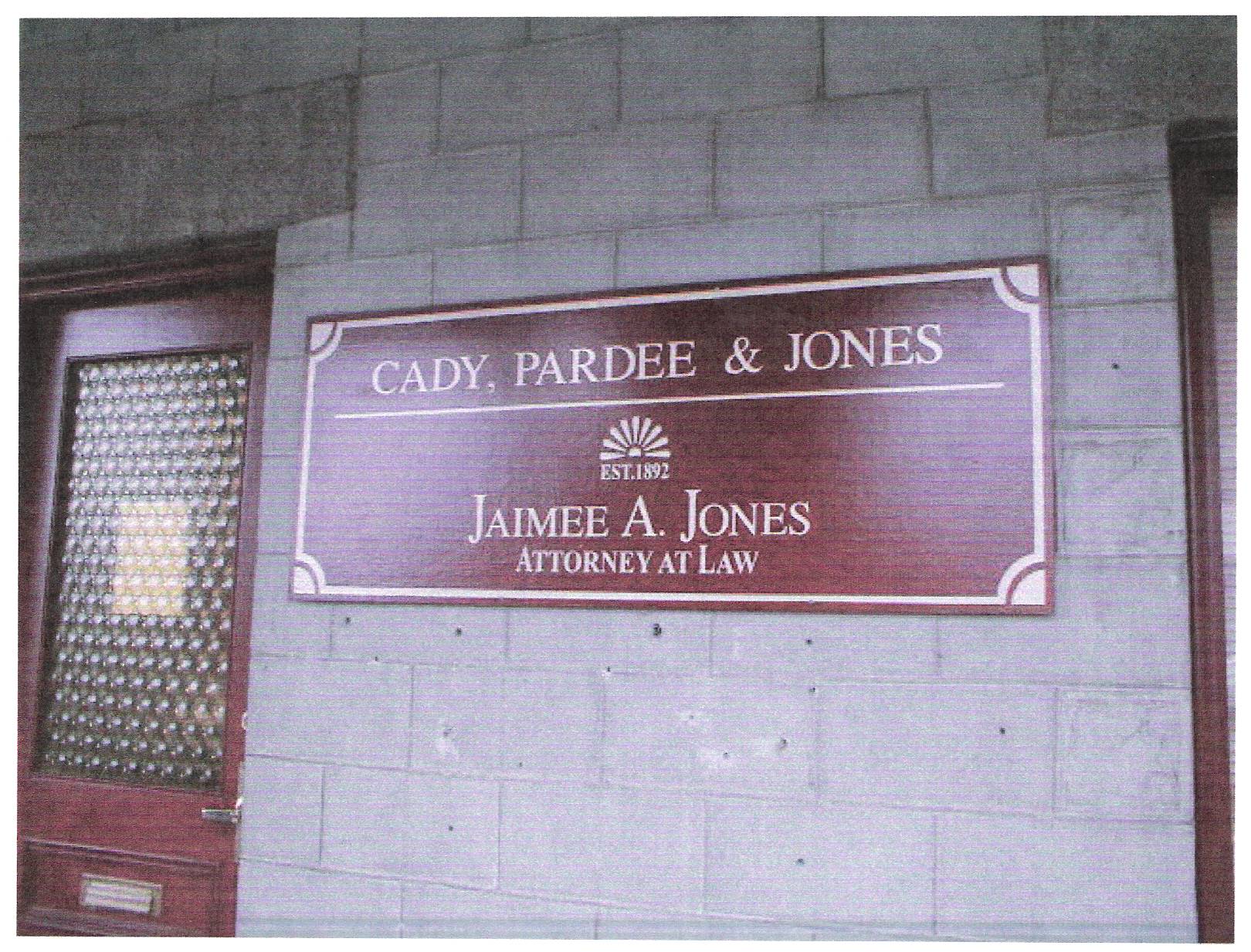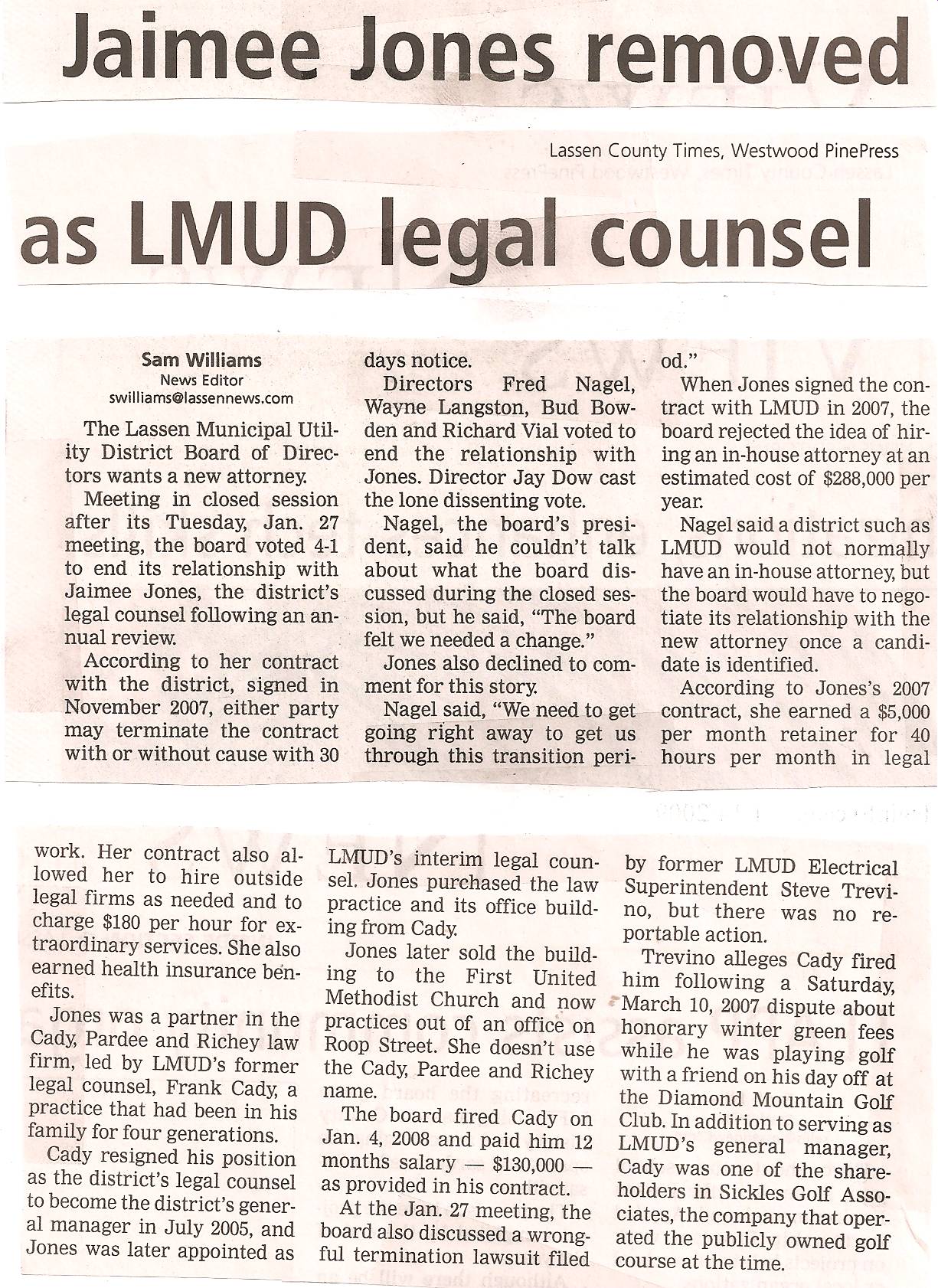 A New Era at LMUD.......hopefully
It took the LMUD employees and fed up ratepayers to usher in a new era at this public utility.
KWH (a local watchdog group)dared to file a Writ of Mandate to obtain public documents, in 2002, to expose the corruption at this small utility.
The ratepayers dared to recall the LMUD Board.
The employees dared to demand that Frank Cady be fired.
Kan We Help is very honored to have been a part of this change.
In 2002, LMUD would not disclose what they were paying the Board members, what they were spending on the phony Arrowrock hydro project. KWH did an unprecedented act...they challenged Frank Cady. To request public documents from LMUD then... you would be met with insults and threats by Frank Cady and you would not have a remote chance of obtaining ANY PUBLIC DOCUMENTS FROM LMUD. Frank made sure of that.
KWH has dozens of insulting and threatening letters from Frank Cady. When KWH persisted, the documents received were redacted so heavily that they were unrecognizable.
Other than employee records, there isn't too much at LMUD that is not disclosable, but the newly replaced LMUD Board were told by Frank Cady that the public does not have a right to know how much they are spending and what they are spending the public money on.
KWH requested records of the Board Salaries. These salaries are fixed at $600 a month by law. LMUD's attorneys, Frank Cady & Jaimee Richey/Jones refused to disclose these documents.
KWH requested a copy of the Arrowrock Feasibility Study. The ratepayers were told that they paid for this study ($150,000). Frank Cady went into court and lied. He told the court that this was never finished and it didn't belong to LMUD. Yet, this same study was used in a RFP for the Arrowrock Hydro Project in October 2001, prior to the KWH filing the Writ of Mandate.
JUDGE RIDGELY LAZARD "REFUSED TO LOOK AT THE STUDY" IN ORDER TO DETERMINE IF IT WAS A "DRAFT"
LMUD, according to FERC documents, was involved with the Arrowrock project from December 2000 to December 2001. Due to lack of feasibility, the project did not move forward and the FERC license was terminated by the Federal Energy Regulatory Commission.
KWH requested copies of Frank Cady's and Jaimee Richey/Jones legal invoices for their Arrowrock work. Frank Cady admits to working on and being paid for Arrowrock but tells the court that he did not itemize the work. Cady claimed that, for the period that KWH was requesting, these invoices suddenly did not identify Arrowrock work.
JUDGE RIDGELY LAZARD "REFUSED TO LOOK AT CADY'S INVOICES" IN ORDER TO DETERMINE IF THERE WERE ARROWROCK ENTRIES.
Judge Ridgely Lazard (this judge lost his seat on the bench at the next election) ruled that this Writ of Mandate was "frivolous".
FRIVOLOUS (?)..... IT WAS NOT
Judge Lizard (a very close friend of Cady) ruled that KWH must pay $74,000 in legal fees. This decision was meant to leave a "chilling effect" on anyone else that would dare to question Frank Cady.
This amount was based on Frank Cady and Jaimee Richey/Jones "Exhibit A". KWH submitted to the court that this "Exhibit A" had been grossly and fraudulently inflated. The court agreed and reduced it by $24,000. Cady and Richey/Jones had included fictitious charges.
KWH appealed Lazard's decision in the Third District Court of Appeals. The Appellate court upheld Lazard's ruling but questioned again more of Cady's alleged legal costs.
The Appellate court appreciated, as did Lazard, that to overturn the lower courts decision would then expose Cady, Richey/Jones and the LMUD Board to fraud.
KWH and Jaimee Richey/Jones (Jaimee Jones was recently fired by LMUD on 1/27/09) appeared in court on
2/9/09 to determine KWH's ability to pay $50,000 in legal fees. Jones admitted, to the court, that many mistakes were made on "Exhibit A".
KWH submitted evidence to the court that LMUD had been consistently "overcharged" by Jones and Cady over a period of seven years. (Please do not ask why the LMUD board has tolerated this excessive billing)
The Third Appellate Court remanded this case back to Lassen County to determine the "ability to pay".
KWH has no ability to pay
Jaimee Richey/Jones has been ordered, by the current LMUD board, to go after pensions, savings, homes, vehicles, personal property and anything of value to repay the ($)$50,000(?) so as to deter the public from ever invading their "private" company again.
There was no order for Jaimee Richey/Jones or Frank Cady to "repay" the seven years of inflated, grossly excessive and fraudulent legal invoices charged to LMUD
......that was the Bad News. the good news is:
Judge Lazard was not re-elected
Frank Cady was fired
Jaimee Jones was fired
the phony Arrowrock Hydro project was terminated
More corrupt LMUD members are gone
LMUD's Public Records Policy Needs to Change and comply with the law
1. The present policy of Lassen Municipal Utility District's is to demand that the person requesting public documents must use LMUD's PRA form. The Third District Court of Appeals deemed this policy not in compliance with the Public Records Act. The Court stated that the Public Records Act requests can be in written form or by an oral request. LMUD attorney's have been allowed to delay and refuse requests because the Requester has not used one of LMUD's forms. LMUD's PRA form cannot be "mandatory".
2. Next, the requests for public document are given to their attorney to process. This is a very expensive and unnecessary step Cady installed as a "selfserving" policy. This policy increased his legal fees. The flaw in this policy was also ABUSE. The LMUD General Manager makes the copies but never knows what documents are eventually sent out or what has been redacted.
Example: Les Leiber was appointed interim General Manager when LMUD's 5th General Manager (in a two year period) Evelene Twitchell "suddenly" left. KWH had attempted to get confirmation of the LMUD Board's payments many different ways. KWH was attempting to confirm that the LMUD Board was not being "overpaid". All requests were initially denied.
In a final attempt to obtain this "disclosable" record, KWH requested copies of the General Ledger account for Board salaries. Leiber complied and made copies of a spread sheet that he claimed had each of the Board members gross salaries on it. This was clearly in compliance with KWH's request for these documents. However, these spreadsheets were ultimately released by Frank Cady to KWH without the "amounts". The court relied heavily on Les Leiber's declaration that he indeed gave these documents to Frank Cady with the Board salaries. What Les Leiber did not know was that Cady did not send those documents.
KWH then included this issue of non-compliance, in their Writ of Mandate filed in December 2002. What was amazing was that when the Writ was heard in Court, Frank Cady lied to the court and produced the spreadsheets with the board salaries clearly included and noted the stamped document numbers at the bottom. The only problem, LMUD was not stamping documents then. Cady was caught in an outright lie and Judge Lazard just ....overlooked Cady's lie.
3.The General Manager should be able to manage the PRA requests. If a questionable request is received then ask for legal advice. There isn't very much that is not disclosable at this public utility and the exceptions should be very easily identified by LMUD's General Manager.
October 23, 2007 LMUD minutes reveal LMUD Chestnut property was contaminated
This property was worthless and LMUD paid $381,232 for it.
LMUD secretly purchased property that they knew was contaminated
This LMUD Board was told repeatedly that there was contaminates dumped on this property on Chestnut, as far back as 2002.
In 2006, Jaimee Richey, Fred Nagel and Frank Cady negotiated to buy property for LMUD from their friend Jack Beterbide that coincidentally Beterbide didn't even own the property AND VIOLATED THE BROWN ACT to boot.
In March of 2006, Kan We Help filed a Brown Act complaint with Robert Burns, which was ignored. Now we know why.