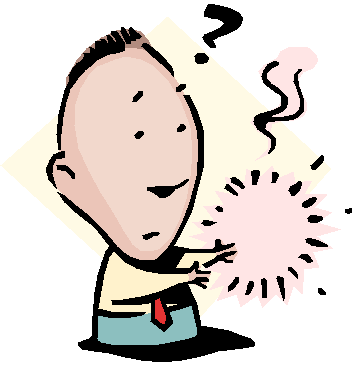 Bill Stewart, Mr. Poof :
Fred Nagel's Keeper of Secrets
Conflict of Interest Complaint filed on 6/10/11
"Mr. Poof"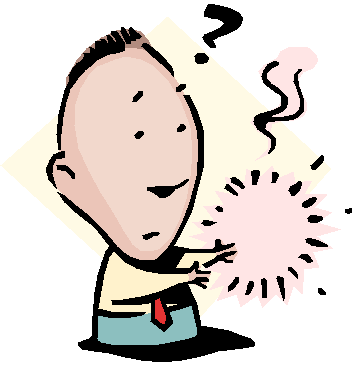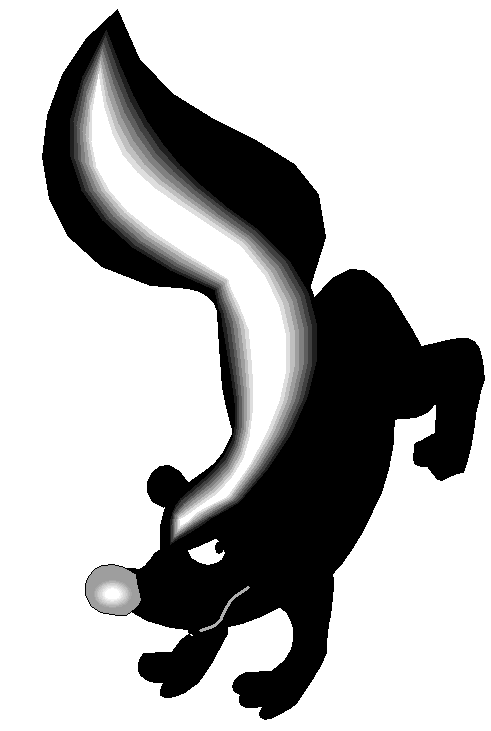 Kan We Help Files "Conflict of Interest" Complaint
with LMUD and the Lassen County District Attorney
AGAINST BILL STEWART

Bill Stewart signed FIVE (5) Easements for LMUD Director Jay Dow and ONE (1) for his close friend LMUD Office Manager Kerri Richards immediately after being appointed LMUD General Manager
Any action on executing a "Deed or Grants conveying any interest in or easement upon real estate" must be passed via a Resolution at a public meeting by the LMUD Board. However, on May 26,1999, the LMUD Board signed Resolution 99-02 that gave the General Manager, "from time to time, as appropriate" to use Resolution 99-02
LMUD's General Manager Ray Luhring was told that his last day would be March 25, 2011. Did he refuse to process these easements behind closed doors and without the publics knowledge ?
Immediately, after Ray Luhring left, the LMUD Board appointed their bookkeeper, Bill Stewart, their General Manager and on April 15, 2011 Bill Stewart exercised the authority given the General Manager in Resolution 99-02. Why ?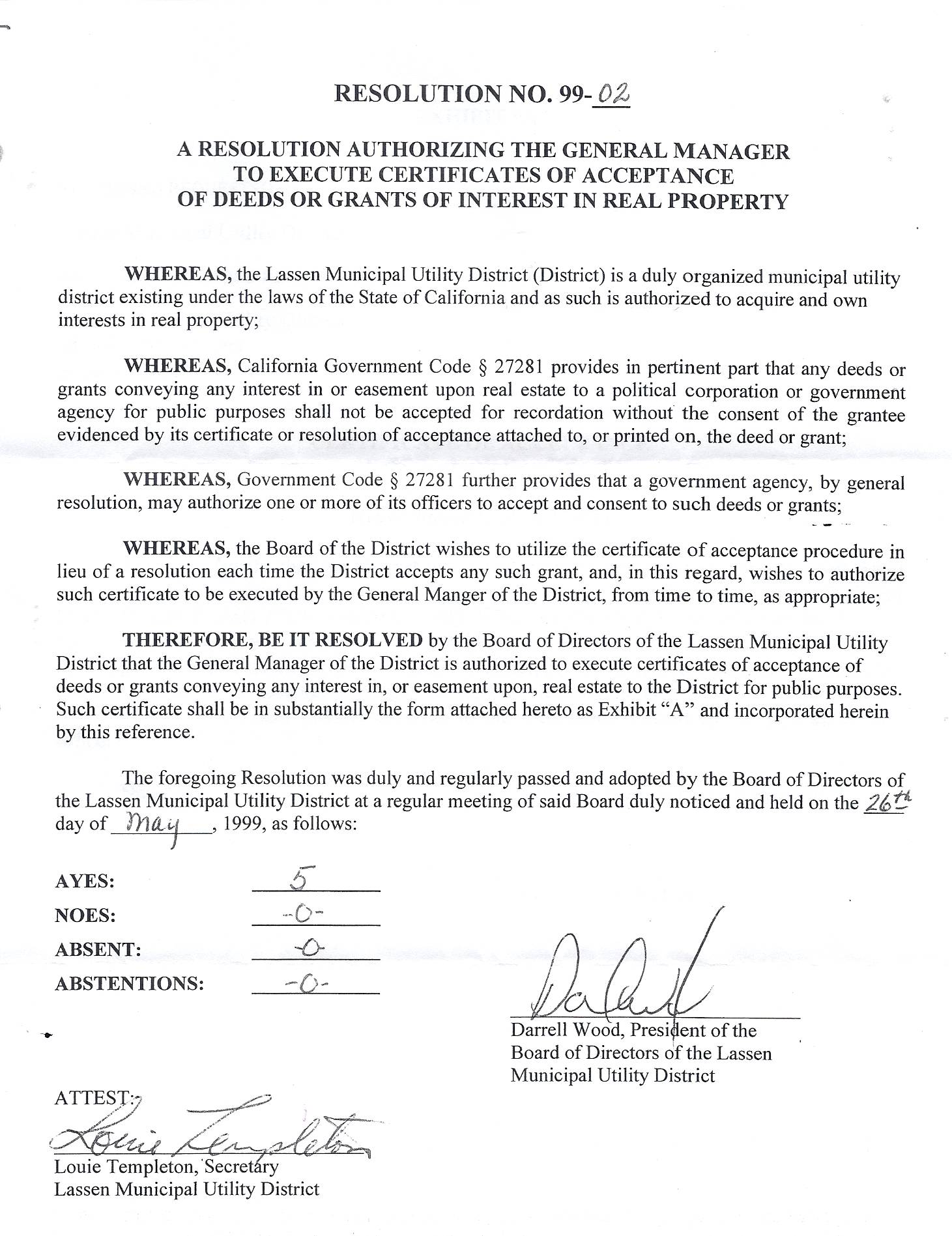 LMUD Directors Louis Templeton and Darrell Wood were recalled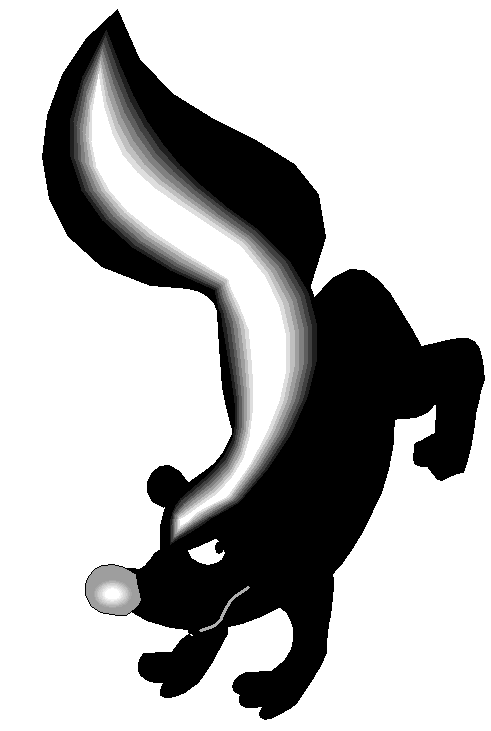 Bill Stewart's actions could be a Brown Act Violation
LMUD BOARD
CONTINUES TO BE TERMINALLY CORRUPT ?
Does that surprise ANYONE?
Don't expect the LMUD Board Members, directed by PSREC customer Fred Nagel, to have an epiphany anytime in the next three years
Bill Stewart, LMUD's Mr. Poof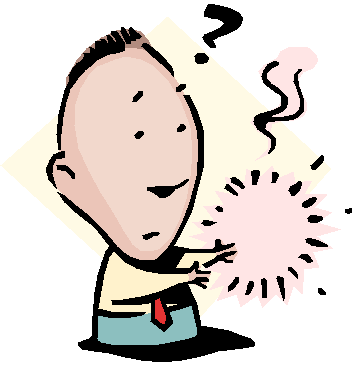 LMUD Health Care funds
Stewart's only qualification to be the 11th General Manager in 11 years is that he will be
the "Keeper of Secrets"
Bill Stewart came from San Jose, California. He claimed that he had 20 years of experience and worked 16 of those years at a large accounting firm. Stewart stated that he assisted attorneys and clients with their litigation. Stewart claimed that he was the President of the "Clovis Rotary and the Clovis Rodeo Association"
Absolutely no experience with public utility management.
TERMINALLY CORRUPT
How much does SILENCE COST LMUD?
STEWART'S SALARY BEFORE:
170,000 minus $117,500 =$52,500 increase in salary for Stewart
New cost for an unqualified General Manager$170,000 minus $155,000 = $15,000 increase
NO CONTRACT FOR STEWART ??????????
BILL STEWART NEVER HAD CONTROL OF LMUD FINANCES
The 2003/2004 Audit revealed that Bill Stewart never had any control over LMUD finances. The Auditors severely criticized Stewart and his performance and cited that LMUD was in violation of state statutes and exposing the District to unlawful distribution of public funds.
Bill Stewart, Frank Cady's friend, is obviously qualified to handle LMUD finances Frank Cady's way
Bill Stewart "re-categorized" the Public Benefits account.....that's a NO, NO
Stewart changed it to Customer Service...... WHY....SO THE PUBLIC CAN NOT TRACK THE ACTIVITY OF MONEY.
FILE A PUBLIC RECORDS REQUEST: Track the Public Benefits Fund General Ledger account #134.825. File a PRA request with LMUD for the Public Benefits Fund history. State the time period that you wish information on (From...To) The fund was established in 1998. Click here for LMUD PRA form
LMUD PAYS FOR MEMBERSHIP IN ROTARY
$290.00
"GIFT OF PUBLIC FUNDS"
LMUD pays for Bill Stewart to join the Rotary Club. This is a private club and membership should be paid by Bill Stewart. This is public money they are spending for private clubs.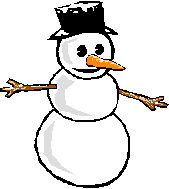 Merry Christmas Bill Stewart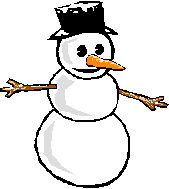 Ratepayers are paying for the time he spends
attending the Rotary meetings and $240.00 of food.
Benefit to ratepayers.................ZERO Suggestion: Take the $290 and pay a utility bill for a family in need
These gifts are paid through management expense reports so you won't find a check made out to Rotary. Keri Richards is a member. How many LMUD managers are members, how many memberships has LMUD paid for?
Stewarts Expense Report (obtained through the Public Records Act)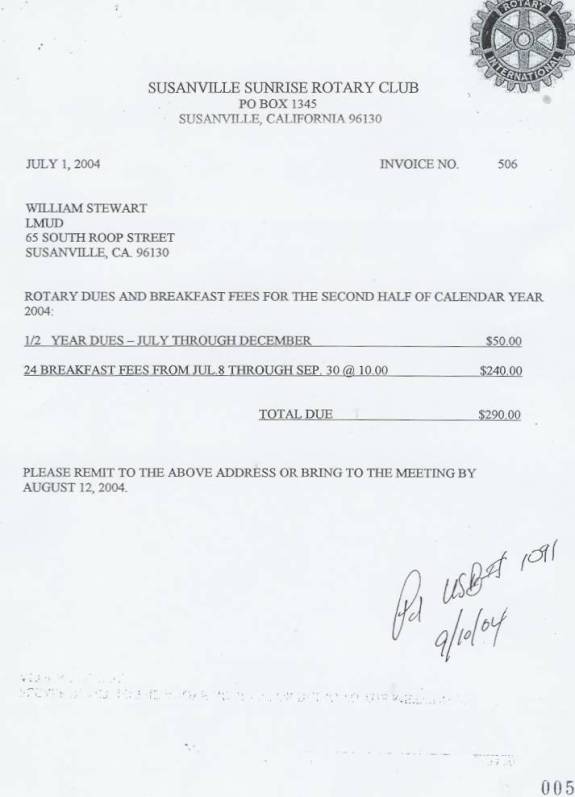 LMUD SEEKS "OUTSIDE" AUDITOR TO REVIEW ACCOUNTING SYSTEMS
December 8, 2004
KWH submitted a complaint with LMUD that Frank Cady was in breach of his contract and had been overpaid by hundreds of thousands of dollars. LINK
LMUD OVERPAYS YET ANOTHER "LAW" FIRM
Duncan, Weinberg, Genzer & Pembroke's invoice was approved by Jamiee Richey. LMUD should wake up and start checking all invoices from Cady & Pardee.
Although LMUD has at least four people that check these invoices before they go out, Stewart, Stewarts assistant, Twitchell and a LMUD Board Member. This time it was a $2,730.36 overpayment....????? Who do you point the finger at for this incompetence? How much more of this is out there?
All legal invoices are approved initially by Frank Cady?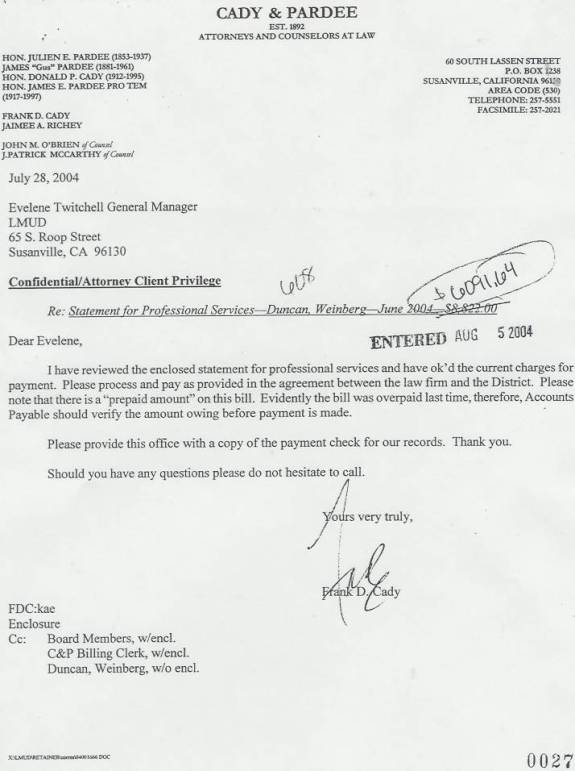 LMUD Controller,
Bill Stewart pays law firm twice
Al Vazquez signed the check
Bill Stewart said he needed help, although no controller before him needed help with the accounting for this small utility. He couldn't do the work so LMUD hired an assistant for him.
This is LMUD's Accounts Payable Process:
1. Spiegel and McDiarmid's invoice is sent to Frank Cady.
2. Frank Cady gives it to Jamie Richey ? (she practices agricultural law)
3. Jamie Richey approves the invoice to be paid
4. Jamie Richey sends it to LMUD's Controller, Bill Stewart
5. Bill Stewart gives it to his assistant to process for payment
6. Evelene Twitchell approves the payment
7. LMUD Board of Directors sign the check
KWH requests LMUD's documents for this very reason, abuses and mismanagement and maybe incompetence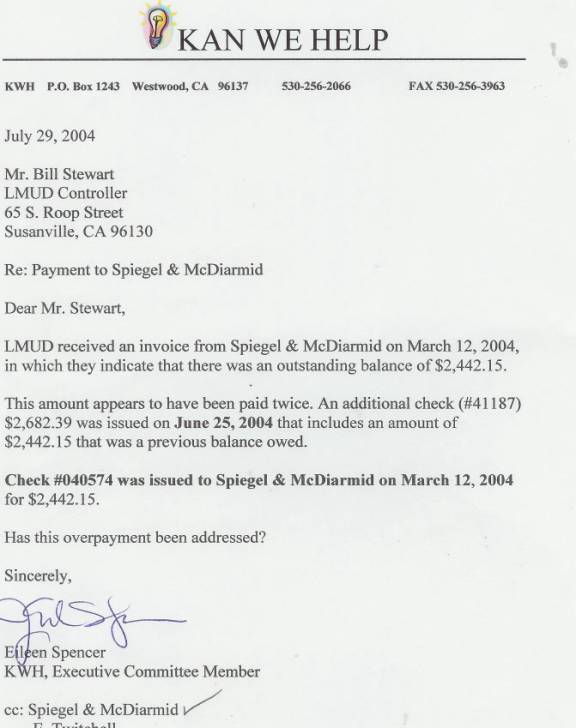 LMUD's business has not increased but has DECREASED. On May 1, 2004, 1000 customers were given to Fred Nagels, Plumas Sierra Rural Electric Cooperative. So, Twitchell and Stewart can not claim that they are busier....
Spiegel and McDiarmid is one of the many redundant law firms that LMUD has hired for Frank Cady. This firm and four others could have handled the latest contract that LMUD signed with Twitchells, Davis Power Consultants (see story below)
************************
LMUD CONTROLLER CRIES FOR HELP
LMUD Controller (a CPA) cries for additional help, the LMUD Board hires an accountant for the Controller.......and all the ratepayers get is excuses for mistakes.
LMUD Controller, Bill Stewart gets his wish. LMUD hires an additional person to assist him and they can't get our bills right. This LMUD Board continues to waste our money. There is absolutely no reason for any LMUD ratepayer to feel comfortable about their LMUD bill.
Bill Stewart is the same person that published LMUD's financials showing a $4 million dollar loss.
Bill Stewart is the same person that published in the "Ruralite" magazine that LMUD had taken off the surcharge. The 3% surcharge was never taken off. Stewart just lied to the ratepayers. LMUD promised to take this surcharge off years ago, but never did. PG&E and PSREC have both taken their surcharges off.
Bill Stewart is the same person that is scraping the new computer software that LMUD has spent hundreds of thousand of dollars on since Stewart was hired.......
GROSS MISMANAGEMENT
TWITCHELL IS FORCED TO TELL THE TRUTH...DESPITE BILL STEWARTS FALSE STATEMENT THAT THERE HAD BEEN A RATE DECREASE LINK
************************************************
LMUD Controller makes false statement in Ruralite Magazine
Bill Stewart, LMUD Controller, is allowed to place a lie in the Ruralite Magazine. LMUD General Manager writes KWH stating that there was no surcharge removed but at the LMUD meeting on January 7, 2004, she told the public that there was a surcharge reduction in "January". She fell short of saying January of 2002!!!! Ratepayers are still under a $ .035 surcharge that LMUD promised to remove.
Stewarts statement in Ruralite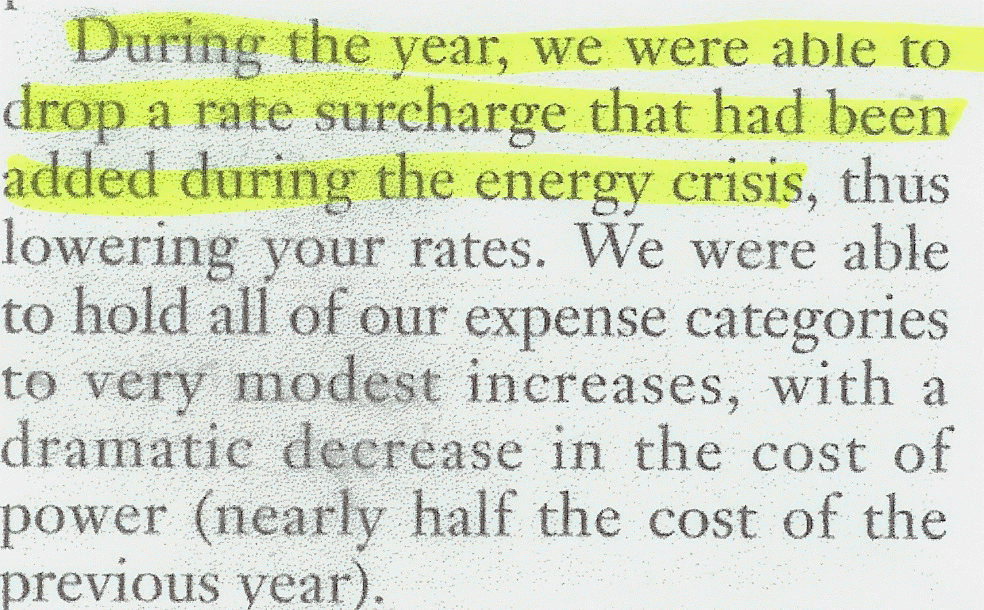 his isn't the first major mistake Stewart has made
Maybe its the coffee?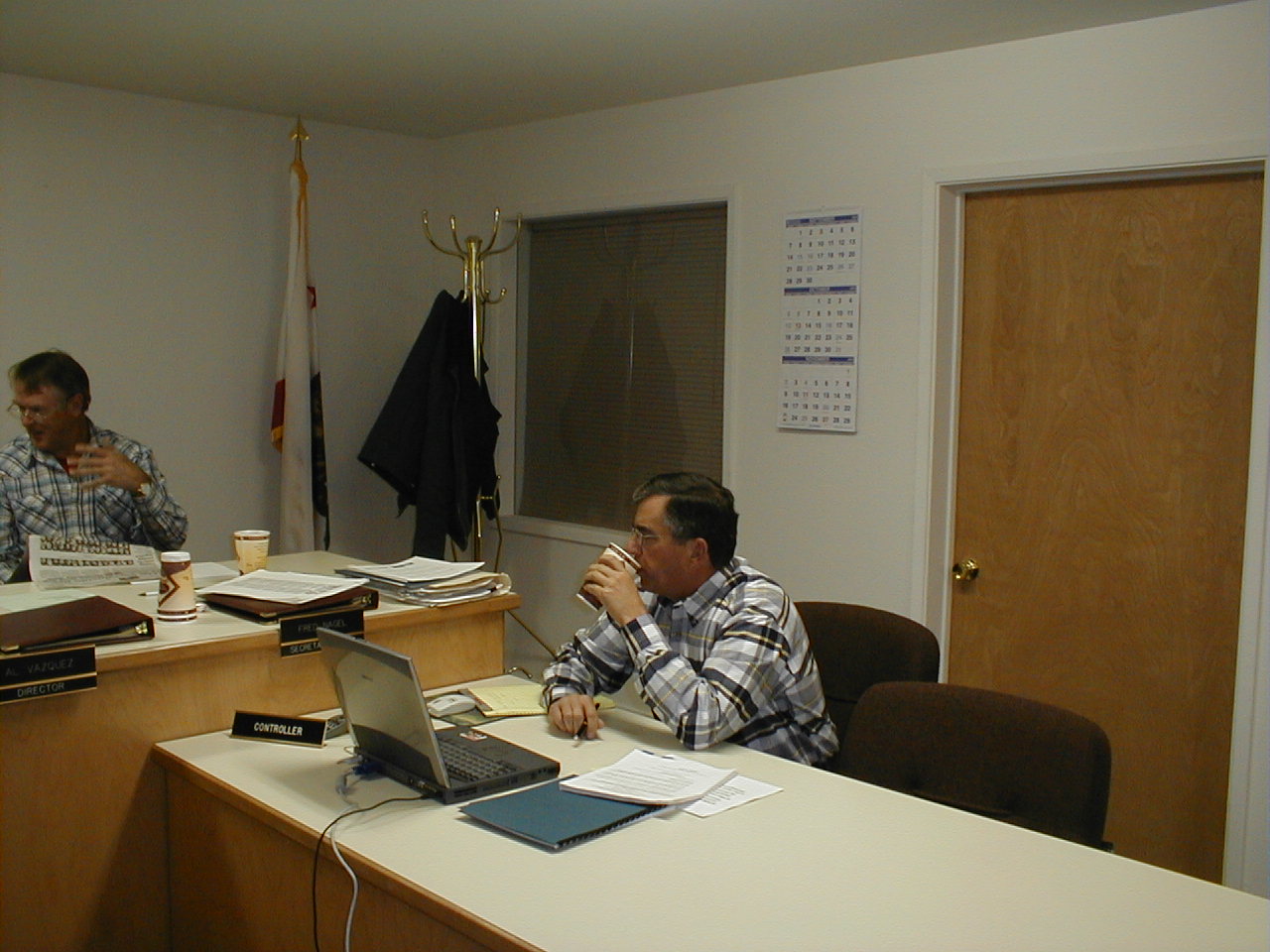 LINK Twitchell forced to set the record straight: NO REMOVAL OF SURCHARGE.
LMUD SCRAPS COMPUTER SOFTWARE AFTER SPENDING OVER $100,000.
Keri Richards, Customer Service Manager and Bill Steward, Controller, scrap software after spending thousands of dollars training staff. LMUD is switching to PCS (Professional Computer Systems) and has spent $16,651.80 to date... Does anyone at LMUD really know what they are doing. Poor Poor Management.