Frank Cady over-bills LMUD hundreds of thousands of dollars for work covered by his $6,000 monthly retainer Cady Contract
Somebody needs to go to Jail
KWH exposed Cady's over-billing and now Cady thinks that by changing his "over-billing" practices NOW, that he won't have to account for or pay back the hundreds of thousands of dollars he was overpaid.
How much is the LMUD Board of Directors involved with this?
How much is Twitchell involved with this?
"Both" approved all of these payments !!!!!!!!!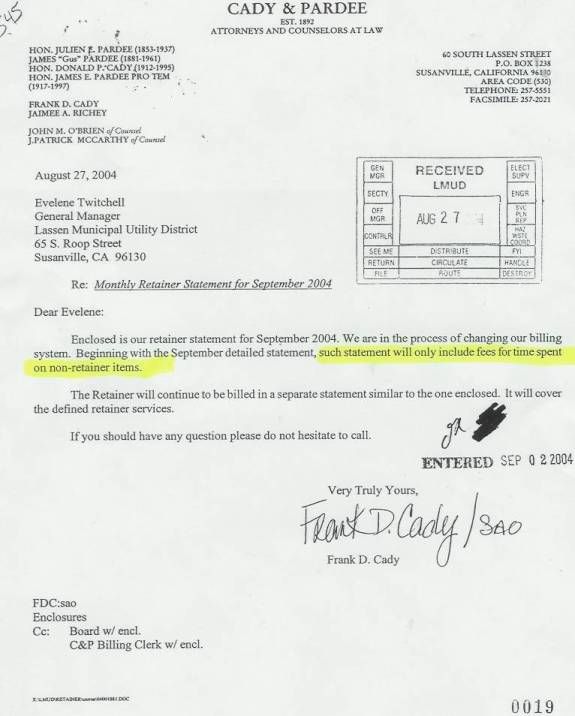 KWH ASKS LMUD BOARD FOR FULL OUTSIDE AUDIT OF FRANK CADY'S BILLINGS
September 2, 2004
A KWH member filed a complaint with the LMUD Board for Frank Cady's Breach of his contract, at the September 2, 2004 meeting.
Check item 2d1 of Cady's contract............Cady Contract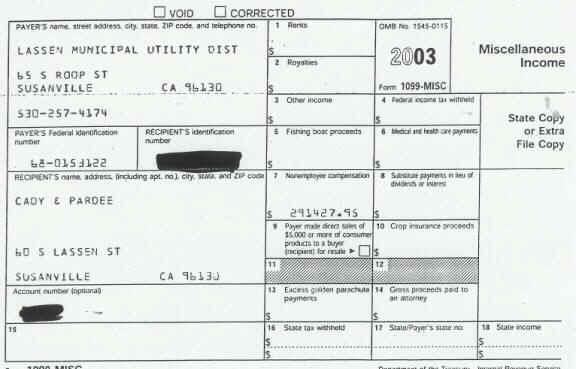 FRANK CADY IS NOT AN EMPLOYEE OF LMUD, BUT AN INDEPENDENT CONTRACTOR.... LMUD CAN NOT TREAT HIM LIKE "PERSONNEL" . IF FRANK CADY CONTENDS THAT HE IS AN EMPLOYEE...THAT OPENS UP A WHOLE NEW PANDORA'S BOX. Frank Cady is in a world of trouble with the IRS if he has acted like and claims to be "an employee".
Frank Cady forgot that KWH had copies of his invoices.................
Somebody needs to go to Jail
Page 5 of Frank Cady's contract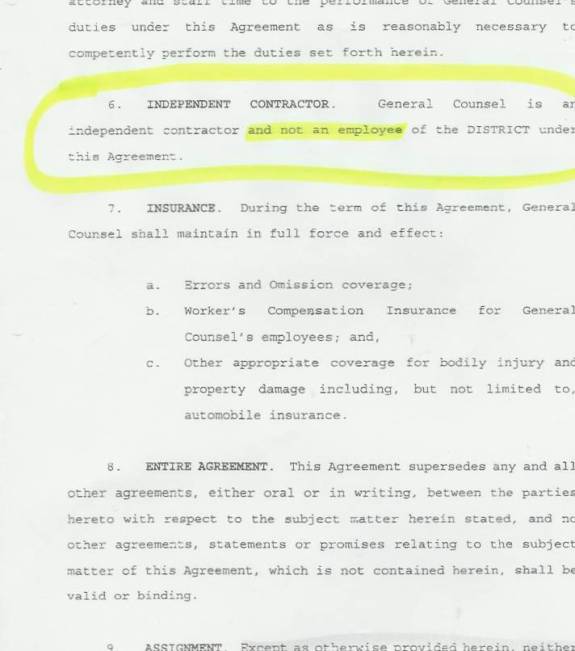 Evelene Twitchell is an "employee" under contract. She has all payroll deductions withheld from her paycheck.
Frank Cady is an independent contractor and does not qualify as an "employee under contract", therefore all contract adjustments must be made in a public session. (Brown Act, 54957). No payroll tax deductions are withheld from his checks.
Frank Cady is an independent contractor, contracted with the Lassen Municipal Utility District for $110 per hour. Frank Cady has been charging LMUD from $110-$160 per hour since November 19, 1997.
The Board has never increased his rate.
Michael Dean of Meyers/Nave Law firm was specifically asked, at the April 17, 2004 LMUD Brown Act Seminar, if an attorney's contractual rate must be increased as an agenda item in an open session and not closed session. Mr. Dean's response was that it must be done in "open session". LMUD has never changed Frank Cady's contract since 11/19/1997.
KWH requested a copy of Frank Cady's contract on June 11, 2003. The contract was exactly the contract that was signed on November 19, 1997. No changes or amendments.
NOTE: If this LMUD Board or any prior LMUD Board increased Frank Cady's rate in closed session, it would become null and void. Any closed session discussion or action would be in direct violation of the Open Meeting Law.
The contract with LMUD also states that he can not charge more than his rate for work associates perform. Frank Cady violated this section of his contract when he charged LMUD more than his rate for work performed by an associate in his law office that has only two years experience.
The complaint states that he was receiving a $6,000 monthly retainer which should have included all of the work that he was billing LMUD separately for prior to the November 19, 1997 contract was signed. Cady appears to have collected the $6,000 but continued to bill LMUD separately for work he agreed to include in the $6,000 monthly retainer.
Frank Cady, in addition, began charging LMUD for "General Municipal Law" which is over half of his invoice each month. No explanation for what this covered, but is definitely not in his contract with LMUD. This appears to be in a range of hundreds of thousands of dollars of over-billing.
Frank Cady is no longer allowed to hide Board Members expenses in his invoices, charge for use of his plane, or hire law firms without contracts. KWH has complained about these past practices and LMUD has made changes.
KWH has also filed a criminal complaint with the District Attorney for the illegal conference Frank Cady had with the LMUD Board on June 4, 2003.
D.A. BURNS DOES NOTHING
If more than two board members meet, without a public notice being posted, it is a violation of the Ralph M. Brown Act, California's open meeting law.
The concern now is, how many violations of the Brown Act have not been disclosed. LMUD's credibility is gone.
NO SURPRISE THAT THE LASSEN COUNTY TIMES WAS NOT AT THIS MEETING...LMUD asks LCT not to attend when they have been caught breaking the law. Barbara France, News Editor said that the reporter forgot to attend the meeting.
NOTE: Fred Nagel and Wayne Langston did not attend the LMUD meeting on September 2, 2004..... at least not the first part. Nagel came in after the public comment period was over. Wayne Langston just never showed up.