LMUD-PSREC TRANSFER 1,000 LMUD CUSTOMERS
Reducing customers
-reduces income-
reduces power needs
LMUD did not follow required procedures for the Transfer of LMUD customers to PSREC
LMUD LIES ABOUT YET ANOTHER STUDY
Don Battles, LMUD General Manager in 2001, told the public that a study was done by Powers Engineers. He went into specifics about the report to convince the public that LMUD should give PSREC 1000 LMUD customers, BUT HE REFUSED TO RELEASE THE "STUDY". ANOTHER FAKE STUDY.
Battles stated that it would be too costly to service these customers. PSREC reports that they would save $800,000 a year if they were given the LMUD customers.
KWH is attempting to find this "so-called" study that was done by Powers Engineers. Frank Cady claims now, like the Arrowrock Feasibility Study, that the study is not in the possession of LMUD. He can honestly say that because there is NO STUDY. Cady and Battles lied about the study. NOTHING NEW THERE.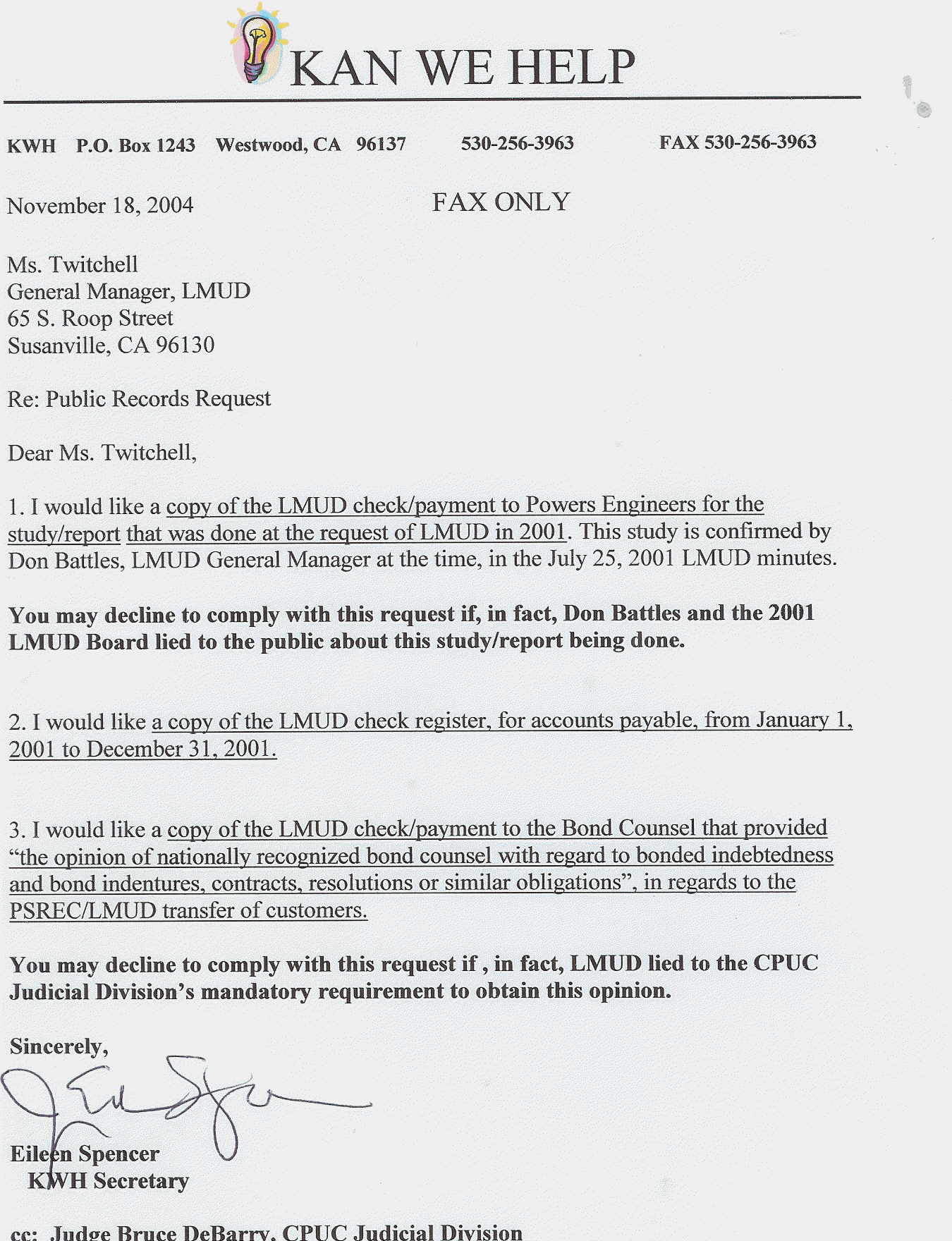 Copies of these public documents were requested on August 13, 2004. LMUD says they do not exist. So, why did Frank Cady and the 2001 LMUD Board lie to the people?
THESE DOCUMENTS, ACCORDING TO FRANK CADY, DID NOT EXIST AND NOW THEY'RE JUST NOT IN LMUD'S POSSESSION?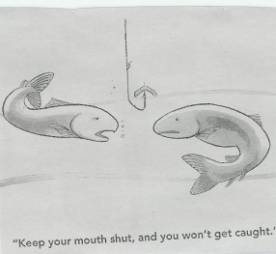 Powers Engineers link Bond Counsel link
Twitchell and the current Board are now "connected" to the Cover-up
Both documents were relied upon by CPUC Administrative Law Judge DeBerry to approve LMUD's application to transfer LMUD customers to PSREC?
LMUD VIOLATES PUBLIC RECORDS REQUEST FOR DOCUMENTS 8/2/04 link
Frank Cady advises LMUD General Manager to withhold CEQA documents, WAPA documents and CPUC documents in regards to the transfer of customers to PSREC. KWH asked for documents filed by LMUD. LMUD states there are no documents, but the CPUC gives KWH a list of documents LMUD filed with various state and federal agencies.
TWITCHELL LIES ABOUT DOCUMENTS
LMUD did not authorize a "Notice of Exemption" to be submitted to CEQA in 2002 in relation to the transfer of LMUD customers to PSREC. This filing was done secretly by Frank Cady. link
KWH has caught Twitchell in more lies about documents that existed when KWH requested them. Cady advised her to lie.
On November 7, 2003 and May 26, 2004, Kan We Help requested documents in relation to the transfer of 1000 of LMUD customers to Plumas Sierra Rural Electric. One of the requests was for any environmental agency documents filed in relation to the transfer of LMUD customers. LMUD denied that any existed, TWICE.
Jaime Richey wants KWH to submit another PRA form for information already asked for ???? Poor management Twitchell . These delays cost ratepayers unnecessary costs. LMUD has never approved these notices to CEQA .so LMUD can say they do not exist, but they do exist.
KWH received a letter from the CPUC, listing documents that related to LMUD and the transfer of their customers to a different service area.
Documents that LMUD said did not exist or were not in their possession.
These documents include a "Notice of Exemption" submitted to CEQA, a ruling by the CPUC on April 4, 2002 approving the change in service areas of the two utilities. LMUD never approved this at a public meeting.
California Public Utilities Commission states very clearly that LMUD is the "LEAD AGENCY"
This was a deal three years in the making. LMUD states that the transfer of its most profitable service to PSREC, took place on May 1, 2004.
The 2001 LMUD Board of Directors lied to the public and the new 2002 LMUD Board of Directors lied to the public. Why?...this will be answered.
May 26, 2004 LMUD response to Public Records Request Link
LMUD HAS ABSOLUTELY NO DOCUMENTS FOR THE LEGAL TRANSFER OF CUSTOMERS TO PSREC ?????
NO RECORD OF APPROVAL FOR THE TRANSFER. NO DUE DILIGENCE Link
The PSREC/LMUD agreement was not honored
the $155,000 annual payment from PSREC will also disappear.It was not even included in the budget.
June 30, 2002 and 2001 LMUD Audit
"As of June 30, 2002 PSREC had not yet notified the District of the change over date for transfer of customers. The agreement calls for economic stabilization payments to be made by PSREC to the District of $155,000 for each full year that the specified customers are retail customers of PSREC ($100,000 per year for the Sierra Army Depot, $5,000 per year for the For Sage School District and $50,000 per year for the Federal Prison) through the end of 2010. The economic stabilization payments will commence after the changeover date. In addition, the District received a one time payment of $1,250,000 to compensate the District for lost revenue associated with the Federal Prison. Management has treated this payment as a sale of the associated facilities in order to remove the remaining depreciable basis from its books. This treatment resulted in a book gain on disposition of the associated assets of $1,232.439."