Wayne Langston
The Bully is gone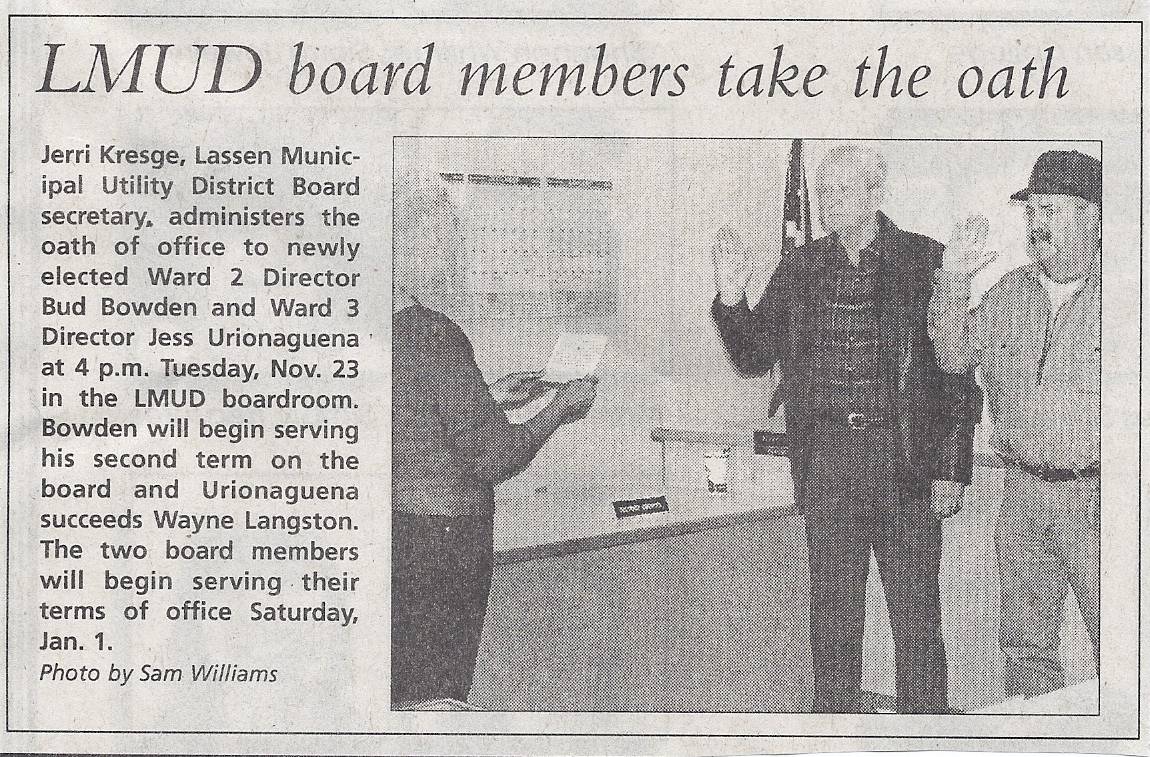 November 3, 2010
Appointed illegally, Langston did not live in a LMUD Ward, and THE FIRST time on a LMUD ballot in ten years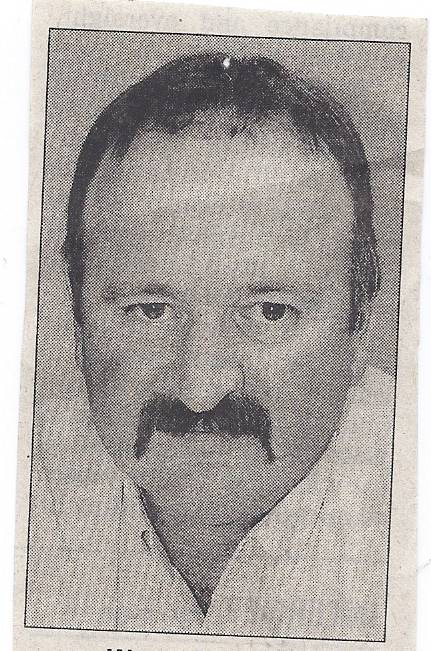 THE PUBLIC AND LMUD EMPLOYEES WANTED LANGSTON OUT...............HE'S OUT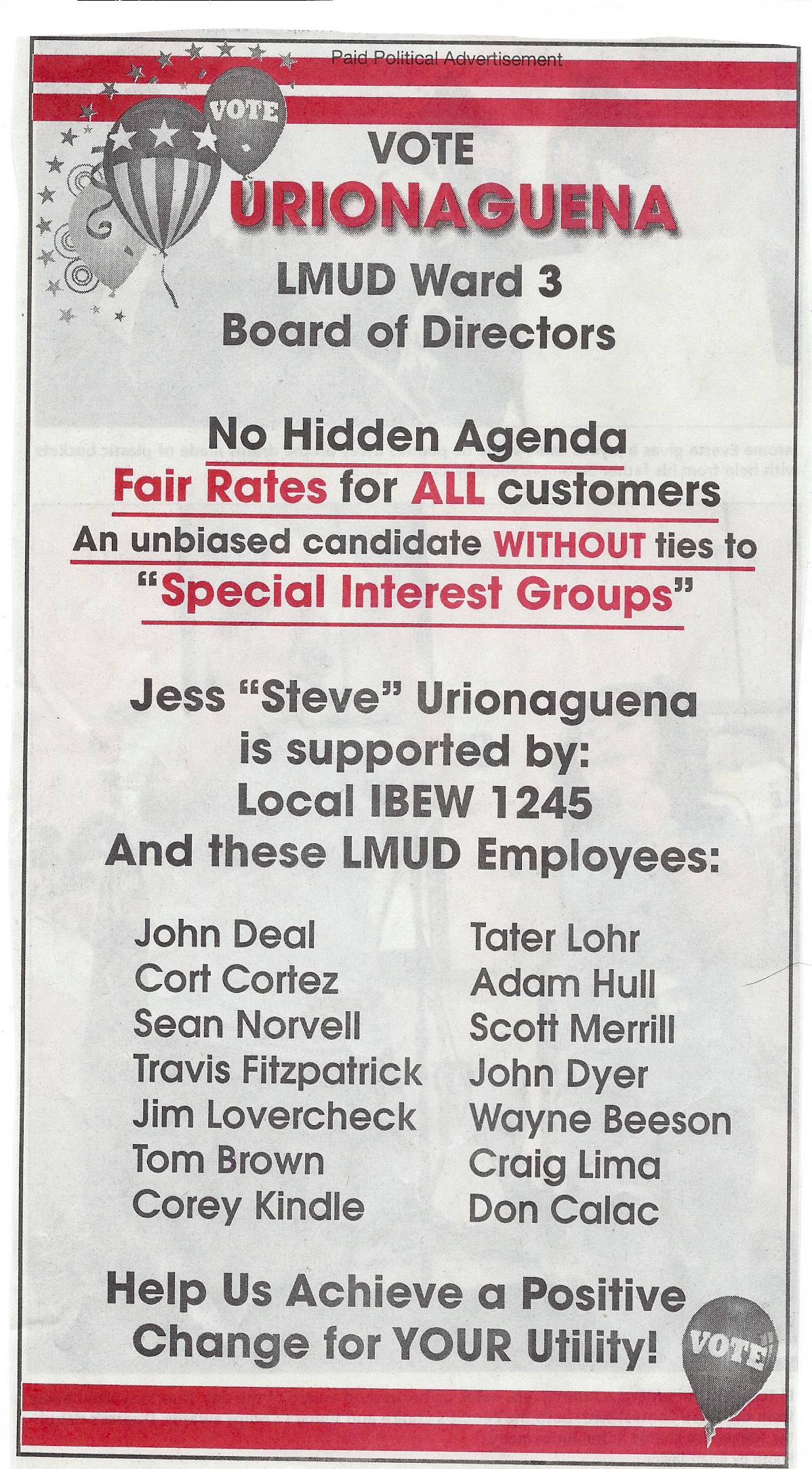 Former Lassen County Clerk, Theresa Nagel
Meets with Julie Bustamante
Hmmmmmmmm...............
On September 15, 2010 at 12:15, Theresa Nagel met with Lassen County Clerk, Julie Bustamante at the Pizza Factory in Susanville. What did they have to talk about just before the LMUD election? It couldn't be about her husband and son-in-law........
The County Clerk stated that LMUD candidates needed 10 signatures on their petition to run for the LMUD Board. [The Election Code (8400) states that you need "3% of the entire number of registered voters in the area at the time of the close of registration", however the CPUC, Division 6 (that governs LMUD) states that a candidate for the LMUD Board only needs 10 signatures. This section also requires all candidates to be on the ballot. A point that has never been enforced in Lassen County.]
Wayne Langston needed 10 signatures to get on the ballot ? Was Langston an "incumbent " or not? Wayne Langston sat on the LMUD Board for ten years and has never been on any ballot and has never received a single vote. The ten signatures were the Nagel family and the Templeton's. No surprise there.
Wayne Langston, Just a Freeloader?

The indecency of the LMUD Board was at its pinnacle in 2005 when Langston hired Frank Cady as the LMUD General Manager

Langston kept electric rates high while he enjoyed the vacation/meetings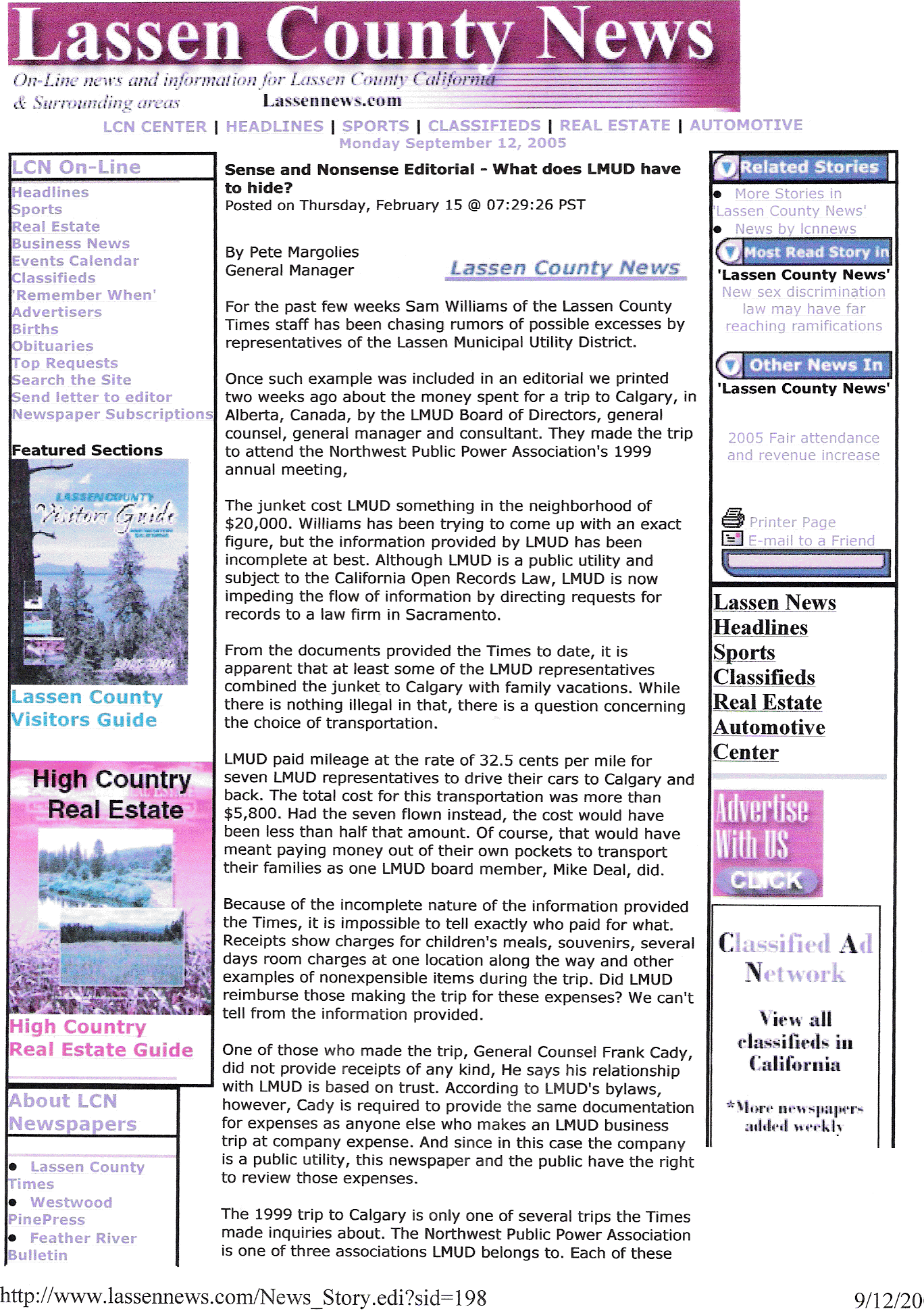 Wayne Langston, the abuser
LMUD Director Langston continued to support a sex predator
Wayne Langston covered up fraud with LMUD's attorneys.
Wayne Langston, Theresa & Fred Nagel's son-in-law, continued to support their close family friend, Frank Cady.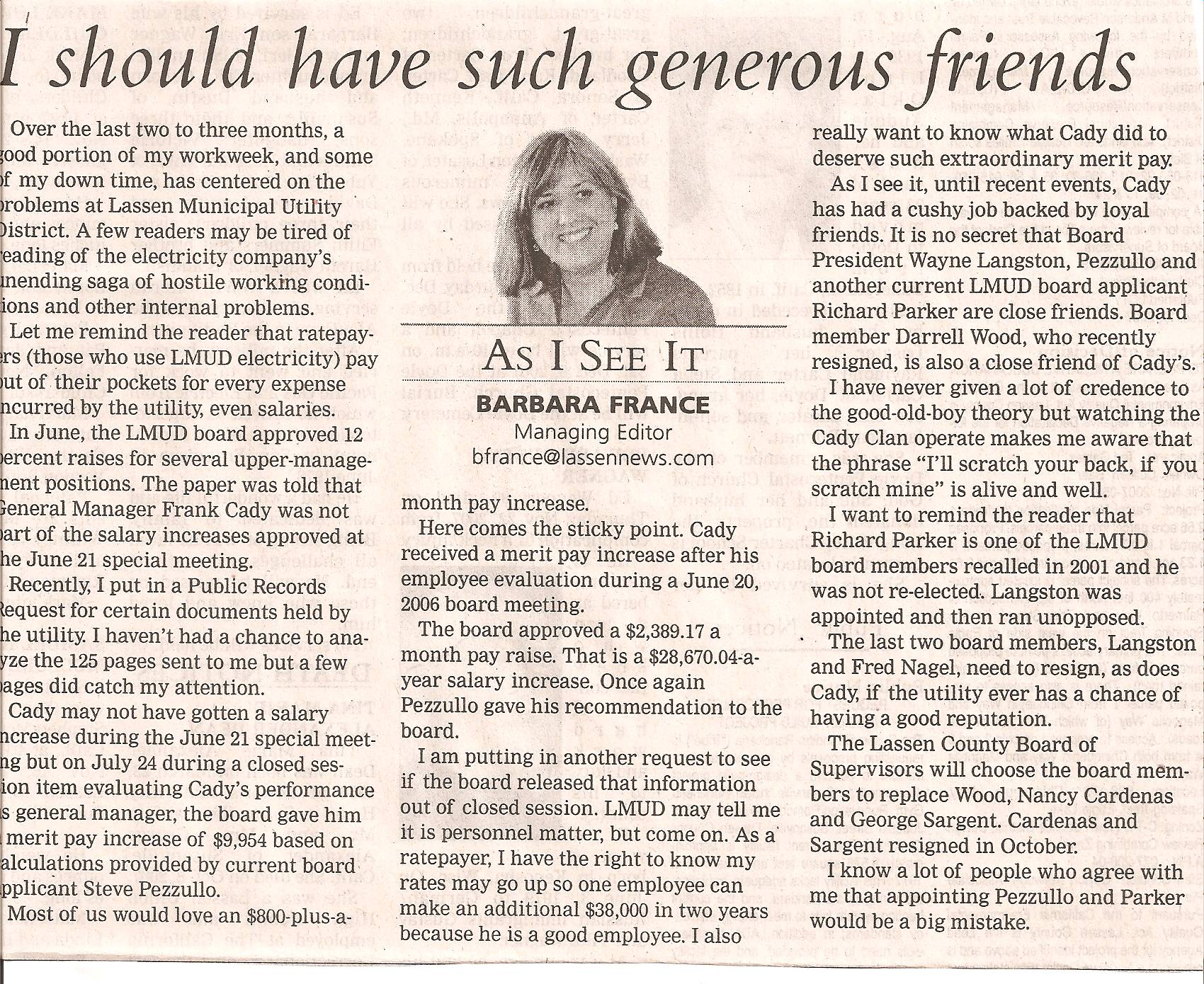 Langston voted twice not to terminate Frank Cady.
Langston introduced an agenda item for lifetime benefits for Cady
Langston hid his Board expenses in Cady's personal expense account
Langston hid his Board expenses in Cady's legal invoices click here

Langston has never received a single vote to be on the LMUD Board

Langston voted for bogus energy projects for EIGHT years
THE PUBLIC and the employees DON'T WANT HIM ON THE LMUD BOARD
DOES WAYNE LANGSTON HAVE AN OUNCE OF "HONESTY" IN HIS ENTIRE BODY?
IS WAYNE LANGSTON A DISGRACE?
Woods, Cardenas and Sargent had the
decency to RESIGN
Langston participated in the LMUD hazardous waste cover-up
Langston took luxurious LMUD vacation meetings
Langston refused to disclose his "paychecks" from LMUD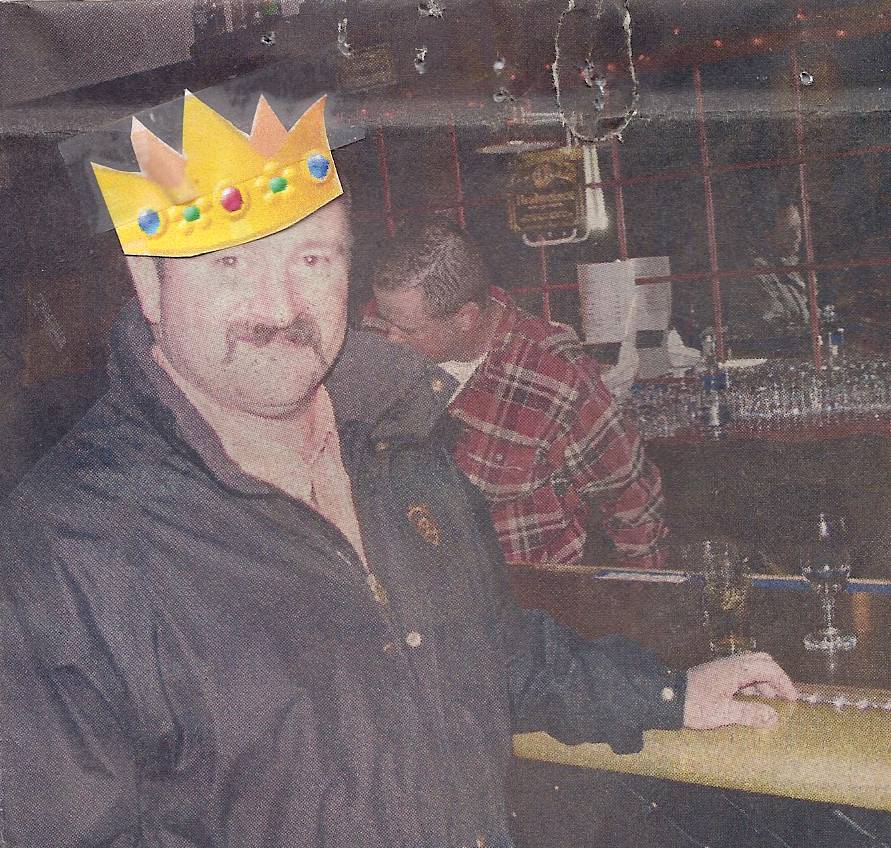 Langston supported the proposal to give Ag customers huge kick backs
NOT A VERY GOOD RECORD for the past ten years..............
Records show Langston and Nagel hid their board expenses as far back as 2003.... MOST LIKELY FROM DAY ONE
Frank Cady and Jaimee Richey's March-2003 invoice to LMUD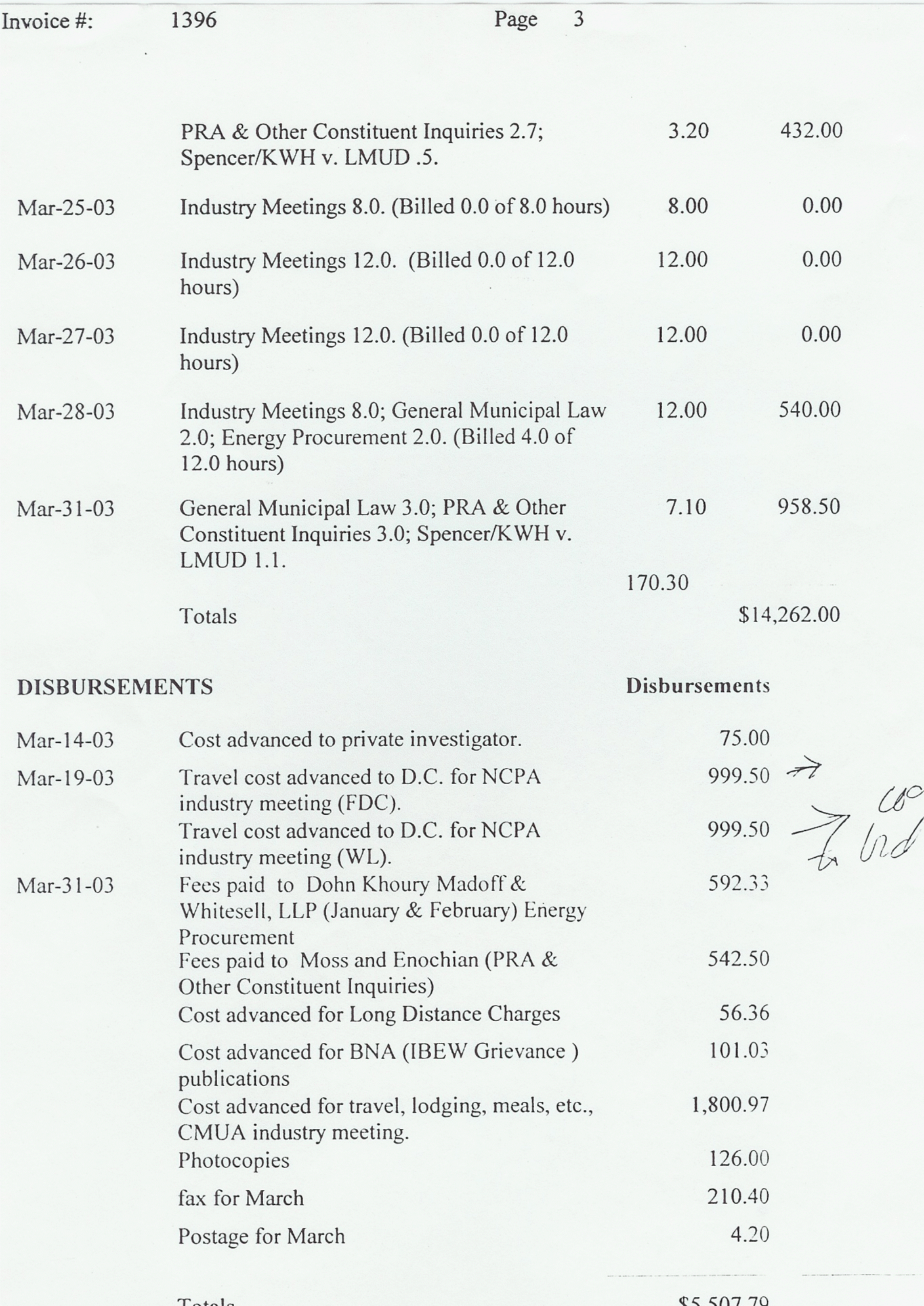 WAYNE LANGSTON CHARGES LMUD RATEPAYERS $100 FOR A PHONE CALL TO THE LMUD GENERAL MANAGER
where's the shame.......................

Kan We Help exposed Langston charging hundreds of dollars for "e-mails", to Frank Cady, that he refused to disclose, probably because they didn't exist. After KWH released this information, Langston no longer charged for "e-mails". NOTE: the Public Records Act states that e-mails are disclosable public documents.
Langston needs the free "health benefits". LMUD Board members receive over $37,000 worth of free benefits and "FREE ELECTRICITY". Who pays for this? LMUD RATEPAYERS !!!!
Oh, by the way.............Langston does not live in Susanville. If he did, he couldn't remain on the LMUD Board..............?????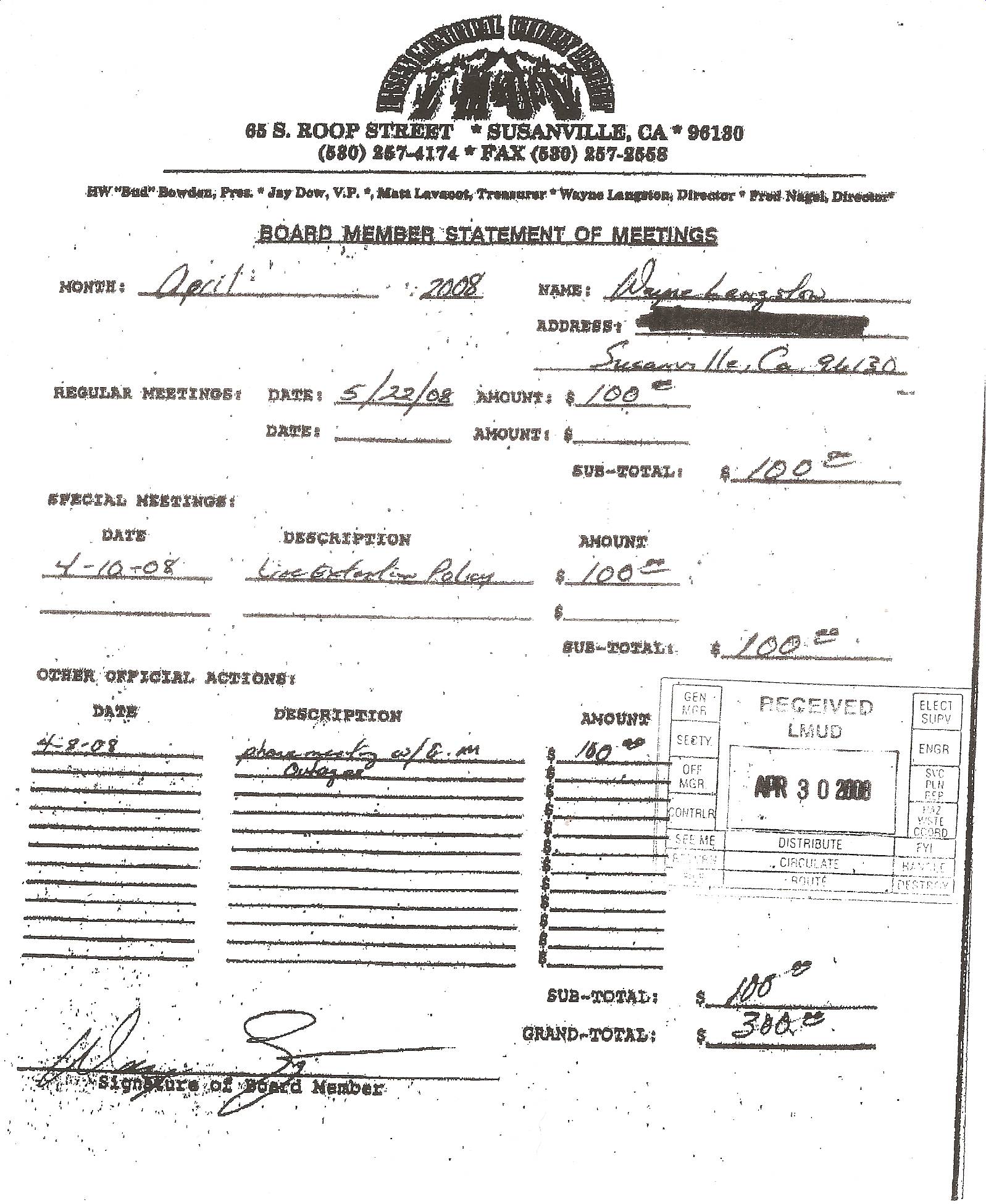 Langston was a full participant in the Arrowrock Scam that was supposed to cover up the $8 million dollar mismanagement of public funds
Micheal Deal resigned and Wayne Langston was "appointed" to take his spot on the LMUD Board under an illegal appointment. Wayne Langston, in ten years, has never appeared on a LMUD ballot.
No one was allowed to ask where the $7,785,000 bond proceeds went so........ the LMUD Board was Recalled
Not one Board Member was indicted?