NAGEL ELECTIONS
Lassen County voters must look seriously and closely at the procedures Nagel & Bustamante will use in the upcoming Lassen election
2006
Theresa Nagel, Lassen County Clerk named in Diebold lawsuit
How much is Julie Bustamante implicated?
THERESA NAGEL'S FINAL "ACT OF ABUSE" OF HER OFFICE
Nagel has decided NOT TO PLACE "unopposed" candidates on Ballot. "UNOPPOSED" COUNTY POSITIONS HAVE ALWAYS BEEN ON THE BALLOT
ONE BIG PROBLEM WITH THAT.....write-in candidates
California Election Code 15340: Each voter is entitled to "write" the name of any candidate for any public office, including that of President and Vice-President of the United States, on the ballot of any election.
Also....she arbitrarily extends, without notice to the public, the date for candidates to file......you must ask yourself.....who was this for?
THERESA NAGEL
DOESN'T DENY STATING THAT "UNOPPOSED" CANDIDATES WILL NOT BE ON BALLOT
Unopposed candidates appear on the ballot to comply with Election Code 15340.
Election Code 15340-write in candidates
Also, Nagel must place unopposed candidates on the ballot when the governing law states the candidates must receive the highest votes to win or it doesn't state otherwise in the districts charter.
Election Code 10500 (b) 9- Principal Act
Election Code 10508-Principal Act governs
Example: LMUD is one of those districts where all candidates must appear on the ballot.
Shayla Ashmore, Managing Editor of the Lassen County Times, reported that the "unopposed" candidates will not appear on the June 2006 ballot.
HEADLINE SHOULD READ :
"NAGEL ATTEMPTS TO VIOLATE ELECTION LAW"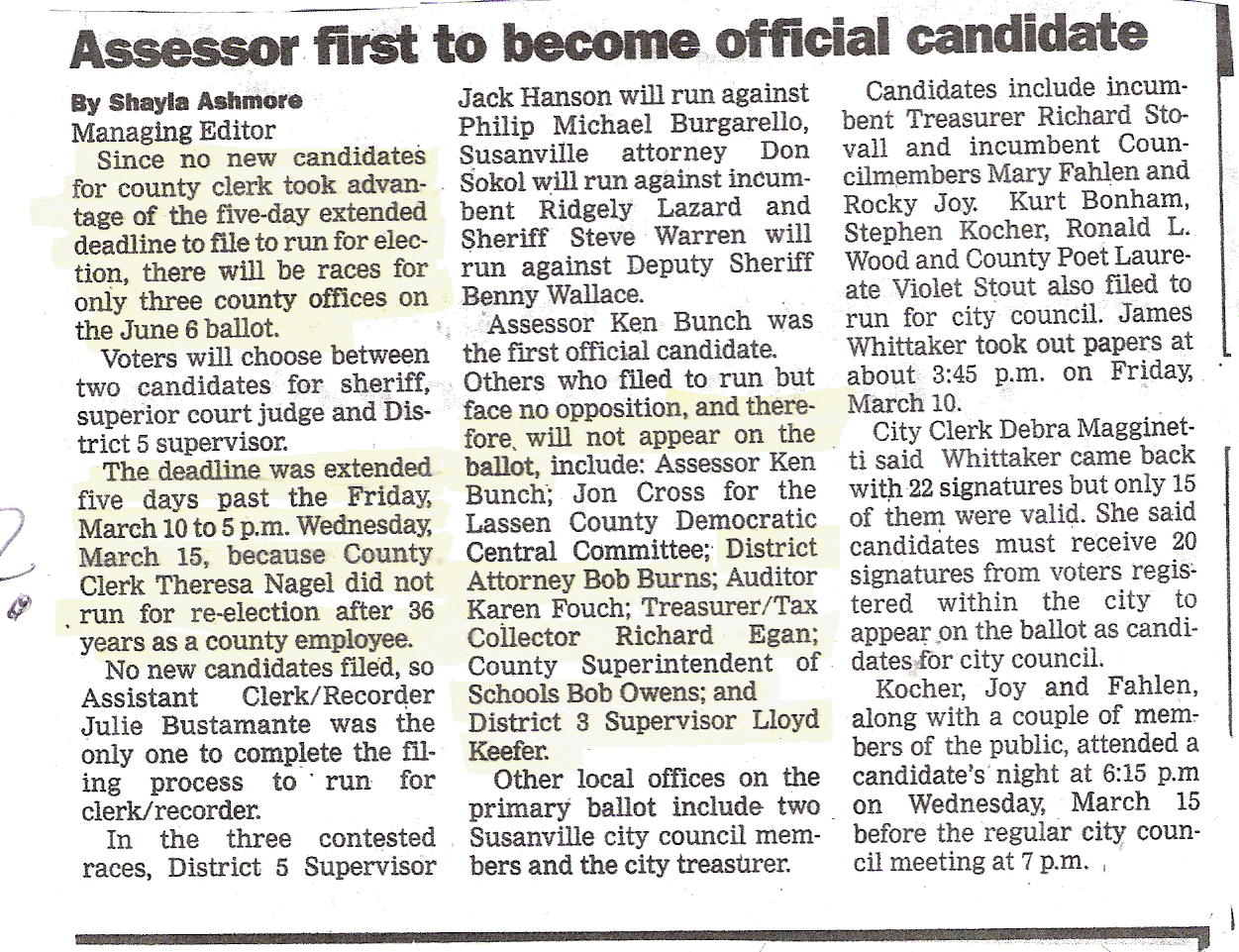 The County Clerk however, didn't deny that these "unopposed candidates" will not be on the ballot.......
Nagel.......simply just got caught trying to break the law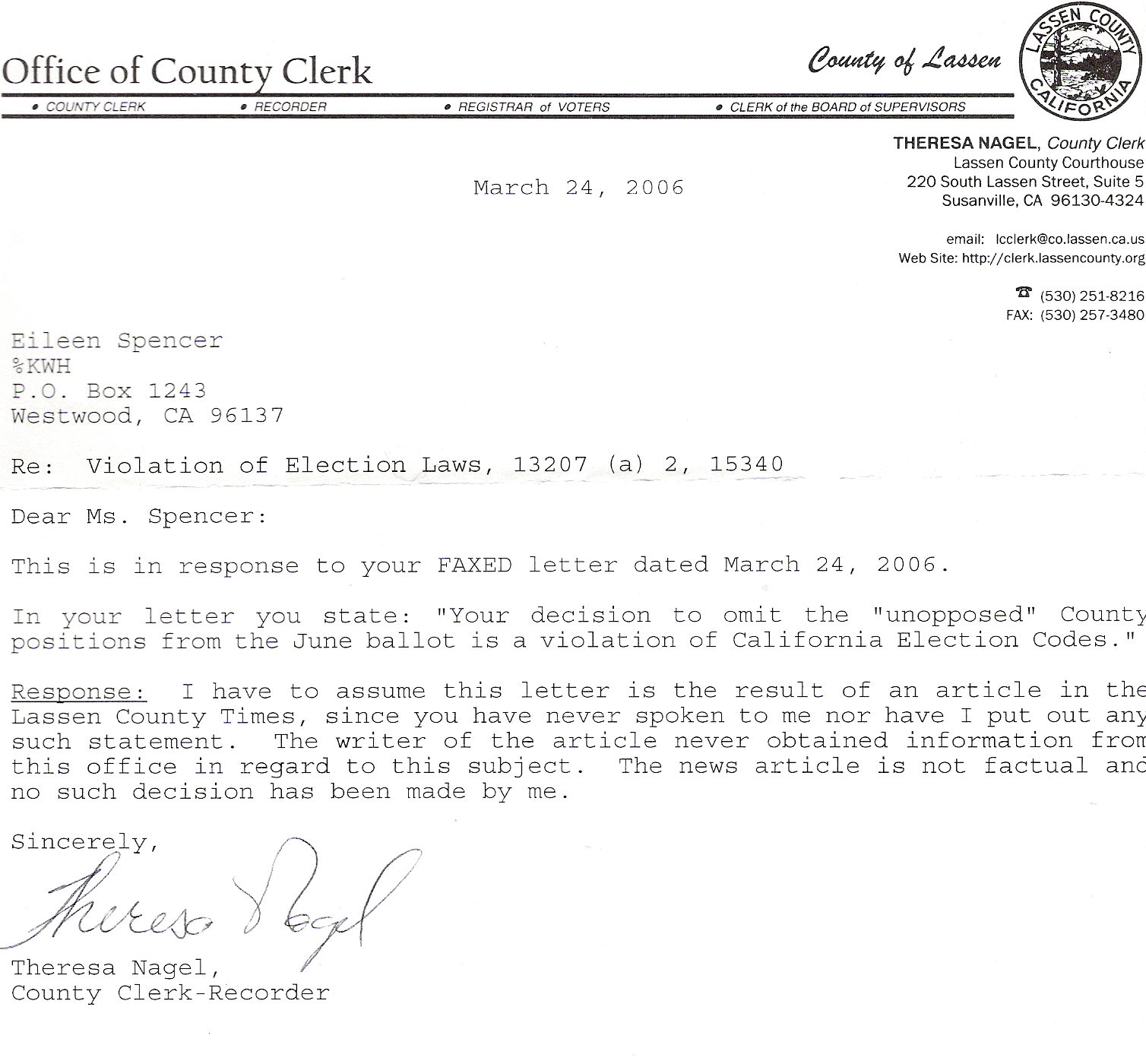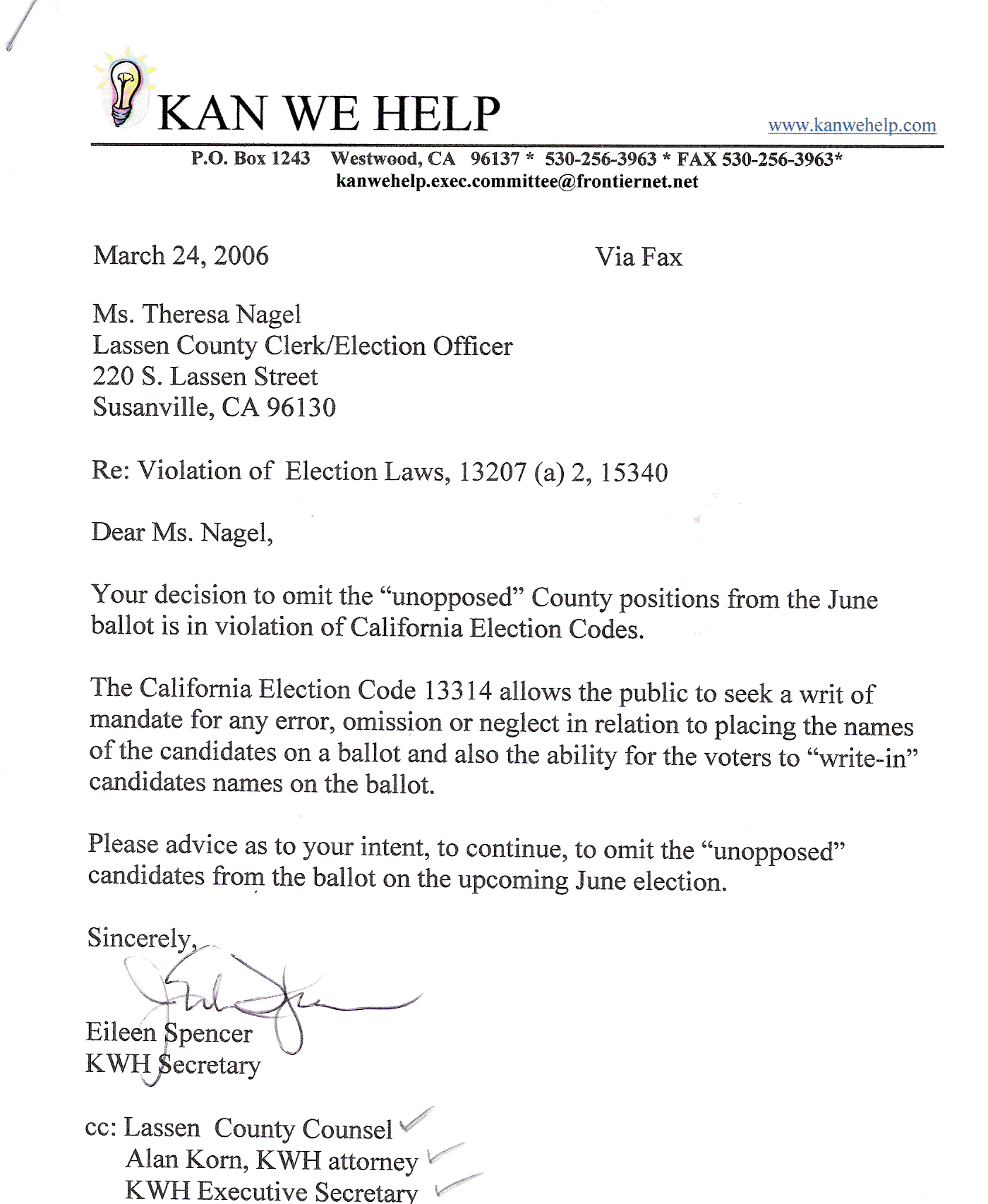 2004
Theresa Nagel excluded her son-in-law, Wayne Langston, from the ballot twice, even though the LMUD "governing law" states that the candidate running for a Ward must receive the highest number of votes to win. He was required to be on the ballot
The law was broken when Nagel failed to place Langston on the ballot and when she failed to place the "write-in" line for the voters California Election Code 15340.
You can't receive the highest number of votes, unless you are on the ballot.
She omitted putting Langston's name on the ballot twice, once on March 5, 2002 and then again in 2004. Why.....he can't get elected.
2002
under construction
2000
under construction