FRED NAGEL
2006
CITY OF SUSANVILLE STOPS MEETING TO FIND QUORUM SO THAT FRED NAGELS NEW CONTRACT CAN BE APPROVED
Unusual measures by City smacks of favoritism for Fred Nagel
Fred Nagel forced to quit County Planning Board
How many friends did Nagel help during his tenure????????
Fred Nagel gets a JOB11/23/04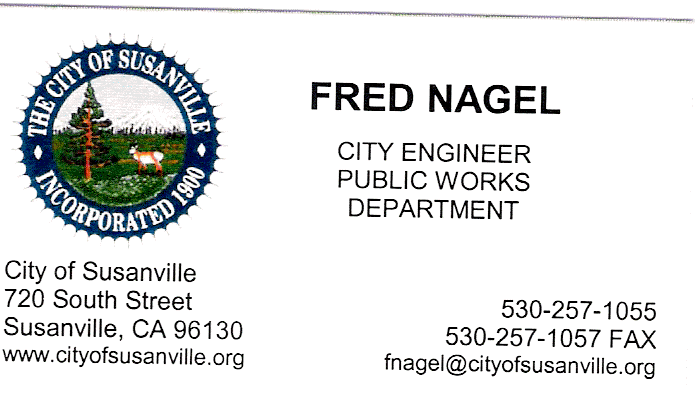 Fred Nagel sits on the County Planning Commission and has now been hired part-time (19 hrs a week), at $70,000 a year, to be the City of Susanville's City Engineer. There might be a huge conflict of interest, since the County interacts with the City on planning issues.
The fact that Fred Nagel receives an inordinate amount of work from sitting on the County Planning Commission, should not even be looked into. No, no, no, absolutely not.......................
Remember, this is Lassen County and all rules and laws do not apply to the "Alfalfa Mafia".
FRED NAGEL IS PSREC RATEPAYER AND NOT GOOD FOR LMUD
When Fred Nagel signed the agreement to give his utility (PSREC) LMUD customers, records show that PSREC will receive a savings of $700,000 per year. Fred Nagel works for PSREC not LMUD. Nagel benefited from this transfer. LMUD customers lost ! Read the CPUC report link
Fred's wife (Lassen County Clerk) also happens to be the one counting his votes on November 2........
Fred Nagel is a customer of the Plumas Sierra Rural Electric Cooperative
LMUD HAS ANOTHER "PSREC" PRESIDENT Link
FRED NAGEL, A PSREC MEMBER NAMED AS LMUD BOARD PRESIDENT
Fred Nagel must list on his 700 Form all of the boards he sits on.
Fred Nagel is not effected by decisions he makes on the LMUD Board, he isn't a LMUD ratepayer.
Fred Nagel receives "refunds" as a PSREC utility customer but refuses to remove the LMUD surcharge.
Question: If a LMUD customer applied for a position on the PSREC Board, what would their response be?
Question: If a Westwood resident wanted to sit on the Levit Lake Community Services District, would that be allowed?
Cady screws up PSREC agreement
In an attempt to hide the fact that they couldn't get two signatures in January/2002 (there was a recall pending)...Cady waits until two PSREC members are put on the LMUD Board. Wayne Langston and Fred Nagel sign the agreement on May 8, 2002 but the legal date, of the contract to transfer LMUD service territory, is January 1, 2002.
LMUD CONTINUES TO TELL PUBLIC NO TRANSFERS HAVE BEEN MADE. The LMUD Board members (PSREC customers, Fred Nagel and Wayne Langston) gave away LMUD's most profitable service.
LMUD has no record of the $1,250,000 payment PSREC made to LMUD.
"In addition, The District received a one-time payment of $1,250,000 to compensate the District for lost revenue associated with the Federal Prison. Management has treated this payment as a sale of the associated facilities in order to remove the remaining depreciable basis from its books". LINK
Fred Nagel hides Arrowrock trip expenses in Frank Cady's legal invoices.