LMUD FINANCIALS
RETURN TO other pages RETURN TO LMUD
LMUD FINANCIALS FLAWED
2002/2003 ACCOUNTS RECEIVABLES $17,911,285.71
2002/2003 ACCOUNTS PAYABLES $17,524,166.55
Bills paid $8,851,658.99 (paid by check)
Wire transfers $5,852,465.99 (in lieu of checks)
Payroll $2,820,041.57
Net Income 2002/2003 fiscal year $387,199
Less amortization and depreciation....HUGE Deficit for LMUD
EACH LMUD RATEPAYER PAYS $282 A YEAR FOR LMUD STAFF
EACH LMUD RATEPAYER WRITES A $30 CHECK TO FRANK CADY EVERY YEAR
These numbers were taken directly from LMUD monthly financial reports.
There is absolutely no possible way that LMUD generated a $4.6 million dollar surplus in fiscal year 2002/2003 as reported by Bill Stewart. The reporting is simply erroneous.
The LMUD financials need to be audited by the State Controller.
Bill Stewart was not available at the October 9, 2003 meeting to account for his financial reporting. But even if he was, the public would have been arrested for attempting to ask Bill any questions.
Susanville's "New" Chief of Police Gallagher plans on cooperating with Frank Cady to remove the public if they ask questions during any LMUD Agenda item. (Chris Gallagher is an appointed position by the City). Chris will choose his job over the "LAW".
LMUD AUDIT 2002/2003
The LMUD audit was released, at a quickly called special meeting, on October 29, 2003. This audit reported that LMUD will spend money earmarked for upgrades on a NEW LMUD HEADQUARTERS. LINK 2003 AUDIT NOTES
This Unwarranted "Special Meeting" cost the ratepayers over a $1,000. The Board Members collected $100 a piece for calling a meeting that could have been included in their regular meeting next week. (November 6, 2003)
LMUD & CADY:
INCOMPETENCE & GREED
COSTS RATEPAYERS
THOUSANDS $$$$$$
CADY HAS NO PROFESSIONAL SKILLS AFTER 15 YEARS
Cady is responsible for a huge legal mess: link
1. Public Records Violations 2.Arrowrock Scam
3. LMUD Boundaries 4. Brown Act Violations
5. Transfer of service territory to Plumas Sierra
6. Co-generation plant for PSREC
LMUD Board of Directors are impotent to stop Frank Cady from spending thousands of dollars to protect himself. Frank Cady continues to ill-advise the Lassen Municipal Utility District to cover up his back-room dealings. Back room dealings for profit.
1. Arrowrock Scam-Duncan, Weinberg, Genzer, Pembroke
Frank Cady and Al Barker take hundred of thousands of dollars for the Arrowrock hydro-electric scam. Cady needs additional help to hide the Arrowrock Scam from the public. Hiring ten attorneys will not help Frank Cady, Wayne Langston and Louie Templeton.
Arrowrock was nothing more than a Scam to help the Boise Project Board of Controls keep their FERC license again. We were all dooped.
Nothing for our money, nothing at all except continued lies.
2. Dyer Mtn.Area/PGE- McCarthy and Berlin, LLP
There is no firm McCarthy and Berlin, LLP listed in the State of California. Link These attorneys work for Duncan, Weinberg, Genzer, Pembroke for California cases. James Pembroke represents M-S-R Public Power Agency in relation to the PGE FERC license P-2105. Is Cady going to spend more LMUD money on Dyer Mtn. area ?
3. LMUD Boundaries- Larry Moss ( aka Moss & Enochian, aka Kenny & Enochian- LAFCO Attorneys)
Conspiracy to buy decisions from Lassen County Local Area Formation Commission. Frank Cady paid "Moss & Enochian" $542 to influence the decision of LAFCO to stop LAFCO from hearing: LMUD's failure to file a "FINAL BOUNDARY MAP" during the initial formation of LMUD. Also, the 1997 LAFCO Scam with Theresa Nagel and Frank Cady (Dyer Mtn.)
There is a direct conflict of interest and Moss must disqualify himself.
Cady claims he will only use Moss for the KWH litigation because Frank Cady is reportedly ineffective as a trial lawyer.
Frank Cady has never been good for LMUD. Frank Cady has created more problems for LMUD ratepayers and it appears that he plans to continue this practice.
Frank Cady literally does nothing for LMUD but prepare huge, $25,000 to $35,000 a month, bills for ratepayers to pay and create controversies, bogus legal problems and cover-up to his "activities- for-profit. Frank Cady's bills are public documents yet he redacts (covers-up) costs that he doesn't want the public to know about. This has nothing to do with "work product". It has everything to do with hiding expenses.
LMUD'S UNAUDITED
FINANCIAL REPORT
REPORTS:
$4.6 mil LOSS FROM OPERATIONS
LMUD's Controller, Bill Stewarts published the financial report and this report shows an operations loss of $4,633,893. KWH estimated a $4.3 million loss.
Did he have the help of Bob Gaumond or did he prepare this himself???????
LMUD PROMISED SYSTEM UPGRADES IN 2000
LINK COP 2000
In 2000, LMUD acquired additional debt of $7.8 mil, in the form of a Certificate of Participation (COP), in order to upgrade the entire LMUD system. Less than $1.6 mil is left ??????
This money was earmarked for capital improvements. Capital improvements that never happened.
Now the LMUD Board wants to spend the money available for our "rate reduction" on "upgrades" and threaten us with POWER OUTAGES.
A $.03 rate reduction was planned in the 2001 LMUD Budget.
LMUD 2001 BUDGET -AUDIT NOTES
"With lower power costs the District has the opportunity to consider the following points regarding a future rate reduction." page 3, LMUD Audit
"Consequently, the $3,906,000 net annual revenues could equate to roughly $0.03/kwh charged. At this time, my guess is that the potential rate reduction would have to be "capped" at $0.03/kwh, but could fall between $0.01 to $0.03/kwh." page 4, 2001 LMUD Audit

The legal expenses have nothing to do with not giving a rate reduction to the ratepayer. A rate reduction could have been given 1 1/2 years ago. A rate reduction can be given today. MORE INFO COMING........
The LMUD gross legal fees have everything to do with "OVERBILLING, FRAUD" and the LMUD Board and Twitchell approving these padded Cady invoices ???????
LMUD is not willing to disclose where the $7.8 million capital improvement money was spent on. No capital improvements appear on the LMUD printouts from 2000 to 2003 yet this COP fund has almost been depleted, $1.9 mil.
WHERE DID THE COP MONEY GO ????
LMUD HAS DONE NOTHING TO IMPROVE OUR EQUIPMENT AND TRANSMISSION LINES.
WHERE DID THE COP MONEY GO?????
Quote from LMUD minutes,
September 25, 2001,page 2
"Gene Insley stated that he was employed by CP National and before he left in 1980, it was his job to drive around and look at things that needed to be maintained. He stated that the items that he identified in 1979 still haven't been taken care of. He stated that nothing had been done to improve the impedance of the system, and this costs ratepayers (him) money, and the District should stop running around the world, throwing money away. He then asked what the current impedance percentage was. Mr. Battles responded that the range was in the 4.5 to 5 percent range for line losses. Mr. Insley then asked what the iron (transformer) losses were. Mr. Battles did not have that information off the top of his head. Mr. Insley requested that he be provided with that information so that he could prepare a report, and concluded that the Board is not in control of the ship, that his PGE bill in Grass Valley was significantly lower and the rates here should be too."
LMUD'S " NET REVENUE" MAY NOT BE THE TRUTH
Bill Stewart was asked by KWH to provide the source of this unusual new income. LMUD may not have this $4 million surplus to spend on this "renewed interest" in renovating the LMUD system. $3,000,000 is simply equity LMUD holds. LMUD'S accounting is highly suspect.
Link LMUD INCOME STATEMENTS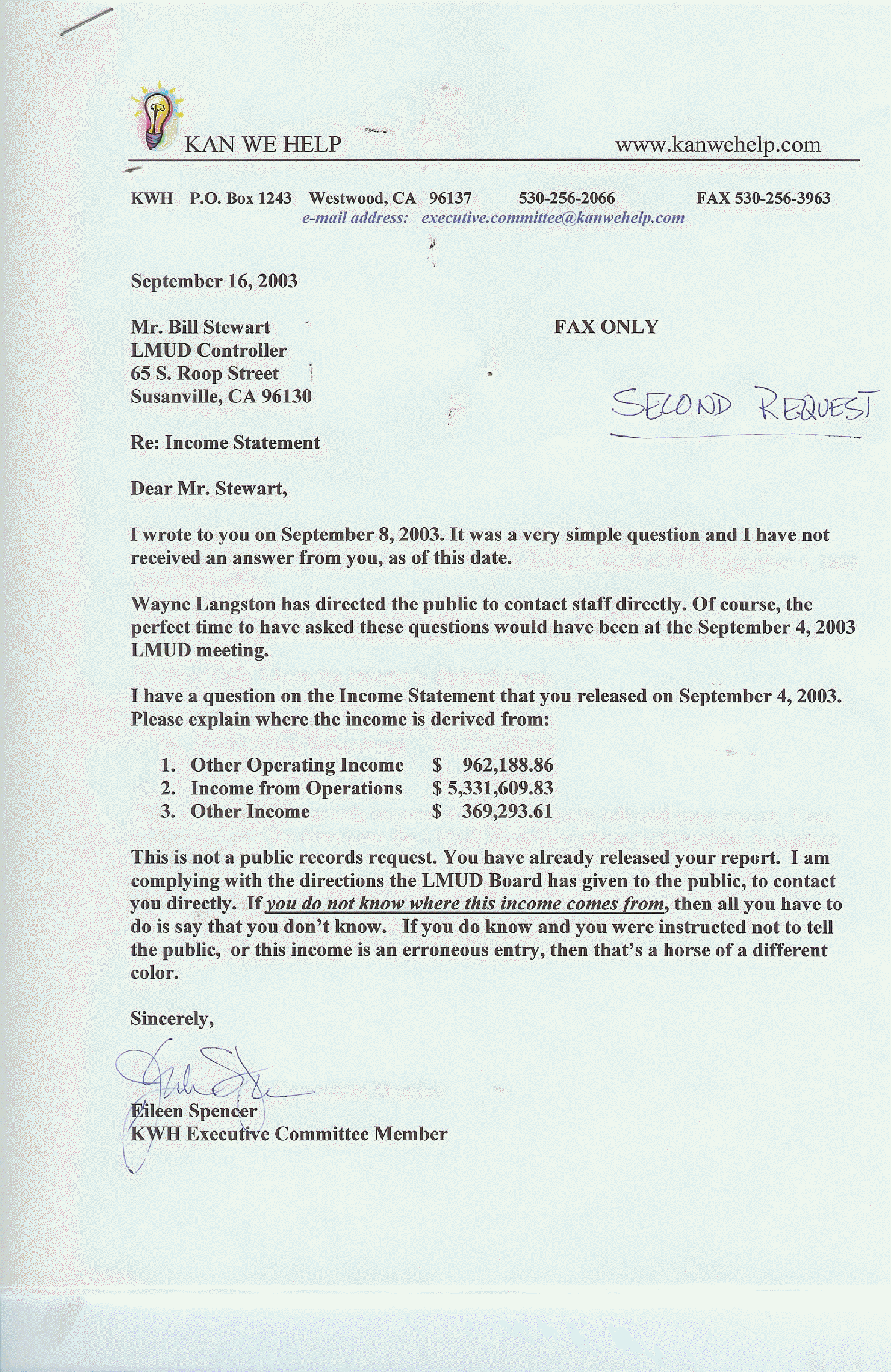 If the LMUD Board of Directors truly wanted, to be responsive to the public and reduce legal fees to an absolute minimum, they would make a change in legal counsel.
The present legal counsel has so many conflicts of interest that it has become impossible to tell who he represents.
LMUD BOARD BUDGETS $2,500,000
OF RATEPAYERS MONEY
on questionable expenses????
$ 45,000 A/S 400 Memory upgrade
$ 10,000 Brio Software
$ 38,000 Management software
$ 285,000 Mapping software
$ 20,000 Warehouse forklift (?)
$ 40,000 Misc. Tools
$ 15,000 New office carpeting (repeat ?)
$ 400,000 New business labor (?)
$ 948,991 Employee Benefits (Cady's included)
$ 5,000 Board Room surveillance system (?)
$ 443,000 Administrative salaries (?)
(from $170,058)
$ 250,000 New accounting software.
*Some of these expenses continue to be budgeted year after year after year?????
These expenses are just a small sample of the excessive spending of this LMUD Board.
BILL STEWART GETS "FAILING" MARKS AS AN ACCOUNTANT
A cash report is useless unless you get a balance statement, asset and liability....etc. It's like telling your spouse that your checking account balance is $100 because you deposited $100, but you don't tell your spouse that you wrote checks for $200.
LINK LMUD financial reporting ?
No LMUD Financial Statements link
MISLEADING FACTS IN LMUD 2003/2004 BUDGET
LMUD Controller, Bob Gaumond listed maintenance budgets for vehicles that LMUD did not own in the 2002/2003 LMUD budget. Bob Gaumond resigned shortly after the release of the 2002/2003 budget. Bill Stewart, the new LMUD controller, hid the vehicle maintenance budgets this time around.
Inconsistent reporting of Income and Expense amounts.
Administrative salaries 2002/2003 = $182,772
Administrative salaries 2003/2004= $443,000 more than doubled
LMUD EXPENSES HIDDEN WITH NEW ACCOUNTING PROGRAM
LMUD , JUNE 5, 2003 MEETING
The LMUD Board passed pay increases for LMUD Management from 20% to 75% and now refuses to disclose salaries
The General Manager veiled her new pay structure as a "management tool", but in reality once the LMUD Board passed this new pay structure, the already "obscenely" paid LMUD management will be able to receive immediately 20%-70% pay increases. This does not include an additional $30,000 to $40,000 a year benefit package. The General Manager stated that this is needed so that they may attract and keep valuable people. This only will assure their SILENCE.
An organizational chart was introduced and 60% of the positions were union jobs under a negotiated contract and not subject to this "study". The study was ordered for 17 employees. How much did the ratepayers pay for this study and why didn't Twitchell do this herself ?
A member of the public asked that these pay increases be delayed until the budget is passed and was gaveled and "out of order" by Wayne Langston. The pay increases are effective on June 5, 2003 and will be included in the 2003/2004 LMUD Budget.
Another member of the public asked that if there is money to be thrown away that this Board should always look to reduce the electrical rates for the public. This person was also gaveled "out of order" by Wayne Langston and Langston threatened to throw the person out of the meeting.
The new pay structure is included below.
LMUD DOUBLES MANAGEMENT COSTS, or do they????
LINK False reporting on new LMUD Budget
None of the publics comments and concerns will appear in the LMUD minutes.
The LMUD Board of Directors intentionally eliminates all public comments.
NEW LMUD PAY STRUCTURE FOR MANAGEMENT
02/03 Budget New Max
Controller $61,048.00 107,551.00 75% INCREASE
Office Mng $64,556.00 80,930.00 30% INCREASE
Operations 93,375.00
Public Ben. $65,000.00 61,162.00
Adm. Asst. $40,388.00 53,801.00
Engineer $70,000.00 70,199.00
New Serv. $48,981.00 61,162.00
Haz. Waste $65,275.00 70,199.00
IS/GIS $49,218.00 61,161.00
PLUS an additional $30,000 TO $40,000 IN BENEFITS
LMUD will not disclose management pay, now that increases have been approved.
KWH's request for copies of LMUD's July/2003 payroll checks was denied. KWH has received LMUD paychecks for three different past months with the employee's social security number and address redacted.
Since the LMUD payraises, LMUD is now hiding what management salaries are.
LMUD Budget held from Public Preview
LMUD Board of Directors decided not to release the Board packet, which contains the 2003/2004 proposed budget, until July 2, 2003 at 3:00 PM, the day before the LMUD meeting,
Last year, KWH submitted a comprehensive critique of the 2002/2003 proposed LMUD budget and two weeks later the LMUD Controller quit but his pay continues to this day.
This year the LMUD Board doesn't want to give the public any opportunity to review the budget before it is passed. This LMUD Board will simply slide it through, like the obscene pay raises they just gave LMUD's management staff. After all, LMUD claims that it is merely a "management tool" and that they only use it as a guide.
LMUD has only produced a cash flow report for the last six months. We have been paying for two controllers. It appears that Bill Stewart, LMUD's new controller, has been kept away from the books and has been assigned to public benefits detail.
July 3, 2003 LMUD meeting
Bill Stewart gave a presentation on the new software that LMUD has purchased. It is an improvement over the old software , in that it will allow integration of all areas of expenditures with every entry. We'll see if it is worth the $249,108 they are spending on it.
Because the 2003/2004 Budget was not released for public preview as it has been in the past, KWH was not able to review it prior to the meeting. However, there are some obvious problems with this "management tool". Instead of overstating LMUD's assets in the 2003/2004 Budget, they have understated the debt. Bill Stewart was not successful in hiding the inconsistencies and unfortunately leaves the public with much skepticism on the integrity of this budget.
The Administrative salaries
2002/2003 $182,772
2003/2004 $443,000
Operating Expenses/General Administrative costs (Actual)
2001/2002 $2,405,560
2002/2003 $2,431,035
2003/2004 $1,351,690 (Great deception since LMUD has increased staff and expenses. LMUD ratepayers are now paying for increased benefits to, not only Frank Cady, but an employee of Frank Cady's. Frank Cady is an independent contractor.
Also, new LMUD employees and their families will receive benefits from "day one" instead of the waiting for the probation period to end. This costs the ratepayers between $30,000 to $40,000 each year for each employee).
Mr. Langston said that they decided to do upgrades in the LMUD system rather than look at rate reductions for the ratepayers.
This was probably a pretty easy decision for Mr. Langston and Mr. Nagel since they are not ratepayers....................................
Ratepayers were told that the one and a half cent surcharge was to be temporary.
LMUD BOND EVALUATION RATING IS LOWERED
KWH submitted a public records request for a copy of the LMUD Standard & Poors bond evaluation and Mr. Cady claims it is not in LMUD's possession. This report is issued annually every May....who does have a copy of this report if LMUD doesn't...???
KWH was able to get the current LMUD Standard & Poor's bond evaluation directly from Standard & Poors and Moody's. They have lowered LMUD's rating to "bank qualified".
Does Standard & Poors, Moody's or the bond underwriters know that LMUD has hired a bankruptcy firm?
NOTE: The Boise Project Board of Controls (Arrowrock scam) bond rating was reduced also. More financial info coming on the BPBC
LMUD JUNE 26, 2003 MEETING
Agenda Item 5 (d): Approval of resolution to eliminate waiting period before start of benefits for employees effective June 1, 2003. Resolution 2003-5
KWH objected to this Resolution. No fiscal impact was presented by the General Manager, employees being hired may bring with them "COBRA" health insurance which provides coverage, this policy is subject to abuse (a "friend or relative" can be hired just for the medical insurance and not make the probation period), and now will be subject to re-negotiation of bargaining unit benefits.