LASSEN DISTRICT ATTORNEY
"White Collar" Crime alive and well in Lassen County Private dishonesty of public Officials
2005
Lassen County District Attorney asks Susanville Chief of Police to investigate unlawful distribution of public funds by LMUD
Chris Gallagher decision puts LMUD at risk
Gallagher claims Cady is an officer of LMUD LINK
DISTRICT ATTORNEY: HANDS OFF OF WHITE COLLAR CRIME
"Uncertainty now exists as to the exposure of the District for unlawful disbursement of public funds"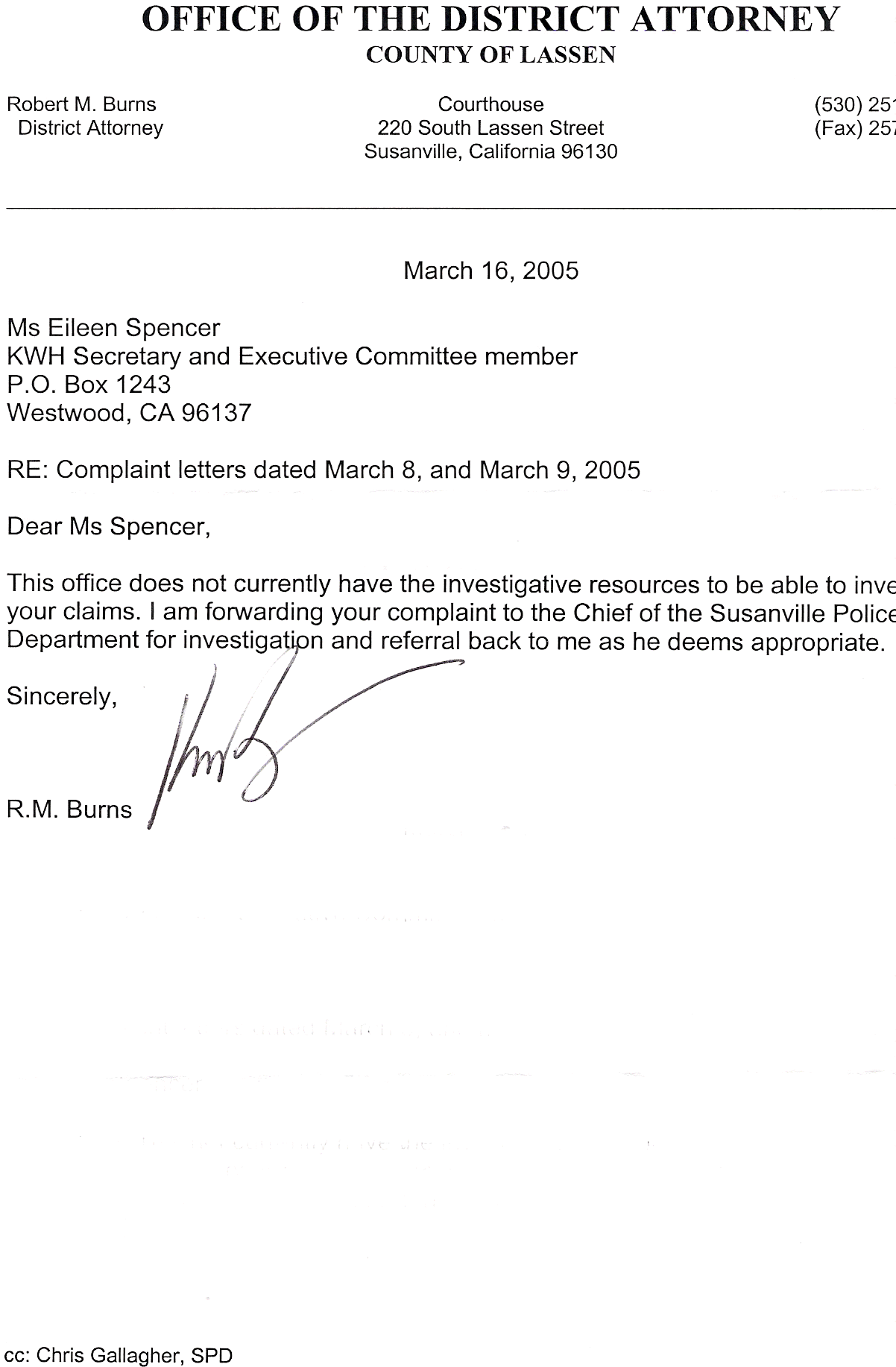 The District Attorney knew about the blood sample substitution, on the
Dr. Marshall case. link
An FBI agent from New York City has been sent by the Attorney General's office to investigate a civil rights abuse case in Susanville. Robert Burns is under investigation for major irregularities on the Dr. Granville Marshall case.
Dr. Granville Marshall's case falls within the Federal Hate Crime Law. He is a minority healthcare giver.
Who's blood sample was used? Wayne Langston's ?
LOCAL ATTORNEY STATES "Prominent Local Citizen" RECEIVED SPECIAL TREATMENT ON HIS DUI ARREST link
March 29, 2004 LASSEN COUNTY TIMES, PAGE 16C
WHERE I STAND, Eugene Chittock
"In the same edition of the paper, you printed an article about the district attorney's decision not to prosecute a DUI case against a prominent local citizen. In that article, Burns states that he has an
obligation "not to waste the taxpayers' money on cases with little
chance of conviction". This is a stark contrast to Burns' statement in the Marshall article; "we can prosecute without blood results; we've done it before." Reading between the lines, one might question the political dimensions of these statements.
THERE IS NO QUESTION THAT LANGSTON RECEIVED A POLITICAL PARDON FROM DISTRICT ATTORNEY, BURNS.
Robert Burns has made a mockery out of the Judicial System
in Lassen County
District Attorney, Robert Burns asks for AG opinion on hiring a convicted Felon
Frank Cady did not want to share the DA's letter. Wayne Langston did not want you to know about the DA's letter.
KWH would like to share the District Attorneys views on LMUD's "no comment by the public" (INFORMATION) on the majority of the LMUD Agendas.
There was a time when the District Attorney processed Brown Act Violations. Now, it isn't politically correct for him, to handle Brown Act Violations.
We'll see if the District Attorney, Robert Burns intends to enforce his March 23, 2001 letter or ignore LMUD's refusal to obey his ruling.
LMUD was caught red-handed violating the Brown Act. The LMUD Board tried to appoint Wayne Langston in closed session. This letter was issued from the District Attorneys office the day of Wayne Langston's appointment as a non-ratepayer board member. This is the first time in the history of LMUD that non-ratepayers have been placed on the Lassen Municipal Utility Board. Wayne Langston is the son-in-law of the County Clerk, who allowed this to happen. Fred Nagel is the County Clerks husband and is not a LMUD ratepayer.
Page 2