RETURN TO HOME PAGE RETURN TO other pages RETURN TO LMUD
Theresa Nagel reported that Lassen County was first to report election results in the State.....NOT TRUE
Lassen County Elections 2004 Nagel uses white out on ballots Nagel files false charges
LMUD ELECTIONS
NO SURPRISE!
BUSINESS AS USUAL IN LASSEN COUNTY
The prize for a "predetermined" election..... link
***************
COUNTY CLERK'S HUSBAND WINS and doesn't spend a dime on his campaign and gets 2/3 of the vote????????????????? Why would he SPEND ANY MONEY, his wife counts the votes
FRANK CADY BACKS DARRELL WOOD
Was Al Vazquez starting to ask too many questions?
Nancy Cardenas wins????????
These election results are highly suspect
The LMUD Board takes a big step backward
We haven't seen abuses like we will see now.
FRED NAGELS WIFE THERESA, COUNTY CLERK/ ELECTION OFFICER SHOWS BIAS ON BALLOT ISSUE LINK
Fred Nagel's wife, Theresa Nagel, mislead public in 1997 when she asked for LMUD boundaries to be changed link
Was the hidden agenda to annex territory? LINK
Twitchell tells candidates that they will not be allowed to post political statements in the "Ruralite".Where was Twitchell before this letter was sent out by Boucher??????
Theresa Boucher asked candidates, for the upcoming LMUD election in November, to submit statements to her, to be published in the "Ruralite" magazine in the October issue.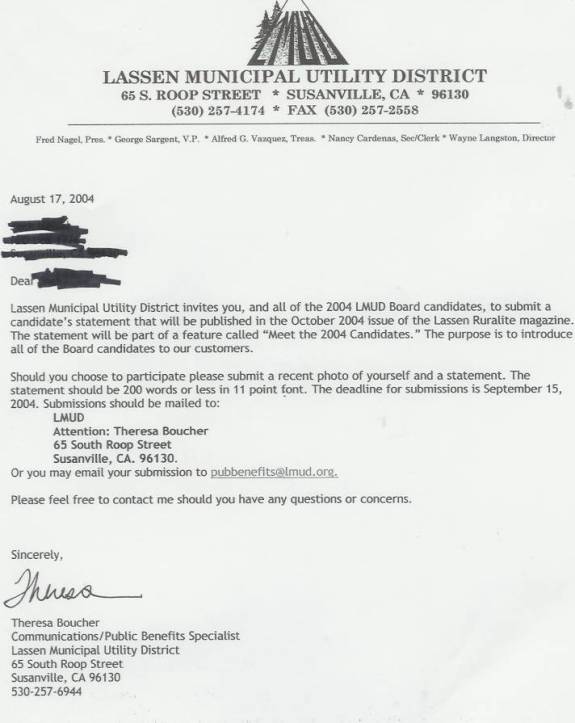 The only problem is she can not use public funds to do it. The Ruralite magazine is paid for by LMUD with public funds. Unless all of the candidates want to split the $4,000 + cost for this issue it just cannot be done with the use of public funds.
LMUD should have contacted the Fair Political Practice Commission.
Lassen County Clerk Theresa Nagel husband, Fred Nagel is running for a position on the LMUD Board. The County Clerk should have advised the LMUD Board that they cannot place political statements in the "Ruralite".
LMUD employees were allowed to put signs in their cars supporting George Sargent link
LMUD's Public Benefit Coordinator is under the impression that if a private utility, such as Plumas Sierra Rural Electric Cooperative can do this then a publicly funded utility can do the same. WRONG.
Where was General Manager, Evelene Twitchell when this was decided? Evelene Twitchell finally nixed the idea after protests were made.