Lassen-Modoc County Flood Control and Water Conservation District
Map supplied by Tony Shaw
Lassen County outlined in Orange
2015 Lassen County Groundwater Report
Listen to County Counsel Bob Burns on October 17, 2015
"There is a lot of fraud and abuse in Modoc County"
Lassen County Supervisors
Intend to Expand the
Groundwater Boundaries
The old boundary excludes BLM property.
The new boundary includes BLM property ?
Lassen County Counsel Bob Burns
Constant Interruptions and Bad Legal Advice
Lead to Two
Brown Act Complaints
Supervisor Chapman stated that they don't pay Mr. Burns to monitor Brown Act Complaints, however:
The Brown Act requires the Public Entity to respond to Complaints:
Section 54960 c (2)
"Within 30 days of receipt of the demand, the legislative body, shall cure or correct the challenged action and inform the demanding party in writing of its action to cure or correct or inform the demanding party in writing of its decision not to cure or correct the challenged action
Bob Burns ignores all Brown Act Complaints, now we know why !
Lassen-Modoc County Flood Control
and
Water Conservation District
Meeting
District elects new Chairperson from Modoc County
District 4-Modoc County Supervisor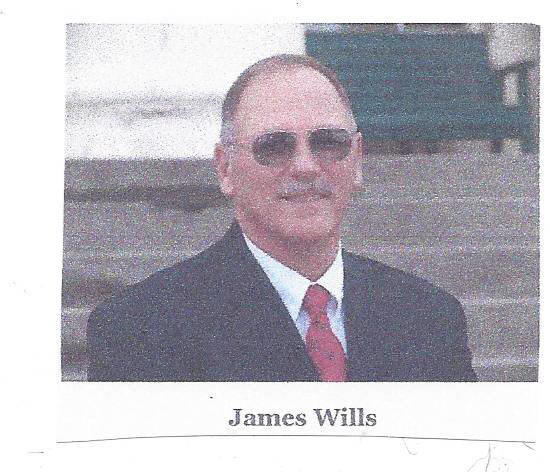 Modoc County has three women on their Board and soon to be FOUR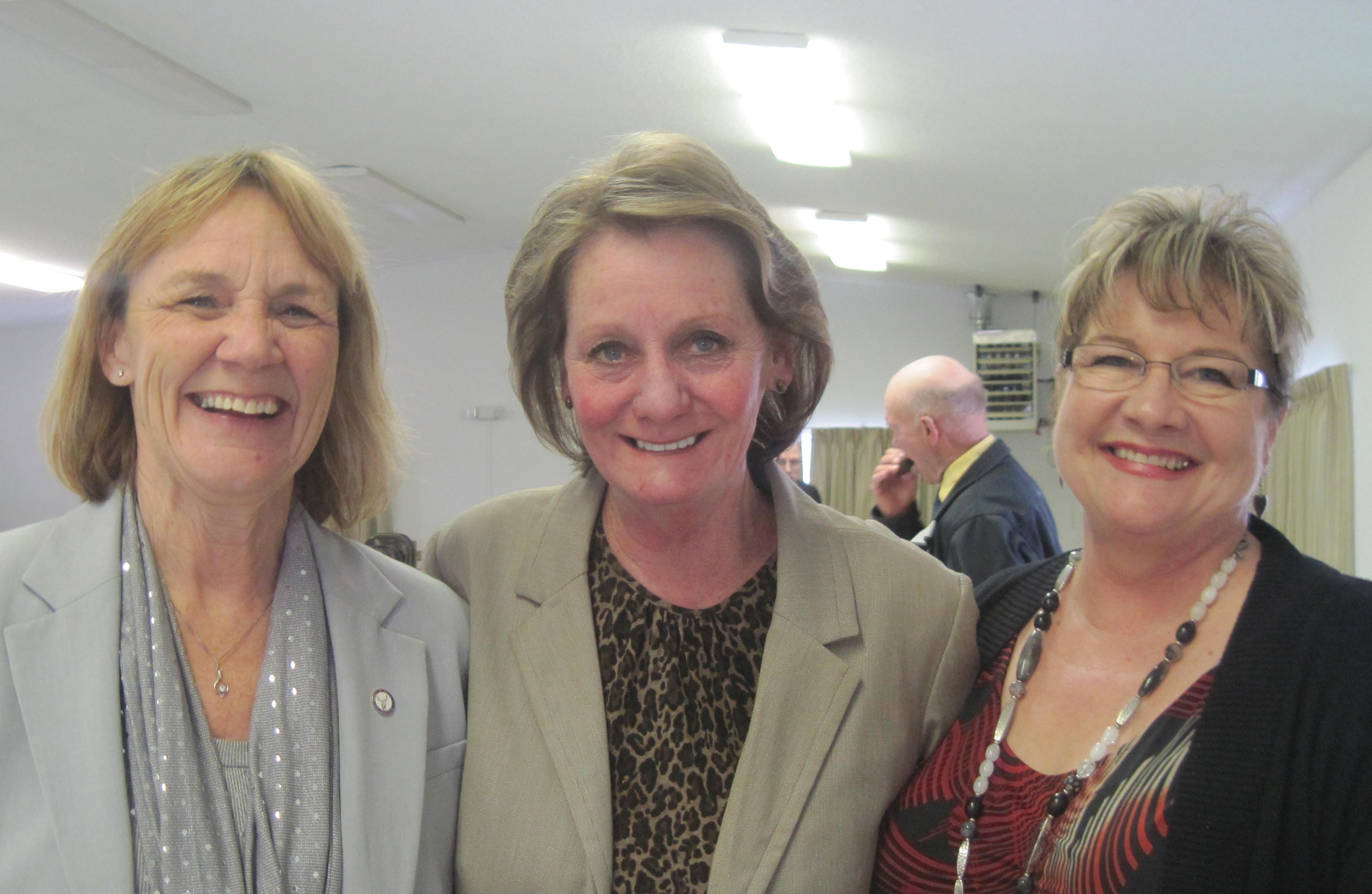 Left to right: Vice-Chairperson (District 5) Geri Byrne, Chairperson (District 3) Kathie Rhoads, District 2 Supervisor Patricia Cullins
Approximately 30 attended the Flood District meeting at the Adin Community Hall, Modoc County
MODOC COUNTY SUPERVISORS
*FAILED TO NOTICE
THE
FLOOD DISTRICT MEETING
ON
FEBRUARY 23, 2016 @ 1:30
*Brown Act Section 54954 (b) 3
Lassen County Supervisors never intended to include the Modoc Supervisors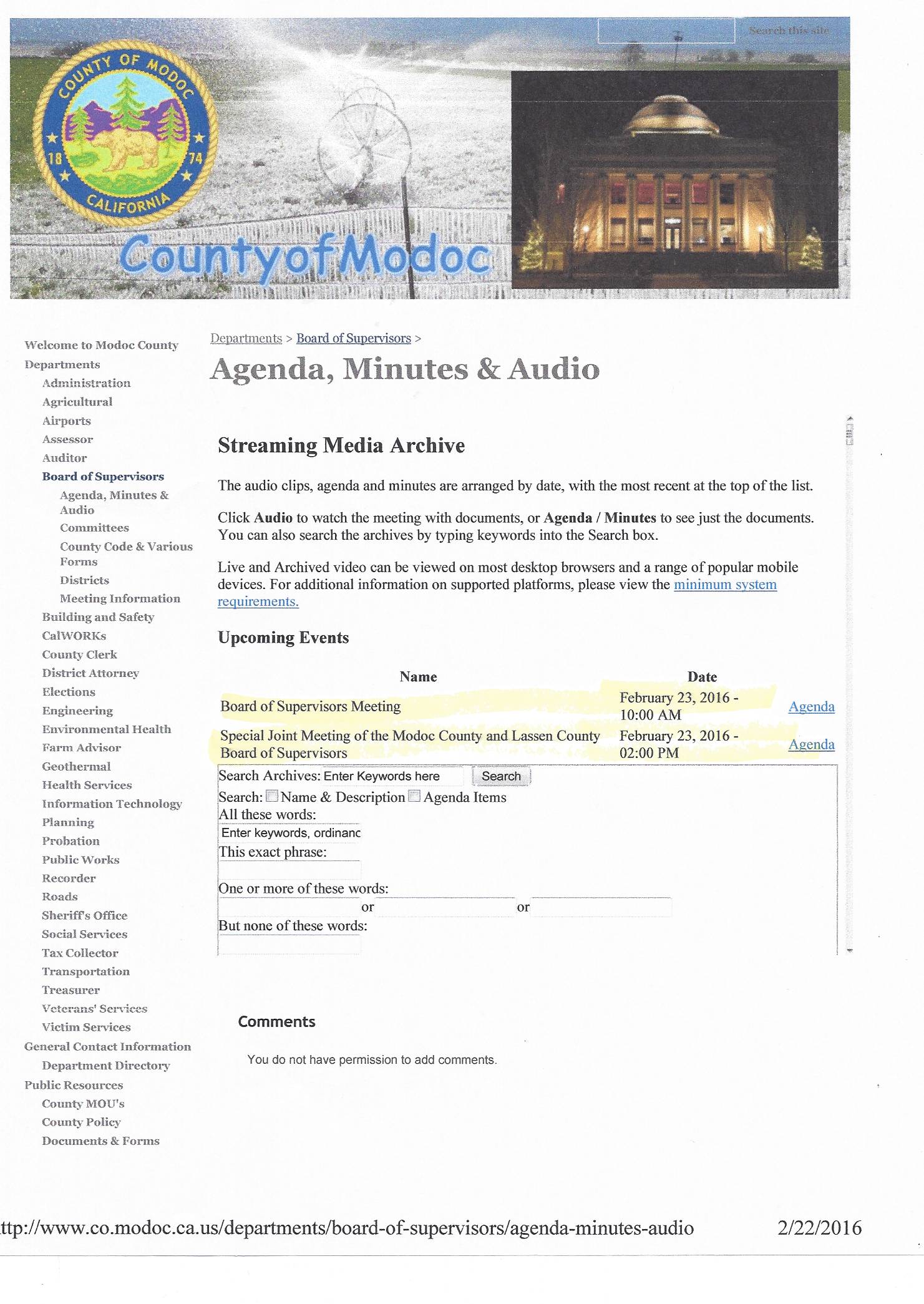 Lassen County Supervisors
Properly Noticed the Flood District meeting
for Lassen County
but
NOW cannot hold this meeting tomorrow, in Adin, which is in Modoc County ?
Lassen-Modoc County Flood District
February 23 Agenda includes
[1:30 PM at Adin Community Center, 409 Main/Hwy 139]
adding the Districts responsibility
to include
managing the groundwater
within the Flood District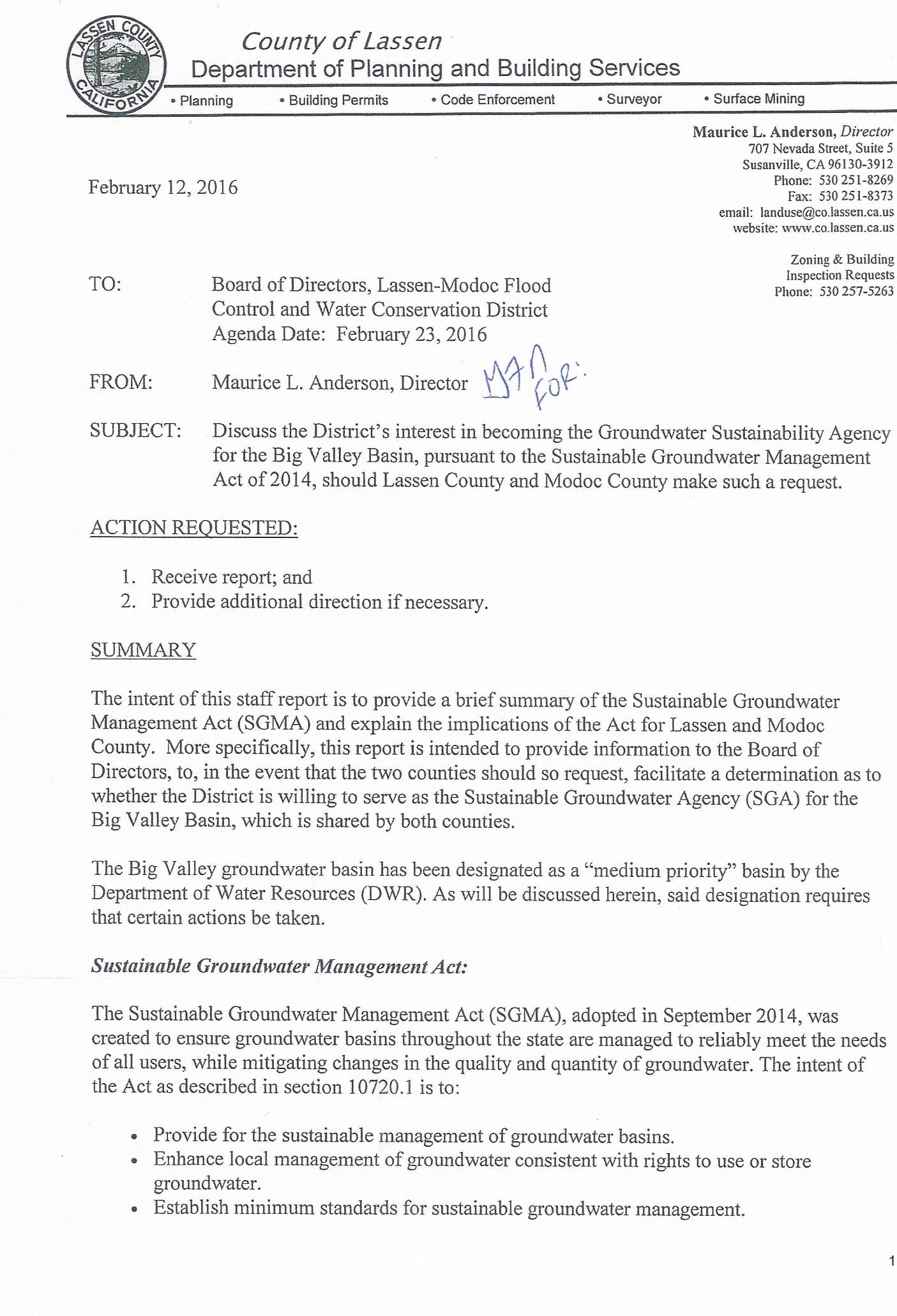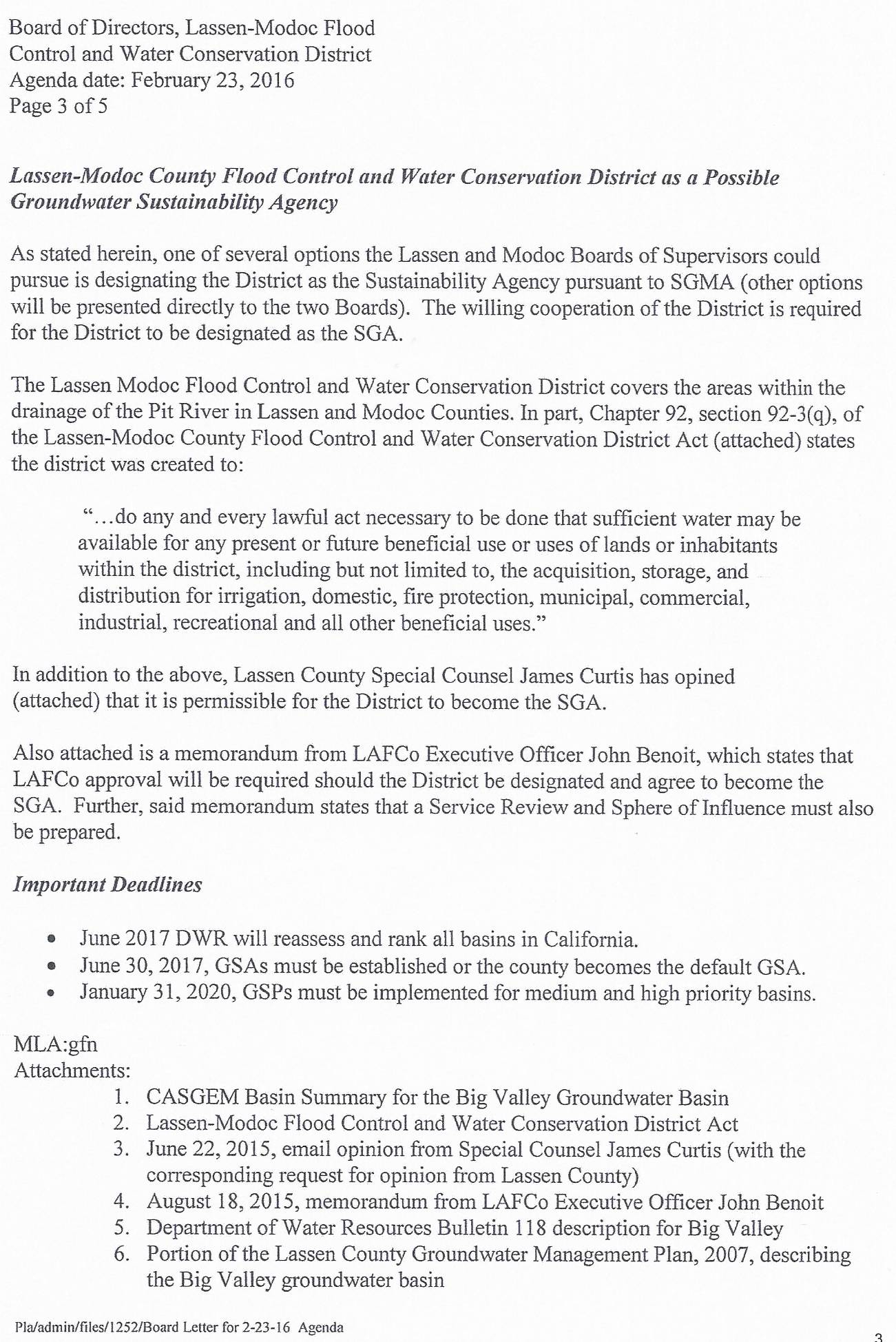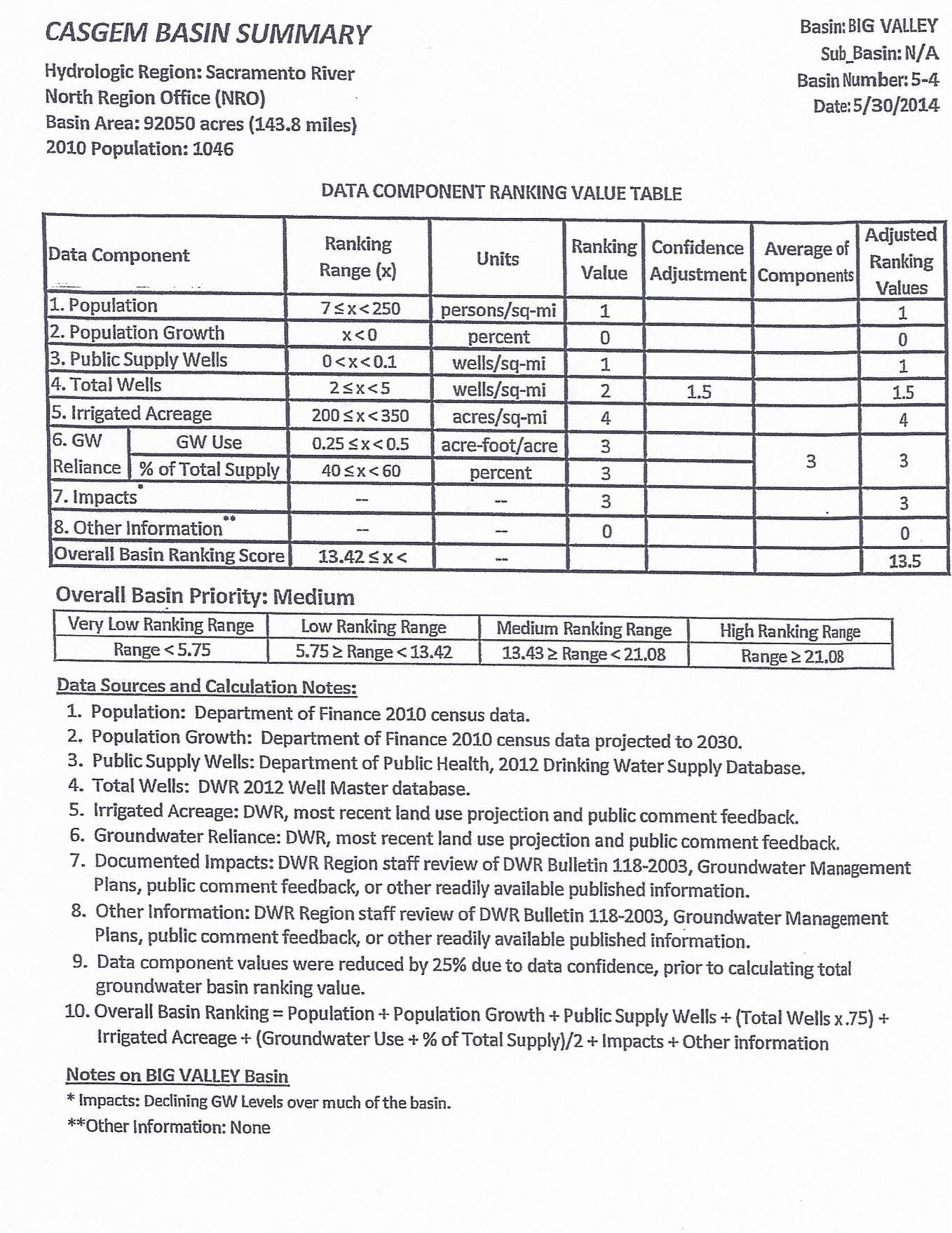 Lassen County CAO Egan
Schedules Yet Another
Flood District Meeting
Egan has been told many times, by Kan We Help, that Lassen County must hold a legal meeting. Egan has made statements that the Lassen County Board of supervisors can hold their meetings outside the boundaries of the County.
THEY CANNOT DO THIS
Egan claims that the Lassen Supervisors & Modoc Supervisors are going to hold
a JOINT MEETING on February 23.
They can do this but it can only be informational. NO VOTES CAN BE TAKEN
In the past , Egan has ignored the Brown Act and held meetings without the Modoc Board of Supervisors
Lassen County CAO Egan
Complains It Is A Waste of Time
Responding to Public Requests
Egan has been telling the Lassen County Supervisors they can meet, for the Lassen Modoc Flood District, without the Modoc Supervisors
WHY: because the Lassen County Supervisors HAVE BEEN MEETING, PASSING THE BUDGET AND SPENDING MONEY WITH OUT ANY MODOC SUPERVISORS PRESENT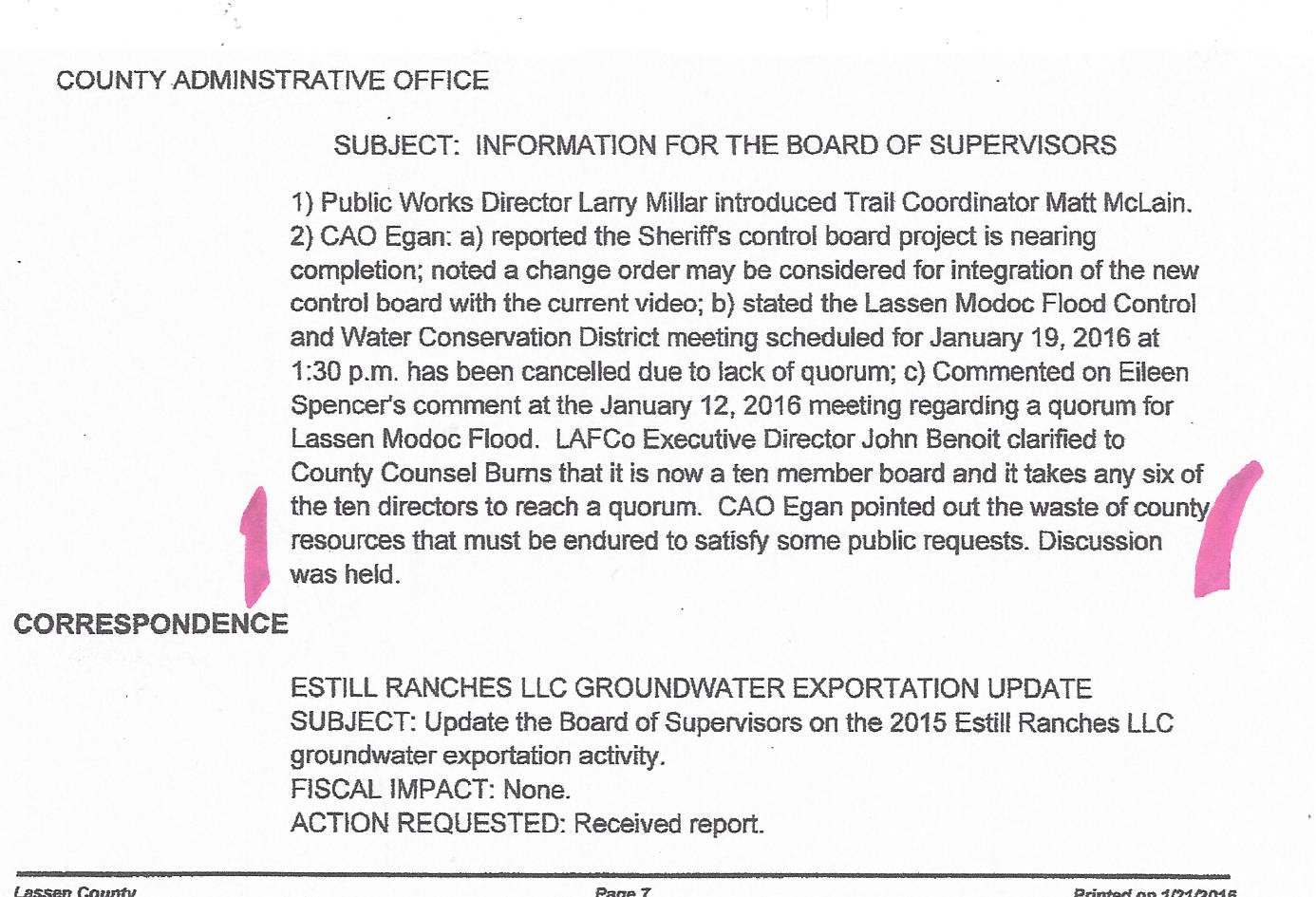 Modoc County Supervisors
Cancel yet another meeting date
made by
Lassen County CAO Richard Egan
Listen to Egan explain why the meeting was cancelled
Lassen County CAO Richard Egan continues to state that a quorum for this ten member Board requires that all ten Supervisors must attend.
Egan also told the Lassen Supervisors that they can meet with five Lassen County Supervisors and one Modoc County Supervisor
County Counsel placed a legal notice about a January 19, 2016 meeting in Adin without confirming that three Modoc Supervisors would attend.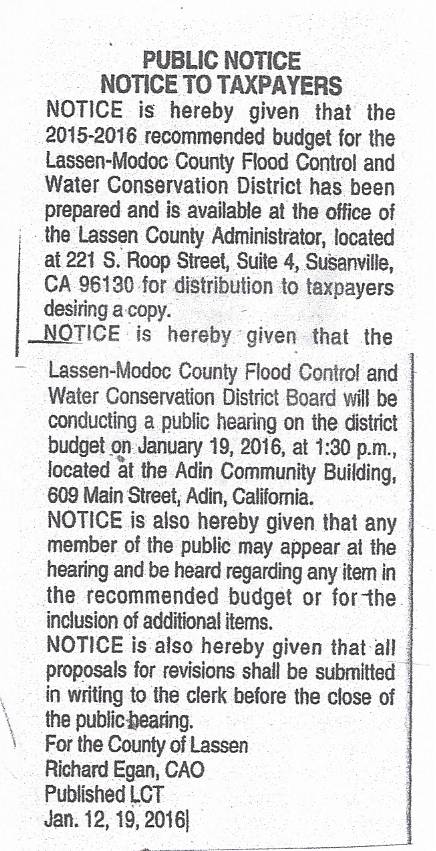 Bob Burns comment: "There is a lot of fraud and abuse in Modoc County"
Three Supervisors from each County must attend to conduct business. In the past Lassen County Supervisors have met and held meetings. The meetings included approving a budget and spending money ?
Lassen-Modoc Flood Control District meeting cancelled
again.
Re-scheduled to January 19, 2016
LASSEN COUNTY SUPERVISORS ATTEMPT
TO HI-JACK MODOC SUPERVISORS AGAIN
and Modoc Supervisors are not buying it this time ......
WATER: THE NEW GOLD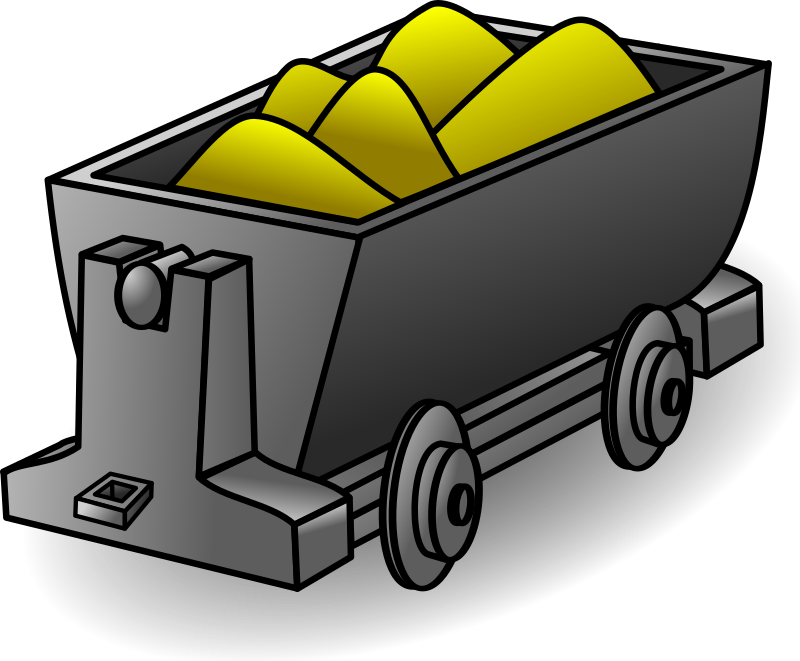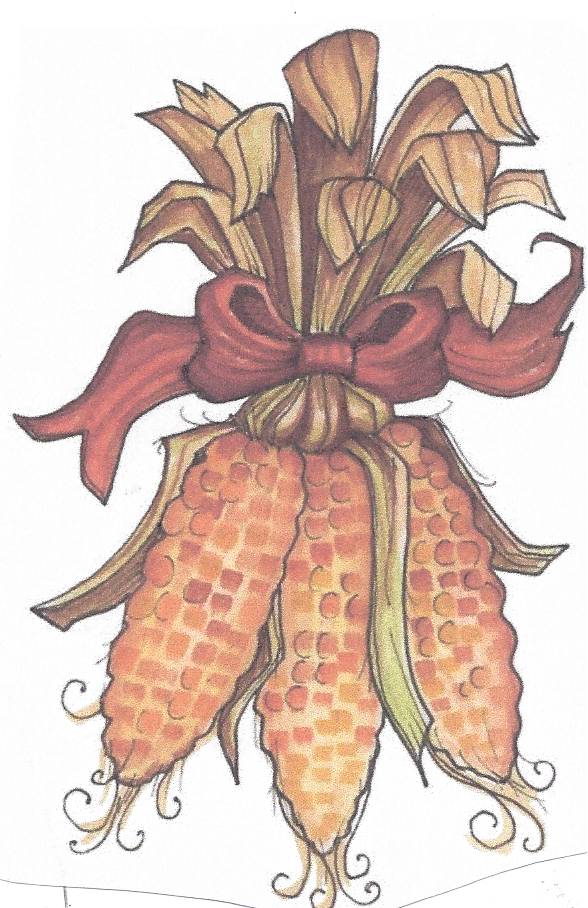 November 18, 2015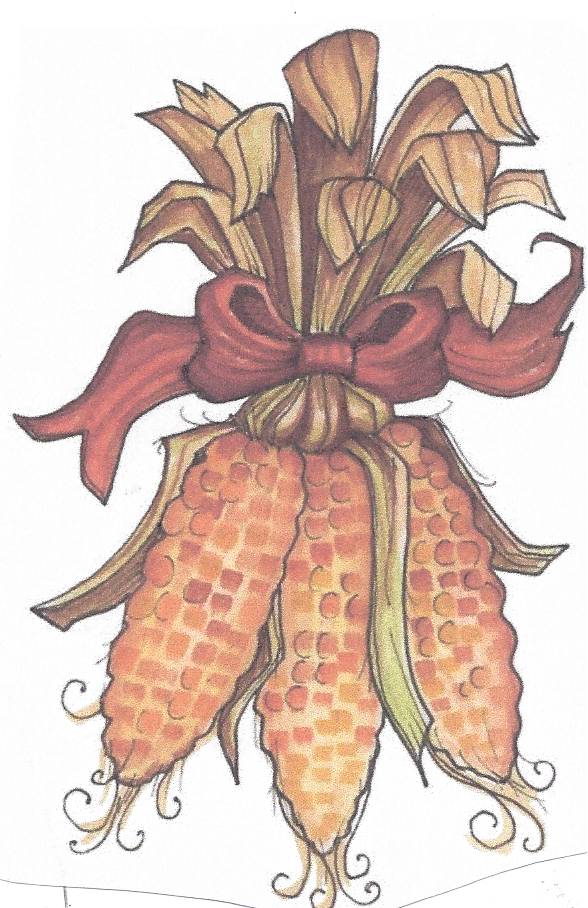 Lassen County CAO Richard Egan
Tells Supervisors At Board Meeting Yesterday
He Is Putting Together An Illegal Board Meeting
in Modoc County
Richard Egan stated that he tried to set a Lassen Modoc Flood Control District Meeting for December 10 in Adin, Modoc County. but the Modoc County Supervisors could not attend. Egan claims he is going to try and set the meeting on December 17, 2015.
THE PROBLEM:
Egan said that he plans to hold the Flood District meeting, in Modoc County and then adjourn to reconvene an illegal Lassen County Board meeting in Modoc County.
MAJOR, HUGE, GIGANTIC,
BROWN ACT VIOLATION
Egan finished by telling the Board that he is working with County Counsel Bob Burns to make the arrangements. What better person to get advice from than a man that has no problem ignoring laws.
Bob Burns Trashes Modoc County
Listen to Bob Burns comments on 10/27/15:
"There is a lot of fraud and abuse in Modoc County"
who would know fraud and abuse better than bob burns?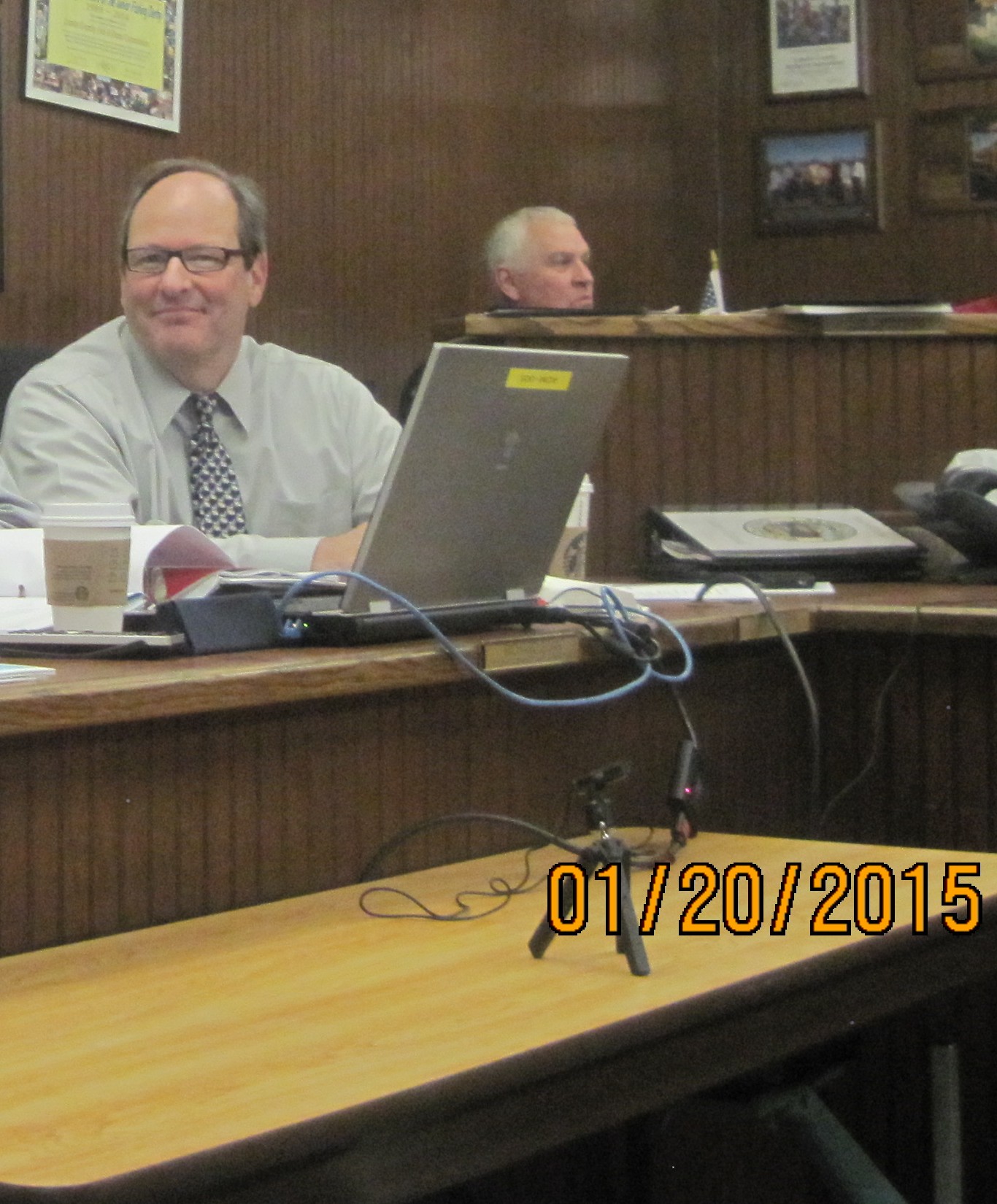 CAO Richard Egan has been trying to hold a Lassen-Modoc County Flood Control & Water Conservation District meeting with or without Modoc County. He and Bob Burns told the Lassen County Supervisors that the five Lassen County Supervisors would qualify as a quorum as determined by their alleged 9 member Board.
Burns, Egan and Chapman are attempting a very deceitful act.
John Benoit of LAFCO, provided Kan We Help with a copy of the "Act" that created this District.
The Supervisors District's, in both Lassen and Modoc County's, must be within the territory of this flood district, to be on the Flood Board.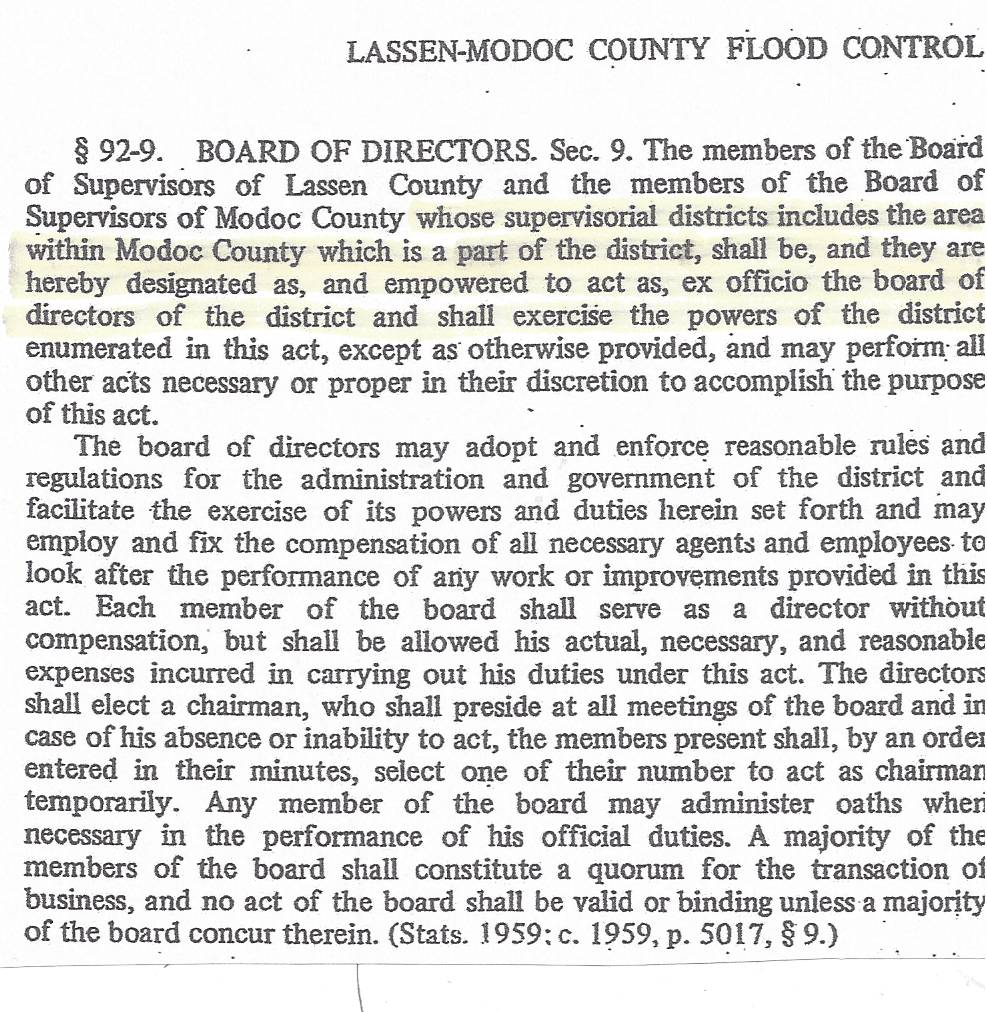 At the time this was discussed there could have been 10 members on the Flood board. Re-districting in Modoc County included Supervisor David Allan.
The issue for Lassen County is that the Big Valley watershed is in limbo.
As always, Chapman mis-spoke about the events surrounding Kan We Help contacting Modoc County CAO Chester Robertson. Evidently Chappy was in Modoc County at the time Mr. Robertson spoke with Kan We Help's Secretary Eileen Spencer and revealed that Chapman got stuck in their elevator.
Modoc County is very concerned about the "Bully" behavior of Lassen County.
The issue came up when Richard Egan stated that he was setting up a meeting of Lassen County Supervisors in Modoc County. The Brown Act does not allow them to hold a meeting outside of their jurisdiction with the intent of adjourning their meeting to hold a Lassen-Modoc County Flood District meeting.
However the "two county" board could meet after a proper Public Notice to conduct only the business of the District. The subject matter that the Lassen Supervisors want to discuss is not within the jurisdiction of the Flood Board.
quagmire ? YES
Modoc County, evidently, is not going to be bullied and Lassen County does not know what to do except
LIE