RETURN TO HOME PAGE RETURN TO other pages
LMUD FILES FERC INTERVENTION ON NOVEMBER 22, 2004
December 8, 2004, LMUD Agenda Item 5E: "Consideration of Ratification of FERC Intervention (1)ER-05-155; (2) ER-05-151; and ER-05-229". link FERC INTERVENTION
NO RULES OF PROPRIETY FOR LMUD BOARD OF DIRECTORS. THEY DON'T HAVE TO OBEY THE LAW
LMUD knew about this FERC issue on November 1, 2004. LMUD filed the FERC Intervention on 11/22/04 without bringing this "action" before the public.
NO BENEFIT TO LMUD RATEPAYERS, BUT FRANK CADY GETS TO "RE-INVENT" HIMSELF .
GROSS WASTE OF PUBLIC MONEY....GROSS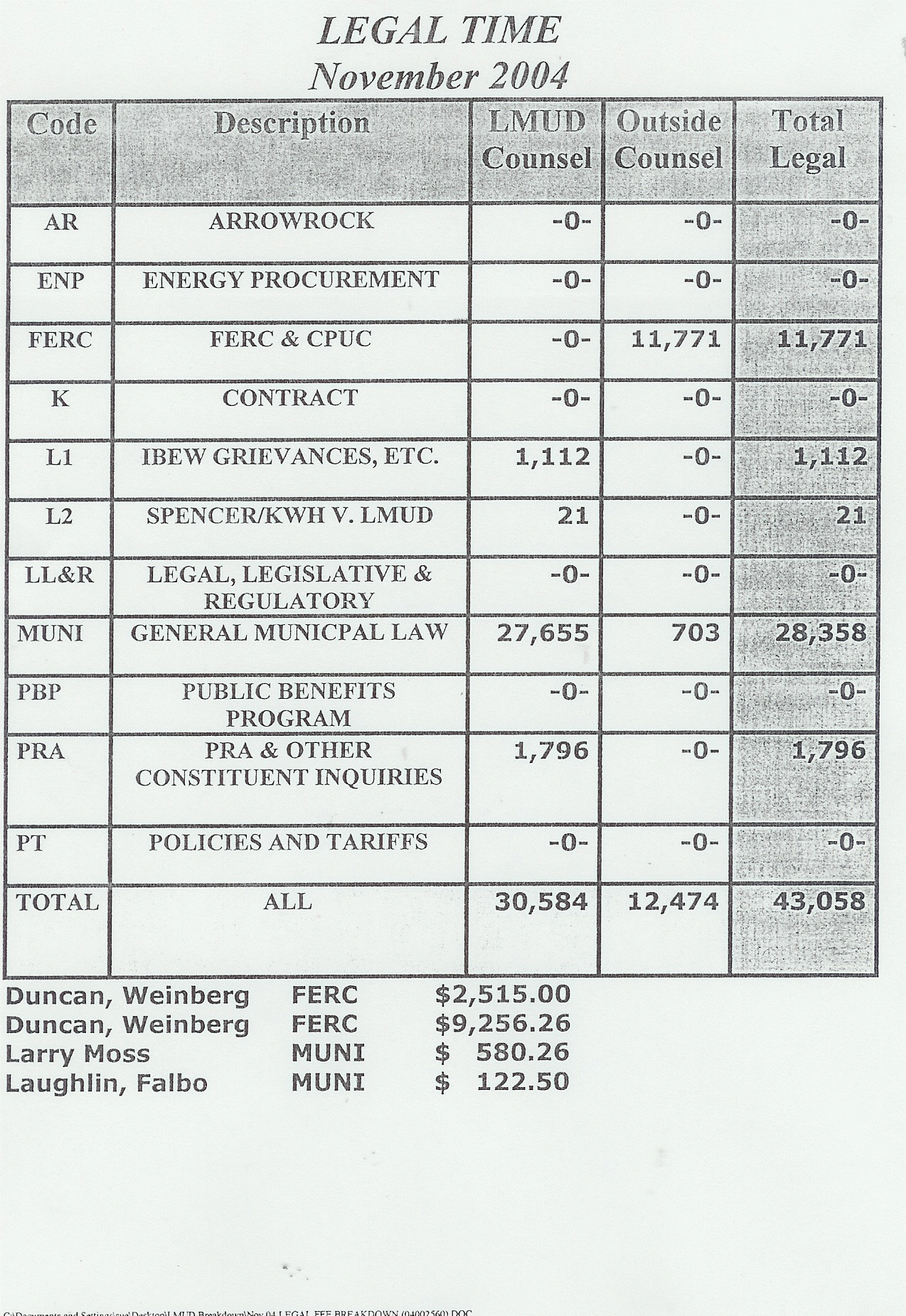 November 4, 2004 LMUD MEETING
LMUD BOARD APPROVES, 34 YEAR OLD, LISA GAST TO BE CO-COUNSEL with Frank Cady on FERC issue Link
LMUD General Counsel found new ways to spend more money now that Arrowrock is gone.
In closed session, at the May 6, 2004 LMUD meeting, Frank Cady asked the Board, after the motion had already been filed, to support the action he had taken concerning FERC ER04-688,690,693, (Pacific Gas and Electric Company's answer to the motion to Consolidate of the Transmission Agency of Northern California")
This is not a "closed session" agenda issue. The public had a right to full disclosure of this agenda item.
A Motion to Intervene was filed on April 21, 2004. Wallace Duncan and Lisa Gast, of the firm Duncan, Weinberg, Genzer & Pembroke, filed this Motion to Intervene on behalf of LMUD.
A full copy of this motion is available free from this website or from the FERC website.
This Motion to Intervene is an issue between PG&E and Western Area Power Association. LMUD buys a substantial amount of power from WAPA. This was an open session issue.
The LMUD minutes do not state the intent of this action, nor the benefit to the ratepayers.
PG&E's filing in Docket No. ER04-688-000 proposes to cancel PG&E's Rate Schedule FERC No. 35 simultaneously with the expiration of the "Contract with California companies for Extra High Voltage Transmission and Exchange Service among the Western Area Power Administration and PG&E, San Diego Gas & Electric Company"
PG&E is asking FERC to deny TANC's (Transmission Agency of Northern California) motion to consolidate the two dockets that will increase inefficiency.
LMUD ratepayers money was used and the ratepayers have a right to full disclosure. (What a concept)
All of the "big" power purchasers (400mw +) are involved
A 20mw power purchaser, LMUD, now wants to use ratepayer money to play with the BIG BOYS.