COURTHOUSE SQUARE REVITALIZATION
TASK FORCE
1/13/15: Supervisor Chapman asks the Board to abolish this Task Force.
It never met once.................
Update: As of September 23, 2014, this committee has never had one meeting. The Board of Supervisors have allocated ZERO for any remodeling of the old courthouse. County offices have shifted in the empty spaces. District Attorney is now upstairs in the old judges chambers.
Public Records Request, for a copy of the County Resolution naming the courthouse vacated by California Superior Court, indicated that the County has never passed any Resolution naming this area
On January 21, 2014, the Lassen County Supervisors were asked, by Supervisor Chapman, to form a Committee. Chapman cleverly volunteered to be "Chairman".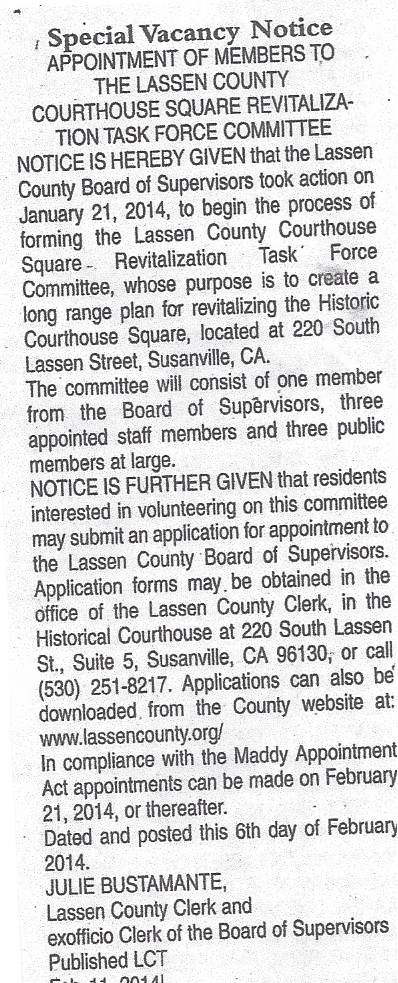 1/21/14: Board of Supervisors make appointments, to this Committee, based on "who" Chapman could work with
AGENDA ITEM H-6

Minutes
3/11/14: Board of Supervisors make appointments, to this Committee, based on "who" Chapman could work with
AGENDA ITEM F-1

4/8/14: CAO Richard Egan appoints administrative committee members
AGENDA ITEM H-9