District 1 Congressman Doug LaMalfa
Elected: January 3, 2013
VOTES ENTIRELY REPUBLICAN PARTY LINE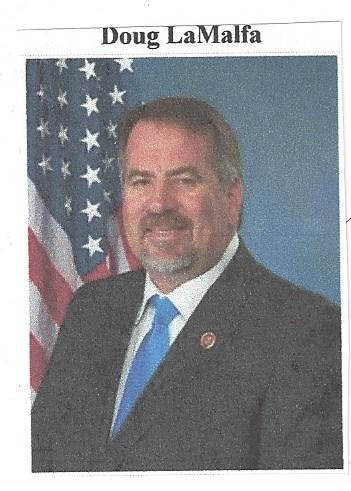 DISTRICT 1 CONGRESSMAN DOUG LAMALFA
RUNS INTO A BUZZ SAW IN 3 COUNTIES...
........the informed constituents in Butte, Plumas and Lassen County Town Halls
When confronted with those pesky facts, LaMalfa denies his own voting record.
When confronted with "his own words" (that simply regurgitate Trumps word vomiting) LaMalfa goes on the defensive.
Congressman LaMalfa claimed he lives a humble life but did not deny he has a home in the Lake Almanor Country Club now, in Plumas County, and has taken over $5,000,000 in Federal Subsidies.
Congressman Doug LaMalfa took office on January 3, 2013
FACTS THAT WERE DENIED BY DOUG LAMALFA
HR 45: First vote for Congressman Doug LaMalfa; to repeal the ACA 1/3/2013
HR 152: Voted "NO" on Disaster Relief Appropriations Act 2013 (This was for Hurricane Sandy relief. (This Bill passed the House 241-180) 1/25/13
S 47: Voted "NO" on the "Violence Against Women Reauthorization Act" that was approved by the Senate (This Bill passed the House 286-138) 2/28/13
HR 3134: Co-sponsored 7/21/2015 "Defund Planned Parenthood Act" (This Bill passed the House 241-187) 9/18/15
HR 2406: Voted :YES" on the "Sportsmans Heritage & Recreation Enhancement Act" that allowed elephant trophy's including ivory to enter the United States, to allow polar bears to be harvested for their body parts, to remove the gray wolf from the endangered list and kill bears while they sleep (This passed the House 242-161) 2/26/16
Congressman Doug LaMalfa did not want to talk about Interstate 11
even though this issue sits in his House Committee on Transportation and Infrastructure.